Nevada lives in the shadows of the international adult playground that is Las Vegas – but it shouldn't!
There are some really, really cool places to visit there! These are some of the best small towns in Nevada, including historic towns, ghost towns, and more.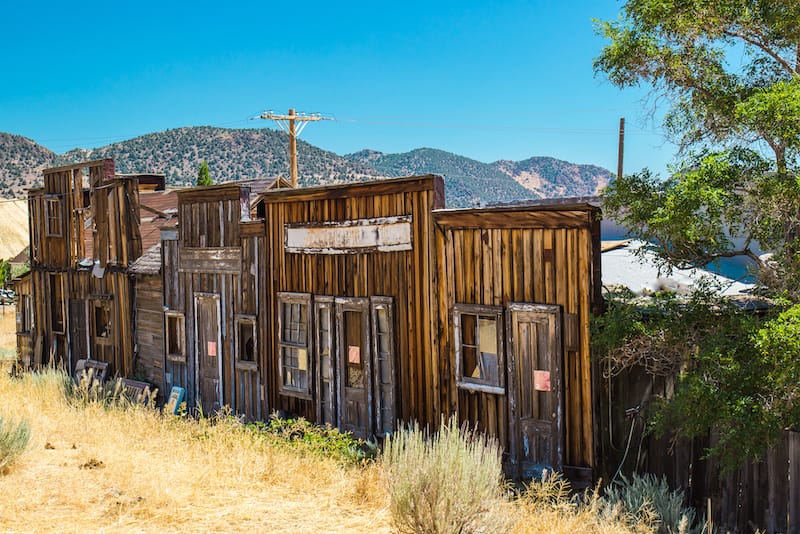 Did we miss any of the best Nevada small towns? Let us know in the comments! Thanks!
Best Small Towns in Nevada
Caliente
Situated in southern Nevada, the town of Caliente has many things to offer. First and foremost, you need to head to the main street and stop at The Union Pacific Train Depot!
Today, the building serves as a museum and the local government office. Not far from the depot, historic railroad cottages with bustling rose gardens are located, for which the town is often referred to as the 'city of roses'.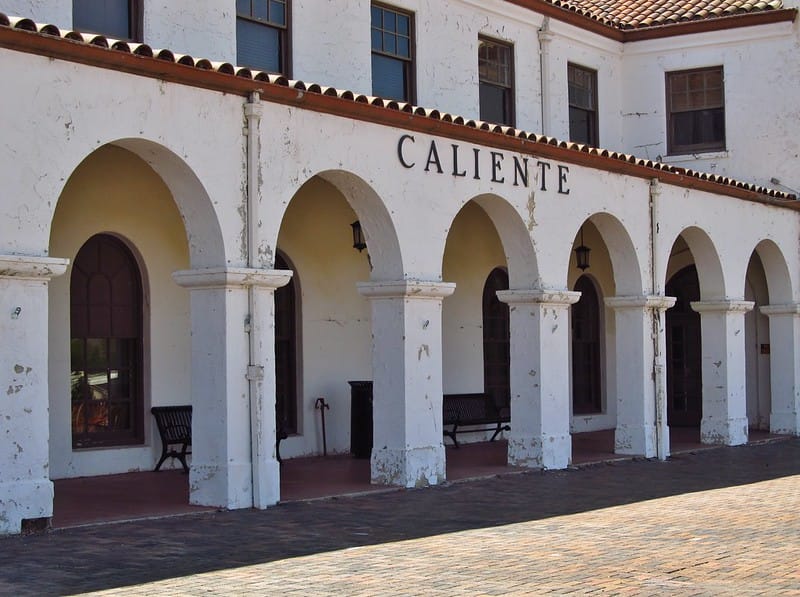 Caliente boasts its own RV park and a golf course. The city is close to some of the most famous Nevada State parks, including Beaver Dam, Cathedral Gorge, Spring Valley, Echo Canyon, Kershaw-Ryan, where visitors can enjoy relaxing outdoor adventures.
Ely
Ely, Nevada is rather well-known (based on its location) regardless of its small size. Ely is located near Great Basin National Park, and many other gorgeous Nevada sights.
It welcomes visitors with rich historical sites and attractions. The best-preserved railroad facility of the country, the Nevada Northern Railway, is located here.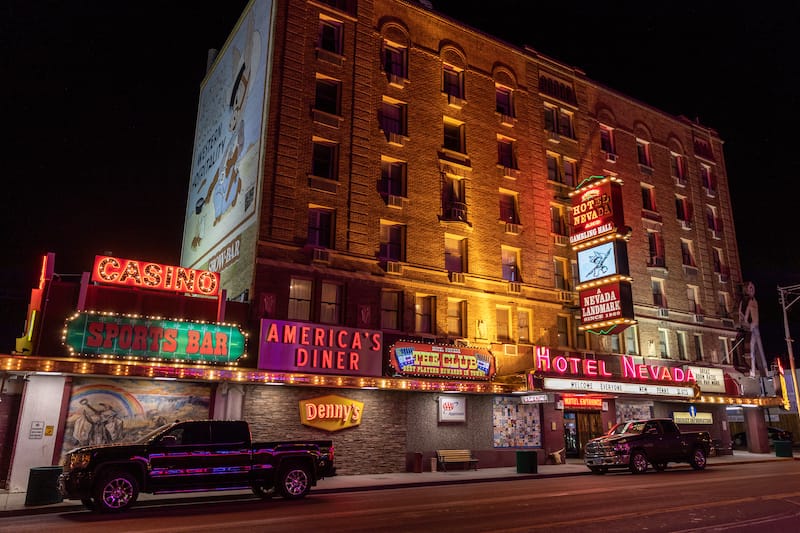 Enjoy 90-minute train rides toward the historic Ruth Copper Mine, as well as the tour of the Engine House. Ward Charcoal Ovens State Historic Park takes you back to the 19-century mining industry and also provides opportunities for camping, hiking, fishing, and picnicking.
More places to visit in Ely (and nearby) include the Ely Renaissance Village, White Pine Public Museum, Jailhouse Casino, Central Theatre, Wicked Rein Herb and Gift Boutique, Garnet Hill, and the Mining Town of Ward.
Rachel
This small Nevada town is referred to as the UFO Capital of the World. Start your trip from Highway 375, also known as Extraterrestrial Highway, boasting many UFO sights, attractions, and more!
Don't miss your chance to visit Little A'Le'Inn, a restaurant and a motel filled with various UFO-themed collections- shocking photos, stories, and extraterrestrial dolls.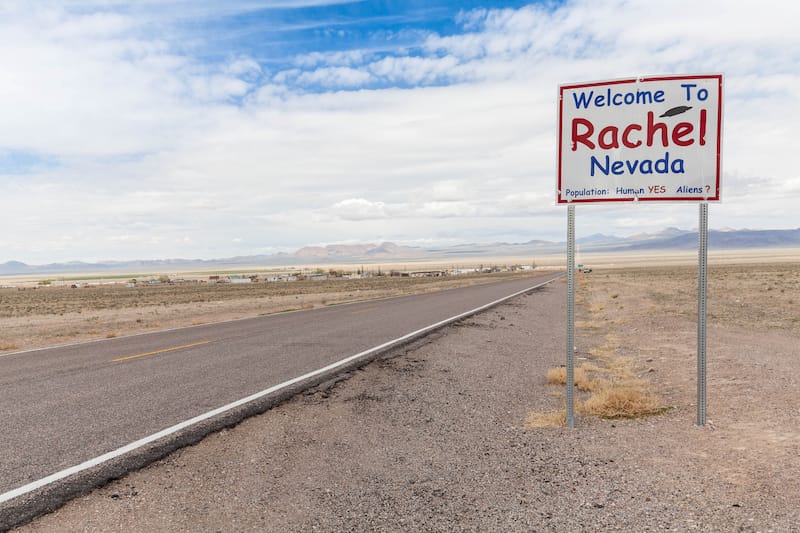 Area 51, a top-secret military base and site of alleged UFO sightings, is also located in the obscure town. Rachel is not only an alien home attracting UFO enthusiasts but is also a place with nearby historic ghost towns, petroglyphs, and stunning desert views.
While Rachel may be famous for its UFO 'history' and memorabilia, the town is one of the best places to go stargazing in Nevada – so be sure to plan a trip there if you're into checking out the night skies.
Genoa
Genoa is a pioneer settlement in Nevada and is famous for outdoor recreation opportunities and historical attractions. Visit Mormon Station State Historic Park, a museum with interesting historic exhibitions and collections, surrounded by tranquil gardens.
The Genoa Courthouse Museum is also a must-see for all visitors, as it depicts the history of Nevada's early days and includes the Victorian parlor and a blacksmith shop.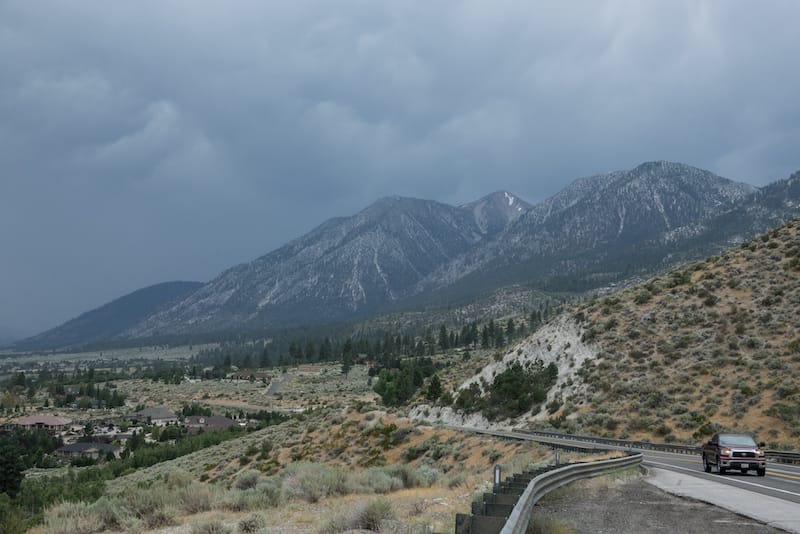 Don't leave town without visiting the Genoa Bar where you'll be greeted with a variety of drinks in a historic atmosphere. In the heart of Genoa, you'll find the Pink House, a restaurant and a fromagerie.
Golfers and nature lovers will love the Genoa Ranch Golf Course and River Fork Ranch.
Winnemucca
Often referred to as the 'Friendliest Town in Nevada', Winnemucca, will captivate you with its rich history and outdoor recreational activities.
The Humboldt County Information Center provides thorough information for its guests. And the Humboldt Museum boasts exhibits of antique cars, Paiute baskets, farm equipment, and other eclectic artifacts, displaying the agricultural and mining history of the area.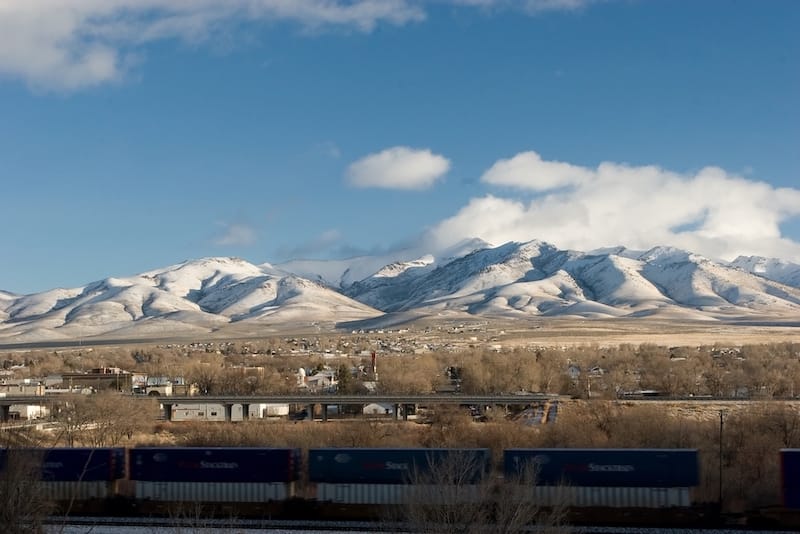 Visit Nevada's largest dunes, just ten miles north of the town. Hiking enthusiasts will love the Winnemucca Mountain Trail that is a 9.4-mile trail near Winnemucca- it is a great place not only for hikers but also for cyclists and birdwatchers.
Travelers should also visit Nixon Park, C. Horse Ranch, Park Cinema, Water Canyon, Pioneer Park, and Pete's Gambling Hall if looking for the best things to do in Winnemucca.
Pioche
The old western town of Pioche is a famous Nevada tourist destination and has plenty of attractions worth visiting!
You can explore the Lincoln County Museum with unique exhibits, the Million Dollar Courthouse (an Italianate-style museum with mining history and an original jail cell), and a remaining 19th-century opera house called Thompson Opera.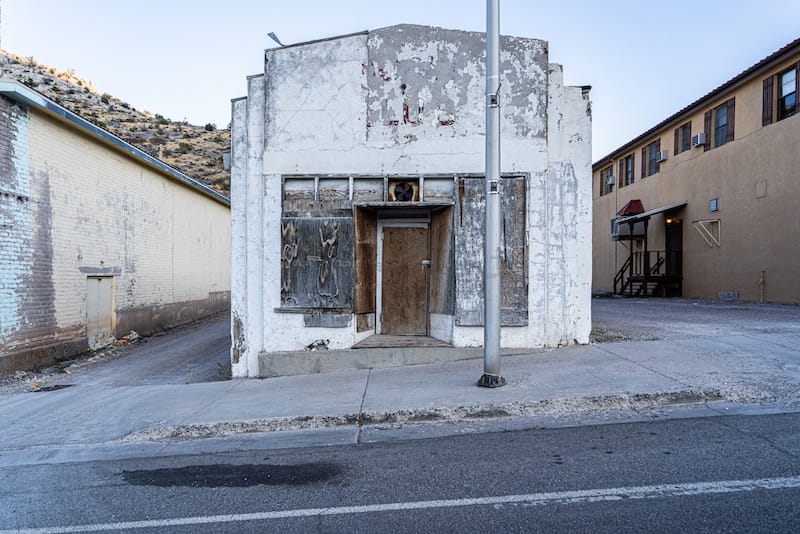 During the 1870s, gun-slinging was a popular activity in the Nevada town, and only the strong survived! Crimes and murders happened so often that Boot Hill Cemetery was established, including Murderer's Row, a separate section containing the graves of over 100 murderers.
Pioche is famous for its various parks in the town and nearby such as Spring Valley State Park, Echo Canyon State Park, and Miller's Point. Golfers will enjoy playing a round at the Lincoln County Golf Course.
Virginia City
Once a mining center, Virginia City is a popular tourist spot offering a variety of things to do.
The Washoe Club Haunted Museum is regarded as one of the top haunted locations of the West! The Mackay Mansion provides a historical background of the city.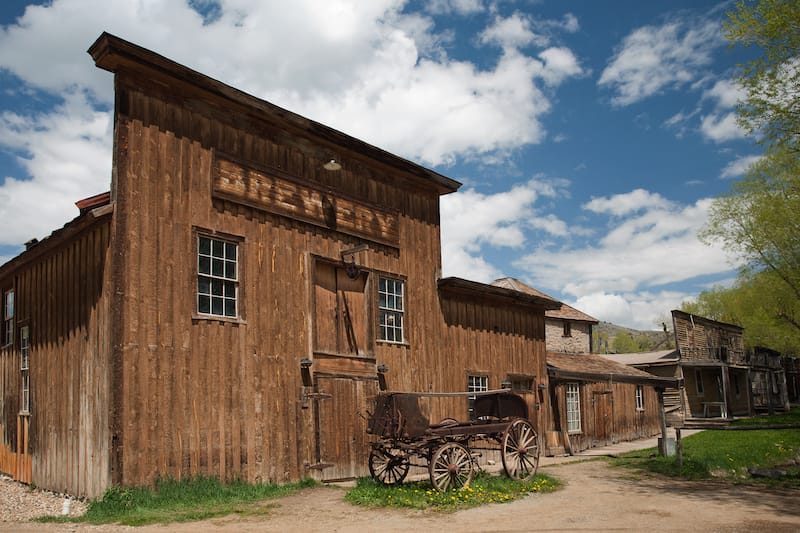 Another can't-miss sight is the Fourth Ward School Museum, which does a fabulous job depicting national history. Virginia City's Piper's Opera House is regarded as one of the significant theaters in the American West.
Saint Mary in the Mountains is a Catholic Church is that dates back to 1870 and is another place worth visiting in the small town in Nevada. Also, the Comstock Lode was the first distinctive discovery of silver ore in the country.
Lovelock
Lovelock has a developed agricultural and mining industry and plenty of attractions to keep visitors entertained when visiting the small Nevada town. Below are some of the top spots to visit in Lovelock.
Lover's Lock Plaza is a must-see place that displays the old tradition of love locking. If you want to see an old train depot that's still functioning, stop at Lovelock Depot. Built in 1880, it was a significant stop for transcontinental train journeys.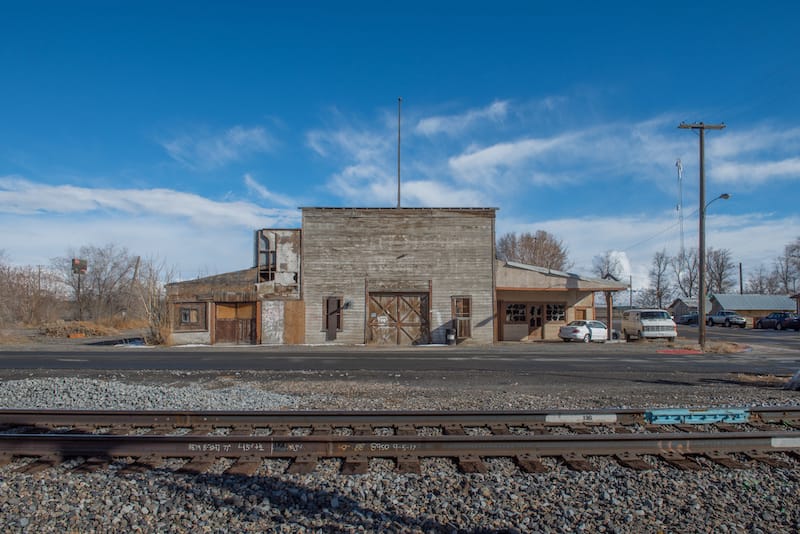 For outdoor activities, check out the Rye Patch State Recreation Area. If you're interested in antiques and collectibles, visit Nanny Jo's. The town also is home to Lovelock Cave, a striking place teeming with archeological discoveries.
Goldfield
Often referred to as a 'modern ghost town', Goldfield is a place where history becomes tangible. Below are some of the best things to see and do when visiting Goldfield.
The Goldfield Hotel was once one of the most prominent buildings in the area. Today, it provides historical tours and even ghost hunts to curious visitors.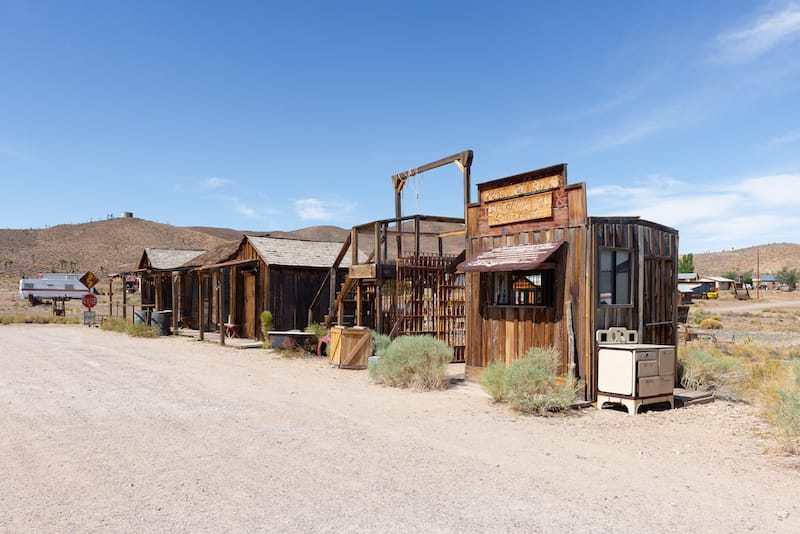 History enthusiasts can also visit the Historic Fire Station Museum and Goldfields Historic High School. The Goldfield Cemetery has several weird gravestone inscriptions like Gunshot, or Man Died Eating Library Paste, and is a must-see in the Nevada small town!
More sights worth visiting include the Gold Point ghost town, Sagebrush Saloon, Santa Fe, Goldfield Art Car Park Gallery, Zero 1 Desert Adventure, and the Elite Trading Post.
Minden
Located in the Carson Valley, Minden boasts a huge range of attractions. Your first stop should be the Dangberg Home Ranch Historic Park, which is the ancestral house of the founding family of Minden.
Visit the Bentley Heritage Estate Distiller where you can try liquor and vodka that is truly top-quality! At Tahoe Ridge Winery & Marketplace, you'll learn everything about the wine-making process.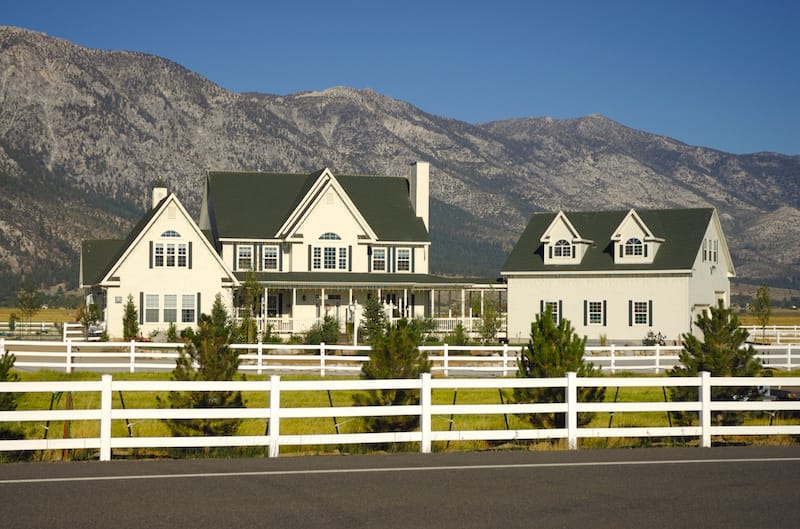 If you want to enjoy the town and its surroundings from above, check out Soaring Nevada, a tour company providing glider excursions, Skydive Lake Tahoe, and Sky Combat Ace.
For antique lovers, head to Tumblewind Antiques and Collectibles or Red Barn Antiques for a nice souvenir to bring home.
Eureka
In the small town of Eureka, there is an endless number of cool things to do and to see. The Eureka Opera House once hosted plays, balls, and operas and is an example of the town's bustling history.
Eureka Sentinel Museum was the original home of the Eureka Sentinel newspaper and is a must-visit for those passing through the town. In the center of the downtown, the County Courthouse is situated in a historical building that is still in operation today.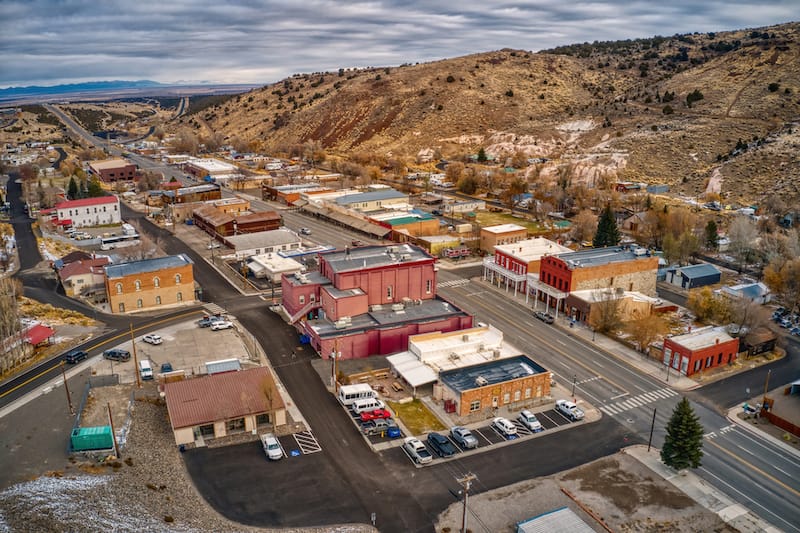 Jackson House Hotel is another landmark with fascinating architecture, providing historical ghost tours. One can also visit Eureka's historic district and see the remains of an underground tunnel system. In addition, check out Rain's Market and Malarkey's Pub.
Tonopah
If you're fascinated by ghost stories and haunted locations, then Tonopah is a perfect place for you! One of the top places to visit in Tonopah is the Tonopah Historic Mining Park which offers a rich history and guided tours to learn more about Nevada's mining story.
The Old Tonopah Cemetery is a must-see and the Central Nevada Museum provides rich mining, ranching, and Wild West life history.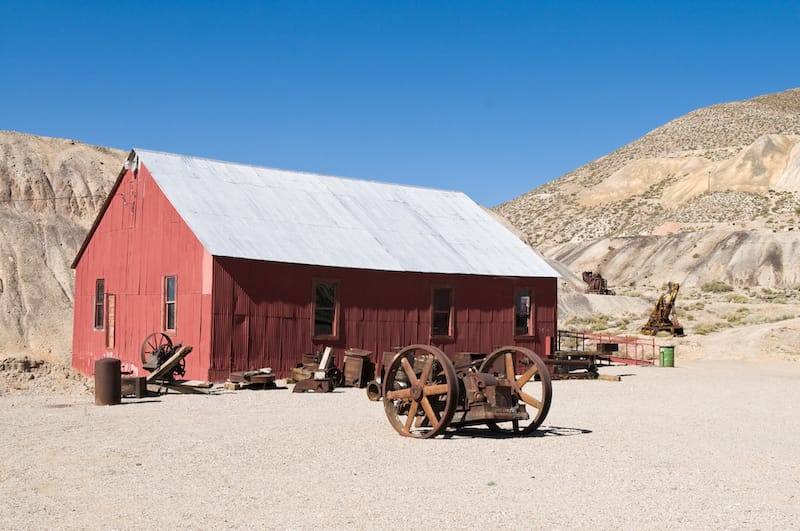 The Mizpah Hotel is the number one haunted hotel in America and is a wonderful place to stop by when in the Nevada town!
Another famous landmark in Tonopah is The Clown Motel, often referred to as this 'scariest hotel in the USA'. Tonopah is also home to a Stargazing Park, where you can marvel at 7,000 stars and the Milky Way under the vast NV skies!
Austin
Austin is chock-full of exciting things and outdoor activities. Walking along the streets of the town, you'll find three churches, including the Methodist Church, St. George's Episcopal Church, and the St. Augustine's Catholic Church.
A famous site in Austin is Stokes Castle, a real-life castle dating back to 1897, which was home to the renowned Stokes family.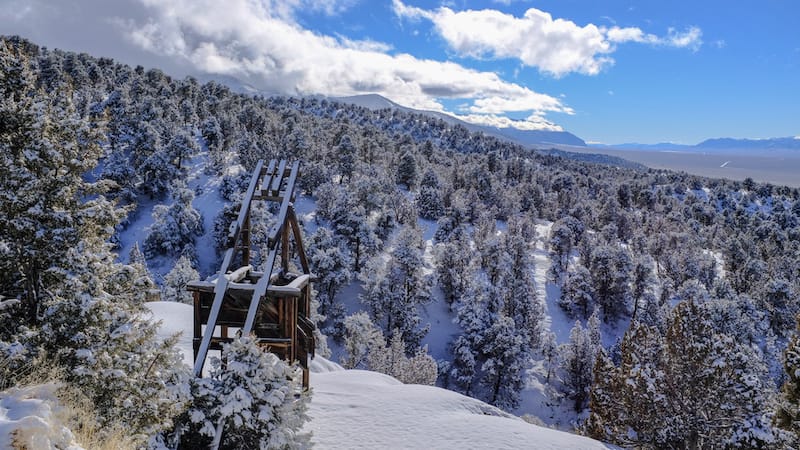 Don't miss a chance to visit Jason's Art Gallery, a turquoise shop full of Nevada-mined turquoise.
Hickison Petroglyph Recreation Area is a designated area containing 10,000-year-old rock carvings and is a popular destination for tourists near Austin. You can also visit the Austin Nevada Cemetery and Berlin-Ichthyosaur State Park.
Gardnerville
Discover year-round entertainment and activities in Gardnerville. Explore the history of the town by some of the famous sights listed below!
Inside of an old high school building, you'll find the Carson Valley Museum and Cultural Center that provides several artifacts and historical memorabilia to visitors.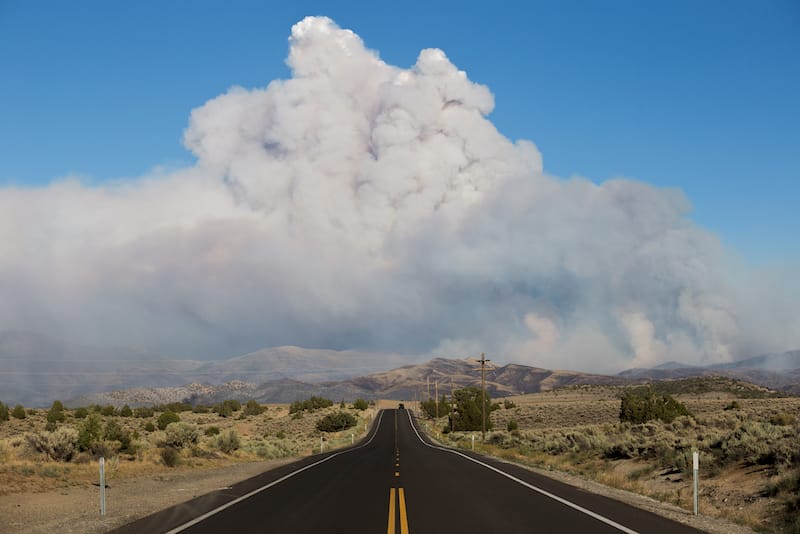 If you want to have an exciting outdoor adventure or play sports, stop at Lampe Park. It has a soccer field, several softball fields, two hardball fields, and two volleyball courts. It is a great place for children to let out some of their energy before visiting other Gardnerville attractions!
The Sheridan Creek Equestrian Center offers two-hour trail rides on their horses through the beautiful Nevada countryside.
Enjoy the flavors of the town by checking out the Chocolate Shoppe by Sweet Images and Heritage Park Gardens. Finish off your day by taking a hot-air balloon ride through the skies with Lake Tahoe Balloons.
Jarbidge
Called one of the most remote towns in America, Jarbidge is in the middle of beautiful forested mountains.
It has an interesting history, including a local Shoshone legend about a giant that menaced the town and eventually was trapped in a nearby cave. In 1909, Jarbidge became a mining camp during the gold rush.
The town was also claimed as the last place to have a mail stagecoach robbery in 1916.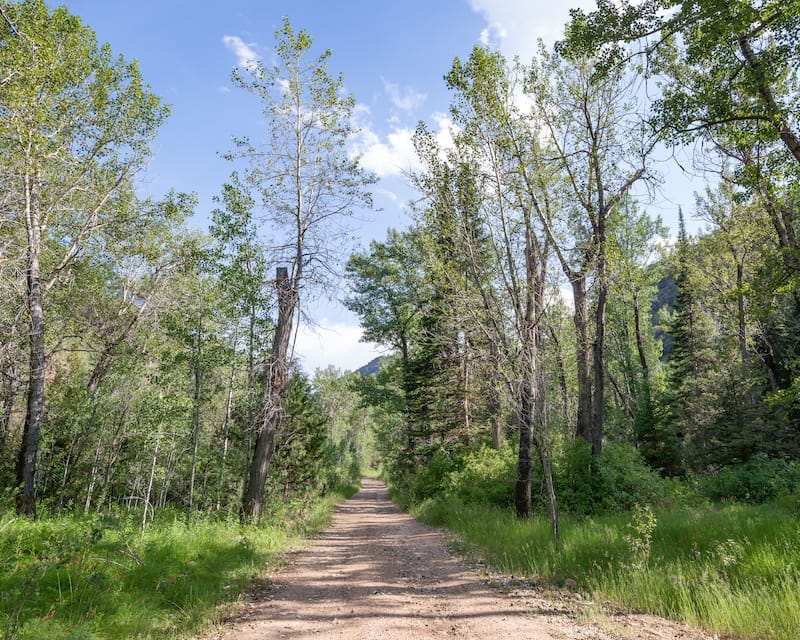 Jarbidge Wilderness Area is over 100,000 acres of land, ready for hikers, fishers, and wildlife enthusiasts to explore.
In town, check out the historical structures, like the old jail, as well as shops like Jarbidge Trading Post for camping supplies and fun souvenirs, Nevada Glassworks LTD for beautiful glass pieces, and one of the saloons for a true Wild West experience.
Even though it's a trek to get there, Jarbidge is well worth the visit.
Gerlach
Gerlach is the gateway town to the Black Rock Desert. This beautiful desert is full of hot springs, geysers, canyons, ancient petroglyphs, and the Playa, a prehistoric lake bed that is one of the largest, flattest surfaces on Earth.
Perhaps nowadays Gerlach is most known for the Burning Man festival, a countercultural arts and music festival held every year before Labor Day.
For some funky art, check out Planet X Pottery and take a trip down Guru Road, where art pieces and carved words of wisdom dot the roadside.
Even if you're not into the Burning Man vibe, Gerlach is worth a visit as it is a great place for off-the-beaten-path desert excursions.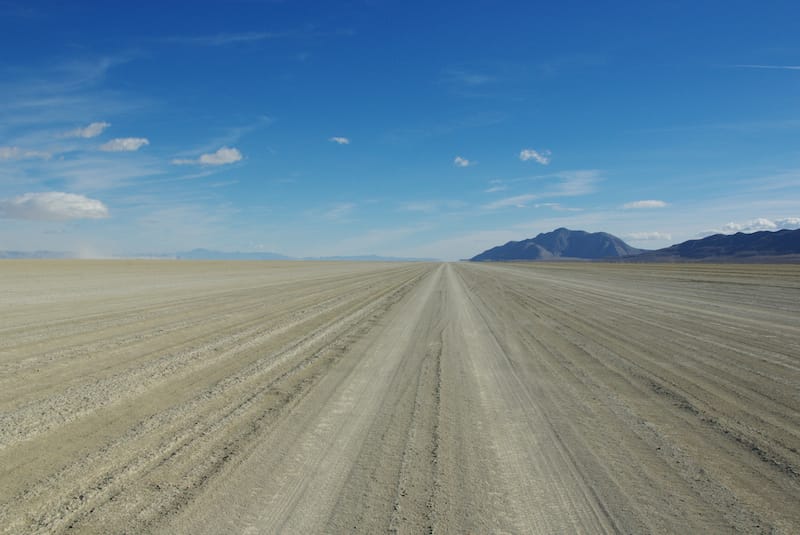 Visit Fly Geyser, Soldier Meadows hot springs, and marvel at the amazing geological formations including old lava flows.
Gerlach is also one of the best places to see the Perseid Meteor Shower in late summer, as Nevada boasts some of the darkest skies in all of the US.
Did we miss any of the best small towns in Nevada? Let us know the best Nevada small towns, ghost towns, and more in the comments. Thanks!
More Nevada Travel Guides
Pin this Nevada Small Towns Guide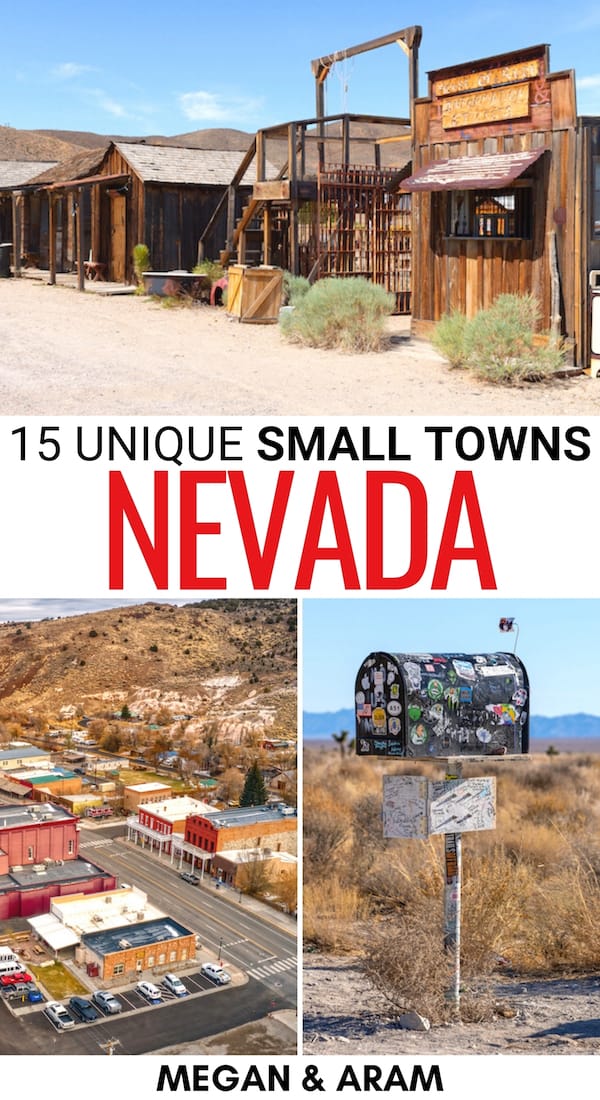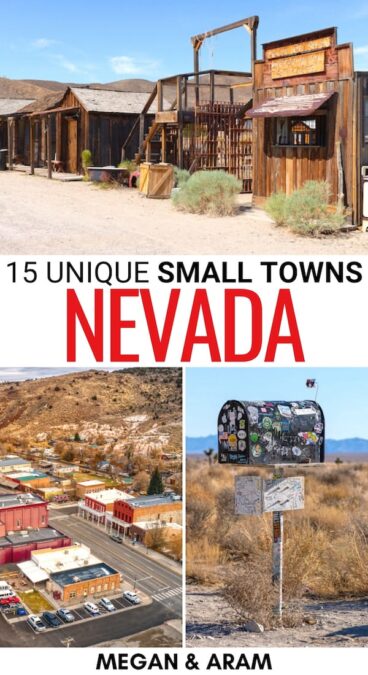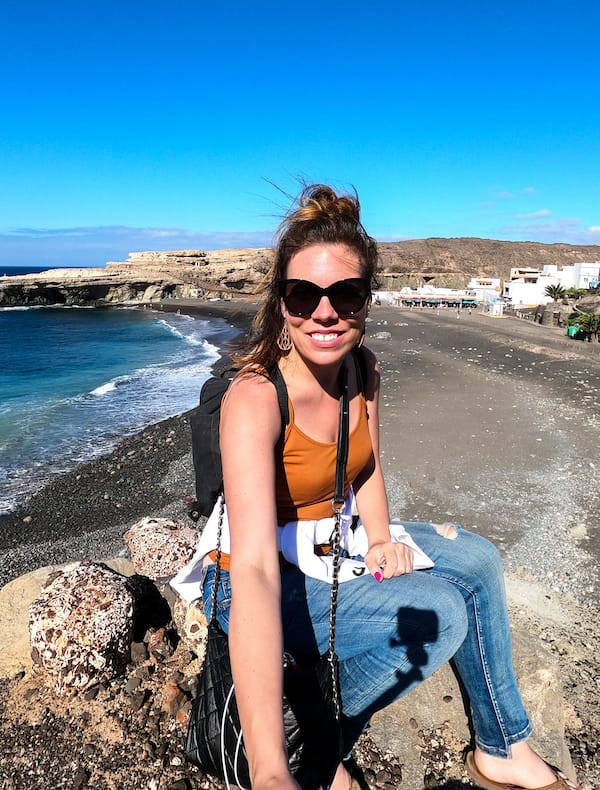 Megan is a travel blogger and writer with a background in digital marketing. Originally from Richmond, VA, she now splits her time between Frankfurt, Germany and Arctic Finland after also living in Norway, Armenia, and Kazakhstan. She has a passion for winter travel, as well as the Nordic countries, but you can also find her eating her way through Italy, perusing perfume stores in Paris, or taking road trips through the USA. Megan has written for or been featured by National Geographic, Forbes, Lonely Planet, the New York Times, and more. She co-authored Fodor's Travel 'Essential Norway' and has visited 45 US states and 100+ countries.