I am not really someone who traditionally has been loyal to certain airlines. I frequently flew with American Airlines in the US because I had a lot of points with them and could cash in for free flights on a regular basis. However, once I moved to Europe… I was in a territory where discount airlines existed and those airlines frequently dropped me off in random cities far away from my intended destination. While most travelers hate this, I welcomed it.
It allowed me to explore cities I would never have visited otherwise. And then there was airBaltic. My first flight with airBaltic was in 2011 and it took me to Kyiv, Ukraine with extended layovers in Riga, Latvia both times. I didn't know much about the airline, but by the end of that trip, I was sold. They flew to several destinations I connected with and was interested in. I quickly grew to love the Riga Airport and it felt like home. As did Riga itself. I have flown airBaltic at least twenty to thirty times over the years, which is a huge feat on a continent where you can find flights for $10 round trip with other airlines.
On April 29, 2018, airBaltic launched flights from Riga to Almaty, Kazakhstan. A few days later, I was scheduled to be on one of those flights. I was in Yerevan, Armenia and a revolution was unfolding. I never considered that this would hinder my ability to get back to Tbilisi to catch my flight from TBS to Riga to Almaty. But it did.
Borders shut down and I was unable to leave Armenia. I contemplated staying around Armenia for the following two months, but my heart wanted to be in Almaty. So, I had the flights rescheduled for the following week. And just like that, I was off to Kazakhstan… a country I had previously called home at the end of 2016 for a few months.
Riga to Almaty with airBaltic
Currently, the Riga-Almaty route runs three times a week. The prices start at 159 euros one way and go up accordingly based on dates and desired class. The flight itself is just over 5 hours and is a red-eye flight, which I found very easy to pass out on and get a solid night's sleep on. The check-in procedures were easy and painless. Just be sure that you're at your gate a little earlier than usual as you will have to pass through Schengen passport control. There was a flight to Moscow around the same time as my flight to Almaty, so the passport stamp-out had a small line.
Bombardier CS300 with airBaltic
While I am not someone who is extremely knowledgeable about the planes I fly in (I really should be better at this), I am certain that this trip was my first overnight experience on a Bombardier plane. I had taken one right before to leave Tbilisi for Riga, but it wasn't a lengthy trip, so I didn't get to enjoy the full experience like I did on the Riga to Almaty route. My first impression was that the plane felt very spacious, which as someone with claustrophobia, is a major deal and added bonus.
In addition, the overhead bins for luggage storage were easily the largest ones I have ever seen. While I always pack the right weight, the weight of my luggage is never evenly distributed and I often am trying to shove things into the bins. These ones were so large that I actually had to stretch to get my bag out once we were disembarking in Almaty!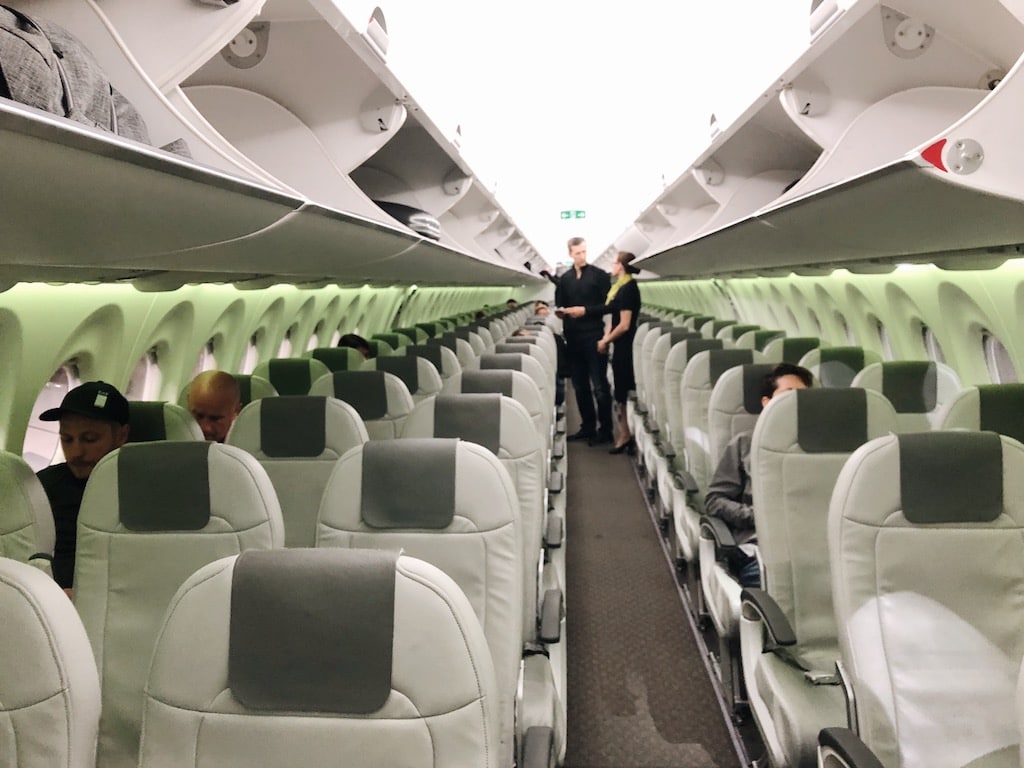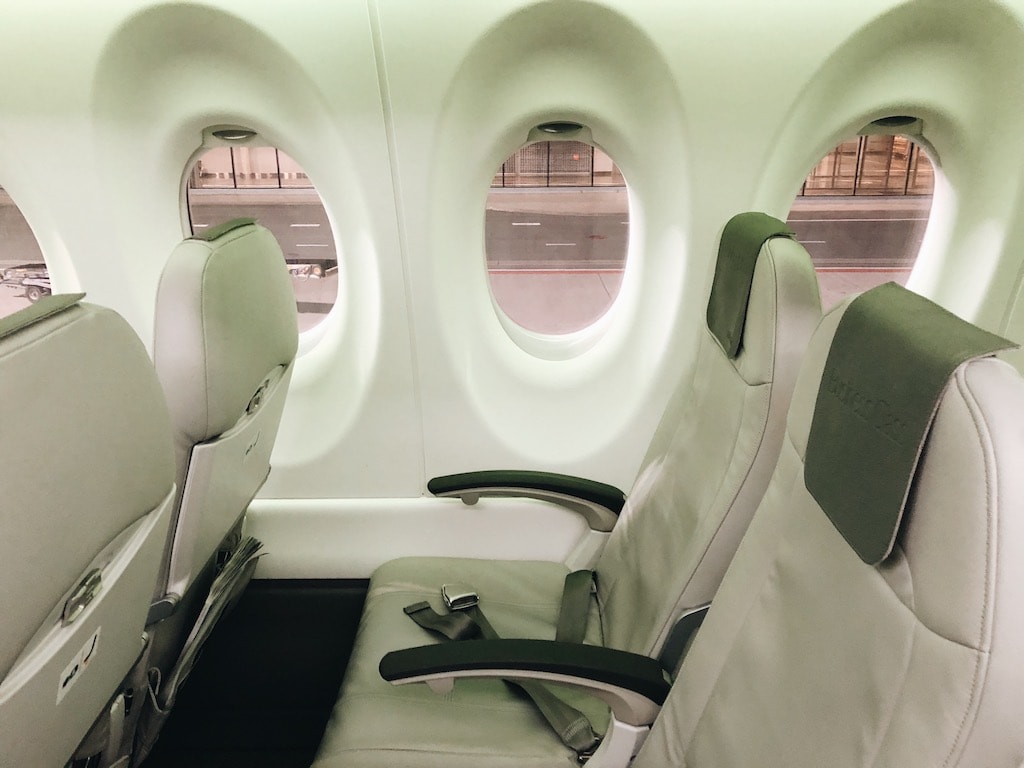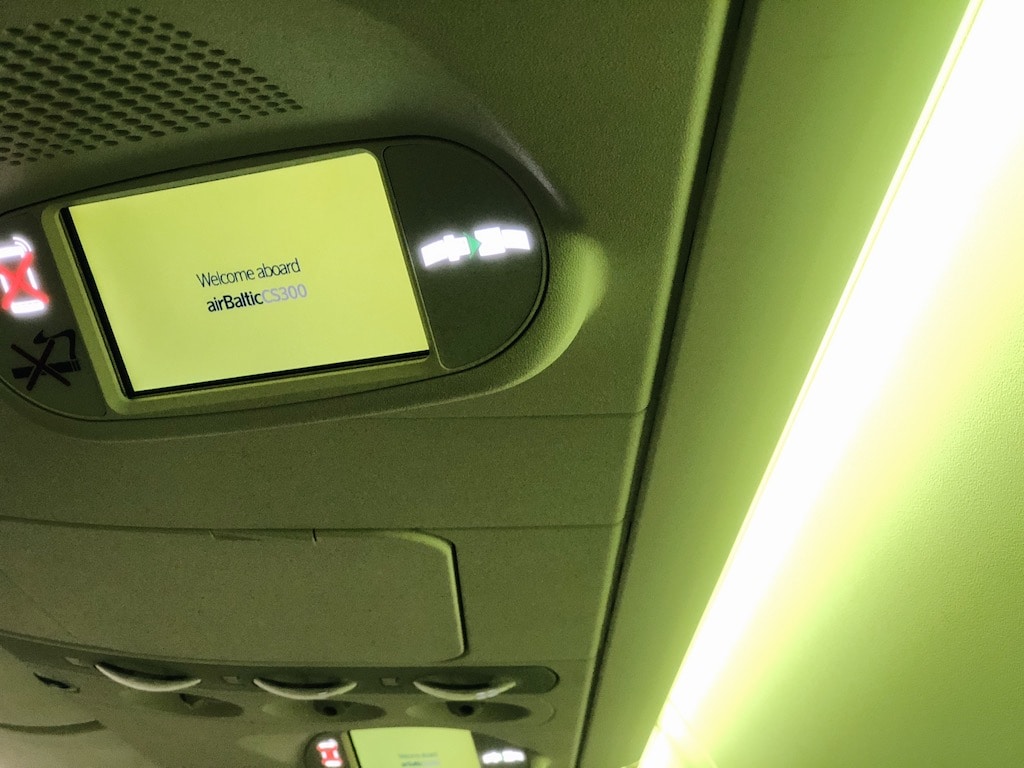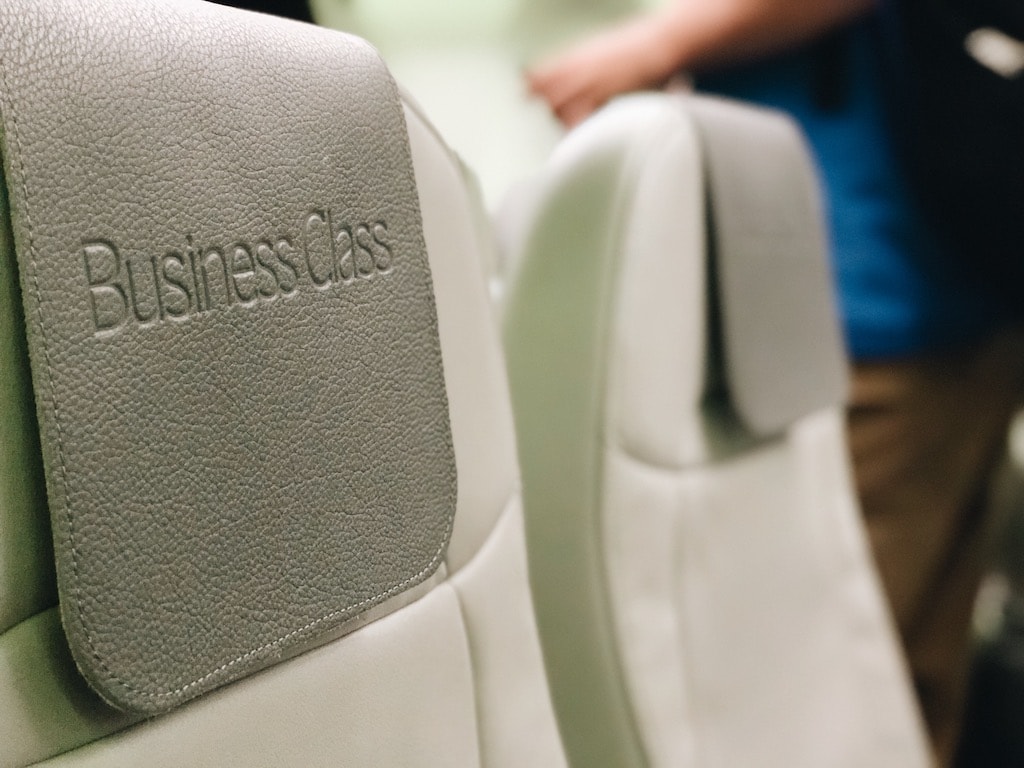 Business Class on the CS300
I was upgraded to Business Class for my flight and this gave me the opportunity to experience the food and amenities that Business Class with airBaltic offers. Unfortunately, I fell asleep for nearly the entire duration of the flight and did not get a chance to enjoy the meal. The offerings for my flight were eggplant roulette with cream cheese and tomato pesto (appetizer), sous vide pike-perch fillet with baby potatoes, olive tapenade, and herb butter (main course), and lemon posset with strawberry sauce (dessert). Such a shame I didn't get to enjoy this because I rarely can stay awake while in-flight.
Having a Business Class ticket also permitted me to have lounge access at Riga International Airport. While I spent my day in the city, I did go check out the lounge quickly to see what it had to offer. The lounge was well-stocked with beer, liquor, wine, and a lot of small eats. There were TVs with sports on, shower facilities, and really comfortable couches and seats. I, without a doubt, could have spent the entire day inside of that lounge. But, Riga is too awesome of a city to sit inside the airport all day if you have the chance to go into the city.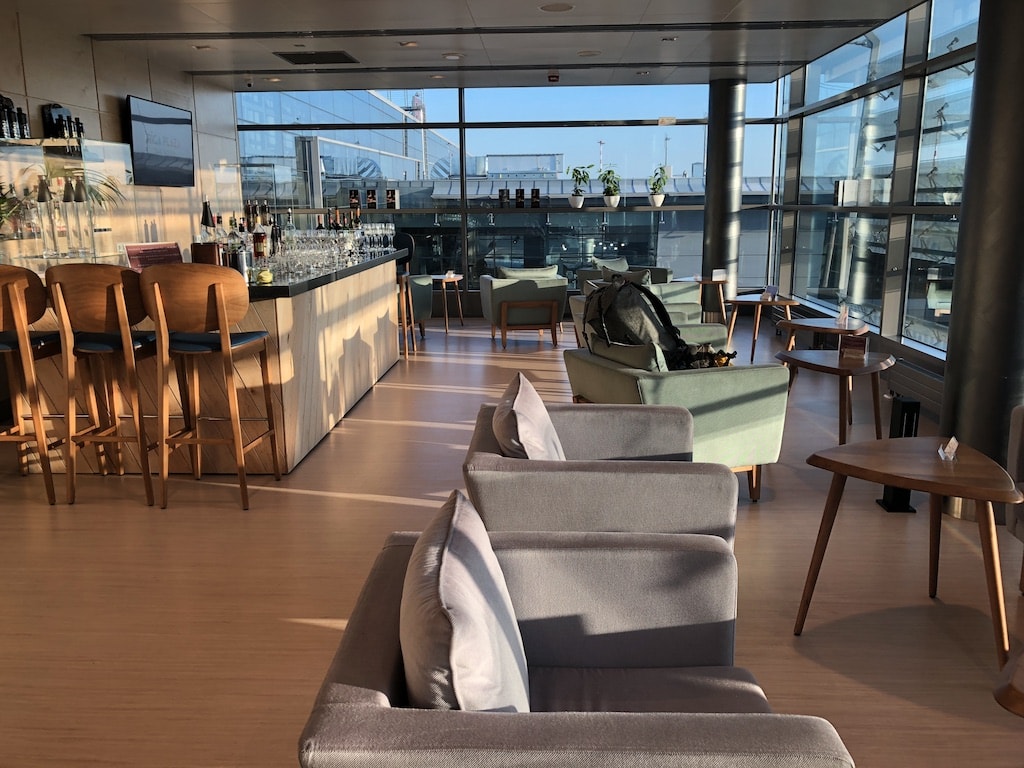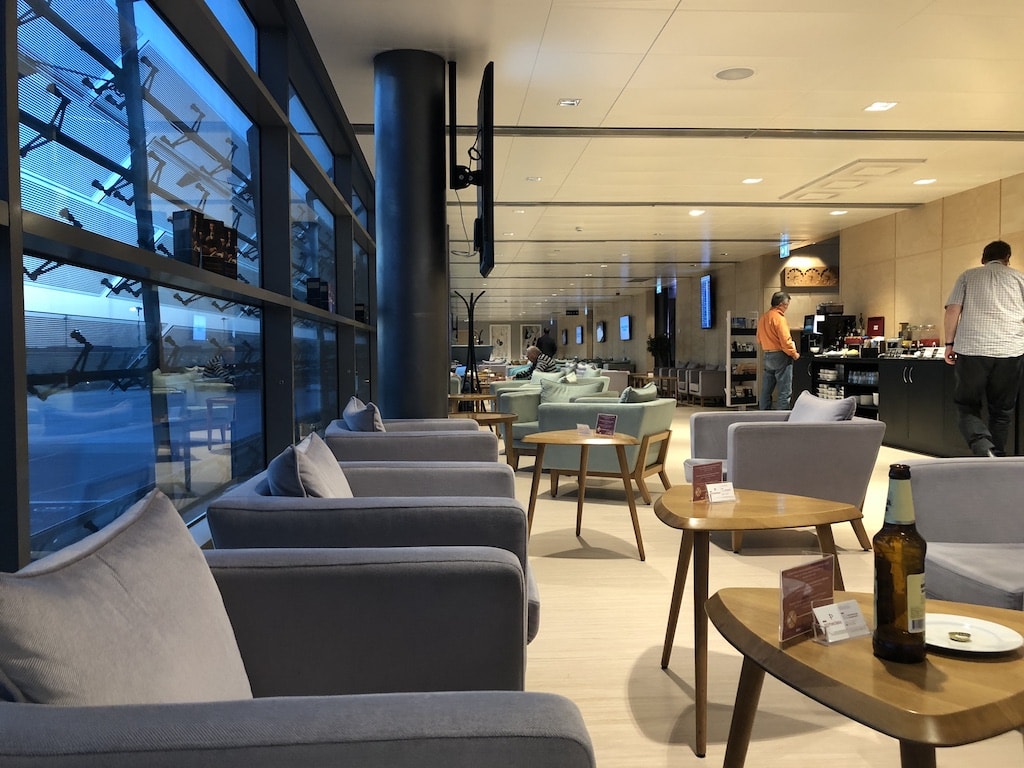 Arriving in Almaty with airBaltic
I woke up as we started our descent, and I am so glad that I did. I gazed out the window and one look at the snow-covered peaks of the Tian Shans and I got butterflies in my stomach with anticipation of being back in one of my favorite cities.
Once we landed, we were bussed to the terminal and got in line for passport control. Be sure that you get one of these white pieces of papers on the plane before landing (and if you don't, you will find them as soon as you enter the customs area in the terminal). Fill it out accordingly and DO NOT LOSE IT. If you lose this piece of paper during your trip to Kazakhstan, you will receive a hefty fine.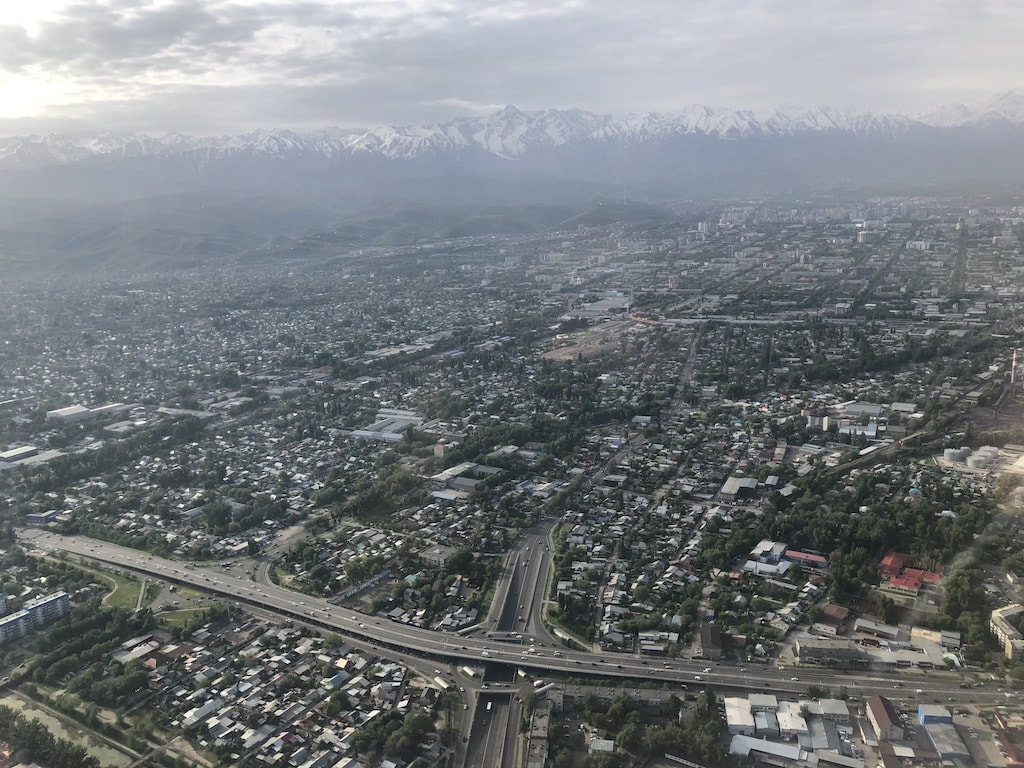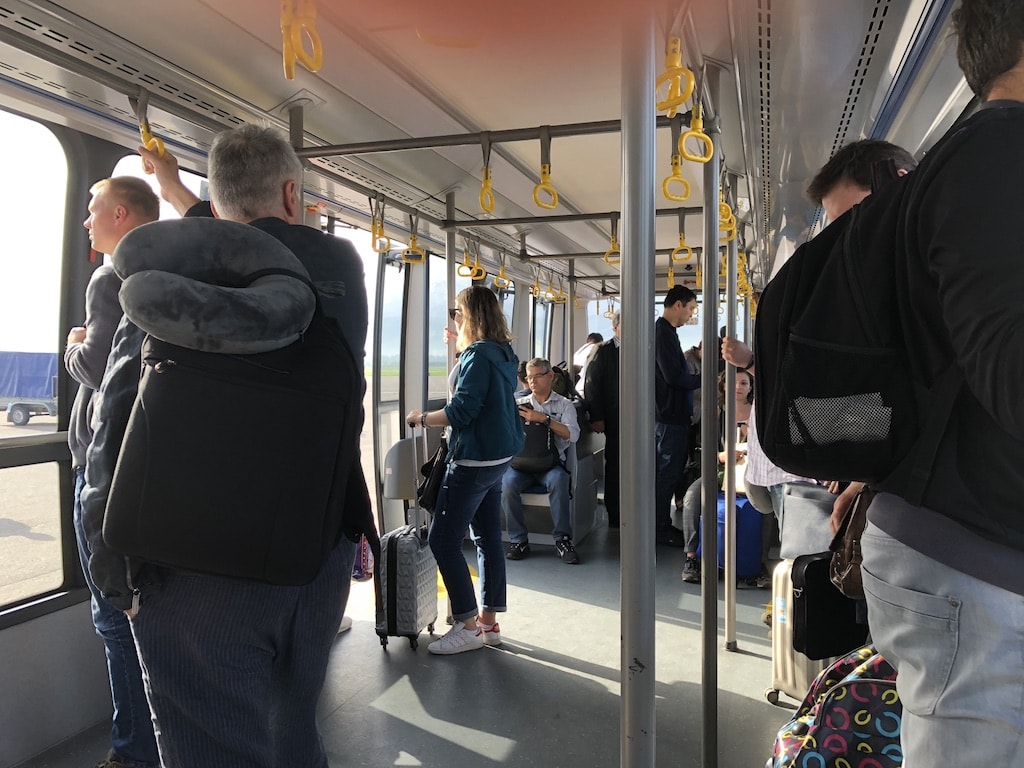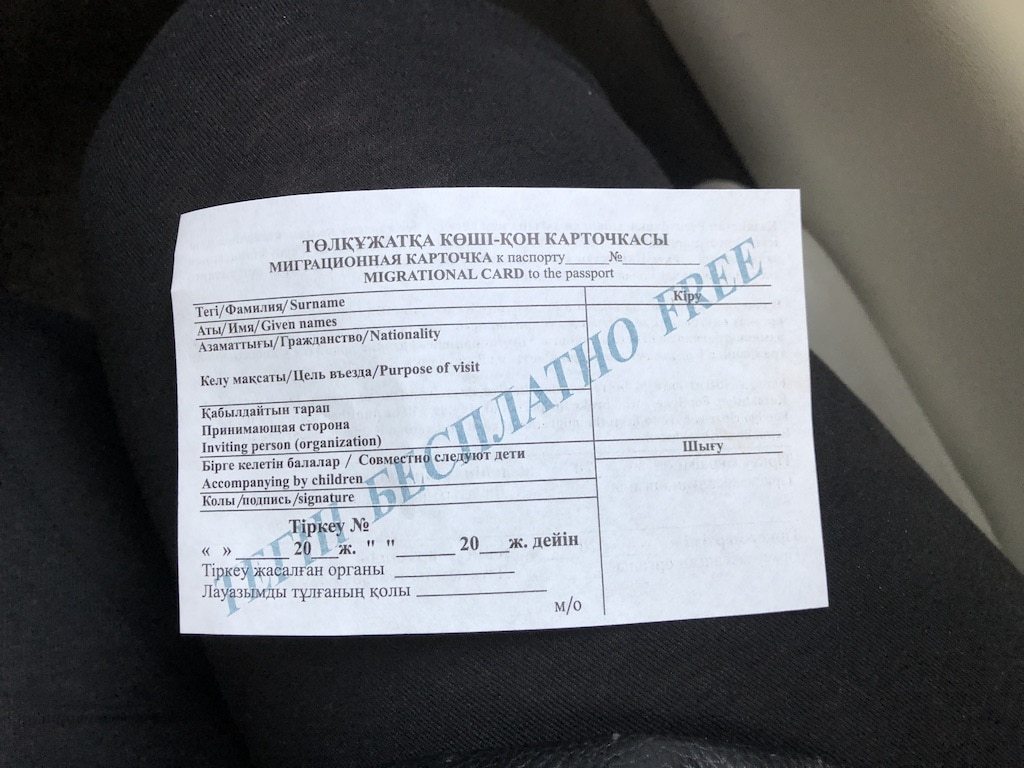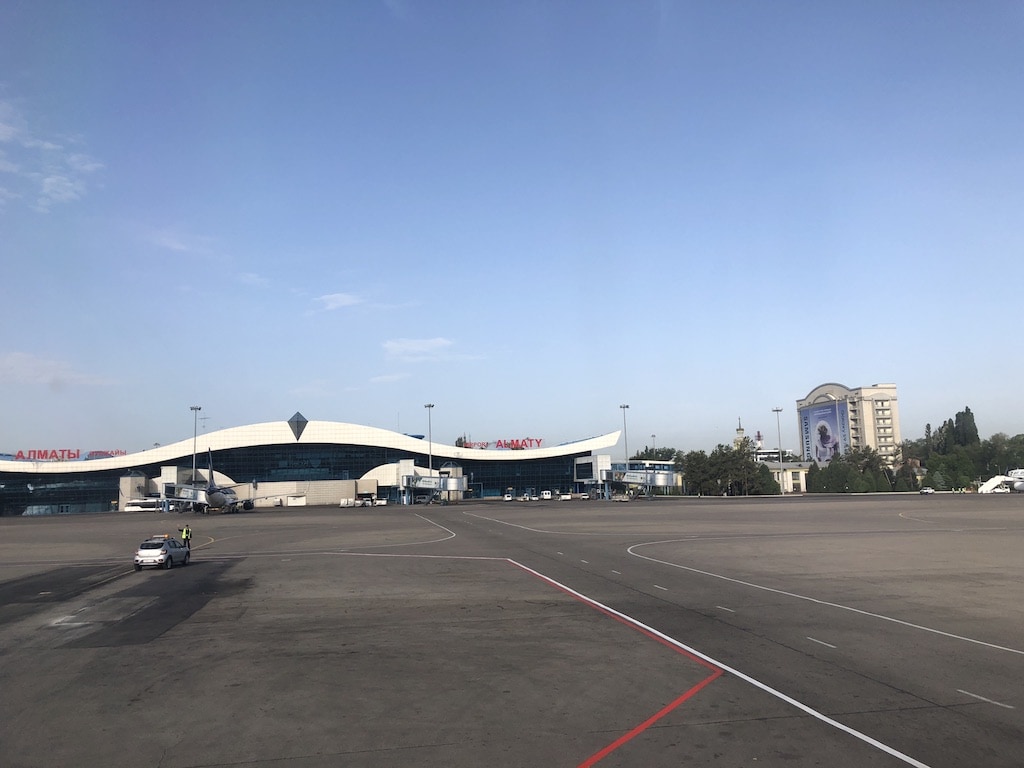 Customs should be fairly easy. The officers may ask you where your visa is. If you have a visa-free visit to Kazakhstan, be sure to let them know that. I have heard that sometimes if you aren't confident, they will make you purchase a visa on the spot for money which is crappy if true. But I think they are just checking and making small talk as you walk through customs.
Do You Need a Visa for Kazakhstan?
Funny enough, I have been to Kazakhstan several times and have hit every visa change they have had in the last five years. When I first arrived, I needed an expensive ($160) visa. When I moved there, I fell under their visa-free scheme that permitted Americans 15 days in the country without a visa. Now, they have upped the visa-free scheme to 30 days for Americans and many other nationalities. Based on the people reading this blog- here is the current visa scheme and situation (and for other nationalities, click here for more information).
90 days visa-free in Kazakhstan: Armenia, Georgia, Belarus, Russia, Kyrgyzstan, Moldova, Ukraine, Mongolia
30 days visa-free in Kazakhstan: USA, Canada, Australia, EU citizens, Norway, Iceland, New Zealand, and many more.
Be sure to check that these policies have not been updated or changed before your trip, however. You do not need to register but you do need to hold on to that white piece of paper which will be collected as you leave the country by air or land.
ATMs and SIM Cards at Almaty International Airport
There are plenty of ATMs in the main lobby of the airport where you can withdraw money from to get into the city. I suggest waiting on getting a SIM card until you're in the city. I always get my SIM card through Beeline and at the same place (corner of Furmanov and Tole Bi Streets). You may end up screwed over if you go through an independent dealer otherwise. The Almaty Airport has wifi, but it seems to only work if you have a working SIM card at the time with a Kazakhstan or Russia number. I am certain there is a workaround with this, but I just wanted to get into the city and sleep more!
Getting from Almaty Airport into the City
There are a couple of options for getting from the airport into the city. I usually opt for a taxi, but you MUST ensure the taxi is legit. I had issues in 2016 with a fake taxi from this airport into the city (which resulted in police involvement). When you walk outside, there will be some SUV taxis to your left. You can take one of them for 3000 tenge (like $10 or so). Or, you can get one from the Yandex taxi app. The Yandex one may be cheaper, but you need to have a working SIM card or wifi to order one, so I often just opt for one that is already at the airport even if I pay slightly more.
You can also take a public bus from the Almaty Airport into the city. To get the latest bus route information- check out the Almaty Airport's homepage.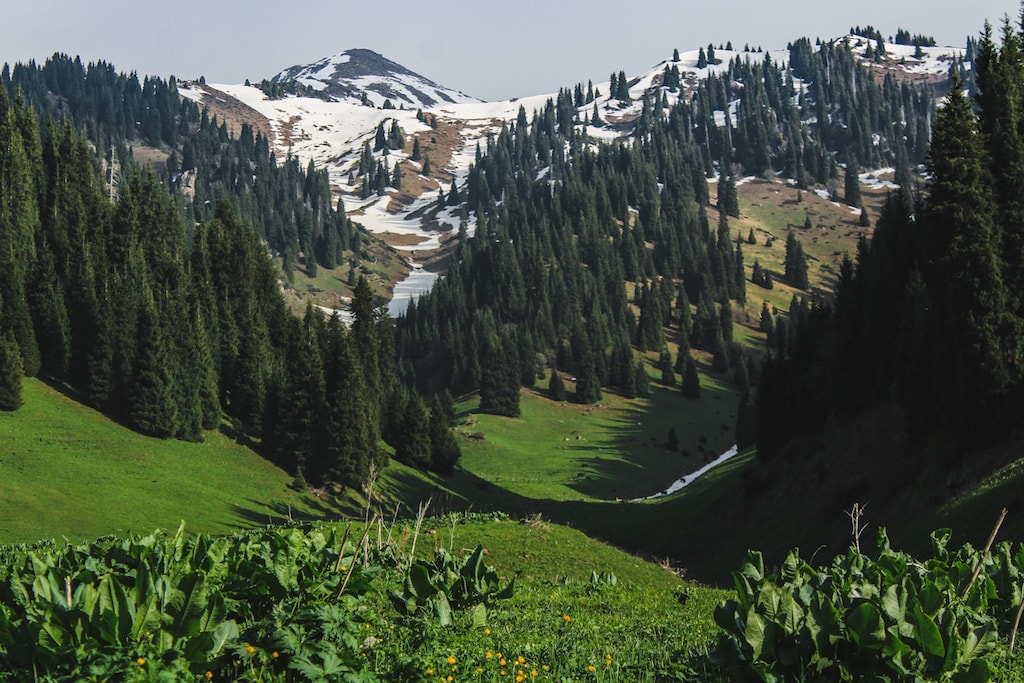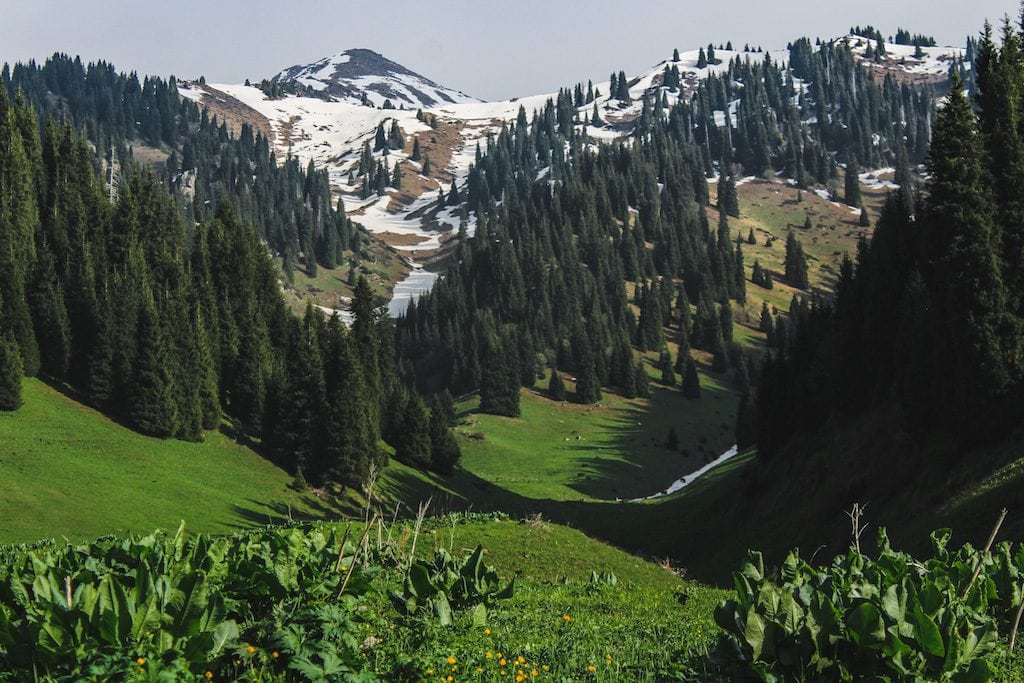 Welcome to Almaty, Kazakhstan!
You're in one of my favorite cities in the world. Enjoy it! To read more about Almaty and Kazakhstan. You can also check out pieces I've written for this blog about Kazakhstan here.
*Special thanks to airBaltic for flying me from Tbilisi to Riga to Almaty on one of their new Bombardier CS300s recently. And thanks for the Business Class upgrade- even though I was too tired to enjoy that delicious meal!
If you are interested in Eastern Europe, the former USSR, and the Balkans, please come over and join a group I admin with two other awesome bloggers. Click the photo below to join!