Since the pandemic started, one thing I have become a master of is local trips. Germany has plenty of them and some of them are in my local area around Frankfurt.
I also have used this time to take advantage of working outside since many of the cafes had been closed in the past during our extended lockdowns. The fresh air and change of scenery were actually fantastic for my mental health during a chaotic worldwide situation.
Order here: Bluetti EB55 portable power station
One thing I struggled with a bit when I first started working in parks and in my back garden was that I could only get in an hour of work before my laptop died.
My computerʻs battery was struggling at the time and the shops that usually would change were short-staffed and you needed appointments far in advance in order to get a simple battery changed on your computer. To be honest, it kind of drove me nuts.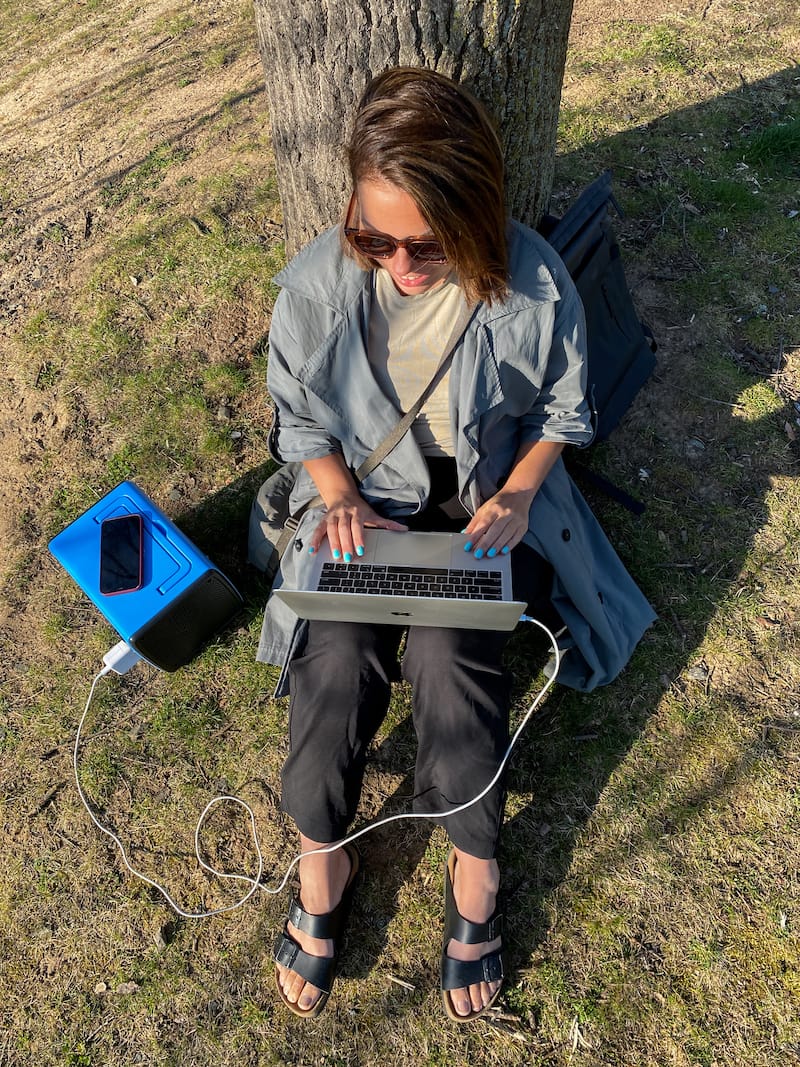 My home office is dark and there is not much light coming in and working outside a few days a week is my saving grace!
About Bluetti EB55 Portable Power Station
Step in the Bluetti. This portable power station completely revolutionized my ability to work outside in places that inspire me.
Once I received the Bluetti EB55, I was able to charge it up, head to the garden, and work in the greenery and under the sun (or the grey clouds since I live in Germany!)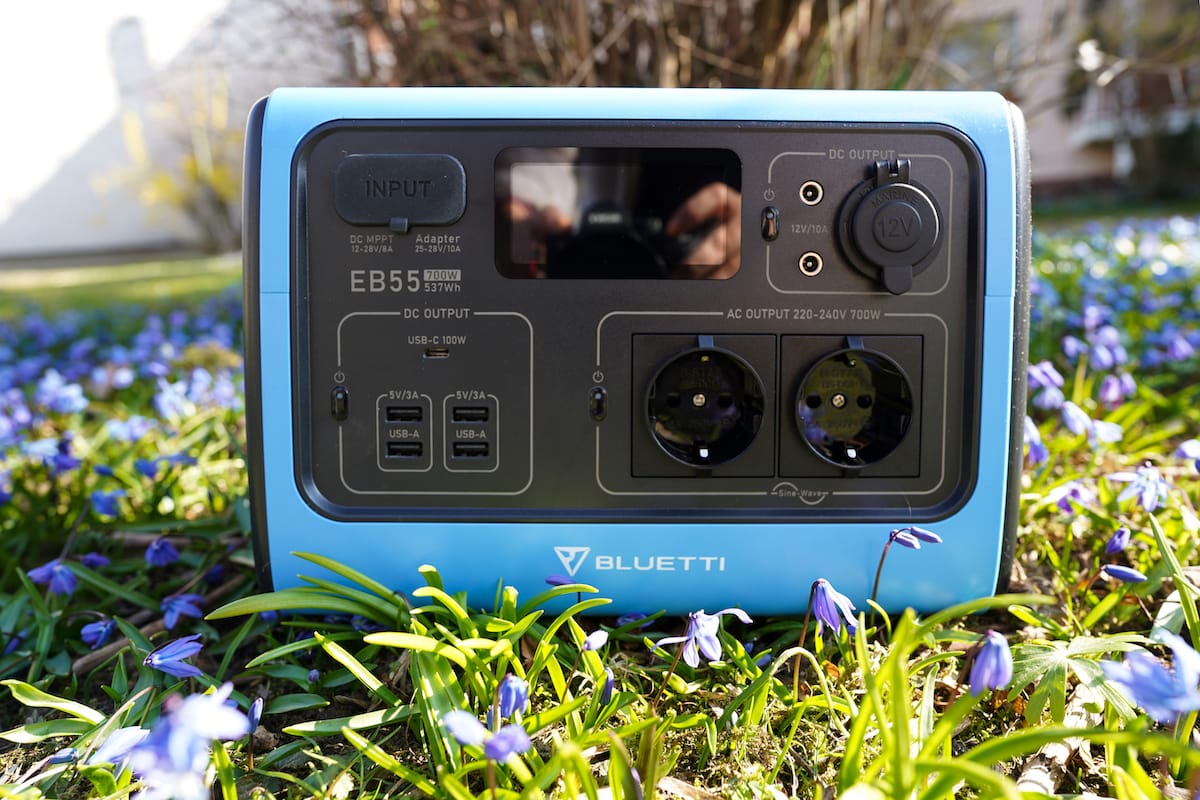 The Bluetti EB55 portable power station is a 700W 537Wh battery that has up to 2,500 lifecycles and has 12 outputs where you can charge multiple devices. Including computers!
You will find six ways to recharge on the Bluetti – including AC, solar, car, generator, AC + solar, and dual AC. There is also a 200W max solar input.
Order here: Bluetti EB55 portable power station
Depending on where youʻre ordering from, it comes in a beautiful blue/black (the one I have!), orange/black, and grey/black. The local shipping is free and you will receive a 2-year warranty as well as lifetime customer support on the power station.
You can also buy accessories to accompany it, including a PV200 solar panel.
It is not a light device and not optimal for flying or carrying around for extended periods of time, but it fits easily in a car/RV for local trips. It is 16.5 lbs and 10.94 x 7.87 x 7.79 inches (7.5 kg and 278 × 200 × 198 mm).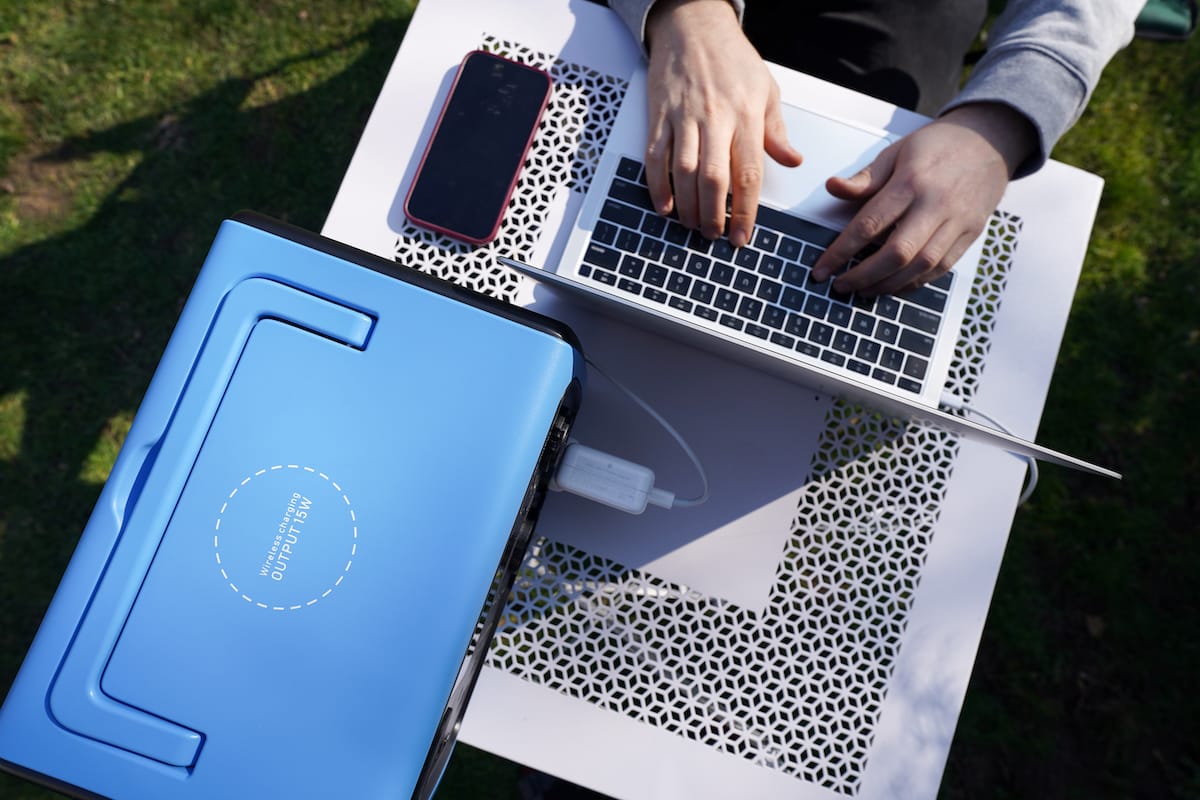 The Bluetti EB55 is perfect for charging electronics such as mobile phones, radios, mini-freezers, computers, projectors, and more. It is also great for a camping trip where you can hook up electronics to make your trip all the richer!
How I Will Be Putting the Bluetti to Use
So, how will the Bluetti come into handy for me? In several ways, actually!
First and foremost, it allows me to work outside. I am most inspired when I am working outdoors and while I donʻt always have access to wifi, I often like to disconnect and just write.
And, the Bluetti allows me to do that without stressing about how much battery I have left on my computer.
Secondly, I love watching movies outside. I have a projector and a screen and I am stoked for summer to roll around so I can set up a screen in my garden and watch movies with my neighbors!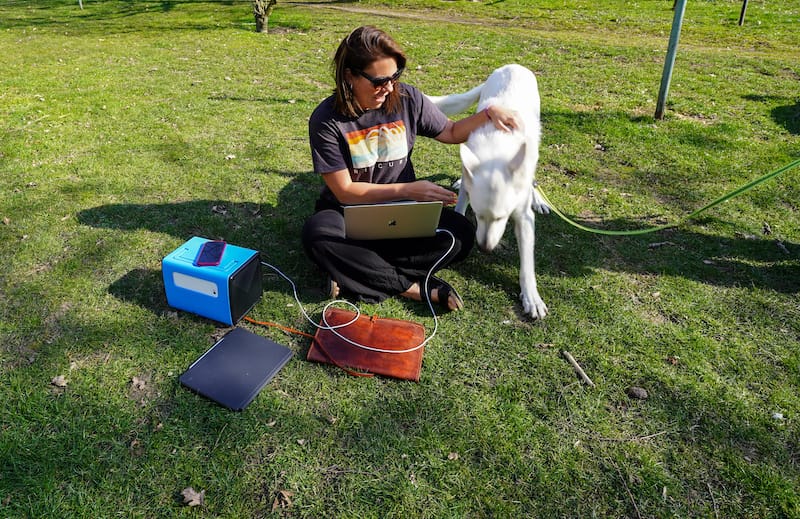 Germany is the perfect place to do so during the summer months and it will be a way for me to escape the bar and club scene here in Frankfurt and opt for something a bit more enjoyable, yet still somewhat social!
And lastly, I am excited to use this on future road trips. I look forward to taking it with me on local trips and using it to cook on my electric grill in the forests and to charge my devices when camping.
How to Buy the Bluetti EB55
If youʻre interested in the Bluetti EB55, luckily, it is super easy to order and have delivered to your doorstep!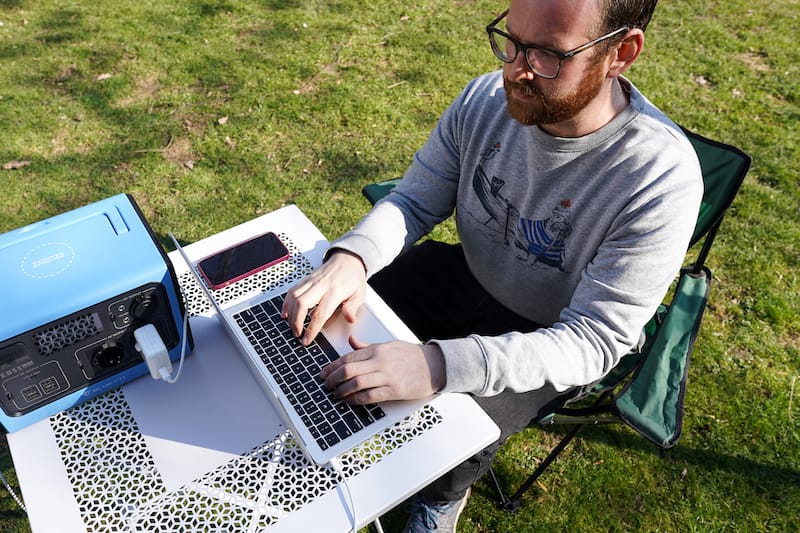 When ordered, it took merely 2 days to arrive at my home in Germany and shipped from nearby. The US also has a quick delivery!
If youʻre ordering your Bluetti EB55 portable power station in the EU, you can purchase it here.
If youʻre ordering your Bluetti EB55 portable power station in the USA, you can purchase it here.
If you have any questions about the power station, please send a message and let me know! I hope you find it as useful and revolutionary as I have!
*I was sent a Bluetti EB55 to test out and all opinions are my own! I really do love this thing!