Are you planning to spend 7 days in Bonaire on your upcoming trip to the Caribbean? This Bonaire itinerary will help you plan your vacation!
On this itinerary for a week in Bonaire, you will find the days broken down with plenty of activities, the best beaches, and delicious places to eat!
If we missed anything, please let us know how you would spend seven days in Bonaire in the comments (or itinerary essentials that we missed!).
About Bonaire
Bon Bini (Welcome) to Bonaire, one of the Leeward Antilles islands in the southern Caribbean Sea. Bonaire, Aruba, and Curacao make up the ABC islands and are about 50 miles north of Venezuela.
The island of Bonaire is 115 square miles, and the capital city and main port are centrally located in Kralendijk.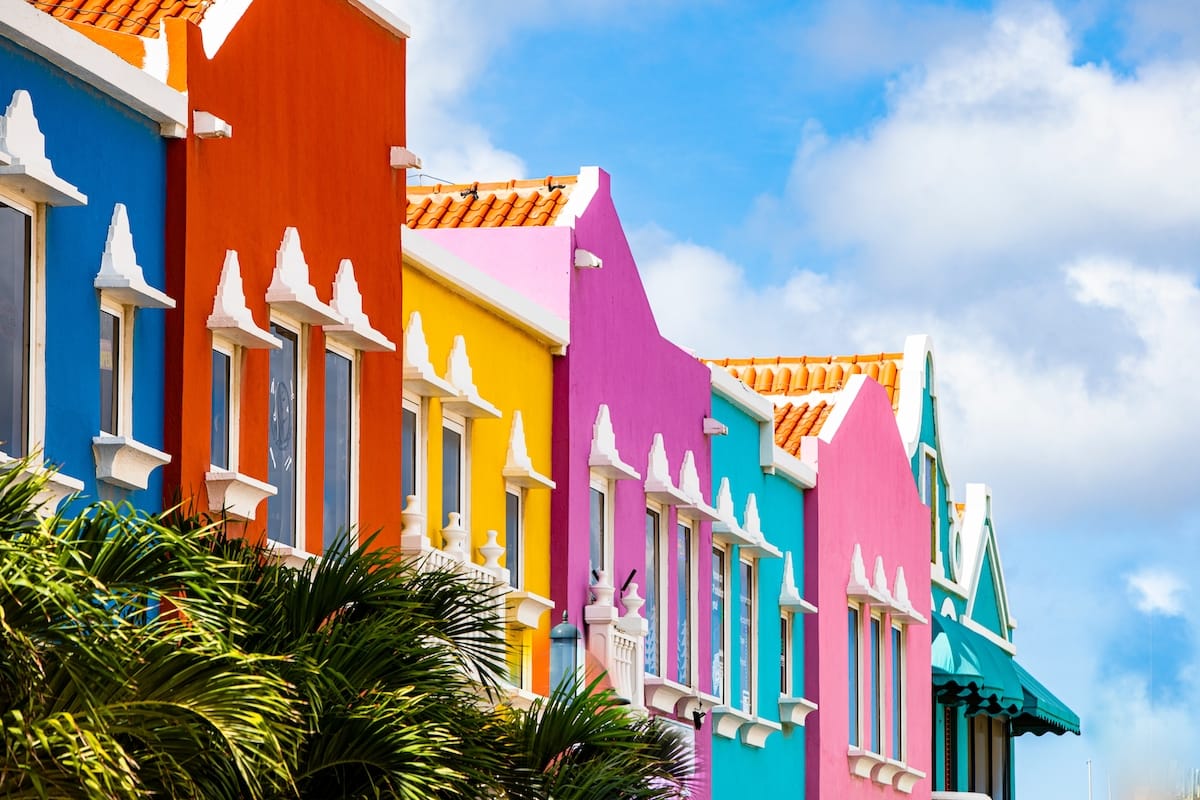 Flamingo International Airport offers direct flights from Amsterdam, Toronto, and many US cities like Atlanta, Miami, and Houston.
Best Time to Visit Bonaire
Bonaire offers year-round temperatures in the mid-80s and a rainfall of less than 25 inches annually.
The rainy season is from October through December.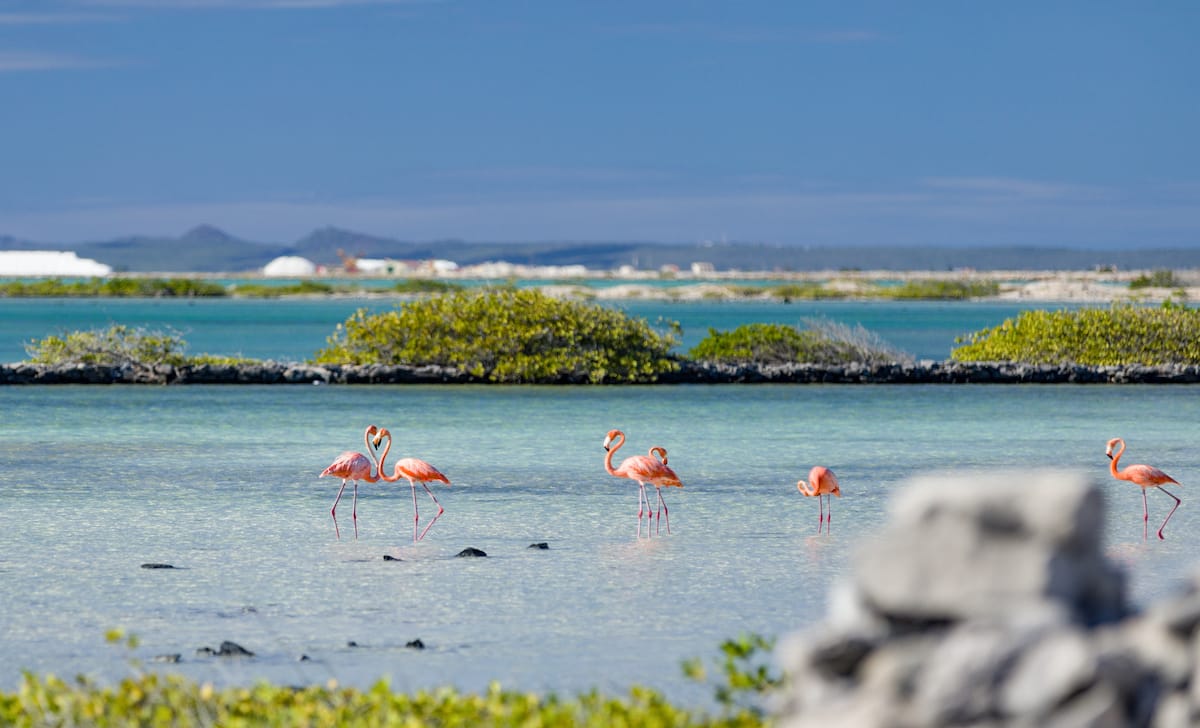 Since the island is outside the Caribbean hurricane belt, summers are an excellent time to visit Bonaire since the trade winds make it seem so hot and the crowds are fewer than during the winter months.
Currency in Bonaire
The US dollar is the currency in Bonaire, which makes shopping very convenient for those traveling from the USA.
How to Get Around Bonaire
Since there is little public transportation on Bonaire, your best bet for traveling around Bonaire would be to rent a car.
At the Flamingo International Airport, you can rent a car from national car rental agencies like Hertz, Enterprise, Alamo, Avis, and Budget, or book a vehicle through Discover Cars out of Bonaire for the best rates on the island.
Economy cars are perfect for the small island unless you are looking to go off-roading through the Washington Slagbaai National Park, where you might prefer renting something with a 4-wheel drive for the rocky terrain.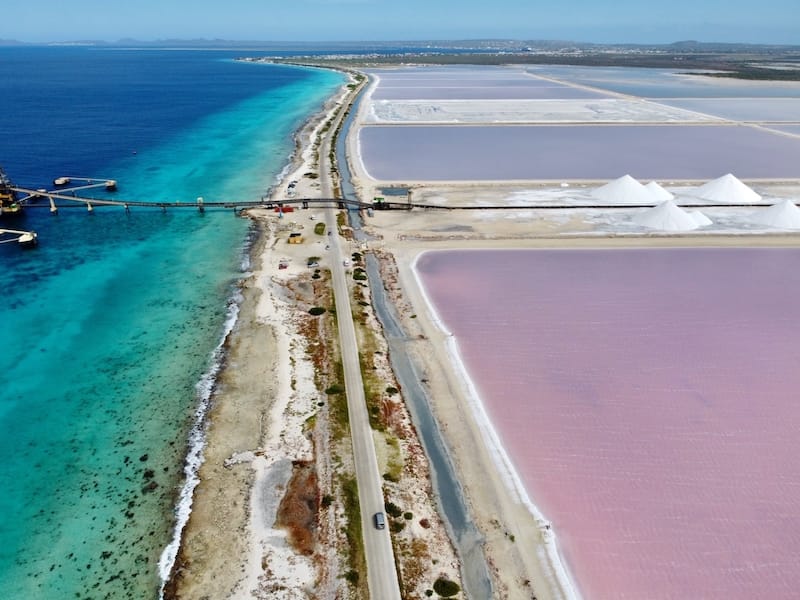 Scooters are also popular rental options for those at least 21-25 years old with valid driver's licenses. Blou Blou offers E-Scooters.
Taxis are a third option that offers reasonable rates and will give tours hourly.
Shekhinah Tours Bonaire offers various excursions, including their 33-point North and South Tour + Beach or the Washington Park Tour, and airport transfers.
Bonaire Road Trip Accommodation Recommendations
Luxury Hotel: The Bellafonte Luxury Oceanfront Hotel features anything from studio rooms to incredible penthouses with a picturesque view.
The hotel offers complimentary water sports, snorkel equipment, and shuttle service to Kralendijk and the airport.
Mid-Range Hotel: Divi Flamingo Beach Resort and Casino is a 129-room hotel near Klein Bonaire that offers free snorkel gear, a pool, and two restaurants.
The downside of this hotel is that the hotel has no actual beach.
Budget Hotel: The Sonrisa Hotel is a boutique hotel with ten spacious suites, a pool, and gardens in the Playa section of Kralendijk.
The hotel, which is not along the water, does offer a full breakfast.
Need more space than a hotel room? Then look at One Ocean Bonaire, which has a 2-bedroom villa and five boutique apartments.
Bonaire Itinerary Overview
Day 1: Breakfast at Between 2 Buns, visit Bonaire Botanical Gardens, Snorkel Klein Bonaire, dinner at It Rains Fishes
Day 2: Visit Brandaris Cafe Restaurant for breakfast, take the Tuk-Tuk, Pekelmeer Flamingo Sanctuary, Salt Pier, dinner at Carpaccio
Day 3: Breakfast at B for Bagel and Bloom, explore Kralendijk, visit Willemstoren Lighthouse, experience Pink Beach, dine at the At Sea Restaurant
Day 4: Indulge at Karel's Beach Bar for breakfast, Mangrove Center, Sorobon Beach/Lac Bay, La Cantina Cerveceria
Day 5: Number 10 Bonaire, views from Seru Largu, explore Rincon, drink cactus at Cadushy Distillery, take a Bonaire National Marine Park snorkel trip, dinner at Mi Banana
Day 6: Begin the day at The Dock Bonaire, Washington-Slagbaai National Park, dinner at Foodies
Day 7: Deli Delicious, Horse Ranch Bonaire, snorkel 1,000 Steps, dinner at Brass Boer
Day 1
Breakfast at Between 2 Buns
Begin your day with the island's best egg sandwich, freshly baked croissants, and Between 2 Buns famous Big Papa Omelet paired with freshly brewed Puro Fairtrade coffee or fresh juice.
Address: 49 Kaya Gob. N. Debrot, Kralendijk
Visit the Bonaire Botanical Gardens
Manuel Vargas' Bonaire Botanical Gardens is a beautiful place to spend 90 minutes on a guided tour of the grounds before having a fresh cup of herbal tea.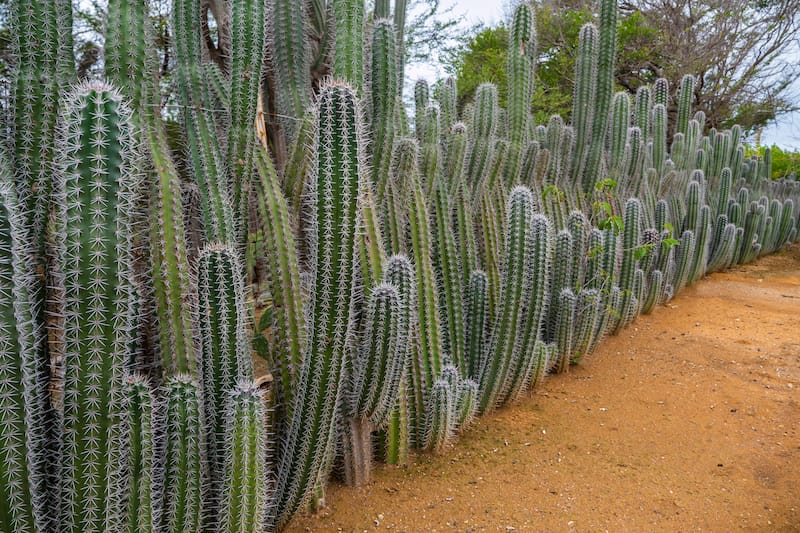 Along the route, learn about the organic practices and the medicinal properties of some of the plants, and even sample a leaf or two while inhaling the wonderful aromas.
Within the gardens, you will see a desert terrain with native plants, including medicinal plants, herb gardens, and various cacti.
Snorkel Klein Bonaire
Begin your journey to one of Bonaire's best beaches by taking the Caribe Watersport's water taxi from Karl's Beach Bar to the small island of Klein Bonaire.
No Name Beach is surrounded by soft white sand and gorgeous aqua-blue water.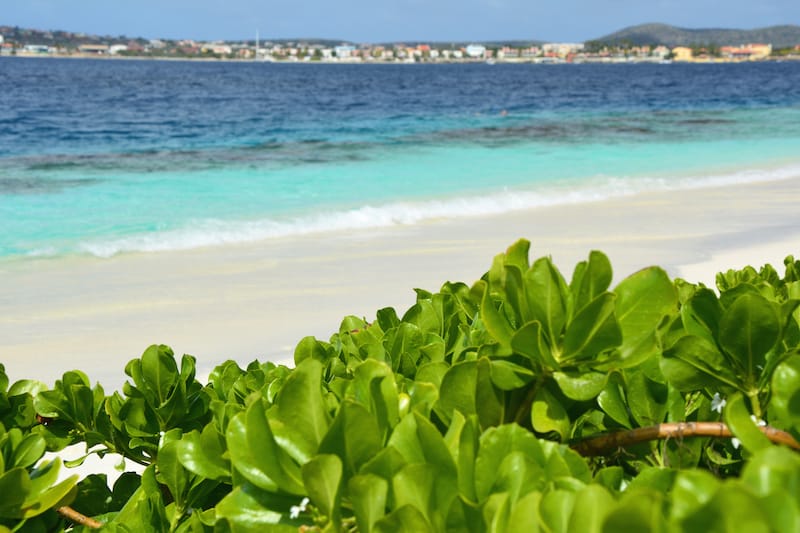 Be sure to bring your snorkel gear, reef-friendly sunscreen, and water since this island has no amenities but a reef with plenty of coral, fish, and turtles.
Scuba divers will find 26 dive sites around Klein Bonaire that offer excellent underwater exploration opportunities.
Notes:
You must have a Bonaire National Marine Park nature tag to swim, snorkel, or scuba dive at Klein Bonaire.
Water taxi tickets are $25 for adults and children 13+ and $15 for children 12 and younger.
Enjoy Dinner at It Rains Fishes
It Rains Fishes is an upscale waterfront restaurant in a 100-year-old house.
They are best known for their grilled local fish, but the menu also includes a seafood platter and pasta, grilled tenderloin, and rolled lasagna.
Finish your meal with Luciano's ice pie or ice cream.
Address: 24 Kaya J. N. E. Craane, Kralendijk
Day 2
Visit Brandaris Café Restaurant for Breakfast
Begin your day eating delicious pastiches, empanadas, or breakfast sandwiches on the terrace or in the air-conditioned dining room as early as 6:30 AM at Brandaris Café Restaurant.
Address: 22 Kaya Libertador Simon Bolivar, Kralendijk
Take the Tuk-Tuk – A Tour to the Salt Excursion
Bon Tuk Eco Tours Bonaire offers a 1½-hour Tour To The Salt narrated excursion in an open-air Tuk-Tuk.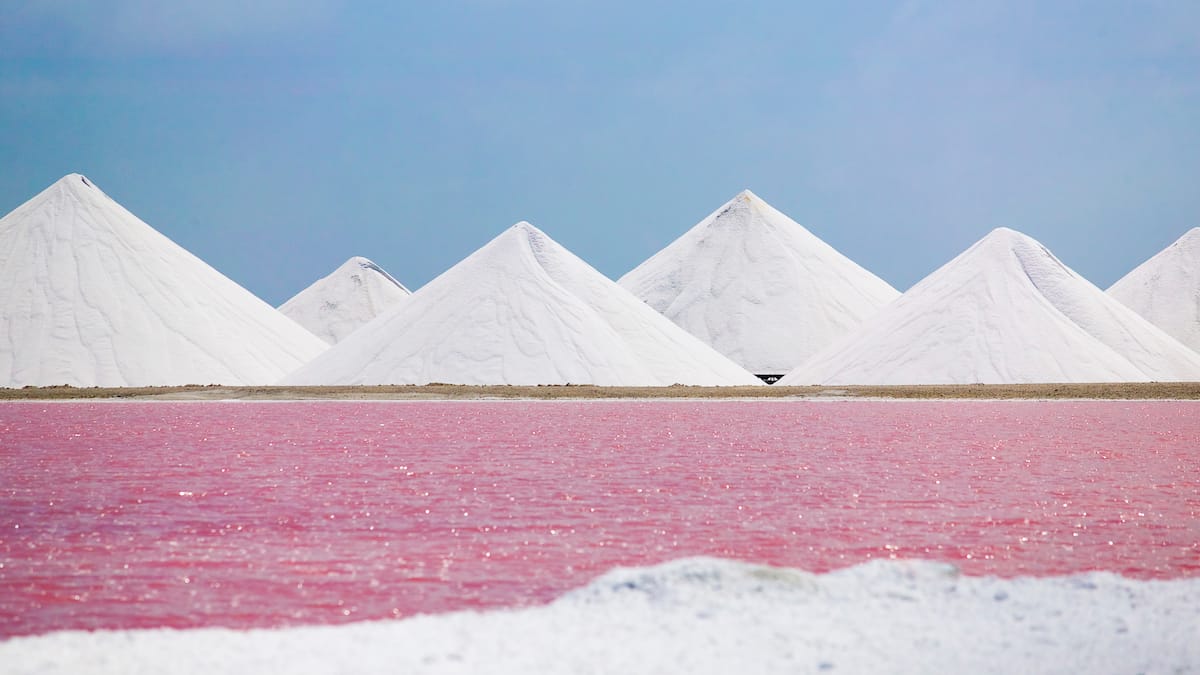 Along the route, you will pass the salt flats and learn about their history, see the pink brine shrimp-filled salt pans, stop at the huts where the indigenous locals lived, and with any luck, catch a glimpse of some pink flamingos.
Pekelmeer Flamingo Sanctuary
While on Bonaire, you will surely want to see Bonaire's national bird.
The flock of nearly 6,000 wild American (Caribbean) flamingos breeds from January through July at the Pekelmeer Flamingo Sanctuary salt ponds.
The salt ponds are full of the tiny pink brine shrimp the flamingos love to eat and what gives the flamingos their pink color.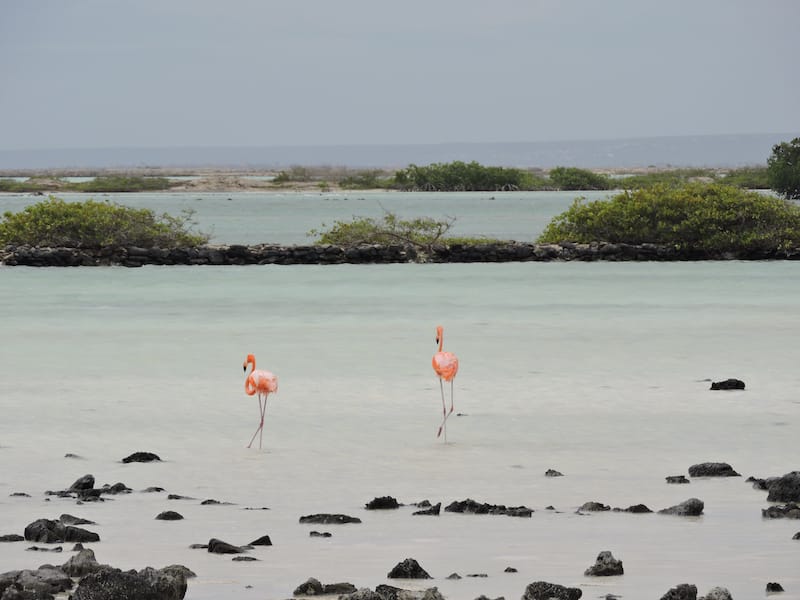 Bonaire's Pekelmeer Flamingo Sanctuary is one of four designated sites in the world where the American Flamingos breed.
Just know that the flamingos are very shy around people and often stay far from the road.
Be sure to bring binoculars and zoom lenses since you are not allowed in the sanctuary.
Salt Pier
The Salt Pier is a terrific spot to spend the day snorkeling and see the coral attached to the pier pilings.
The rocky shore is not the best for laying in the sand, but the waters have various fish, sponges, and hard and soft coral.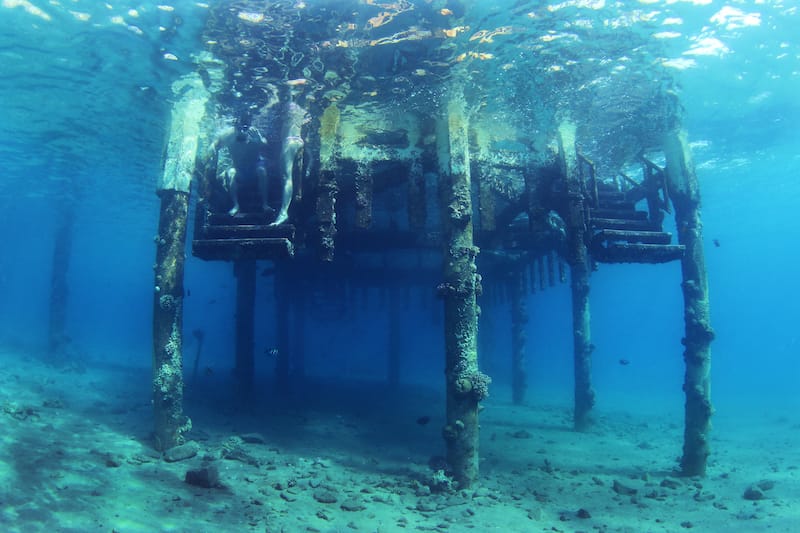 The perfect place to enter the water is on the right side of the pier and then swim under the pier along the shallow terrace.
Sunset is a beautiful time at the Salt Pier due to the shadows on the piles of salt.
Note: Snorkeling, swimming, and diving are not permitted at the Salt Pier when a ship is at the pier.
Dinner at Carpaccio
When looking for an exquisitely cooked Italian dinner, go to Carpaccio, the premier Italian Restaurant on Bonaire.
The waterfront restaurant offers traditional Northern and Southern Italian dishes expertly prepared by owner/chef Andrea Magni.
Enter Carpaccio and allow owner/hostess Lorella Scandaletti to seat you at a table as if you are sitting along one of Italy's small streets.
The menu includes favorites like Spaghetti alla Carbonara, Pesce del Giorno with a catch of the day, and thin-crust pizza.
Pair your meal with one of Capriccio's more than 200 fine wines from the climate-controlled wine cellar that has been recognized by Wine Spectator magazine every year since 2002.
All the restaurant's bread, pasta, ice cream, and desserts, including grappa and tiramisu, are all homemade.
Address: 5 Kaya C.E.B. Hellmund, Kralendijk
Day 3
Breakfast at B for Bagel and Bloom
In September 2021, sisters Nina and Framke and their brother Ryan Janssen opened B for Bagel and Bloom.
Enter the tastefully decorated restaurant to find the menu that includes the plain, whole wheat, or everything bagel made into 15 different sandwiches, including smoked salmon, avocado, and banana.
Besides bagels, they also offer pancakes, waffles, French toast, and breakfast platters that include eggs, bacon, steak, or salmon.
Choose to dine in the air-conditioned café, have it delivered, or eat it on the go? But don't forget to add fresh juice or coffee to your order.
Address: Kaya grandi 30, Winkel 8, Kralendijk
Explore Kralendijk
Take a morning and explore Bonaire's capital, Kralendijk.
The town is full of art galleries, public squares, brightly colored shops, cafés, restaurants, and bars within a couple of square blocks and easy to get to on foot.
As you stroll through the streets, enjoy seeing the well-preserved architecture, visit the Bonaire Salt Shop to peruse items made from the local sea salt, and head to Plaza Wilhelmina and sit on a bench and people-watch.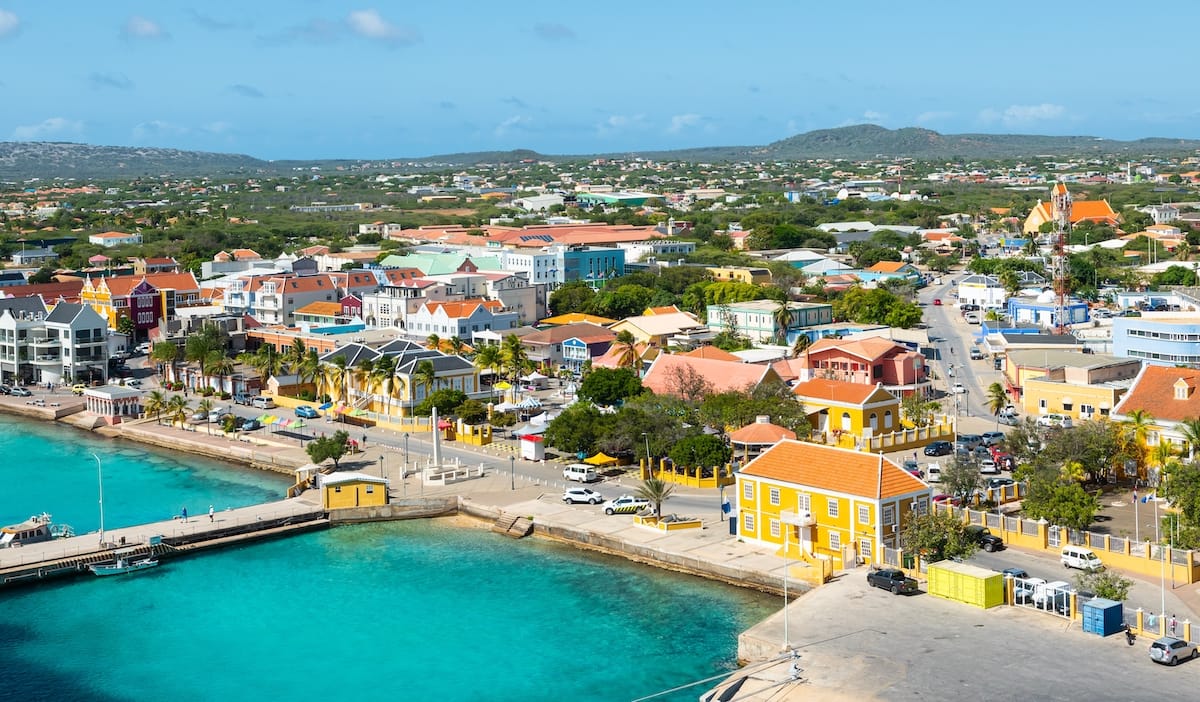 You may also want to explore the Terramar Museum, Fort Oranje, and the Bonaire Museum's extensive collection of seashells.
Stop in at Karel's Beach Bar and enjoy the beautiful view while drinking a cold Dutch beer, then explore the Bonaire Art and Craft market for a unique shopping opportunity or the Elements Bonaire, where Charlene Bosch makes handmade necklaces.
If you are interested in a historical walking tour, this 2-hour downtown walking tour of Kralendijk is the perfect option!
Visit the Willemstoren Lighthouse
Travel to the Netherlands' southernmost point and see the 71-foot-tall Willemstoren Lighthouse.
Unfortunately, this lighthouse, constructed in 1837 and renovated in 2012, is not open for tours or climbing.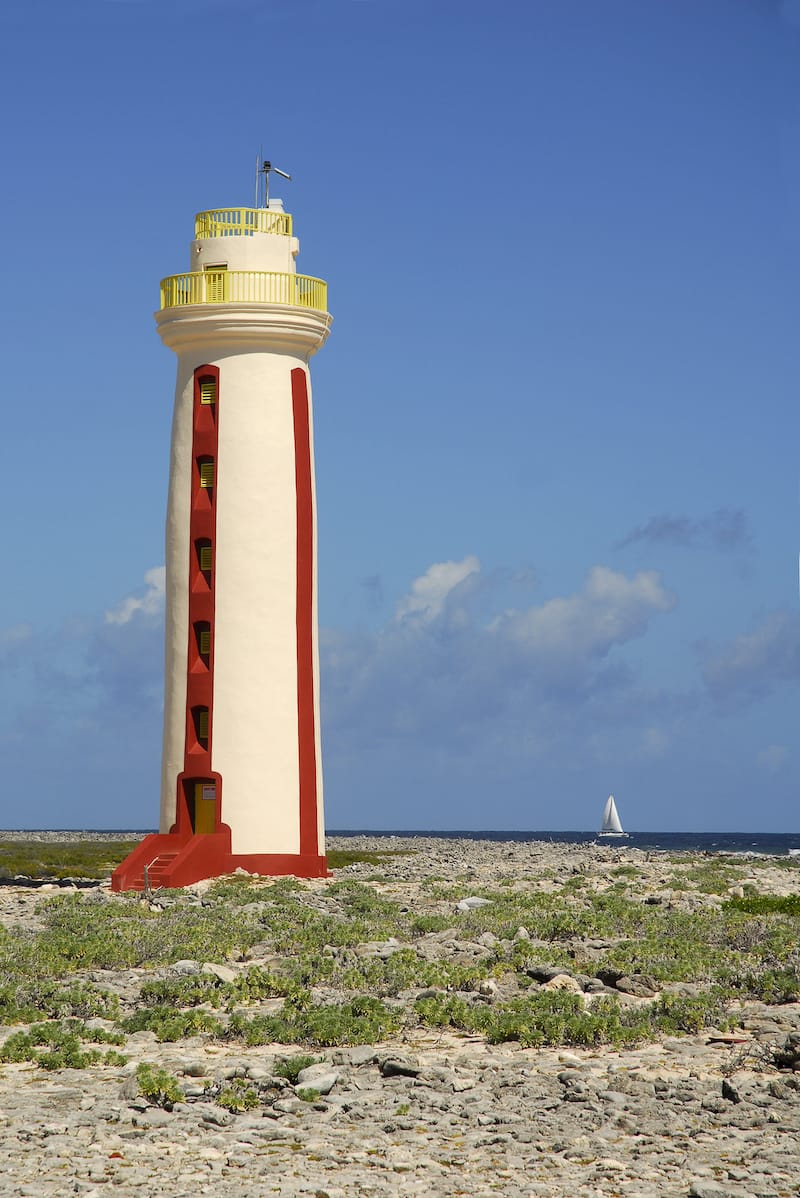 The trip is worth seeing Bonaire's first lighthouse, exploring the beach, and seeing how the trade winds push the waves as they crash into the rocks.
You can always find unique driftwood and artistic pyramids created from items washed ashore along the beach.
Experience Pink Beach
Along Bonaire's southwest side, you will find one of the ten pink beaches in the world.
The sand gets its rosy coloring from the tiny pieces of shells of the foraminifera, a microscopic sea creature.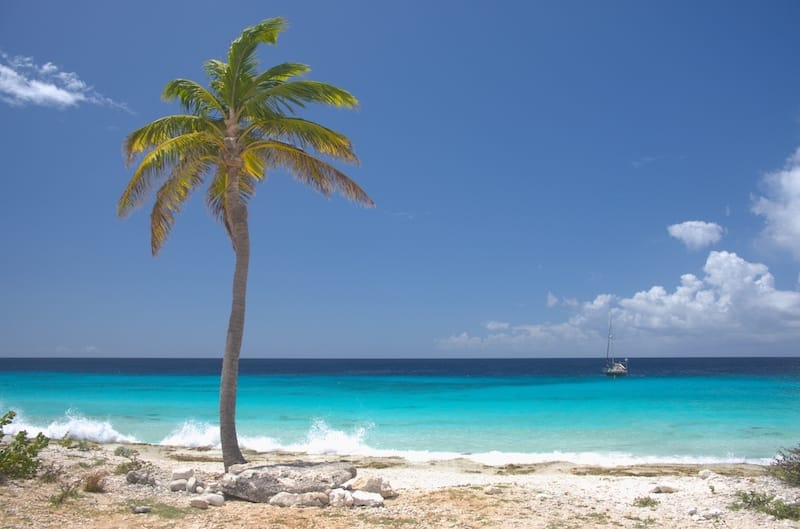 Even though this beach is narrow, the sand is exceptionally soft.
The water is crystal clear and perfect for snorkeling along the shallow reef offshore and looking for goat, parrot, and scorpion fish.
Dine at the At Sea Restaurant for Dinner
The lively At Sea Restaurant is an award-winning waterfront restaurant. Chef Jeroen van der Steen offers a menu of creative island dishes, including locally caught fish, flavorful steak, and vegetarian meals.
If you are up for a bit of a mystery, try the surprise menu, which offers a 4, 5, or 6-course surprise menu of meat, fish, and vegetables.
Enjoy sitting on the terrace of the 1912 Bonairian house where the restaurant is housed and enjoy a view of the Caribbean Sea.
Address: 25 Kaya C.E.B. Hellmund, Kralendijk
Day 4
Indulge at Karel's Beach Bar for Breakfast
For four generations, locals and visitors alike have been visiting the unique Karel's Beach Bar.
Grab a seat on the pier and dine on a Bonairian breakfast of eggs, Repa de Pampuna, fruit, sausage, toast, and a mimosa, or a more straightforward breakfast of French toast, pancakes, or a breakfast club sandwich as you watch the parrotfish swim below you.
Address: 10-12, Kaya J. N. E. Craane, Kralendijk
Mangrove Center
Head to Lac Bay to the Mangrove Center and take a 1-hour kayak tour through the Caribbean's best-preserved mangrove forest.
Adding a snorkel stop, you can extend your 1-hour trek to a 2-hour tour.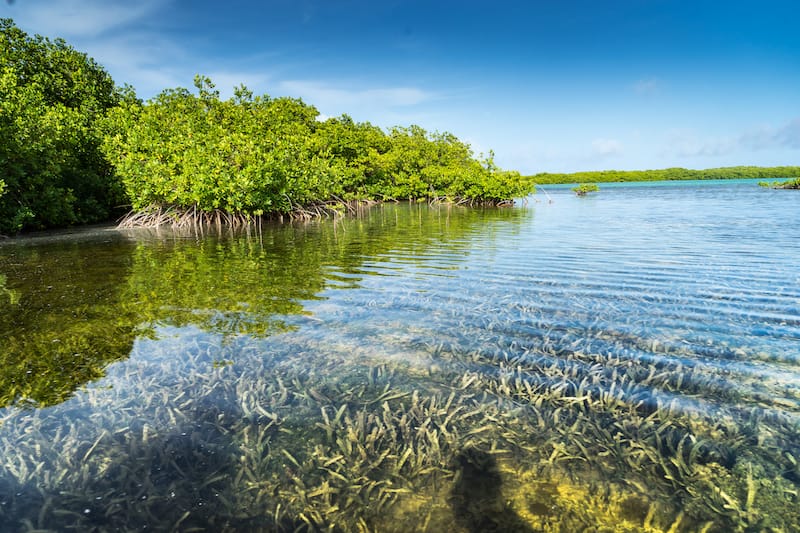 No matter which tour you take, you will be accompanied by knowledgeable and friendly guides willing to share all kinds of tidbits about the mangroves and Lac Bay.
Notes:
The center is closed on Sundays.
If you have a current Bonaire National Marine Park tag, bring it and your receipt since it is needed to get on the water; otherwise, purchase one before arriving for your tour.
Windows to the Sea Kayaking offers a 2-hour clear-bottom kayak and snorkeling trip through the Mangroves beginning at Lac Bay National Park. On this trip, you will learn about the four species of mangrove that grow in Lac Bay, snorkel through the mangrove roots, and see various sea animals and wildlife.
Address: 140 Kaminda Lac, Kralendijk
>> Click here to check tour rates and availability
Sorobon Beach (in Lac Bay)
Sorobon Beach in Lac Bay, on Bonaire's east side, is the perfect place to laze an afternoon away as you lay on the white sand on the vast beach.
Here you will find warm shallow, turquoise water and plenty of amenities, including loungers, Stand Up Paddleboards, yoga classes, and a beach bar.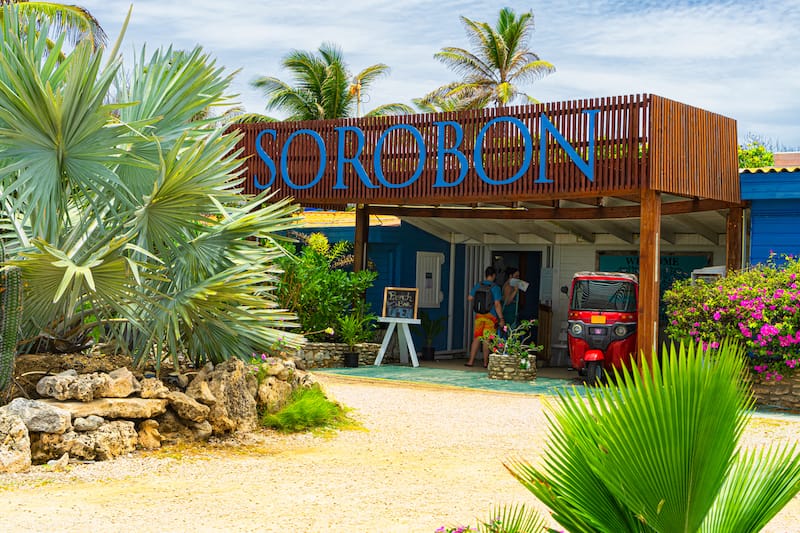 For those looking for a bit of a challenge, Jibe City's on-site windsurfing center offers windsurfing and windfoil lessons, equipment, and packages.
Even if you are not up for the challenge of windsurfing, it is fun watching those catching the wind.
La Cantina Cerveceria
La Cantina Cerveceria is a great place to hang out and enjoy an island brew at Bonaire's only in-house brewery or dinner in the garden restaurant.
As you enter, you will find the excellent brewery where you can enjoy a Bonaire Blond made with local Aloe Vera flowers or a beer straight from the kettle into the glass.
Continue past the bar to the beautiful courtyard, where the cozy restaurant offers a fine dining experience.
The menu includes the smoked watermelon gazpacho appetizer, main courses of pumpkin risotto and burgers, or fresh fish from Jan, the local fisherman at the Fish Market.
Try the Choco Loco with hazelnut caramel ice cream or the Piña colada cheesecake with tropical sorbet for dessert.
Address: 12 Kaya Grandi, Kralendijk
Day 5
Number 10 Bonaire
Number 10 Bonaire is the perfect spot to begin your weekday with a delicious breakfast of homemade waffles, a breakfast burrito, or a scrambled egg breakfast bun.
If you need coffee, Number 10 Bonaire has you covered with all your coffee favorites, like chai lattes, cappuccinos, and espressos.
They also have a variety of teas and juices.
Address: 5-7 Kaya Grandi, Kralendijk
Check Out the View from Seru Largu
While exploring the island, head to Seru Largu, Bonaire's most popular lookout point.
The mountain plateau observation deck allows for panoramic views across Bonaire, including Kralendijk and Klein Bonaire.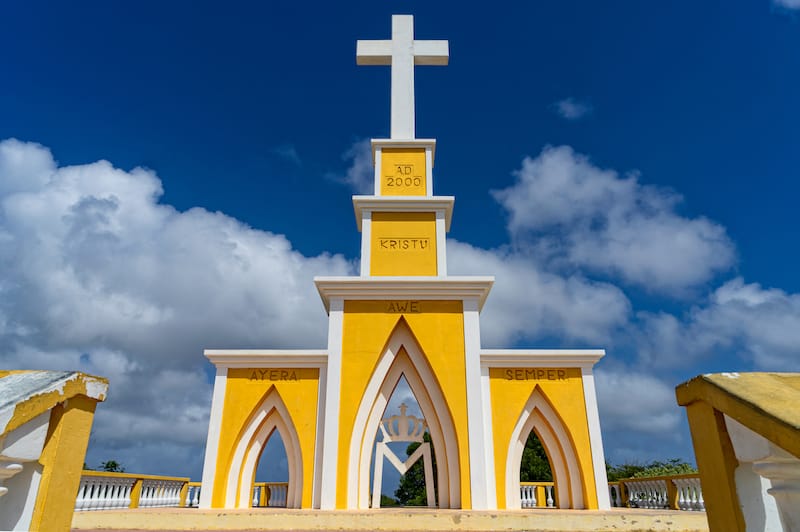 Here you will also find the bright yellow Cruz Seru Largu monument that says Kristu Ayera Awa Semper, translated into English as Christ, Yesterday, Today, and Forever.
If time allows, head back up before sunset and watch the sun sink into the sea. The lookout is also a wonderful place to watch fireworks from.
Explore Rincon
Take time to explore Rincon, the oldest settlement on Bonaire. The Spanish established this remote island interior in the 1500s to avoid being seen by pirates on passing ships.
Today this unique town is filled with local culture and plenty to see and do.
Begin exploring by stopping at the Bonaire Heritage Foundation for a self-guided walking tour brochure.
Stroll past the Mangazina di Rei, the King's Repository, which was used in the 19th century to store government slave rations.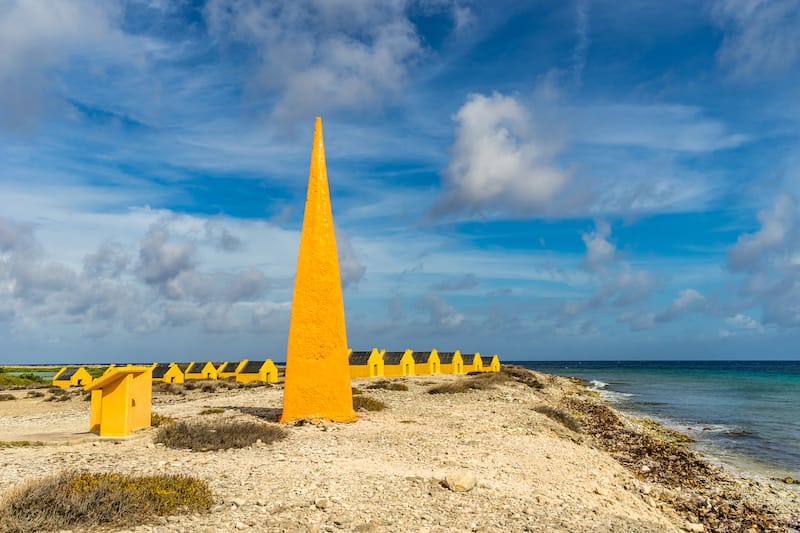 Today it is where locals enjoy studying and learning, as well as housing the Exhibition Rincon, Cradle of Bonairean Culture, which offers displays and photos about Rincon's culture, nature, and history.
Nos Zjilea is a cultural and educational event on the last Saturday of the month.
Posada Para Mira offers a fantastic panoramic view, including St. Ludovicus Bertrandus Church's red roof and yellow walls.
Drink Cactus at Cadushy Distillery
While in Rincon, stop for a cactus drink at the Cadushy Distillery, Bonaire's only distillery.
On a tour, learn about the Cadushy of Bonaire Liqueur distilling and production processes.
Enjoy the unique cactus beverage created by husband-and-wife duo Eric and Jolande Gietman. The Kadushi cactus drink is made with local cactus peel, sorghum, and lime water.
The distillery's shady tasting garden offers an excellent place to drink under the ancient Calbas trees or relax in the hammock as you watch the tropical birds.
You may even want to stock up on some of their Island Liqueurs to return home with you.
Address: Kaya Cornelis D.Crestiaan, Rincón
Sign Up for a Bonaire National Marine Park Snorkeling Trip
What better way to spend the afternoon on a 3-hour snorkeling adventure in the crystal-clear waters full of marine life?
This Bonaire Marine Park snorkeling excursion allows you to sail on the water and experience snorkeling in two different reefs.
About Bonaire National Marine Park
Bonaire National Marine Park surrounds the island and has 6,700 acres of protected water.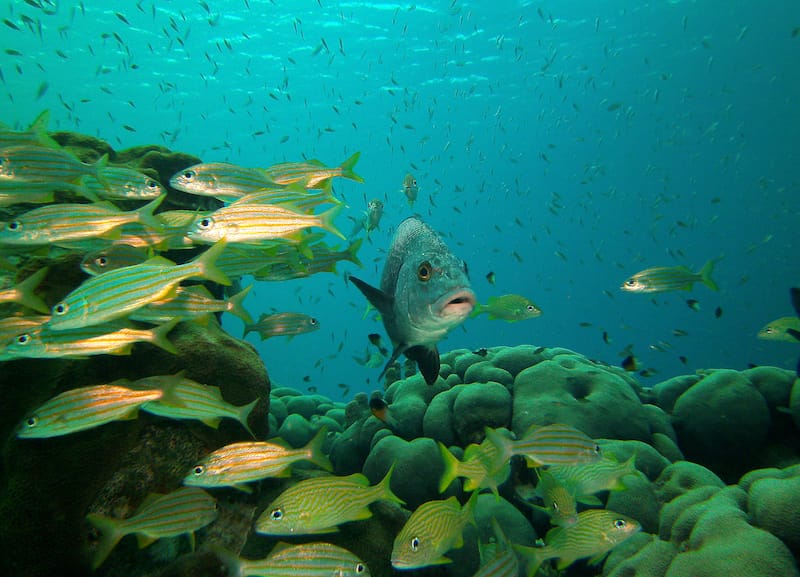 The marine park is a snorkeler and diver's paradise of white sand beaches, mangrove forests, healthy reefs with 89 dive sites, and the world's only certified Blue Destination.
There is a $45/person fee for scuba diving and $25/person for all other activities to enjoy the waters of the marine park.
Purchase your pass at dive shops, hotel concierge desks, the Kralendijk tourism office, or online.
Dinner at Mi Banana
Stop at Mi Banana for a delicious Columbian-style dinner. Even though the restaurant is small and hidden in a strip mall, the food is superb.
Enjoy the lomito, fresh red snapper, or Mahi Mahi with various sauces, including the house-made avocado sauce and boiled yucca.
Save room for a delectable passion fruit dessert or the sublime tres leches sponge cake.
Address: 5P2M+X3P, Kaya Nikiboko Noord, Kralendijk
Day 6
Begin Your Day at The Dock Bonaire
The Dock restaurant in the Ocean Breeze Boutique Hotel and Marina offers pumpkin pancakes, eggs, and even two versions of a continental breakfast for two that includes meat, eggs, fruit, cheese, yogurt, cereal, and a hot breakfast beverage.
As you eat, enjoy the harbor and lagoon views from your table.
Address: 90 at Ocean Breeze Boutique Hotel & Marina, Kaya International, Kralendijk
Hike, Swim, and Snorkel at Washington-Slagbaai National Park
Spend the morning exploring Bonaire's outback at the Washington-Slagbaai National Park, where you can find black volcanic cliffs and an arid environment filled with cacti.
The national park encompasses about one-fifth of the island and offers visitors a chance to hike, mountain bike, explore the museum, and watch a variety of wildlife.
Begin at the park's Visitor Center and trek up the steep Kasikunda Climbing Trail. Once at the top, you will have magnificent views of north Bonaire. Plan an hour for this hike.
For a more leisurely walk, spend two hours exploring flora and fauna along the Lagadishi Walking Trail or the 45-minute moderate hike along the Subi Brandaris Trail that offers unparalleled views of Curaçao and Santa Ana Hill, Venezuela.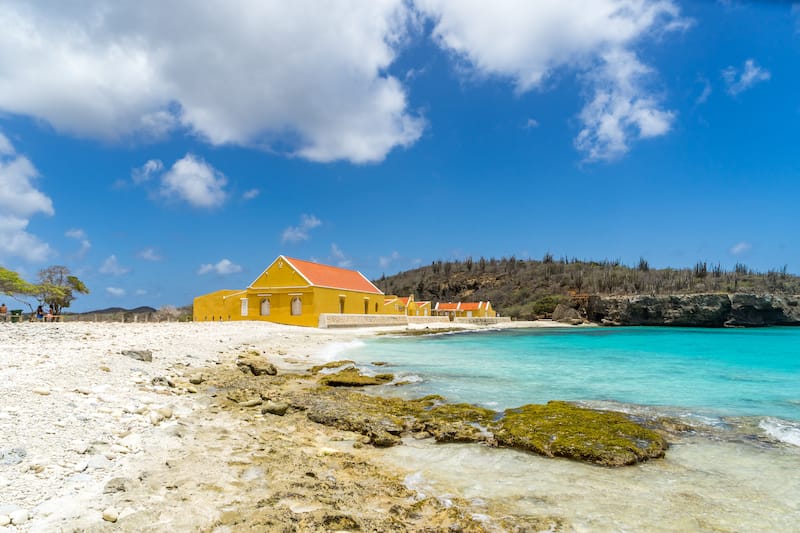 There are also two driving routes in the park. The shorter route (1½-hours) leads you to the coastline, Bonaire's northernmost point, and the Subi Brandaris trail.
The longer drive (2½-hours) takes you past various beaches, and the Seru Bentana lighthouse ruins.
Spend the afternoon enjoying the black sand Boka Kokolishi beach, snorkel around the rocky Playa Funchi Beach or Boca Slagbaai, or laze the day away at the gorgeous white sandy Playa Chikitu cove.
For scuba divers, Washington-Slagbaai National Park offers some of the best dive spots on the island, including Wayaka.
Notes:
The park is open daily from 8:00 AM until 5:00 PM. You must enter by 2:30 PM and leave the park by 5:00 PM.
Motorcycles, scooters, and quads are not permitted in the park.
Cost:
$45 per person, 12 and over.
If you have a Bonaire Nature Tag, the entrance fee is $20; if you have a Dive tag, there is no entrance fee. Tag receipts and a picture ID are required for each person entering the park.
Dinner at Foodies
Head to Bonaire's east side to Lac Bay for dinner at Foodies Bayside Bar and Restaurant. The blue-green water of Lac Bay offers a stunning view as you enjoy a cozy dinner beside the fireplace.
Begin your meal with the delicious bell pepper soup, and then order the seafood trio of shrimp, scallops, and sea bass or their delicious Foodies burger with fries.
For mushroom lovers, try the truffle burger. Save room for the cheesecake or brownie for dessert.
Address: 106 Kaminda Sorobon, Kralendijk
Day 7
Deli Delicious
Have a weekday breakfast at Deli Delicious, where owner Chuweny will serve you a tasty bagel, croissant, or spinach quiche.
The menu also has a variety of pitas, including ham, cheese, and pineapple.
Address: 11a Kaminda Lagun, Kralendijk
Horse Ranch Bonaire
Spend the morning with Horse Ranch Bonaire on horseback as you explore tranquil parts of the island as you meander down trails through the outback, cactus countryside, and the mangroves.
The Beach Ride Mornings tour offers a trip to the turquoise blue waters of Lac Cai Bay, where you can take a dip to cool off.
If you would rather see flamingos, book the Flamingo Ride Mornings, where you will ride through Kunukus to the Mangrove Forest.
Address: Kaminda Nieuw Amsterdam, 102 Bario Mamparia, Kutu
Snorkel or Scuba Dive 1,000 Steps
Spend the afternoon exploring the coral, fish, other marine life, and even iguanas along the rocky shoreline below the dramatic cliffs.
Even though the names may scare you off, there are only about 70 limestone steps to climb down to get to the electric blue water and the healthy coral reef.
Be sure to soak in the scenery as you slowly descend the stairs.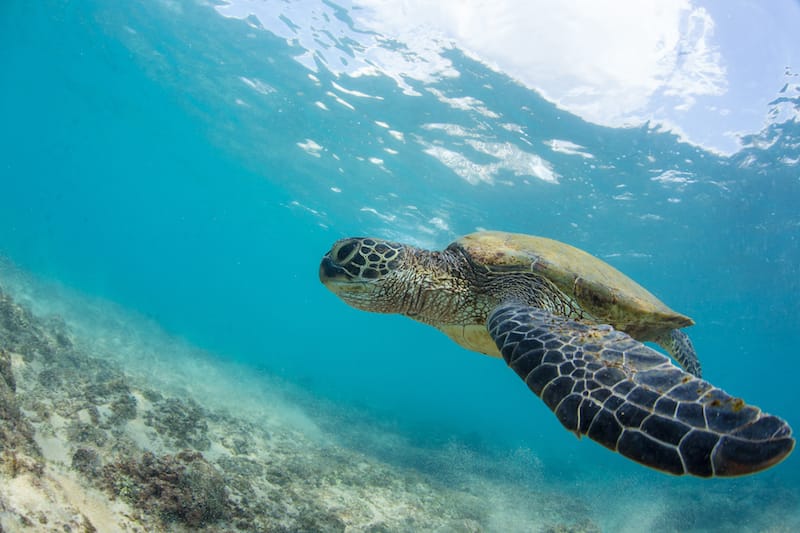 Once at the beach, find the sandy splits and enter the water to an underwater world of sea fans, brain and staghorn coral, gorgonian rods, parrotfish, sea turtles, rays, and even eels.
Parking is at the Radio Nederland.
Note: Be sure to have your Bonaire Nature Tag.
Dinner at Brass Boer
The Brass Boer is the perfect place to have your final dinner on Bonaire.
The restaurant, within the Delfins Beach Resort, is run by Jonnie & Thérèse Boer and offers a 5-course chef's special and a create-your-own menu option of creative gourmet tapas.
Caribbean Journal has ranked it at the top of the Top 50 Caribbean restaurants.
Savor this gastronomic experience and the beautiful view as you dine on their signature dish Foie Gras, Oysters, and Cream Ollo Roso.
Notes:
Closed Wednesdays and Sundays
Dinner served from 5:30 – 10:00 PM
Address: 44 Punt Vierkant, Kralendijk
More Than 7 Days in Bonaire?
If you have more than 7 days in Bonaire, here are a few added options that we think are worthwhile to add to your itinerary!
Take a 3-hour morning or afternoon Cave Tour with Local Guide.
Visit Eden Beach, where you can rent watersports gear, and snorkel equipment, dine at the Spice Beach Club, or lounge under the palm trees.
Take a two-hour kitesurfing lesson at Atlantis Beach, or relax on the beach and watch the kite surfers.
Take a Chill and Grill Catamaran Sunset Sail and enjoy a 4-course dinner while watching the sunset. Trips are from 2:00 – 7:00 PM.
Snorkel amongst the sea turtles at Divi Flamingo Beach.
Did we miss anything that is a 'must' to include on this Bonaire itinerary? Let us know your thoughts in the comments!
More Caribbean Content You Might Like
Pin this Week in Bonaire Itinerary