There are so many great cities to visit in Colombia, including the capital city of Bogota. This is a first-timer's Bogota itinerary – detailing the best of how to spend two days in Bogota, and what to do if you have an extra day or two there!
This is a guest post from James at Divert Living.
2 Days in Bogota Itinerary for First-Timers
Bogota, the capital city of Colombia, is a renowned destination and a meeting point of culture and diversity. This popular travel destination in Colombia is surrounded by the imposing Andes Mountains that make this place even more enticing for travelers.
Despite being a commercial, culture, and economic hub of the country, Bogota is also a sought-after tourist attraction in Colombia.
Well, like in any other city in Colombia, Bogota also offers a mix of everything to its visitors, be it architecture, nature, culture, heritage, and towering skyscrapers. While on a vacation of two days in Bogota, you will get a chance to explore… a lot.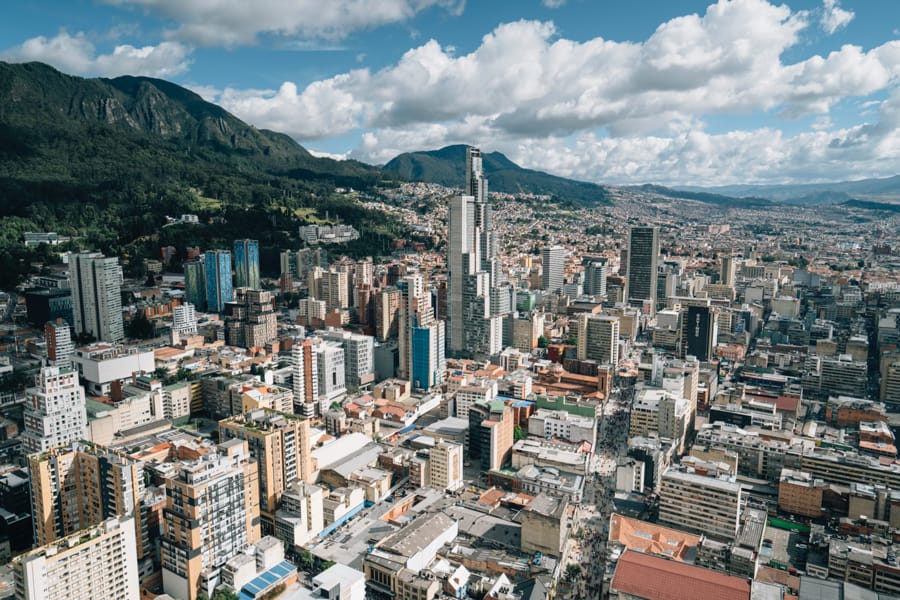 There are incredible cultural riches in the city that can be experienced in every place including theatres, restaurants, shopping areas, sports venues, and more. The city has a cosmopolitan nature that is one of the key highlights of Bogota.
Not just this, it's also the nature that makes tourists fall in love with Bogota. On your two days visit in Bogota, you will also get to explore the gorgeous parks and hills of in and around the city that extend along the eastern body.
Well, I guess, that's enough as an overview of the city. Now let's see what Bogota actually has in its fold to offer to its tourists. This two days Bogota sightseeing tour itinerary will definitely be your go-to guide on your Bogota vacation. So, here we go!
Bogota Itinerary Day 1: Street Art & More
Monserrate Hills
No other attractions than Monserrate Hills could be perfect to start off your two days in Bogota tour. It is one of the biggest landmarks in Bogota. A climb all the way up to Monserrate Hills is one of the best and not-to-miss things to do in Bogota.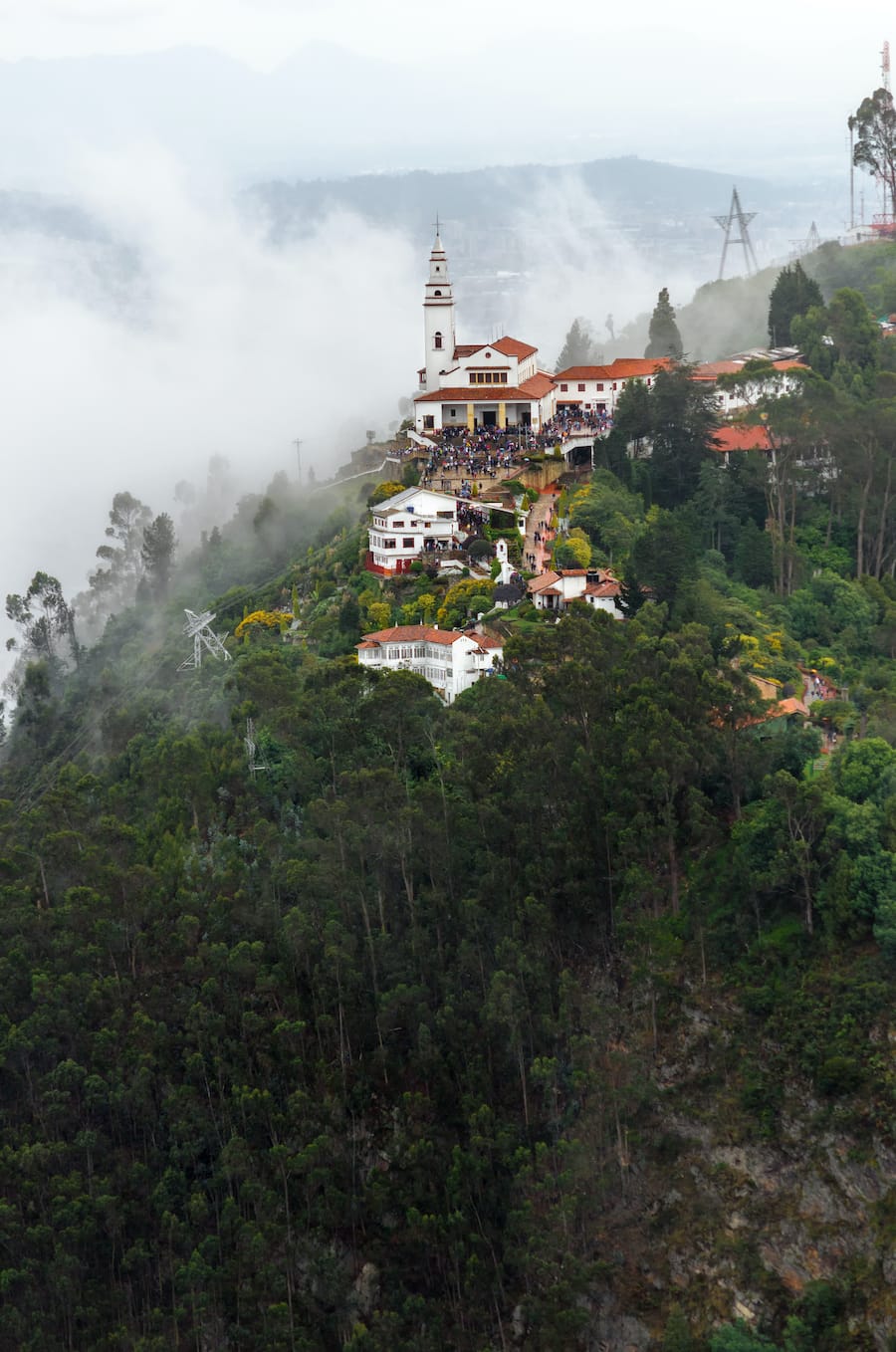 From the summit, you can relish the astonishing views of the city along with the surrounding mountains. On a clear day, you can also expect to capture the sight of PNN Los Nevados which is hundreds of kilometers away.
There is also an interesting tale related to the establishment of Monserrate which traces its history from the pre-Colombian era.
There was a temple that was constructed by the Indigenous Muisca people on the top of the hill. However, it was replaced by a cathedral during the colonial era. Later in the 1600s, this Christian sacred place became a popular pilgrimage site and it still is to this day.
Address: Carrera 2 E No. 21-48 Paseo Bolívar, Bogota, Colombia
Operating Hours: All throughout the day but the morning time is best and highly recommended to visit Monserrate Hills.
Entry Fee: No Entry Fee
Bogota Graffiti or Walking Tour
If you really want to know about the city of Bogota from the inside out, then checking out Bogota's graffiti is a must thing to do.
This walking tour includes some interesting, appealing, and incredible wall murals. Though there are plenty of tours to cover in Bogota, the Graffiti Tour stands out of all.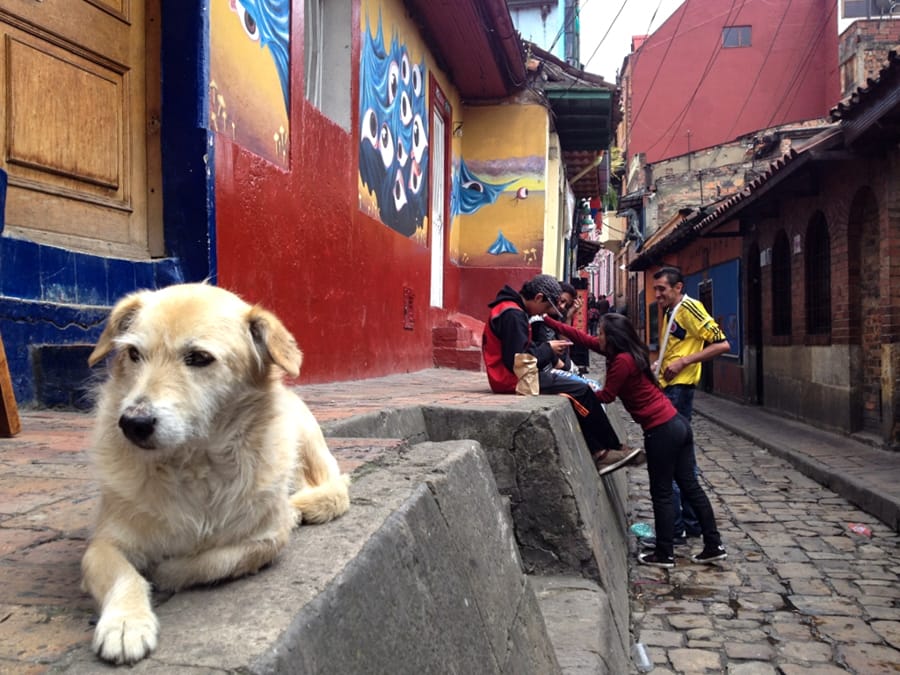 It is a 2-hour tour that lets tourists see the city like a local where you get to adore the stunning street art of Bogota. Artists from upcoming round the globe come here in Bogota to showcase their talent in the downtown area.
This tour takes place around La Candelaria.
Insider Tip: Some of the murals in the city are quite dodgy which is hard to explore on your own. Hence, it is recommended to do this tour with a local guide. Though it is a free tour, however, a tip is always expected which could be 20000-30000 pesos.
Alternatively, you can book a private tour or a pre-organized one in order to see street art in Bogota.
This organized tour will take you around various parts of the city to check out street art and not just keep you in La Candelaria.
On the other hand, this private tour is affordable and will showcase some of Bogota's best street art in its most famous district of La Candelaria.
Address: Parque de los Periodistas, Carrera 4th and, Av. Jimenez De Quesada, Bogotá, Cundinamarca, Colombia
Opening Hours: The tour operates from 10:00 AM to 2:00 PM from Parque de los Periodistas.
Entry Fee: No Entry Fee
The Gold Museum
When it comes to what to do in Bogota, then a visit to the Gold Museum is counted as one of the best things to do in the city.
It is one of the most-visited attractions in Bogota. The museum is known to house more than 50,000 gold artifacts from the pre-Spanish days of South America.
Also known as The Museo del Oro, it is a perfect place to learn how the gold was discovered by the peoples of a bygone era and how they developed metalworking techniques.
There is another floor that displays the culture and geography both in English and Spanish. Here you can expect to see animal and animal-human figurines.
Insider Tip: Each of these artifacts tells an interesting story related to the people, their ritual and culture who made it. The key highlight of those is the Zenu collection.
Lastly, there is an Offering Room that showcases the different uses of gold rituals. In the room, there is a multimedia display of artifacts that were found in Laguna de Guatavita.
The entire tour of the Gold Museum could take up to 2 hours, hence, it is advisable to manage your time accordingly.
Address: Cra. 6 ##15-88, Bogotá, Cundinamarca, Colombia
Operating Hours: Tuesday to Saturday from 9:00 AM to 6:00 PM. Sunday from 10:00 AM to 4:00 PM, Monday is closed.
Entry Fee: 3000 pesos
Bolivar Square
Bolivar Square is probably the most iconic landmark in Bogota.
It is an important center of Bogota's history and heritage. The place is dotted with so many gorgeous architectural wonders.
In Bolivar Square, you can find some of the most popular tourist sites like Palacio Lievano, the Cathedral, and the Capital.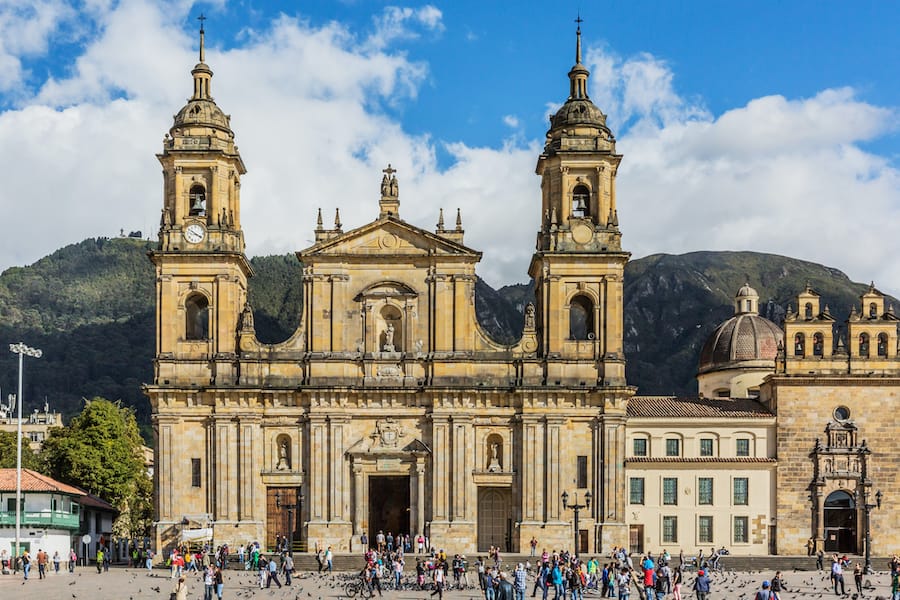 Along with the architectural beauties, this place also hosts numerous cultural events that are observed here all throughout the year.
Do not be amused if you see protesters here on a normal day as Bolivar Square is also an important site where numerous protests have taken place.
If you're keen to learn about all of the main sights of the city, including Bolivar Square, it is recommended to hop on a city tour that will showcase Bogota's most important landmarks – such as this top-rated city tour of Bogota.
Address: Simon Bolivar Marg, Sardar Patel Marg, and, New Delhi, Delhi 110021
Operating Hours: All throughout the day
Entry Fee: There is no entry fee to visit Bolivar Square. However, you will be asked to pay an entry fee for attractions located within the vicinity of Bolivar Square.
La Candelaria
Your what to see in Bogota tour is never completed without La Candelaria. It is a super fun place with a hippy atmosphere.
You can always expect to experience a sort of buzz at this place and every street here seems to convey a story. The area boasts a beautiful mix of art deco, Spanish colonial, and Baroque buildings.
An evening stroll here is one of the best experiences to relish in Bogota.
Address: Calle 10 # 0 15 Bogota, Colombia Llegando por avenida circunvalar preferiblemente., Bogota 111711 Colombia
Opening Hours: All throughout the day
Entry Fee: No Entry Fee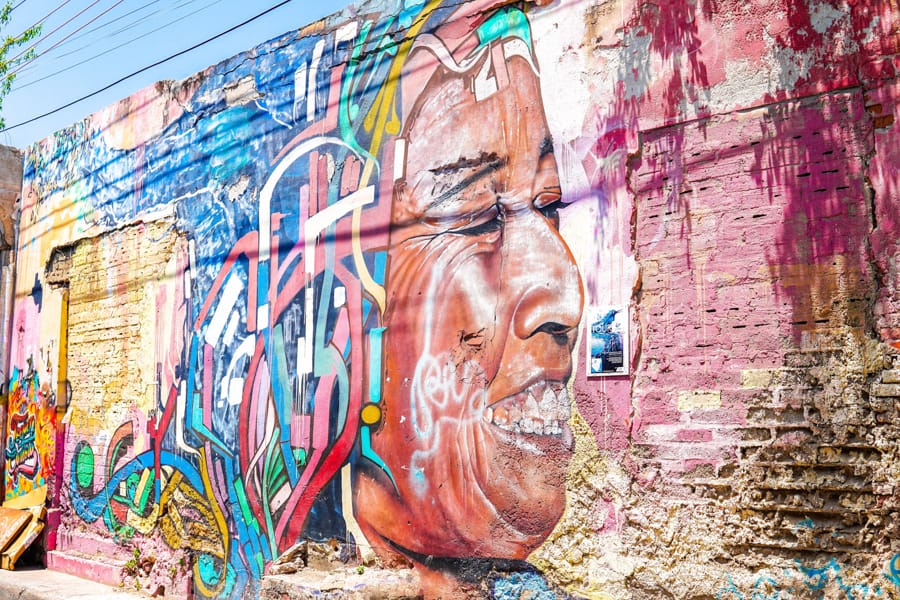 A Glimpse of Bogota Nightlife at Chapinero
Chapinero is one of the best neighborhoods to enjoy the nightlife scene of Bogota as well as to enjoy a delicious dinner.
There are no special recommendations here in Chapinero; wherever you go, you will find some amazing restaurants and bars to enjoy the nightlife of Bogota.
This area is completely safe for tourists even at night. Here at Chapinero, you will get a chance to enjoy the famous Colombian cuisine.
Bogota Itinerary Day 2: Museum, Craft Market, & More
Casa De Narino
Informally known as the President's House, Casa De Narino is one of the must-visit tourist sites in Bogota. What if I say you can explore the President's House absolutely free?
That's right! Though it is a lesser-known tourist attraction, it is still an interesting one. To visit the place, you need to book your visit online.
This building is named after an important figure with ideas of independence – Antonio Narino.
The building was damaged in 1948 during the riots of El Bogotazo. However, later in 1979, it was restored. The tour of Casa De Narino takes around 45 minutes to complete.
Want to book a tour? You must go to their official website and request a tour here. The form is in English.
Address: Cra. 8 ## 7 – 26, Bogotá, Cundinamarca, Colombia
Opening Hours: Monday to Friday from 8:00 AM to 6:00 PM. Saturday and Sunday are closed.
Botero Museum
Just to let you know, Botero is one of the most famous artists from Colombia whose work has received recognition internationally.
Botero Museum is one of those museums where he has donated his sculptures. However, this is a museum where you will get to see his majority of works. Not just this, here you will also get to know about Botero.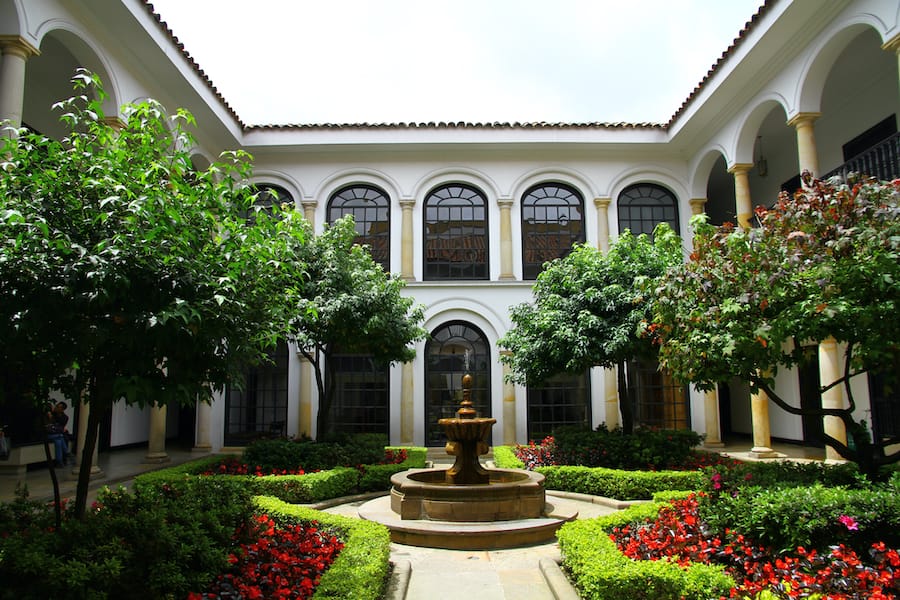 Along with him, the museum also houses the works of some other great artists like Renoir, Picasso, Chagall, Max Ernst, and Matisse.
Such is the charm of this place that you cannot afford to miss it out on your Bogota travel tour.
Editor's Tip: We have Botero statues here in Yerevan, Armenia actually! You can view his work at the Cascades.
Address: Cl. 11 #4-41, Bogotá, Colombia
Opening Hours: Wednesday to Monday from 9:00 AM to 7:00 PM
Entry Fee: No Entry Fee
Pasaje Rivas Craft Market
Shopping is mandatory whenever you go to a new destination. And when in Bogota, Pasaje Rivas Craft Market is a place where you should visit to enjoy a quick shopping tour. It is counted among the best markets in Bogota.
This market is known to sell some great and interesting souvenirs. From here, you can expect to buy different gifts for your friends and family.
If you want to buy something for yourself, well, you can pick some souvenirs to embrace the interior of your home. There are also handmade woven bags from across different regions of the country.
Since each indigenous group has its own style of crafting a bag, the prices also vary based on the quality of their weave. However, you can expect to get a bag range between 80000 pesos to 100000 pesos.
Address: Cra. 10 #No. 10 – 54, Bogotá, Cundinamarca, Colombia
Opening Hours: Monday to Saturday from 9:00 AM to 6:30 PM. Sunday from 10:00 AM to 3:00 PM
Entry Fee: No Entry Fee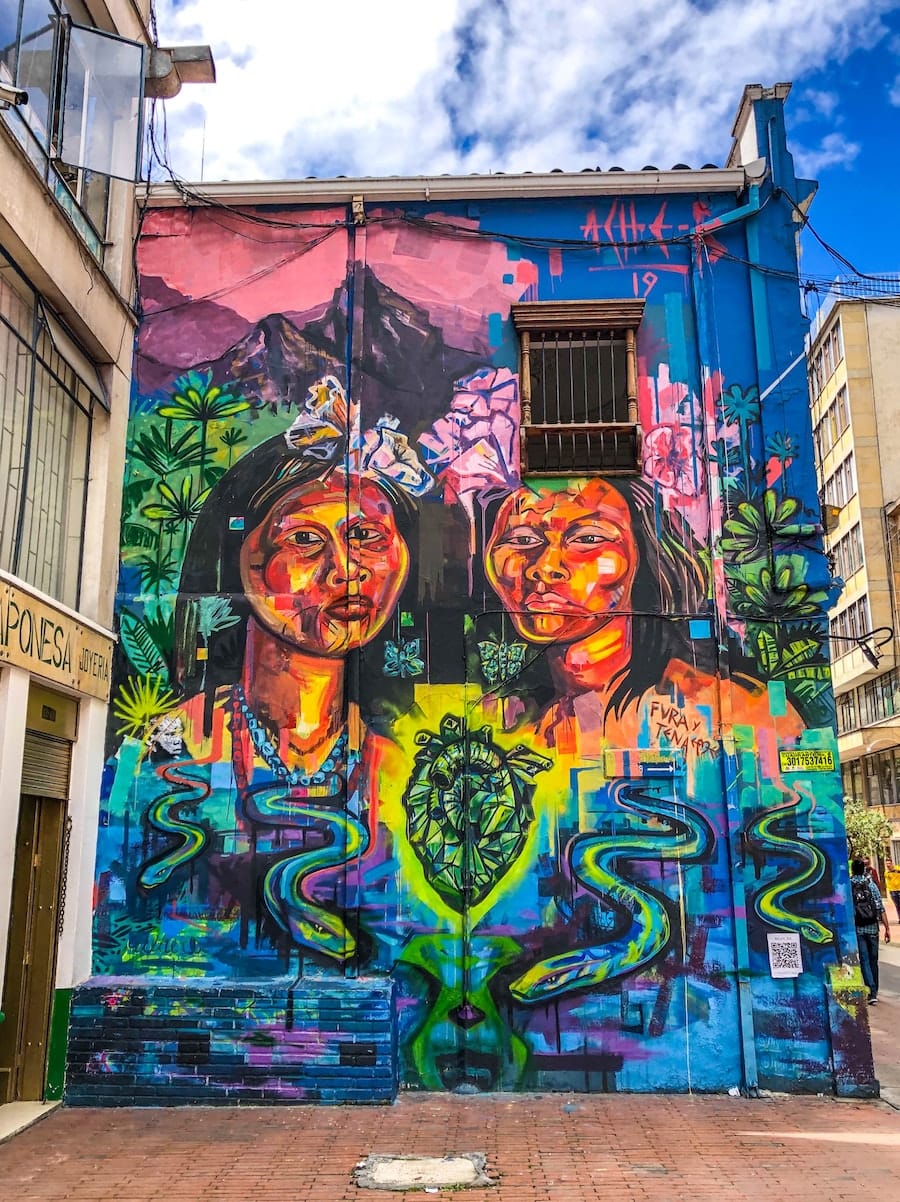 Andres Carne de Res
If you still have some energy left, then be ready to enjoy one of the most famous nightlife scenes at Andres Carne de Res in Bogota.
This is one such place that you get to see in almost every Bogota itinerary, be it of two days or more.
It is located in the periphery of the city. Andres Carne de Res is known to host the best parties in Bogota. It is basically a legendary steakhouse where you not just get to enjoy an ultimate night time but can also relish some delectable food.
Despite being located in suburbs, Andres Carne de is not one of those Bogota day trips. However, if you are wondering how you will get to this place, the best way is to be a part of the hostel organized party bus.
It would cost you somewhere around 80000 COP, including admission. In this ticket price, you will also be served with drinks on the bus. These buses leave around 10:00 PM and will bring you back around 4 in the morning.
Address: Cl. 93b ## 13 – 55, Bogotá, Colombia
Opening Hours: Sunday to Saturday from 12:00 PM to 3:00 AM
More Than 2 Days in Bogota?
Two days in Bogota is just not enough. If you have additional time to spend visiting Bogota, here are some great options to occupy your time:
Take a Cooking Class
Colombian food is dynamic and really diverse. If you know how diverse the landscapes of the South American country, it will be no surprise to you that Bogota has its own unique cuisine.
In order to learn more about regional ingredients and dishes, we recommend taking a Bogota cooking class. It will allow you to keep your trip to Colombia close to your heart (and stomach!) after returning home.
Visit the Salt Cathedral
One of the most popular activities to experience when you visit Bogota is the Zipaquira Salt Cathedral, a wonderful sight about two hours north of Bogota. You will get to learn all about this wondrous site as well as visit the local town.
Click here to join an affordable tour to the Salt Cathedral from Bogota. Transportation is included in this tour and the scenery along the way is gorgeous!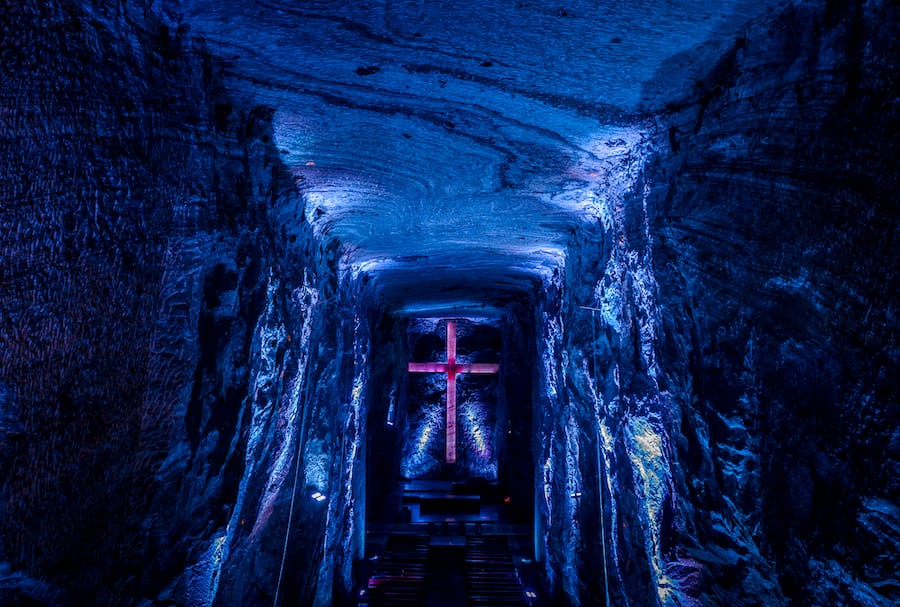 Go to a Colombia Coffee Farm
Another popular thing to do in this South American country is to take a Colombian coffee tour. There are several located in the Bogota area and it will give you insight into one of Colombia's most famous exports.
This top-rated coffee tour takes you to a coffee farm outside of Bogota where you can learn all about the product and its harvesting and origins. You will also get to try the finished product and devour some of the world's most famous coffee!
Where to Stay in Bogota
There are several options for fantastic Bogota accommodation. We are listing a few favorites for your trip that will consider all budgets. Here are some top Bogota hotel and hostel picks:
So, here we come to the end of our two days in Bogota itinerary. Though I have mentioned some top tourist attractions in Bogota on the list, there are more than that.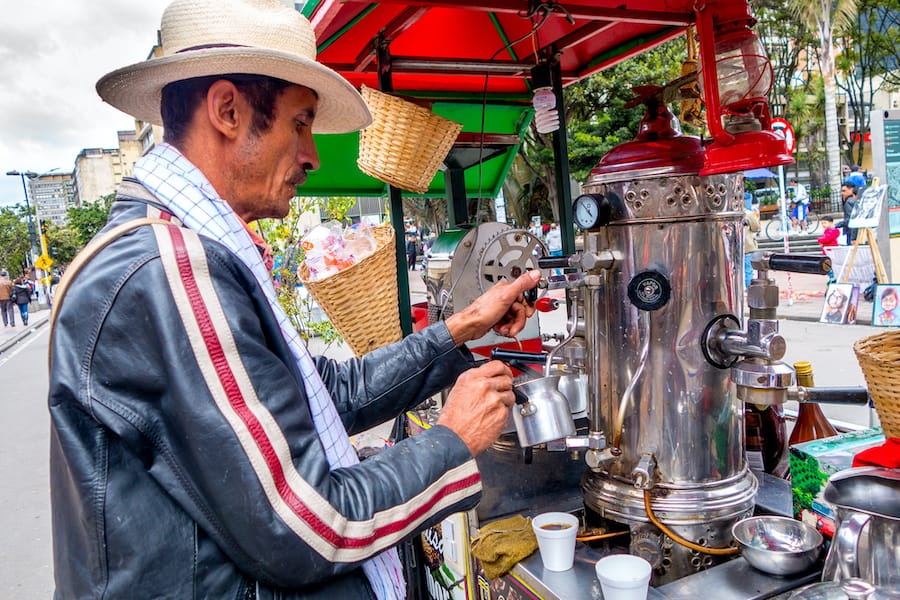 What I personally believe – it's the indelible experiences that make a vacation memorable one. So, what you should focus on is making the most of even with the few attractions on any trip.
PIN IT FOR LATER: