Sightseeing around Ukraine's capital can be challenging if you're unfamiliar with the language or traveling alone and aren't comfortable independently seeing things in a city. These are some of the best Kyiv city tours that will help you get a taste of the capital city with ease and a bit of organization.
If you have alternative suggestions, please leave them in the comments section for us. Click here if you're looking for things to do in Kyiv for those interesting in seeing the city on their own.
KYIV QUICK REFERENCE
Short on time?
You can see our top travel recommendations for Kyiv right here:
Where to stay in Kyiv: City Hotel (luxury), Hotel Ukraine (Soviet mid-range hotel), City Apartments (affordable flats at Maidan) and Hostel Podolski Parus (budget). Alternatively, you can use our Kyiv accommodation guide to see more.
Top-rated Kyiv day tours and experiences:
Kyiv City Pass: If you're hanging around the Ukrainian capital, the Kyiv Pass is a great bang for your buck! You can visit museums at no charge, free metro tokens, and several discounts at restaurants and more. Click here to purchase your Kyiv Pass.
Need insurance for Ukraine? Be sure to check Ukraine travel insurance rates and coverage with our recommended provider, SafetyWing.
Renting a car in Ukraine? You can get great options and the best rates here with Rentalcars.com.
Need a Visa for Ukraine? We recommend iVisa – they will sort your Ukraine visa efficiently and quickly.
3 Essential Things to Pack for Ukraine: Plug adapter (if coming from the US or a country that does not use a European plug), Klean Kanteen reusable water bottle, and a Ukraine Lonely Planet guidebook or 'Insane Ukraine', a guidebook written by a local friend of mine.
11 Kyiv City Tours that Will Show You the Best of Ukraine's Capital
Tourism in Kyiv is booming and I, personally, think that there is no city that deserves it more. I have long been in love with the capital of Ukraine ever since my first visit in 2011. There is so much to do in the city that it's unreal… from incredible history, intriguing architecture, and an epic food and drink scene, there is no chance to be bored in Kyiv.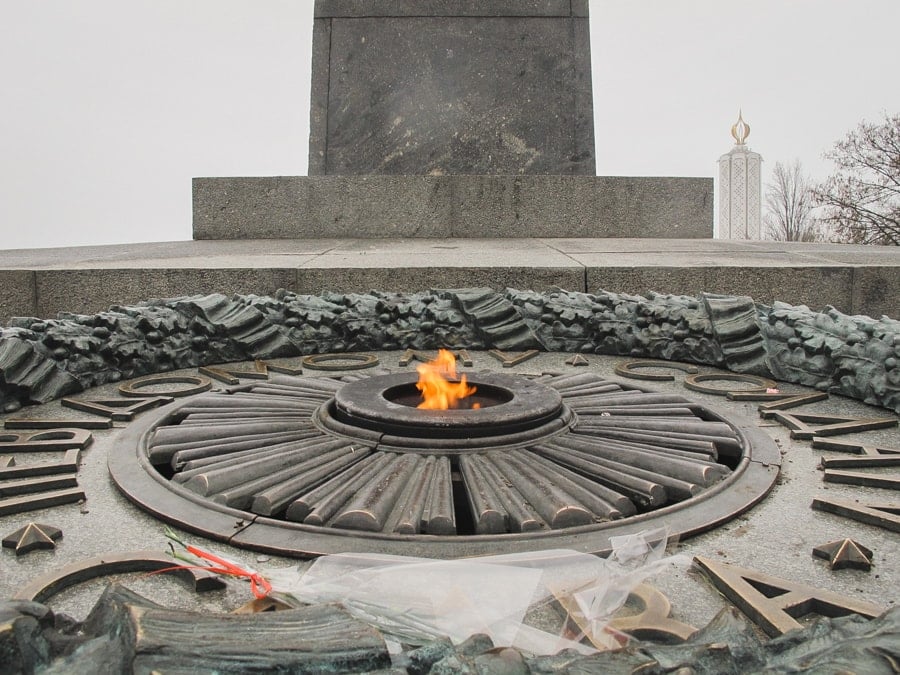 No matter long you spend in the city, whether you have one day in Kyiv or more, you will feel like you have never scratched the surface. One of the best ways to experience the city is through guided tours, where a local will take you on a journey through the city. There are plenty of city tours in Kyiv, with a tour available for whatever suits your interests. Most tours only take about an hour or two and will seamlessly fit into your itinerary for the city.
This guide will take you through some of the best city tours in Kyiv, from street art and history to exploring the Kyiv culinary scene. The guide will focus solely on tours within the city and not day trips to places like Chernobyl. Click here for my Kyiv day trips guide if that is what you're actually looking for.
Kyiv Tours Overview
Here is a list of the 11 tours that we mention below for quick reference:
City Tours in Kyiv
Illuminated Kyiv by Night Tour with Private Guide
Kyiv is beautiful during the day, but at night, the city comes alive in a completely different way. The city has spent time and money illuminating the main sites so they can be enjoyed throughout the darker hours. Your tour guide will pick you up from your hotel where you will be driven around Kyiv to some of the best sites.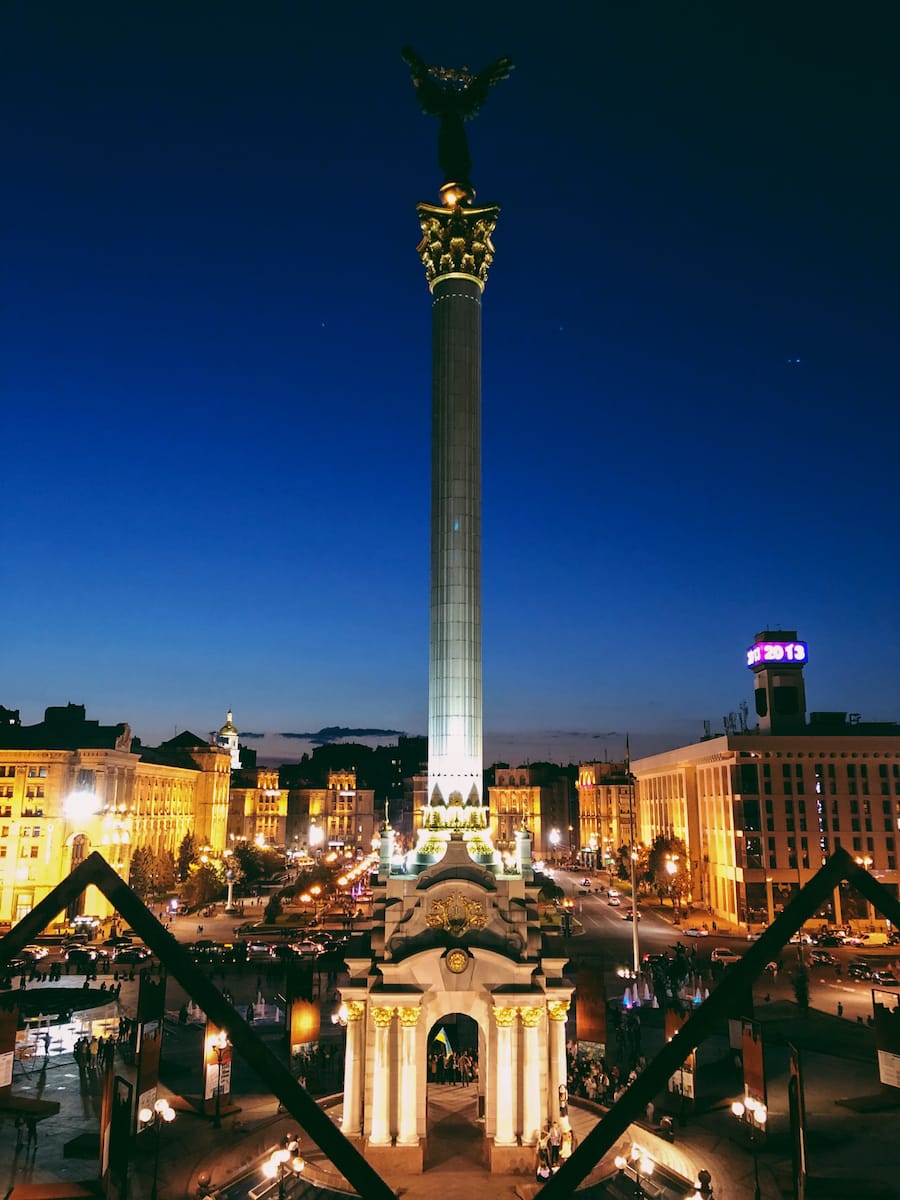 You will enjoy panoramas over Kyiv along with seeing monasteries lit up against the night sky and Khreschatyk Street with its many shops and bars. The private tour lasts for around 2 hours and the start time is dependent on the time of year, with winter tours starting at 7pm and summer tours at 9pm. There are no food and drinks included in the price of the tour and you should dress appropriately for walking and the weather that day.
Urbex Underground and Bunker Tour
Dive into Kyiv's underground world, with this top-rated Urbex tour. You will meet the experienced tour guide at the Dnipro Metro Station and from there, you will head into the depth of the city to explore the underground river and see how the water flows out of the city.
As you walk through the tunnels, you will experience areas of complete darkness. After you have ventured through the underground tunnels, the guide will take you to an old Cold War-era bunker. The bunker has been frozen in time since the collapse of the Soviet Union.
You will spend around an hour in the bunker that still houses the original equipment and items from a more fearful time. The tour lasts for 3 hours and those partaking need to be in relatively fit condition and not be afraid of confined dark spaces.
Private 3-Hour Walking Tour
To truly gain an appreciation for this city, you need to walk its streets and see the monuments and sights up close and personal. This three-hour walking tour for groups of up to ten people is the perfect way to learn about Kyiv as you walk around with your informative guide.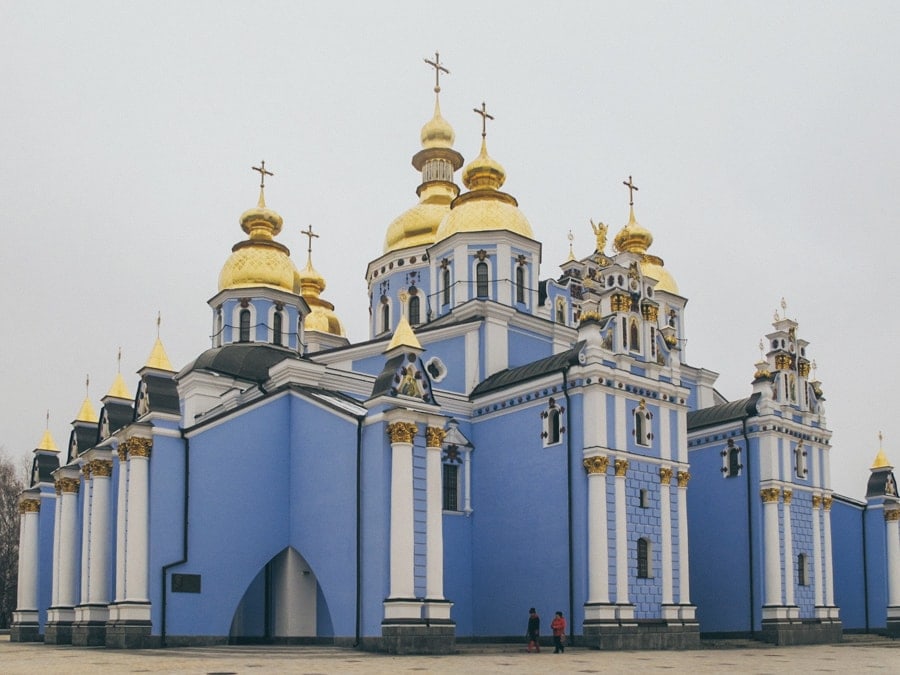 You will take in many of Kyiv's stunning, golden-domed churches and learn all about the history of this 1500-year-old city. Along with viewing architecture, you will walk through some of Kyiv's beautiful parks and spots of natural beauty. Make sure you wear comfortable and sturdy footwear as you will spend time walking through the city. This is a private tour with a set price for a group of up to 10 people.
Private Tour of Kyiv Pechersk Lavra
Tour the magnificent Kyiv Pechersk Lavra, a UNESCO World Heritage monastery. Your local guide will take you around the Lavra along with the impressively jaw-dropping monastery buildings and grounds. The Kyiv city tour will start off in the Lavra (Caves) where you will see underground churches and relics from the saints.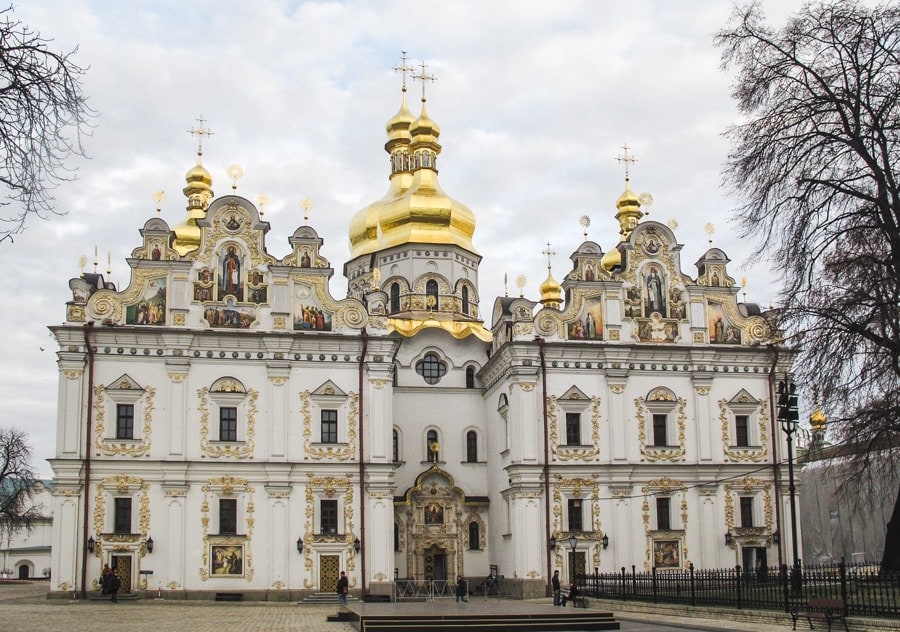 You will then explore some of the churches and see the colorful paintings that adorn the walls. Those on the tour will also have the opportunity to drink water from the holy springs. There are also two additional activities you can enjoy within the monastery although you will have to pay extra for them. They are climbing the bell tower for a panoramic view of the city and visiting the Museum of Micro Miniatures (note: it is closed on Tuesdays).
QUICK TIP: Since this is a monastery, you will need to be dressed appropriately. Shorts and short skirts are forbidden. Women must wear a headscarf to enter the churches.
Easter Eggs Painting Workshop in Kyiv
Easter Egg painting is a long-standing tradition in Ukraine that dates back many centuries. The ornately decorated eggs are a common sight throughout the city. During this two hour masterclass, you will get to learn all about the eggs how they are decorated and what the symbols and colors mean.
Under the tutelage of a master egg painter, you will paint your own egg with a design of your choice using century-old techniques. Once you have completed your masterpiece, you will be able to keep your egg as a beautiful Ukrainian souvenir. The price of the workshop includes pick up from your hotel or apartment.
Jewish History Private Tour including Babi Yar
Kyiv has a rich and tragic Jewish history. A once vibrant community that was tragically persecuted throughout the 20th century, this city tour in Kyiv will show you pieces of the city's Jewish history.
On this private tour, your guide will take you through the Jewish history of Kyiv, learning all about the prominent people who influenced and left their mark on the city, along with visiting various other Jewish heritage sites, such as the interesting Brodsky Choral Synagogue.
You will also discover the darker side of history and visit Babi Yar, the spot where 150,000 Jewish people were murdered during WW2. The tour will last for around 3 hours and includes hotel pick up.
Private Mystical Podil Walking Tour
Take an evening tour with a difference and explore the historic Podil district. On this Kyiv tour, you will learn all about the history of the district, in addition to some of the legends and mysteries that surround it. The lighthearted and fun tour is conducted in a unique pub crawl format, where you will dive into pubs and bars to try local drinks as you explore the district.
The Kyiv city tour will end at Bald Mountain where you will get to take part in an interesting ritual that involves protective amulets as well as a bottle of Champagne. You will need to dress appropriately for your Podil journey, which will take place regardless of the weather.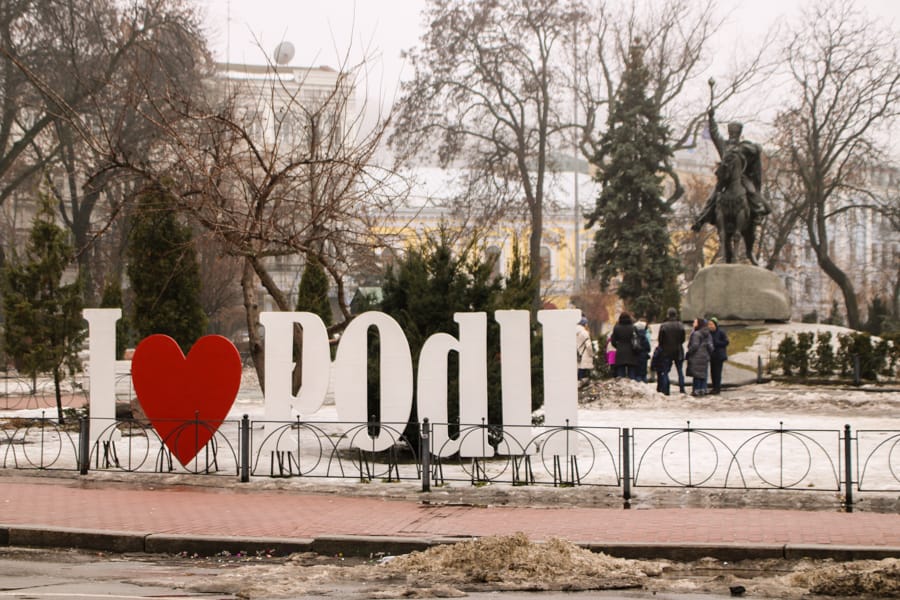 All drinks and snacks along the way are included. There is no hotel pick up for this tour, so you will need to meet the tour guide at the designated meeting point.
Holosiivsky Forest & Kitaevskaya Hermita Hiking Tour
If you are looking to escape the grind and hustle of the busy metropolitan city, the Holosiivsky hiking tour is the perfect option. The large Holosiivsky forest is located in the southern part of Kyiv and provides a tranquil escape from city life.
Your guide will pick you up from your hotel and take you to the starting point of the hiking trails, where you can choose between a 7km or 15km hike. They will also take you along the route pointing out the interesting natural sites along the way, with a chance to swim in a spring that remains a constant 9 degrees Celsius.
Toward the end of the tour, you will ascend up the hills to enjoy a panoramic view of the dense and beautiful forest. Remember to dress appropriately for hiking and don't forget decent and comfortable footwear! Bring swimwear if you are planning to swim in the spring. The price of the tour includes hotel pickup.
Beer Tasting Tour with Traditional Ukranian Snacks
Kyiv has an amazing beer scene with plenty of independent breweries popping up all over the place, most making outstanding beer. In fact, I would happily say Kyiv is one of my favorite beer cities in the world. I have even written about the Kyiv craft beer scene in the past.
This tasty tour will take you on a beer tasting adventure throughout Kyiv where you will immerse yourself in the beer culture of the city and learn all about the history of brewing in Kyiv. Along with great beer, you will try a range of Ukraine's best beer snacks- from delicious sausages to unique pickles, all of which complement the beer perfectly.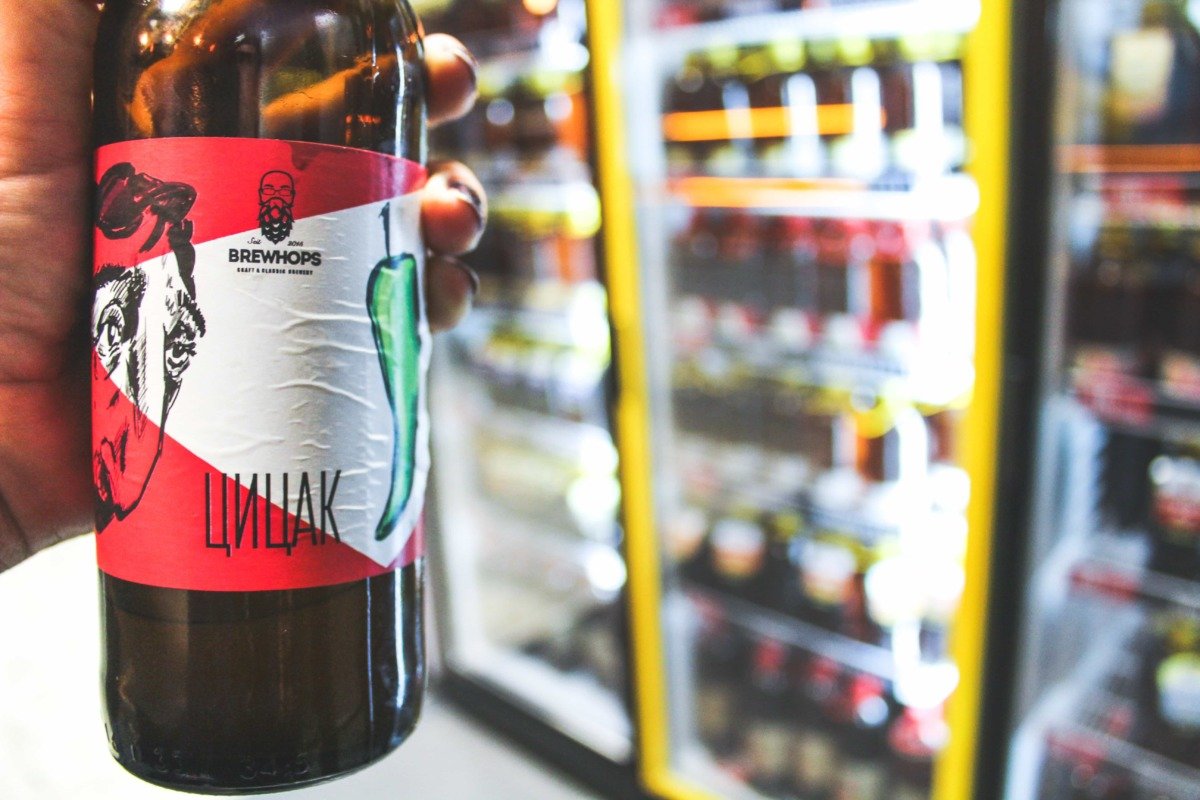 As you walk to different drinking establishments, your guide will talk you through a little of the history of the city and the sights you pass. The tour includes 6 glasses of beer and all snacks. Dress appropriately for the weather and walking around the city. There is no hotel pick up available for this tour.
Kyiv Street Art Walking Tour
Take in a different side of Kyiv with this interesting street art and murals walking tour. Your informative guide will take you to some of Kyiv's most interesting and coolest works of street art and explain the hidden meanings behind them.
Kyiv has a vibrant street art scene with artists coming from across the globe to create giant murals on the sides of some of Kyiv's largest buildings. Often these murals will have hidden messages or meanings behind them. In total, you will see around 27 works of art that are dotted throughout the center of Ukraine's capital.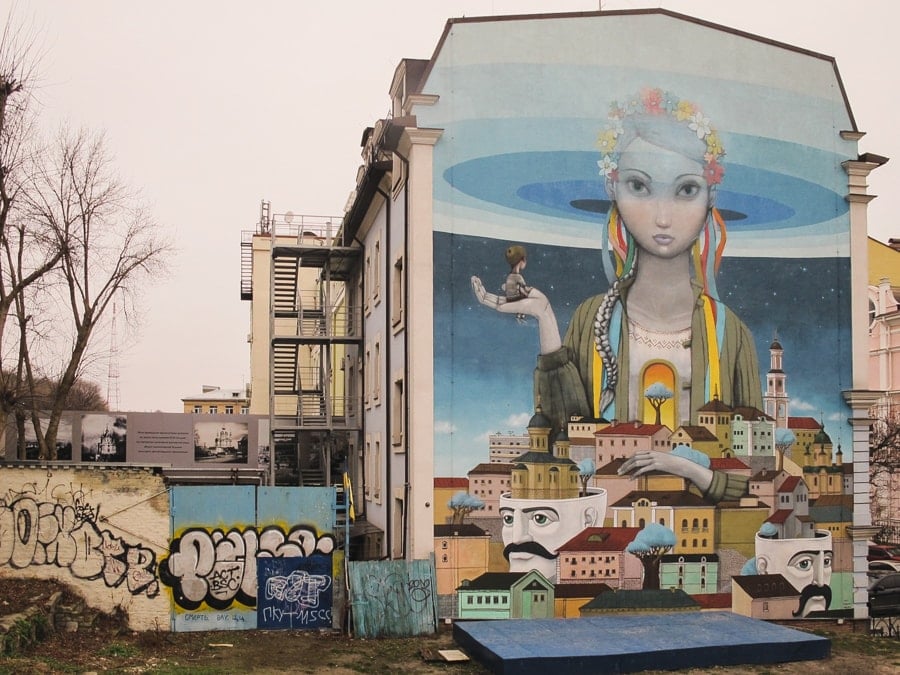 Since many of the works are within the historical areas of Kyiv, your guide will also talk you through the other buildings and monuments in the area, as well. The price of the tour is inclusive of up to 10 people. Wear appropriate clothing for exploring the city by foot.
Gastro Tour – Ukrainian Cuisine Tasting
If you are interested in the world of Ukrainian food (aka the world of dill), this tour is the one for you. You will venture to some of Kyiv's best traditional restaurants where you will enjoy delicious Ukranian borsch (my favorite of all the borsch styles), hearty varenyky (Ukraine's take on the humble dumpling), and tasty desserts.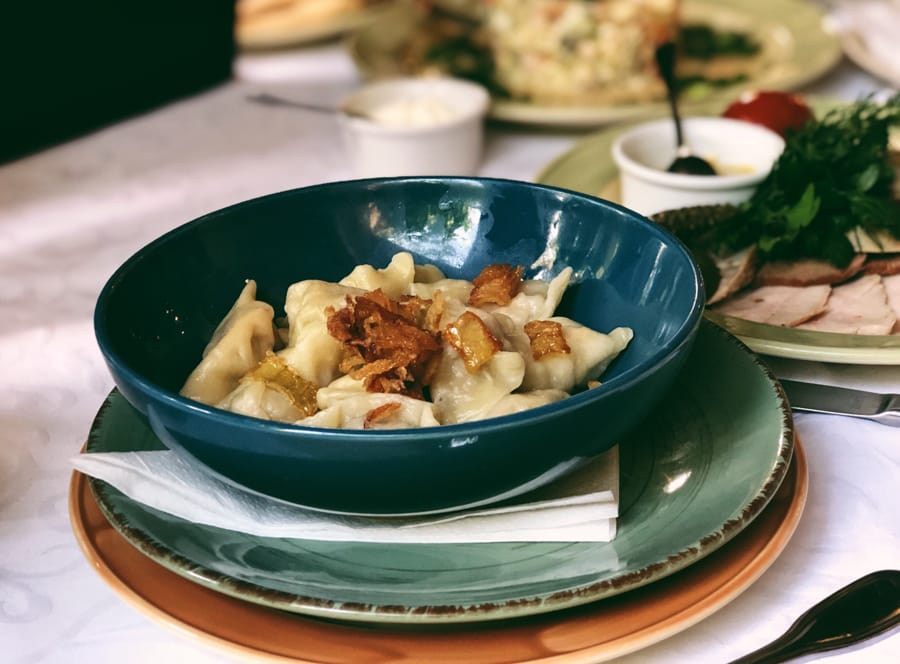 As you walk between the different restaurants, your guide will talk you through the various sites you see along the way and teach you about the history of this culturally-rich city. The tour includes food in each of the establishments during your visit, along with some homemade liqueur. Other drinks on the tour will need to be purchased separately. Dress appropriately for exploring the city as you will be doing so by foot.
Where to Stay in Kyiv
The best place to stay in Kyiv is around Maidan where there is no shortage of restaurants, bars, and shops in the area to keep you entertained. Its central location also means it is easy to reach many of the meeting points for tours within a few minutes by foot or by the metro. My hotel recommendations for Maidan are the following:
Hotel Ukraine
The large and imposing Hotel Ukraine towers above Maidan. The slightly outdated hotel boasts some of the most impressive views in the city. I thoroughly enjoyed my stay there because the rooms were clean and incredibly comfy. The history is remarkable, too, having been one of the premier hotels for many years in the city.
–> For current rates and availability click here | Read reviews on TripAdvisor

City Apartments Kyiv
Located at the opposite end of Maidan from Hotel Ukraine, the City Apartments Kyiv is a great option to stay for those looking for clean and affordable accommodation in the city center. The apartments have a modern feel to them and have been renovated to a high standard and are guaranteed to provide a comfy night sleep.
The City Apartments Kyiv is located near some renowned places to eat and drink so you will not struggle to keep yourself entertained in the evenings.
–> For current rates and availability click here | Read reviews on TripAdvisor
Do You Need Travel Insurance for Ukraine?
Definitely! Travel insurance is one of the most important things to organize prior to starting any trip and although Kyiv is an incredibly safe city, it is always important to protect yourself against the unknowns and make sure a small issue doesn't end up ruining your trip or leaving you out of pocket. We recommend getting insured with SafetyWing and feeling reassured on your trip to Kyiv. They are also the provider that we use.
>> Click here to get your Ukraine travel insurance quote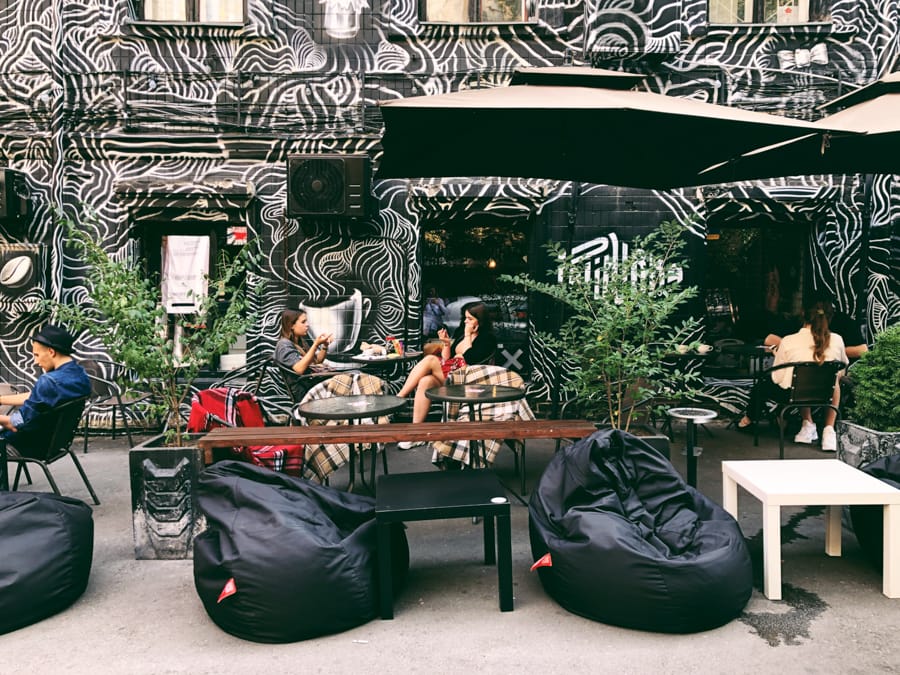 These are some of our top recommended tours in Kyiv if you're looking to see the city easily and quickly. One great thing about Kyiv is that you get a lot of value for your money and these tours are genuine proof of that! If you have a recommended tour we missed, please leave it in the comments. Thanks!
YOU MIGHT ALSO LIKE: