Colombia is a fantastic travel destination that is often synonymous with coffee!
You can find great coffee experiences all over the country. This guest post showcases a few great Colombia coffee tours and experiences in Medellin and beyond.
Are you planning your trip to Medellin last minute?
If youʻre booking your trip to Medellin last minute, we have you covered. Below are some of the top tours, hotels, and more!
Top Experiences and Tours in Medellin:
Top Hotels in Medellin:
This is a guest post by Daniel at Layer Culture.
Colombia Coffee Tours and Experiences in Medellin and Beyond
Today, Colombia is becoming more popular with tourists. Not only for its beautiful beaches and well-preserved cultures but for one of it's most famous export products – Coffee!
Before we dive into this guide on Colombia's best coffee tours and experiences in Medellin (and beyond!), I'd like to say that I was inspired to write this guide after spending a few weeks in Colombia's Coffee Region.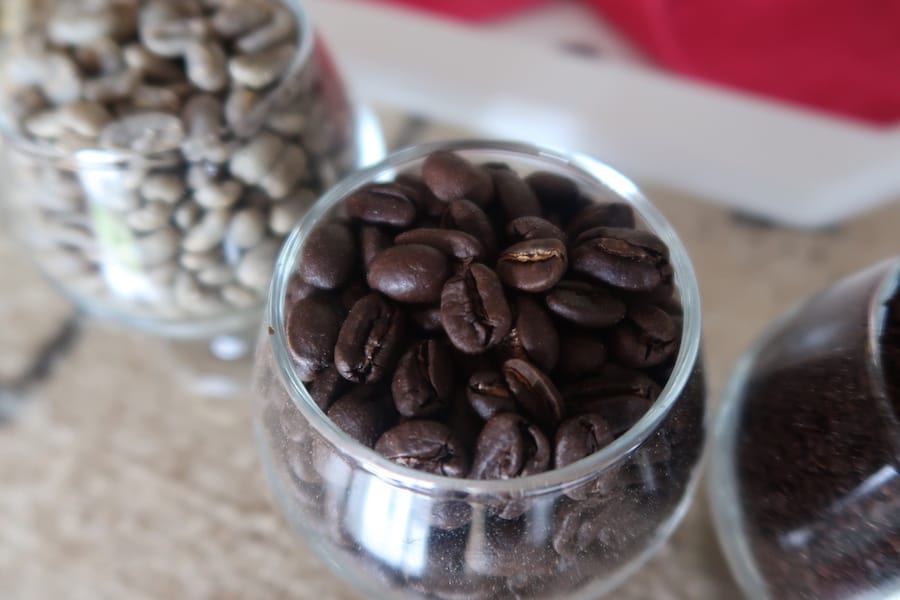 When we buy a cup of coffee, often we forget how laborious the whole process is and how much time goes into actually growing and producing coffee.
Many people dedicate their whole lives to getting that perfectly brewed cup of coffee to you.
The Colombian Coffee culture has had a grand effect on me and has allowed me to dig deeper into the world of coffee.
For the record, I am no expert in coffee. However, I remain fascinated by the whole process, which starts with planting a little seedling right up to sipping the perfectly filtered cup of coffee.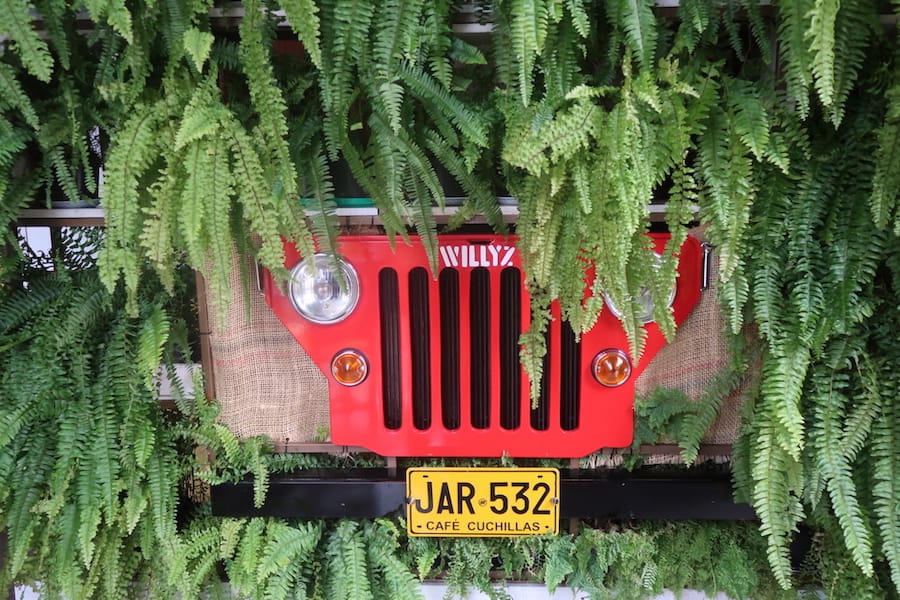 In this article, you are going to learn more about my personal experiences with coffee and some things you must try as we dive deeper into Colombia's coffee culture.
Colombia's Best Coffee Experiences
Colombia has so many fun activities and cultural experiences to try out. For me, it all started in Medellin. The second-largest city in Colombia, located in the Antioquia region of the country.
The key, for me, has also been getting to know about life in Colombia. I achieve this through cultural travel, which includes staying with families and connecting deeper with everyday life.
All this takes time and patience, however, I am about to break it down for you. That way you'll get a snapshot of what things to do in Colombia when searching for a unique coffee experience.
Without further ado, let's step into the world of coffee in Colombia and see what the infamous Antioquia region has to offer.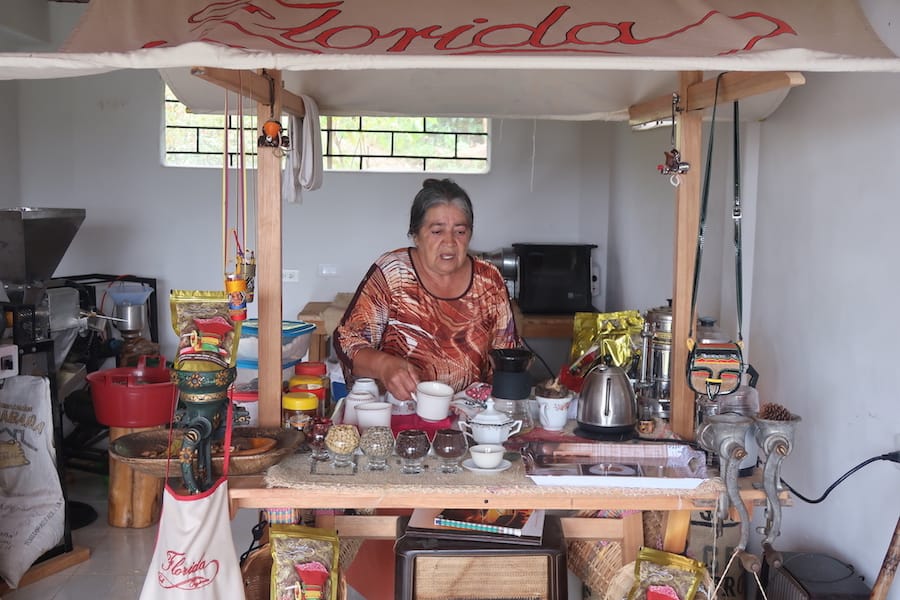 Discover the Best Coffee Shops in Medellin
A one-stop-shop for any coffee lover. To get a full flavor profile of Colombia's best coffee, Medellin is a great starting point. Here you find some unique blends to whet your appetite.
Not only is it a strategic location to be able to access many other of Colombia's coffee towns, (or pueblos in Spanish) some of which we'll look at in this article, but Medellin is a great place to find a wealth of other activities you may want to get involved with.
If you stay in the Poblado neighborhood, you can be sure you'll get acquainted with a quality cup of coffee in no time.
Like most places in Colombia, you'll find a Juan Valdez branch, which by this point, is safe to say, is Colombia's answer to Starbucks.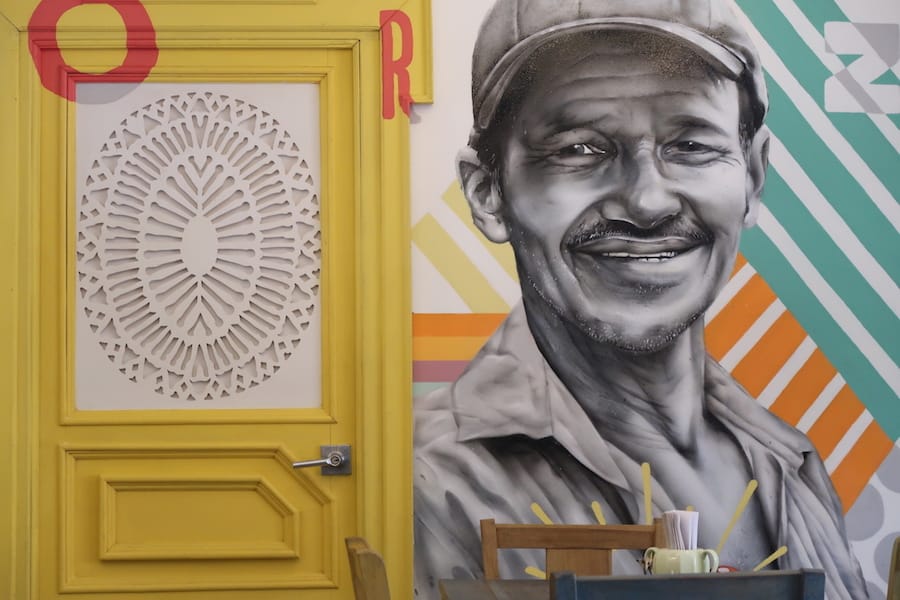 You can find much better coffee, however, Juan Valdez can be a nice place to sit and enjoy a coffee. Just make sure you ask for a 'cup' and tell the assistant that you prefer not to drink your coffee from the bleached paper.
Some greater coffee shops to try in the immediate area, are Pergamino and Cafe Velvet. These are 2 of my favorites. If you value the atmosphere while you sit down and drink your coffee, choosing any coffee shop in El Poblado is a great place to start whilst in Medellin.
Do an Organic Coffee Farm tour in Jardín
So, you've been in Medellin a while! Believe it or not, You've already sat in some of the swankiest coffee shops Colombia has to offer.
It's time to go a little deeper, though. Do you want to have that Colombia coffee tour or experience that you've been dreaming about? It's about time that you transported yourself to Jardín.
In a 3-4 hour bus ride (traffic dependant), you can find yourself in the picturesque village of Jardin.
If you're a bit of a coffee connoisseur and only drink single-origin, Arabica that must also be organic (much harder to find in Colombia) you're in luck.
After using my trusty Spanish conversation skills to speak to locals. I was over the moon when I learned that there was a coffee farm closely that specializes in organic coffee growing methods. Being a cultural travel fanatic, it is crucial that I can converse with locals to get the best information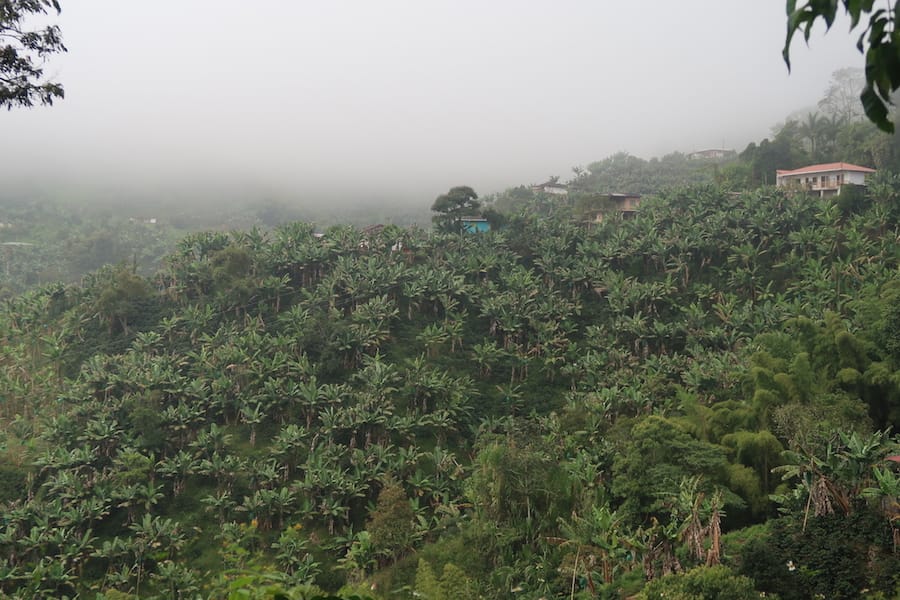 Jardin is thriving right now and you'll find more than just the odd Finca scattered about.
Within 24 hours I had made my way up to Finca Florida where I met with Isabela. She took me through the whole process; from seedling to cup. Isabela showed me more or less everything I wanted to learn about her particular coffee growing process.
It's amazing how much extra you can learn when you are prepared, too. I had a few special questions about organic farming which got Isabela really fired up and inspired to share more about her painstaking process. That generations of her family also dedicated their lives to.
Visit Santa Rosa de Cabal
Now it's time to learn and understand a touch more of Colombia's coffee story. Let's head further south.
A windy bus ride (and a few motion sickness tablets) from Medellin, will lead you into the Risaralda Department. Located in west-central Colombia. If you are familiar with Colombia's Coffee Region you'll know that Periera is the capital of the Eje Cafertero.
Early one morning I arrived in Santa Rosa from Medellin's Southern Bus Terminal. I was already searching for the best cup of the finest coffee I could find.
Luckily, I bumped into a guy who was stood welcoming passing trade. His place wasn't a traditional coffee shop, it looked like a bakery. However, he asked me how I liked my coffee. He recommended I tried his special blend prepared using his Chemex.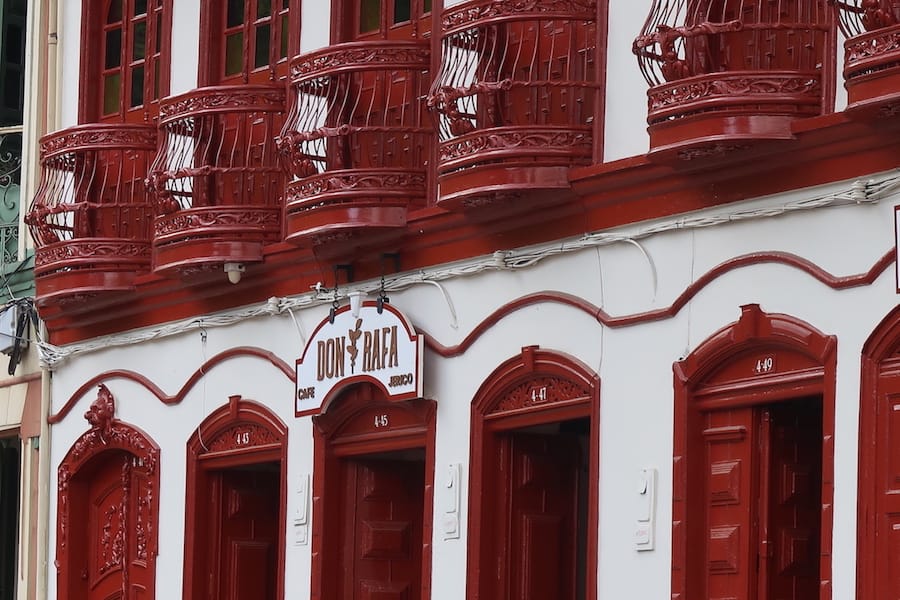 Upon entering, the man began reeling off interesting facts about Coffee in Colombia and how it should be prepared. He even showed me how to taste-test it for acidity and flavor profile.
I was so impressed. The place is called Pastry Cesar Restrepo if you'd like to try it for yourself. I'd had a coffee tour in the space of half an hour.
There were various other coffee shops in the area to try. But I made sure I returned to the bakery for another cup on my last day.
The man also told me about the hot springs that are located nearby. Actually, what started out as a hunt for coffee, ended up being the perfect long-weekend. From Santa Rosa de Cabal you can reach two different sets of hot springs or termales in Spanish.
There you'll find a few different pools with different temperatures. There are also a number of water features, including a natural waterfall. With the on-site cafe and restaurant offering many appetizing food options to choose from, you could easily spend the whole day here.
Drink Coffee with Don Rafa in Jerico
Who is Don Rafa? I hear you ask… Well, I was asking myself the same question. Let me first tell you a little more about Jericó itself.
Located just 3 hours from Medellin. Jericó is a small town in Southern Antioquia, known as the Athens of the Southwest. Not only is it one of the best towns for coffee in Colombia, but it's one of the 17 Heritage Villages Pueblos Patrimonio in Colombia.
In Jericó you'll encounter other attractive landmarks, not just it's well-preserved heritage. So, it's perfect if you're interested in doing other activities, such as hiking and paragliding.
If you stay in the Las Cometas hostel you can easily arrange a coffee tour from here. Just speak to the ladies there, they all speak English and will arrange the farm tour for you.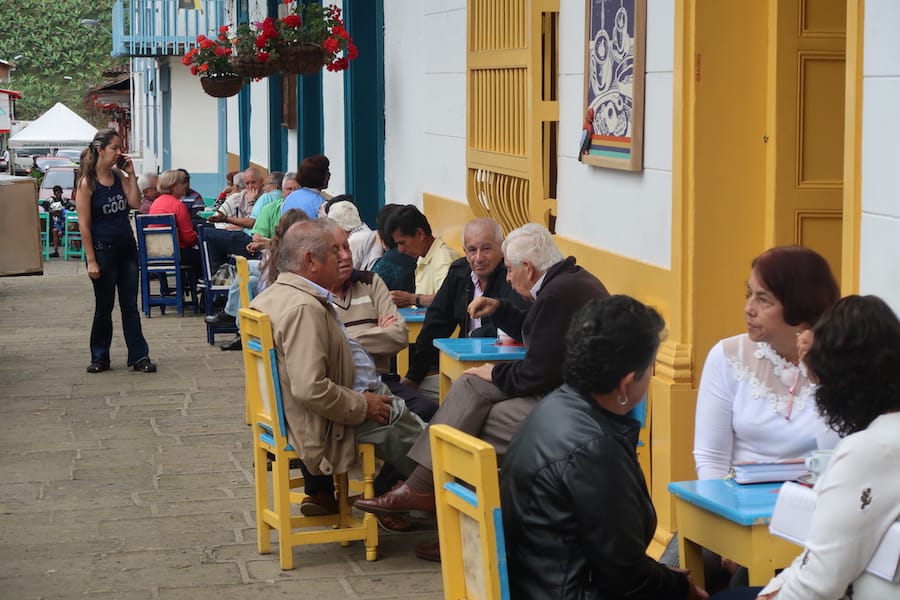 The coffee farm is located around 45 minutes from the hostel. A few lucky travelers have already witnessed its beauty. Residing on the side of the gigantic mountain, from which you'll get an amazing view of the valley, you'll see how it flows for a far as the eye can see.
All in all, Jericó is the perfect place to find locally brewed coffee. Two coffee shops to look out for are Café El Saturia and Don Rafa. Yes, the infamous Don Rafa! Back to the legend, the reason I recommend Don Rafa is because it was here I found the taste of the coffee exceedingly fruity. Like many coffee shops in Jericó, they give you a really good cup of coffee. However, if you want to try some different brewing methods in a really nice setting, here is the place. Oh, and the homemade cinnamon cake goes down really well.
Colombia's Best Coffee Experiences
So, with these key coffee experiences to be had in Colombia, which will you do?
As you should well know by now, Coffee in Colombia is mainly grown in specific regions. You'll find that the towns in Antioquia are very convenient, especially if you're traveling from Medellin, which is the closest 'big city' for most travelers to Colombia.
Whether you're a coffee connoisseur or a regular person, like me, who loves drinking coffee. You will not be disappointed by any one of these coffee experiences whilst in Colombia?