If you're traveling to Rome for the first time, one of the essential things you're inevitably looking to do is visit the Colosseum. This guide will cover everything you need to know before visiting the Colosseum.
Are you planning your trip to Rome last minute?
If youʻre booking your trip to Rome last minute, we have you covered. Below are some of the top tours, hotels, and more!
🇮🇹 Top Experiences and Tours in Rome:
🛌 Top Hotels in Rome:
🚗 Looking for the best way to get around Rome? Click here to check rental car rates for Italy!
It will discuss how to get to the Colosseum, what to wear when there, Colosseum prices, and, of course, the best Colosseum tours and tickets to give you the best experience possible.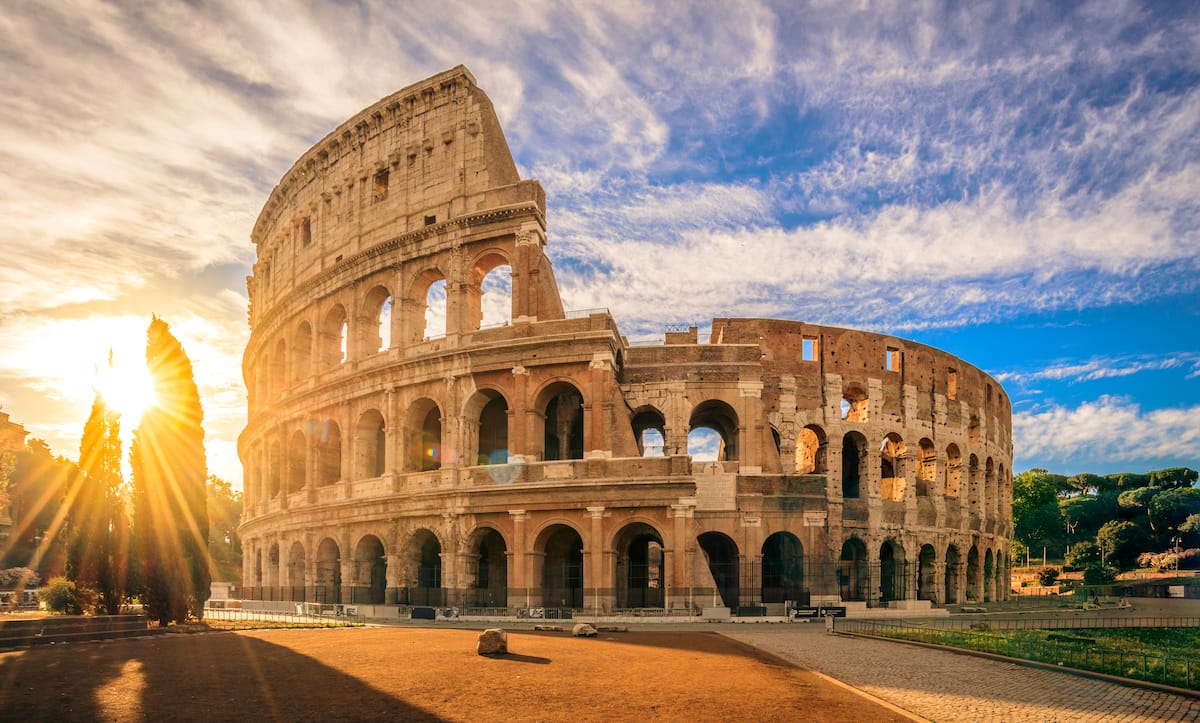 What to Know Before Visiting the Colosseum in Rome
They say all roads lead to Rome… and mine did for a couple of days.
It was my first time exploring the ancient city so I tried to see as many of the main sights as I could during my short stay there.
The top priority on my list? The Colosseum.
I had always had an interest in visiting the Colosseum in Rome because the architecture of the empire fascinated me and its iconic status just made me know it was worth the visit, even if the crowds would be heavy and hard to manage.
I knew the sight was definitely worth it and why it is one of the best monuments in Rome.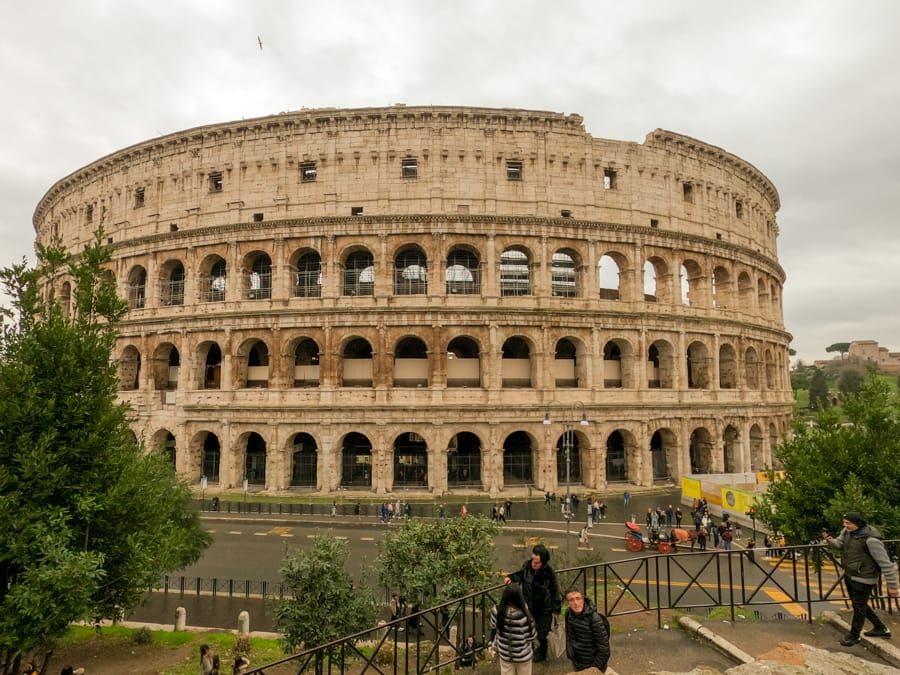 Yes, the place was packed. And rightfully so… it is a magnificent piece of history that should be admired by everyone at some point in their life.
But, there are some things you should know before you visit the Colosseum in order to get the most out of your experience there.
This guide will detail everything I think you should know before going to the Colosseum in Rome. It will include practical info, ticket prices, opening hours, and much, much more!
Please feel free to leave your notes and suggestions in the comments section for other travelers.
Visit the Colosseum – What to Know
The flow of visitors never seems to stop at the Colosseum. Everyone wants to get in and see this marvelous sight but no one really knows the best and most efficient way to get inside.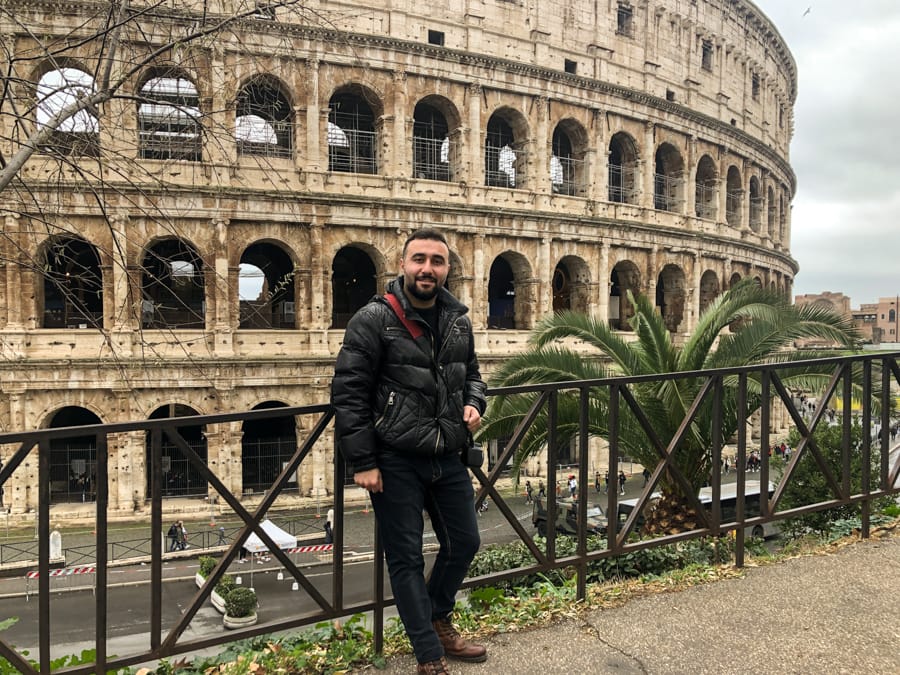 This guide will tell you the best way to see the Colosseum whether you want to visit independently or with an organized tour.
Rome Colosseum Information & History
One of the best things to do before entering the Colosseum is to learn more about it!
Roman history was always super fascinating for me in school and ever since I first saw the movie "Gladiator".
I know Megan takes a keen interest in Roman history, too, and cites Herculaneum as her favorite sight she has ever visited (anywhere in the world).
Anyway, the Colosseum is one of the most notable pieces of Roman history anywhere in the world. The structure was built between 70-80 AD by the Roman emperor Vespasian. It was built in an amphitheater design.
The mind-blowing thing about the Colosseum is that it was built for an audience of 65,000 people which was unprecedented at the time!
It contained gladiator fights, spectacles, and other types of entertainment during the Roman Empire.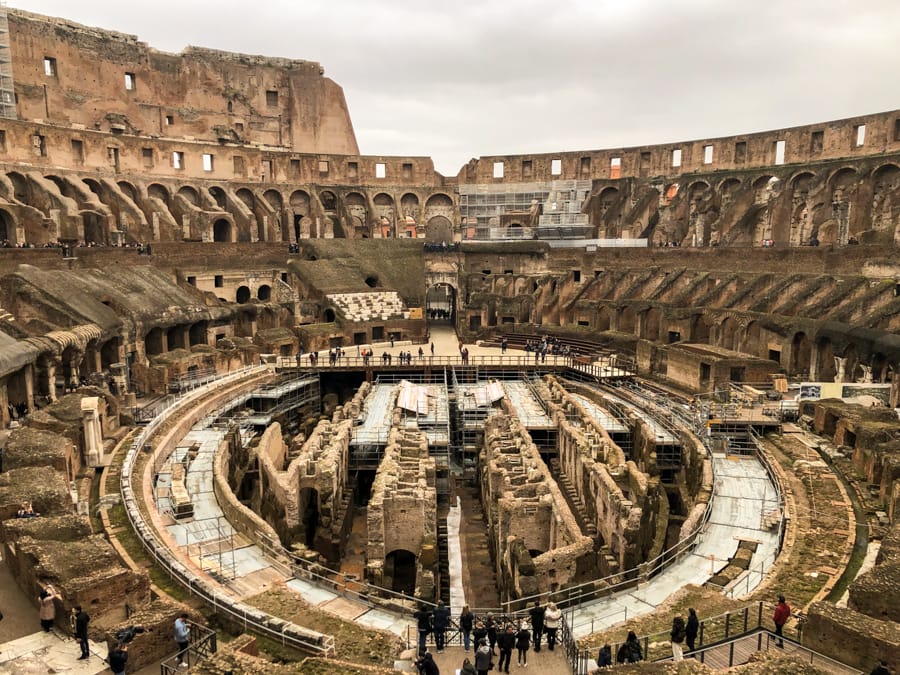 In the 14th century, the Colosseum was heavily damaged by an earthquake and many of the stones that were damaged or crumbled went to be used to build churches, hospitals, and other buildings around Italy.
A few fun facts about the Colosseum:
The entrance to the Colosseum was free for the citizens of the empire who didn't have money because emperors usually used those games to gain political popularity.
More than 500,000 people and over one million animals have been killed at the Colosseum.
The Colosseum is often associated with the famous Roman Emperor, Julius Caesar. Oddly, he never visited the Colosseum despite this association.
For more interesting facts about the Colosseum, click here.
Colosseum vs. Roman Forum vs. Palatine Hill
As you will notice below, when you visit the Colosseum, you will have access to some other sights depending on the ticket you purchase.
The Colosseum ticket may also include the Roman Forum and Palatine Hill.
Below is a brief summary of both of the additional sights.
Roman Forum
The Roman Forum is an important and ancient government complex that held a regular forum that was super important and vital to Roman history.
I was surprised at how massive the area was and how an organized government thrived so long ago when they barely thrive in modern times!
Every building in the Forum had a unique purpose and I also found that really interesting.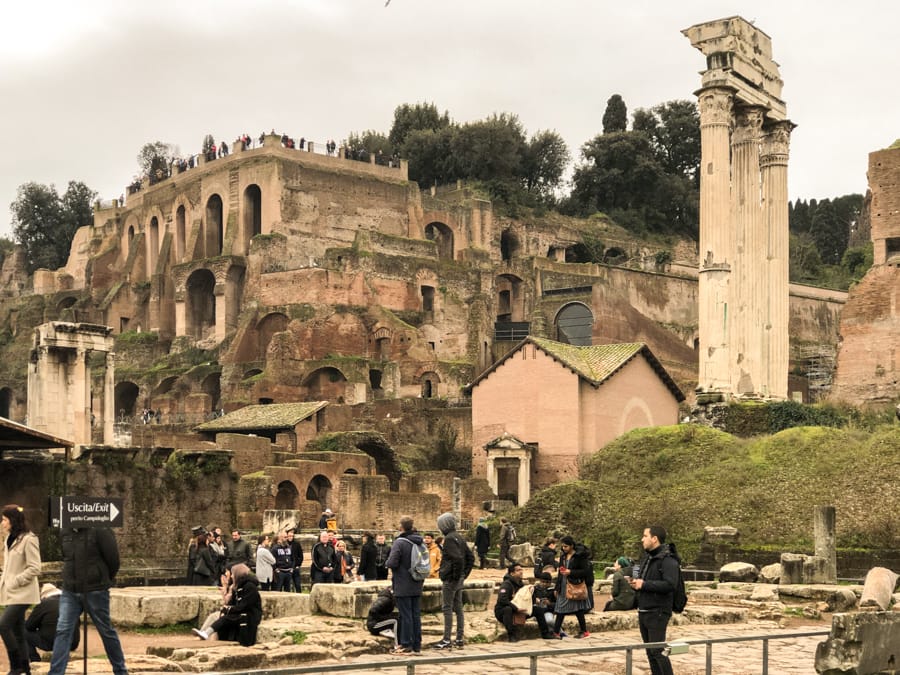 The Roman Forum was the most popular place in Rome for residents as they were able to see the elections, trials, and many social events held there.
Pay attention as you're walking around because each sign will give insightful details about what each building was.
Palatine Hill
Yet another mind-blowing, historical place worth visiting on your ticket is Palatine Hill, it is connected to the Roman Forum and is located about 300 meters away from the Colosseum
The Palace of Augustus and Tiberius was built in Palatine Hill and had a summer garden, fountains, and many other interesting places around it.
It is considered one of the ancient parts of Rome and is located in the central parts of the Seven Hills of Rome.
You will need to walk a bit to discover all of Palatine Hill and learn the history of it.
Buildings and Hotels with a Colosseum View
The Colosseum is pretty much located in the heart of Rome and as the city grew throughout the centuries, many buildings popped up around it that were given an epic view of the UNESCO structure.
You will find the Colosseum's location in a very centralized and busy area of Rome. You will need to take stairs down to it as it is like a large crater in the midst of a concrete jungle.
From there, you'll find many cafes, places to buy Italian souvenirs, and restaurants with Colosseum views!
Cafe with a Colosseum View
If you want to grab a cup of delicious Italian coffee before your Colosseum visit, there is a cafe right next door called La BIGA.
It has a nice, outdoor terrace and if you're lucky, you will be able to get a seat and enjoy a cappuccino before buying your ticket to the Colosseum.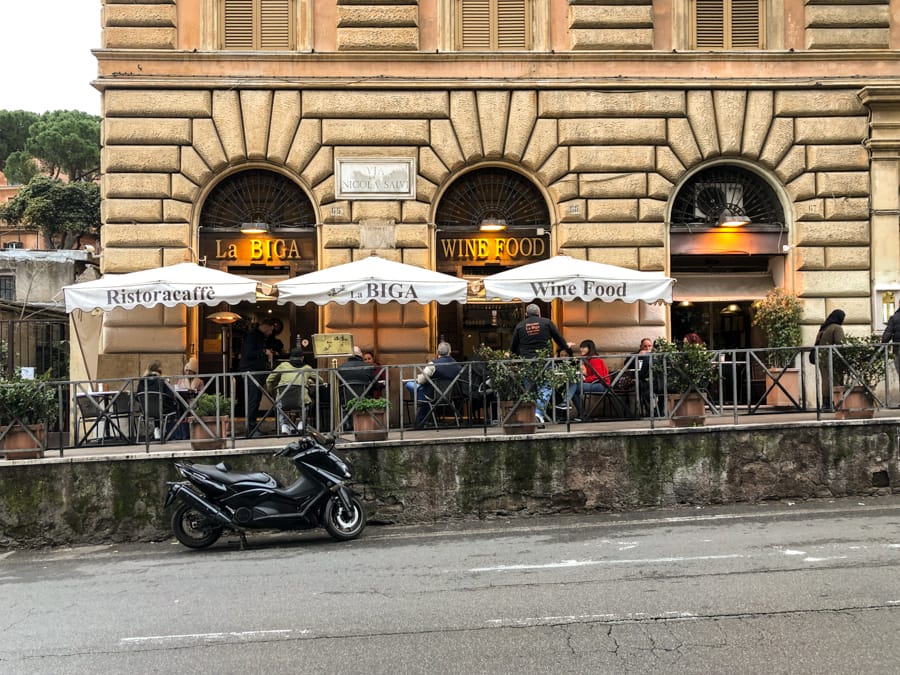 Restaurant with a Colosseum View
Another place to sit down at and have a great view of the Colosseum is the rooftop restaurant, Ristorante Aroma at Palazzo Manfredi.
It has a traditional and modern Italian food menu and you can witness a killer sunset over the Colosseum while you indulge in Italian food and wine.
Hotels with a Colosseum View
If you have always desired to wake up to the view of the Colosseum, there are a few places you can stay that will make that dream come true!
Here are some Rome hotels with Colosseum views (prices range from $125 and up):
Practical information for Seeing the Colosseum
The next section contains as much practical information for visiting the Colosseum as I could come up with. If I left anything out, please contact me and I will try to answer quickly!
How to get to the Colosseum
It is pretty easy to get to the Colosseum no matter where in Rome you are (they should really just say that 'all roads lead to the Colosseum').
If you are staying in the center of Rome, you can perhaps walk there within 30 minutes depending on where your hotel is. That is how I managed to get there from where I was staying.
Alternatively, you can get to the Colosseum by metro or other public transportation.
Taking the Metro to the Colosseum
To get to the Colosseum by metro, you will need to take the metro to the stop that is called 'Colosseo' or 'Colosseum'. It is on Line B.
Rome is creating a new stop on the metro that will open in 2023, but for now, this is your best option.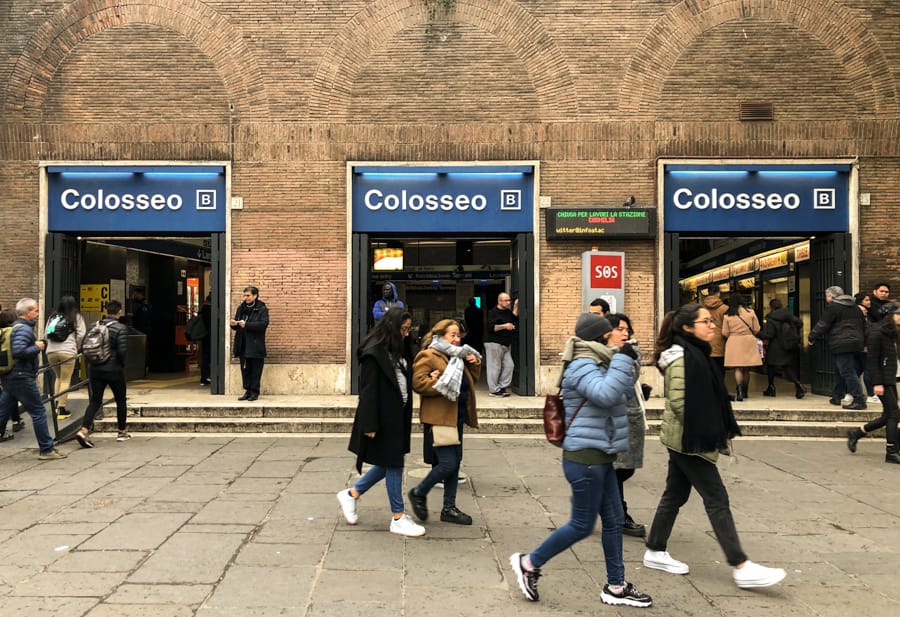 Taking the Bus to the Colosseum
If you find it easier to take the bus to the Colosseum, you will need to take the following bus lines: 75, 81, 673, 175, or 204. They will take you to the Colosseum.
You will need to get off at the stop Celio Vibenna or Colosseo.
Taking the Tram to the Colosseum
An alternative option for getting to the Colosseum is to take the tram. You can take Tram #3 to the Colosseum.
Colosseum Entrances
If you're looking for how to enter to Colosseum, you will see a couple of entrances. If you get off of the metro at Colosseo station, you will need to walk around to the other side of the structure.
If you're disembarking from the bus at the stop 'Colosseo', you will be right beside the entrance for individuals and groups.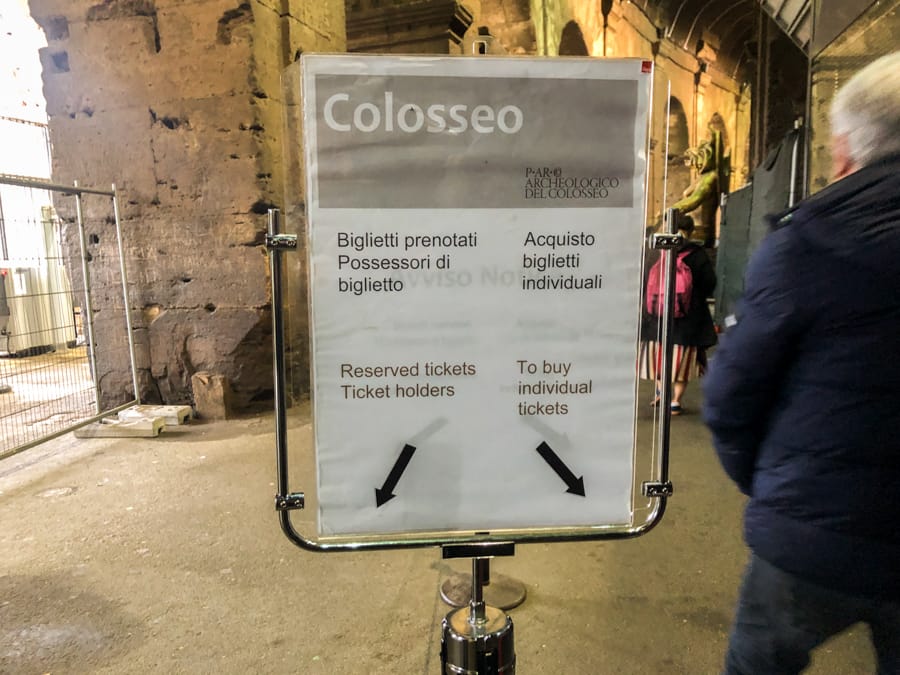 Colosseum Entrance Fees
Depending on the amount of time you need at the Colosseum and which sights you want to see there, you will pay different fees. You will also need reservations to visit the Colosseum currently (except a few select days a year)!
Here are the prices current as of January 2023:
| | | | |
| --- | --- | --- | --- |
| Entrance Fee (€) | Standard Ticket* | Forum Pass* | Full Experience* |
| Adult | 18 | 18 | 24 |
| EU citizens (18-25) | 4 | 4 | 4 |
| Children under 18* | Free | Free | Free |
*Standard ticket: The Standard ticket to the Colosseum will grant you access to the Colosseum, Imperial Forums, and the Roman Forum – Palatine.
It is valid for 24 hours and for only one entrance to each site. It includes the temporary exhibition. Please note that prices listed above INCLUDE the new €2 reservation fee.
*Forum Pass super ticket: The Forum Pass super ticket will let you see only the Roman Forum – Palatine and the Imperial Forum with one entrance for all.
It is valid for 24 hours to the super sights and the temporary exhibition costs an additional 16 Euros. Please note that prices listed above INCLUDE the new €2 reservation fee.
*Full experience: The Full experience ticket is valid for 2 days (48 hours) and permits you access to the Colosseum (both the arena and undergrounds), Imperial Forum, Roman Forum – Palatine, and all other super sights.
It also includes the temporary exhibition. Please note that prices listed above INCLUDE the new €2 reservation fee.
*Children under 18: If you're under 18 years of age, you get free entrance to the Colosseum. This is for both EU citizens and citizens of non-EU countries.
Please note that these are not the only prices and discounts available.
To find out if you qualify for a free Colosseum ticket, a reduced ticket, or just the standard one… visit the Colosseum official site and find out more. You can check it out here.
Skip the Line Colosseum Ticket (Priority Ticket)
To be honest, standing in line to purchase one of these Colosseum entrance tickets looked like my version of hell.
If you just show up to the Colosseum and attempt to purchase a ticket on the spot, you will likely wait for 45 minutes.
I went to Rome in winter… I can't imagine the lines during the summer. It will then it will take a lot of extra time to visit the Imperial Forum and Roman Forum – Palatine after you visit the Colosseum.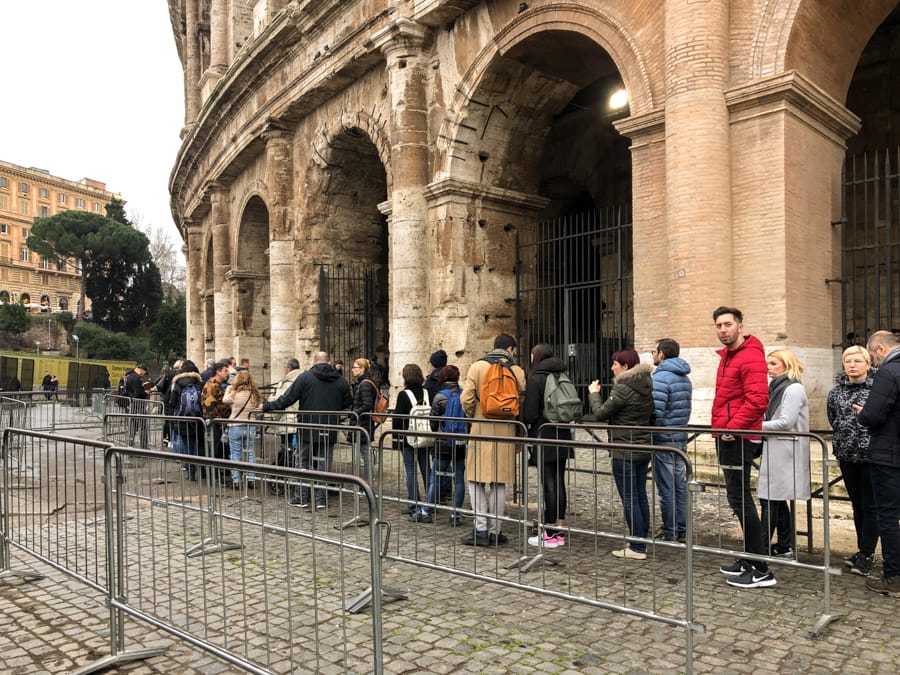 In addition, the Colosseum's capacity is 3,000 visitors daily so while that seems like a high number, you don't want to be left out in the cold.
As a result, I really recommend booking a ticket beforehand for your Colosseum visit and if you're wanting to see the sights independently, I suggest getting a skip-the-line Colosseum ticket.
This ticket gives you set times (you get to choose!) so you don't have to wait in those insane queues at the entrances!
Free Entrance at the Colosseum
On the first Sunday of each month, the entrance to the Colosseum is free. Please do realize that there are limitations to this depending on when you visit (usually from January to March and from October to December).
Colosseum Opening Hours
If you're visiting the Colosseum in 2023, be sure to check if the hours fit your travel schedule!
I know many people are traveling from afar and I would hate for you to get there and it is closed between the hours you desire to visit. Below are the Colosseum opening hours.
January 1st to February 28th: 9:00 am to 4:30 pm
March 1 to March 26: 9:00 am to 5:30 pm
March 27 to August 31st: 9:00 am to 7:15 pm
September 1st to September 30th: 9:00 am to 7:00 pm
October 1st to October 29: 9:00 am to 6:30 pm
October 30 to December 31st: 9:00 am to 4:30 pm
The last tickets to the Colosseum are sold an hour before the gates close.
Colosseum Closed Dates
The Colosseum is open every day of the year. Just be sure to check the hours before visiting so you can ensure you get to go there and it is open at the time!
Book a Colosseum Ticket Beforehand to Avoid Queues
Despise waiting in line? Be sure to book a ticket in advance to avoid this!
To be honest, the Colosseum is always crowded. Yes, they limit the number of tourists inside to 3,000… but it is still a busy place to be.
Naturally, some seasons are better to visit than others. I went in winter and it was slightly better than Megan's visits at other times of the year. The best time to visit the Colosseum is from November to February. It is a great winter day trip from Naples or other places, too.
The best time of the day to visit the Colosseum is right at opening at 8:30am because it experiences fewer people then.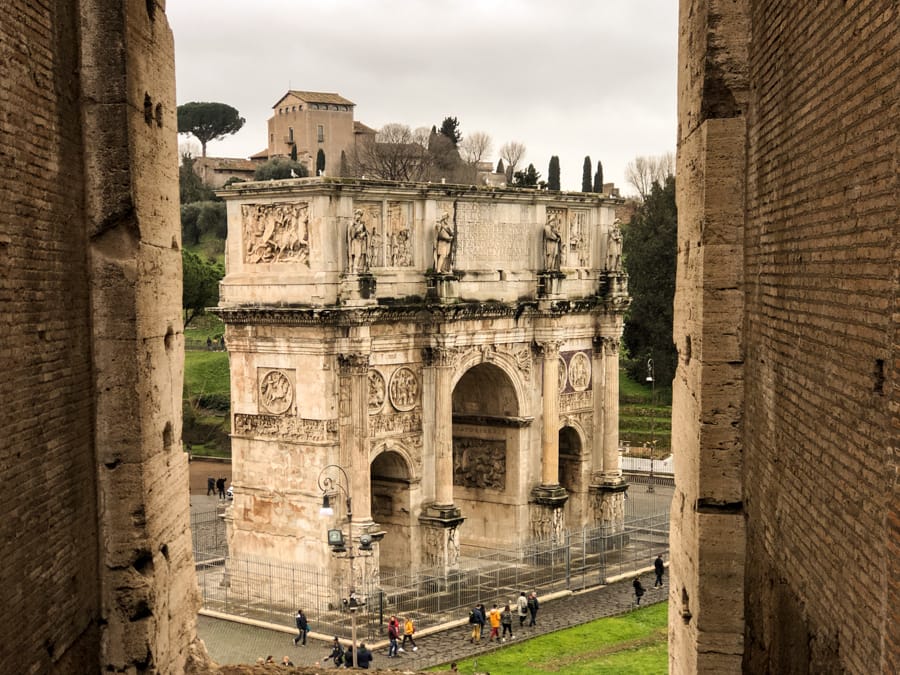 By booking a Colosseum ticket in advance, you can opt to skip the line once arriving and this is monumental. Seriously!
Here are some ways to get your hands on a ticket beforehand so you don't waste your day in Rome waiting around in line to see merely one sight:
How to Use a Skip-the-Line Priority Colosseum Ticket
As I previously mentioned, I was blown away at how large the Colosseum lines were at the entrance. I mean, I understood it as it is a popular sight but it was nothing I would have waited in with patience.
I am glad I purchased a Priority Ticket beforehand and secured a timeslot to enter. My timeslot was at 1155 on a weekday. There were HUGE lines at that time for regular entry.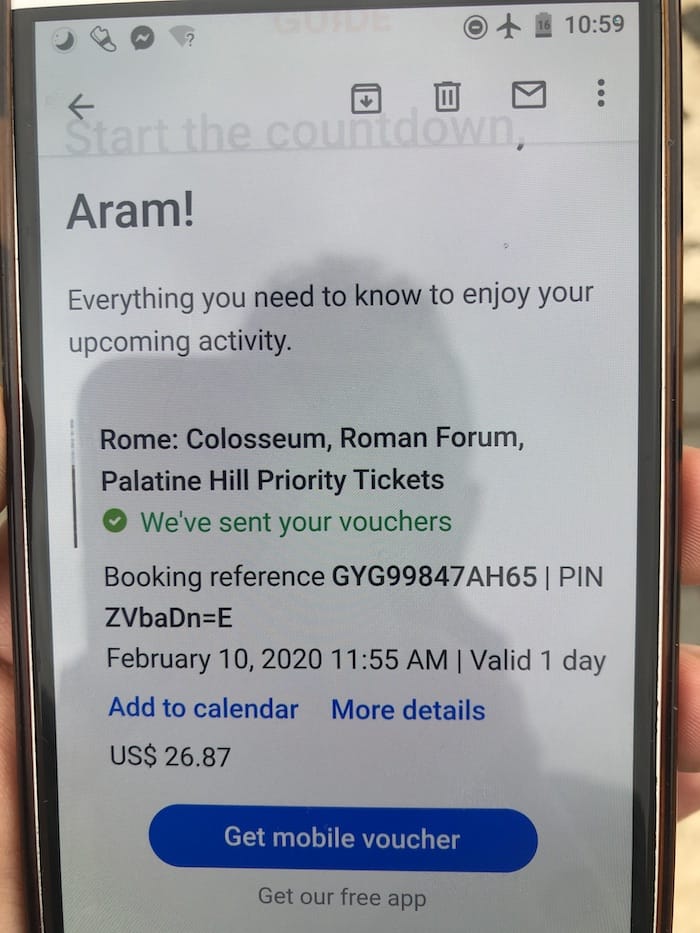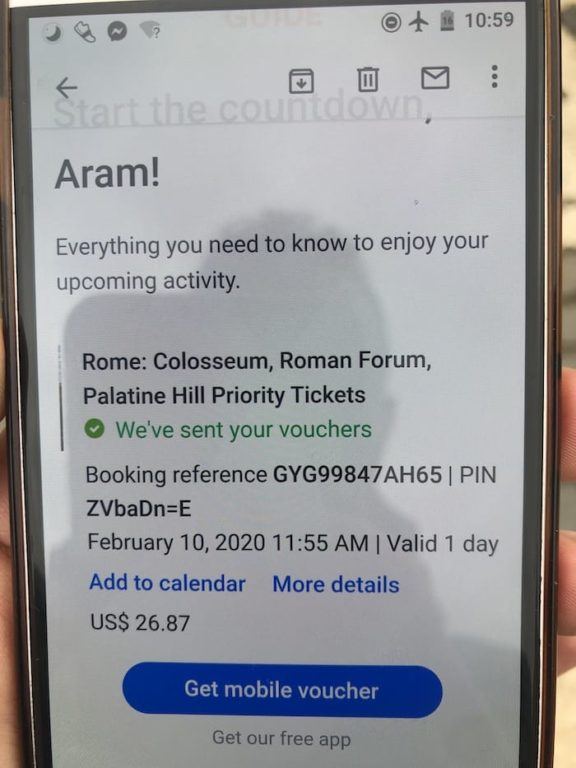 Using your priority Colosseum ticket is easy. Here are the quick steps:
Head to the Colosseum entrance and you will see two lines: one for those who have a pre-purchased ticket and those who do not. No one was in my line (I had a priority, skip-the-line ticket) and the other line was crowded. Show the person working your ticket on your phone or on paper.
Pass through security.
Scan your ticket at the turnstile to enter the Colosseum.
I recommend being there ten minutes prior to your timeslot if you buy a Colosseum ticket in advance.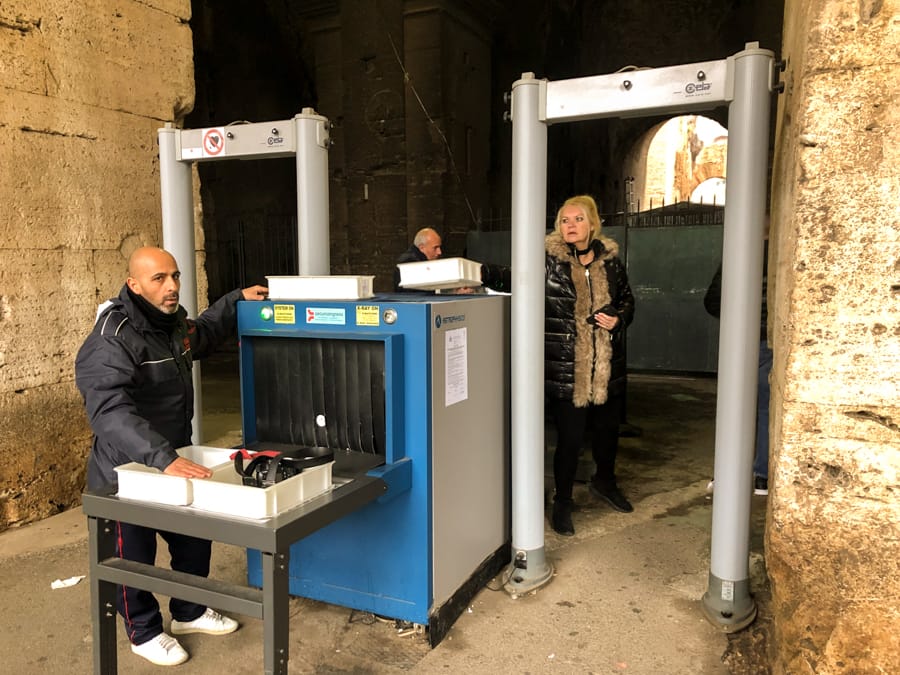 Visiting the Colosseum in a Wheelchair or Mobility Limitations
Is the Colosseum handicap accessible? In my opinion, it was one of the more wheelchair-access-friendly sights I've visited.
After you enter and pass through security, you will signs that display where the elevator is located for those in a wheelchair or with mobility limitations.
There are also signs pointing travelers to handicapped restrooms or places for mothers with young children and babies.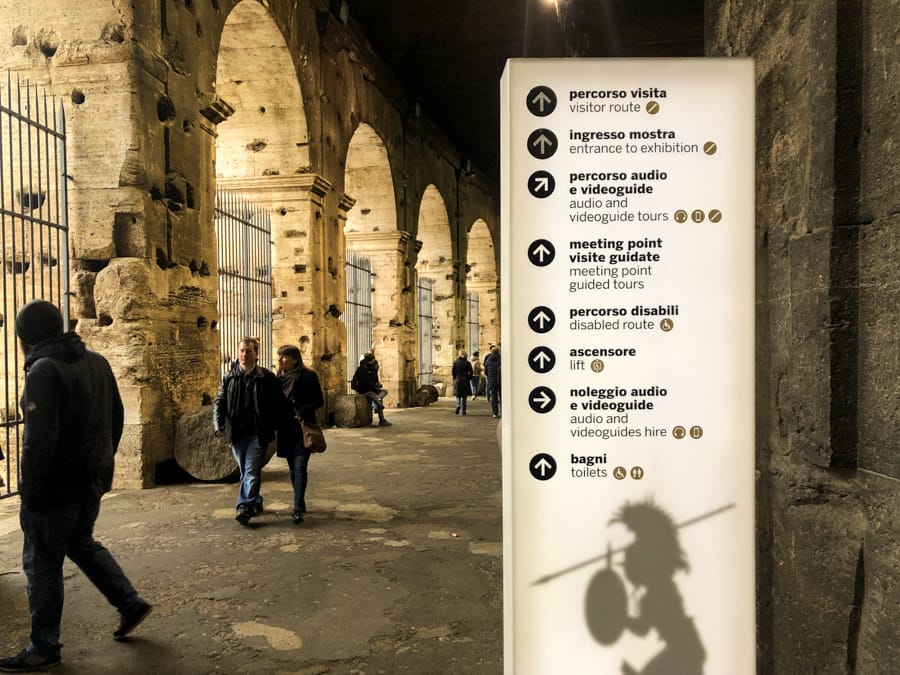 On the upper floors, you will find special paths and ramps for those in wheelchairs, giving these visitors spots where they can view the Colosseum with ease.
While certain points may have limitations, you can definitely visit the Colosseum in a wheelchair or with mobility issues.
As for the Roman Forum and Palatine Hill, you may experience more of a challenge because there is a fair walking distance between everything and there is not a dedicated path for wheelchairs (at least not one I saw).
The Roman Forum and Palatine Hill are located on the opposite side of the Colosseum and are about five times larger than the Colosseum!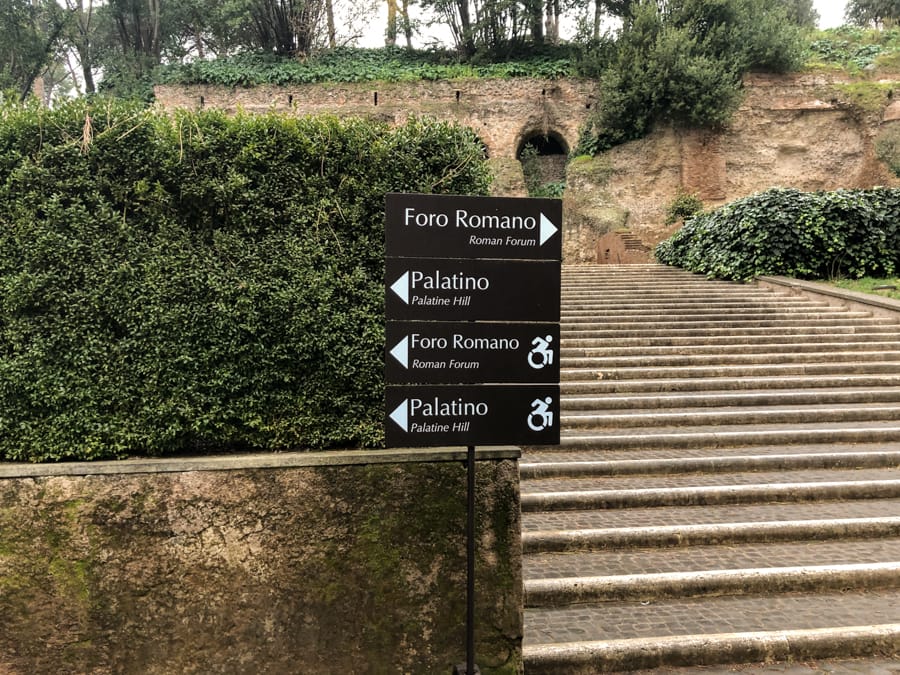 If you have additional questions regarding visiting the Colosseum in a wheelchair or with other limitations, please call the Rome Colosseum helpdesk at +39 06 399 67 700.
There are Water Fountains and Restrooms at the Colosseum
There are several places where you can get access to water fountains and toilets throughout the Colosseum. There were also plenty of restrooms and water fountains in the Roman Forum and Palatine Hill.
In addition, there is a water fountain right next to the 'Colosseo' metro station and you can carry your water jug with you and refill it on the way.
Rome is hot during the summer months so please stay well-hydrated on your trip there!
Be sure to forego buying plastic water bottles to quench your thirst and bring your own, reusable water jug. I use a Klean Kanteen when I travel and highly recommend it to all travelers.
→ Click here to shop my reusable Klean Kanteen water bottle
Colosseum Audio Guides
You can purchase an audio guide alongside your ticket for around 23 Euros by visiting here.
What to Pack and Wear at the Colosseum in Rome
The next section gives some suggestions on what to pack and wear for a trip to the Colosseum.
Wear Good Footwear
One of the most essential things you need to know before going to the Colosseum is that you will walk a lot, especially if you decide to also visit the Roman Forum and Palatine Hill.
The surface around this area is not always flat and it can be rather rocky in spots. If it rains, you will also experience muddy surfaces in the Roman Forum and Palatine Hill. Pack good walking shoes!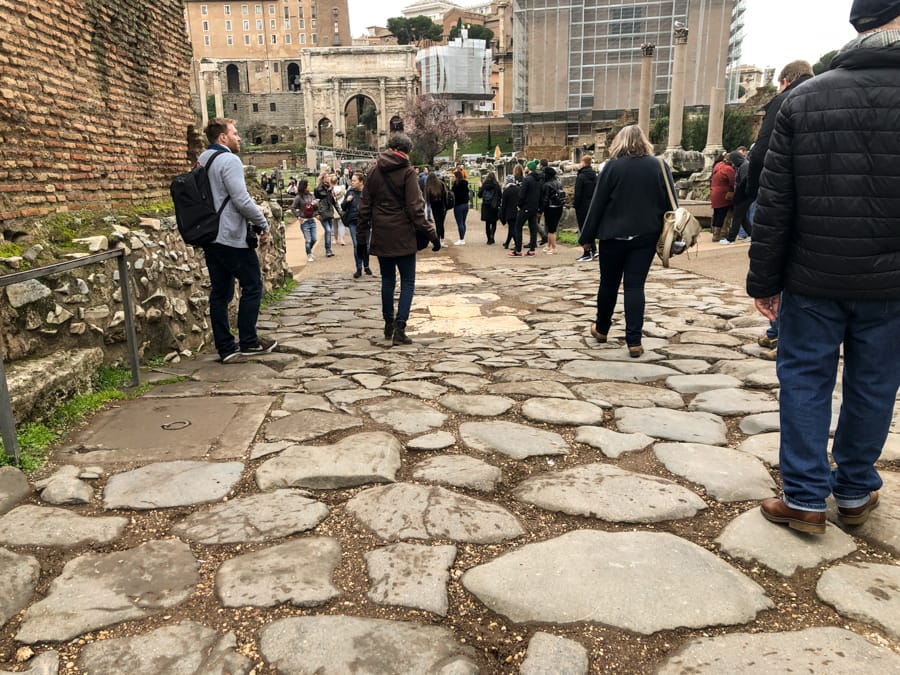 I didn't really listen to my own advice before going and I wore my winter boots there (I was coming from Norway). The boots are a bit old and were not really that comfortable for the duration of my Colosseum visit.
Protect Yourself From the Sun!
Summers in Rome are brutally hot and even the spring and autumn can be sunny and hot. Bring sunglasses, sunscreen, and even an umbrella if you need it because you will be exposed to the sun a lot.
More Useful Colosseum Travel Tips
The above contained Colosseum tips that were more practical and this next section are just from the observations that I made when there.
Please feel free to add your own to the comments section at the end if you have anything that I may have left out!
There Aren't Many Places to Sit
Unfortunately, there are almost no places to sit and relax at the Colosseum. There is limited space anyway, but you will need to be cognizant of the fact that you will be on your feet a lot and will need to keep walking in order to see the place.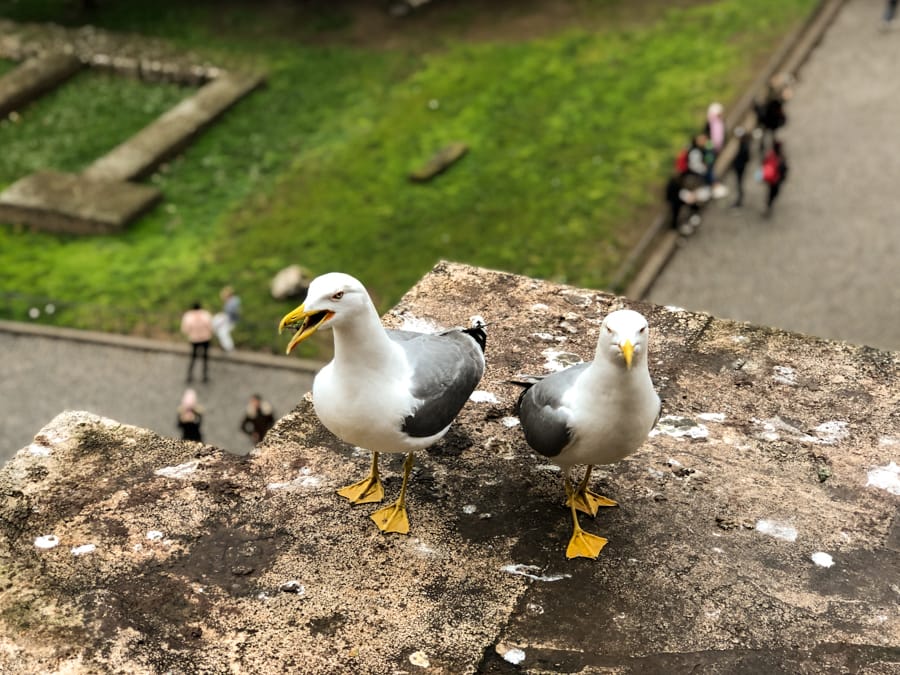 Touching and Standing on Stones and Marble = Prohibited
There are rules in almost every corner or place at the Colosseum, Roman Forum, and Palatine Hill. I'm glad they put these in place in order to maintain the ancient structures.
Please do not break the rules here. Pay attention to the warning signs that are telling you where you can and can not touch, lean, or stand.
Don't go over ropes or boundaries of where you're not supposed to be. Seriously be a good traveler at the Colosseum!
Photographing the Colosseum (and Photography Tips)
You Might Have People in Your Photo
Came to the Colosseum for the perfect Instagram photo? Sorry… but you might have other subjects in your beautiful post for the 'Gram.
The Colosseum is one of the top sights in the world and to think you can just rock up there and take a photo of yourself without anyone else in it is a bit naive. But, depending on the time and situation… not impossible.
In addition, you will almost always have people moving past you in tour groups. Many will be trying to take selfies. Just move along until you find that perfect spot to take your own photo.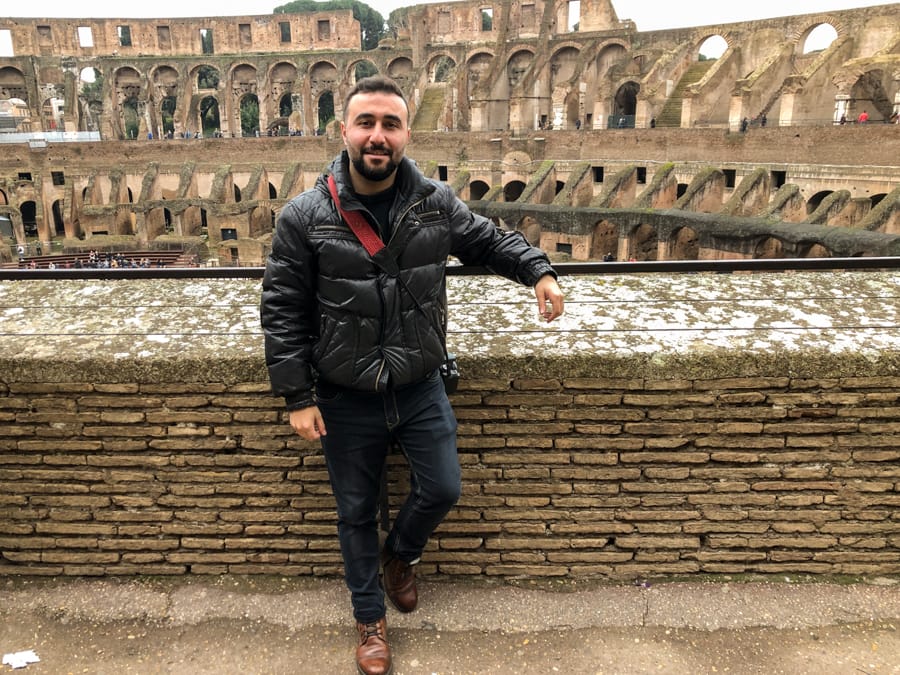 Don't Bring a Drone
It is illegal to fly in Italy in many places and UNESCO World Heritage Sites and the Colosseum strictly forbid it! Don't bring it. You will face a massive fine and you ruin drones for everyone else.
There are other ways to capture good videos at the Colosseum, however. Bring your usual camera and / or a GoPro and try some creative angles that will give you and the people that will see your photos a unique perspective.
→ Click to check out my GoPro and its features
Where to Stay in Rome
There are many options for where to stay in Rome. We listed some Colosseum view hotels and guesthouses above but here are our other recommendations for where to stay in Rome:
Other Awesome Rome Tours
If you're planning your entire trip to Rome, don't forget to book a few more tours to take the pain out of disorganized travel in the city! Here are some of our top-rated suggestions for tours in Rome:
You can also read more about my experience ziplining in Italy at Rocca Massima! It was a blast and I highly recommend it to everyone!
How to Get From the Airport to Rome City Center
Getting from the Rome FCO Airport to the city center is easy as there are several ways to do it.
I have taken a bus in the past but recently decided to use Welcome Pickups, an affordable pickup service that will make your arrival free of stress and get you to where you're staying with the snap of a finger.
The drivers will be at the airport an hour early and stay an hour late and they will speak great English.
→ Click here to book your Rome arrival with Welcome Pickups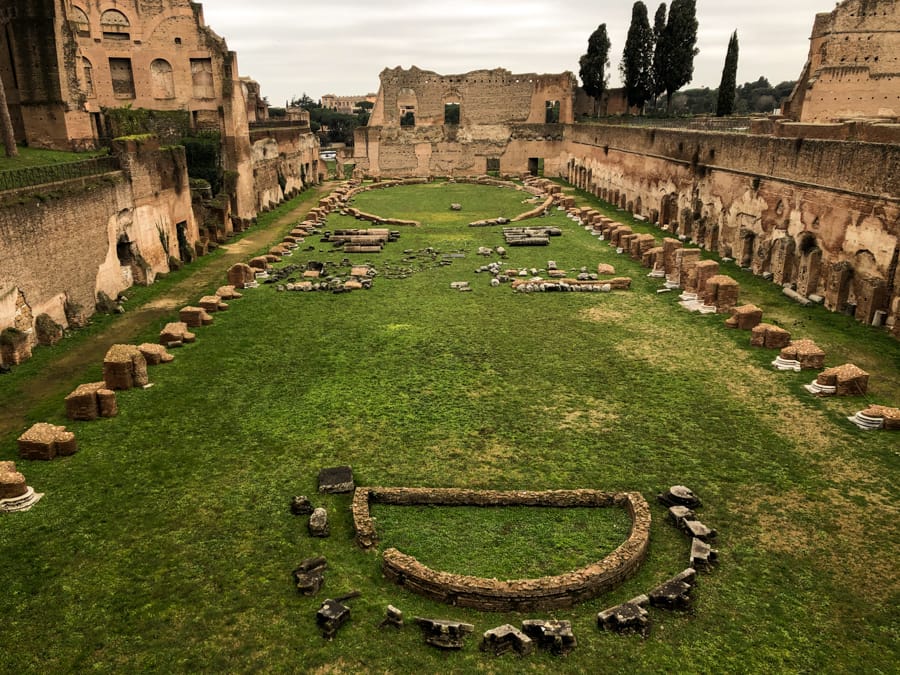 Do You Need Travel Insurance for Italy?
I always travel with travel insurance and Italy is no exception. I can recommend SafetyWing as I have used them in several countries, including when I was in Italy for this trip.
→ Click here to get a quote with SafetyWing for your trip to Italy
I hope that this Rome Colosseum travel guide helps you plan your trip to one of the world's most famous sights.
I really loved my time visiting the Colosseum and if you have a similar trip as I did by booking your ticket in advance and knowing a bit more about the sight, you will love it too!
If you have tips, information, or questions about the Colosseum- please drop them in the comments section!
More Italy Travel Guides