Are you looking for the top things to do in Yerevan, Armenia? This guide details exactly what to do in Yerevan, written by two locals!
Are you planning your trip to Yerevan last minute?
If youʻre booking your trip to Yerevan last minute, we have you covered. Below are some of the top tours, hotels, and more!
Top Experiences and Tours in Yerevan:
Top Accommodation in Yerevan:
The Alexander (Lux)
Daniel Boutique Hotel (Mid-range)
Grand Hostel Yerevan (Budget)
Ever since I stepped foot in Yerevan back in early 2013, the city just resonated with me. I didn't connect with Tbilisi on my trip as I had hoped and like everyone said I would… but Yerevan? It was fortuitous, and seemingly reciprocated, love affair from my very first night.
While it was mostly the people that enamored me, it was also the city itself. From its architecture to its deep-rooted and proud culture to its food, I just couldn't stop thinking about all the things to do in Yerevan and how much I loved it.
Time passed and I could never get back to the city I constantly declared was one of my favorites. But, I did make it back finally two months ago.
I spent quite a bit of time there and while a lot of that was spent watching Armenians protest their government in the most harmonious ways, I got to revisit all the things that made me fall in love with the city five years prior. This is a guide of things to do in Yerevan, Armenia.
This guide is not all are typical of what you'd find on a generic site- these are a mix of things I think that you should do from a cultural perspective as well as some of my favorite, random things to do in Yerevan.
I hope you get the chance to head over to Wego to book your flights and hotels and make a trip out to one of my favorite cities!
Any suggestions of places to see or experiences to have in Yerevan? Please drop them in the comments for future travelers! Thanks!
Food, Drinks, and Shopping in Yerevan
I actually think that Armenian food is one of the most underrated cuisines in the world and it needs to be a priority on your Yerevan itinerary. Georgia has received a lot of accolades for its cuisine, and rightfully so, but Armenia kind of hides in the shadows of its northern neighbor.
Armenians have a knack for using seasonal produce (I shouldn't even have to acknowledge this as a compliment because this is what we should be doing in other parts of the world, too) and the flavors and tastes are enhanced and intensified as a result.
I never ate tomatoes in the US, but when I moved to Norway I tried one and spat it out because it tasted like cardboard.
When I arrived in the Caucasus, I tried a tomato again and started eating them like apples. Vegetables and fruits taste like they are supposed to in Armenia and it is an ethereal feeling when you bite into one.
I will have a restaurant guide to Yerevan published soon, but for now, here are a few of my favorite places that I think you shouldn't miss if you are traveling to Yerevan, including a place to buy cosmetics that are ethically made with local Armenia ingredients.
Have a Coffee or Local Food at a Sidewalk Cafe
Yerevan has the best cafe scene in the world. I'm not joking, actually.
I constantly tell people about it and rave on about how I could work from an outdoor cafe in the middle of a park in spring while back in Norway my garden was under around two feet of snow.
When my friends eventually travel to Yerevan, they almost always write to me within the first few days to tell me that they haven't seen as many sidewalk cafes anywhere else in the world.
It seems as though I have a pattern of ending up in Yerevan in April and not all are open, but I almost always get to watch them being set up and by the end of my time in the city, they are open and ready for business.
There are many things to do when sightseeing in Yerevan but definitely make sure you stop and enjoy a cafe for an hour or two.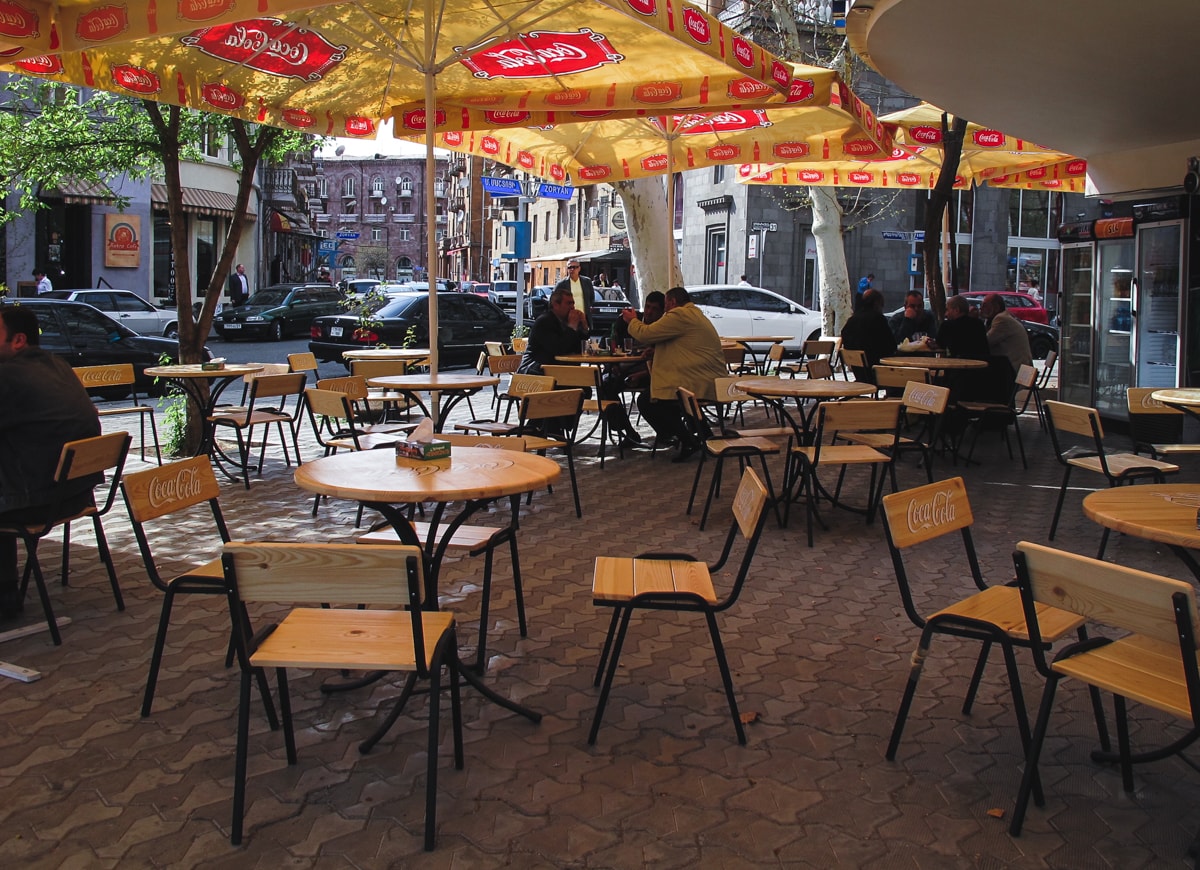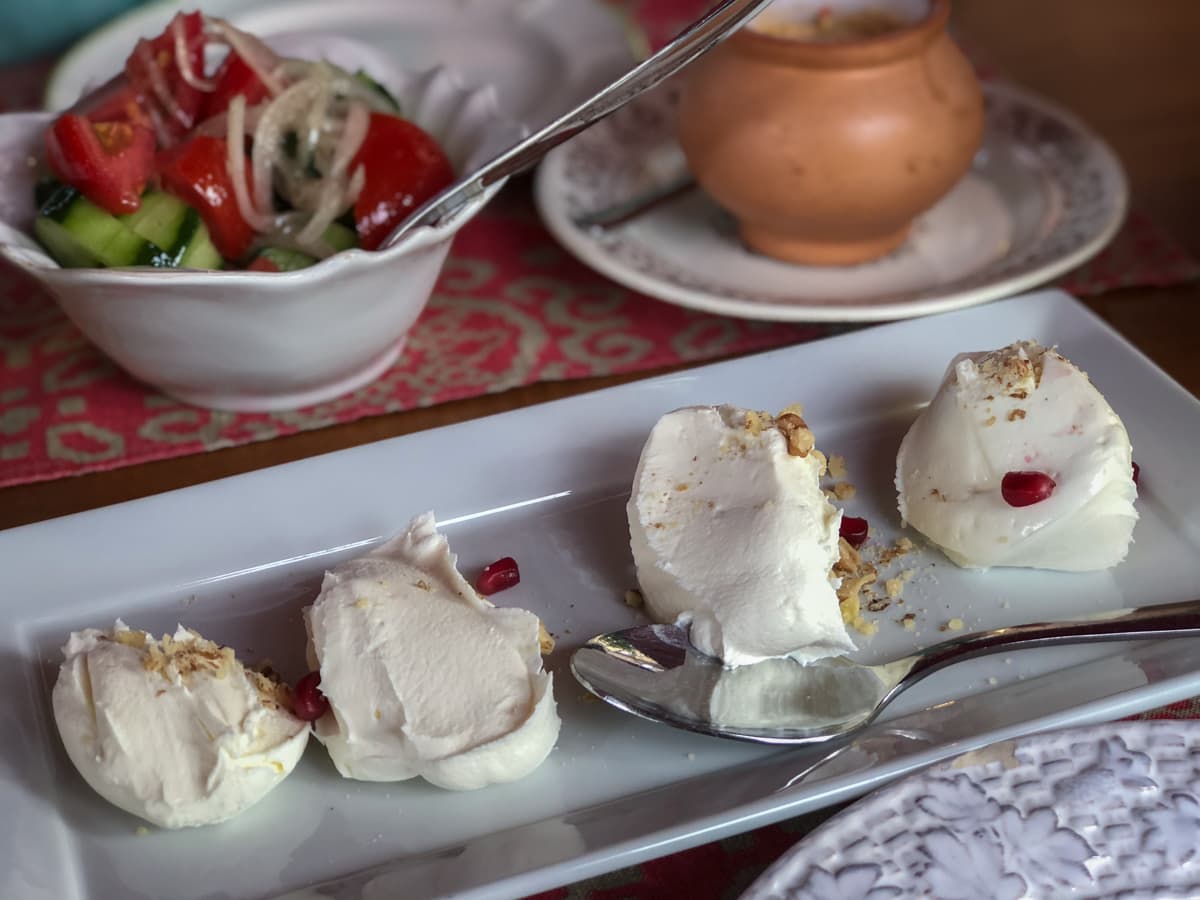 Drink a Craft Beer at Dargett
Dargett Brewery is the place to get a refreshing craft beer in Yerevan. I went there too many times to count on my last trip (they were not open on my first trip) and even worked from outside of the place on their spacious terrace.
They have an extensive portfolio of beers, but I found their Vertigo IPA to be absolutely sensational.
My ABV sweet spot is at around 6.5%, so coming in at a 7% is a little heavy for me, but the Citra hops make it refreshing and bearable. If you go there, please enjoy a couple for me.
I also tried their food there and it was pretty good. They had a spicy macaroni and cheese one day that was on a Chef's Special and it hit the spot. You can find Dargett at 72 Aram Street in Yerevan.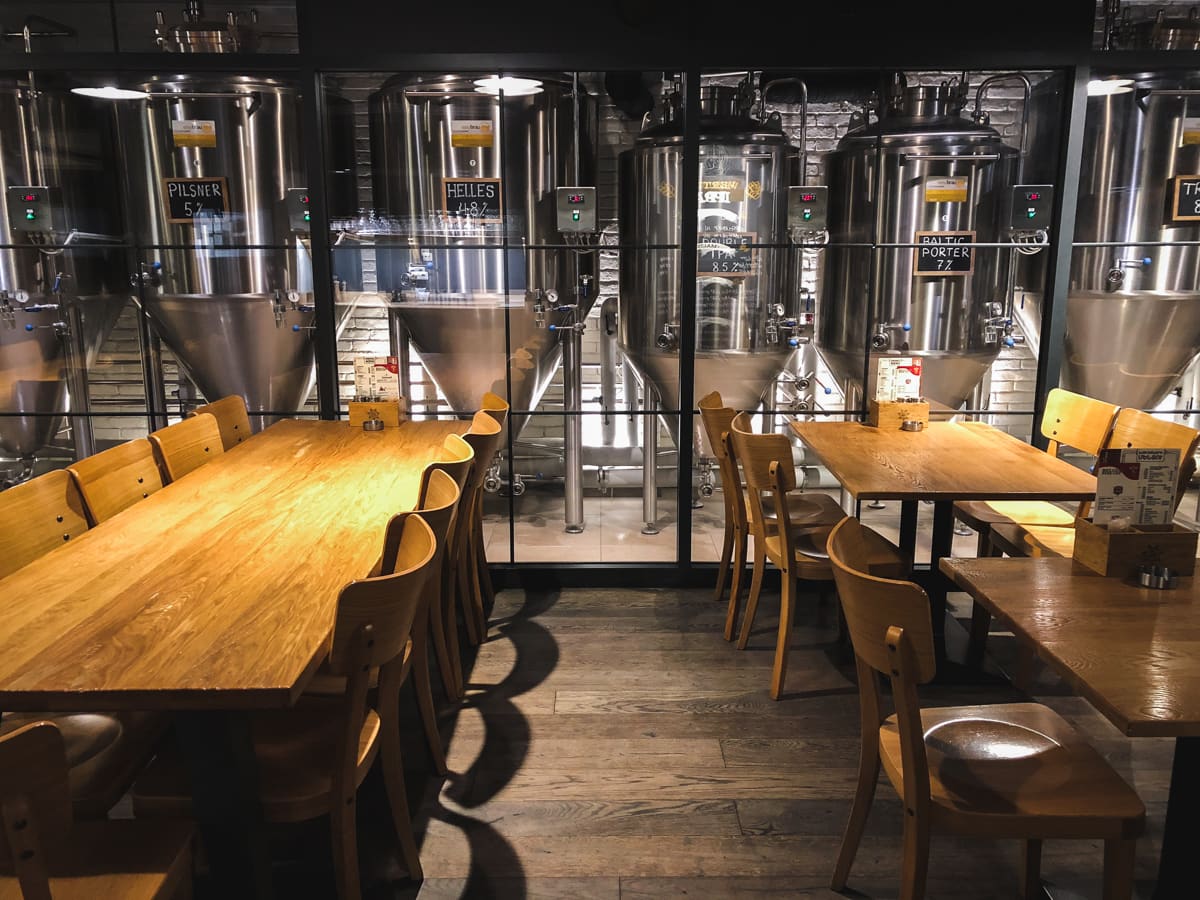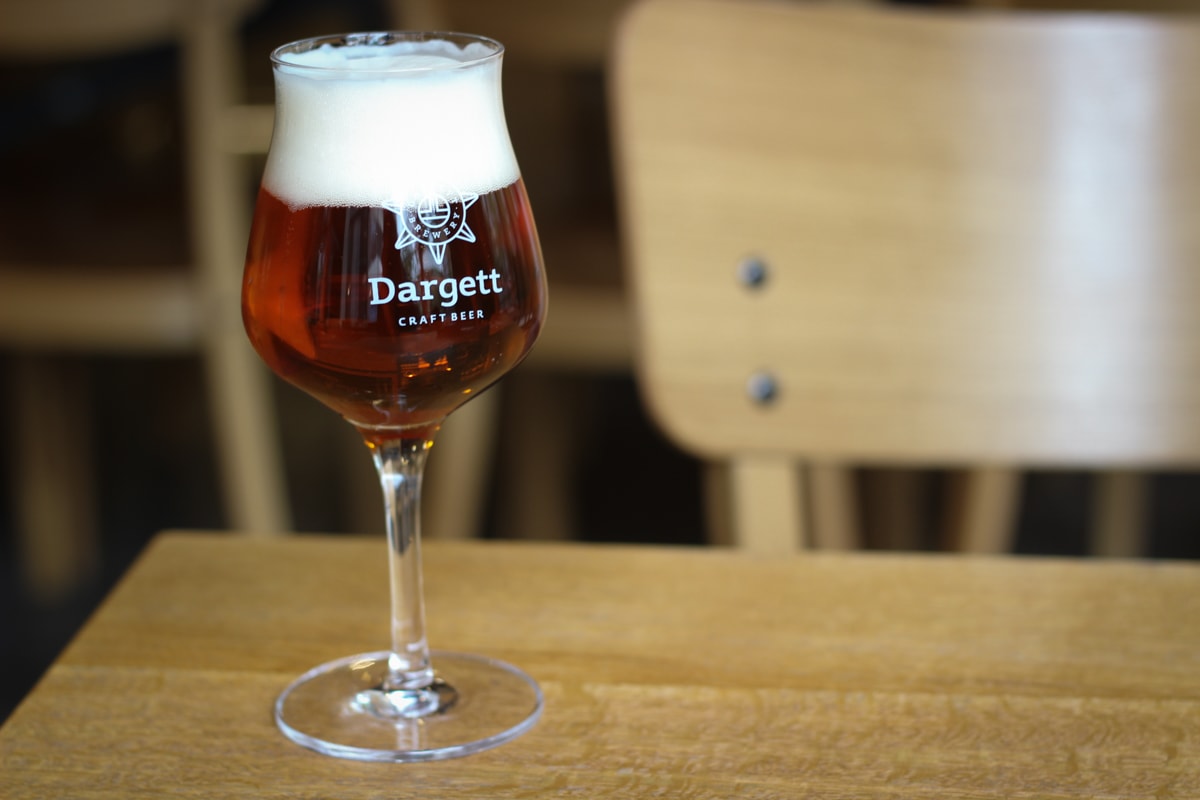 Have Lunch or Dinner at Charentsi 28
I constantly read that this international restaurant on the east side of the city in Yerevan came highly recommended by food lovers.
I ended up there with my friend, Arevik, almost as soon as I arrived in Yerevan and I went there several times after our first dinner there.
The restaurant is located inside of a building and is set up kind of like a home-style place but without the tacky interior.
Their wine selection is good and their fatoush salad just spoke to my soul and it became so bad that I would wake up and crave it when I was in Yerevan. I was able to get my regular sumac filling (it is my favorite spice) at Charentsi 28 and on occasion, I would order their labneh as well.
While this isn't a traditional restaurant, the local ingredients really do shine here and I highly recommend trying it out for lunch or dinner.
They also have a nice terrace out back. You can find Charentsi 28 at 28 Charents Street in Yerevan.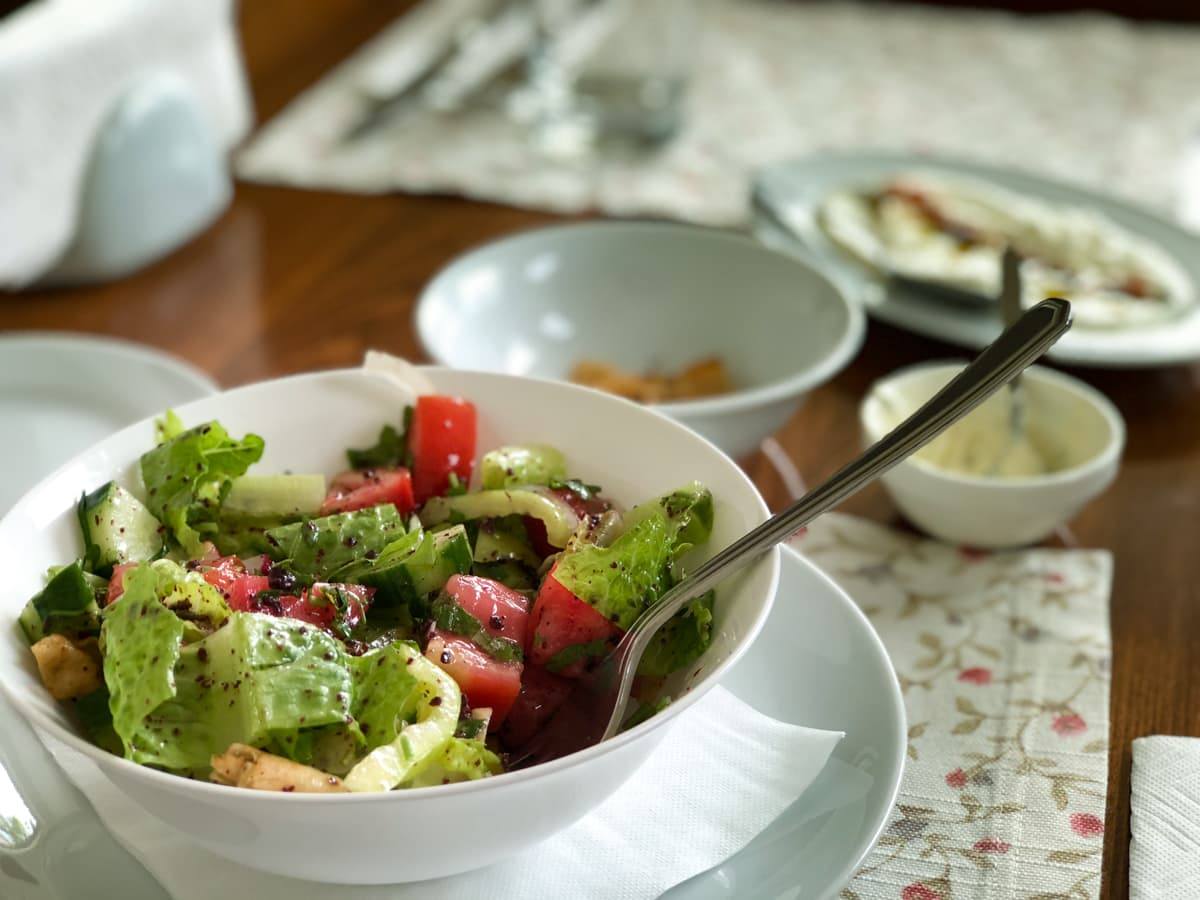 Imbibe and Learn About Armenian Wine at In Vino
Armenian wine is fantastic and unique to other wines I have had traveling. While I am a beer drinker at heart, I still love to have a glass of wine here and there. My favorite place to go in Yerevan is In Vino off of Saryan.
Funny enough, I remember going there on my first trip as I stayed nearby but when I arrived on my second trip I didn't really recognize much on the same street and felt like I was somewhere new (turns out I wasn't).
Nevertheless, In Vino is a great place to grab an Armenian wine and the staff speaks good English and will enlighten you on what you're drinking. You can find In Vino at 6 Martiros Saryan Street in Yerevan.
Indulge in Armenian Cuisine at Dolmama
Dolmama is arguably the most famous restaurant in Armenia and it definitely deserves the accolades it receives. They specialize in Armenian cuisine with a modern and current twist. The interior is inviting and comfortable without being tawdry. The restaurant is so popular that they recently opened in Moscow.
Dolmama highlights the best of Armenian cuisine and hopefully, more people around the world will start recognizing how delicious it is! You can find Dolmama at 10 Pushkin Street in Yerevan.
Explore the GUM Market
One of my favorite places I have visited in Yerevan was the GUM Market.
I love going to markets as I think they usually have a vibrant personality that can be absent in other places in a city. I tend to seek out markets before I even arrive in a city and the GUM Market was no exception.
Going to the market is a good way to learn about the produce and food culture in its rawest form in a new city and Yerevan gives you a taste of what it's about just from doing this.
Depending on the season, you will find cherries, strawberries, apricots, pomegranates, cheese, and much more. Also, don't forget to try sujukh, a string of walnuts dipped in a grape syrup, that you will see hanging all over the place!
You can find the GUM Market at 35 Movses Khorenatsi Street in Yerevan.
Try Ararat Brandy (Cognac)
Ararat is a famous brandy (marketed as cognac) that has been produced by the Yerevan Brandy Company since 1887.
The brandy is often described as one of the best ones out there and I have been offered it on numerous occasions in Yerevan (and Armenia) and I actually really like it… and I don't really care for spirits.
It is rumored that Joseph Stalin gifted Winston Churchill with the drink at the Yalta Conference in 1945 and Churchill liked it so much that he ordered it in mass yearly for himself.
You can try the drink almost anywhere in Yerevan, or you can actually go to the Yerevan Brandy Factory itself and take a tour or visit the museum dedicated to the stuff.
To find out more, check out their website. You can find the Yerevan Brandy Factory at 2 Admiral Isakov Avenue on the Hzardan Gorge in Yerevan.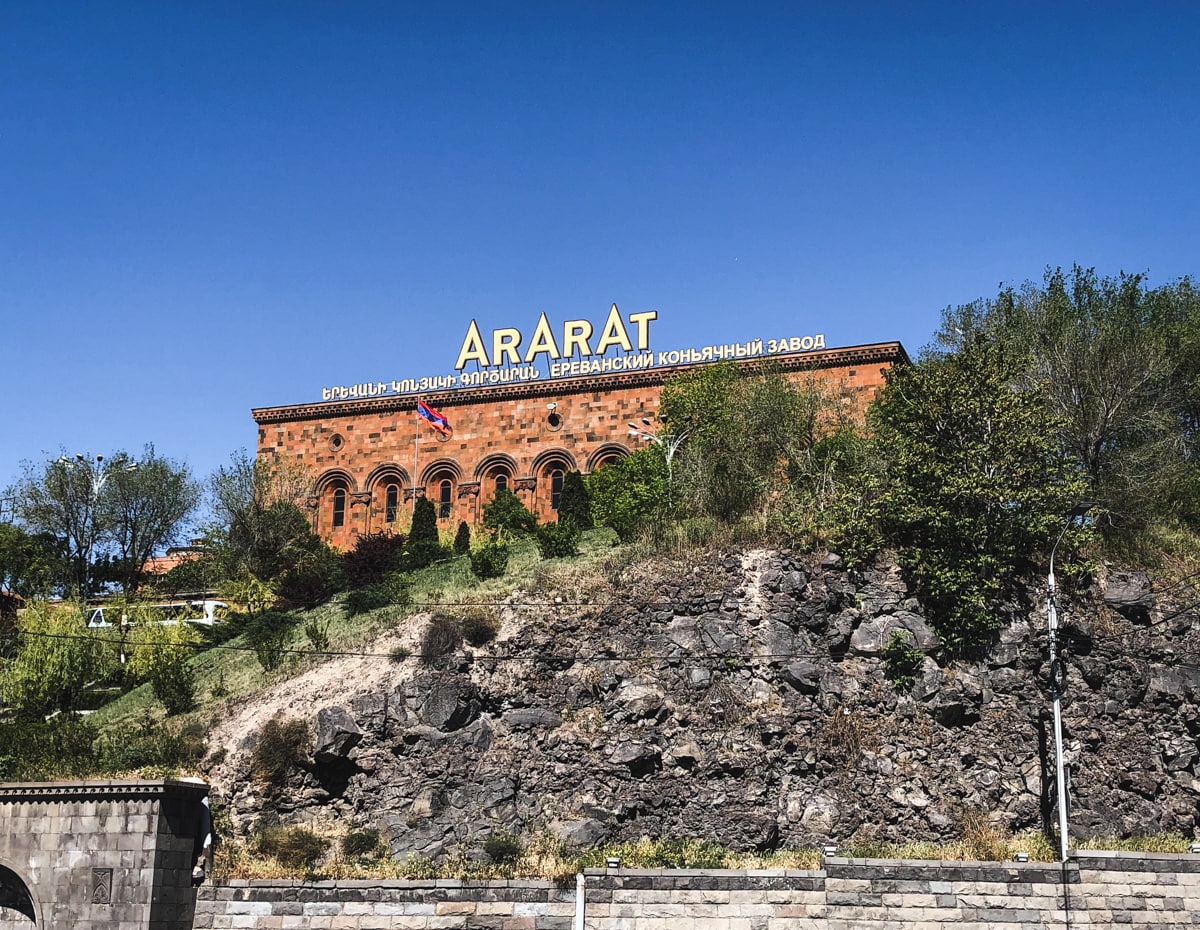 Satiate Yourself with Armenian Produce
I know I mentioned it above, but there is really something remarkable about the produce of Armenia.
The fruits have flavors that are so intense and like nothing I have ever tasted before, which is pretty sad when you think about it.
The country isn't trying to grow dragonfruit when it shouldn't, etc.
They grow what they need and they even infuse certain fruits into their wines… giving them a distinct and unforgettable richness.
There are plenty of markets and small shops throughout the city where you can find delicious fruits and vegetables.
Drink Apricot and Pomegranate Wine
Also mentioned above, the wine in Armenia is so different than other places not only for its grapes but also the other types of products that they infuse into it.
I first tasted these types of wines when I was on a tour of the Areni Wine Factory and while the pomegranate wasn't my favorite (was too sweet for my taste), I really liked the apricot one a lot.
The family I was staying with even had me bring them back some bottles of each. Wine in Armenia is pretty different than other places and it is really nice to see some of the local ingredients used in the drink.
Tasting these types of wines is something that every traveler must do when in Yerevan.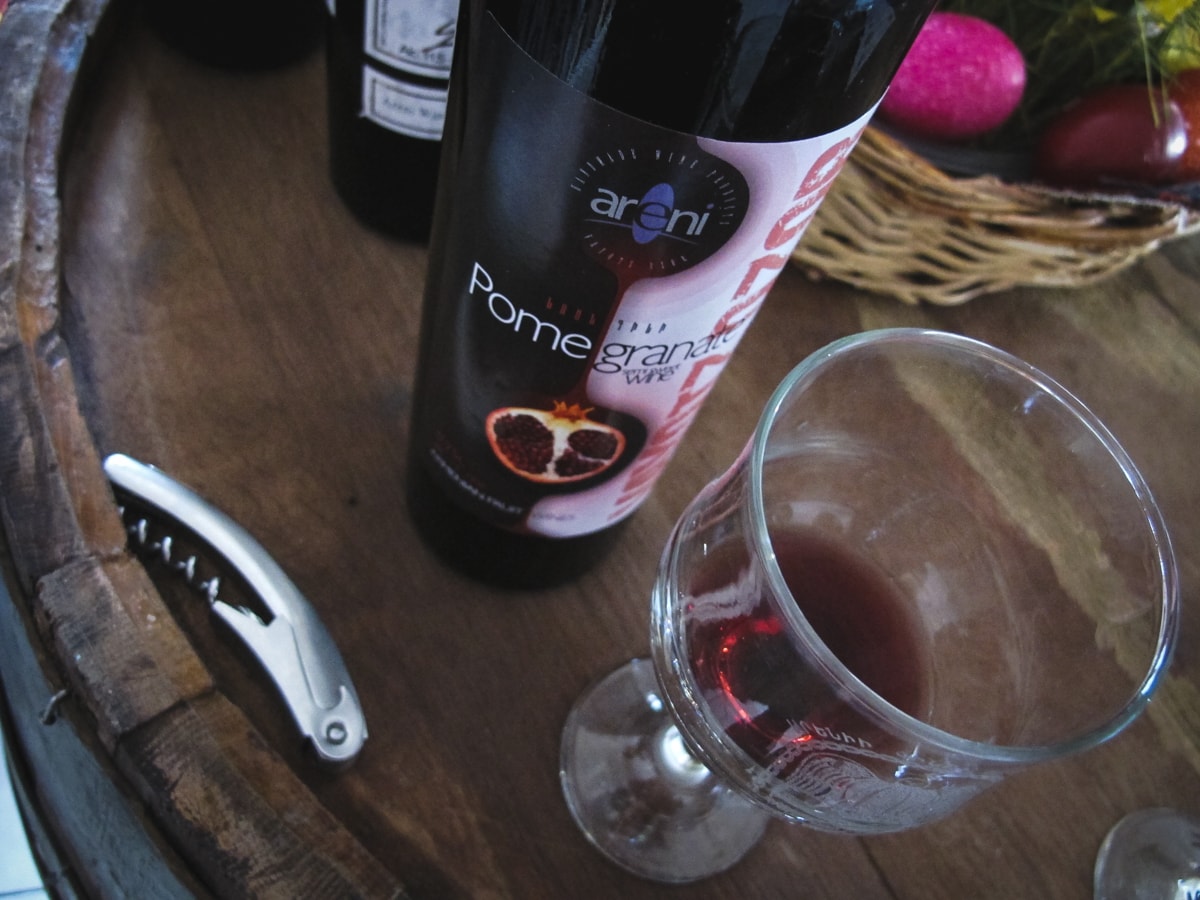 Watch Lavash be Made at Lavash Restaurant
One of Yerevan's most famous restaurants is Lavash and they specialize in… lavash. And it is good.
You can actually watch them make it while you're eating, which is interesting if you've never seen lavash made before.
I ordered the Ghapama, which is a Christmas dish and was completely out of season when I ordered it- but I didn't care. I had always wanted to try it and I was craving something sweet.
It was delicious. Lavash is another Yerevan restaurant that has an inviting interior and isn't tacky. You can find Lavash at 21 Tumanyan Street in Yerevan.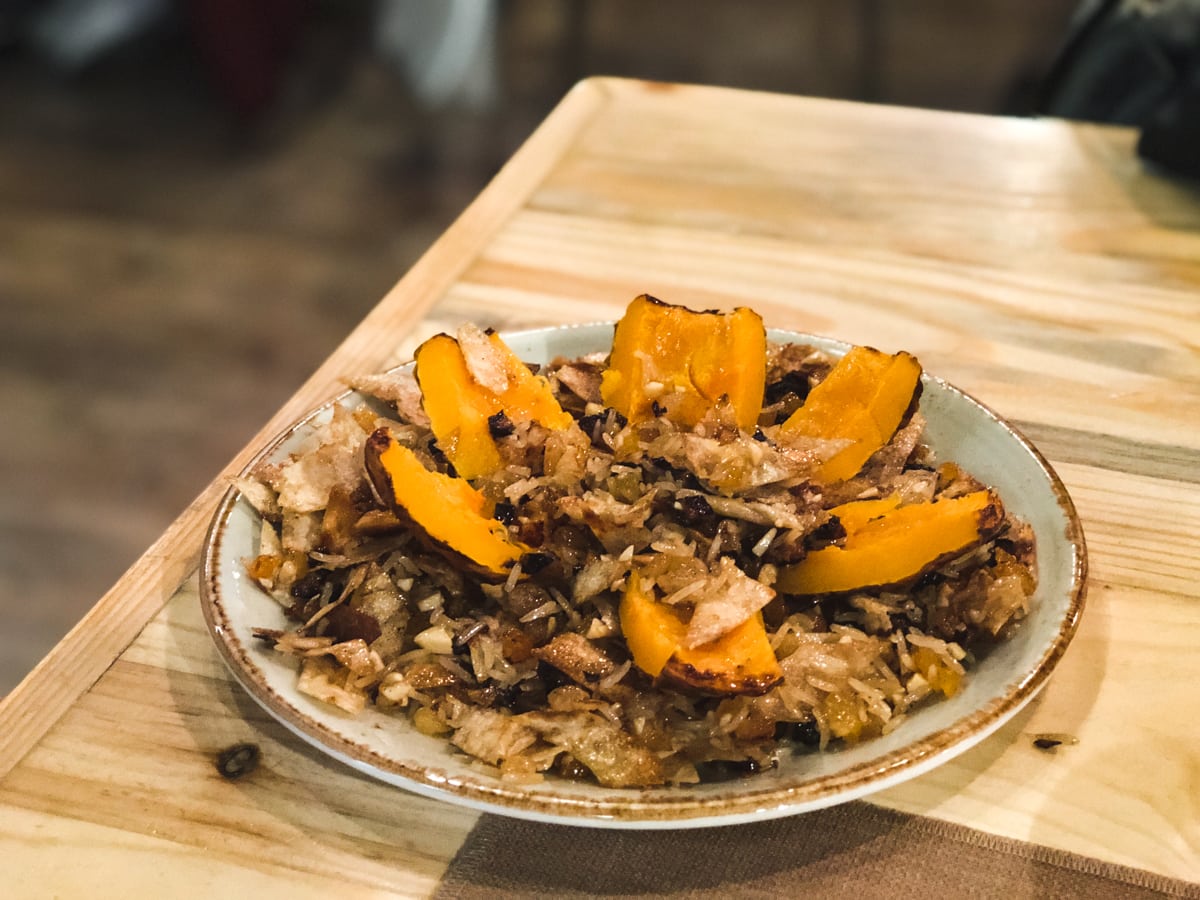 Have a Glass of Wine on Saryan
I mentioned In Vino above, but just hanging out at one of the many wine bars and restaurants on Saryan is one of my favorite things to do in Yerevan.
The street is home to the Yerevan Wine Days and is synonymous with a good glass of Armenian wine.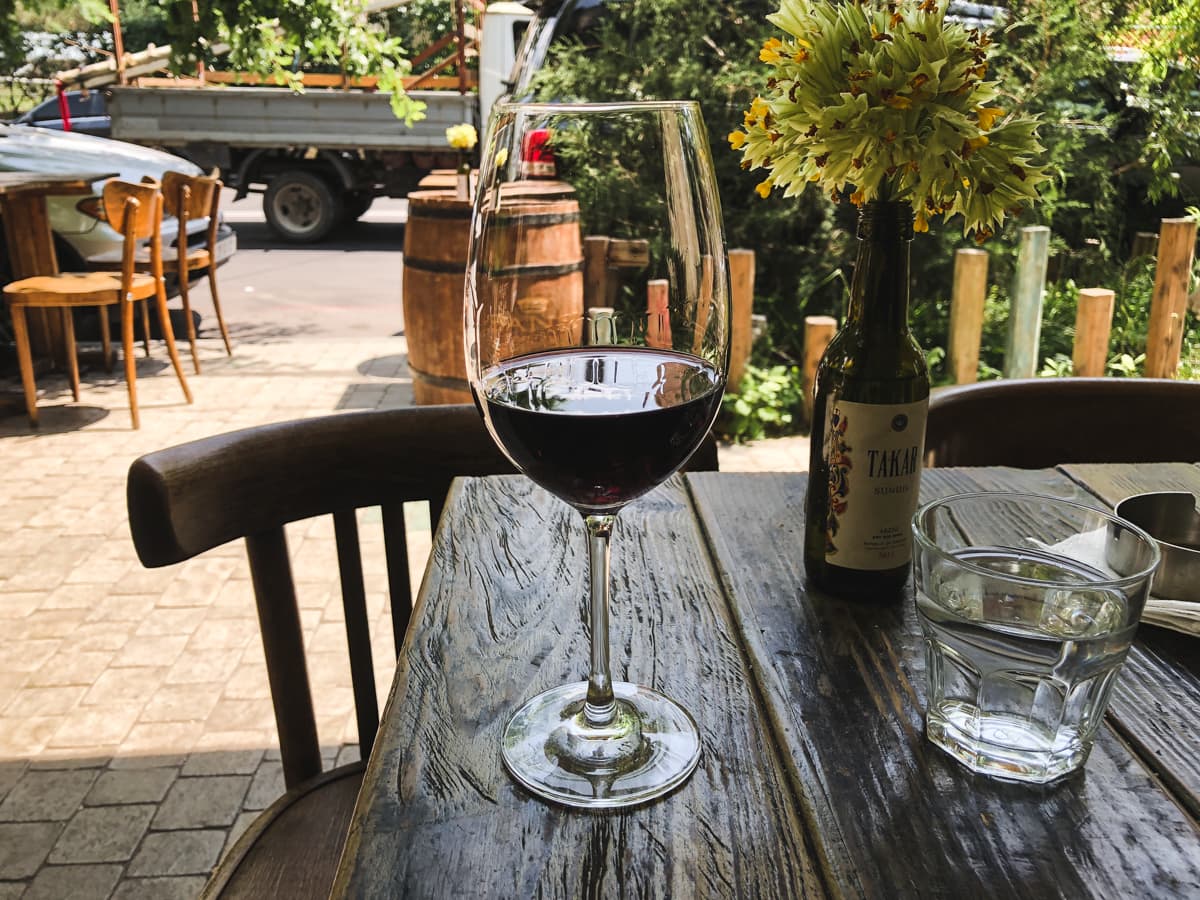 Get Your Thai Fix at Wine Republic
I have been to Wine Republic a few times when in Yerevan and have always recommended it to others for good food and wine.
While eating Thai food in Yerevan isn't on everyone's list (I get that), if you're looking to change it up for a meal and want to try some local ingredients with Thai flavors, look no further than Wine Republic.
She recommends the vegetable spring rolls, gyoza, drunken noodles with chicken, and the red curry.
Allison states that she has eaten Thai food all over the world and this is the best she has ever had outside of Thailand, the United States, and the UK.
My next trip to Wine Republic will definitely include a little lemongrass and fish sauce. You can find Wine Republic at 2 Tamanyan Street in Yerevan.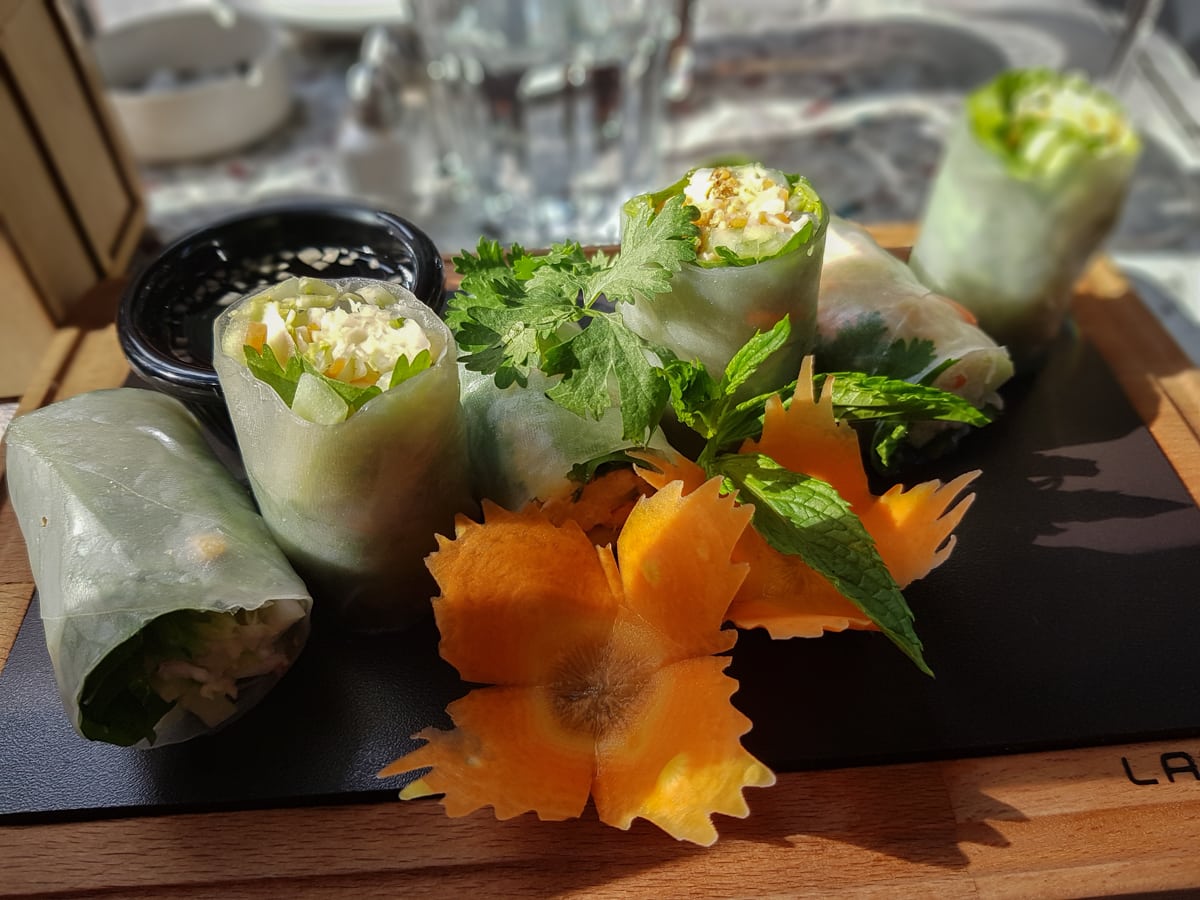 Eat Consciously at Gouroo Club and Garden
I went to Gouroo for an event with my friend, Aram, and the place was a pleasant surprise in Yerevan and I regret not heading back there before leaving.
The establishment promotes all things local, organic, and natural and is a real gem in the city.
They have vegan options and various wines and drinks that are locally and ethically sourced.
Gouroo also hosts events (hence my visit there), bringing live music, cooking masterclasses, and movie nights to the residents of Yerevan.
Taking a pit stop to enjoy Gouroo is definitely one of the top things to do in Yerevan, in my opinion, and it will be one of my first stops when I am back in the Armenian capital.
You can find Gouroo Club and Garden at 13 Saryan Street in Yerevan.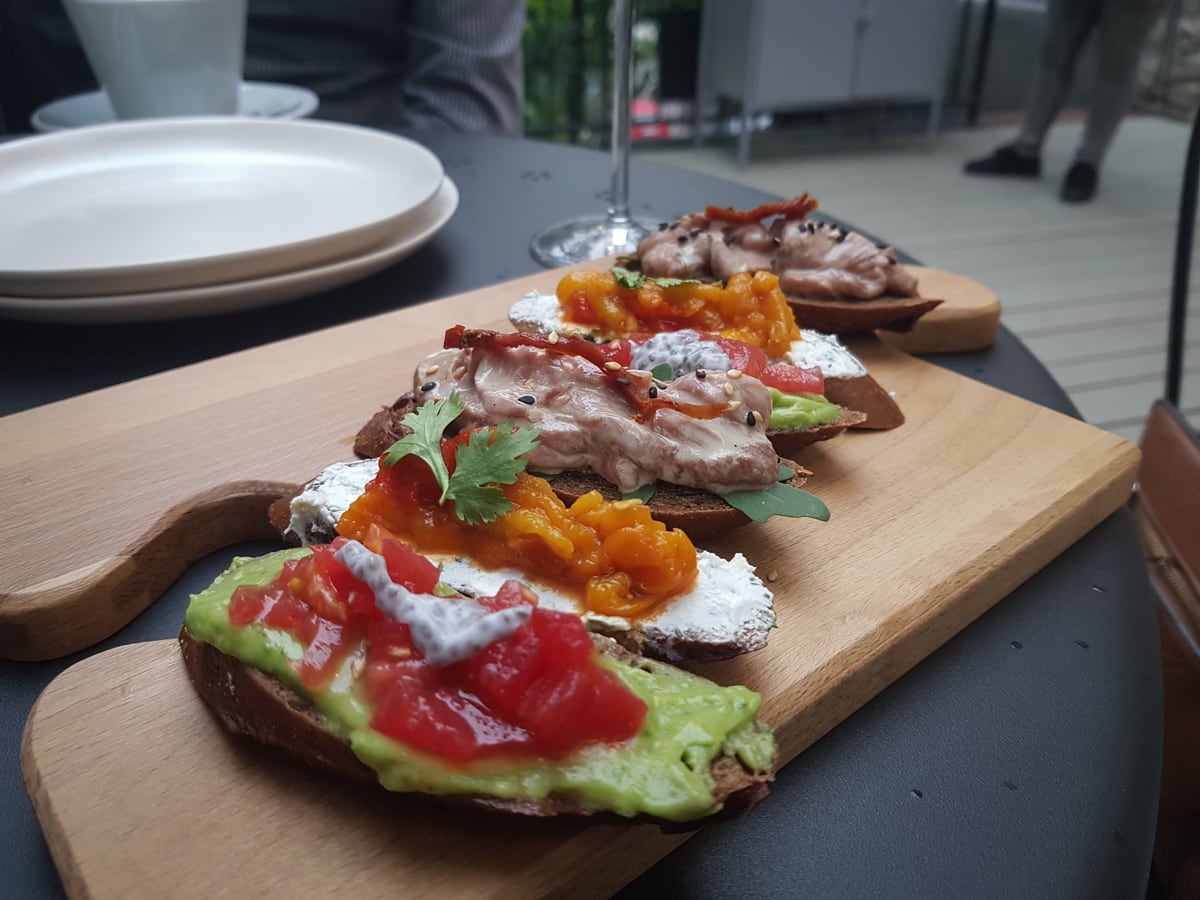 Support Local Farmers by Visiting Gastropolis Food Market
Gastropolis Food Market is a local food hall in the center of Yerevan that offers 12 different culinary concepts under one roof.
The market is located inside of the Kamar Business Center fairly close to Republic Square and is a recent addition to the Yerevan gastro-scene.
It offers everything from a pizzeria to Asian food to a coffee shop.
Gastropolis aims to support local farmers, producers, and distributors to maintain high-quality and superior produce and ingredients. You can find Gastropolis Food Market at 2 Vazgen Sargsyan Street in Yerevan.
Treat Your Body to Armenia's Best with Nairian
Nairian is a cosmetics company that prides itself on treating customers to a high-quality experience with their products that are created ethically and sustainably with local ingredients from Armenia's highlands.
Their products are 100% plant-based and chemical-free and contain nutrient-rich oils from plants such as sea buckthorn, rosehip seed, rose, tarragon, yarrow, garden sage, etc.
Nairian is the perfect gift to take home from Armenia and I definitely recommend picking up some of their products when you're in Yerevan. You can shop for Nairian online or stop by their showrooms at Abovyan 26 or Saryan 13 in Yerevan.
Sights and Architecture of Yerevan
It is no secret that I have an obsession with grey, concrete buildings when I travel.
The more obscure, the better. While some people may be freaked out by what I find beautiful, I like to think that I see things in a completely divergent manner and that I see the stories behind them.
Whatever it is, Yerevan is a gem for architecture that is pleasing to my eyes.
I am not going to list an abundance of Soviet architecture like you'd expect, however (it is pretty ubiquitous and has been written thoroughly about by others).
But here are some buildings or places you should see when in the city:
Admire Yerevan's Pink Architecture
When I first went to Yerevan, I didn't really notice that the buildings were pink. While I had heard that they were, it didn't seem apparent to me when I was trying to distinguish this characteristic. It actually took me traveling to Slavutych, Ukraine to realize how special the architecture of Yerevan (and Armenia) truly is.
Slavutych, Ukraine was a purpose-built city for the survivors of Chernobyl and the residents of Pripyat who lost their homes in the tragedy.
Slavutych was the last city the Soviet Union built and they commissioned designers and architects from all former Soviet capitals (excluding Central Asia) to design each neighborhood in their own style.
As a result, each neighborhood of Slavutych is designed to look like another place.
I spent a day walking around each neighborhood and the only one that had such a distinct and observable trait in comparison to the others was the Yerevan district.
The buildings really were pink and it felt like I was back in Armenia. Ever since that trip, I instantly notice how pink Yerevan is and I find it to be absolutely breathtaking. Photo below is from Slavutych, Ukraine's Yerevan district.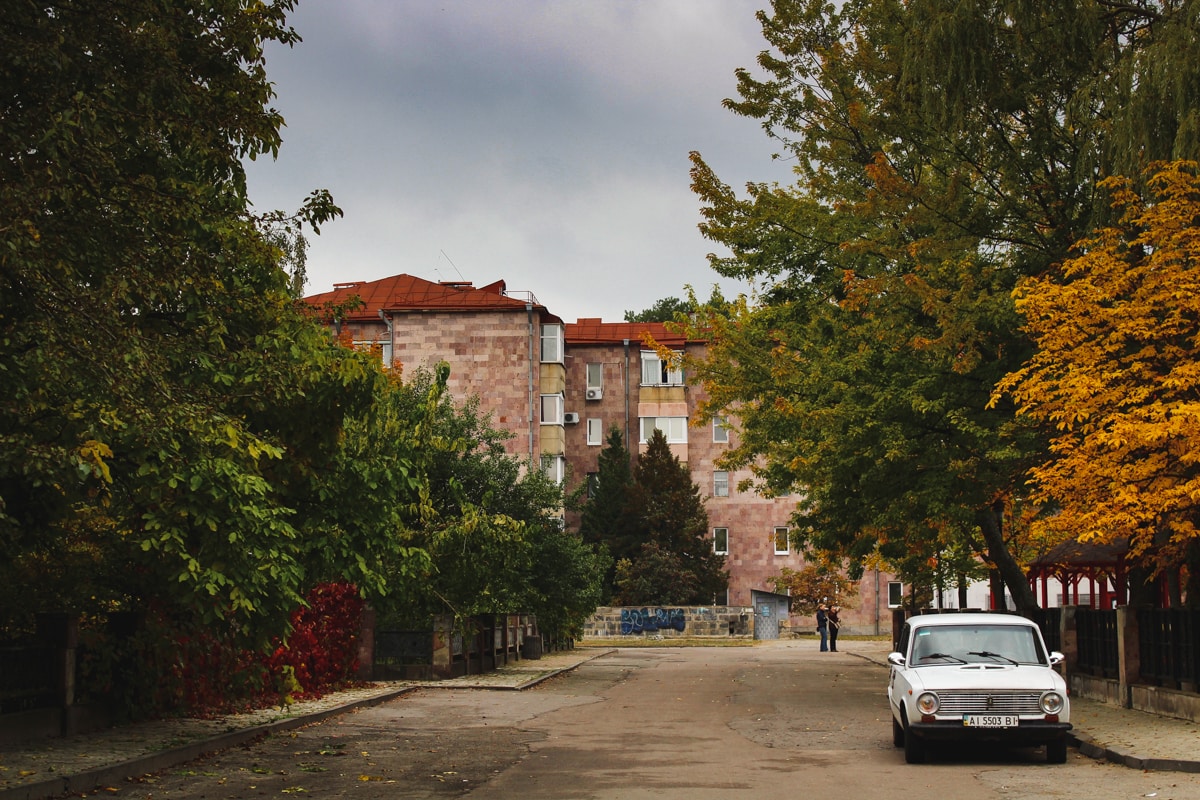 Visit the Yerevan Cascade Complex
I mention below to visit the Cafesjian Museum of Art at the Cascades, but the architecture of the actual place is not to be ignored either. The Cascades are a giant stairway in Yerevan made of limestone that was built in 1971 and completed in 1980.
Designed by Jim Torosyan, Aslan Mkhitaryan, and Sargis Gurzadyan, the Cascades have become synonymous with Yerevan as a city and offer some of the best views of Ararat… on a clear day.
There are fountains, statues, and a handful of cafes, bars, and restaurants in the area. Even though it may garner more tourists than other areas of the city, it is still one of my favorite places to go in Yerevan.
The Cascades have an escalator inside for those unable to walk the stairs to the top. You can find the Cascades at 10 Tamanyan Street in Yerevan.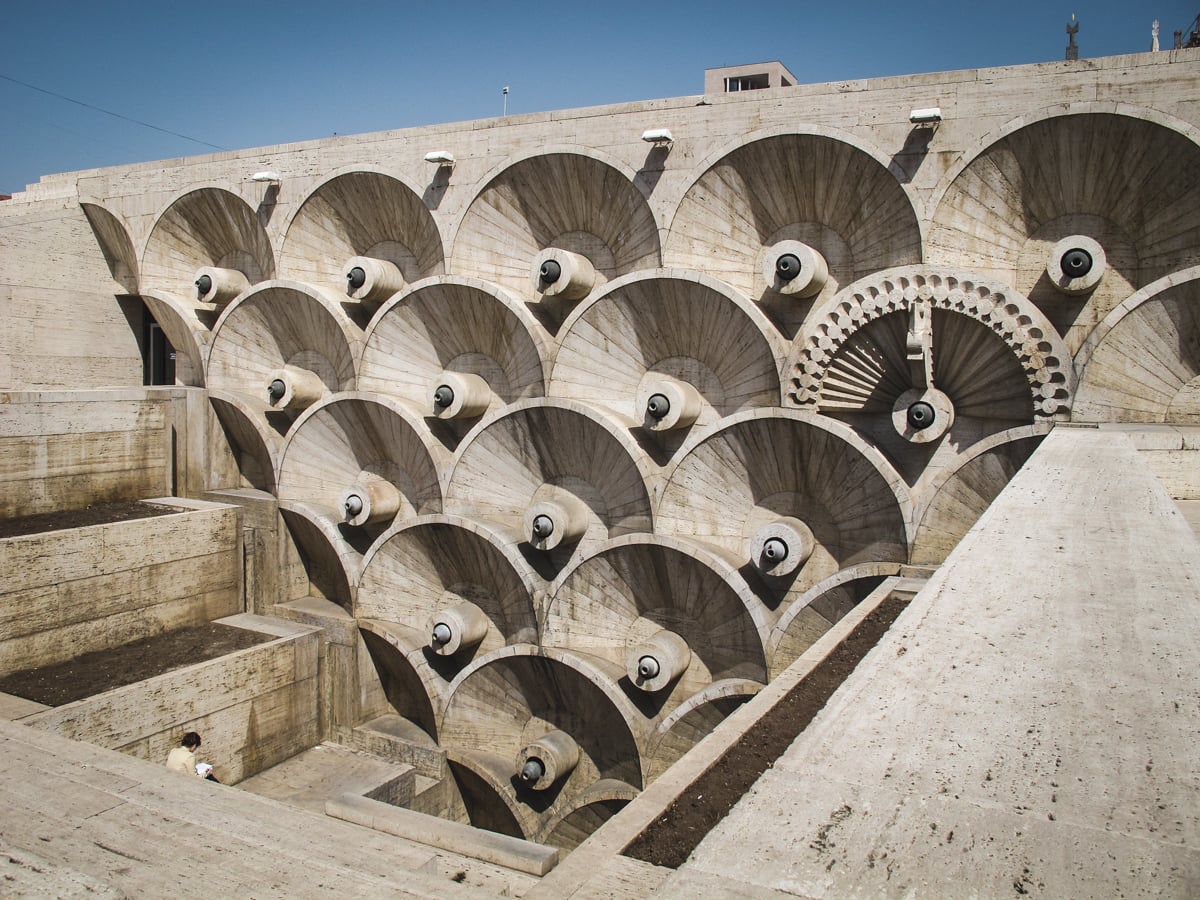 Blue Mosque
The Blue Mosque in Yerevan is an 18th-century Shia mosque located in the city center. During the Soviet-era, when religion was shunned, the mosque was used to house the History Museum of Yerevan.
When Armenia became a free country, the Blue Mosque converted back into a mosque, which is used by the many Iranians living in Yerevan.
It is the only mosque in Armenia today. Iran is the current owner of the mosque and will be for several decades into the future.
I love going to the Blue Mosque because it is quiet and the details are really ornate and beautiful.
There are also fruit trees around the mosque. Don't eat from them even if your Armenian friend insists you do so.
The guards don't like it and you'll have to play the foreigner card (which ultimately will lead to a long conversation with a super nice Armenian because that's what happens in Yerevan).
You can find the Blue Mosque at 12 Mashtots Avenue in Yerevan.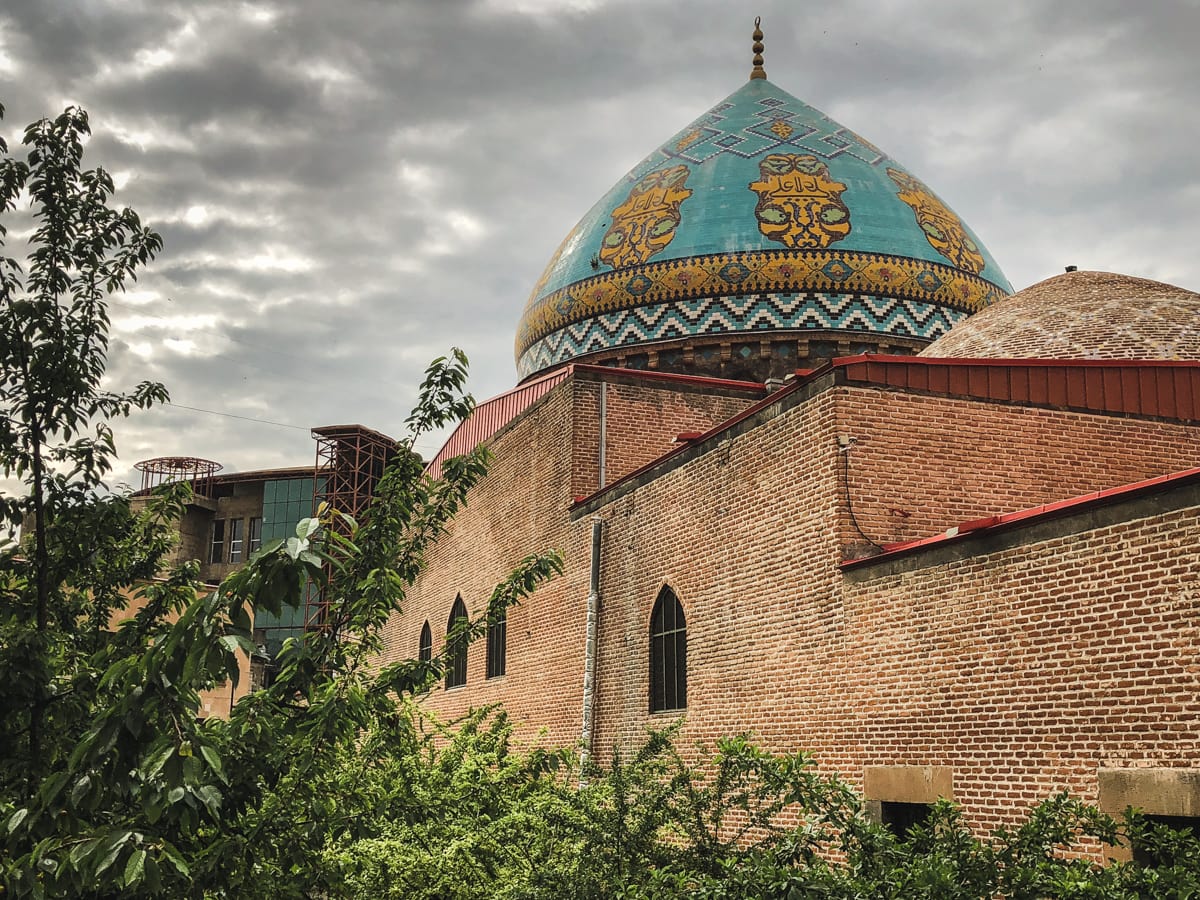 Republic Square
Formerly Lenin Square, this notable gathering place in Yerevan is one of my favorite places in the city. While there isn't usually much going on there, when things do happen, they happen there.
Most recently, Republic Square was the main hub for the 2018 Armenian Velvet Revolution.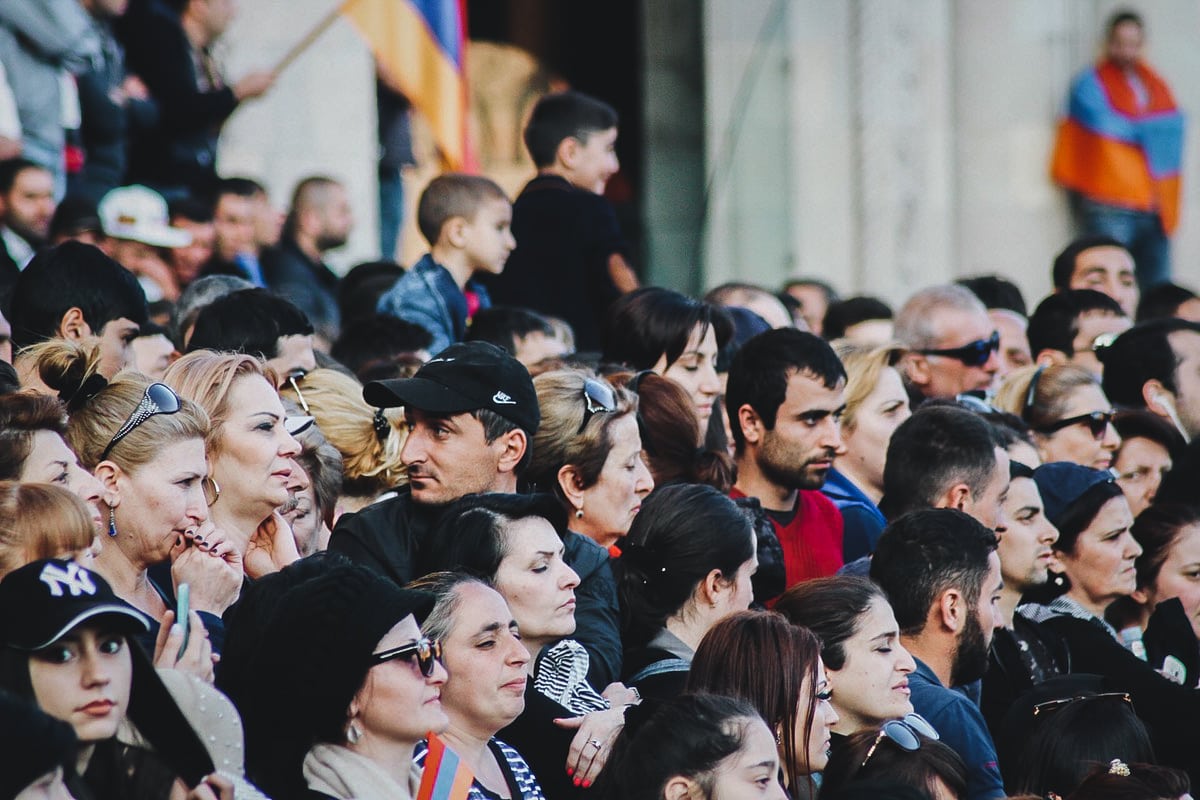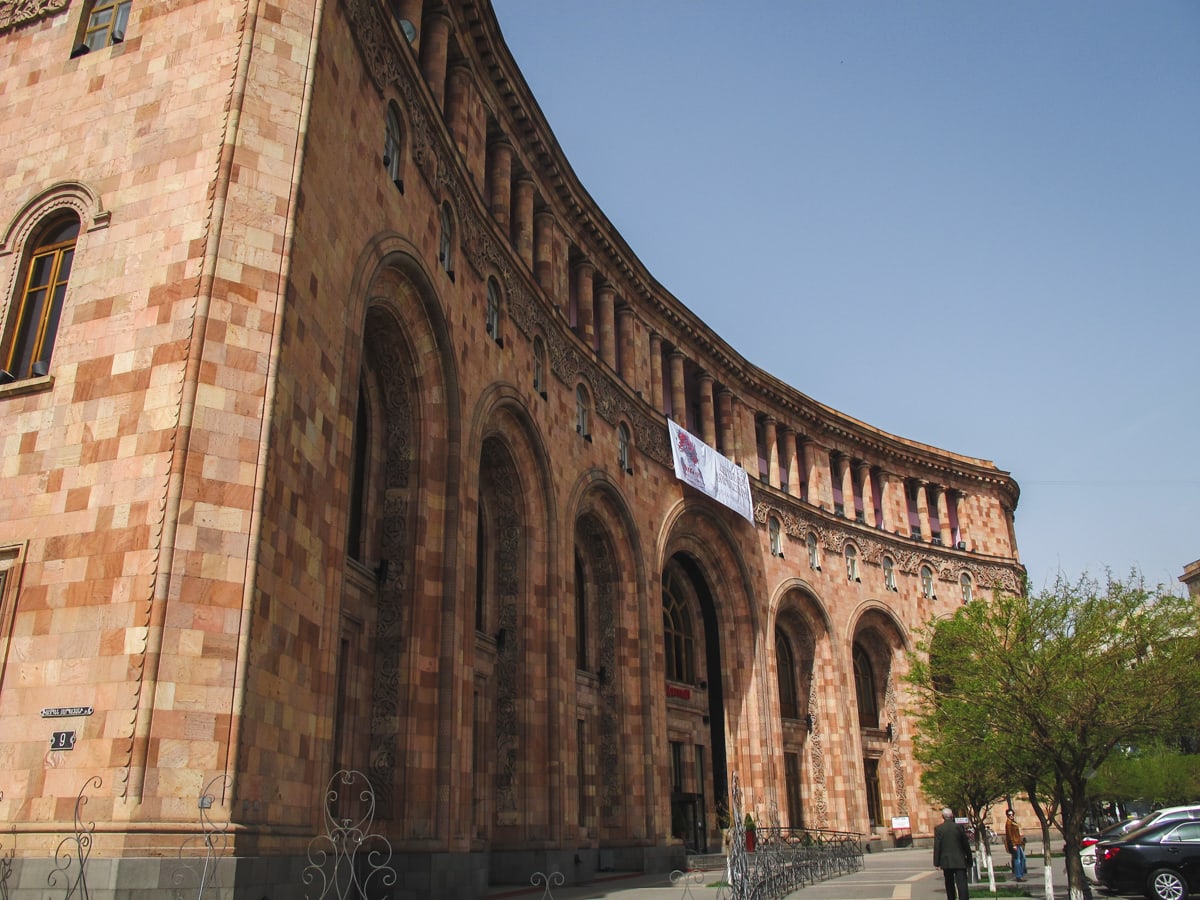 Yerevan Metro System
You wouldn't be on my website if there wasn't at least a mention about the metro system. Most people probably scoff at the fact that I list metros whenever I can, but they are a really interesting way to get to know the city, its people, and its architecture.
I don't really take the metro too often in Yerevan because it is really cheap to take a taxi in Yerevan for me and they are really reliable, but I have definitely taken the metro quite a bit in the past and I really enjoyed it (and never found it too crowded).
The metro system has 10 stations and its construction was finished in 1981.
The Yerevan Metro System, formally known as the Karen Demirchyan Yerevan Subway, is also home to this beauty, the Yeritasardakan Metro Station: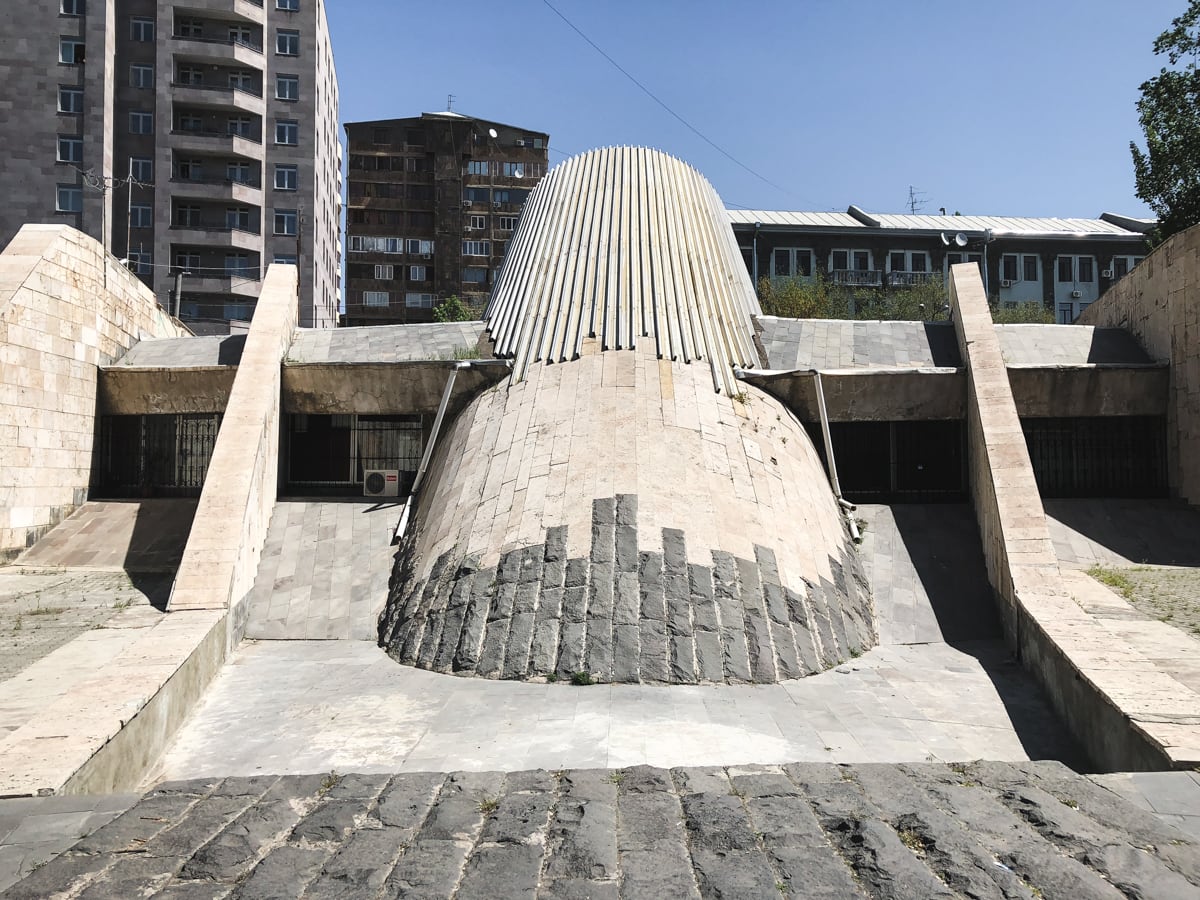 The Yeritasardakan Metro Station can be found near the university in Yerevan and is the brilliant work of architects Kntehtsyan and Zurabyan and designer Manucharyan.
Yerevan Opera Theatre
The Yerevan Opera Theatre opened its doors in 1933 and has been a main point of interest in Yerevan since.
Designed by architect Alexander Tamanian, the Opera building has two halls, the Aram Khatchaturian hall and the Alexander Spendiaryan Opera and Ballet National Theatre, seating 1,400 people and 1,200 people, respectively.
While I have never been inside, I have hung out around the Opera as it is in a centralized location and there are many cafes and pubs in the area.
Every time I have passed the area, there are a lot of children's games, rides, and other events happening.
Visiting it is definitely one of the most common things to do in Yerevan. You can find the Yerevan Opera Theatre at 54 Tumanyan Street in Yerevan.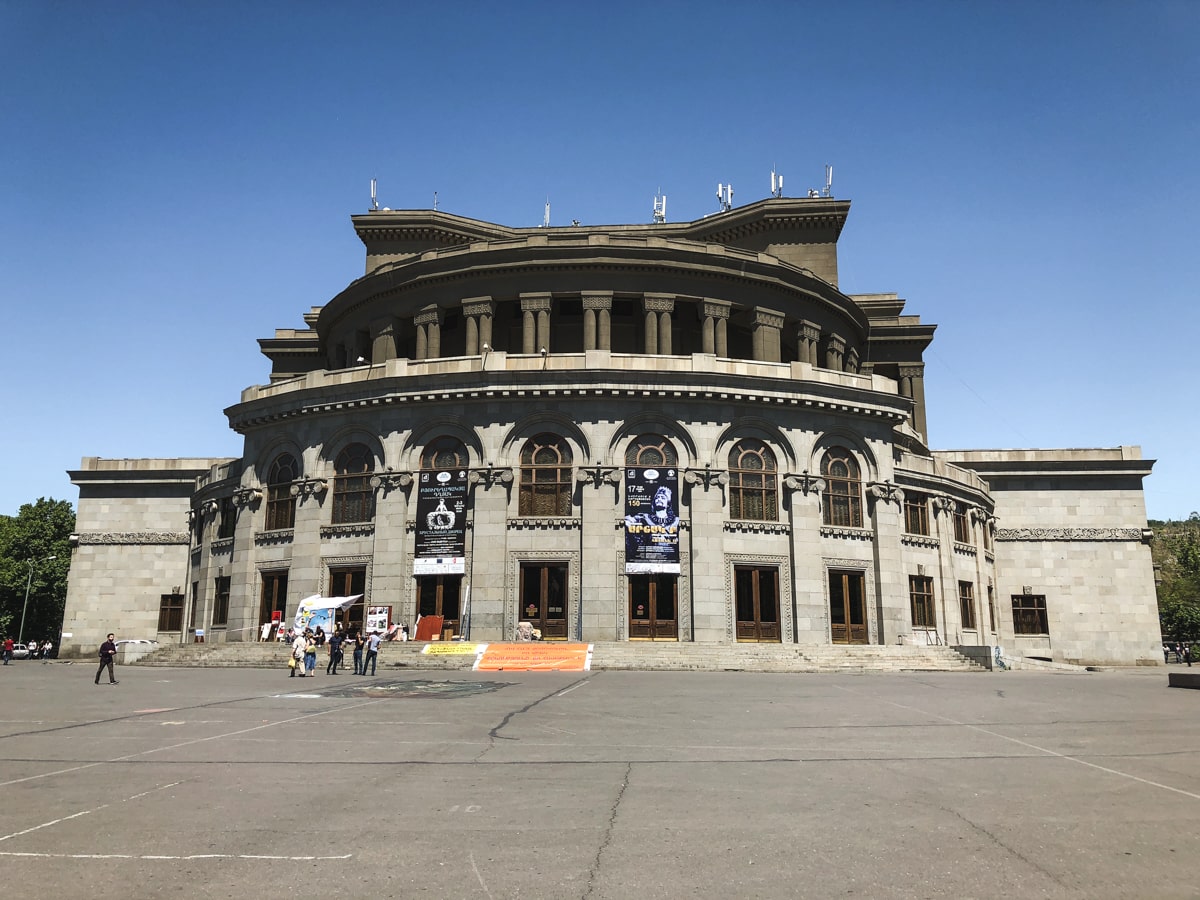 Mother Armenia
In Victory Park overlooking Yerevan, you can find Mother Armenia standing tall and proud at 51 meters, or 167.3 feet.
The statue is supposed to symbolize peace through strength and is similar to the other 'Mother' statues you'll find in post-Soviet capital cities.
On May 9, Victory Day, you will see many people go to the park in commemoration of the soldiers who perished during WWII. You can find Mother Armenia at 2 Azatutyan Avenue in Yerevan.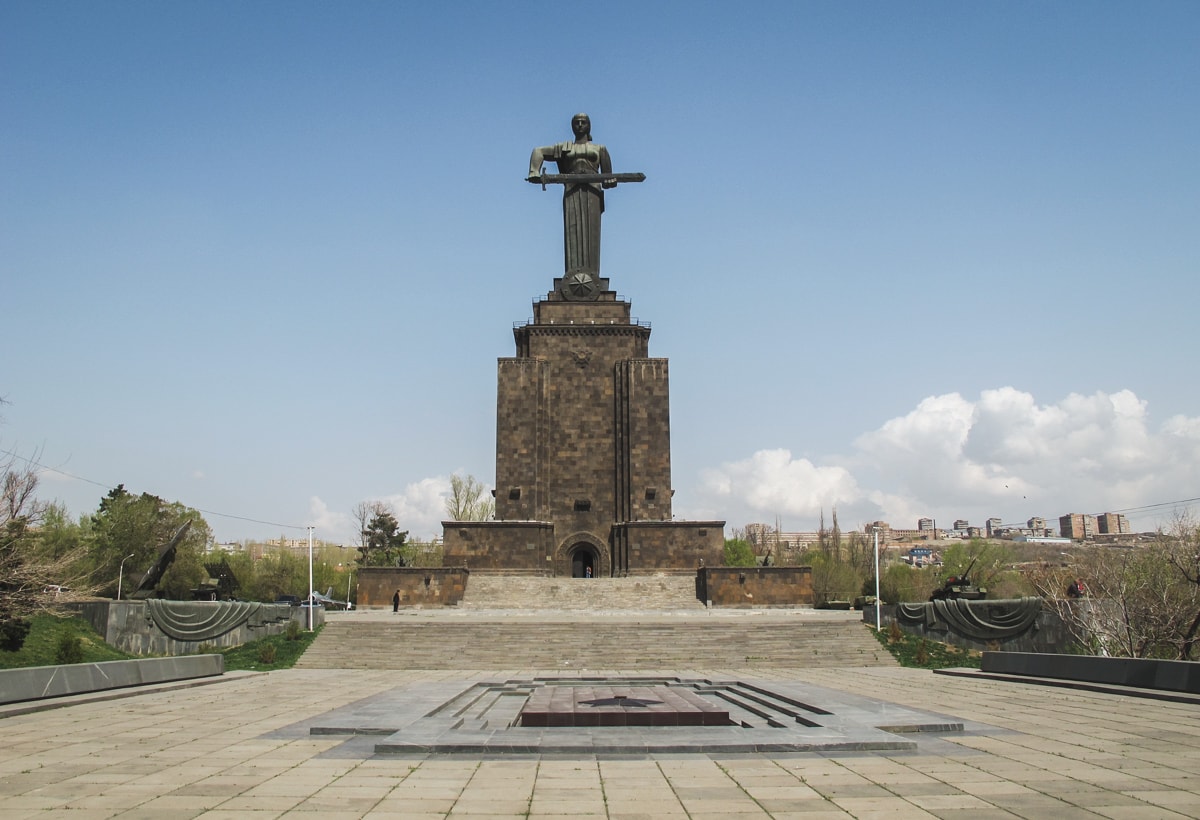 Go to the Park
Yerevan is full of parks and no one spends more time aimlessly in them when traveling than I do. My first trip to Yerevan was spent sitting in parks and working in between seeing the sights and hanging out with friends.
My last trip, which lasted almost a month, was spent pretty much doing the same thing.
One of the reasons I love Yerevan so much is because it is peaceful and relatively quiet compared to other cities in the region and I think the parks help a great deal to achieve this.
One of my favorites is Lovers' Park in the city's Kentron district. I used to work daily from this park and it even has free wifi, something I can only dream of in Germany.
You can find Lovers' Park at 21 Marshal Baghramyan Avenue in Yerevan's Kentron district. But there are parks all over the city and they are always very clean and orderly.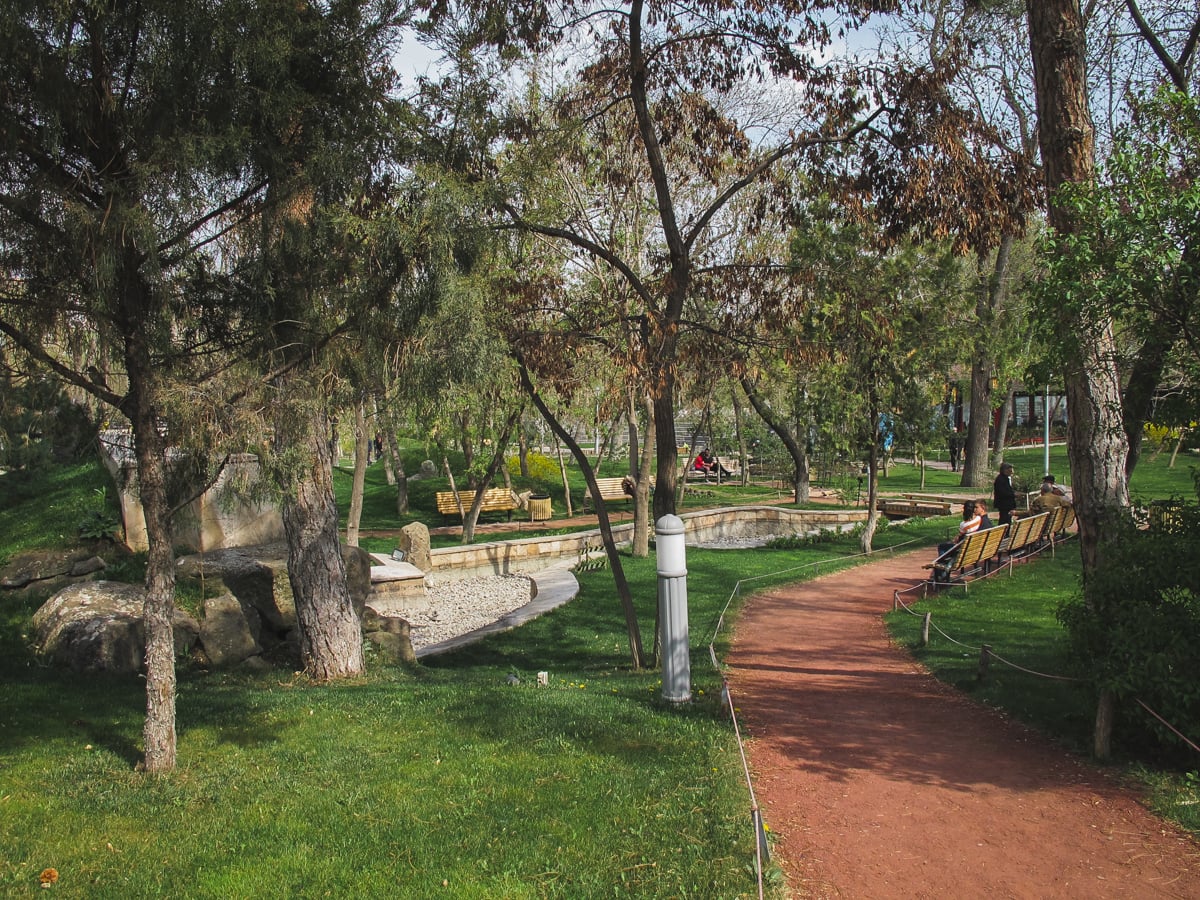 Day-Trips from Yerevan
I have taken a few day-trips around Armenia, but I, unfortunately, haven't seen half of what I'd like to see in the country.
Yerevan is situated in a convenient area for a handful of day trips and some of them are within reach of the Yerevan train station.
With the help of some of my friends, here are some recommended day trips from Yerevan and other places to visit in Armenia:
Garni Temple
Stephanie from History Fan Girl recently went to Garni Temple on a day-trip from Yerevan and wrote about her experience below for future travelers:
Did you know that you can visit an ancient Roman temple in the former USSR?
The only one of its kind, the temple of Garni has become the symbol of pre-Christian Armenia and is located forty-five minutes from Yerevan in the temple's namesake village.
History and culture lovers will enjoy seeing this vestige of the Roman Empire all the way east into Armenia.
The temple was built in the first century AD, but it was destroyed by an earthquake in the seventeenth century but was restored in the twentieth century alongside important excavations around the site.
We took a taxi from Yerevan as part of a long day trip, and we stopped here for about thirty minutes.
The views of the nearby valley are beautiful, and the drive from Yerevan is lush and scenic.
When you are in Garni, be sure to stop at 7 QAR, a restaurant, hotel, and event center overlooking the gorge and Garni Temple. They have some killer shashlik!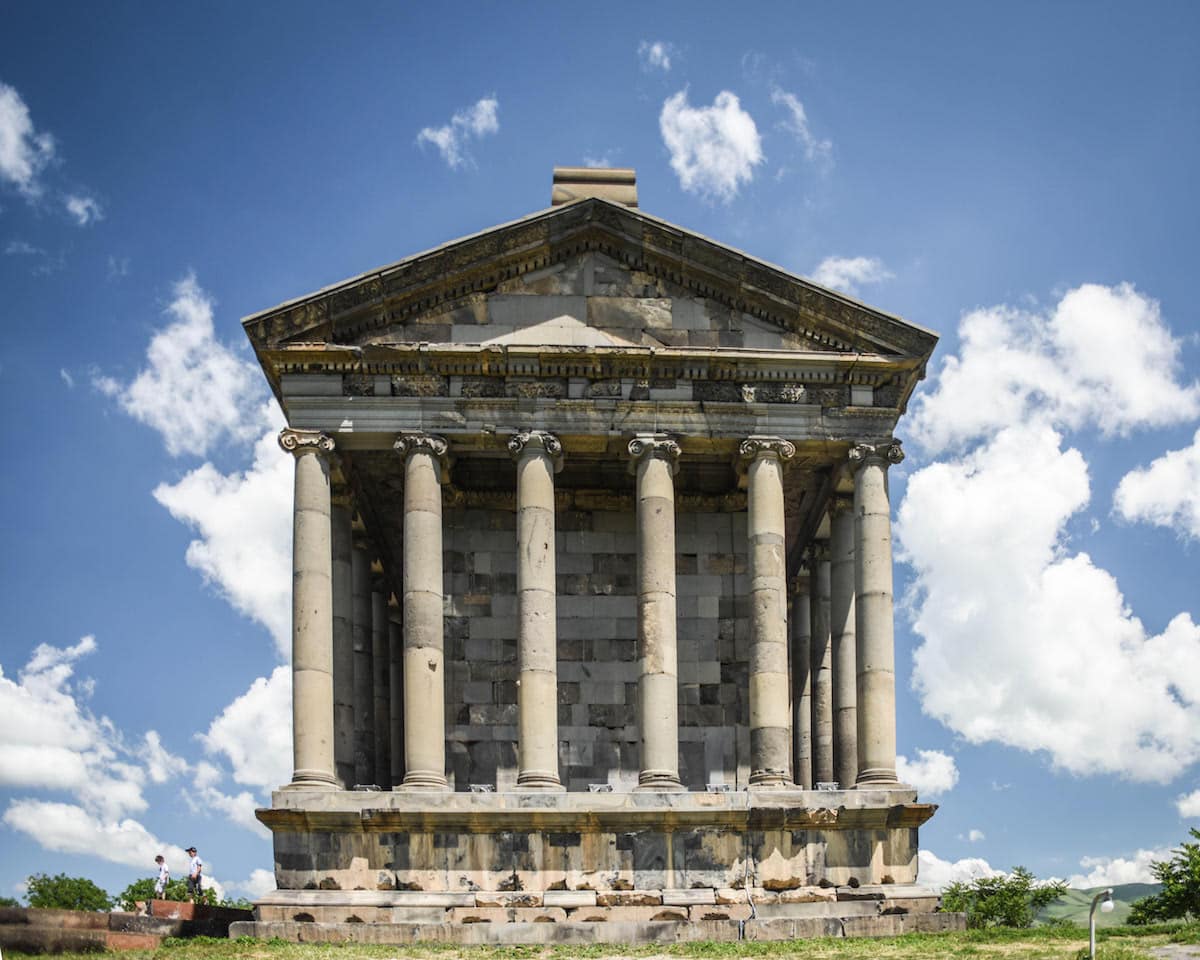 Gyumri
Kami from Kami and the Rest of the World has stated that one of her favorite day trips from Yerevan is the country's 'second' city of Gyumri. She tells you why heading there for a day is a great thing to do when in Yerevan below:
While most of the people visiting Yerevan go for a day trip to one of the spectacular monasteries around the country Gyumri, the second biggest city in Armenia is also an interesting option.
The whole world has heard about Gyumri, then named Leninakan, on December 7th, 1988 when the massive earthquake hit the area, taking lives of thousands of people.
Now, 30 years later, the city is still full of scars and you can see damaged buildings and houses everywhere.
It might look sad and depressing but at the same time beautiful as you can easily see the former glory that the city will hopefully regain soon. Gyumri is also home to some of the friendliest and most curious people I've met in Armenia.
To get there you can take the early morning train from Yerevan (departing at 7:55 and arriving 3 hours later) and spend the whole day enjoying the city.
There are plenty of marshrutkas to take you back to the capital afterward.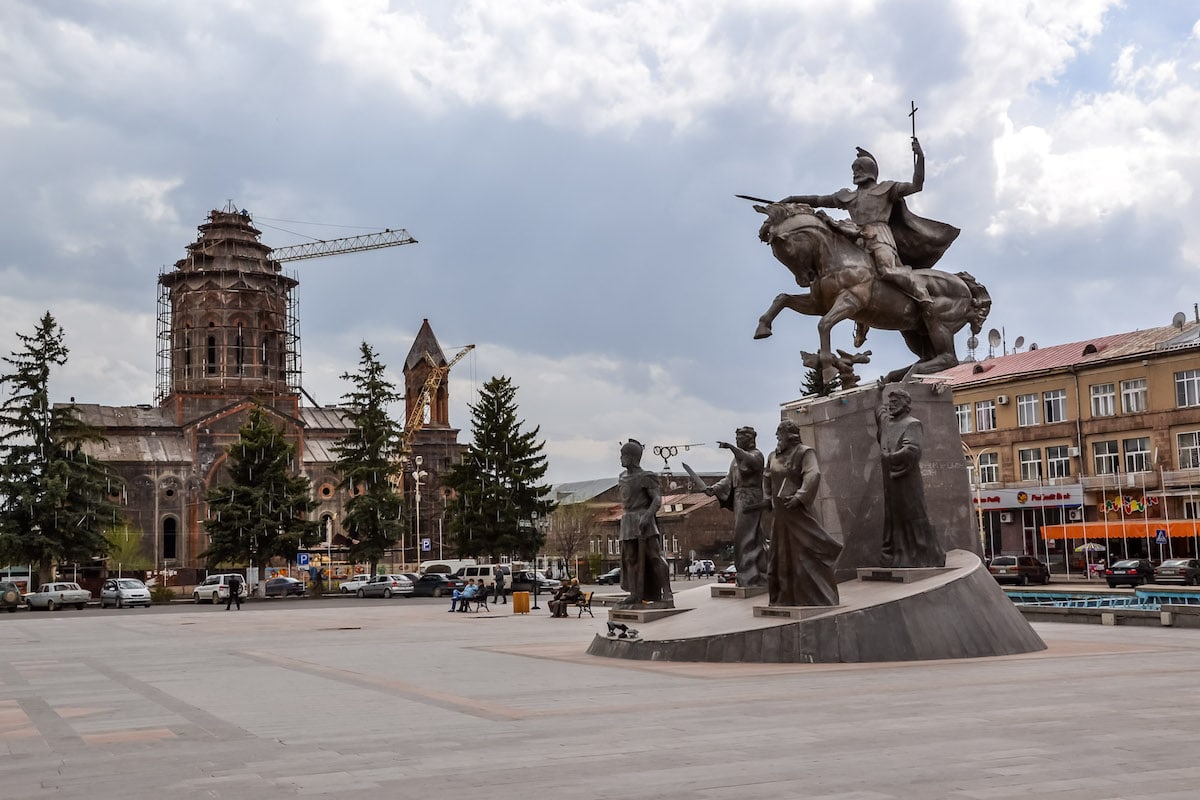 Khor Virap
The sight of Mt. Ararat behind Khor Virap is arguably the most recognizable image that comes to mind when one thinks of Armenia.
Khor Virap is a monastery that is a short day trip away from Yerevan and is a must-visit for visitors of the nation.
Getting to Khor Virap is simple and you can do it by car, bus, or an organized tour.
Pope Francis visited the monastery in 2016 and I reckon he would suggest that you make a visit there as part of your Yerevan itinerary, too. You can find Khor Virap off of Highway 11.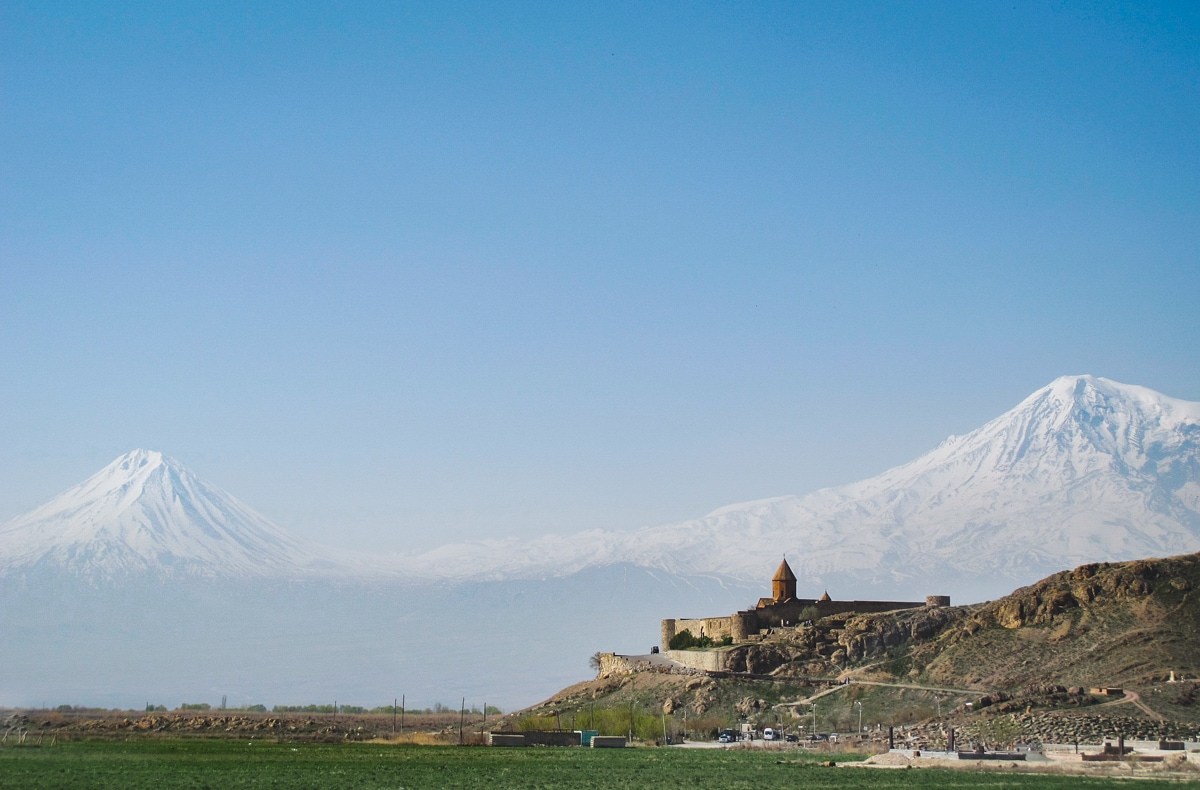 Lake Sevan
Armenia's most famous lake, Lake Sevan, is the largest lake in the country and one of the largest lakes in the Caucasus and Eurasia.
It has 11 public beaches and is the only place in Armenia that actually has public beaches.
The lake is responsible for 90% of the fish consumed in Armenia and 80% of the crawfish.
I haven't actually had the chance to explore it well but I did make a stop there on one of my marshrutka trips from Yerevan to Tbilisi and it was more stunning in person than I could have imagined. I am hoping to spend a few days there later this year.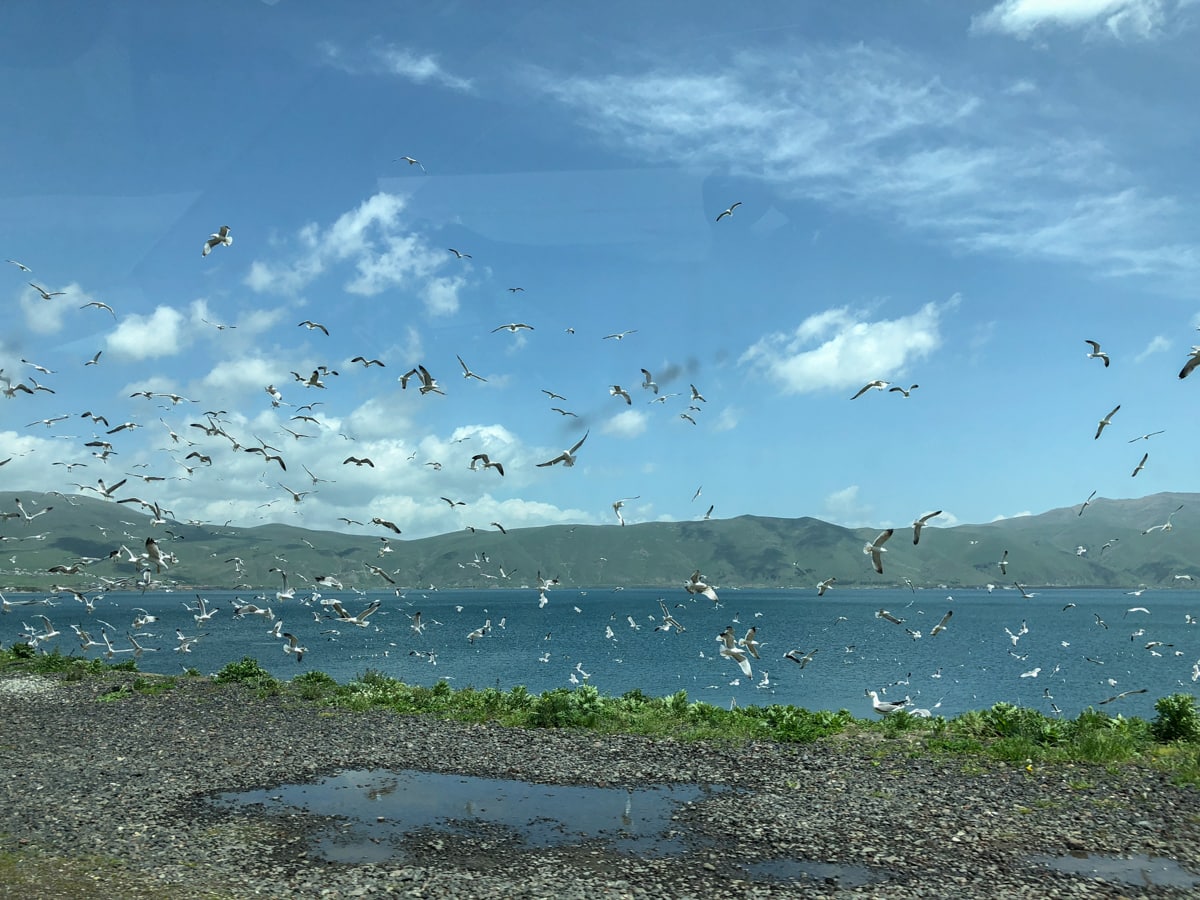 Dilijan National Park
On yet another marshrutka ride, I passed through Dilijan National Park and was blown away.
I love forests and lush areas and the park just took my breath away. Again, my Armenia trips have been mostly to the south and not the north or northeast, so it is the next region to tackle on my list.
Located in the Tavush Province, the park is 240 km² and it is one of Armenia's four protected national parks.
There are an array of activities at Dilijan that makes it the perfect place for adventurists, families, or just someone looking to escape Yerevan for the day.
Cultural Things to do in Yerevan: History, Museums, Etc.
Armenia's history is veritably complex and the current state of the country is profound proof of it. Armenia is one of the oldest countries in the world.
Rather than get into the history on my site where I talk about beer and stuff, it would be more appropriate for me to let you know a few places where you can learn about different eras, tragedies, and occupations throughout Armenian history in Yerevan.
These are museums and places of culture that will help you get to know the city of Yerevan just a little bit better.
Tsitsernakaberd Genocide Memorial Complex
Built in 1967, this memorial and museum complex is dedicated to the 1.5 million Armenians that lost their lives during the Armenian Genocide.
Designed by Arthur Tarkhanyan, Sashur Kalashyan, and Hovhannes Khachatryan (an artist), the memorial sits atop a hill and also has a museum that opened in 1995. Every April 24, Armenia commemorates the victims at the Tsitsernakaberd Genocide Memorial.
I went there this April 24 as I was in Yerevan and it was one of the most humbling experiences I have ever had and it still shocks me that anyone can deny this as a genocide, including the federal government of my own country (many US states recognize it individually, however).
The Genocide Memorial Complex is accessible by taking a taxi in Yerevan or getting the metro there.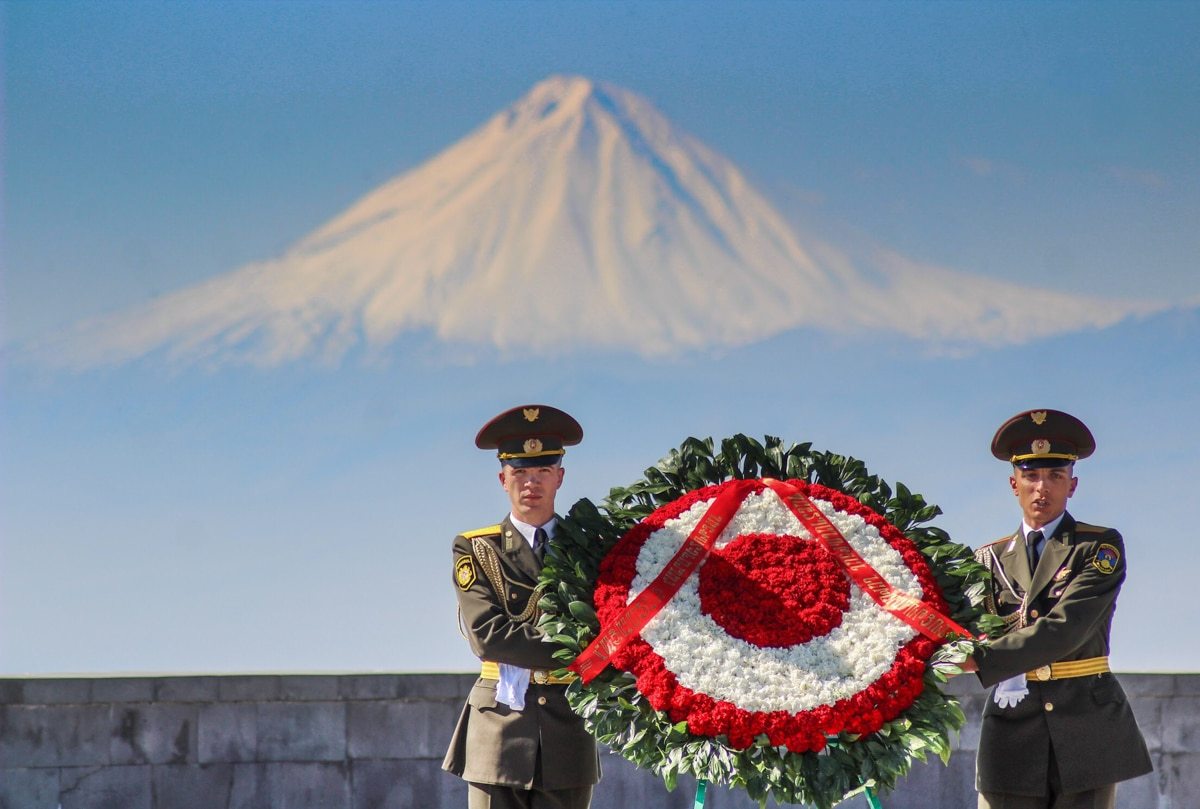 Charents Museum of Literature and Arts
Eventually named after Armenian poet, Yeghishe Charents, this museum contains the largest collection of books and manuscripts in Armenian from the last 300 years.
The institution has slowly transformed into a research institute and currently is the home of over 600 Armenian authors', musicians', and playwrights' works. Dr. Henrik Bakchinyan is the current director of the Charents Museum of Literature and Arts.
You can find the Museum at 1 Aram Street in Yerevan.
History Museum of Armenia
Located conveniently in Republic Square, this museum is regarded as Armenia's National Museum and contains archaeological finds, documents, and a lot of other pieces of evidence detailing the history of Armenia.
The history and artifacts from the museum detail everything from religion to the history of transport around the country.
The museum hosts programs and events that showcase the country's history, as well. You can find the History Museum of Armenia at 4 Republic Square in Yerevan.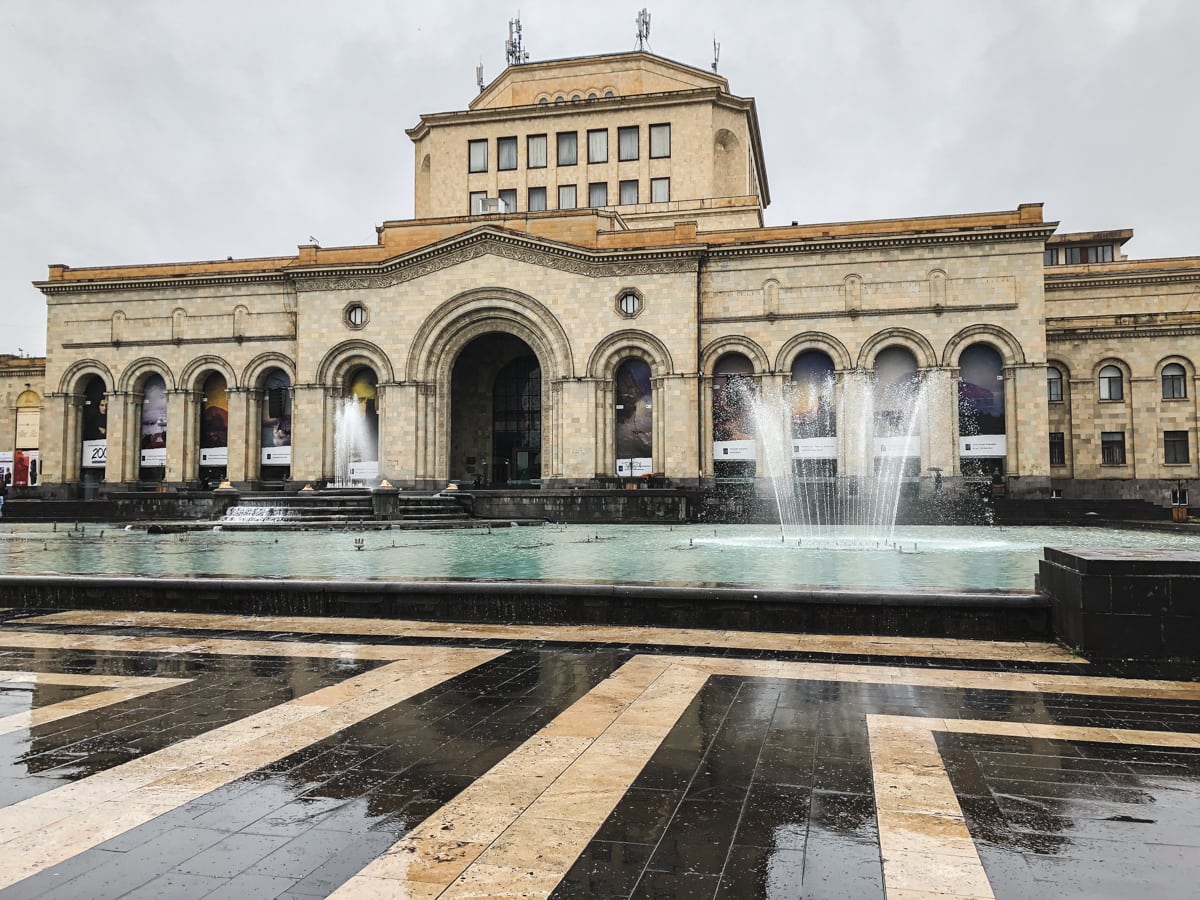 Matenadaran
The Mesrop Mashtots Institute of Ancient Manuscripts, better known as Matenadaran, is a collection of ancient manuscripts in Yerevan. The Institute also acts as a research center and museum.
Armenia is a very culturally rich country with a lot of scholars throughout history and Matenadaran contains one of the world's best collections of medieval manuscripts and books in several languages, not only Armenian. The building itself is equally as impressive as its contents. You can find Matenadaran at 53 Mashtots in Yerevan.
Cafesjian Museum of Art
Located in the famous Cascades complex in Yerevan, this contemporary museum of art extends from Tamanyan street up the Cascades. Having opened in 2009, the museum receives around one million visitors annually.
There are several parts to the museum, but my favorite pieces are the sculptures by Fernando Botero at the bottom as they bring back vivid memories from my time in Medellin, Colombia, his hometown and my favorite city in South America.
You can find the Cafesjian Museum of Art at 10 Tamanyan Street at the Cascades in the Kentron district of Yerevan. It is one of the best museums in Yerevan!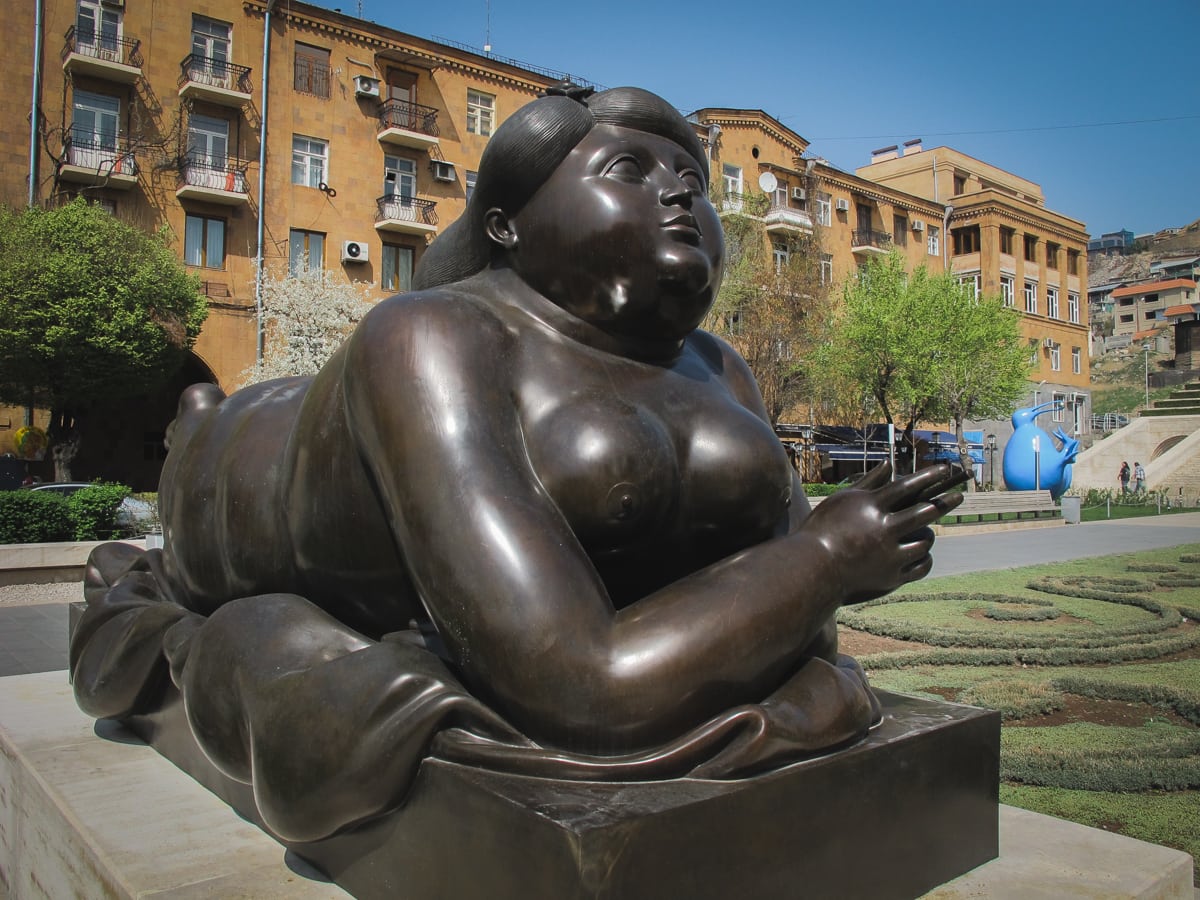 Tigran Petrosian Chess House
Armenia was the first nation in the world to make chess a requirement in schools and it is such an ingrained part of the country's culture. It has been played in the Caucasian nation since the Middle Ages but only became institutionalized during the Soviet times.
I, personally, suck at chess and wish it had been required in my school instead of playing pillow polo in gym class. The Tigran Petrosian Chess House was named after Armenian World Chess Champion, Tigran Petrosian, from the 1960s.
His title is what really launched chess to its current popularity in Armenia.
Ex-Prime Minister, Serzh Sargsyan, is currently the head of the Chess Federation of Armenia. He was the politician at the forefront of Armenians demanding change during the April 2018 Velvet Revolution in Armenia.
I think this photo represents how much the people of Armenia cherished him and his corrupt ways. You can find the Tigran Petrosian Chess House at 50a Khanjyan Street in Yerevan.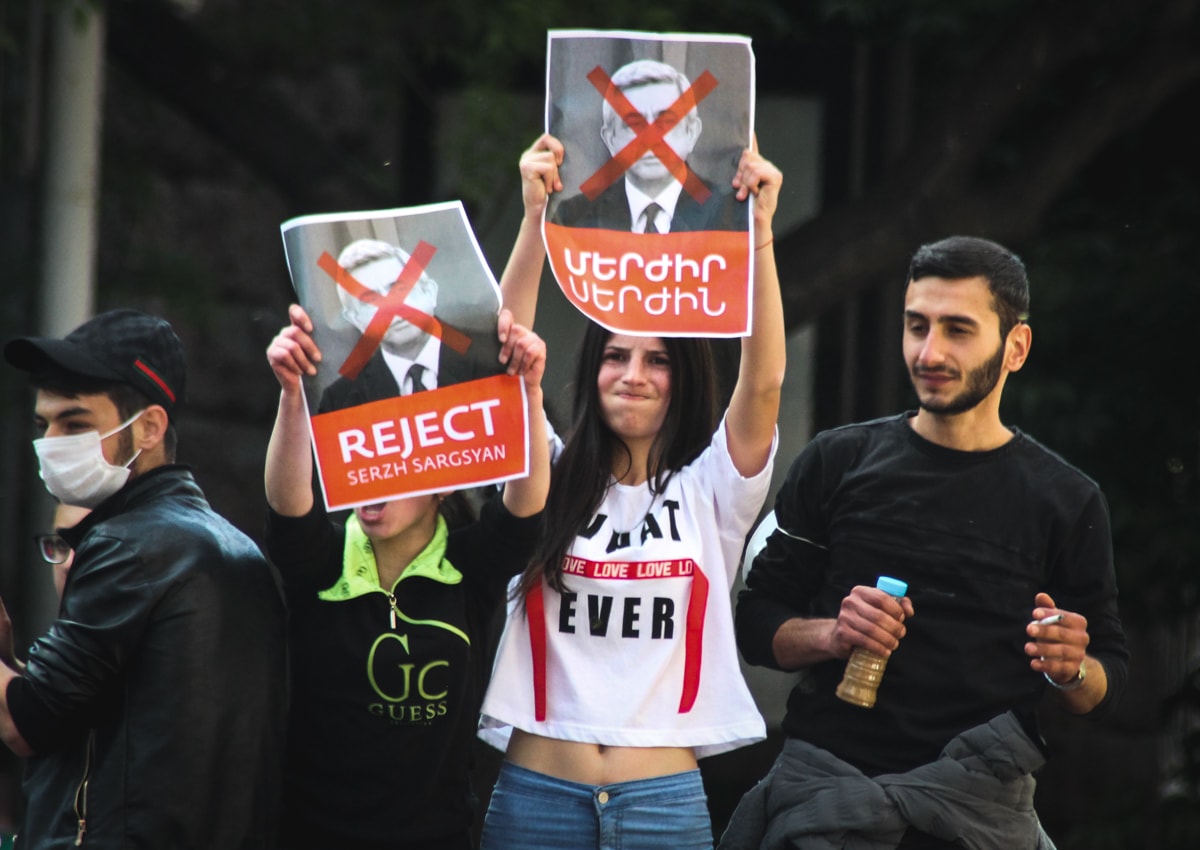 Sergei Parajanov Museum
The Sergei Parajanov was a museum recommended by my friend, Tat- a designer and world traveler, and is a museum dedicated to Soviet-Armenian director Sergei Parajanov (born Sarkis Hovsepi Parajaniants) who was renowned for his unique style in film that completely strayed away from the Socialist Realism ways that were standard and accepted.
As a result of that mixed with his controversial lifestyle, his films were suppressed by Soviet authorities and he was persecuted and imprisoned.
This museum showcases his achievements and life. You can find the Sergei Parajanov Museum at Dzoragyugh 1st Street in buildings 15 and 16 in Yerevan.
Megerian Carpet Museum
Turned on by tapestries? Then this might just be the museum for you.
The Megerian Carpet Museum has thousands of antique carpets and you will get a chance to view many of them in this private museum and exhibition run by a family.
You'll also have a chance to learn about the history of Megerian carpets if you visit. This is one of the more alternative things to do in Yerevan. You can find the Megerian Carpet Museum at 9 Madoyan Gukas Street in Yerevan.
Moscow Cinema
The Moscow Cinema is strangely one of my favorite buildings in Yerevan because I always find the exterior to have a lot of life and personality.
The building was opened at the end of 1936 after the Soviets demolished a church that previously stood there.
There is an annual International Film Festival (Golden Apricot Yerevan) that is held there and has been its location since 2004.
There are 4 theatre halls inside and an open-air theatre on the east side of the building. You can find the Moscow Cinema at 18 Abovyan Street in Yerevan.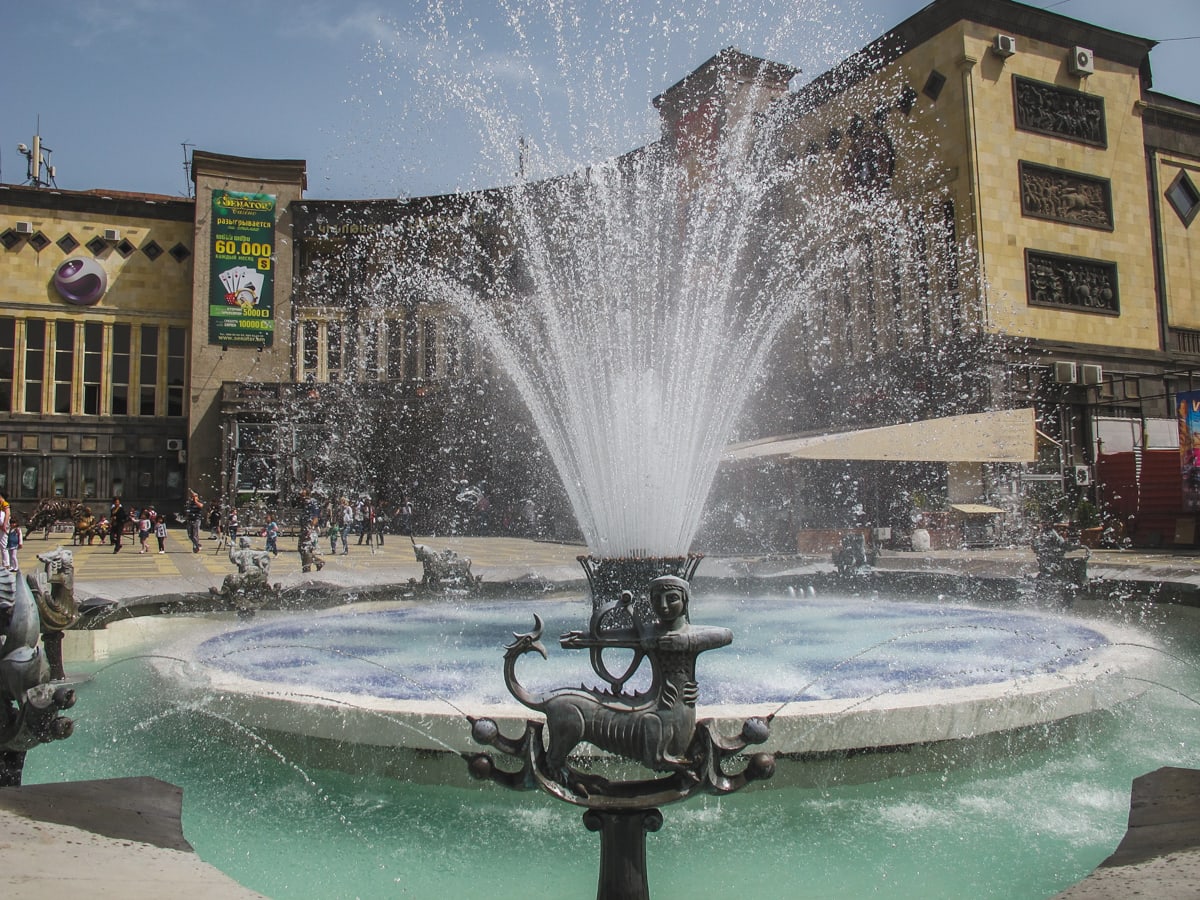 Yerevan History Museum
This history museum was founded in 1931 and the current building (built in 2005) was designed by Jim Torosyan in a complex shared with the Yerevan City Hall. There are over 90,000 objects and artifacts at the museum that take visitors back all the way to ancient times.
If you're a history enthusiast or simply want to learn more about Armenia's capital city, add this to your list of things to do in Yerevan!
You can find the Yerevan History Museum at 1/1 Argishti Street in Yerevan.
Mirzoyan Library
Talk about a nice refuge from city life without ever leaving the city. Mirzoyan Library isn't so much a library as it is a cultural and creative center.
Hidden in the back of a house/building in Yerevan, this is the place to go for cultural activities and a nice cup of coffee (or a drink depending on the day and event).
When I went, there was a photo 'library' showcased inside.
My friend took me for a cup of coffee and conversation and it easily became one of my favorite places in Yerevan. The prices are a bit steeper than other places, but the tranquil atmosphere makes it worth it.
Hanging out here is one of my favorite things to do in Yerevan. You can find Mirzoyan Library at 10 Mher Mkrtchyan Street in Yerevan.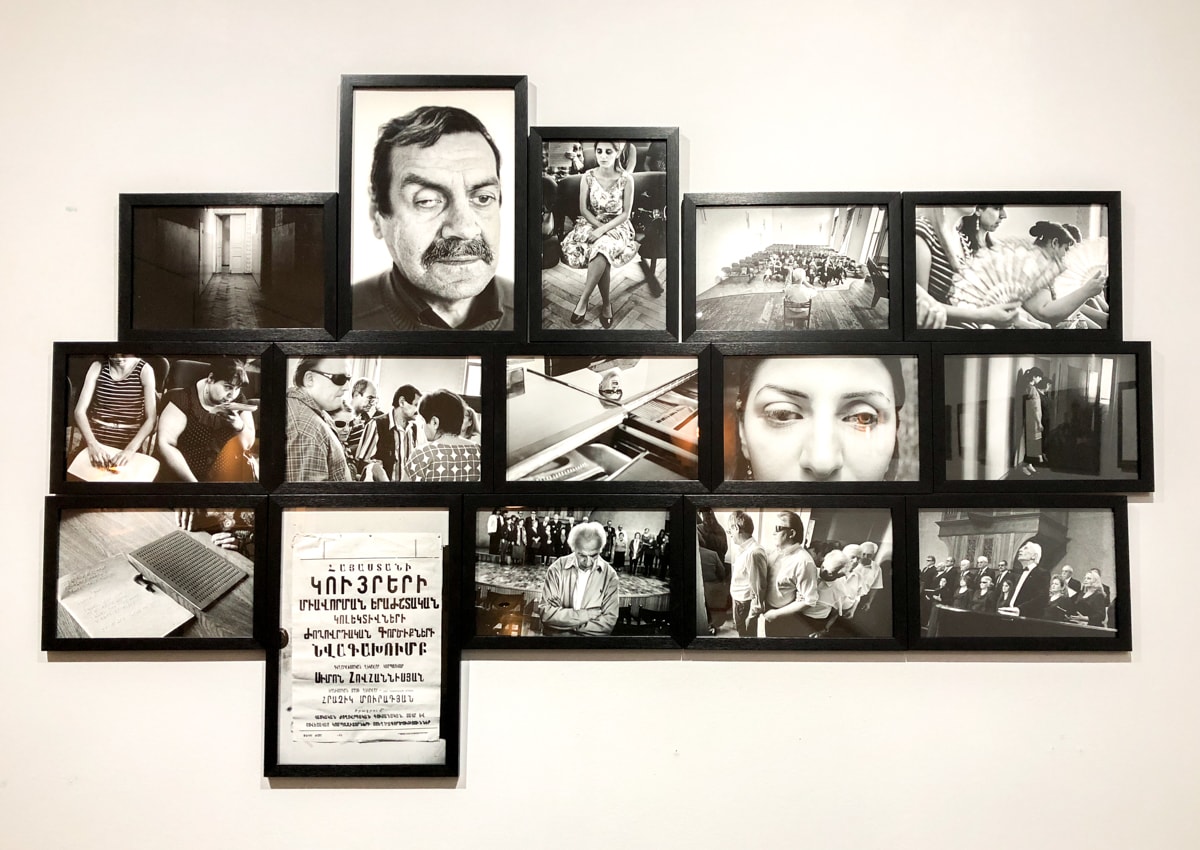 Tumo Center for Creative Technologies
The Tumo Center is a free digital learning and after-school center in Yerevan located by the Hrazdan River Gorge. It opened in 2011 and according to my friend, Anais, who is the Architectural Project Manager for Tumo, the property has one of the nicest parks in Yerevan with several cool fountains.
Tumo also has an endless schedule of events, ranging from weekly Friday movie nights that are open to the general public.
There are also several conferences that are hosted and held at Tumo.
The citizens of Yerevan really appreciate and respect the Tumo Center for Creative Technologies and I think it is one of the best things to do in Yerevan if you're looking for something a bit more local and cultural.
You can find the Tumo Center at 16 Halabyan Street in Yerevan.
Yerevan is one of my favorite cities in the world. I will likely add to this list over time and as the city evolves, changes, and I get to explore it a bit deeper (this certainly isn't conclusive of all I have done or seen there).
There are many things to do in Yerevan, Armenia and I hope you get a chance to visit and see how wonderful it is for yourself.
If you have any places you'd like to mention are worthy of a visit, please drop them in the comments! Thanks so much!
Where to Stay in Yerevan
Looking for a place to stay in Yerevan? I can recommend Grand Hostel Yerevan. I recently stayed there for my entire duration in Yerevan and I absolutely loved the place and the family that owns it.
It is in a really nice area of the city- close to good restaurants, within walking distance of a metro station, and has a pool and sauna.
There is also an area to cook up a BBQ out back. I can't recommend this place enough! Click to check rates and availability with Wego.
Rumor has it that Grand Hostel Yerevan gives you a front-row seat to the best sunsets in Yerevan.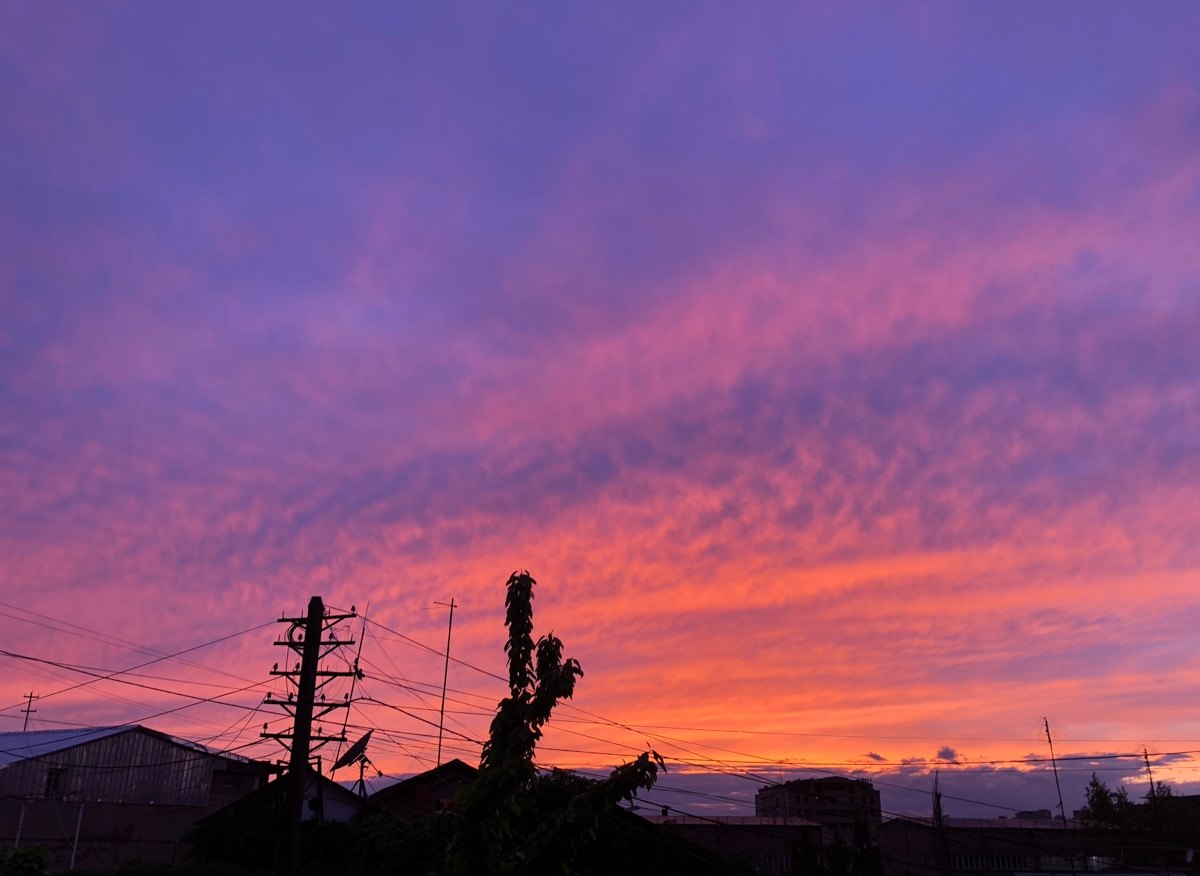 How to Get to Yerevan
I have never flown into Yerevan directly as the flight routes going there are bad and overpriced. I always come by bus from Tbilisi to Yerevan and have never had an issue doing so.
Arriving by bus is the cheapest way to get to Yerevan and you also get to see the countryside while you're at it (which never disappoints in Armenia).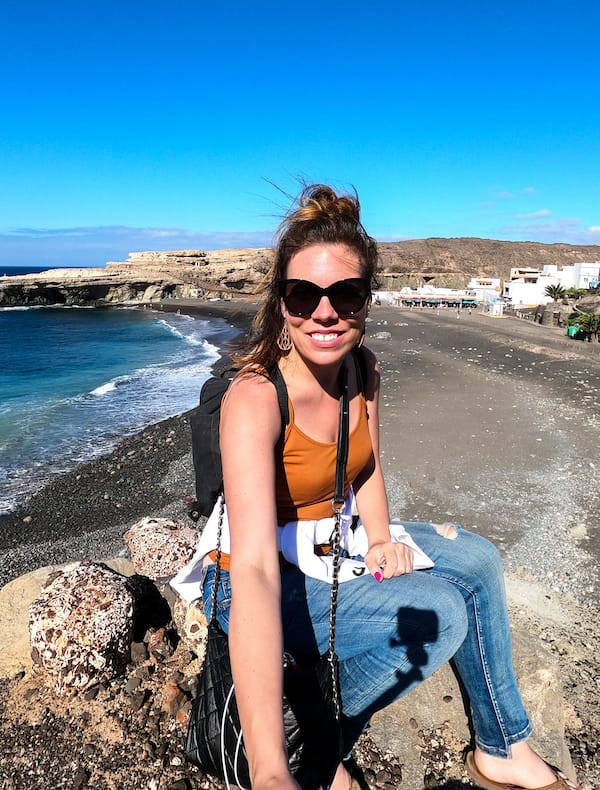 Megan is a travel blogger and writer with a background in digital marketing. Originally from Richmond, VA, she now splits her time between Frankfurt, Germany and Arctic Finland after also living in Norway, Armenia, and Kazakhstan. She has a passion for winter travel, as well as the Nordic countries, but you can also find her eating her way through Italy, perusing perfume stores in Paris, or taking road trips through the USA. Megan has written for or been featured by National Geographic, Forbes, Lonely Planet, the New York Times, and more. She co-authored Fodor's Travel 'Essential Norway' and has visited 45 US states and 100+ countries.