Brazil is easily one of the most diverse countries on the planet. This 3 weeks in Brazil itinerary will hit many of the high points in the South American country and leave room to still relax and have a little fun.
This is a guest post from Mario at Rest and Recuperation.
Brazil Itinerary
There is no doubt that Brazil is one of the most beautiful and fascinating countries in South America. But it is also the fifth largest in the entire world, meaning you should properly plan your trip so you don't miss the main highlights of the country.
I recommend you spend at least 3 weeks in Brazil if you want to have very good insight into the country. While this itinerary doesnʻt include everywhere, (including all the amazing things to do in Sao Paulo), it is pretty epic considering the size of the country!
You could have some great experiences staying only 15 days, of course, but you will have to rush a bit in some extraordinary locations that deserve to be discovered at a much slower pace.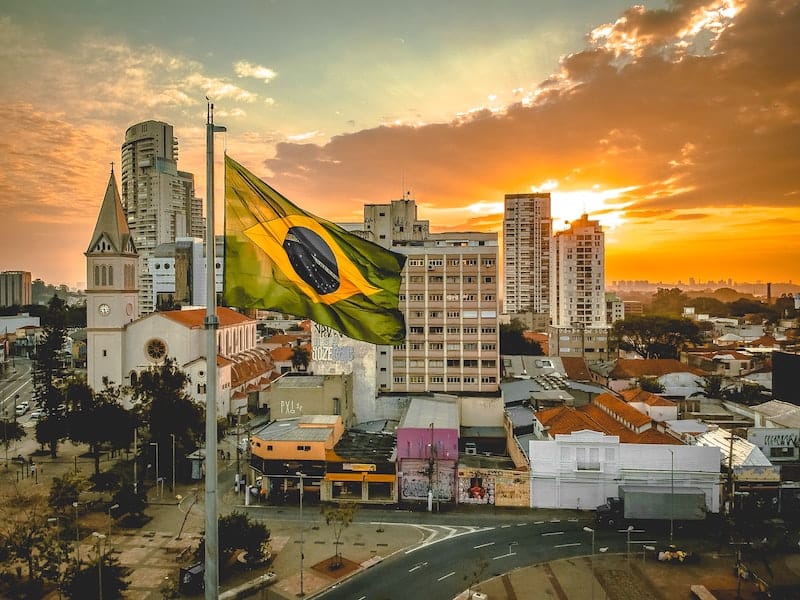 This itinerary for Brazil will give you my top tips and allow for a trip where you get to see a lot of famous places as well as rest a little so you don't tire out too fast.
Brazil 3 Weeks Itinerary- the Northeast
You can visit Brazil for two months and still miss out on many of the major tourist spots. The south is home to the main cities and has the most of the country's European influence. I highly recommend, for example, a visit to Florianopolis, probably one of the best cities to visit in Brazil.
But if you only have three weeks in Brazil, you have to make some choices. Rio de Janeiro is a must-visit, so make sure that you arrive or depart from there.
For your first visit to the country, I recommend a northeast Brazil itinerary. The beaches are beautiful, the Afro-Brazilian culture is great, and nature is quite possibly the best in this part of the country.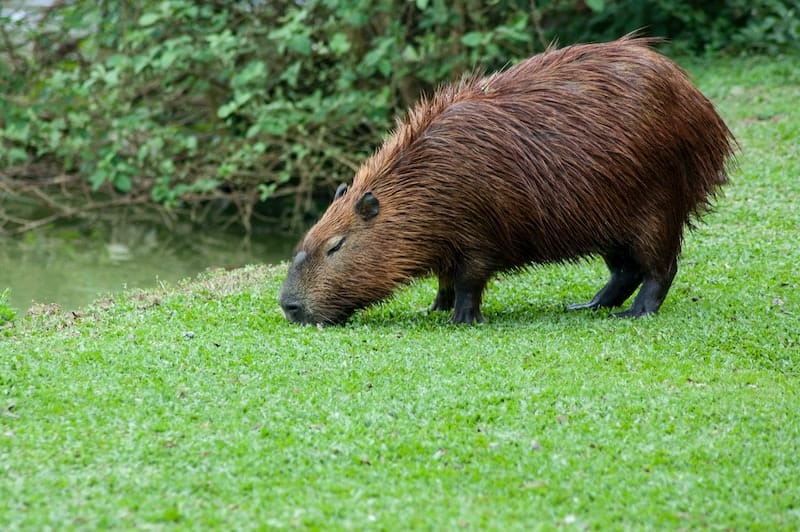 The itinerary I suggest here will take you to some of the best places in Brazil. As we all have different tastes, I made sure to make it very flexible and customizable depending on your travel style.
I included three compulsory stops and three optional destinations. Choosing two of the latter will allow you to spend three full weeks in some of the top places to visit in Brazil. If you have more time, simply add the third one. If you have less, only pick your favorite and voilà, your new itinerary is well planned in a second!
Whatever your choice is, you will have to take some internal flights during your trip to Brazil. The good news is that all the main and best cities in Brazil are well linked with the others by the three local airlines. Furthermore, Latam, Gol, and Azul are also quite cheap airlines, being pretty reliable.
Here are the best places to visit in Brazil that you cannot miss:
Rio de Janeiro – 3 days

Salvador de Bahia – 2 days

Natal and surroundings – 5 days
The optional destinations are:
The Amazon – 6 days

Fernando de Noronha – 5 days

Chapada Diamantina – 5 days
I will explain later which one you should choose according to your interests.
Must-Visit Places For Your Brazil Travel Itinerary
Rio de Janeiro
Minimum days: 3
Best time to visit: between January and March
Where to sleep: Hotel Nacional Inn Copacabana
What to do: Take a walking tour and learn more about the city and its history.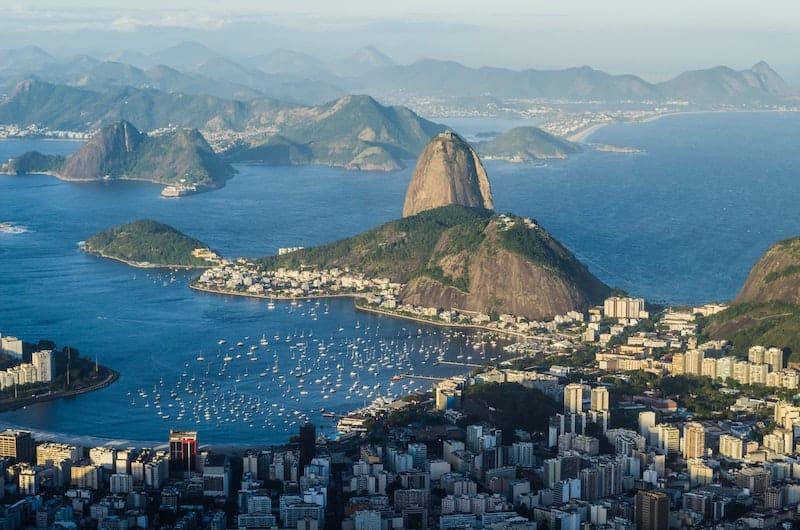 If you ask someone what are the best places to visit in Brazil, Rio de Janeiro will always come in the top three.
Sure enough, it is the most famous and charming city in the country and perhaps in all of South America. Flight connections are easy, so it is the perfect starting or ending point for your trip.
You will always find something to do in Rio. Copacabana and Ipanema beaches are between the main Brazil tourist spots and you cannot miss a day there observing the locals' most famous pastime- hanging out by the sea.
From the Statue of Christ the Redeemer on top of Corcovado, and from Sugarloaf Mountain, you can see wonderful views over the Bay of Rio de Janeiro, framed by dozens of hills. It truly is a spectacular view!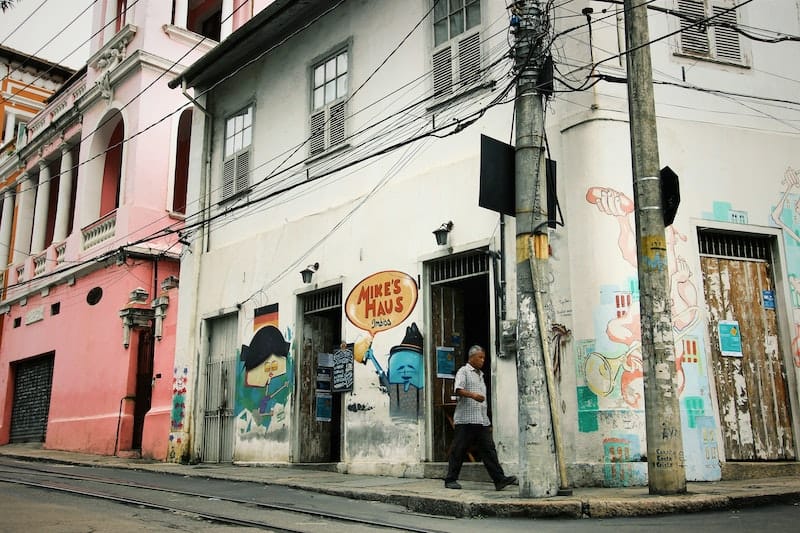 The neighborhood of Santa Teresa deserves a walk around its colorful streets and so do some of the favelas in Rio.
Finally, you could have a once-in-a-lifetime experience visiting the Maracaná Stadium, possibly during a football match with local teams.
Salvador de Bahia
Minimum days: 2
Best time to visit: between June and November
Where to sleep: Laranjeiras Hostel
What to do: Take a full-day city tour and learn about the city and its fascinating history.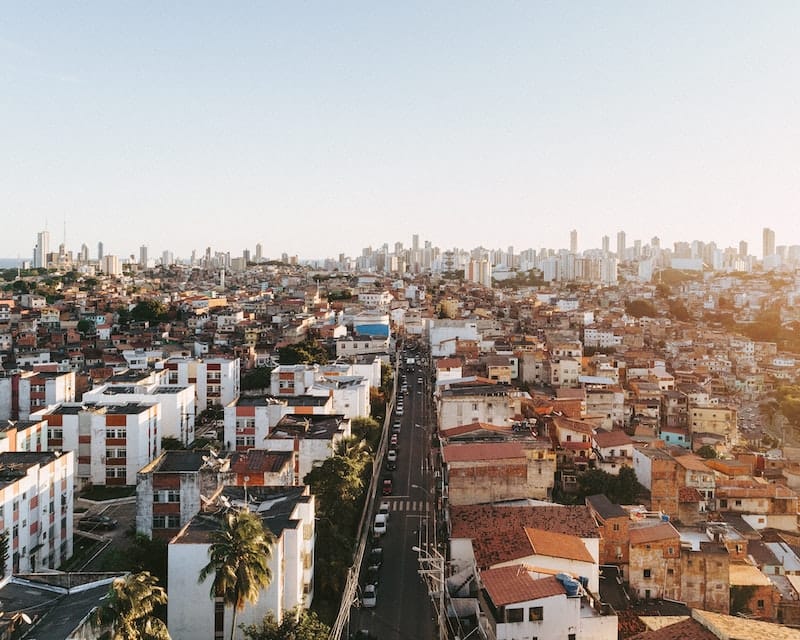 One of the best places to go in Brazil if you want to have a cultural experience is Salvador de Bahia, so do not remove it from your itinerary! The African community is large there and it is reflected in the beauty of the customs of the region.
Colors and music are ever-present and if you are lucky to be there during some of the religious festivals, you will be amazed by what you will see.
The central neighborhood of Pelourinho is beautiful and it is the perfect place to begin your visit to the city.
Salvador is also the starting point to visit the Chapada Diamantina, one of the optional destinations that I suggest you include in your 3 weeks itinerary in Brazil.
Natal (and Surroundings)
Minimum days: 5
Best time to visit: between June and November
Where to sleep in Natal: Dunnas Hotel
What to do: This is the prime opportunity to go snorkeling in Maracajaú!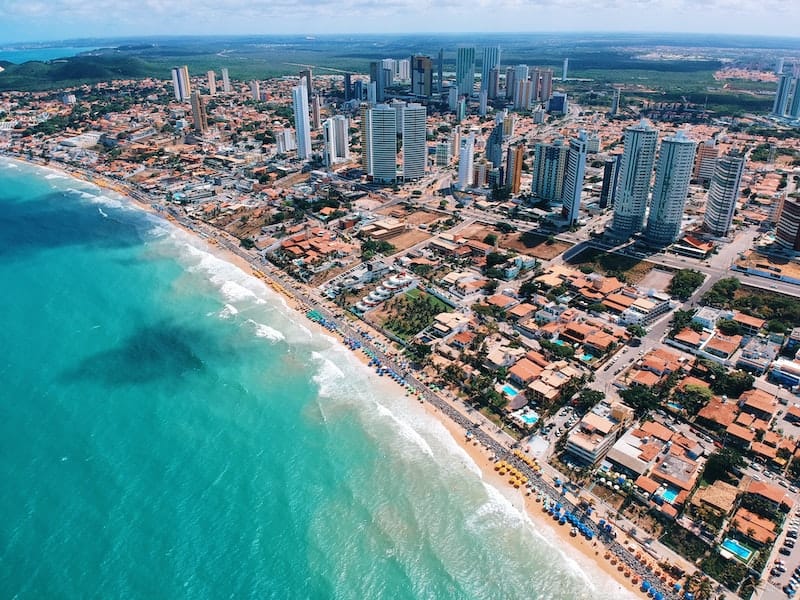 There is no more obvious answer to the "where to go in Brazil?" question than the beaches of the northeast. This is what this country is most famous for, and for very good reason!
You could choose between Fortaleza and Natal- both have surroundings and landscapes that will blow your mind. I recommend the latter because of the nearby towns where you can spend a few nights. In addition, it is connected to Fernando de Noronha, one of the options that you can include in your Brazil trip itinerary.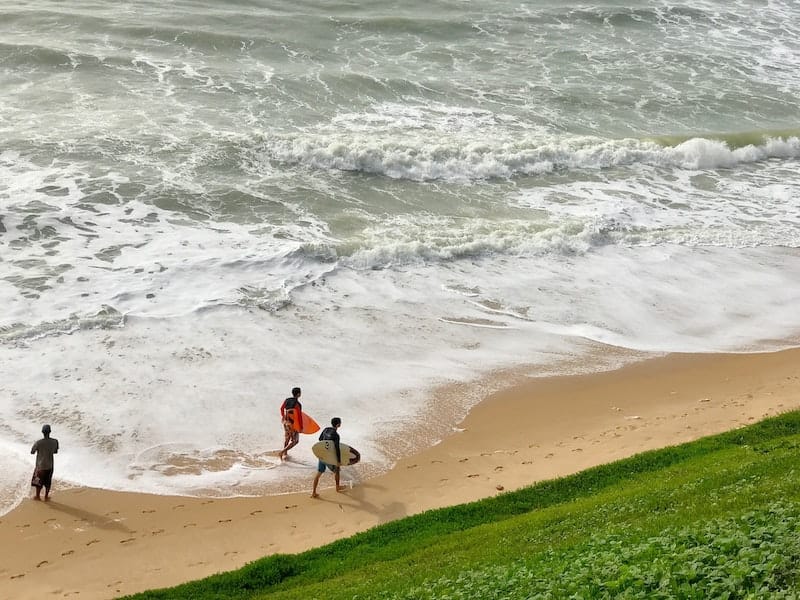 Do not spend all your time in Natal, but instead move south to some of the most beautiful beaches of the region in Pipa, a hippie destination for surfers traveling around Brazil.
Optional Places to Consider
Below are some of the best places to see in Brazil. If you can only spend three weeks in this wonderful country, choose two of them. If you are lucky and have more time, all should be included in your Brazil holiday itinerary.
The Amazon
Minimum days: 6
Best time to visit: between July and November
Where to sleep in Manaus: Chez Les Rois Guesthouse
Where to sleep in Belém: Hotel Manacá
Where to sleep in Alter do Chao: Pousada do Tapajos Hostel
What to do: Visit Floresta Nacional de Tapajós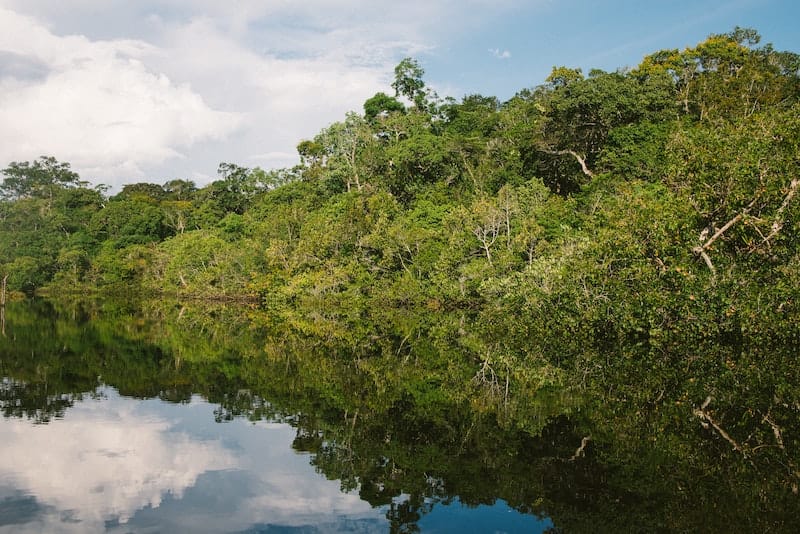 If you love nature, you cannot leave the Amazon out of your trip to Brazil. As it is situated in the northernmost part of the country, you could start your holiday here and then enjoy traveling through Brazil until you reach Rio de Janeiro or vice versa.
The main city is Manaus, the capital of the region. Many excursions into the deep forest start here, so you might want to use it as a base to explore the area.
Another starting point to visit the region is Belém, at the mouth of the Amazon River.
For a unique experience, I highly recommend that you take the ferry from Manaus or Belém until Santarém, which lays midway on the Amazon River. Sleeping on hammocks with local commuters is an experience that you will never forget!
A few kilometers from Santarém is Alter do Chao, an unknown village not known to international tourists that has one of the most beautiful river beaches in the world. It is also the starting point to explore the FLONA (Floresta Nacional) de Tapajós and its beautiful primary rainforest.
Chapada Diamantina
Minimum days: 5
Best time to visit: between June and November
Where to sleep in Lençois: Hotel Canto das Aguas
What to do: Take a multi-day hike in the Pati Valley and take in some epic views.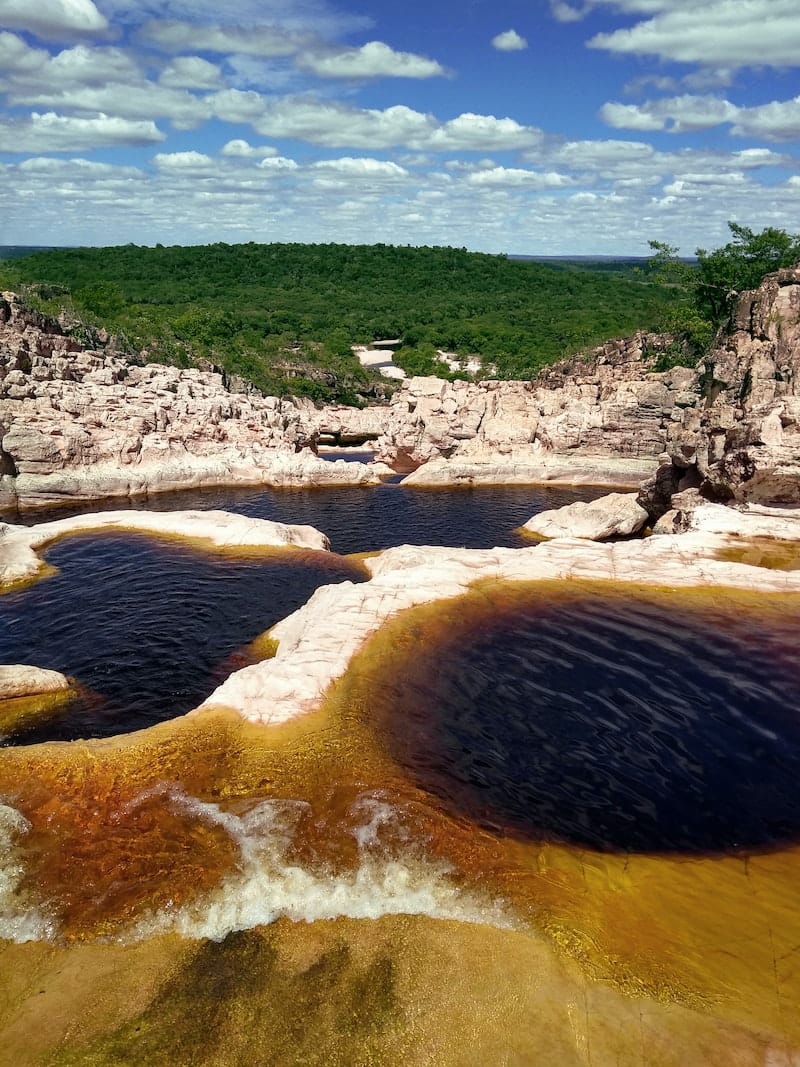 If you like hiking, then Chapada Diamantina is your go-to destination. With a highland as large as Switzerland, you should definitely go for a three or four-days hike, sleeping in local pousadas and seeing some of the best mountain views of Brazil.
You can reach it in six hours from Salvador by bus, which is probably the best way to travel in Brazil if you have some spare time.
Fernando de Noronha
Minimum days: 5
Best time to visit: between August and January
Where to sleep: Boldro Surf House
What to do: Explore the gorgeous northern beaches by boat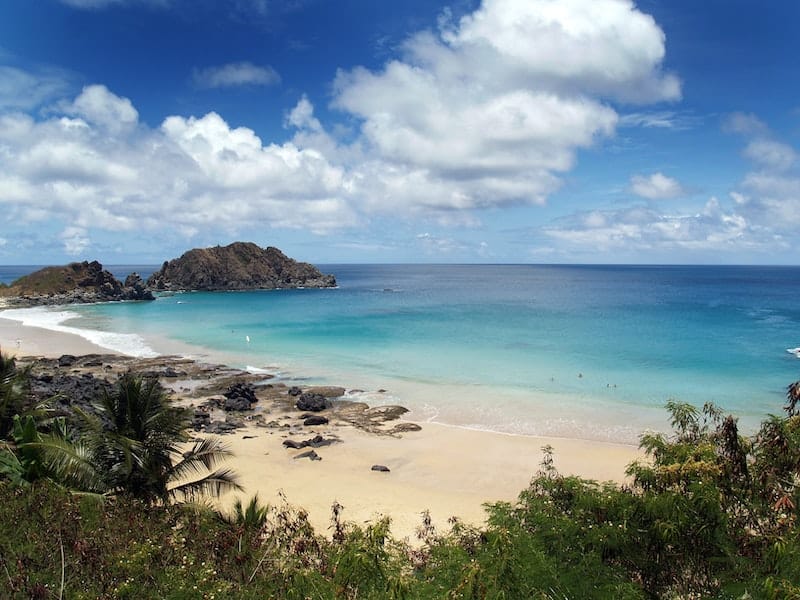 This archipelago in the middle of the Atlantic Ocean is normally excluded from most of the travel itineraries in Brazil, but you might want to visit this little corner of paradise.
Fernando de Noronha has some of the most stunning beaches in Brazil, which is a great calling card and should be enough to convince you to visit it.
Access to the archipelago is controlled and only a limited number of tourists can see it. This, combined with proper environmental policies by the authorities, has ensured the safeguard of the islands.
It is a slightly more expensive destination than the others included in this article, but every penny is worth it and you will not come out of Fernando de Noronha thinking you overpaid for your trip there!
Best Time to Visit Brazil
If you focus your trip on the northeastern part of the country as I suggest in this itinerary, the best time to go to Brazil is certainly during the second part of the year.
It is the dry season in the Amazon and temperatures are good in all the other destinations. The only spot that might not be at its best is Rio de Janeiro, which experiences high season at the beginning of the year, but nevertheless, it is just a little bit colder during the remaining months.
In my opinion, the best time to travel to Brazil and, particularly to the northeast, are the months between September and November, when you will enjoy your holiday the most.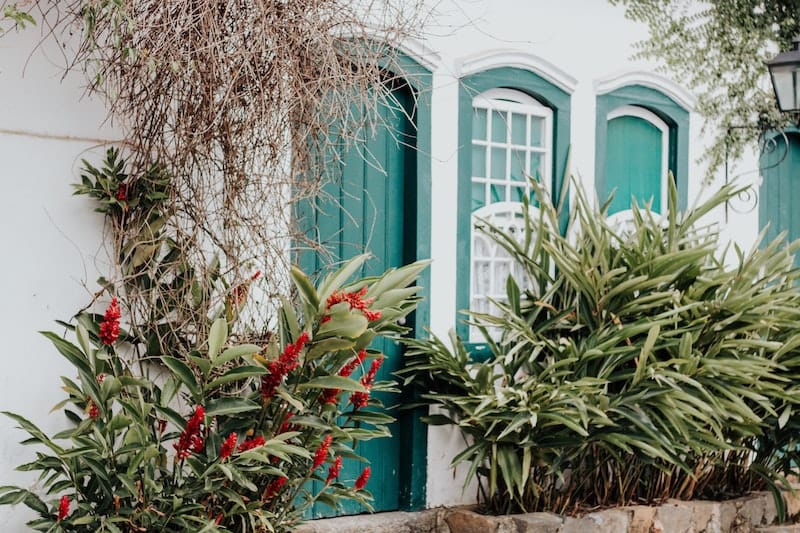 Author Bio:
This article is written by Mario- traveler and humanitarian. He traveled around Brazil for two months and loved it. If you can read Italian, you can find out more about this trip on his website.
What he loved the most? All, of course, but he especially loved hiking in Fernando de Noronha and walking so much in the beautiful Chapada Diamantina that he destroyed his trekking shoes and had to buy some new boots halfway through his trip.
PIN IT FOR LATER!