Are you planning to visit Yellowstone in winter this year? Winter in Yellowstone National Park is not everyone's desirable season to visit, but don't write a trip off just yet!
This guide details why you should visit Yellowstone National Park in winter and what you can do there, including where to stay, practical tips, and things to know before going.
Click here if you're simply looking for the best Airbnbs near Yellowstone!
Reasons to Visit Yellowstone in Winter
Yellowstone is a winter wonderland during the colder months of the year.
However, a trip to Yellowstone during winter is not everyone's cup of tea… but if you're adventurous or want to experience a US National Park during winter, a trip to Yellowstone is definitely for you!
This guide details Yellowstone in December, January, and February… but keep in mind that the weather can be cold and snowy beyond just those three months.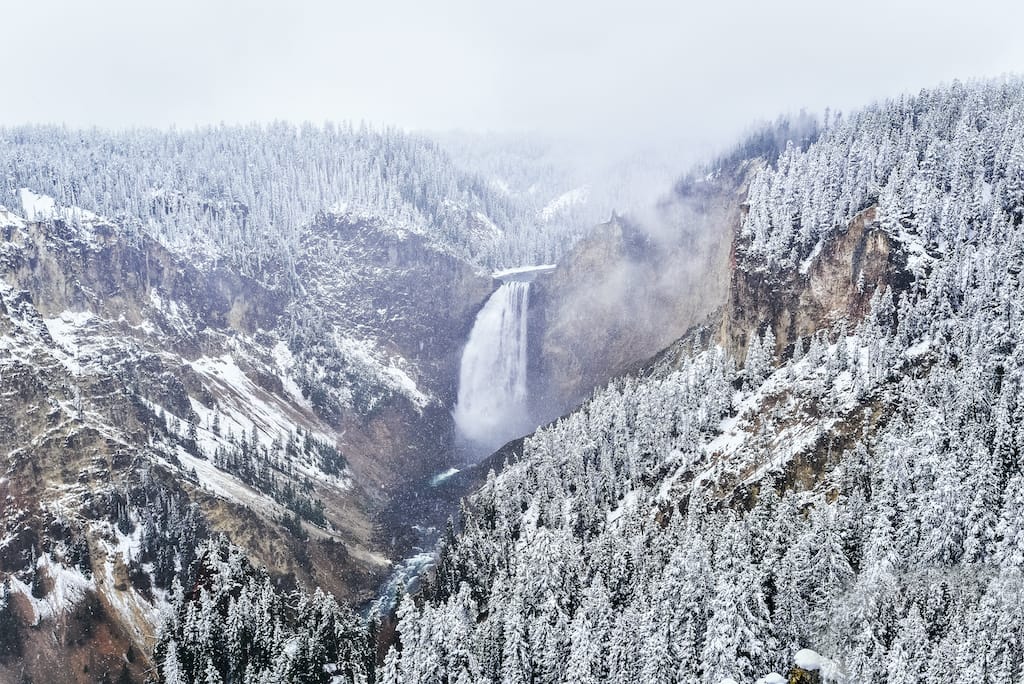 On the upside, there are far fewer crowds at Yellowstone if you visit in winter! Like- by a LONG shot!
You will have quieter surroundings and really have a chance to connect with nature and peaceful landscapes.
If your trip is planned accordingly, Yellowstone is one of the best national parks to visit in December and the rest of winter.
If you have additional tips for a winter visit to YNP, please leave them in the comments!
When is it Winter in Yellowstone?
Winter starts roughly from the 3rd week of December until the very end of February. While the weather can be crazy and cold beyond that duration, this is when most park roads close and you must book a tour with a snowmobile or snowcoach in order to visit Yellowstone in winter.
We give tips for winter tours in Yellowstone below, so please follow along!
How Cold Does it Get in Yellowstone? (Temperatures & More)
It definitely depends on what month you're visiting for how cold it gets. Here is a small breakdown of the winter months with average temperatures and the number of 'rainy' days.

| | | | |
| --- | --- | --- | --- |
| Month | Average high | Average Low | # Rainy days |
| December | -3C / 26F | -16C / 4F | 13 |
| January | -2C / 28F | -16C / 3F | 13 |
| February | 0C / 31F | -15C / 4F | 11 |
​
Does it Snow in Yellowstone National Park?
Yes! The first snowfalls usually arrive in October at Mammoth Hot Springs.
However, it can snow as early as September. As for the end of the season, the last snow is usually in May (sometimes April or sometimes June).
Throughout the winter season in Yellowstone, there tends to be an average of 150 inches (381 centimeters) of snow. However, the higher elevations in the park tend to get twice as much as that!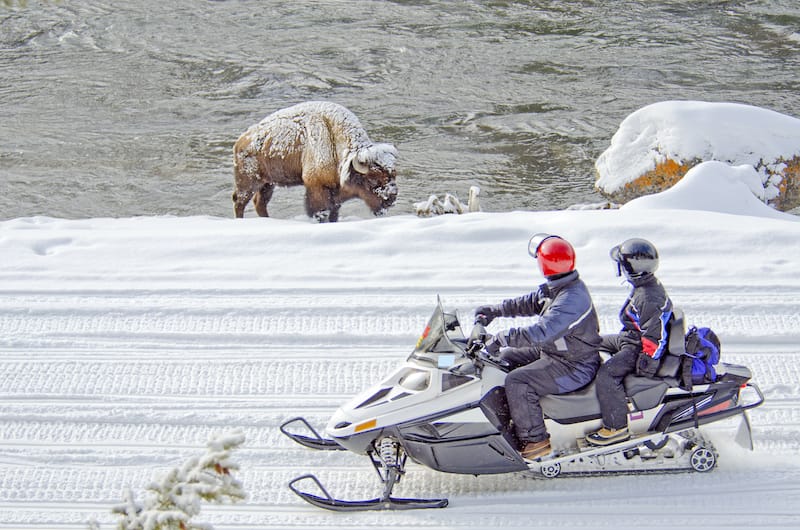 What to Wear When Visiting Yellowstone National Park in Winter
As someone who spent years living in Norway, I would love to confidently say 'I've got this!', but Yellowstone is actually colder!
Below are my top recommendations of what to wear when visiting Yellowstone National Park during winter.
Note: I am a huge fan of REI for all of my winter gear in the US, but I also love throwing minimalistic Scandinavian brands into the mix. I am listing an array of my favorite winter gear below.
Winter Parka
You need a winter parka for Yellowstone. Point blank, no ifs, ands, or buts.
I actually love my Helly Hansen Svalbard parka. I have worn it on several of my Arctic trips and it has served me so well. Helly Hansen is a Norwegian brand and they know winter and outdoor clothing well.
Because of the severe temperatures at Yellowstone, I only feel comfortable recommending the parka above as I haven't had a chance to test others since this one has always done the job for me!
Click here to see my Helly Hansen Svalbard parka (I own it in black because I'm boring).
Crampons
If you're not sturdy on your feet (*sheepishly raises hand*), definitely invest in a pair of crampons for your Yellowstone winter trip.
What are crampons? They are basically attachable 'traction' for your boot.
They can feel a bit awkward when you first put them on but at least you won't end up with severe back pain from having to hold your gait funny in the end.
I have used several types throughout the years and I found that these ones from Yaktrax are the best ones for me, personally. Click here to purchase them on Amazon.
Sorel Snowboots
There is actually nothing worse on the planet than frozen feet. At least for those surrounding me, as frozen feet are a surefire way for me to complain and annoy everyone else. So, I take my snow boots seriously!
I have used Sorel Snowboots for the last 7-8 years and I love them.
I think I purchased them because they were trendy at first, but they served me well and I haven't looked back and I ended up purchasing multiple pairs. But, my favorite pair is this one.
Make sure you buy them big enough that you can throw some thick wool socks on when you're dressing for your adventure in YNP!
Click here to purchase my Sorel Snowboots on Amazon or, if budget isn't a factor, this other Sorel pair that I recommend from REI.
In addition to what I listed above, I definitely recommend that you take a good pair of mittens (never gloves), thermals, and a hat.
The hats I recommend (stylish, yet warm) are from two of my favorite Danish brands Libertine-Libertine and Samsøe & Samsøe.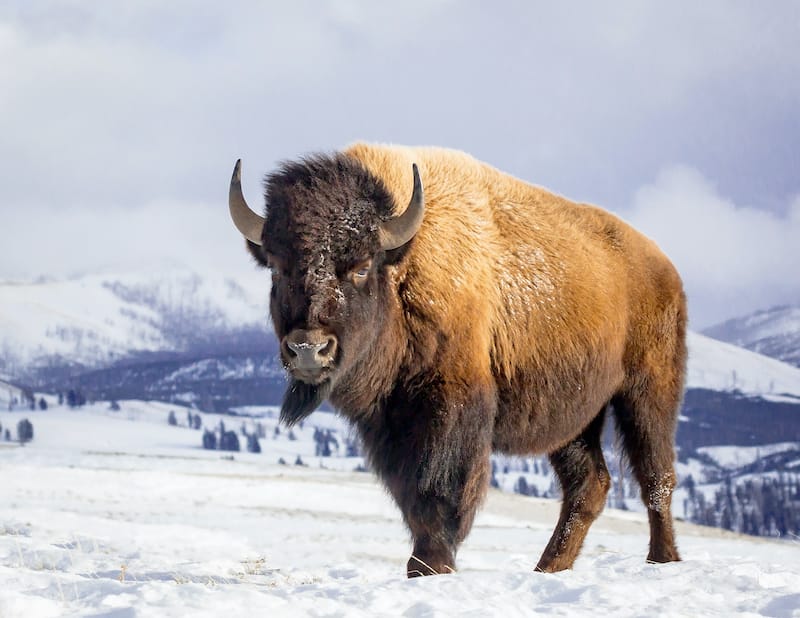 What to Pack for Yellowstone in Winter (Gear & Miscellaneous)
Packing the right clothes is always the most challenging part, but you need to consider the other things you will bring with you, too.
Below are some items I always tote along in winter when I travel to cold places and will definitely make a great addition to your Yellowstone trip.
Mobile Power Bank
The weather will deplete your cellphone battery. I repeat- the weather WILL deplete your cellphone battery.
Bring a mobile power bank with you to ensure you can snap photos whenever you want! Click here to purchase my recommended power bank on Amazon.
Extra Camera Batteries
If you're into photography but have never photographed in a cold setting, you're going to want to ensure you have a few extra batteries to bring along for the ride.
The camera battery will deplete quicker in subzero temperatures just like phone batteries do.
I also travel with a USB charger for camera batteries that I can stick in my mobile power bank in case times get tough. Click here to find a USB charger for camera batteries.
READ MORE: 2 Days in Yellowstone National Park Itinerary for First-Timers
Dry Bags
It will be snowy and the weather will be a bit off-putting on certain days on your winter in Yellowstone vacation… so don't let it ruin your equipment or gear!
I travel with dry bags just as an extra precaution and they have served me well all over the world. These dry bags from the Friendly Swede are my favorite.
Things to Know Before Traveling to Yellowstone in Winter
I have to assume that if you have chosen to travel to Yellowstone during winter, you've done your research and are not shying away from cold weather.
With that being said, one thing you definitely need to know is that you most likely need to book a tour to visit the main sights in the park.
Most roads shut down in Yellowstone during the colder months and rightfully so.
The only road that remains open during winter is the road from Mammoth Hot Springs and the park's northeast entrance.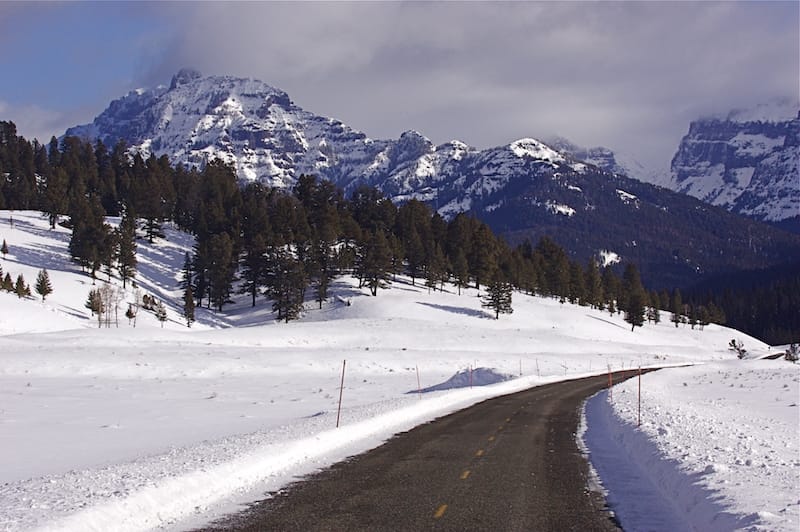 In addition, the ONLY way to visit Old Faithful, the Grand Canyon of Yellowstone, and many other popular sights within YNP is with a guided tour by snowmobile or snowcoach.
This can be alarming for someone who doesn't plan ahead- but you will really need to consider booking a Yellowstone winter package or tour to make the most of the park if you're keen to see the main attractions.
Planning out your Yellowstone itinerary is a must before traveling there.
I recommend you make a list of all the sights you MUST see, in addition to some other priorities and activities, and plan ahead.
But, always make a Plan B because the weather may not be your friend on this trip!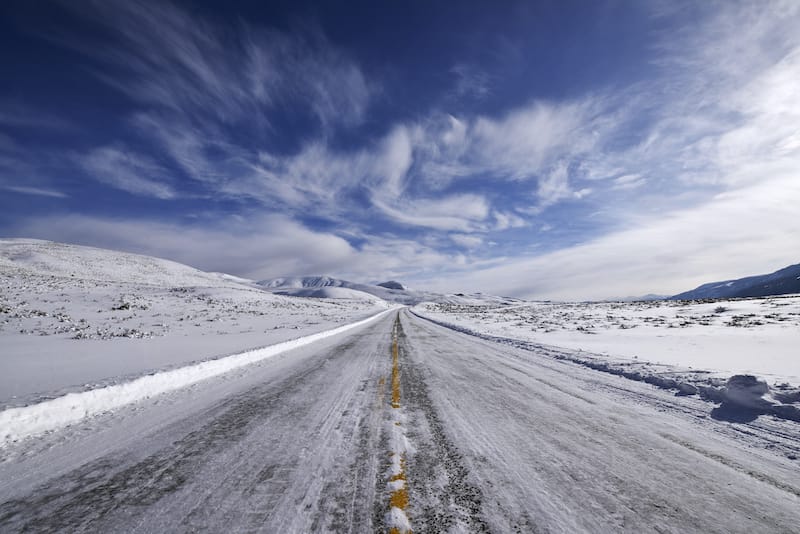 Facilities Open at Yellowstone
Another thing to note is that many facilities will be closed during the winter season at Yellowstone.
You can find all of the latest updates for the facilities that will stay open (and ones that will close) on the NPS website.
Things to Do in Yellowstone During Winter
People think that just because they are visiting Yellowstone during winter, they will quickly run out of things to do.
Definitely not the case! Here are some things to do in Yellowstone during winter.
1. Go Cross-Country Skiing in Yellowstone
One of the most popular activities in Yellowstone is to go cross-country skiing.
There are many backcountry routes available for advanced skiers as well as easy tracks for novices. You can book a guided trip and rent skiing equipment from the concessionaires.
There are many popular trails but two of the most popular ones are Biscuit Basin Trail (which goes through Old Faithful geyser basin) as well as Blacktail Plateau Trail.
Cross-country skiing is definitely one of the best activities and things to do in Yellowstone in winter. Click here to see more about the trails available within the park.
2. Go Snowshoeing
Another popular winter activity in Yellowstone is snowshoeing.
Snowshoeing is one of my favorite things to do in winter despite not being stellar at it, so I definitely recommend it if you've never been before.
Walking through Yellowstone in snowshoes will give you more freedom to see the sights, even in areas where the snow is extremely deep.
In fact, most trails in the park are groomed for snowshoeing and it is a popular thing to do in Yellowstone, so you will definitely see others doing it.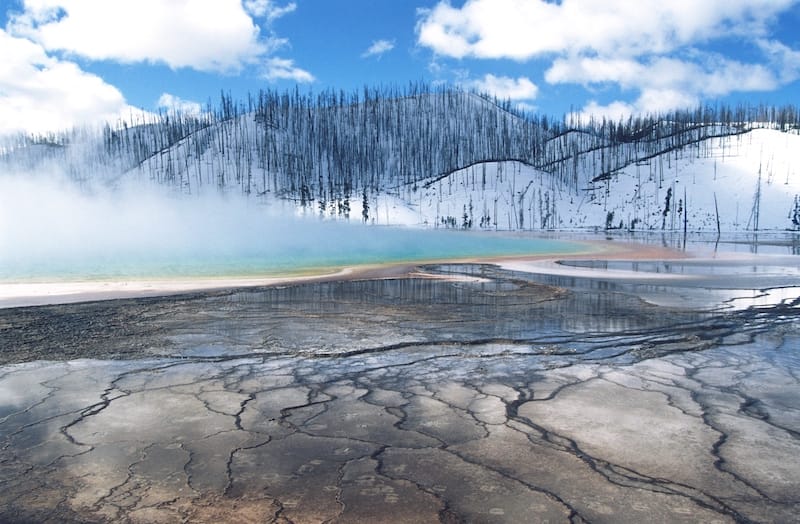 Many of the thermal areas, such as the Upper Geyser Basin and the areas in the vicinity of Old Faithful are amazing to visit in snowshoes.
If you're a beginner, the following trails are fantastic options for snowshoeing in Yellowstone: Old Canyon Bridge Ski Trail (1 mile), Upper Terrace Loop (1.5 miles), Bannock Ski Trail (2 miles), Tower Fall Ski Trail (5 miles), Black Sand Basin Ski Trail (4 miles), and Observation Point Loop Snowshoe Trail (2 miles).
You can rent snowshoes in the park if you don't tote your own pair along! The best place to rent in either Mammoth Hot Springs or Old Faithful is at Bear Den Ski Shop.
3. Ride a Snowcoach or go Snowmobiling in Yellowstone
One of the most popular things to do in Yellowstone during winter is to take a snow coach or snowmobile tour/rental.
The season usually begins around mid-December and snowmobiles and snowcoaches are THE way to get around Yellowstone in winter.
The 'snowcoaches' are generally the same buses used during the summer, just mounted on low-pressure tires that are gigantic.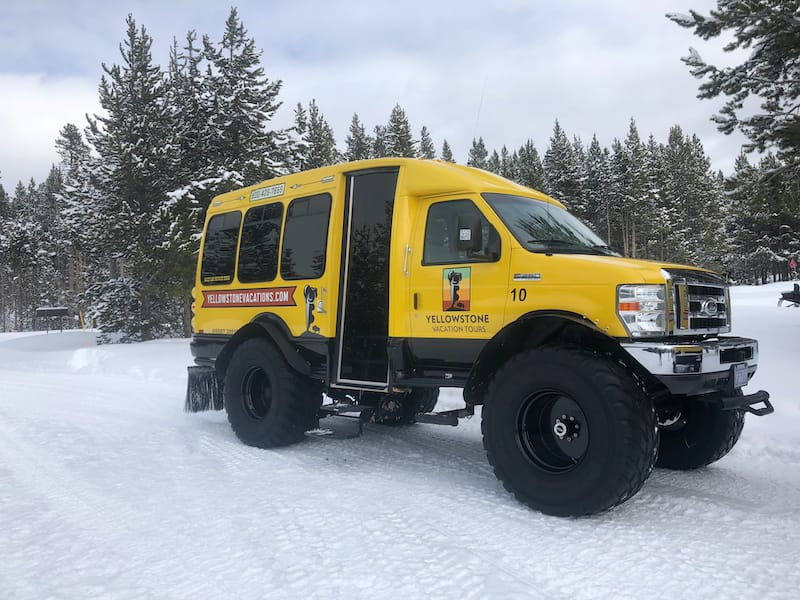 Taking a snow coach or snowmobile is a great option for winter since most roads are closed and Yellowstone's main sights become completely inaccessible.
Below are where you can rent them or sign up for an excursion on one depending on where in the park you enter from.
If you're simply looking to rent a snowmobile, please call them ahead to see if they offer rental options (not all do).
​
4. Go Wolf Watching at Yellowstone
Who knew that wolf watching was a big business at Yellowstone? Apparently, it rakes in more than $35 million annually at the US National Park.
Unfortunately, with wolf watching being popular in the park amongst tourists, local residents are not as happy about them and poaching is not all that uncommon.
During the winters in Yellowstone, the wolves and other non-hibernating animals congregate in the lower valleys which is the opposite of summer (where they are spread out).
This gives Yellowstone photographers ample opportunity to photograph the majestic animal.
The best way to view the wolves in Yellowstone is to take a tour. This highly-recommended tour with Yellowstone Guidelines is definitely the one to join.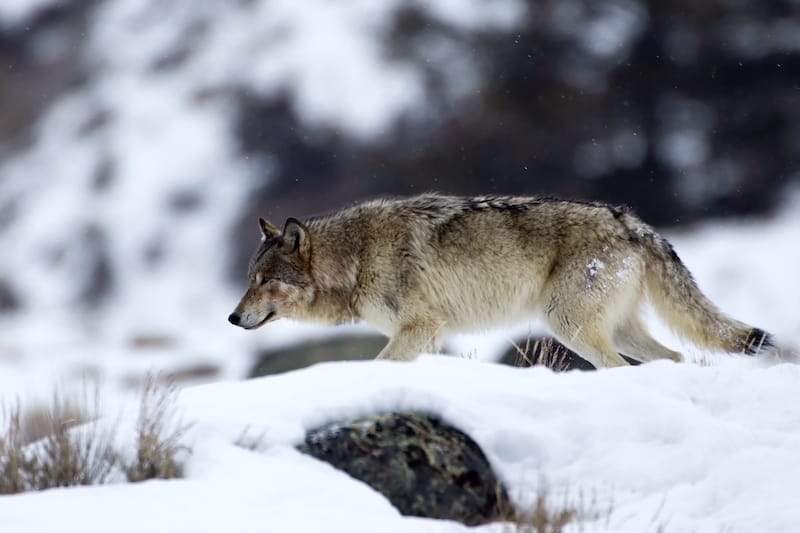 The tours will start at the north entrance of Yellowstone near Gardiner, Montana and you will have an action-packed itinerary ensuring you have a great day ahead of you!
You will be alongside a naturalist guide and will be provided lunch, snacks, transportation, and binoculars. The entrance fee to Yellowstone is NOT included.
Wolf watching is definitely one of the coolest things to do in Yellowstone! Click here to check out how to book a tour and the planned itinerary for your trip.
5. Go Camping at Mammoth Campground
There are not many year-round campgrounds in Yellowstone, but this is one of them!
You will find Mammoth Campground close to the north entrance of the park and you'll find many year-round facilities located at Mammoth Hot Springs.
While winter camping at Yellowstone is not for everyone, it is certainly a unique experience and something to do during the winter in Yellowstone.
6. Visit the Buffalo Bill Center of the West in Cody
If you want to venture out of the park but still see something cool, head to nearby Cody and enjoy the Buffalo Bill Center of the West.
This pioneer history museum discusses the Native Americans and the origins of the land and is a great activity for kids visiting Yellowstone during winter.
Address: 720 Sheridan Ave, Cody, WY 82414
7. Attend a Ranger-Led Program
Another awesome thing to do at Yellowstone National Park is to attend a ranger-led program.
While most are held during the summer months, you will also find a few options during the winter season.
Please check to ensure all programs are running on their usual schedules.
You can check further information here.
Ranger-led programs at Yellowstone in winter usually begin in mid-December and go until mid-March at Mammoth Hot Springs, Old Faithful, and West Yellowstone.
At Mammoth Hot Springs, visitors will find a snowshoe discover program where they will join others in a guided ranger walk around the Upper Terraces of Mammoth Hot Springs.
READ MORE: The Best US National Parks to Visit in December
There is also an evening program at Mammoth Hot Springs Hotel that will lead to a discussion about the nature and culture of the park.
In West Yellowstone, you will find a snowshoe walk around Riverside Trail and afternoon talk with a ranger at the Grizzly and Wolf Discovery Center.
At Old Faithful, visitors will have a chance to participate in ranger-led programs such as 'Geysers Galore', a program about the geysers at Yellowstone and you will have a chance to hear it before seeing Old Faithful's midday eruption.
The evening program there will be held at the Old Faithful Visitor Education Center.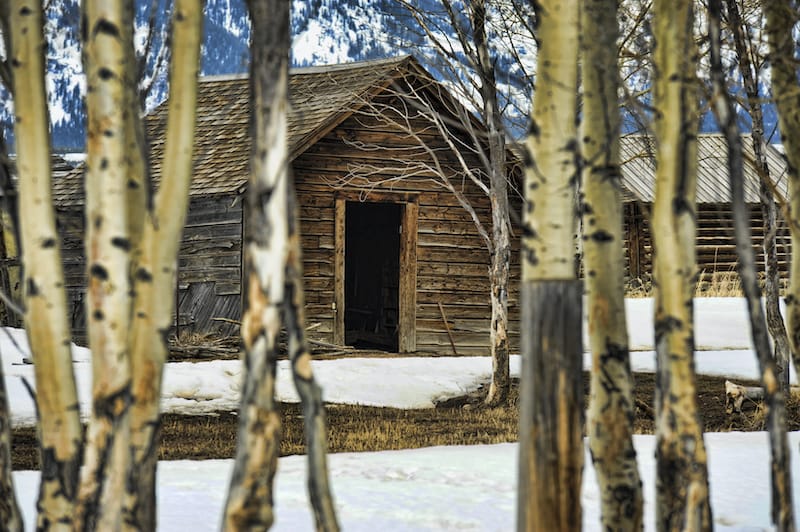 8. Hang Out in a Warming Hut
One of the best things about Yellowstone during winter is that they truly adapt for visitors and one of the things that is the biggest proof of this is the warming huts.
These huts generally open around mid-December and are scattered throughout the park for those looking for a refuge from the cold of Yellowstone!
They usually offer drinks and snacks and a place to unwind and take in the natural beauty they will see during the day.
Not all huts are created equal. Here is a glimpse of the huts available during the 2022-2023 winter season at Yellowstone.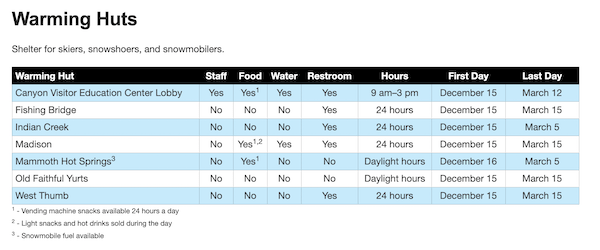 Please check back on the National Park's Website to view additional information and updates.
9. Take a Day Trip Beyond Yellowstone
If you have several days in the area, get out!
Not that there isn't a ton to see at Yellowstone National Park but that there is also some remarkable beauty just beyond the park that is worth visiting too.
If you're looking to use your National Parks Pass, take a day trip down to Grand Teton National Park just south of Yellowstone.
The Wyoming National Park is another winter gem and is one of the most picturesque places to visit in the United States and visiting Grand Teton National Park in winter is a great time to see it with few crowds.
READ MORE: Best Airbnbs near Grand Teton National Park
Also closeby is Shoshone National Forest, the first nationally protected forest in the USA and one definitely worthy of being visited regardless of the time of year you visit.
The 2,500,000 acres of greenery is just one of many awesome Yellowstone day trips that you can visit during winter. Just be sure to check the weather conditions and plan your trip ahead!
How to Get to Yellowstone National Park
There are a few options for getting to Yellowstone National Park. The main places visitors arrive from are Jackson (WY), Bozeman (MT), Salt Lake City (UT), and Denver (CO). You can read more about getting to Yellowstone National Park here.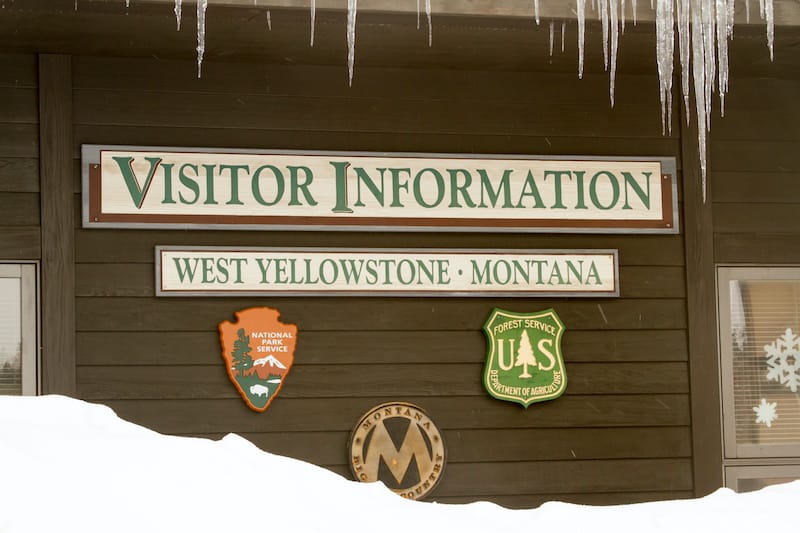 Yellowstone National Park Accommodation Options
There are a few different options of where to stay in Yellowstone during winter.
You can camp at one of the designated sites in the park, stay a camp nearby, or find lodging near one of the entrances. Alternatively, you can book an Airbnb near Grand Teton that is also a great option for YNP!
Below are some recommendations for where to stay in Yellowstone.
Staying in the Park
If you're opting to stay inside of Yellowstone National Park, you have a couple of options. They are listed below:
• Canyon Yurt Camp (seasonal)
• Mammoth Campground (year-round)
• Mammoth Hotel and Dining Room (seasonal)
• Old Faithful Snow Lodge & Cabins (seasonal)
Camping Near Yellowstone (Winter Options)
Here are the campgrounds that are open during the winter where you can stay near Yellowstone National Park. If you're not registered on Hipcamp, you can get $10 off your first booking after signing up with my code.
• Fisherman's Paradise (Idaho)
• Jim Bridger Historic Cabin 3 (Montana)
• Southfork of the Shoshone River (Wyoming)
Renting an RV
Another unique alternative for your trip to Yellowstone is to rent an RV.
While I definitely wouldn't recommend doing this without feeling comfortable driving one or on roads during winter, it is a viable option for many adventurous travelers.
This RV located in Greybull, Wyoming is an affordable (from $98/night) option that sleeps 4 people and will give you a nature experience out in one of the country's most beautiful spots. Click here to check availability with Outdoorsy.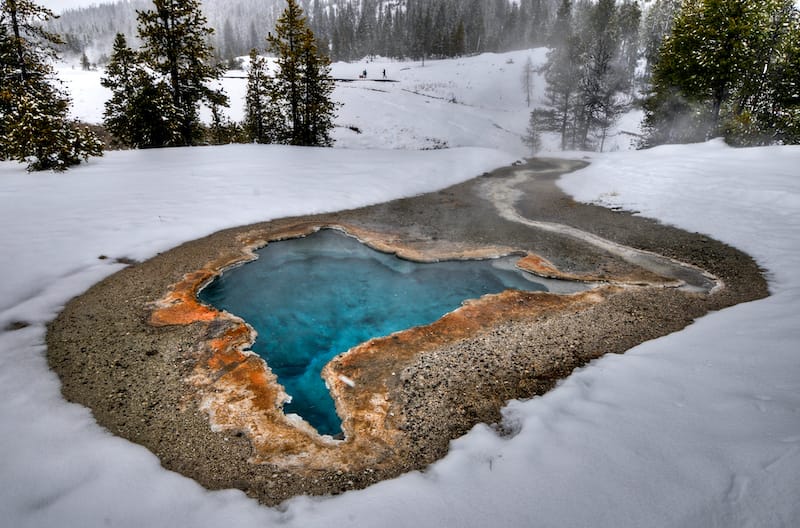 Should You Book a Winter Trip to Yellowstone National Park?
We think it is worth booking a winter trip to Yellowstone if you're not scared of a bit of adventure and seeing a usually crowded park in a more serene and peaceful state.
There are some obstacles that come with traveling to Yellowstone in winter, but we hope that our guide will make you more comfortable with booking the trip!
ABOUT THIS LAND
Yellowstone National Park is on the unceded land of the Assiniboine and Sioux, Blackfeet, Cheyenne River Sioux, Coeur d'Alene, Comanche, Colville Reservation, Crow, Crow Creek Sioux, Eastern Shoshone, Flandreau Santee Sioux, Gros Ventre and Assiniboine, Kiowa, Little Shell Chippewa, Lower Brule Sioux, Nez Perce, Northern Arapaho, Northern Cheyenne, Oglala Sioux, Rosebud Sioux, Salish and Kootenai, Shoshone–Bannock, Sisseton Wahpeton, Spirit Lake, Standing Rock Sioux, Turtle, Mountain Band of the Chippewa, Umatilla Reservation, Yankton Sioux peoples. We ask you to join us in acknowledging their communities, their elders both past and present, as well as future generations.
We also acknowledge that Yellowstone National Park was founded upon exclusions and erasures of many Indigenous peoples, including those on whose land these US National Parks are located.
⇒ Do your research before visiting National Parks and places in the US. Native Land and Whose Land are good starting points.
⇒ Hire Native guides when possible and encourage National Parks and government organizations to start hiring them.
⇒ Donations matter. Part of the proceeds from this blog is donated monthly to the Native Women's Wilderness.
You Might Also Like:
PIN IT FOR LATER!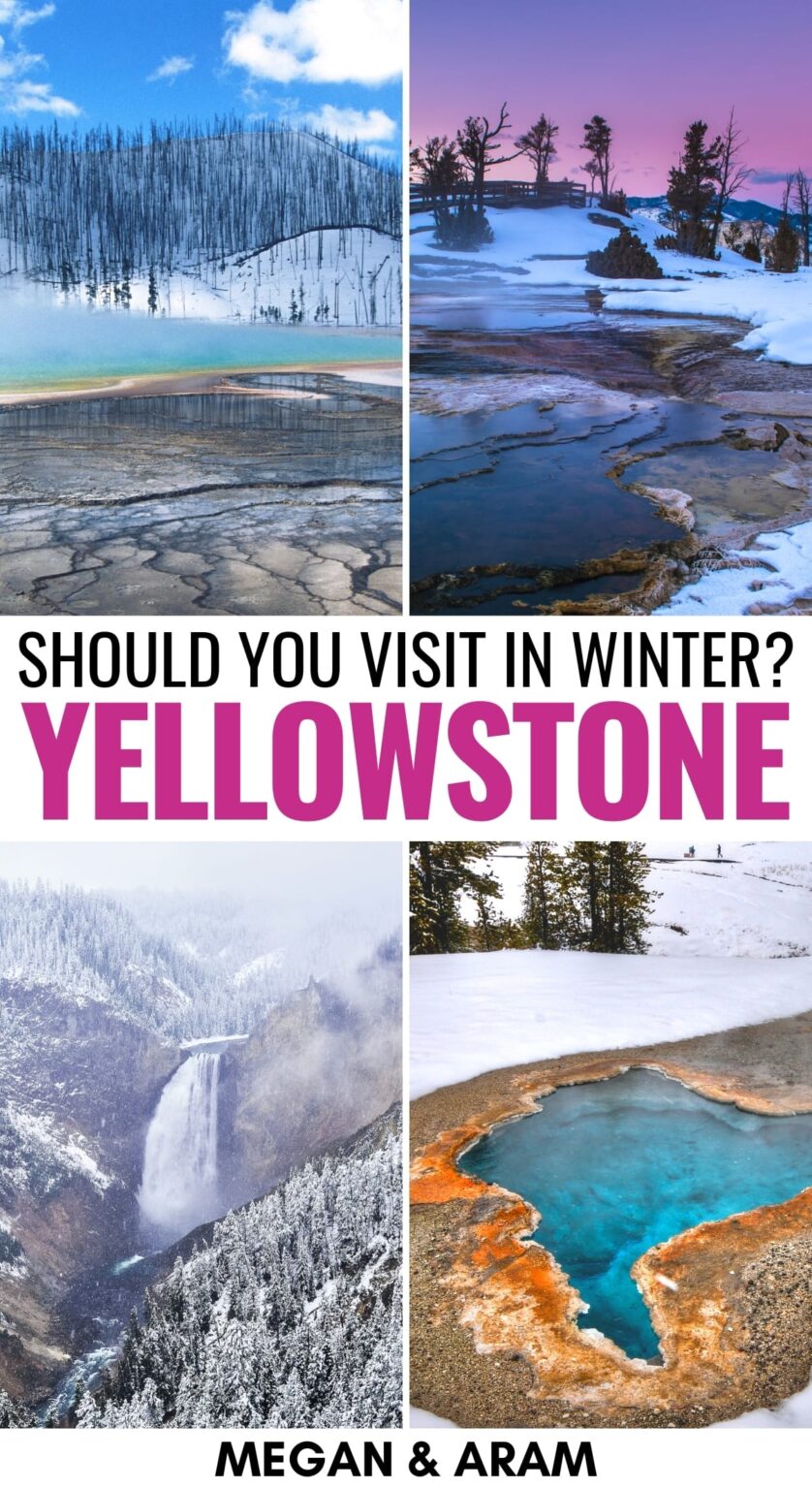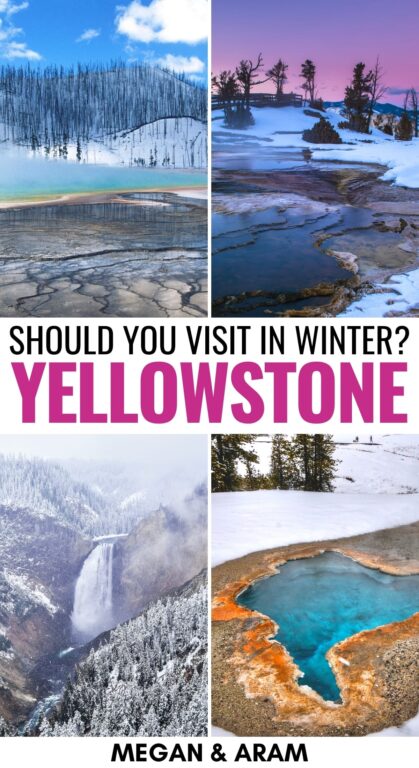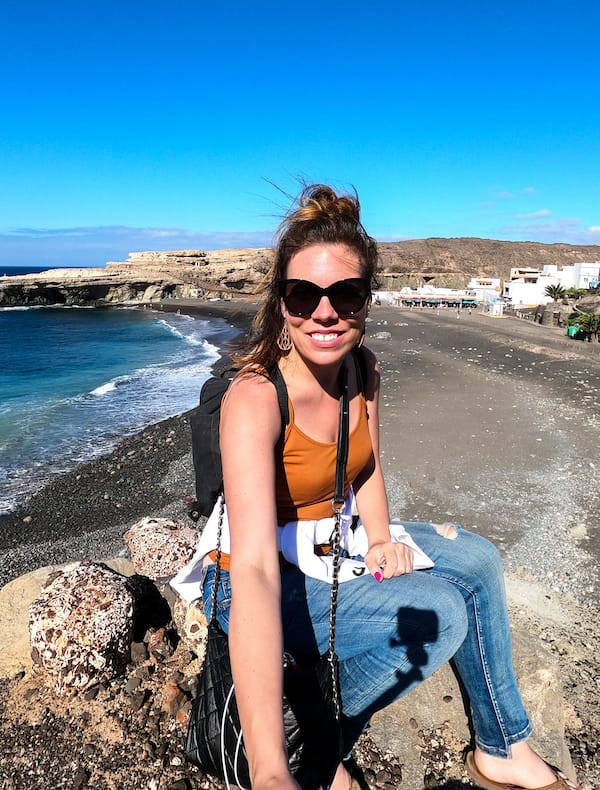 Megan is a travel blogger and writer with a background in digital marketing. Originally from Richmond, VA, she now splits her time between Frankfurt, Germany and Arctic Finland after also living in Norway, Armenia, and Kazakhstan. She has a passion for winter travel, as well as the Nordic countries, but you can also find her eating her way through Italy, perusing perfume stores in Paris, or taking road trips through the USA. Megan has written for or been featured by National Geographic, Forbes, Lonely Planet, the New York Times, and more. She co-authored Fodor's Travel 'Essential Norway' and has visited 45 US states and 100+ countries.