Madrid – the capital of Spain is not your average European city. It is sophisticated, modern and still wonderfully traditional. One of the greatest cities in Europe, Madrid is full of rich culture, history and is a destination which caters to all kinds of tastes.
From a wide range of hostels which are suited for every type of budget, beautiful architecture, wide tree-lined boulevards, to their iconic marble statues, this city is a great place for traveling.
There's too much to see and do, to be able to experience it all in one trip would be impossible. Fortunately for you, we're here to help you plan a trip that will cover the city's best highlights and including few tips about exploring Madrid the Spanish way!

Appreciating European Art
If you're a big fan of old European art then it's about time to drag yourself to the Museo del Prado – home of some of the finest and oldest collection of art one has ever seen.
This museum is located just off the Real Jardin Botanico in Central Madrid. It's the city's largest attraction spot for those who like to dive deep into the culture of European history throughout the ages.
It hosts finest collections of art that stretch two buildings named Villanueva and Casón del Buen Retiro. Housing 2000 works of art, over 5000 drawings including sculptures, medals, and coins. It displays works from some of the famous artists like Diego Velasquez's collection, works from Goya, Raphael, Titian, Botticelli and Van Dyke himself.
This museum is seething with cultural vibes and it's truly worth a visit even if you're not into history, art or European culture.

The Infamous Spanish Delicacy – Tapas!
Not only are they a local favorite, but for the people of Madrid, it's a part of their lifestyle itself. Eating tapas is a favorite pastime and hobby of the locals and you'll fall in love with it too!
Part of the Spanish culture that's enjoyed all over the world, the secret to this custom is not about the quantity of food that includes a drink, but the habit itself. This means going out, socializing with the locals and having a grand time.
You can have a taste of the mouthwatering tapas in the streets around Plaza Mayor, the barrio of La Latina and The Mercado de San Miguel. There are also some great bars spread out throughout the city.
It's the best way for you to mingle with the locals, experience something unique about the culture, cuisine and soaking up the everyday life of the city dwellers.

Shop Till You Drop
After all that tapas and European art, it's time to explore Madrid's diverse shopping districts.
From commercial districts, giant shopping malls, fashionable designer houses to luxury boutiques, there's no shortage of shopping options in Madrid.
Some famous brands like Zara, Mango, Massimo Dutti, Stradivarius, etc are available to meet all your shopping needs.
There are five major districts in Madrid that caters to different budgets and tastes. Starting with the ones which cater to expensive tastes is Salamanca, Chueca comes next that offers a bohemian shopping experience, next is Princesa which falls in the affordable range and finally Cuatro Caminos which is a haven for those who love a bargain.
There are sales that take place twice a year in Madrid – summer and winter sales. No matter what your tastes are when it comes to shopping, there's something for everybody!
The Nightlife Experience
Madrid is often compared with New York when it comes to their nightlife. It has its fair share of diverse nightclubs and activities you can indulge in.
To speak specifically, some of the happening districts such as Malasana, Chueca, Huertas, Bajos de Arguelles, and La Latina are famous for their individuality.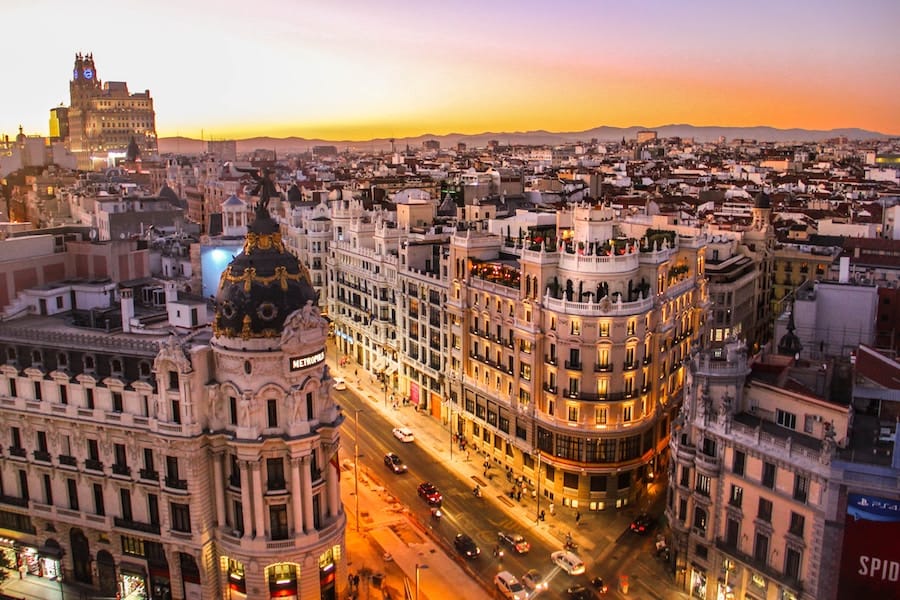 Malasana is known for its lively hippy scene and Chueca is perfect for those who want to experience the gay scene. Arguelles is famous for its high spirited university atmosphere and finally, La Latina is the perfect place for you if you're just looking to chill out and have a drink.
Spaniards are all about the nightlife. They are passionate people who love to stay up until dawn and party. Whether it's a football game or a holy event, You'll never experience anything like their nightlife in any other country.
Rose Gardens and Boat Rides
Considered to be Europe's greens capitals, Madrid has over 250,000 hectares of parkland. You can stroll through some of the breathtaking gardens such as the rose garden in Parque del Oeste or chill out in the amazing garden of Parque de El Capricho.
In the heart of the city, there's El Parque del Buen Retiro where you can take a walk amongst beautiful monuments, amazing gardens and take a boat ride along the lake as well.
Traveling to Madrid during spring is probably the best. You can go visit the Royal Botanic Gardens which will be in full bloom. Housing over 30,000 plants from all over the world, this place is definitely worth a visit.
You can make a super amazing plan in one day since it's located right next to the Prado Museum. Moreover, dedicating a whole day to just visiting and chilling in these parks will rejuvenate your mind, body, and soul to the fullest!
Visit the Home of the Los Blancos!
Last but not the least (and our favorite part) – watch the Los Blancos play in the legendary stadium Santiago Bernabeu!
It goes without saying for those who love watching European football and die-hard fans of the Blancos. But, even if you're not into football this place definitely deserves a visit.
Experiencing the atmosphere of a match and a stadium full of people who are there to support the world's greatest club Real Madrid is a different feeling altogether. However, if you're not lucky enough to witness the extraordinary magic of the Real Madrid players fret not. You can still take a tour of their stadium.
A visit to the dressing room where Zidane himself got ready for an El Clásico and a walk through the players' tunnel. Not only that, they have a fan shop where you can buy their official merchandise.

Final Thoughts
In conclusion, we would like to say that for those who are looking to have the greatest time of their lives must visit the city of Madrid.
Those who are visiting for the first time are in for a special treat because this city offers a magnificent experience and surprises.
You'll have an experience of a lifetime and a great opportunity to see how the European lifestyle is. So, go book that flight and head on over to enjoy some tapas or just bask in the amazing vibe of a boat ride!