Yes, you may have itchy feet to travel the world, to explore the remoter parts of Indonesia or to take a safari deep into the South African bush. But before you start consulting your "Rough Guides" or booking your travel to a far-flung destination, maybe you should take a look at some of the amazing, and unusual places in the UK that are just waiting to be discovered.
It would take a whole book to tell you all about every one of them – and even then there'd still be plenty more to discover – so here are just five that have been hand-picked for you to give just a taste of the huge diversity that's on offer for the intrepid traveller in the UK.
The Lost Gardens of Heligan
The first stop on our whistle stop tour of unusual places in the UK are these incredible gardens in Cornwall, situated above the quaint fishing village of Mevagissey. Each summer thousands of visitors flock to discover them for themselves so why, you may be wondering, are they called the "lost" gardens? The answer is simple. They were originally planted from the 18th century by the Tremayne family and by the start of the First World War they needed a team of 22 gardeners for their upkeep. But as these men went off to fight the gardens soon became overgrown.
But in the 1990s Tim Smit, founder of the nearby Eden Project set about restoring the grounds to their former glory and these are the gardens you can enjoy today. Cornwall's warm climate means that you'll find unusual and exotic plants including the original pit designed to grow pineapples – a sign of great wealth in the 18th century. There are various areas to the gardens which include formal, ornamental areas as well as an incredible vegetable patch, too. There is also a series of lakes and water features which are all the more remarkable for being irrigated by a restored 100-year-old pump.

Lundy Island
The UK may be a relatively small area, but it still has its fair share of remote areas. A perfect example is Lundy Island. In the Bristol Channel, just 12 miles off the coast of Devon, it has a fascinating history. The earliest inhabitants settled there in the 5th century AD and in the 18th century, it was even a pirate stronghold. But visit today and you'll find no pirates, just a population of 28 people.
The island's reached by ferry that takes around two hours from Bideford or Ilfracombe and when you get there you'll be met by a nature lovers' paradise. That's because the island is home to no less than 317 varieties of bird as well as the Lundy pony – a breed only found there. If you want to stay on the island there are over 20 holiday properties as well as a well-equipped campsite – and to make your stay even more memorable you can sleep in one of the island's disused lighthouses or even a castle built to keep unwanted invaders at bay.
Apsley House
Mayfair is one of the most exclusive parts of London and Apsley House is one of its most prestigious addresses. In fact, its original address was "No. 1, London". The house was originally built by the famous architect Robert Adam in the 1770s for the Duke of Wellington whose family still occupy it today. Not only is it a supreme example of the architectural style of the time, it is also home to a priceless art collection including works by Valasquez, van Dyke and Rubens.
The area is equally famous for the exclusive casinos that sprang up in the 18th century to be run as private members' clubs frequented by aristocrats like the Duke. One such club that reflects this heritage is the newly-opened Park Lane Casino. This provides a luxurious place to enjoy table games including roulette, blackjack and baccarat and it even boasts a gaming terrace where members can enjoy their favourite games while overlooking the magnificent Hyde Park.
Its owners will be hoping that its lavish surroundings and great hospitality will serve to attract tourists and reverse a trend that has seen more and more people choosing to play online rather than in land-based casinos. In the UK, online gambling is flourishing and now brings in more than a third of overall gambling revenue.
An abundance of engaging and immersive games and a wealth of choice available are just some of the reasons why online operators have become very popular. Leading operator 888, in particular, have developed their own unique and exclusive casino games, giving them the edge over the competition.
Portmeirion
Often, the most remarkable places to visit in the UK have come as a result of an eccentric and unique vision – as this and the next example will prove. For our fourth suggestion, we're heading to Portmeirion in North Wales. It was the brainchild of Sir Clough Williams-Ellis – an architect whose passion was to create an Italianate village in the style of Portofino and which would include many playful design touches.
The central and most important building at Portmeirion was already there when Clough-Ellis took over the site. Called Castell Deudraeth, it is now a luxurious hotel and restaurant with just 11 beautifully decorated rooms. Many of the other buildings have also been converted to offer accommodation and the village has a good range of shops and places to eat too. In the summer it is also host to a music and arts festival featuring many top name performers. So distinctive is Portmeirion, it's also appeared often in popular culture including the location used for the mysterious "village" in the iconic 1960s TV series The Prisoner.
As well as the spellbinding architecture, there are also incredible gardens which were first planted before Clough-Williams had bought the plot and where you'll find many rare varieties of rhododendron.
The Druid's Temple
Masham, in the Lower Wensleydale region of North Yorkshire, is a typical market town with a wide range of independent shops, a huge central square and no less than two breweries that make beer in the traditional way. So far, so unremarkable, but it's also very close to one of the country's most unusual follies. These were buildings or monuments usually commissioned by wealthy eccentrics in the 19th century.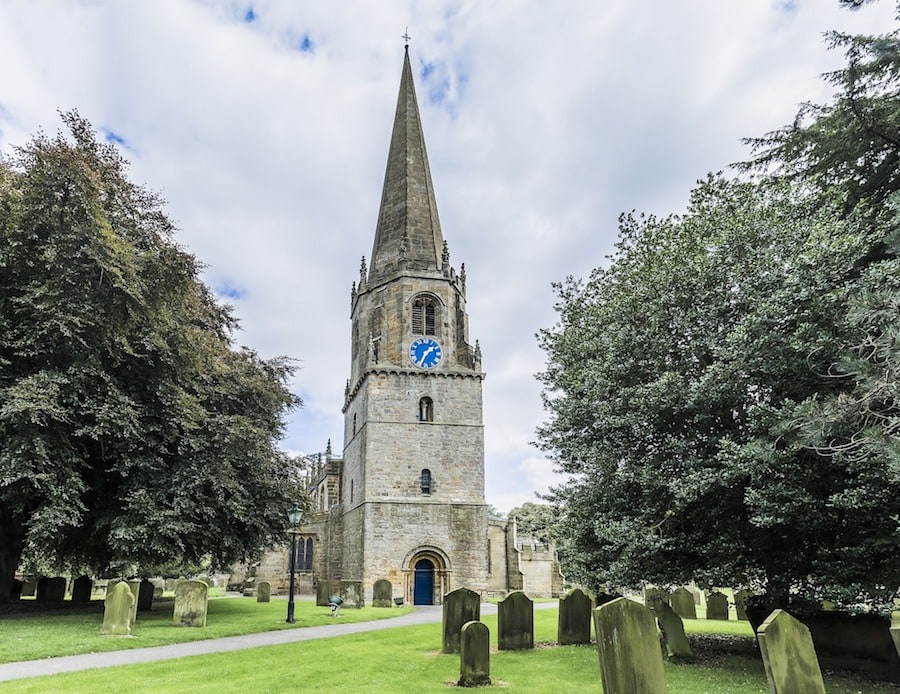 The folly in question here is like a small version of the far more famous Stonehenge down in Wiltshire. It was commissioned in 1820 by William Danby, Sherriff of Yorkshire, and its only purpose was to keep local workers occupied in the depression of the time. It's around 100 feet long and the biggest stones are 10 feet high. Rumour has it that Danby also employed a hermit to live there for ten years but he only lasted four. Visit today and you won't find any hermits, but you will find a regular trail of walkers and cyclists whose curiosity has been aroused by this very unusual monument.
Visit any of these five unusual UK locations and you'll be reminded why there's plenty to engage even the most nomadic traveller looking for their next trip.