Ukraine is, without a doubt, an up and coming travel destination within Europe. This post is a Ukraine itinerary for two weeks for people visiting the Eastern European country for the first time.
It will include stops in the capital city, Kyiv, as well as stops in three other cities I think are worthy of visitors. Day trip information and practical info will also be noted to help you plan your trip to Ukraine.
In addition, I am spelling the cities in this guide the way they are being searched by travelers. Kyiv, Odesa, Kharkiv, and Lviv. Simply put.
I am not interested in comments or emails asking about this. This guide is geared toward first-time travelers, not people residing in Ukraine.
2 Weeks in Ukraine Itinerary
Two weeks seems like quite a large amount of time in one country, but if you look at a map of Ukraine, you will realize that it is not a small country and every city I am listing on this suggested itinerary is extremely different than the other ones listed.
The cities I put on here are Lviv (4 days), Odesa (3 days), Kyiv (5 days), and Kharkiv (2 days).
Many people will state to leave out Kharkiv as it is in the east, but I loved the city and feel it has a lot to offer culturally and it used to be the capital of Ukraine.
There is now a fast train from Kyiv to Kharkiv, making the once overnight trip merely just a 4-hour trip.
I actually haven't traveled to Lviv yet. But, it would be remiss of me to leave it off of this Ukraine itinerary because it is such a highlight!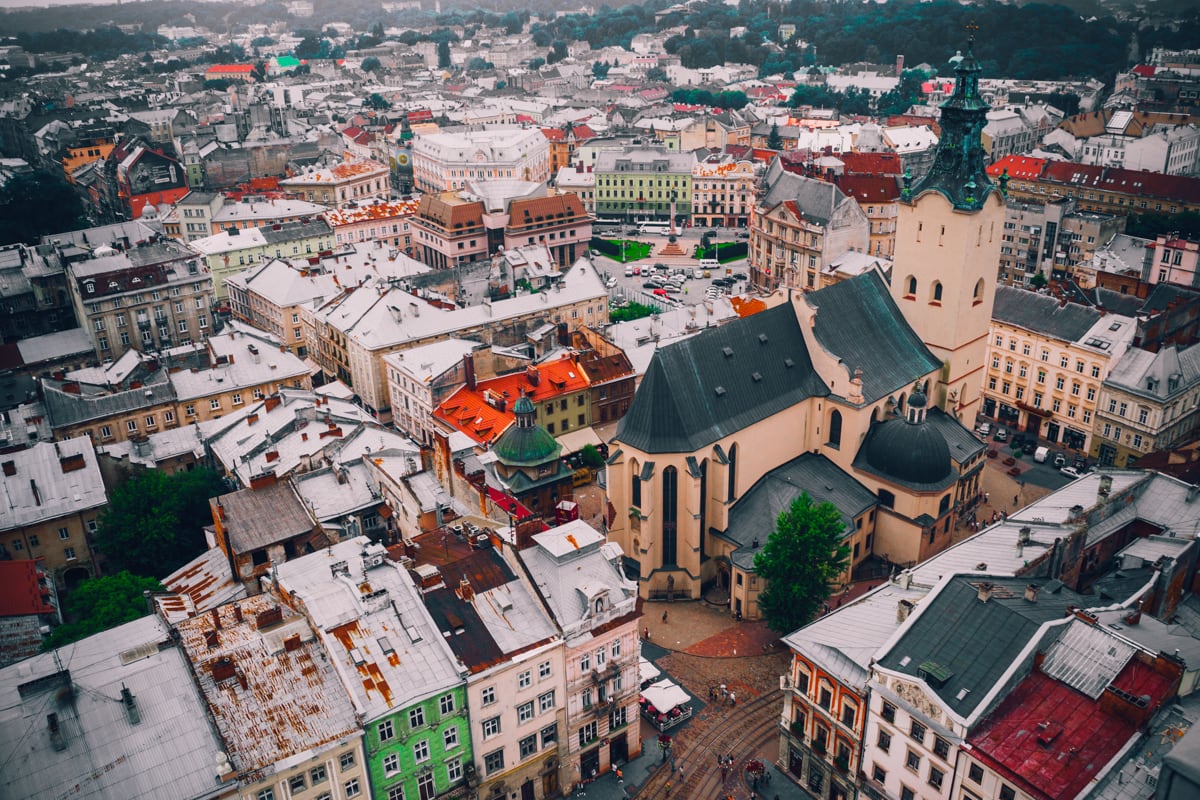 How to Book Your Trip to Ukraine
There are several ways to get to Ukraine, which I mention later in the post, but getting around Ukraine can be a bit more difficult for someone that is unfamiliar with the country and its transportation options.
I highly suggest using GoEuro to book your travels within Ukraine.
The train website in Ukraine may be easy for someone like me to manage as I am familiar with cities and the various train stations existing in them, but for someone who has never been to Ukraine, it can be daunting and confusing (what is holovny?!)
By booking your train with Omio, formerly GoEuro, you will have the opportunity to see everything in an easier and more concise fashion.
They also offer alternatives, such as flights and buses, which is nice if you're pressed for time and don't really care how you get there.
And the GoEuro app and website is probably in your language!
Main Cities to See When You Visit Ukraine
There are so many places to visit in Ukraine, but these four cities are the ones I highly recommend to first-time visitors to Ukraine. If you put these cities on your Ukraine itinerary, you will not be disappointed.
They are all quite different- giving tourists to Ukraine a dynamic experience in the country and allowing them to see several layers to the place.
For the sake of this 2 weeks in Ukraine travel plan, I recommend the following: 4 days in Lviv, 3 days in Odesa, 5 days in Kyiv, and 2 days in Kharkiv (pending you take the fast train out there).
I also have offered alternative places to visit in Ukraine below the main cities… all of which I think has a lot to offer or are popular amongst tourists in Ukraine these days.
Lviv (4 Days)
The western Ukrainian city of Lviv seems to be on everyone's radar these days and for very good reasons. Lviv is beautiful.
If you travel to Lviv, you will inevitably be captured by the city's allure as soon as you step foot in it. So… why haven't I visited yet? I really don't know.
There is quite a plethora of information out there about Lviv, so I kind of know what to expect and have opted to go east and attempt to put information out about those cities instead.
But, don't worry, I will make it to Lviv someday soon and will obviously fall in love with the city just as everyone else has.
The reason I listed 4 days in Lviv is because that gives travelers the chance to see another place outside of Lviv if they wish.
There are recommended day or overnight trips below this section and that can help when planning. Sometimes you just love a city and want to stay there as long as possible.
Most people I know feel this way about Lviv, actually. So, book at your own discretion.
Things to do in Lviv: Well, I know I'm going there for the coffee and craft beer scene.
Ukraine is a gold-mine for delicious coffee and cool cafes and I intend to caffeinate my way around Lviv in the mornings and afternoons and then imbibe in some of the tasty and local craft beers in the evening.
Some of the most famous places in Lviv are the Lviv Opera House, the main square (Rynok Square), Lychakiv Cemetery, and The High Castle Park. The city is known for its opulent architecture and fascinating history.
Where to stay in Lviv: There are many hotels and hostels in Lviv. You can search for hotels on Booking.com here. You can also search hostel options on Hostelworld.com here.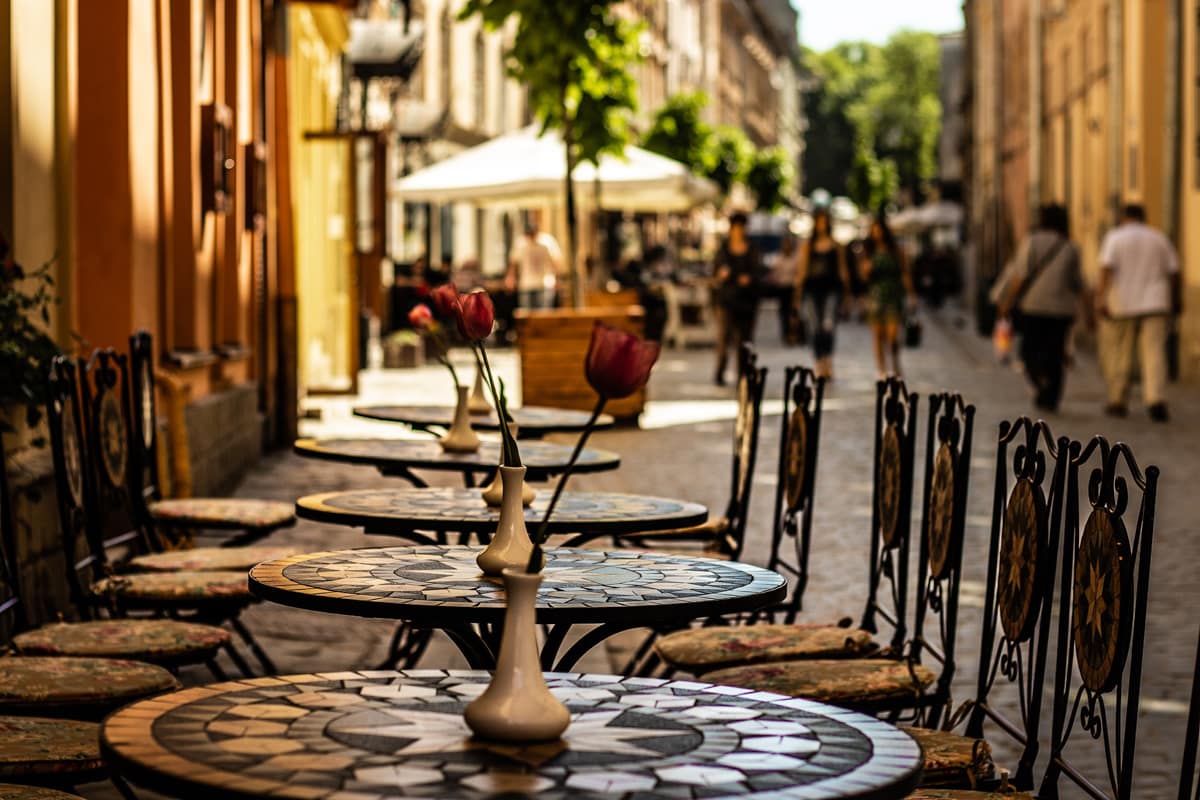 Odesa (3 Days)
The Black Sea city of Odesa is one I haven't quite found my connection with just yet. But everyone else I know has and loves the place.
My time there was far too short and I regret not having stayed longer to explore the city properly. During the winter, the city is calm but during the summers it revs up as it is a very popular Black Sea resort.
The city speaks Russian and actually has a very different architectural feel than other cities in Ukraine. The laid-back atmosphere during the summer months also lends itself to an experience you just can't get in other Ukrainian cities.
Things to do in Odesa: One of the best things I did when there was head down the Potemkin Steps to the seaside. I was there during winter and the beaches were empty but still beautiful and chilly.
Some other popular things to do in Odesa include hanging around the Teatralnaya Square, strolling down Deribasovskaya Street or Primorsky Boulevard, and taking a glimpse of the Vorontsov Lighthouse.
Like every other Ukrainian city, cafes rule the streets and you can find heaps of delicious coffee and cafes to chill out or work from.
There is also a burgeoning culinary scene happening and new restaurants are popping up left and right.
While the winter tourism in Odesa has not quite piqued yet, more and more flights are heading into Odesa so it is only a matter of time.
Where to stay in Odesa: There are many hotels and hostels in Odesa. You can search for hotels on Booking.com here. You can also search hostel options on Hostelworld.com here.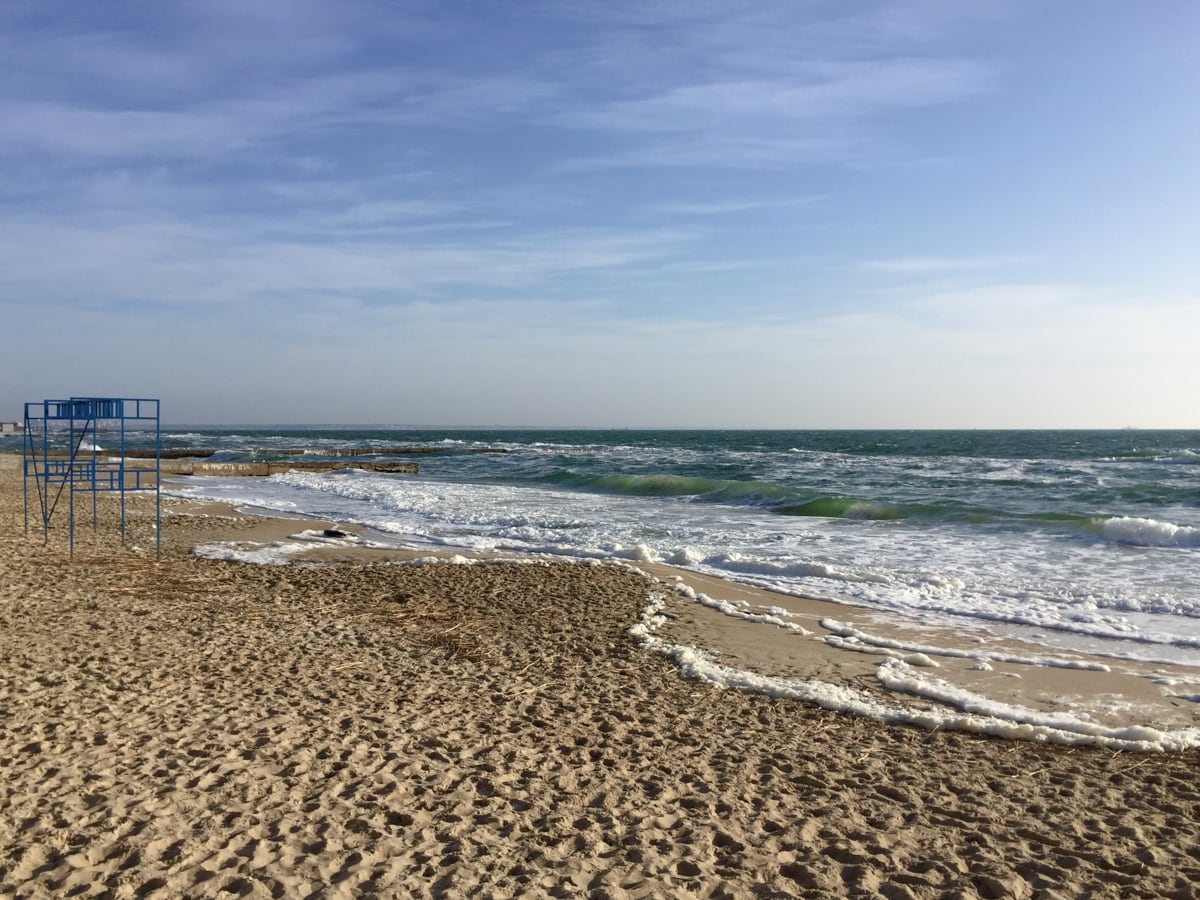 Kyiv (5 Days)
Ahhh…. my favorite city in the entire world. I love Kyiv. I love the madness that exists there and the peaceful corners that you stumble upon so unexpectedly.
I love the coffee scene and the craft beer scene. I love the optimism of people my age in recent years as they try to rebrand their country.
I just literally can't get enough of Ukraine and every single person that I have advised to visit has fallen in love with the city of Kyiv. Hard not to, really.
I first went to Kyiv in 2011 and it was a different place than it is now.
While economic problems are still pretty rampant there, people are working on improving them and the young entrepreneurs that exist in the city will give you so much hope.
Things to do in Kyiv: Oh, where to begin… There is something in the city for everybody. You can read my guide of what to do in Kyiv here.
The city is known for its gold domes atop the Orthodox churches that are ever-present there. Head to Kyiv's Pechersk Lavra, or Monastery of the Caves, and take a glimpse into one of the most ornate UNESCO World Heritage Sites that exist anywhere.
From there, visit the Arsenalna Metro Station, which is the world's deepest metro station. After, pop by to a cafe and enjoy some of the best coffee in Kyiv.
I have a ton of cafes I love in Kyiv, but my favorite is Podil and is called First Point. They serve a killer flat white.
The restaurant scene in Kyiv is up-and-coming and even some of the best chefs in the world have Kyiv on their radar.
For those wanting a more 'liquid' type of a diet, I can assure you that Kyiv's craft beer scene is no joke. It is ever-changing and getting better and better by the minute.
I even stumbled upon a craft beer shop across the river in an area that receives no tourists, which means the locals are also enjoying it with fervor.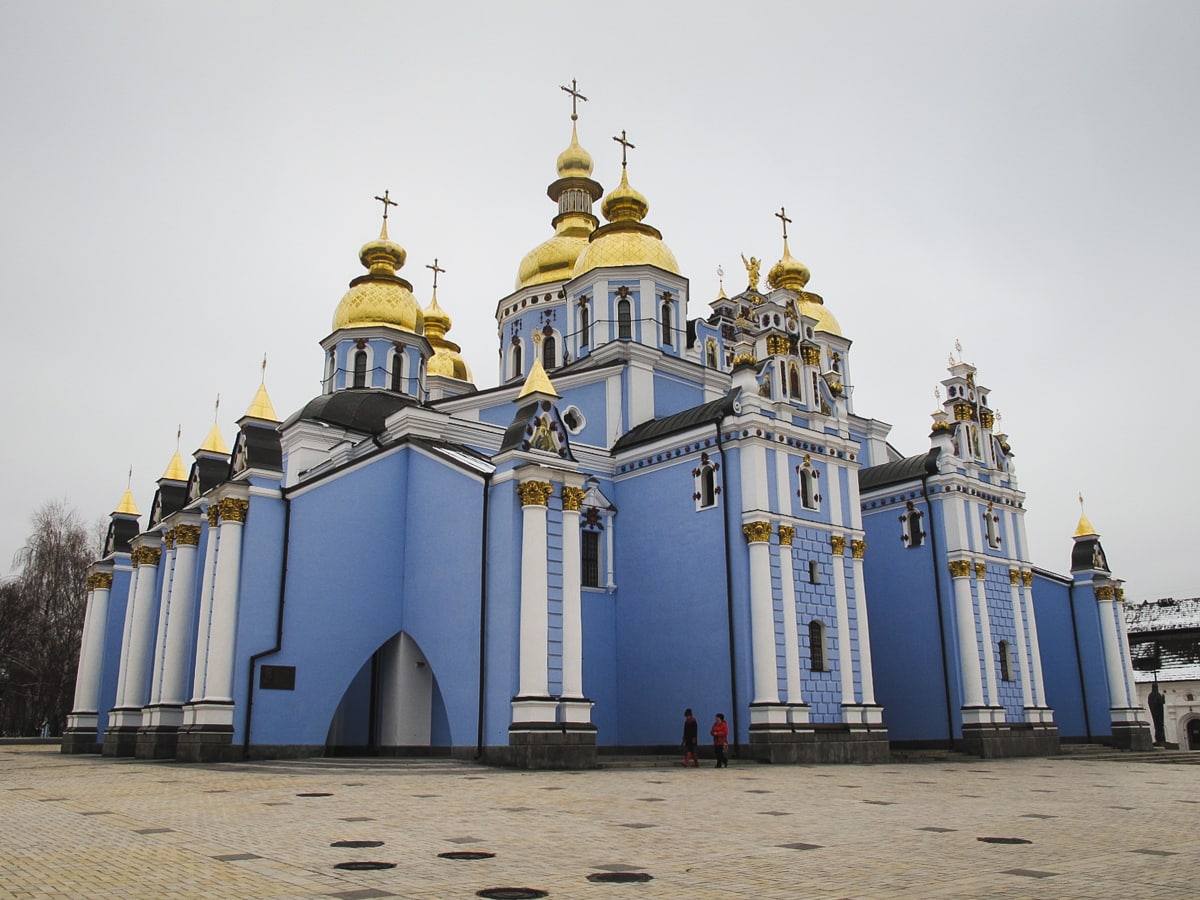 As mentioned above, Kyiv is known for its monasteries and churches and none are more famous than St. Sophia's Monastery, St. Michael's Cathedral, and St. Andrew's Church.
I actually have never seen St. Andrew's without scaffolding so I am dying to check it out next time I am there (and I'm sure it'll greet me with more scaffolding).
Not all architecture in Kyiv is in the form of a church, however. Kyiv has some really remarkable Soviet architecture that still exists. I could go on and on.
There is SO much to do in Kyiv. On second thought, maybe I need to write a proper guide to Kyiv next…
Where to stay in Kyiv: There are many hotels and hostels in Kyiv. You can search for hotels on Booking.com here. You can also search hostel options on Hostelworld.com here.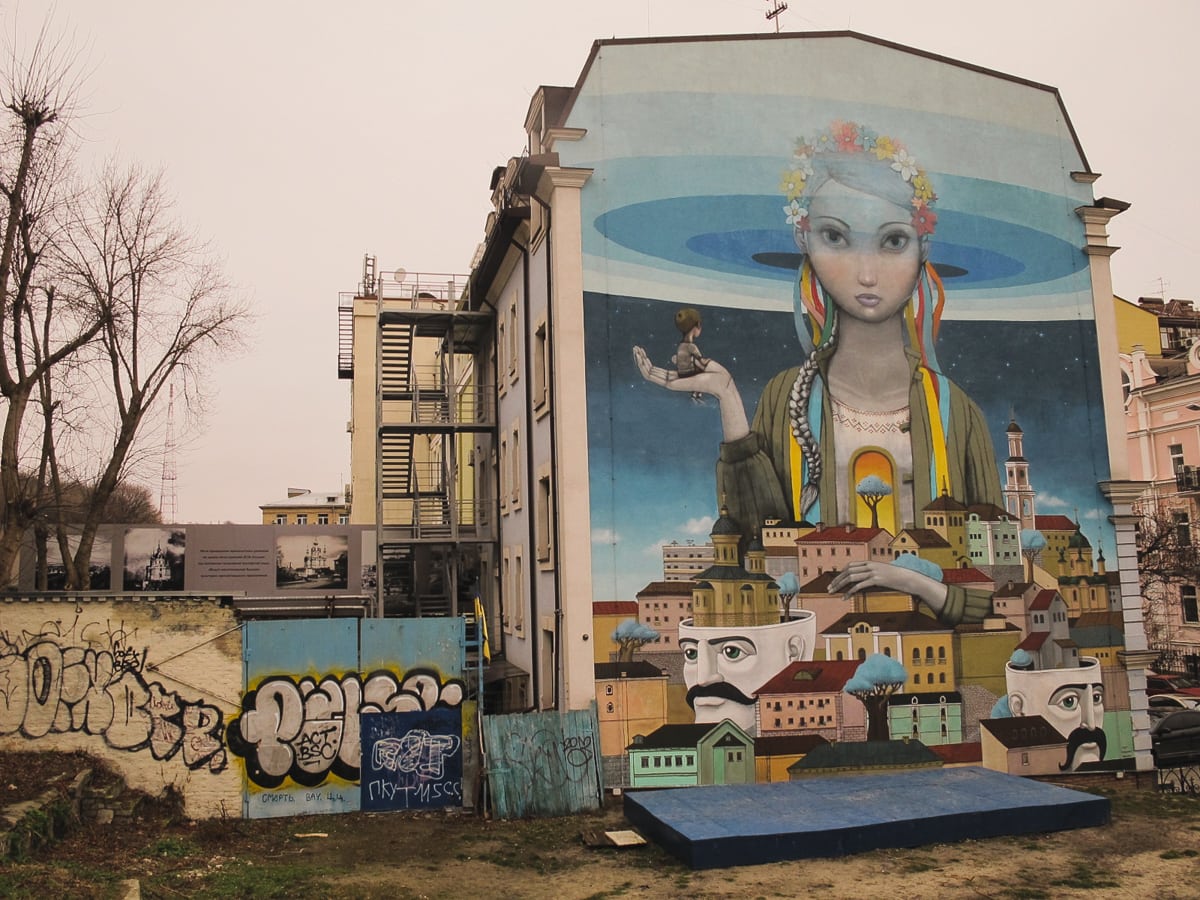 Kharkiv (2 Days)
A couple of years ago, Kharkiv would not have made this list. The reason wasn't that it wasn't amazing. It was more that getting there was a hassle.
Nowadays, you have a fast train from Kyiv, plenty of overnight trains, and actually, quite a few airline options that will take you to the former Ukrainian capital city of Kharkiv in the east.
Kharkiv is the most underrated city in Ukraine, without a doubt. So many travelers (and even Ukrainians) ignore it for the west and I keep telling them to go visit.
Add it to your Ukraine itinerary- just trust me.
Kharkiv is located in eastern Ukraine near the Russian border. But don't worry, it is safe to visit. Ukraine's second-largest city is sprawling, has a cool metro system, and has even cooler architecture.
But, what is even cooler about the city is its nightlife and cafe scene.
I also found an abundance of good restaurants and friendly people in Kharkiv.
A lot of people said they felt that the city was Russified, but I actually found it to be pretty Ukrainian and the younger generation loves promoting their city and country.
Things to do in Kharkiv: One of the most notable things to do in Kharkiv is to visit Derzhprom, a fine example of Soviet architecture in Kharkiv. It is massive.
Until you see it with your own eyes, you just don't get it. A couple of other buildings I really loved were the Annunciation Cathedral and Dormition Cathedral. I also fell in love with Gorky Park in the center of Kharkiv.
It was so lively and the cable cars that run through it were a lot of fun, even with my fear of heights!
You can find craft beer bars and cafes in Kharkiv with no problem and there is a lot of cultural, history, and theatre that exist in the eastern city. I really think two days is too short (I spent more there) but it is a good introduction to the city.
Where to stay in Kharkiv: There are many hotels and hostels in Kharkiv. You can search for hotels on Booking.com here. You can also search hostel options on Hostelworld.com here.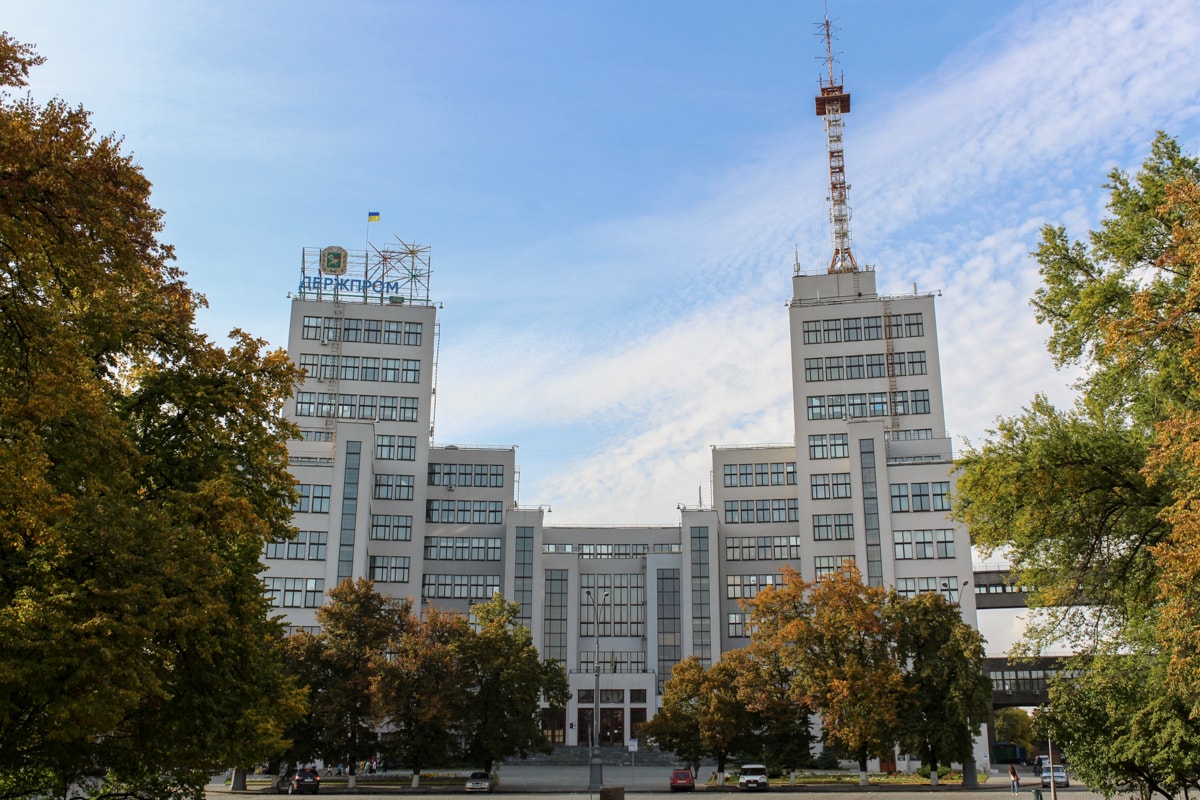 Other Locations + Day Trips to Consider Adding to Your Ukraine Itinerary
Below are three places that I think may be worthy of adding to your Ukraine itinerary.
I know not everyone is coming to Ukraine to visit Chernobyl (although I know people that only come to Ukraine to visit Chernobyl), but if a day of exploring one of the darkest places on the planet excites you, it may be worth adding it to your agenda.
I have not yet been to Chernivtsi but it comes highly recommended by several friends of mine, so I have no problem suggesting it.
Chernihiv is an ideal day trip from Kyiv if you're looking for a change of pace and somewhere charming and quieter.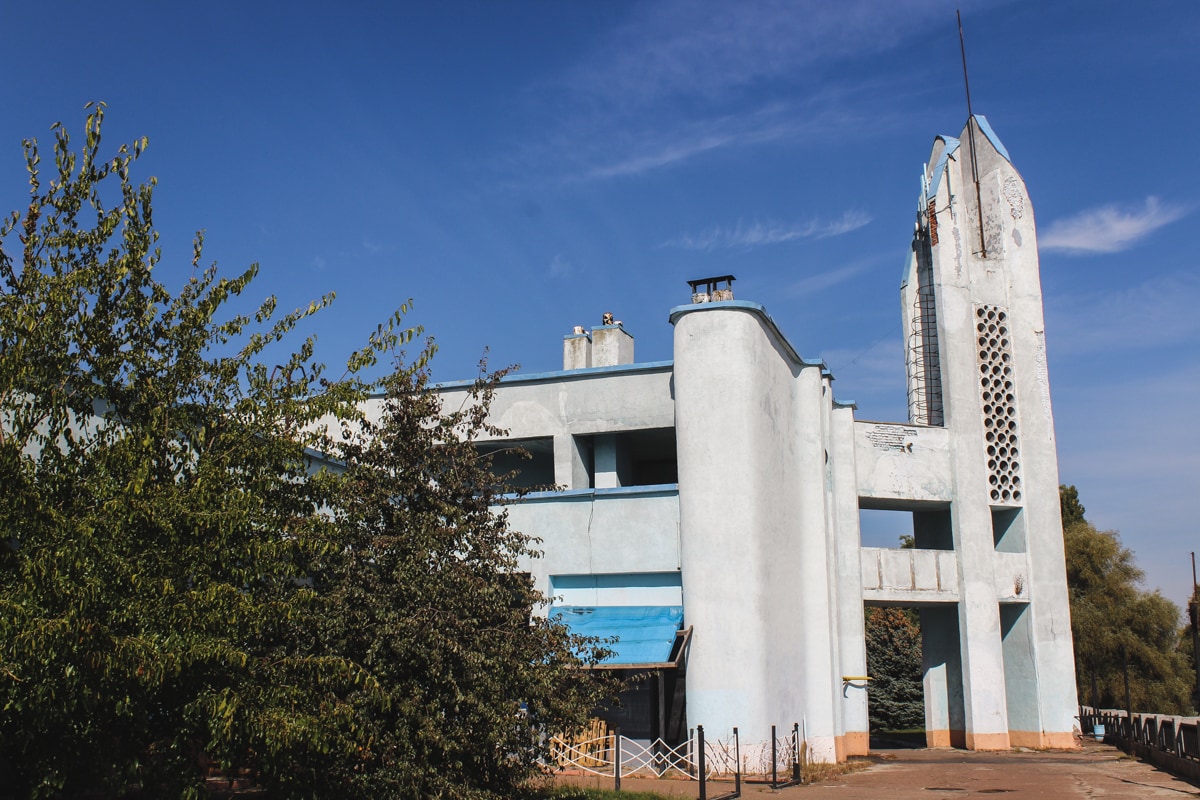 Chernivtsi
Another city that has continuously managed to escape my Ukraine travel history. Chernivtsi is a city that I have often heard raved about by those who have had the opportunity to visit and it is on my neverending list of places to visit in Ukraine.
Nicknamed the "Little Vienna" of Ukraine, Chernivtsi is also recognized for its historic university and deep-rooted Jewish history.
And if you've heard of this city from a pop-culture perspective, it may be because you have a little thing for Mila Kunis (don't we all?) as the city was her birthplace before she left Ukraine for the United States.
So, why is Chernivtsi on this list? I, personally, think it is a good alternative to Odesa if you don't think you'll have the time or energy to make it that far south on your Ukraine trip.
While Chernivtsi is best done as an overnight trip from Lviv, it is closer, won't take you through Moldova to get to Odesa, and will give travelers a chance to see another predominantly Ukrainian city (Odesa is more Russified and speaks Russian).
It also offers good connections to Kyiv.
There are several points of interest in Chernivtsi, including the Residence of Bukovynian Metropolitans at Chernivtsi National University, which is often cited as one of the most impressive buildings in the Ukrainian city.
The city's most notable square is Teatralna Square, a large public space that looks just as stunning buried in snow as it does when brimming with floral beds during the warmer months.
Two other buildings of note are the Art Nouveau-inspired Chernivtsi Train Station and the Chernivtsi Drama Theatre.
Getting to Chernivtsi from Lviv (or even Kyiv) is pretty easy and manageable. You can find bus and train options to Chernivtsi here.
If you are keen to visit Chernivtsi in a more organized fashion, this is a tour to consider (although it does last five days and you will visit other western Ukrainian cities as well).
Chernobyl/Pripyat (Day Trip From Kyiv)
Oh Chernobyl. At some point in time, Chernobyl and Pripyat tours became one of the biggest experiences luring people into Ukraine. I don't get it. But, I've been on one.
And if you're looking for something a bit different than just the hustle and bustle of city life, I do recommend joining one.
Just study up a bit beforehand on the history and tragedy so you don't go into the tour without any knowledge.
The reason I recommend this is because I find it disrespectful to visit for the sake of saying you did and taking some photos without realizing what the tragedy did to the people living there.
If visiting the Chernobyl Exclusion Zone is something you're keen to do, be sure to book a tour. You can not go there independently!
You also need to book a bit ahead so that the tour companies can sort out your access to the Exclusion Zone. There are two tours I recommend:
Tour 1: This Chernobyl tour actually includes Kyiv in it. I recommend this tour to those who have seven days to spend in Kyiv, meaning you may need to change up and cancel the Kharkiv part of the trip.
The tour will show you around Kyiv quite a bit but then also give you a three-day tour inside of the Chernobyl Exclusion Zone. This is the absolute BEST tour of the Exclusion Zone.
Friends of mine run the tour and you really will get the biggest bang for your buck here. Click to inquire further about this tour to Chernobyl.
Tour 2: This tour to Chernobyl is actually run by other friends of mine. It is a day trip and leaves from Kyiv and takes you to the Chernobyl Exclusion Zone.
Adventure Tours in Ukraine is a company that does just as it suggests… it offers tours for groups looking for an adventurous day in Ukraine.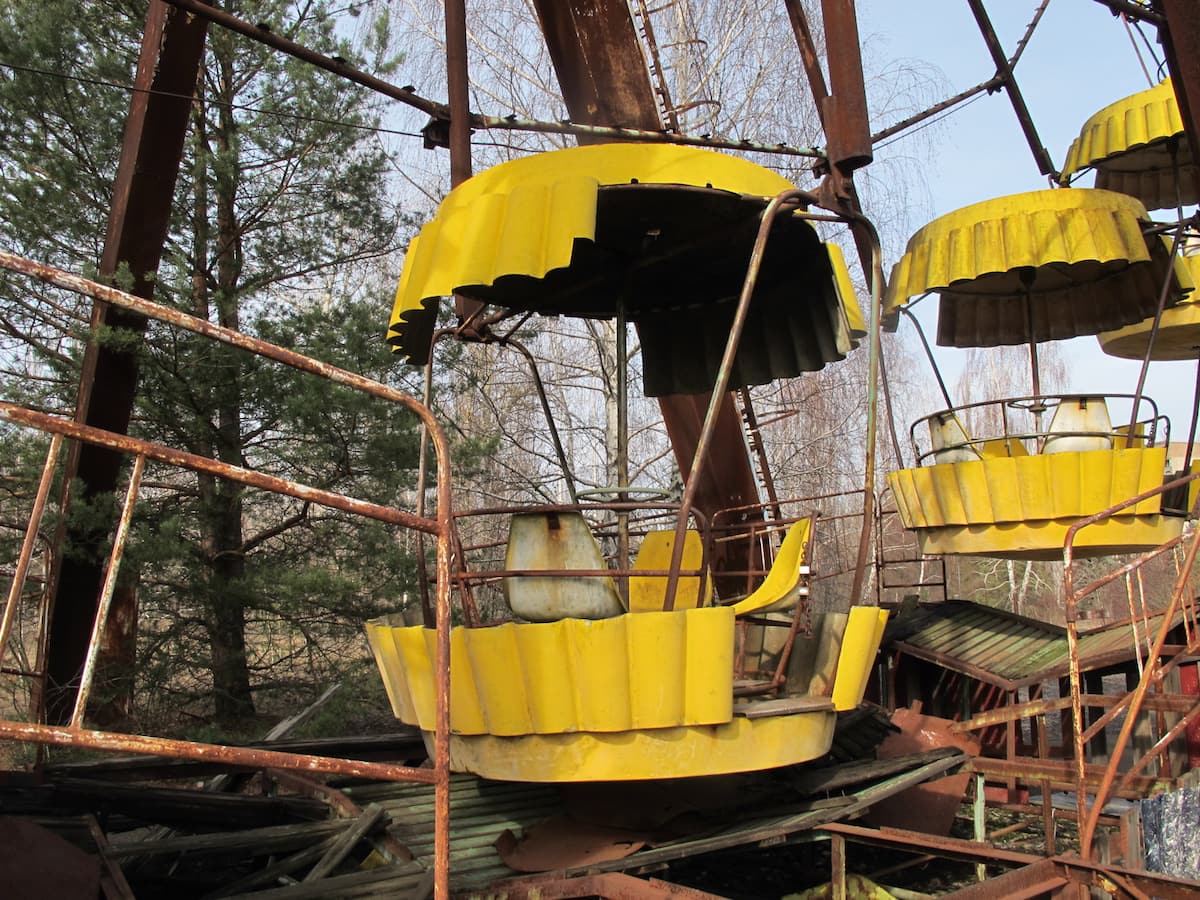 Chernihiv (Day Trip From Kyiv)
I took a trip to Chernihiv about two years ago and intended on using it as a base to explore Slavutych located nearby.
What I didn't realize is that Chernihiv was easily one of the most underrated cities I'd visit that year. It is about a 2-3 hour train or bus from Kyiv and a very calming and chill place once you arrive there.
The city of Chernihiv is home to one of the oldest churches in Ukraine, the Transfiguration Cathedral, which dates back to the 1030s.
There are several other churches and monasteries worthy of visiting in the city such as the Yeletsky Assumption Monastery, St. Trinity Cathedral, and Pyatnytska Church.
I also think that Chernihiv has a lot of green space and parks that add a lot of appeal to the northern Ukrainian city.
There are plenty of places to eat and drink in Chernihiv. One of my favorite places there is Robata, a craft beer bar and restaurant.
I also can highly recommend Fotel Cafe, which is the best place in Chernihiv to find specialty coffee and small eats. Several other restaurants are available for those looking for a gastro experience in the city. I think the city is refreshing and very relaxing compared to other cities in Ukraine!
Travelers can reach Chernihiv independently by bus or train or they can book a tour there. This tour to Chernihiv from Kyiv lasts for 10-hours and covers the main sites of the city along with a private guide.
Transportation costs are covered (as is hotel pickup in Kyiv).
Entrance fees to the sights and venues are not included but are extremely affordable.
You also get to visit the St. Anthony Caves which is something I didn't have time to do when I was there. Click here to see tour rates, availability, and additional details.
You can check out train options and bus options on GoEuro to get from Kyiv to Chernihiv if you are making the trip independently.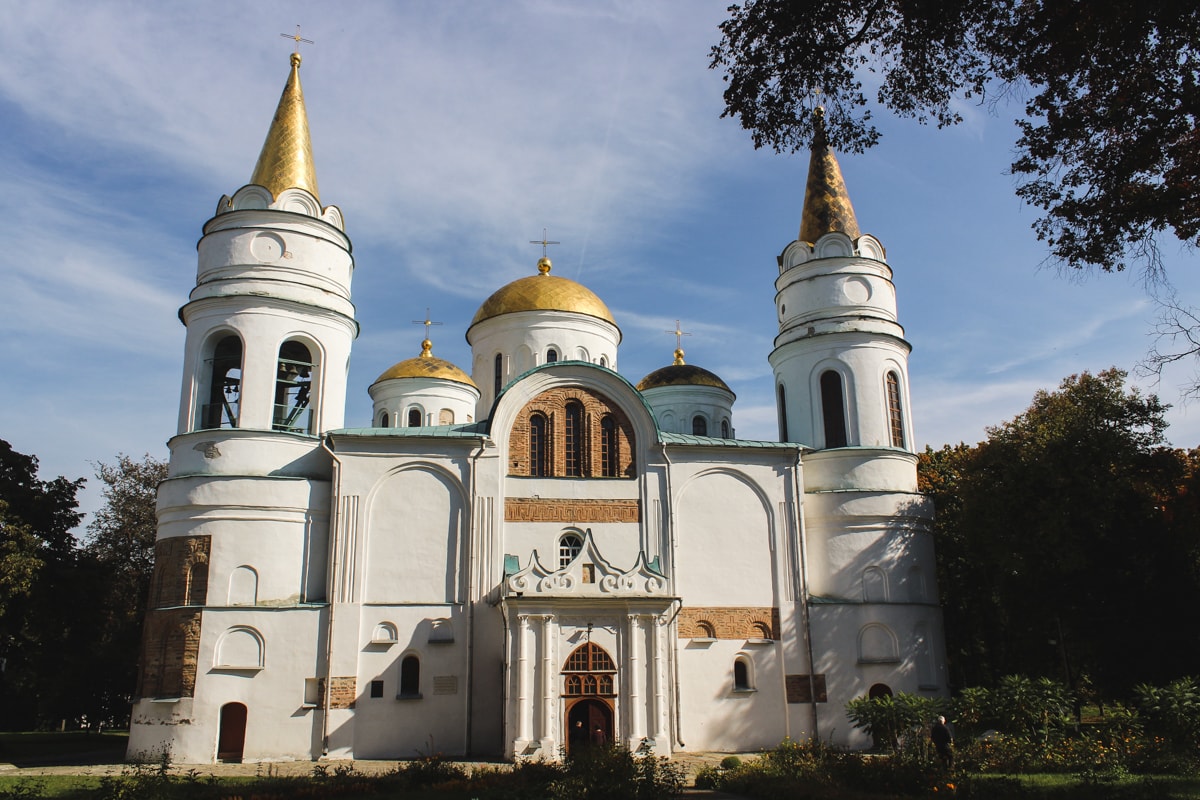 Why Should You Visit Ukraine?
Ukraine is my favorite country in the world. Kyiv is my favorite city in the world. It is very rare for me to find a country that I genuinely want to get to know thoroughly… but that is Ukraine for me.
I travel back there over and over and revisit my favorite places and then add new places to my Ukraine itinerary.
I tend to travel more in the east than the west (okay, I haven't even been west yet!) because there is an element of surprise in discovering places that have no information on the internet.
When I visited Dnipro, Zaporizhia, Kryvyi Rih, Slavutych, Chernihiv, and Kherson there was literally nothing about them online. I never had expectations put in place for me- and I thoroughly enjoyed most of the cities and experiences.
Anyway, Ukraine will surprise you. There is such a rich history and culture that is just pining to be explored. And Ukraine is a destination for everyone.
There are museums, cafes, restaurants, UNESCO World Heritage Sites, skiing and adventure spots, etc. You can find everything in Ukraine.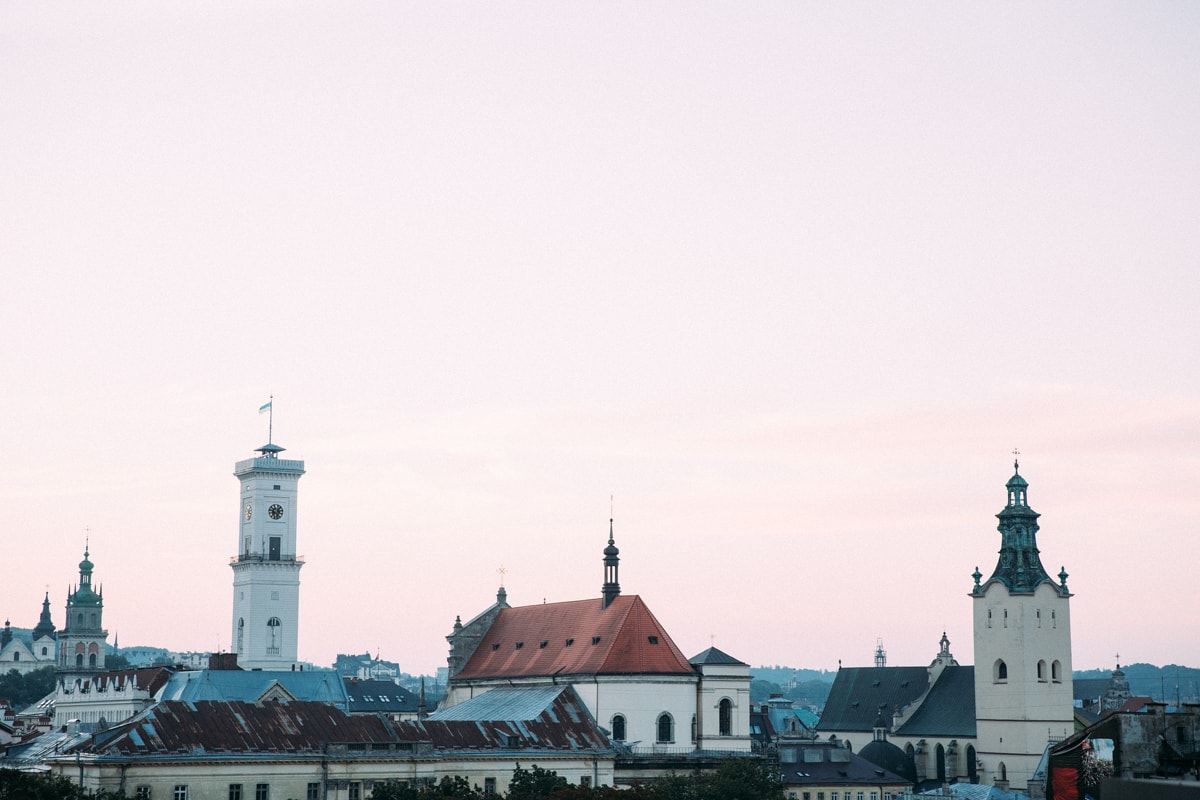 Is it Safe to Travel to Ukraine?
Yes. Point blank. It is just as safe as visiting anywhere else in Europe, if not safer in many instances. There is a war going on in the East, however, so I don't recommend visiting Donbas (Donetsk, Luhansk) currently.
Russia is also occupying Crimea currently, and while I hear it is safe, you can not add it to your Ukraine itinerary if you want to be allowed back inside of Ukraine.
The only way to access Crimea is via mainland Russia for the time being. Click to read more about safety in Ukraine from someone who has traveled the country extensively.
Obviously, practice diligence when in Ukraine. Pickpockets and petty crime happen just like in any other place in Europe.
But, you shouldn't feel like Ukraine is an unsafe travel destination compared to other countries in Europe (or in the world, really).
When is the Best time to Visit Ukraine?
You love the cold and snow? Good- you will like Ukraine during the winter. But the majority of people tend to prefer Ukraine in the summers. So, I would have to say that summer is the best time to visit Kyiv, Lviv, and the rest of Ukraine.
I have never actually been in the summer but I have been in every other season and I actually like the place when it is a bit cooler.
However, the streets and cafes really come to life during the summer and if you're a first-time traveler to Ukraine, I recommend you visit during the warmer months so you can feel the country's palpable energy.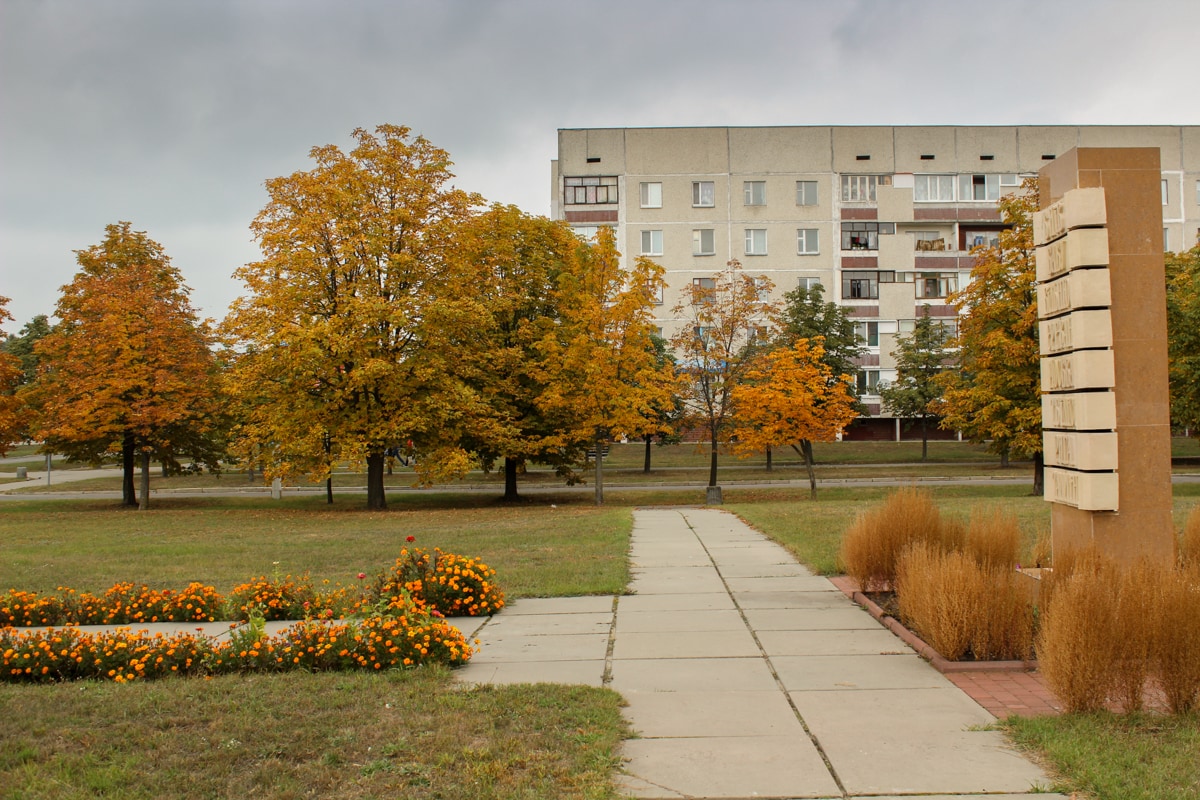 <Ok, ok…. autumn in Ukraine wins>
How to Get to Ukraine
More and more airlines are starting to fly to Ukraine these days. Since the country has been granted visa-free access to the rest of Europe for its own citizens, routes are popping up left and right, making the process of getting to Ukraine easy and affordable.
Wizzair, Ryanair, and several other airlines fly into the country.
Kharkiv was a city that seemed just far-removed from the rest of Ukraine, but Wizzair recently opened up a route there and people are starting to get to see what a wonderful city it is!
Click here to see how to get from Kyiv airport to the city center.
Transportation and Getting Around
Getting around Ukraine is fairly easy. You can rent a car (which I have never done) and travel the country independently or you can take public transportation there.
I have taken the trains around Ukraine quite a bit and they are pretty reliable and very affordable.
I explained at the beginning of this post how to book trains and buses through GoEuro and I recommend the app and site for those traveling to Ukraine.
The Ukraine train website is easy enough, but it will be confusing with how many stations are available in each city for first-time travelers to Ukraine.
As for inner-city transportation, the best ways to get around are by foot, taking the metro (for the cities that have one), or taking a taxi.
Ukraine Metro Systems
There are currently only three metro systems in Ukraine. They are located in Kyiv, Kharkiv, and Dnipro. There is also a metrotram system in Kryvyi Rih.
When you're in Kyiv and Kharkiv, the metro is the best way to get around. It is cheap, efficient, and an experience in its own right. I love Ukrainian metros so much that I even wrote about the Kharkiv metro system.
When you take a metro in Ukraine, you will need to go to the cashier and buy tokens. If you don't speak Ukrainian or Russian, you can just hold up the number of fingers for the number of tokens you need.
You will then take the tokens to the turnstile things and put one in and you're done. Riding the metro in Ukraine is a very easy process.
Taking Taxis in Ukraine
Taxis in Ukraine are easy to come by and affordable.
While I tend to use Yandex taxi in many countries in Eastern Europe into Central Asia, it is not available in Ukraine as Yandex is banned there… but don't worry… other options do exist.
I recommend downloading a taxi app and using it rather than hailing taxis off of the street. Uber is available in Kyiv, as is Taxify.
But, if you're looking to just use one app for all cities mentioned in this post, download Uklon taxi app. It is the only taxi app making money in Ukraine at the moment and it is really easy to use.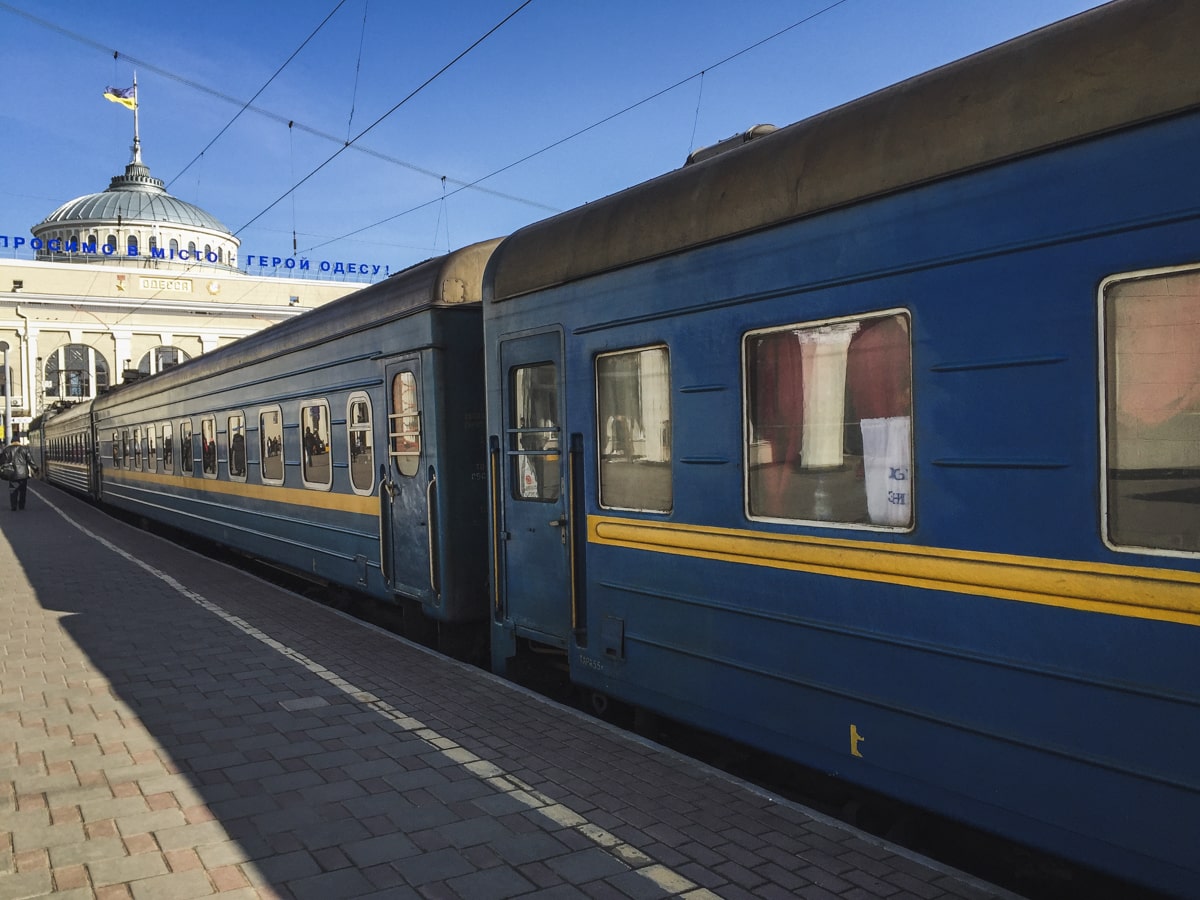 What to Eat in Ukraine
Ukrainian food can be a hit or miss for most people. It is mostly a hit for me with the exception of a pesky little herb called dill that seems to frequent nearly every dish.
The food in Ukraine is hearty, a bit heavy, but almost always delicious. The best place to try Ukrainian food is at local or chain cafeterias.
While the food won't win any awards at these places, it is an affordable way to taste a lot of traditional dishes for an affordable price. Some popular chains serving up Ukrainian dishes are Puzata Hata and Dva Gusya.
If you're new to Ukrainian food, some of the dishes and foods I recommend trying are: Ukrainian borscht, varenyky, syrnyky, Ukrainian sausage, deruny, and a side of kompot or kvass (non-alcoholic drinks).
Borscht is very well-known and is a soup made of beetroot, cabbage, and potatoes. It is one of my favorite foods in the world as long as no one ruins it with dill.
Varenyky are dumplings that can be served up savory or sweet. Syrnyky are sweet, quark-based fritters that are served with sweet toppings. Deruny are simply potato pancakes.
Kompot is a drink made from infusing berries into water and I love it. And kvass is a fermented drink made with rye and can be found throughout many post-Soviet countries.
Ukrainian cuisine contains a lot of cabbage, meat, lard, fermented foods, beetroot, potatoes, and dill. You will be able to find vegetarian options in all of the bigger cities in Ukraine without any issues.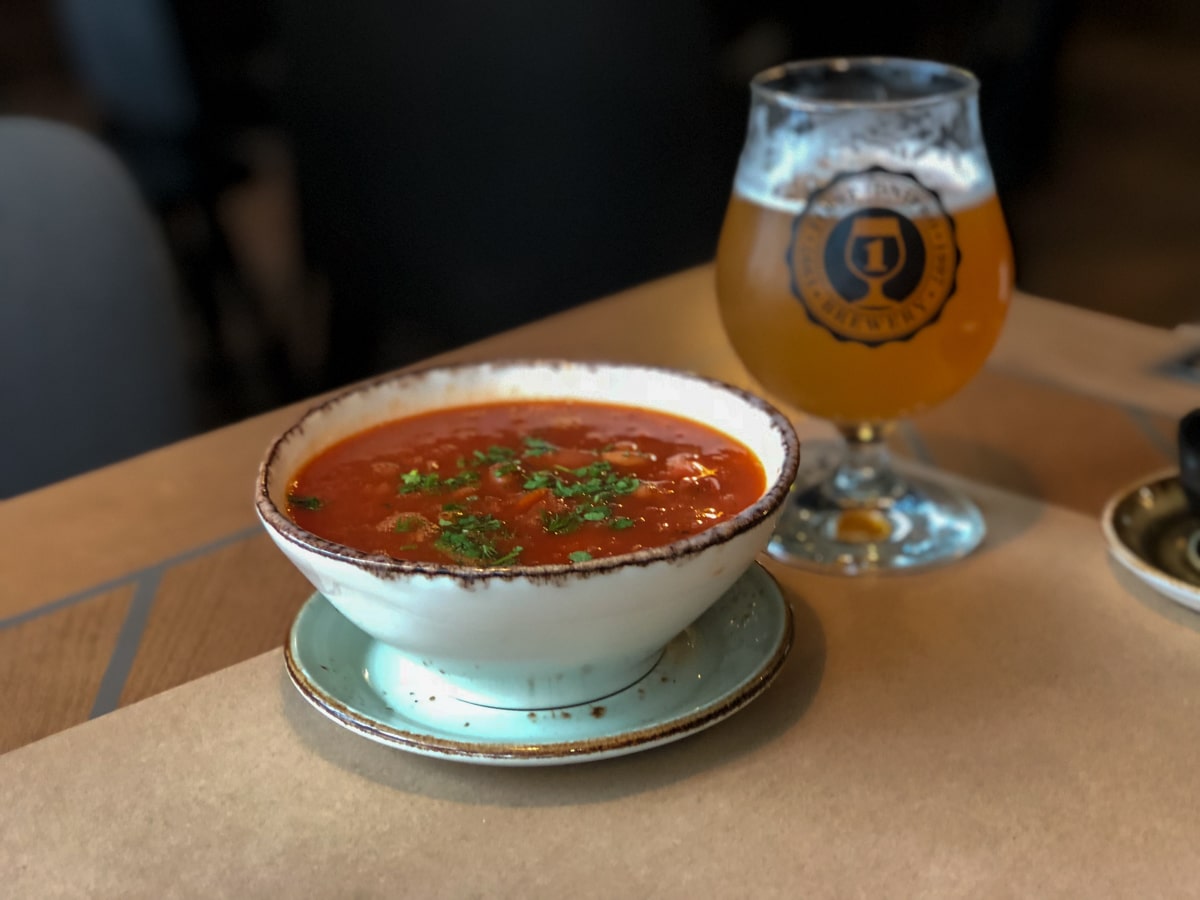 Where to Stay in Ukraine
I recommend finding a hotel in Ukraine. Airbnb is available there, but because hotels are affordable and food is also not going to cost you too much at a restaurant, I think it is best to find a hotel in all of the cities on this Ukraine itinerary.
There are also several hostels available for the budget traveler.
Click to search for accommodation in Ukraine with Booking Click to search for accommodation in Ukraine with Hostelworld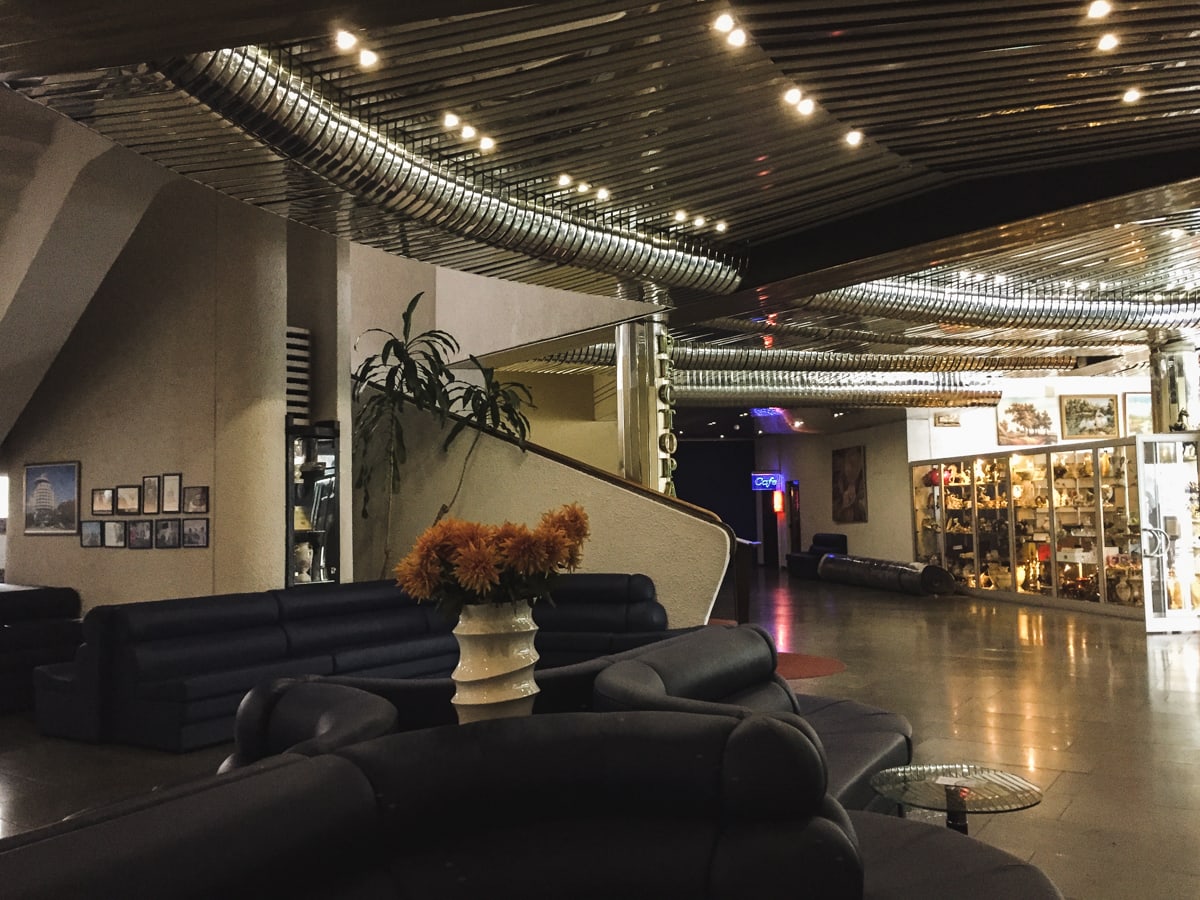 <Hotel Salyut in Kyiv from the Inside>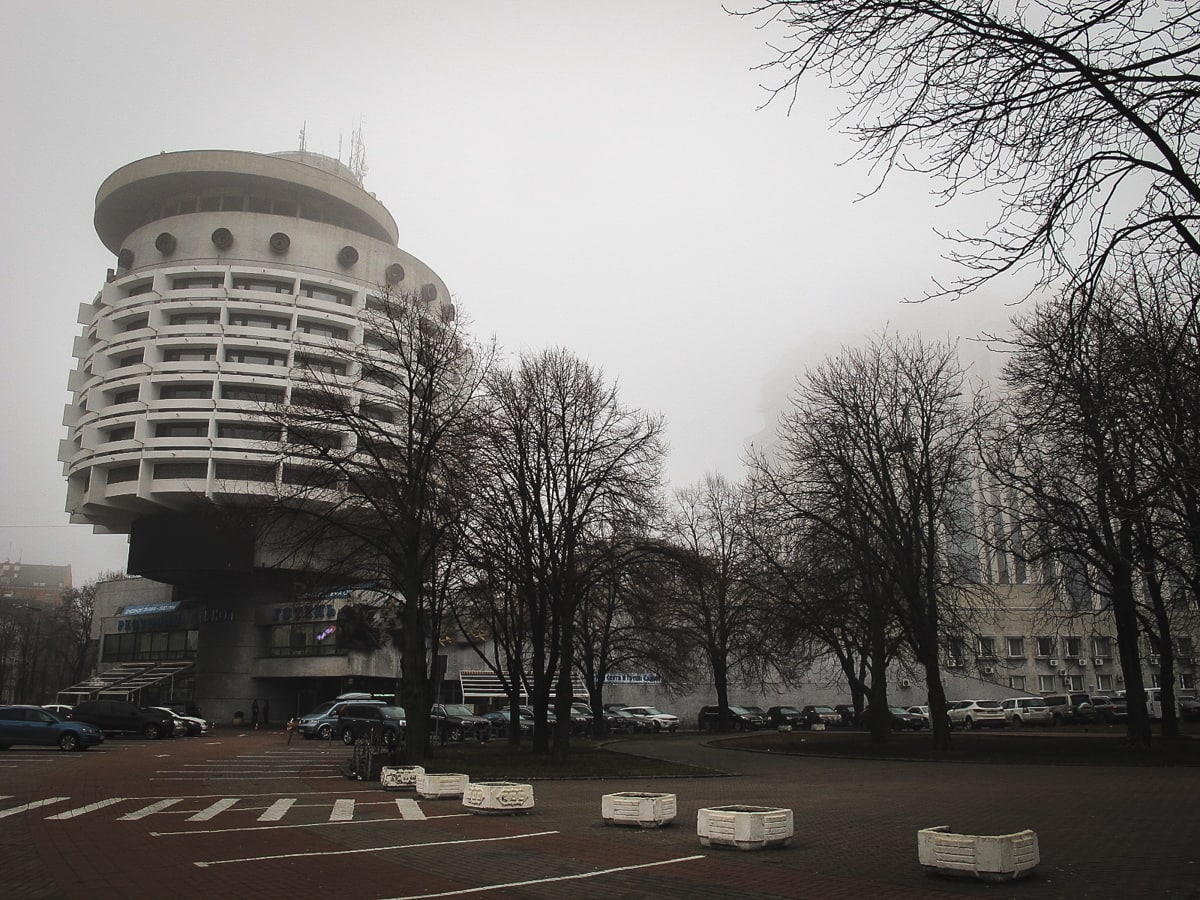 <Hotel Salyut in Kyiv from the Outside>
Other Things to Know Before Traveling to Ukraine
This is a list of some essential information to know before traveling to Ukraine.
If you've got a question about something not listed below, just send me an email with the question or pop it into the comments section and I'll reply back to you via email or publicly here.
Wifi
Wifi is pretty good in Ukraine. The speeds allow you to do what you need to do without much of a hassle. You can find wifi everywhere, as well.
Most all cafes and establishments have wifi these days and you won't be hard-pressed to get connected.
Language
The national language of Ukraine is Ukrainian. However, Russian is widely spoken around the country. Statistics show that 67% of Ukraine's population speaks Ukrainian as a native language and the rest pretty much speaks Russian as a native language.
But, it definitely depends on where you're at in the country as to what you'll hear spoken.
In Lviv and western Ukraine, expect to hear Ukrainian. In Odesa, expect to hear Russian. In Kharkiv, expect to hear Russian as well. Kyiv can be a bit of a toss-up.
On a census, most people in Kyiv stated they speak Ukrainian as their language but I, personally, have heard more Russian than Ukrainian in the city over the years.
Because of the mixture of languages in Ukraine, you will often see cities spelled differently. Lviv is the Ukrainian spelling of the city. Lvov is the Russian spelling.
Then you have Kharkiv (Ukrainian) and Kharkov (Russian). Kyiv (Ukrainian) and Kiev (Russian). Odessa (Russian) and Odesa (Ukrainian).
English can be heard a fair amount in all larger Ukrainian cities these days. If you are in the countryside, however, you may run into issues with English not being spoken or understood. You may even run into issues in the cities a little bit depending on where you're hanging out.
I suggest learning a bit of Cyrillic and useful phrases in both Ukrainian and Russian before traveling to Ukraine.
Currency and Credit Cards
The currency in Ukraine is the hryvnia and it is constantly fluctuating so do check prior to your trip to see what it's valued at.
When in Ukraine, you can use credit cards in many places and ATMs are easy to find in most areas. One thing I will say that I sometimes have issues with is the amount of money I can take out at a time there.
Ukrainian salaries are very low and most people are taking out small increments of money at a time for necessities.
I have had several instances where I could only take out a maximum of around $30 from the ATM. You can exchange money in several places in the city should you bring USD or EUR with you, however.
Corruption
As painful as it is to mention this, corruption is still a very real problem in Ukraine. As a tourist, you likely won't run into any issues with it.
But do be wary that bribes and corruption exist in Ukraine and you should stay as far away from it as possible.
You can do this by refusing to pay them if put into a situation. You can also do this by not putting yourself in situations where the possibility of bribes will exist.
For example, if you decide to explore an abandoned building that says it is forbidden to go inside, don't go inside. Ukraine is attempting to take measures to reduce corruption but we will see what happens in the future.
I have only had issues with things in Kherson, Ukraine.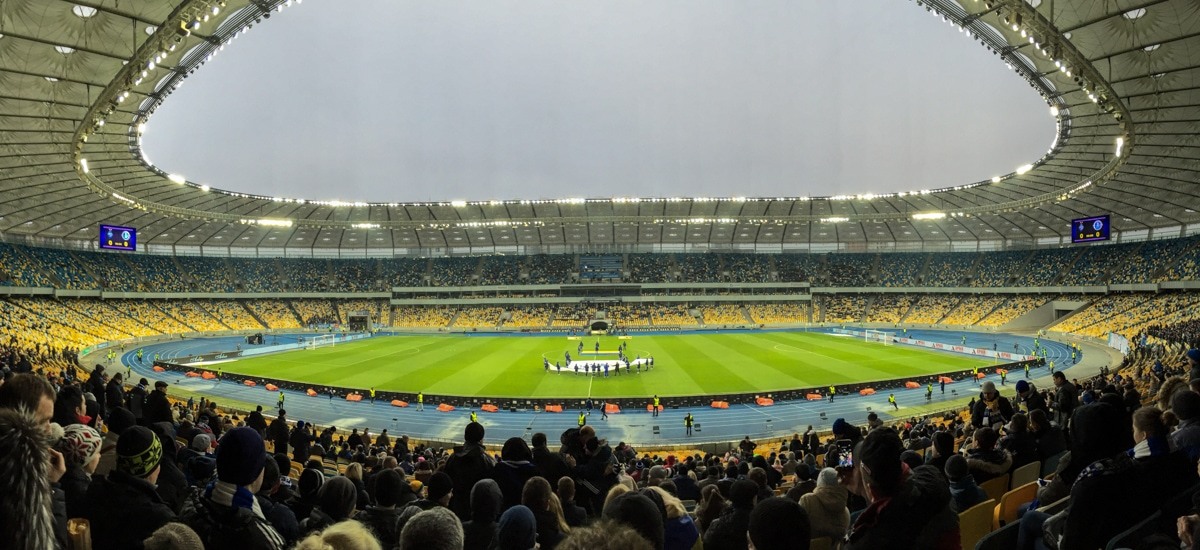 Getting a SIM Card in Ukraine
Getting a SIM card in Ukraine is pretty easy. I always use Vodafone when there just out of habit, but there are several places you'll see from Kyivstar to Lifecell to Vodafone.
Most people are using Kyivstar. Make sure you bring a passport with you and try to go to an actual shop in a centralized and touristy location as the chances of them having an English speaker on hand is greater.
Stop Calling it 'The' Ukraine
The name of the country is Ukraine. Not 'the' Ukraine. By adding the article in front of the country's name, it is suggesting that it is part of another place and this association comes from Soviet times.
The article is not needed and it can be pretty offensive to Ukrainians. Click here for additional reading and reasons why.
Visa for Ukraine
Ukraine is not visa-free for everyone. Be sure to check to see if you need a visa prior to traveling there. The process has become simplified for many nationalities in recent years, thankfully.
To see if you need a visa for Ukraine, check out this link which is the official Ukraine Ministry of Foreign Affairs' website.
Additional Reading Before Your Ukraine Trip
One of the best resources I have seen out there for Ukraine is the new book 'Insane Ukraine' written by one of my friends, Lena, who is actually from Ukraine and a travel expert in her own right.
The book is available on Kindle or paperback. I have both! It is really the best resource to pick up before your trip! Click here to get your hands on one!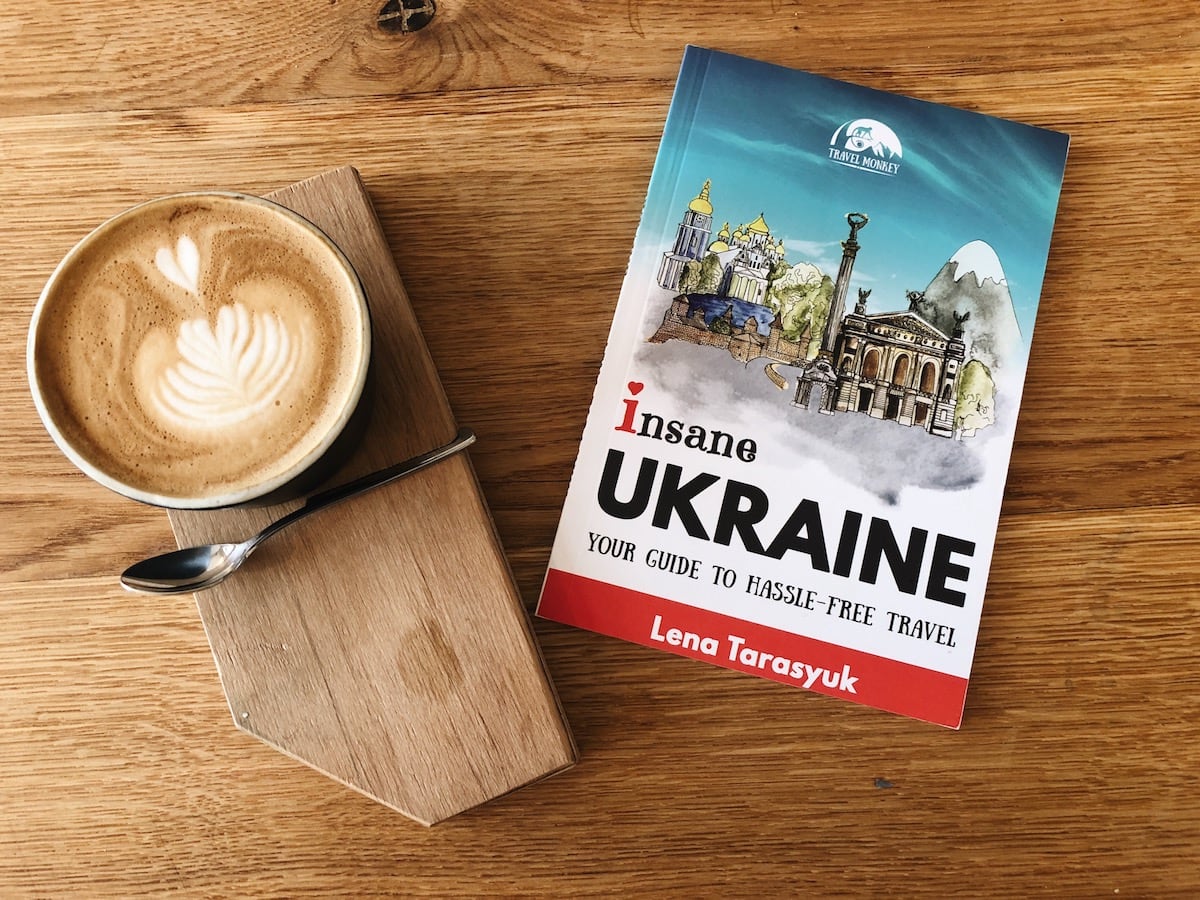 I have spent a lot of time in Ukraine and have visited some very well-trodden places as well as some places that are off the beaten path. You can find all of my Ukraine archives here.
You can also find out how to get a Ukraine SIM card in Kyiv here. Below are some articles that may help with the cities mentioned in this post.