Prior to traveling to Ohrid in Macedonia, I had decided that I would make the valiant effort of walking from Sveti Naum, a monastery on the south shore of Lake Ohrid, to Tushemisht or Pogradec in Albania.
While there are many things to do in Skopje, the capital of Macedonia, I planned to spend all of my time around Lake Ohrid for this trip and I would have to go back to explore Skopje later.
That included walking across this border on foot. Nope, not driving in Albania. But literally walking from Macedonia into Albania. I couldn't gather too much information about the journey on foot via the web, but it seemed harmless enough and looked close on a map.
I had a few apprehensions about this journey, on the other hand: 1) Would there be dead dogs? Nate over at Yomadic had a joyous experience in Pogradec with a dead dog on the beach. An experience I couldn't fathom going through as a dog owner. 2) I'm severely out of shape and wasn't even sure if I could stay alive to walk 2km. 3) Would they take my Macedonian Denar in Albania or would a currency exchange be available (I had no cards on this trip since choosing to not replace yet after being stolen here in Frankfurt)?
Nevertheless, I was keen to do things on foot, which turned out to be the right decision after not finding a single taxi at Sveti Naum to take me to the border.
Turns out the walk was easier than suspected. I did run into one dead dog on the way. It was on the Macedonian side, however. Throughout the 11am journey, I found maybe three passing vehicles along the highway to the Albanian border, including a bus (could I have really taken the bus here?!)
I'm terrible at judging distance, but I believe I walked only around three or four miles to the Albanian border (about five to seven kilometers) before I hit the checkpoints to leave Macedonia and enter Albania. The process was seamless but shockingly lengthy.
It took me nearly an hour to leave Macedonia and another thirty minutes to check into Albania. And this was with the locals pushing me through ahead of them. I can't imagine there are an alarming amount of tourists waltzing through border control on a daily basis.
Some photos of the journey into Albania: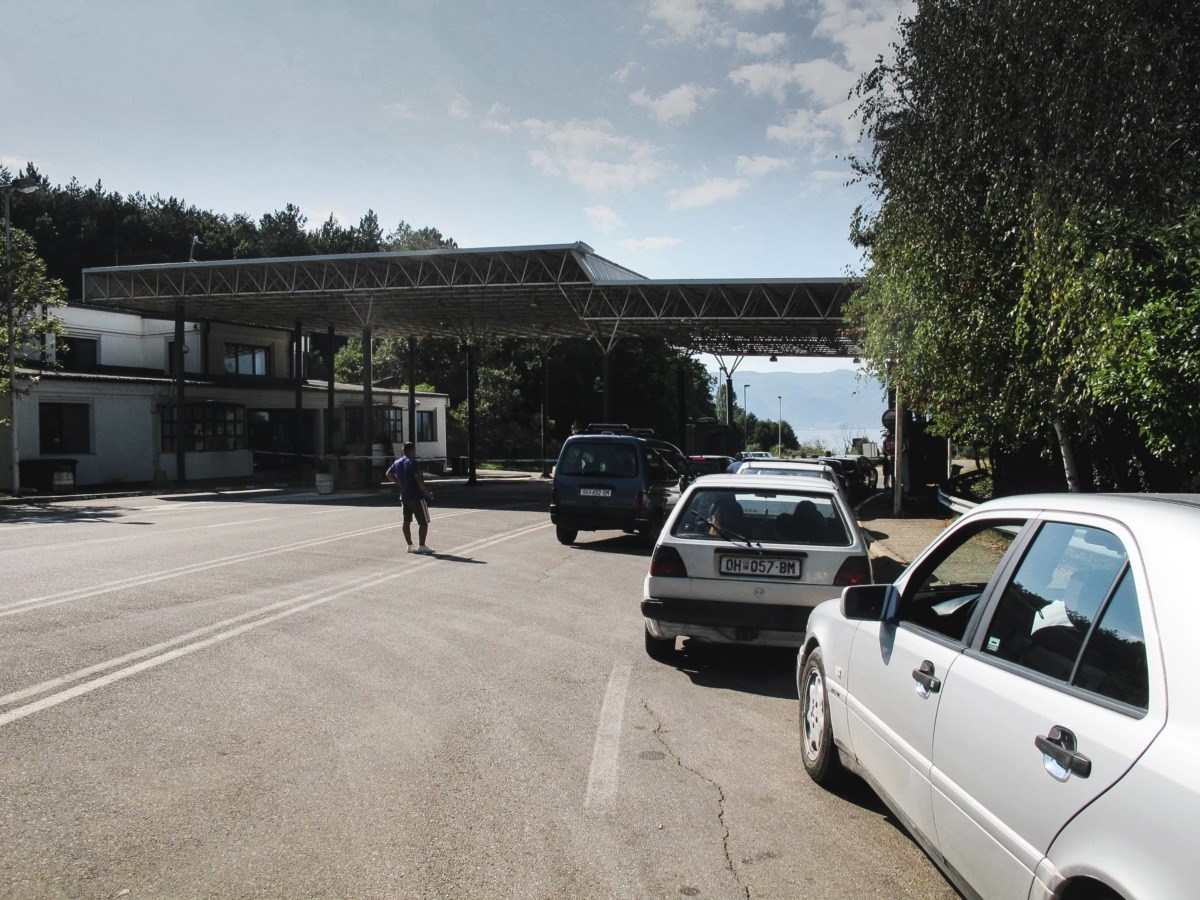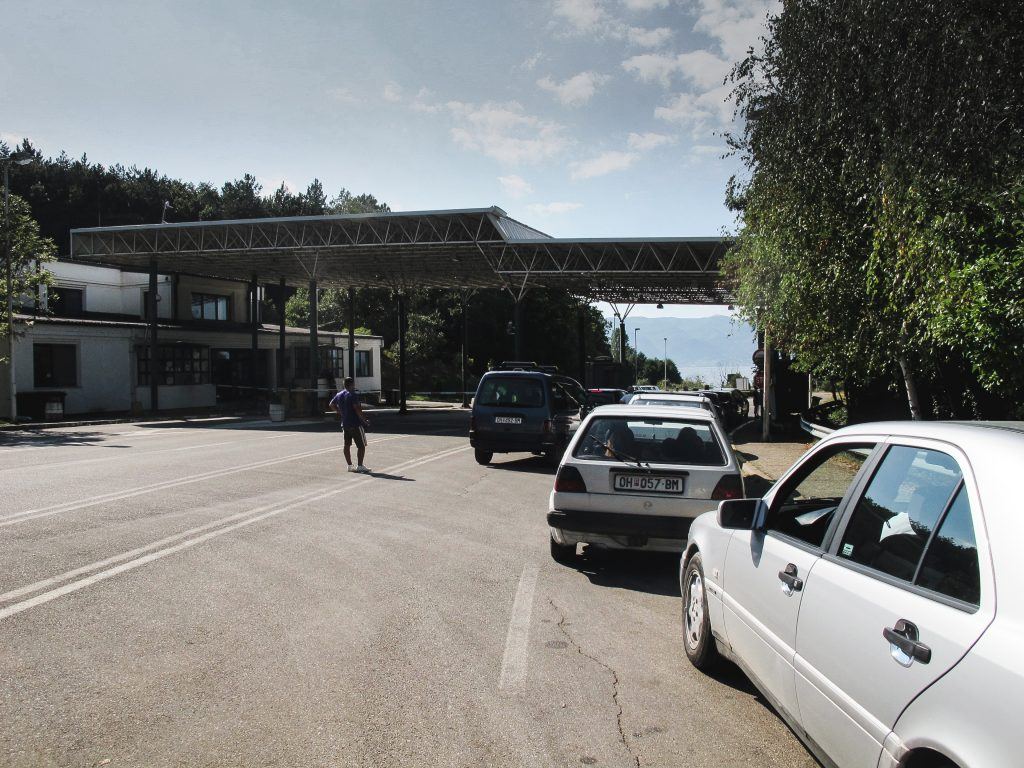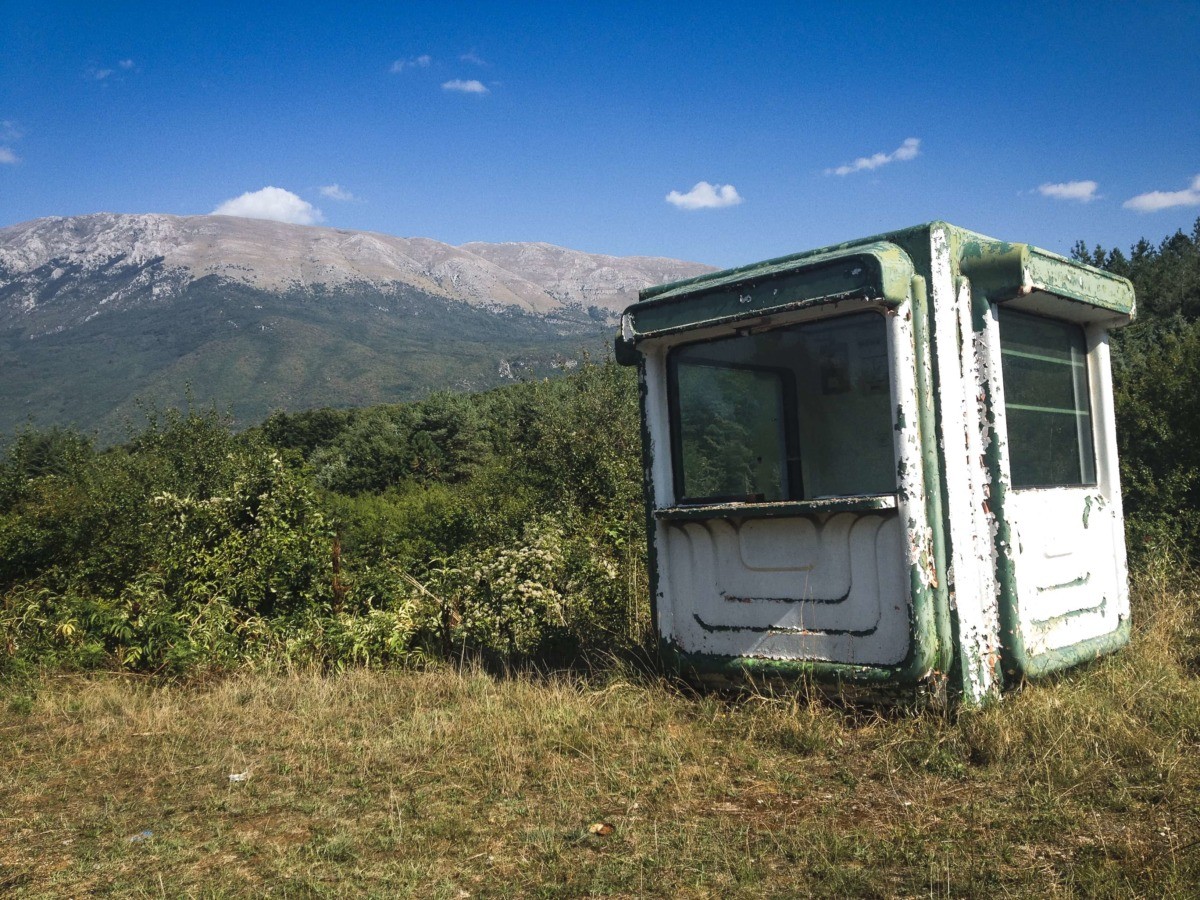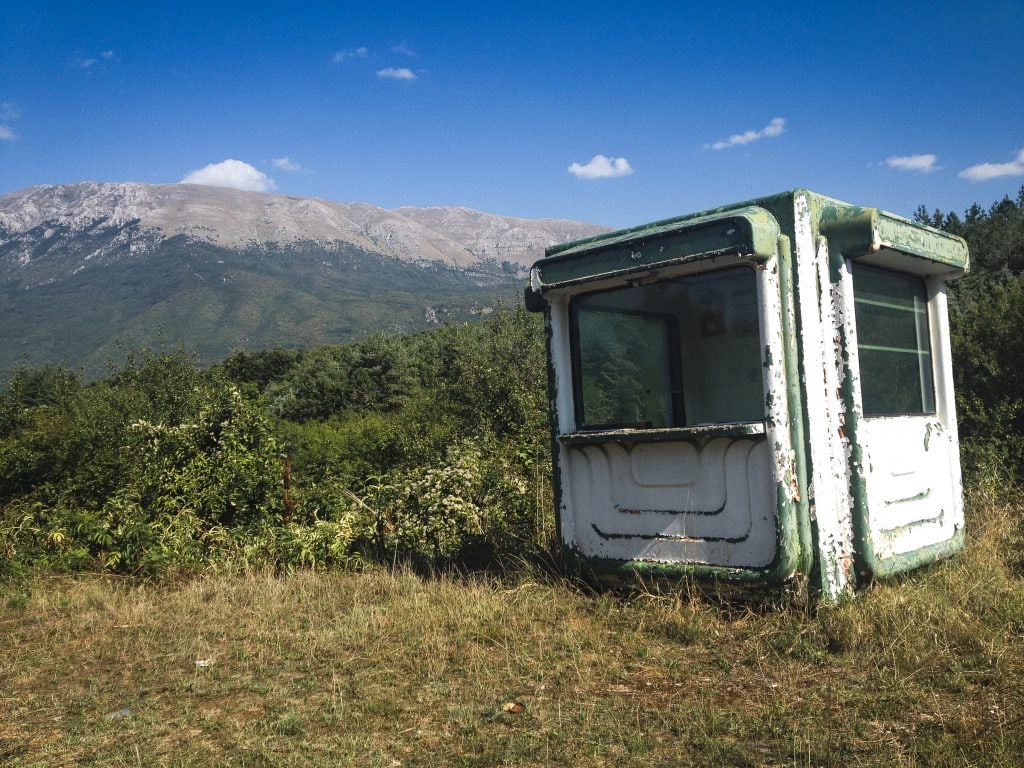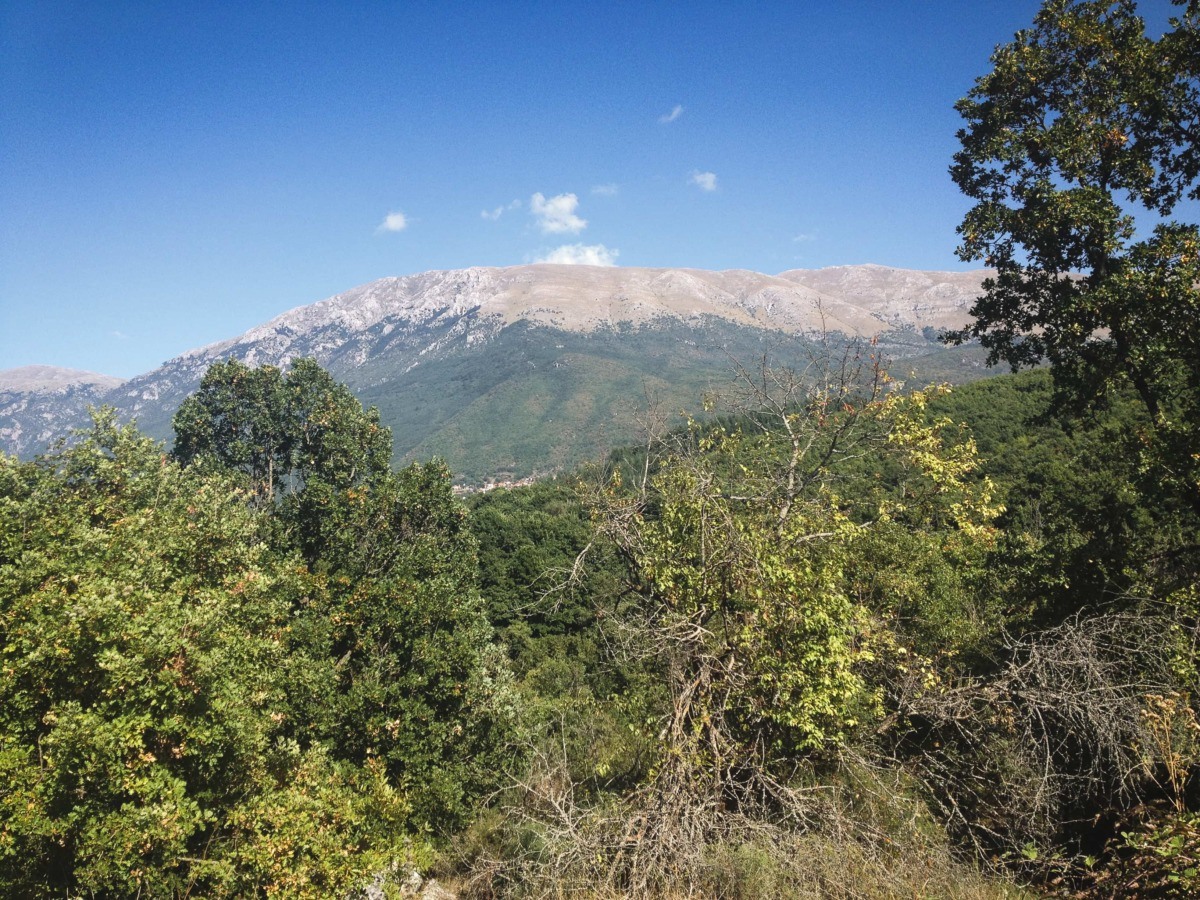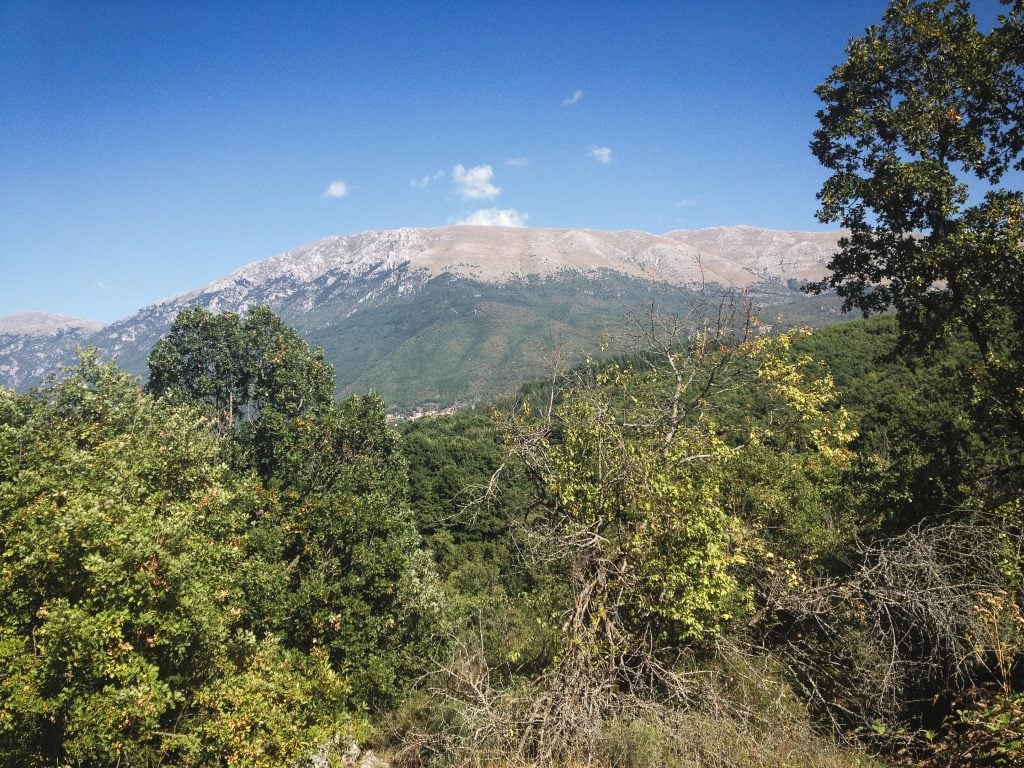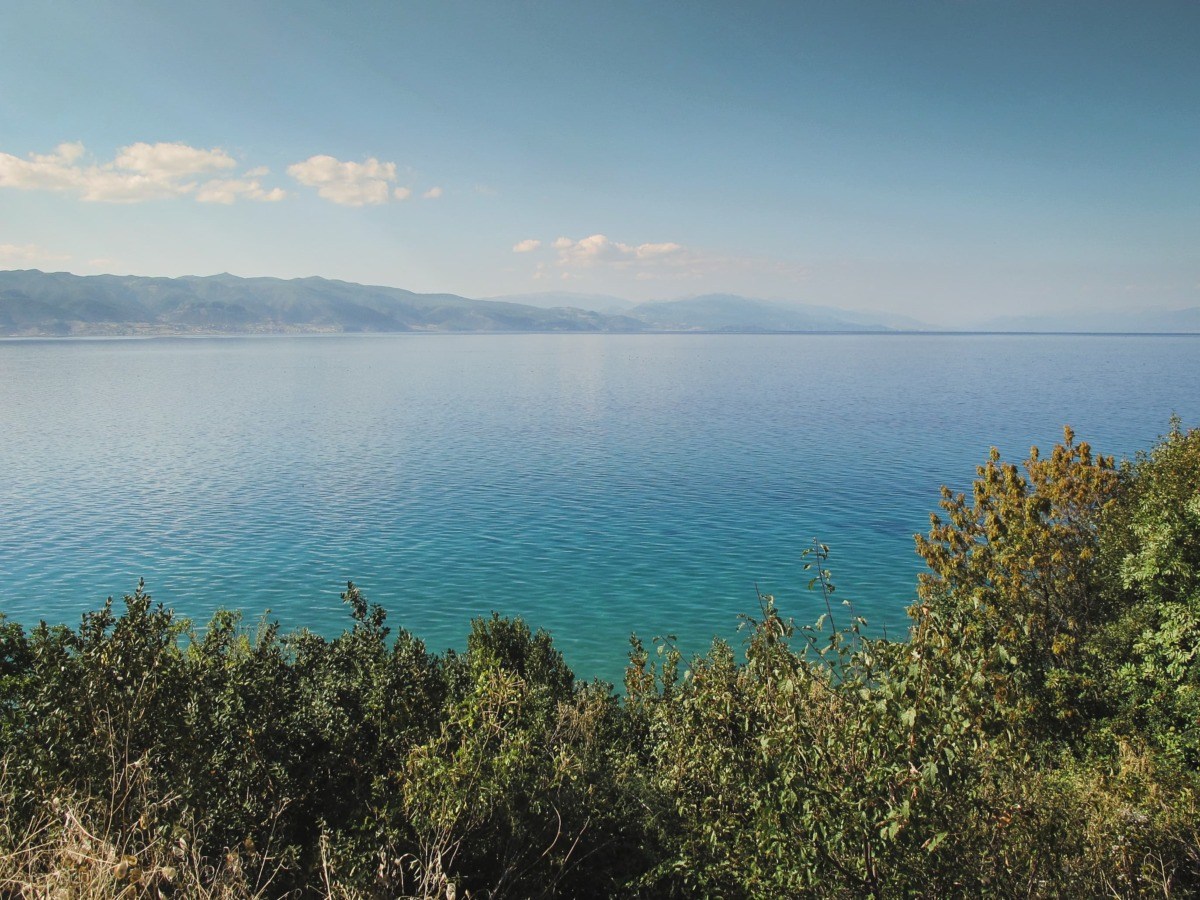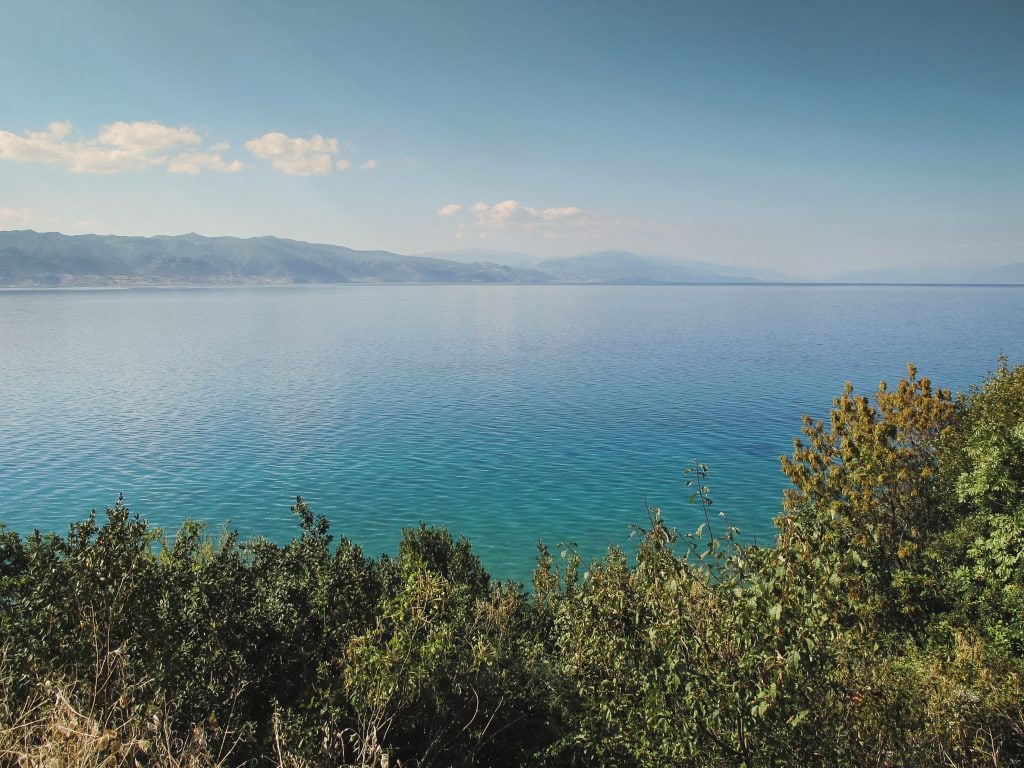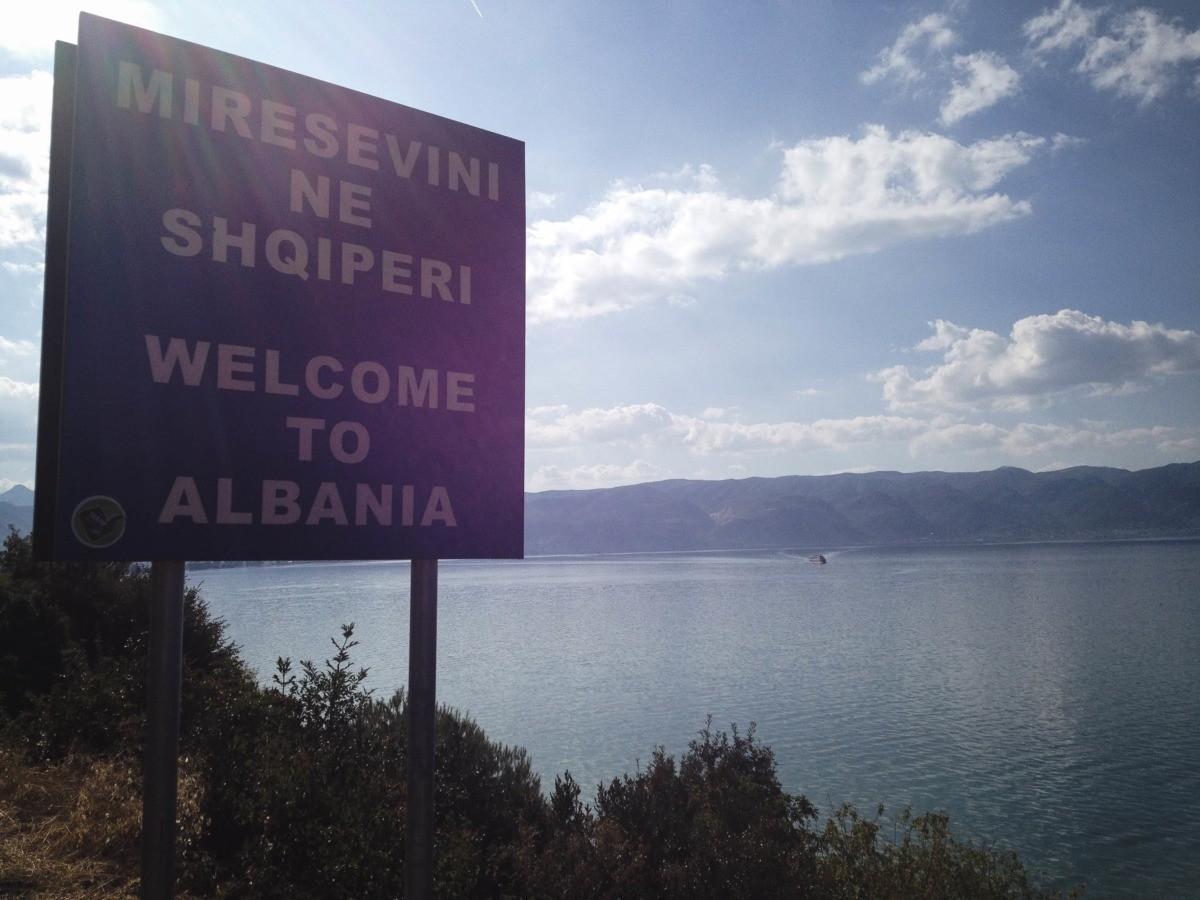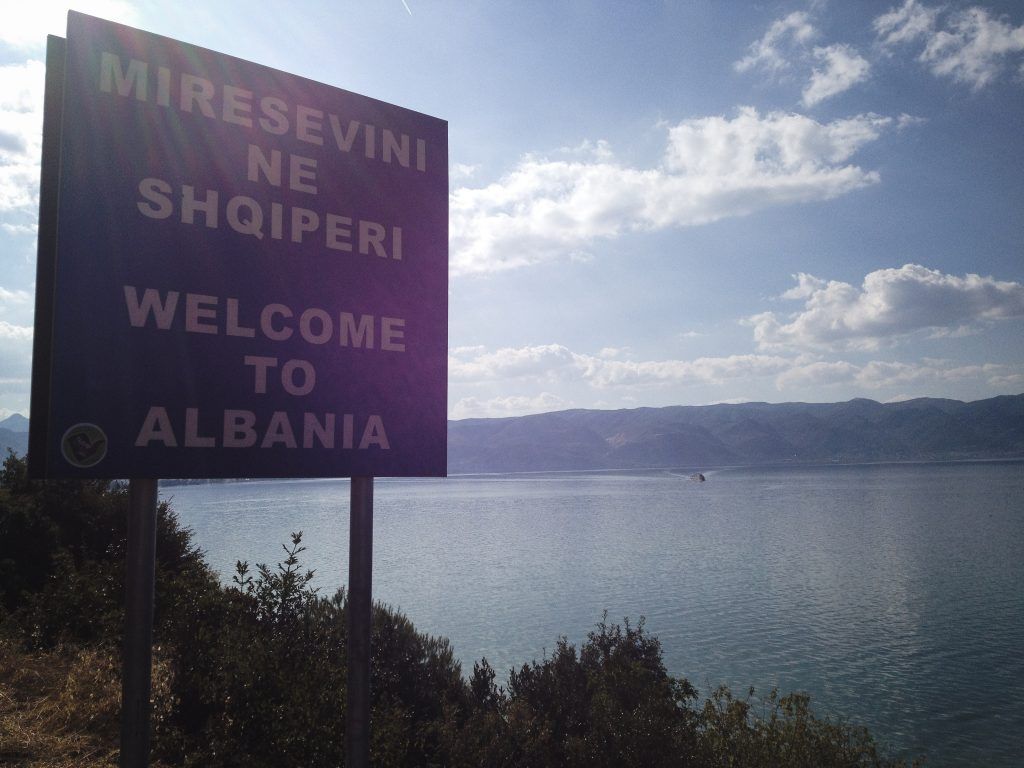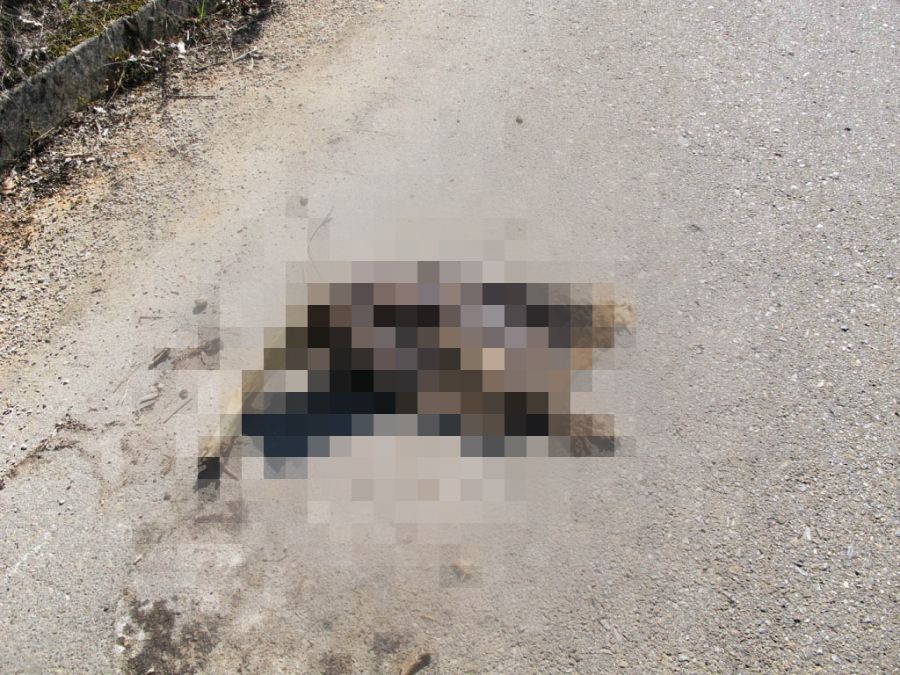 <a dog that has seen better days; blurred out to spare animal lovers of the sight as I cried enough for us all>
Once through border control, I saw at least five taxis and decided to forego the rest of the journey on foot and take one of them, pending they would take my Macedonian money (or at a last resort, my Euros).
I had no issue using Macedonian money and the guy even agreed to take me all the way back to Lagadin, Macedonia where I was staying later that evening for a reasonable price.
After a very short ride to Tushemisht (no more than five or so minutes), I landed in a city that I had no idea about. And there was definitely no information out there like you can easily find on the Albanian Riviera. Like zero.
I was really only coming here for a nice meal (of Balkan cheese, let's not kid ourselves) and an Albanian beer. I had no problem finding both.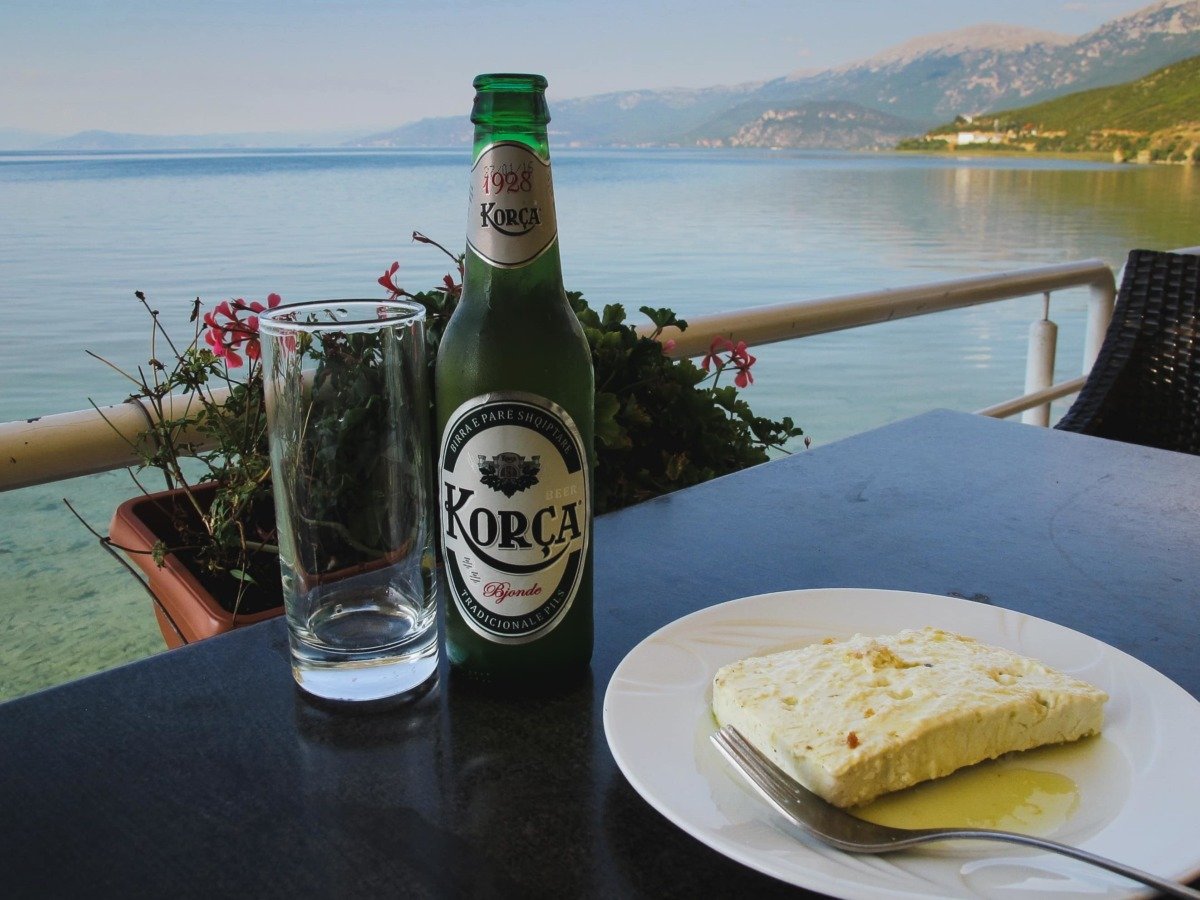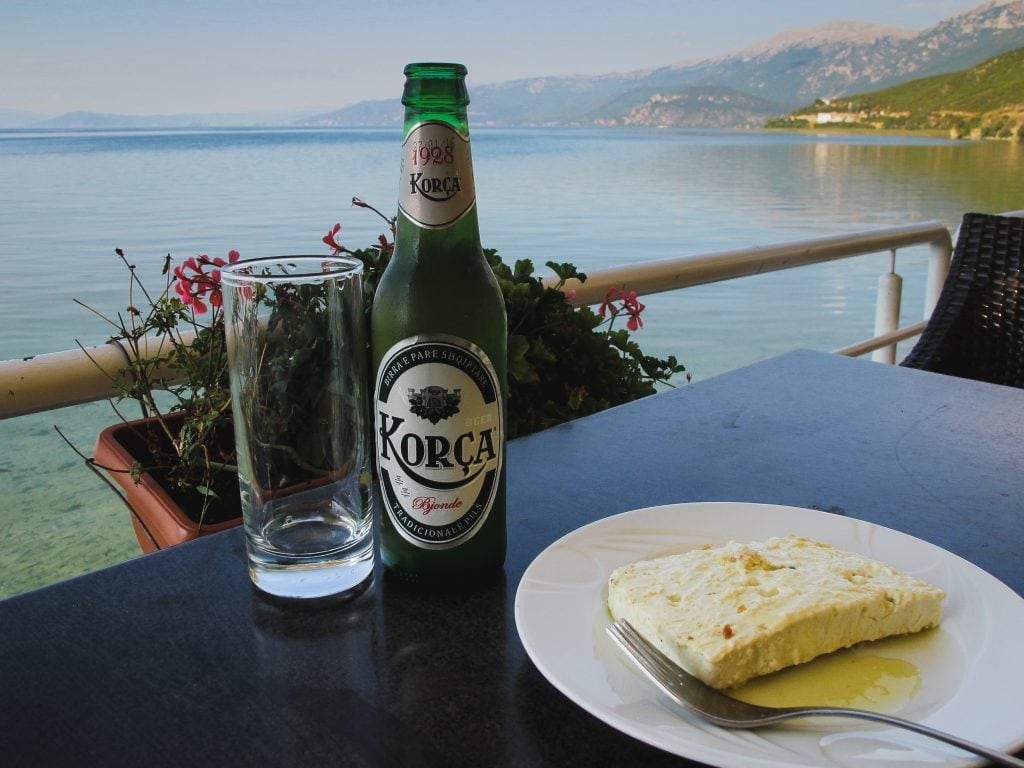 <this will be my last meal on Earth>
I ruminated over what I should spend the day doing aside from eating and drinking and decided to just walk around and soak up the scenery. Truthfully, I'm not sure there was much else to do.
Tushemisht is a small town situated right on Lake Ohrid and is filled with miniature concrete canals and blueish-green beaches that are often seen in the Balkans. Subdued and decorous for the sunny weather I was gifted that day, I kind of regretted not attempting to spend a night there.
Aside from two other Americans and their young daughter, I didn't see or hear another soul in sight that wasn't a resident of the community.
Tushemisht consisted of a few restaurants and bars located on the water, a few cafes inside the city, cobblestone and marbled narrow streets, spectacular churches and monasteries, blue-green beaches (which were trashed a lot less than I had expected), small markets containing the most elemental of items, and home vineyards everywhere. I felt safe and like I was able to gain a decent sense of Tushemisht just in the eight hours I spent there.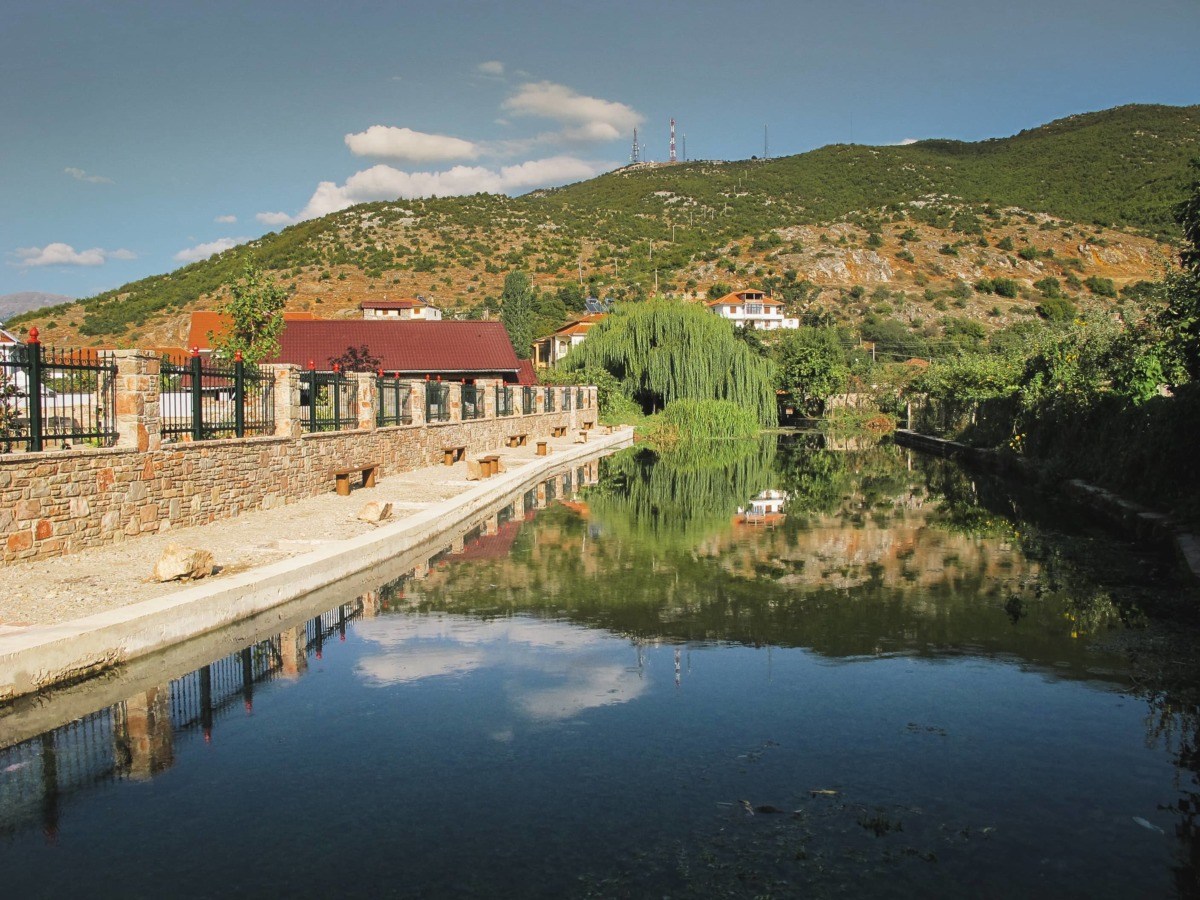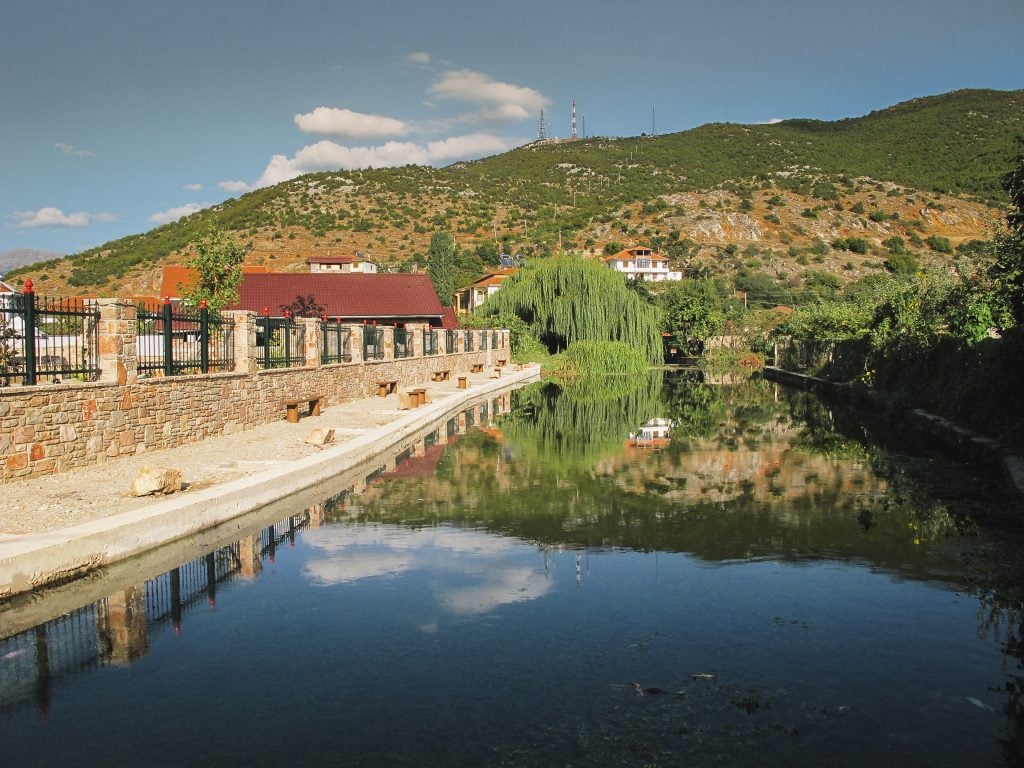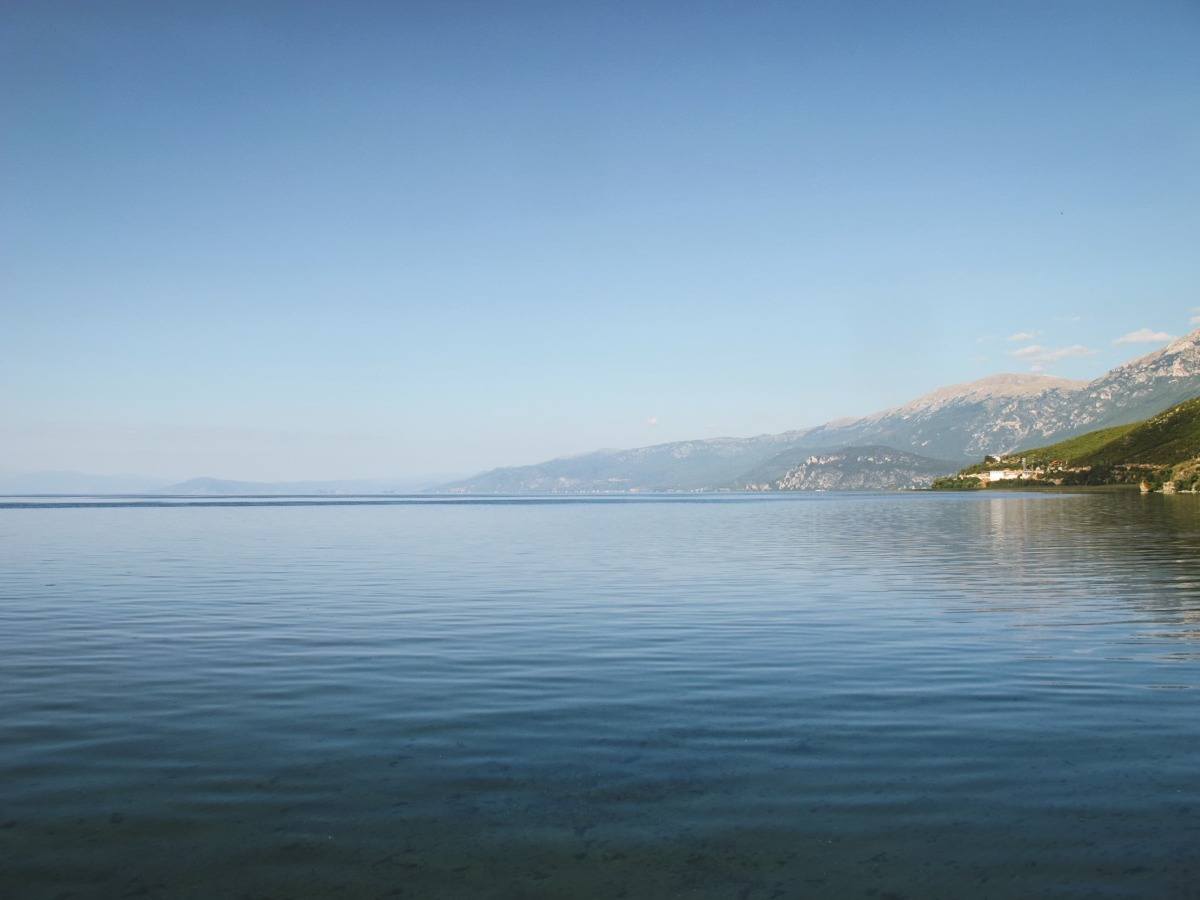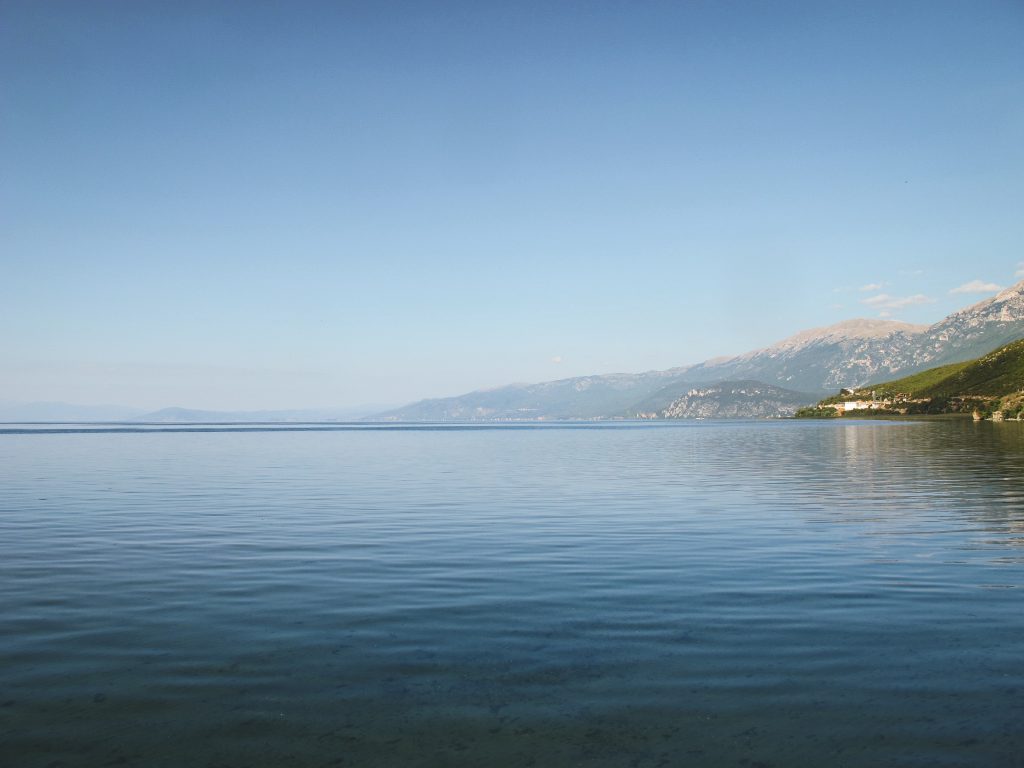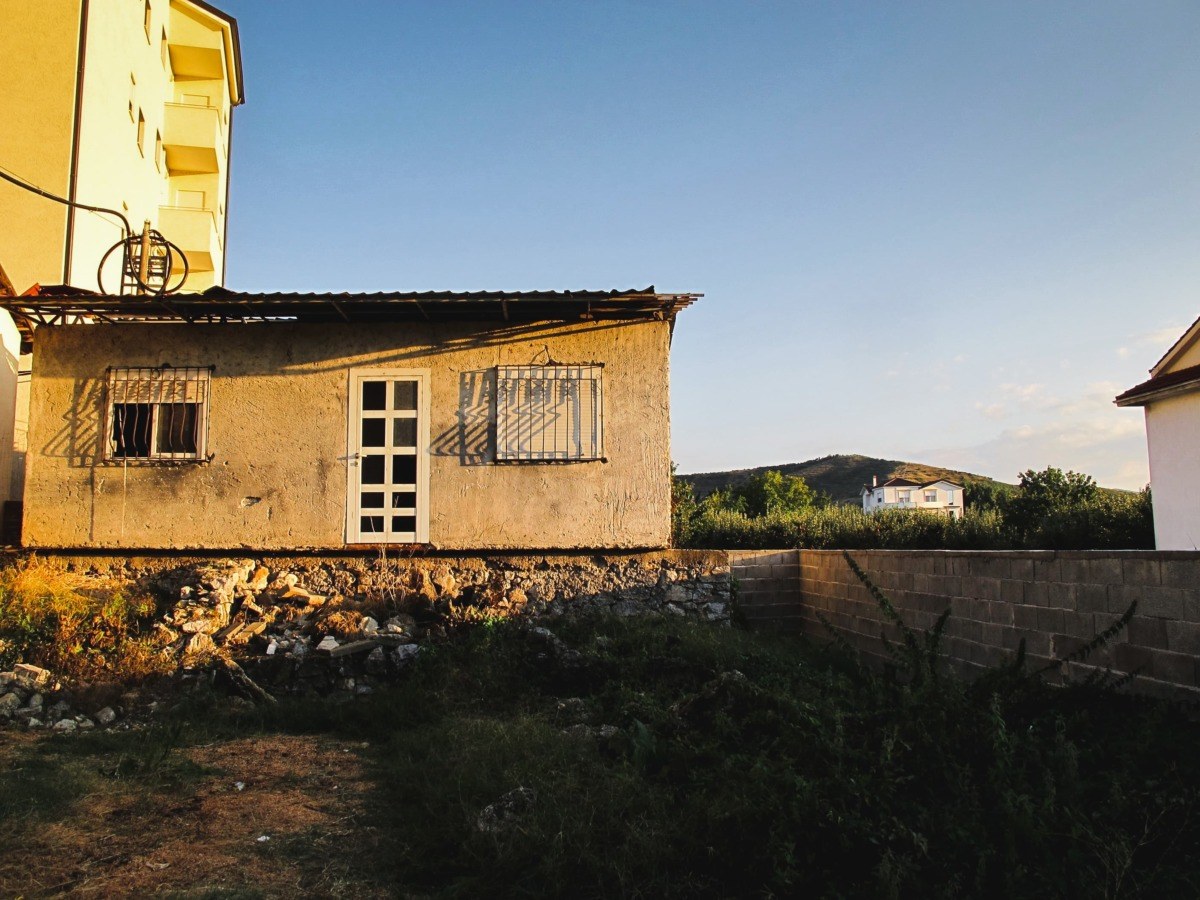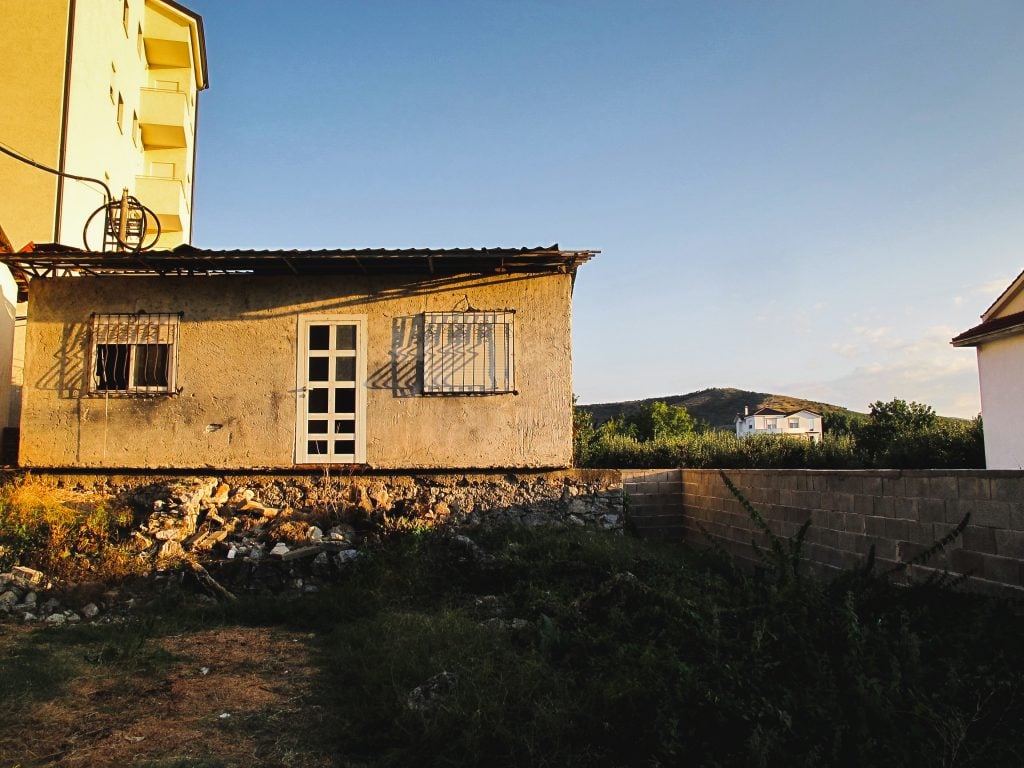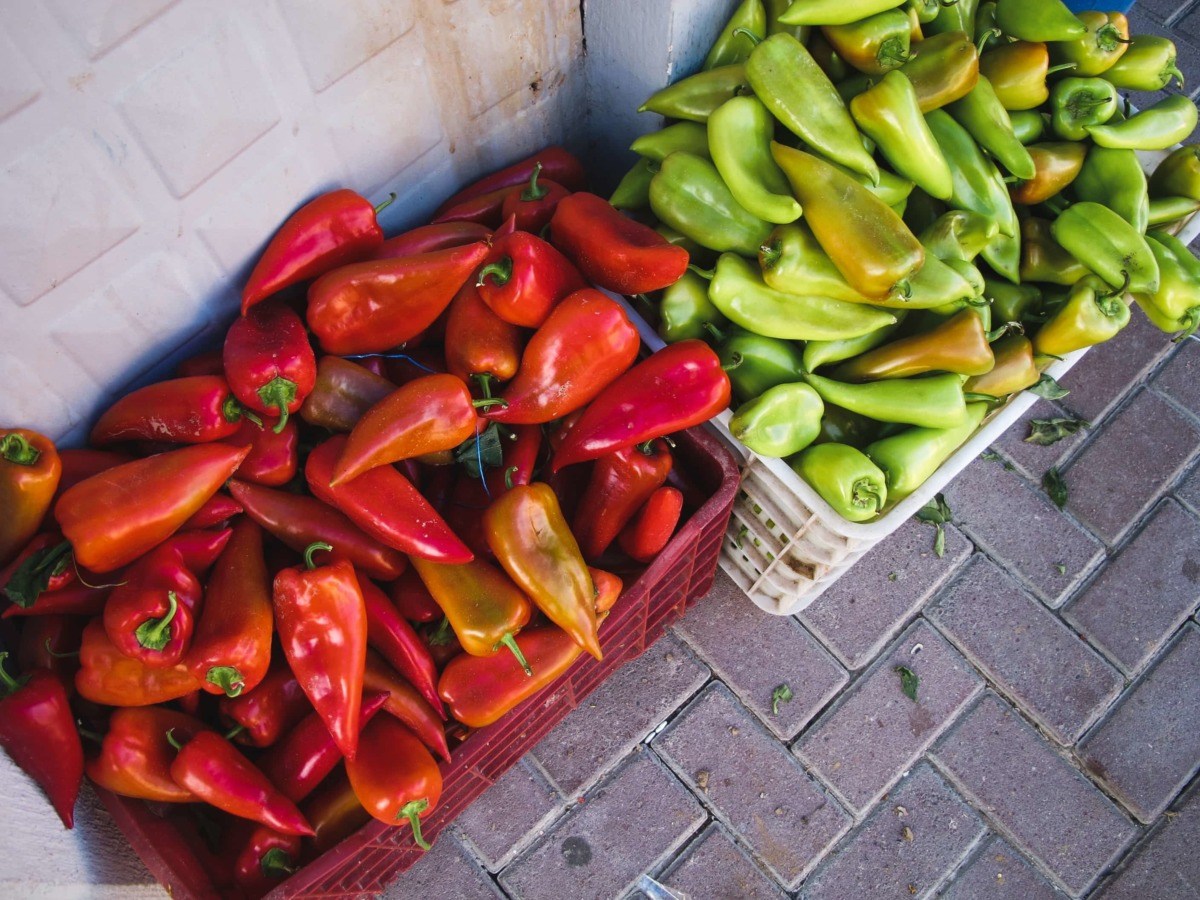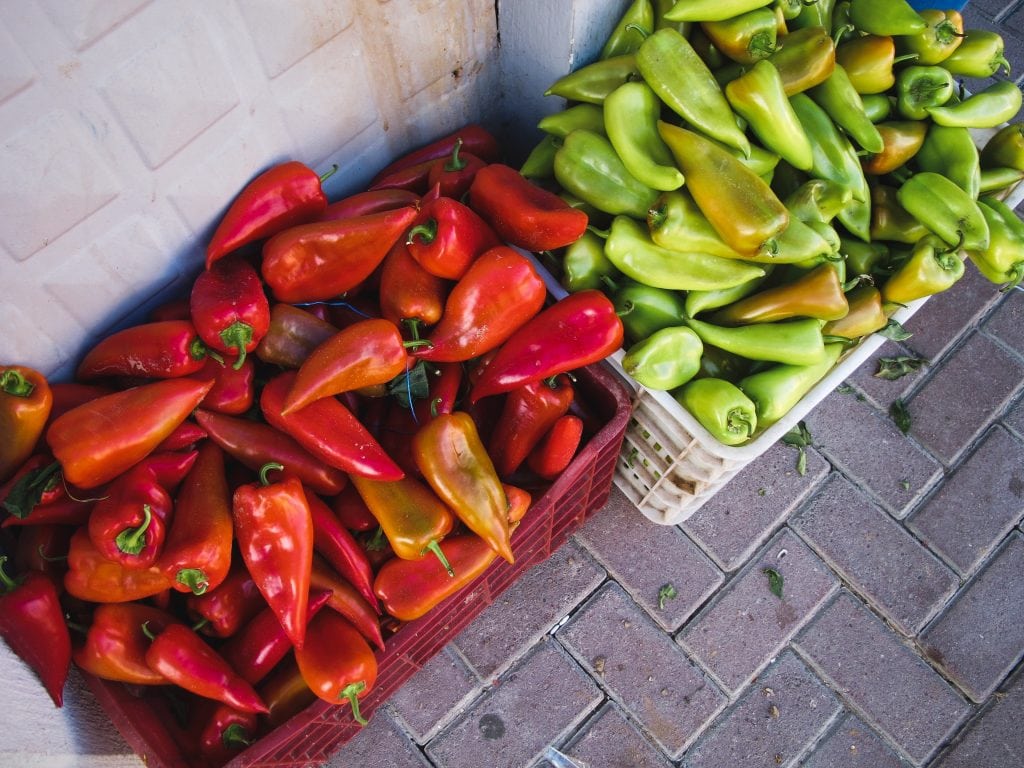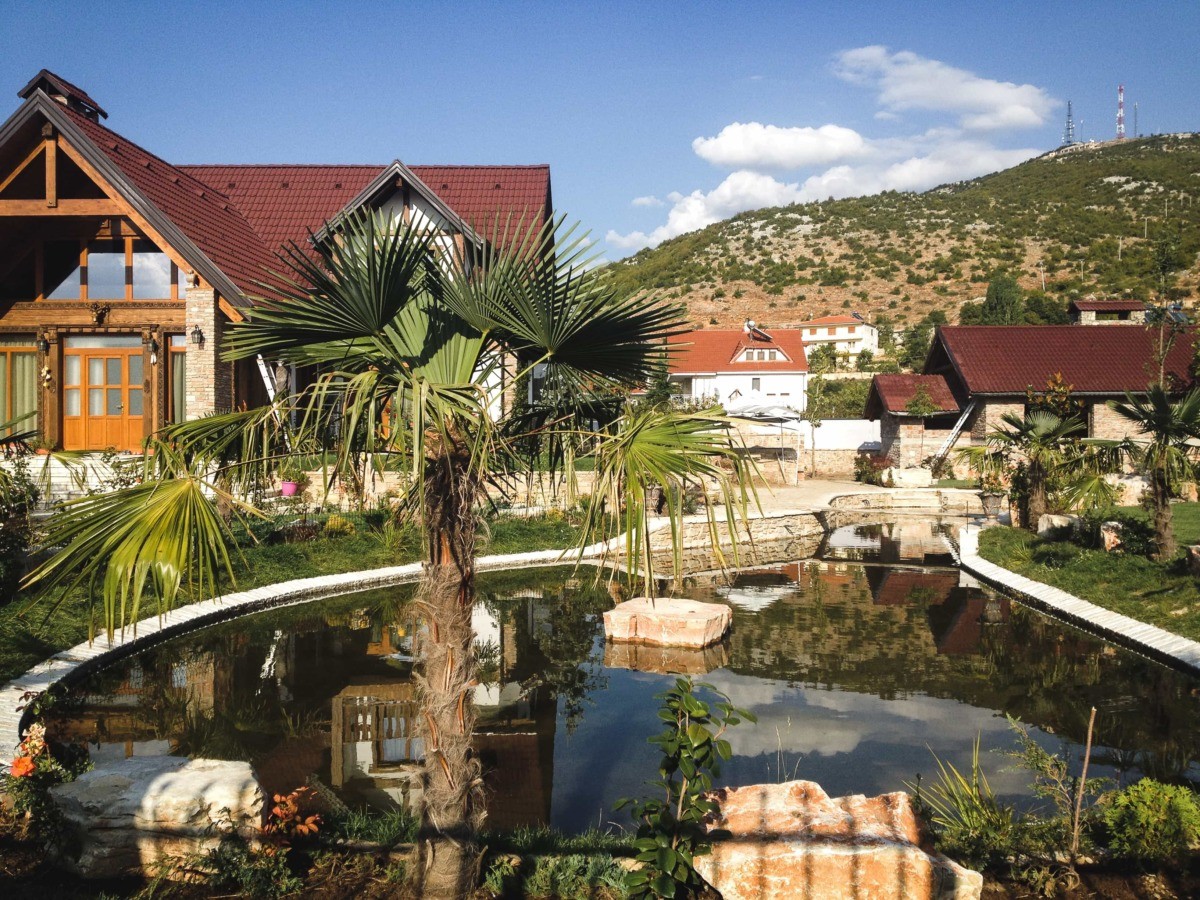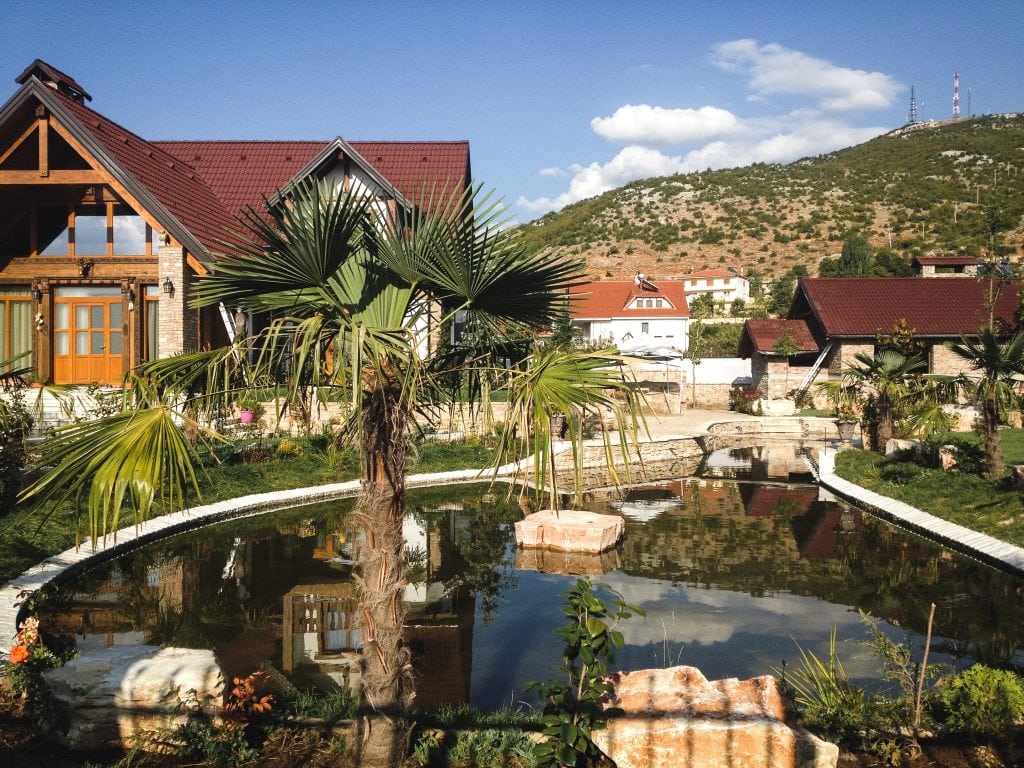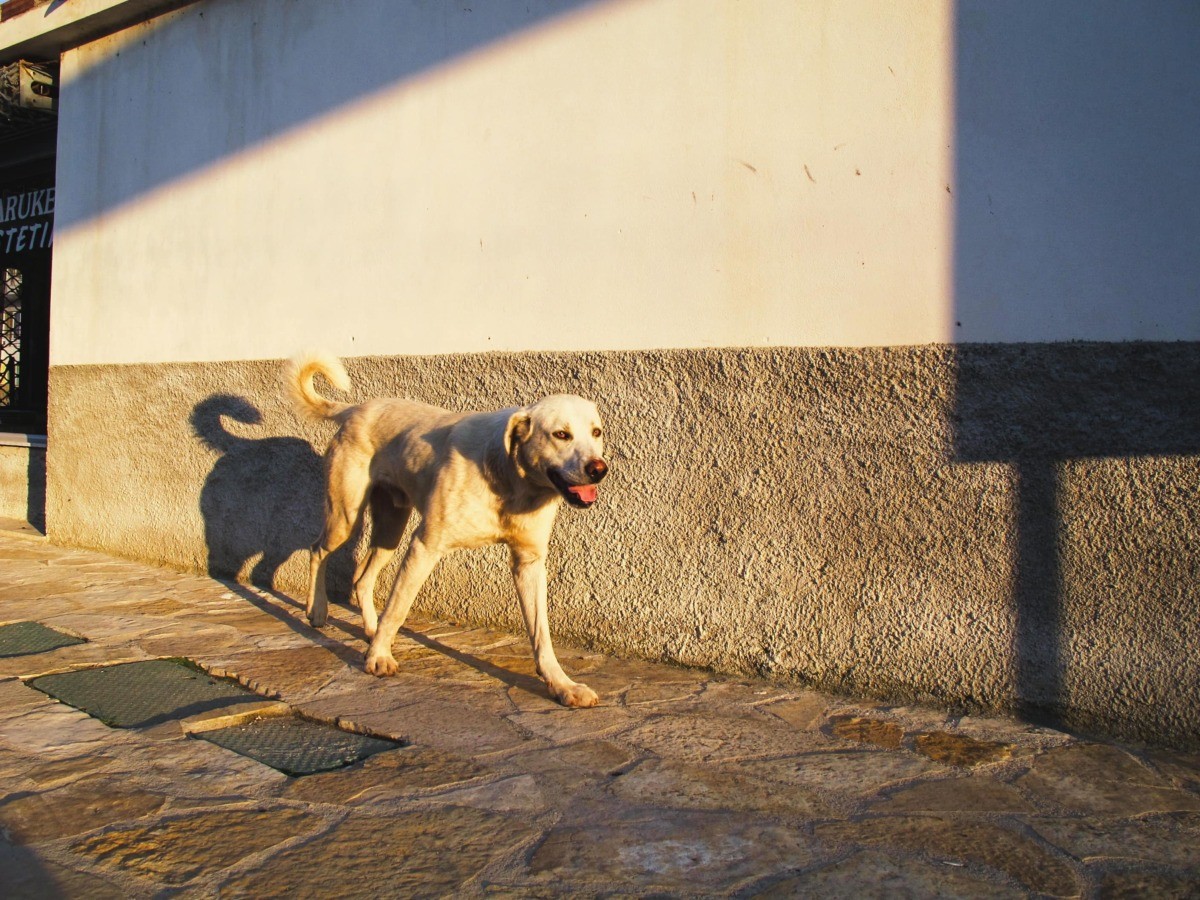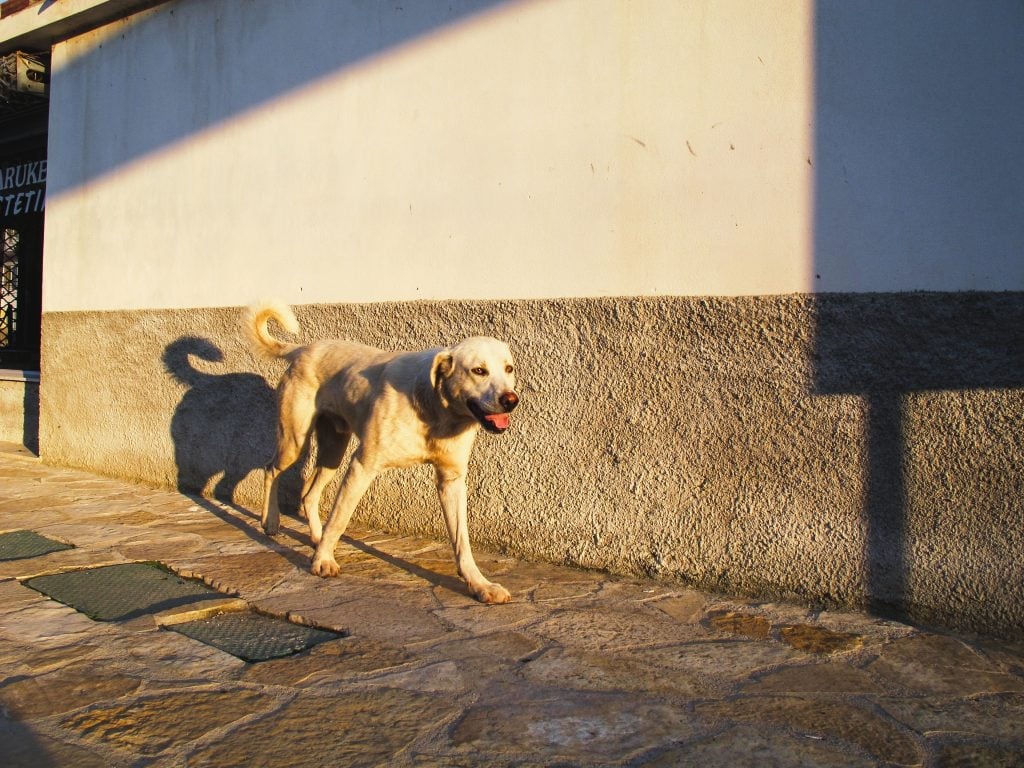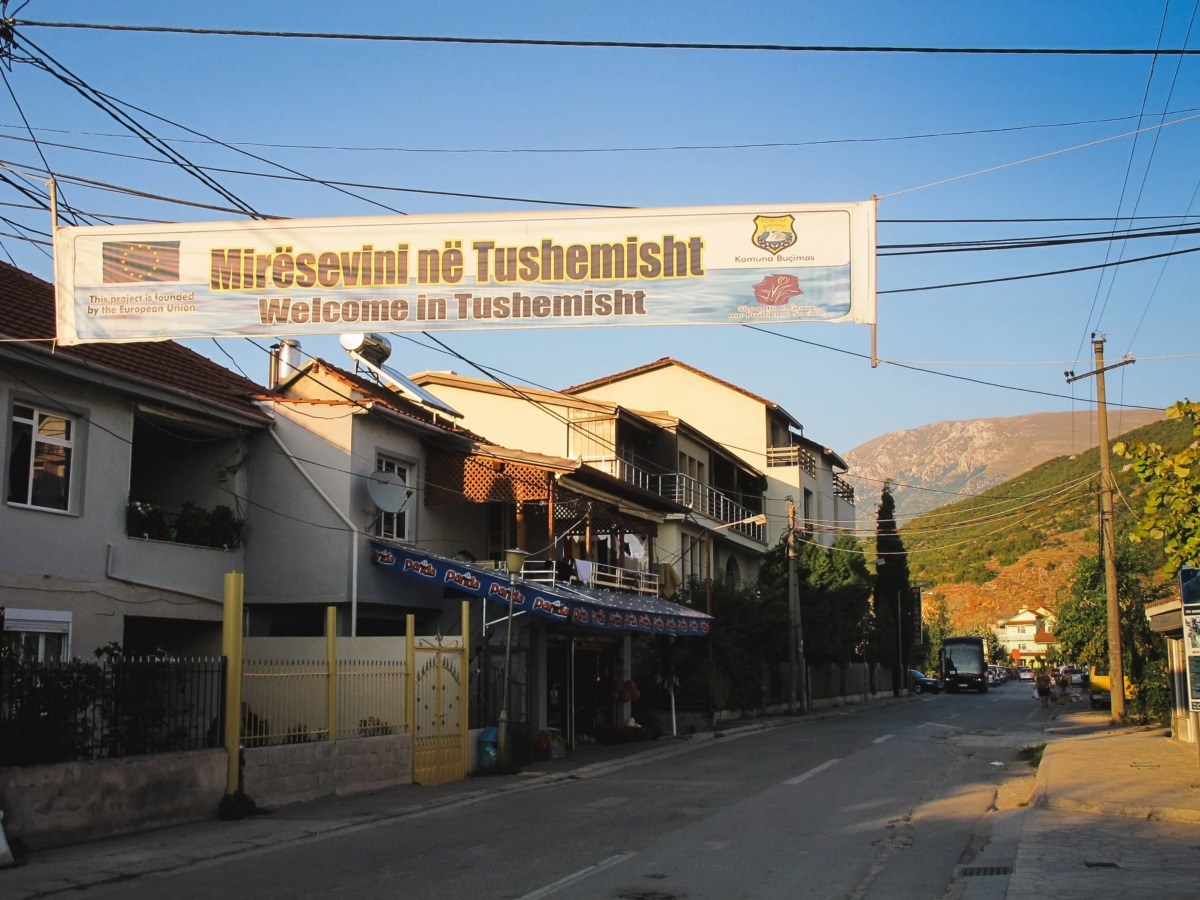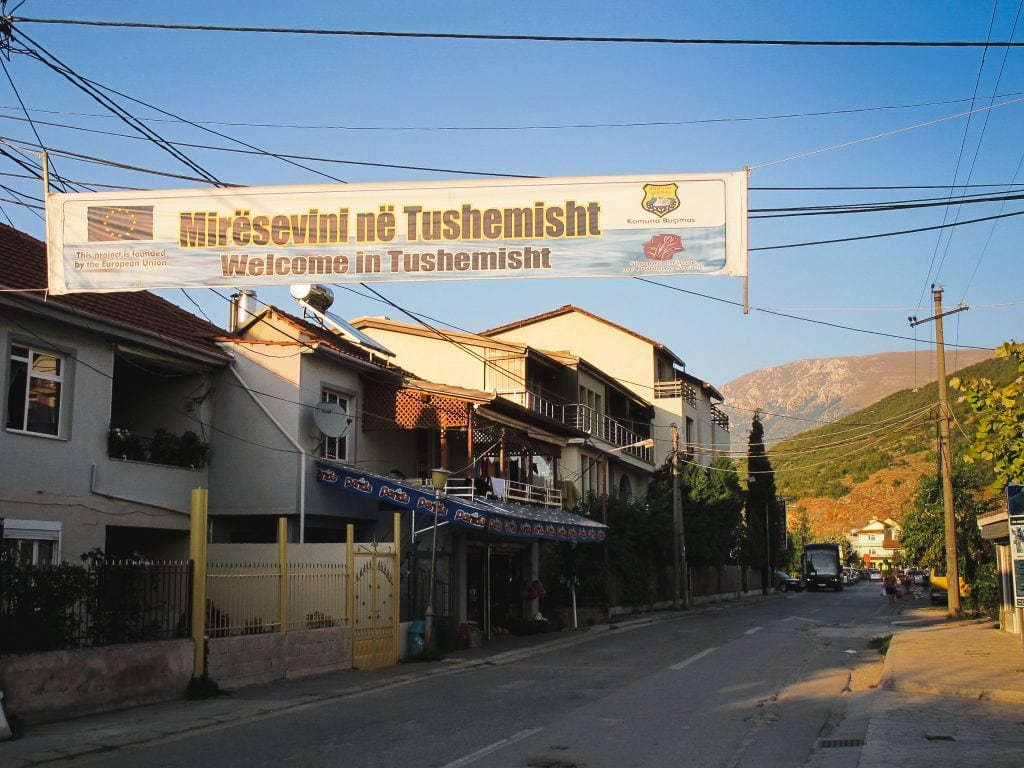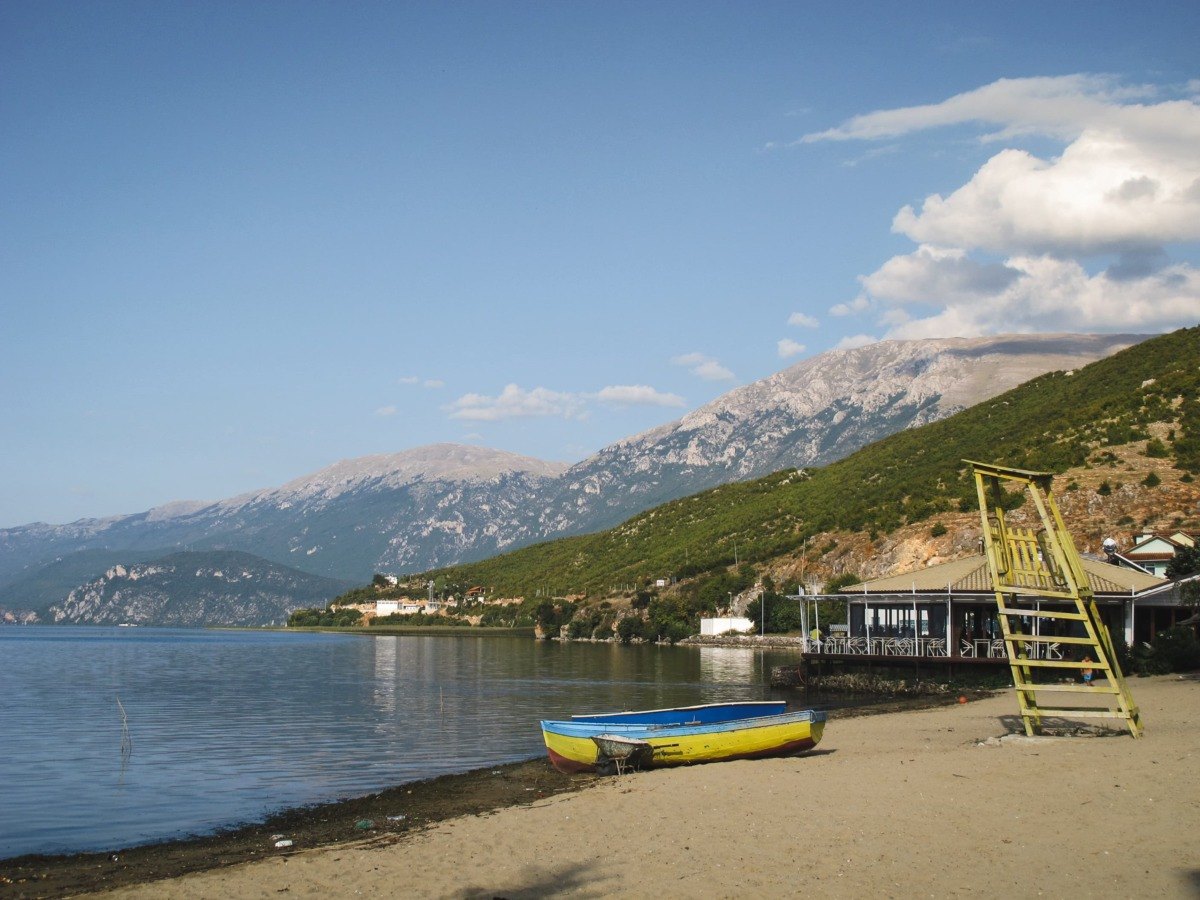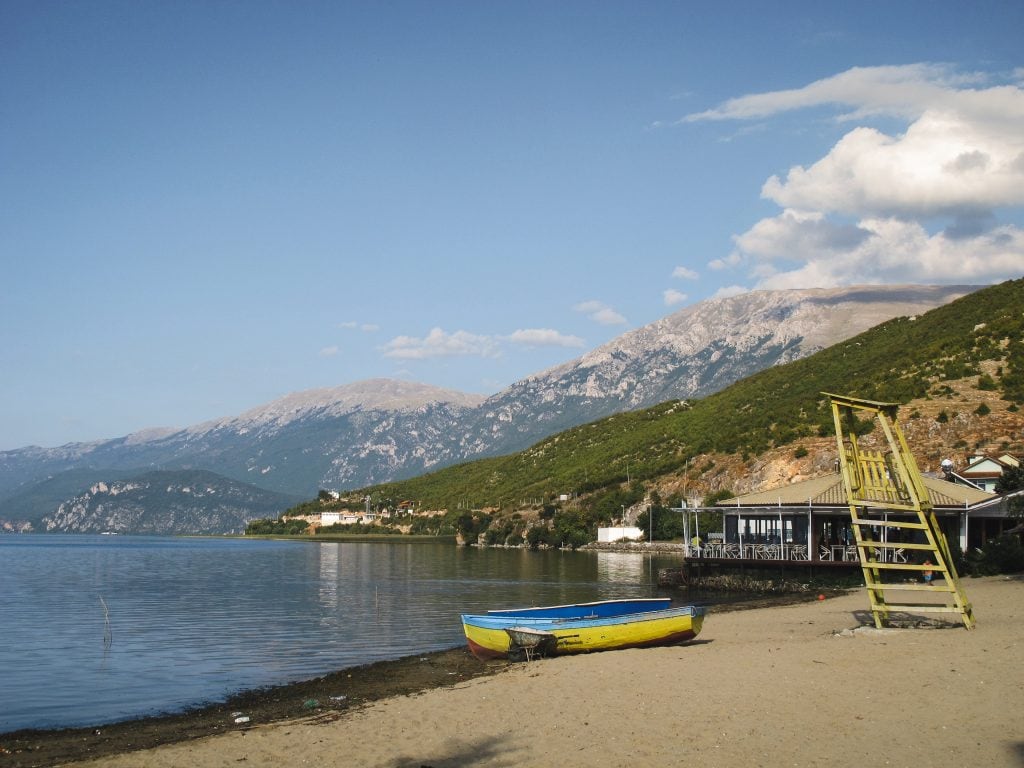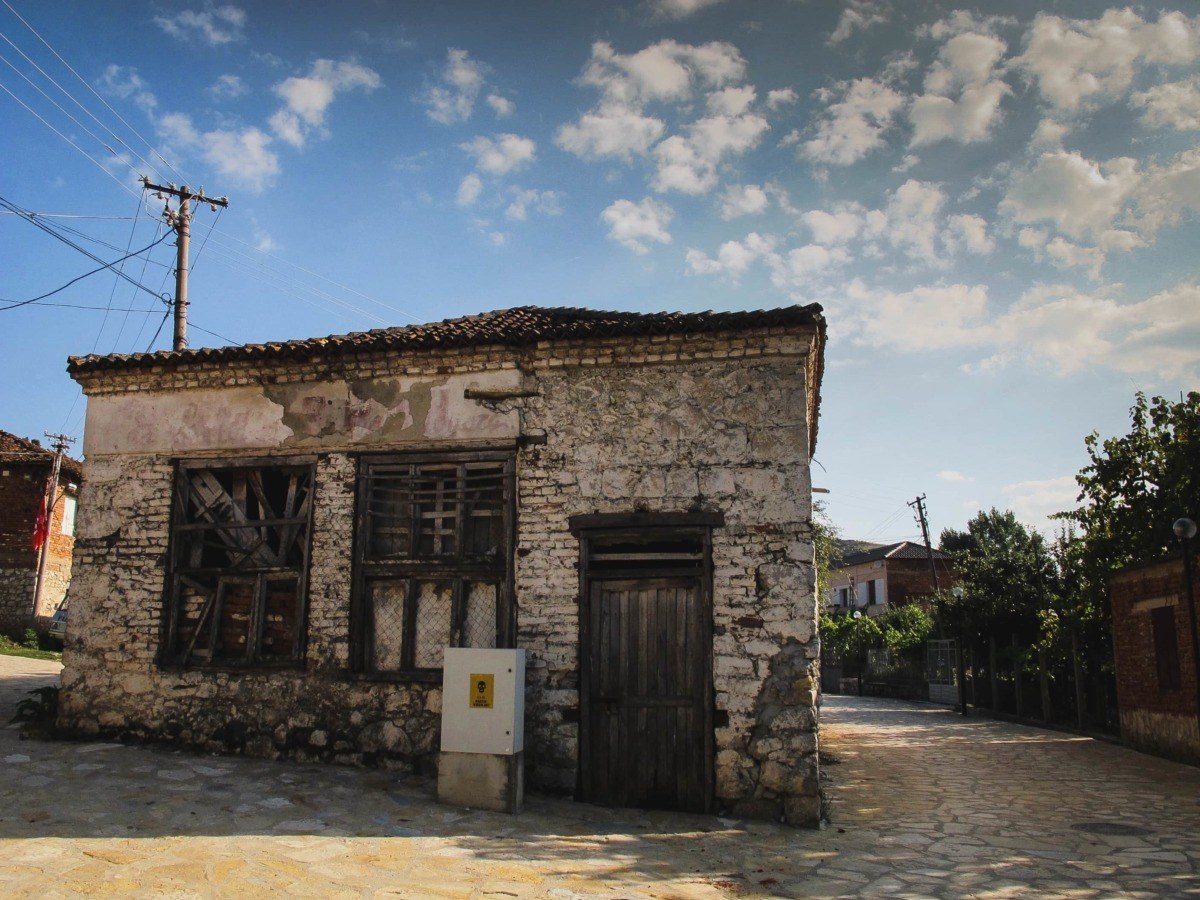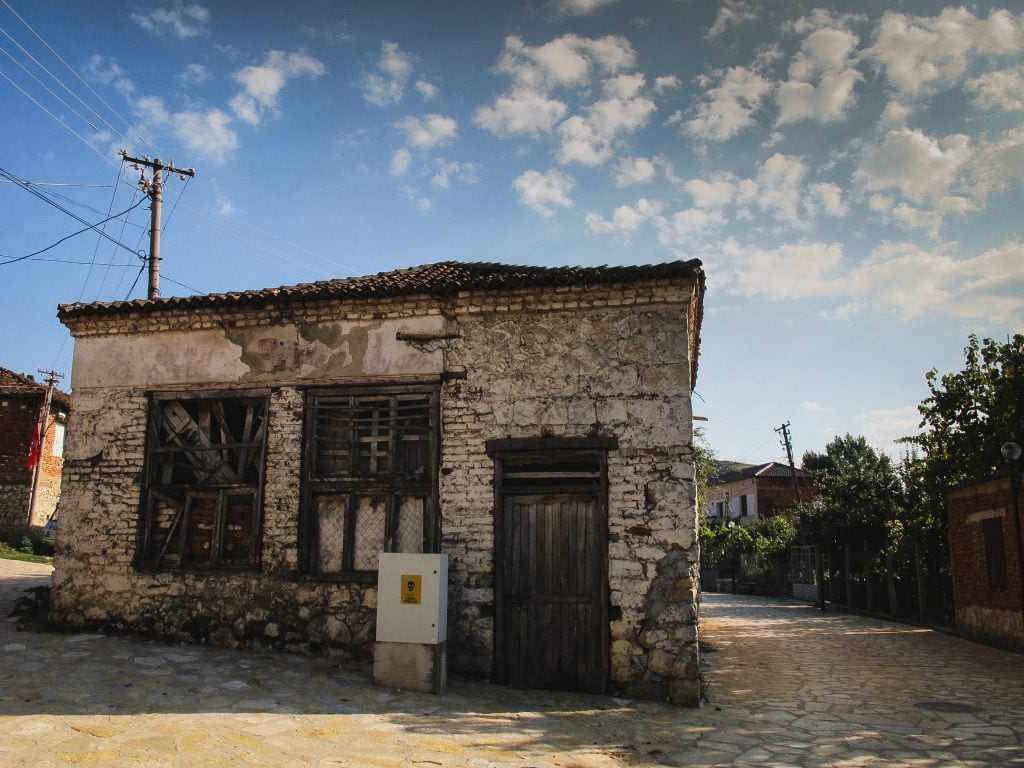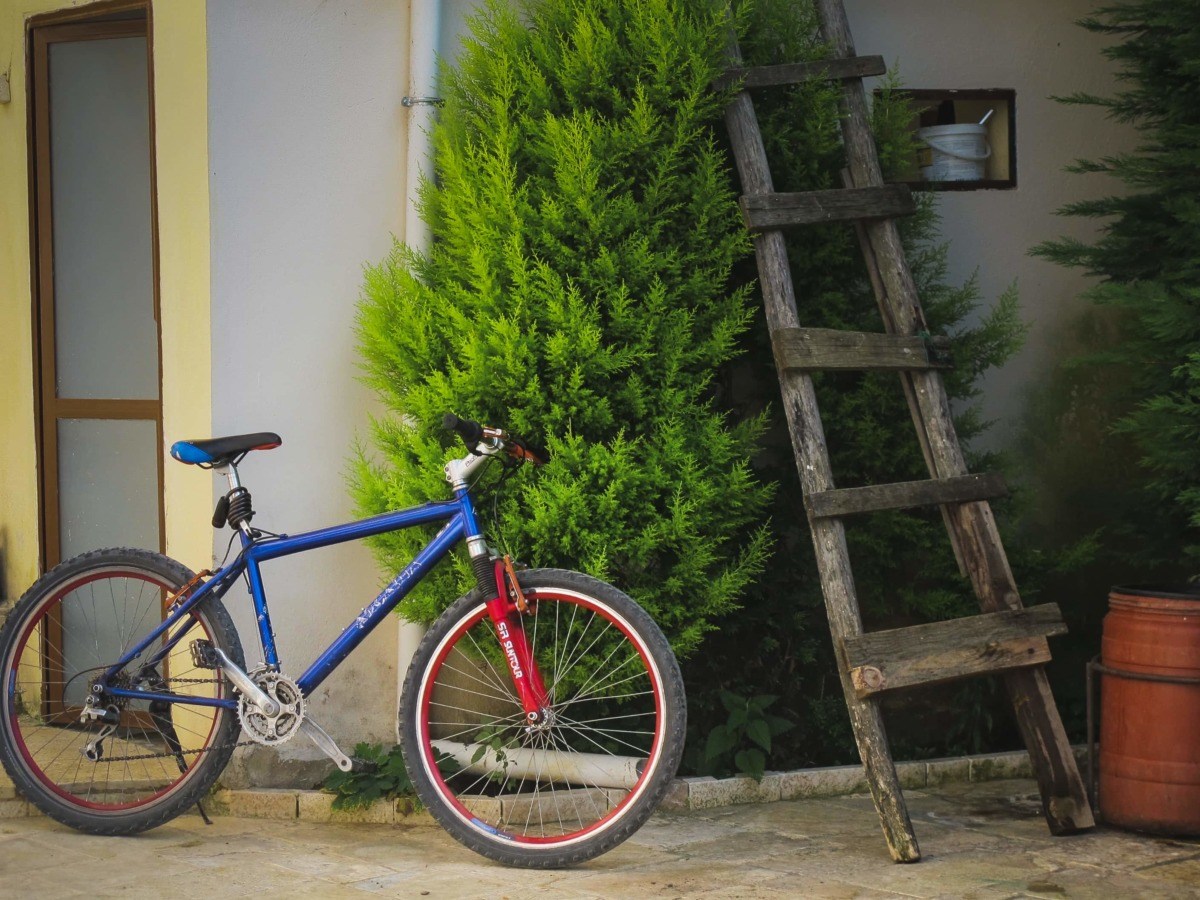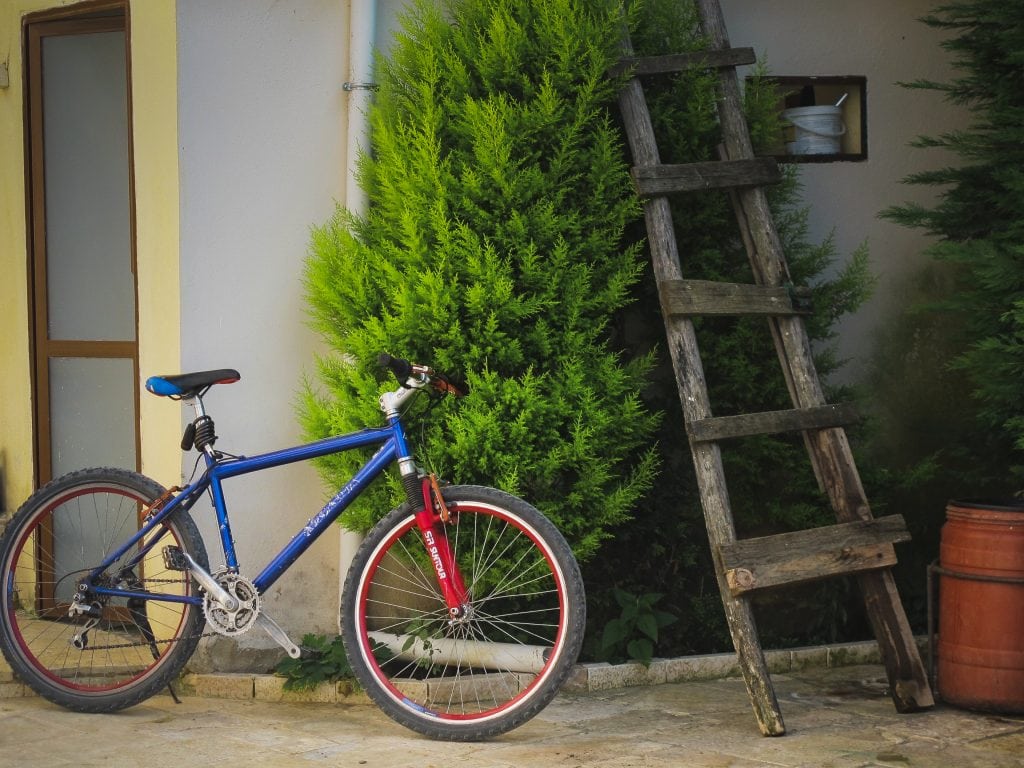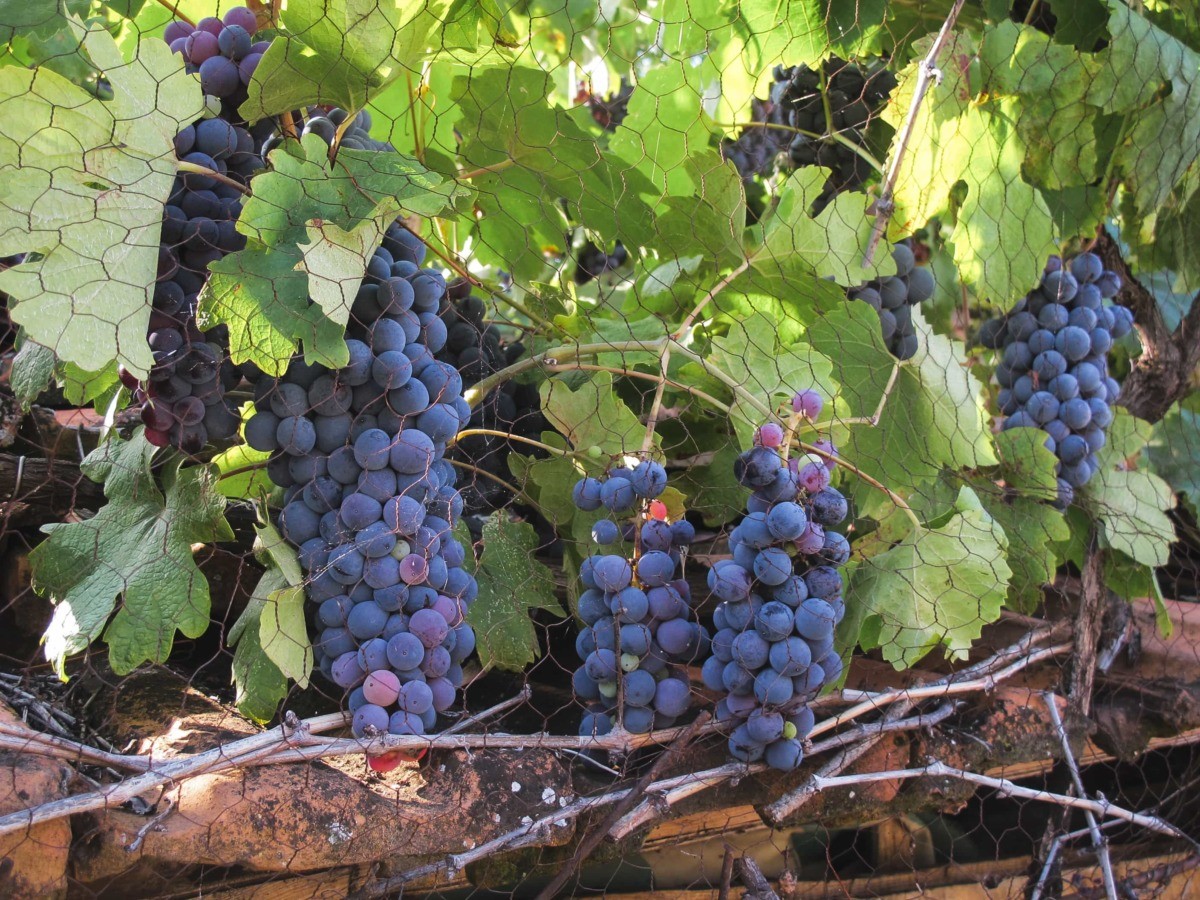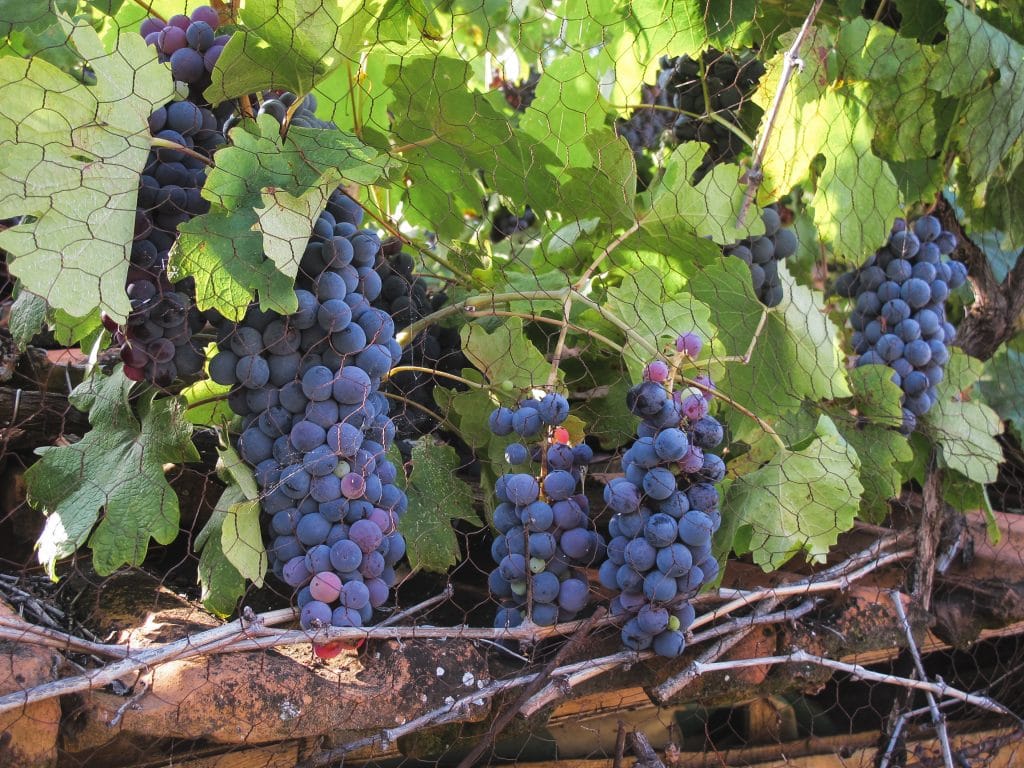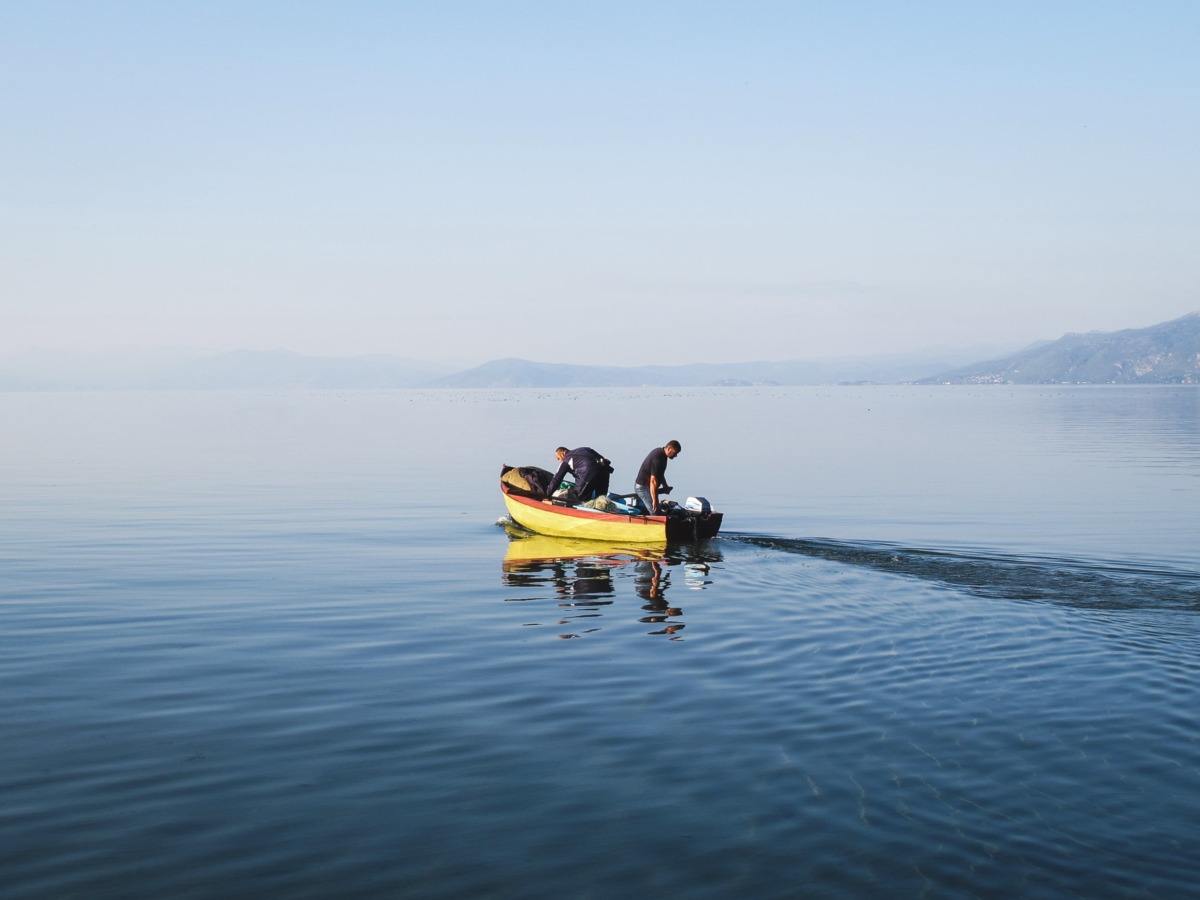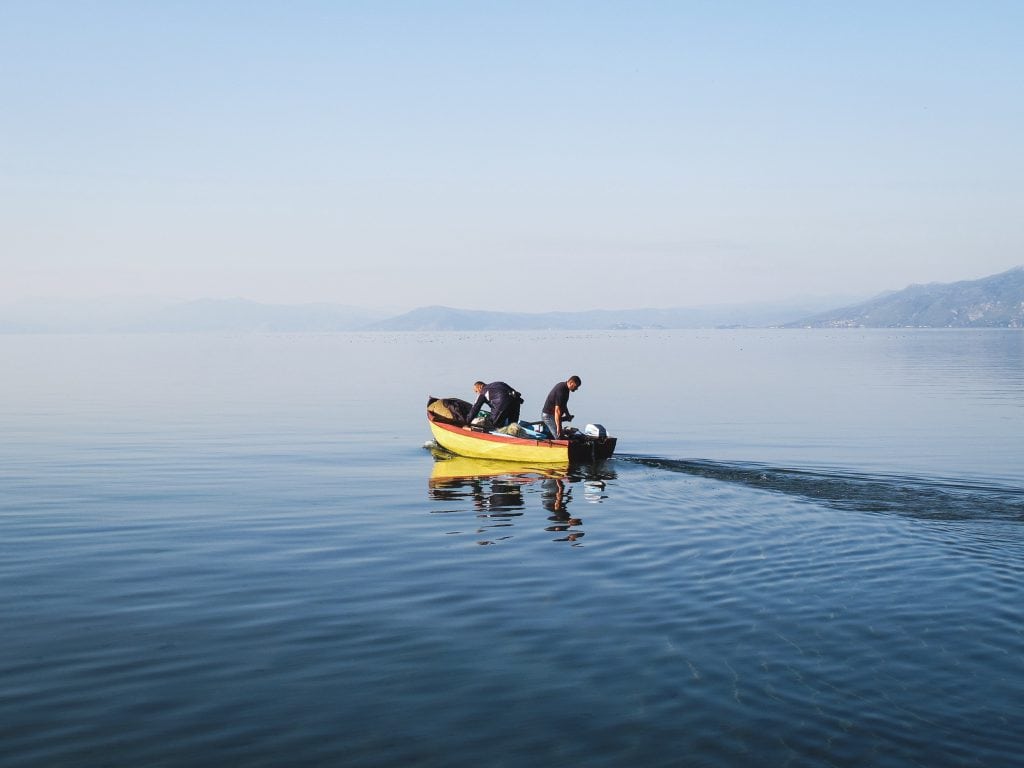 After my time was up and my cab driver was waiting for me in front of the market, I reluctantly headed back to my guesthouse in Lagadin, which took nearly an hour and a half (including passport control for both sides).
Along the way, he stopped on several occasions for me to take photos and admire the dramatic sunset, even without my asking for it. He told me about his family and his life in Albania. I felt very lucky to have had the chance to spend a day in Albania, even if it was at a small border town.
And while the country has been on my list for some time, it is very unlikely I'll make a trip back anytime soon. But if I do, I intend to get back to little Tushemisht and spend another day overlooking Ohrid and eating a bountiful amount of cheese.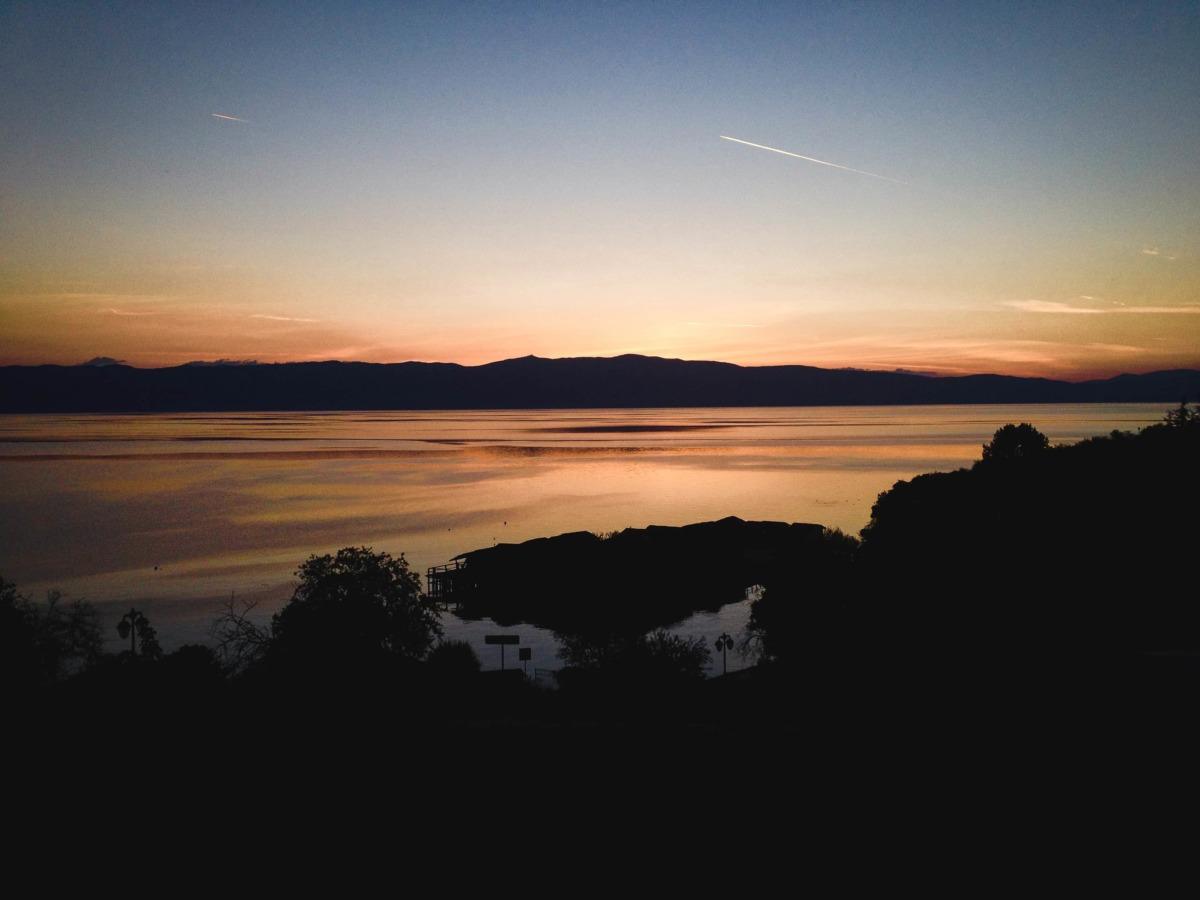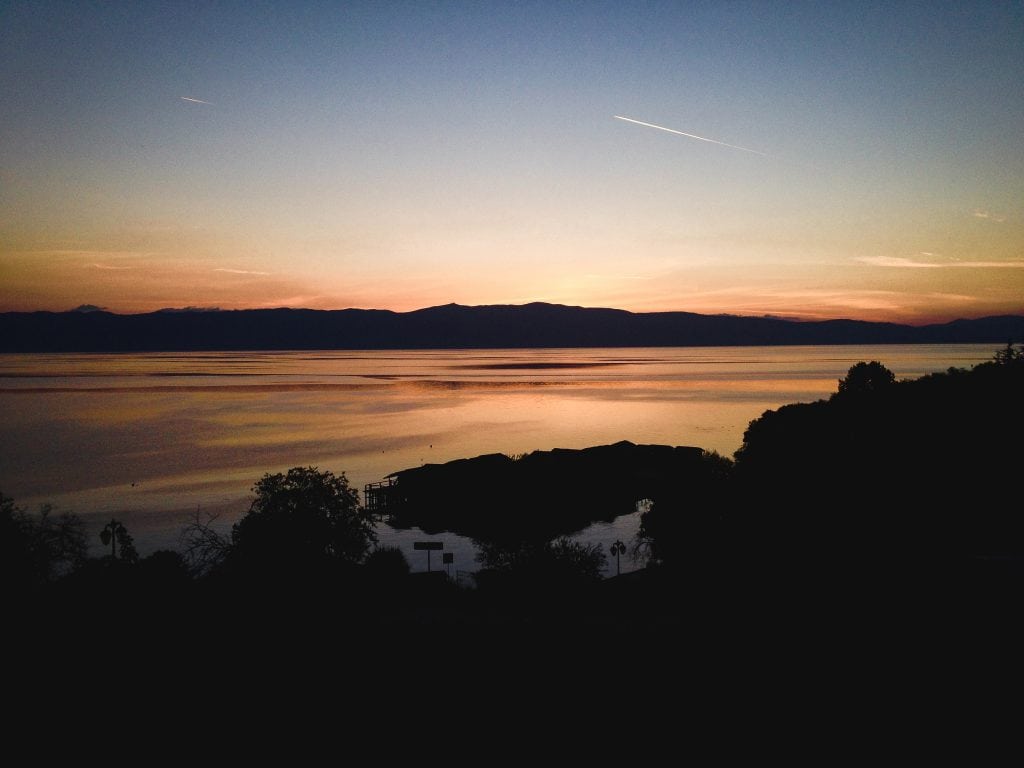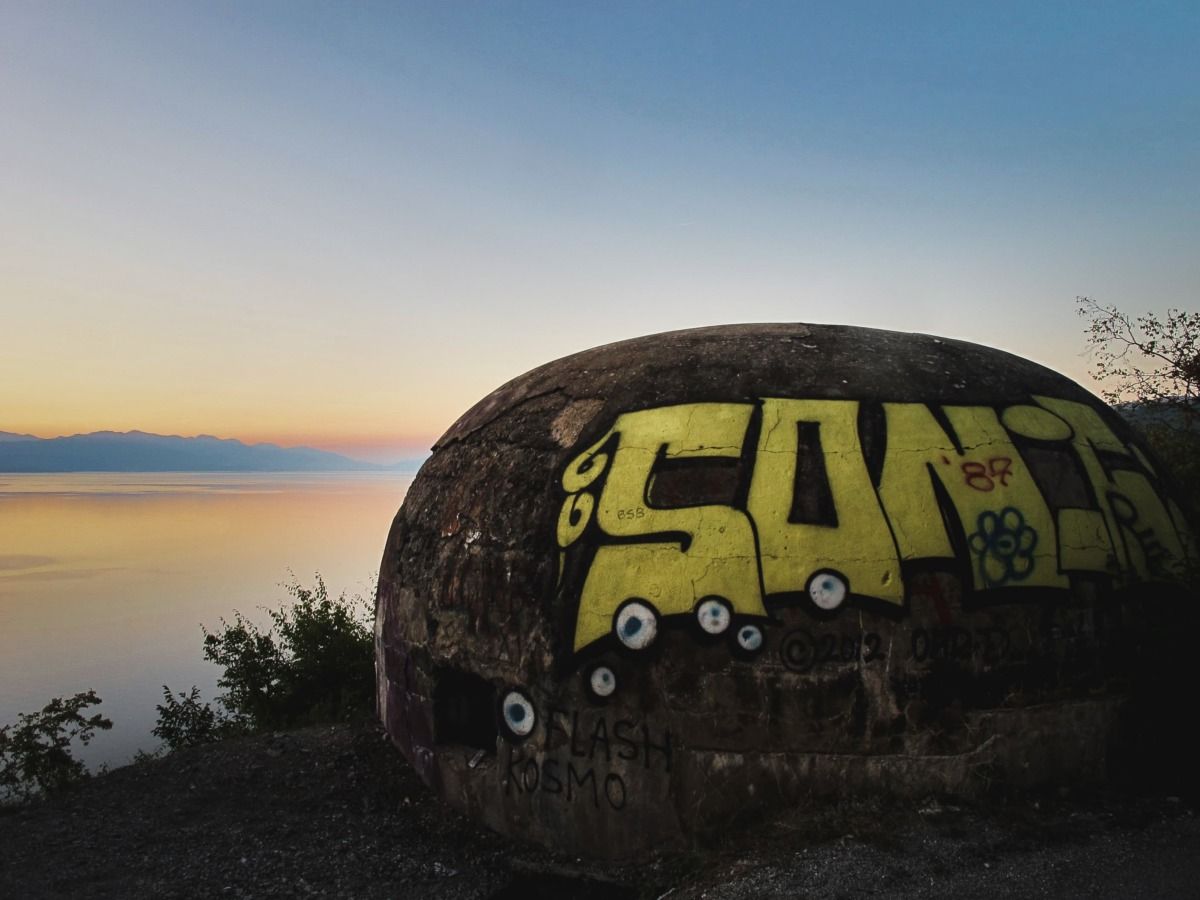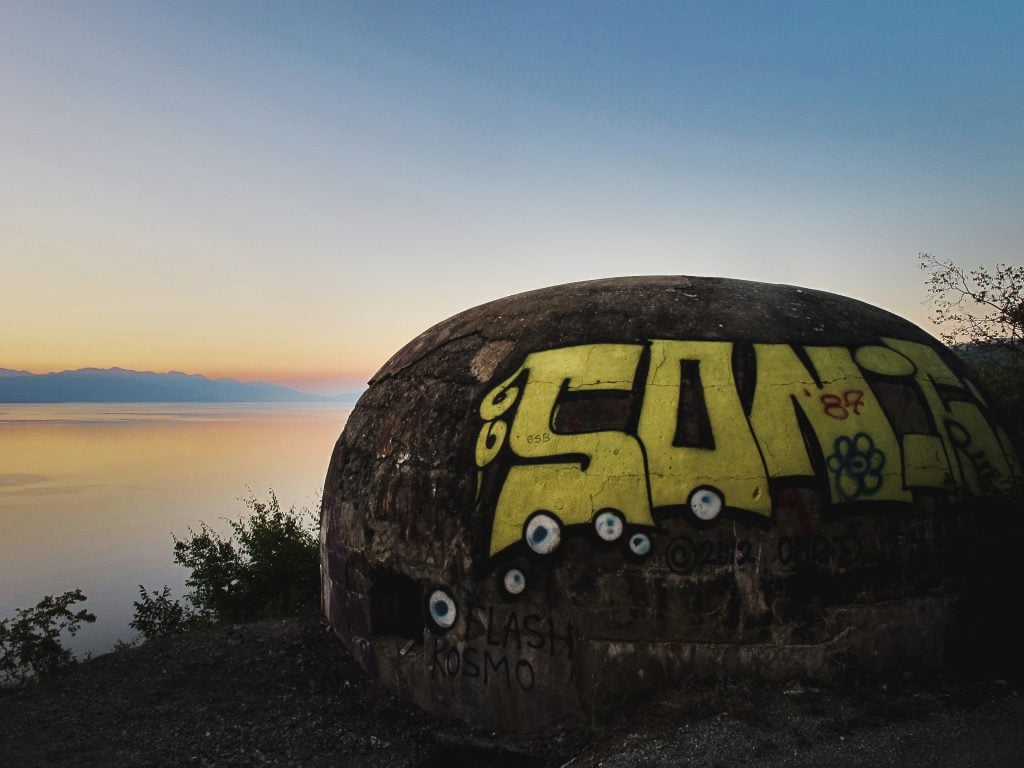 <Bunker in Macedonia that I was told was built by the Italians from my taxi driver>