Today I am excited to have a friend, Kathryn Hendley, taking over my blog with a guest post and overview from her time spent traveling in Dushanbe, Tajikistan. I met Kathryn in Almaty, Kazakhstan last year when I was living there and it was so cool to meet someone else with ties to Virginia while there! Hope you enjoy and I hope that I can make it to Tajikistan soon!
Tajikistan is a fascinating country. Most of the wonder I experienced in Tajikistan was in the rural southern portion of the country, weaving through the jagged, imposing Pamir Mountains within view of the northern border of Afghanistan and wandering through the sparse high-altitude desert where plants don't grow and yak's milk is a staple of each meal.
But this post is about the capital city of Dushanbe. You certainly should not travel to Tajikistan solely to experience Dushanbe, but the capital city of Tajikistan does provide a pleasant bookend to a journey on the Pamir Highway. I visited Dushanbe after traveling from Osh, Kyrgyzstan on the Pamir Highway to Murghab, Tajikistan, stopping in the town of Khorog near the Afghan border, and finally riding up to Dushanbe to visit the city for a few days before flying out of the country.
Dushanbe is a fairly calm and quiet city with beautiful parks and good restaurants. In contrast to the towns in southern Tajikistan, Dushanbe has a relatively strong diversity of cuisine and shopping, and has functioning ATMs! Like many other post-Soviet Central Asian cities, Dushanbe has beautiful linear parks that run through the middle of the major boulevards in the city that are well-used during the day.
You can get an introduction to Tajikistan's history and culture by visiting the National Museum, which features artifacts from the empires that staked claim over present-day Tajikistan over the centuries and brief descriptions of the historic events leading up to the present day Tajik state. It is a large museum that takes a significant chunk of time.
The National Museum is surrounded by a monumental public space with gardens, a small lake, and one of Dushanbe's most noteworthy attractions: "Flag Pole Park". Flag Pole Park is simply a giant flagpole flying the Tajik flag. It is certainly not the attraction I was itching to visit on my trip to Tajikistan, but believe it or not, it is a pretty impressive flagpole.
If you hang out around the Tajik National University you might find students interested in telling you about their studies and the work they are doing at the university. You can chat at a number of local cafes serving typical Tajik cuisine and tea or go to an Irish pub for fried fare. Dushanbe has a fantastic Indian restaurant, Delhi Darbar, that is an absolutely necessary stop if you want delicious and authentic Indian food.
Dushanbe has an extensive transit system that provides access to any part of the city in vehicles that match your desired level of comfort. As an urban planner, I was really impressed by the breadth of options available to travel through the city. Each transit route is serviced by four types of vehicle: large city buses, smaller minibusses, minivans, and shared taxis, with increasing fares as vehicles get smaller.
The city is serviced by a number of set routes and the transit vehicles have a card in the front windshield with the route number. Whether it is a standard bus or a minivan, they will all go to the exact same stops on the route. It is apparently very competitive to get a permit to provide transit service on one of these routes!
Of course, you can always get around with a standard taxi if you want door-to-door service, but the intricacy of the transit system is very interesting to experience.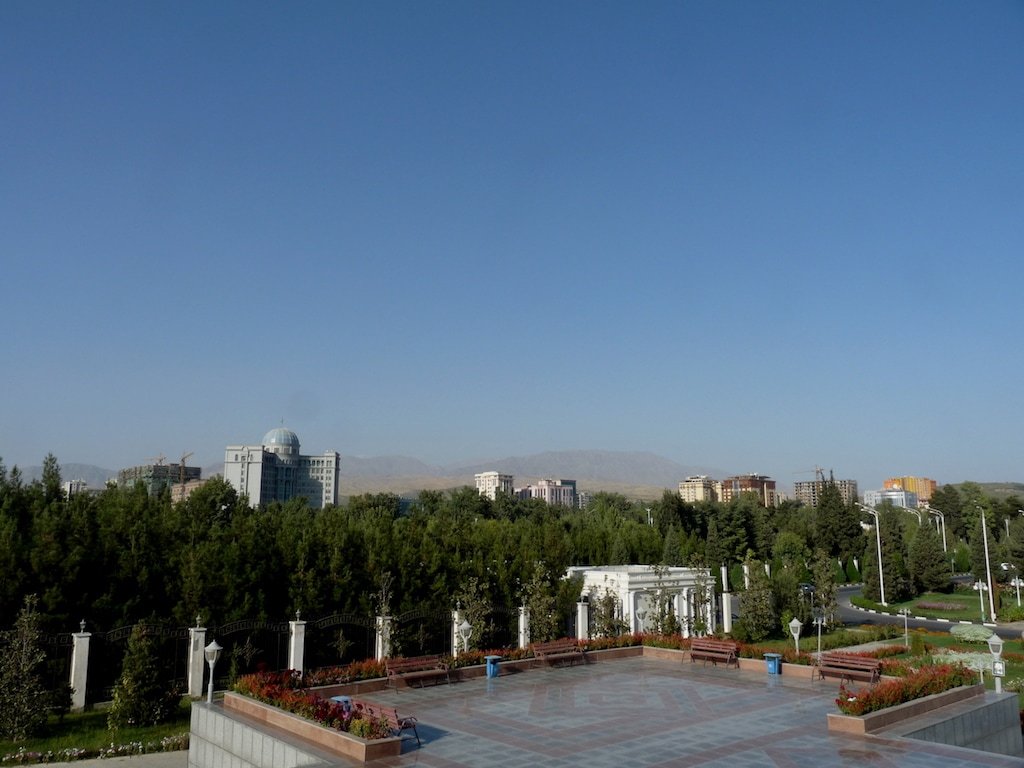 On a more somber note, the government certainly makes its presence known in the capital city of Tajikistan, with police frequently stopping vehicles at random.
However, the displays of government authority are not as pronounced in Dushanbe as they are as you travel through the south of Tajikistan, where border patrol agents maintain passport and visa checks every couple of hundred kilometers and President Rahmon gazes down from large billboards on street corners.
The government is also currently undergoing a process of demolishing Soviet-era buildings in its downtown area and replacing them with more modern apartment and office buildings. The Soviet buildings were built in beautiful neoclassical and constructivist styles marked with orientalist motifs and painted in bright colors.
They gave the central boulevard a unique vibrancy, so their loss will erase the interesting architectural features and history of Rudaki Avenue. Hopefully, you can visit before they are all gone!
Perhaps the most intriguing aspect of this city is the mesh of cultures. You feel the Persian roots, the Soviet recent past, and the Tajik present that is both attempting to modernize and honor tradition. Dushanbe is an interesting stop before or after embarking on the Pamir Highway, giving you a taste of a Tajik urban center that contrasts the isolated villages nestled into the Pamir Mountains in the southern portion of the country.
Kathryn Hendley is an urban planner from Virginia who has lived and traveled through Europe, the Caucasus and Central Asia and finds the former USSR countries to be some of the most fascinating places in the world. She recently graduated from the University of Virginia and will soon be taking a two-month journey through South Africa, Lesotho, Tanzania, Kenya, Rwanda and Uganda before settling down in Baltimore.