Are you looking for the best things to do in Druskininkai, Lithuania? This guide will help you out!
I first heard of Druskininkai, Lithuania from my friends from Belarus. This Lithuania spa town sits fairly close to the Belarussian and Polish borders and is situated along the Nemunas River, Lithuania's largest river, which also passes through Kaunas.
While Druskininkai may be known for its spa and mineral properties the same way Lithuania is known for being a nation of basketball lovers, the reason I had actually first heard about this town of around 13,000 residents is because of their snow arena. My friends were all heading up there to go snowboarding inside of the Druskininkai Snow Arena, home to one of Europe's biggest indoor skiing slopes.
Druskininkai actually ended up as a stop on our Baltics itinerary this past March accidentally. We were finally going to check out Grutas Park but were keen to see something different when visiting Lithuania aside from the usual Vilnius, Trakai, Klaipeda, and Kaunas agenda that most travelers stick to.
Grutas Park was nearby and we figured two nights in Druskininkai would give us ample time to see a bit of the unique town in addition to allowing us to go to Grutas Park via taxi instead of by a rental car or tour. We had no idea that this spa town would completely win us over and gift us with the highlight of our entire Lithuania trip this time.
While most people go to Druskininkai for the spas and snow, we didn't. This is a guide the other side of Druskininkai, Lithuania- the one most travelers don't get a chance to enjoy.
*Please note that we made this trip in March and it was still extremely cold. Many businesses had seasonal hours, so always check prior to visiting to see if the place is actually open or not. This is not to deter you from visiting during the off-season (because the peacefulness of the town and nature was so well worth it!)
Where to Stay in Druskininkai
There are a few places to stay in Druskininkai, Lithuania, but we ended up at an apartment there as it just made sense for the long duration we were going to be on the road as we love to cook and chill out in the evenings. We never did end up cooking as the local food was so delicious in the end.
Čiurlionio 83
This was the flat we stayed in. We LOVED it. It was super clean, the host was friendly and welcoming (she doesn't speak English, FYI), and we were completely gutted when it was time to leave. The flat was completely ours and had a bathroom, bedroom, and kitchen.
Inside of the bedroom, there was a television, sofa, and balcony. The kitchen was small and practical and had an electric trash can (which I played with far too much as it seemed so hi-tech). There was everything available to whip up a nice meal, including an array of spices. I can't recommend this place enough.
Click here to check rates and availability for Čiurlionio 83
Pušynas Hotel and Spa
Okay, I obviously didn't stay here. But, I visited it and went inside for a beer because I was definitely in no position to ignore this hotel's incredibly incongruous design.
The hotel was built in 1982 and has been able to stand the test of time (which was no easy feat for Soviet buildings in Druskininkai) after a facelift and renovations in 2003. The staff didn't speak excellent English, which wasn't a huge surprise as we never stumbled upon other English-speaking tourists when there. But, they were friendly and the beer in the restaurant's bar was good.
Click here to check rates and availability for Pušynas Hotel and Spa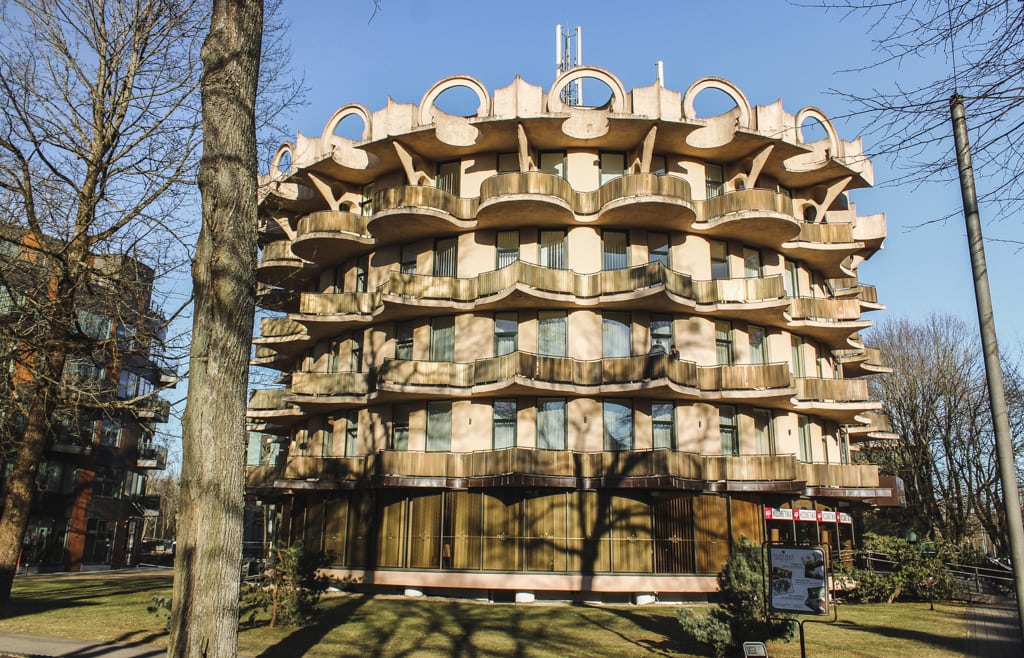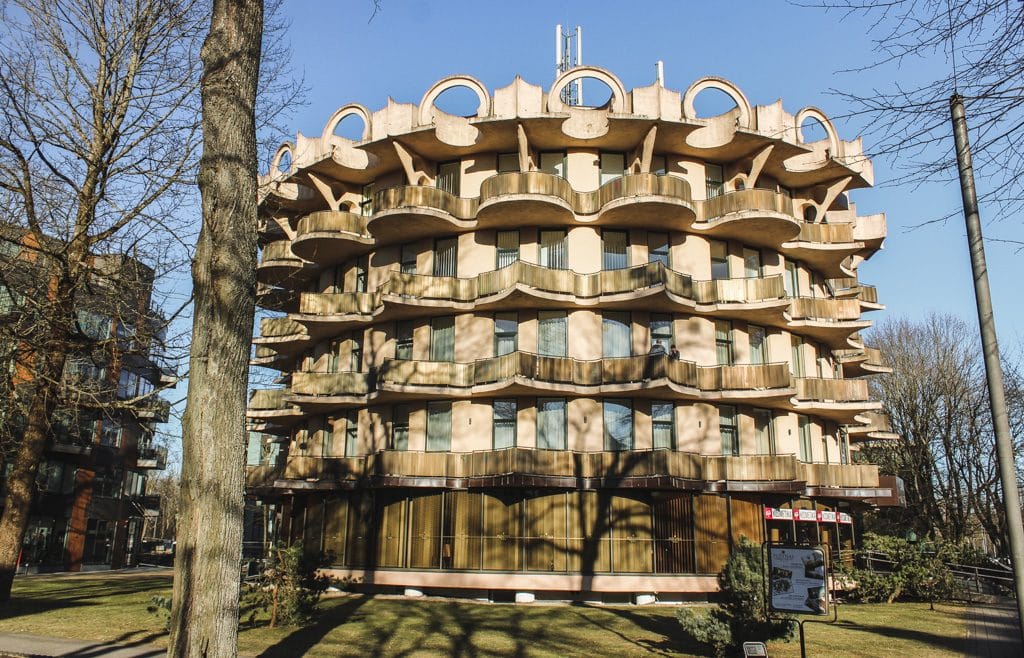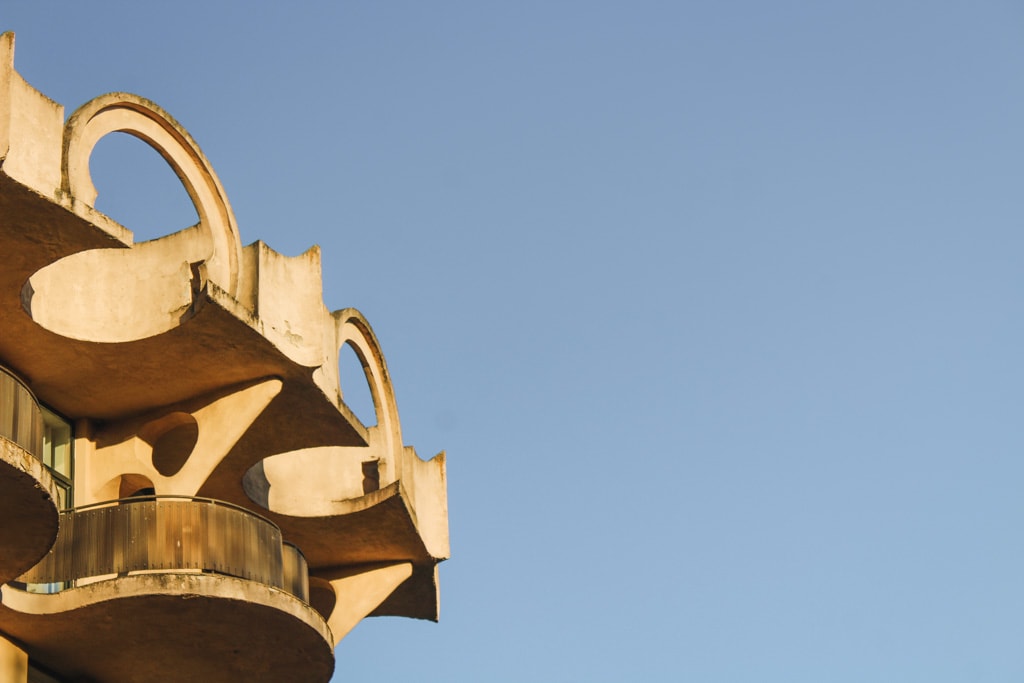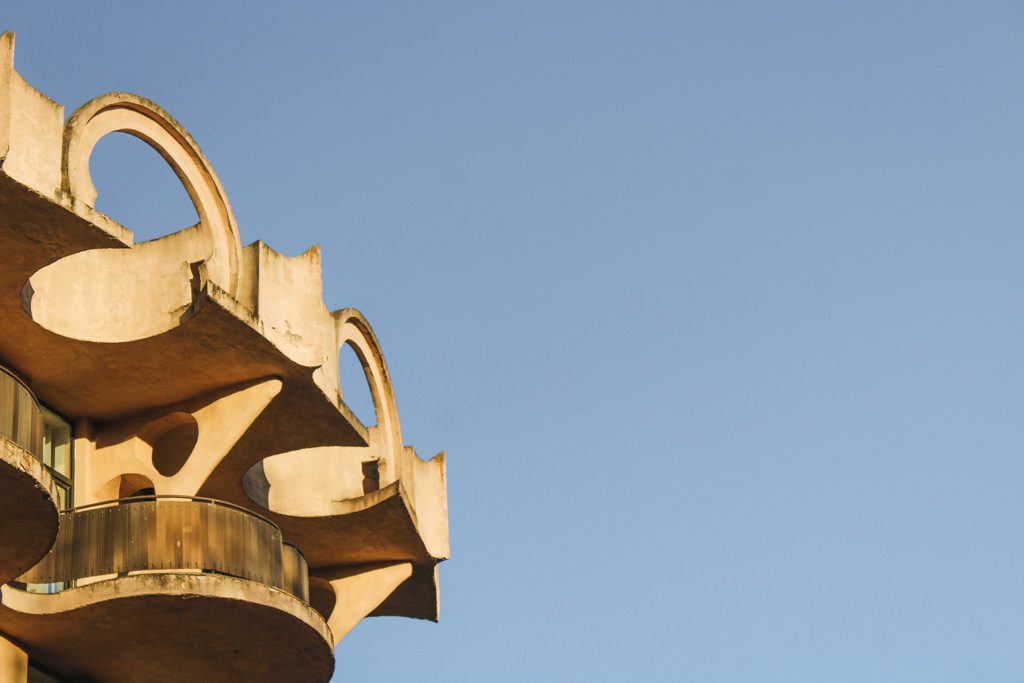 Vila Arnika
This guesthouse is one of the most booked properties in Druskininkai. It is located close to the city center and resembles more of a home than a hotel, which is much to my liking.
The rooms are comfortable and have a lot of personality, unlike some sterile hotels I have been inside in Lithuania. Vila Arnika is a perfect place to stay for families or those wanting more amenities than your typical hotel. Also, there is an on-site brewery which is a huge added bonus.
Click here to check rates and availability for Vila Arnika
Restaurants in Druskininkai
Druskininkai doesn't have an overabundance of restaurants, but the food I had there was excellent. I was on the hunt for Uzbek plov for a lot of the trip (sorry, Lithuanian food) and while there is an Uzbek place in the town, it wasn't open while we were there and it was like a punch in the (very plov-craving) gut.
But, we found plenty of delicious food in the town, so it all worked out well for us. Here are the places we ate at or intended to eat at:
Toli Toli
Have you ever had a crush on a restaurant? I haven't until I ate here. Toli Toli is a small, hip restaurant in Druskininkai that brings this Lithuania spa town mind-blowingly amazing Middle Eastern and North African flavors.
Owned by a free-spirited traveler named Indre Armalyte, she brings flavors and inspiration from her travels around the world and delivers them straight to patrons at Toli Toli. From shakshouka to falafel (the best I have ever had- really), prepare to be transplanted into an epicurean paradise.
You can find Toli Toli at Vilniaus al. 8 in Druskininkai. To find out more, including their opening hours, check out their Facebook page.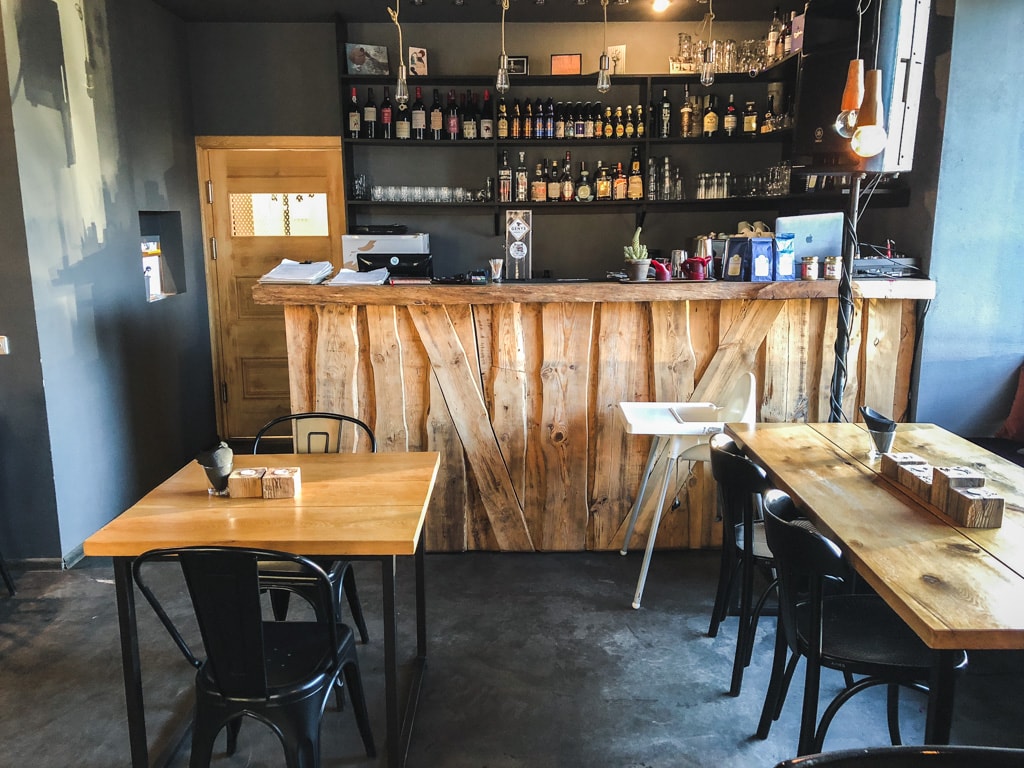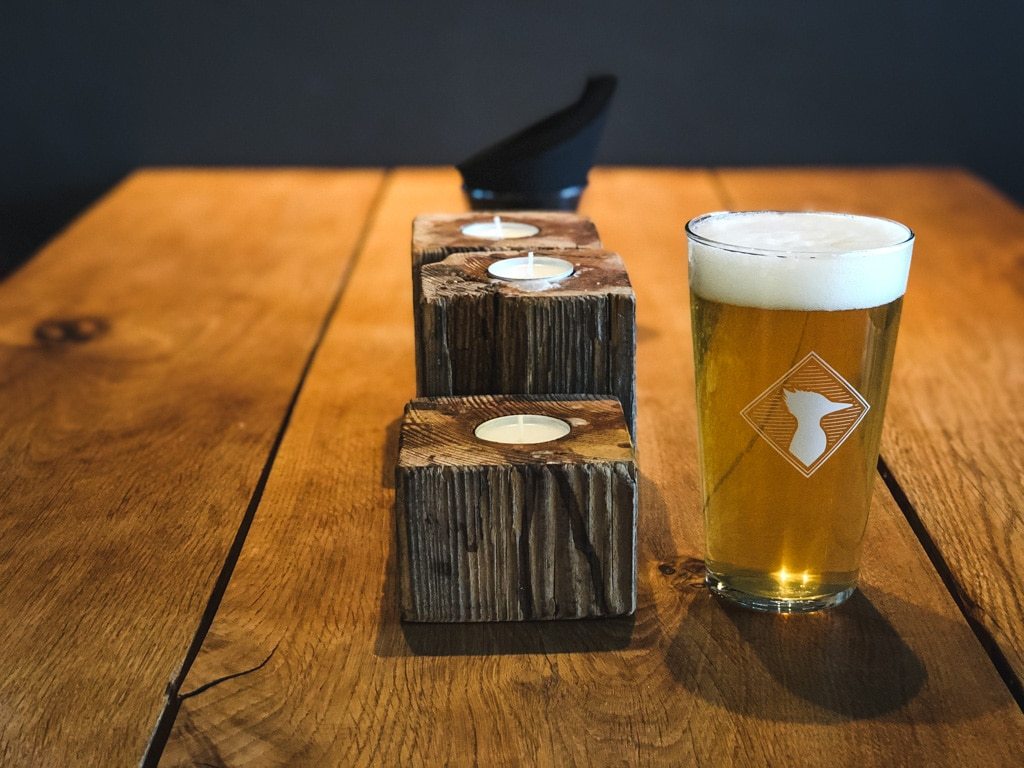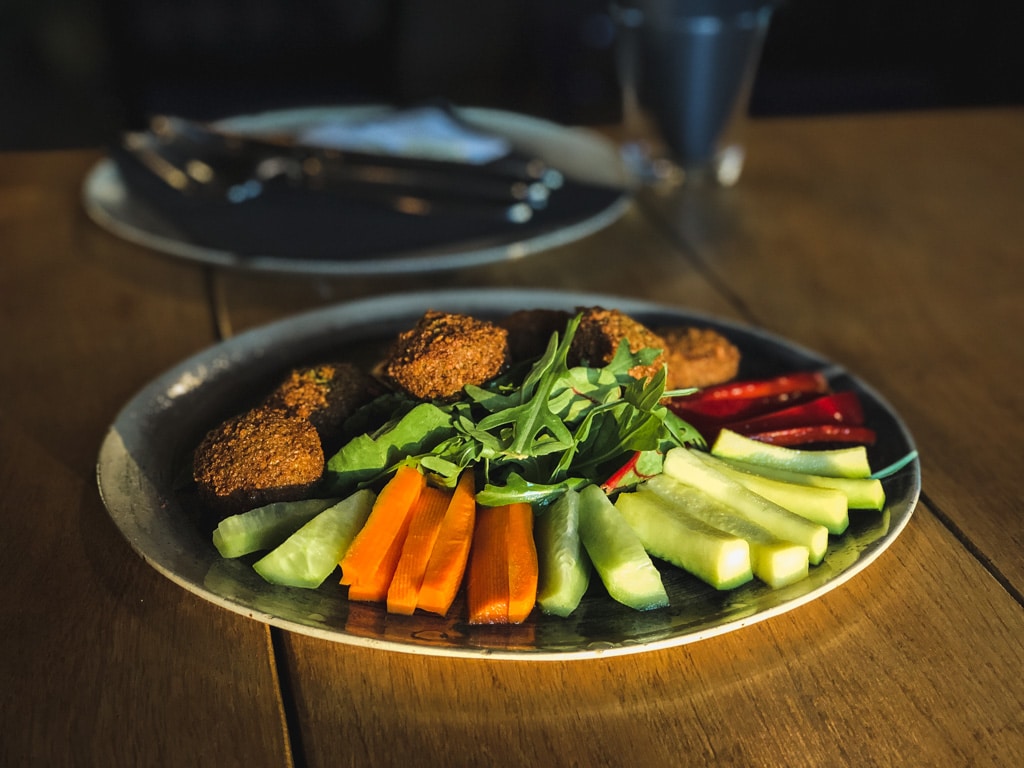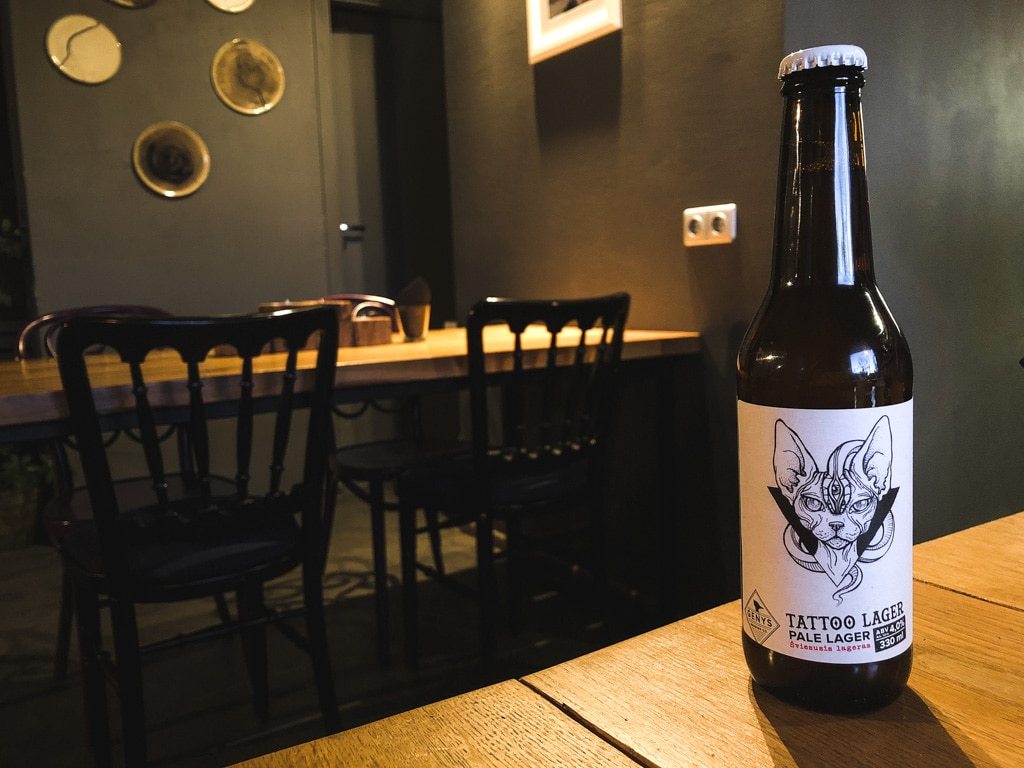 Sicilia Restaurant
Admittedly, Italian food is not one of my favorites. I prefer spices and complex dishes (Indian or Thai) and Italian food is all about the ingredients, most of which are usually terrible if found where I live in Germany. Nevertheless, sometimes you just crave a bowl of pasta. Or a fresh salad. So, we ended up at Sicilia once we realized that the Uzbek restaurant that was set to cure my plov cravings was closed.
I am so glad we ended up at Sicilia because it was a hotspot every time we went inside of it (which was multiple times). Locals were there and it seemed to be the only place around the town that had any sense of life when we were there. The salad, pizza, and chili were absolutely delicious. The beer was affordable, the staff was friendly, and the wifi worked well enough that I worked from the restaurant over lunch one of my days in Druskininkai.
You can find Sicilia Restaurant at M. K. Čiurlionio g. 56 in Druskininkai off of the main drag. To find out more, check out their Facebook page.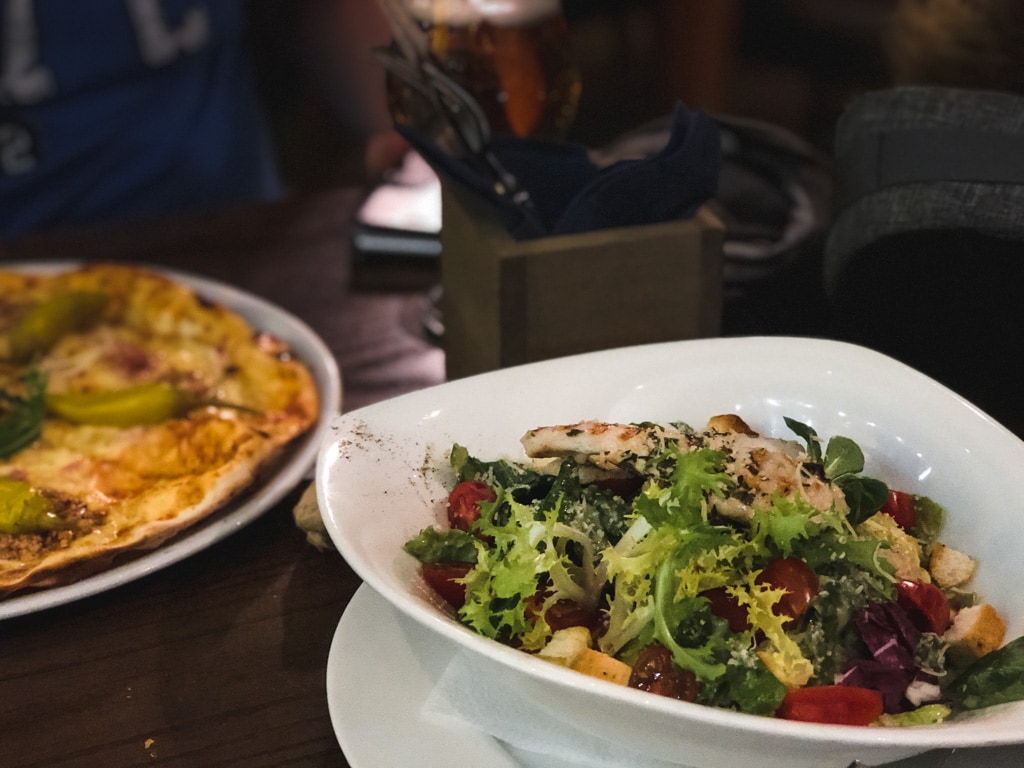 Forto Dvaras
Craving Lithuanian food? Don't worry- Forto Dvaras will hook you up. While I never ate there when in Druskininkai, it does come highly recommended for those looking for some traditional Lithuanian food. This is a chain, however.
You can find Forto Dvaras at Pilies g. 16 in Druskininkai. To find out more information and to view their menu, check out their website.
Where to Grocery Shop
There are a few options around the town depending on where you're staying, but if you're in the city center of Druskininkai like we were, your best bet is to go to Iki, which has two locations around Druskininkai. They had everything we needed without any issue.
While they are open late, do be wary of the fact that Lithuania changed alcohol buying laws recently and has become the strictest nation in Europe for purchasing booze.
Lithuania Purchasing and Advertising Alcohol Laws
You can currently buy alcohol at these times: Monday-Saturdays from 1000-2000. Sundays from 1000-1500. You now must be 20 to purchase alcohol in Lithuania (previous age was 18). Anyway, to read more on this (ridiculous) alcohol rule and advertising laws, click here.
Craft Beer in Druskininkai
Unfortunately, the Lithuanian craft beer industry has been halted a bit by these new alcohol laws that affect the advertising of beer in the country. This includes Facebook and other social media (I am rolling my eyes as I write this).
A huge hindrance to small businesses, I admire anyone who is currently careening their way forward despite the obstacles. Fortunately, you can find craft beer in Druskininkai, although not in abundance. You can also find at Toli Toli as noted above under restaurants.
Black Light Brewing Co.
This brewery is based in Druskininkai, but you can't currently purchase their beer there. But, you can easily find it in Vilnius and Kaunas. I had their Vanilla Marshmallow IPA at Prohibicija in Vilnius and was blown away (I have a soft spot for all things vanilla).
They have been around since October 2016 and have a nice portfolio of beers. They are currently looking to distribute internationally, so if you are reading this and are looking to bring in some Lithuanian beers, please get in touch with them!
To find out more about Black Light Brewing Co., click out their Facebook page.
Gero Skonio Krautuvėlė
Thanks to the recommendation from the brewer at Black Light Brewing Co., we found out that Druskininkai has an actual beer and specialty food shop called Gero Skonio Krautuvėlė. The only craft beer they had when we were there was Dundulis from Panevėžys, but it was fine because the atmosphere was different and it is just nice to be around beer and the people drinking it.
The place seemed to have a lot of regular customers who the bartender knew very well. They also had some incredibly delicious dried fish and meat snacks.
You can find Gero Skonio Krautuvėlė at Druskininkų g. 3 in Druskininkai. To find out more, check out their Facebook page.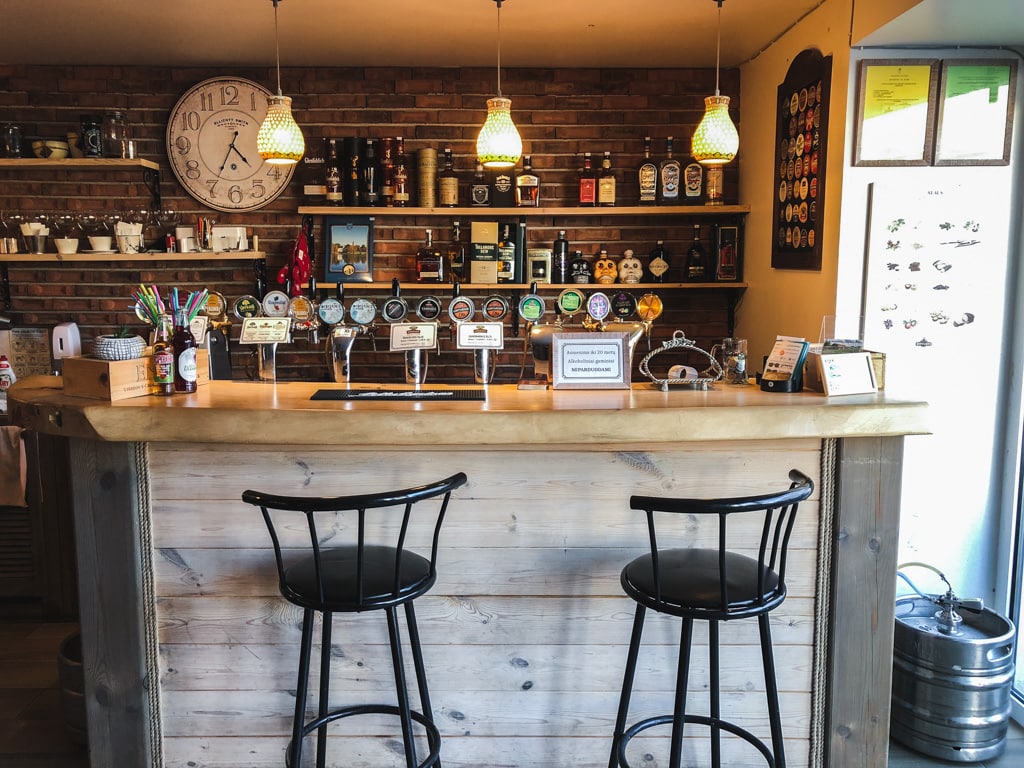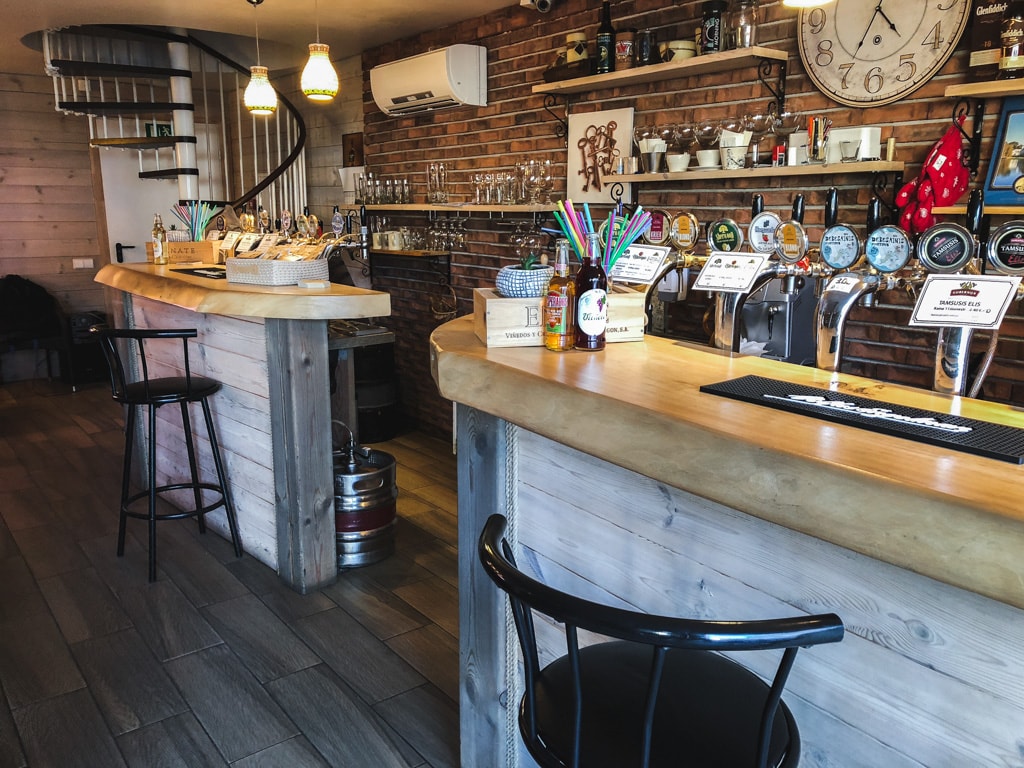 Cafes and Coffee in Druskininkai
To be honest, there are quite a few places to grab a coffee in Druskininkai. On the other hand, many are chains. And while I don't mind supporting chains here and there (I did recommend Forto Dvaras above), if I find a great, independent cafe, you will most certainly see me recommending them. These are my two Druskininkai favorites:
City Coffee
This cafe had both pleasing coffee and an inviting aesthetic. The woman who served us was extremely friendly despite the language barrier and even ordered us a taxi when we left to head to Grutas Park. It was genuinely a pleasant experience all around the board. They also serve small eats and have really great tea! This is the perfect place to get your caffeine fix in Druskininkai.
City Coffee is located at Kudirkos 37 in Druskininkai. To find out more, check out their Facebook page.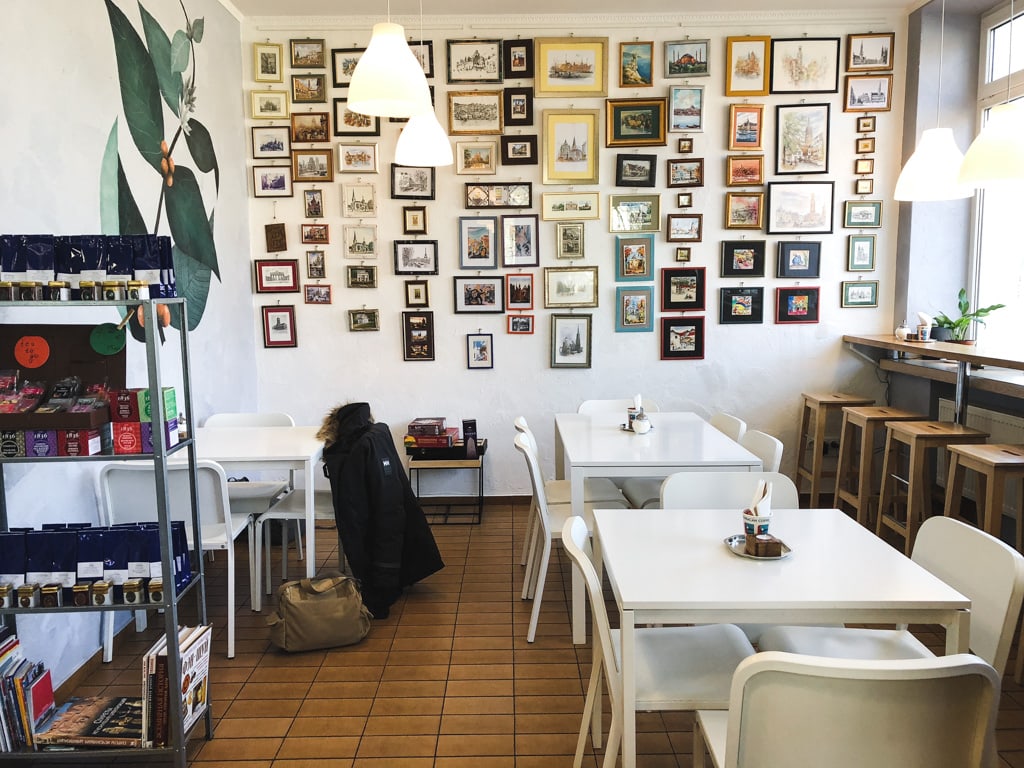 Boulangerie
When someone tells me a place has good croissants, I don't mess around. We were recommended Boulangerie and immediately made our way there the following morning.
The entire place was carb paradise and I got my tasty croissant and could move on with my day in a happy fashion. This is a great place to go to for breakfast (or basically anytime you need your bread fix).
You can find Boulangerie at M. K. Čiurlionio g. 63 in Druskininkai. To find out more, check out their website.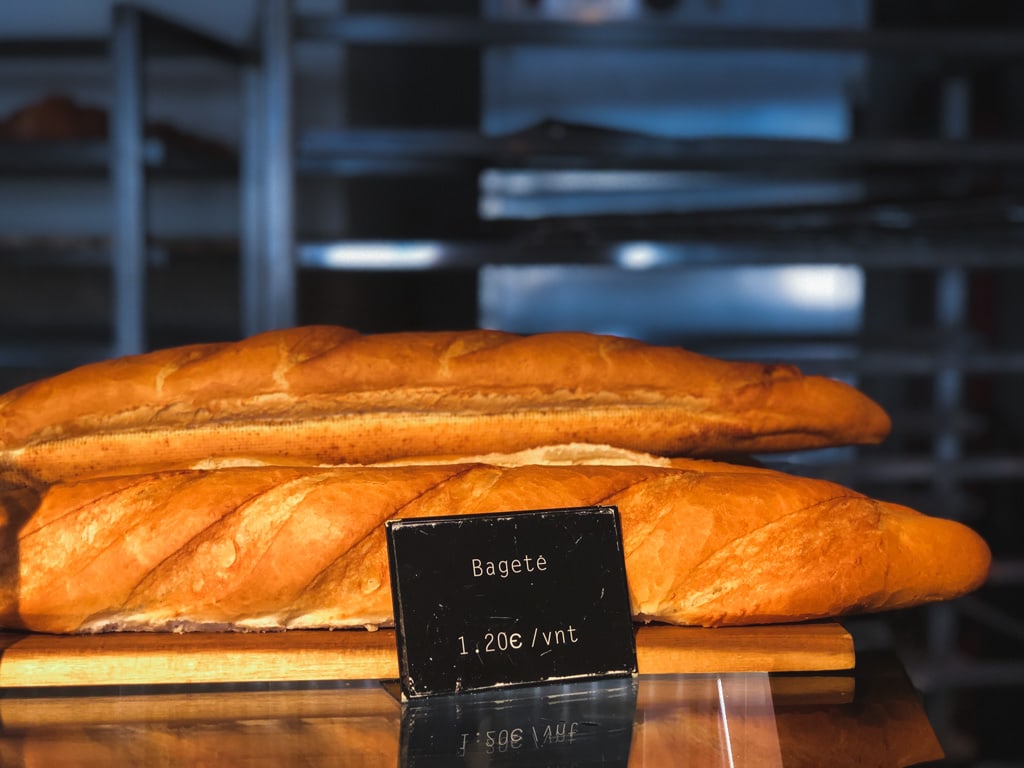 Things to Do in Druskininkai
There are the obvious things… such as going to the Snow Arena or Water Park, but this post isn't about those places. This is about the things to do outside of those fun parks and outside of the spas that the town is known for. Here are a few things to do in Druskininkai outside of the usual that it is known for:
Visit the Abandoned Spa Nemunas (Sanatorium)
Druskininkai has an abandoned sanatorium that is the second-highest building in the town and has been unoccupied since 2007. I have read about the place for years and everyone says it is such a cool urbex experience. I actually found it a bit 'meh', but I am glad I went inside anyway.
You can find openings at many areas of the building but it is constantly being boarded back up. But I can't fathom it is completely inaccessible at any point as it seems as though people hang out inside all the time. It was completely accessible when we were there and people saw us inside and didn't seem to mind.
The building is large, so if it is your cup of tea, make sure you give yourself plenty of time. After a while, it all became the same and my interest was no longer piqued. The spa dates back to the 1980s.
Side note: Be very careful and always look up. There are concrete pieces falling from the ceiling constantly and if one falls, it will likely kill you.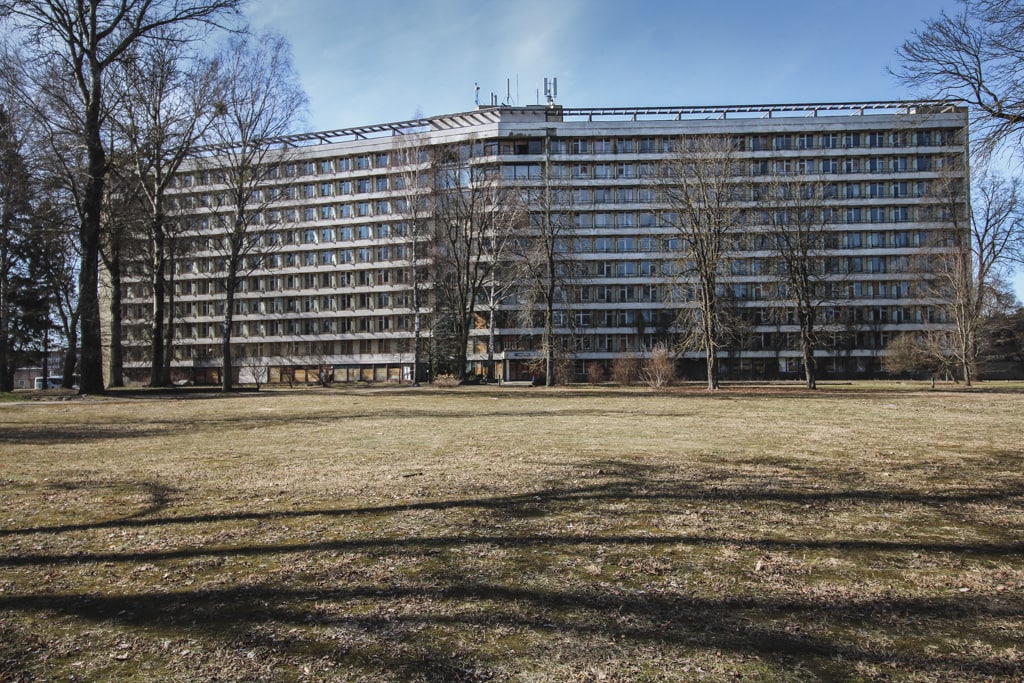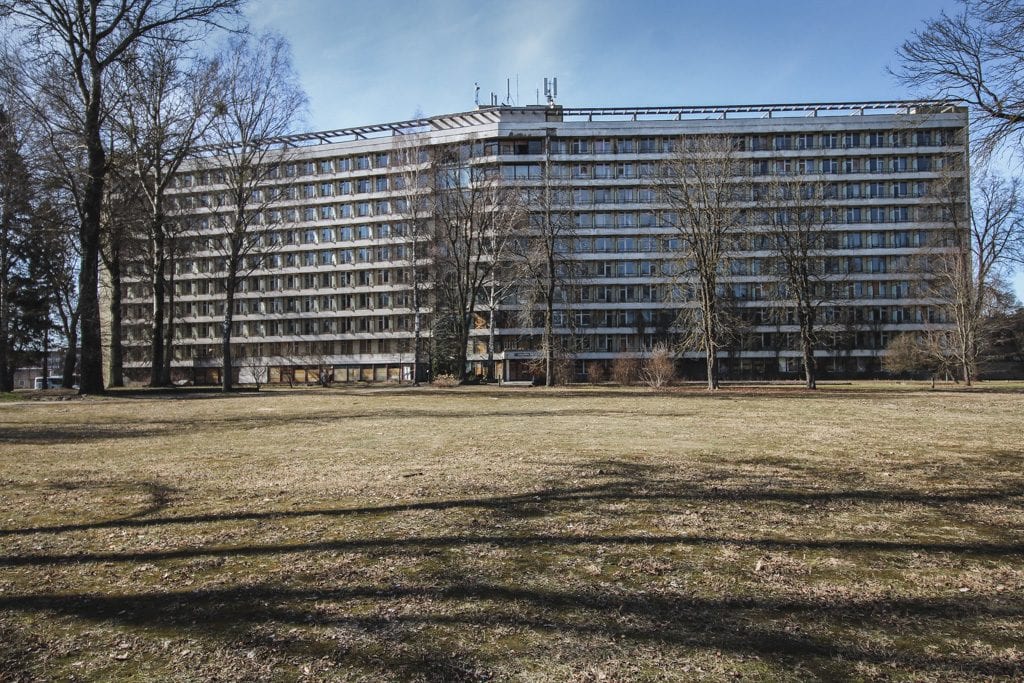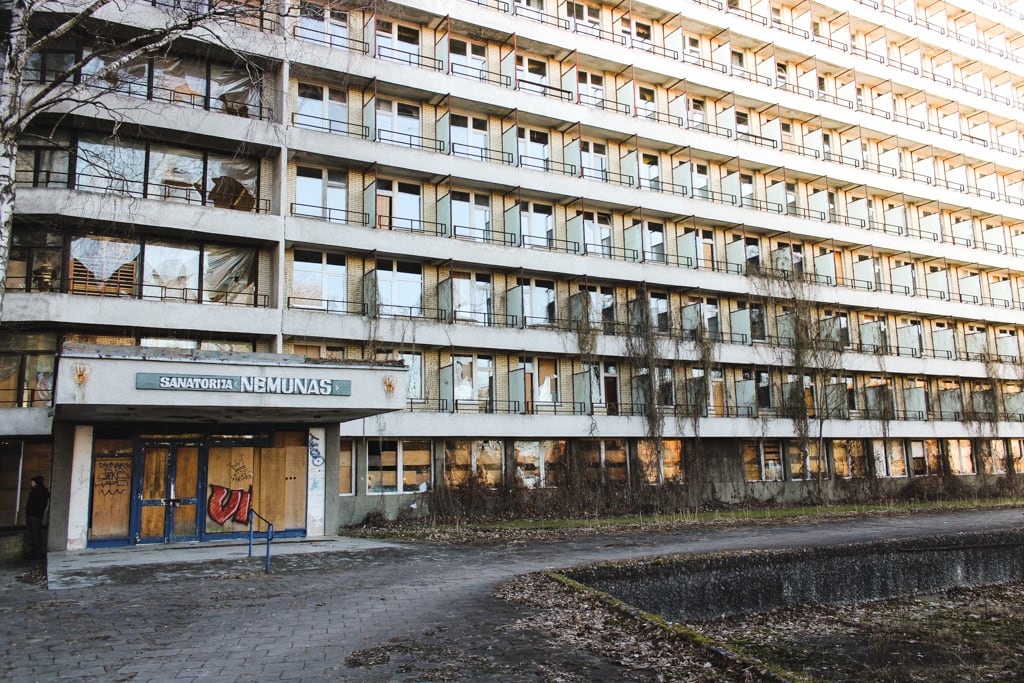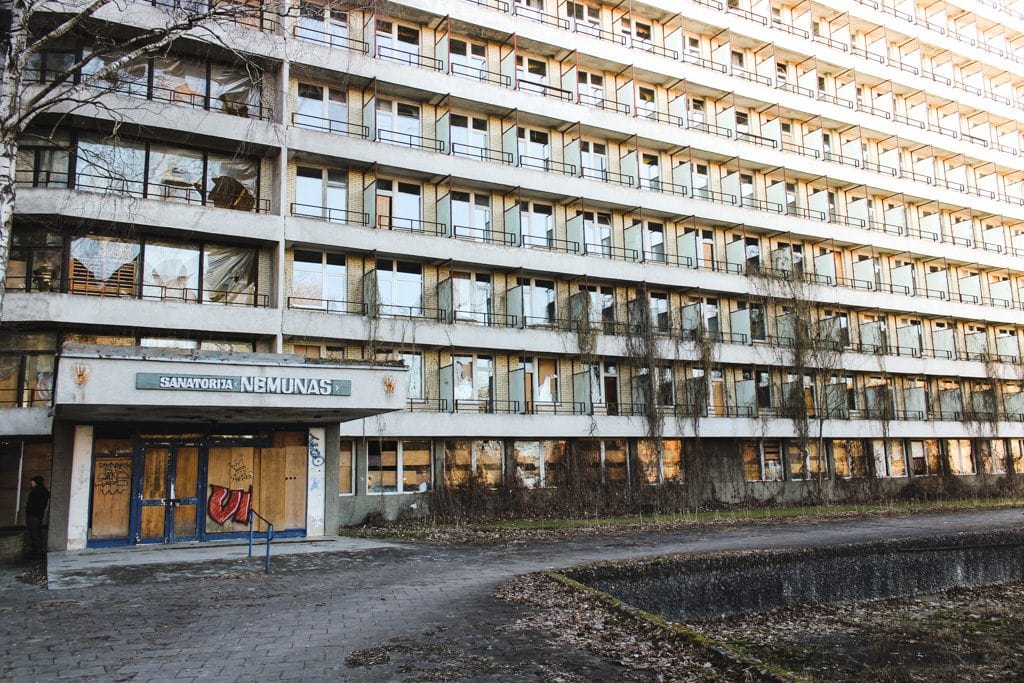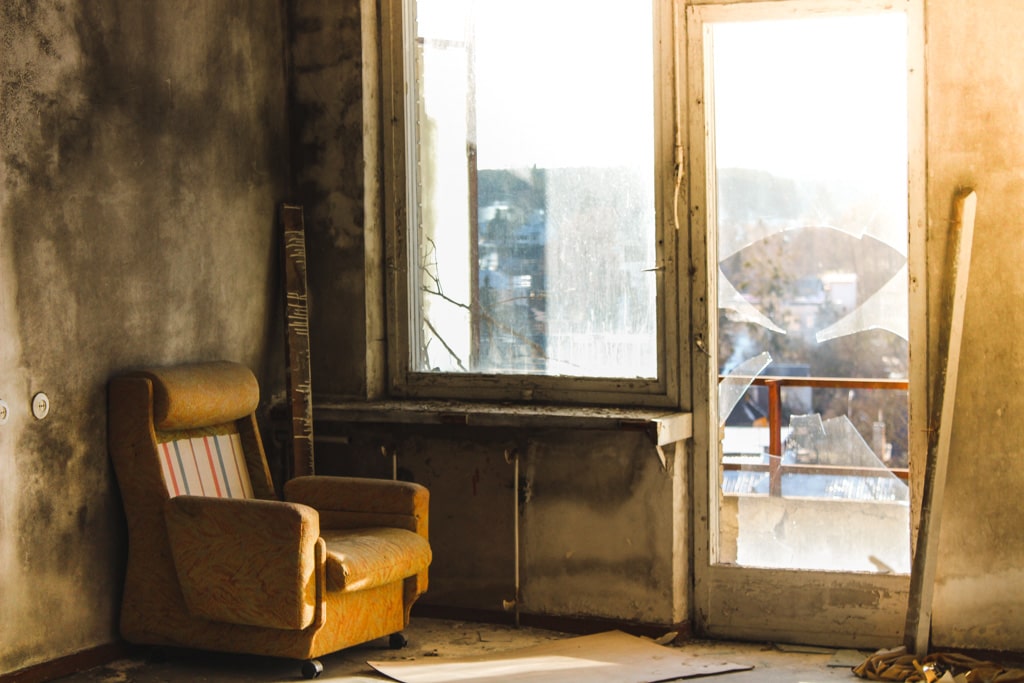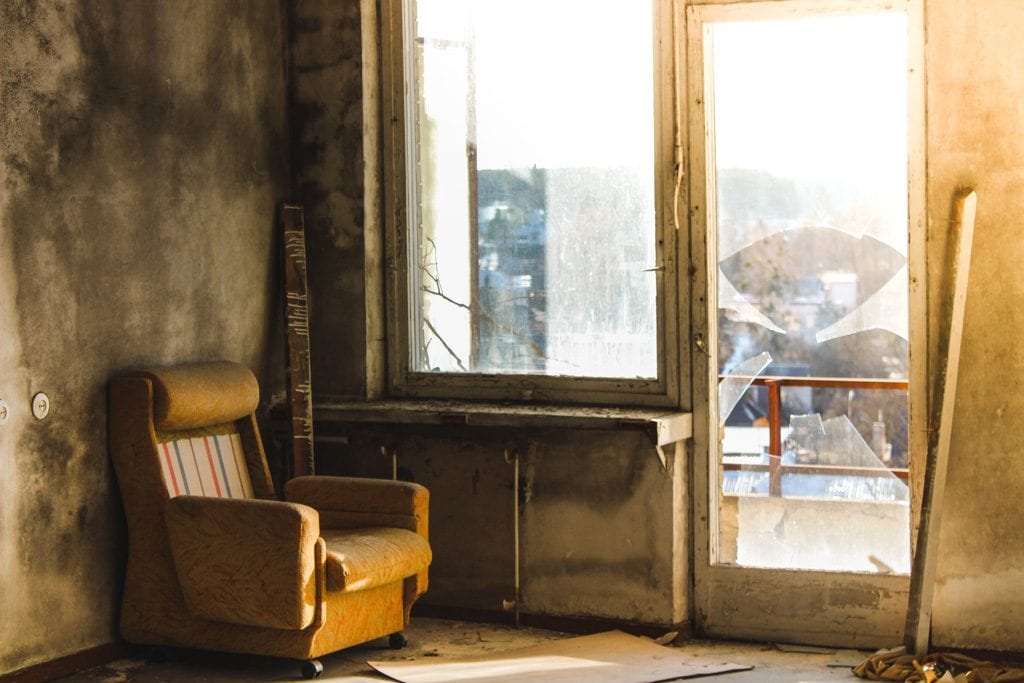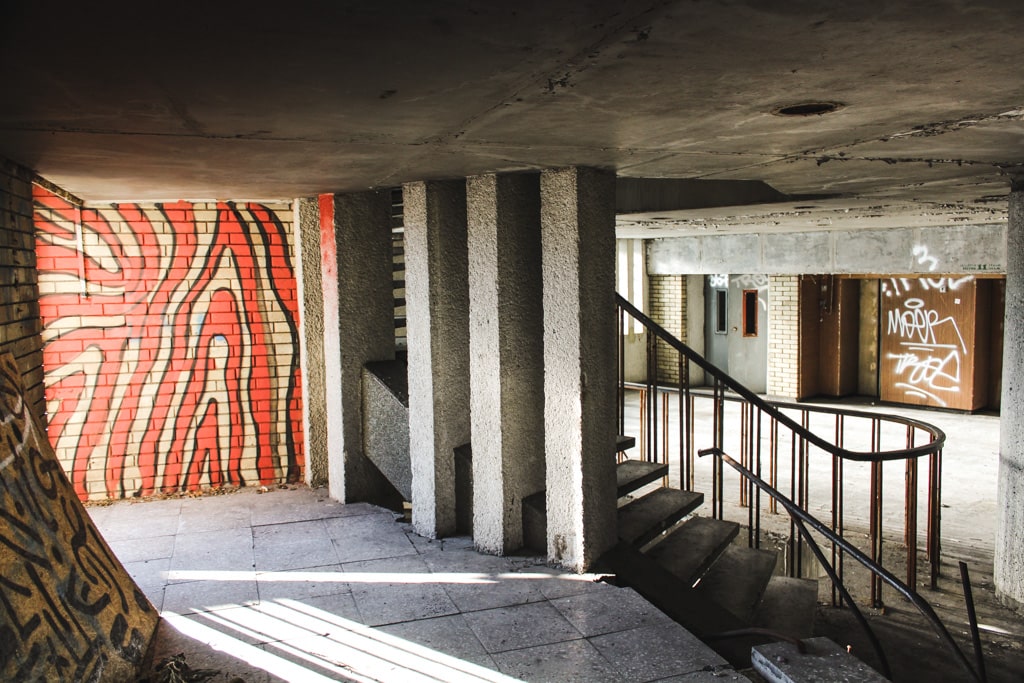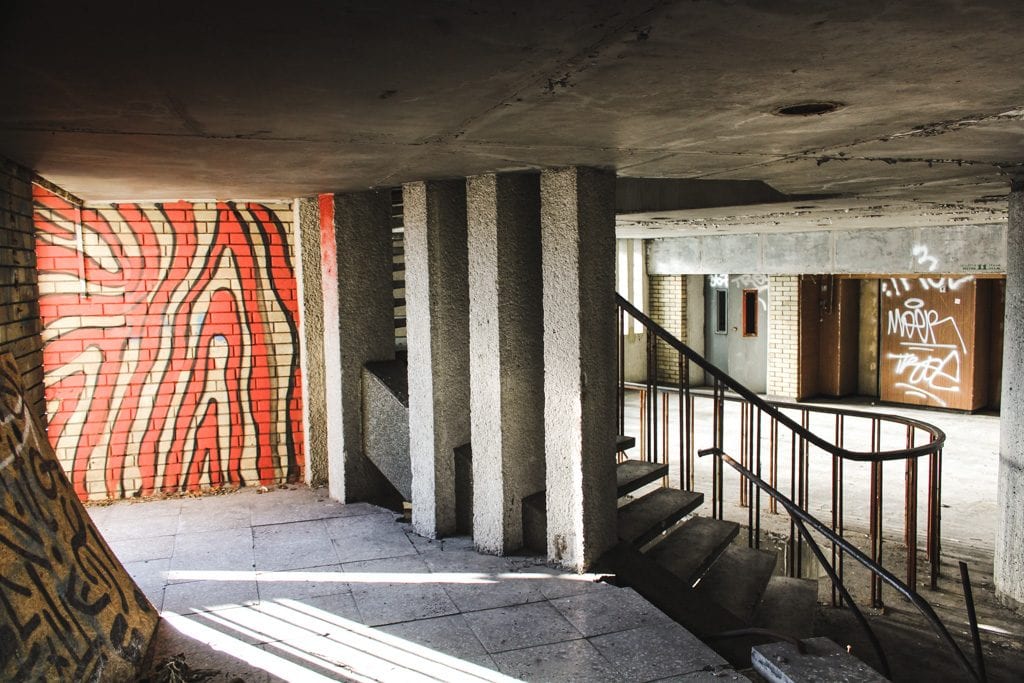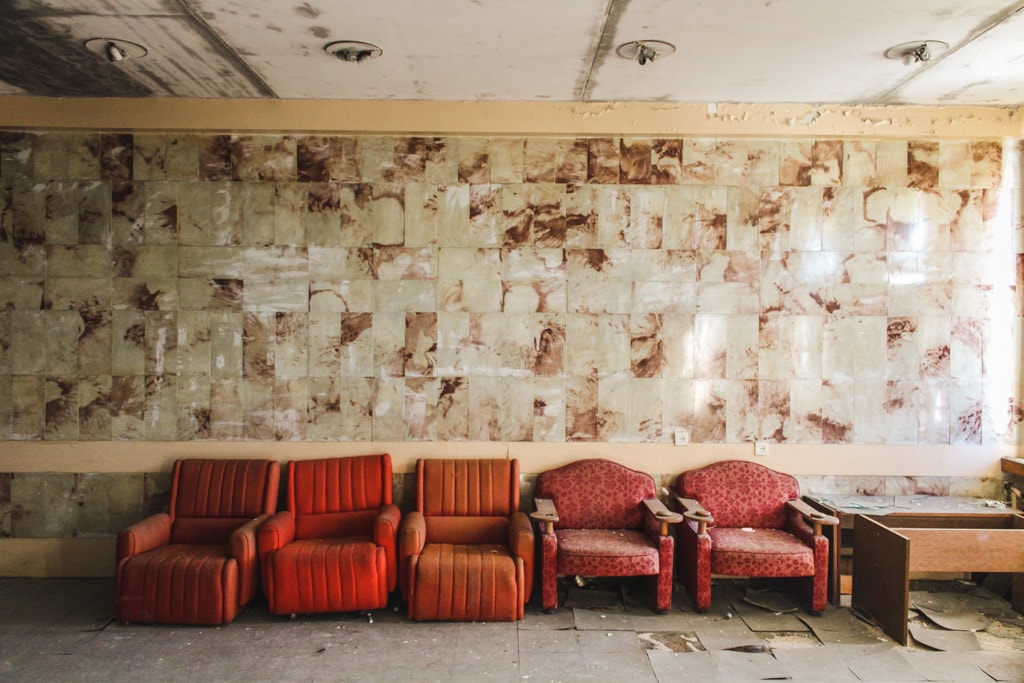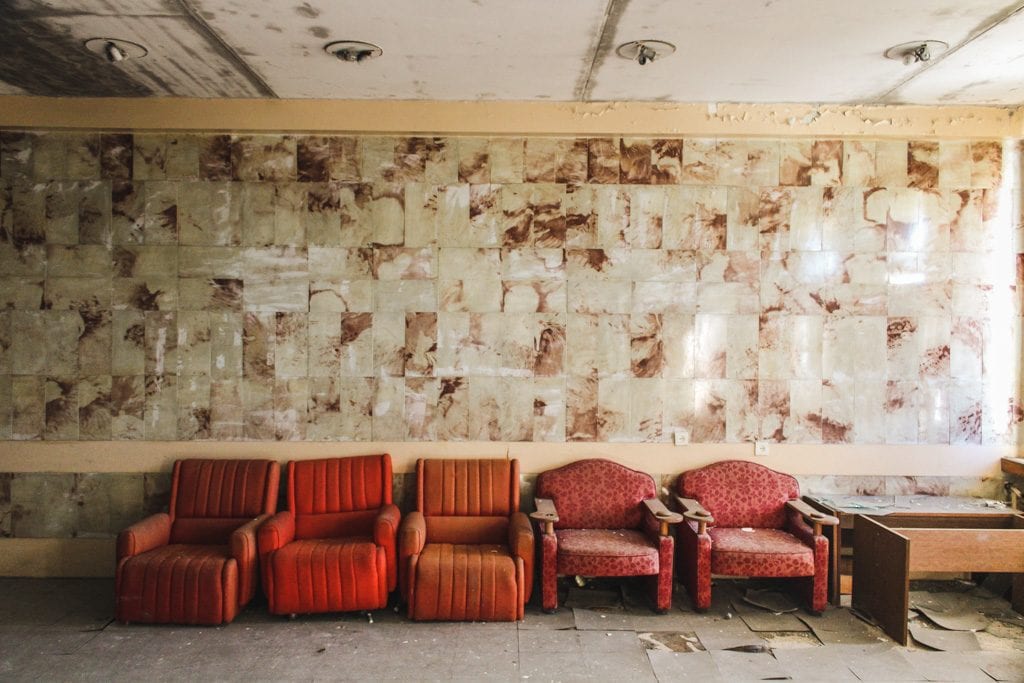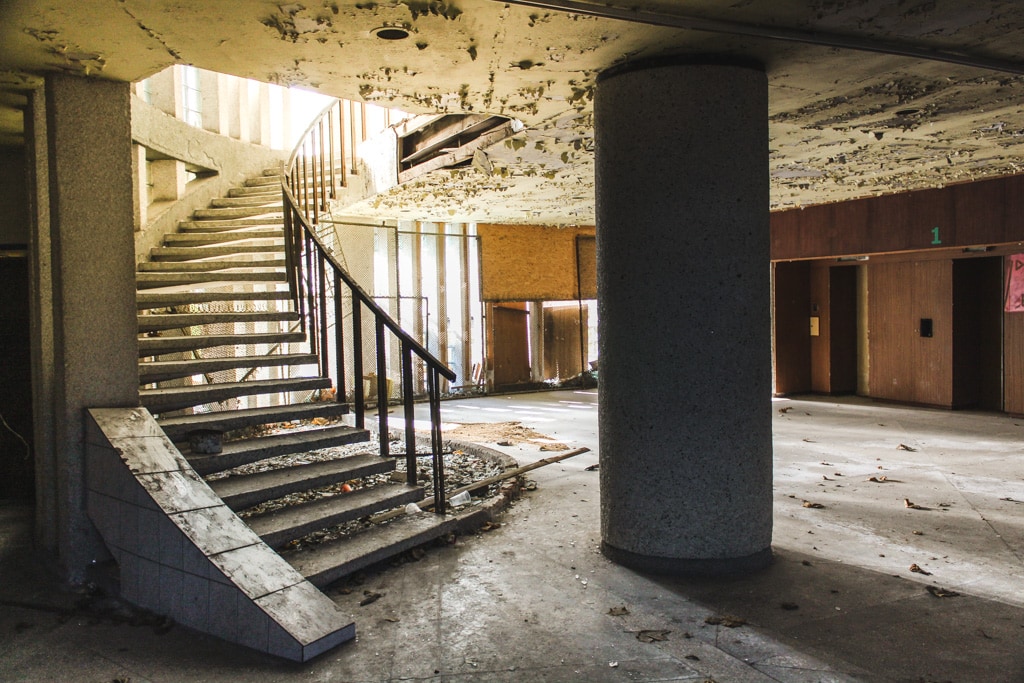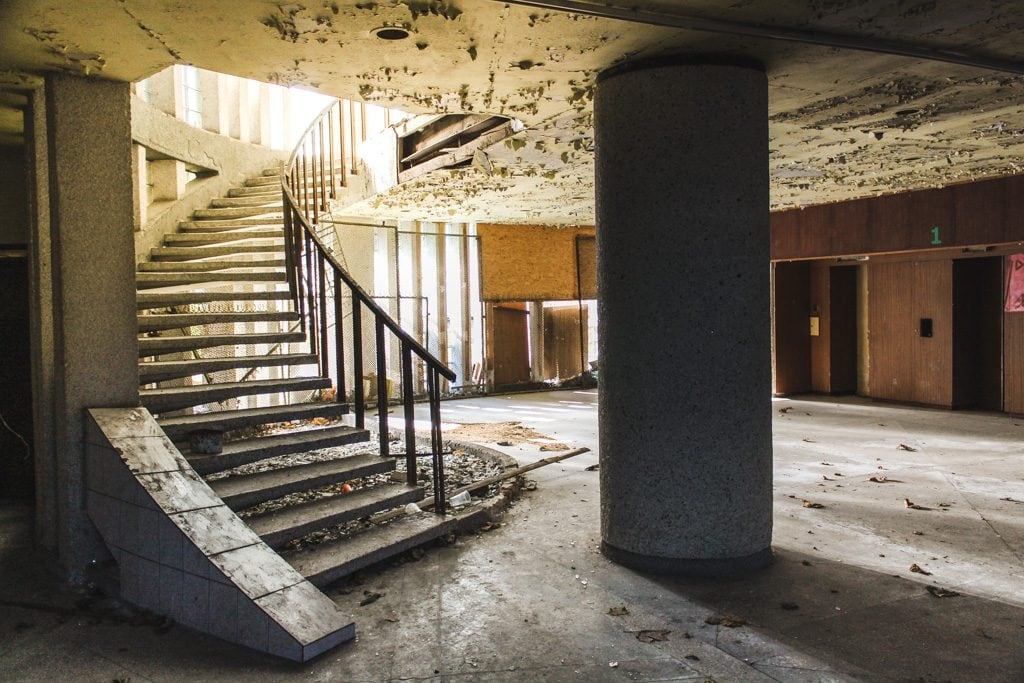 Take a Break in the Forest and Countryside
My favorite thing about Lithuania is undoubtedly its forests. I am a sucker for birch trees and dense vegetation in the Baltics and this area does me proud. Druskininkai is completely surrounded by forested land and peaceful lakes. Get out of the town (or really, you can find it within the town, too) and explore them.
There is also a lot of countryside that is untouched and rustic that can be explored. The best thing about Druskininkai is that it is known for its healing properties from the water, but the forest and local areas around it felt just as therapeutic due to the clean air and relaxing nature.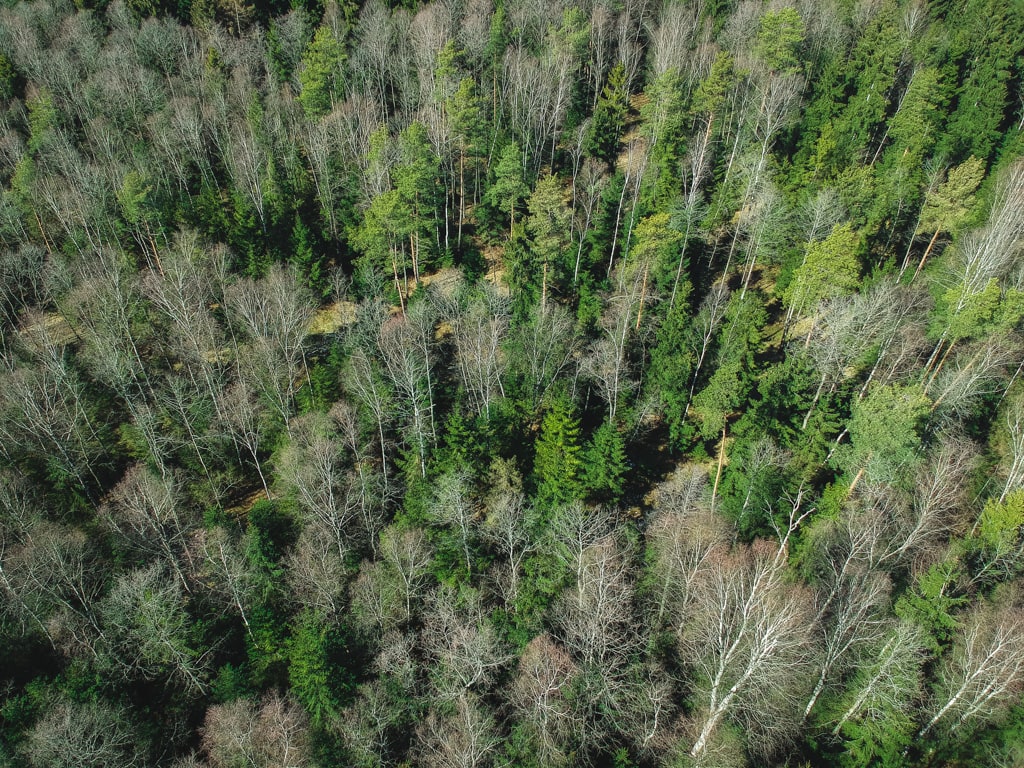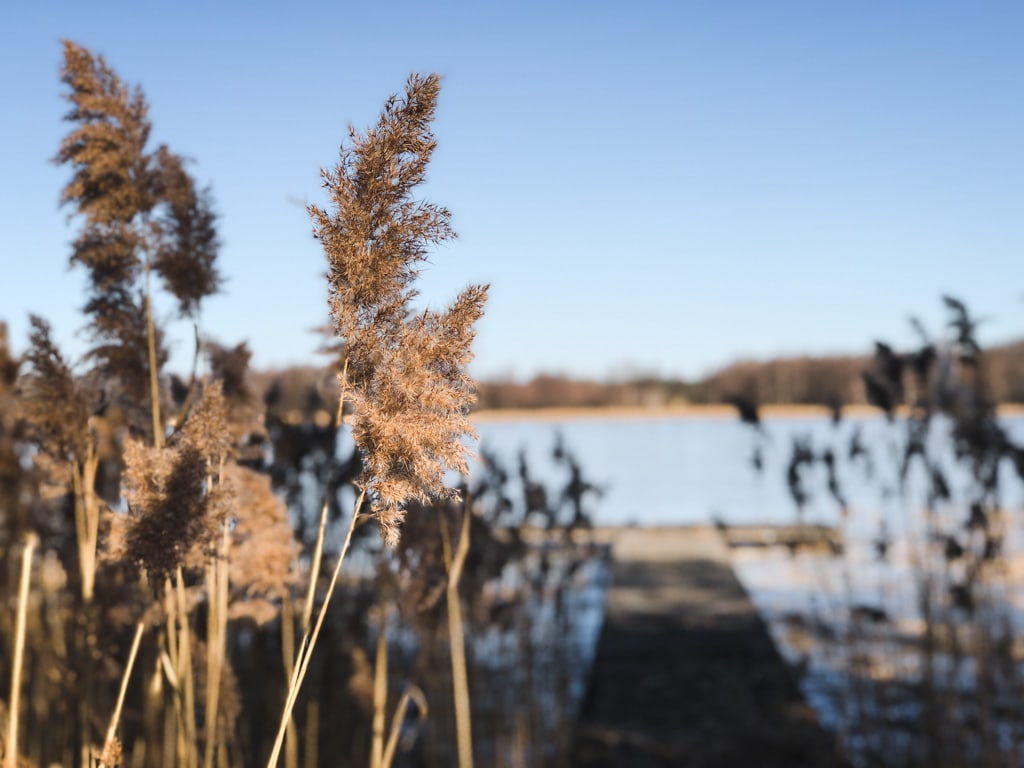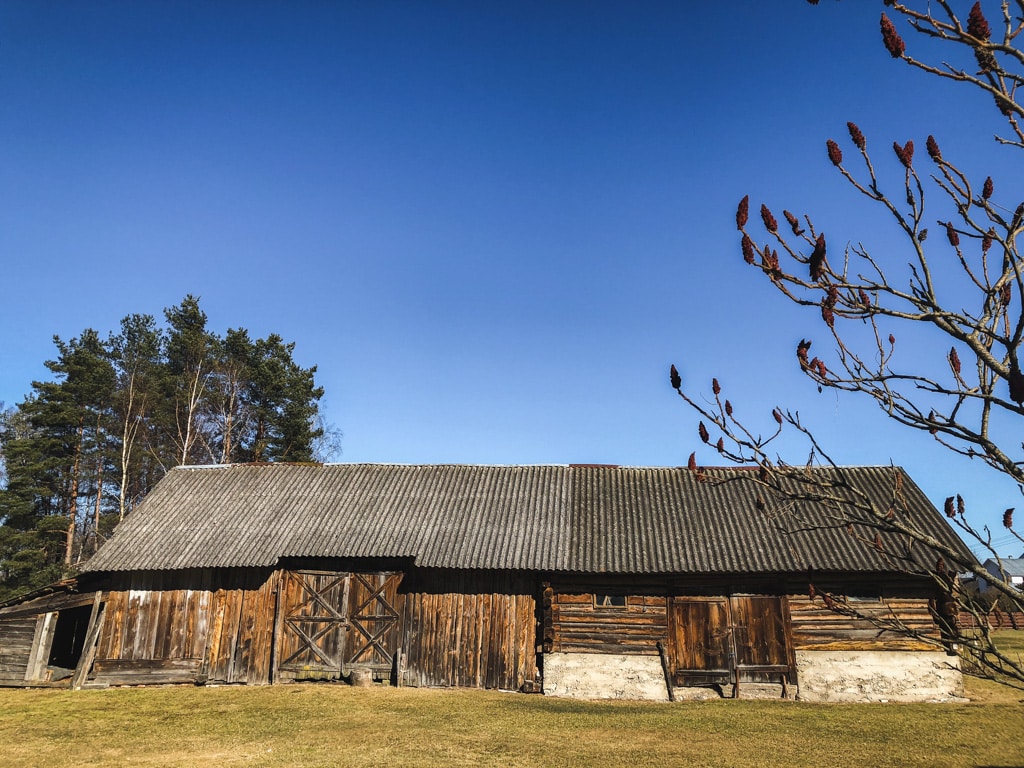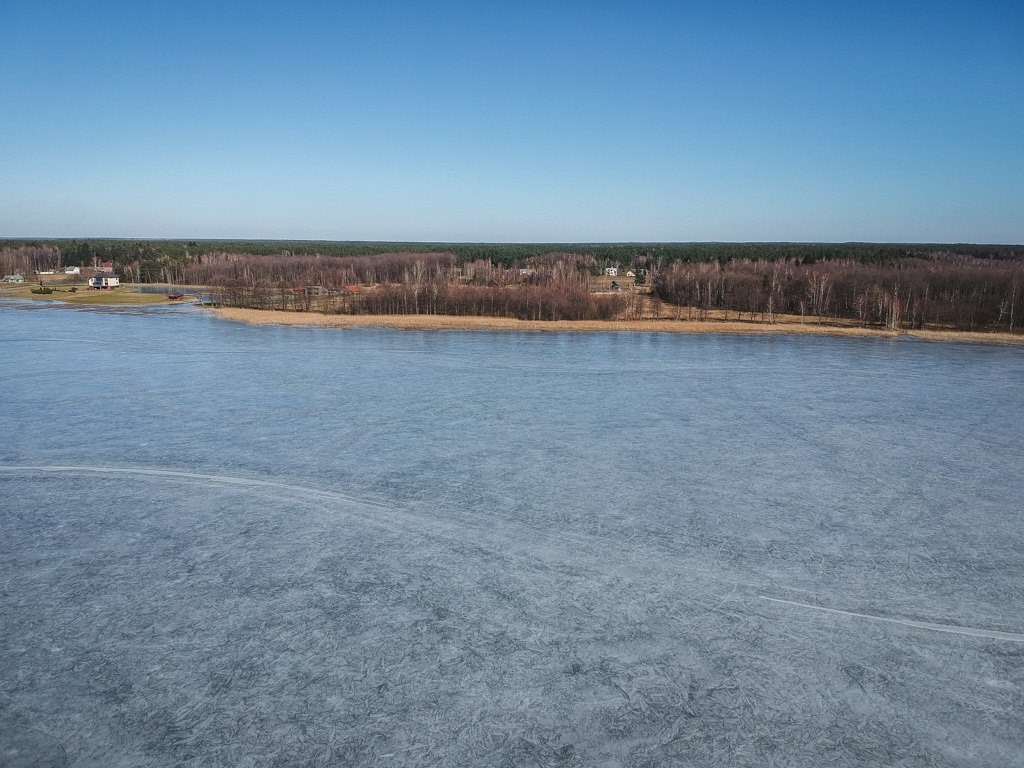 Check out the Soviet Architecture… Before Its Gone
Soviet architecture is becoming an endangered species of its own and no place is proof of this more than the Baltic states. In fact, a lot of Soviet structures no longer exist in Druskininkai. Interestingly enough, the city saved some of the gems. You can actually find part of the Balneological Hospital on the post-Soviet built Druskininkai Aqua Park.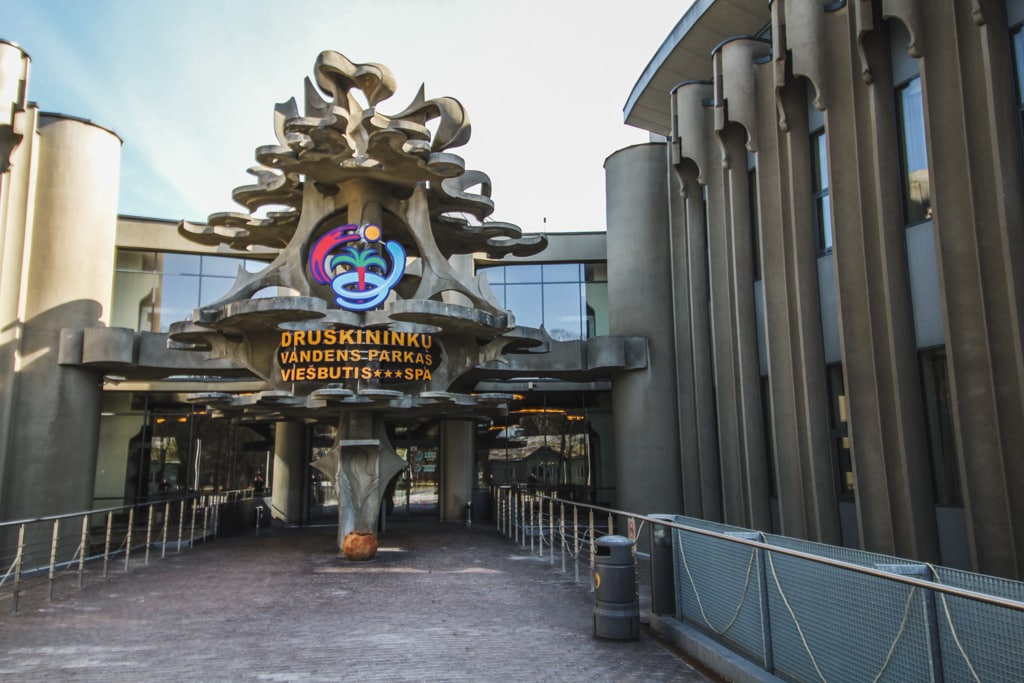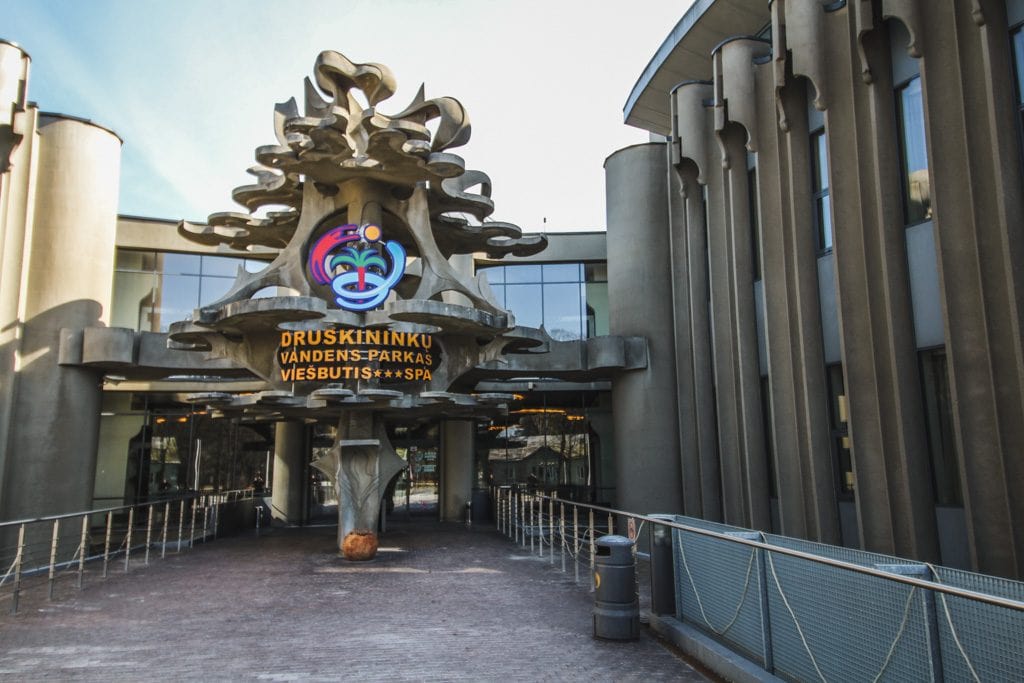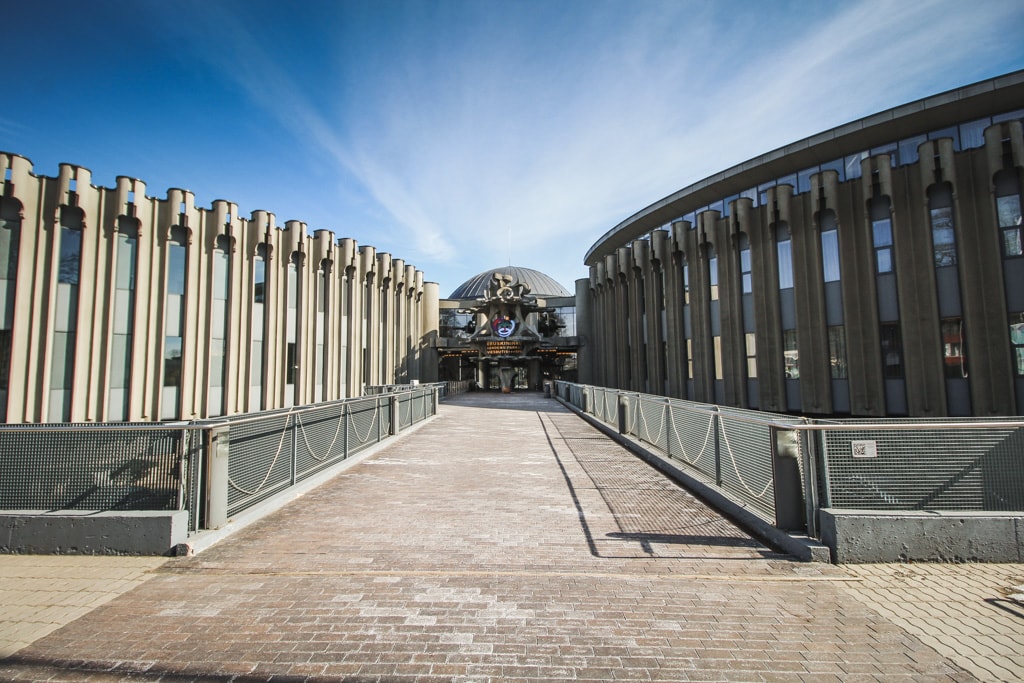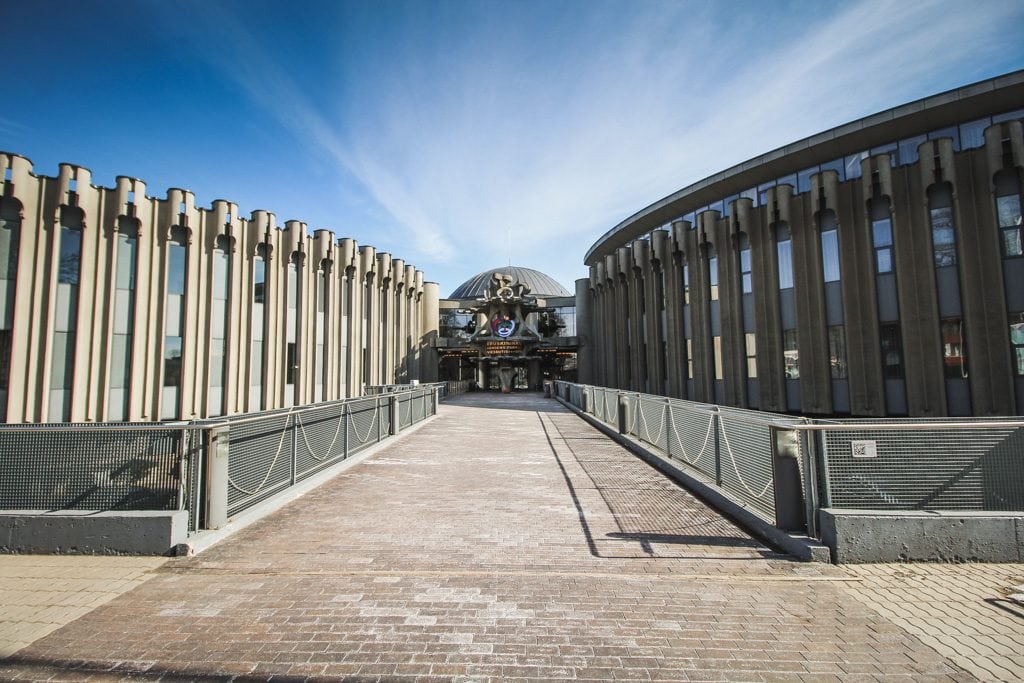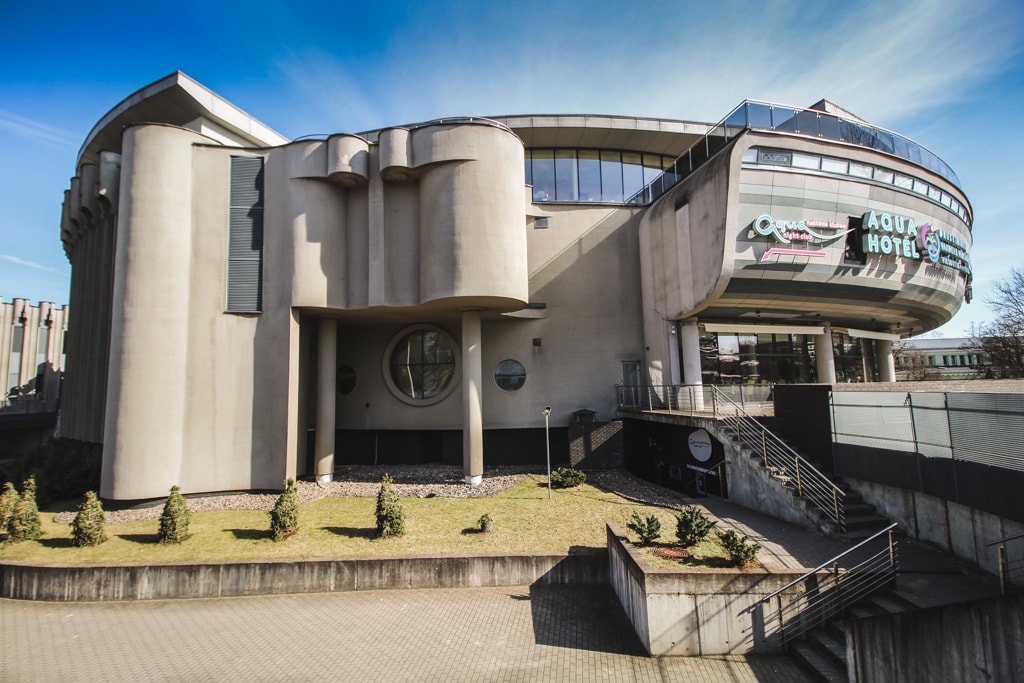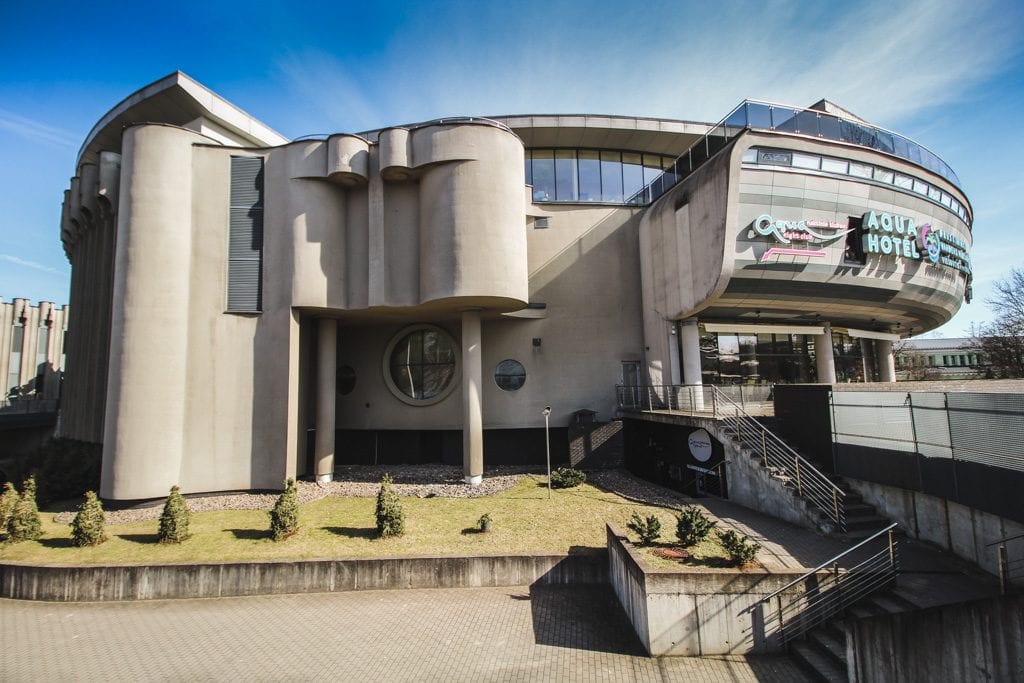 Hang Around Druskonis
In the middle of Druskininkai, there is a large lake called Druskonis. The lake was frozen solid when I was there, but during warmer months, there are paddle boats and sporting events going on in and around the lake. My favorite thing about the lake actually happened to be watching the sunset beside it.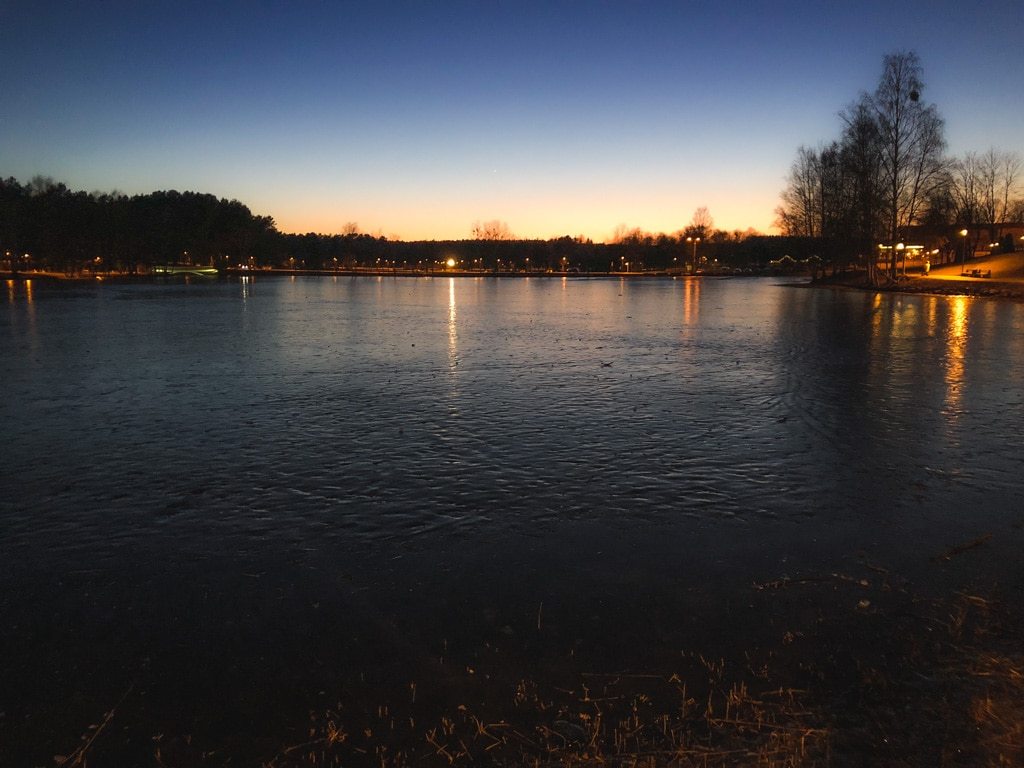 Should You Go to Grutas Park?
No. I am going to be writing a longer post about this soon, but unless you're a fan of animal abuse and seeing bears in tiny cages going through states of depression, stay away. The park charges each guest a certain amount for visiting the Soviet statues and has decided to put a 'zoo' inside of the park.
So, the fee you pay goes to keep these poor animals in captivity. My post will go into more detail… and I have videos and photos of how horrifying it all is.
I very rarely tell people to not do something on their travels. This is the exception. No kitschy statue of Lenin can justify the barbaric treatment of those poor animals and you shouldn't be an accomplice to it all.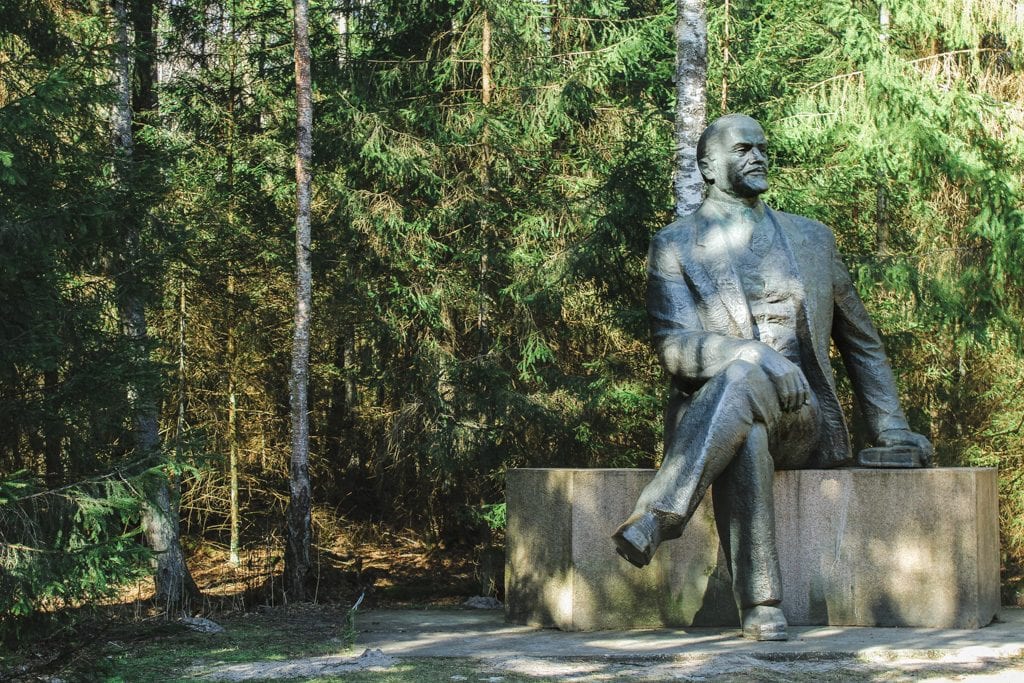 Getting to Druskininkai
Getting from Vilnius or Kaunas to Druskininkai is relatively easy. The tickets are around 10 Euros one way and the journey is really easy from either the Vilnius main bus station or Kaunas main bus station. From Vilnius, the buses leave hourly or so and you can check the schedule here.
From Kaunas, the ride is a little over 2 to 2.5 hours and the ticket is about the same price. The buses leave regularly from the bus station. They speak English at the bus station and you should have no issue finding out more information there.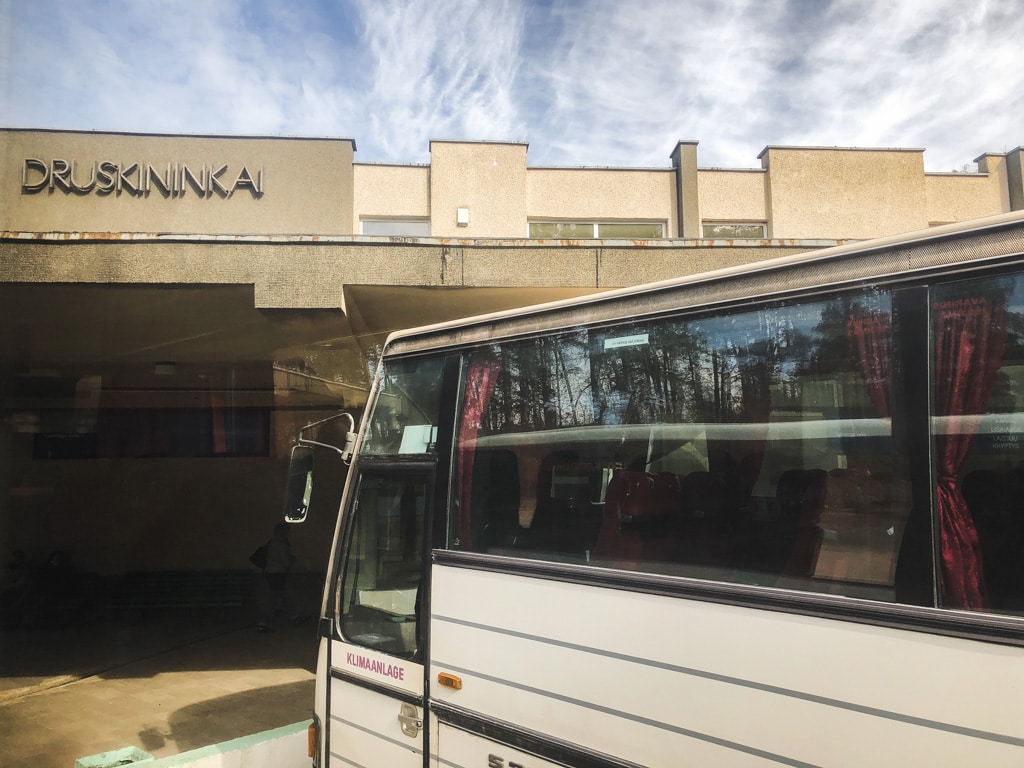 Have you been to Druskininkai? Is there anything a bit obscure (minus cable cars, aqua park, and snow arena) that you'd recommend to travelers?