Kyiv, Ukraine. My absolute favorite city in the world. I have spent quite a bit of time in the Ukrainian capital and every time I am there, I fall more and more in love with the city.
I am constantly getting emails about what to do in Kyiv, so I thought I'd finally take the time to put together a guide of fantastic things to do in Kyiv, Ukraine.
Please note that I do NOT encourage traveling to Ukraine currently and will not be doing so myself. I will update all Ukraine content on this website in due time. Thanks!
This is not even close to being conclusive, so please drop some of your suggestions in the comments.

50 Best Things to Do in Kyiv, Ukraine – My FAVORITE City
My first time in Kyiv was back in 2011. This was before Maidan and in a time where Ukraine seemed to be in an identity crisis. I fell in love with the city regardless and vowed to travel back in the future.
I never made it back to Kyiv quickly. I had plans to actually travel to other places in Ukraine like Donetsk and Crimea during Easter holidays in 2014 but we all know how that panned out. I ended up in the Balkans instead. I eventually made it back to Kyiv and have been showing up in the city regularly ever since.
Kyiv has changed. There is a spark there that wasn't present before. Startups are ever-present and the people are speaking English in the city like never before. The city simply inspires me like no other city in the world. There are a lot of things to do in Kyiv and I hope you take the time to travel there in the future!
Best Cultural Things to Do in Kyiv
Visit Kyiv Pechersk Lavra, a UNESCO World Heritage Site
I have been to Kyiv Pechersk Lavra too many times to count (but embarrassingly enough, I have never made it inside). The UNESCO World Heritage Site is a historic Orthodox monastery that is also known as Kyiv Monastery of the Caves. It was founded in 1051 and is an unmissable site to visit in Kyiv.
Built-in Ukrainian Baroque style, the monastery complex was the center of the Orthodox religion in Eastern Europe historically. You can find the Kyiv Pechersk Lavra at Lavrska St 15 in Kyiv.
Click here for a private tour option of Kyiv Pechersk Lavra

Marvel at the Thriving Kyiv Street Art Scene
The Kyiv street art scene is one of the best in Europe if you ask me. The city has taken its creativity and channeled it into making the city come to life in the form of murals. The recent events at Maidan have also helped propel the street art scene into something of another world here.
You can find street art in Kyiv pretty much everywhere but if you want to know the stories behind some of the best masterpieces, definitely opt for a street art tour.
Click here for an epic tour of Kyiv's incredible street art

See Blue for Days at St. Michael's Golden-Domed Monastery
One of the most notable sights in Kyiv is the St. Michael's Golden-Domed Monastery in the Uppertown. Located fairly close to Saint Sophia's Cathedral, the Ukrainian Orthodox church is still functioning today.
In the 1930s, the church was demolished by the Soviets but was later rebuilt in 1999 after Ukrainian independence in 1991. The original church dates back to around 1108–1113. You can find the church at Triokhsviatytelska St 8 in Kyiv.
Click here to arrange a tour to St. Michael's Golden-Domed Monastery

Catch a Football Game at Olympiyskiy Stadium
Back in 2011, I went to a Dynamo Kyiv game against Donetsk Metallist. Times have changed and Metallist no longer exists and the original Dynamo Kyiv stadium became a thing of the past.
The new Olympiyskiy Stadium was finalized as the main stadium for the 2012 Euros in Ukraine (shared with Poland). I never went inside of the stadium until 2016 when I saw Dynamo Kyiv play Dnipro and I absolutely loved the experience.
The stadium is truly state of the art and stunning. It fits a little over 70,000 fans and is definitely a place you want to visit or watch a game in if you're a football fan. If football season is not active, perhaps take a tour of it if you're still to check it out. You can find the Olympiyskiy Stadium at Velyka Vasylkivska St 55 in Kyiv.
Click here for Olympiyskiy Stadium tour information

Go to Kyiv's Cultural and Creative Hub – Artzavod Platforma
Artzavod Platforma may easily be one of the coolest things about Kyiv. The Art and Cultural epicenter of the city is home to an intellectual center of sorts and houses everything from co-working to lectures to the Kyiv Craft Beer festival (and Kyiv Coffee festival).
Kyiv is on the brink of something major in Europe and I think a lot of that can be traced back to Artzavod Platforma. You can find the creative campus at Belomorskaya St 1 near the Darynok Mall.
Wander Around St. Sophia's Cathedral
St. Sophia's Cathedral is one of two UNESCO World Heritage Sites in Kyiv, Ukraine. This prominent structure is located in the Uppertown of the city, an area reachable by foot, public transportation, or the famous Kyiv Funicular. At St. Sophia's Cathedral, you will find a high bell tower that you can go up to the top of (pending you pay a fee).
One of my favorite things to do is head inside of the grounds and stroll around and photograph the exquisite architecture. You can find St. Sophia's Cathedral at Volodymyrska St 24 in Kyiv.
Click here for private tour options of St. Sophia's Cathedral

View Baroque Beauty at Saint Andrew's Church
My first time seeing Saint Andrew's Church was back in 2011 and there was scaffolding covering every last bit of it. This 'supposedly' beautiful church was dull and covered head to toe in an ugly mess. I wasn't impressed.
Fast forward years later and many trips to Kyiv and I still haven't had a chance to see this church without the scaffolding. I swear someone put it up right before my arrival and left it to continuously disappoint me.
Finally, today (literally as I write this), I saw it without scaffolding and the world is right again. It was covered in fog, but beggars can't be choosers. This beautiful, Baroque church can be found at Andriivs'kyi Descent 23 in Kyiv.
Click here to take a tour of Saint Andrew's, Andriivs'kyi Descent, and Podil neighborhood

Take the Metro to Lisova and Go to the Lesnaya Market (Flea Market)
If you take the Kyiv metro to Lisova station on the left bank of the Dnieper, you will find the Lesnaya Market, a market that emerged in the Ukrainian capital in the early 2000s. Lesnaya Market is known for its edgy happenings and second-hand shops and stalls.
I actually wandered over this way on accident one way and found a craft beer shop. Kyiv is true proof that there are cool places hiding on every single corner… or in this case, right beside a metro station. You can find the Lesnaya Market right beside the Lisova metro station.
Go to the Islamic Cultural Center on Fridays for the Food Market
On Fridays from noon until 6pm, you can stop by the Islamic Cultural Center off of Starozhytomyrskyi Lane and indulge in some of the best food you'll find in Kyiv. There are vendors there from all over Central Asia and beyond ready to serve hungry guests plov among other deliciousness.
This is a very off-the-beaten-path thing to do and you'll be hard-pressed to find other tourists or travelers doing the same thing while in Kyiv. You can find the Islamic Cultural Center at Dehtiarivska St 25 in Kyiv.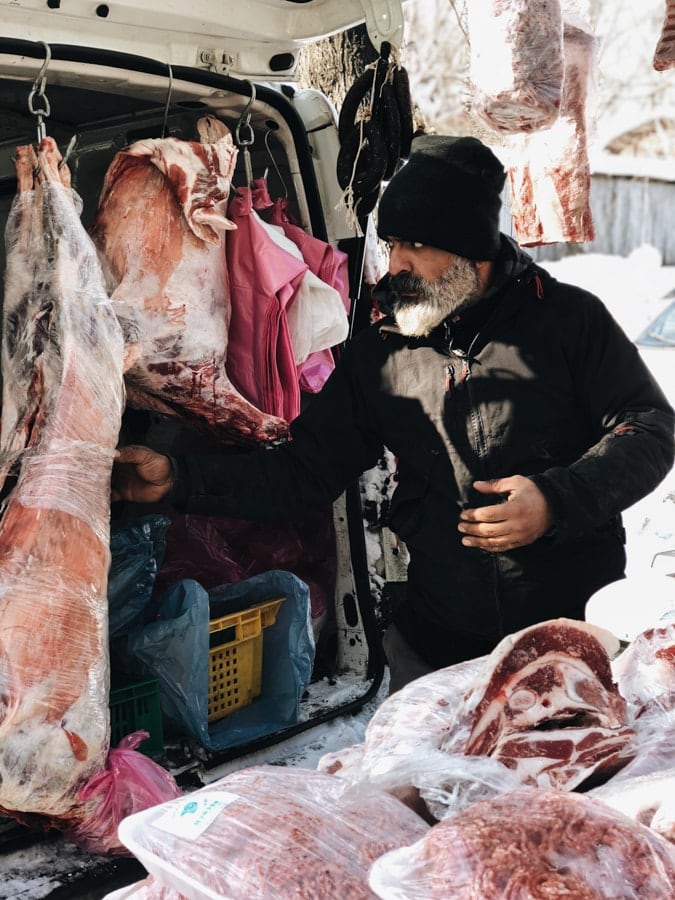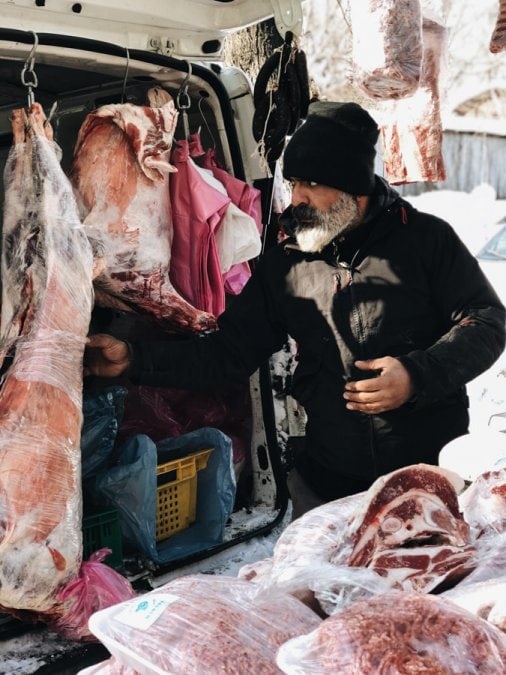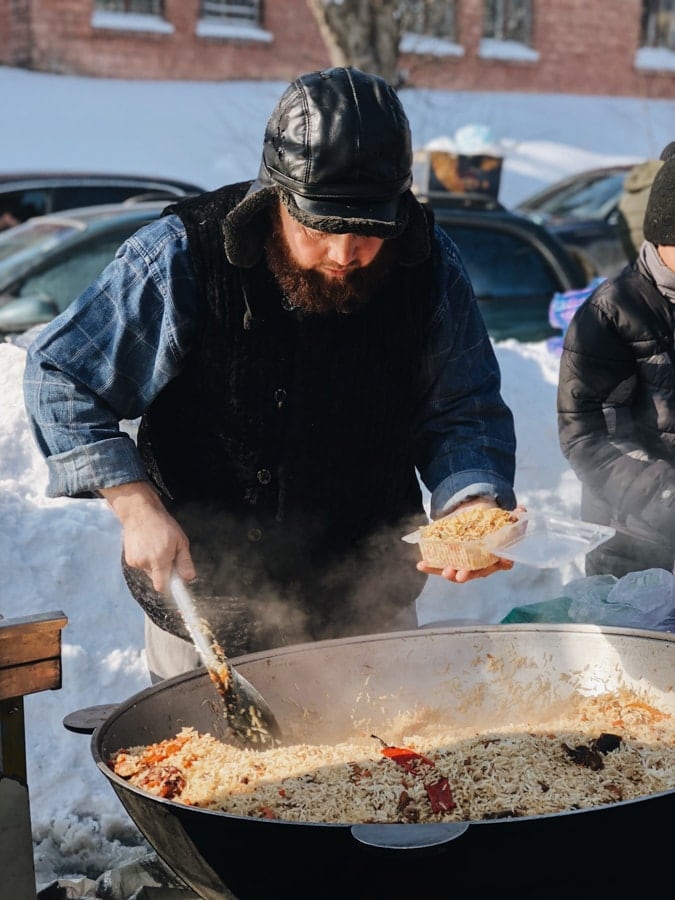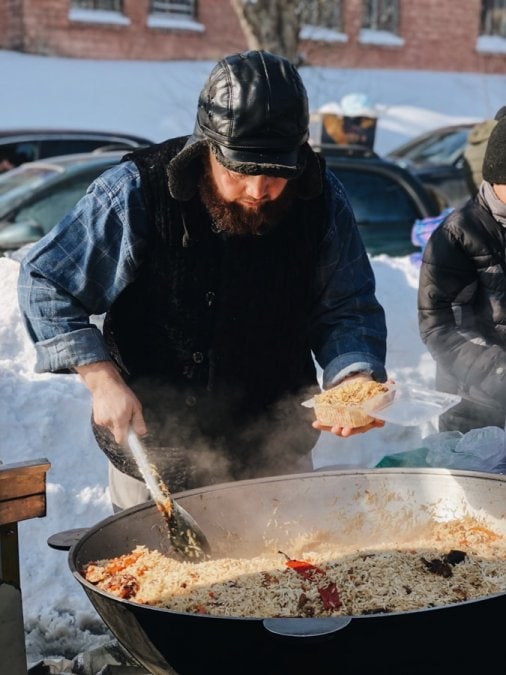 Pay Your Respects at Maidan Nezalezhnosti
The main square and likely the most renowned sight in all of Kyiv is Maidan Nezalezhnosti… or Independence Square. This square has been the epicenter of historical happenings in Kyiv and still stands as such today. This is also where the most recent revolution took place in 2013 and 2014. You can't visit Kyiv without stepping foot in Maidan.

What to Do in Kyiv for Nature Lovers
Take a Stroll Through Mariinsky Park (and Play With Dogs)
One of the best and cleanest parks in all of Kyiv is Mariinsky Park close to Maidan and Arsenalna Metro Station. This park is large and even has views over the Dnieper if you're on the right side of it. Inside of this immense park is an open-air theater, government buildings, and even Dynamo Kyiv's old stadium on the very edge of it.
The best part about the park is that it usually is a common place to see dogs and their owners walking and playing around. Pretty much all the reason to go to a place, let's be honest. You can find Mariinsky Park in Pechersk neighborhood off of Mykhaila Hrushevskoho St.
Click here to check out private bike tours of Kyiv and Mariinsky Park

Rejuvenate Yourself at M.M. Hryshko National Botanical Garden
Named after Poltava-born, Soviet botanist Mykola Hryshko, the Hryshko National Botanical Garden is one of the premier places for some rejuvenation and relaxation in busy Kyiv. The park is large and divided into many sections based on the origins and location of the plants inside of it.
You can find flora from the Ukrainian Carpathians, Plains of Ukraine, Crimea, Caucasus, Central Asia, Altai, and Western Siberia, and much, much more. There are also more than 350 different species of orchids inside the botanical gardens. If you're a nature lover or just curious about plants, this is one of the can't-miss things to do in Kyiv.
You can find the Hryshko Botanical Gardens at Tymiriazievska St 1 in Kyiv.

Relax on the Dnieper on Trukhaniv Island
Across from the well-known area of Podil in the middle of the Dnieper sits Trukhaniv Island, one of Kyiv's favorite hotspots, especially during the warmer months. The island is home to many cafes, resorts, clean beaches, and sports complexes. Hanging out on Trukhaniv Island is one of the best things to do in Kyiv, hands-down.
Take a Cruise Along the Dnieper, Kyiv's Famous River
The Dnieper is one of the most important rivers in Eastern Europe and really… all of Europe. It is long and wide and has helped shape and mold the development of Ukraine throughout history. And the best way to check out the Dnieper is by being on the Dnieper.
There are boat options that will give you a cruise down the mighty river and I definitely recommend taking one if you want to see the city from a different side.
Click here to check out private Dnieper River cruise options

Head to Southern Kyiv and the Holosiivskyi National Nature Park
The renowned Holosiivskyi National Nature Park is a protected forest located in the southern part of Kyiv and it should definitely be added to your list of things to do in Kyiv. Situated in the Dniester-Dnieper forest-steppe province, the nature park has an abundance of wildlife and plants that will give you a unique touch of nature in the capital of Ukraine.
It will also give you a refuge from the craziness of Kyiv city life. You can find the park at Henerala Rodymtseva St 6а in Kyiv.
Are you into hiking and treading through the forest? If so, be sure to inquire about this hiking tour of the Holosiivskyi National Nature Park.
Historical Things to Do in Kyiv
Learn About the Babi Yar Massacre by Visiting the Ravine
If you're looking for what to do in Kyiv, you may come across Babi Yar, a ravine where many Jews and locals were killed by German and Ukrainian collaborators during WW2 as an attempt to go at Soviet forces. The most notable of massacres occurred on 29–30 September 1941 and over 34,000 Jews perished as a result.
Jews were not the only ones killed here… many other massacres that happened took the lives of Ukrainian officials, prisoners, and Roma. It is estimated that anywhere from 100,000-150,000 lives were lost at Babi Yar.
You can visit the memorial independently, but if you wish to learn more extensively about Jewish history in Kyiv, you might want to join this private tour that will take you to Babi Yar and beyond with a guide.
Visit the National Museum of the History of Ukraine in the Second World War
Perhaps one of the craziest and most opulent of war memorials in the world, the National Museum of the HIstory of Ukraine in the Second World War is a large, sprawled-out war memorial located in the southern area of Pechersk in Kyiv.
It highlights Ukraine's part in WW2 (while under Soviet occupation) and is one of the only remaining symbols of Soviet history in Kyiv (okay, besides like half of the architecture there). When Decommunization laws were put into effect, the Ukrainian government decided to omit this war memorial as it paid tribute to many Ukrainians who fought hard in the war while under the USSR.
This memorial has its own museum, an extremely large Mother Ukraine guarding over it, and even a tank museum that you can visit with a fee. It also offers killer views of the Dnieper if you arrive on a day without fog… which in 8 years and multiple visits there… I have never seen it under clear skies. And I think I kind of like that.
You can visit the Second World War Memorial by heading to Lavrska St 24 in Kyiv. It is located close to Kyiv Pechersk Lavra and is a good thing to see at the same time. If you're a history buff and want to see the museum alongside a private and knowledgeable guide, I recommend this tour for you.

Educate Yourself on Tragic Ukrainian History at the Holodomor Genocide Museum
Formerly known as the Memorial in Commemoration of Famines' Victims, this Genocide Memorial and Museum in Kyiv is dedicated to the victims of Holodomor in Ukraine that occurred from 1932-1933. Holodomor was a man-made genocide that took the lives of anywhere from 3.3 million to 7.5 million people.
This memorial is a somber and formidable experience but it is one of the things you should do in Kyiv if you're looking to learn more about Ukrainian history. You can find the Holodomor Genocide Museum and Memorial at Lavrska St. 3 in Kyiv.

Soviet Architecture in Kyiv
Call the Salyut Hotel 'Home' for a Night
Salyut Hotel is one of the most notable sights in Kyiv and one that you should definitely visit if you're into the Soviet architecture of Kyiv. I have been there several times and even stayed there for two nights a couple of years ago. The hotel brands everything with their logo and picture of the hotel architecture… from the soap to the shower caps.
It is truly fun, Sovietesque experience in the heart of Ukraine. The hotel is surprisingly clean, offers good customer service, and if you're staying on the backside of Salyut, you will get amazing views over the Dnieper.
Salyut was designed by known architect Miletsky and his team from 1982-1984. You can find the Salyut Hotel at Ivana Mazepy Street 11b in Kyiv. To book a room for a night and have a truly interesting hotel experience, click here for rates and availability.
If you're interested in Soviet architecture, this tour will take you around Kyiv and show you some of the best sights in the city!

View Obscurity at the Kyiv Crematorium
I first visited the Kyiv Crematorium back in early 2016 and long before most others had done it… making it quite challenging to find at first. Maps have been put out now (by myself and others) detailing where to go, but I'll never forget trying to find this place on my own and how my jaw dropped when I finally found it.
This is, hands-down, one of the weirdest structures I have ever seen in my life. Another Miletsky design, the Kyiv Crematorium is still in use today. You can locate it at Baikova St 16 in Kyiv.
Click here to check rates and availability for a Soviet Tour of Kyiv

Visit the Endangered Zhytniy Market
The Zhytniy Market was designed by Shtolko and built-in Kyiv in 1982. This Soviet market has a very distinctive roof and is located in the Podil neighborhood of Kyiv and is one of the best places to visit to check out interesting and obscure Soviet architecture in Ukraine's capital city.
Sadly, there is the talk of renovating this market so it is currently on the Kyiv endangered list… so go soon. I was just there and it still stands as is but there is no indication of how much longer that will be. It will be a sad time for the market as many jobs will inevitably be lost. You can find the Zhytniy Market in Podil at Verkhnii Val St 16 in Kyiv.
Step Inside of the Ukrainian House on Khreschatyk
In the heart of Kyiv sits the Ukrainian House, a five-story building that currently serves as an exhibition center and the largest one in all of Ukraine, at that. This Soviet wonder was initially built to be a museum dedicated to Lenin's life. Needless to say, that didn't sustain and now the Ukrainian House hosts different events from sports to governmental exhibitions.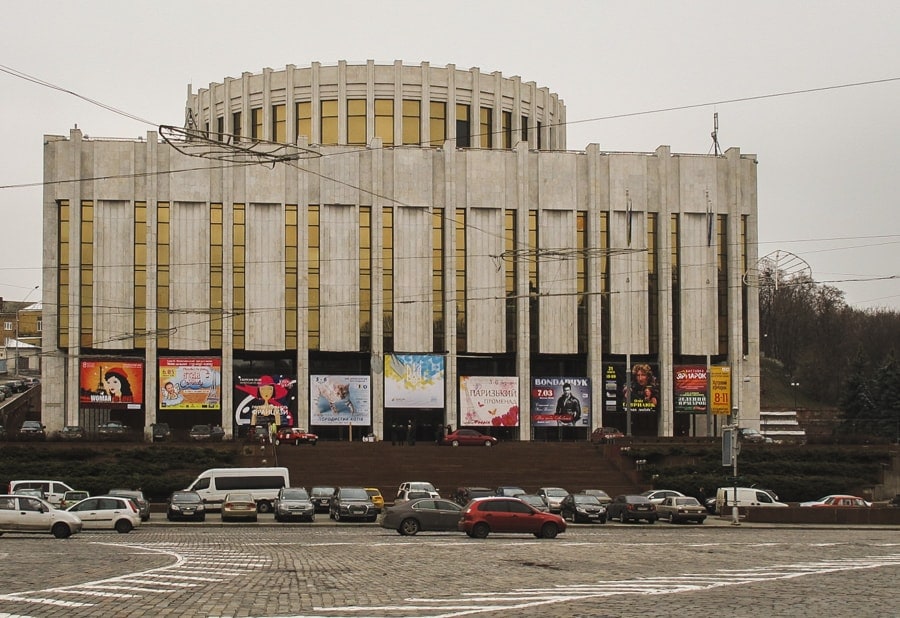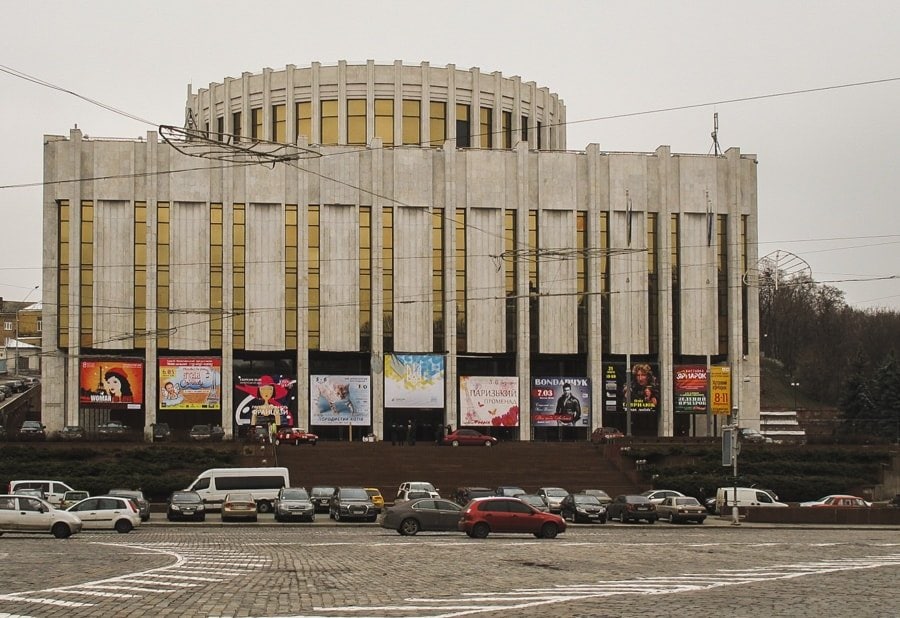 One of my favorite things about the Soviet masterpiece is that the music video "Nobody Speak" from DJ Shadow and Run the Jewels was filmed inside of the building. It is truly brilliant- watch it! You can find the Ukrainian House at Khreschatyk St 2 in Kyiv.
Delicious Things to Do in Kyiv
Dive Into Kyiv's Incredible Craft Beer Scene
One of the must things to do in Kyiv is dive into the Ukrainian craft beer scene. It is truly incredible. I first visited Kyiv back in 2011 and there was nothing to write home about in regards to craft beer.
Fast forward years later and I reckon the scene is one of Europe's best and certainly the continent's most undiscovered and underrated scenes.
Want to take the best craft beer tour around Kyiv? Click here to check rates and availability.

Treat Yourself to Salo, a Ukrainian Favorite
There are few things in this world that I associate with Ukraine more than salo. This pig fat can be found almost anywhere and is surprisingly delicious. When I first saw it, I actually thought it was some odd cut of meat and when I put it in my mouth, I couldn't place the taste, texture, or what it could have possibly been. Once I found out, I gagged a little… and ate more. Beer + salo + garlic may make you unkissable or foul to be around, but trust me, it'll be worth it.
If you're looking for a tour of Ukrainian traditional food and restaurants in Kyiv, look no further than this one. Inquire ahead if you're a vegetarian, however, and they will arrange accordingly.
Admire Kyiv's Fabulous Coffee and Cafe Scene
Another thing that most people don't know is how rad Kyiv's coffee scene is. You can find incredible coffee in Kyiv and there are more cafes than people. Okay, not really, but I have never seen a city with as many hip cafes as Kyiv.
Every time I am in the city, I am completely inspired and energetic because the atmosphere speaks to me. And the coffee is banging. If you're a coffee or cafe lover, prepare yourself to be blown away in Kyiv.
Eat Your Body Weight in Ukrainian Borscht
The world associates Ukraine with borscht and rightfully so- it is the country's claim to fame, among other stuff. I love a big bowl of borscht with a huge dollop of sour cream and I will happily eat it every single day that I am in Ukraine.
You can find it virtually anywhere… from fancy restaurants to traditional places to dated Soviet-style cafeterias. During the harsh, Ukrainian winters, downing a big bowl of borscht will be one of the best things to do in Kyiv. Promise.
Click here to check rates and availability for a Kyiv Traditional Restaurants Tour

Go on a Hunt for the World's Best Varenyky
I'm a huge fan of dumplings and I don't discriminate on country of origin. I love them all. And varenyky are Ukraine's answer to my prayers. These hearty dumplings can be found almost anywhere and are delicious.
They can be filled with everything from meat to potatoes and mushrooms to cherries and plums.
One thing is for sure- they are tasty and deserve to be eaten. You can find them almost anywhere in Kyiv or you can sign up for this gastro tour that will take you around for traditional food in Kyiv.

Have Lunch at Dva Gusya
Not sure what to do in Kyiv? Head to a cafeteria and indulge. Dva Gusya is not the best cafeteria, but it does the job and will serve you up mediocre food for pretty much nothing.
This is a great place to taste a few local foods cheaply and then pick somewhere to enjoy the ones you liked later that has better quality food.
You can get lunch at Dva Gusya for around $1.50. I usually just go for borscht and kasha (buckwheat). They also serve beer if that is what you're craving for lunch. The food isn't great but it is truly a Kyiv experience. You can find Dva Gusya at Khreschatyk 7/11 in Kyiv.
Or Have Dinner at Puzata Hata
Puzata Hata is a much better cafeteria option and the food there is definitely better quality than Dva Gusya, in my opinion. But, it takes a trip to Dva Gusya to appreciate Puzata Hata. You are never too far from one of their many locations and they are also in other places in Ukraine.
They serve everything from borscht to varenyky to tasty desserts. I eat there several times when I am in Kyiv and I never regret it. The food is also extremely affordable at around $1.50-$2.

Visit the Besarabsky Market
The Besarabsky Market is one of the most famous markets in all of Kyiv and is located in a centralized place near pretty much everything. I love going inside of here and wandering about looking at the pomegranates and persimmons and the determined women who want you to purchase your next buy off of them.
If you're in the area (and if you check out the next place on this list- you will be!), definitely stop by the Besarabsky Market. You can find the market at Bessarabs'ka Square 2 in Kyiv.
Enjoy Brunch and Coffee at Milk Bar
My favorite place to enjoy brunch and delicious food in Kyiv is at Milk Bar. Milk Bar is definitely no stranger to Kyiv as it is always teeming with hungry patrons, but I just love it. Something about it reminds me of home.
They serve avocado toast, beetroot hummus topped with salad, quinoa, and naturally… AMAZING desserts.
I love this place so much and it truly is my comfort place in Kyiv. The coffee and customer service is also exceptional and makes the visit 100% worth it. You can find Milk Bar at Shota Rustaveli St 16 in Kyiv.

Have a Bite to Eat at Chang Vietnamese Restaurant
In Kyiv, I recently stayed off of Yaroslaviv Val close to the city center and Podil Right beside my apartment was Chang, a Vietnamese restaurant that promised good pho and awesome interior. On our last night in Kyiv, Aram and I decided to head there and see what the hype was all about.
It took us a matter of ten seconds to fully understand. This place is amazing. He ordered noodles and I ordered pho and we got an appetizer of summer rolls. It was all outstanding and worth the visit. If you're wanting to change up things a bit, head to Chang and feel like you're in Southeast Asia for a bit.
You can find Chang at Yaroslaviv Val St 23 in Kyiv.

Take a Ukrainian Cooking Class
If you're a big fan of borscht, varenyky, or anything else Ukrainian, I highly encourage you to take a Ukrainian cooking class!
The foods may seem simplistic at first, but there is nothing better than learning from a local how to properly make them and the details and love that goes into every single thing prepared. Click here to check rates and availability for a Ukrainian cooking class.
Grab a Flat White and Work at First Point Espresso Bar
I first stumbled upon First Point back in 2016 when I was looking to create a coffee guide to Kyiv as the scene completely blew my mind. Ever since that day, I have been addicted to First Point Espresso Bar and I will always proclaim it as my very favorite cafe in Kyiv.
The cafe serves tasty coffee (especially a flat white), sweet treats, and also doubles as a coworking space. The owner is absolutely stellar and inviting and will make sure you feel like First Point is your home, too.
If you're a coffee-lover, be sure to head to First Point Espresso Bar in Podil. You can find it at Yaroslavska St 14/20 in Podil neighborhood in Kyiv.

Indulge in Kyiv's Best Breakfast at Hilton Kyiv
When we were in Kyiv this last time, we were invited by our friend, Shota, to enjoy an amazing breakfast at the Hilton Kyiv. Shota Goderdzishvili is the head chef at Hilton Kyiv and a very well-known one at that. He comes from the Kakheti region of Georgia and is just stellar.
He showed us around the kitchen and explained his processes and talked about the food industry in Kyiv. And the breakfast was sensational. If you're craving a world-class breakfast while in Kyiv, definitely head to the Hilton and thank me later. You can find Hilton Kyiv at Tarasa Shevchenko Blvd 30 in Kyiv.

Go for the World's Most Mediocre Sushi Experience
I am sorry to the people of Kyiv in advance, but it is a city where you can find amazing food… and also the most mediocre food on the planet. Kyiv is home to an abundance of restaurants that specialize in about 1500 different cuisines, ensuring none of the dishes will be delicious but all will be (barely) edible.
And… in true Ukrainian fashion, all menus will have some sort of 'meh' sushi on it. It will inevitably consist of Philadelphia cream cheese, and if you're really lucky, dill. If you're looking for the king of mediocre food with over-the-top decor, head to Mafia, a chain of restaurants that specializes in the art of being average.

Kyiv Day Trips – Things to Do Near Kyiv
Visit Chernihiv, Northern Ukraine's Most Charming City
One of my biggest surprises in Ukraine was the city of Chernihiv. I went there in 2016 to use the city as a base to get to Slavutych to check out the city that Chernobyl created. What I didn't know would happen is that I would genuinely enjoy Chernihiv.
The city is smaller and extremely chilled out compared to other Ukrainian cities and the architecture is really beautiful and charming in many parts of the city.
There are several parks and grand churches, but my favorite part of Chernihiv was Robota Beer Bar. It sold craft beers from Ukraine and especially Bierwelle, a Chernihiv craft beer. Chernihiv is known as the beer city in Ukraine… so if you're into the drink, definitely take a trip there when in Kyiv!
Click here to look at an organized tour to Chernihiv. If you decide to make the trip independently, click here to check rates and availability for hotels in Chernihiv.

Escape to Kaniv and the Taras Shevchenko National Preserve
From Kyiv, you can take a day trip to Taras Shevchenko National Preserve where you can see the burial site of famous and revolutionary Ukrainian poet, Taras Shevchenko. He is cited to be the foundation of Ukrainian literature and his name is everywhere around Ukraine. If you're looking for a culture Kyiv day trip, definitely head to Taras Shevchenko National Preserve.
Click here to check rates and availability for a private tour to Kaniv
Experience a Radioactive Wasteland at Chernobyl
Chernobyl has undoubtedly become the national symbol of tourism in Ukraine these days. I think that is sad but if it is going to bring people to this fantastic country, so be it. I went on a tour of Chernobyl and the Russian Woodpecker back in the day and while I find the entire set up to be a bit staged, it was still worthwhile and I am extremely glad I went.
If you're looking to join a group tour or take a private one, I can highly recommend going with Chernobyl Story. They organize Chernobyl tours that and are very reputable and I personally know them and that they are great people. Click here to inquire further.
If their dates don't suit your needs or you're looking for something slightly different, you can search for a variety of Chernobyl tours here.
Unable to make it to Chernobyl while in Ukraine? Head to the Ukrainian Chernobyl Museum in Podil in Kyiv to learn more about the tragedy.

Then Learn More About the Aftermath in Slavutych
If you have taken the trek to Chernobyl and witnessed the radioactive wasteland, head next to Slavutych to learn more about the people who were displaced by the tragedy and the city that the Soviet Union built especially for them. Slavutych was built in 1988 as a purpose-built Soviet city and it was constructed in the most interesting of manners.
Architects and builders came from several Soviet cities and countries and designed each district in their local architectural styles. It truly is one of the most fascinating places I have ever been to.

Head to Sofiyivsky Park Arboretum in Uman
In the Cherkasy region of Ukraine sits Uman, a city known for its Jewish history and quaint charm. Also in Uman is Sofiyivsky Park Arboretum, a beautiful park and scientific-research center that can be done as a day trip from Kyiv if planned accordingly.
The gardens and area are reminiscent of that of an English garden. If you're interested in visiting Uman from Kyiv, I can suggest this private tour that will take you there and teach you about the amazing city.
Unique and Unusual Things to do in Kyiv
Stick a Middle Finger Up at Mezhyhirya Residence, or the Palace of Corruption
Unfortunately, Ukraine has been synonymous with the word 'corruption' for many years and it has shaped the country in the worst of ways as a result. As Ukraine tries to shed its corrupt past and associations presently, the Palace of Corruption, or Mezhyhirya Residence, was brought to international attention.
This was the opulent home to Viktor Yanukovych, the former President of Ukraine and a total piece of (corrupt) shit. You can visit this residence with a tour and when you do, be sure to stick your middle finger up at it. Click here to check tour options to Mezhyhirya Residence, or the Palace of Corruption.

Find a Cozy Corner in Podil Neighborhood
Podil is my favorite neighborhood of Kyiv and many others agree with me. This part of Kyiv is located adjacent to the Dnieper and is home to so many cafes, restaurants, and pubs and it is genuinely the part of Kyiv that I feel most at home in. It is kind of like its own little city within the city.
If you're looking to visit and explore a neighborhood deeply when in Kyiv, head to Podil. It is old, rustic, and has so much to offer.
Click here to check rates and availability for private tours around Podil

Go Deep at Arsenalna – the World's Deepest Metro Station
The world's deepest metro station, Arsenalna, is located in Kyiv in the Pechersk area of the city. While I am obsessed with the entire Kyiv metro system (okay, and basically metro systems everywhere in the world, including the Kharkiv Metro System), I definitely have a huge appreciation for this particular station as it really is deep and it takes ages to get down to it.
There are escalators taking you underground and visiting it is one of the coolest things to do in Kyiv. If you're a metro nerd like myself, click here to check out this awesome Kyiv Metro Tour.

Walk Through the Concrete in Obolon District
A lot of times, travelers get stuck in the city center of a place and never truly explore the residential areas or places where people live and spend most of their lives. Kyiv is a huge city and I think it is imperative to escape the city center for a little bit and see a piece of the everyday Kyiv. Obolon is the perfect place to do this.
The district is brimming from head to toe with concrete and the supermarkets are necessarily saturated with international goods, but rather Ukrainian ones. There are also extremely local restaurants there where you can enjoy Ukrainian food without the tacky flair of costumes and kitsch. You can easily take the Kyiv metro to Obolon.
Take a Cemetery Tour of Kyiv
Call me creepy (okay, actually don't…), but I love cemeteries. I visit them everywhere I go for the most part and it is really interesting for me to see how people honor their ancestors and deceased family members. Kyiv has many cemeteries and you can even take this cemetery tour to learn more.
Stroll Down Bustling Yaroslaviv Val Street
One of my new favorite streets is Yaroslaviv Street in Kyiv. It is located near the city center and also Podil and is as charming as it is fun. The street is narrow and is home to several hip restaurants and cafes and bars. You can find everything from craft beer taphouses to incredible Vietnamese food on Yaroslaviv Val Street.
I recently stayed there in an apartment and I really could live there in the future as it has everything I could wish for on one, single street. If you have Kyiv on your Ukraine itinerary, make sure Yaroslaviv Val Street is on your Kyiv itinerary!
Take the Kyiv Funicular Up Volodymyrska Hill
In Kyiv, there is a Funicular that will take you from Podil area up the hill to some of the main sights in Kyiv, the Saint Sophia's Cathedral and the St. Michael's Monastery. The Funicular doesn't cost much and is the easiest way to get up the hill to some of the best things to do in Kyiv. Definitely add to your list and enjoy it!

Make Your Own Pysanka
Another thing that is often associated with Ukraine are painted Easter eggs. While the art is very Eastern European in general, Ukraine sets the benchmark and creates beautiful Ukrainian folk designs in a wax-resistant method and the final product has become a symbol of the country. You can actually learn the art and how to create your own pysanka by joining this Pysanka class in Kyiv.
Chat With Local Vendors on Andriyivskyy Descent
Andriyivskyy Descent is one of the most charming thoroughfares in Kyiv. This cobbled and steep street is home to bars, restaurants, stunning views over Kyiv, and more vendors than you can count. If you're looking for Ukrainian souvenirs, this is an ideal place to purchase them.
You will also find St. Andrew's Church, one of the most famous churches in Kyiv, on Andriyivskyy Descent. Once you're at the bottom, you will find yourself in Podil. At the top, you'll find yourself by St. Michael's Monastery.
While I think taking the Funicular is a great idea in Kyiv, be sure to walk down this descent too. It is an awesome place.
Click here to take a tour and learn the mysteries and history of Andriyivskyy Descent

Where to Stay in Kyiv
It has taken us years to get really solid recommendations for where to stay in Kyiv, unfortunately. We have since written a guide regarding all of our top picks but we figured we would put a few here for you.
These Kyiv hotels will cover all budgets, from those looking to splurge to those on a shoestring. Please note, we have stayed at or been to each of these places and have tested them ourselves (and you can read more on the guide linked to above).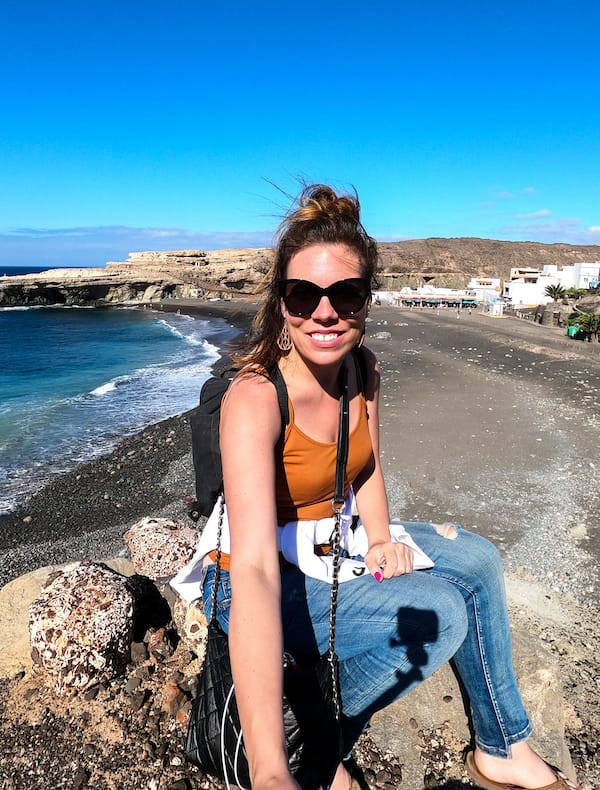 Megan is a travel blogger and writer with a background in digital marketing. Originally from Richmond, VA, she now splits her time between Frankfurt, Germany and Arctic Finland after also living in Norway, Armenia, and Kazakhstan. She has a passion for winter travel, as well as the Nordic countries, but you can also find her eating her way through Italy, perusing perfume stores in Paris, or taking road trips through the USA. Megan has written for or been featured by National Geographic, Forbes, Lonely Planet, the New York Times, and more. She co-authored Fodor's Travel 'Essential Norway' and has visited 45 US states and 100+ countries.