Kharkiv is Ukraine's second-largest city and one that just does not get the recognition it deserves from international travelers. This is a guide to the best things to do in Kharkiv, Ukraine.
Note: Due to the Russian invasion of Ukraine, we do not advise traveling to Kharkiv currently. We will update this once there is peace in Ukraine and you can visit this amazing city once again.
The moment I stepped foot in Kharkiv, I knew I was going to love the city and that it would become one of my favorite places in Ukraine.
The first appeal was that I literally knew no one that had traveled there before me, except for an American expat who lived there briefly and wrote about it years prior. This allowed me to make my own assumptions and discover the Ukrainian city at my own pace.
Secondly, it had all of the excitement I loved in other Ukrainian cities but was still shrouded in a mystery that allowed me to explore it with an open mind. I really knew very little about the place other than that there was some fantastic Soviet architecture in Kharkiv.
At the time, Ukraine was on the brink of major tourism (which it did end up achieving and deservingly so). But, despite Kharkiv's appeal, it is still situated in an inopportune location for many travelers if not flying one of the recent discount airlines that set up a route there.
This guide will detail some amazing things to do in Kharkiv, from delicious food and coffee to some of the city's most impressive Soviet architecture. I also list some tips for visiting Kharkiv in winter at the end, in addition to where to stay, how to get to Kharkiv, and some travel tips.
If you have visited Kharkiv, please leave a comment telling me what your favorite thing to do there is!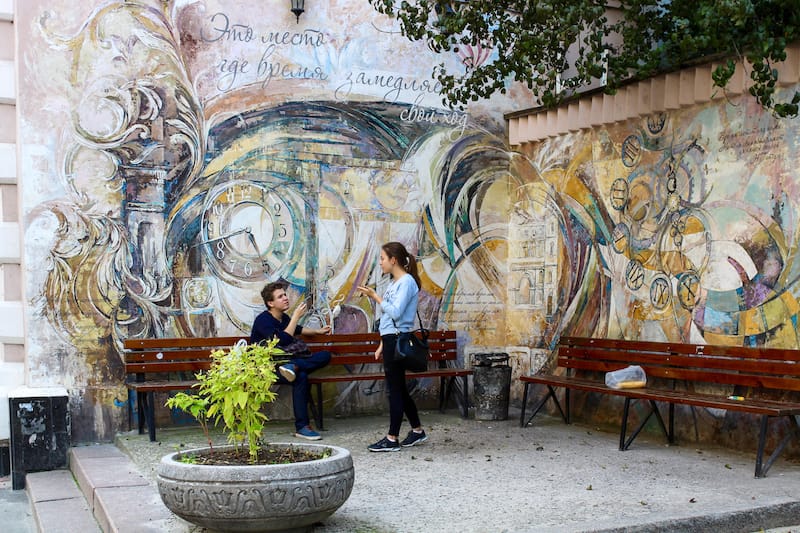 How to Get to Kharkiv
The first thing you need to sort out is exactly how you're planning to travel to Kharkiv! When I went there, the options were rather limited. However, some discount flight routes have opened to the eastern Ukrainian city and it makes things significantly easier!
From Kyiv to Kharkiv
The best way to get from Kyiv to Kharkiv is to take the train there, in my opinion. There are around 7 trains daily, but some are fast and some are slow. Naturally, the slower trains are cheaper.
You can find the trains running on your respective day on the Ukrainian Railways website. You can also book them there.
I took the faster train to Kharkiv and it takes about 4.5 hours in total. You will be given choices for first or second class seating on it. Both are just fine for a 4.5-hour journey.
If you opt to take the overnight train to Kharkiv (or the slow train), you will be given the chance to book different compartments (1st class, 2nd class, and 3rd class). First-class tickets usually result in a two-bed cabin and it'll probably have a vase of miscolored fake flowers on the shared table.
Second-class will have four beds in it- two up top and two below. The third class berth will be an open area with many beds and many other passengers. Choose wisely.
Flying to Kharkiv
Another option for getting to Kharkiv is to fly there from outside of Ukraine (you can fly from inside of Ukraine but pointless with the fast train option, in my opinion). Both Ryanair and Wizzair fly to Kharkiv, so be sure to check their websites to book your tickets.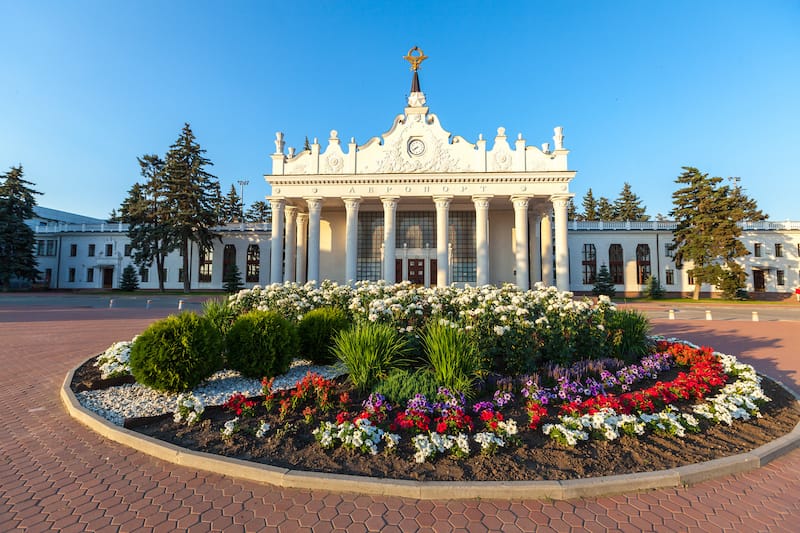 What to Do in Kharkiv
There are an endless number of things to do in Kharkiv and this post will, naturally, not touch upon them all! However, we have written this guide to be aimed at a first-timer traveling to Kharkiv and put some of the main Kharkiv attractions and things to do below.
If something is missing from this list, please drop it in the comments!
Visit Derzhprom
The Soviets never did anything in a subtle manner when it came to architecture (except maybe residential areas), and Derzhprom was no different. This constructivist beauty sits in Freedom Square in Kharkiv and 'Derzhprom' translates to English as 'State Industry Building'.
The most interesting thing about Derzhprom, aside from how absolutely imposing it is in person, is that it was one of the largest architecture projects that took place when Kharkiv was Ukraine's capital city.
Derzhprom was built by Sergei Serafimov, S. Kravets, and M. Felger and it only took three years to build, which is rather impressive when you consider the size of the structure.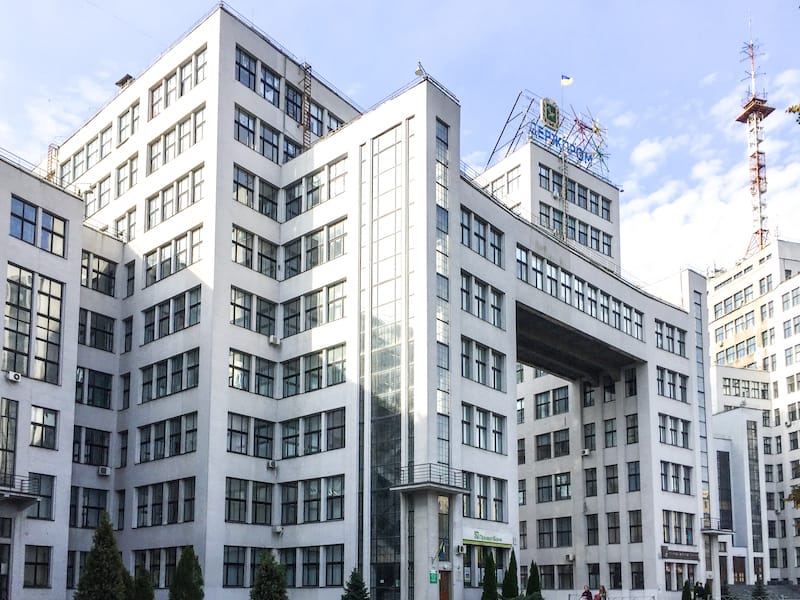 The construction was completed in 1928 and at the time, it became the largest single structure in the world. It was later surpassed by skyscrapers in NYC in the 1930s but trust me, it will blow your mind even still today!
When you're visiting Kharkiv, checking out Derzhprom is imperative. It has become one of the iconic symbols of the city and Freedom Square is a great meeting point and there are many parks and things to do in the vicinity of Derzhprom.
You can find Derzhprom at Svobody Square 5/1 in Kharkiv.
Check Out the Holy Annunciation Cathedral
The Holy Annunciation Cathedral, or Annunciation Cathedral, is an Orthodox church in Kharkiv that is known for its large bell tower (designed by Mikhail Lovstov, a local architect) and unique Neo-Byzantine structure.
The church was consecrated back in 1901 and even though it was closed for 13 years (1930-1943), it has repeatedly stood as the city's symbol since its erection.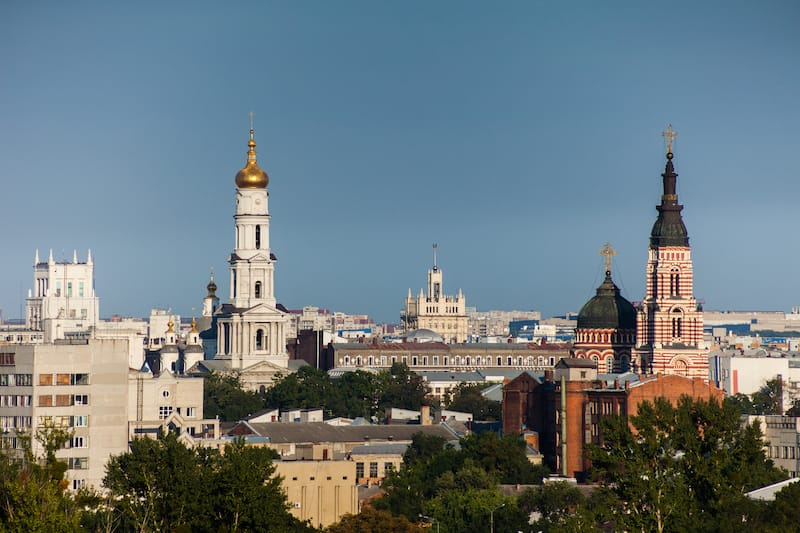 There is not much to say about visiting the Annunciation Cathedral but it is worth a glance at and a few photos when you're visiting Kharkiv!
You can find the Holy Annunciation Cathedral at Blagovischenska Street 1 in Kharkiv.
Take a Ride on the Kharkiv Metro
I have a thing for USSR metro systems. I actually had no idea how great Kharkiv's metro system was before my trip there but I was truly blown away by its construction and I spent an entire morning riding along a couple of the lines and snapping photos along the way.
The construction of the Kharkiv Metro began in 1968 and it finally opened to the residents of Kharkiv in 1975. While only one line existed at the time (Kholodnohirsko–Zavodska Line), two more were later built. The Saltivska Line opened in 1984 and the Oleksiivksa Line opened in 1995.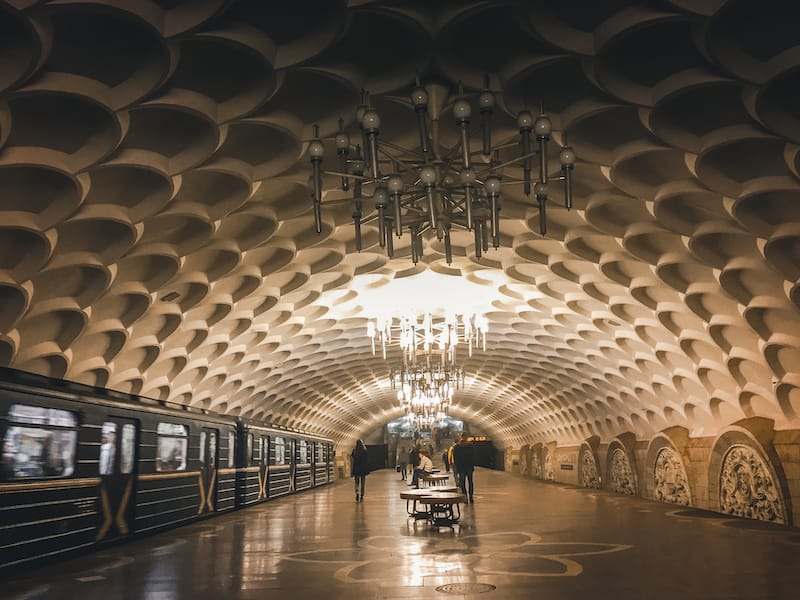 There is a daily ridership of around one million people which is pretty astounding and showcases the importance of this public transportation system to the Kharkiv locals.
Nevertheless, I definitely say that riding the Kharkiv metro system is one of the best things to do in Kharkiv! Opt to take it in between stops on your itinerary instead of taxis, or walking if the distances are great.
Stop by the Mirror Stream Fountain
One of the most iconic sights in Kharkiv to visit is the Mirror Stream Fountain. This fountain is located near the Kharkiv Philharmonic and was built in 1947 and has been a famous Kharkiv attraction ever since.
Because of its commendable architecture and design, it has been listed by UNESCO in their Encyclopedia.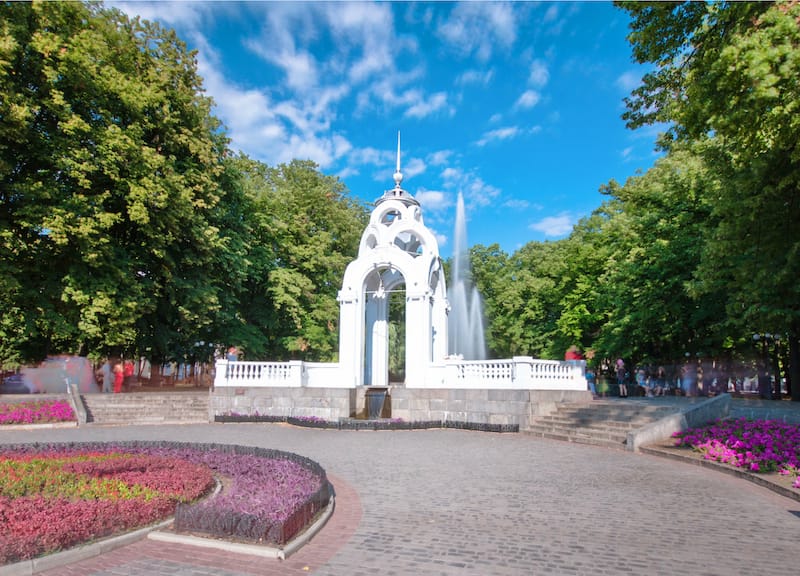 Back in the day, the fountain stood in an area known as 'Komsomol Heroes Alley' where many busts of the heroes of WW2 stood. During Decommunization in 2015, the busts of these soldiers were removed in order to make room for a new church.
Nevertheless, this fountain is worth a visit because of its history, significance, and the beautiful area in which it is situated.
You can find the Mirror Stream Fountain at Sumska Street 28/2 in Kharkiv.
Ride the Kharkiv Cable Cars to Gorky Park
If two pictures come to mind when I think of Kharkiv, it is most definitely Derzhprom and the famous cable cars.
The Kharkiv Cable Cars were opened in 1971 and were for workers and never had an intended use of being open to the public. Fast forward to 2012, and now they are one of the main attractions in Kharkiv after becoming open to the public.
The cable cars were initially grey and black and looked like they were transporting people in between prisons. However, they have spiced them up a bit with colorful cans of paint and now the 18-minute ride takes people to Gorky Park.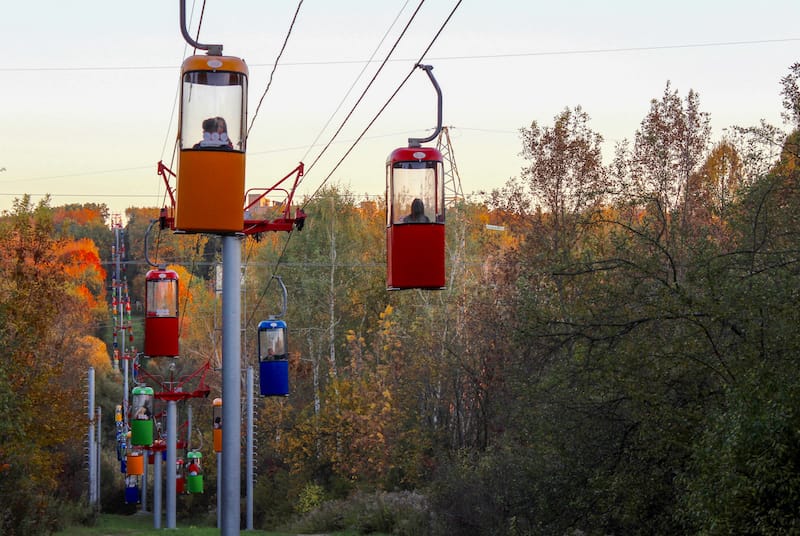 Maxim Gorky Central Park for Culture and Recreation is arguably the most famous park in Kharkiv. Bordered by Vesnina Street (to the east) and Sumska Street (to the north), it truly is the epicenter of life in Kharkiv during the warmer months.
Inside Gorky Park, you will find a children's railway, tennis courts, a large fountain, an amusement park, a movie theater, and much more. It was one of my favorite places to visit in Kharkiv.
If you're looking for what to do in Kharkiv – take a ride on the cable cars!
Go to the Kharkiv State Academic Opera and Ballet Theatre
If you're into ballet and theater, definitely look up the schedule and see if there is anything for you.
Located next to Shevchenko Park, this is Ukraine's oldest academic theater and was named as a tribute to Mykola Lysenko (he was a famous composer, pianist, and conductor in Ukraine).
This building dates back to the Constructivist period in 1925 and was designed by Mirgorodskii.
My favorite thing about the Kharkiv State Academic Opera and Ballet Theatre was not what it contained on the inside but rather its appearance on the outside.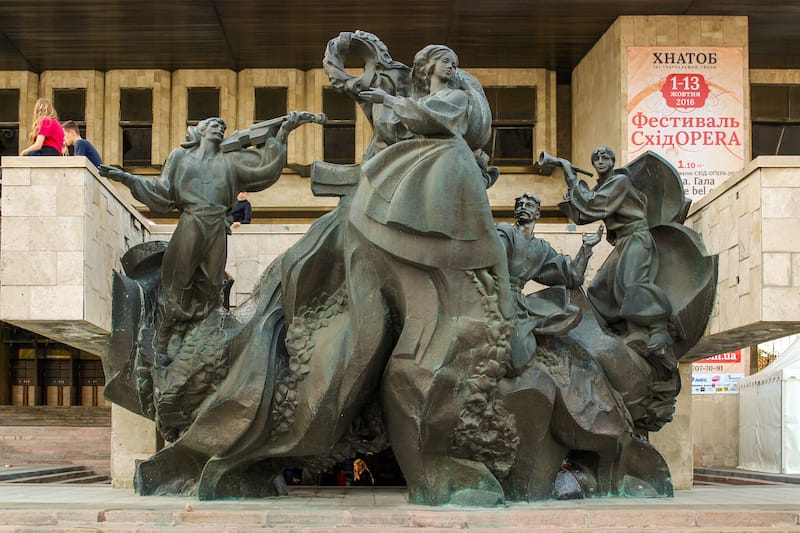 I absolutely LOVED this building. The symmetry was mind-blowing and the construction was ornate, yet brutal and minimalistic. It is difficult to even describe.
When I visited, there were even cafes and small businesses below the building. While the cafe I loved that was located there has since closed, it is still worth visiting this building if you find yourself in Kharkiv.
You can find the Kharkiv State Academic Opera and Ballet Theatre at Sumska Street 25 in Kharkiv.
Enjoy a Cup of Coffee in Kharkiv
Another thing I adored about Kharkiv was its coffee culture. Kyiv has so many great coffee shops, but I wasn't sure what to expect in Kharkiv.
Turns out, Kharkiv has a pretty fantastic coffee scene. Many of my favorite places are still around these days, such as Some Like it Hot, Central Coffee, Mr. Bourbon, and Masterskaya Coffee. But, some other insanely cool places have opened too!
You have Cats and Coffee (cats + coffee = yes, please), Seven Coffee Seeds, CoffeeDoor Brewbar & Coffeeshop, Kofeyin, By the Way, and more.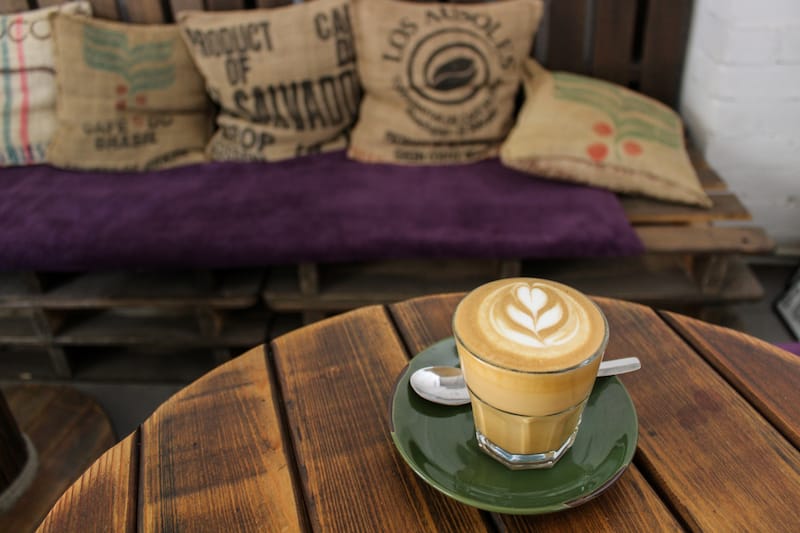 Ukrainians do specialty coffee well and when people brag to me about coffee in Germany or other places in Western Europe, I always as them, 'But have you visited Ukraine yet?'.
There are some fantastic coffee shops in Kharkiv and you definitely should stop by one (or ten) for that morning cup of joe.
Stop into Hotel Mir
If you prefer staying at a Soviet hotel, then, by all means, stay there too! But, I think stopping in it is good enough.
Hotel Mir stands 50 yards from Botanichesky Sad metro station (one of my favorite stations) and while there isn't much going on there, it still has a very Soviet appeal to it and even has your usual Soviet-hotel suspects like a sauna, billiards, nightclub, etc. I am not sure if they are operational, but the signs are there.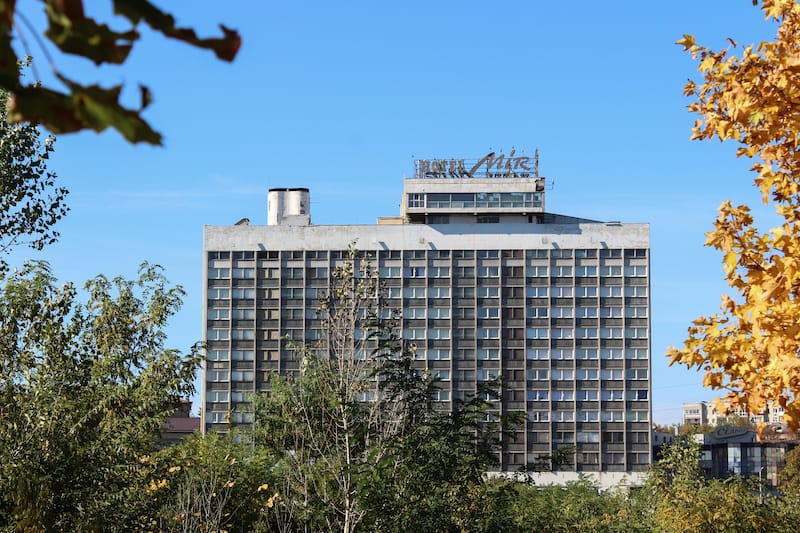 A room in the hotel will run you about $30/night and, honestly, I have no idea what the actual rooms look like but it may be worth the experience if you enjoy testing out different Soviet hotels.
For me, this hotel was just a simple stop on the way to a craft beer pub across the street (see below). But, definitely was one of my Kharkiv highlights.
You can find the Mir Hotel at Otakara Yarosha St 20 in Kharkiv.
Hunt Down the Best Craft Beer in Kharkiv
Another one of the coolest things to do in Kharkiv is to hunt down some of the local craft beer in the city. My favorite place to head to is Black Door Pub, which is situated right across the street from the aforementioned Hotel Mir.
This pub has delicious food in addition to a robust Ukrainian craft beer menu. Many people think that only Lviv and Kyiv shine when it comes to craft beer, but Kharkiv can hold its own!
In addition to Black Door Pub, you can also check out Red Door Pub, Beer Mood, Daf Pub, Craft Bar Edison, and Collection of Beer (more international). There is a pub for every beer lover and they really do an exceptional job showcasing local breweries.
Peruse the Taras Shevchenko Gardens
The oldest city park and garden in Kharkiv is the Taras Shevchenko Gardens. The foundation of the gardens was the initiative and idea of V. Karazin, a man who was also the founder of the University of Kharkiv.
Today, there are about 300 plant species inside the Kharkiv garden (there are actually New Botanical Gardens across town in the Sarzhin Ravine that have 900+ species).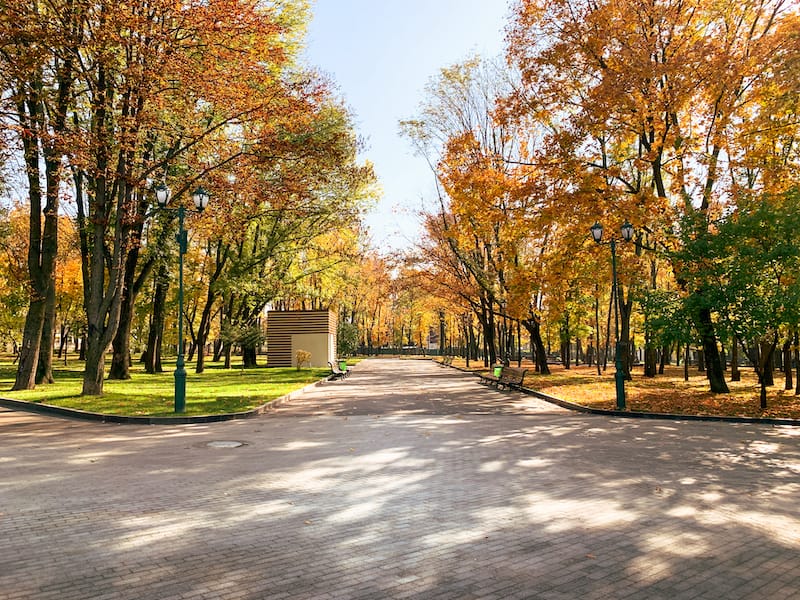 In addition to plants, you can also find an observatory inside of the Taras Shevchenko Gardens. If you're into history and green space, this is one essential place to put on your Kharkiv itinerary!
You can find the Shevchenko Gardens at Svobody Square 7 in Kharkiv.
Pay Respects at Drobytsky Yar
Many Jews in Ukraine were murdered during WW2 and the Jewish residents of Kharkiv at the time were no exception, unfortunately. Today, you can visit Drobytsky Yar, a ravine in Kharkiv that has been turned into a memorial for those who perished.
In December 1941, Nazi troops that invaded the USSR killed over 16,000 people, mostly Jews. This ravine is where many of the bodies were thrown alive in order to save on bullets, and because the temperatures were -15C that day… meaning the bodies would quickly succumb to the cold and freeze to death.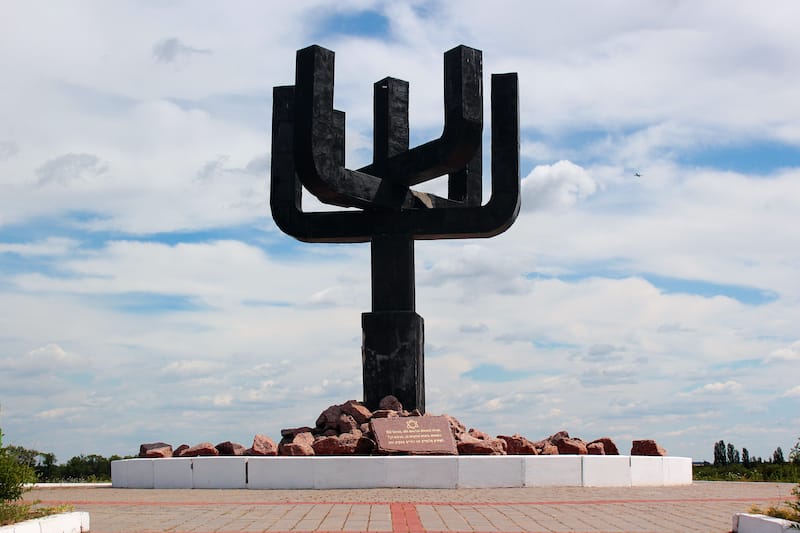 Getting here is not an easy feat, unfortunately. But, if you rent a car in Kharkiv or hire a taxi driver for the day, it is a great place to pay respects to those that perished in such a heinous manner to the Nazis.
Walk to the Children's Pioneer Pool
This might be one of the more obscure things to do in Kharkiv and it is really only suitable for those that like Soviet architecture (like me!) but it was one of the more interesting places I visited when there from its exterior, so definitely stop by if you're in the area.
The Children's Pioneer Pool was designed by R. Zarb and N. Kozhevnikov and was opened for public use in 1977. Its location is a little obscure and it is located near a shopping plaza on a side street, which kind of adds to its appeal (meaning – you can grab coffee or lunch nearby)!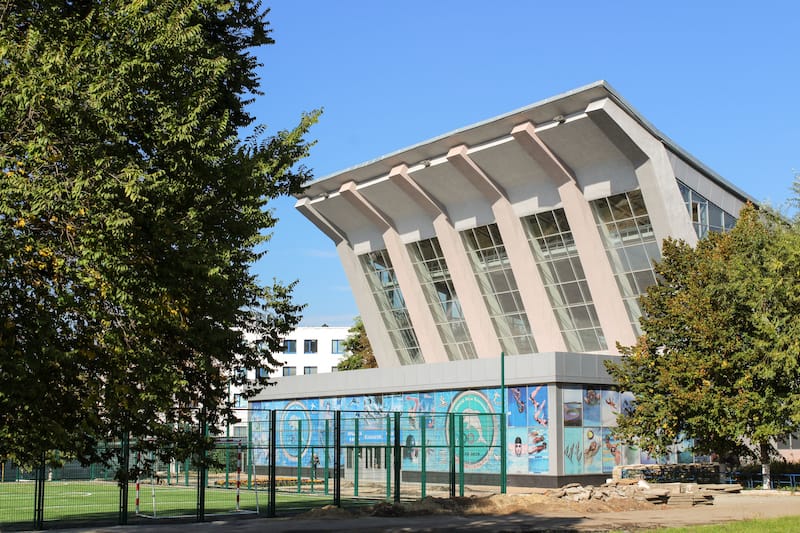 There are many other fascinating pieces of Soviet architecture in Kharkiv, but the Children's Pioneer Pool is a great one to add to the list if you want one that is not as 'well-known'.
The Children's Pioneer Pool can be found at Dinamovskaya 5A in Kharkiv.
Visit the St. Pokrovskyi Monastery in Kharkiv
The oldest monastery and cathedral in Kharkiv dates back to 1689 and is called the St. Pokrovskyi Monastery. There is a seminary there and the notable Temple of the Mother of God Ozerianska.
Ukraine is home to some of the world's most beautiful churches and this monastery complex definitely proves why.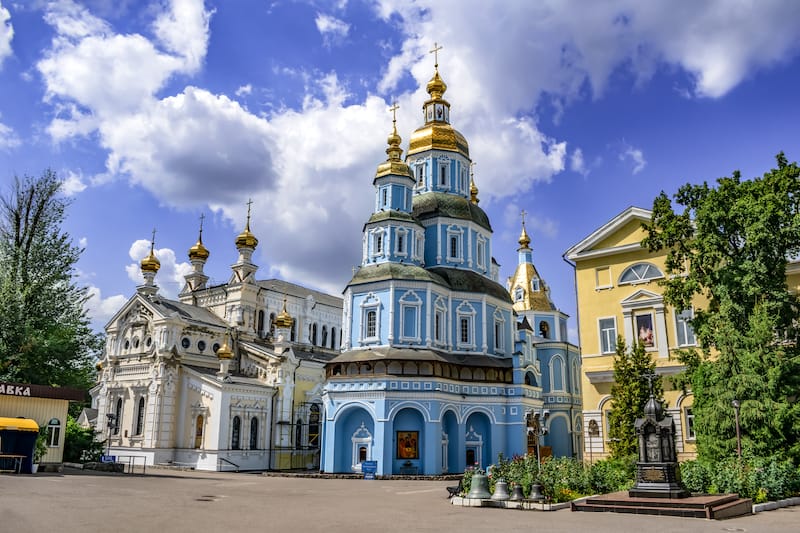 On-site, you will also find a rose garden and a famous bakery. This 17th-century monastery is one of the best places to visit in Kharkiv (and one of the most photogenic).
The St. Pokrovskyi Monastery is located at Universytets'ka St, 8/10 in Kharkiv.
Eat Ukrainian Food in Kharkiv
And last, but not least, is finding good food in Kharkiv. It truly isn't that hard to stumble upon good food. I had a far rougher time in other cities like Kherson and Kryvyi Rih.
If you're interested in trying Ukrainian food, you can find some of the best traditional fare in the city at Sloboda Restaurant. You'll find everything from borsch to varenyky and more.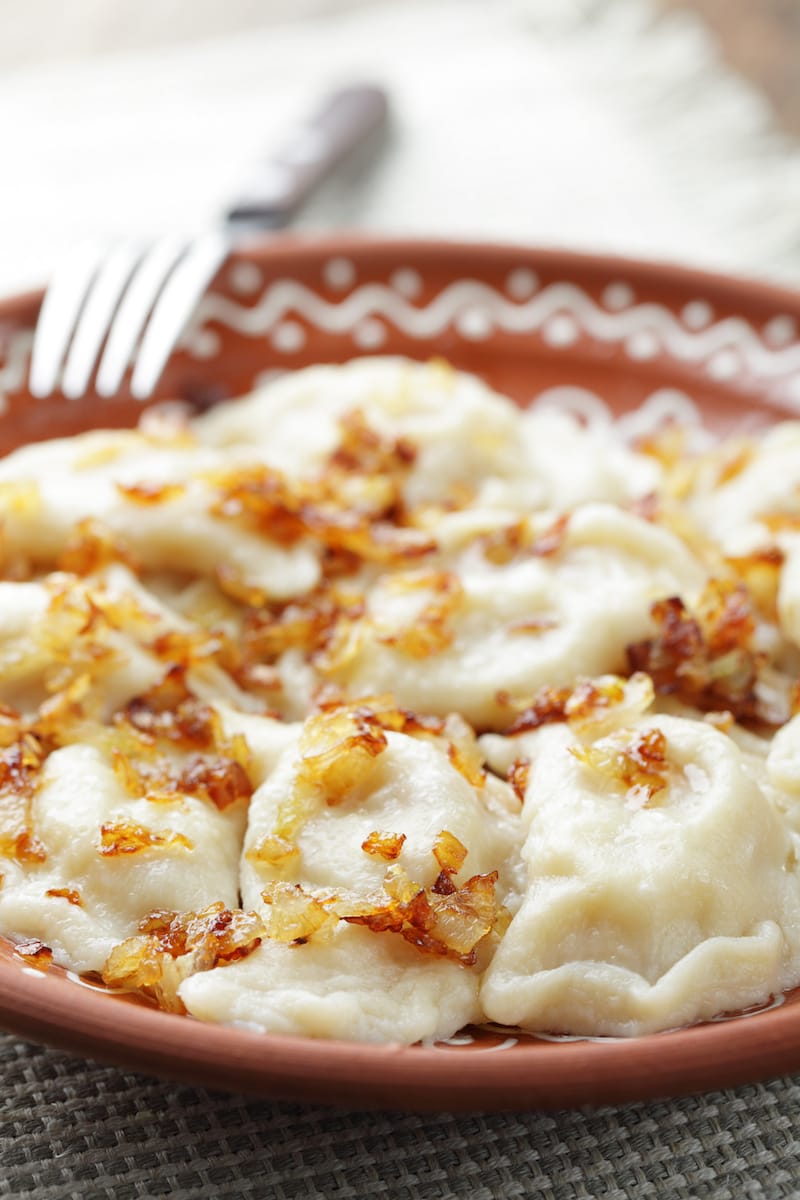 Sloboda is located at 23-ho Serpnya St 34а. It is not directly around many of the city's sights and maybe a trek for you unless you're fine hopping on the metro.
If you want something easy, affordable, and city-center based, check out Borsch Eatery. It is known for, well, its borsch, and you can find the Kharkiv restaurant at 14 Bakulina St in Kharkiv. They offer customers a nice and quiet terrace during the warmer months.
Where to Stay in Kharkiv
Are you looking for the best places to stay in Kharkiv? Here are some of our top Kharkiv hotels and hostels to consider for your trip:
⇒ Kharkiv Palace Hotel (5-star luxury)
⇒ Hotel & Spa Nemo (5-star luxury)
⇒ Reikartz Kharkiv Hotel (mid-range accommodation)
⇒ Nordian (mid-range accommodation)
⇒ Tourist Hotel (budget accommodation in 2-star hotel)
Should You Book a Trip to Kharkiv?
Yes!!!! Absolutely. While this city may fly under the radar for many, it definitely is a wonderful city break and a place with endless amounts of landmarks and activities.
It is definitely worth a spot on your Ukraine itinerary!
Please let us know your favorite things to do in Kharkiv below if you've visited before. I can't wait to get back and explore the city further!
Things to Do in Kharkiv – Pin This Guide!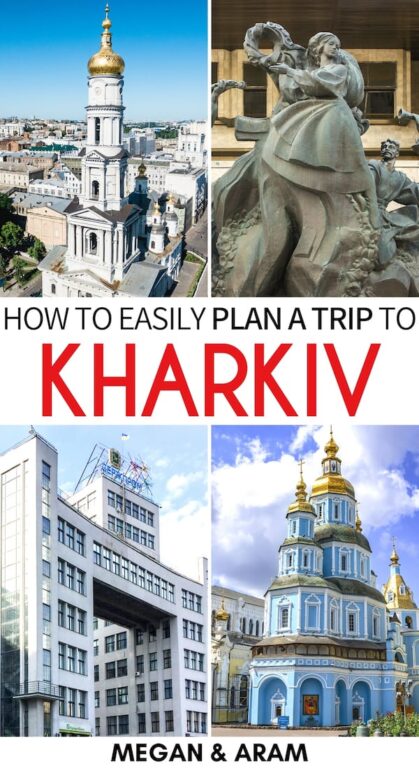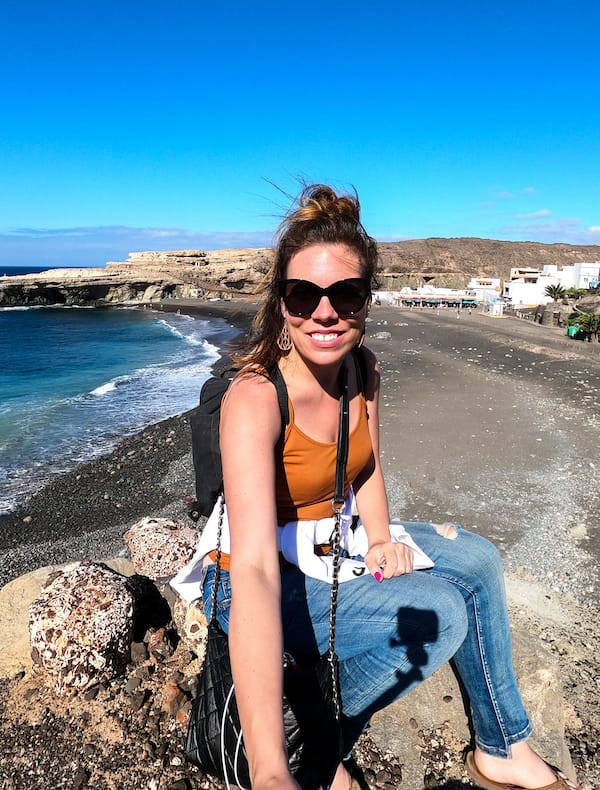 Megan is a travel blogger and writer with a background in digital marketing. Originally from Richmond, VA, she now splits her time between Frankfurt, Germany and Arctic Finland after also living in Norway, Armenia, and Kazakhstan. She has a passion for winter travel, as well as the Nordic countries, but you can also find her eating her way through Italy, perusing perfume stores in Paris, or taking road trips through the USA. Megan has written for or been featured by National Geographic, Forbes, Lonely Planet, the New York Times, and more. She co-authored Fodor's Travel 'Essential Norway' and has visited 45 US states and 100+ countries.