Ayia Napa is one of the most popular resort towns in Cyprus. It is located in the south-eastern part of the island, which is the Greek part of Cyprus. This guide will discuss the many places to visit and things to do in Ayia Napa.
The city gets its name from a Venetian-era monastery. Ayia means "holy" in Greek and Napa means "wooded valley". In ancient times, there used to be a dense forest surrounding the town.
Ayia Napa is very popular, especially with young tourists, as it is the nightlife capital of the island. It is throbbing and vibrant and an essential place for your Cyprus itinerary!
The city has 80 bars and 12 clubs, many of them around the Central Square. There is also a sculpture park, many beautiful beaches around the city, and Europe's biggest water park.
However, there is no airport in Ayia Napa. The nearest international airport is in the city of Larnaca, which is 57.7 kilometers away from Napa's city center. Below are the best places to visit in Ayia Napa.
Best Things to Do in Ayia Napa
Visit the Sea Caves
The sea caves are a rugged and serene coastal area with cliffs and sea grottos. It is incredibly beautiful and picturesque. You will find many arches and tunnels, where pirates used to hide their loot once.
The caves are natural structures. The caves, grottos, arches, and columns were formed by sea waves, storms, surges, and wind. Many storms hit this coast of Cyprus.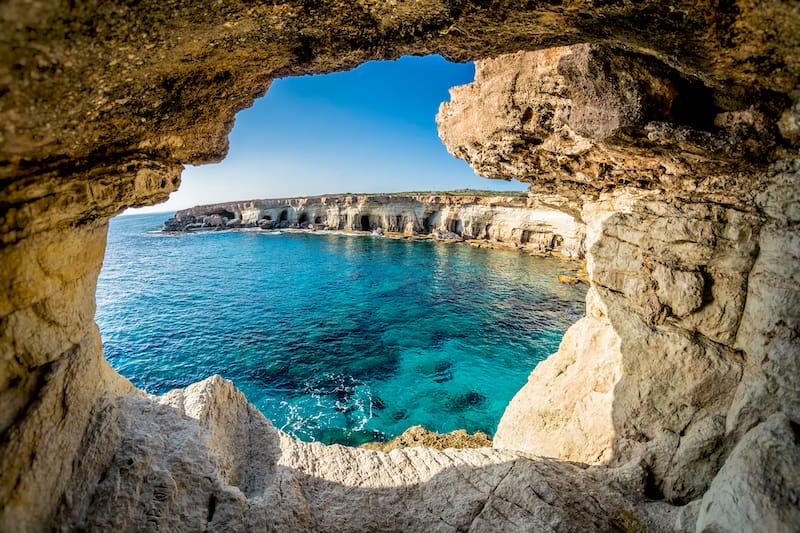 It took tens of thousands of years for nature to form these structures. You can approach the caves from land or the sea and can even explore a few of these caves. The largest cave reaches a depth of 900 meters.
The transparent water has all kinds of shades of blue, turquoise, emerald, and deep blue. There is cliff jumping, snorkeling, and diving. You can also swim in the water. But beware – you may encounter seaweed! But this is one of the most beautiful places in Europe.
Check Out Nissi Beach
Around 3.5 kilometers from the city center, Nissi Beach is the top attraction of Ayia Napa. It has golden sand and mild waves because the beach is well protected from the wind.
The western and central parts have a few rocky structures and there is a small islet just off the coast. You can walk over to the islet in low tide and check it out though. Most of the water sports activities are located on this islet.
The beautiful bay has lush palm trees all around and the atmosphere is relaxing and tranquil. There are many resorts, villas, restaurants, cafes, and family-friendly bars located at Nissi Beach as well as recliners with umbrellas on the beach where you can relax.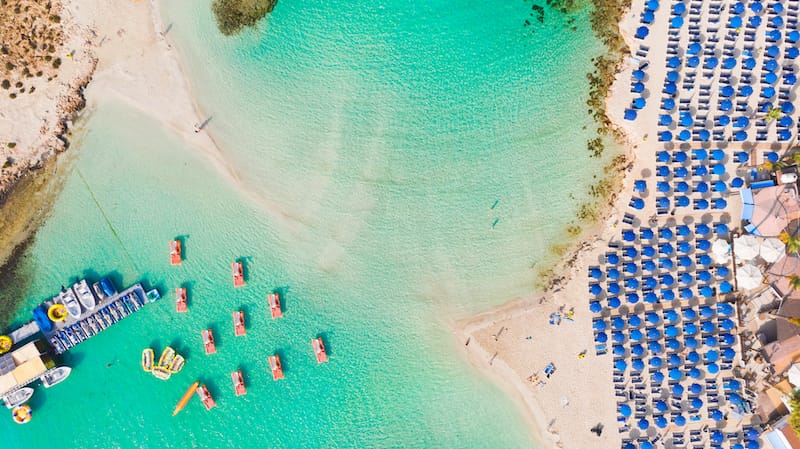 Nissi is a great beach for families with children. It is best for families to visit before 11:00 and after 17:00 because the beach will have fewer tourists during these times.
Go to Ammos Kambouri Beach
This is a small natural bay between Ayia Napa and the Cape Greco region with a sandy beach with a few rocky structures. The nearby rocky, low hills have shrubs and small trees.
But the surrounding region has many lush, tall trees, providing a nice contrast. In the left-central part of the beach you will find a beautiful tree with an ornate trunk. This tree decorates the coast. The sapling was brought from the Greek island of Skiathos and planted several decades back.
You will hardly find any crowd here. But the facilities are good for the tourists. There are showers, toilets, lifeguards, and a tavern selling snacks. The water is shallow and great for swimming.
Love Bridge
It is a famous landmark in Cyprus, closer to the city, with a beautiful white-rock arch. This is one of the most romantic places in Cyprus, a must-visit for newlyweds and couples. The arch bridge is about 6 meters long. Formed naturally, one edge of the structure leads to the crystal clear, turquoise, and emerald-colored sea.
It is a tradition for lovers to come here, hold hands, kiss, and take a picture. Sometimes, even symbolic wedding ceremonies are held here. It looks particularly beautiful at sunset.
Pantachou Beach
A 1.2-kilometer stretch of sandy beach and one the main beaches of Ayia Napa. It is located very close to the Love Bridge and the Ayia Napa harbor. It is also the longest sandy strip on the southeastern coast of the island.
The beach has fine golden sand. It has rocky structures on one side, where you will find many palm and acacia trees that provide shade on a hot day. The harbor is located on the other side.
In between, you will find the beautiful clear and transparent bluish sea. The Pantachou beach is especially beautiful in the morning at sunrise. There are almost no visitors at this time. So it will be very quiet and serene.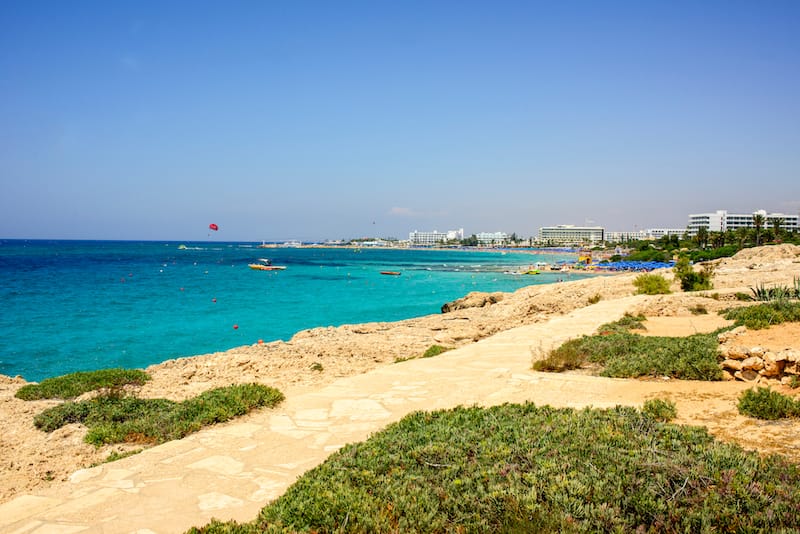 This is a good beach also for entertainment. On the west end you will find the Paradisos Beach Venue, a club with fantastic food, drinks, disco, and DJs playing music. There are sea-facing tables, bars, and loungers with umbrellas.
Makronisos Beach
This is a Blue Flag beach with clean sand and turquoise blue water. It's a unique beach because a rocky headland divided it in two parts – Makronissos East and Makronissos West. They are both very attractive. The water is calm. There is diving and parasailing. There are ancient tombs in the rocky headlands.
Makronisos beach is popular with families, middle-aged people, older tourists, and even young people looking for a relaxed vacation. It is 6 kilometers west from the center of Ayia Napa.
Central Square
Ayia Napa is the nightlife capital of Cyprus, which is why many young tourists visit the city. Most of the nightclubs and bars are located around the square.
You will hear blasting music coming out of these places. In peak season, the party often spills out of these clubs into the streets. The square also has many restaurants and cafes like Burger King and Hard Rock Café.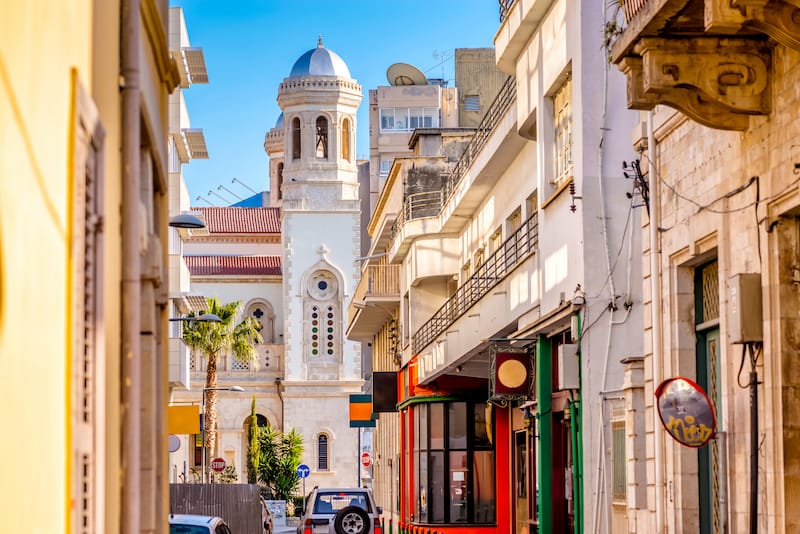 The ancient Venetian-era monastery is located just north of the square. At the center of the square, you will find a fountain with sculptures.
Ayia Napa Aqueduct
This ancient aqueduct was constructed to provide water to the monastery and the entire area. Water was also directed to the fields and to feed the animals.
However, archeological studies have revealed that it was erected at the site of an even earlier aqueduct from the Roman times. It is now in surprisingly good condition because the aqueduct has been restored.
Ayia Thekla Beach
This is a small and tranquil beach, perfect for swimming and sunbathing. Ayia Thekla will be an excellent choice if you want to escape from the crowds. You will only find a few people in this 300-meter long beach.
It has a width of 35 meters in the central part. There is a lot of free space to walk and explore the shore or sit back and relax. There are very few loungers and umbrellas.
It is popular with paragliders and kite surfers. It is also popular with families. The Ayia Thekla chapel named after a Christian healer is located in the eastern end on a cliff. Water gushes out from a spring at the temple.
The clay at the spring has curative properties. There is an entrance to a cave near the church. You can see the remains of an ancient settlement to the west of the church.
Water World
This is the largest waterpark of Europe. It has wave pools, slides, and many other attractions, all with a unique ancient Greek theme. The rides have attractive names like Poseidon's Wave Pool, Chariot Chase, Apollos Plunge, Drop to Atlantis, Phaethon's Flume, and Fall of Icarus. There are Doric columns and statues everywhere. It's a fun place to visit.
Luxury Villa for Rent in Ayia Napa
Rent a villa in Ayia Napa to enjoy your vacation. You will find many great properties in the city and throughout the region. There are villas right on the beach, in the city square, close to major tourist attractions, and in quiet places away from the crowds.
There are many hotels, resorts, and apartments as well. But an Aiya Napa villa will always be a better choice. A villa is a better option than a hotel because you will get more personalized care and attention, more privacy, more space than cramped hotel rooms.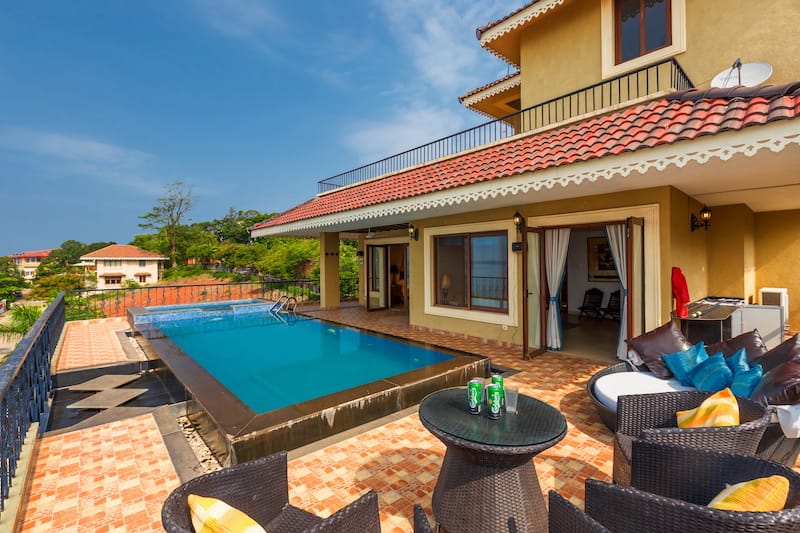 All of you can stay together as a group in a villa. Hotels cannot promise accommodation on the same floor. You will also have to share the facilities with people you don't know.
Day Trips from Ayia Napa
There are many places to visit from the city. You can either travel as a group (with other tourists) or you can book a private tour.
Group Excursions
Group tours are organized on buses or large vehicles that can accommodate 8-10 guests or more. You can buy a group tour –
With a road-side travel agent
Through an agency at your hotel or private villa
From specialized websites like The Original Redbus.
The cost ranges between 20 and € per person, depending on where you are going, the duration of your trip, and distance.
Private Trip
You can also travel privately with only your group. There will be a personal guide for your family or friends. The price will naturally be higher. Please note, the price will be for the excursion and not for the number of people.
Top 3 Private Excursions from Ayia Napa
Ayia Napa, Protaras and Cape Greco – An easy half-day private tour of the main attractions of south-east Cyprus.
All Cyprus in 1 day (both Greek and Turkish) – Full day excursion
Cyprus away from the beaten track – Travel to the northern part of the island. This is a full-day excursion.
Travel Confidence
A lot of things have been greatly affected by the COVID pandemic. Everyone had to swiftly adjust to the new normal, including airlines and airports.
Travelling has definitely changed since last year due to the number of restrictions set by the government. Everyone thought traveling abroad would be put on hold until further notice.
Luckily, airline companies and airports were quick to adapt to these changes to ensure safe travels for the passengers and staff onboard.
The COVID travel insurance is a new feature introduced by travel agencies for safe travels. Traveling at a time like this can be very worrying, especially when the pandemic shows no signs of backing down anytime soon, so purchasing travel insurance is a must.
With that, here are three reasons why you need Coronavirus travel insurance.
Emergency Medical Coverage
The usual travel insurance has travel assistance benefits, which include emergency medical coverage. Since accidents cannot be avoided, this benefit ensures that you can protect yourself in the case where unforeseen inconveniences occur during your trip.
Now that there is an ongoing global pandemic, holiday travel insurance has boosted emergency medical coverage to cover COVID-related incidents.
In case you contract COVID-19 during your trip and need immediate hospitalization, 24-hour Medical Assistance will be there to help in contacting doctors or cover necessary medical expenses.
This also has a Compulsory Quarantine Cover when you contract any symptoms of the novel coronavirus. Moreover, medical repatriation and other additional accommodation costs are also covered by your COVID travel insurance.
Additionally, medical needs and other emergencies that are not COVID-related are still covered by your insurance. If there is a need for you to cancel your trip or to go to a hospital for your other medical concerns, the 24-hour Medical Assistance still has you covered.
As long as your concerns are in line with the Government's restrictions, you can count on your travel insurance to assist you in times of emergencies.
Surely, you would not want to contract this deadly virus while you are on your trip. To prevent catching this disease, sanitize yourself properly and follow safety protocols wherever you go.