Golden beaches, delicious food, and warm weather, are all the images that come to mind when you think about a great summer vacation, and chances are high that your mental image will probably match someplace in South Florida.
I mean, this whole place is the quintessential zone for enjoying fun in the sun.
South Florida's Greatest Beaches
Now, South Florida is not what you call a tiny place, so, this oftentimes means that if you plan a visit you must limit yourself to a single city, such as Miami or Fort Lauderdale.
But… you know, there are ways to enjoy the whole zone in a single trip. So, in this post, we´ll be seeing some of the most amazing beaches in here and I´ll also be giving you some tips on how to visit all beautiful locations on a single trip.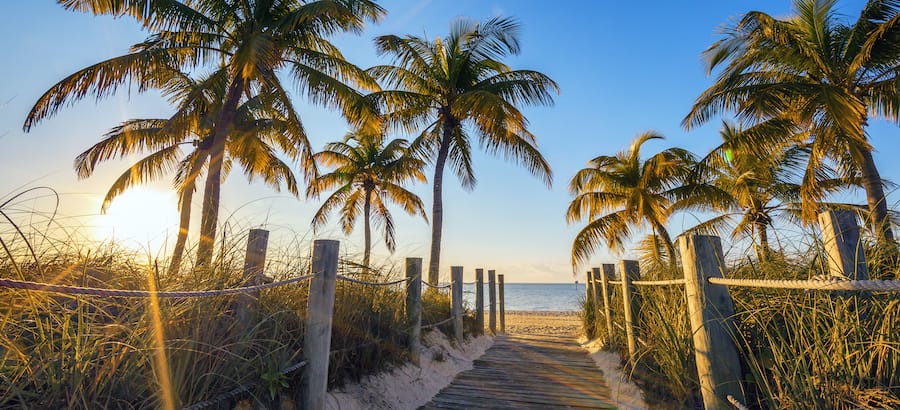 So, let's go!
Moving around South Florida
Now if we really want to reach all the beautiful beaches in here, then we simply have to find a way to efficiently move through Florida, because you see, Florida is deservingly huge, and most of its transportation infrastructure centers around car ownership.
For example, a trip from Orlando to Miami lasts about four hours in the car which is not that long distances considered. In fact, many places are in the south of Florida are still great beaches to visit near Disney if you're going for an extended stay!
However, if you were to take the same trip on public transport, say a Greyhound bus, it would take about six and a half hours, and if you were insane enough to take it on foot it would take about three days!
Now it's pretty clear that we need a car if we are to visit beaches all over the state, and so the big question becomes: How do I get a car in South Florida?
Well, the answer is far simpler than you'd think, this region, as we discussed, is one of the most touristic places in the US, which means that annually thousands of people rent cars in most of the cities here, so car rental companies are pretty much ubiquitous in this state, thus renting a vehicle becomes the easiest way to make this trip possible.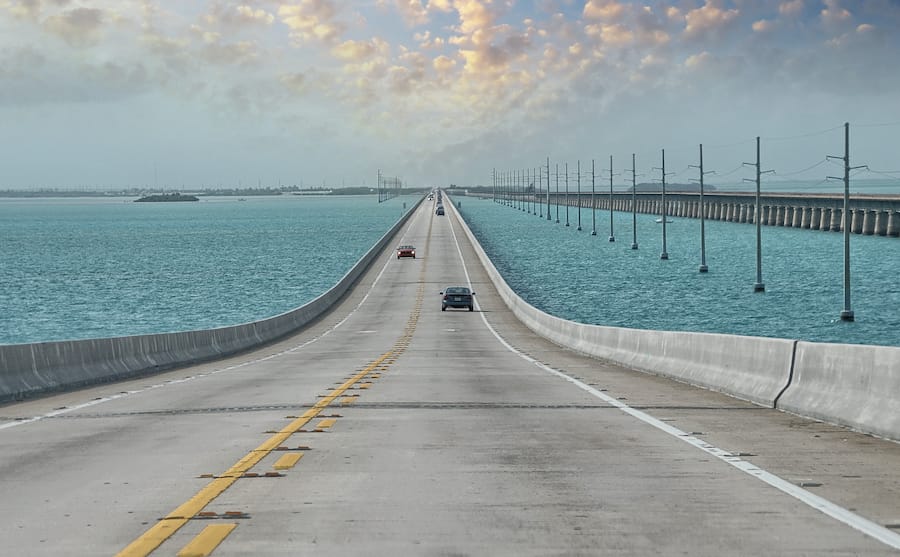 The basics of Renting a Car in Florida
Now, renting a car is a bit more complex than booking a hotel or a flight, but if you know the basics it should not be a problem at all, so let's review them really quickly!
Using a broker to facilitate the process
Just as with hotels and flights, searching for rental cars on the internet can be a hassle due to the unreasonable amount of options, I mean, there are dozens of companies and each of them has different vehicles, and more importantly, prices. So, it's not uncommon for inexperienced renters to overpay for their cars the first few times around. Don't worry though, you won't be one of those.
Now, what you should do in this case is to use a car rental broker site. These are websites that compare prices and options of many companies, thus narrowing the search and making it much more efficient, and inexpensive; plus, some of these sites will even help you during the reservation process facilitating it even further.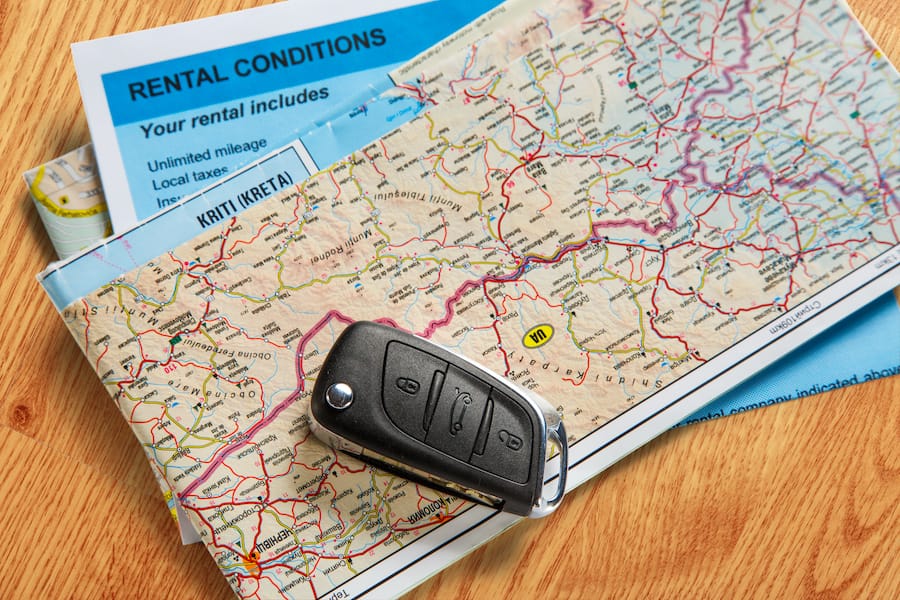 Know the requirements
Now, there are some vital requirements that any company is going to ask you at the moment of picking up the car, and if you fail to comply with those… well… let's just say that there will be a lot of walking involved. So, pay attention!
A valid driver's license
This is a no-brainer. If you need your license to drive your own car, then you also need it for a rental car, duh. However, you'd be surprised by the number of people that forgets their license when traveling, and let me tell you, they do NOT have a fun time. So, make sure to pack your license along with the sunscreen and your swimming suit.
An embossed credit card
I know, I know, this is as boring and annoying as it can get, but it's a necessary evil. You see, car rental companies will ask you for a credit card as a form of deposit, in most cases, nothing will be charged to this, but if you ask for any additional feature in your rental car at the counter, or if you commit an infraction it will be charged to this credit card. So remember, drive safely and be extremely clear about anything you want to add to the rental plan.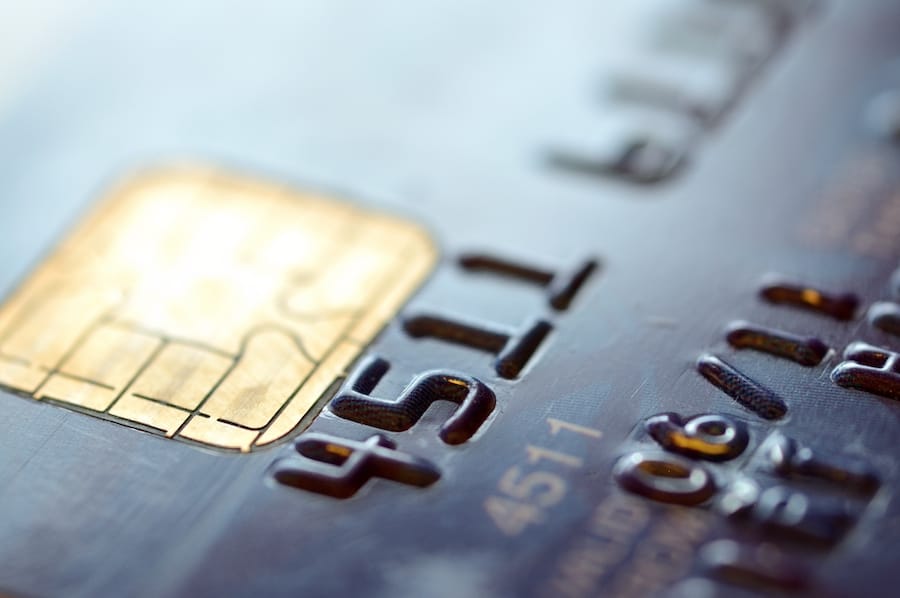 A full-coverage insurance
You know I think you shouldn't even be allowed to drive your own car without one, so it's unsurprising that all rental car companies will ask you for insurance.
Now some brokers will offer you insurances with third party companies, whatever you do, don't take them, as some rental companies reject these specific types of insurances making you pay double. The best thing you can do is just take the insurance offered at the counter of the rental place, this way you´ll only pay once!
Being over 25
Not a lot to say about this one, as there are some age restrictions when it comes to renting a car, but hey! at the very least it is a problem that will solve itself with a little time some rental companies allow people between 21 and 24 years old to rent but have in mind that there WILL be some extra fees ………..
Florida's speed limits and traffic laws
There will be a LOT of driving on this trip so, you must be familiarized with the speed limits in Florida. I mean, not that I don't think you're all very careful drivers… because you are… right? Like none of you are secretly speed demons… right? Ok, so, just to keep that credit card safe from speeding let's quickly review the speed limit in Florida.
Municipal, residential or business areas……….…………30 Mph
Rural Interstate and limited access highways……………70 Mph
All other roads and highways………………………………55 Mph
School zones…………………………………………………20 Mph
Now don't exaggerate with the low speed, as driving slow is enough to block or restrict the vehicular flow in some way or another is also against the law in Florida.
If you're traveling with children, don't forget that Florida law requires kids under six to use a proper restraint device, you can get one directly at the counter when picking up the car so you don't have to bring your's all the way from home.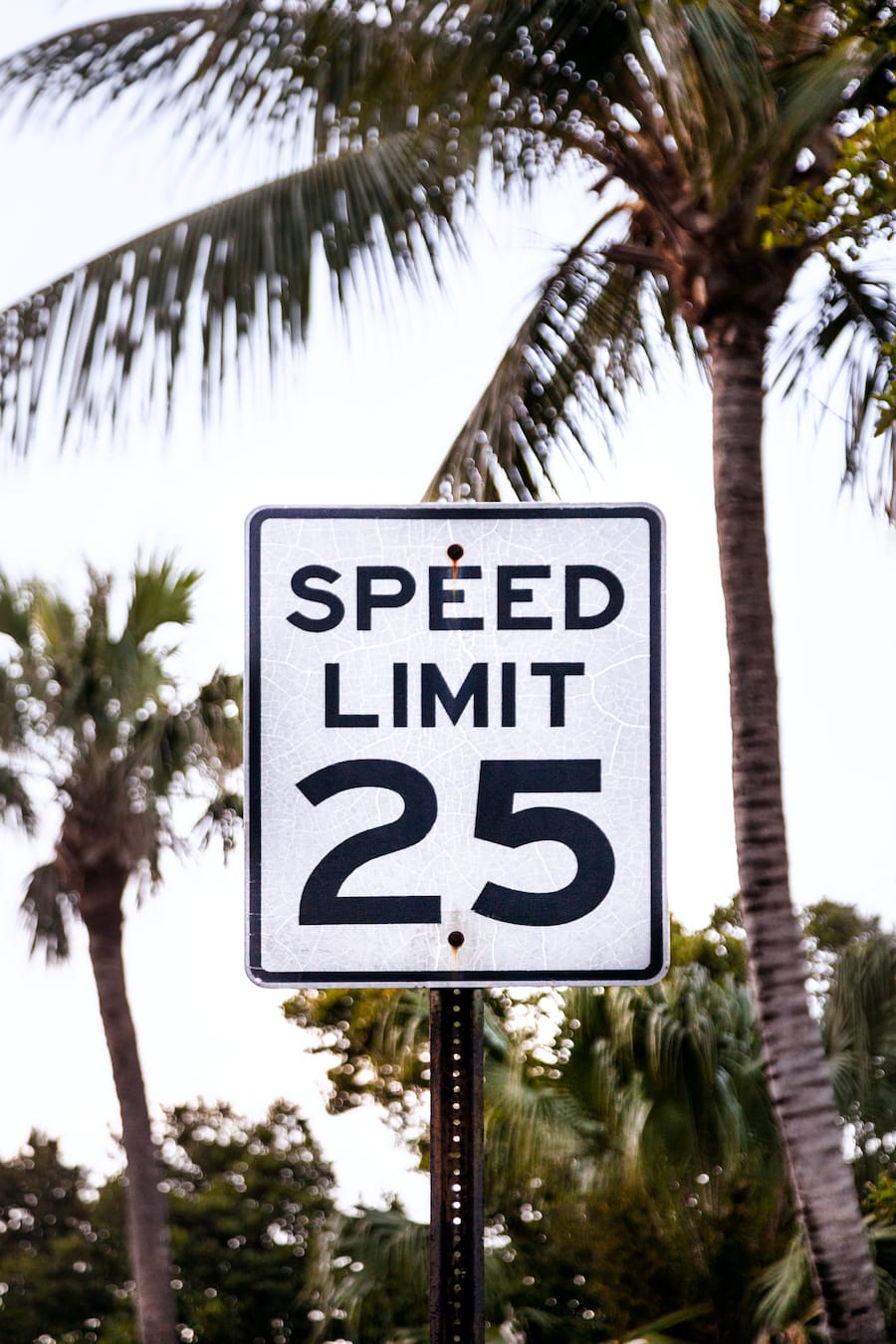 It´s time for some fun in the sun!
Now that everything is set, it's time to feel the sand between our toes, the salty Atlantic breeze in our skin and who knows, perhaps playing volleyball and eating some freshly fished seafood!
Now, we´ll begin in Cocoa Beach, which is located close to Orlando, and we´ll be driving south from there. However, if you want a shorter version of this trip you can also rent a car in Palm Beach, enjoy Peanut Island, and start from there.
Cocoa Beach
Close to Orlando, we´ll find Cocoa Beach, our first stop. This a splendid coastal city that harbors some of the most beautiful and clean beaches in the area. The pier is quite famous for having some awesome restaurants, and some great spots for fishing. The sun can be pretty intense there so bring a hat and plenty sunscreen.
The place is also a very famous spot for surfing, so much that Florida's Museum of Surfing is located here, and yeah you can even take some private surfing lessons.
There are also some fantastic vacation rentals in Cocoa Beach and the surrounding area that are affordable and perfect for small groups, couples, or families.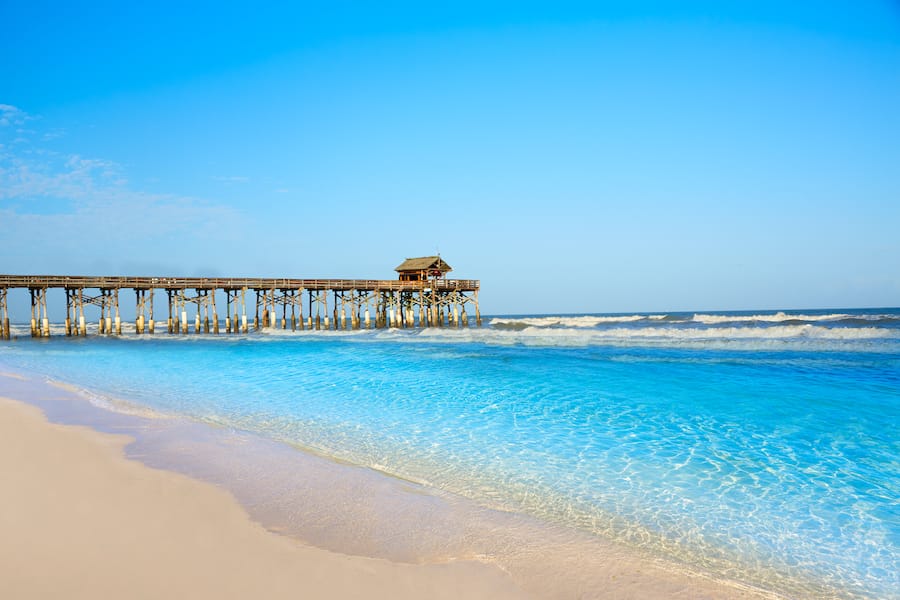 Peanut Island, West Palm Beach
If you're coming from Cocoa Beach, the drive lasts about 2 hours. The fastest way is by taking I-95.
Many people will tell you that its name comes from a peanut plantation that was there at some point, but I firmly believe that the island looks just like an unshelled peanut, anyway, this is the perfect destination for anyone that loves both camping and the beach, as this little island offers both and some top-notch snorkeling options as well!
To get there, park at Riviera Beach City Marina and take a shuttle or a water taxi.
Las Olas, Fort Lauderdale
After enjoying Peanut Island in all of its… peanut glory our next destination will be Las Olas in Fort Lauderdale, the drive from there takes about one and a half hours also taking the I-95.
There is simply no place as iconic in this city like this, I mean, if you went to Fort Lauderdale but didn't go to Las Olas then you pretty much miss out on everything. Here you´ll find tasty food ("Coconuts", one of Ft. Lauderdale's most famous restaurants, is pretty close), beautiful white sand and plenty of hotels and resorts to stay in if you need some sleep after de trip.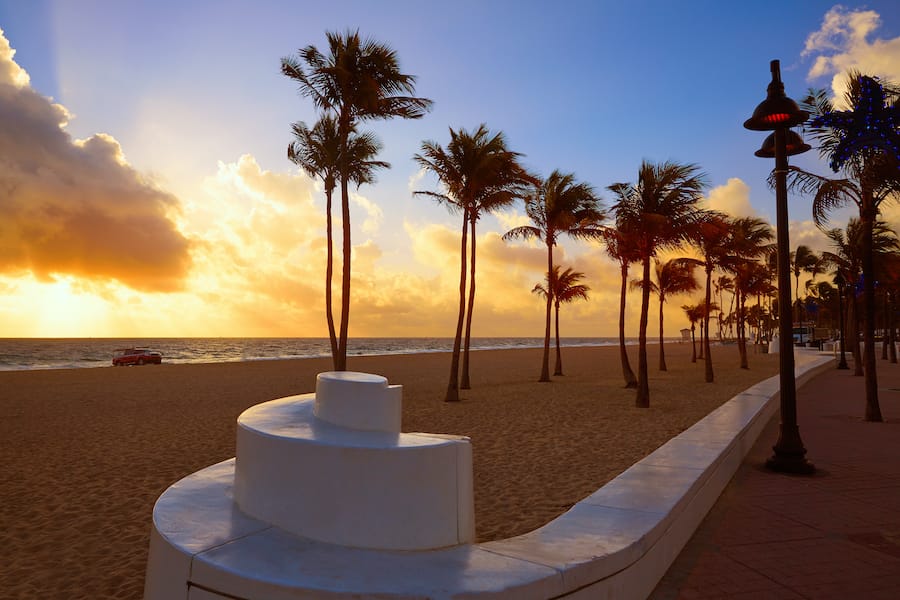 South Beach, Miami
And finally, we reach the quintessential coastal destination of this trip: South Beach, if you're coming from Las Olas, it's an hour-long drive, again taking the I-95.
If Las Olas is iconic, then this is twice as iconic. The coast is huge, covered with soft white sands, and it's pretty close to some of Miami's most historic landmarks such as the Art Deco District, and Joe's Stone Crab a historic restaurant with more than 100 years!
And of course, this being Miami there are also plenty of neon-lit nightclubs and bars to go to at night after a relaxing afternoon. In addition, you can take a day trip to Key Biscayne and check out one of the most famous lighthouses in Florida!
And there you have it, next time you have an urge for some fun in the sun, pay South Florida a little visit and make a big hunt for the state's best beaches on a rental car!
YOU MIGHT ALSO LIKE:
PIN IT FOR LATER!