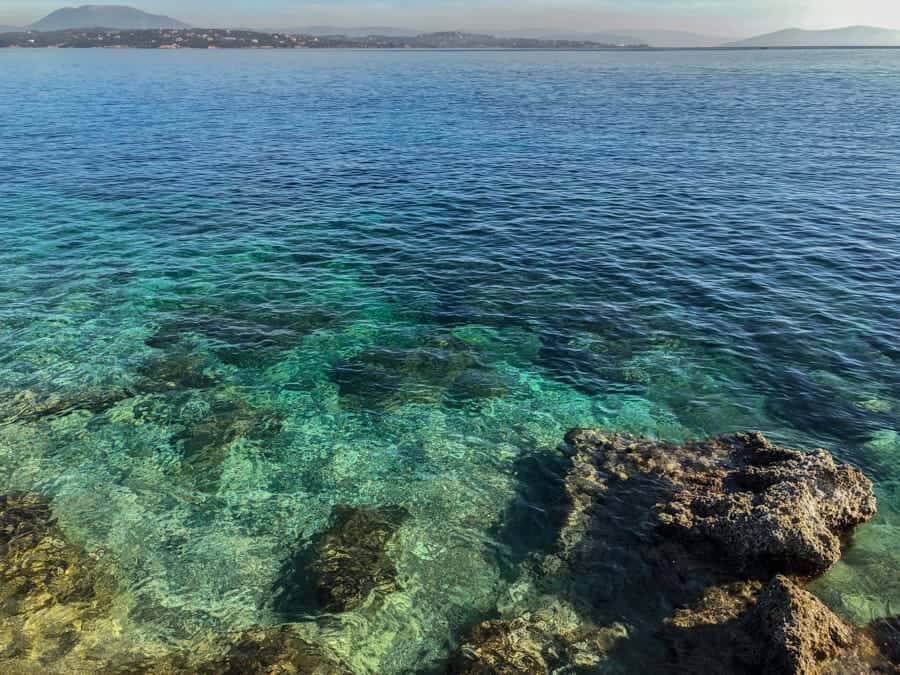 This post may contain affiliate links which means if you purchase something through that link, we will make a small commission at no additional cost to you. Think of it as buying a cup of coffee for us on someone else. Thanks and enjoy!


Olive trees and pine forests welcome you to picture-perfect paradise in the Mediterranean Sea. A place where turquoise blue waters caress white sandy beaches, dotted with historic villages, medieval castles, and charming fishing ports.
The Greek Islands beckon to visitors for a balmy sunkissed climate, superb for sailing holiday destinations. Find your way to secluded coves, chic bars and dip into all the delicious tzatziki you can find.
With around 6,000 islands Greece has to offer, here are some tips to the top Greek Islands for your next sailing trip.
Do you need sailing lessons for you or your group? Or already a qualified sailor? Are you looking for the perfect flotilla sailing holiday? You can learn to sail in the Greek islands for an enchanting getaway.
Ionian Islands
The Ionian group of islands offers gentle breezes and peaceful bays. Superb for lunchtime relaxing, enjoying capers, grapes and crackers with the beautiful ocean views.
The Ionian Islands are made up of at least six main archipelagoes: Corfu, Paxi, Lefkada, Kefalonia, Zakynthos, and Ithaki.
Paxos
For sailing, Paxos in the South of Ionian is found to be the easiest for sailing and ideal for beginners – for families and friends. Paxos may be one of the smallest islands, but it's magical to sail around for its electric blue sea and three quaint harbor towns.
This charming island is protected from wind, leaving you with a lively social scene and exotic calm waters. Enjoy sunkissed days in the waterfront cafés of Lakka, savor the scenery of the harbor and the view of flotillas in the bay.
Corfu
Corfu is a favored tourist destination, with majestic stretches of serene coastlines and regular afternoon breezes. It offers plenty of choices of restaurants and stunning bays – a perfect destination to set your first sails to.
Zakynthos
Like Corfu, Zakynthos is a tourist hot spot. Laganas is a famous party town in Zakynthos. Sail your way to the beaches of Agios, Navagio or Nikolaos to enjoy the infamous sandy beaches.
Ithaki
Ithaki Island provides spectacular hiking trails and great for rock climbing. Due to the absence of sand and the vast amount of rocky cliffs, it's not crowded with tourists.
Saronic Gulf Islands
The Saronic Gulf Islands are the closest island group to Athens and is home to some of the most beautiful places. Hydra, Spetses, Poros, Aegina and tiny Agistri are the most popular.
Hydra
Hydra allures visitors with its paved roads, gorgeous Venetian buildings, elegant cafes, and chic boutiques. As well as art exhibitions and the clunking of donkey hooves (the islands only mode of transportation).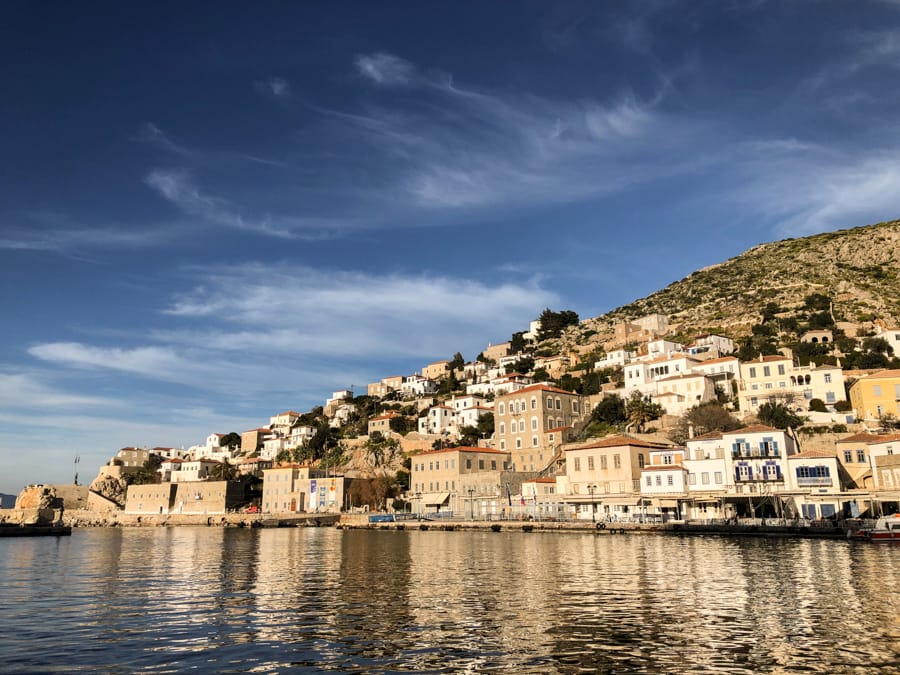 Note: the only way you can get to the island is by ferry, or by sailboat – so sail!
Spetses
The epitome of Greece, where houses are painted white or in pastel hues, and gardens are lush with bougainvilleas tangling up the walls. Streets are paved with stones and the local's mode of transportation is by four hooved animals.
This old port of Spetses offers charm, where tables are lit up by candles in the evenings along the coastline and boats rest peacefully in the harbor.
Sporades Island
The Sporades Islands located on the southeast of Mount Pelion, the northern side of the Aegean Sea, making up a complete paradise. The Sporades consist of four large islands, namely Skiathos, Skopelos, Skyros, and Alonissos.
These islands and a few uninhabited islets form part of the National Marine Park of Alonissos' – the largest marine protected area in Europe. The Sporades offers stronger winds at times and is ideal for the more experienced flotilla sailors.
Skiathos
The most popular yet smallest of the Sporades group of islands is Skiathos Island, boasting natural landscapes and a complete utopia of nature. During spring, the island booms with wildflowers that frame houses and entice the honey bees.
Skiathos offers some of the most beautiful beaches in Greece, with powder-soft white sandy beaches and a laid-back feel. Float your way to Elia beach in the north for clear blue waters, or to the most favored beach in the south, Koukounaries.
Dodecanese Islands
The Dodecanese group of islands are located on the southeastern side of Greece, nestled between Turkey's coast and the Cyclades. If you're looking for a bit of wind, then these groups of islands are your best bet. The most popular of these islands are Rhodes and Kos.
Kos
Kos is the third-largest Greek island of the Dodecanese archipelago. It's well-known for its historical sites, gorgeous beaches, and lush green vegetation.
Kos is a favorite for cycling and is a popular means of transportation. There is a beach to suit the likings for anyone, from secluded to crowded, from shingle to sandy. Don't miss some of Kos' best beaches, such as Kardamena beach, Tigaki beach, Mastichari beach, and Marmari beach.
Rhodes
Rhodes is rich in history and character. Find your way to the Medieval City of Rhodes, listed as a UNESCO Heritage Site. Walk along stone-paved alleys, take a picture with the medieval castle in the background.
Rhodes offers an endless amount of activities and a spectacular range of beaches. Lindos Beach Megali Paralia is among the most beautiful on the island. Other superb beaches are Faliraki Beach and Vlichaand Afando.
Cyclades Islands
The Cyclades group of islands consists of some of the most well-known places in Greece, such as Mykonos, Naxos, Paros, Andros, Antiparos, and Milos (to name a few).
Mykonos
Sail your way to Mykonos, where white-washed walls and paved roads overlook a dreamy ocean. The perfect party destination for jet-setting sailors enjoying the yacht life and groovy beach bars.
Enjoy the thriving, lively atmosphere at the beaches of Elia, Psarou and Paradise Super Paradise. The perfect sailing destination for you and a group of friends.
Santorini
Santorini is by far one of the most visited and most famous islands in the Cyclades archipelago. Take a picture at the iconic white church with a blue dome, view buildings filled with pink bougainvilleas, and admire the picturesque sunset on this volcanic island – a truly magnificent place.
Santorini offers a range of activities and places to see. For a volcanic black sand beach, make your way to Black Beach or Nea Kamini to swim in the hot springs. The Caldera hike from Fira to Oia offers a breathtaking view from the villages.
You will undoubtedly want to sail to the hot springs and satellite island of Thirasia for a magical day.
Catch The Trade Winds For The Perfect Greek Island Sailing Holiday
Sailing in Greece offers the opportunity for any sailing enthusiast and ocean lover. Spend your Greek summers basking in the sun, set your sails in the Mediterranean sea to your exotic island holiday.
Whether you're on a charter yacht, on your own boat or on a sailing trip for the day, Greece is without a doubt the epitome of paradise.
Sail across the turquoise waters in fabulous sailing gear, stop over to swim and snorkel at one of the pristine beaches or visit the UNESCO-listed archaeological sites. What better way to discover the beautiful Greek islands the way they were meant to be seen – from the magical waters!