Ireland may be a small country, but thanks to an extensive diaspora, its reputation has traveled around the world. Perched on the corner of the North Atlantic, this small island has produced an impressive selection of poets, musicians, and writers.
But there's a lot more than just the arts and beautiful castle hotels in Ireland, as any visitor knows. We're going to run through a quick list of ten reasons why we're sure you're guaranteed to fall in love with Ireland in 3 days.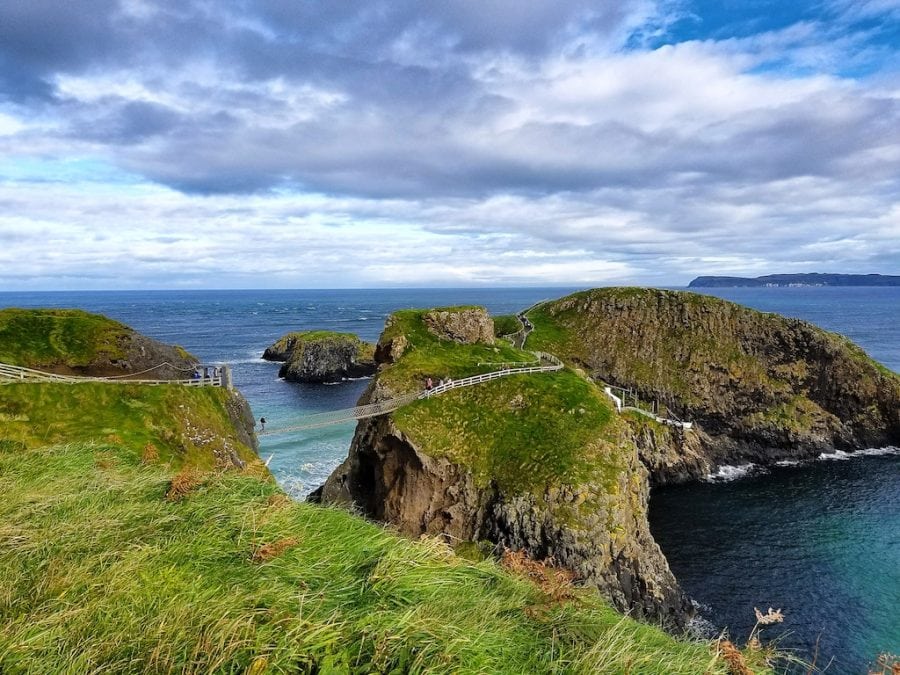 The People
Irish people are renowned around the world for their warmness and good humor. While it's undeniable that much of their reputation has warped into a stereotype, the reality is that many Irish people are just as friendly and funny as they're reputed to be.
The Landscapes
The Irish countryside is some of the most beautiful in Europe. For such a small country, it can be surprisingly varied. You'll get to take in breathtaking cliffs, rugged mountains, desolate moors, and much more as there are many things to see and do in Ireland. While you may have to wait for the perfect weather to show up when it does you won't be disappointed.
The Whiskey
Irish whiskey is renowned around the world. Two distilleries dominate most of the Irish whiskey business outside the country: Jameson's, from the Republic, and Bushmill's, from the North. But there are many more brands on offer when you take a look around. Far smoother and a touch sweeter than its Scottish cousins, Irish whiskey is the favorite of drinkers around the world.
Ireland Is an Enchanting Mix of Old and New

The History
Many visitors to Ireland are astonished at the rich history that is still on display throughout the nation. The country has faced a succession of invaders, from the Vikings to the English, and they have all left their mark. For a small country, Ireland has more than its fair share of historical architecture, both countryside, and city, on display.
The Pubs
Actual Irish pubs are far more interesting than the endless knock-offs you find on display around the world. The country produces a diverse range of beers, offering far more than just Guinness. And with pub drinkers across the country happy to provide guests with a few recommendations, you'll have no shortage of company when you stop in for a pint. Visiting a pub is a must-do in Dublin and the rest of Ireland.
The Music
Traditional Irish music has its fair share of devotees around the country. Based on instruments such as the fiddle, accordion, and percussion instruments, it's best enjoyed in a traditional Irish pub. The ceilidh, traditional Irish dance and musical gathering is a key part of the musical culture in Ireland. And with a thriving modern music scene underway in many cities, there's no shortage of things to enjoy.
Irish Culture Is Truly Unique

The Folklore
Ireland is awash with traditional folklore. Much of the country is deeply rural, and as a result, customs and stories have remained a key part of local culture. From the Blarney Stone to smaller local myths and legends, everyone will have a yarn to spin you about the history of their local area.
The Castles
English colonialism left its mark on Ireland, and nowhere is this more evident than in its many castles. English landowners took the opportunity to construct their seats of power in as impressive a manner as they could manage. While the landowners may be gone, the castles remain, and they are truly impressive.
The National Parks
Killarney and Connemara national parks are two of the best in Northern Europe. These untouched areas of natural splendor have a whole lot to offer travelers looking to explore some wilderness. Thanks to the small size of the country, all the national parks are easily accessible, and you should have no trouble finding somewhere nearby to stay.
Dublin
The national capital has made its mark in the arts. Most notably, it is the setting for James Joyce's modernist masterpiece Ulysses. But there's far more to this city than just the past. A wealth of beautiful architecture and museums, great pubs, friendly locals, and thriving arts and music scenes make this a city worth visiting.
These are just a few of the things about Ireland that are guaranteed to enchant newcomers. The country punches well above its weight, considering the small geographical size. With stunning landscapes, friendly locals, and a selection of local artistic cultures that are truly unique to Ireland, it's easy to see why this country has been drawing curious travelers from far and wide for years.