It is no question that if you read my blog, you will quickly discover that Kyiv, Ukraine is my favorite city in the world.
The energy and unpredictability of the city have me captivated each and every time I visit. And I have been there at least twenty times over the years.
This is a Kyiv itinerary for first-time visitors to my favorite city. I have written it so that you can use it for spending one day in Kyiv or two days in Kyiv… whichever you choose (the longer the better!)
Please note that I do NOT encourage traveling to Ukraine currently and will not be doing so myself. I will update all Ukraine content on this website in due time. Thanks!
I included everything on day one for those who only have a single day in the city. The second day is an add on.
I highly suggest having a full two days in Kyiv if you really want to get a better idea of how the city functions and all the amazing things to do in Kyiv.
One or Two Days in Kyiv Itinerary
One of the coolest things about Kyiv, Ukraine is the fact that it truly is a city suited for all types of travelers. If you like history and culture… Kyiv's got it. Into craft beer and specialty coffee? You'll have a field day in Kyiv. It offers a plethora of different activities and sights for all travelers and the city doesn't have a chip on its shoulder about it.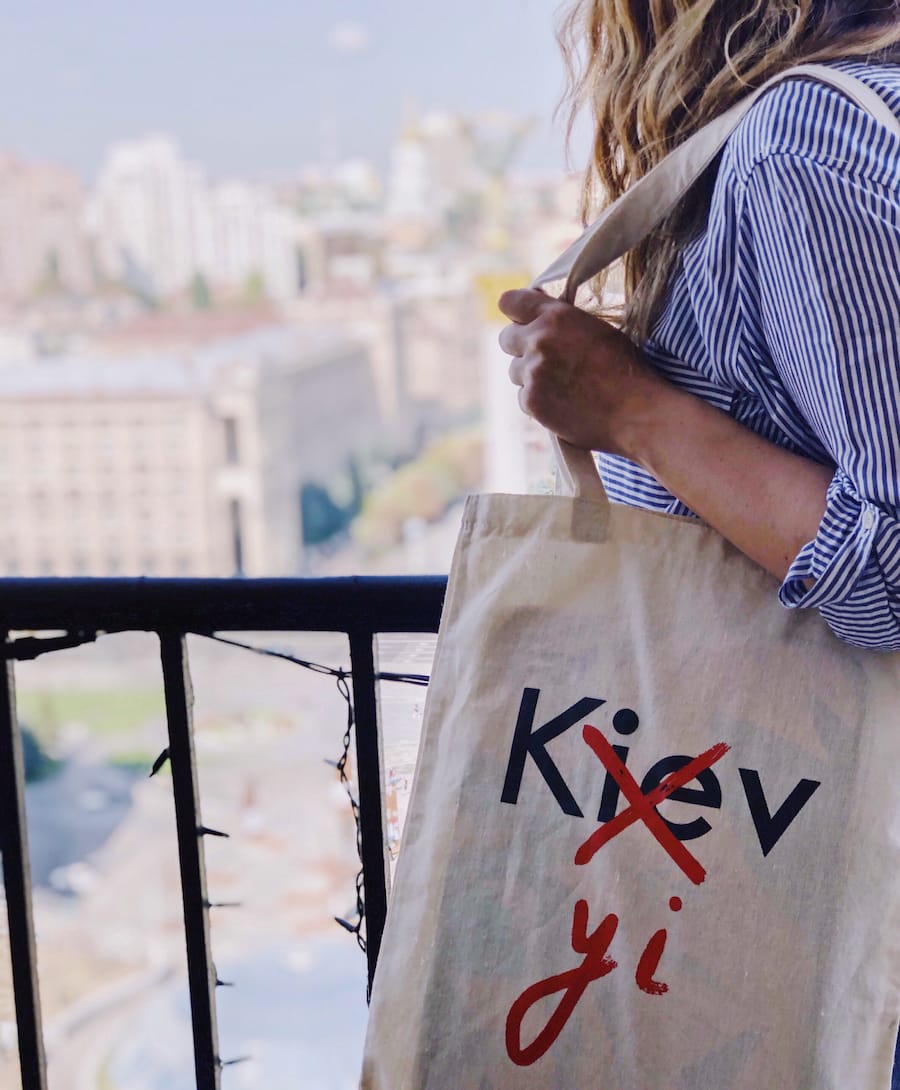 I genuinely think it takes multiple trips and several days to really understand Kyiv's vibe and to connect with its identity as it has changed drastically over the last decade (trust me… I went there in 2011 and the city is world's apart from what it is now). But, one or two days can at least give you a quick impression of what the Ukrainian capital city has to offer and will hopefully leave you vying to return!
This guide will cover two days but can be used for those only looking to spend one day in Kyiv as the first day will be conclusive of all the things I think you should do if you only have a single day in Kyiv. I added a map at the end detailing everything to help you navigate the city.
If there are things you think should have been included on this Kyiv itinerary, please drop them in the comments or shoot us an email! We tried to gear this for first-time visitors only, so please keep that in mind. Thanks!

How to Get to Kyiv, Ukraine
There are several ways to get to Kyiv. I tend to fly there since it is usually my first point of entry into Ukraine. I love flying with airBaltic there. I find it fairly easy to get from Kyiv Airport to the city center. Everything is just second-nature to me these days. You can also fly into Zhuliany Airport and quickly venture to the city center from there.
If you arrive from Lviv, Kharkiv, or Odesa to the main station in Kyiv, you can just hop onto the metro and are in the city center in minutes. It is also easy to take a taxi in Kyiv with Uber, Bolt, or Uklon services (be sure to download the app before arriving).
When Should You Travel to Kyiv?
If you love snow, winter winter winter! I actually love winters in Kyiv because it justifies my lazy nature as a traveler and I don't feel bad for sitting in cafes all day and working. Summers are warm but not usually unbearable.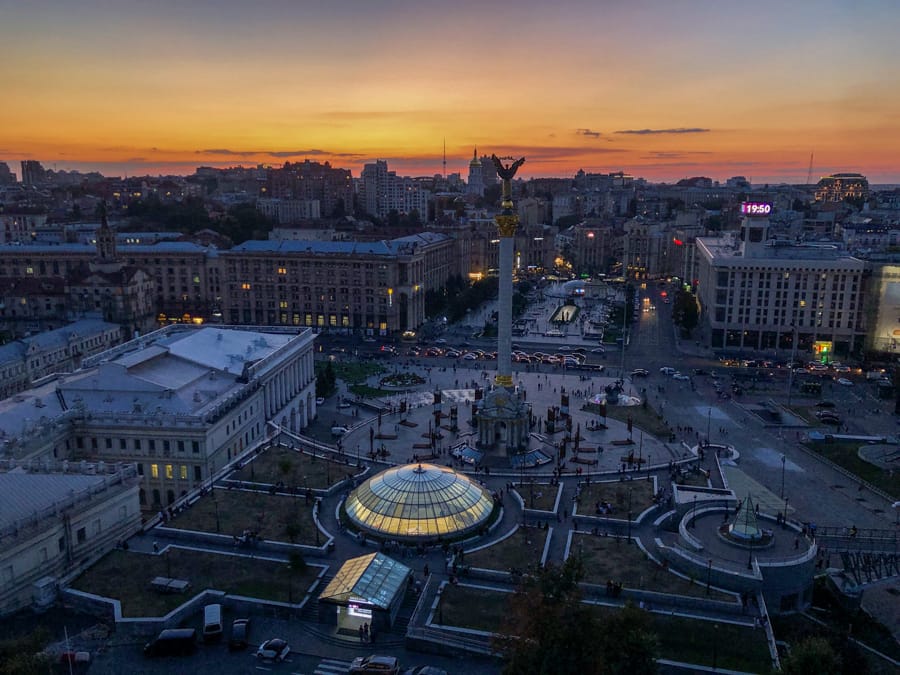 The pulse of the city really comes alive in summer… so if you have being outside and a friendlier aura… go then. If I had to pick a favorite season, however, it would be autumn. The city is stunning and stylish.
Connectivity and Wifi in Kyiv
Wifi works pretty brilliantly in Kyiv and it is rare to find those stupid signs that say "We have no wifi. Pretend it is 1994 and talk to each other." Wifi is ubiquitous and you will also easily find a cheap SIM card that will keep you connected at all times.
Click here if you're looking to buy a Ukraine SIM Card in Kyiv.
Getting from Boryspil Kyiv International Airport to the City Center
I actually wrote an entire guide detailing this. You can find it here. I will have a guide detailing how to get from Zhuliany Airport to the city center soon.
Kyiv Tour Recommendations
While this Kyiv itinerary is more a self-guided one, I do think it might be smart to book a tour in Kyiv instead. The reason is that you won't have to worry about navigating any of the sights yourself and you will have more structure that way. Here are a couple of good tours I recommend in Kyiv if you have a short amount of time there. All will focus on the highlights and are extremely affordable!
Kyiv Itinerary: Day 1
As noted a few times above, this is a 'two days in Kyiv itinerary'. However, my 'Day 1' section can be done by itself as a one-day itinerary for Kyiv.
This day involves a lot of walking. If you're not keen to walk or if the snow is knee-deep, you can take a taxi in-between places or utilize the Kyiv Metro. I am not going to write specifics on how to get from one place to another because this is just a suggested itinerary and I am not sure how people prefer to maneuver about the city. I, personally, love walking.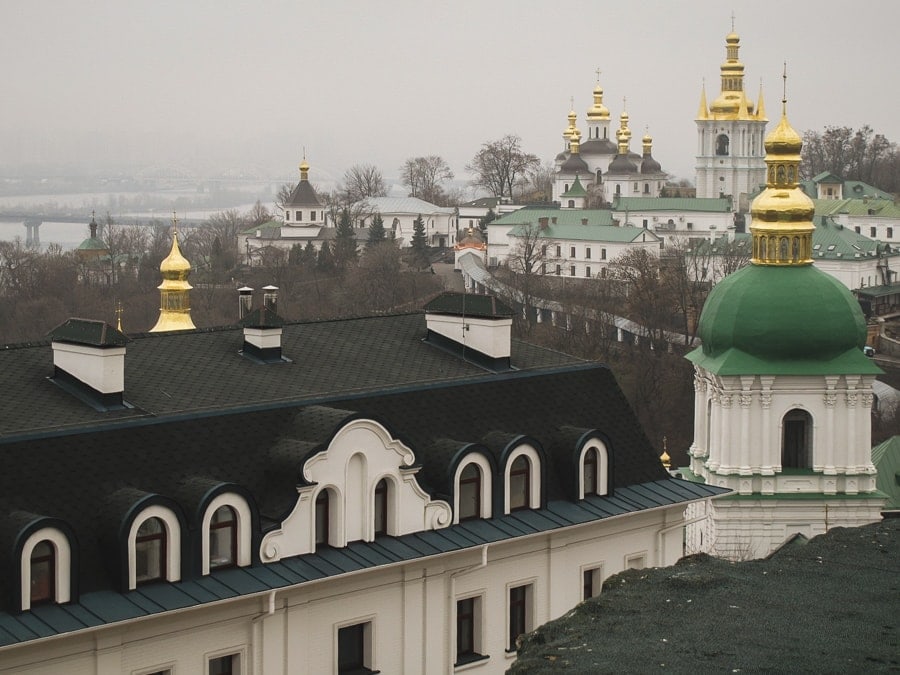 Taxi rides around Kyiv will run you less than $1 for each trip. That includes pretty long distances. The only exception to this is airport taxis or the tourist tax that you may receive if you hail one off of the street.
If you're in Kyiv for two days, you can take some of the sights on the first day and move them to the second day. I made the second day a bit more chilled-out and flexible.
Enjoy Breakfast or Brunch in Kyiv
I would start off your first day in Kyiv by having a brunch or breakfast somewhere in the city center. If you're looking for a luxury breakfast for a heftier price, I can highly recommend the breakfast buffet at the Hilton Kyiv as my friend, Shota, is the brilliant chef there and it will not let you down.
If you're seeking something more local and at a more affordable price, I can recommend Good Girl or Milk Bar. Both are owned by the same people and they have killer brunch and/or breakfast.
Good Girl
Good Girl is new and I really enjoyed their sweet potato breakfast pan there. It comes with a poached egg, turkey meatballs, and spinach. I also loved their homemade coconut milk yogurt. The decor inside is hip and cool, just like the city of Kyiv. They also have fantastic coffee, customer service, and offer an array of alcoholic drinks (so what if it is 9am… we won't judge).
You can find Good Girl at 7 Mechnykova Street in Kyiv.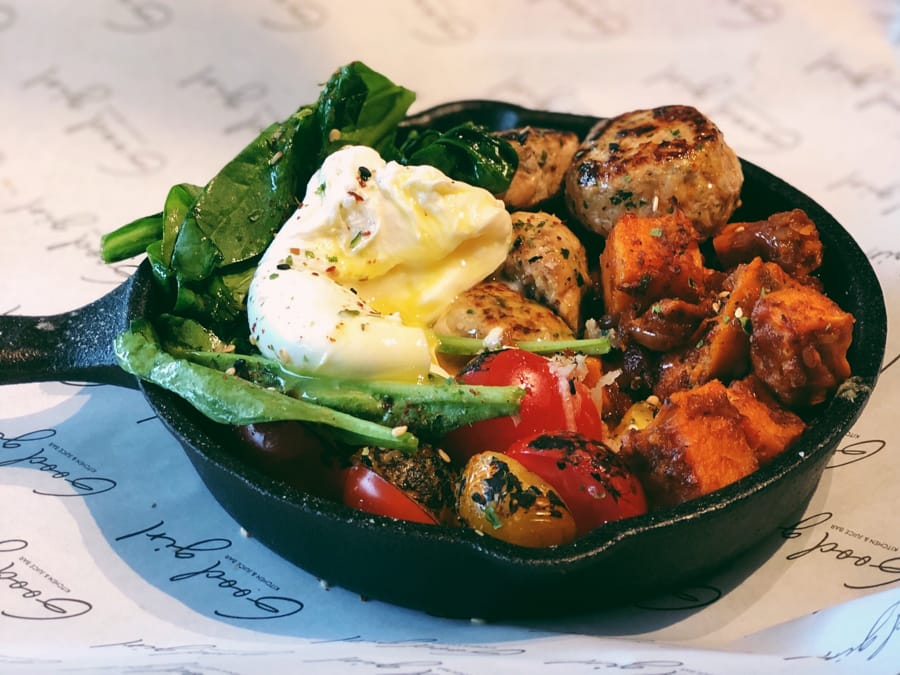 Milk Bar
This stunning cafe and eatery is located quite close to Good Girl and has been offering clean and delicious food since they opened a few years back. They have delicious coffee, avocado toast, and an array of other tasty items on the menu. It can get pretty crowded so you may have to wait for a little bit to be seated. Their cakes are to die for!
You can find Milk Bar at 16 Shota Rustaveli in Kyiv.
Peruse Through Mariinsky Park
One of my favorite places in Kyiv is Mariinsky Park. This park is Kyiv's most famous one and it sits so closeby to other sights in the capital city that it would be remiss to not walk through it while you're visiting Kyiv. The park is home to the Mariinsky Palace, a massive, blue Baroque building that was built in 1752.
The park has had heaps of names from Tsarist Park to Victims of the Revolution Park… but the Kyiv residents always referred to it as Mariinsky Park. Inside the park, you will find a lot of dogs. This is probably why I am listing it in this guide. You likely won't find stray dogs these days but all will be with their owners as they enjoy the cleanliness of the Kyiv park.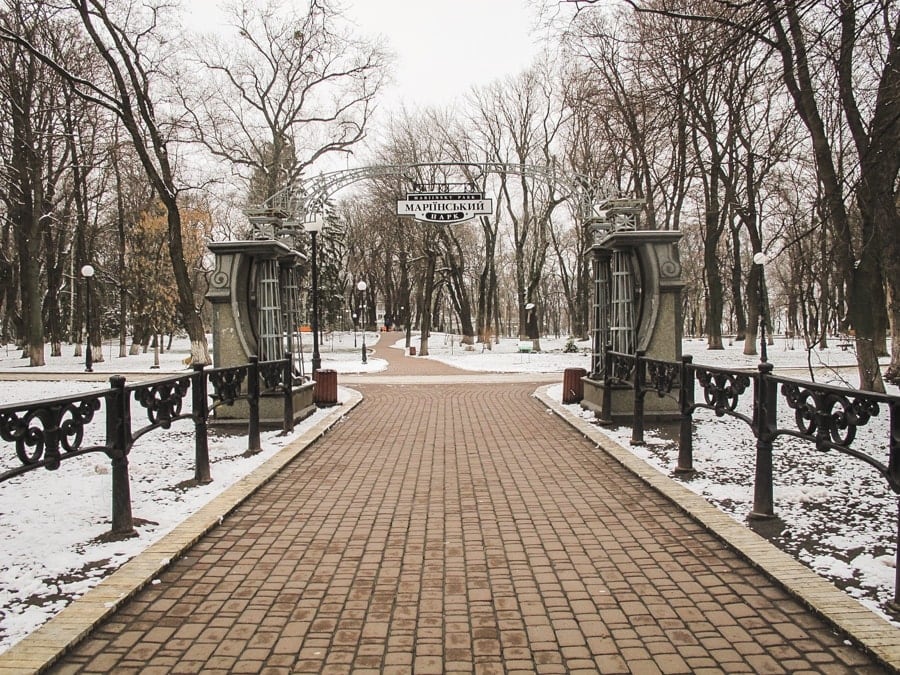 One of the best things about Mariinsky Park is that if you head to the back of it, you will get an epic view of the Dnieper. It is easier to see the river in winter as the leaves are not on the trees, but either way, this park is a great place to visit on your Kyiv itinerary.
At the start of the park, you will also see the Kyiv Dynamo Stadium. I went there ages ago in 2011 to see Kyiv play Metalurh Donetsk, a team that has ceased to exist since 2015 due to the war. The games have since been taking place at the Olympic Stadium and while there were plans to move them back to Dynamo Stadium, it just hasn't happened yet.
Photograph the Obscure Hotel Salyut
One of the most obscure structures in Kyiv just so happens to be a hotel (that I have actually stayed at, nonetheless). Built from 1982-1984 and designed by famed architect Miletsky, this hotel has become an icon of Soviet architecture in Kyiv.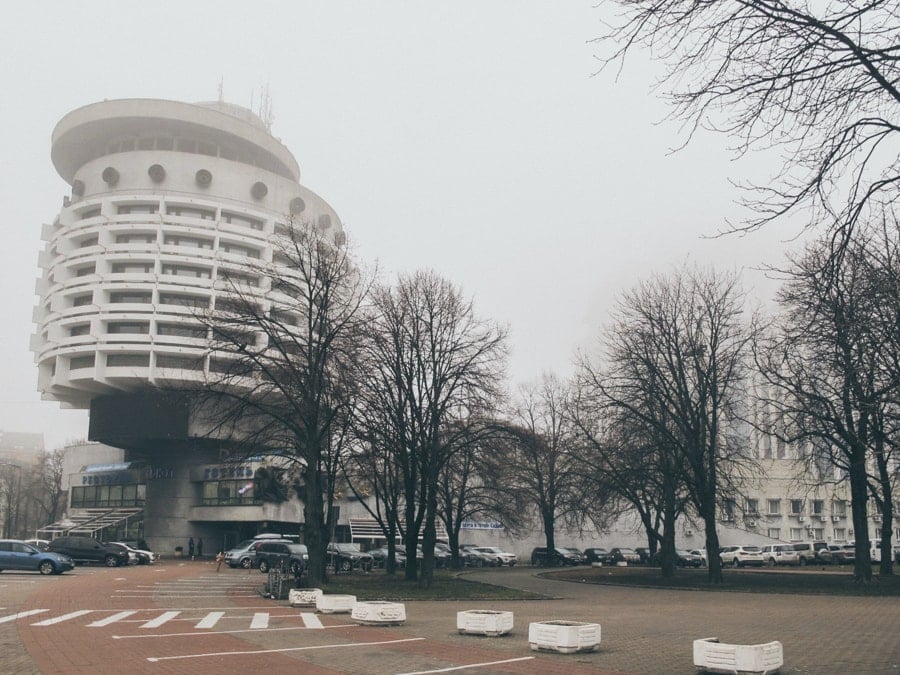 While there is not much to do except photograph the hotel (unless you want to stay there), it is still worth seeing and it is in between Mariinsky Park and the Holodomor Genocide Museum.
You can find Hotel Salyut at Ivana Mazepta Street 11B in Kyiv.
Pay Respects at the Holodomor Genocide Museum
Close to Mariinsky Park is the Holodomor Genocide Museum which pays respects to the victims of the genocide, known as Holodomor in Ukrainian, from 1932-1933. The memorial opened in 2008 in time for the 75th anniversary of the Genocide and it has been welcoming hundreds of thousands of visitors annually since.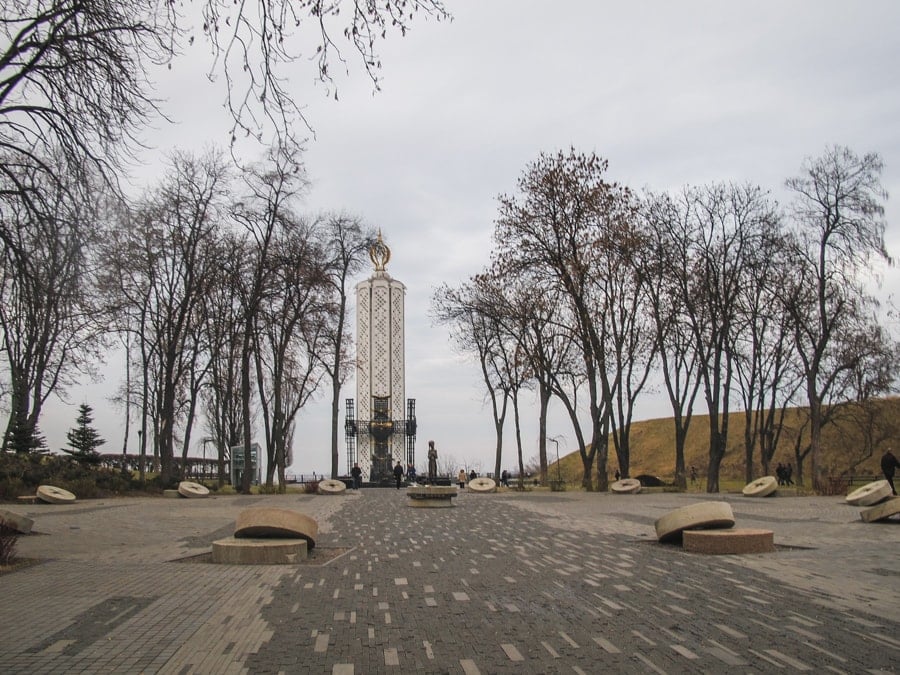 I definitely think it is worth stopping by and educating yourself on this travesty when you're in Ukraine. It is something that is not widely spoken about (although it is talked about much more than the Kazakhstan genocide around the same time) but deserves more attention as it was devastating to Ukraine.
You can find the Holodomor Genocide Museum and Memorial at 3 Lavrska Street in Kyiv.
Visit a UNESCO World Heritage Site at Kyiv Pechersk Lavra
One of the most famous sights to visit in Kyiv is the UNESCO World Heritage Site monastery, Kyiv Pechersk Lavra. This Orthodox monastery overlooks the mighty Dnieper and is a complex that is built atop underground caves that previously served a religious purpose in the Orthodox church.
The Lavra is actually cited to be the most important place in Orthodox Christianity in Eastern Europe.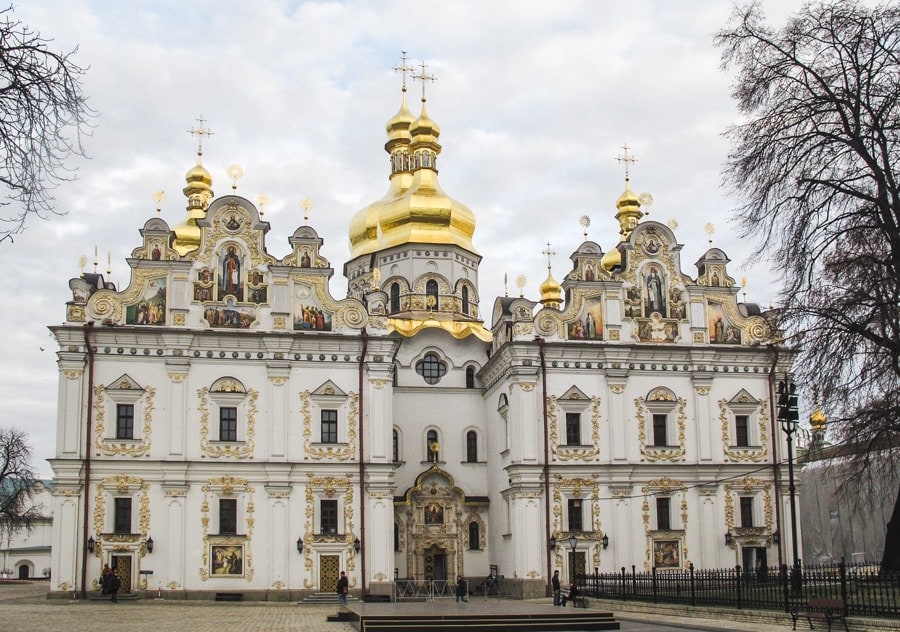 Visitors to Kyiv Pechersk Lavra will love their time there because it offers an array of gorgeous buildings, remarkable history, and awe-inspiring views over the river. It is a small fee to go into the complex but I can assure you that it is worth it.
If you want to book a private tour to learn more about the monastery and the underground caves, you can check out rates and availability for tours here.
You can find the Kyiv Pechersk Lavra at 15 Lavrska Street in Kyiv.
WW2 Museum and Motherland Monument
If you continue walking over from the Kyiv Pechersk Lavra, you will see a huge monument of a female standing over the city with a large sword in her hand. These statues exist in a few countries that used to be part of the Soviet Union and Ukraine is one of them.
The WW2 Museum is an ostentatious war museum and complex where you will still find symbols of the USSR, something that has been made illegal in Ukraine due to decommunization laws that were recently implemented.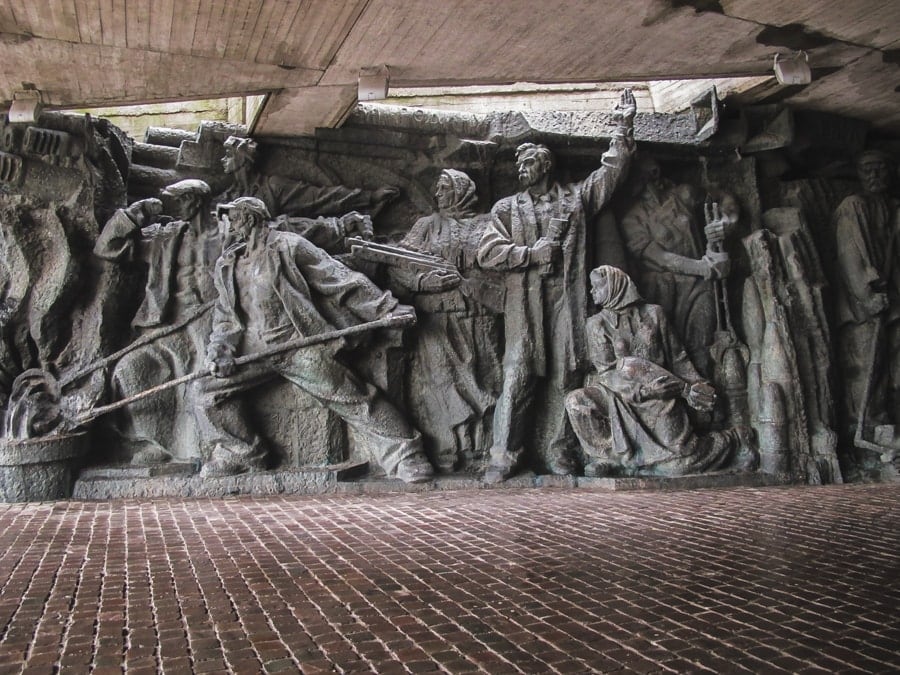 Allowing Soviet symbols to exist to commemorate those fallen in wars, the WW2 Museum showcases the USSR and Ukraine's role in defeating the Germans and the museum is a must-visit when in Kyiv. A lot of it is outside and offers stellar views over the river. The Motherland Monument is also a sight to photograph when in Kyiv and it stands right at the museum, overlooking and guarding the Ukrainian city.
You can find the WW2 Museum and Motherland Monument at 3 Mazepta Street in Kyiv.
See the World's Deepest Metro Station, Arsenalna (Optional)
When you're visiting all of the sights mentioned above, you will be very close to Arsenalna Metro Station, the world's deepest metro station. While you make your way to the WW2 Museum, you move away from it, if you're interested in seeing it, you can walk back that way to check it out and take it to Maidan or Khreschatyk, the next place I recommend visiting.
You can also take a taxi from the Motherland Monument and Museum to Maidan and Khreschatyk. But, I think saying you've been inside the world's deepest metro station is pretty cool.
Get a Late Lunch at Puzhata Hata
Hopefully, brunch held you over through a lot of the sights mentioned above and you're now hungry for a large Ukrainian lunch. There is no better place to head to for a quick and unpretentious lunch than Puzhata Hata, a cafeteria-style restaurant that exists ubiquitously across Ukraine.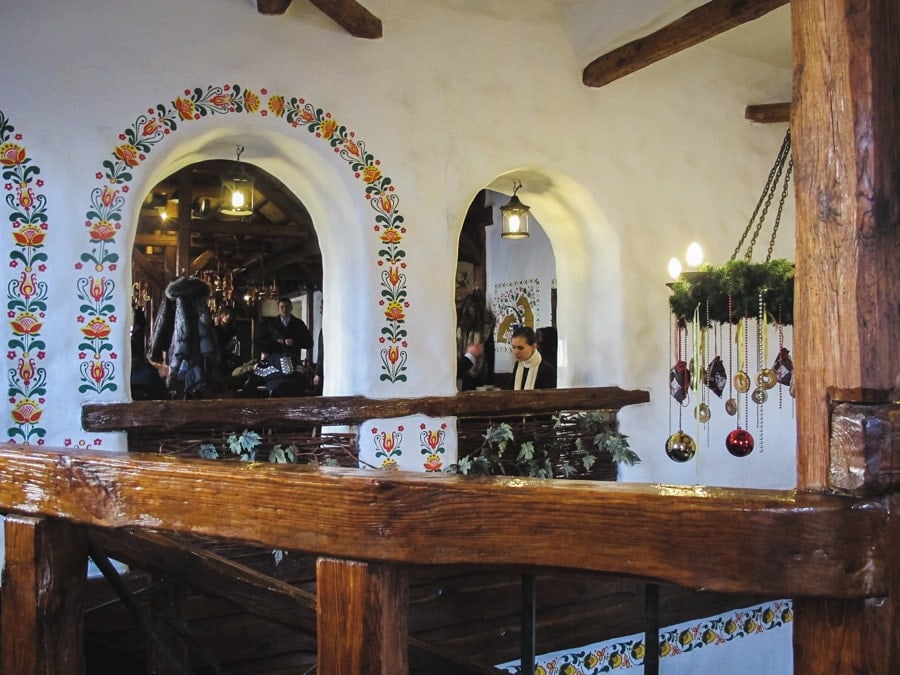 Puzhata Hata offers pretty much a no-frills experience where you grab a tray and tell the workers what you want. I usually just grab some borscht with smetana (sour cream) and no dill. If I am really hungry, I will get a plate of varenyky with meat (Ukrainian dumplings). I also get kompot, a juice-like drink. The signs are in Ukrainian (it is illegal for restaurants to have in Russian nowadays) and you can see my orders here:
Borscht: борщ (borsch)
Sour Cream: сметана (smetana)
No Dill: без кропу (bez kropy). I also say this in Russian to emphasize it which is (bez ukropa). I don't mess around with this.
Dumplings: вареники (varenyky). If you want them with meat, it is мясо (m-yaso). If you want them with potatoes, it is картопля (kartoplya).
Kompot: компот (this is a juice-drink that tastes better than juice to me and is made of berries).
Once you have everything on your tray, you can pay with cash or card. Your meal will likely be around $2 if you get everything I stated above.
There are Puzhata Hatas all over Kyiv. I can recommend the few on Khreschatyk (they kind of hide behind other buildings so just check Google maps) or the one inside of Globus underground mall on the side where Hotel Ukraine is at Maidan.
Remember History at Maidan Nezalezhnosti
This is a place you can't leave off of your Ukraine itinerary. This is my favorite square anywhere in Europe and its history, including a very tragic recent history, all took place here. This is where the Revolution began a little over five years ago.
Maidan is a meeting point and in recent years, it has become the epicenter for fun in Kyiv. The streets are closing down on weekends and there are events, concerts, and festivals held around the square.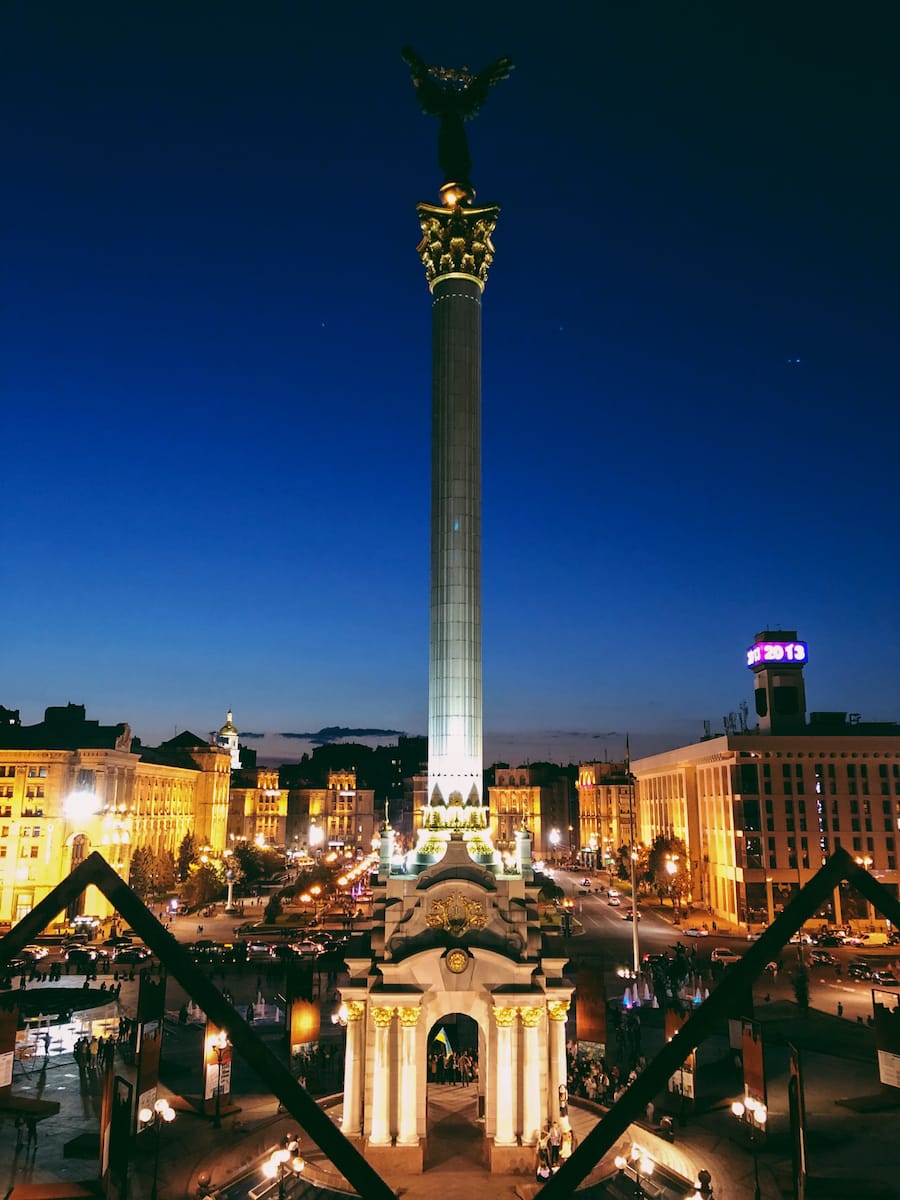 During the summer nights, you will see youth downing bottles of vodka and wine while singing along to modern music. People are sitting on the grass during the day and socializing with friends. It really has become such a cool place to hang out and be inspired by.
Visit St. Michael's Monastery and Saint Sophia's Cathedral
Note: Depending on how long the sights above took you, I suggest moving this to Day 2 for those of you who have an extra day in Kyiv. If you only have one day in Kyiv, then I recommend sucking it up and making the effort to see these. They are truly remarkable pieces of architecture with an extremely fascinating history.
A short walk uphill from Maidan are two of Kyiv's icons, St. Michael's Monastery and Saint Sophia's Cathedral. These churches are so different yet so brilliant.
St. Michael's Cathedral
St. Michael's Monastery is known for its vibrant blue hue and glamorous golden domes. Originally founded in 1108, the cathedral has had a tumultuous history throughout the years, particularly when the country was part of the Soviet Union. It was blown up and for years was left in shambles until it was rebuilt in 2000.
Click here for a tour of St. Michael's. You can find St. Michael's Cathedral at 8 Triokhsviatytelska Street in Kyiv.

St. Sophia's Cathedral
This vibrant green and white cathedral was one of my favorite places to visit on my first trip to Kyiv in 2011 and it remains one of my favorites. Protected by UNESCO, the St. Sophia's Cathedral was founded by the Grand Prince Yaroslav between 1037 and 1044. Interestingly, it was named after the Hagia Sophia in Istanbul.
The complex is across the way from St. Michael's and is a very easy walk. There is a bell tower you can pay to visit at the front of it.
Click here for a tour of St. Sophia's. You can find St. Sophia's Cathedral at 24 Volodymyrska Street in Kyiv.

Have Delicious Ukrainian Food for Dinner at O'Panas
There are so many great restaurants in Kyiv, but O'Panas is easily one of the best and coolest experiences for traditional food. The restaurant sits inside one of the most famous parks in Kyiv, Taras Shevchenko Park. O'Panas has a straw roof and unique design, making the restaurant as memorable for its appearance as it will be for its tasty Ukrainian food.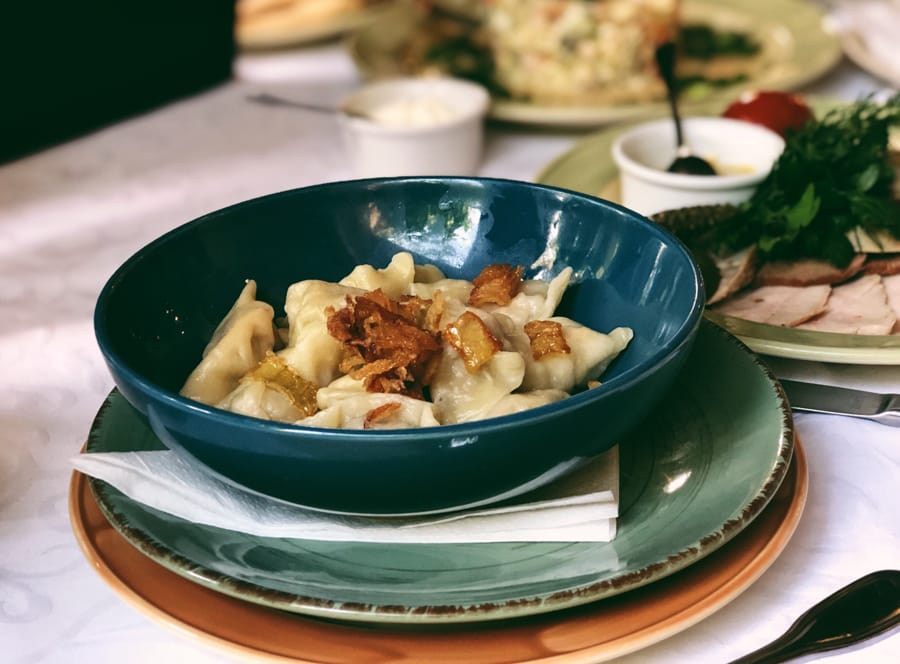 I love the varenyky there and they come with caramelized onions on them. Do you see a pattern here? I eat a lot of varenyky everywhere I go and it's quite the problem. No shame.
You can find O'Panas inside Taras Shevchenko Park at 10 Tereshchenkovskaya Street in Kyiv.
Kyiv Itinerary: Day 2
So that first day was pretty action-packed for those who really only have one day and want to hit up the main sights of Kyiv. The second day on here is a bit more relaxed as I hoped that some of the first day Kyiv itinerary items would be moved to the second day, giving you the chance to see things at a more leisurely pace.
These suggestions are a bit more out of order so that you can plan to see them at your own will and based on what your travel desires include.
Fall in Love with a Cafe in Podil
My favorite neighborhood in Kyiv is Podil. Maybe that makes me basic but I can't resist a great cafe when traveling and neighborhoods with a lot of street art and Podil delivers on both fronts.
If you're looking for a great flat white and cool, inspiring atmosphere, I can highly recommend First Point Cafe, my favorite cafe in Kyiv. The coworking space and cafe is run by a Ukrainian from Zaporizhia and she uses her inspiration from her travels to keep the cafe an open-minded, creative space for locals. Perhaps that is why I love First Point.
There are so many cafes in Podil worth a visit. Take the time to walk around and find one that suits you best. If you just want to peruse the streets of Podil and learn more about the neighborhood, this walking tour might suit you well.
You can find First Point Espresso Bar at Yaroslavska Street 14/20 in Podil in Kyiv.
Check Out the Podil Street Art Scene
Kyiv is a goldmine for street art enthusiasts. I remember back in the day when you just didn't see the stuff. The city has undergone such a renaissance and there is street art everywhere. Some of the most popular murals are in Podil and you can find them by aimlessly wandering around or by hunting them down with intention. I think it is fun to do both.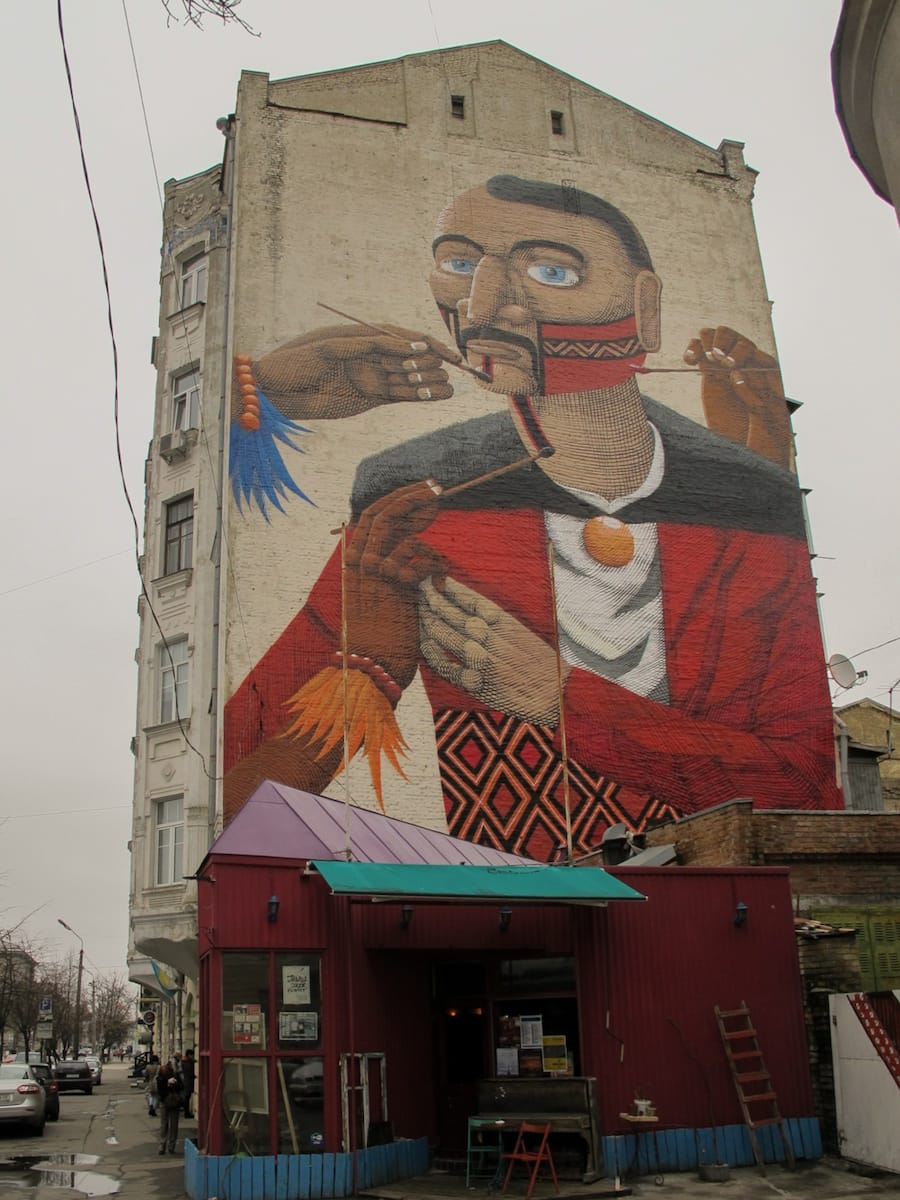 My favorite mural in Podil is this one located at 6 Spaska Street. It was painted by Brazilian street artist Francisco Rodrigues da Silva, a creative genius who got his start as part of a gang spraying across low-income districts of Sao Paulo. I just find its color to pop in such an unassuming area of the neighborhood and I love it.
If you're down to take a street art tour of Kyiv to see some of the other amazing murals in the city… no fear! A tour does exist. You can check out this 2-hour street art tour of Kyiv's rates and availability here.
Check Out the Chernobyl Museum (Optional)
If you've only got one or two days in Kyiv, I have to assume that you also have planned a Chernobyl Tour while in the city. But, if you don't, I definitely recommend making a stop at the kitschy Ukrainian Chernobyl Museum in Podil.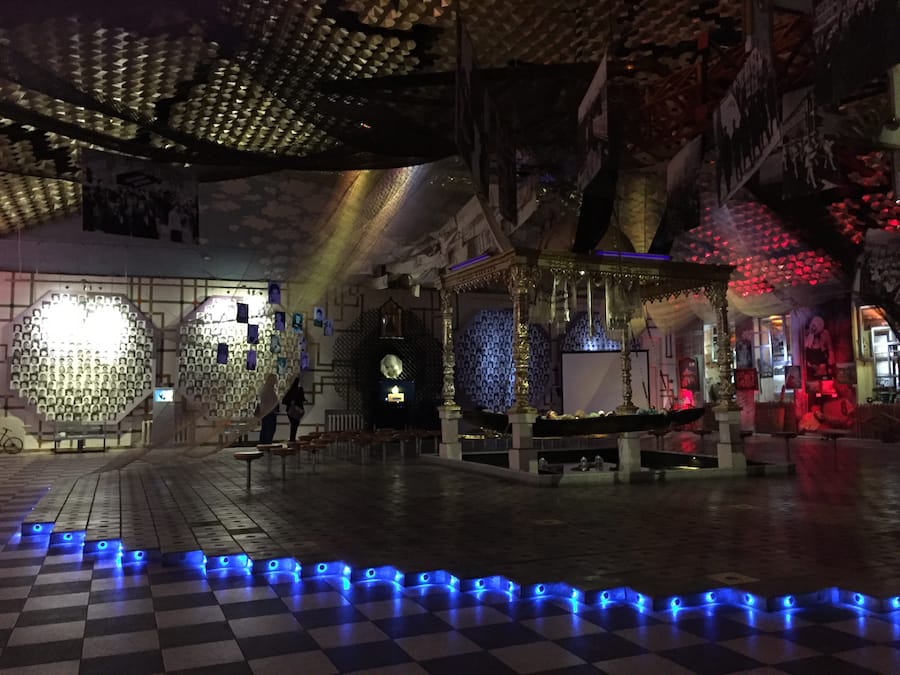 The Museum is a great place, albeit a little gimmicky, to learn more about the tragedy at Chernobyl. I have been there a couple of times and they have a lot of opportunities to educate yourself- from interactive models to newspapers from when the tragedy was announced. It really is a worthwhile place to spend an hour if you have the time or want to learn more.
You can find the Ukrainian National Chernobyl Museum at 1 Provulok Khoryva in Podil in Kyiv.
Walk Up Andriyivskyy Descent
One of the oldest streets in Kyiv is actually Andriyivskyy Descent, a steep, cobblestone street that connects Podil with the Old Town (Upper Town area). While it is most convenient to walk this street on your first day in Kyiv when you're visiting the monasteries, I moved it to the second day as there was already too much on the first day in Kyiv.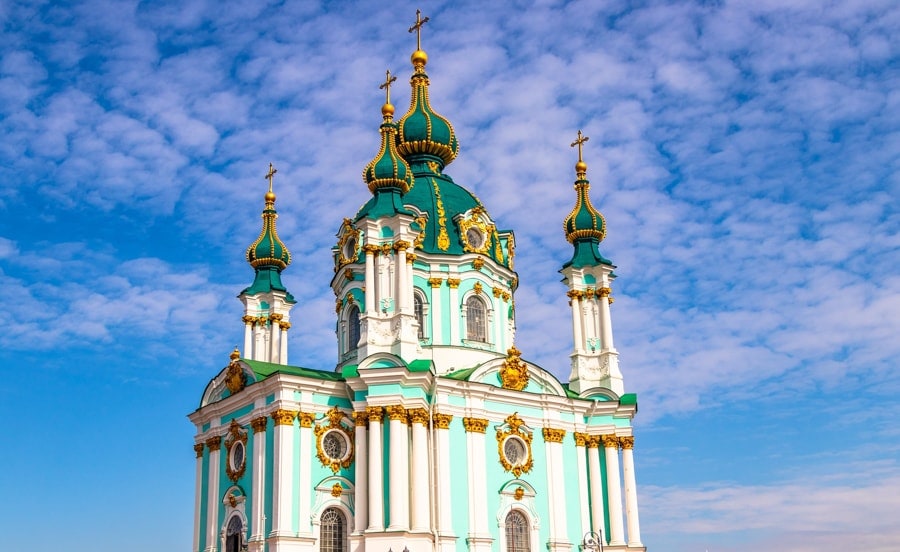 This street is also home to one of the most beautiful cathedrals in the world, St. Andrew's Cathedral. It took me 8 years to see this church without scaffolding. And when I saw it, it was foggy. So, this is a stock photo from someone who has had much better luck than I have!
Andriyivskyy Descent is also a fantastic place to find hidden cafes, good Georgian food, and a lot of vendors selling local goods and Ukrainian souvenirs.
Enjoy Crimean Tatar Cuisine at Musafir for Lunch
If you've had your fill of borscht and varenyky, I totally get it. Been there, done that. One place that I think is a great restaurant to put on your Kyiv trip itinerary is Musafir. The Crimean Tatar restaurant has two locations- one at Saksaganskogo 57a and the other at Bogdana Khmelnitskoho 3b (closer to Maidan). I have only eaten at the second establishment.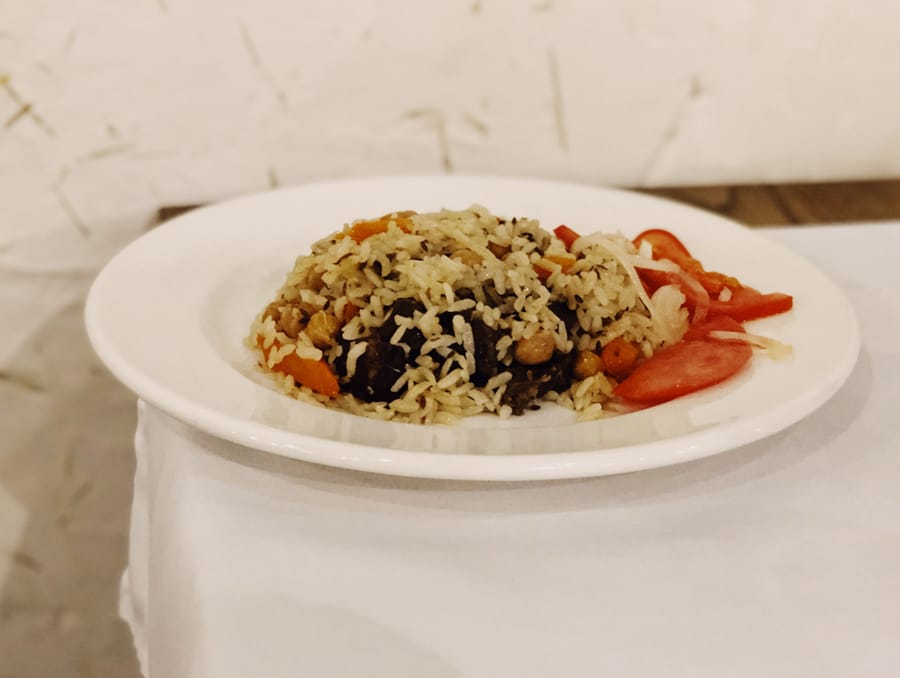 The food at Musafir pairs so well with the relaxing environment and, naturally, the food is delicious. I order the plov there as it brings back fierce memories of my time living in Central Asia. But, there are a lot of different dishes to order and the friendly staff will help you pick something to your liking.
This restaurant can become packed, so I recommend either booking a table or having lunch there. You can find Musafir at the addresses listed above.
Go for a Stroll Down Khreschatyk
Ahhh… the mighty Khreschatyk. This large avenue makes up Kyiv's most notable street and it is the epicenter for a good time. On weekends, it is only open to pedestrians and you will hear music bumping on every corner. There are several bars, shops, and cafes all waiting for you to come in and spend some money.
One of my biggest recommendations is to pop into one of the Vsi Svoi shops on the street (it will read as Всі. Свої in Ukrainian). There is one on each side of the street and one is for clothing and accessories and the other has handmade goods and much more. They are goods 100% made in Ukraine by Ukrainian designers. I have notebooks, mugs, and much more from inside of Vsi Svoi.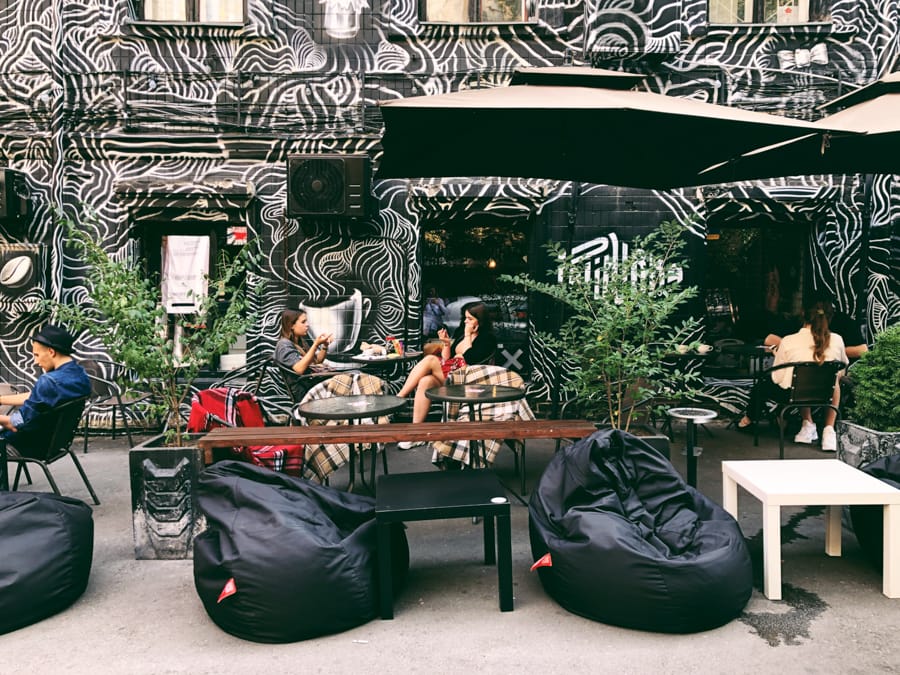 Also, be sure to walk back in the alleys on Khreschatyk… you never know what kind of cafe or bookstore you may stumble upon. This is why I love Kyiv so much!
Click here to find out more about Vsi Svoi.
Have Dinner at The Last Barricade (Ostannya Barykada)
If you're looking for a great and unique place to have dinner, I recommend heading underneath Maidan to The Last Barricade (Ostannya Barykada or 'OB'). This restaurant is a 'secret' restaurant that you need a password to get into. The password is Oritesya E. Poboryte usually, but to double-check, find the QR code in the elevator on the way down and once you scan it, the password will pop up.
The restaurant will give you a quick tour once inside. It has a lot of artifacts from the recent revolution and is a source of Ukrainian pride- offering wines from the country and a lot of local, delicious food. We ordered the meat plate which was about $30 but worth every single bite. They also have a variety of Ukrainian dishes.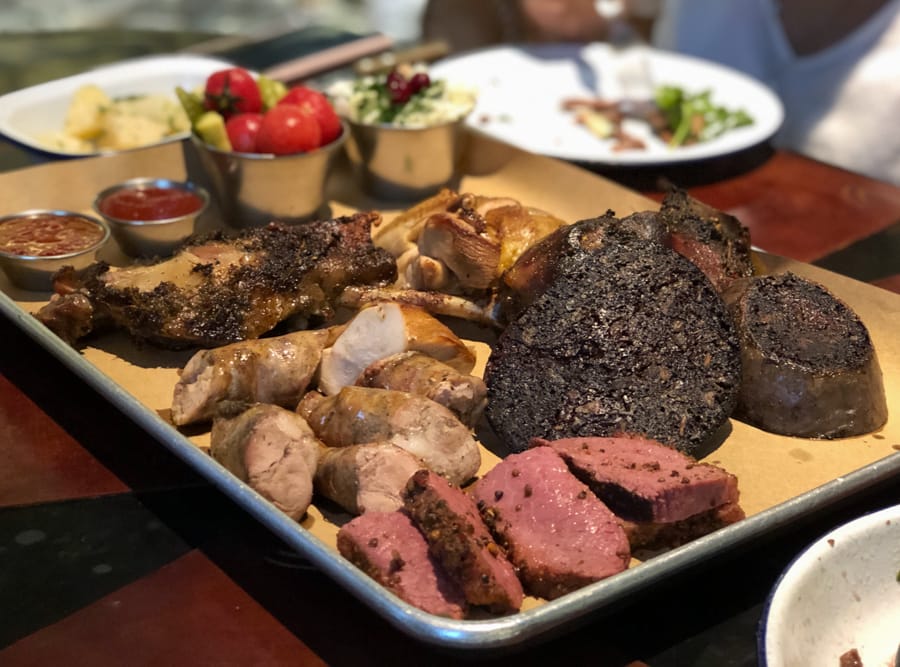 You can find The Last Barricade at 1 Maidan Nezalezhnosti in Kyiv. To get there, go to the entrance near the McDonald's and Sushiya and go down the escalator and follow signs toward 'OB'. It may be a bit tricky but you will eventually find it. There is an elevator that will take you there.
Enjoy the Kyiv Craft Beer Scene (Optional)
If you're not tired, I suggest getting down and dirty with the killer craft beer scene in Kyiv. There are many bars scattered throughout the city, but you can really just sign up for a craft beer tour and see them all in a more organized fashion and learn about the Kyiv craft beer scene with someone more knowledgeable.
Click here for Kyiv craft beer tour rates and availability

Take a Night Tour of Kyiv (Optional)
Kyiv is so illuminated at night that it truly is magnificent. The city breathes a new life after dark and I think this pulse is what made me fall in love with the city so many years ago. You can stroll around Kyiv after dark alone or you can join up with a private tour to experience the city with a more knowledgeable person.
Click here for Kyiv night tour rates and availability
Heading to Chernobyl Next?
Are you in Kyiv to head for a Chernobyl Tour? If so, be sure you have your tour booked far ahead of time as it takes a while to process passes into the Exclusion Zone. You can find yourself a highly-rated Chernobyl Tour here. Be sure to cover up when there or you won't be able to enter.
Where to Stay in Kyiv
There are some great places to stay in Kyiv but I recommend staying around Maidan if you only have a short amount of time in the city. It is also convenient to stay around Maidan if you have a Chernobyl Tour booked as many of the tours leave from this meeting point. Here are my two recommendations for places to crash around Maidan:
Hotel Ukraine
Hotel Ukraine sits right at Maidan and overlooks the entire massive square. It is a bit of an outdated hotel but the views and location are unbeatable. I enjoyed my stay there- it was clean and easy. If you're looking to stay in this hotel that dates back to the early 60s and was previously called "Hotel Moscow", I think you'll be satisfied with your Kyiv accommodation choice.
–> For current rates and availability click here

CITY APARTMENTS KYIV
Another great Kyiv accommodation is City Apartments right at Maidan. The modern place is clean and offers state-of-the-art living for an affordable price. There is a Crimean restaurant below and you're right near Globus shopping and The Last Barricade Restaurant (noted above!).
–> For current rates and availability click here
Do You Need Travel Insurance for Ukraine?
YES! You should definitely book insurance before embarking on a trip to Ukraine- even if you're only there for a few days. We recommend getting insured with SafetyWing and feeling reassured on your trip to Kyiv.
Click here to get your Ukraine travel insurance quote
We hope you have a great time in Kyiv and that this Kyiv itinerary gets you sorted and comfortable finding your way around in my favorite city in the world. If you're in Kyiv for one day or for two days… there is so much to do that we think you will get a wonderful first impression of Ukraine's capital.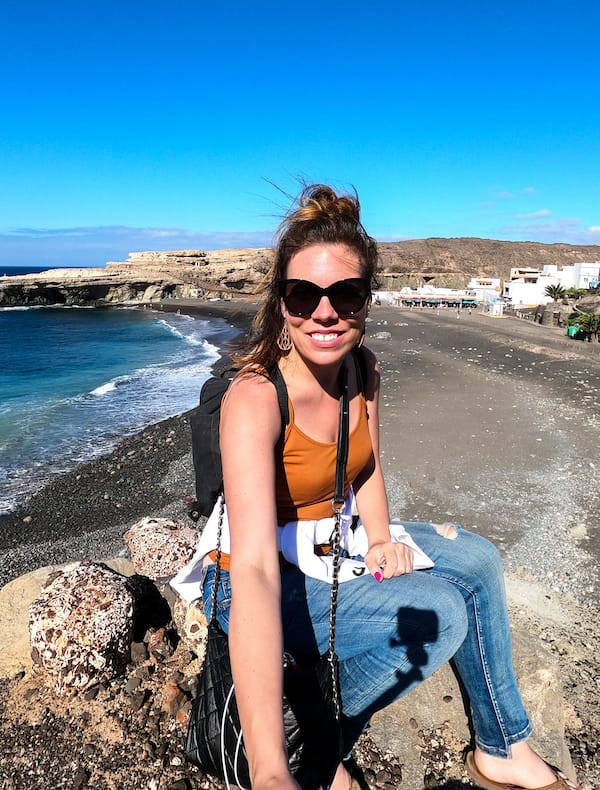 Megan is a travel blogger and writer with a background in digital marketing. Originally from Richmond, VA, she now splits her time between Frankfurt, Germany and Arctic Finland after also living in Norway, Armenia, and Kazakhstan. She has a passion for winter travel, as well as the Nordic countries, but you can also find her eating her way through Italy, perusing perfume stores in Paris, or taking road trips through the USA. Megan has written for or been featured by National Geographic, Forbes, Lonely Planet, the New York Times, and more. She co-authored Fodor's Travel 'Essential Norway' and has visited 45 US states and 100+ countries.