There are many amazing day trips from Kyiv that one can embark on and every trip offers something for various types of travelers. If you're into USSR history and the history of Ukraine, you definitely don't want to miss out on this nuclear missile base tour from Kyiv. This is a guide that details how to take the tour and what to expect when on it.
How to Take a Nuclear Missile Base Tour from Kyiv, Ukraine
The Soviet Union left many scars on the country of Ukraine, many of which are still visible today despite attempts to forget the past. During the time of the Cold War and as the USSR and the USA locked heads in numerous battles from racing to space to sporting accolades, there was no war more imminent than a nuclear one between the two powerhouse nations.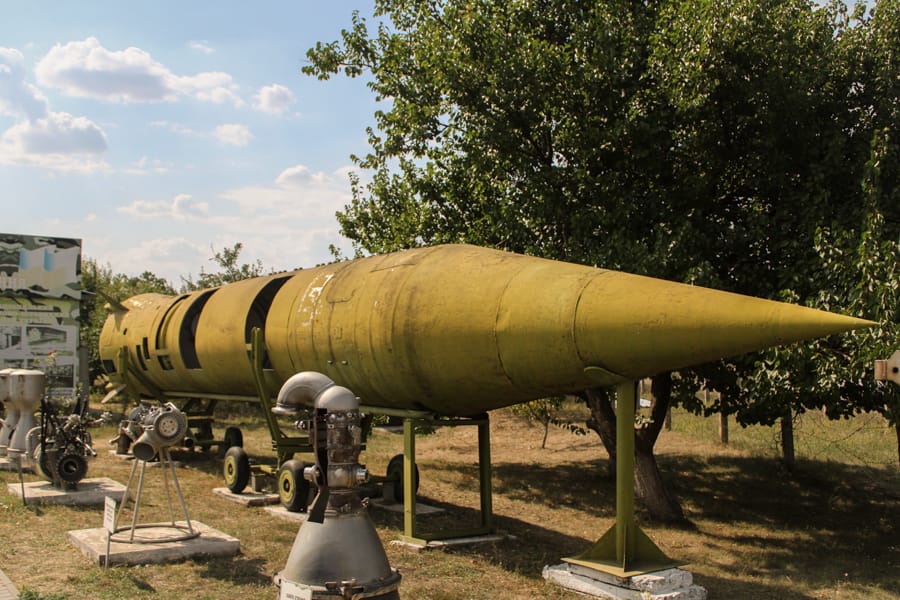 As the two superpowers raced to develop more and more nuclear weapons, each becoming more powerful and destructive, the world quaked with fear. I wish people quaked with that same fear when we talk about climate change… but I digress.
Nuclear weapons are relatively cheap to produce considering how destructive they are. The USSR produced these ballistic weapons in mass. With their large stockpile of weapons, it was important to have places to store them and fire them from.
Where Were the Nuclear Missile Bases?
There were only a few republics that were trusted to be the launch sites for the missiles- namely Belarus, Kazakhstan, and Ukraine (some of my favorite countries). It was believed, at the time, that the people of these countries were the most loyal and likeliest to push the button that would destroy mankind if ordered to. Who knows the real reason or location of these places.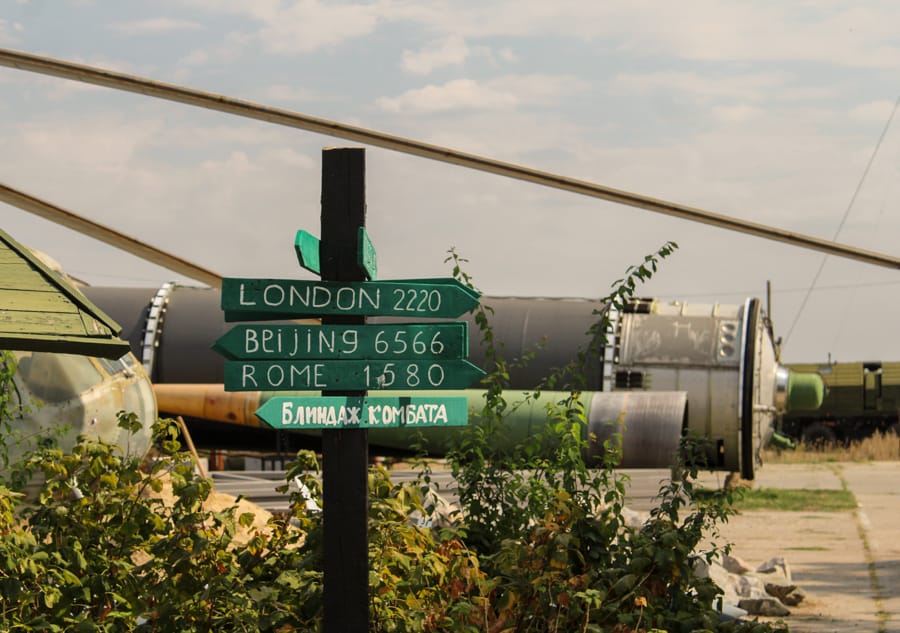 Missiles would be moved to these bases in various different convoys though the most common method was to utilize trains. The missiles would be loaded into specially built carriages that had the appearance of housing passengers and then add actual passenger carriages behind the missile carriages. Once they reached their destination, the missiles would be driven to the bases where they were needed.
Missile bases normally consisted of ten or so missile silos and then one control center where they would launch the weapons. Both the silos and the control centers were located deep underground and often far away from each other. During the peak of the Cold War, the USSR had hundreds of nuclear missiles ready and waiting for the signal to be launched. I'm sure we had the same in the US.
Despite the frosty climate between the superpowers, the world only came close to an all-out Nuclear War once. Russian satellites falsely alerted those in control that America had launched nuclear weapons at them and the codes were sent to retaliate.
However, the scientist in charge questioned if it was true and theorized that it was more likely to be signals bouncing back off of clouds rather than a nuclear launch.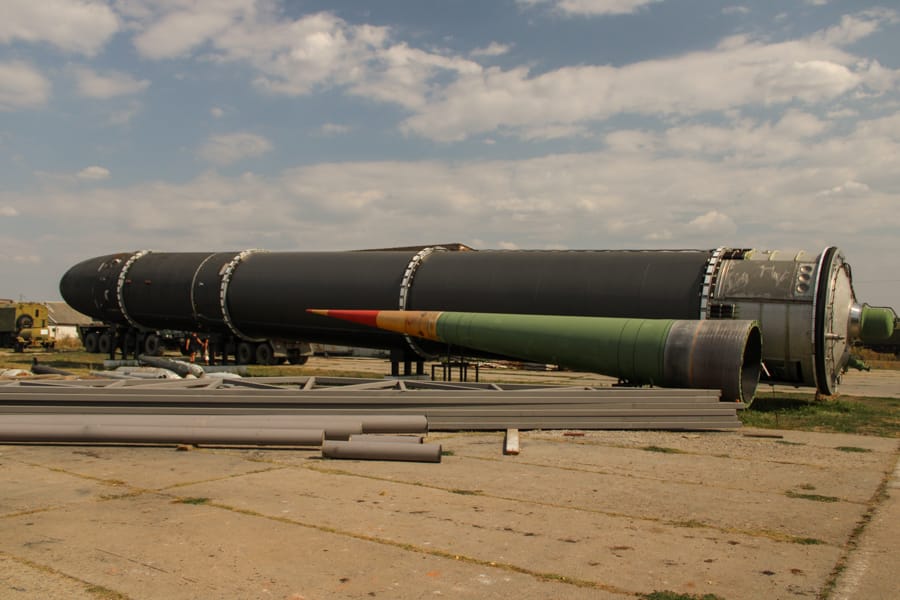 This quick-thinking possibly saved the world. However, as commands hadn't been followed, the scientist lost his position and job and was written out of history in Russia. He eventually defected to America where he lived out the rest of life.
The Missile Bases Post-USSR
After the fall of the Soviet Union, Ukraine wanted to get rid of its missile bases and the missiles contained within them. As these bases contained much of the same technology still used in Russia today so the Russian government demanded that all the remaining silos and control centers were dismantled and destroyed.
This was a costly operation and difficult to execute given the fact the structures were designed to survive an all-out nuclear war. All have since been destroyed, bar one located between Kyiv and Odesa. This guide will take you through the best way to visit the missile base from Kyiv.
The Missile Museum in Ukraine
Located down a long and dusty track is the Strategic Missile Forces Museum, a kind of kitsch museum full of military relics of the Soviet Union and some more modern pieces. There are several parts to the museum and the grounds are full of plenty of military machines from trains to planes and tanks, along with an extensive collection of missiles.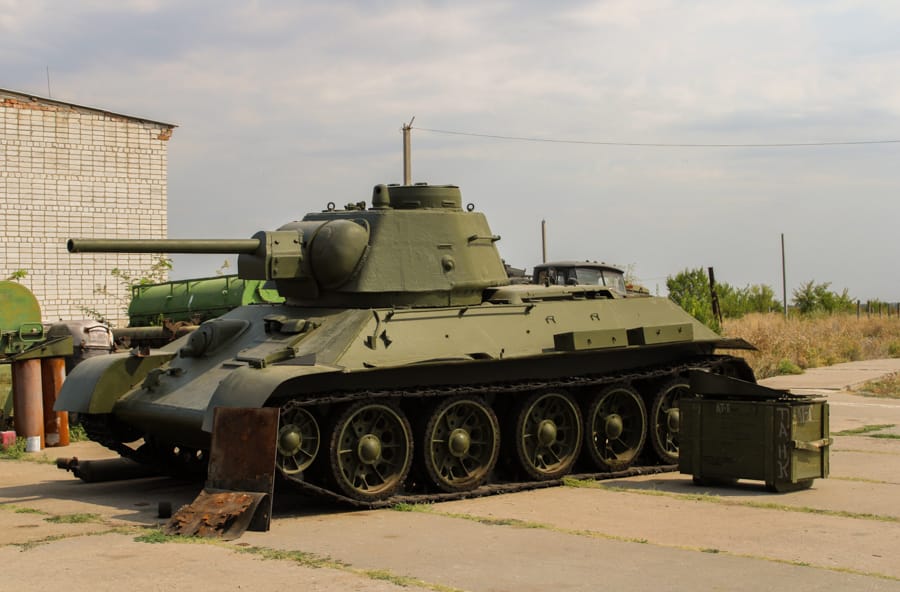 This is an actual museum dedicated to the history of nuclear weapons throughout the Soviet Union and world. There are also some other items randomly inside. Then there are several buildings and tunnels, which include an intact missile silo, complete with missiles and the 12-story-deep control tower.
The outdoor part of the museum is very extensive with some incredibly rare machines of war stored there. Thankfully, I was there with someone who really knew about these items and was able to point out the rarer bits that our guide slightly glossed over. You can see examples of the trains used to transport the missiles around the Union in secret train tracks.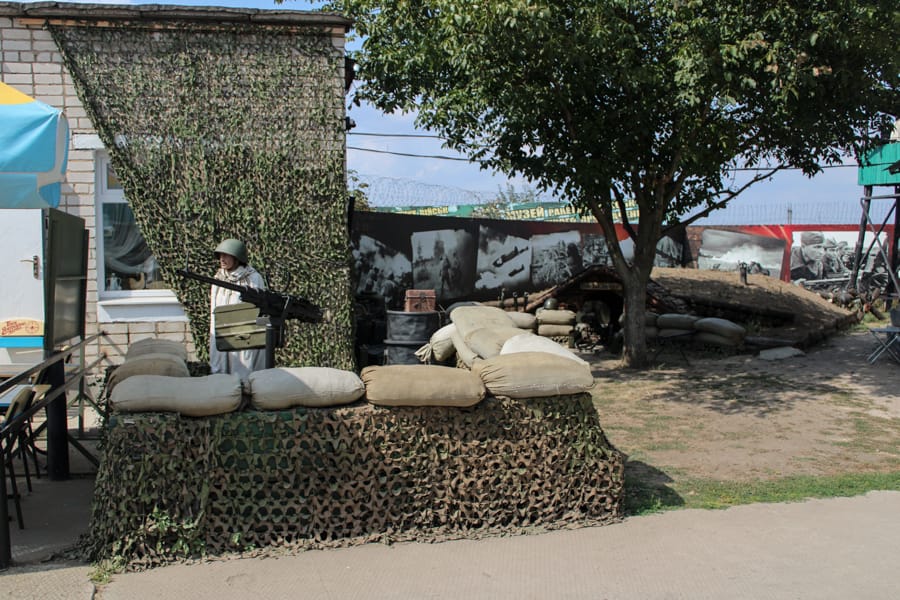 The trains would rumble around non-stop until a missile was needed. There were plenty of missiles lying around, including one that would have been used to carry enough nuclear warheads to destroy a large amount of the world.
For those interested in guns, there is an array of them that you can pick up and play around with, some of these are extremely rare and not often seen outside of post-Soviet countries. If you are looking for a photo op you will be happy to find out many of the objects can be climbed on (kind of weird but the guide made special note of this).
The small indoor museum is interesting enough and an informative guide will take you through all the pieces on display and various maps of where missiles were located and how they are spread out away from the control centers.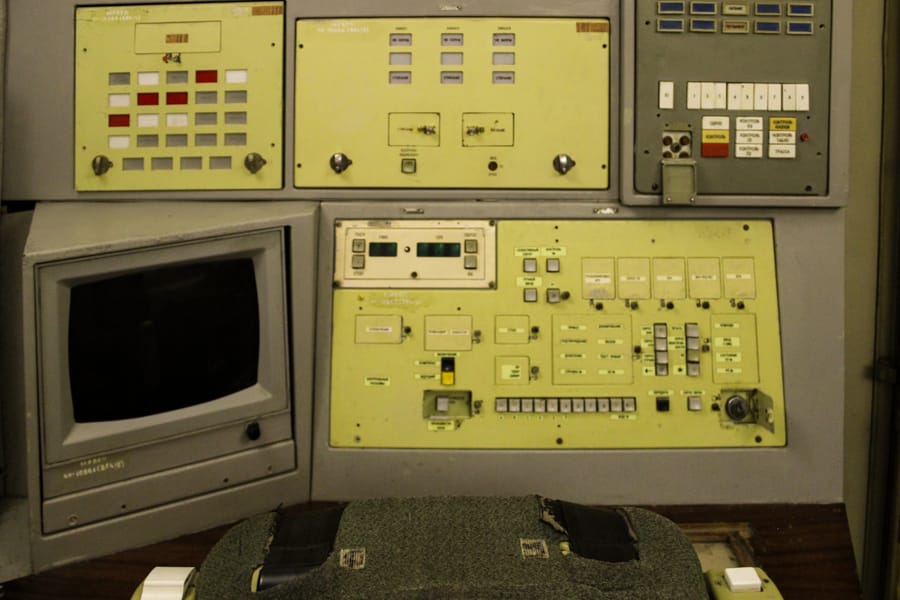 There are also some rare artifacts in the museum and a small section dedicated to Hiroshima and Nagasaki. You will be forced to watch a video showing just how a nuclear missile would have been launched and then reach its destination… all while set to an instrumental version of "In The End" by Linkin Park. You just can't make this stuff up.
The main points of interest in the museum are the buildings and the missile silo. The main control center is only accessible on a guided tour, however, you can visit the missile silo just with standard entry located at the back behind the train. Don't worry, you can climb on top of it if you desire. Instagram will thank you.
On the tour, you will be taken to the control center and an air-conditioned room which kept the missile center ventilated with clean and fresh air. You will either go to the control center via the small museum or the air-conditioned room. The control center is only accessible by underground tunnels which are relatively deep and heavily protected. The second you head underground, your phone will stop working.
From there, you will head to stand on the roof of the control center. It is intact and resembles a giant cylinder suspended in the air. Once at the top, you will take the world's smallest lift (aghhh claustrophobia!) down to the depths of the shaft. You will then visit the sleeping quarters on the 12th floor and the control center on the 11th floor where you can see the buttons that had the power to destroy the world.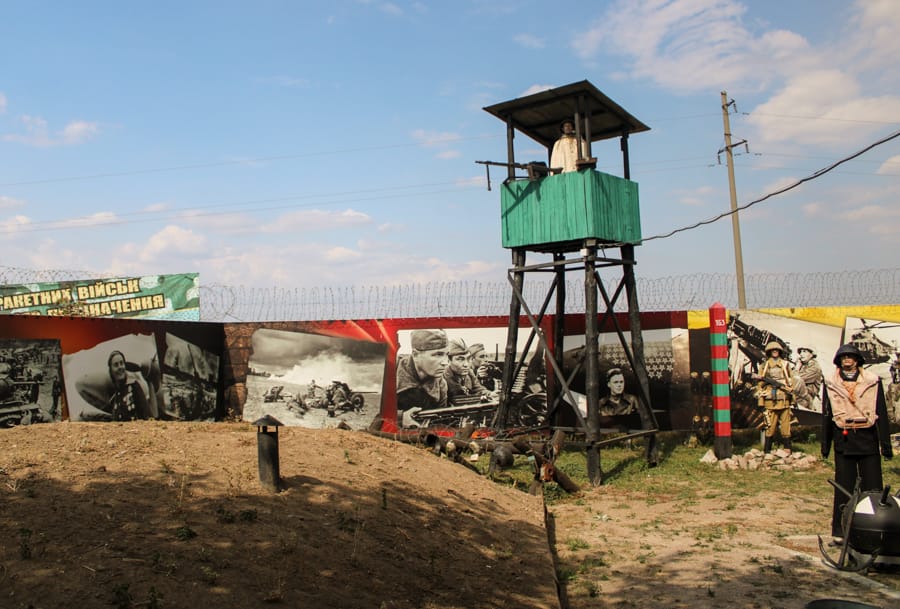 You will be able to simulate the situation in which you need to launch the missiles in your control. The rest of the control center is off-limits as it still holds technology and systems that Russia wants to be kept secret.
Getting to the Ukraine Nuclear Missile Base from Kyiv
This missile base is located in Pobuzke and is about 3 and a half hours south of Kyiv on the way to Odesa. If If you are driving from Kyiv, this a fairly long journey and doing it within a day independently without experience driving in Ukraine is a bit challenging.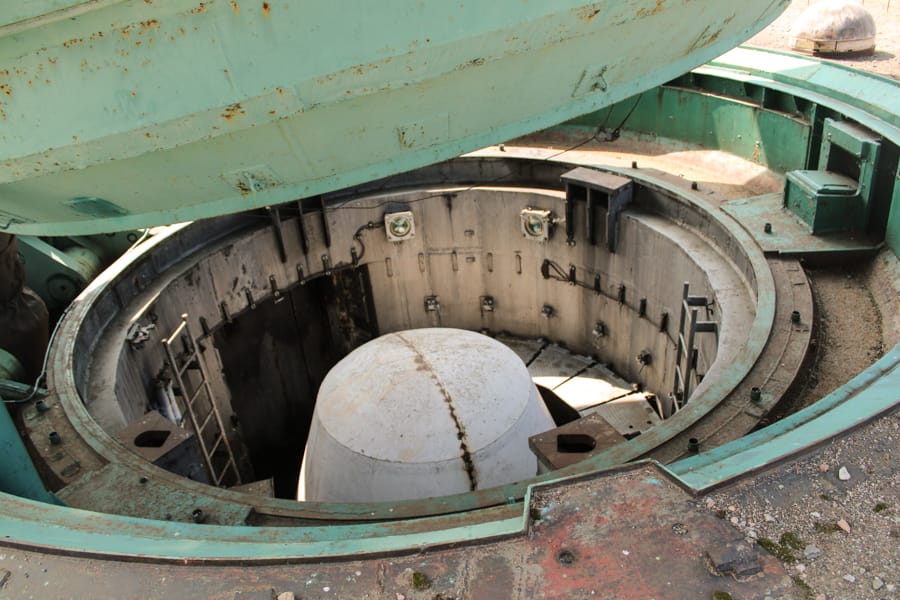 There are marshrutkas that run along the Kyiv – Odesa highway, but to reach the museum you will then need to take another form of transport as it is remotely located. For these reasons, I highly recommend taking a scheduled tour.
Taking A Nuclear Missile Base Tour
Taking a tour to the Strategic Missile Forces Museum is by far the easiest way to reach the location and enjoy the day. I went with the company Solo East, a reputable company that conducts many tours throughout the country.
You can opt for a private or public tour. I went for the public tour, but due to low numbers, I was just added onto a private tour with the consent of the others on the original tour. After being picked up just outside of McDonald's on Maidan, we were driven 3 and a half hours south in a nice and comfortable car with a great driver who was able to easily navigate the roads until we reached the base.
Once at the Ukrainian missile base, we were met by our energetic tour guide who spoke amazing English and was very accommodating. She was quick to mention the things that we could climb on (Ukrainians always have the 'gram on the mind thank goodness) and always seemed quietly disappointed we never took her up on any of these offers.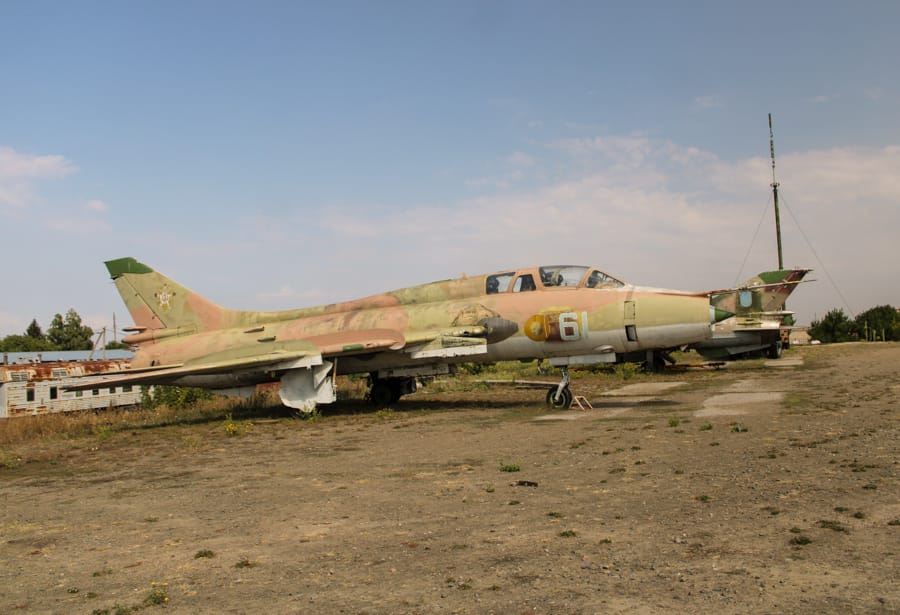 Her bubbly energy really added to the experience. The best thing about the tour guide is that if there were things she couldn't answer, she was able to talk to the guys who worked there and have been working there since it was an actual fully functional missile base. She was able to get us the best information possible as a result.
Everyone at the base was super friendly and happy to share their knowledge with you and ensure you have the best trip possible. They also had a love for dressing you up in military clothing at any given opportunity. Your tour guide will also help you negotiate prices in the little shop that sells military relics and clothing. The English-speaking tour guide is not always there which makes booking a tour more imperative to experience the missile base and museum.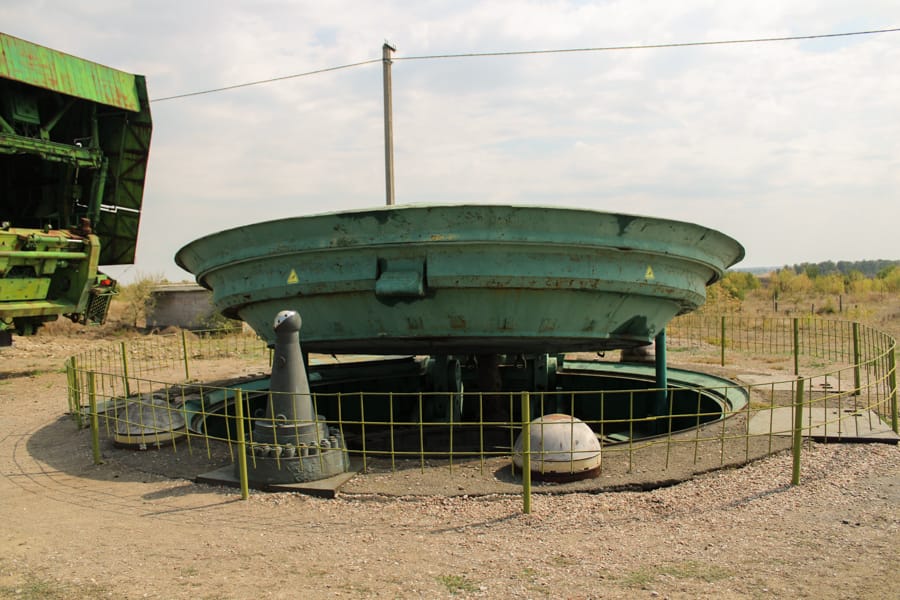 On the way back from the missile base, you will stop at a lovely little roadside restaurant where you can order some delicious Ukrainian food such as varenyky and borsch, along with homemade sausages and kvass.
Be warned that the restaurant only has menus in Ukrainian, so make sure you have a translation app available to see what you need to order. After you have eaten, your driver will take you back to Kyiv.

Other Kyiv Tours You Might Like
There are so many cool things to do in Kyiv. While you can see a lot independently, there are some really interesting and affordable tours available and I recommend taking some of them and supporting local tour businesses in the process. These are some tours you might like if you are interested in the missile base tour (which landed you here, naturally):
Where to Stay in Kyiv
I recommend staying around Maidan if you're taking this tour so that you can just walk to where the pickup point is. There are two places I recommend right at Maidan- Hotel Ukraine and City Apartments Kyiv.
Hotel Ukraine
This hotel has an important past and history in Kyiv. Built-in 1961 and formerly known as Hotel Moscow, this hotel provides the best view over Maidan if you choose a room high and expensive enough. I upgraded my stay at Hotel Ukraine to a business suite and the view was so killer and epic.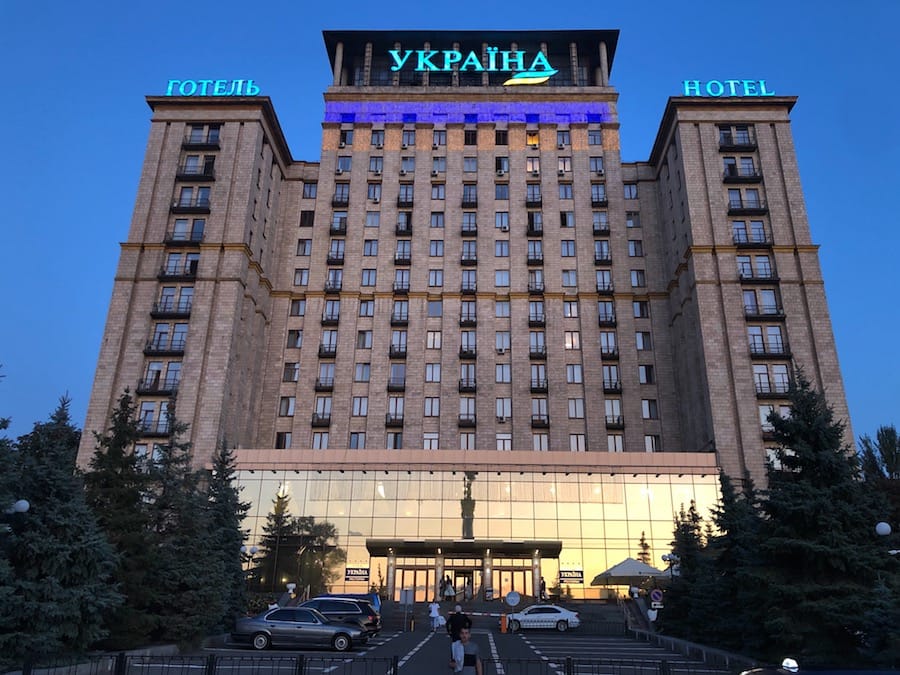 The interior is a bit dated but it was clean, comfortable, and had breakfast included (whether I went somewhere else at the first sight of those pallid sausages or not is up for debate…) Nevertheless, definitely a cool place to stay in Kyiv and I highly recommend it.
–> For current rates and availability click here
City Apartments Kyiv
Another stellar place to stay is the City Apartments right at Maidan. It is located right above a Crimean restaurant and near some great shopping and restaurants. The interior is much more modern than Hotel Ukraine and the places are SO clean. I have been through hell and back finding nice places to stay in Kyiv over the years, so when I make a recommendation, I mean it!
–> For current rates and availability click here

Do You Need Travel Insurance for Ukraine?
Definitely. I think you should purchase travel insurance for anywhere you go but since you'll be on the road a lot of this tour, it is really recommended and smart to have a travel insurance policy just in case the unfathomable happens (or you eat too many varenyky and have to be rolled into the emergency room). I recommend SafetyWing for travel insurance and they are a very reputable company with affordable policies.
Click here to get a Ukraine travel insurance quote
If you're heading to Kyiv, be sure to check out some of our other posts here: Getting from Boryspil Airport to Kyiv City Center / Things to do in Kyiv, Ukraine / Getting a SIM Card in Kyiv / Soviet Architecture in Kyiv / Kyiv Craft Beer Guide / Best Coffee in Kyiv