It's no secret that Svalbard is one of my favorite destinations in the world. These Airbnbs in Svalbard are the perfect base for a trip to Norway's high Arctic!
There are plenty of reasons to stay at a Svalbard Airbnb and one of the top reasons is that accommodation in Svalbard fills up fast in the high-season.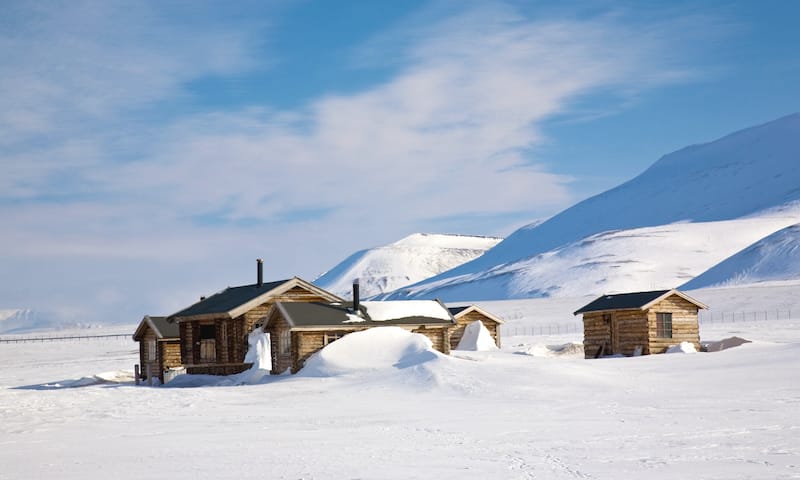 Svalbard hotels are limited because of sustainable development limitations in Longyearbyen and the rest of Spitsbergen that the Airbnbs popping up are useful for those who may book a trip a bit last-minute and struggle with accommodation options.
These Airbnbs in Svalbard also give the option to stay somewhere a bit unique compared to a standard hotel. We have curated this list to include Svalbard cabin rentals and apartments and other various places.
These are the best Airbnbs in Svalbard to consider for your stay. Please let us know if you stayed at a property not on this list but should be! Thanks!
Top Airbnbs in Svalbard and Longyearbyen
We hope you find a great Airbnb in Longyearbyen and Svalbard for your trip. Please reach out to us if you struggle to book or with accommodation options for the island. We are happy to assist!
Please note: These properties are all within walking distance of Longyearbyen town center. However, some are more centralized than others.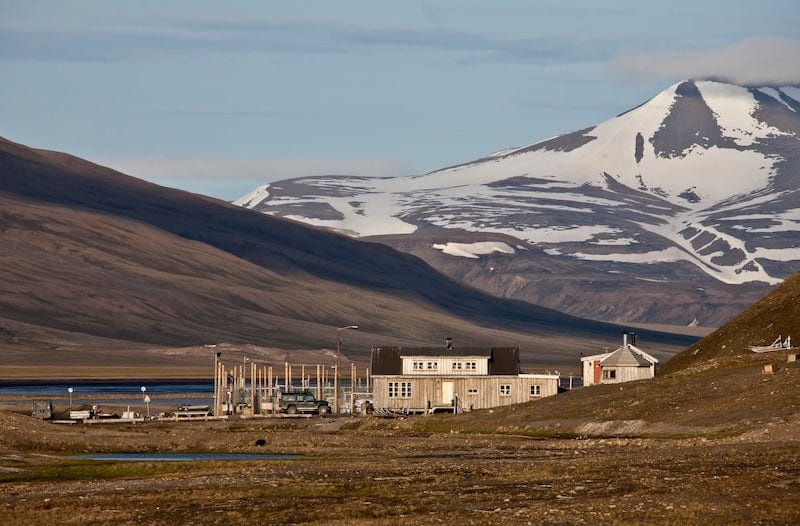 This Svalbard Airbnb is definitely a unique stay and one that will probably keep you from wanting to leave the Arctic!
This cabin in Longyearbyen fits up to 6 people and is located on a husky farm. It is cozy, aesthetically beautiful, and a 20-minute walk from the town center. You are in the safe zone, however, so you will not need a gun.
Polar bears occasionally come around but the dogs are quick to warn everyone so safety is not a concern.
The cabin has two bedrooms, a kitchen, and a living room. The kitchen is fully equipped and you can cook there and save money on meals in the town. There is also a fridge available.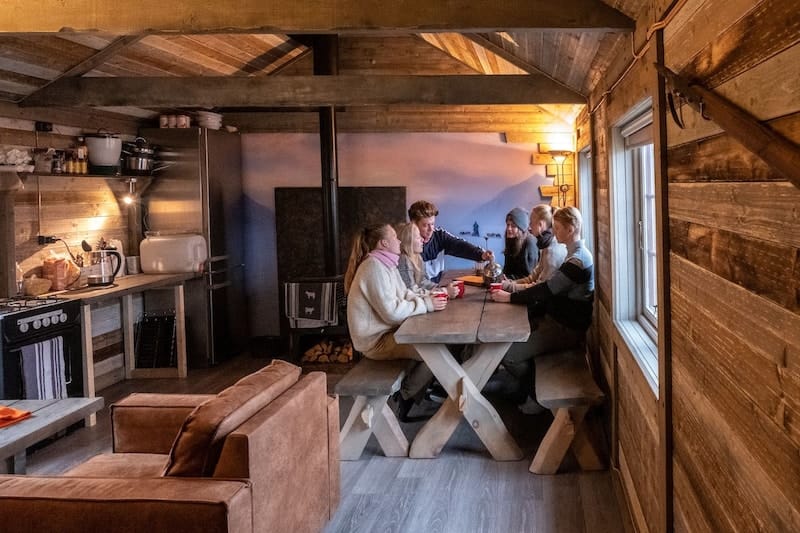 All linens and soap are included in the price. The toilet is outside (but is dry and cozy) and available only to guests. There is free wifi here. Please note that there is NO running water or shower facilities at the cabin.
This is rather standard for cabins outside of the town center. Water will be provided in containers for washing hands and face and for cooking, however.
This is a gorgeous cabin but perhaps not for someone looking for a luxury trip to Svalbard.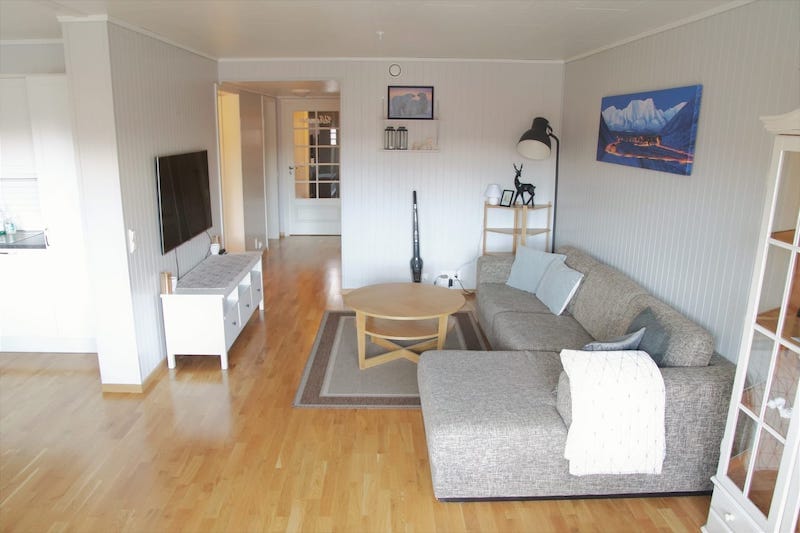 This apartment in Svalbard is a top-rated Airbnb located in the town center. You will be within a three-minute walk of the shops, restaurants, supermarket, and more. You are also a two-minute walk from the bus station.
The kitchen is fully equipped and will have all the necessary things to whip up an easy meal on your trip. The apartment has two bedrooms, a living room, kitchen, bathroom, and is spacious enough for four people. You also have central heating and a balcony where you can step out for fresh air.
This is a great Longyearbyen Airbnb if you're looking for a centralized location with all the amenities for a cozy stay.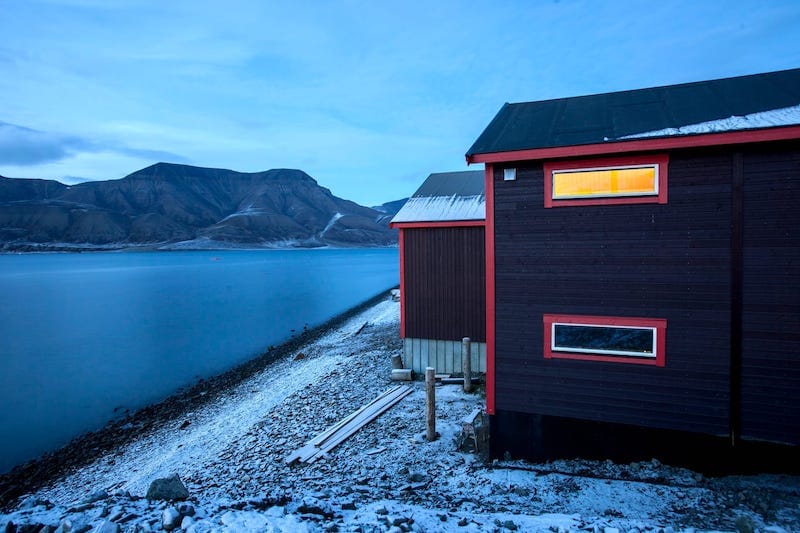 This is a fantastic, waterfront Airbnb in Svalbard for up to six guests.
The accommodation is located at one of the most desirable spots in Longyearbyen and you can wake up every morning to the sound and sight of the Arctic Sea. They have multiple apartments (another is on this list!) and included in the price are the linens, usage of the kitchen supplies, washing machine, and more!
There are three bedrooms here as well as heating and wifi. This is one of the best Airbnbs in Svalbard!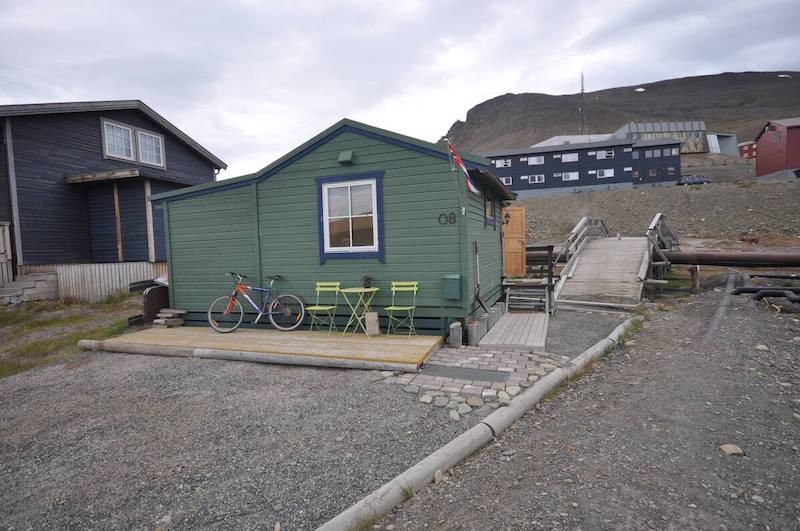 This cozy cabin is in the heart of Longyearbyen and offers an affordable stay with a lot of value, something that can be a bit challenging in Svalbard!
There is a bike available, free wifi, and cable TV. It fits 4 people at most and there are two beds, a sleeper sofa, and an extra mattress.
The family that owns this has been around Svalbard since 1979 and really looks forward to sharing their love for the Arctic with the guests who will get to feel the love through their cabin. There are heating and all the essentials for a great stay here.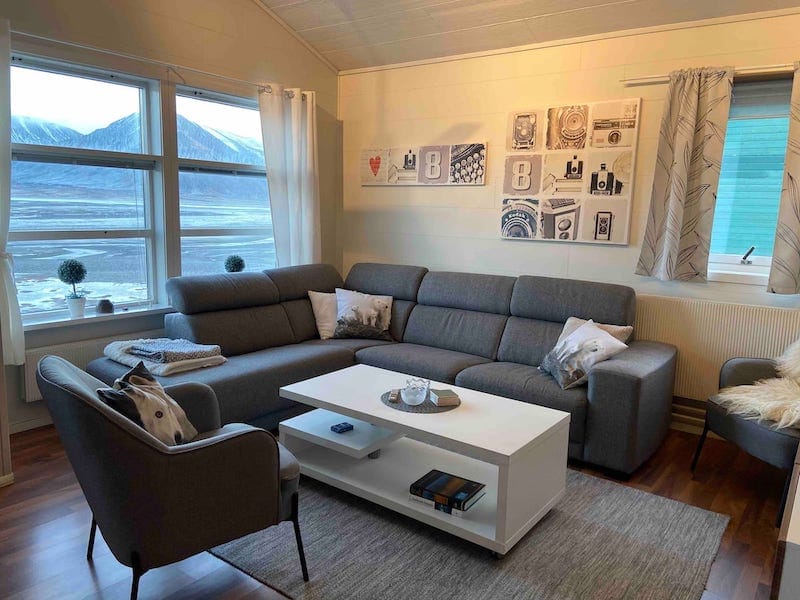 This is one of the most gorgeous Airbnbs in Svalbard and it has a fantastic view of the sea and Advent Valley. You will get a glimpse of the fjord as you enjoy your morning coffee.
The apartment is a seven-minute walk from the city center of Longyearbyen and it has three bedrooms. One has a double bed, another a queen bed, and the third has a single bed. You will have free wifi, parking, a dryer, and heating inside of the flat.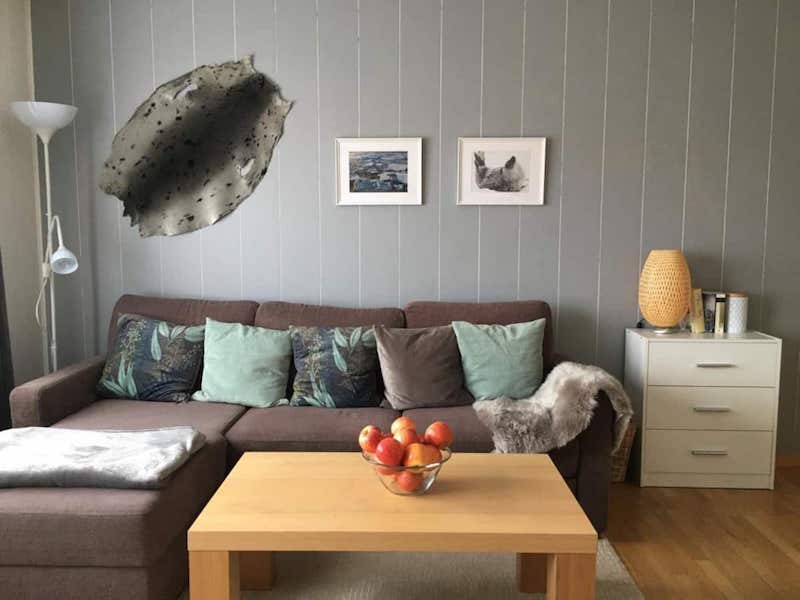 This cozy ground-floor apartment is a great value for your money in Longyearbyen. It is suitable for three guests and is merely a three-minute walk into town from the place.
The mattresses are new and there is a well-equipped kitchen for those looking to save a bit of money and cook at home on their trip. There are room-darkening shades, a dryer, heating, wifi, and much more in this charming Svalbard Airbnb.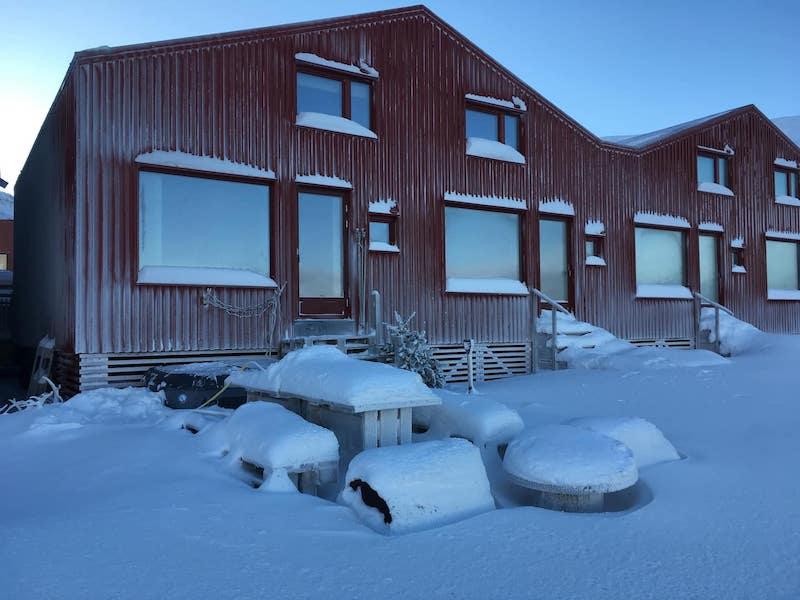 This beautiful townhouse in Longyearbyen is a dream place for those that want to wake up directly on the water (literally 15 meters from it)! You will have the best view in town and are just a few minutes' walk from the center of the town.
There are two bedrooms – one with two single beds and one with a double bed and you'll find more sofa beds in the common areas. There is wifi throughout, a dryer, heating, and a dedicated workspace.
This truly is one of the best Airbnbs in Svalbard for those who love to enjoy their morning cup of coffee with one of the best views in the world.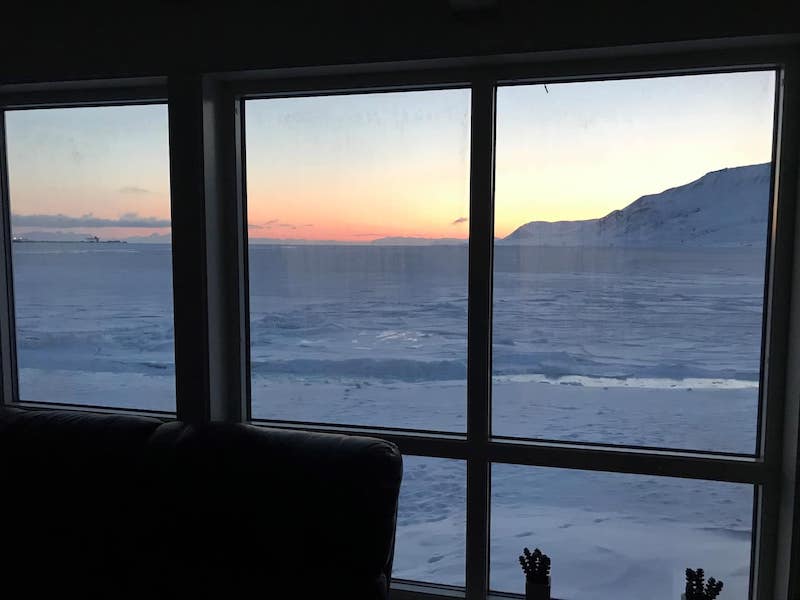 This gorgeous flat has one of the best views in Svalbard when it comes to accommodation and it is a top-notch place to stay on your trip!
Regardless of whether you're visiting Svalbard in winter or in summer, you will have views over the fjord … it will just be a matter of whether it will be extremely light or dark!
You will find this property perfect for families, couples, or even a single person. There is free wifi, heating, and room-darkening shades. It fits up to 5 guests and has 2 bedrooms.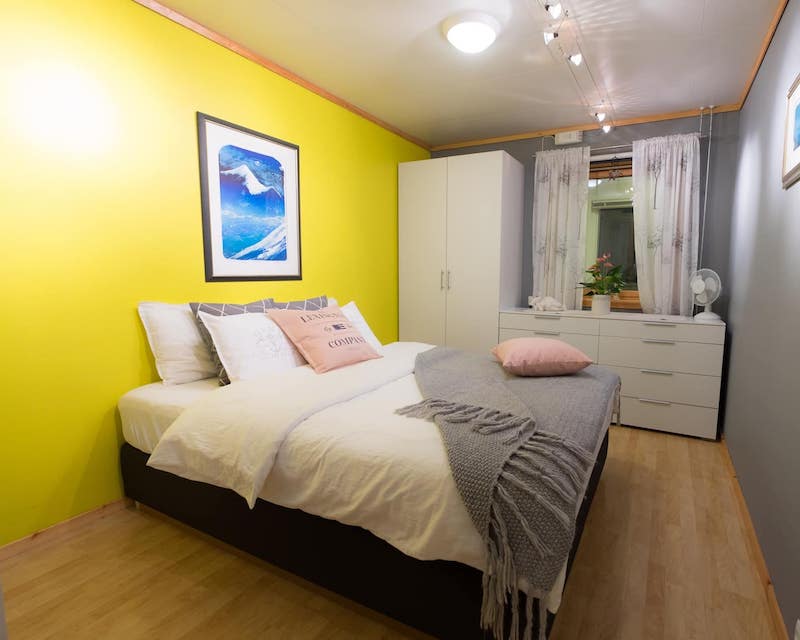 This beautiful Svalbard apartment is 80 square meters and spacious. It is only a 5 minutes' walk from downtown Longyearbyen where all of the shops, restaurants, and life of the island is situated.
You will find two bedrooms, a bathroom, a fully-equipped kitchen, and so much more! The flat fits up to four guests and has one bath.
One bedroom has a queen-size bed and the other a double bed. There is free wifi, heating, and room-darkening shades at the Svalbard Airbnb.
There are many fantastic places to stay in Svalbard. Regardless of whether you choose one of the hotels in Svalbard or one of the best Airbnbs in Svalbard, you're certain to have the most memorable trip of your lifetime – trust me!
Have you stayed at one of these Svalbard Airbnbs? If so, let us know your thoughts in the comments!
More Svalbard Travel Guides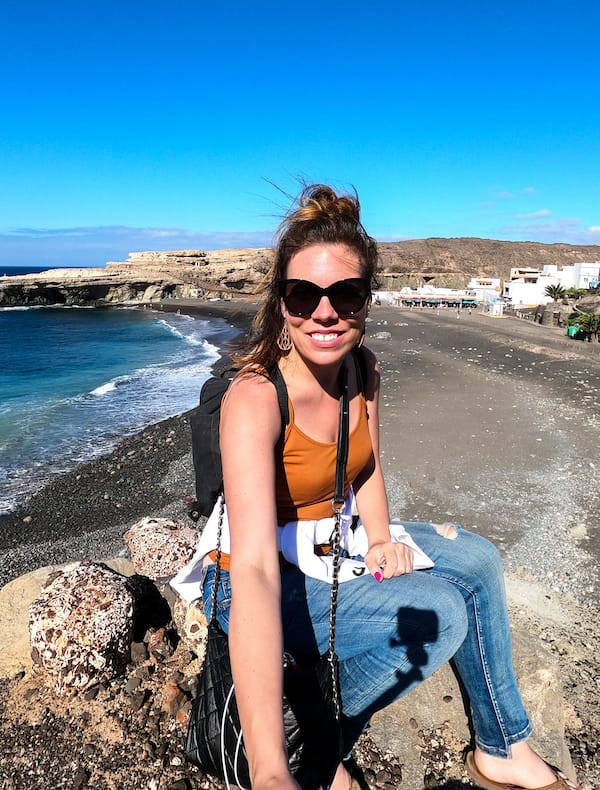 Megan is a travel blogger and writer with a background in digital marketing. Originally from Richmond, VA, she now splits her time between Frankfurt, Germany and Arctic Finland after also living in Norway, Armenia, and Kazakhstan. She has a passion for winter travel, as well as the Nordic countries, but you can also find her eating her way through Italy, perusing perfume stores in Paris, or taking road trips through the USA. Megan has written for or been featured by National Geographic, Forbes, Lonely Planet, the New York Times, and more. She co-authored Fodor's Travel 'Essential Norway' and has visited 45 US states and 100+ countries.