These days there are many backpacks on the market and the choice can seem endless!
And while I have a great heavy-duty backpack for traveling, I really wanted a stylish one that could accompany my adventures as I am often incorporating extra days into my travels to catch up on work.
As a result, I have a few different backpacks, but I was always missing that one that I could take on work trips that didn't involve me heading into the wilderness or would end up with a lot of distress from a trip.
But, I also wanted one that was classic and wasn't going to go in and out of style over the next few years. Thankfully, Leather NEO offered everything I wanted in a backpack, as well as a laptop case!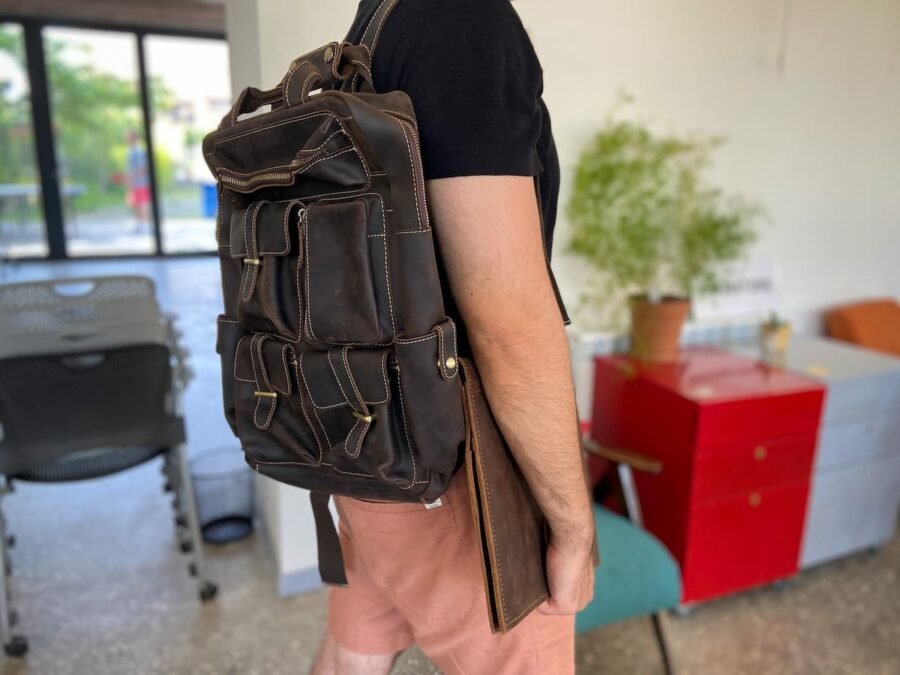 This post is a short review of the backpack, what I plan on using it for, company info, and how you can purchase your own, as well!
About Leather NEO
Leather NEO is a mid-size company based in Macau that delivers handmade leather goods and has done so for the past 8 years. They offer a variety of different products, including laptop cases, leather journals, beautifully crafted bags, and more!
Each order is processed 2-5 working days after the order is placed and it usually takes 2 weeks for the order to deliver. They are able to ship worldwide! Just take into account your own home tolls and taxes on the goods.
There is also a 10-day guarantee and you can get your money back if you discover it is not for you (but, the quality is so stellar I can't imagine there will be an issue)!
The 10 days begin after the product is successfully delivered.
Leather NEO's Brown Leather Laptop Backpack
When I was looking for a new backpack, I was interested in one that was stylish, a little rustic, held a laptop, and something that had quite a few pockets.
I found that the Brown Leather laptop backpack was exactly what I needed (https://www.leatherneo.com/products/leather-laptop-backpack-purse-bag).
The bag arrived in Armenia with no issues and I was so happy when it looked exactly like the photos I had chosen it from! It is a dark, distressed leather and has five front pockets (two with zippers), an inner pocket, and a laptop area (inside the main compartment).
There is an additional zipper pouch on the back which is perfect for storing my passport when I travel (and other important documents).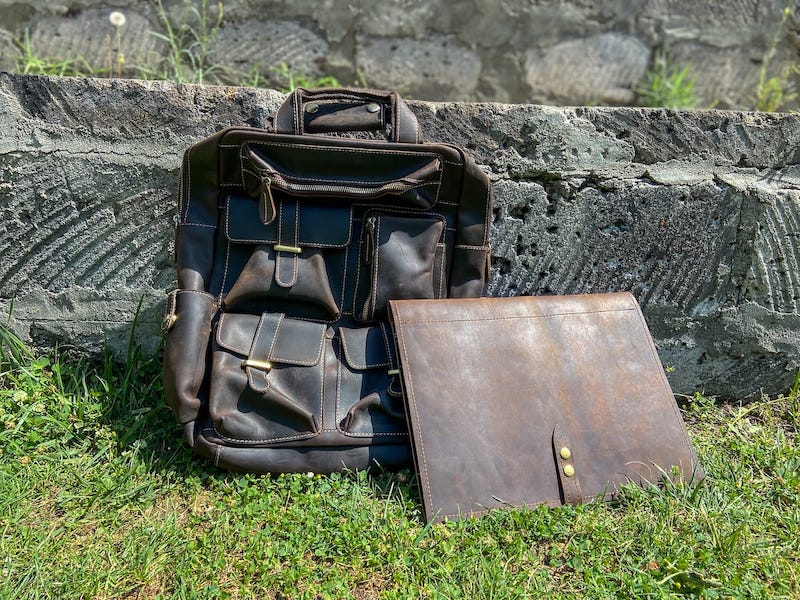 The straps are adjustable and surprisingly very comfortable! I was a bit concerned about this as I know sometimes leather bags don't off the same comfort on the shoulders.
On both sides of the bag, there are places to store extras like an umbrella or water bottle. It is also a great place to throw my mini-tripod if I am on the road photographing.
The bag costs $170 and is truly worth every penny. Its dimensions are 28x41x9.5cm and it weighs about 1.59kg without anything in it.
Regarding the laptop, it can hold a 15-inch Macbook inside of the 100% handcrafted bag. This bag is unisex and I think it is fantastic for a low-key day and ideal even for a day when I am dressed up or have important things to do in Armenia and on the road.
>> Click here to check out Leather NEO'S leather backpack
Custom Leather Laptop Sleeve Bag (Macbook Air 13″)
The second item I ordered was the versatile custom leather laptop sleeve bag.
I ordered this not only because I wanted something to protect my Macbook Air, but also because I don't carry a backpack every day of the week but still need to transport my computer around in a safe manner.
This cover is a minimalist design and is also 100% handcrafted. It is slim and not bulky which makes it super stylish and practical and it also can be personalized with different embossing methods.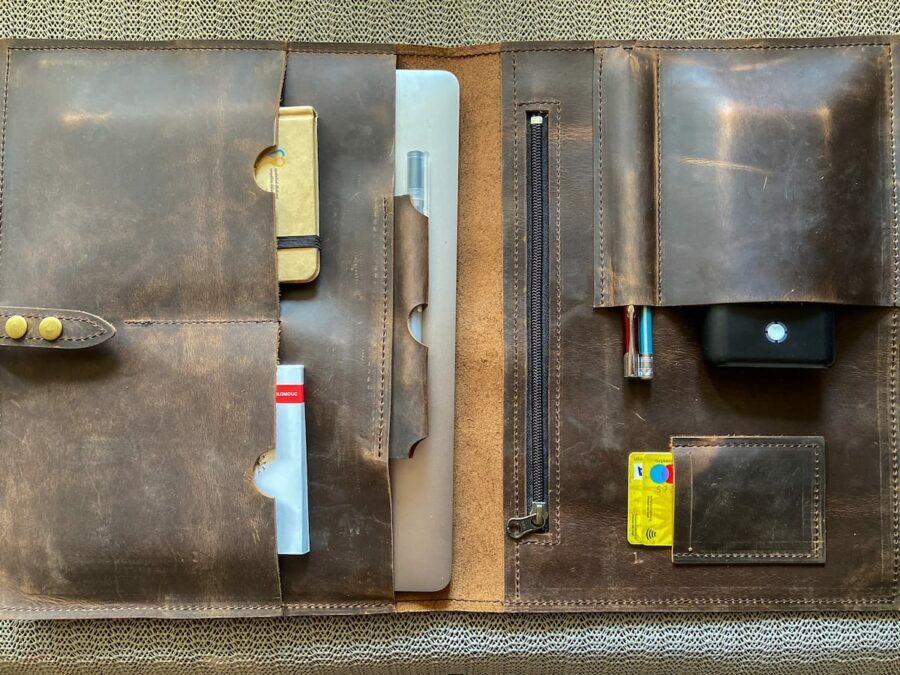 Perhaps my favorite thing about it is that it is more than just a laptop carrier. It also has a zipper pocket, three pouches (perfect for a small notebook and/or passport, a place for a pen, and a place for a stylus.
It also has a slot to carry my credit cards. The dimensions for my Macbook Air 13″ one are 30.41×21.24×1.49cm.
>> Click here to check out Leather NEO's laptop covers
I truly have fallen in love with both products and they really ideal for everyday life in Armenia and life on the road elsewhere.
If I am on a city trip in Europe, the leather backpack makes me feel a little more human as travel can wear you down and take its toll on you! It makes venturing out in the city a little more sophisticated, yet effortless all at the same time.
The laptop case will always be with my laptop regardless of where I am, too!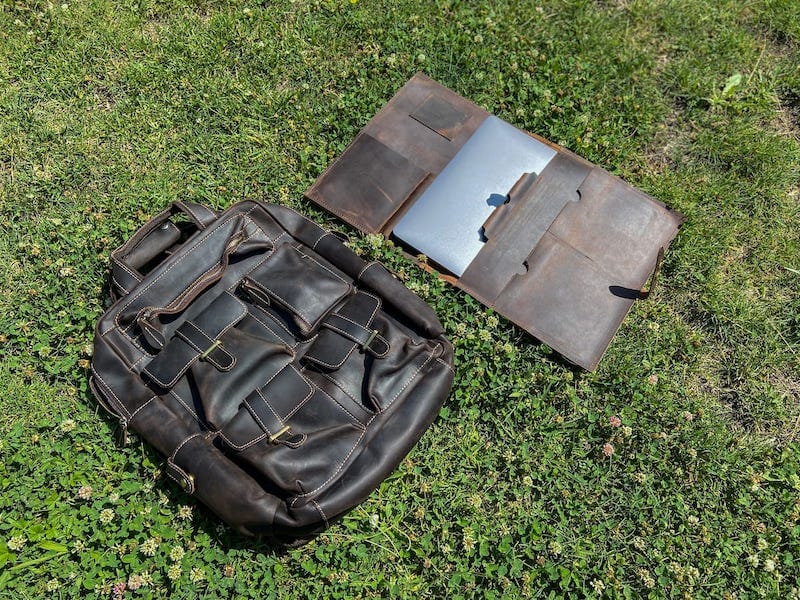 If you're looking to check out Leather NEO for your next stylish travel backpack, click here to check out their website!
More Products We Love