Have you previously had issues with finding a good bag to accompany you on your travels?  This has been an issue that has plagued me for years when on the road.  Finally, after thirty some years of travel, I can officially say that I have found a bag that is made by travelers, for travelers.  The Kosan Travel Pack is 100% the best travel bag I have ever used.  
There have been few things in my life that have been more frustrating than finding a travel bag that fits my needs and tastes.  I tend to be more of a suitcase gal, but in recent years, I have noticed that the places I travel to are just not conducive to dragging a suitcase around.  Have you ever tried dragging a suitcase along a Ukrainian sidewalk or through the muddy fields of the Faroes?  Trust me, it just doesn't work.  So, I resorted back to carry a backpack over the last year.  While I do love my Osprey Farpoint 40L, it isn't really practical once I arrive at a location.  I always have to stuff another backpack inside of it to use for my day-to-day travels upon arrival.  This is so impractical and it drives me nuts.  Not to mention, when I put digital equipment in my Farpoint, it really becomes far too heavy for my terrible knees and back.  When I was chatting with the team at Kosan, they mentioned becoming an affiliate for their travel pack system.  I knew that I had to test things out before I could give an honest and insightful review, and I am happy to report that the bag is everything I have been missing in a bag and more.  The Kosan Travel Pack System is the best travel bag I have ever used and it better become good friends with my passport as it will be accompanying me on all future travels.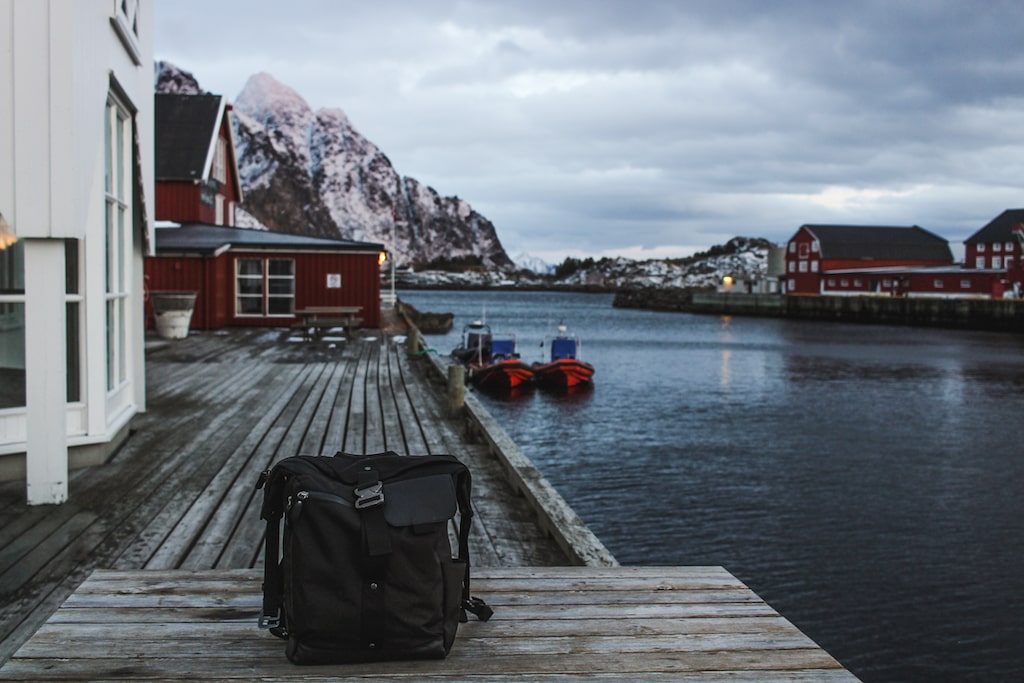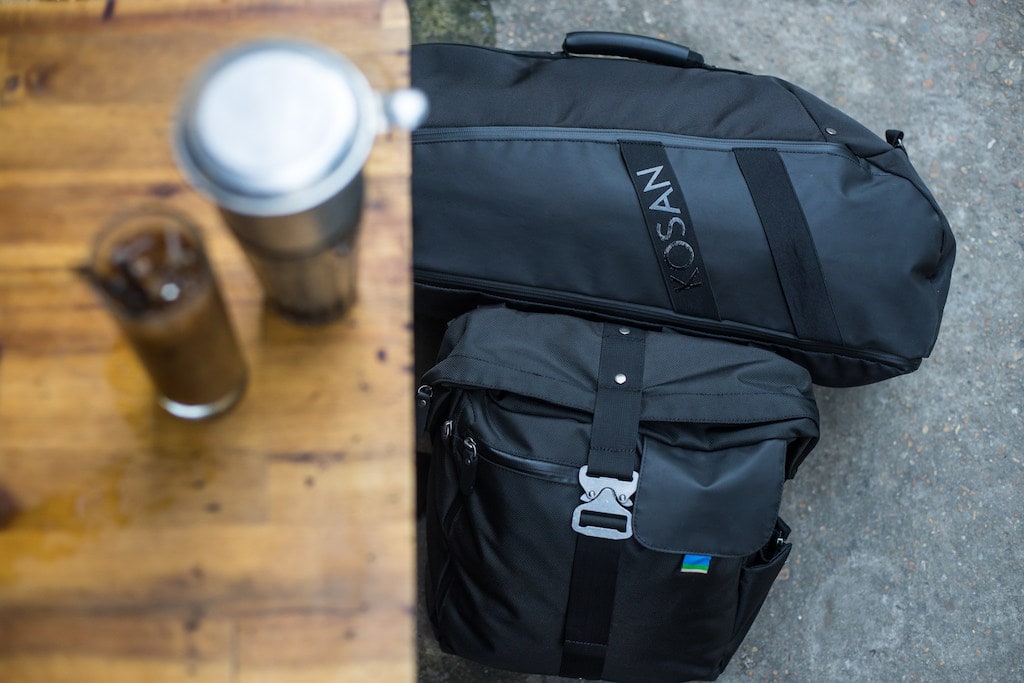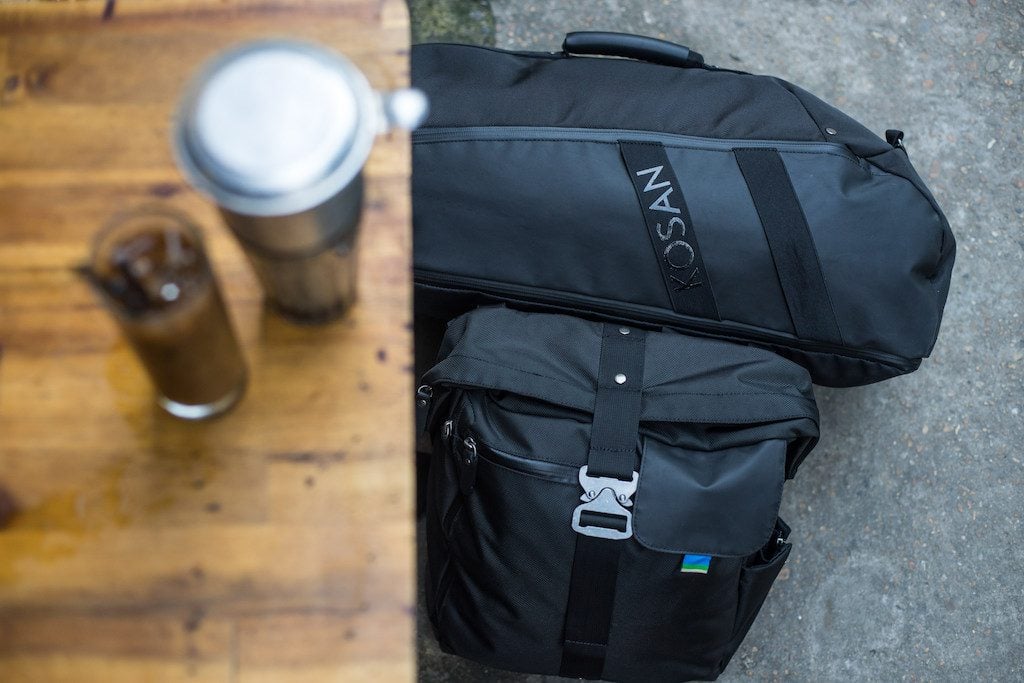 About Kosan Travel Co.
Kosan Travel was founded by a group of friends and travel enthusiasts who believe that a minimalistic approach to travel packing helps alleviate unnecessary possessions and baggage from hindering you getting the most out of your cultural experience when on the road.  They state:
"At Kosan, a deep love of different cultures, both near and far, demands our participation to support them. We are committed to donating our time, services and at least some portion of our sales to work side-by-side with the people and communities we travel to and the places we produce our products in. To ensure we are transparent in our pursuits, this includes both philanthropic projects as well as ethically and socially responsible sourcing."
This is a big deal for me.  I take buying ethical and socially responsible sourced products seriously.  I like when companies are transparent about their process, and Kosan definitely is.  I think the best part about Kosan is that they developed their product as a solution based on what was lacking in other products.  I can't stand when companies develop something for a segmented group of people and it really doesn't fit the desires or needs of that group.  When fervent travelers develop a product geared toward other fervent travelers, all needs and desires are fulfilled.  You wouldn't ask a scientist to develop a pair of basketball shoes.  And you wouldn't ask a pilot to develop a tire for a new sportscar.  So, why would you want someone who doesn't travel for long periods of time to develop a travel bag for you?  Suffice it to say, I think that Kosan really did well in making the best travel bag for international travel (even though I am totally using the daypack as an everyday bag around my city and not solely when on the road)!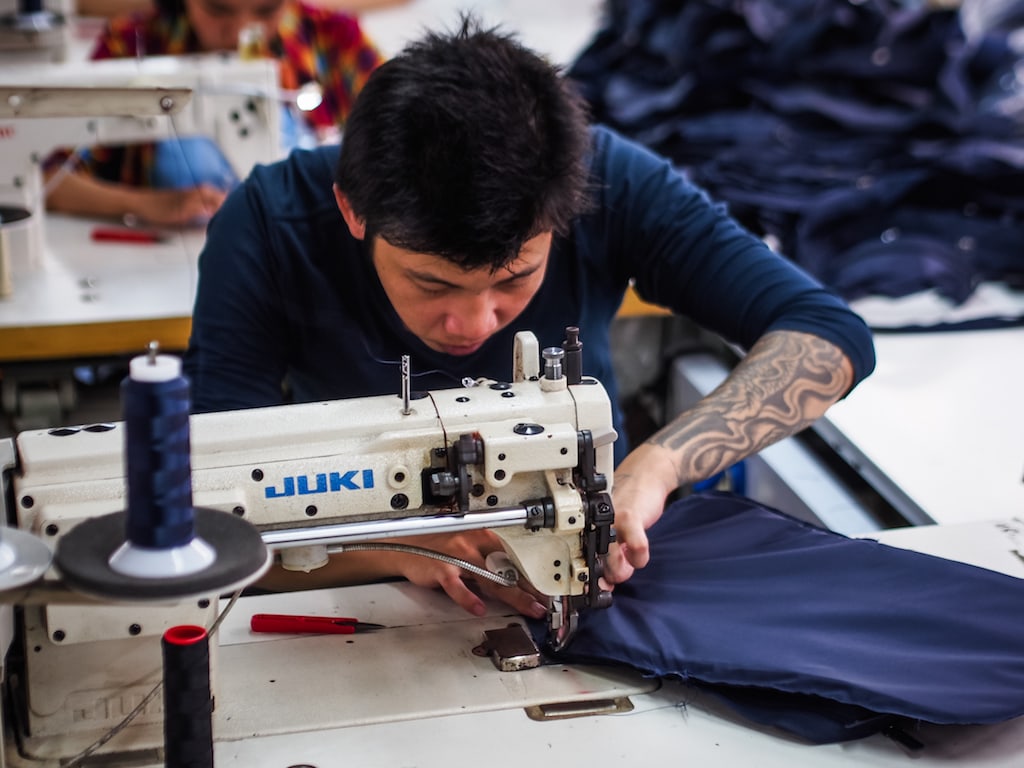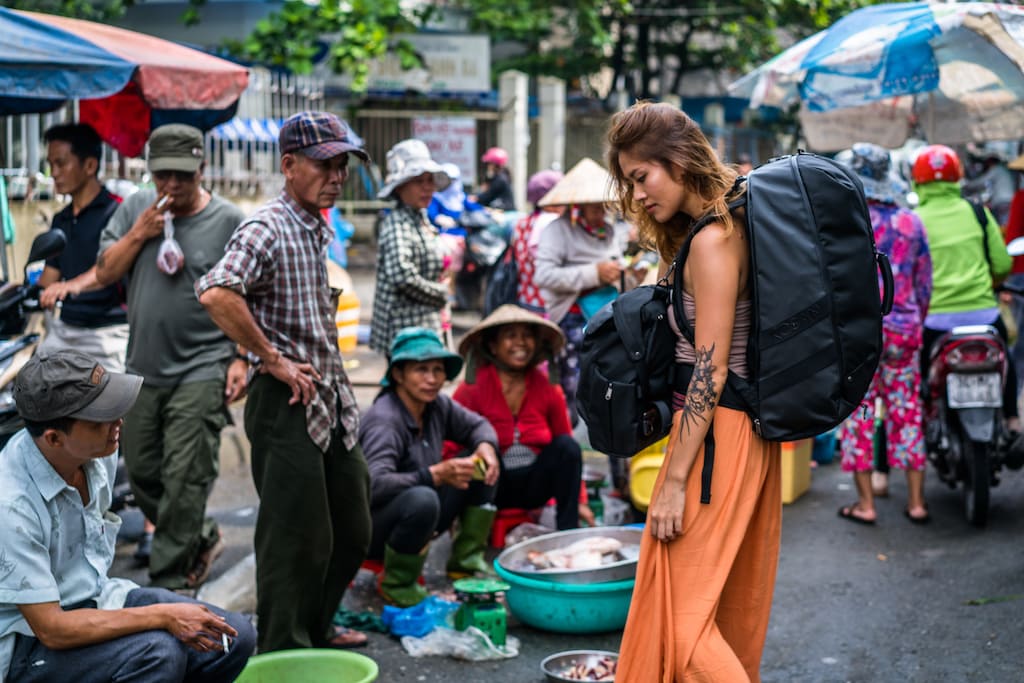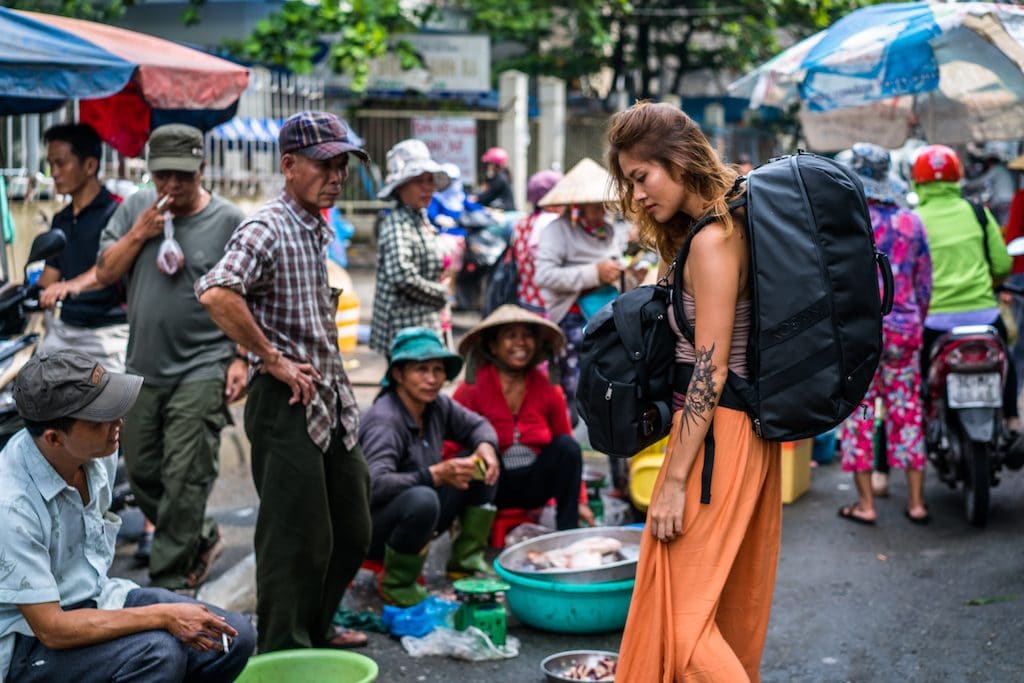 The Kosan Travel Pack System Features
The features of this travel pack are endless.  It has so many intricacies- but not in an overwhelming way.  Everything on the bag has its purpose and I love that.  There are two parts to it: the 35L carryall that can be carried as a backpack or a duffel bag and the 15L daypack that can be carried as a backpack or a messenger bag.  They both can be worn together courtesy of the design of the travel pack system.  AND… they can both be worn at the same time hands-free.  I have spent too much of my life carrying a large backpack on my back and my daypack uncomfortably around my front while using my hands to hold it in place.  I recall having a breakdown in Bangkok walking around like this from the heat and I had to go sit inside of a hotel for a while to calm down.  Also, the hands-free thing is wonderful for me as I'm claustrophobic and often lost, so I don't get as anxious because I have room to move about and also the capability to reach for my phone and open my Google maps.  There are several features of the Kosan Travel Pack that I love, but the following are my absolute favorites!
Water-resistant
I will never again purchase something that is not waterproof or highly water-resistant.  The Faroe Islands taught me this lesson.  Every part of my body was soaked through from sheep poop, mud, and rain.  My bag was drenched and inside of my backpack is usually a lot of camera equipment along with my computer.  Fortunately, my Kosan carryall and daypack are water-resistant to the extreme and even offer shields from it all.  This will come in handy when I use it for my upcoming trip next month (details to come!)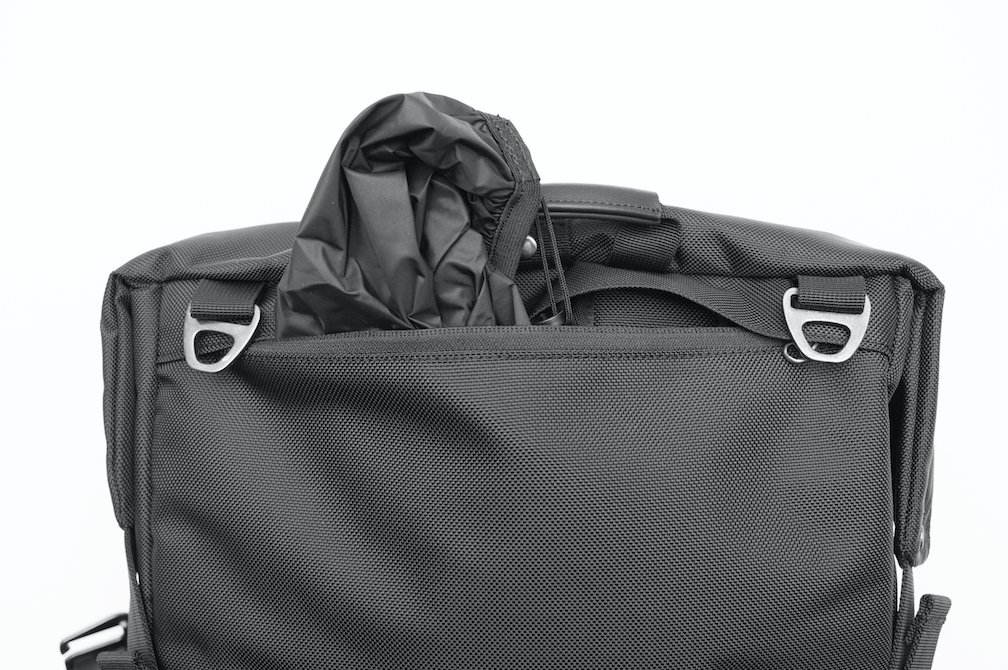 Hands-free
Okay, I already mentioned this, but it is such a key feature for me because of my claustrophobia.  As stupid as it sounds, I sometimes will check my carry-on when flying because I struggle with carrying too many things and wrapping so many bags and purses around my body as it gives me anxiety and stresses me out.  I love that the Kosan travel pack system doesn't require such nonsense and they attach together and I can use my hands for other things, such as walking my dog (when he travels with me) or texting and walking into people.
Padded Laptop Compartment
This is a huge plus for me as I always travel with my laptop.  I am a 'digital nomad' (gosh I hate that term) for 2/3 of the year and my laptop is essential for me to make a living.  The older I get, the better care I take of things.  And that has begun to include my laptop.  The best thing about the travel pack is that this feature is included in both the daypack and the carryall… even more reason for the daypack to become my everyday bag.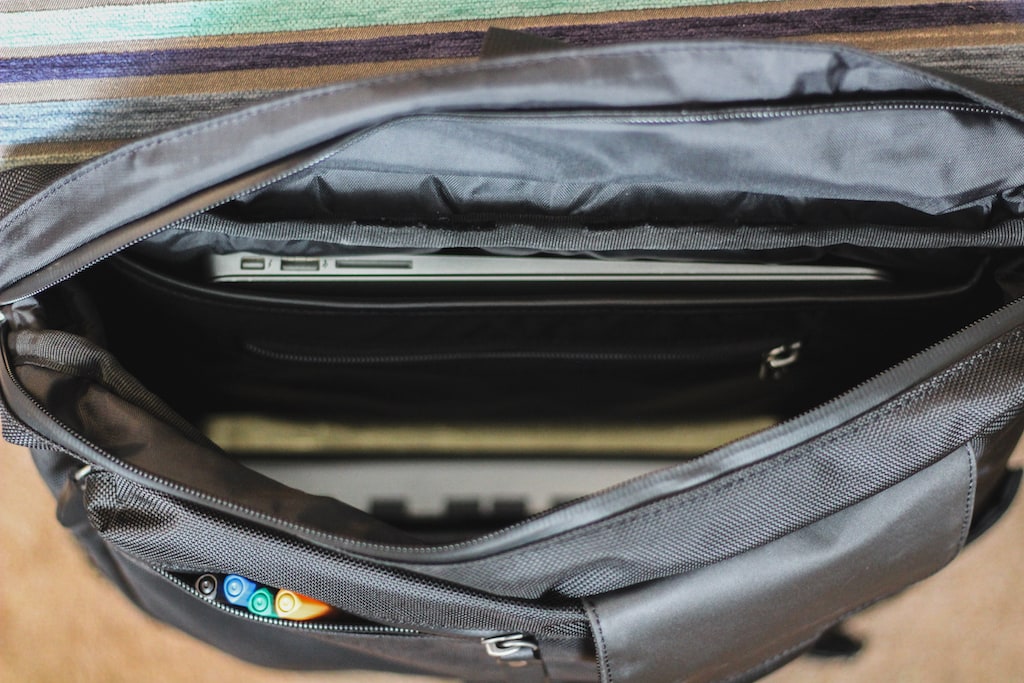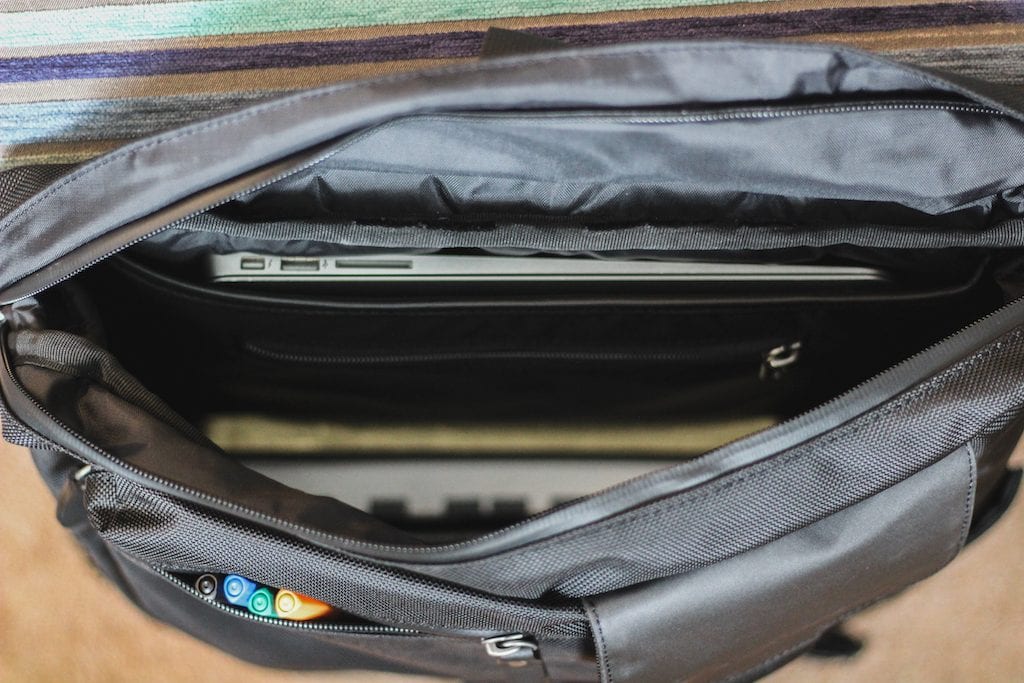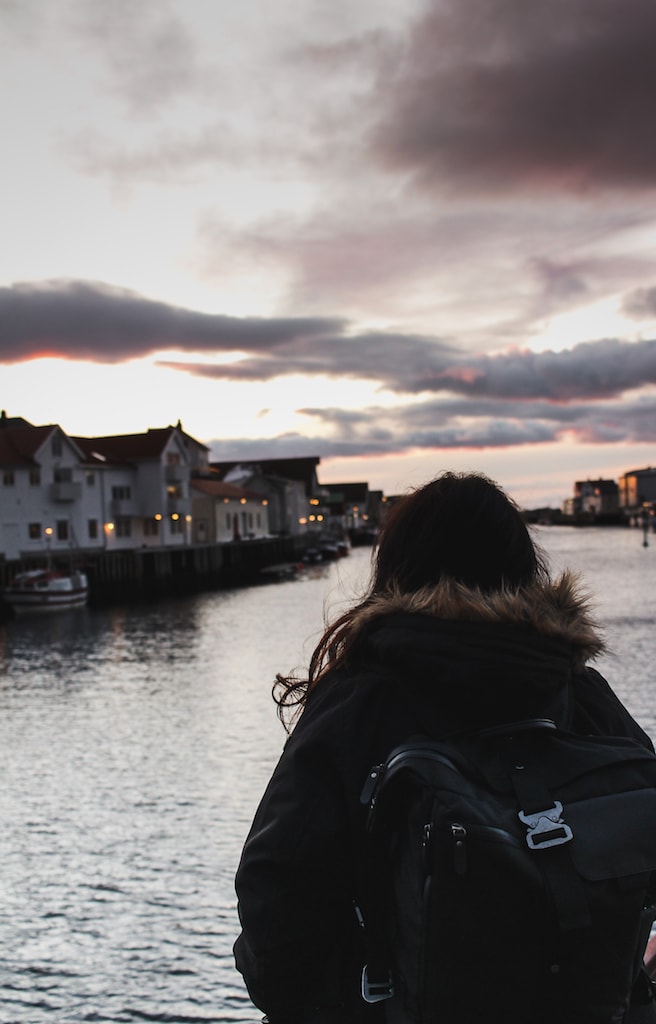 Elastic Side Compartment
Okay, I was going to say that this is a tripod holder.  But it really isn't for any one thing… but for me, that is what I will be using it as since it is one of my favorite features on the carryall.  I almost always bring my tripod with me on the road and this will be the perfect place to store it without any difficulties or it falling off and me tripping over it.  It also is a great place to store my yoga mat, so we will see whether the tripod or the yoga mat wins!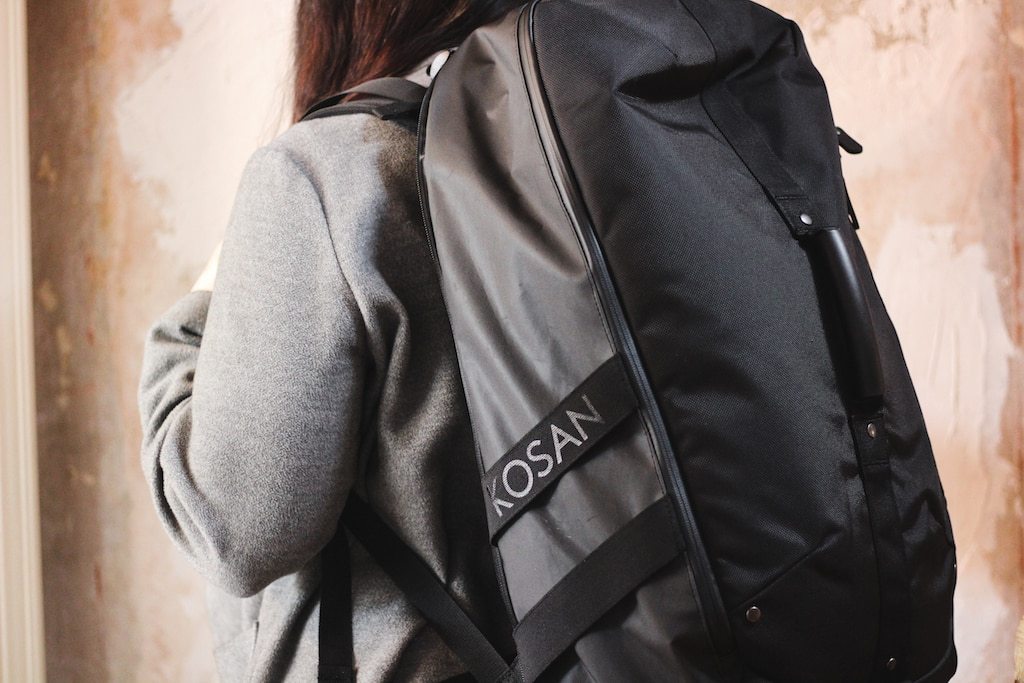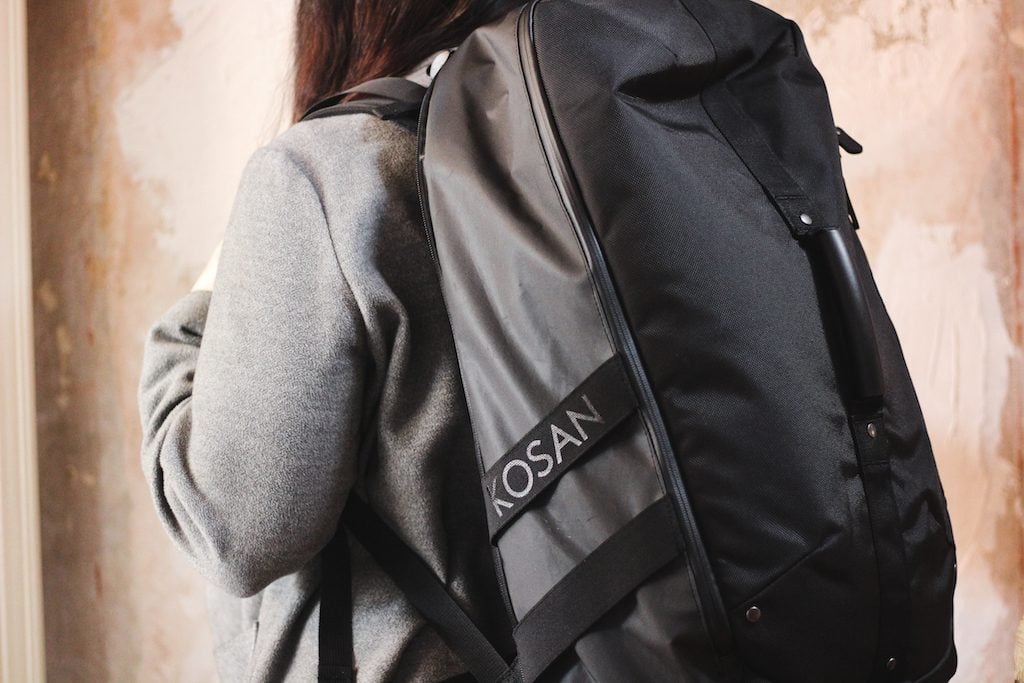 Durability
This travel pack means business.  The durability and strength of it are insane.  When it arrived, it was the first thing I noticed.  I even called my travel partner back in Germany and told him that the bag kicks ass.  The material is a heavy duty matte finish tarpaulin and abrasion resistant ballistic nylon and the clips are thick and strong.  I have had several bags break during my travels, but I am completely confident that I have found one that will hold strong whether I am in Greenland or Kazakhstan.
Lifetime of Travel Warranty
There is not much I can say about this except that it is profound to find a company that believes in their product and its quality so much that they are willing to offer this to travelers.  Dear every single bag that ever broke on me:  Take that.
Color
I know this sounds like such a small and minute factor, but it really is a huge thing for me, personally.  The Kosan bag is all black, even the logo.  The reason I like this has a little to do with being minimalistic (which is a huge plus for me), but actually I like it for another major reason.  I don't like logos and statements on products unless it is sports equipment and apparel.  The reason I don't love logos on products is that I am privileged to have the opportunity to travel in the first place.  We live in a world where everyone wants to have the 'elite' products and brand-names rule.  Unfortunately, not everyone can afford these items and I don't want to flaunt my privilege any more than I already am by having a passport that empowers and allows me to see this beautiful planet.  There is a massive black market in our world full of brand-name products and the market wouldn't necessarily be there if there wasn't a demand for such.  While this all seems a bit abstract, I don't think that loud colors and brand names on travel bags will do me any favors and I prefer to keep it stylish, simple, and quiet when on the road.
Another plus to the travel pack system being black is that my travel partner can use it when he goes on trips without me and he won't complain that it is 'too-girly' or any of the usual nonsense.  Unfortunately, due to the quality and design of the bag (which is amazing), I have a feeling he will try stealing it off of me sooner than later and I think he is going to need his own!
Increased Safety
Perhaps the #1 concern of travelers- Safety.  The Kosan Travel Pack rivals the best of the best out there in this department and it even offers lockable zippers which is one of the top things I look for when purchasing a new travel bag.  In regards to safety, Kosan Travel Co says:
With Kosan, you won't ever have to worry about your valuables while on the road. The main compartment on each bag, as well as the outer access laptop compartment feature lockable zippers. We've also included a hidden phone pocket and RFID blocking passport/valuables pockets, all protected by our durable cobra buckle closures that leave nothing to chance. And don't forget our harness system which keeps your hands free and your valuables locked away.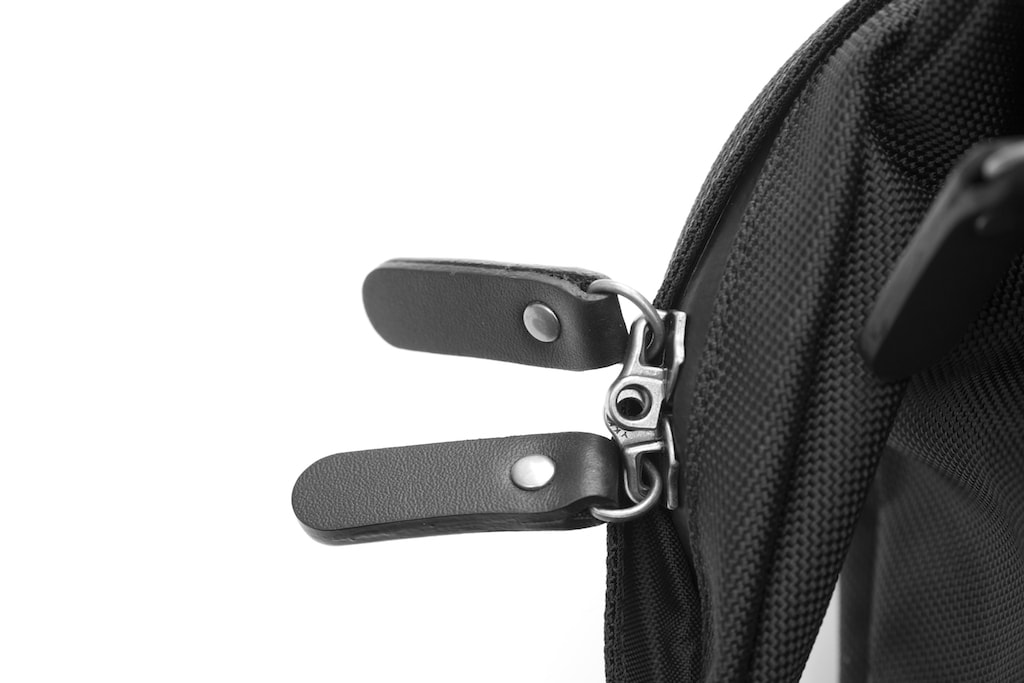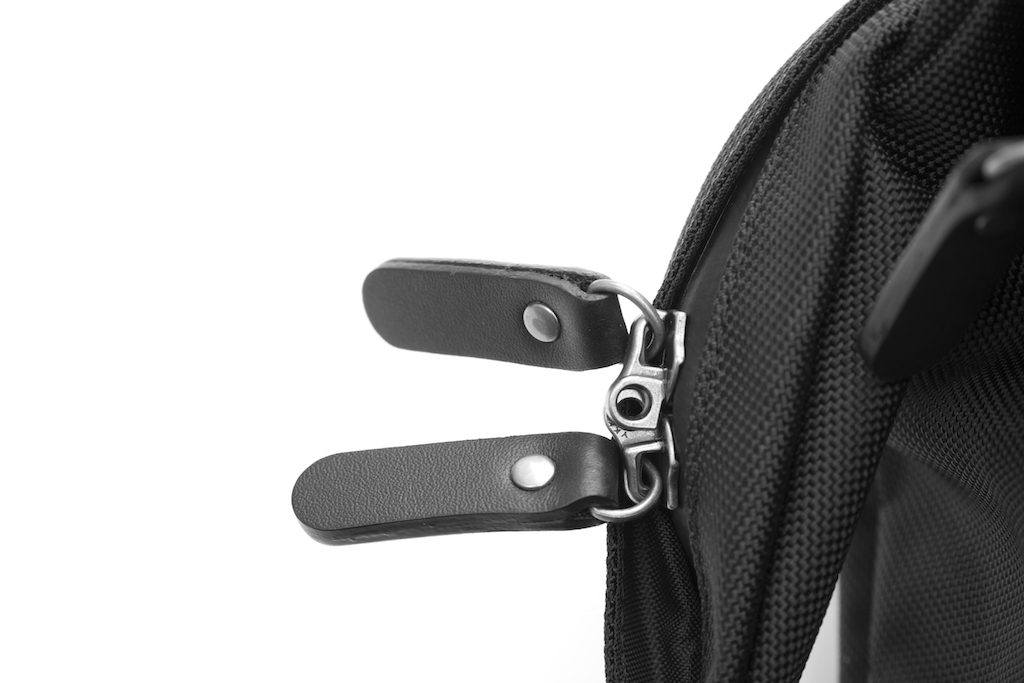 Why the Kosan Travel Pack is Your Next Travel Bag!
Here's the thing… I recently made a decision (and I was very public about it) that I would not put any affiliates on this blog in the future (and I am removing many from previous posts) for things I didn't full-heartedly believe in.  I tend to be a skeptic with many products and services, even the ones I use regularly.  However, I can undeniably recommend the Kosan Travel Pack to any and all travelers with complete confidence as I know the product is superior to anything I have ever used.  I have been to over 90 countries and have carried many bags along the way.  I know the pain points travelers face.  I know how annoying it can be to lug a suitcase with a missing wheel across the broken sidewalks of Bishkek, Kyrgyzstan and I know how difficult it is to drag a suitcase up the hill to my accommodation in Lagadin, Macedonia.  I also know how difficult it is to trek around Cambodia in extreme heat and humidity with a 55L bag that was built rather poorly and how frustrating it is to have a massive bag with no compartments and wearing the same thing for days because I couldn't locate something as a result in Colombia.  I've pretty much 'been there, done that' in the bag department.  I would never recommend something on here I didn't believe in or experience myself.
How Do I Get My Hands on the Kosan Travel Pack!?
Currently, the Kosan Travel Pack System is being backed by an Indiegogo campaign.  The bag previously met its goal (and far, far beyond it!) on Kickstarter and they have taken to Indiegogo to continue selling the travel pack system.  As mentioned above, I would never recommend a product, service, or something I haven't personally used on this site.  That is why I keep it mostly affiliate free and am not often pitching things here.  If you are interested in supporting this campaign or even just learning more about it, please do so by visiting this link: KOSAN TRAVEL PACK SYSTEM.
*  Please note that the link above is an affiliate link.  While I do make a small percentage from this if you back the campaign and things are actualized, do know that I would never recommend a product I wasn't enthusiastic and stoked about myself.  Thanks!
PIN IT FOR LATER!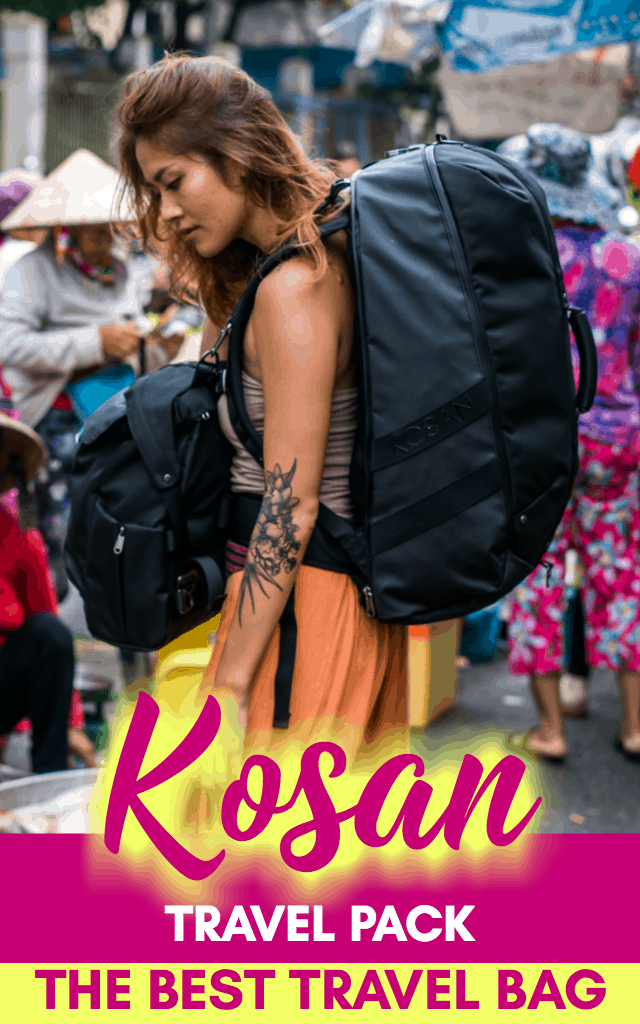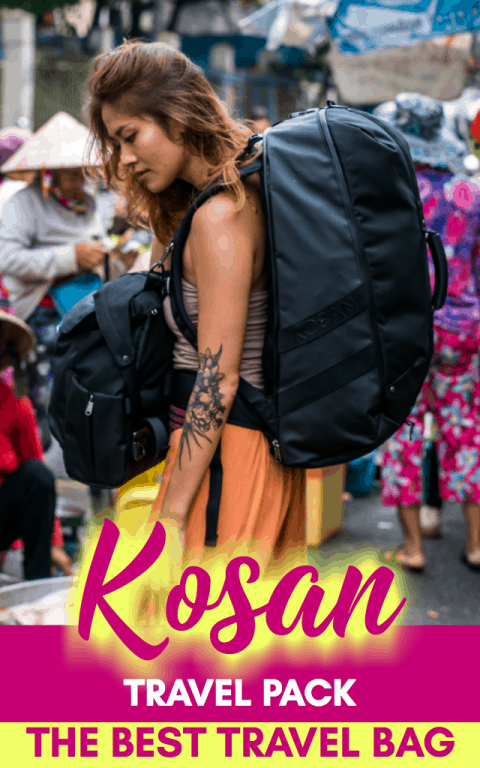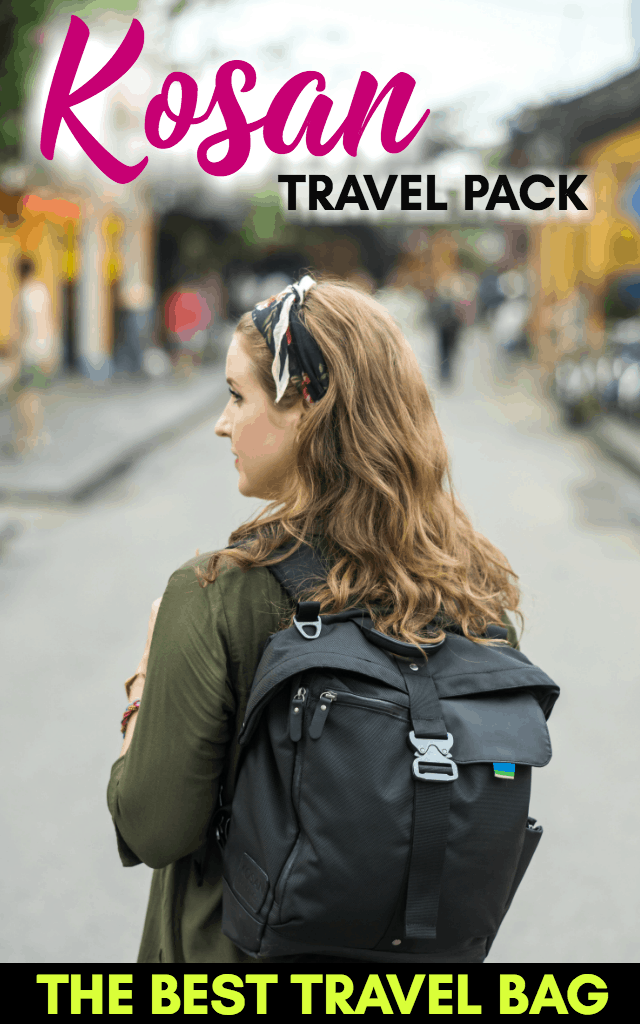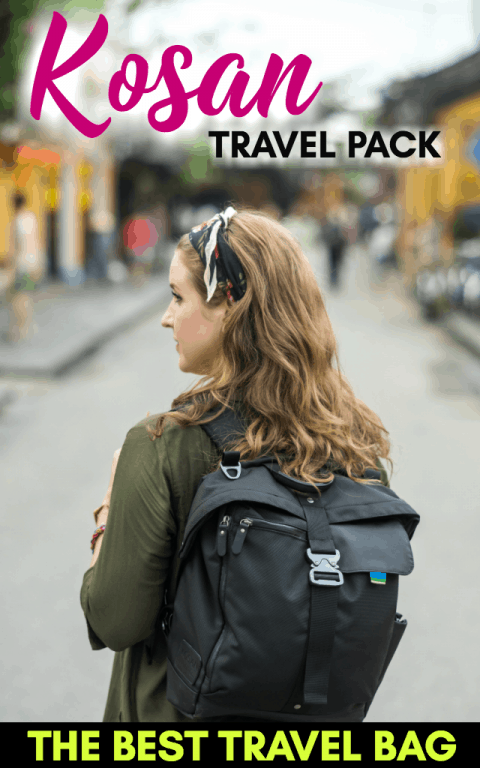 BE SURE TO FOLLOW ME ELSEWHERE AROUND THE WEB!
[powr-social-media-icons id=f421521d_1499856820319]