I assume that 99% of you reading this aren't travel bloggers. And I assume that most of you haven't been to Ukraine, but found this post, or any of my other Ukraine posts merely out of curiosity about the mysterious Eastern European country.
This blog has elatedly promoted several cities in Ukraine over the years from Kyiv to Kharkiv to Dnipro… and beyond. In fact, the only city I didn't truly connect with, Odesa, has been passionately promoted by so many others that I have neglected writing about my short stint there as I really don't have a lot to say about it and it won't add value to the internet.
So, why am I writing this? Well, the real story is that my travels and love for Ukraine don't always depict what is going on there. I don't talk politics on this blog. It is not that I don't want to, but I often feel clumsy and (mildly) obtuse when it comes to the political situation in certain places. Ukraine is one of them. I don't know what is going on there.
My attempts to educate myself on the situation have often left me exasperated and more befuddled than when I knew even less about the situation. While I don't completely understand the political situation of the country… I do know corruption.
Corruption was the reason for my abysmal resentment toward my life in Kazakhstan and why I eventually fled the country in an attempt to get 'west' again. Don't worry, we are corrupt too. But my dog bribing me to let him eat Ostrich kibble all day is far cuter than any of the situations I have been faced with on the road.
This post isn't intended to discourage people from visiting Ukraine or from indulging in the many things to do in Kyiv– it is simply a recap of my time in Kherson, Ukraine and about the low-level corruption I was brushed with there. Please note that I have faced a lot worse in other places outside of Ukraine, even on high levels- but I don't want my blog to ignore writing about a place just because I didn't enjoy it there. This is something many travel bloggers do; I am not one of them.
French fries are my go-to food when I am on the road. It is shameful to admit- trust me. But when I am in certain countries where I am not fond of most of the local dishes, I eat French fries and Greek salads. If you see me take a photo of my Greek salad and share it on Instagram Stories, you can be certain that I hid the French fries in an attempt to look slightly less pathetic. Want to know something even more reprehensible?
I couldn't find good plov in Kyrgyzstan's capital of plov, Osh, so I resorted to a Greek salad and French fries. The photos below were taken in Osh. You get the idea. And those were some good French fries below, but they didn't make the Instagram Stories cut that day. Or ever.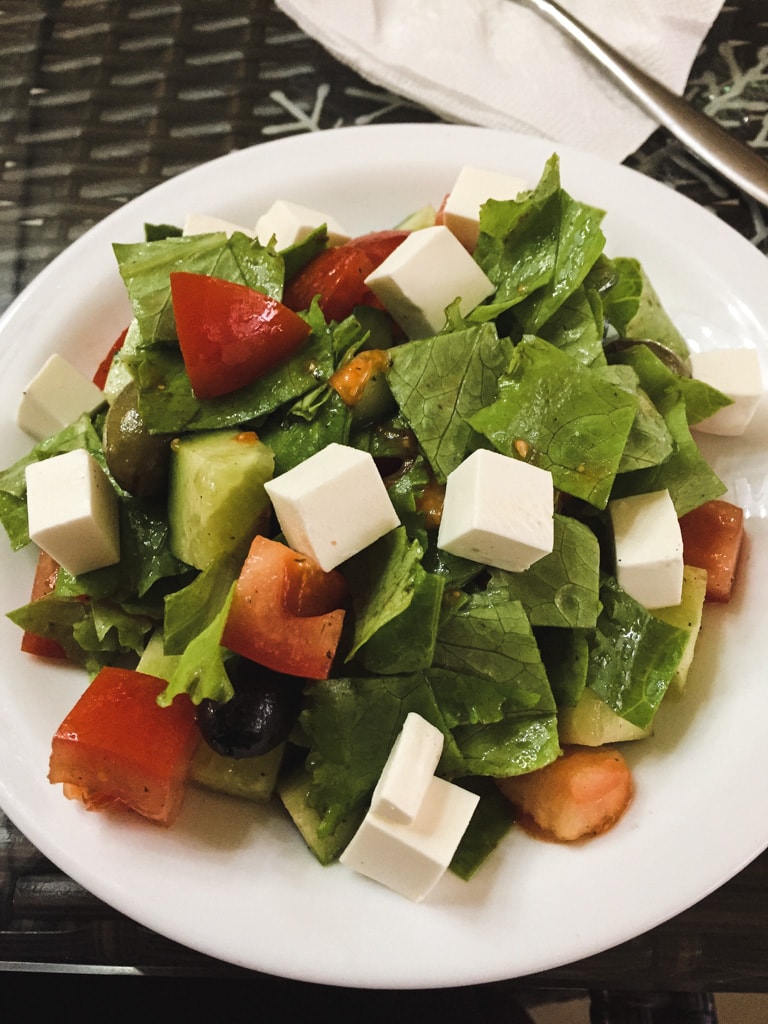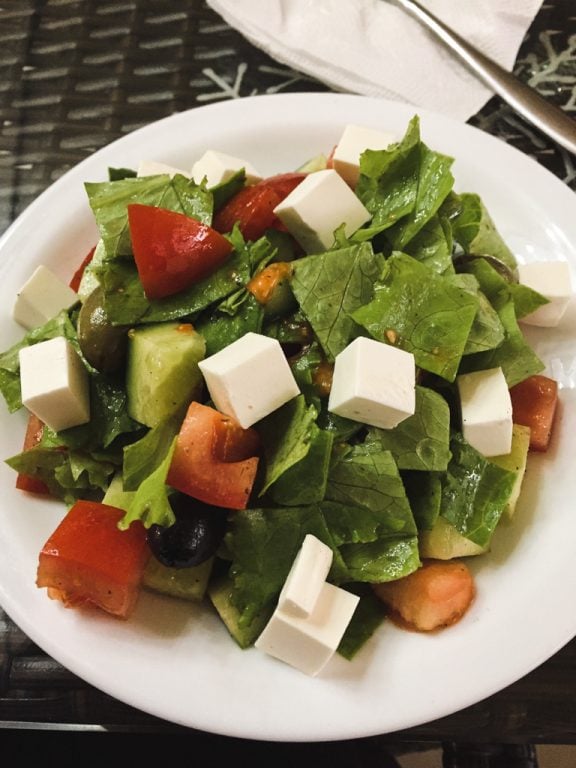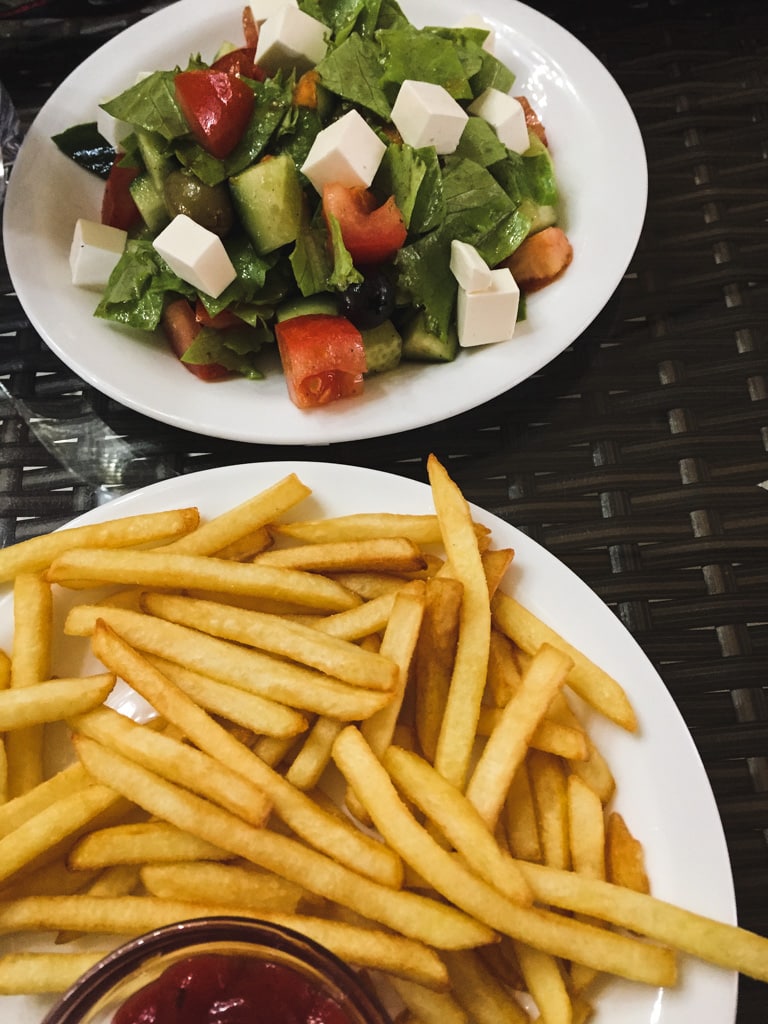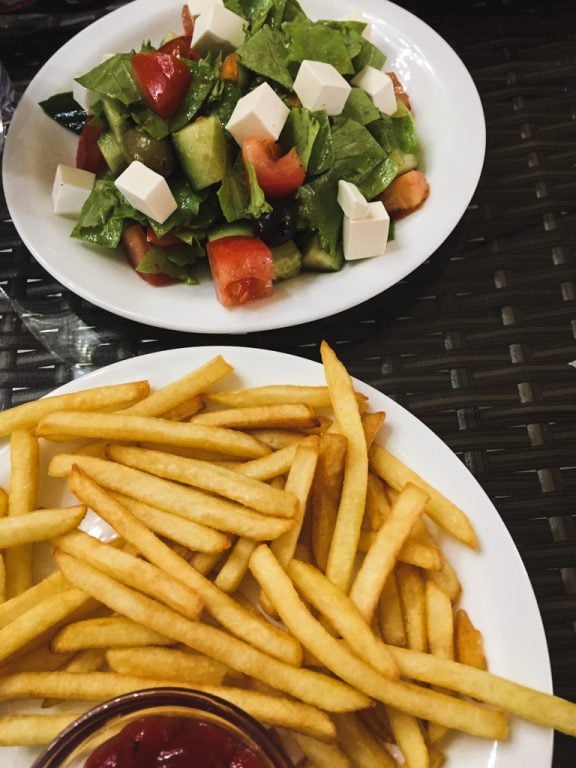 I have eaten French fries in every country that was part of the Soviet Union that I have visited. I do it in some countries more than others. Moldova and Ukraine were great for French fry consumption. Georgia, Armenia, and Central Asia? A bit less. The Baltics rarely get a French fry order from me these days as the food has become so top-notch. I know how to order French fries in Russian and I always remember to ask for no dill because you never know when someone will unexpectedly shower you with the love of the evil weed.
The funny thing about French fries for me is that I have noticed that I eat them as a comfort food more than anything else. If I am having a bad day on the road, I treat myself to dinner somewhere known for awesome food… and then I take a look at the menu and stick with the familiar- greasy, nasty, 'that-shiz-goin-to-your-hips' fries.
When I first arrive at a destination, I rarely eat them. It tends to happen more toward the end of a trip when I am tired and wanting to go home. The older I get, the more anxiety I have. Familiar things, even in the form of fried potatoes, can be a treat when you're stressed out or feeling a bit outside of your usual element. If I order something bad and I am in a state of anxiety that day, it causes me more stress. But French fries are hard to mess up. If a restaurant can manage to mess up fries… well they have no business actually being in business (I am secretly thinking of you, Zaporizhia).
So what does this have to do with Kherson?
Kherson, Ukraine was the last city I visited on my recent trip to Ukraine before heading back to my beloved Kyiv. Between being tired of being on the road, a situation that I can't help because of my current visa (or lack thereof) situation in Germany, and dealing with what happened in Kherson from the moment I arrived in the southern Ukrainian city, I ate French fries multiple times a day when I was there.
Why Did I Travel to Kherson?
Kherson, like just about every other city in Ukraine east of Kyiv, was on my list for years. I never met anyone who had actually traveled there… but it was just always on my radar. There is a lot of natural beauty in the area, something I knew I wouldn't get to experience having traveled there at the end of February. But I still wanted to see what the city was about and to experience it as it seemed like it could be hip since it can become a bit more touristy than places north of it during the warmer months.
I arrived in Kherson on a train from Krivoy Rog. The train was excessively delayed coming from Ivano-Frankivsk with an end stop in Mykolaiv, but it eventually arrived and it took four painless hours to get to Kherson.
I arrived in Kherson to sunny skies and really cold temperatures, but I didn't care. There is something so galvanizing about stepping off the train or plane in a location you have long wanted to visit and take in that first scent of the city. Kherson was no exception. I found myself a taxi that didn't rip me off and I instructed him to take me to Hotel Fregat, a place I hoped I could get a room at for the duration of my stay.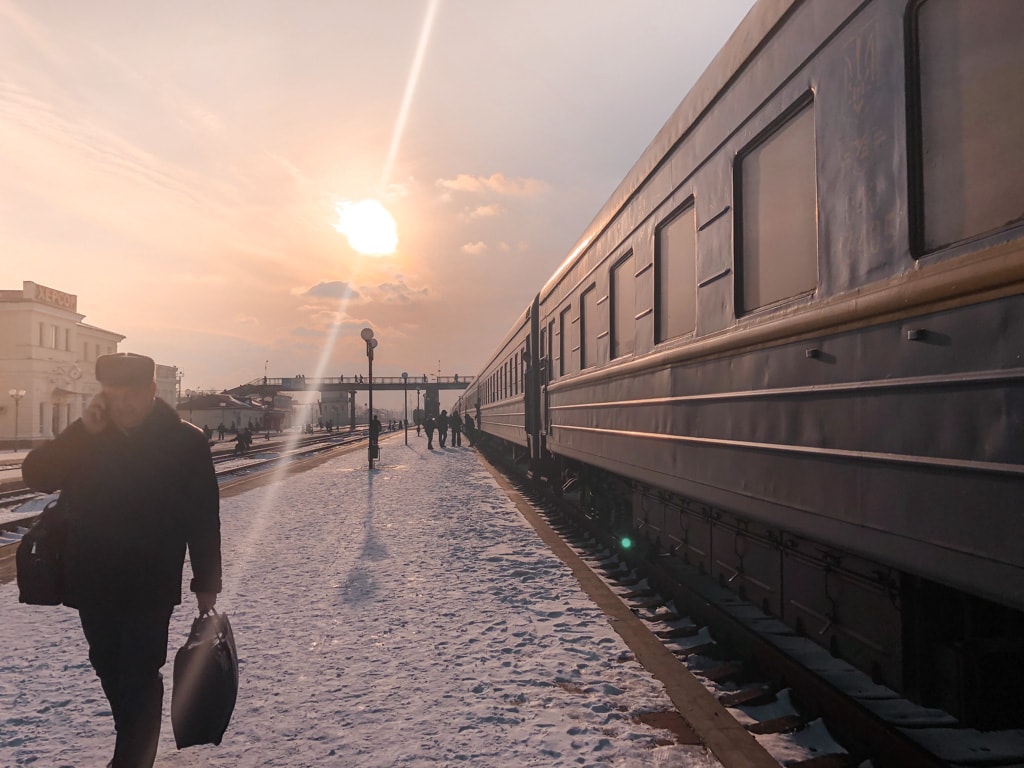 Hotel Fregat in Kherson
Let me back up here a bit… So Hotel Fregat is a Soviet hotel that still exists in Kherson today. I am in the middle of collecting photos of Soviet hotels and their 'amenities' (ie: weird as F things that they offer… like strip clubs and tattoo parlors) for an upcoming post I plan to write that has been in the works for over a year.
Hotel Fregat is not on Booking.com or any other website in English that will book you into the place. Their website has a phone number, contact form, and email. I really wasn't in the mood to be hung up on for not speaking Russian, so I opted to contact them on their contact form when in Zaporizhia in an attempt to book a room at the hotel. I never heard back. I emailed a few more times and eventually just realized that I was going to have to arrive in the city and go there myself and beg them to give me a room for an affordable price.
The taxi driver looked at me a bit funny when I said I wanted to go to Hotel Fregat, but he obliged and dropped me off there for a really fair price, something that you often take for granted in Ukraine if you hail a cab off of the streets.
I walked up to Fregat with my bags and immediately assumed the place had closed down. There were a few cars outside of the hotel but they all looked like they were parked there for the business next door.
The entire hotel was dark from the outside and it was, for lack of better words, ramshackle and dilapidated as hell. The front entrance doors appeared to be automatic and as I stood in front of them, albeit far back as I gazed over the property, I sensed that the doors would never open and that the place had shut down.
To my amazement, once I took a few steps closer, the doors opened and welcomed me inside to the front lobby. There were no lights on in the lobby. The only sense of consciousness inside the place came from the little light that the sun was donating to the hotel in an attempt at making it look slightly less eerie.
I finally gazed over at the reception area and saw one, dim light shining directly down on a twenty-something female who sat behind the counter.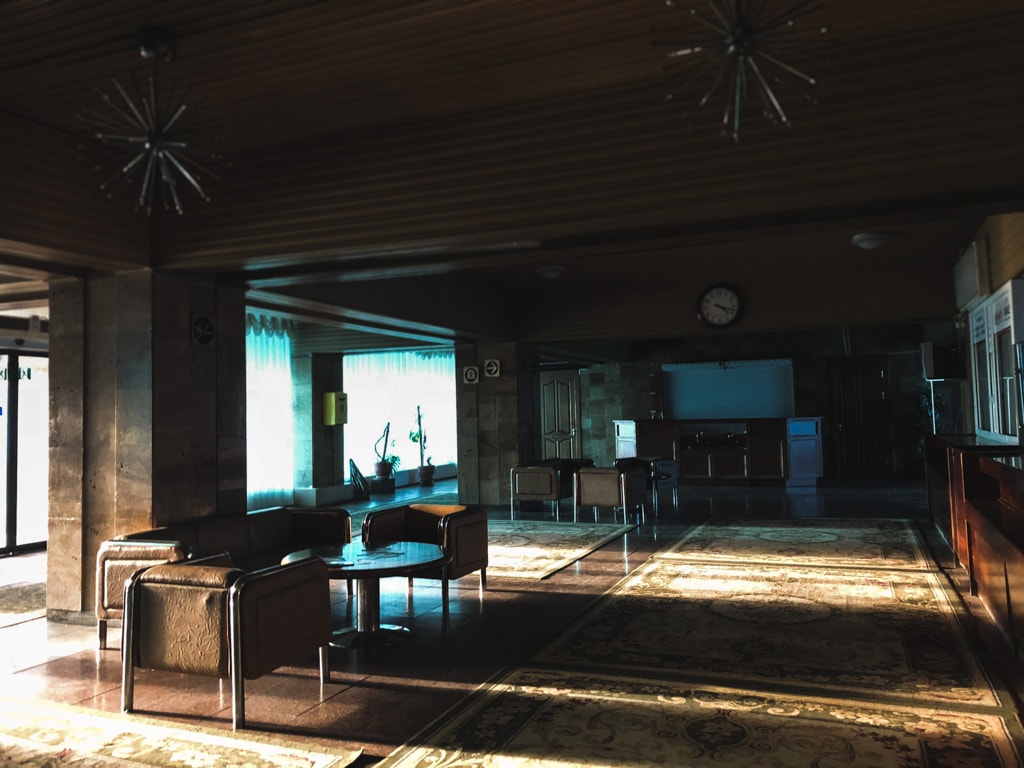 "So this place is actually renting out rooms…" was the thought racing through my mind. I couldn't distinguish between the emotions I had been overcome within that exact moment. I wasn't sure if it was despair, relief, fear… I really couldn't tell you. I warily waltzed over to the desk with my passport in hand and asked if she had a room. She was a bit callous in her approach, but she told me she would put me in a room with three beds for a cheaper price and she wouldn't check anyone else into the room.
It didn't matter to me. She told me the wifi was working well throughout the hotel and then asked for payment. I was low on hryvnia at the moment and asked to pay with credit card. She said they didn't take credit cards and that I could go to an ATM and pay in a bit.
I was pretty sketched out by the property, so I asked if I could check out a room and put my things down before walking up the hill to the ATM. She accommodated my request and told me a housekeeper would meet me upstairs outside of my room with my key. I thanked her, she gave me cheeky smile, and I went up the elevator to my room. Once I arrived, there was no one there and the hallway was pitch black like something out of a horror film.
I waited about ten minutes and a housekeeper came and unlocked the door for me and handed me the oversized key. I went into my room, put my things down, and looked around the place absolutely horrified. It was squalid and just dirty. I pulled back the sheet to check for bed bugs, but the stains were so deep in them that I'd never been able to identify if something had been lurking in them or not. The bathroom smelled foul and the thought of showering in there sickened me.
The only redeeming factor was that the heating didn't work which made my nose quickly freeze inside of the room, allowing less of the odor penetrates my nostrils. To make matters worse, the door didn't even properly shut and I tried messing with the lock from the outside and the door handle snapped off. Incredible.
The wifi didn't work, but I managed to use my SIM card data to get to Booking.com and find an apartment. I had seen a string of properties in Kherson that looked really nice, but I never booked one because they were slightly more expensive than I had wanted to pay and I had really wanted to stay at Fregat so I could write about the experience. I had stayed in so many Soviet hotels and I really think they are fun.
But I couldn't risk contracting a disease or falling to my death by standing on the terrace by staying at Hotel Fregat. I booked an apartment with Mayakovskogo Apartments (by Stella Star Apartments), the ones that had looked nice via photos and reported that I would arrive at my location in two hours. I needed food first. I wasn't drinking that day (perhaps that would be calmed my nerves, on second thought).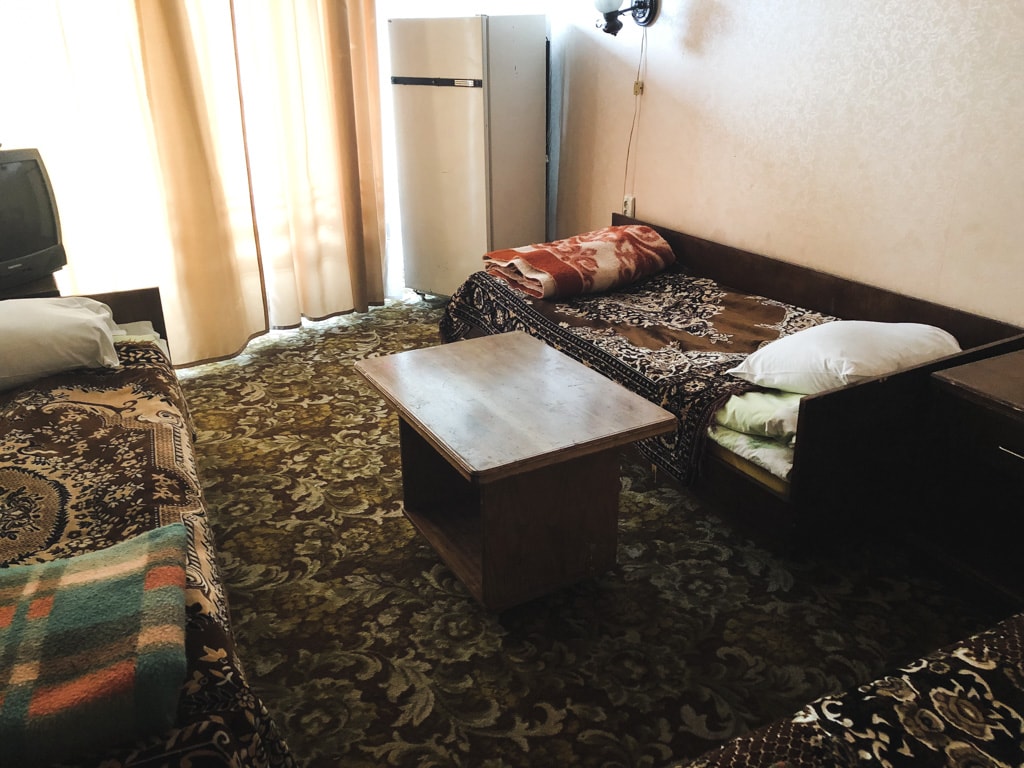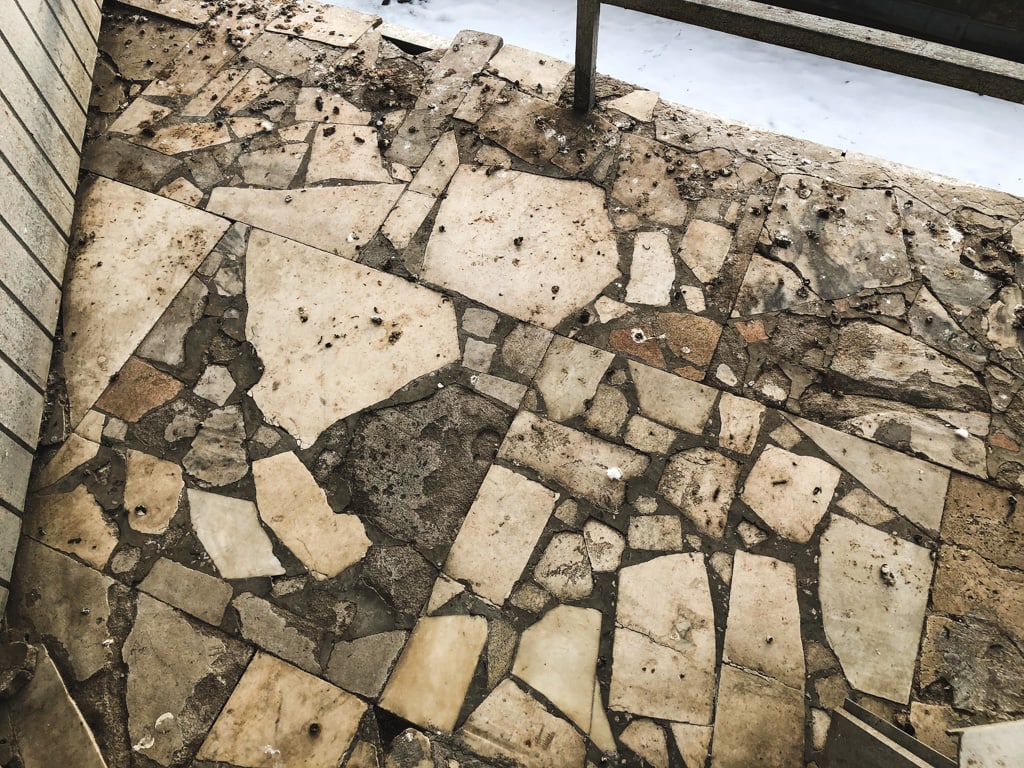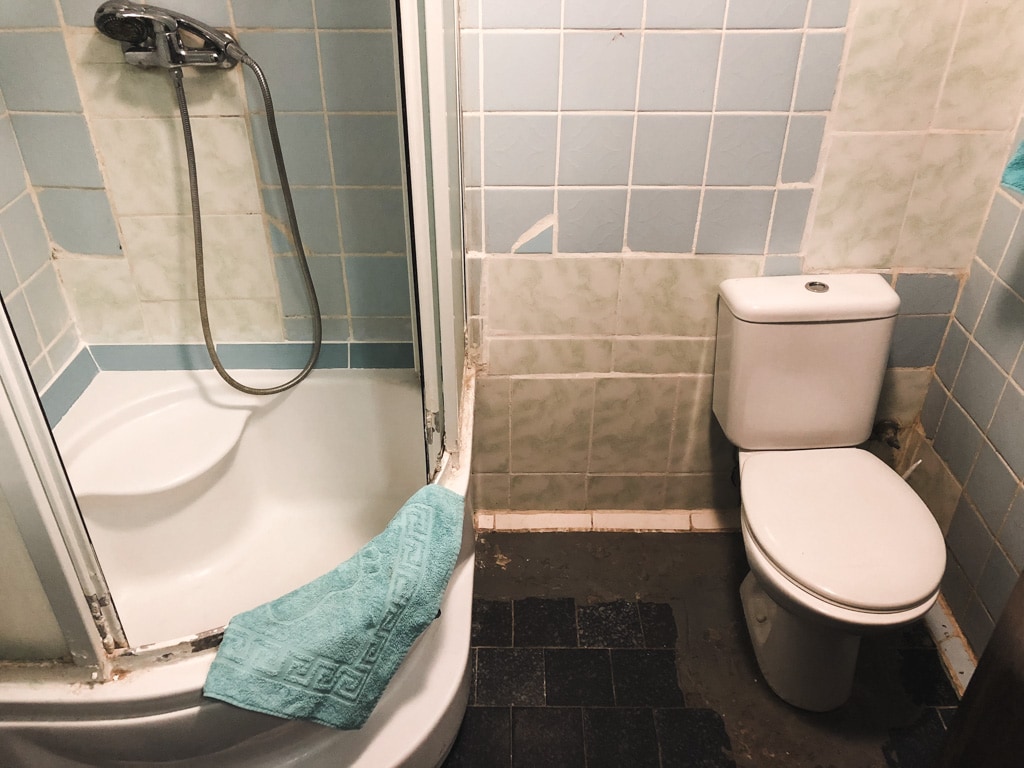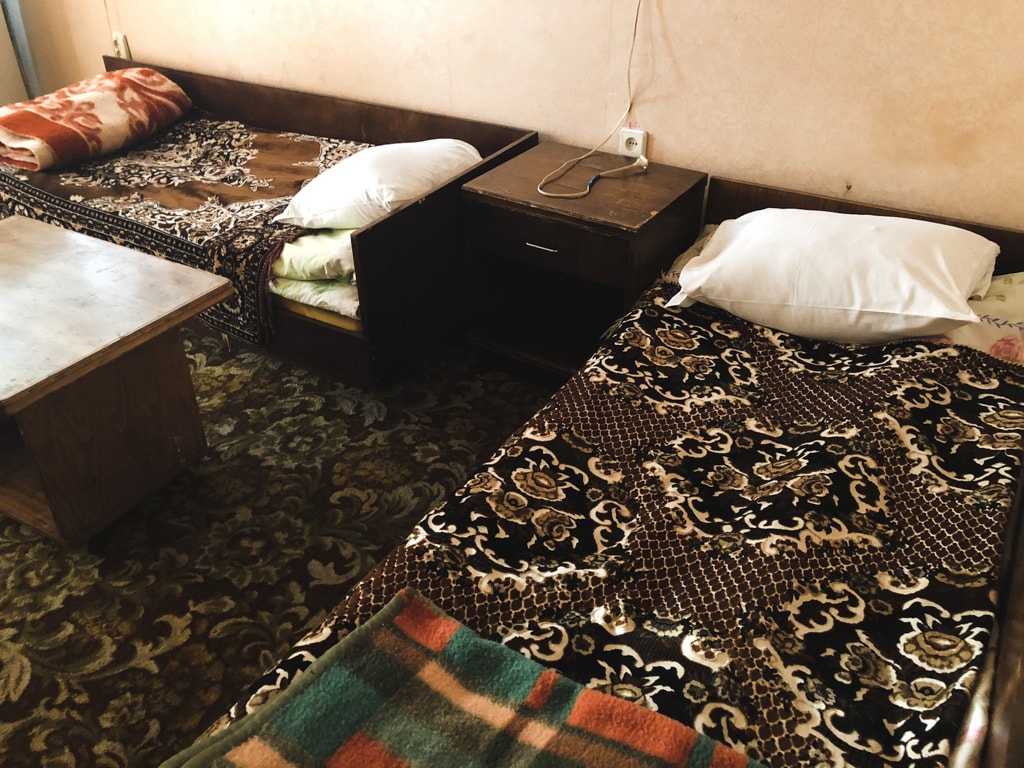 I went to the lobby and informed the woman at reception that I wouldn't be staying at Hotel Fregat. She looked at me with an "I don't blame you… I wouldn't stay in this shithole either" face and I was on my way. I walked up the hill and found a place called 'Beer House'. They claimed to have the best beer in the world and with the Carlsberg on the menu, I was in no position to negate that. I stopped in for food and to gather my thoughts while I figured out how I was going to get to the city center to the apartment I would be staying at with all of my bags.
So… I ordered French fries. A youthful gal in a dirndl-like costume brought them over to me and I immediately got a call from the apartment owner. He couldn't figure out where the Beer House was at first, but he insisted he would come to pick me up in the next thirty minutes and take me to the apartment.
"I come to get you in my BMW. I come to get you in my BMW and I take you to property. I pick you up outside with my BMW at 5:50pm. I will be outside in my BMW," he ensured me. So… he must be a proud owner of a BMW, I remember thinking. I paid for my French fries and he greeted me. With his BMW, of course.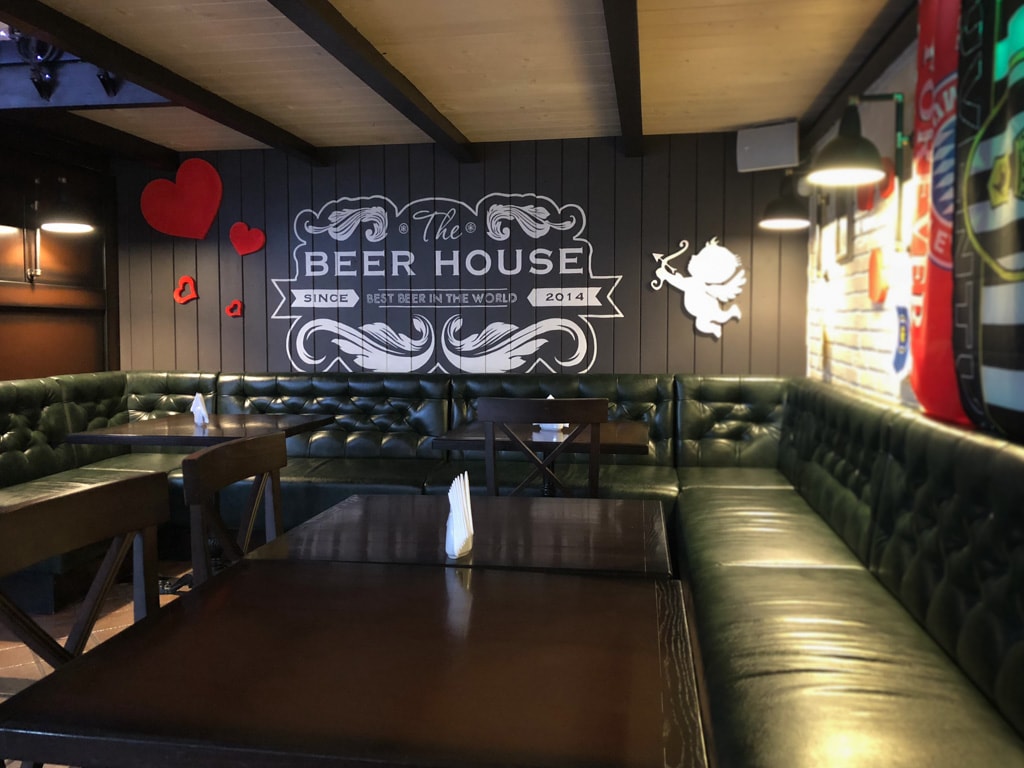 I got into the car and explained what happened and he immediately told me that Hotel Fregat was owned by corrupt criminals. They bought it and don't turn on lights, heating, or anything else and try to make money off of people during warmer months to help pay for their criminal activity. I didn't really ask any questions. But I did say, "That's so sad," or something along those lines to him.
He informed me that if he didn't own so many properties, he would move west to Poland or somewhere to escape Ukraine. He then told me that corruption in Ukraine isn't really a bad thing as it 'brings people together'. "The corruption here makes us like family," he informed me. Well, I'll bet. I kept my mouth shut and had him drop me off at an ATM nearby the apartment so I could take out money to pay him for the flat for the next couple of nights.
Stella Star Apartments (and a Horrible and Violent Property Manager)
Once I had the money, he told me he was going to upgrade my apartment from a one-room to a two-room and charge me the same amount, but he had to do this off of Booking.com. I didn't really understand what he was talking about but just said "Whatever" as I was desperate for a shower and clean space. He then asked when I would be checking out and I told him that I had a train at around 7 or 8pm a few nights later to Kyiv.
He said it would be no problem to leave my stuff in the apartment or for me to stay inside of it while I waiting for my train that evening. He reiterated that I could just check-out before the train and go straight to it without any issue. Famous last words. After he showed me the flat, he left and I soon after received the cancellation from Booking.com, where I was advised (by him) to put that I was staying at another property.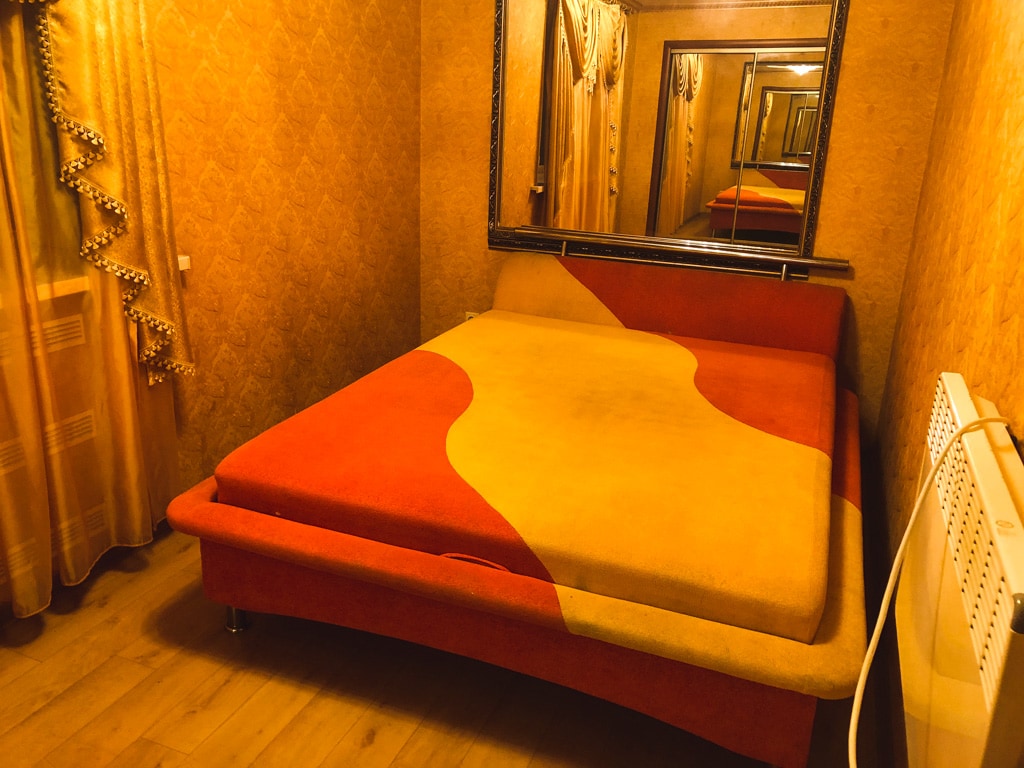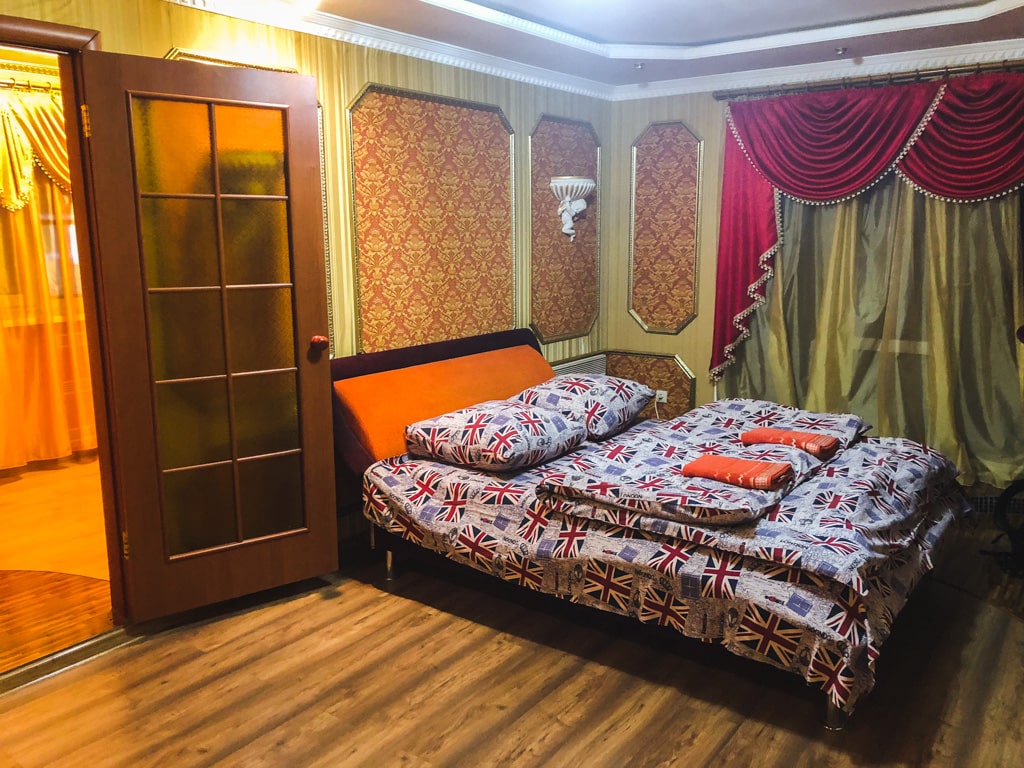 <Orange you glad I was able to find an apartment in Kherson?>
The owner had told me that he is friends with owners of two establishments in the city: John Howard Pub and Kabanos. Kabanos was already on my list, but John Howard Pub wasn't… however, it was right across the street from my flat, so I decided to have dinner there that night. I popped in, ordered borscht sans dill (the picture indicates that they missed the sans dill part… at least on the bread) and chatted with the waitress who spoke such impeccable English and was extremely friendly and customer service focused.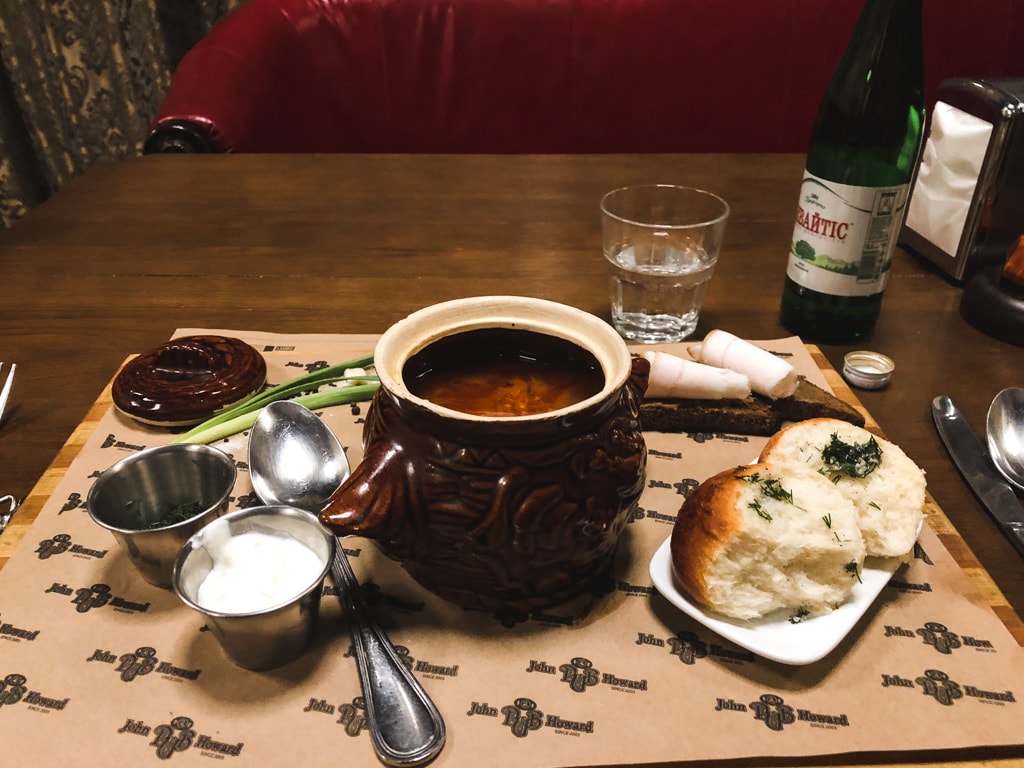 The borscht sucked and was flavorless. I was still hungry. So I ordered some French fries. That did the trick. I went across the street to a Silpo Supermarket to grab some stuff to take back to my apartment for breakfast and lunch as I was planning to forego sightseeing and work all day. I bought a little bit of food and a stuffed animal that resembled my dog. This toy has since been named Bart, for whatever reason. The resemblance is uncanny, but my dog is not really a fan of the diverted attention on a stoic stuffed animal.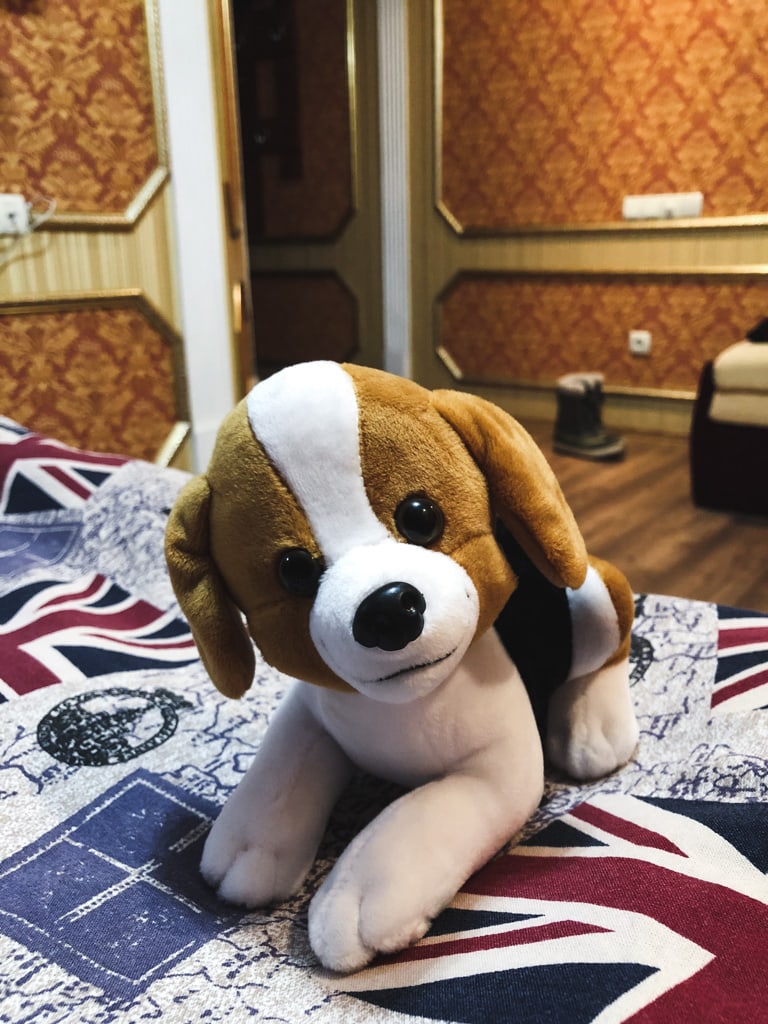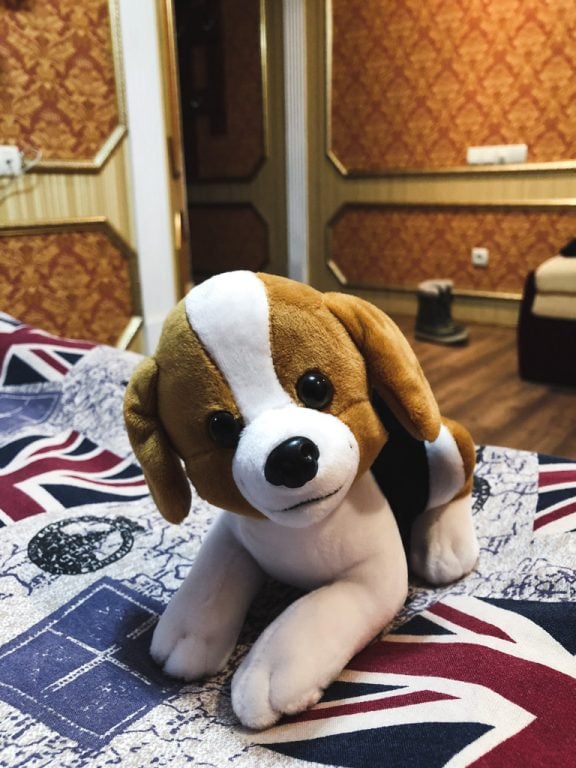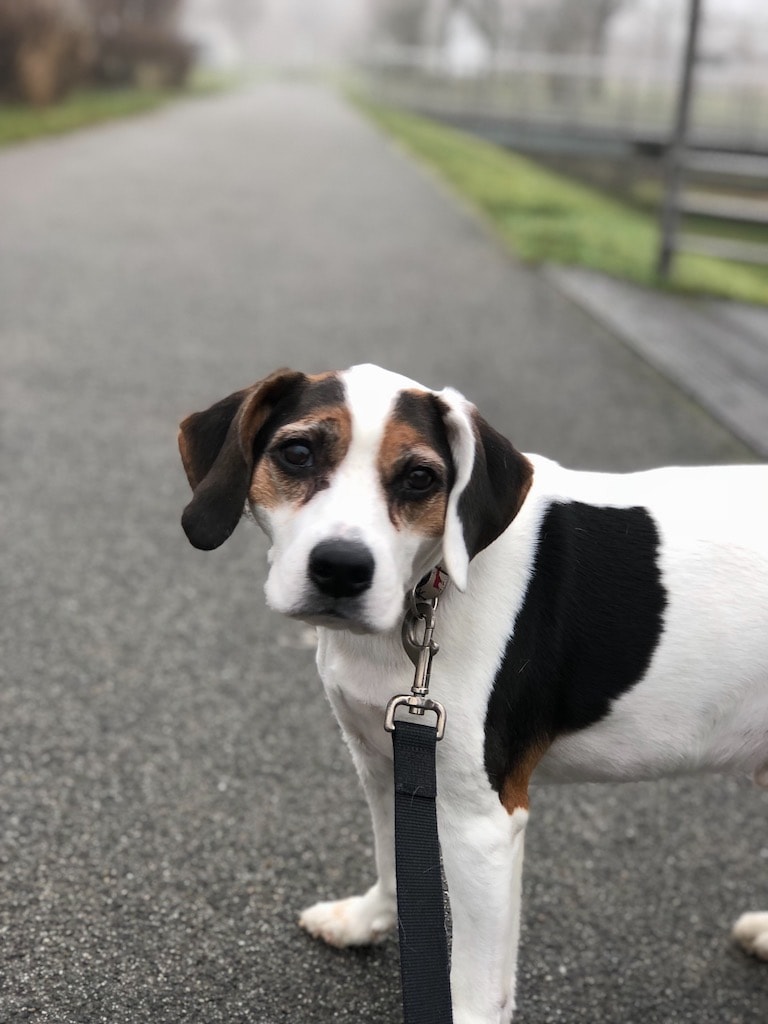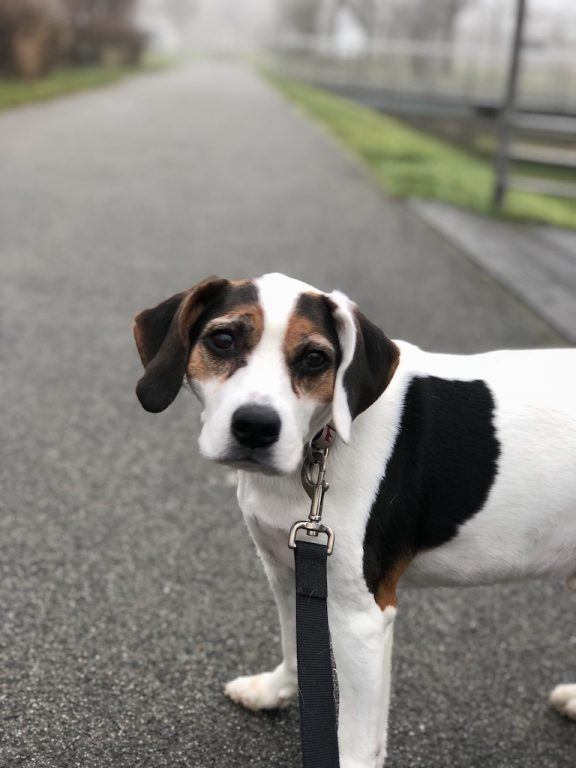 I woke up the next day after a pretty solid night's sleep and feeling refreshed. I made some coffee, oatmeal, and started working. I worked my butt off that entire day and felt refreshed and like I was back on task after being unable to work well in Zaporizhia or Krivoy Rog. When the evening rolled around, I tried taking a shower, which ended up being cold, and headed into the city to Kabanos for a nice dinner.
It was my last proper meal on the road before I headed to Kyiv to meet my friends Nate and Phillipa from Yomadic and I wanted to make it a good one. I mosied down the main avenue of Kherson called Ushakova Avenue and was extremely delighted when I got to the main square where I found "Simply Having a Wonderful Christmas Time" by Paul McCartney blasting over the loudspeakers. Screw the fact that it was February 28.
I'm not really an avid meat eater, but I ordered a steak. With a side of French fries, naturally. The meal was actually really good and I went home satisfied.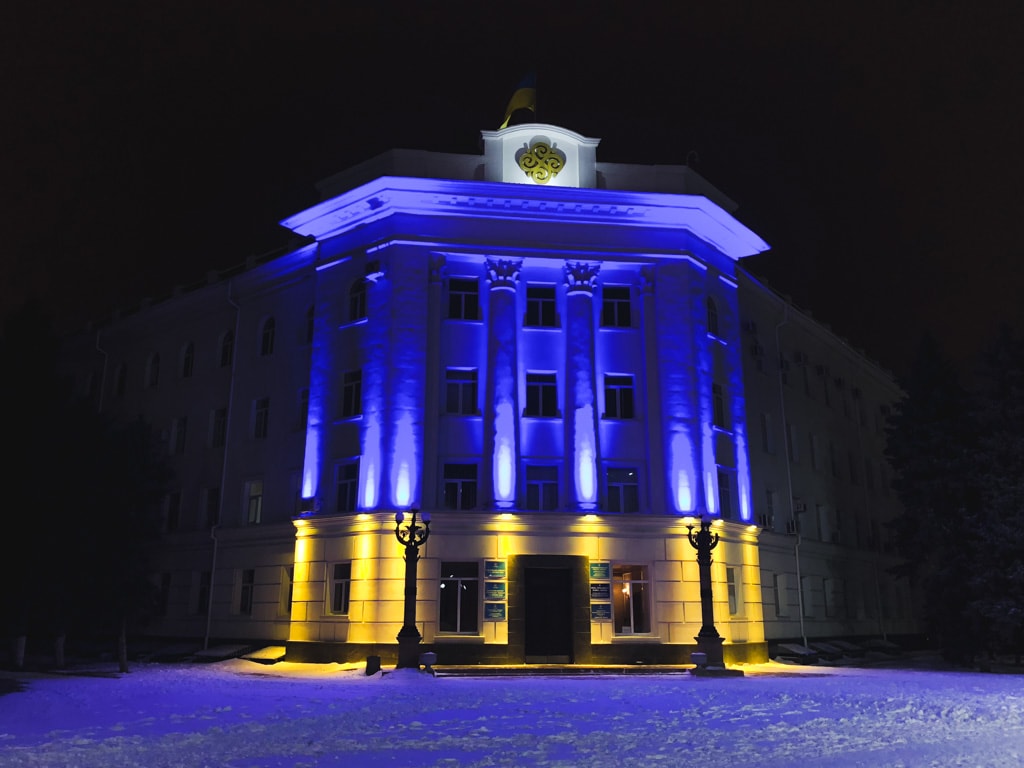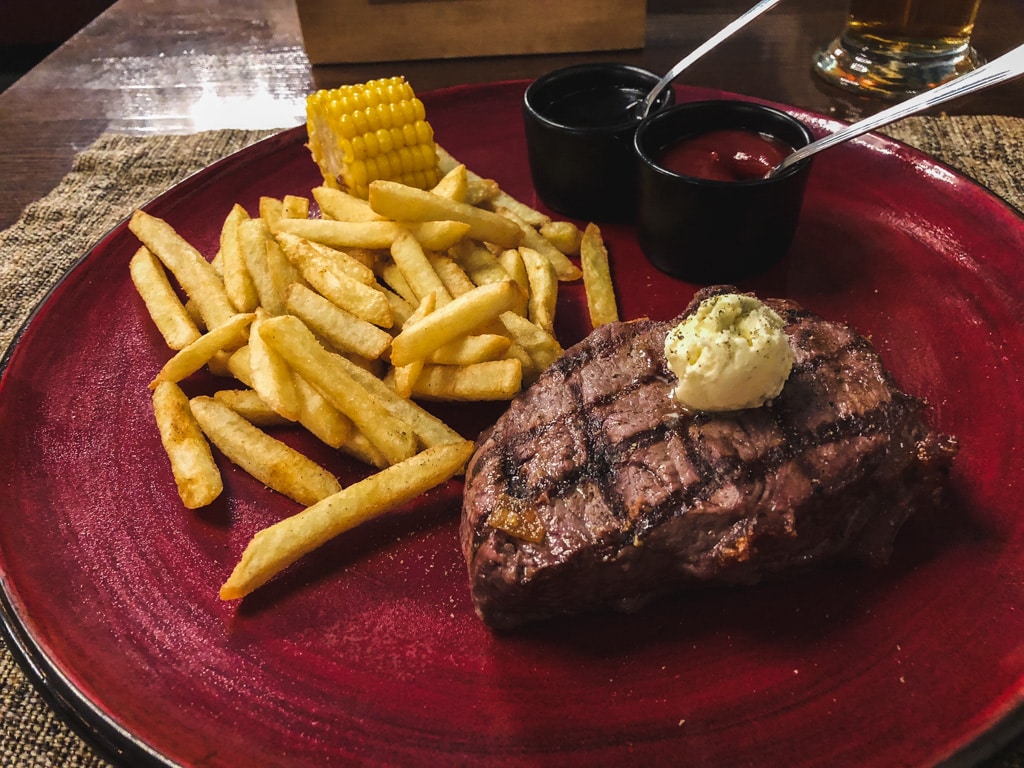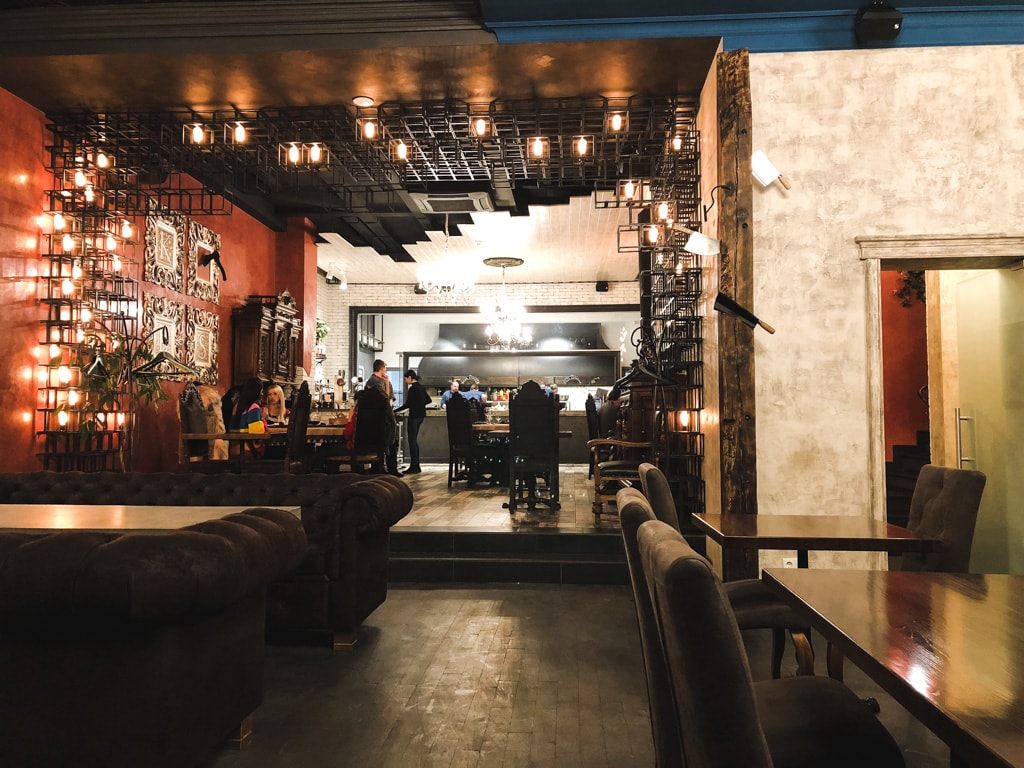 The following day, I woke up rejuvenated again and headed to a local cafe called Dolce Coffee for a flat white to get my day going. The coffee was absolutely delicious and well-made and it started the day off well. After my coffee, I went down to John Howard Pub to work a bit. I was rather gutted that I never got a proper exploration of Kherson, but the weather hadn't cooperated and I was severely behind working. I also had promised the friendly waitress that I would come back to the pub again and say hello (and goodbye!) before leaving Kherson.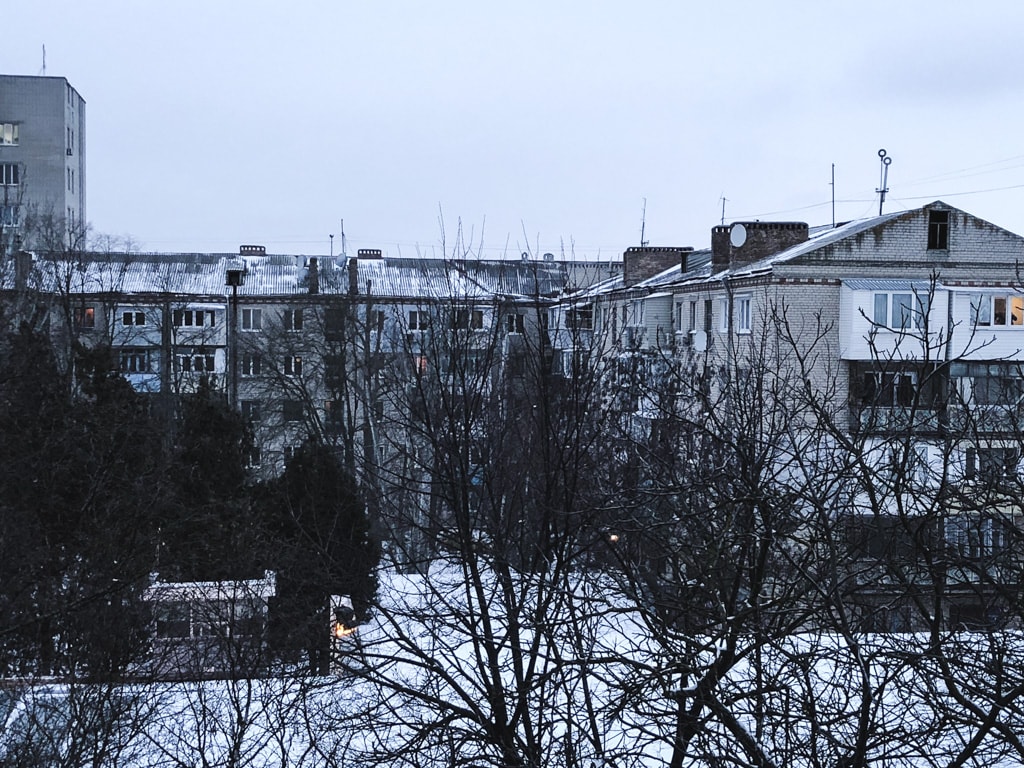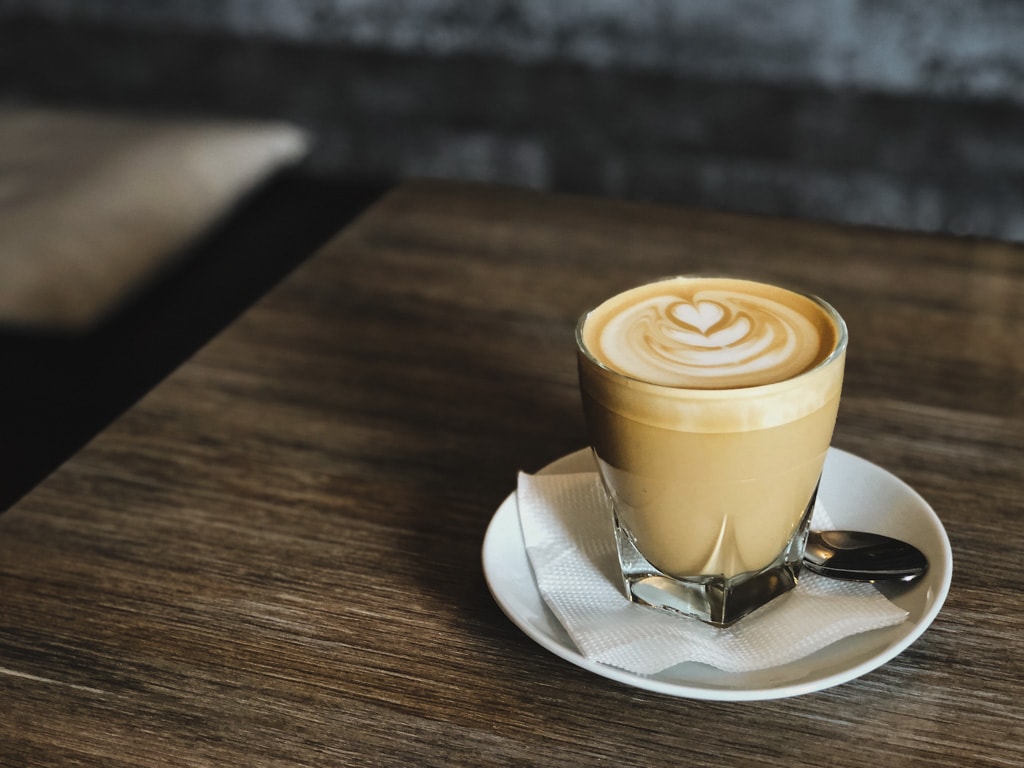 When I arrived at John Howard, I ordered French fries and a beer. I answered emails and started nimbly working on a post I was writing for a new Air Baltic route to Almaty. The day seemed to be going fairly well until I got a phone call.
The BMW-owning Property Manager
I answered and it was the guy who I was renting the apartment from violently screaming at me. I could barely make out what he was saying, but he was screaming and telling me to grab my stuff within fifteen minutes from the apartment or I would be locked out and not able to get it. He was so condescending and crude that I started freaking out. I told the waitress what happened and she closed off the section I was sitting in and let me run to the place that was five minutes away to grab things as quickly as I could and run back.
I stepped outside and could hardly see as there was a blizzard taking place. I attempted to not fall on the slick sidewalks but I managed to grab my things and throw them all in bags and get back to the pub in a timely fashion. I began messaging the landlord and asking what the hell had happened. He started calling me names and told me that he never said I could stay until my train that evening. He went from stating that there was a standard check-out time of 1200 all across the world and no apartments and hotels varied from that time to later saying it was 1300.
He told me he was going to come after me for money and would demand it immediately. It was all super sketchy, especially considering he made me cancel the reservation with Booking.com… which kind of made the entire transaction invalid in my opinion. He made fun of me for not being able to communicate in Russian and kept writing emoticons of pigs on text messages. It was completely ridiculous… and very scary as he knew my location.
But the way he was screaming at me and threatening me on the phone made me completely fearful, especially in a city where 'everyone seems to know everyone' and, in his words, they bond like family because of corruption.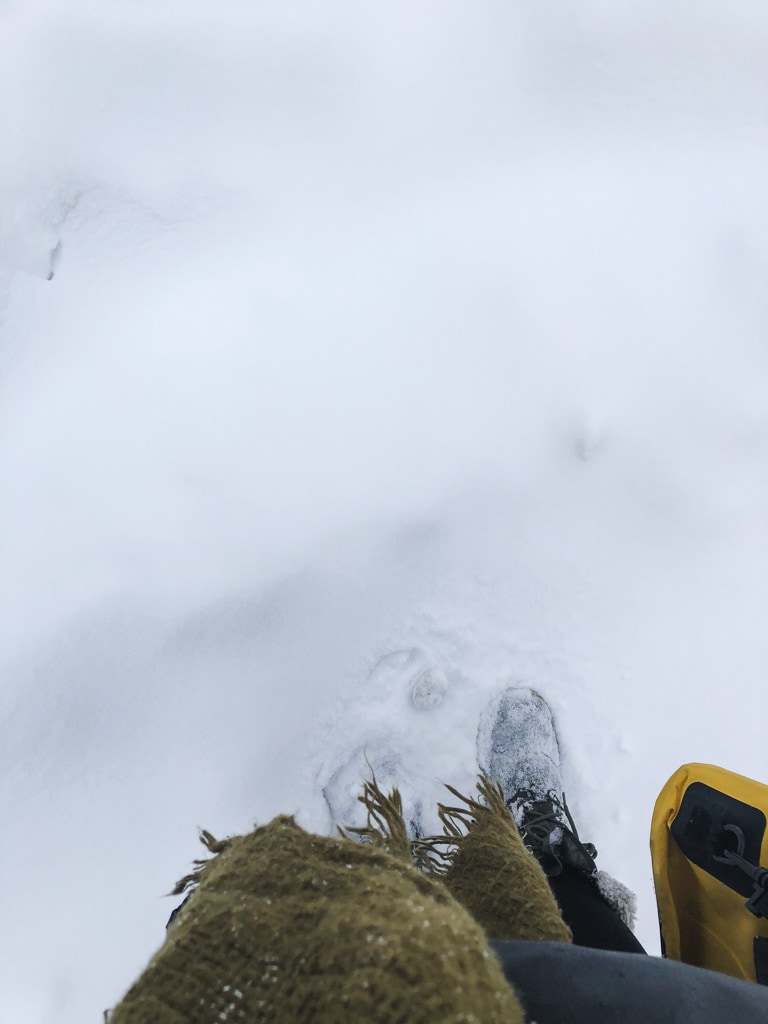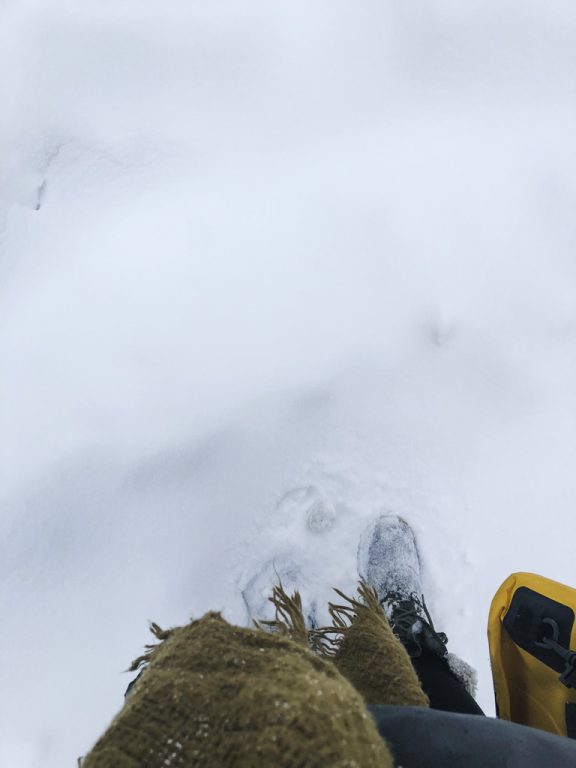 Once I made it back to the pub and told the waitress about it, she told me if I ever came back to Kherson, she knew a great guy that ran an apartment company that I could stay with. She handed me a business card for Stella Star Apartments- the exact apartments I was staying with. I informed her that he was the guy and she was disgusted by the entire ordeal. I passed on taking the business card.
If you ever come across the guy, his name is Andrey Bondarchuck. His Facebook profile is here. His emails are andreybondarchuck77@gmail.com. He runs a Facebook group that you can view here. He also runs this Facebook page for Stella Star. He is also really active on websites and groups that exploit Ukrainian women for marriage to western men. He loves being able to lure people in as they will stay in his apartments. A true man of class, I tell ya.
I told the waitress that if he came in (he knew where I was), so not let him in the back room where I was. I was shaking and almost in tears. She closed a curtain around me and told me she wouldn't let him back in the area. Eventually, the text messages stopped. I reported him to Booking.com (which did nothing as usual) and he apparently tried reporting me to them for whatever I could have possibly done.
I counted down the minutes until I could get out of Kherson, a city that I had earlier counted down the minutes on a train until my arrival in the city I had long anticipated visiting. The text below is a small glimpse of what kept happening. I left his phone number on for good measure.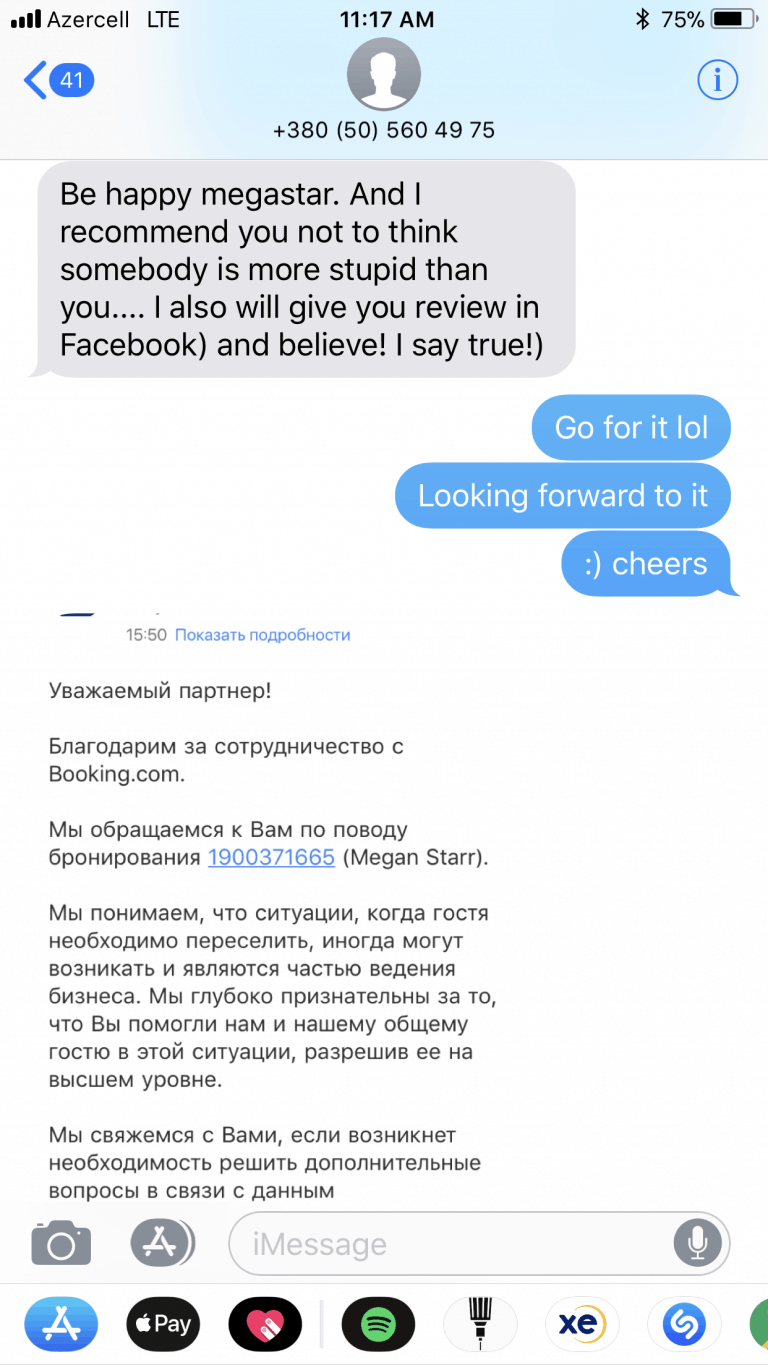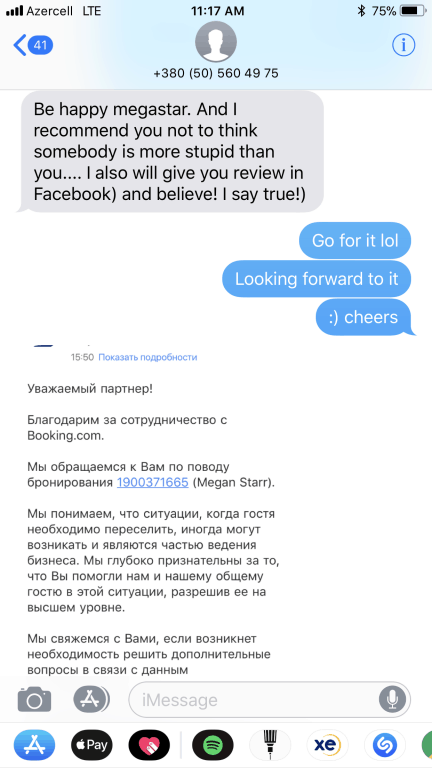 The waitress convinced me to take some food with me to the train as it was an overnighter to Kyiv. She had the kitchen make me a hot sandwich. And, of course, a side of French fries. I grabbed the food and ran with all of my belongings to my taxi and never looked back.
The snow made the journey to my train long and a bit treacherous, but I finally made it to the station and hopped aboard the train to my cabin. I felt a sigh of relief pass over me as I knew he couldn't come after me once I was on the train. I ordered some tea and nervously devoured my French fries. I slept horribly that night throughout panic attacks and the incessant heat that always exists on Soviet-style trains.
Back to Kyiv
I arrived in Kyiv the next morning and darted for Podil. I figured I could go to First Point, my favorite cafe in Kyiv. The cafe wasn't yet open, so I wandered around in the super deep snow. Once it had opened, I paraded through the snow to get there for a few cups of coffee and to work a bit. I eventually left and grabbed mediocre sushi at a restaurant that specializes in fifteen cuisines. Once I left the restaurant to walk to the metro to meet my friends, I realized I had forgotten to order French fries.
I never thought to order French fries with my meals for the remainder of my time in Kyiv and Ukraine.
It was good to be back in my favorite city.
*Feel free to leave comments, good or bad, but leave out the curse words or violent threats or they will be deleted. All death threats and ill wishes can be sent via my contact form seen in the menu above (where I will then roll my eyes, laugh a little, feel sorry for you, and delete).