The Åland Islands have been on my list for several years and for no specific reason why except that they look peaceful and like the ideal refuge from city life.
There was also this uniqueness about them that left me fascinated and I would often take to Google to randomly research the islands and their history. I finally had my chance to visit Åland this January and loved every minute of it!
The experience sent me on an overnight ferry to the enchanting islands and I was so happy to spend a few days exploring them. My trip had many highlights, but one of my absolute favorite things we did was make a stop on the island of Eckerö to visit the fishing harbor of Käringsund. It is essential to put it on your Åland Islands itinerary!
Käringsund is not large and is known to be a hot summer destination for locals, but I found it to be absolutely perfect during the winter months, as well (and even during the Baltic storm that hit us that day!)
About Käringsund on Eckerö
Käringsund is a resort area on the western side of the island of Eckerö in the Åland Islands.
While the area isn't housing a lot of permanent residents, locals and tourists flock to the area during the summer for a family vacation or during other times of the year to the well-known conference center that exists at the resort.
Käringsund may look very familiar to Swedes and other Scandinavians as it was the filming location for a lot of Astrid Lindgren's "Vi på Saltkråken", a television series (called "Seacrow Island" in English) from the 1960s that was immensely popular in the Nordics.
The Käringsund fishing harbor or hamlet was the setting for most scenes filmed for Vi på Saltkråken. The harbor consists of fifty-some boathouses, giving a glimpse into the fishing industry's history and its significant importance to local Ålanders.
From a visitor's standpoint, I found this harbor to be one of the most beautiful sights in all of the Åland Islands and I was so happy we stopped off for a bit there before we went to the nearby curling hall to try our hands at the winter sport.
We had Käringsund all to ourselves that day as we dodged heavy winds and an impending Baltic storm that would later reroute our ferry back to Helsinki over to Tallinn, Estonia.
When there, it was icy and the water was frozen over in most parts of the harbor. It was cold and windy, but I can only imagine how green and pristine the area is during the summer months. It truly is quintessential Scandinavia, in my opinion.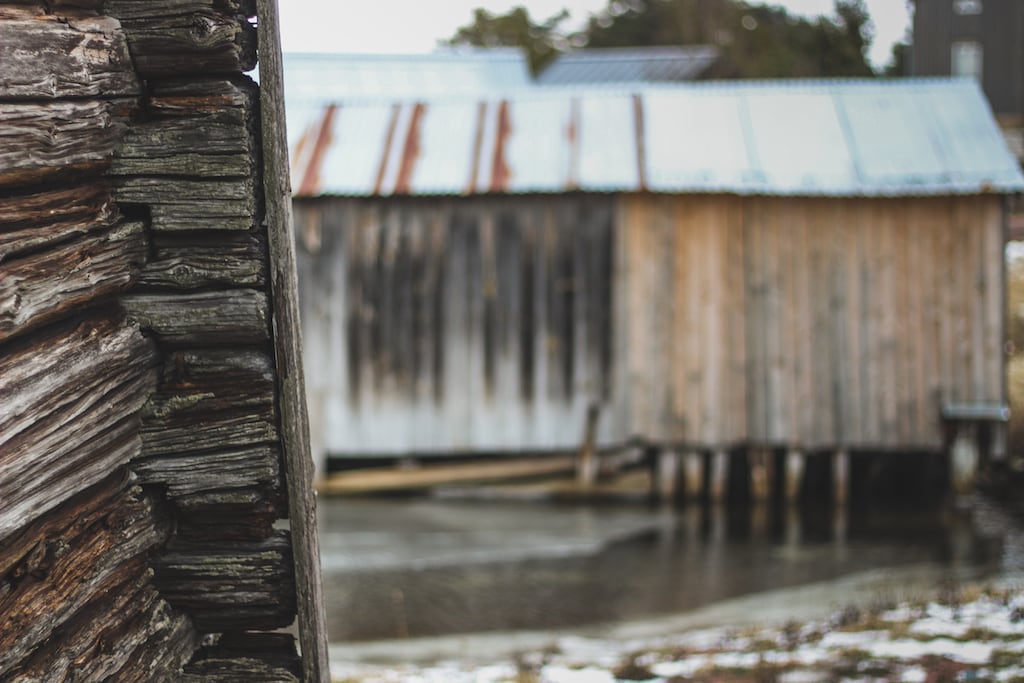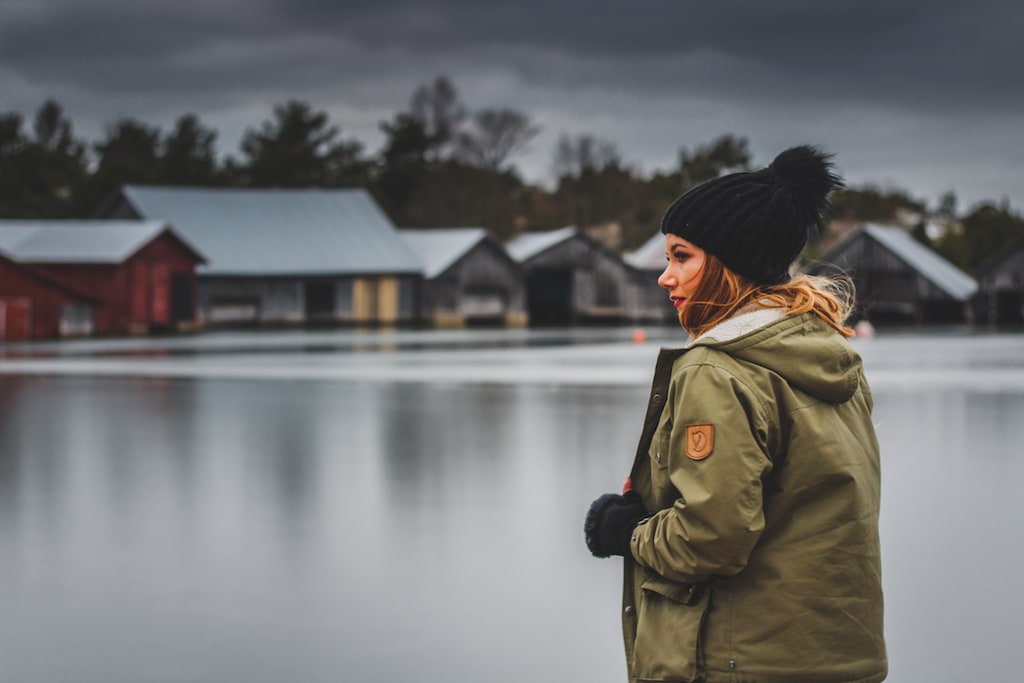 Ida from Adaras looking stunning as always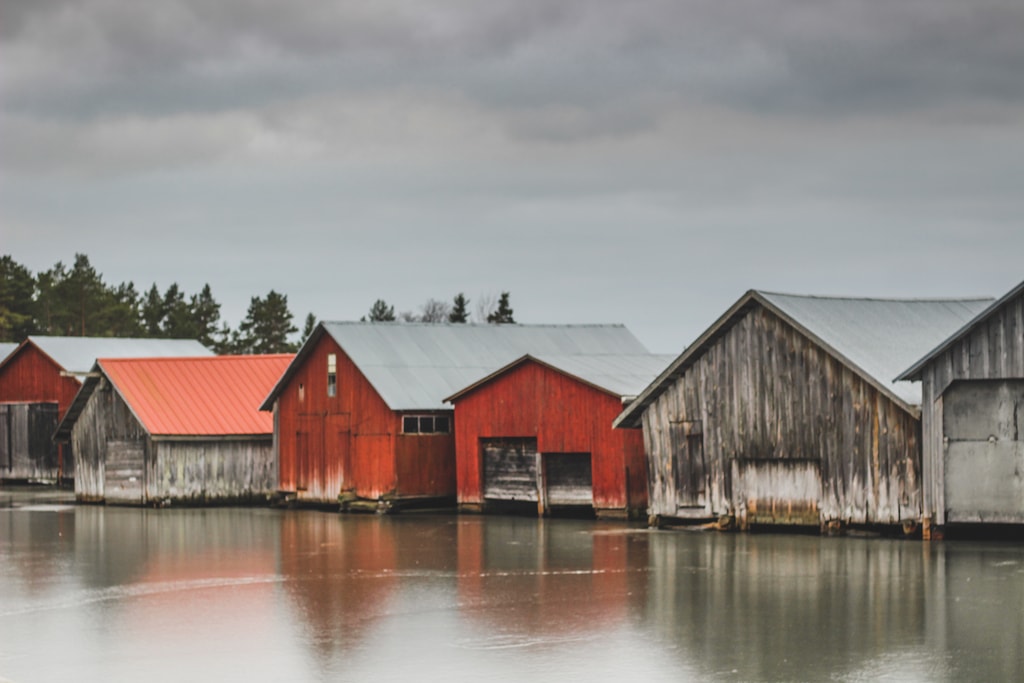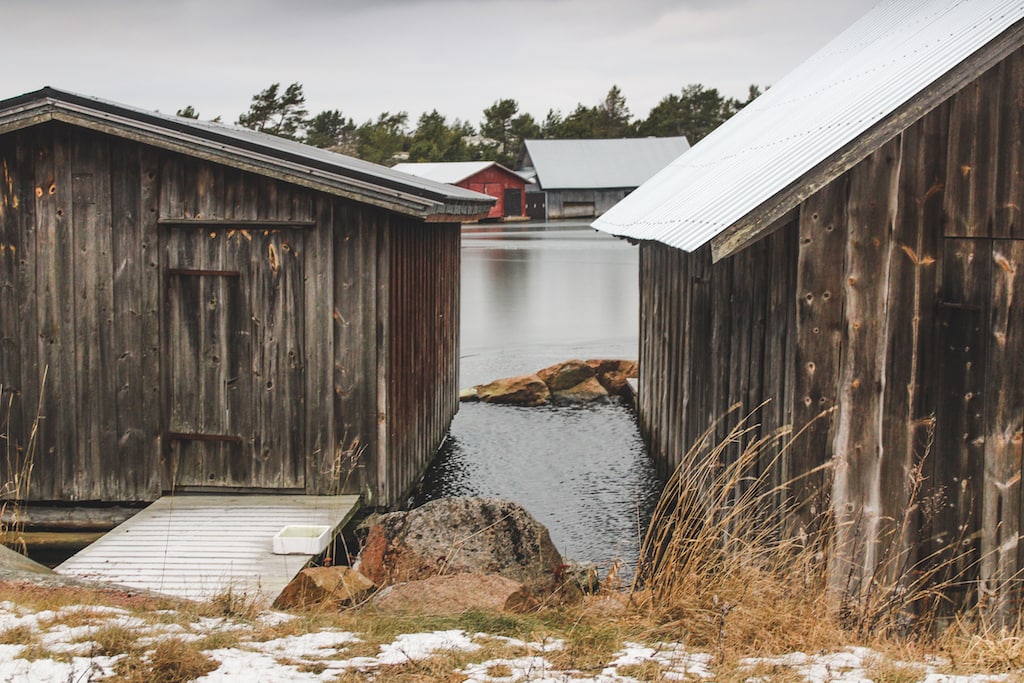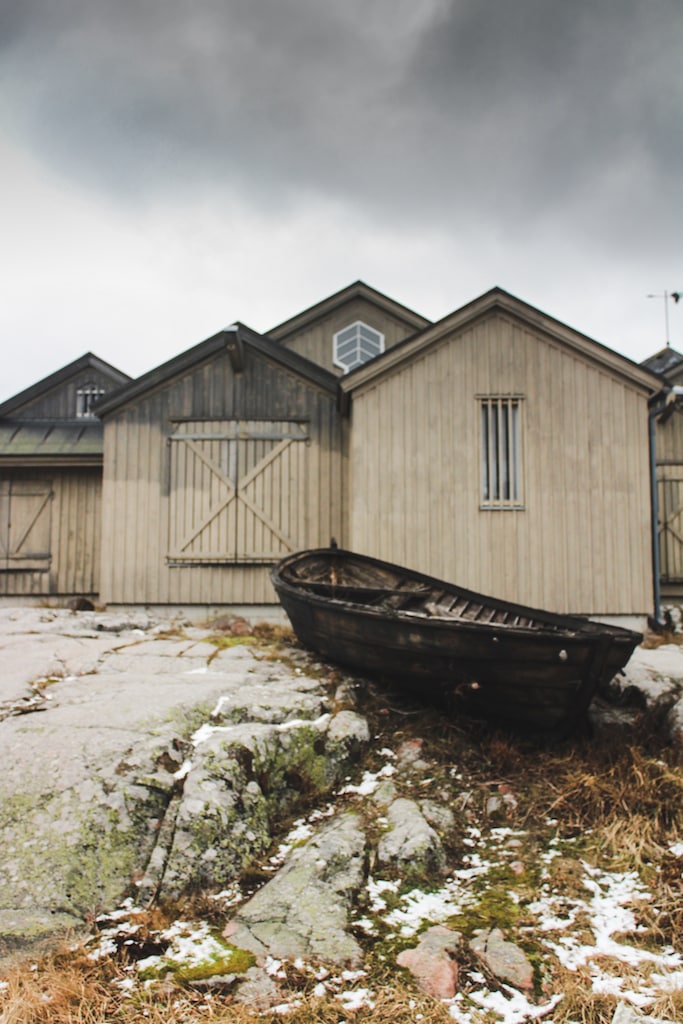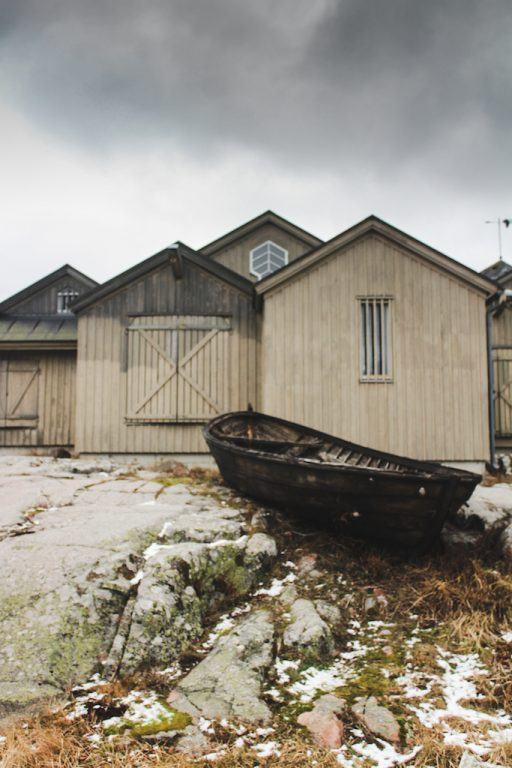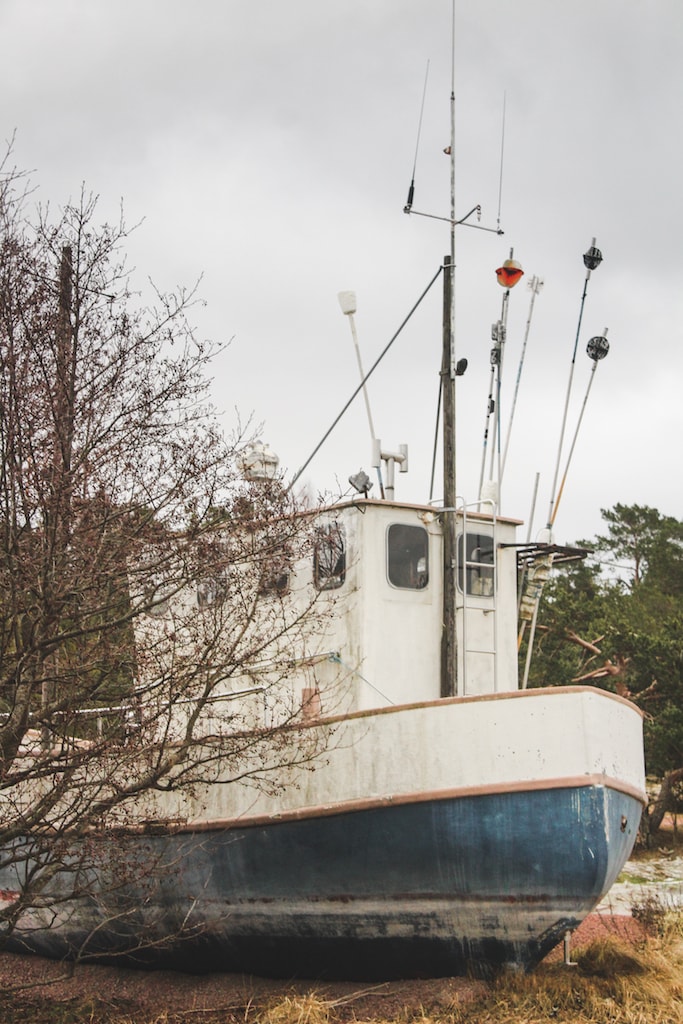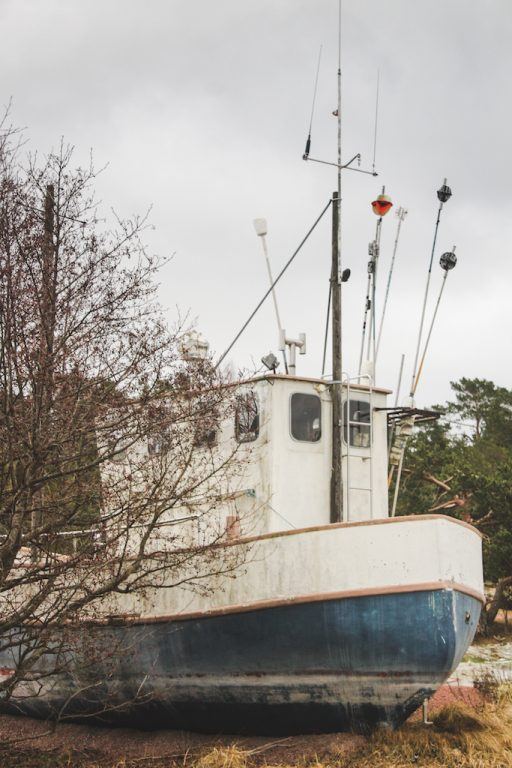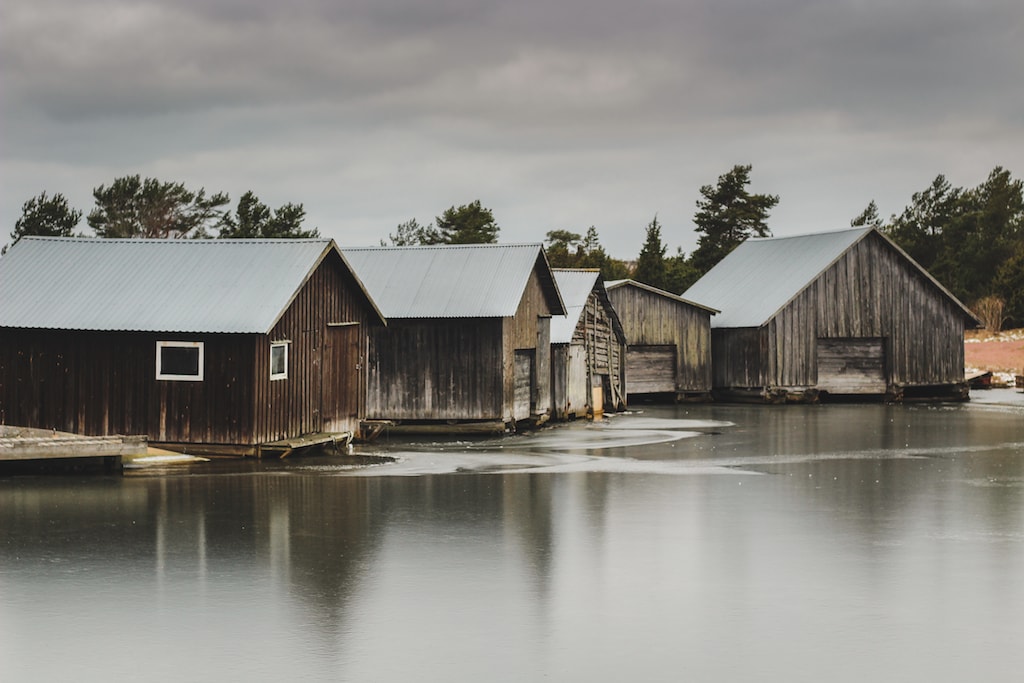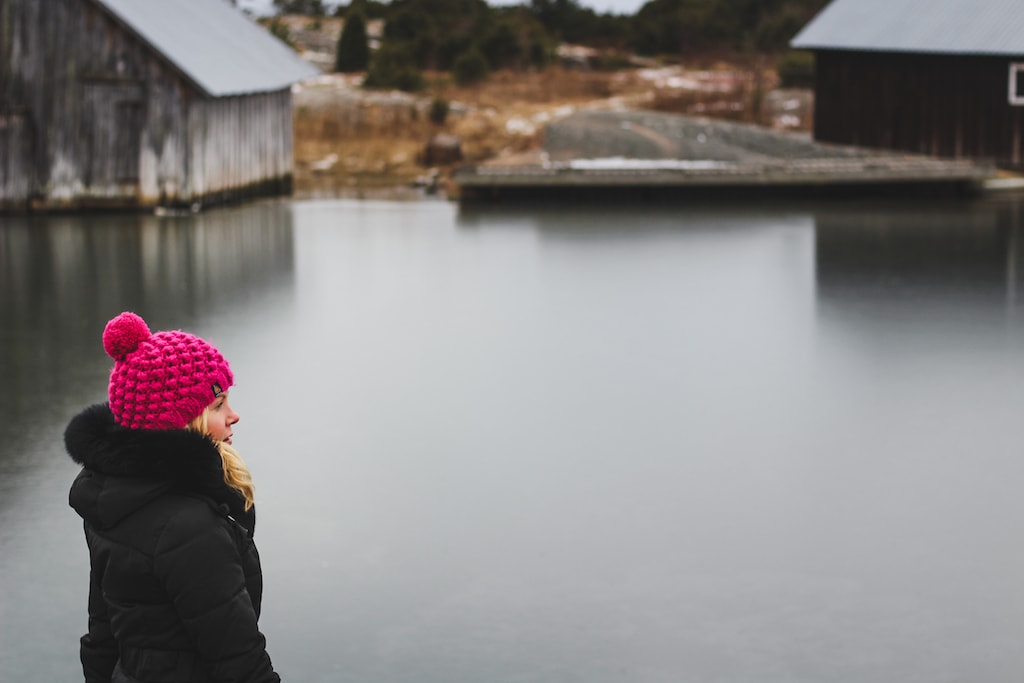 Super traveler and sweetheart, Anna-Katri from Adalmina's Adventures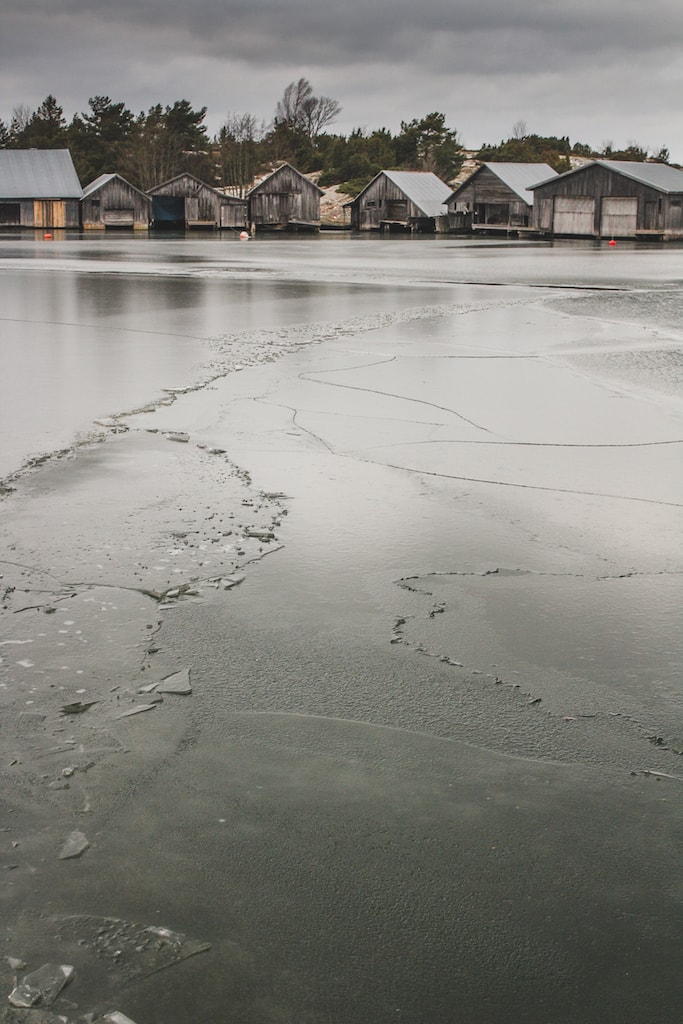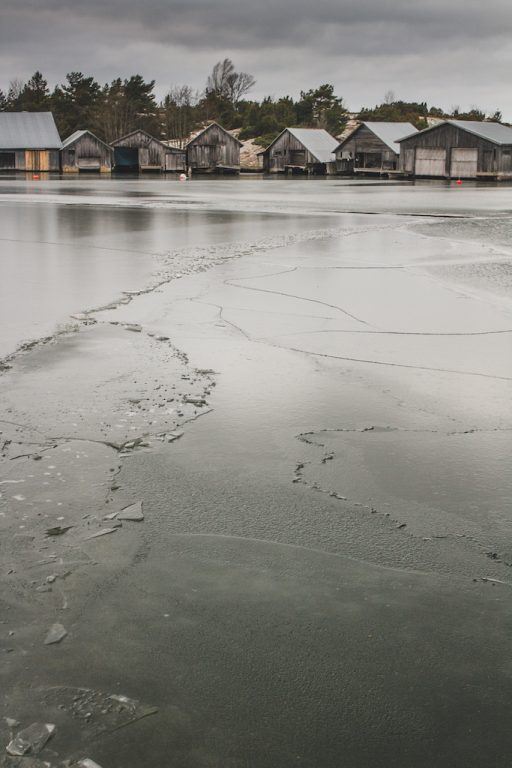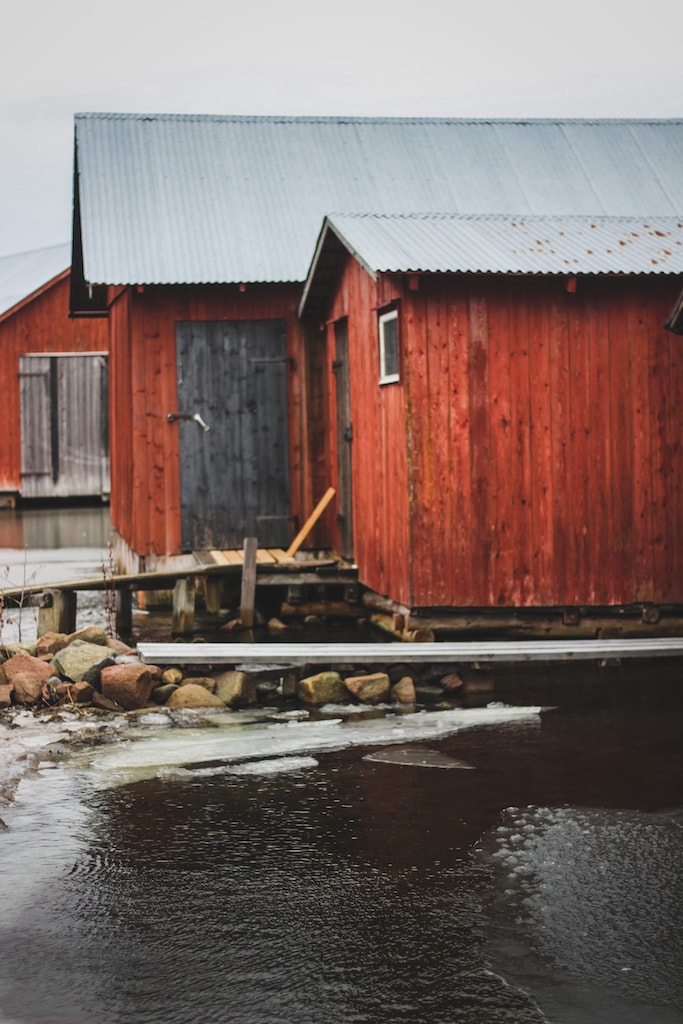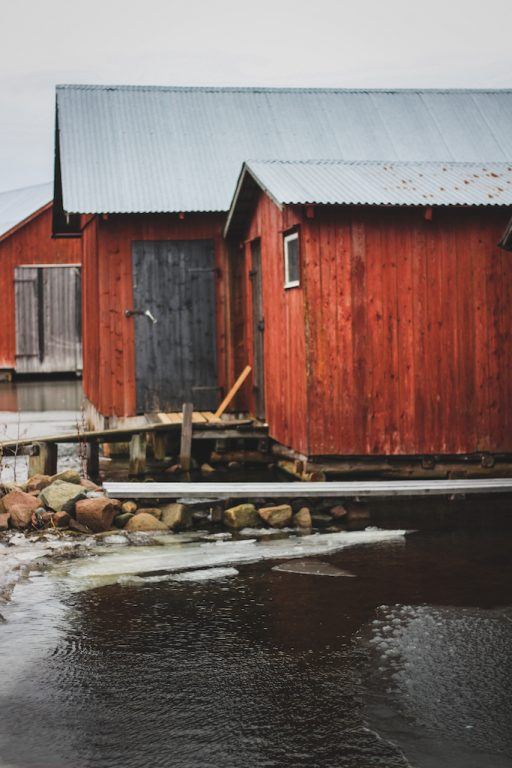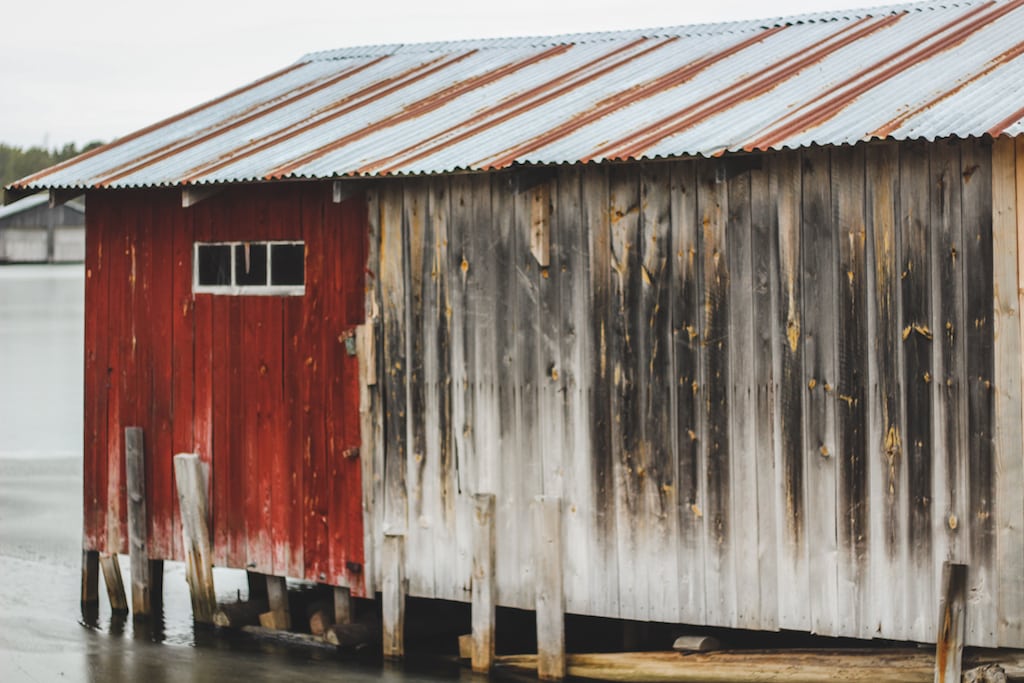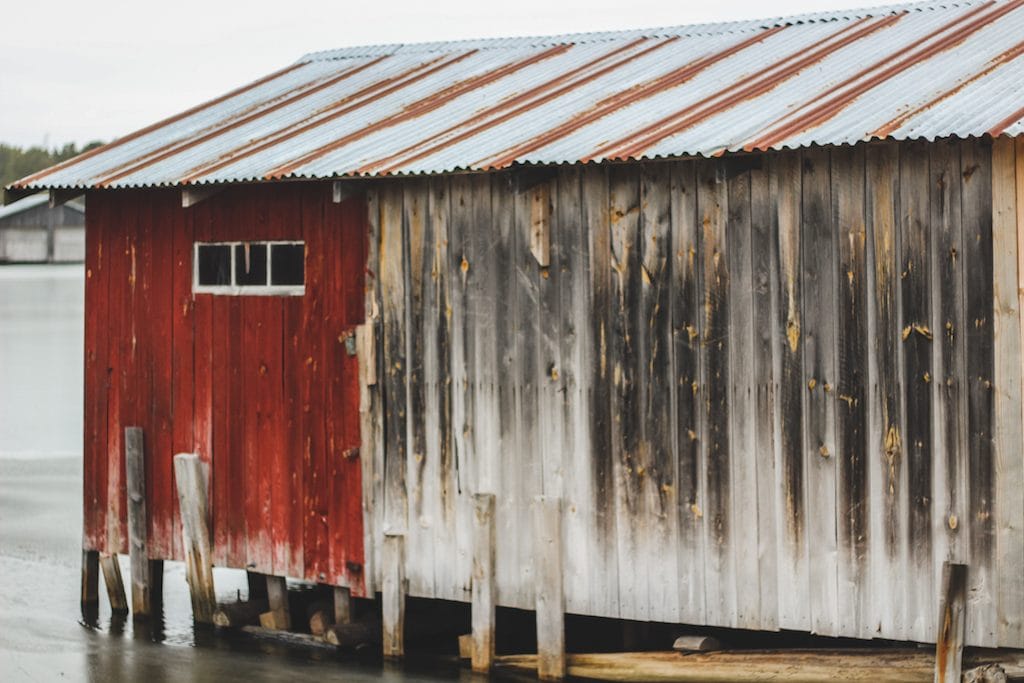 How to Get to Eckerö
I think the biggest question is… how to get to the Åland Islands? Once you're in Åland, getting to Eckerö and the western side where Käringsund is located is fairly easy, especially if you have a driver or rental car.
Getting to the Åland Islands by boat or ferry is actually how I went and how I would recommend to others to go there. Below are the different options available for traveling to the Åland Islands:
Traveling to Åland Islands by Air
You can get to Mariehamn, the main city on the islands, by flight via Stockholm, Turku, or Helsinki. NextJet connects Stockholm and Turku and Finnair connects Mariehamn to Helsinki.
Traveling to Åland Islands by Boat
Getting to Åland by boat is easily done via five different companies that specialize in ferry services from various locations. My boat there came from Helsinki into Mariehamn on a Viking Line boat.
The boat was smooth and had a really delicious buffet (including drinks!) We boarded in the evening and arrived at 4am. Viking Line also connects the Åland Islands to Stockholm and Turku. It is very easy to get from the Stockholm Archipelago to the Åland Islands and beyond.
The Åland Islands can also be reached from Grisslehamn, Sweden via the Eckerö Line. Finnlines connects Kapellskär, Långnäs, and Naantali. And Tallink Silja connects Åland to Stockholm, Turku, Helsinki, and Tallinn.
On our way out of Åland, we had to take a boat to Tallinn as our first ferry was canceled due to the storm hitting the Baltics. It was a really great experience despite many aboard being ill from the awful waves.
Getting Around the Åland Islands
To find out more information about getting around once on the islands, check out this information from Visit Åland.
What to do in and around Käringsund Fishing Harbor
As I was visiting with my group during winter, I can not personally recommend any activities there aside from photographing the stillness of the scenery that time of year.
During summer, on the other hand, activities are aplenty at Käringsund. There is an exhibit at Gastropub Bodegan that lasts all summer specializing in the Åland Islands lifestyle.
You can also take a boat out to the lighthouse where you may have a chance to spot a seal. There is also a hunting and fishing museum located at Käringsund as well as a safari that lets children observe and learn about deer, wild boar, and ostriches.
Käringsund really is an ideal spot for a family vacation for Ålanders and those visiting from abroad.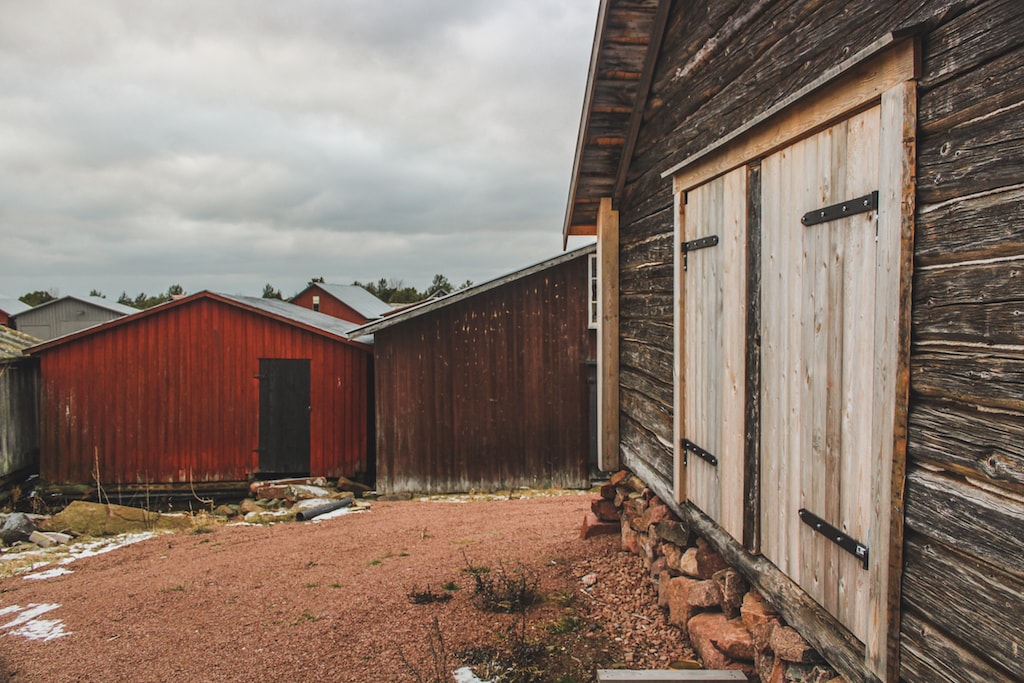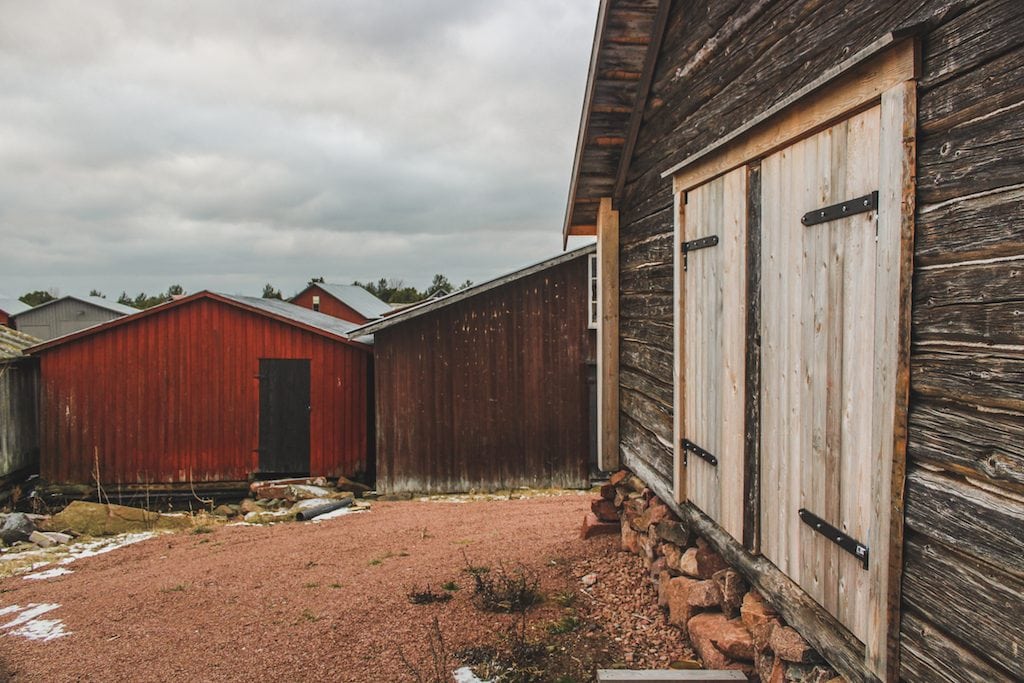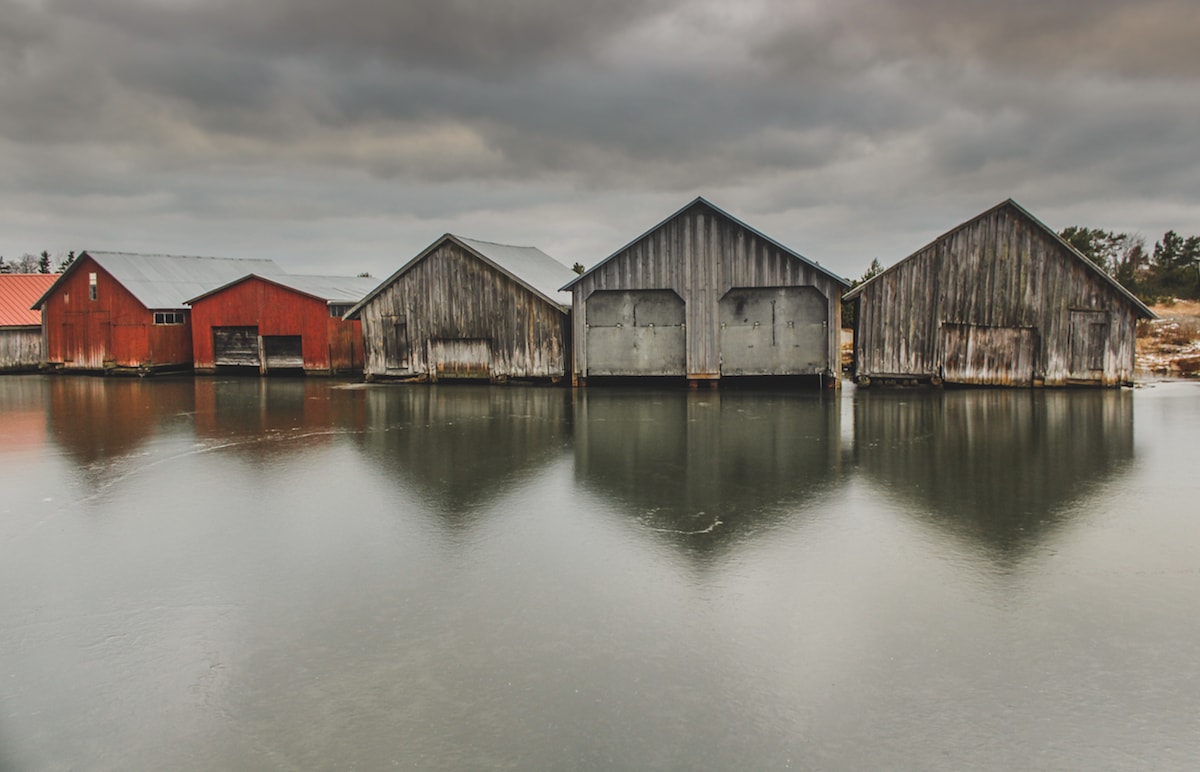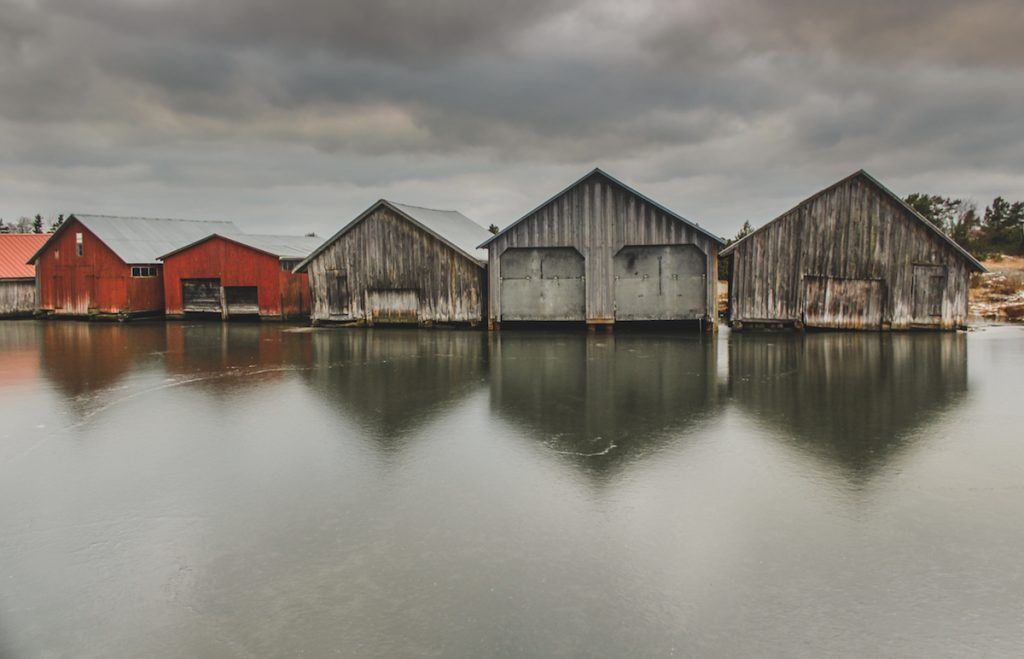 The Best Time to Visit Käringsund
I think the pretty obvious answer to this is summer. The area lights up with locals and travelers who are eager to sunbathe, enjoy a cold ice cream, and take part in the many activities and sea fun to be had at Käringsund.
We were obviously not there in summer, but instead in winter. I actually really loved that we had the entire area to ourselves. There was actually not another soul.
Despite the wind that day, it was pretty amazing to walk around and enjoy the scenery and frozen sea. However, I still reckon that Käringsund is best visited during the summer or warmer months.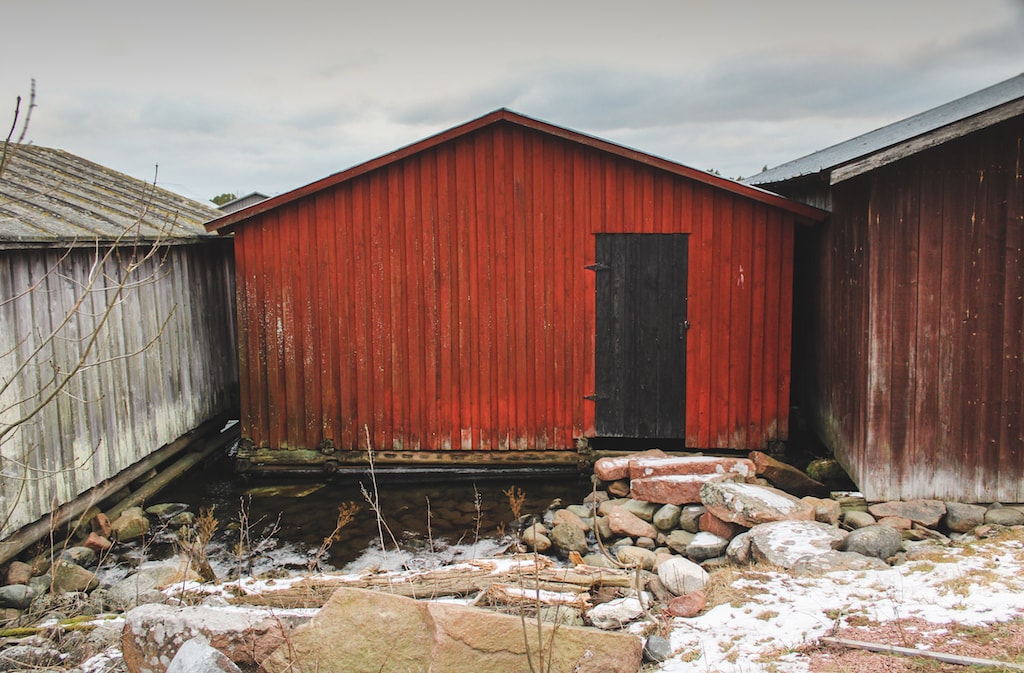 Where to Stay in Käringsund
You can stay out at Käringsund, or somewhere else in the Åland Islands. We stayed in Godby at a place called Stalldalen. I highly, highly recommend staying here if you have a car and means to driving around independently.
It was right on the lake, in the forest, and served a delicious breakfast each morning. The pension also has a brewery nearby which had incredible beer and food (and a really sizeable portfolio for the beer- which was extremely impressive).
If you are genuinely looking to stay out at Käringsund, you can look for options at Käringsund Resort to Käringsund Resort Camping. All options are family-friendly and offer food options.
I highly recommend a visit out to Käringsund and its fishing village if you're visiting the Åland Islands. So many tourists only consider visiting Mariehamn and the surrounding area, but some of my trip highlights took place on Eckerö and I can't wait to get back and explore more of this unspoiled, lesser-known island.
*I was a guest of Visit Åland in collaboration with NBE when I was visiting the Åland Islands. Special thanks to Stalldalen for hosting us when there- definitely a first-class experience!
You Might Also Enjoy:
Things to Do in Ruka and Kuusamo, Finland in Winter
My Experience on a Hurtigruten Cruise in Norway
Nuuksio National Park: A Winter Day Trip from Helsinki
Things That Surprised Me About the Lofoten Islands, Norway
Svalbard Travel Tips: Where Polar Bears Outnumber People
30 Things to Know Before Traveling to the Faroe Islands
Exploring the History of the Statue of Liberty in Visnes, Norway