Twenty to thirty minutes away from Riga's central train station is Jurmala, the largest seaside resort area in Latvia, as well as the Baltics. I had actually heard a lot about Jurmala before visiting, which actually led me to not have the desire to visit the place as much as other areas in the country (my mind works in a very twisted way).
And then my friend, Nicole, who lives in Riga, asked me if I'd like to head there for a short afternoon trip the day before I was leaving Latvia and I just couldn't turn the opportunity down. Besides, the place wouldn't be flocking with tourists as it would have been in the summer. It was barely above freezing in Latvia when I was there. Here is a short recap from my time in Jurmala in winter.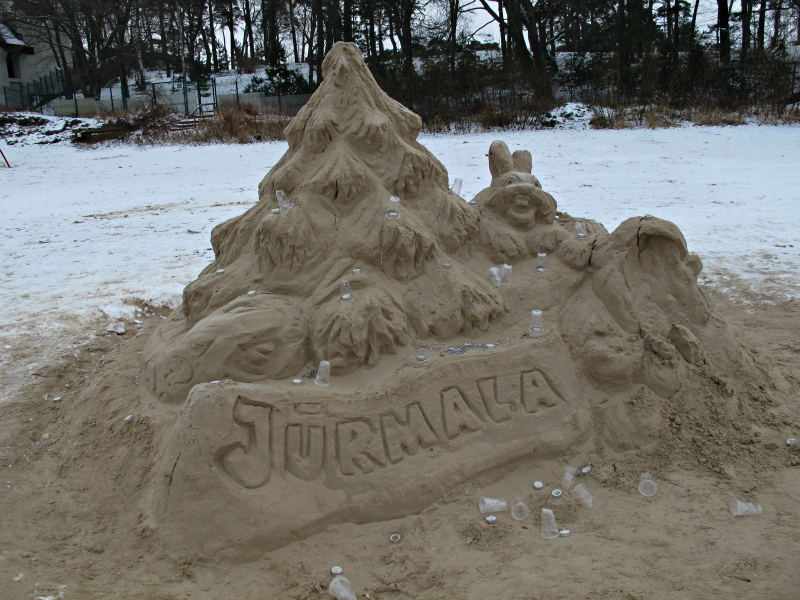 Once arriving in Majori, we began walking to the shore and as we were walking down the main street that is swarming with people in the summers, we found very few others in sight. This was a huge relief as I really loathe crowded places (I'm semi-claustrophobic).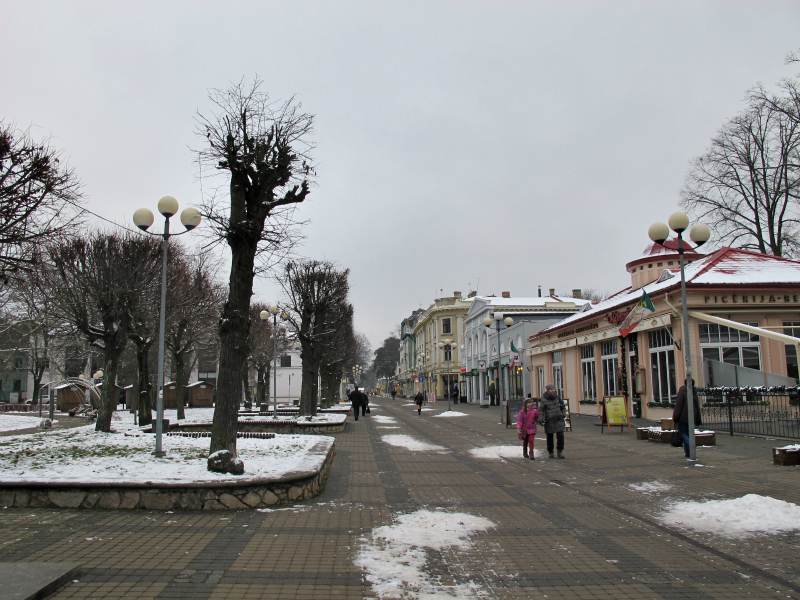 Jurmala is a place of various architectural styles. It was actually rather interesting to admire this because it was like seeing layers to the place and each and every building told its own story. I remember repeatedly telling Nicole, "I have never seen anything like this." And I hadn't. Apparently, the architecture is a mixture of Classicism, Art Nouveau, Art Romanticism, and Functionalism. But every building had its own "Latvian" twist on each type that made it so special to the area, I felt. Jurmala is also home to over 4,000 historic buildings. I knew I needed more than just one afternoon to see proof of that!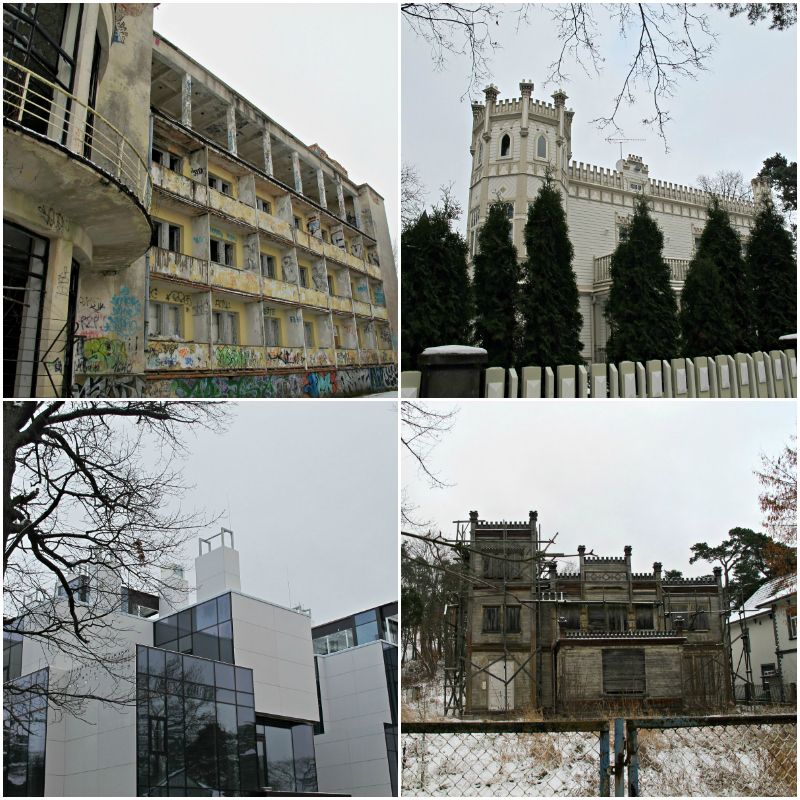 Another known fact about Jurmala is that the area is recognized as being a spa and wellness destination. And a very affordable one at that. Jurmala's spa town reputation is nothing new…it actually dates back to the 18th century. In 2012, Jurmala received the title of European Destination of Excellence in Aquatic Tourism. To read more about the extensive lists of spa and wellness services that are currently offered in Jurmala.
Our day wrapped up by enjoying a late lunch of rice pilaf at a cheesy (but delicious) Uzbek restaurant on Majori's main drag. Unfortunately, during the winter season, not many places are open for dining.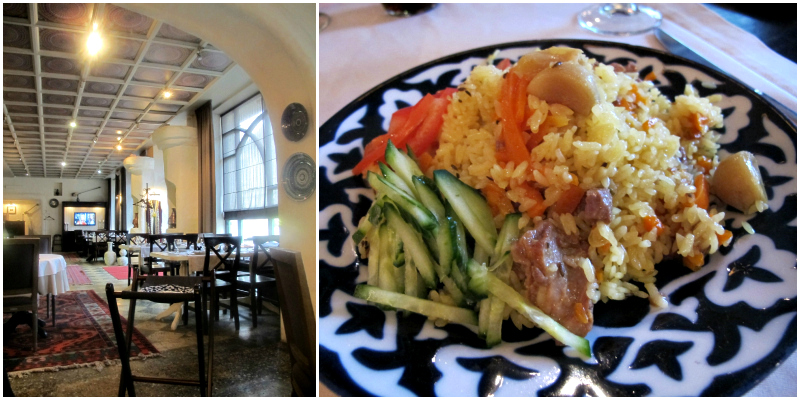 My time in Jurmala was short-lived, but if I had had more time there (in the winter or summer), I would have certainly checked out:
1) Ķemeri National Park: This area possesses some rare natural resources that are unique to the region. The natural sulfur springs at Ķemeri are home to gypsum and soil bacterias that are used in many of the region's spa treatment centers.
2) I'd have lunch at the Baltic Beach Hotel. This hotel, built by the Soviets, was a resort for the Communist Elite, including Leonid Brezhnev and Nikita Khrushchev. While it was not called the Baltic Beach Hotel at the time, it did not look too much different than it does today (a touch of paint can only do so much to a place).
What it used to look like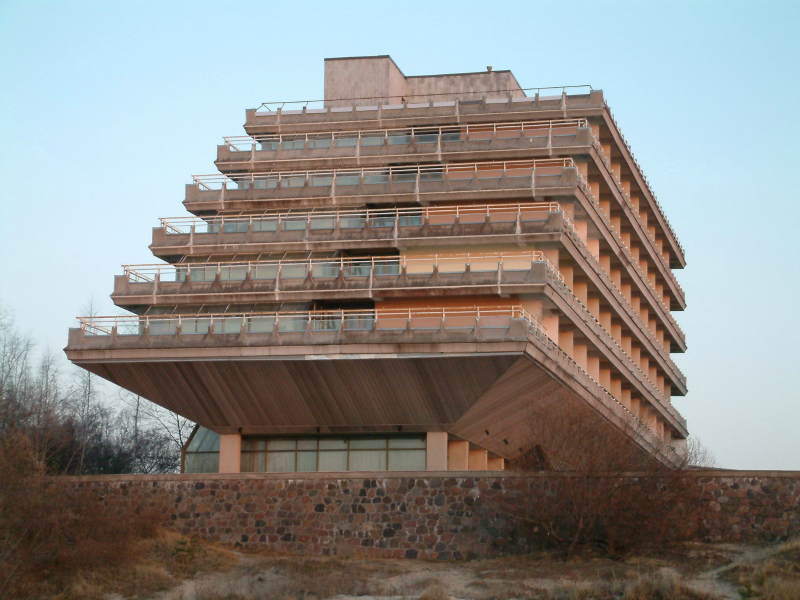 What I saw when I was there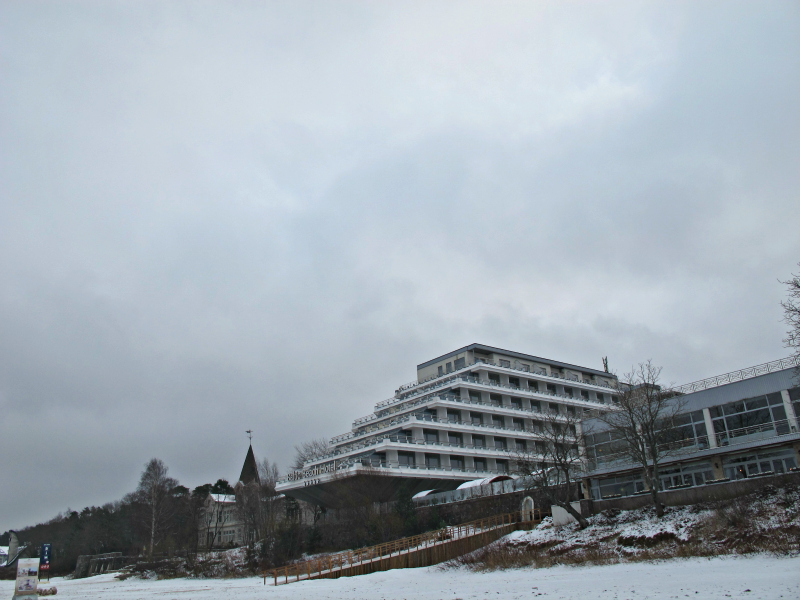 Nicole and I contemplated lunch here when we passed it, but decided against it since we were on a budget and the lunch prices did not fit within it.
3) New Wave International Pop Music Festival/Contest: From 1986-1993, the Soviets hosted a pop music festival/contest in Jurmala and today Latvians have transformed the festival into something of their own, renaming it the New Wave Song Contest. While it was not taking place in December when I was there, but rather in the summer, it definitely gives me a nice excuse to come back during high-season as I love anything that has to do with music. Last year's winner was Niloo from Russia (but born in Uzbekistan).
To check out more information about the New Wave International Song Contest, you can click here.
4) Get my tan on: Obviously, this would happen in the summer and I still would struggle because all places in Northern Europe are too cold for me to wear skimpy and scandalous clothing. But I would make it work. The 20 miles, or 32 kilometers, a stretch of gorgeous beaches deserve to have me lay on them and soak up some rays. When I was there, the usually soft sand had snow on it. This was, in fact, my first time seeing snow on a beach in person. I think I prefer it with none.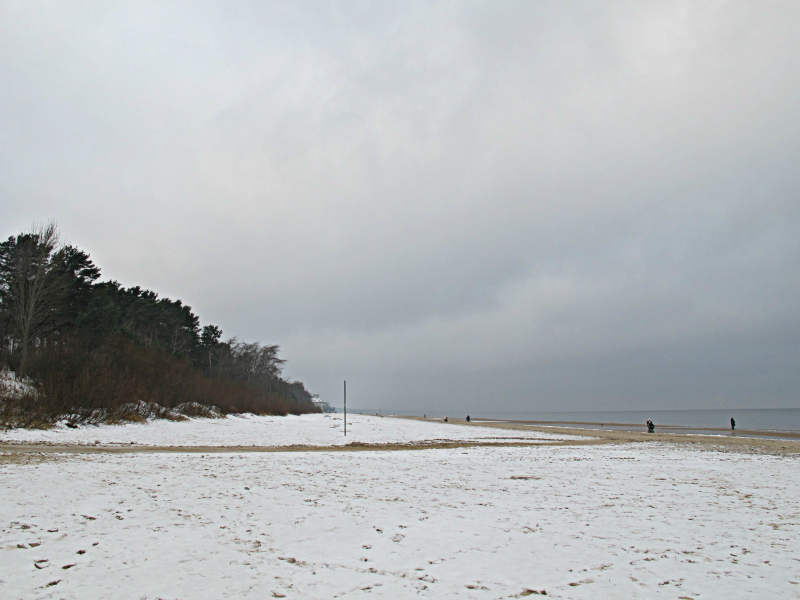 5) Ride a bike around: I have no idea why, but I have an uncanny desire to cruise around the small areas of Jurmala by bike. I think the area just reminded me of fairytale land and apparently I see myself in fairytale land atop a bicycle.
6) The 'Go Blonde' Festival: Now, this would not work for me currently as I used box dye to color my hair brunette…but if I let my hair grow out, I am actually a natural blonde. Not a pretty blonde, but a darker one. But I could take some of those Scandinavian bleach boxes and make something happen if it allows me to attend a festival that celebrates being blonde.
The fourth annual 'Go Blonde' Festival is happening July 13 this year. I haven't really understood the point of it (it may have something to do with charity), but it looks like fun and it says there will be international DJs and performers there so it can't be too shabby of an event.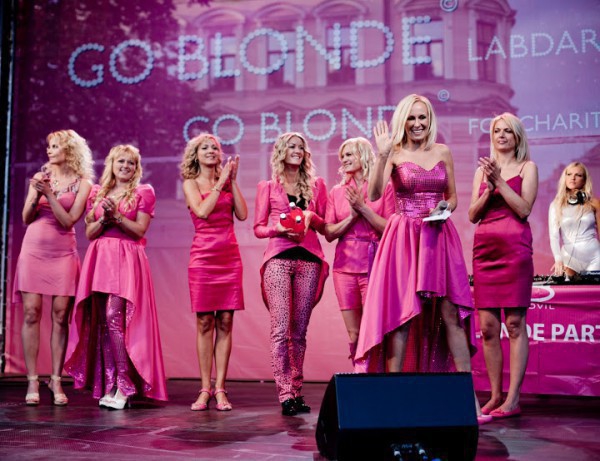 Getting to Jurmala couldn't be more simple. Just head to the ticket counter in Riga (most everyone speaks English quite well) and ask for a ticket to Jurmala, or Majori. You can exit the train at the stop called 'Majori'. It will costs you around $1-$2 each way.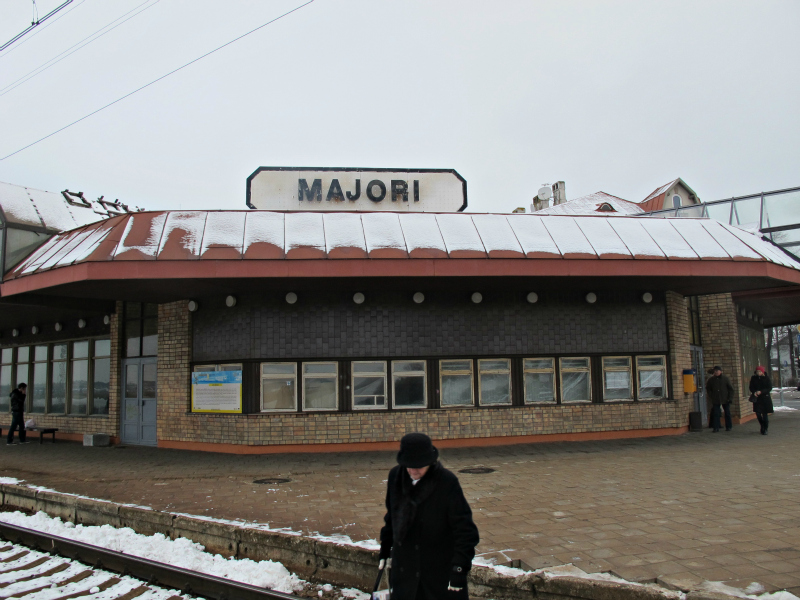 Have you been to Jurmala or a seaside resort area that reminds you of Jurmala? What were your thoughts on the place?