Thailand is home to some of the most beautiful islands in Southeast Asia where you will find secluded beaches with clear blue waters, mountainous plains, and even jungle terrains. With an abundance of islands clustering around the Thai coastline, it can be hard to take your pick especially if you are new to the country. But fret not, because we have prepared a detailed guide to some of the best Thai islands around and what you can do while you are there.
Koh Phi Phi
Starting off the list is the beautiful island of Koh Phi Phi which has become a popular holiday destination. Apart from the sandy white beaches and crystal blue waters, the islands boast of a breathtaking view of the majestic twin curved bays which sits in front of the stretch of jungles and mountains. You can also choose to explore the island on one of the boat tours which will take you through the beautiful parts like the renown Maya Bay that was featured in the movie The Beach.
Thrill-seekers, there are snorkeling and diving activities available for the daredevil within you. Alternatively, you can push your limits even further and go for a rock climb. During the evenings, when you are ready to unwind and be entertained, fire shows and Muay Thai fights and live music await you by the beach.
The island is also backpacker-friendly with a range of huts and hostels available. So for those with a budget in mind, there are cheaper accommodation options for you to consider.
As cliche as it sounds, Koh Phi Phi is tropical bliss with lots to see and do which is why this one is on the top of our list!

Koh Samui
Koh Samui is one of the most luxurious islands that Thailand has to offer and also the second-largest. It is the ultimate honeymoon destination with its array of five-star properties as well as private resorts and spas.
On this island, get ready to be mesmerized by the numerous waterfalls and vibrant wildlife. You can uncover some of Thailand's history and culture at the fishing village in Bophut alongside the Chinese-style houses where you can get your hands on some souvenirs. Some of the famed religious attractions that you might want to catch are the Laem Sor Pagoda, Big Buddha Temple or even the Secret Buddha Garden — which is where you will get some of the best views of the island.
For the Golf enthusiast, you will be delighted to know that Koh Samui is known for being a prime Golf destination in Thailand with the numerous golf courses it boasts.
The perfect balance of adventure, relaxation, and beautiful sights make Koh Samui a hard one to pass up while in Thailand.

Koh Phangan
Next on the list is for the party junkies. Koh Phangan has the best nightlife and parties in all of Thailand and is a big hit among younger travelers. Every month, backpackers travel all the way down just to catch famous full moon parties. But be prepared to have neon paint splashed all over you as you party into the night with a series of fire shows around you.
If you need to get away from all the revelry, there are plenty of more secluded and quiet beaches tucked away on the island. Marvel at the various waterfalls in Thaan Praapad, Sramanora, Thaan Sadet and Wangsai. Take a little trip through the hiking trails surrounded by gorgeous greenery and reward yourself when you reach the stunning viewpoints. You can also check out the yoga retreats, meditation workshops and massage parlors that Koh Phangan offers for a little soul refresher.
Koh Phangan is a great choice for travelers that are more energetic and who are up for some hardcore partying while also appreciating the solace that mother nature brings.

Koh Chang
At Koh Chang, you can expect to be greeted by pristine beaches lined with a string of palm trees along with jungle and mountain views. It is the island of choice for those that are looking for an adventure as Koh Chang is also filled with wildlife-rich forests, mangroves, and beautiful waterfalls. Places that are worth visiting are Klong Nueng, Klong Phu, and Kongoi.
The island offers more laid back activities like temple visiting, fishing in the traditional villages, dining on fresh, live seafood and even cooking classes.
Koh Chang might be one of the more rugged islands around but that is what gives it character and charm. The best part is that it is only half a day's travel from the lively Bangkok city.

Phuket
The last on our list but certainly not the least, is the most well-known island –– Phuket. This vast island is so diverse that you can rest assured that there is something for everyone. Starting off with the different beaches; we have the energetic Patong Beach, the sexy palm-filled Kata Beach, laid-back Surin Beach, and a more secluded Kata Noi Beach. You will also be spoilt for choice with activities like snorkeling, jet-skiing, parasailing, surfing, boat trips, and beach massages to keep you occupied.
Immerse yourself in the Thai culture by visiting the Big Buddha, Wat Chalong, the Jui Tui Shrine, and Phuket Old Town, where you will get to marvel at the blend of Chinese and Portuguese architecture. You can also learn about Thai folklore and the country's rich history at the Siam Niramit show or enjoy dazzling entertainment shows at the Phuket FantaSea cultural theme park. For some quirky fun, there is the Baan Teelanka (the Upside Down House) and the Phuket Trickeye Museum.
With a place so rich in entertainment and culture, this island is definitely going to be your one-stop destination for a full Thai experience. Additionally, you can make your experience even more magical by bringing along a unicorn float on your trip to the island.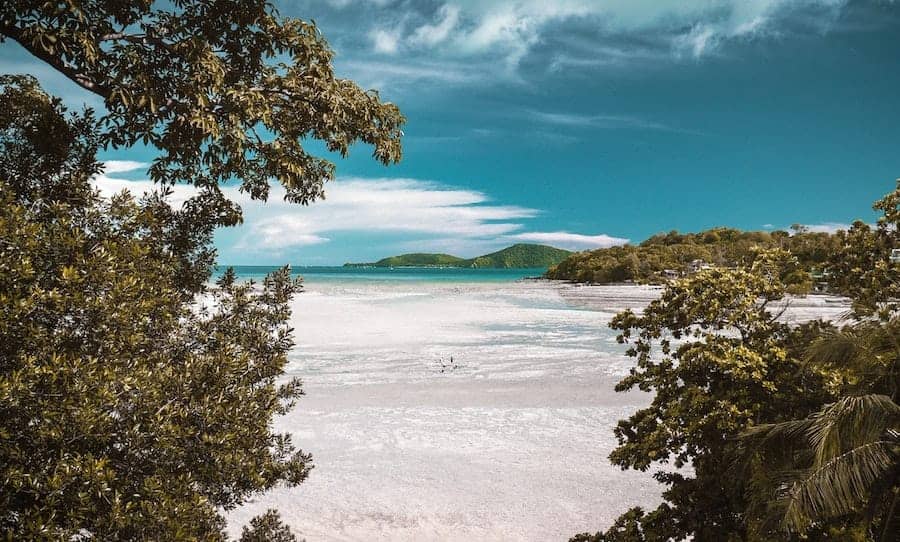 Thailand is especially great for travelers who are looking for a more affordable way to travel. It is one of those countries that you have to see and experience at least once in your life. For the variety of dazzling beaches, lush green forests, and historical sites that it has to offer, you can bet that every single cent spent will be worth it. With this handy island guide, planning your next getaway should be a breeze.