Elektrenai. Even the name sounds pretty cool despite my inability to let it truly roll off of the tongue as if I were Lithuanian.
By the time I ended up visiting the abandoned amusement park in Elektrenai, Lithuania in March 2018, a place I had only heard about from a Finnish friend living in Vilnius named Noora, I was spent.
I had a crappy time in Kaunas due to a corrupt landlord renting out a flat and a scammy taxi driver. I had been disgusted and disappointed that Grutas Park near Druskininkai actually used the money to fund a zoo with bears in captivity in cages the size of a closet.
And I had realized that no matter how many times I visited Vilnius, I likely would never truly connect with the city the way I connected with Riga.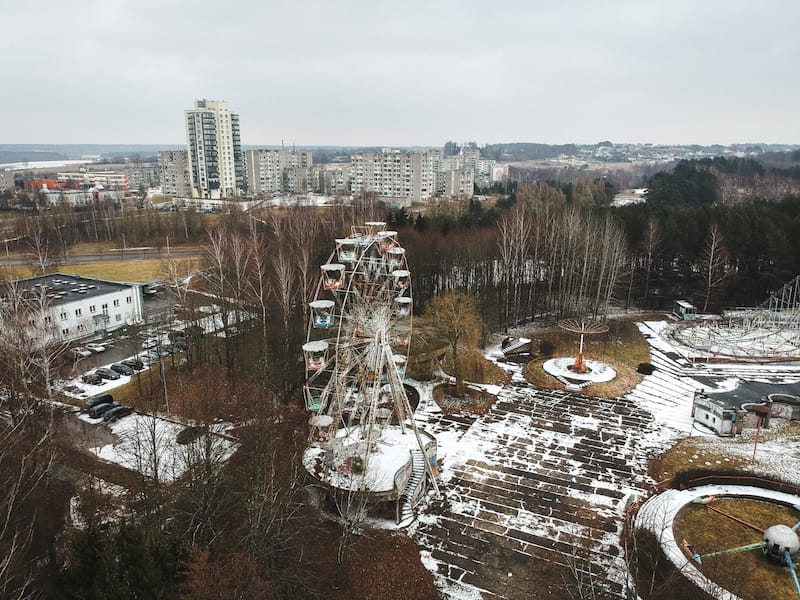 But, the name 'Elektrenai' had a spark to it and an abandoned amusement park, so surely I would be able to feel the city's energy on a level that was so void in other places in Lithuania for me.
It turns out that this little stop-off between Kaunas and Vilnius definitely lived up to the hype I had built up in my head. And my visit there would be something that would bring about several thoughts more than three years later.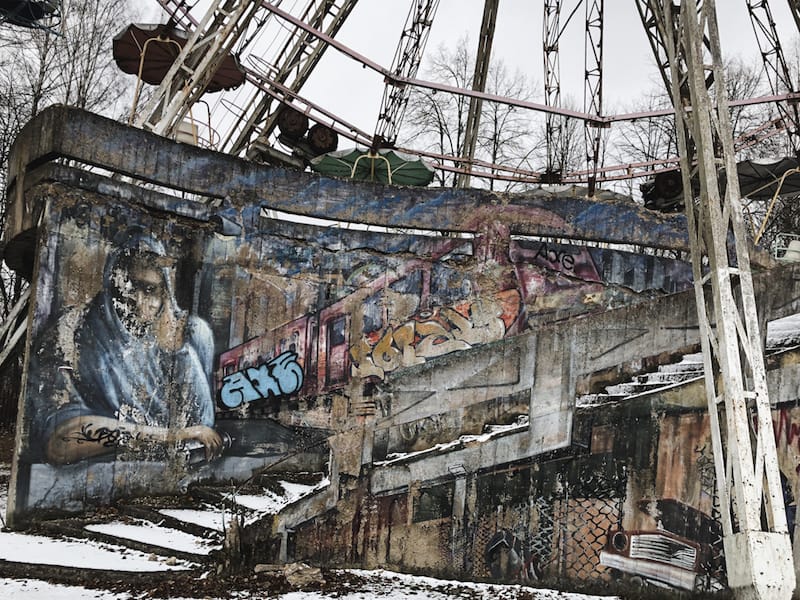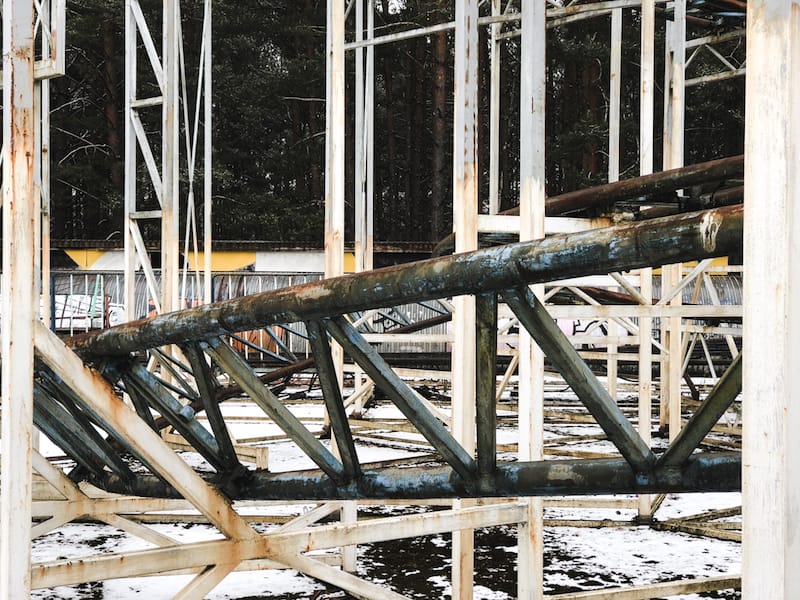 Elektrenai Abandoned Amusement Park
Elektrenai is one of the newer cities in Lithuania and the amusement park, usually referred to as Jet Star 2 (the official name of the roller coaster it housed) or Children's World, was a popular place for locals to visit and enjoy back in the day.
Built in 1986, the amusement park in Elektrenai was home to several rides, games, and spots for families and children to enjoy themselves. The city was small and purpose-built around the power plant of the same name. The Elektrenai Reservoir supplied the power plant with energy.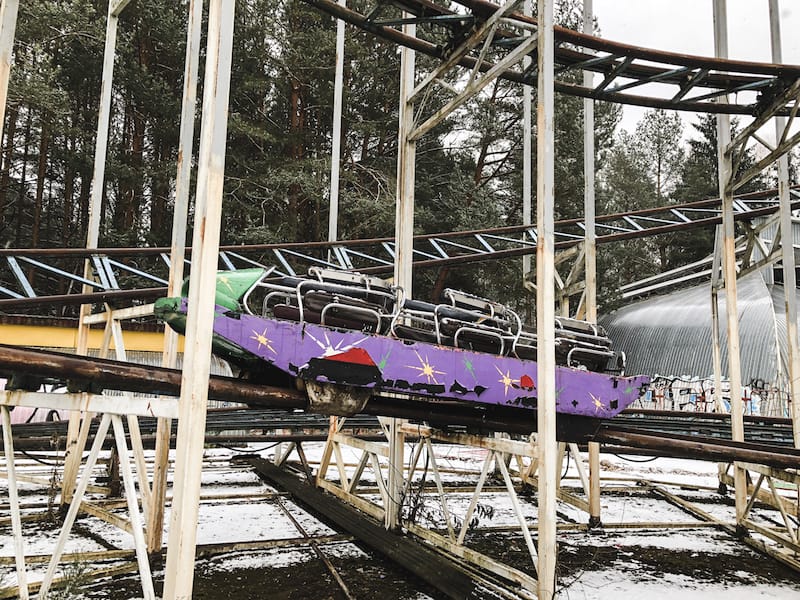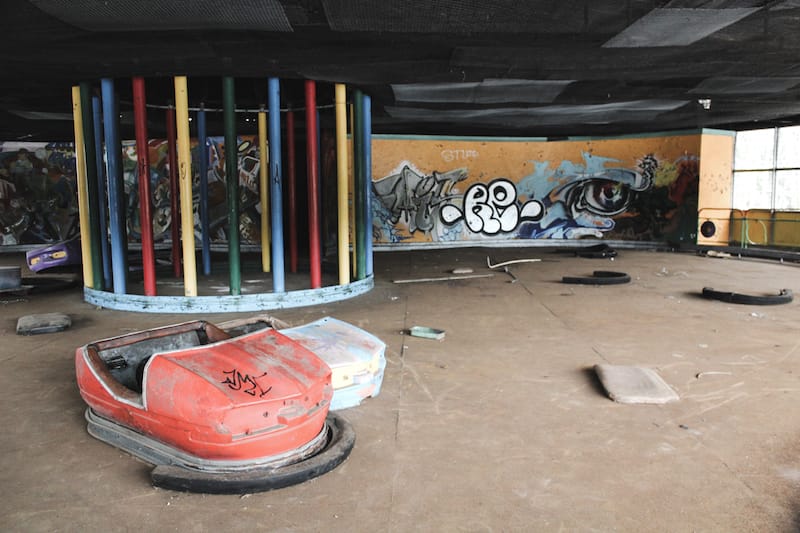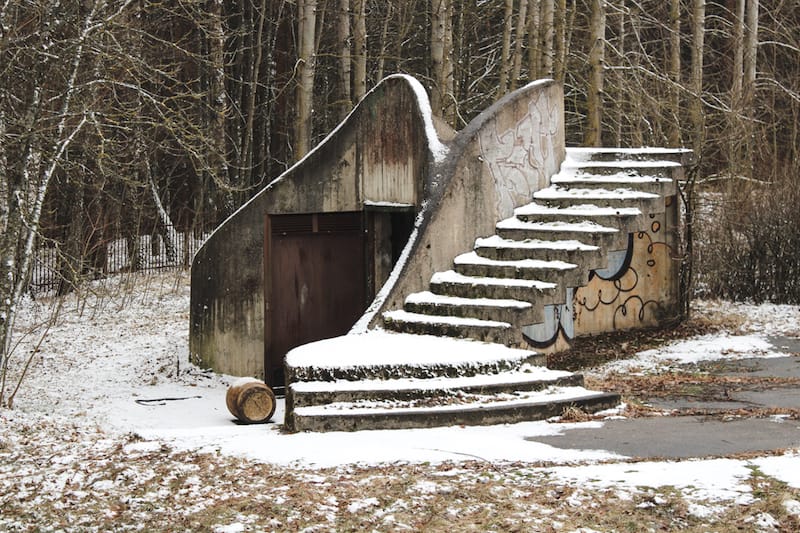 Unfortunately, Elektrenai's amusement park could not withstand the test of time and it closed in 2013.
When I arrived in Elektrenai, I found the sleepiest of places. I had a lot of luggage with me and toting around to an abandoned theme park was not something I was keen on doing, so I made. my way to a local eatery/cafe and coerced the workers into storing it for me until I was done.
Since I purchased food there, they obliged. I then made my way to the Lithuania amusement park which was not difficult to locate as it was fairly visible from many parts of the city during the winter due to the lack of leaves on trees.
The park was on the other side of the lake and it was closed off by a gate that had been standing for decades. There was an entrance area that was blocked off by a pallet but clearly easy to scoot aside as the park was definitely visited on a daily basis by teenagers and locals looking for a spot to hang out.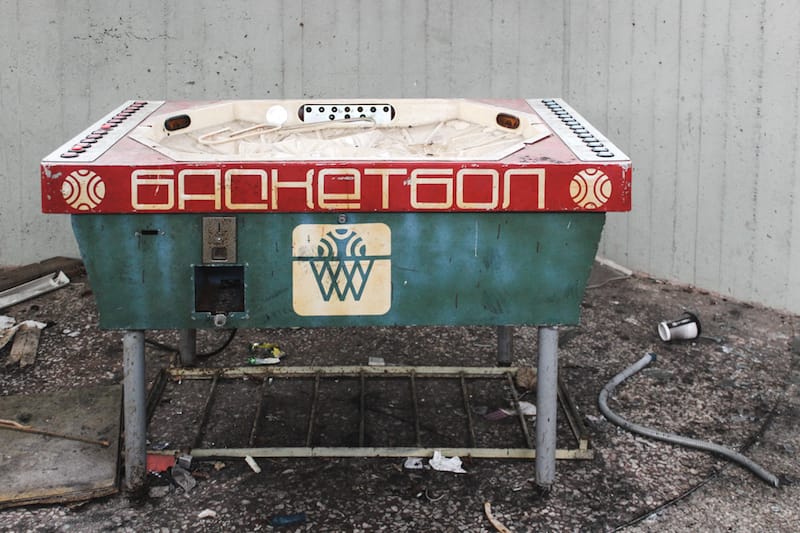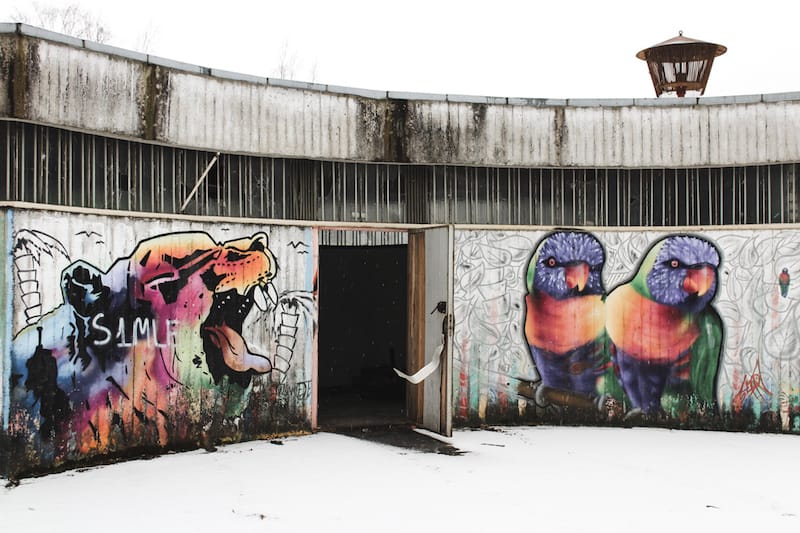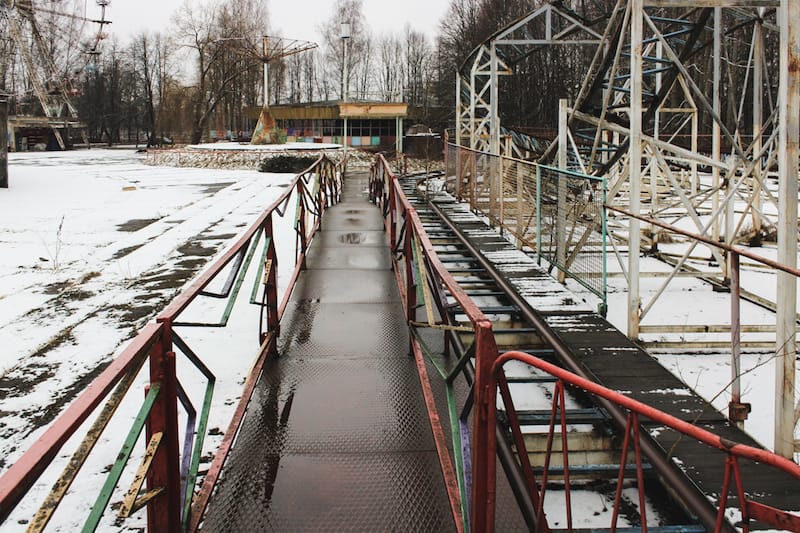 Once inside, we found a pretty cool place! The theme park was in fairly decent condition, albeit no condition to reopen without a complete reconstruction. We wandered about for around an hour and photographed the park in its entirety and even flew a drone above it for a bird's eye view.
There wasn't much to see, to be honest, but it made for an enjoyable trip and a worthwhile stop off.
I have this thing for abandoned amusement parks and centers in Eastern Europe and countries that were once part of the Soviet Union. In fact, I have visited similar places (although not in as good of condition!) in every country I have visited that was once part of the Soviet Union.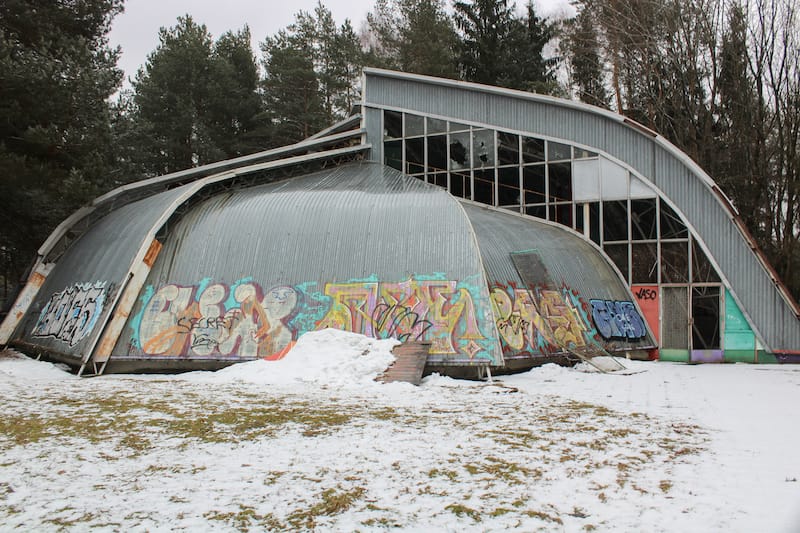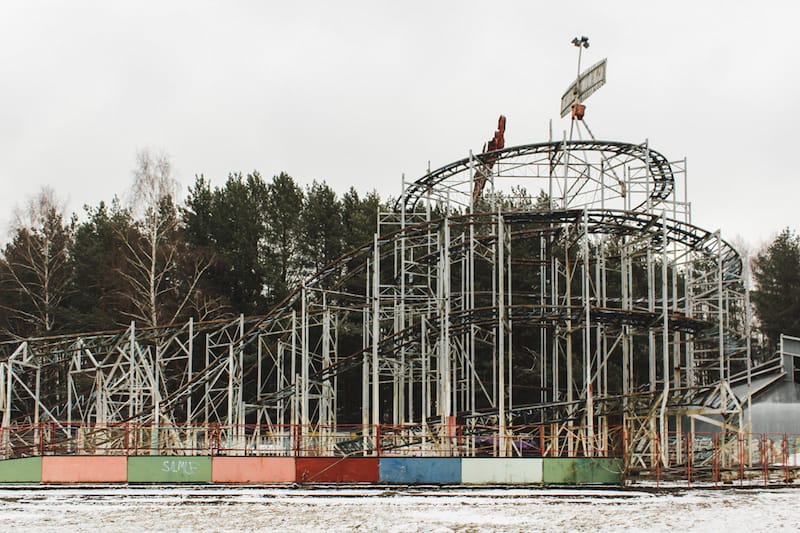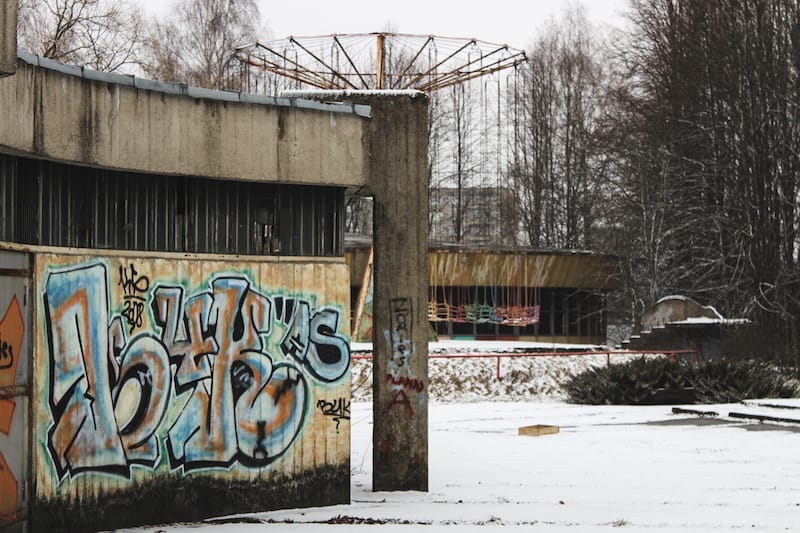 Some parks were rebuilt and some were left to be swallowed up by their surroundings.
As it turns out, Elektrenai's amusement park is undergoing developments to become something else, and not a new theme park. There are currently gates and signs from a construction company prohibiting people from entering and stating that something new will open there in 2021.
The reason I am writing this is not to encourage anyone to visit. In fact, pretty much the opposite as there is not anything to witness in Elektrenai aside from a really interesting looking ice hockey arena.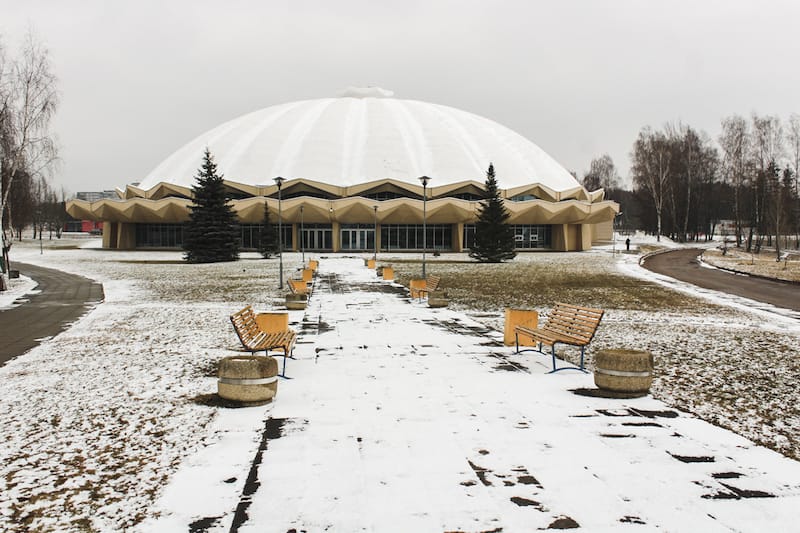 The reason I am writing this is to let you know that one chapter finishes and another begins. Too many times I see people leave a comment on my site or on Facebook somewhere that expresses frustration when things become too 'westernized' or 'reconstructed' for a traveler to deeply explore.
Turn the tables a bit. If your town or city had a piece of it left to rot that could be turned into something that would again boost the economy, provide jobs, or even become a park offering a respite from daily life… would you not support this?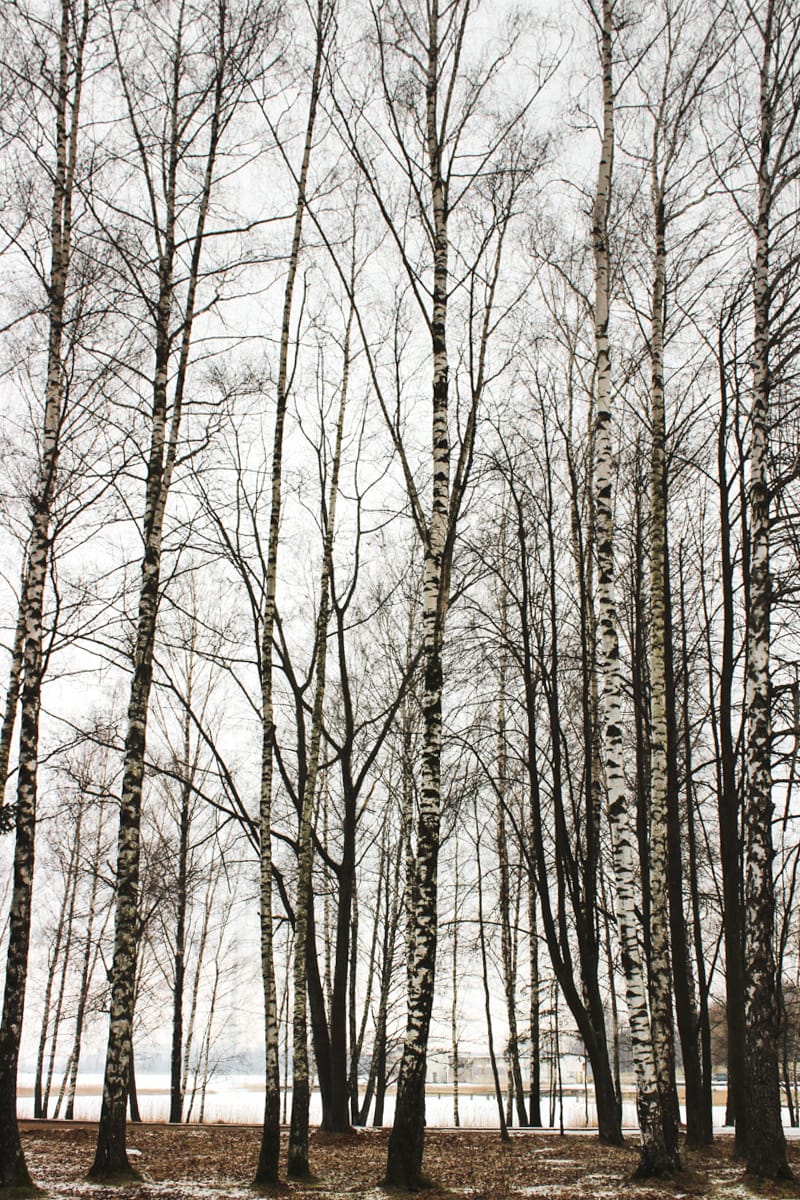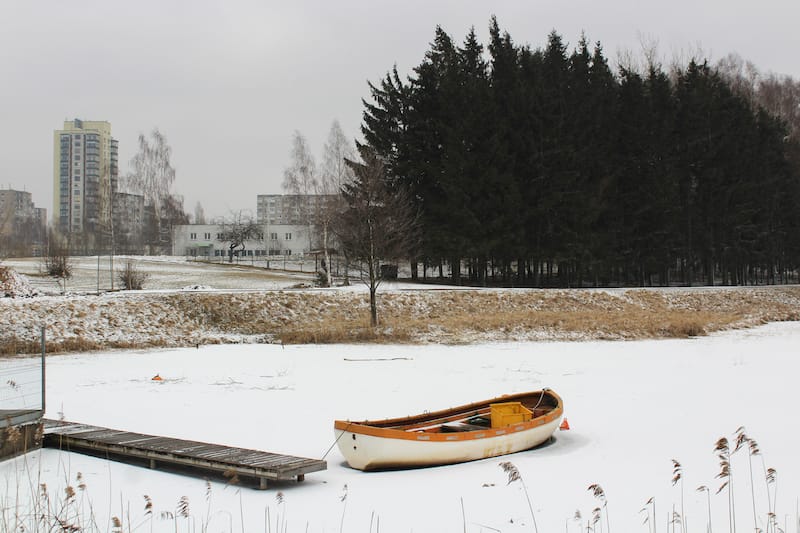 I know I would, even if a few tourists can't get their chilling photos from the abandoned place. These decrepit places we visit are great while they last but they simply can't last forever. Nor should we want them to. Just a bit of food for thought the next time that abandoned hospital turns into an actual working one.