Cartagena is one of the few places I have traveled to that I didn't really appreciate until I left. I arrived via a super affordable Jet Blue ticket from JFK airport in New York without any preparation and after a grueling, long-haul across the Atlantic from Oslo. I was immediately taken aback by the impressive Colonial architecture that dots the Old City, as well as the brilliant turquoise hues coming off of the sea. But, I struggled to gain a feel for the city right off the bat. In fact, I didn't really understand Cartagena until I left and was on my way back to the US. And now, when I gaze over my photos from the city, I comprehend just how unprecedentedly beautiful the Colombian seaside city truly is.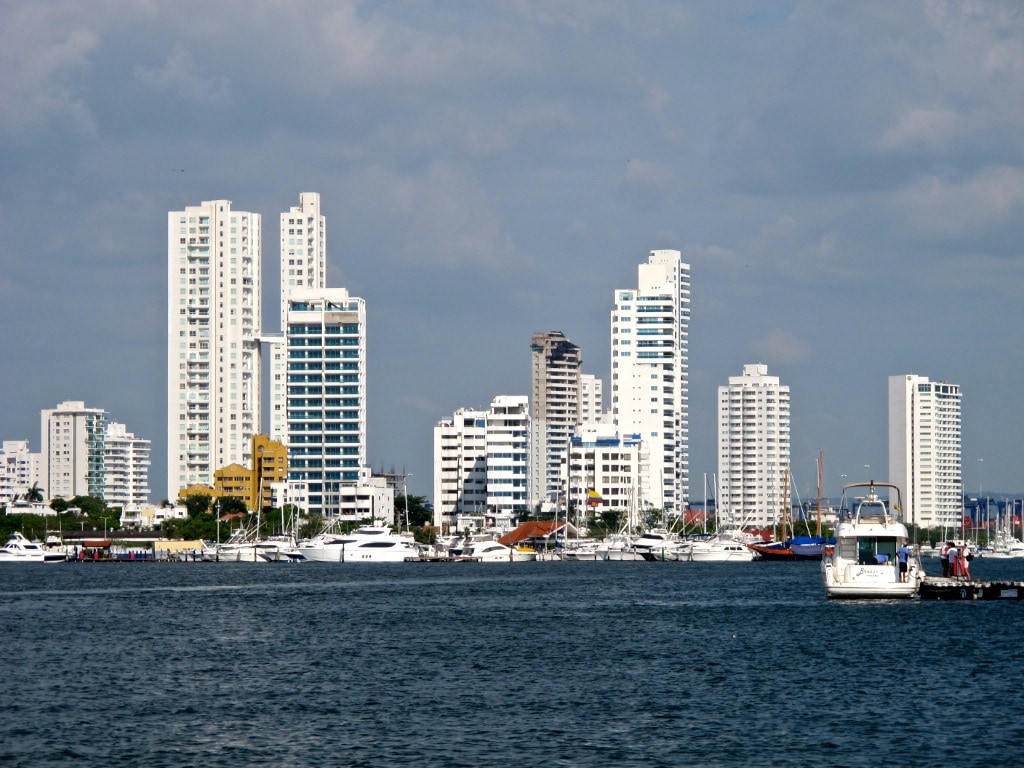 But this post isn't to tell you how I felt about Cartagena or show you why she is so stunning. It is to share the places that kept me occupied, nourished, and entertained while visiting.
Where I Stayed
I was in Cartagena twice on my travels there and I stayed at two different places. On the first trip, I was there for at least three to four nights and on the second trip, I was only there one night.
El Viajero Cartagena
El Viajero is a hostel located at Calle 7, Infantes 9-45 in Cartagena's Old City (San Diego area). The hostel is a little too 'young' for me, but I really enjoyed my stay there. While the majority of guests there were rather young, I stayed in a female dorm and everyone in there was my age or older. The staff is very friendly and willing to help travelers maximize their time in Colombia. This is also a chain of hostels so they can recommend and set you up with your stays in other locations around South America. They have a kitchen, several outdoor lounge areas, and countless other amenities. My only real issue was that in the room I was in, there were only like two charging ports. I had to sit in the room at odd hours to charge my electronics because others were using them during evening hours. I found this pretty inconvenient despite always traveling with a power strip.
My favorite thing about the hostel, which really has nothing to do with the hostel itself, was its close proximity to Exito, a grocery store. El Viajero just steps away from the shop and I was able to get all I needed from there. They also have an ATM and take credit cards at the cash register for goods. It was nice to just run over there quickly if I was hungry or thirsty.
Hostal Papaya
Hostal Papaya is a quieter hostel located at Calle del Pozo # 28-36 in Cartagena's Getsemani neighborhood. I only stayed here one night, but if I had to do it all over again, I probably would have stayed here the entire time (just because it was less noisy and I really enjoyed it). It is within walking distance of most major sites in the Old City and is also near grocery stores and restaurants. When I stayed at Hostal Papaya, I met several Swiss and Irish travelers whom I hung out with the entire night. We sat around the courtyard drinking until around 3am and never even gave the bars a chance. It was one of my fondest memories from the trip.
Where I Ate Breakfast
I often bought fruit from the markets or carts, but I also enjoyed a fresh maracuja juice and a savory pastry from La Casa del Pandebono. It is a small little cafe/bakery located at Av Daniel Lemaitre 10-38. The maracuja (passion fruit) juice was some of the best I had ever tasted.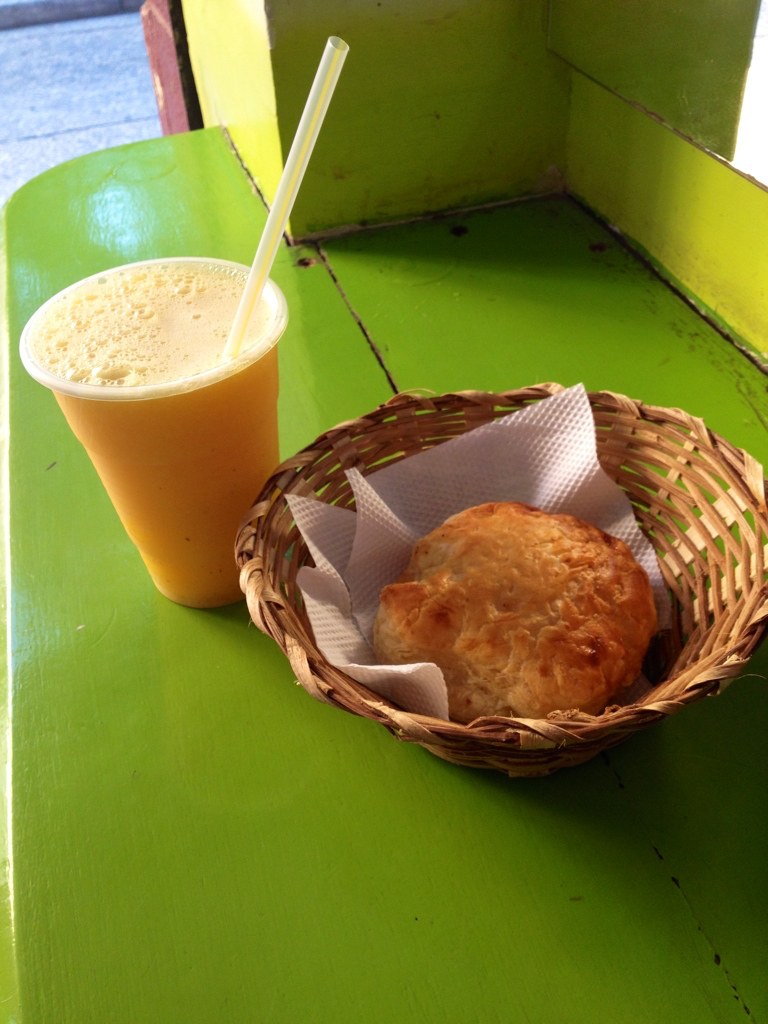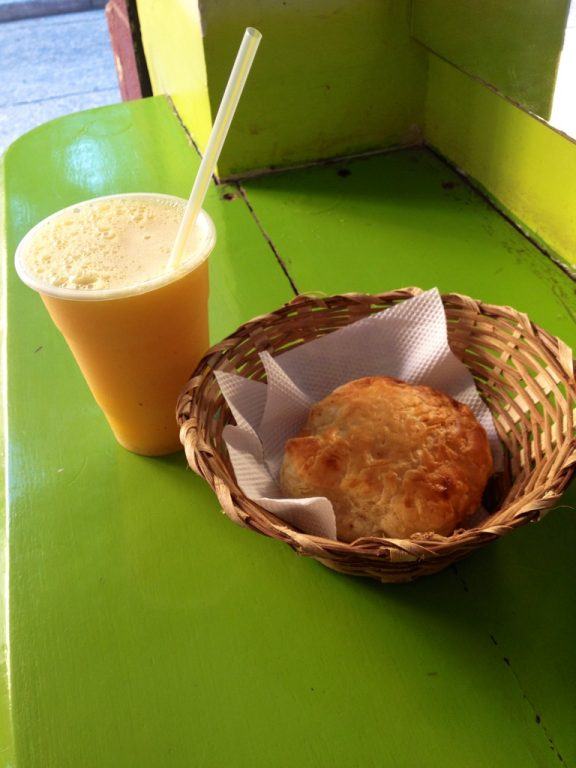 Where I Ate Lunch and Dinner
I ate at a variety of places- some good, some bad. I would have to say my favorite thing about Cartagena was the freshness of the fish and the copious amounts of coconut rice everywhere. But not all coconut rice is created equal. And I still am not sure if I had the perfect batch of the stuff!
Kiosko el Bony
This was probably my favorite place that I ate. It isn't really anything to write home about in terms of appearance. It is situated in the Bocagrande area of Cartagena at Avenida 1 in front of Hotel El Caribe. It is a beachside and outdoor restaurant with plastic chairs and plenty of ladies coming around yelling "Massage!" Needless to say, not the most tranquil of atmospheres.
But the food more than made up for it. I ordered a whole fried red snapper, coconut rice, smashed plantains, and a beer. All was extremely tasty.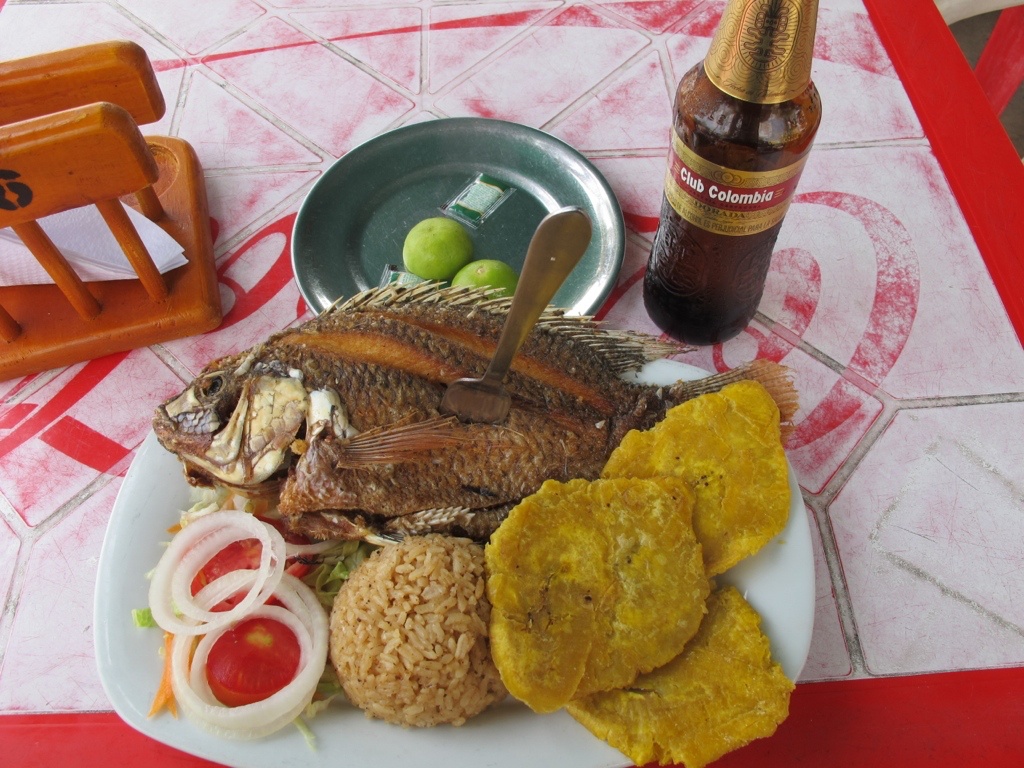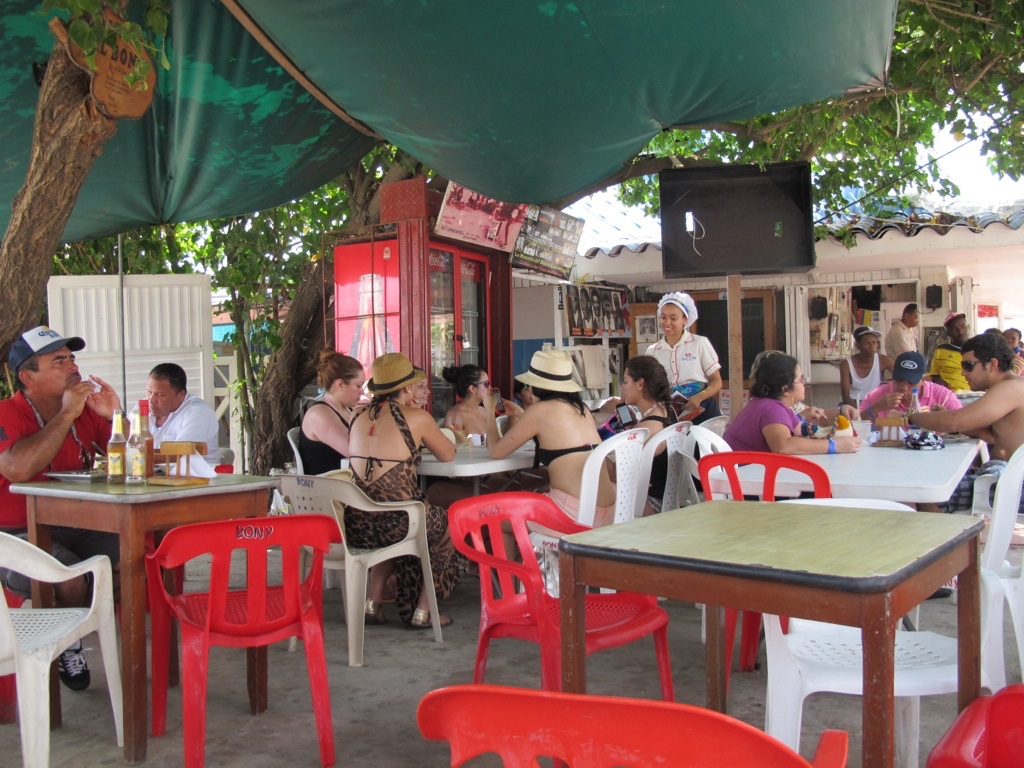 La Cocina de Carmela
Ahhh I adored this place. It is located right in the Old City and is just the most charming little establishment. I only went there for lunch, which was a buffet style that offered a variety of Colombian dishes that will satisfy the appetites of both carnivores and vegetarians. La Cocina de Carmela is located at San Diego Cl. del Santísimo 8-10.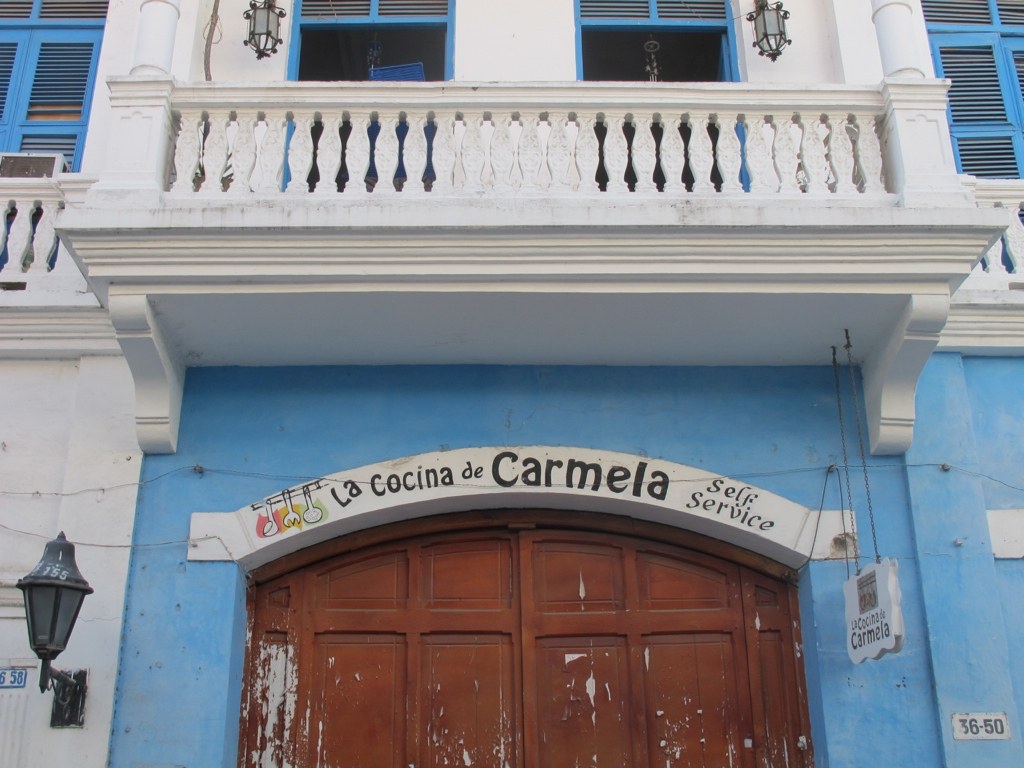 La Mulata
This is a very talked about and renowned restaurant in Cartagena. Known for their freshly caught seafood and Limonadas de Coco (a Cartagena specialty drink made from fresh lime juice and sweet coconut milk), it is affordable as much as it is delicious. La Mulata is located in the San Diego part of Cartagena at Calle Quero 9-58.
Restaurante Casa de Socorro
Casa de Socorro is located in Gestemani in Cartagena and is very famous for their affordable menu that exudes authenticity. Definitely a great place to get a little bit of coconut rice (arroz con coco blanco)! It was my favorite place for the stuff.
El Balcon
It took me days to finally make it to El Balcon. I had never received recommendations regarding the place, I just constantly passed it when wandering around the city (and it was in close proximity to my first hostel).
The day I finally made it there was a day in Cartagena where there was a city-wide power outage. It was set to last until 6pm and I was flustered as I was unsure about where I could eat (and where I could take out money from an ATM that was actually capable of working). I went into El Balcon before electricity was restored and they had informed me they would still be opening during the evening hours. Apparently, they were prepared for these kinds of outages.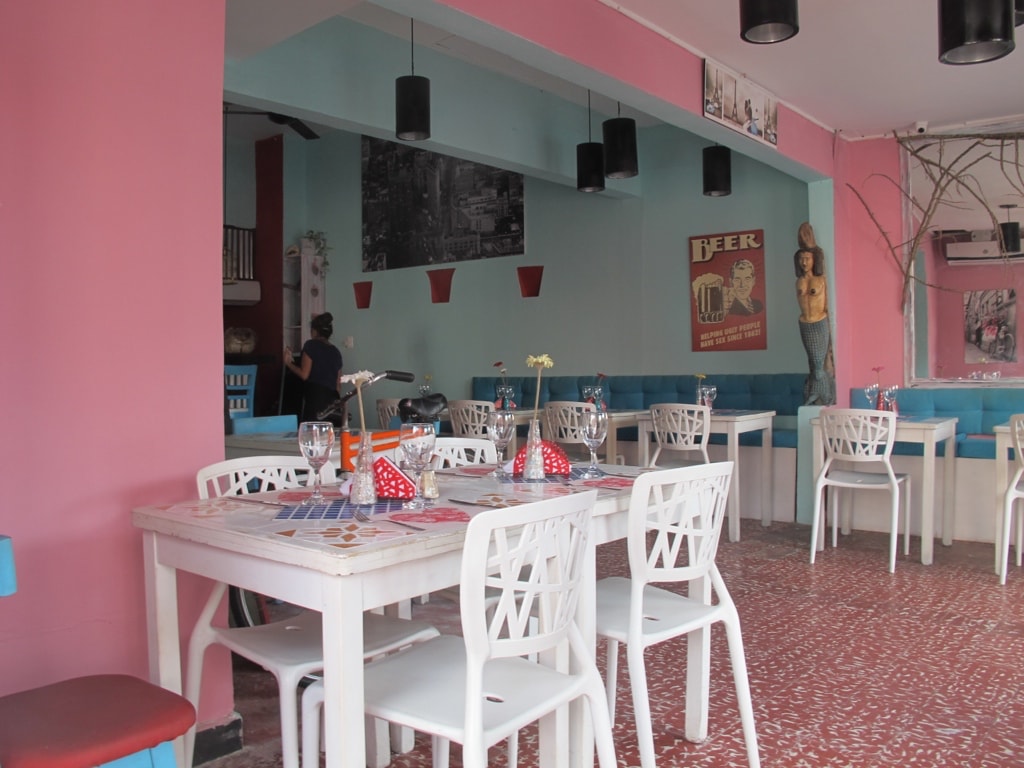 I ordered sancocho (a fish stew of sorts), plantain chips, and a beer. It was just okay. The plantain chips were the best part of the meal. The stew was very mediocre.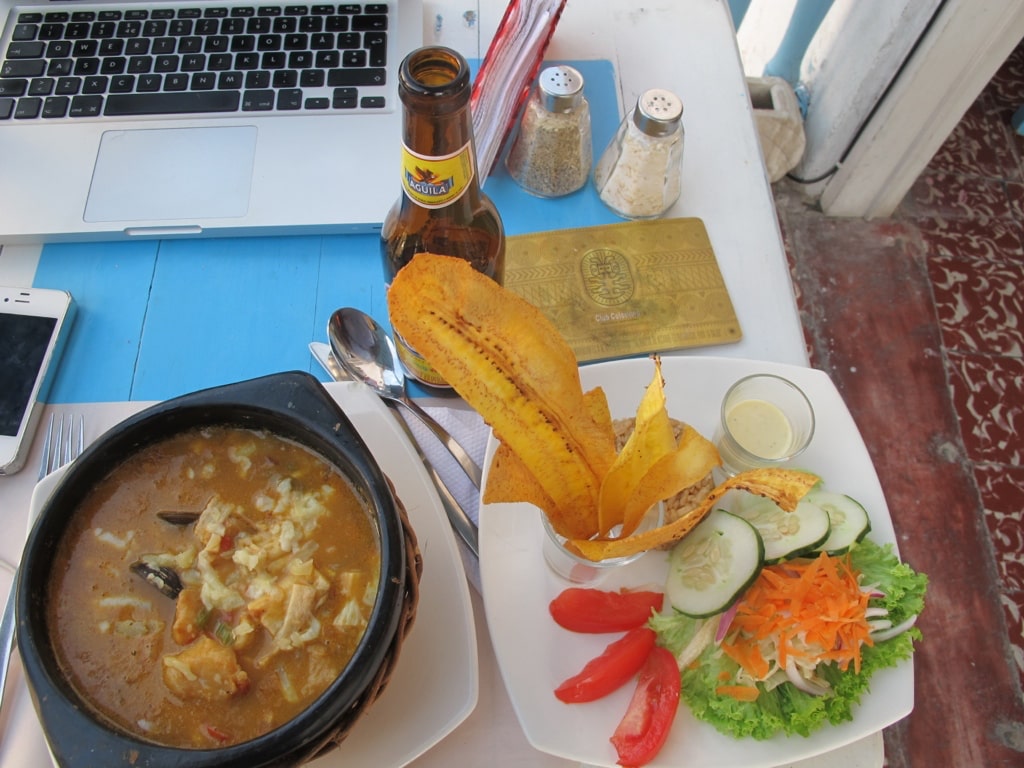 My favorite thing about the place was the hospitality, as well as the view. It is called El Balcon for a reason- it has a beautiful balcony that overlooks the street. I could have sat up there for hours watching scenes from the city streets. I definitely recommend this place to travelers who just want an enjoyable drink in a unique setting. El Balcon is located at Plaza de San Diego in the San Diego area of Cartagena.
La Cocina de Dorotea
This was another place in the San Diego area of Cartagena that I found myself at. It was located close to my hostel and I heard the food was tasty.
I went in and ordered arepas and whatever else the waiter suggested I order. It came out as a salad with chicken. I wasn't overly impressed.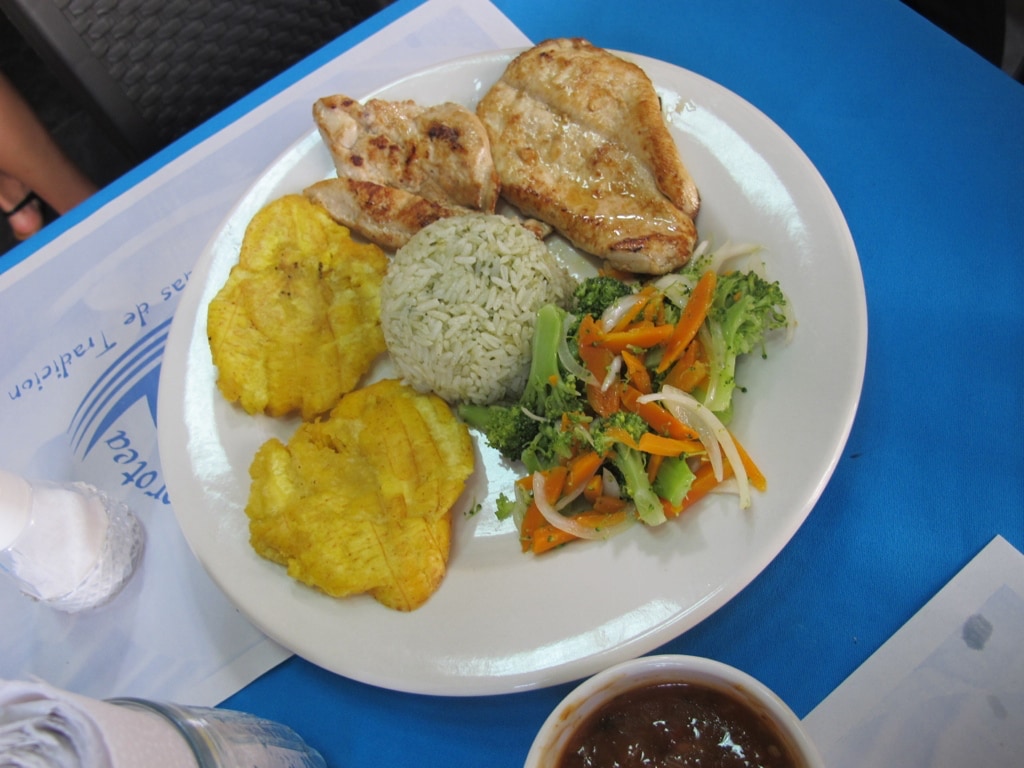 In the restaurant at the same time were some Americans who were born in Colombia and on their annual visit back to their homeland. They told me that this was their favorite affordable eatery in all of Cartagena. Perhaps I ordered the wrong thing. On the other hand, the coconut rice, which they highly recommended to me, was very delicious.
La Cocina de Dorotea is located at San Diego calle de Tumbamuertos 38-22.
Street Food
I am a big fan of street food wherever I go, and Colombia definitely had it going on with street arepas, empanadas, and fruits. Try them! Be smart with who you buy from, but the arepas are life-changing. I promise.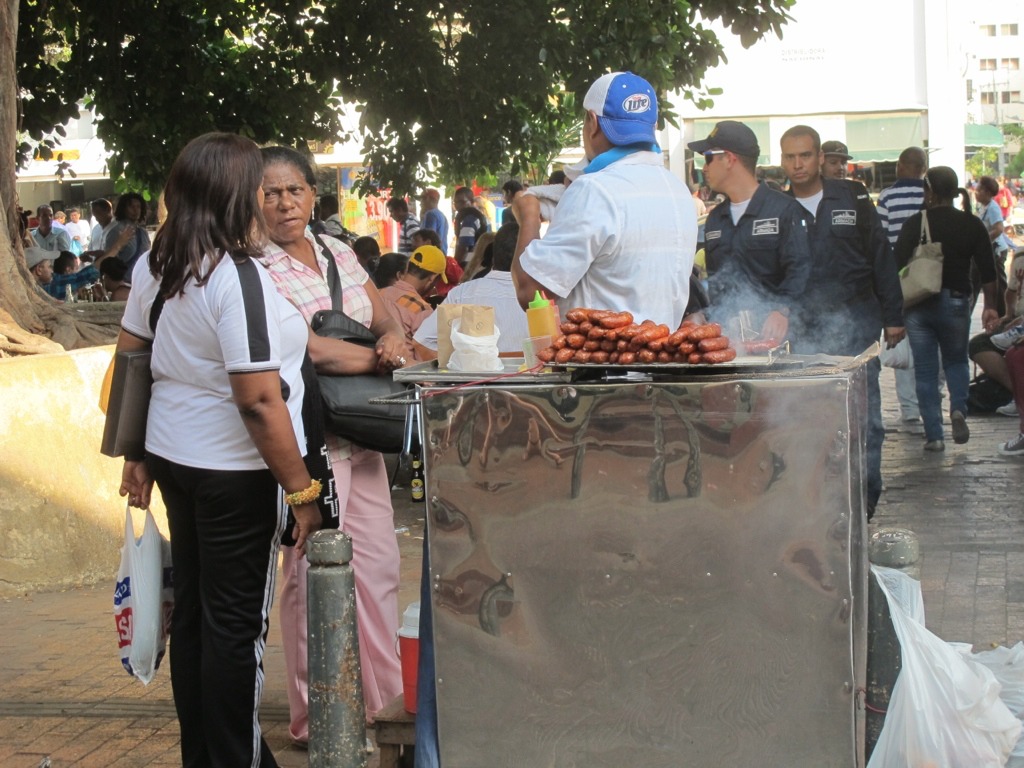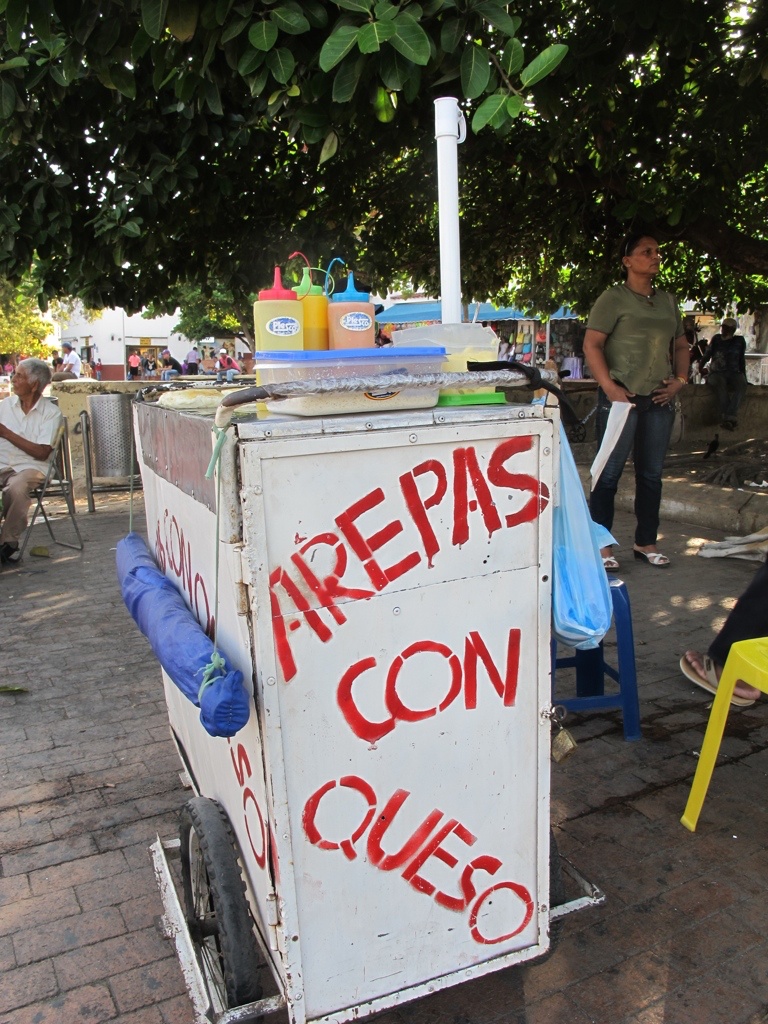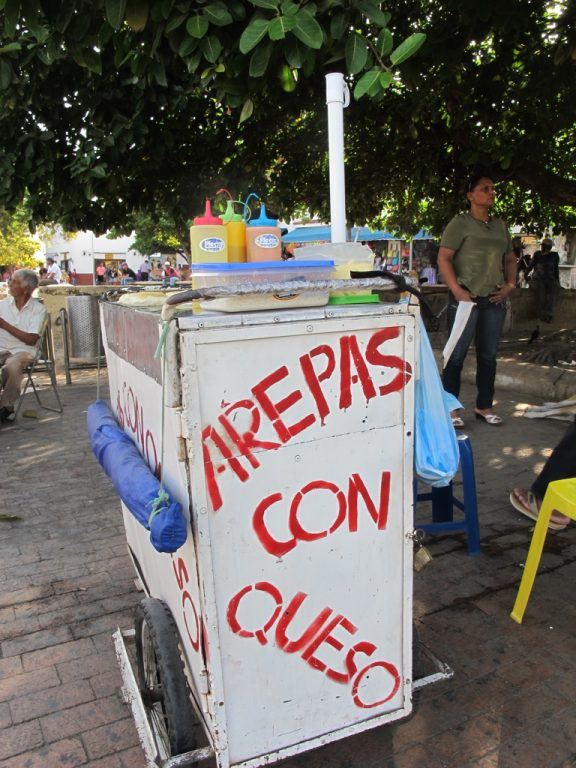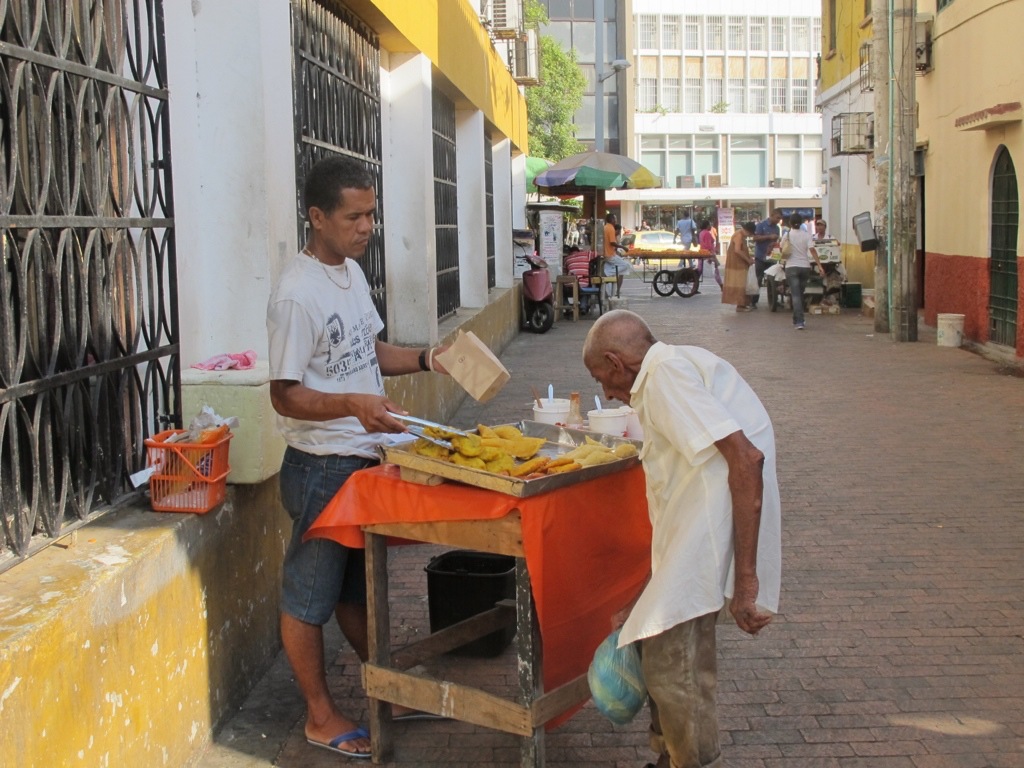 Cigars
If you're a fan of cigars like me, you can find some really great ones in Cartagena. However- not on the street. Many of the ones being sold in kiosks and on street corners are fake or of extremely poor quality. If you stumble upon a nicer-looking shop with a large humidor and a shop owner who really knows his or her stuff, you can most likely trust them to sell you something authentic.
My favorite place to get a good Cuban was at Casa de Habana at Calle de la Media Luna con Calle del Guerrero in Gestemani. They also have live music and incredible mojitos.
In Cuba you can find many types of cigars, but you need to make the right choice and get a real Cuban cigar. After trying it you can feel the real taste of Cuba.
You can also take cigars to go.
Where I Drank
I'll be honest, I didn't go out much while in Cartagena. I was working a lot and could never really find my way around the city as it is a maze. I certainly was in no position to get annihilated at night and try to find my way back to where I was staying. But I did get out a little. And here are the two places I recommend…
Bogota Beer Company
The inside of this place is like an English gastropub. I never ate their food. I didn't go there for food. I went there for beer, hence the name. They are more or less a microbrewery in Colombia and a damn good one at that. The Bogota Beer Company in Cartagena is located oceanfront in Bocagrande and is a must visit if you're a beer lover.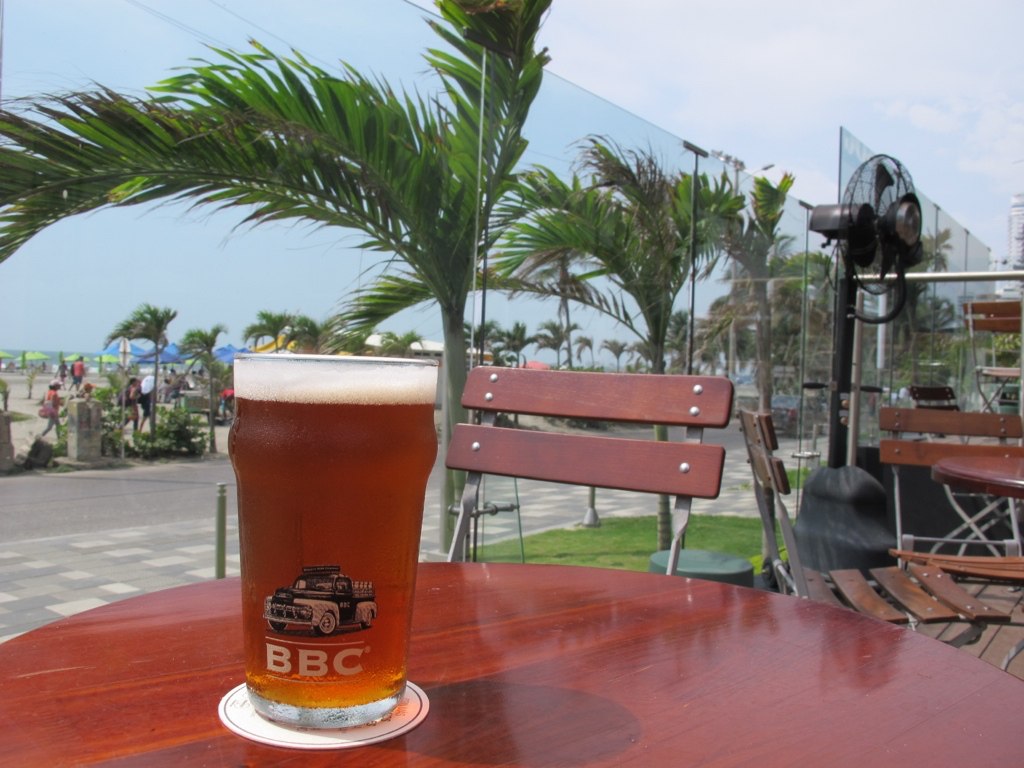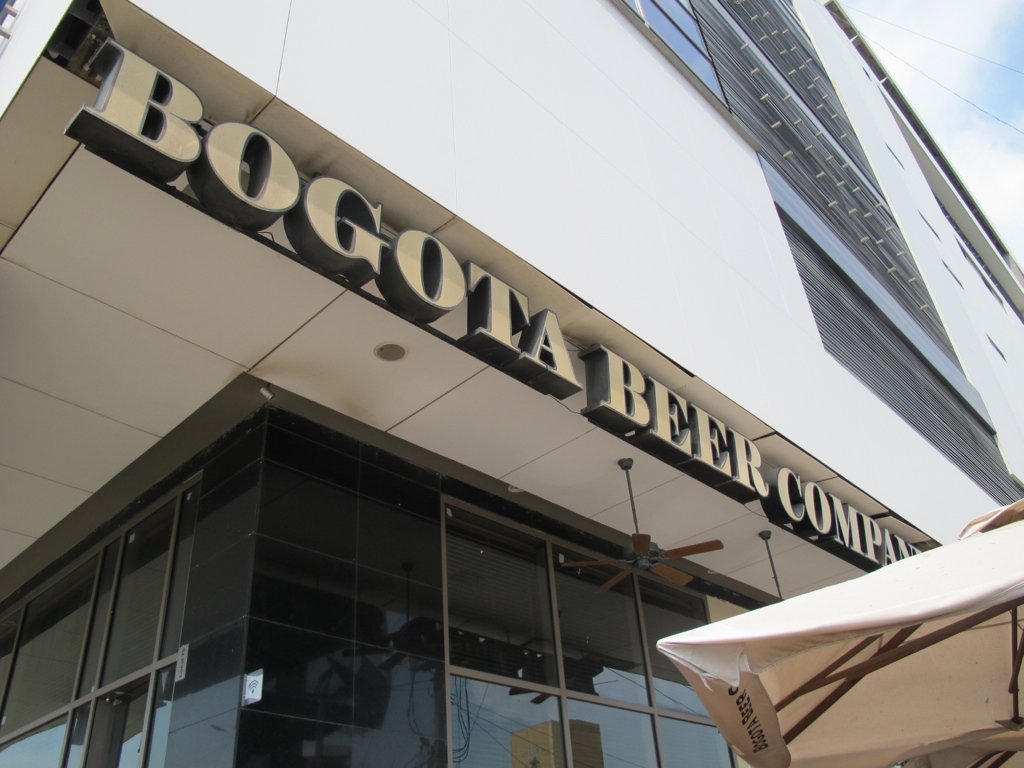 Their portfolio of beers is extensive for a brewery that has only been in operation since 1997. I tried several different ones and couldn't find a bad beer if I tried. I had their beers in Bogota, Medellin, and Cartagena.
I even celebrated my birthday with one of their beers!
It is ridiculous how good this place is. You can find them in Cartagena's Bocagrande area at Calle 5 and Carrera 1.
Movich Hotel
Okay, so this place wins hands down for the best view of Cartagena while still in the city in my opinion. I went there numerous times when I was in Cartagena. It never disappointed. And I was more or less the only one ever there. While I didn't stay at the hotel, they welcome others to come to the rooftop to play around, enjoy some drinks, but most importantly- let your eyes feast on views like this.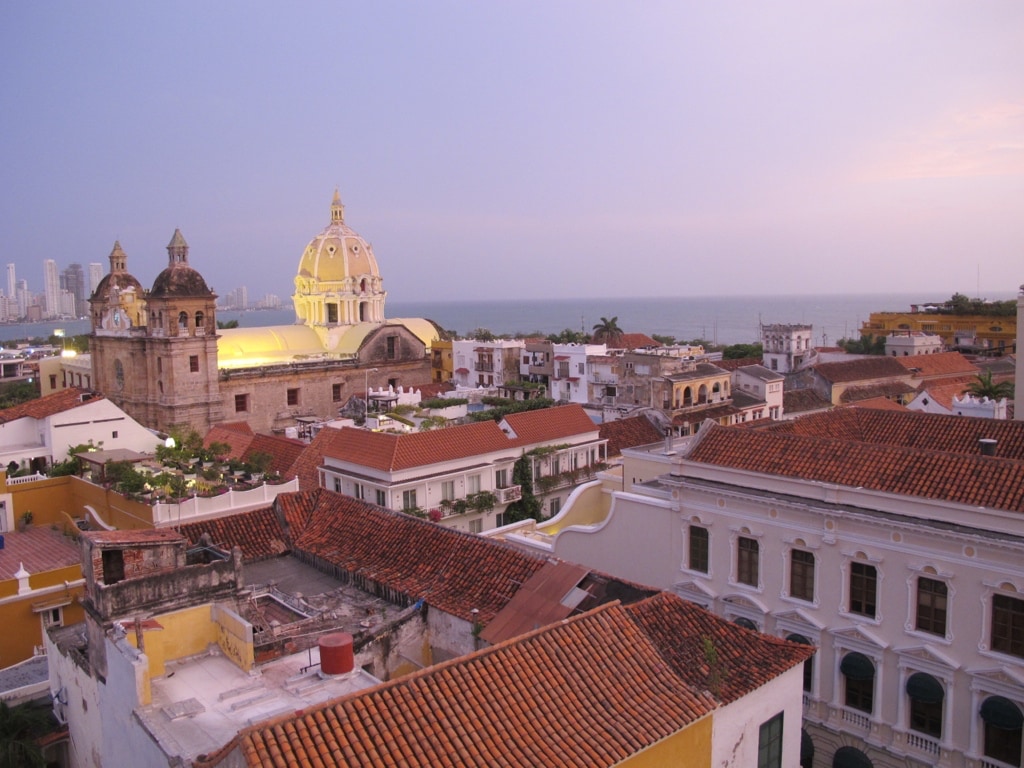 On my birthday night, I stayed up there for a good eight hours alone just looking over the city. It was magical.
And seriously… This pool!?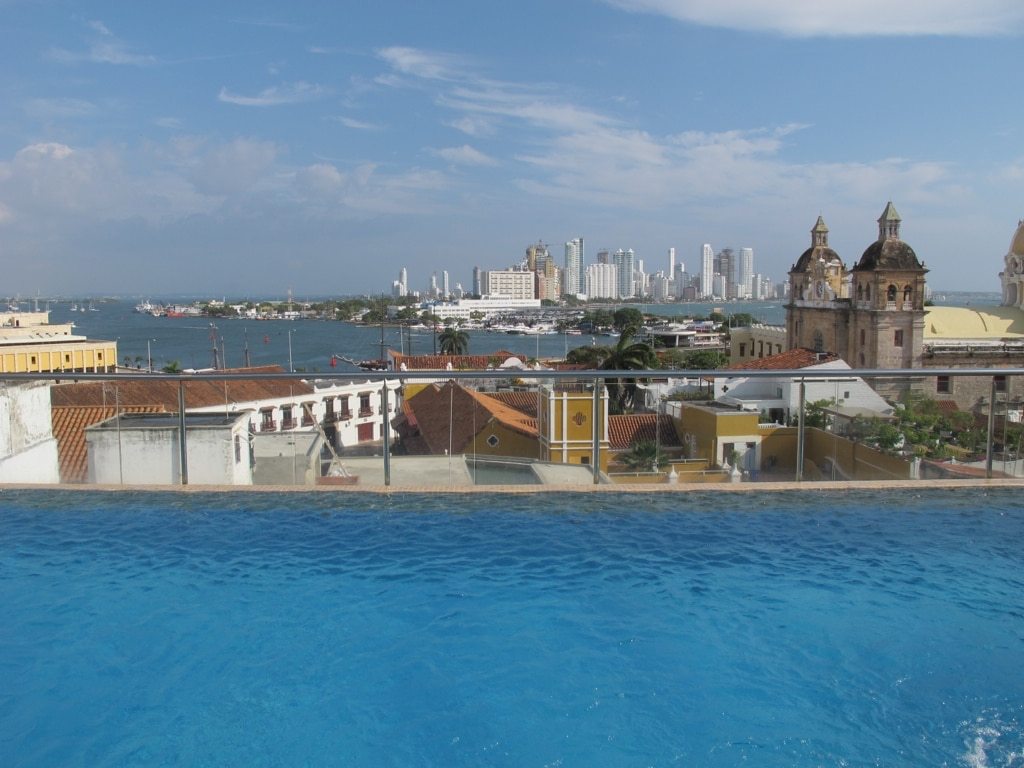 If you're in Cartagena, just go here. They offer drinks. And the staff is super friendly.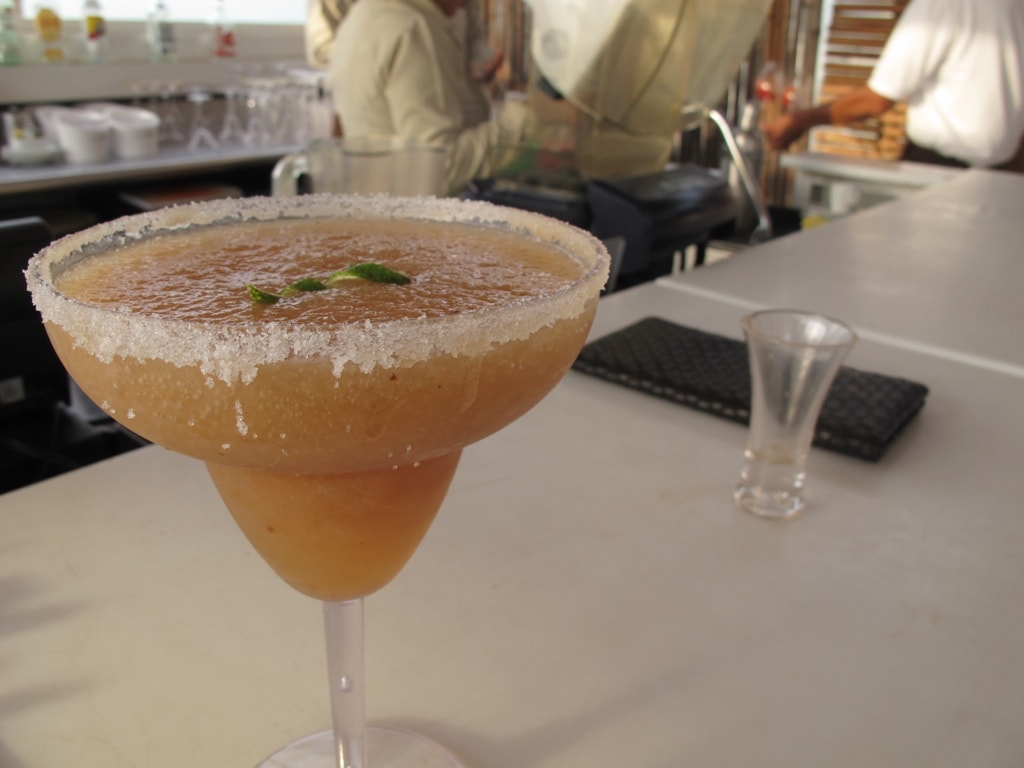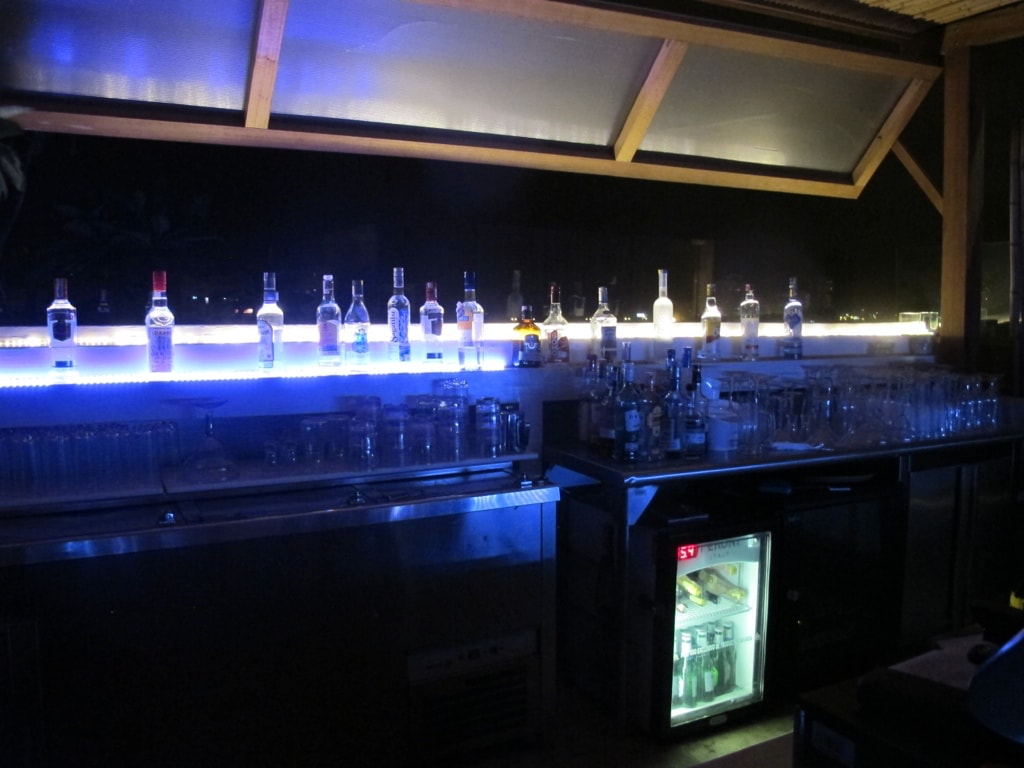 You can find Movich Hotel at Calle de Vélez Danies # 4 -39 in the Centro.
Where to Get a SIM Card in Cartagena
I am adding this section in here because of SIM cards and being able to use my phone when I should be relaxing makes me happy. I got my SIM card for my phone (an iPhone 4s) at Exito Grocery Store near the El Viajero Hostel. From the front door of the hostel, you will take a left and continue a block or so until you see a large building on the left at the end of the streets. The place to get a SIM card is upstairs. Make sure you bring cash because you may have to make one transaction for the SIM card and one to fill it up with data allowance. I went through the company Movistar and it worked flawlessly while I was in Cartagena. I don't recall the price, but it was cheap and I had a great deal of data on it. The person I dealt with spoke no English and my Spanish skills were a bit rusty at the time, but we managed the best we could and everything worked out well. Be sure to bring your passport!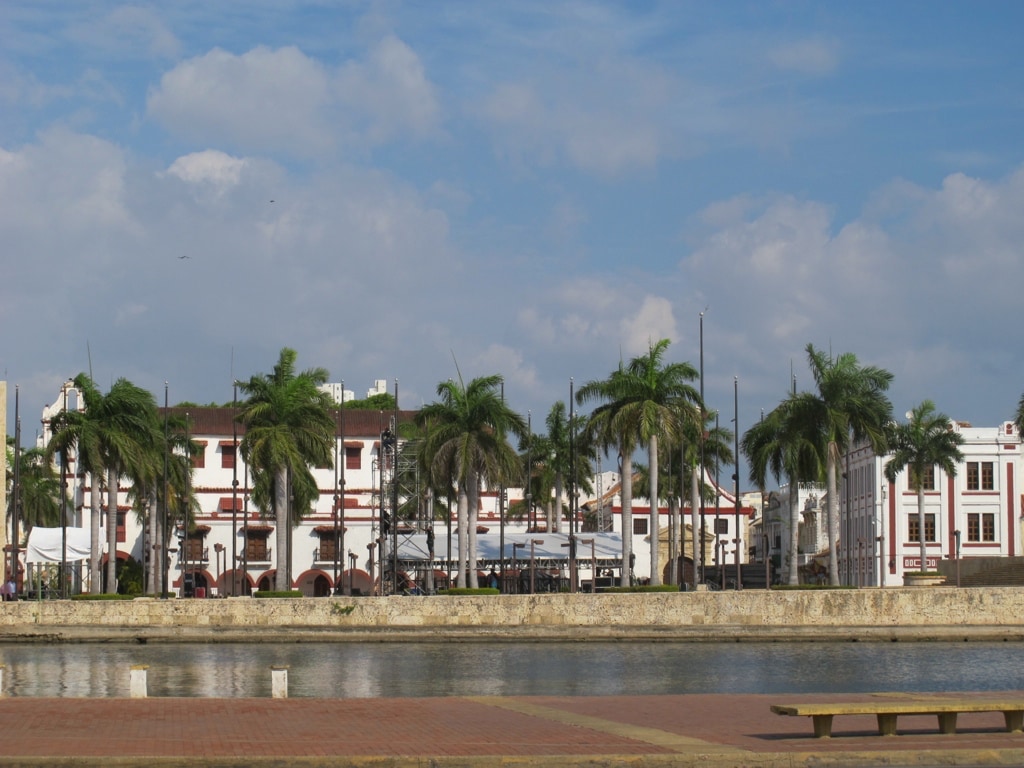 Have you ever been to Cartagena? Where is your favorite place to stay, eat, or drink in the city?