As I mentioned in my previous post, my short time in Gothenburg, Sweden was not one of those trips where I returned to Oslo feeling like I actually visited a new city.  Instead, my time there had been spent visiting new bars and restaurants.  Probably a mistake on my behalf as I missed out on a great city, but I know for certain that I'll be back since it is a short drive from Oslo.
The bars and restaurants I went to in Gothenburg were seriously a vast range and covered just about everything.  I did not go to Sweden to eat Swedish food (although I did do that our first night there)… partly because I have had it so many times and while it is a comforting cuisine, with the exception of surströmming, of course, I miss spicy foods and knew I could find some in Gothenburg at a cheaper price than I could find in Norway.  Sadly, my best meal ended up being from a kebab stand… which is usually how it goes in Oslo too.  I've come to the conclusion that after visiting Sweden, Iceland, Denmark, and living in Norway… Scandinavian food and I just don't mix.  Luckily for me, I did more drinking than eating in Gothenburg…
John Scott's Pub
Kungsportsavenyen 15
Göteborg
This pub was smack dab in the middle of the tourist district so I knew it would be expensive, but I was fleeing from rain… so just about any place would do.  And to my surprise, I really liked John Scott's Pub.  It was extremely large and open… and since we arrived in the middle of the day, there was hardly anyone there.  They had a vast selection of beers, although I decided to just stick with something Swedish, since I was in Sweden after all (and was ignoring eating Swedish food).  I ordered a Höga Kusten because it was from a brewery up north, close to where my friends who were with me were from originally.  It was light and delicious.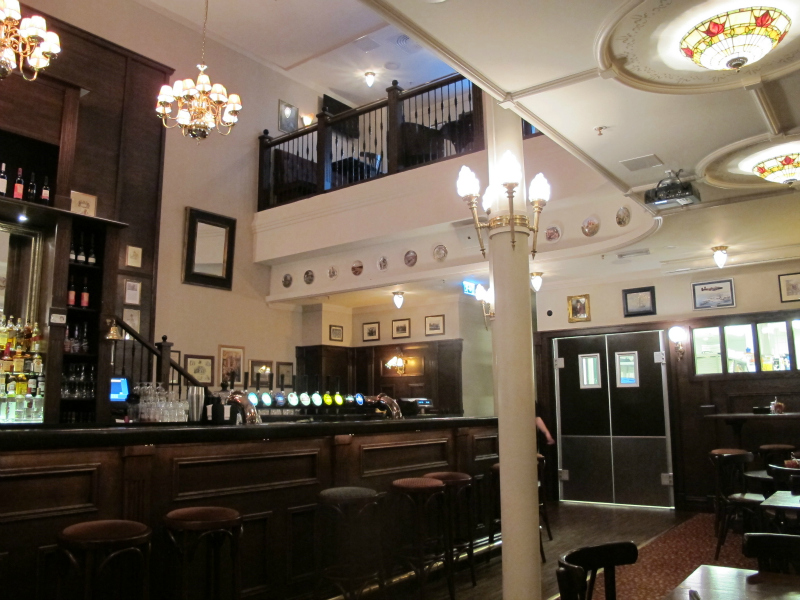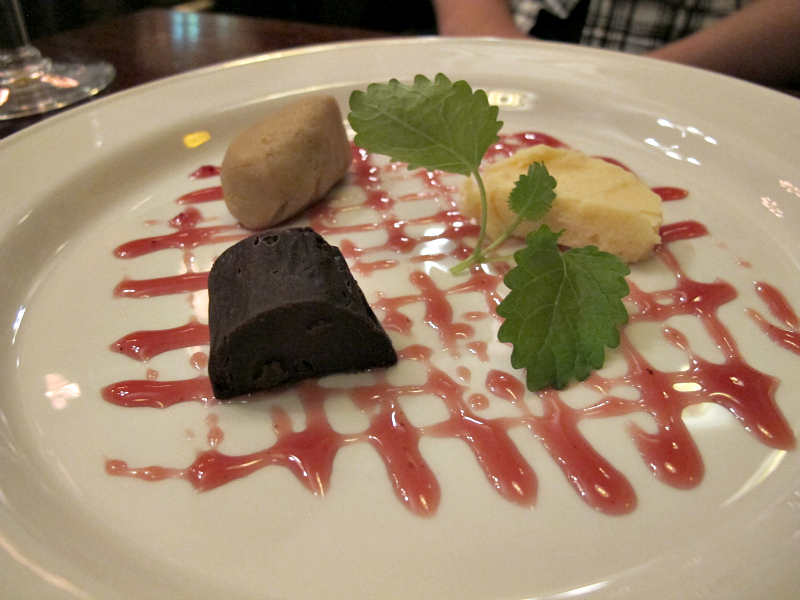 Wasabi Sushibar
Karl Johansgatan 59
Göteborg
Not very good.  I really could have made better sushi at home with my eyes closed.  The atmosphere was quite cool and centrally located… but the food was not very well made.  They will not deviate from their menu what-so-ever, so you better like something on it.  I had ordered a hand roll and it was drenched in so much chipotle mayonnaise that it was near impossible to eat.  They did have some decent deals that included beer in their lunch menu.  I opted for no beer, but really now wish I had taken one because it may have made the sushi more tolerable.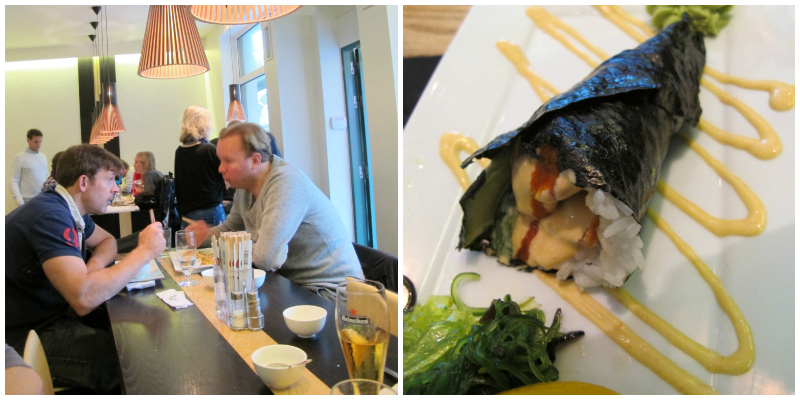 3 Små Rum
Kristinelundsgatan 4
Göteborg
One of the best places I have been to in a long time!  I stumbled upon this bar (which looked tiny from the outside, but had spacious enough seating once inside), as I was walking around Gothenburg looking for a place to go into.  I am a huge fan of good beers and once I saw that this bar had a sign saying it refuses to sell Carlsberg and Heineken, I was completely sold… and in love.  They had an IPA called Dugges High Five from Gothenburg (45SEK for a small portion), but seemed to specialize mainly in Belgian brews and trappist ales.  The bartender… who actually struck me to be the owner although I didn't inquire, seemed to really know his stuff and take his job very seriously.  The crowd also offered a more mature scene… totally more my speed if you have ever noticed how quiet Swedes aren't when they drink.  If you ever find out that I moved to Gothenburg, I can assure you that this place was the reason.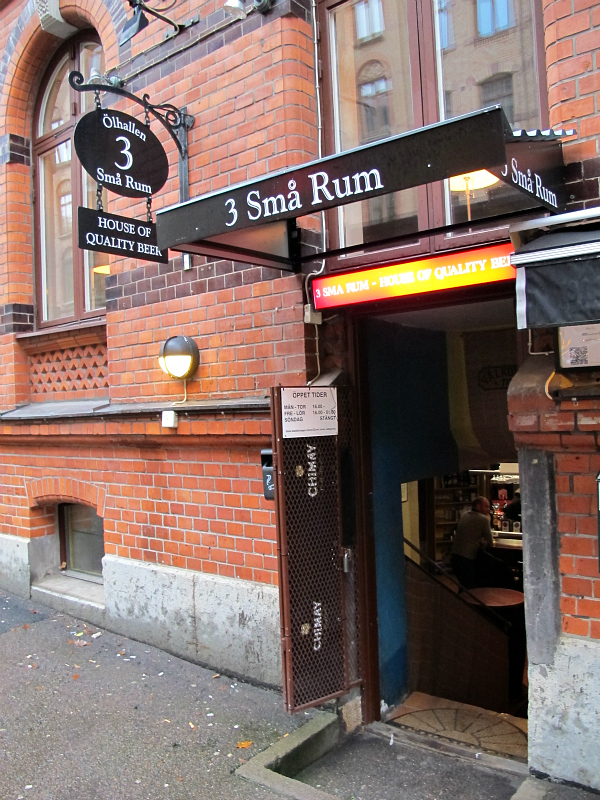 BaBar Sportsbar
Kungsportsavenyn 29
Göteborg
This place was okay.  Apparently it is not just a bar, but also a restaurant (which is downstairs).  I went solely for a beer and left after that one beer upon realizing this place was not really my scene.  What drew me to the bar was the large "HAPPY HOUR" sign hanging outside.  I haven't seen the words 'Happy' and 'Hour' side by side in a long time and I'll admit… I got a little giddy when I saw it.  I drank an Åbro, which was included in the measly Happy Hour menu and enjoyed the sportsbar setting for a little while.  I am still having issues considering soccer a sportsbar sport (which is obviously not something I want to admit in Europe), so I haven't found the same comfort in sportsbars in Europe as I once had in the US.  Nevertheless, this place was okay.  Nothing fancy… and it kind of gave me a young 20s crowd vibe, but it did the job for an hour, and did it cheaply.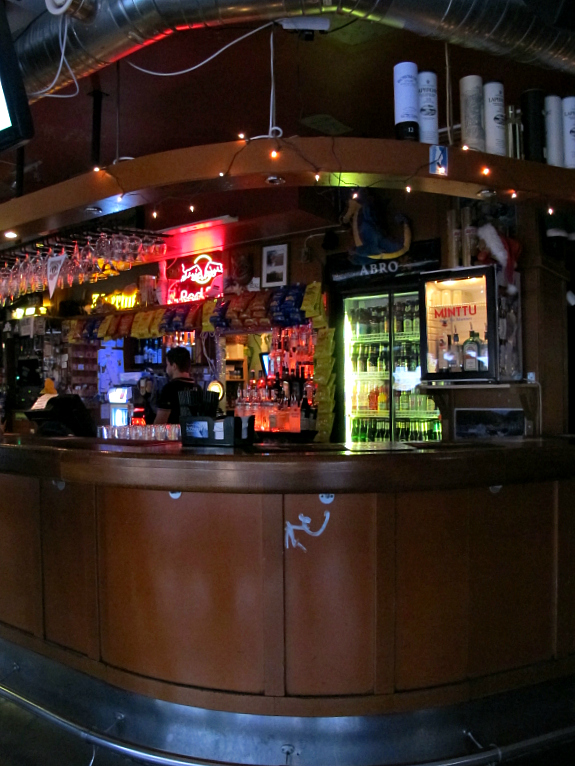 Cans Bar & Kök
Linnégatan 38
Göteborg
When I arrived at Cans, I was starving.  Unfortunately for Cans, they had seriously nothing on their menu. I resorted to nachos (which were lousy by American standards) and a Mariestad beer.  Since I got out of the tourist district, prices took a nosedive, much to my liking!  The beers were very cheap… but I really wouldn't have minded paying a little extra if I knew those extra dollars went to help fund renovations to their bathrooms.  They were the worst bathrooms I had seen at places since Southeast Asia this summer.  And trust me, no establishment in Scandinavia should ever want their toilets compared to the squatters I used in Asia.  The place must be semi-popular though because it went from empty to packed all in our two hours there.  Service was exceptional- so I really could understand why.
The Rover
Andra Långgatan 12
Göteborg
This place was definitely one of my highlights from my night out.  If it had been up to me, I would have stayed there the remainder of the night.  They had a great selection of beers and a super cozy atmosphere.  I was able to find stouts here that I haven't seen since I lived in the states (most from the UK).  The Rover had a more upscale look than many of the bars I visited, but the crowd seemed friendly and not the least bit unpretentious.  The bartenders were also outstanding.  This is the bar where my night began becoming a little hazy…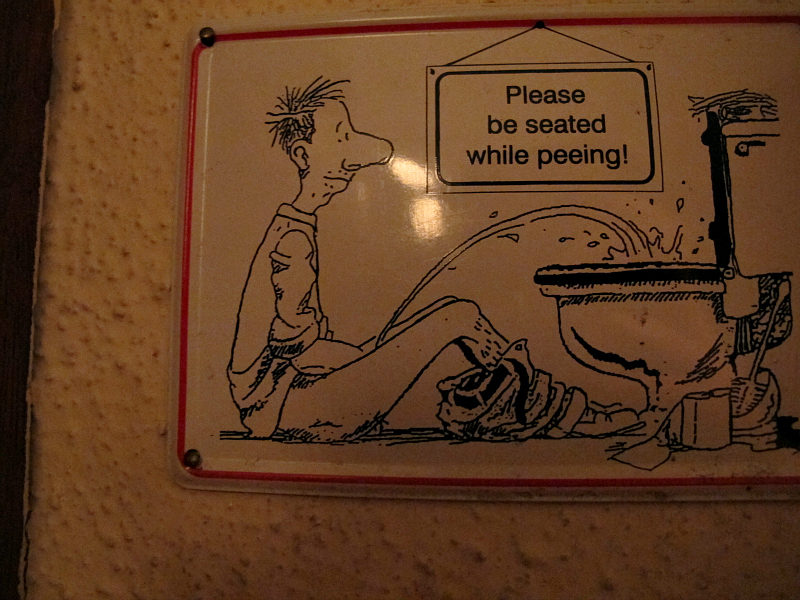 Kelly's Bar
Andra Långgatan 28
Göteborg
This was my last stop during throughout the night and I'm glad it was the last and not first, because I don't think I would have enjoyed it had it been the first.  It kind of reminded me of a college bar that gets in trouble for serving minors in the US.  Obviously, this place does not do that, but it can give Americans a good impression of what type of place this is.  It is very large and has a kind of 'rock' vibe to it.  Not my scene, but tolerable when you've been drinking most of the day.  I don't recall the beers they had here, but they must have been good because I do have some photos of myself downing some type of stout here.  I was seated right by the door and I spent a lot of the night chatting with the Croatian-Swedish bodyguard who was keeping tabs on inebriated folks trying to wander in.
And that is just about everywhere I went while in Gothenburg.  This was all on a Saturday, actually…  I did get some kebab later that night that I don't recall eating (I found leftovers the next day).  After a day of hardcore drinking in Gothenburg I can honestly tell you that Swedes know good beer.  I wish Norwegians were a little better at this… but perhaps if it was more affordable here, they would be.  I think every time I saw a beer I hadn't had in a while when we walked into a bar I screamed and did a little happy dance.  And that is how I best remember Sweden's second largest city.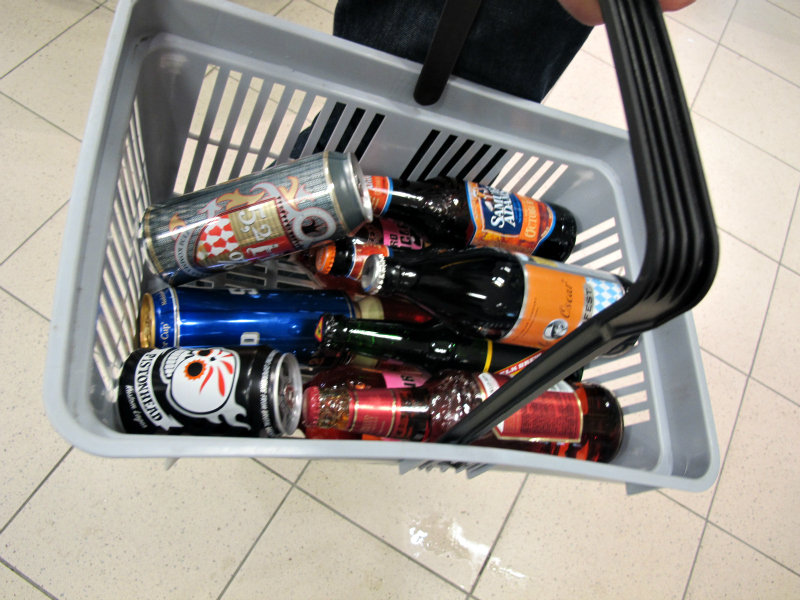 (middle of the day stop at Systembolaget)
Have any of you been to Gothenburg or have any places to add to this list?