There is so much to do in Kyiv that sometimes the surrounding areas and cities stand in the capital city's shadows.
While I love Kyiv to death, here are eight fantastic day trips from Kyiv that will allow you to see more of Ukraine in a short distance or organized trip from the Ukrainian capital city.
8 Fun and Easy Day Trips from Kyiv, Ukraine
People often ask me what my favorite city on the planet is and I quickly declare my love for Kyiv, Ukraine before they can even finish asking the question.
There are so many epic things to do in Kyiv from historical sights to bars to some of the coolest cafes in all of Europe. I just love the city.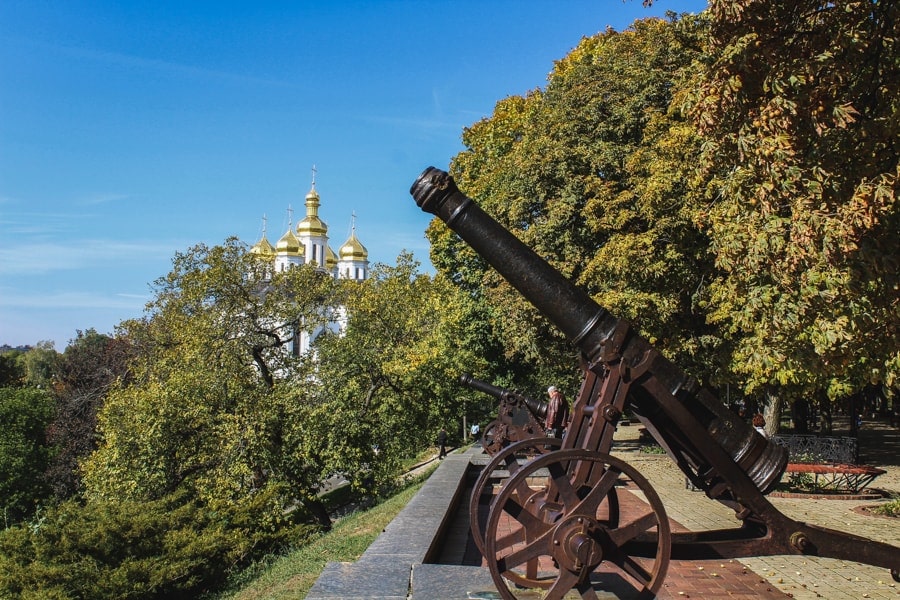 However, Kyiv is like a black hole for me. I arrive and am completely sucked into its captivating nature and I rarely venture outside of it aside from two places that I have frequent business in (both are on this guide).
While I could spend a long time in the capital city, I understand that many people come and only have one or two days in Kyiv.
Kyiv is centrally located in Ukraine and there are so many options of places to visit in its surrounding areas. However, like many countries in the region, the infrastructure for traveling isn't the most 'developed'.
The trains can be slow and often sell out in advance and the buses and marshrutkas are somewhat unreliable as they go by their own timetables and can just sit until they fill up.
The most popular Kyiv day trip is the Chernobyl Exclusion Zone, especially since the hit HBO television show took the world by storm in early 2019.
We included the zone in this guide as it is so popular and it is quite easy to take a Chernobyl tour. This guide will give you insight into seven others that may be to your liking and are excellent day trips from Kyiv.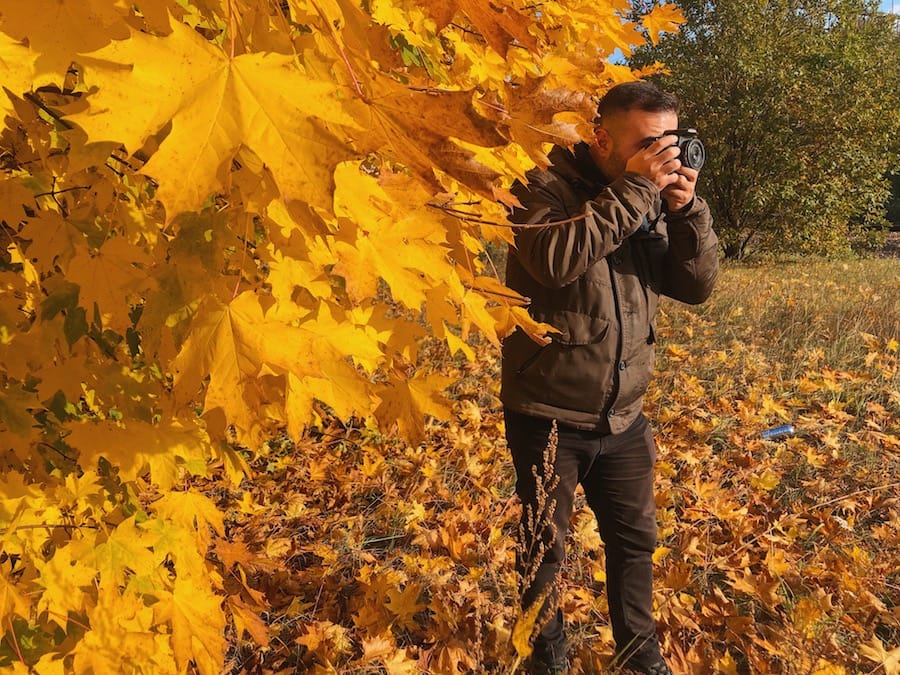 Do You Need Travel Insurance for Ukraine?
We definitely recommend getting travel insurance when in Ukraine as it is always better to be safe than sorry.
We recommend using SafetyWing, a Norwegian company that is extremely credible and reliable and has some affordable policies with all the significant offerings.
>> Click here to get a Ukraine travel insurance quote
Renting a Car in Ukraine
While I have never actually rented a car myself in Ukraine (because I don't even currently have a license), I know many people who have and if you're okay getting stuck in Kyiv traffic and driving around outside of the city once you escape it, it is a great transportation option.
It will make some of these Kyiv day trips easier!
>> Click here to get rental car prices for Ukraine

Kyiv Day Trips
Zhytomyr
Located between Kyiv and Lviv, Zhytomyr is one of Ukraine's oldest cities. The city is a major transport hub that links Ukraine with various cities throughout Poland and Belarus.
Zhytomyr is the perfect size for a Kyiv day trip with all the sites easily seen within a few hours.
One of the biggest draws to the city is the Museums of Cosmonauts, a large exhibition with over 10,000 items on display.
The kitschy museum is dedicated to the Soviet space hero Sergi Pavlovich Korolyov who was born in the city and led the Soviet space program between 1950-1966.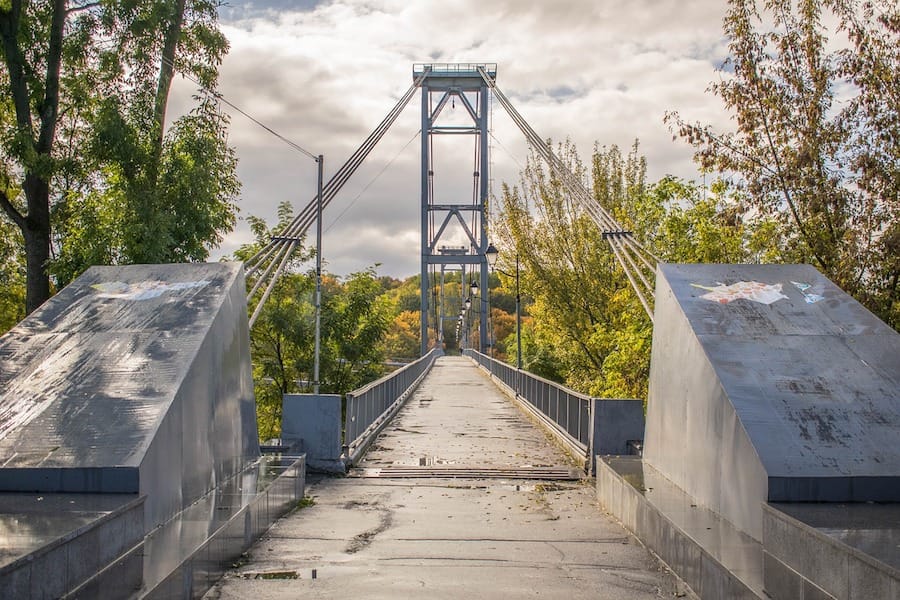 Zhytomyr is about 87 miles west of Kyiv and can be reached by train, bus or car share, however, you will need to plan the journey properly to make sure you can make it back in a day.
Alternatively, you can book a guided trip to the city that departs from Kyiv, and will take you to all the main sites. There are 8 and 10-hour tours available.
Chernobyl
Chernobyl has been attracting intrepid tourists for years, but since the TV show "Chernobyl", tourism to the exclusion zone has exploded. I went on a Chernobyl tour a few years ago and found my day in the exclusion zone incredibly interesting.
As you travel around the zone, you will visit the memorial to the disaster, the power plant, some smaller villages, the city of Pripyat, and on some tours, you will also visit the Russian Woodpecker (Duga).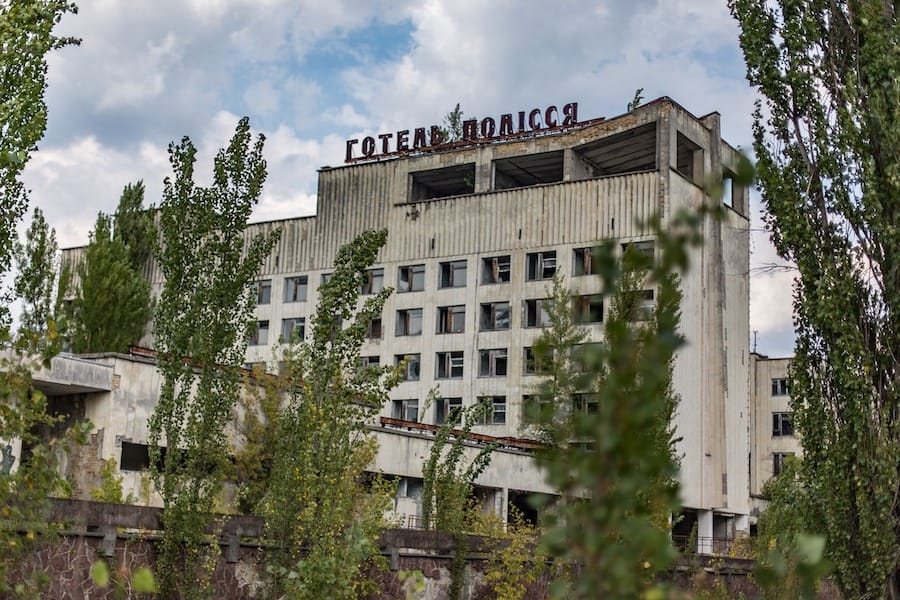 It is only possible to visit the exclusion zone on a guided tour as the entrance is highly regulated and the need to make sure people do not remove things from the zone as some objects contain very dangerous levels of radiation.
You will need to book your tour in advance so that your details can be registered with the authorities prior to entering the zone.
To view worthwhile Chernobyl tours, click here.
Slavutych
Slavutych might be one of the most interesting cities in the whole of Ukraine. After the Chernobyl disaster, there were thousands of displaced people along with an equal amount of workers drafted in from all over the union.
This led to the creation of the final city to be built by the Soviet Union, Slavutych.
To build the city, the central committee tasked builders and architects from all over the union who built districts in the same architectural style as the republic they hailed from.
As you take time to walk through the various districts, you can admire the incredible styles of Tallinn, Yerevan, Baku, and many other republics.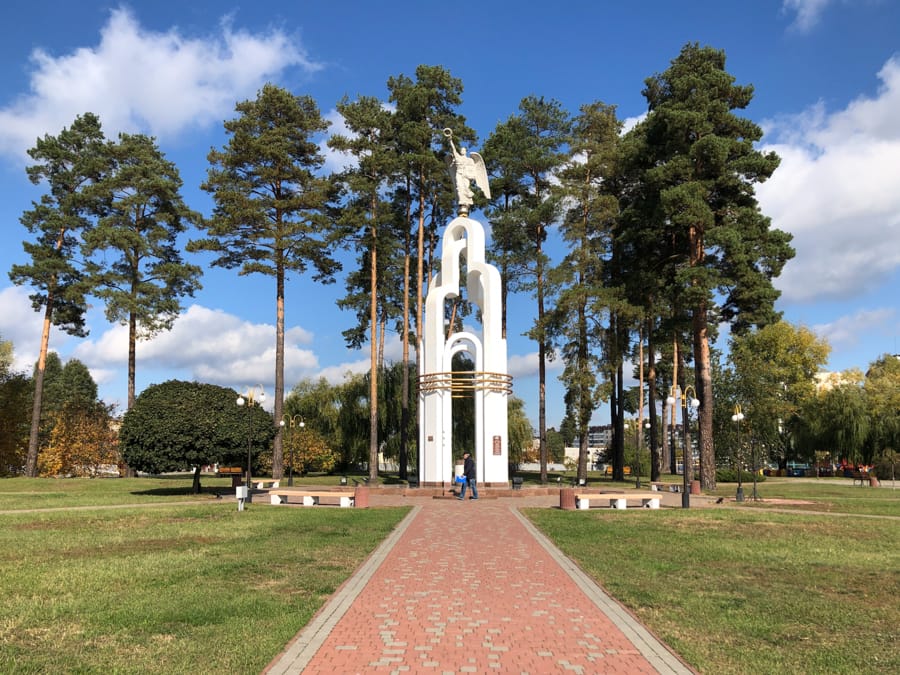 My personal favorite is the Yerevan district where they bought the traditional building stones made from pink tuff from Armenia which have the famous pink hue to them.
Slavutych is a relatively difficult day trip from Kyiv as it is around a 2-and-a-half-hour journey. The best way to get to Slavutych is by rental car as the transport options to the city can be a little challenging.
If you need to take public transport there are irregular buses and trains that head there and need to be booked in advance. Alternatively, you can book a BlaBla car on the car-sharing app.
Chernihiv
Chernihiv is the city of churches, with amazing golden-domed cathedrals dotting the Ukrainian city. As you wander around the ancient city that was founded in 907, you will enjoy numerous green parks, historic buildings, and charming streets.
Along with the grandiose churches, there are awesome examples of Soviet architecture throughout the city.
As Chernihiv is a relatively large city there are plenty of connections to the city including buses and trains, these should be booked in advance as tickets sell out fast.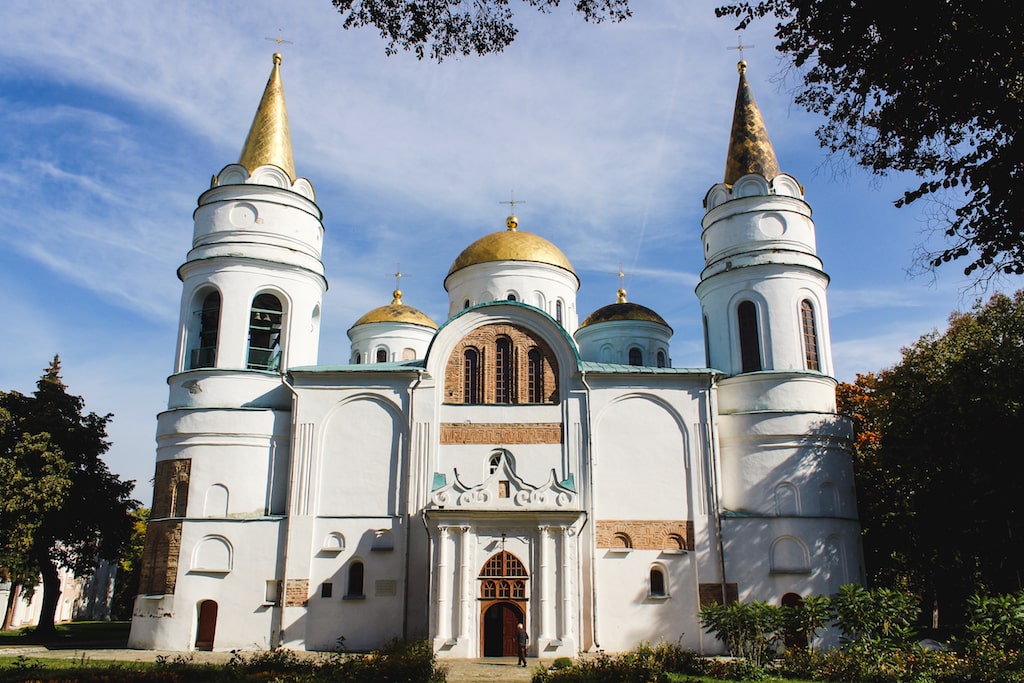 Alternatively, you can book an organized tour to the city which will take you to all the main sites including the fascinating St. Anthony cave monastery, which includes the St. Theodosius Church the largest underground church in Ukraine.
The advantage of the tour is that it includes transport to all of the different sites around the city that are not easy to walk between.
Nuclear Missile Base
Between Kyiv and Odesa, you will find an old nuclear missile base in Ukraine that has been preserved as a museum.
At the height of the Cold War, there were many missile silos dotted around Ukraine. After the fall of the union, Russia demanded that these silos be destroyed as they contained technology that is still in use today throughout Russia.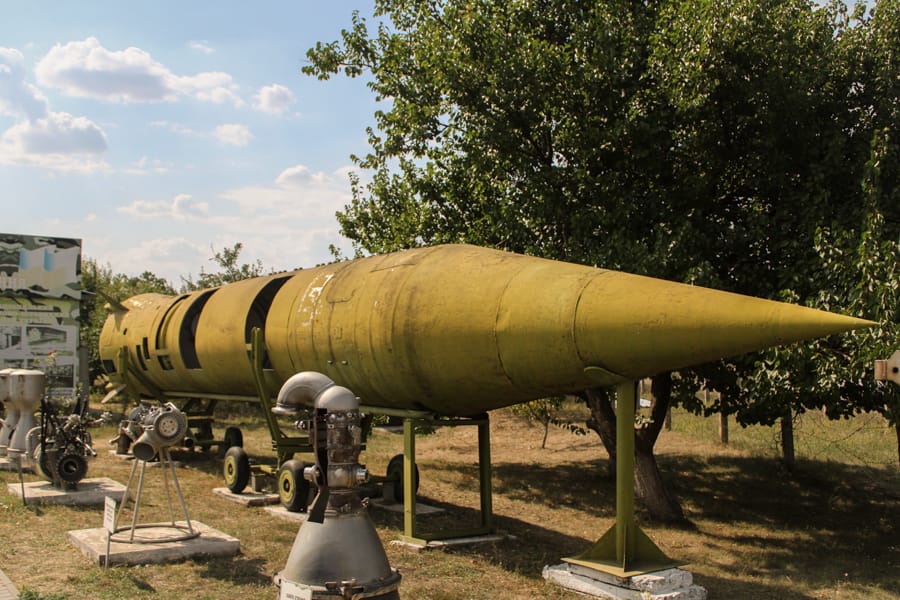 However, the Ukrainian government was given permission to keep one open and turn it into a museum, with some conditions that only parts of the control center are open to the public.
The best way to visit the museum is on a guided tour where you will be able to get the full experience of the site and how it worked.
>> Click here to see nuclear missile base tour prices
Poltava
Poltava is an ancient city located in central Ukraine that has a long, rich cultural history.
The city is officially around 1200 years old, however, archeologists have found remnants of Paleolithic activity in the same area as the city center.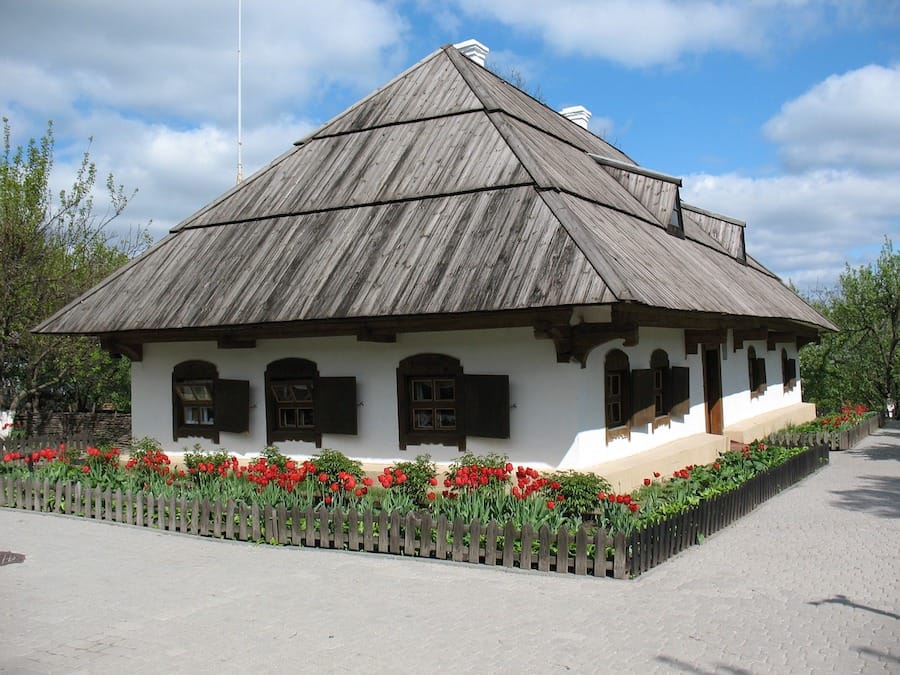 The best way to reach Poltava is by train as it is around a 4-hour drive from Kyiv and this can be easily arranged by an official tour operator. I recommend taking Poltava City Tour by Intercity Train with Museum Visit.
You will travel to Poltava on a high-speed train where a guide will meet you and take you to some of the most famous sites of the city including the famous Dumplings Monument.
You will then head to one of Poltava's incredible museums, before taking the train back to Kyiv.
Vinnytsya
Vinnytsya is a charming town in central Ukraine that oozes European charm with brilliant coffee shops that are dotted along the streets.
Although the town does not boast as many sites as some of the bigger towns in Ukraine, there is definitely enough to keep you entertained for a day.
Some things to do include seeing the largest floating fountain and the Pirogov Church Mausoleum, which oddly houses the mummified body of the Russian inventor and anesthetist Nikolai Pirogov.
Reaching Vinnytsya is best done by train and the journey takes around 2 and a half hours and tickets should be booked in advance to avoid disappointment or getting stuck in Vinnytsya.

Pereiaslav-Khmelnytskyi
The small town of Pereiaslav-Khmelnytskyi has a population of around 30,000 people but impressively contains 20 museums.
The museums are spread around 2 notable parks that have tree-lined paths. One of the most impressive museums is the Museum of Folk Architecture and Household Traditions that consists of 185 sights and 20,000 pieces of art.
The ancient city is located 60 miles south of Kyiv and can be reached by marshrutka or rental car.
Alternatively, you can take an organized tour there where a tour guide will take you around the museum and talk you through all the exhibits and the history of the city.
Once in the city, you can enjoy plenty of museums, although you will need to pay the entrance fees to each museum on top of the cost of the tour. Entrance fees will only set you back about a dollar each.
Where to Stay in Kyiv
There are many amazing options for where to stay in Kyiv. You can read our complete guide to our favorites that we just linked to or you can take our word on the suggestions detailed below. We love them both for very different reasons.
If you're staying in Kyiv and taking a few Kyiv day trips, you will want to be based near Maidan a the central square will be the pickup point for many tours.
Both Kyiv accommodations below are at Maidan and you can easily reach wherever your meeting point is.

Hotel Ukraine
This hotel is an old Soviet gem right in the heart of Maidan. Okay, so Hotel Ukraine is a bit outdated, but if you want to splurge a bit, get a business suite (it's really not that much) and you will be granted with sick views over Maidan and Kyiv. It is a centralized point that also has breakfast included.
City Apartments Kyiv
These apartments are right in the heart of Maidan too, but City Apartments offer a more anonymous experience and the spaces are fantastic.
I have stayed at two different ones there… one was a room and the other was a suite. Both were great. They are so affordably priced for Maidan, too.
>> Click here to book your stay at City Apartments Kyiv
Have you taken any of these day trips from Kyiv? Do you have any other recommended Kyiv day tours?