Colombia is a country with a rough past and a bad image it's trying desperately to shed. For far too many people, what they know of this South American country comes mostly from a certain Netflix series. To be fair, some of the things you may think about Colombia are most definitely true.
The country does, in fact, produce a certain substance that wakes you right up and starts with the letter C. Colombian coffee is amazing, and it will fuel you with superhuman strength throughout your trip. What did you think I was talking about?
With just a few weeks, you can stay in a floating hostel, trek in stunning national parks, sip on craft beers, take in some incredible street art, visit the coffee region, and try your hand at the digital nomad lifestyle. Here are just a few of the highlights you'll experience when traveling in Colombia.
Cartagena
If you're flying in from the US or Canada, this coastal city is the perfect place to begin your Colombian adventure. It's possible to find super cheap flights here from places like Atlanta and Ft. Lauderdale, so keep an eye out for those good deals.
Spending less on airfare will give you more pesos to burn exploring this gorgeous city. Spend your days wandering through the colorful cobblestone streets of the Old Town, taking in the sights and sounds of this UNESCO World Heritage Site.
There's a great free walking tour you can join in to learn more about the history and culture of the city from a knowledgeable guide. Just don't be that jerk who leaves a crummy tip. These guys work hard to make these tours something special and have families to take care of. A fair tip is 25,000-30,000 pesos per person (about $10).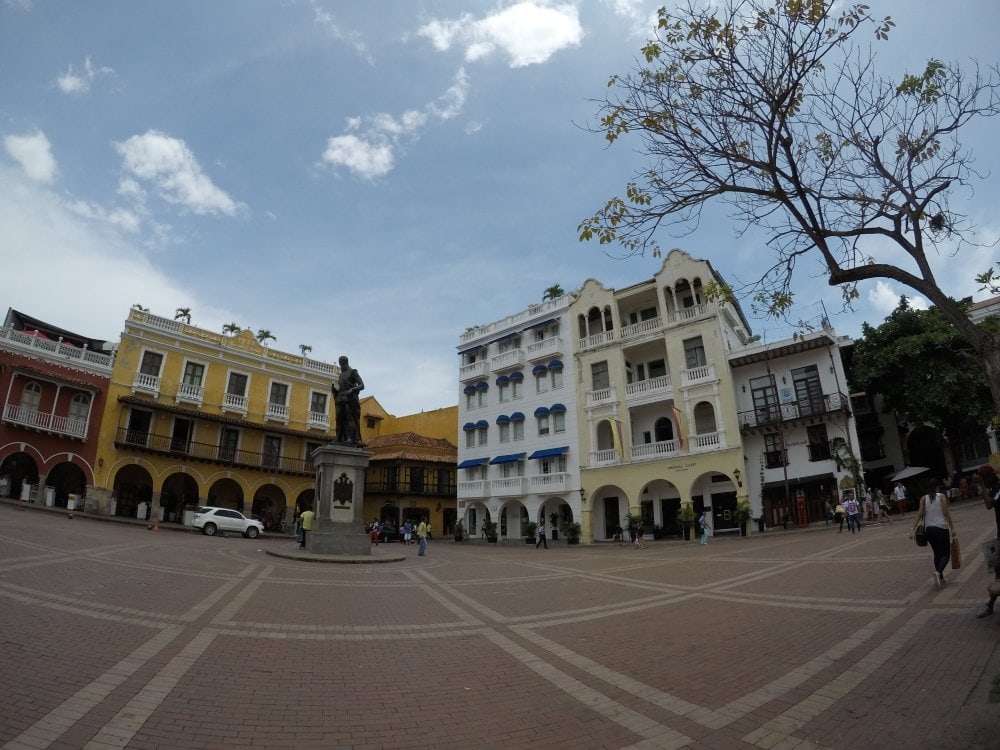 The Old Town of Cartagena is a UNESCO World Heritage Site.
Once the sun goes down, Cartagena really comes to life. There are open-air buses known as Chiva that are decked out in lights and equipped with a bumping sound system.
These party buses take tourists around town on a tour/bar crawl with a few cocktails included. Once you're all warmed up and ready to go, there are tons of bars and dance clubs to choose from.
Whether it's throwing back some Colombian craft beers in a funky USSR-themed bar or tearing up the dance floor at a salsa joint, there's no shortage of good times to be had in Cartagena.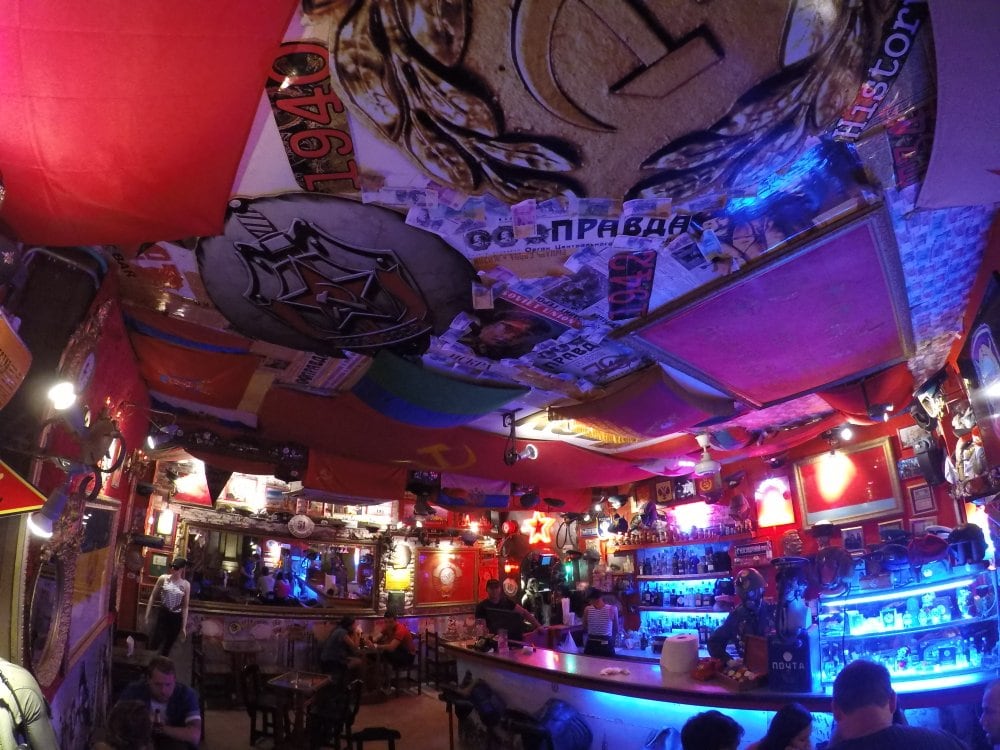 Beaches and Islands
While there's a beach in Cartagena, it's not exactly the nicest one. You'll have to head out of town a bit or catch a boat to an island to relax on those pristine white sand beaches.
Basically, every tour operator in Cartagena can arrange day trips to places like Playa Blanca so you can easily wait until you arrive to book one.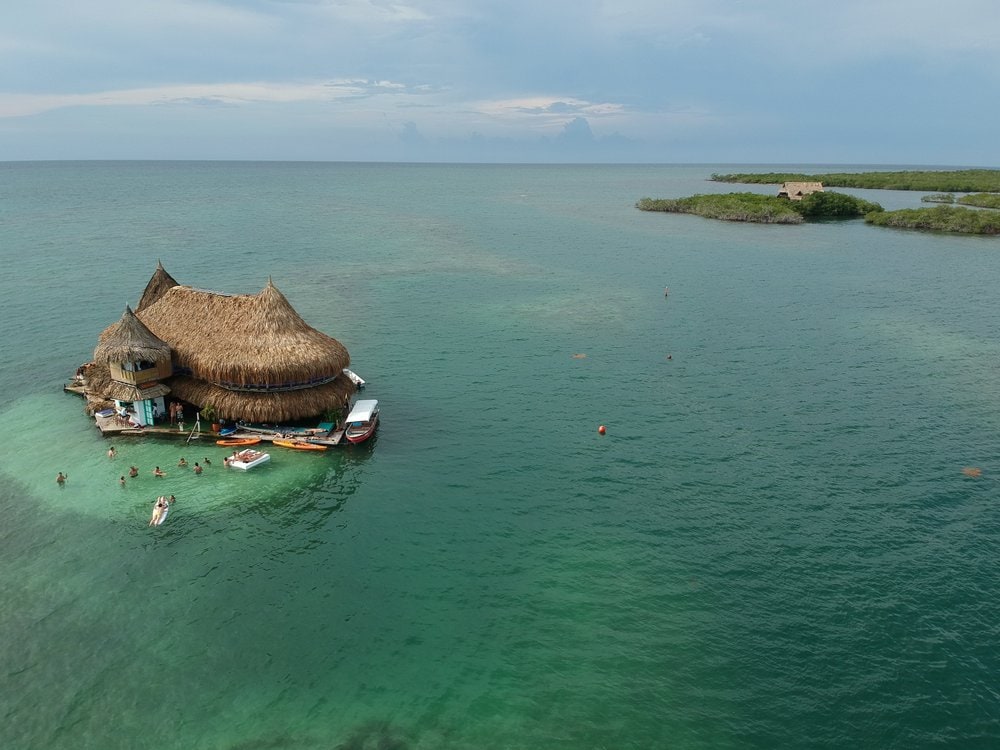 Kick back and relax here for a few days.
Those with a few extra days to spare may want to try and snag a spot at the Casa en el Agua. This floating eco-hostel is located in the San Bernardo Islands about a 2-hour boat ride away from the city.
Reservations open up 60 days in advance and spaces fill up quickly, so be sure you're ready to book when the time comes to avoid disappointment.
Spend your days snorkeling around the hostel or swinging in a hammock, and spend nights sharing drinks with your lucky fellow travelers.
National Parks and Trekking
Those who enjoy the great outdoors will love traveling in Colombia. There are several great choices for multi-day hikes, including Tayrona National Park.
This is a logical next stop after Cartagena, as it's just a bit up the coast. Your best bet is heading to the town of Santa Marta and spending a day or two there before heading into the park. Here you can hike to postcard-worthy beaches and camp out for a couple of nights under the stars.
Another popular trek in Colombia is visiting La Ciudad Perdida (the Lost City). Discovered in 1972 by a group of looters, this ancient city is believed to have been founded well before Machu Picchu in the year 800. It's no walk in the park to get here, as it takes 4-6 days of intense hiking round-trip.
Be sure to get in decent shape and be prepared to deal with the inclement weather if you decide to take this one on.
Coffee
Coffee is kind of a big deal in Colombia. It produces the 3rd highest amount in the world after Brazil and Vietnam. The coffee-producing region of Colombia is even a UNESCO site in and of itself. There's also a National Coffee Park here and a fictional coffee farmer named Juan Valdez who is an icon of the country.
While most of the quality coffee that's produced in Colombia is shipped to places like the US and Japan, it's not hard to find a great cup here.
The cafe culture is huge in Medellin, which should come as no surprise in a city that's a new digital nomad hotspot.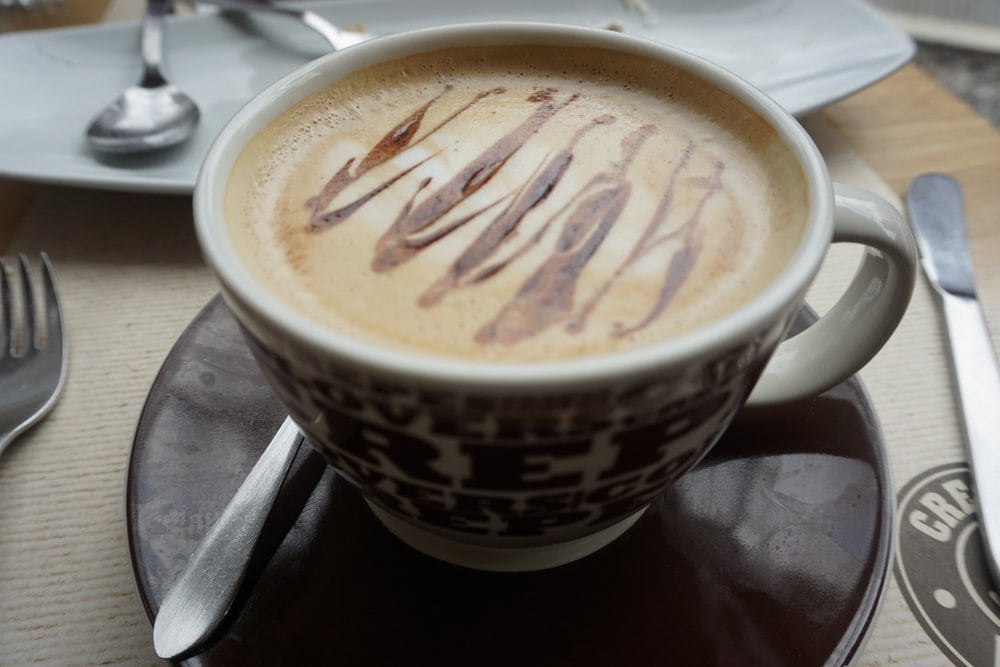 If you want to get up close to Colombian coffee, you'll want to include a visit to Salento on your trip. This scenic Andean town is the perfect place to stay if you want to explore the coffee triangle.
Sign up for a tour of a coffee plantation and do some hiking in the beautiful Colombian countryside.
Street Art
There's amazing street art around every corner in Colombia. The best way to learn about the culture here is to take the street art tour in the capital of Bogota.
You'll get an interesting story of why Justin Bieber has a lot to do with the explosion of street art in Colombia. The guides are very familiar with the artists and will give you insights into their lives and the meaning behind their works.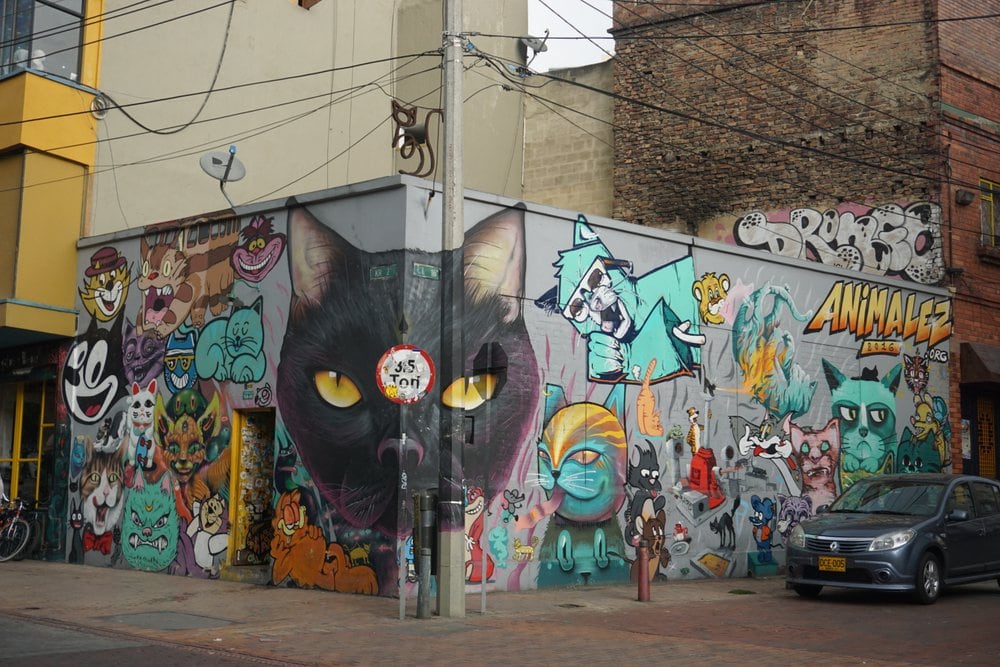 One of the most impressive works you'll see in Bogota.
In Medellin, a visit to Communa 13 is a must for lovers of street art. This was once one of the most dangerous neighborhoods in the city. It has undergone a massive transformation thanks to the installation of escalators and burgeoning art and music scene.
Craft Beer
If you enjoy a nice craft beer, you'll love traveling in Colombia. While the mass-produced lagers like Aguila and Club Colombia still reign supreme with the masses, there are tons of places to enjoy a 'cervesa artesenal' in Colombia. Some of your best bets are the Bogota Beer Company and Tres Cordilleras.
BBC has tap rooms all over the big cities where they're pouring up a wide variety of brews. The Tres Cordilleras brewery in Medellin is open Thursday–Saturday nights.
A 30,000 peso cover charge gets you a night of live music and five draft beers so you can sample them all. I'd skip the Rosada, though. It takes like lipstick and beer definitely should not taste like lipstick.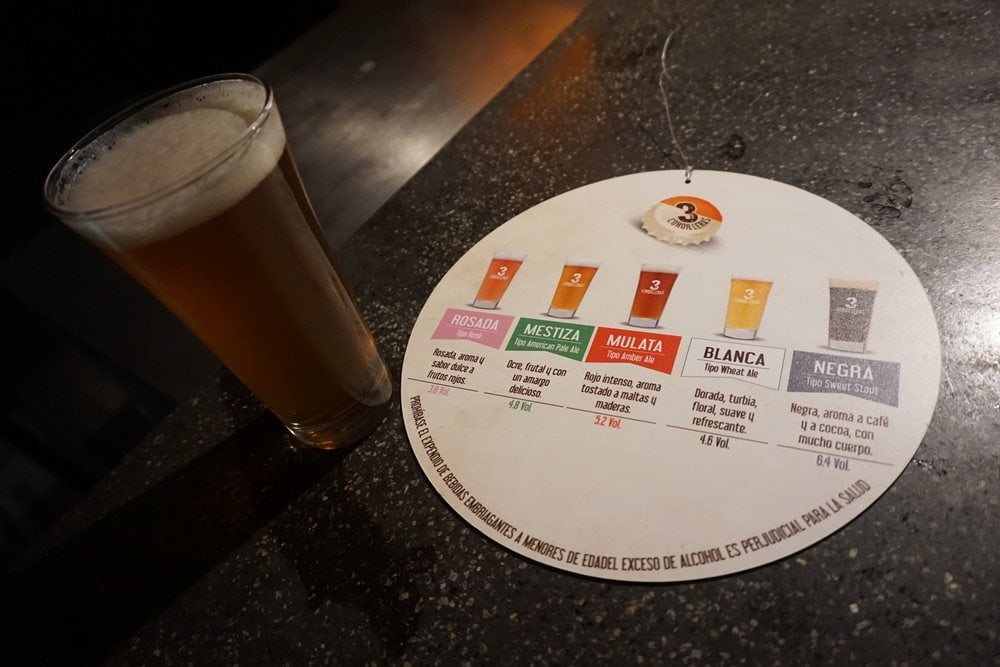 Trying them all at Tres Cordilleras. Except for the Rosada, of course.
Be a Digital Nomad
All over the world, people are rethinking how they live and work. In this hyper-connected world we live in, it's becoming easier and easier to work remotely. Digital nomadism is taking the world by storm, and there are few places better than Medellin for trying it out.
The city is full of coworking spaces and cafes, and fast WiFi is super easy to come by. The weather is great, earning Medellin the nickname La Ciudad de Eterna Primavera (the City of Eternal Spring). The cost of living in Medellin is quite reasonable as well, meaning you'll be able to afford all those lattes and IPAs that digital nomads run on.
There's also a strong community here that's very easy to tap into thanks to weekly meetups and various Facebook groups. Give the digital nomad thing a try in Medellin, and you'll never want to go back to your 9-5.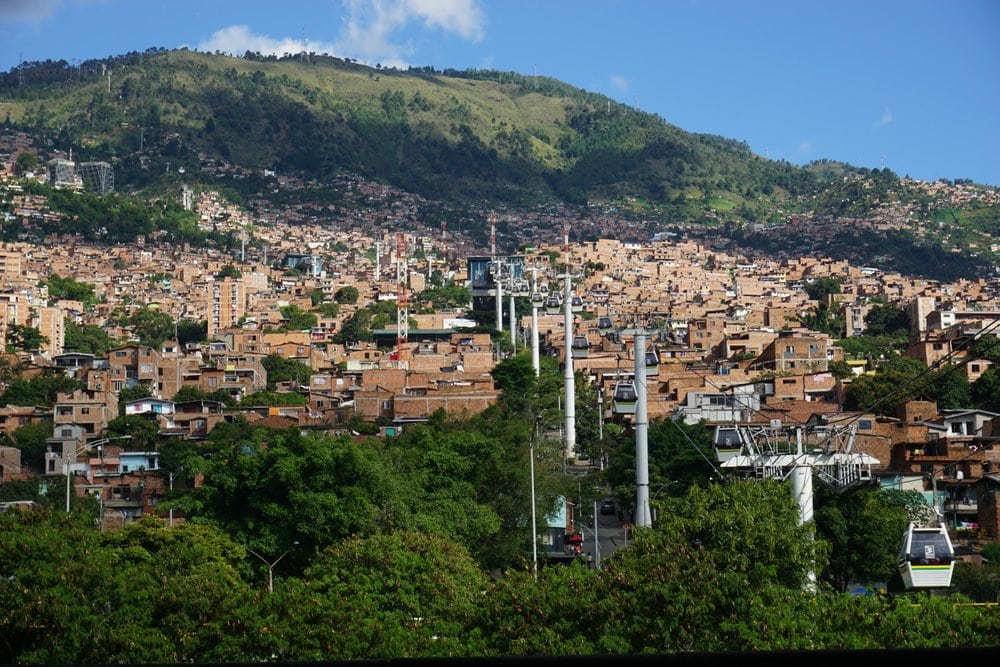 Having spent so long in the shadows, Colombia is emerging as a premier tourist and expat destination. With beaches, mountains, jungles, and vibrant cities, there's a lot of variety here.
Whether you're looking to do some hiking, kick back on a Caribbean island, party like a rock star, or dive into history and culture, Colombia has something for you. The people are incredibly welcoming and friendly, as they're excited to finally see tourists visiting their country.
Turn off Netflix, book that cheap ticket, and come experience Colombia for yourself. Chances are you'll fall in love with the place and start planning your next trip before you even leave.
BIO: Sasha is an English teacher, language student, writer and videographer from the mean streets of Grosse Pointe, Michigan. He's spent the last decade teaching in China, studying in Bali, and following Phish around. He and his wife run the website Grateful Gypsies where they write about expat life, the digital nomad scene, and live music.