One question I see over and over is how to get from the Boryspil Kyiv Airport to the city center. It threw me for a loop for years and sometimes still does!
This guide will hopefully help you find a comfortable way from the airport to Kyiv. It contains options for the airport train, bus, and taxis.
How to Get From Kyiv Airport to the City Center (Train and Bus Options)
I have been to Kyiv too many times to count over the years. It is actually my favorite city in the entire world and I find that there are so many things to do in Kyiv that I never end up bored.
The vibe of the city just completely fits me. Because I have been to Kyiv so many times, I have had the chance to experience the airport more times than I would like and it makes it easy for me to write this.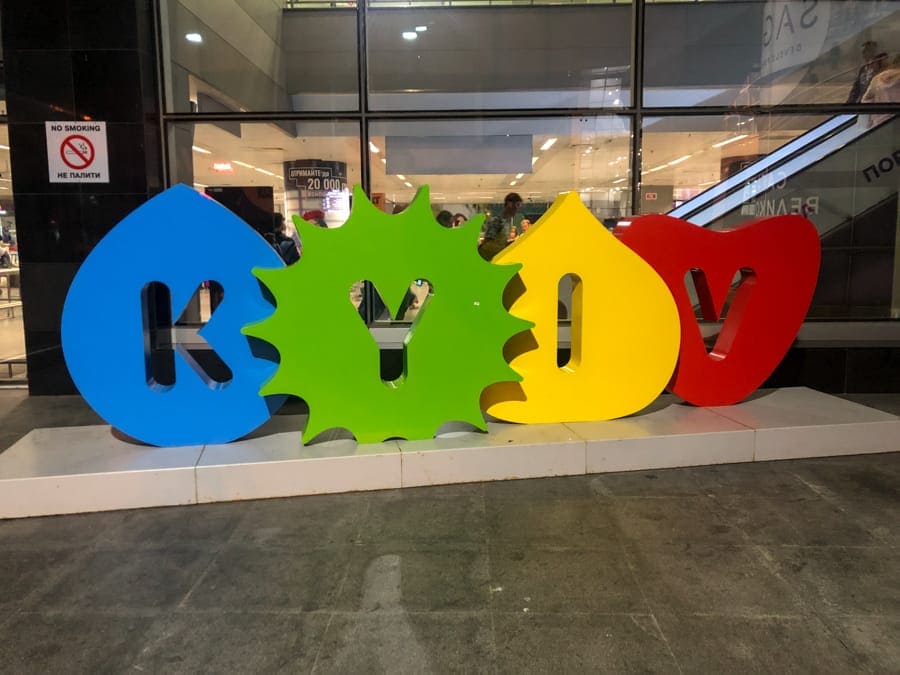 From the Boryspil Airport to the city center, it takes around 40-50 minutes of driving to get there.
The airport is far removed from the city center. If you are heading to the airport during high traffic hours, good luck. Thankfully, a train has been built to help the ease of this transfer.
Getting from the Kyiv Airport to the city center is a lot easier these days and you have bus, taxi, private transfer, and train options.
This post details them and also gives information on luggage storage at Kyiv Airport, how to get a SIM card there, and how to get to Kyiv in the first place.
If you have any additional questions, please feel free to leave them in the comments section or send us an email. Thanks!
How to Get to Kyiv
My recommended way to travel to Kyiv is on my favorite airline, airBaltic. They run regular flights from their 70+ destinations to Riga which connects regularly with Kyiv.
One of the best things about taking flights with airBaltic is that they offer great upgrades, such as their Business Class, and you get really delicious food (I had a quinoa and mint salad that was incredibly tasty) with the upgrade.
The upgrade also gives you personalized service, lounge access in Riga, and drinks.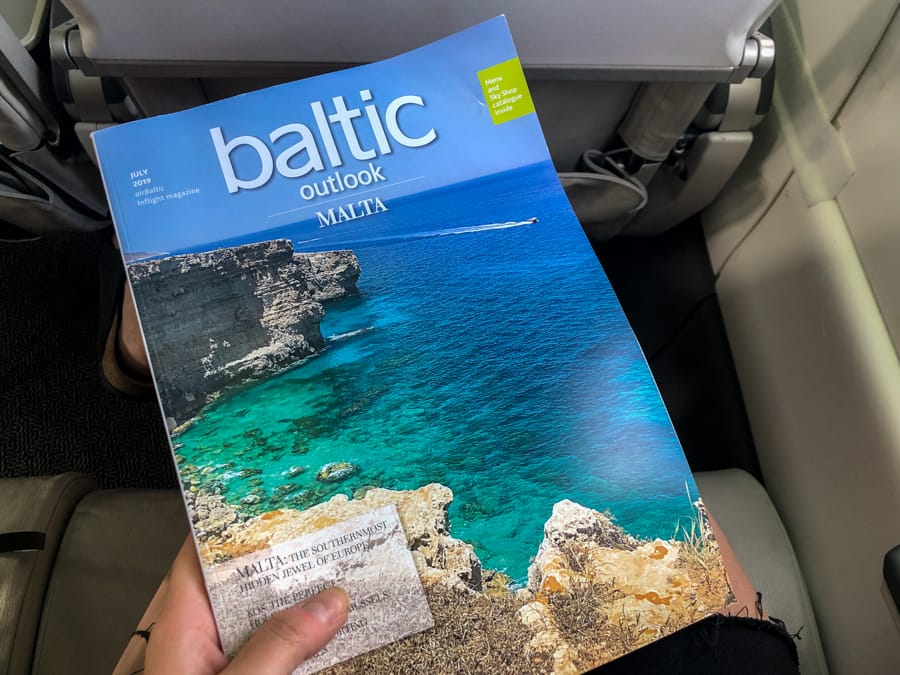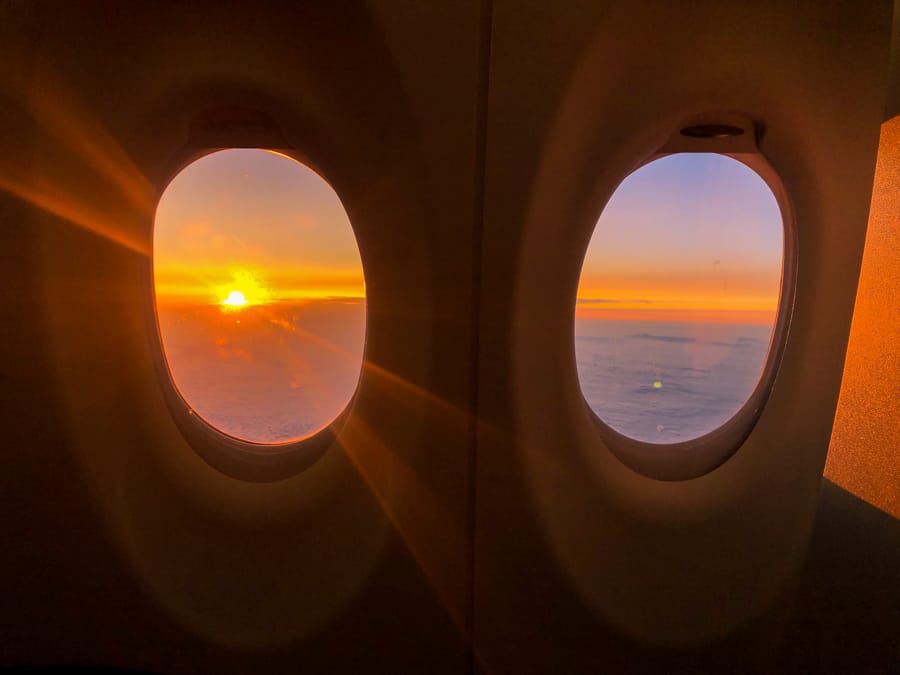 Another reason I love airBaltic is that the Riga Airport (RIX) is my favorite airport in the world because it is easy to navigate, doesn't have a lot of overpriced nonsense in it (oh my gosh- I can actually afford to eat dinner at an airport!), and it is clean with great working wifi.
Click here to search how to get to Kyiv on airBaltic
How to Get From Kyiv Airport to the City Center by Train
Recently in 2018, Kyiv Airport launched a new express train that operates from Kyiv Boryspil Airport to the central railway station.
It is a new, efficient, and comfortable option that will take you to the Kyiv city center in less than 40 minutes and you'll be able to avoid all possible traffic jams.
The train comes every 30-120 minutes depending on the hour and passenger flow.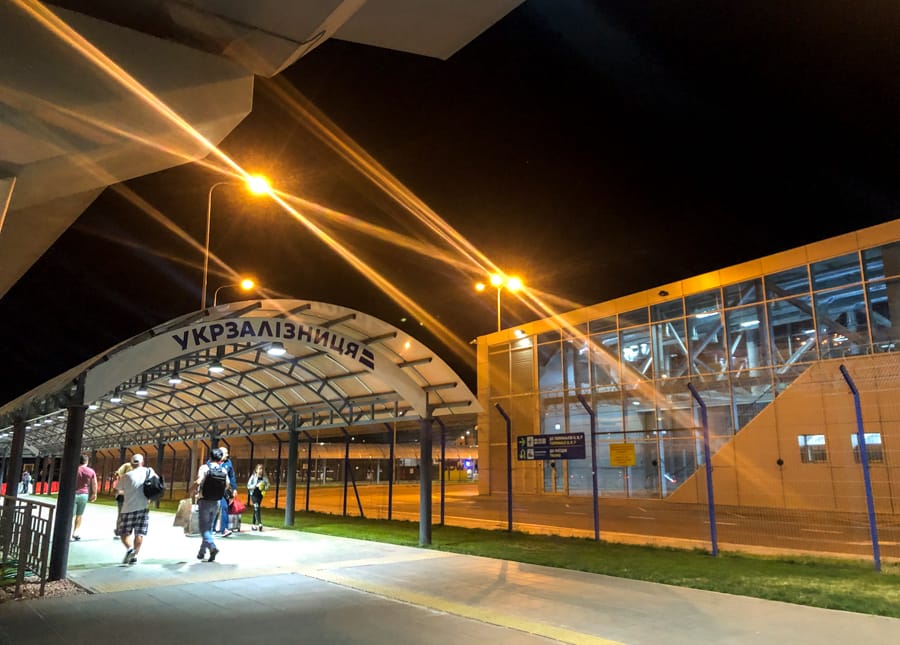 Spoiler: Every single time I go to take this train, it's never there and 'doesn't run'. So… yeah.
In order to find the train, you will need to exit arrivals and take an immediate right, following the trains sign.
Go to the very end of the walkway and you will see the station (it is outdoors), as well as a small cashier area where you can purchase a ticket. Click here for more train info.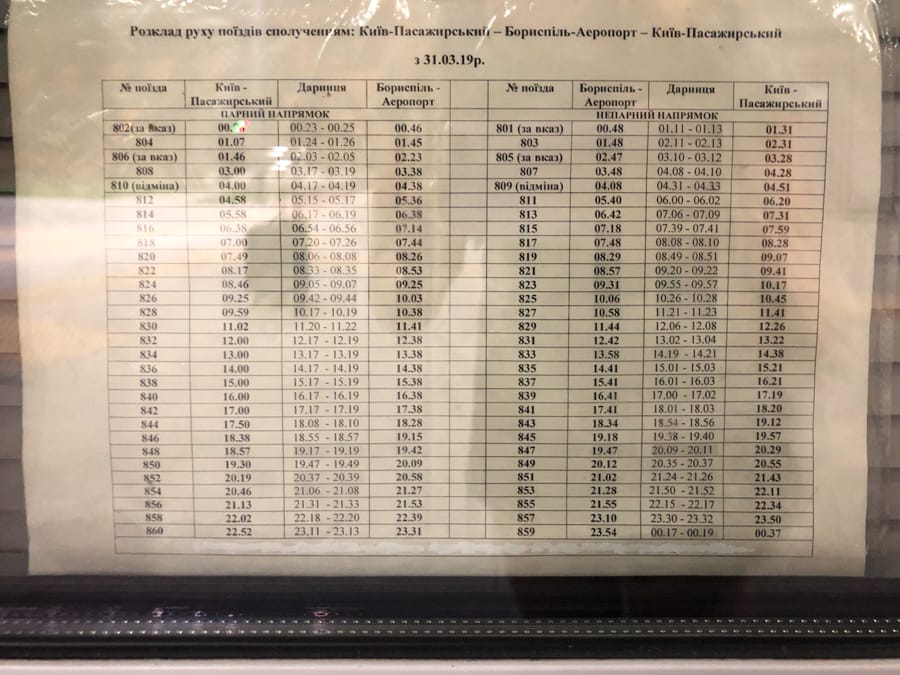 Train Ticket Prices from Kyiv Airport to City
You can purchase the tickets on this train at the aforementioned kiosk right beside the train terminal. There is apparently a terminal inside of the airport but I never saw it.
Kyiv Airport ticket prices are as follows:
80 UAH (4 EUR): adults
60 UAH (2.15 EUR): children from 6 to 14
As I mentioned, the train always is not available when I arrive in Kyiv.
I asked some people I know who have taken it for their opinions and they said it operates just fine but it can be a bit on the crowded side during rush hour.
Airport Bus to Kyiv City Center
Another easy and acceptable option to get from the airport to Kyiv city center is via the Sky bus. Bus line 322 connects Kyiv Boryspil Airport with Kyiv's main railway station (or Kharkiv metro station).
The purple buses will be waiting for passengers at Terminal D in the arrivals section.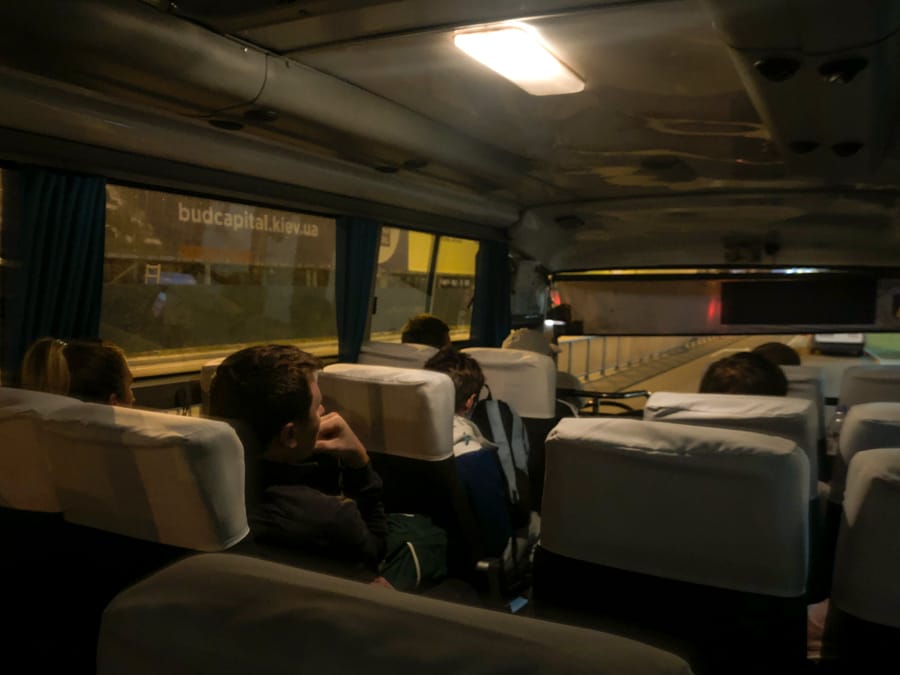 Basically, you will walk outside of the airport and take a right and you'll see them straight ahead of you.
Buses are supposed to leave every 15 minutes during the day and every 30-40 during the evenings but I have sat on one for an hour recently and it never left as it wasn't filled up.
So, I got off and opted for a taxi as I was too tired to wait. You can purchase tickets from the driver and the ride takes about 40-45 minutes in total.
Sky Bus Ticket Prices from Boryspil to the City Center
As mentioned above, you can purchase these tickets right on the bus. You will see a driver or a small group of men standing outside of the bus. Just ask them.
They will help you put your luggage in the compartment and will tell you to get on the bus and wait until they come and collect money for your ticket.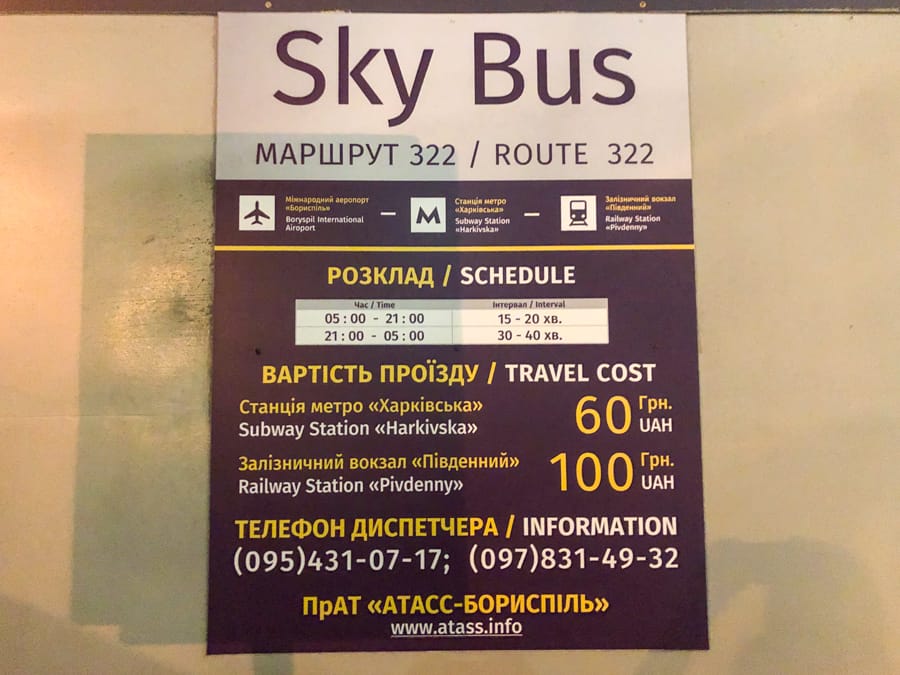 I took this option a few years back but haven't taken it for a while despite sitting on the bus for an hour waiting this past trip.
Adults 100 UAH (3.58 EUR) | Return 200 UAH (7.17 EUR)
Children 100 UAH (3.58 EUR) | Return 200 UAH (7.17 EUR)
Getting a Taxi from Kyiv Airport to the City Center
This is my favorite way to get from the airport to Kyiv's city center although I think it is the most difficult, to be honest. I am just lazy and usually want out of Boryspil upon arrival.
The reason I think that this is a difficult process is that the wifi at Boryspil only works inside the terminal. So, without getting a SIM card, you can run around forever trying to find your driver.
I have done this on multiple occasions. And, if you have to go back inside of the terminal to get wifi, you will have to go through another security check and it is a true pain.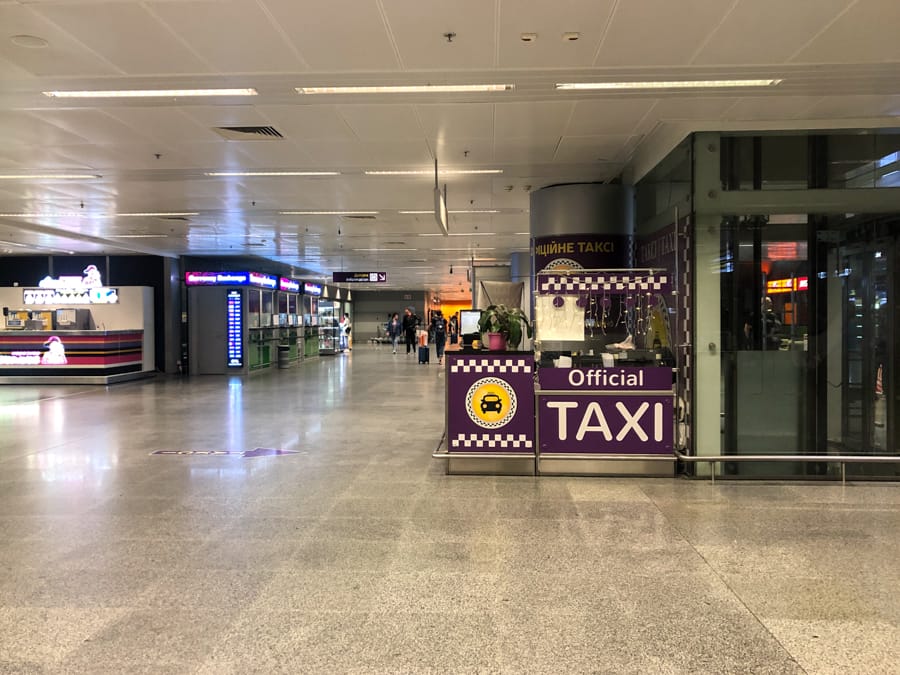 There are two taxi app services I recommend in Kyiv: Uber and Uklon. Try to get them both set up before arriving in Ukraine if they allow you to do so. Yandex does NOT work in Ukraine.
There are also taxis you can take from the airport but I struggled to get a driver last time even though this was supposed to be a metered journey.
With an Uber, you will pay around 330 UAH to get to the city center from Kyiv Airport. Keep this amount in mind if you try getting a street taxi or something else as they will likely quote you around 500 UAH which is too much.
The best thing about a taxi from Kyiv Airport is that you can go anywhere and you don't have to end up at the train station.
Luggage Storage at Kyiv Airport (Boryspil)
There is luggage storage at the Kyiv Airport and it is unusually expensive, in my opinion. Especially if you have more than one bag.
To find the luggage storage, you will need to enter the arrivals hall from the baggage claim and passport and take a sharp left. Continue walking toward the police and security area until you see this sign: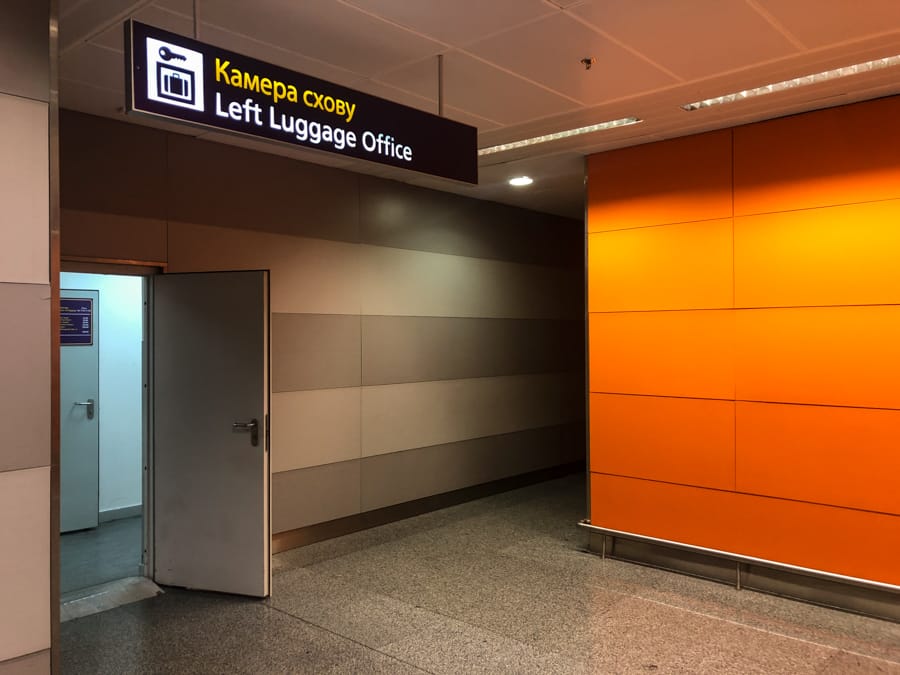 You then will proceed through that door and wake up the man sleeping. This is no pleasant experience, I can assure you. He will make a loud groan and trot over to you with fierce eyes.
Hand over your luggage, get the tags he will hand you (I can't even imagine what kind of trouble would ensue if you lost these- so just don't), and run far away!
Okay, so the experience isn't this unpleasant… just kidding, it is. But your luggage is stored and if you're storing multiple items for a couple of days, be prepared to pay.
I stored two suitcases for 3 days each as hauling these around was not going to be a fun part of my Ukraine itinerary. The prices for the suitcases are as follows (and per piece):
Up to 1 hour: 10 UAH
Up to 3 hours: 30 UAH
Up to 6 hours: 60 UAH
Up to 12 hours: 120 UAH
Up to 24 hours: 180 UAH
every day after is 180 UAH
It's not cheap, but it is an easy option for those needing to store stuff or not keen to drag it around Kyiv.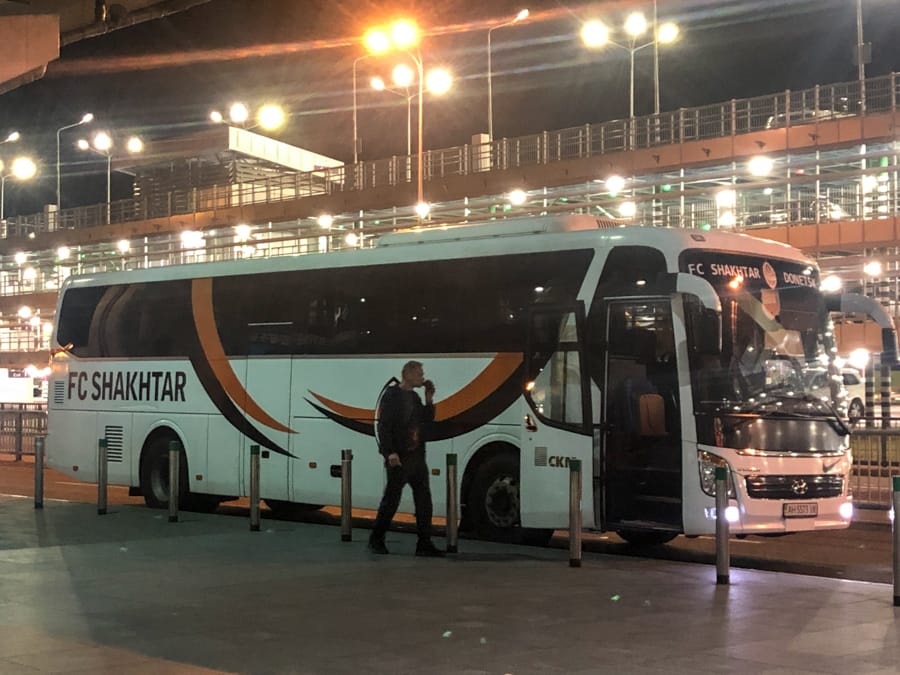 Getting a SIM Card at Kyiv Airport
I have previously written about how to get a Ukrainian SIM Card in Kyiv, but the experience in the airport is a bit different. And I suggest not doing it unless it is extremely vital.
There are three operators at the Boryspil Airport: Kyivstar, Vodafone, and Lifecell. If you arrive in the middle of the night, chances are that only Vodafone will be open.
The prices for getting a SIM card at this Vodafone are much higher than grabbing one in the city. I was given the price of 225 UAH (like $8 or so) for a couple of GB.
I, fortunately, knew I was being ripped off and decided against getting on… but if you think this is a decent price, it is up to you.
Having a SIM card does make the process of ordering a taxi less cumbersome. But, there is free wifi at the airport so you can just use that if you're concerned.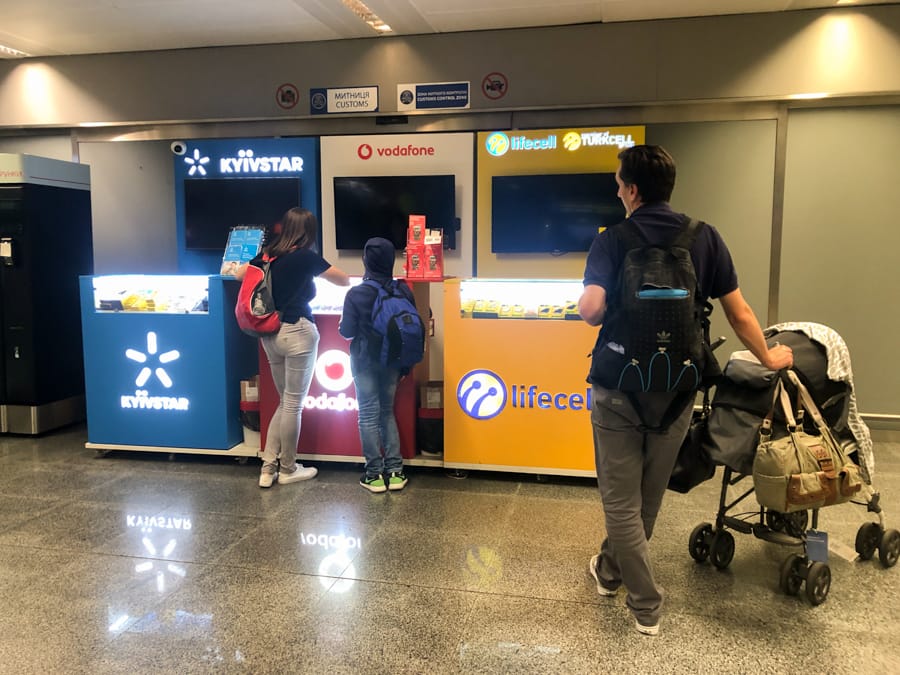 Best Way from Airport to Maidan (Khreschatyk)
I find the best way from Kyiv Airport to Maidan or Khreschatyk to be a taxi. They will take you right there and drop you off.
If you're arriving during the day, the train or bus may be a better option as you can hop on the metro from the train station to Maidan. But, during the night, this is a great option.
If you need a place that is open 24/7 around there to sit at- I can suggest Sushiya or Mafia. Both have terrible sushi and food but are open around the clock and have wifi and warmth.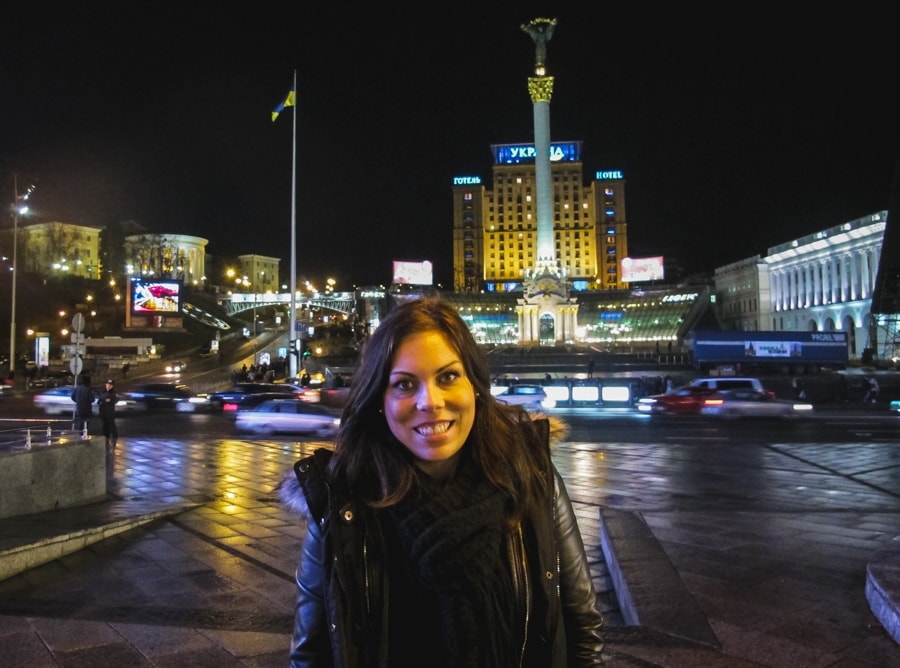 Boryspil Kyiv Airport Transfer Services
If you're not comfortable taking any of the modes of transportation mentioned above, you can always grab a Kyiv Airport transfer service to and from your hotel in the city.
Below are two recommended options for travelers going to Kyiv:
These are great options if you're heading to Kyiv on business or just simply want something pre-arranged so that you have peace of mind as you land.
Additional Reading Before Your Trip to Ukraine
My friend wrote this amazing book about traveling through Ukraine (she is from this lovely country!) and it is a great read before you head out to Kyiv or anywhere else in the country. Click here to get your hands on it.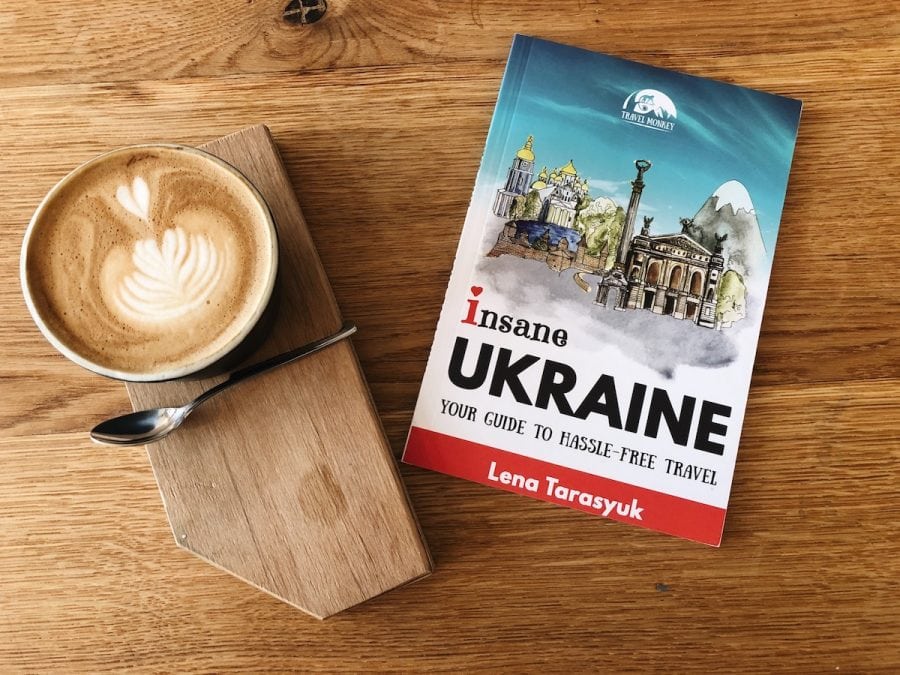 I hope this guide helps you plan your trip from the Kyiv Boryspil Airport to the city center with ease! If you have any additional questions, please drop them in the comments or send us an email.
*I am an ambassador for airBaltic and they flew me to Kyiv on this trip. All opinions are my own.