Do you have a trip to Baku booked and you're on the search for the best restaurants in Baku, Azerbaijan? This Baku restaurant guide will help you find local, traditional fare and two alternative options.
The guide will also give you some insight into the dishes to order, common ingredients in Azeri cuisine, and tips for eating out in Baku.
If you're interested in a food or wine tour in Baku, here are some of the top picks for Baku culinary tours:
Disclaimer: This post was initially written in 2018 by Megan who went there independently. All proceeds since late 2020 have been donated to rebuilding Artsakh and community development projects in Armenia.
About the Food in Baku
Azerbaijan has many delicious dishes to eat and several places to consume them at. Azerbaijani cuisine is a dynamic one that showcases the many layers of history of the country.
The large country in the Caucasus also has some of the most flavorful and robust produce in the world, something that is at the forefront of the local dishes. This guide will highlight fantastic Baku restaurants that focus mainly on local dishes.
To keep things interesting, we have also added two restaurants in Baku that have a focus on another cuisine, showcasing the diversity of this capital city.
Practical Information for Eating Out in Baku
The following tips are just opinions from me based on my experiences eating out in Baku. I was in Baku for around a month and I ate out a lot!
Please note that these observations are based on the restaurants covered in the guide. Modern cafes and Baku bars have a different set of rules and may not have the same perceptions.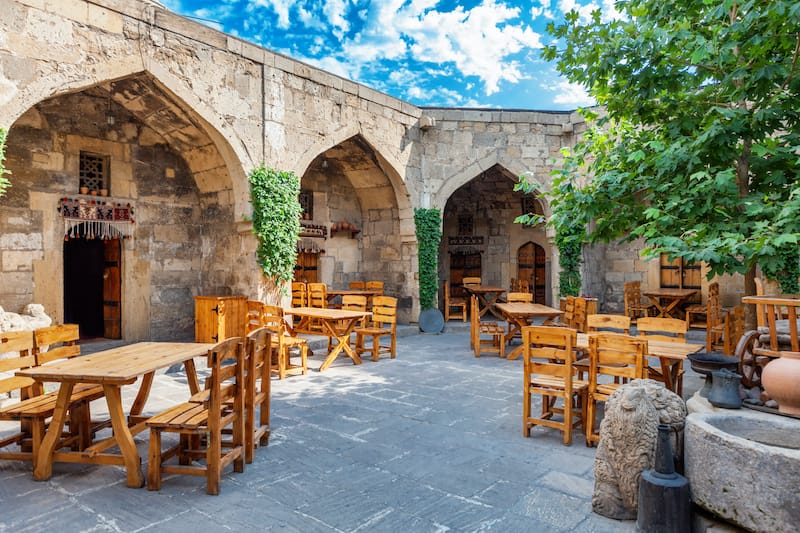 Tipping
Being American, I always tip if the service is good- even if it is not customary in places (I just can't sleep at night otherwise!)
However, in the restaurants in Baku, they usually just added a service charge to my check which prohibited me from tipping.
I was usually unable to add a tip to my bill if I paid with a credit card. But, if you have some spare change and the service was commendable, I would leave a little.
Allergies + Vegan and Vegetarian Options
One of my favorite thing about the food of the Caucasus is that sometimes food is accidentally vegan or vegetarian. I'm not even kidding!
Baku is no exception. The restaurants on this guide are pretty touristy and they may be able to offer vegan and vegetarian options, or help you if you have an allergy, but there is no guarantee, unfortunately.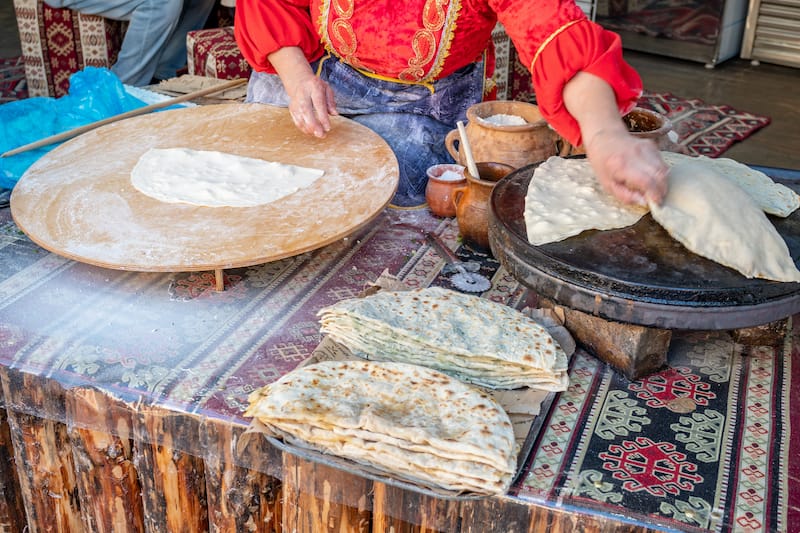 However, Baku has amazing, natural ingredients and they are cheap and easy to find. If you have allergies, head to the market or store and stock up on some fresh veggies and create a salad. As cliche as it sounds, it'll change your life (I started liking tomatoes for the first time in the Caucasus!)
For raw vegans, Manipura Cafe is a fantastic option for a place to eat.
Azeri Dishes to Try in Baku
One thing you will need to do before traveling to Baku is to figure out what dishes are local so you know what to order. Below are a few dishes I loved in Baku and that are great ones to add to your Baku food bucket list.
All produce. Seriously… it is phenomenal!
Sadj (like Azerbaijani fajitas but way tastier)
Fisinjan (meat with a sauce made from local ingredients)
Qutab (bread stuffed with herbs or different spices topping it)
Dushbere (dumpling soup that is fantastic)
Bread (Caucasian bread is so good)
Plov (they make their own version of rice pilaf here)
Dovgha (yogurt soup with toppings)
Piti (soup slow-cooked in a clay pot)
Dolma (regional specialty)
Kebab (BBQ meat)
Baku Restaurants – Traditional Food
When I was visiting Baku, I went out to eat every single day that I was there. I spent over three weeks in the Azerbaijan capital city and really had a wonderful opportunity to discover the best restaurants in Baku.
I often went to some of these restaurants multiple times just to try additional dishes or because it was conveniently located.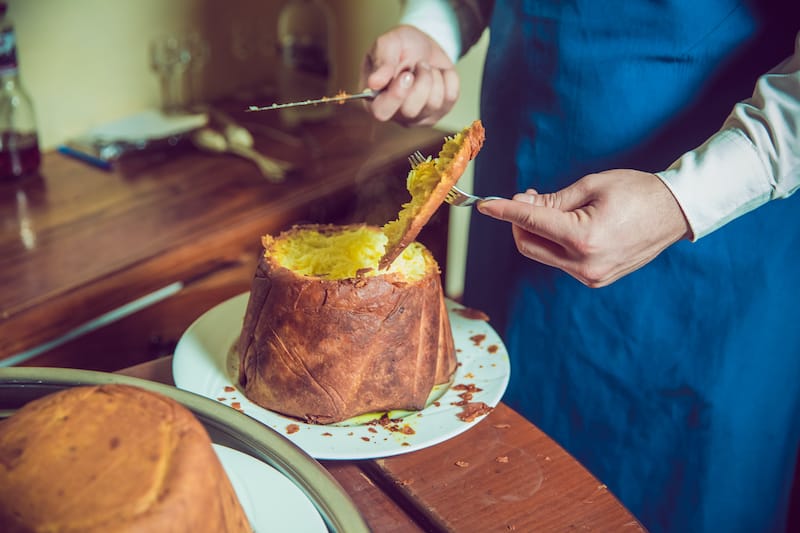 One of my favorite things about Azeri cuisine was the usage of tasty local produce. I loved seeing sour cherries and quince strategically used in the local fare and everything just had so much flavor as a result.
These Baku restaurants mostly all serve Azeri food and come highly recommended by those who have dined at them.
If you have any other restaurant recommendations for Baku that travelers (or myself) should check out- please drop them in the comments! Thanks!
Baku Restaurants with Traditional Azerbaijan Food
Nergiz
One of the most popular restaurants in Baku, amongst both foreigners and locals, is Nergiz (often written as 'Nargiz').
The Azeri restaurant has been around for over thirty years and it takes pride in its superb customer service, cozy interior, and delicious local fare.
The interior will take you on a journey through Azerbaijan's history as you will see carpets and photos of the old city decorating the place.
Nergiz is located in one of the city's main squares, Fountain Square, but it feels quiet and like you've been transplanted to another world (one with amazing food) If you're looking for a tasty dish to enjoy at Nergiz, try their sadj.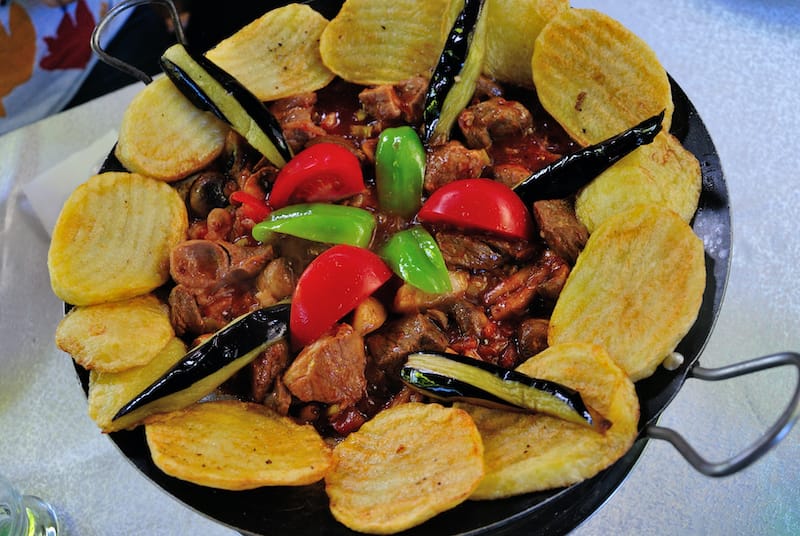 It almost reminded me of a more delicious version of fajitas and I was in heaven for the hour I was eating it.
You can find Nergiz at Fountain Square at 9 Tərlan Əliyarbəyov. Click here to be taken to their website.
Shirvanshah Museum Restaurant
This was my very favorite restaurant in the city and I reckon it is easily the best restaurant in Baku. Shirvanshah is located a bit outside of the city center and not near many of the Baku hotels, but still within walking distance.
I had been wanting to go to this restaurant during my stay but very rarely found myself in its area and it was far away from the hotel in Baku I was staying at.
I accidentally ended up there one day after spending four hours searching for a Korean shop that I never found… and the rest is history.
READ MORE: The best bars in Baku, Azerbaijan
One of the most unique things about Shirvanshah is that it is kind of a culinary and traditional museum of sorts. There are several musicians that will perform national and ethnic music while you're eating and enjoying your dinner.
There are also several works inside that were created by different Azeri artists. You will find art and jewelry, among many other things, dating back decades and even a century, inside of Shirvanshah Museum Restaurant.
When I was at Shirvanshah Museum Restaurant, I ordered one of my favorite foods in the entire world- dolma. I also ordered a side of qutab. The dolma was absolutely delicious and their yogurt sauce was perfection. The qutab hit the spot too.
If you're able to break away from the Old Town and city center, definitely venture out to eat at this Azerbaijan restaurant. You can find Shirvanshah Museum Restaurant at 86 Salatin Asgerova in Baku. Click here to find out more information.

Dolma
My trip to Dolma came at the worst time… and also the best time. I whipped up some delicious eggs and tomatoes for breakfast one morning (which ended up looking like a pile of cat vomit so I had to hide my eyes to eat it) and I made myself quite sick. I blame the Azeri eggs… not that they are of bad quality, in fact, it is probably much the opposite.
I am used to putting crappy eggs in my body over here in Germany and I think eating these eggs, that were likely of higher quality or just extremely different, made me very ill for an entire day. This was not part of my Baku itinerary and it ruined an entire day there!
By the evening, I started to gain a small appetite back and decided I needed to venture out to get food. So I headed to Dolma to get… not dolma.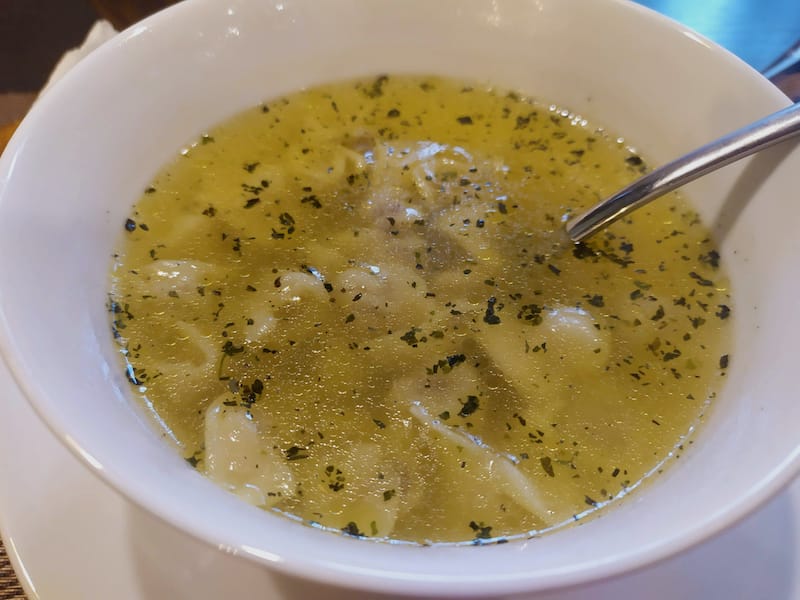 I ended up ordering dushbere, an Azeri dumpling that is in a broth with vibrant herbs. The broth and dumplings hit the spot and I was so glad to have been able to check Dolma out even if I didn't necessarily order their signature dish there.
You can find Dolma at Fountain Square underground a bit at M.Rasulzada kuc 8 in Baku. To find out more information, click here.
Firuze
Firuze was the very first place I ate at when I arrived in Baku (well, for dinner, at least). The restaurant came highly recommended by just about every website, my hostel, and other foreigners I had met. I was stoked to see what the hype was about.
READ MORE: Top things to know before you travel to Baku
The Baku restaurant is located underground as many of the traditional Azeri places are and the food was a nice introduction to Baku. I ordered a plov that they offered with cherries in it and when it arrived to me, it felt a bit deconstructed and I was a bit disappointed. But, once I put it together and tried it, my concerns vanished- it was delicious.
Firuze Restaurant has consistently been labeled as one of the best restaurants in Baku since it opened in 1986. You can find Firuze at 14 Tarlan Aliyarbeyov in Baku. To find out more about this restaurant located near Fountain Square, click here.
Sumakh
I have to be honest, I was initially attracted to this restaurant because of its name, Sumukh. Sumac is my very favorite spice and something I wouldn't mind dousing anything I eat.
So, naturally, when I discovered that there was a restaurant of this name in Baku, I had to check it out. Sumakh specializes in refined, healthy, and delicious Azeri cuisine.
They have everything from dolma to lamb kofte and it is all served alongside some of that tasty Azeri bread. Sumakh is one of the best restaurants in Baku and deserves to be on your restaurant itinerary when in the Azerbaijan capital city.
You can find Sumakh at 20/22 Khojali Avenue in Baku. You can find out more about the Baku restaurant by clicking here.

Nakhchivan
Rice lovers rejoice because this is your place. Restaurant Nakhchivan serves dishes from the enclave of Azerbaijan of the same name- Nakhchivan.
They are prepared exquisitely by a chef who knows the region, the ingredients, and the passionate preparation that goes into the cuisine of Nakhchivan.
You can find 15 different kinds of plov, Ordubad snacks, and kebabs from Nakhchivan there. This is definitely a Baku restaurant to visit if you're looking to try more from the country that may not be easy to find in the capital city.
You can find Nakhchivan Restaurant at 8 Parliament Ave in Baku. To find out more about the restaurant and its dishes, click here.
Tonqal
One of the most famous and best restaurants in Baku is Tonqal, a high-class establishment with a traditional Azeri tendir (like a tandoori oven) and its own wine cellar.
I actually find Azeri cuisine and wine to be extremely delicious and I don't think it gets the credit it deserves and is overshadowed by Georgian cuisine and wine. So, any place that specializes in Azeri wine paired with food is an automatic winner in my book.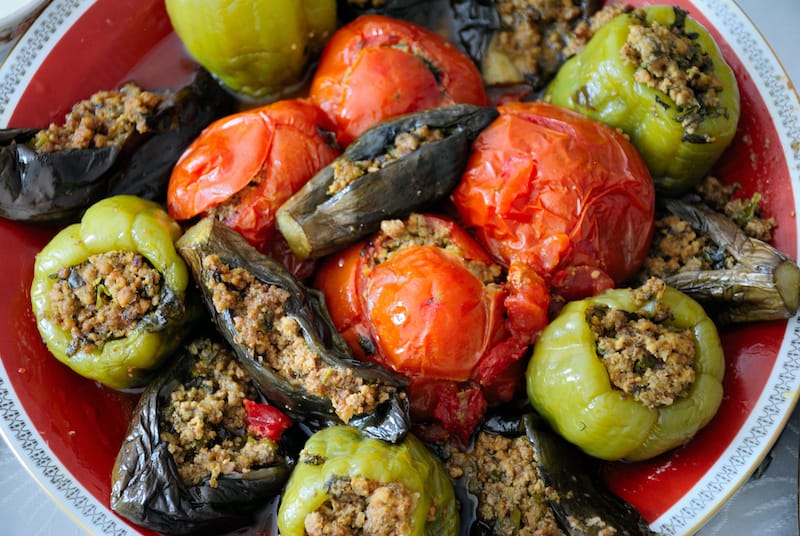 The dishes served at Tonqal are a mixture of traditional Azeri cuisine and European flavors. They take pride in sourcing the best ingredients possible and use the local produce to create exquisite dishes with pride.
The best thing about Tonqal, in addition to the food, is that it is a restaurant for all travelers- families, solo travelers, and also couples looking for a romantic evening.
You can find Tonqal at 82 Acad. Hasan Aliyev Street in Baku. To find out more, including their opening hours, click here.
Sehrli Tendir
Located in Baku's Old Town, Sehrli Tendir is a well-know Baku establishment that sells true Azeri food and refrains from selling alcohol. The prices are minimal, but the food is absolutely delicious, and let's be honest, food is one of the best reasons to travel to Azerbaijan!
The restaurant looks like a cabin and the foods are cooked in a flaming clay over where they make qutab and other Azeri dishes. You can find omelets, dolma, piti, and many other staples of Azeri cuisine at Sehrli Tendir.
You can find Sehrli Tendir at Kichik Qala in Baku's Old Town. To find out more, click here.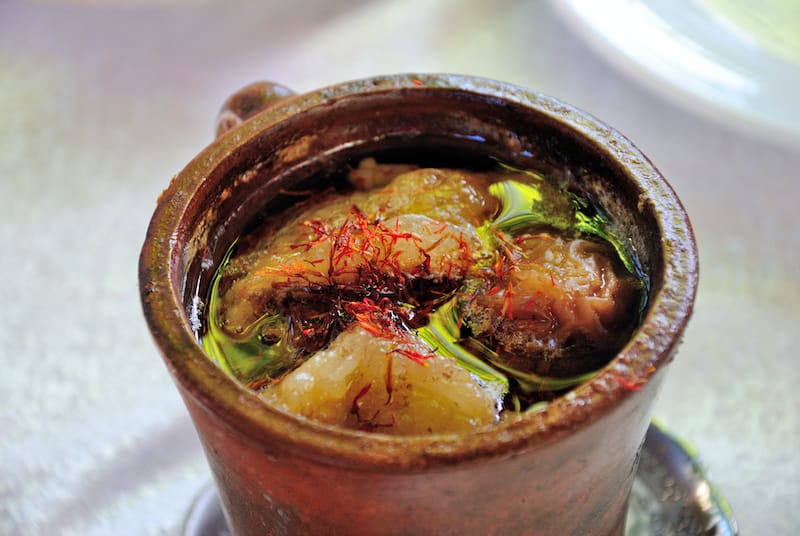 Other Delicious Restaurants in Baku
Al Saeed Restaurant (Yemeni)
I first passed Al Saeed as I was on my way to a mall to hunt down flip-flops. This flip-flop hunt went on for well over a month, including my three weeks in Baku. And every time I ended up somewhere, I passed this Yemeni restaurant called Al Saeed.
Finally, I decided to check it out and eat there. It had been a long day and I don't even recall what I had ordered but I do remember it being absolutely phenomenal.
I had been eating Azeri cuisine for weeks straight and I craved something different, yet still flavorful. Al Saeed hit the mark and then some.
No one really knows of this restaurant and it's hard to find information about it, but it is extremely easy to locate as it is very close to the Baku Central Railway Station. You can find Al Saeed Restaurant at 14 Bulbul Avenue in Baku.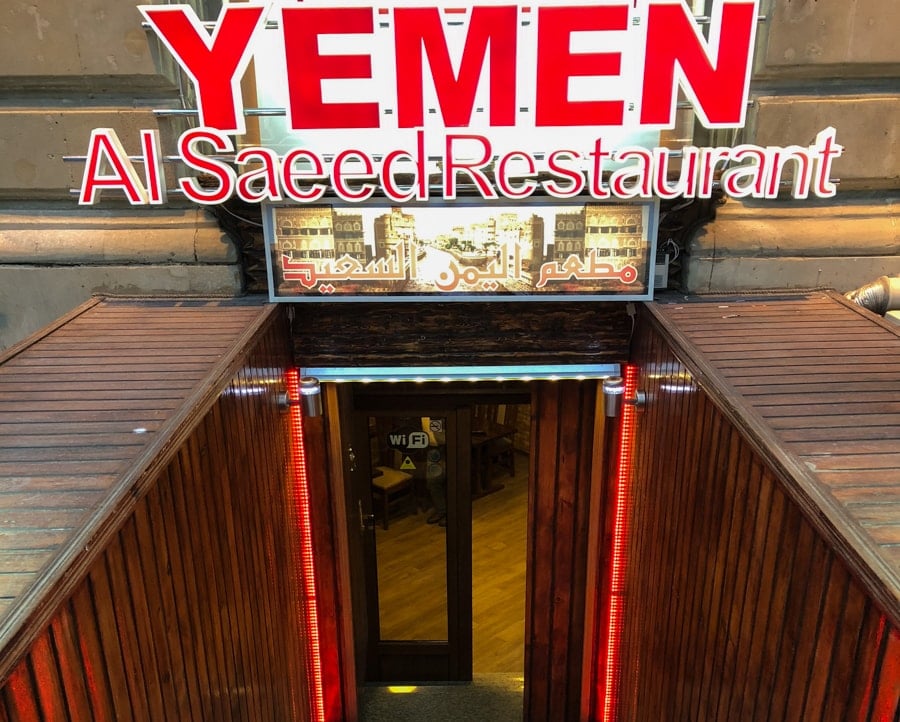 Paul's Steakhouse Baku (Argentinian Steakhouse)
Paul's Steakhouse Baku is a meat lover's paradise and a must-visit place for those who want to try something a little bit different in Baku. Paul's is said to have the best steaks in the entire country.
The beef is sourced from Argentina and can be perfectly complemented with a delicious Azeri wine which the staff knows how to do extremely well. There is a large terrace and area where you can sit and admire the gorgeous views of the city while you enjoy a meal at one of the best restaurants in Baku.
You can find Paul's Steakhouse at Nigar Rafibayli in Baku. To find out more, check out their website here.
These are some of the best restaurants in Baku. While there are several amazing places to eat in Baku, I definitely suggest doing your research before you head somewhere just to be sure.
A lot of the traditional Azeri restaurants in Baku are extremely similar and kind of lack an identity (trust me, it was hard recollecting which restaurants were which that I dined at for this fact alone).
If you have a kitchen, you should most certainly take advantage of the delicious produce and ingredients that are ever-present in Azeri cooking. There are several markets throughout the city where you can pick up these ingredients for an extremely affordable price.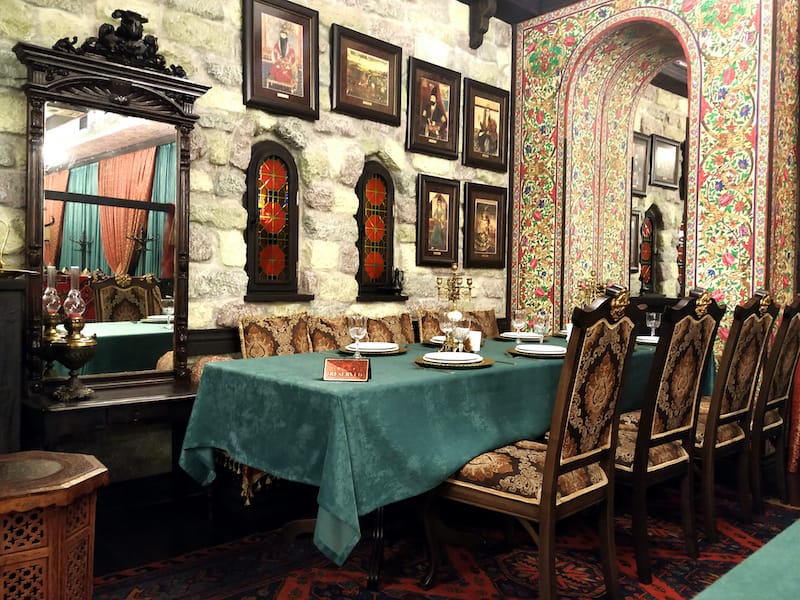 Baku Food Tours (& Wine!)
If you're in Baku and you really want to dive deeper into the country's culinary scene, these food and wine tours in Baku will be a great starting place! Here are some wonderful Baku food tours that you should consider taking when there:
Map of the Best Restaurants in Baku, Azerbaijan
Additional Baku Travel Guides