Instead of your standard holiday on land, why not switch it up and turn to a holiday on water? Take to the seas and hire a catamaran, sailboat or motorboat for a day, two, or even a week.
Explore areas that are hard to get to on foot, and spend quality time with your friends and family without any interruption from the outside world.
There are so many benefits to a Catamaran rental in the Bahamas, so give it a try and see if it's for you. To help with your inspiration, below we have put together an article on the best places to take your Caribbean catamaran rental in the Bahamas.
Blue Lagoon Island
A short 3-mile journey away from Nassau, you will discover Blue Lagoon Island. Blue Lagoon Island is a small island that is surrounded by crystal clear waters, white sandy beaches and is home to many dolphins and sea lions (so make sure you bring your camera with you)!
This is the perfect destination to relax, enjoy a cocktail (or two), and read a book enjoying the hot weather.
For someone who is more active, there are plenty of excursions for you to book and enjoy, as well as places to snorkel, kayak, and paddleboard.
Paradise Island
Paradise Island was formerly known as Hog island and resides a short journey from the main island of New Providence. If you love the sun, sand, and sea, then Paradise Island is the place for you to visit.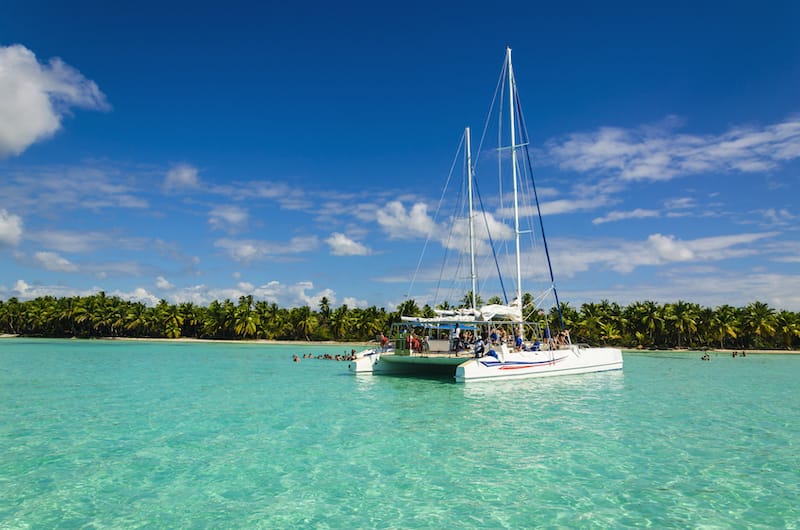 The island is host to a plethora of white sandy beaches, beautiful palm trees, and stunningly clear waters. Discover where some of the James Bond and Pirates of the Caribbean films were shot – among many other amazing sights.
Marina village is ideal for those of you who like to shop, whilst Atlantis resort is perfect for those who want to relax in luxury before returning to your Catamaran.
Andros Island
Andros Island is the largest island in the Bahamas and well worth a visit on your catamaran boat rental. Visit this island on your Catamaran and enjoy the many adventures the island holds.
No matter if you are a first-time scuba diver, or an experienced one, there are plenty of dive spots for you to explore. Androsia is a famous textile and can be found throughout the island so make sure you buy some when visiting.
Why not try some fly fishing or go on a fishing trip to find yellowfin tuna, marlin, wahoo, and more? If you want to try some of the local delicacies, land crab is a must!
Rum Cay
You may not have heard of the Rum Cay and that is because it's considered one of the best-kept secrets that you simply must visit during your boat rental in the Bahamas.
The Rum Cay is full of historical ruins as well as a thriving ocean scene. A host of marine life swims around the island, ideal for snorkeling fans. Many don't consider the Bahamas as a surfing destination, but when visiting Rum Cay you may find your opinion changes.
There are plenty of secret surf spots for you to test your surfing skills on. Finish your trip to Rum Cay by enjoying a bite to eat and a cocktail whilst taking in the panoramic views.