Finding a travel backpack has been one of the hardest tasks as travel bloggers and as two people who spend a lot of time on the road each year. We often trial bags and find huge faults in them or that they don't suit our needs as 'digital nomads' (ugh… that term). After trying several different products, we feel confident that we found the best laptop backpack for women and men and one that is so useful for those of us who spend a lot of time on the road with our laptop.
Our #1 Recommendation for the Best Laptop Backpack for Women and Men
Finding a travel backpack that works well for both men and women can be a challenge.  Finding a backpack that has features that are practical and useful is an even bigger challenge.  The Standard Luggage Co.'s 18L Laptop Backpack is a breath of fresh air when it comes to being ideal for travelers who need to tote around their laptop and more on a daily basis, regardless of whether they are at home or on the road.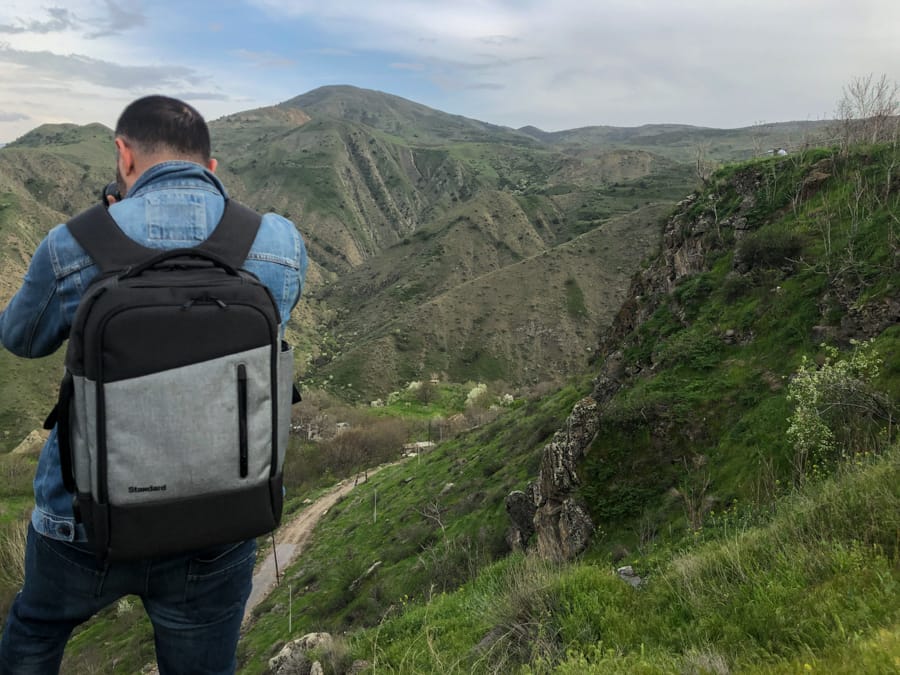 Not only does the laptop backpack have several actually useful features, but it also is suitable for all types of travelers regardless of gender or style preferences. If you've invested in one of the best laptops for travelers, you will definitely want the best bag to keep it secure!
It comes in a sleek, black and grey design that is minimalistic at the same time that it is stylish and practical. This bag has several great features which we are keen on discussing later- but here are our favorite three:
Versatility
The Standard Luggage Co. laptop backpack can be worn and carried in a few different ways- as a backpack, as a briefcase, or as a messenger bag.
We both used the bag on different occasions and found that it worked best for us both as a backpack due to the weight of the products we carried inside of it.  But, having these options to tote it around in different manners just shows its versatility and how the bag is suited for pretty much anyone.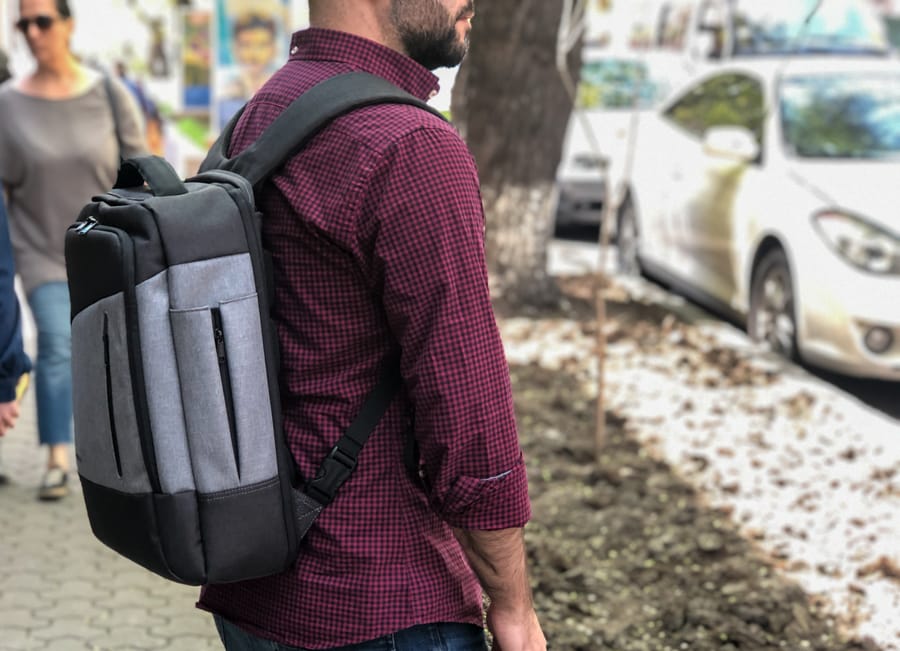 I (Aram) have taken over main ownership of the bag as it works best for me since I am taking my belongings with me to the office daily and Megan works from home usually. The straps on the backpack are durable and heavy-duty and deal with me constantly having it on my back.
I also really like how the bag is pretty low-key and blends into my clothing from the front.  This is a great, minimalistic feature that goes underappreciated when purchasing new bags for travel as it doesn't necessarily make thieves as curious.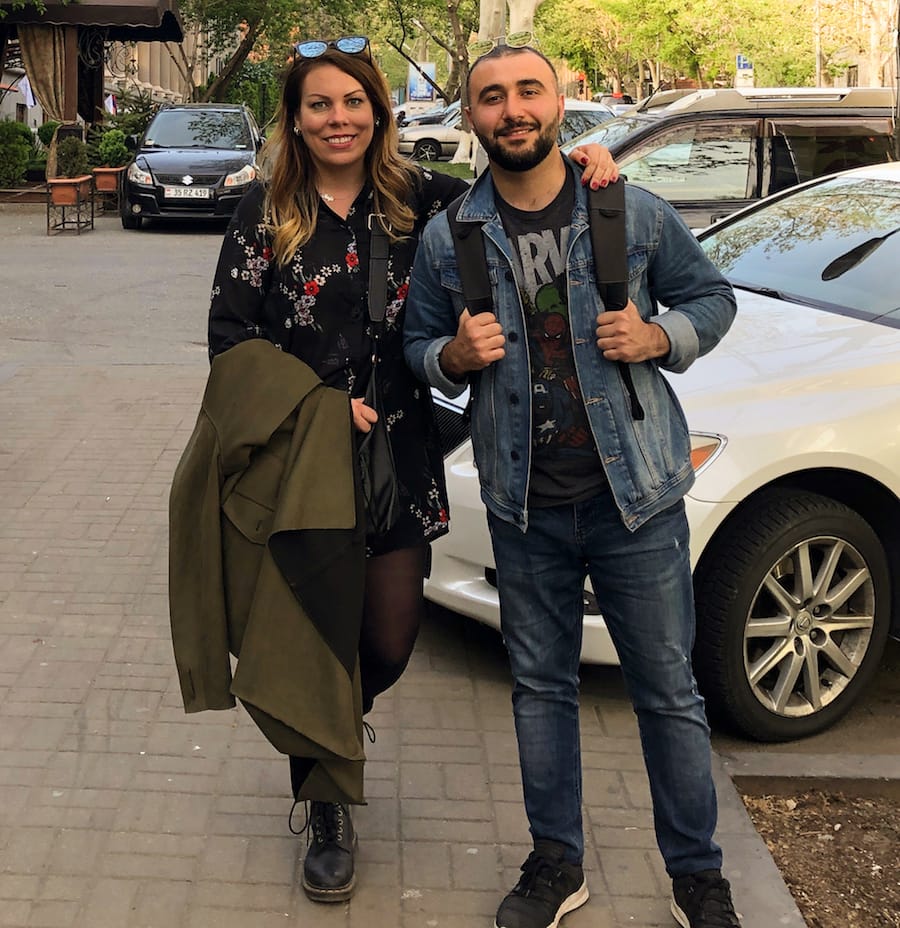 USB Charging Area
This is the first bag that either of us has owned that actually has a USB charging area.  At first, we were not sure if we would remember to use it as we carry around extremely heavy power banks all the time and by default, use them.  It was shocking how quickly we ended up turning to this USB option on the bag, however.
The charging port sits on the side of the bag and is such a practical option.  It is great to use while walking around a city on vacation, sitting in a cafe, or even while you're riding on public transportation (or airplanes!)  It adds that extra sense of security knowing you'll always be able to have your phone or devices charged to the fullest.  This is particularly crucial for us as travel bloggers.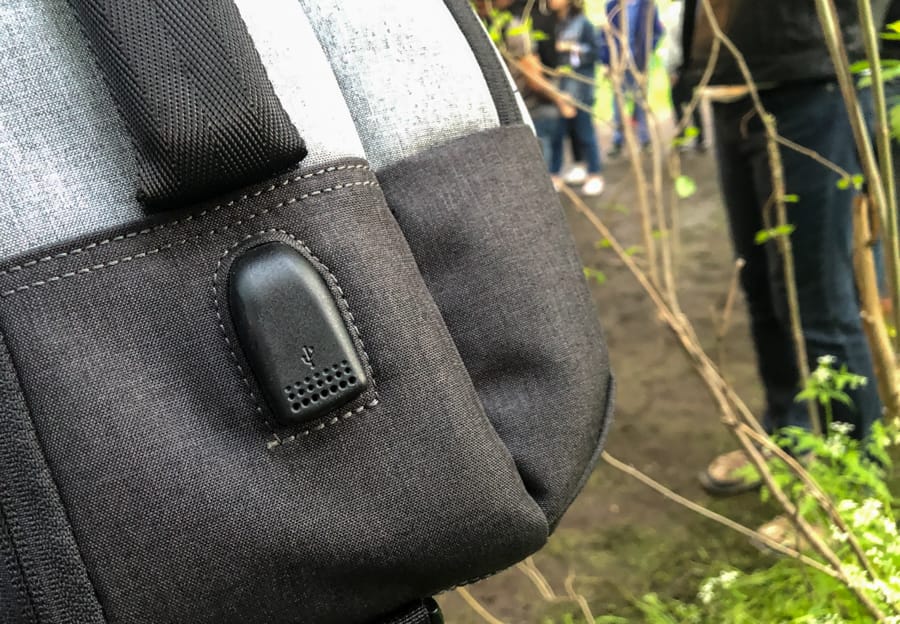 We were covering the Urvakan Festival in Yerevan recently and, naturally, Megan showed up without much battery on her phone and had left her power banks in the car.  As we were invited as press to this event, we had to produce a lot of content from photos to videos and beyond.  This USB option ended up saving us later in the evening as she was able to get battery life back on her phone after it had died and after the solar chargers were weak with power at Urvakan.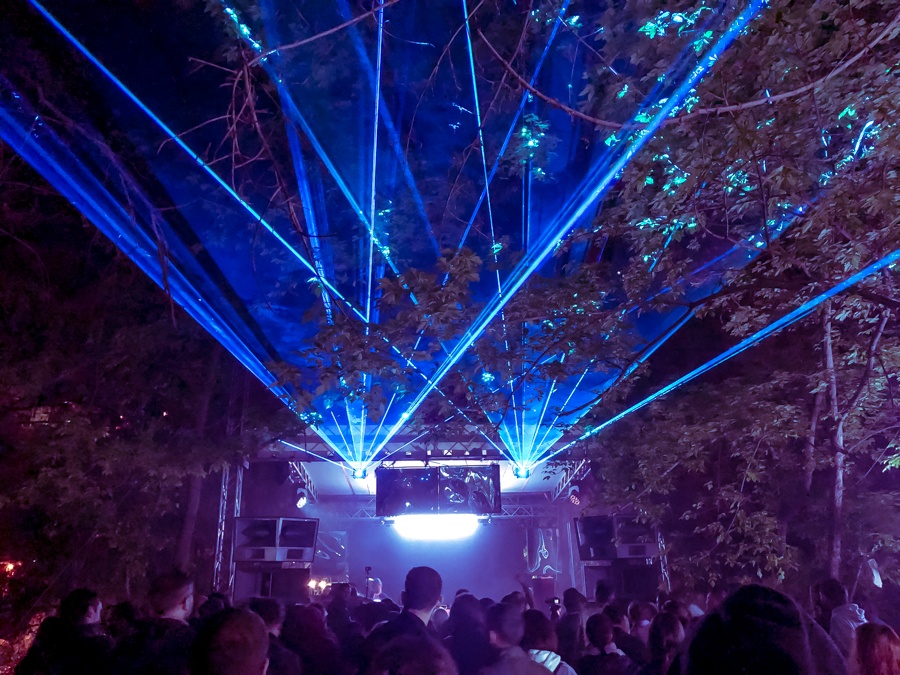 After using this option consistently now, I am not sure I'll ever be able to get another backpack in the future (or even luggage) that does not have a USB option.  This is truly the best laptop backpack for women and men who are travelers needing to work and always be accessible.
Storage Components Area
Too often have I had to just throw my contents into a backpack and something happens.  A pen's ink spills or something rubs against my laptop and it leaves horrible marks and scratches.  One thing I love about this backpack is that it has a place for everything.
A place for my laptop?  Check.  A place for my iPad?  Check.  A place for my reusable water bottle?  Check.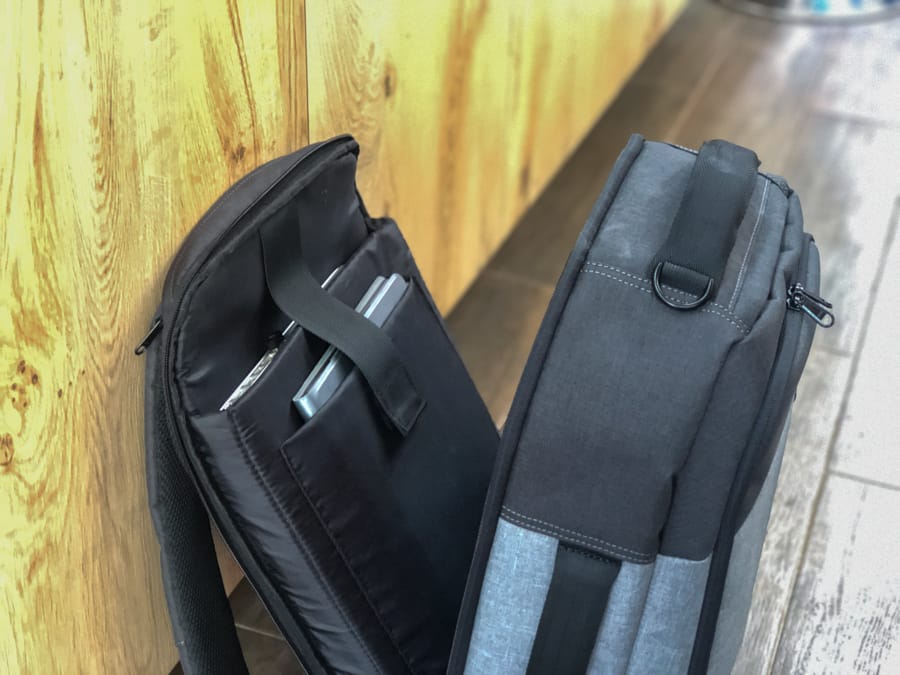 Not only does it help me properly store my equipment causing less damage and helping balance out the load so it doesn't hurt my back when carrying it for a long time, but it also helps me ensure I have packed everything I need for the day inside.  It used to frequently happen that I would throw everything inside of my bag only to realize later that I had forgotten something.  I know very quickly just when looking at the pockets of my backpack whether or not I left something behind.
Other Brilliant Features
The features above were my favorite things about this Standard Luggage Co. laptop backpack, but there were so many other wonderful features that would make it suitable for other travelers.
Lockable Zippers
This is such a useful feature when traveling and spending a day out in a new city.  I always fear that when carrying around an expensive computer alongside my iPad and camera equipment that someone can quickly unzip it from my bag and run away with it.  Being able to place a lock on it is very reassuring when you're weaving your way through a crowded city street in Barcelona or are sardined inside of a busy metro in Kyiv.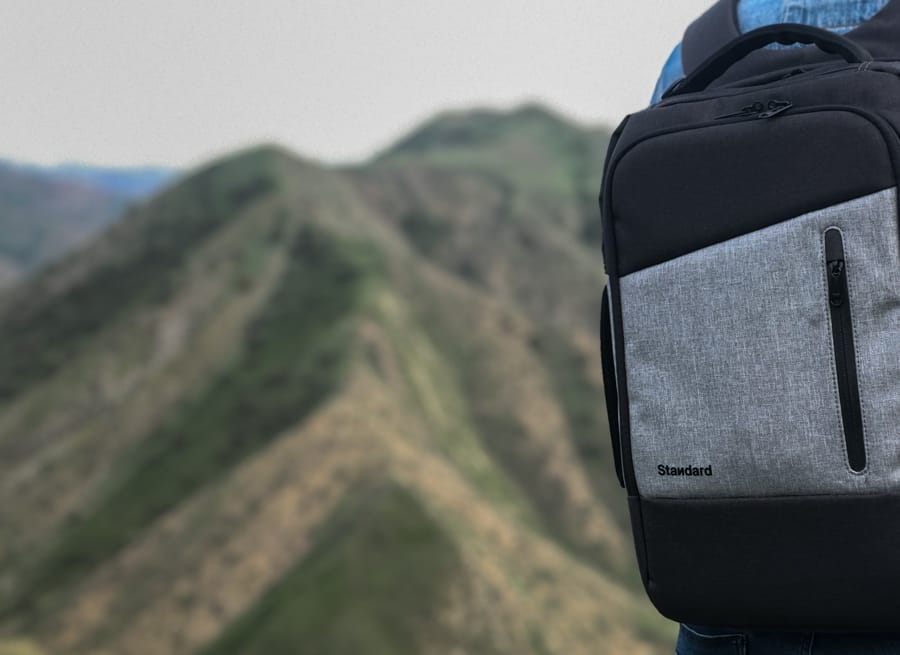 Raincover
The laptop backpack also comes with a waterproof rain cover.  Armenia doesn't get too much rain even though this spring would have said otherwise.  But, Armenia can be dusty when out in certain parts of the country and a bit muddy in others.  This raincover will be useful in those events, too.
I travel to many places that get heavy rain (Megan and I are about to embark on a trip to Norway in a week) and I am excited to use this feature to keep all of my equipment dry and go-to-go when we are there.
RFID-Secure Pocket
If you're concerned about identity theft, this pocket will help keep those fears at bay as it contains an RFID-Secure pocket where you can store important documents and other items.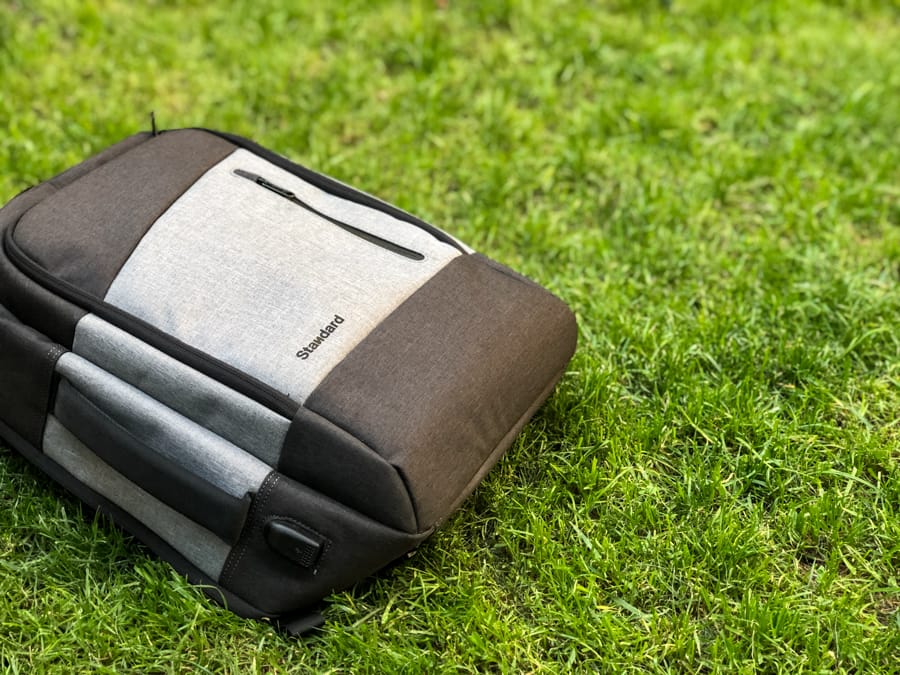 If you're looking for the exact dimensions of the bag, you can see them below:
Bag Dimensions: 17.5 x 13 x 6 inches
Volume: 18L capacity
Weight: 2.2 pounds
Laptop Pocket: Fits 15-inch laptops and 15-inch MacBook Pro – (max 14 x 10.3 x 1 inches)
This bag has definitely revolutionized the way I go about my everyday life.  It comes with me everywhere in the city and is always on my back when I head to the office in Yerevan.  It will take its first international adventure to Norway in the next coming weeks and I am excited to see how well it does in the Arctic Circle.  If the past two months have been any indication, it is ready to go and will be nothing but helpful and practical on my summer trips.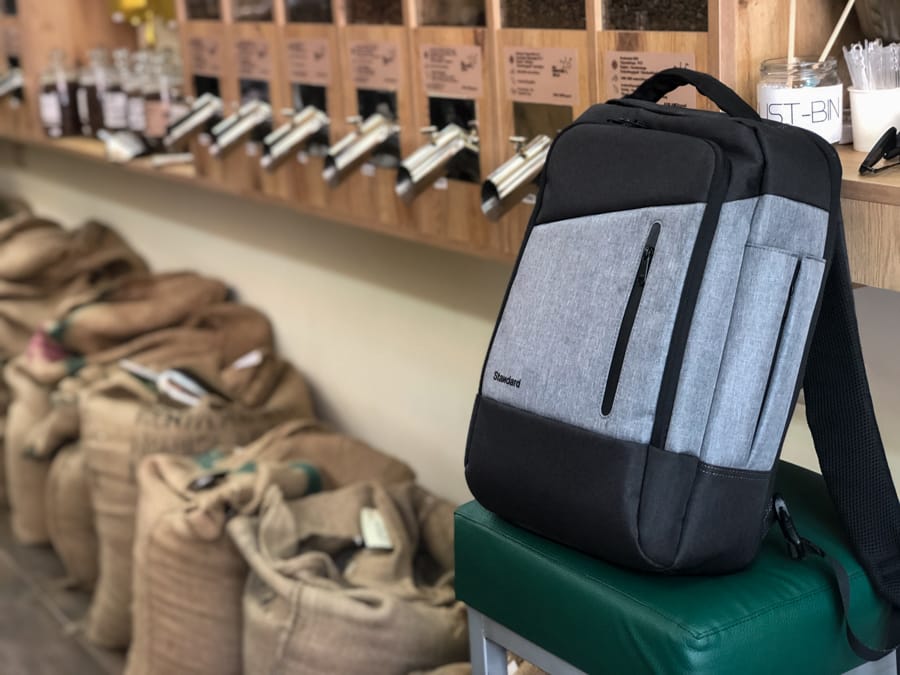 Are you interested in learning more or buying the best laptop backpack for women and men that is out there?  If so, click here.
*Many thanks to Standard Luggage Co. for providing us with this amazing laptop backpack. We are stoked to use it on our travels.  All opinions are our own.