It is no secret I travel cheaply.  It is not that I wouldn't like staying at a 5-star hotel every time I land in a new city, it is more the fact that I don't have the means to do so.  And I have this rotten philosophy that money spent on a place to sleep could be money spent elsewhere.
So when I decided to head to Belarus for the holidays, I knew it would turn out to be more expensive than I was used to because of the visas that are required by the country.  I also needed to go through a tour agency in order to receive my visa invitation letters.  But once I actually got in Belarus, it was set to be a rather affordable trip.  (Note that initially this trip was set to be a 10-day trip but I cut it short because I was going to be working over the holidays a bit).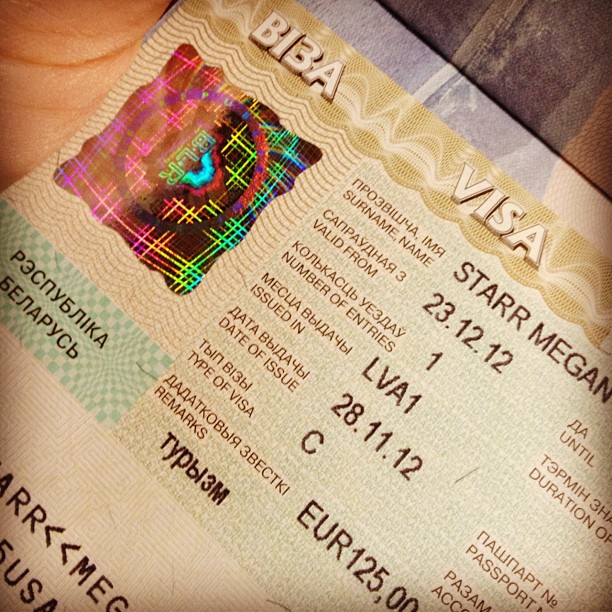 Here is a breakdown of the costs prior to getting on the plane to Minsk:
Trip to Latvia for 11 days to secure a Belarusian visa:  around $1000 (I had some stuff paid for and did not include my plane ticket in this price since I already had it purchased… I had just decided to not go through with the trip until I realized I needed to).
2 Visa Support letters:  $50
4 Nights at a Hotel in Minsk, including Buffet Breakfast:  $371
Plane tickets to Minsk:  $670 roundtrip for two
2 Belarusian Visas:  $80 for one visa and $170 for another
Putting my dog up at doggy daycare while I was gone:  $325
Train tickets to and from Oslo Gardemoen Airport:  $65 all together
=$2,731.00
Needless to say, I am in Oslo and didn't make it to Minsk.  Why not?  Well, my plane tickets took me through Moscow on the flight there.  When I asked about Russian transit visas for the layover in Moscow, I was informed we didn't need one.  I'm really good at not listening to people and wish I had done just that at this point.  As I was boarding my plane to Moscow, it turns out that I DID need one.  Most people don't, but if you are going only to Belarus via Moscow, you will always require one.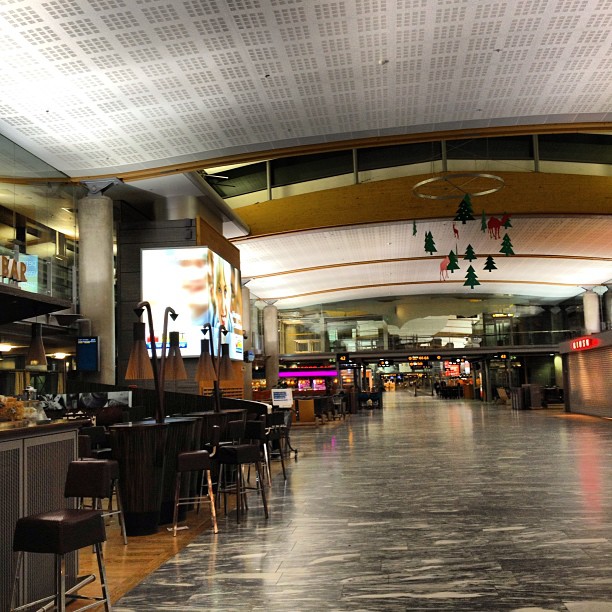 the quiet Gardemoen airport's international terminal just moments before my flight that I was not allowed to board
After battling Norwegian customer service (which I dare call it customer service since it certainly isn't customer focused) for 12 hours at Gardemoen airport trying to arrange a flight to Minsk or Vilnius that did not go through Moscow, I was out of luck.  This trip, a trip that costs us $2,731 prior to even landing in Belarus, was not going to happen and I knew it.
I have decided to postpone the trip until March.  I don't believe I will be able to get any of my money back on this initial trip through the way everything was set up.  I will spend the next few days trying to get responses from the tour group I used (as well as all of the airlines).  And while they were extremely helpful at first, I doubt they will be as helpful this time.  And despite it being kind of a bummer not getting to travel this time, I was actually not going to be there too long anyway.  I like to travel slower than only being in a city for 5 days.  Going in March will give me much more time there… and I should get to see more than just Minsk while in Belarus.
So now I am just trying to make the most of an unexpected Christmas holiday in Oslo.  Norway is a little boring during the holiday season, but I'm sure it is nothing some good food and 'Home Alone' can't fix.  I'll keep everyone updated on what happens with each company regarding refunds or postponing our tickets for later use.  It will be a pretty decent indicator of whether or not I'll use each in the future, as well.
Hope you have a great holiday and get to spend it with the ones you love… even if that includes yourself, solo travelers.