Baku, Azerbaijan doesn't exactly have a reputation as a party city, but with the number of sports and cultural events the Azeri capital is hosting, it is definitely imperative to do your research beforehand so you can hit up the bars in Baku that do cater to those of us who enjoy a drink or two. This is a guide to the best Baku bars and places for beer, wine, and sports in the city.
Disclaimer: This post was initially written in 2018 by Megan who went there independently. All proceeds since late 2020 have been donated to rebuilding Artsakh and community development projects in Armenia.
Best Baku Bars: Awesome Pubs for Beer, Wine, and Sports Lovers
Baku is a city in transition, rapidly emerging from its former Soviet past into a cosmopolitan hub. With large amounts of oil wealth flooding into the city, people are starting to enjoy going out a bit more which in turn is transitioning the city into a place with a more social atmosphere.
With the country sitting in the Caucuses, the birthplace of wine, there is a long tradition of wine making and drinking. There is also a burgeoning beer scene that is following trends across the world of people wanting to drink and try local beers.
This guide will take you through some of the best Baku bars and what they are famous for. From watching sports on big screens to enjoying the best microbrew while sitting in the Azeri sun, there is a bar for everyone in this city. I feel I should note that smoking is allowed in many bars in Baku, so they can often become a bit smokey.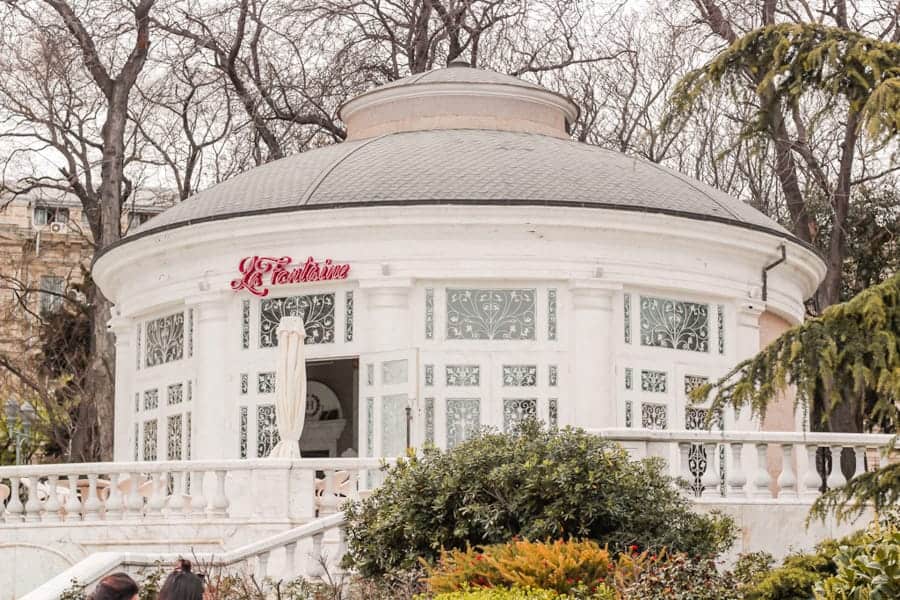 Hops Pub Baku
Hops Pubs is one of the best pubs in Baku. The bar has plenty of TVs dotted around so you can watch the latest sports. On the walls, you will find loads of football scarfs, so keep an eye out for your team or feel free to donate an extra scarf. The staff are incredibly friendly and serve some great local beers as well as a range of international beers.
There is a great food program and the dishes are hearty and large. In addition to showing plenty of sports, they have regular live music nights. The bar is open every day until two in the morning.
You can find Hops Pub Baku at Tarlan Aliyarbeyov 24B Baku in Baku.
ETUD Café & Bar
ETUD Café & Bar is a great little hang out in the center of Baku, especially if you are into checking out some live music. The comfortable bar has a good array of drink and food available and is known for its brilliant jazz and blues nights with table reservations essential on live music nights.
On an average night, the bar has a chilled-out vibe and is a great place to meet with friends and enjoy a few drinks. The bar is open until 1am on weekdays and until 2am on Fridays and Saturdays. They accept all major forms of credit card.
You can find ETUD Cafe & Bar at 131 Lev Tolstoy in Baku.

Soviet Union Pub
As far as nostalgia bars go, this is one of the best. The underground bar is a homage to all things Soviet Union and you will see an array of Soviet propaganda posters and various other memorabilia from the former world superpower.
There is a full-sized billiards table where Lenin keeps a scornful eye over those playing, ensuring no foul shots go undetected. The pub is open until 3am every day, so it's the perfect place to grab a vodka or two for a nightcap.
You can find the Soviet Union Pub at Zeynalabdin Tagiyev 8 in Baku.

William Shakespeare's Pub
The name William Shakespeare is synonymous with England as fish and chips. This English-style pub may not sell fish and chips, but it does have the other favorite cuisine of England… curry. Rated one of the best places to get Indian curry in the whole of Baku, I highly recommend heading there for some dinner and a beer.
The bar also plays lives sport so I a great place to watch football or any other sport you may wish to see. On weekends, there are regular live band nights that lure in the crowds. The pub is open every day until two in the morning and is one of the best bars in Baku.
You can find Shakespeare's Pub at Abdulkarim Ali-Zadeh St in Baku.

Le Chateau Music Bar
If you are looking for an amazing night of live music, then head to Le Chateau Music Bar. This bar is a great little place that has live music every night from acoustic sets to some of the biggest Azerbaijani Metal bands.
If you happen to be traveling to Baku with your guitar, then you can join in for a jam session on open mic nights. The place appeals to a young demographic and has cheap drinks. They are open until three in the morning on weekdays and four in the mornings on Friday and Saturday.
You can find Le Chateau Music Bar at Islam Safarli St. 21 in Baku.
FairPlay Pub & Café
FairPlay Pub & Café is an aesthetically beautiful bar that is popular among the locals. The hip vibe, great drinks selection (including a decent cocktail program), great draft beer, and non-alcoholic beverages helps it cater to a wide selection of people.
On weekends, there is often live music highlighting the best of young Azerbaijani talent. They have a great food menu that focuses primarily on European cuisine that is always stylishly presented. They are open until two in the morning every day and accept cash and card.
You can find FairPlay Pub & Cafe at 20 Yusif Mammadaliyev St in Baku.

Beerbasha
If you love beer, this is the place to go. The stylish large bar is split over three floors and pays great respect to the art of beer drinking and brewing. They have a fantastic array of beers, both local and international, that will appeal to everyone's taste.
There is a solid food menu that is well thought out and pairs perfectly with the beer. The best thing, however, is they have an on-site microbrewery with the ability to produce small batches of beer which are incredibly tasty.
They play live sport too, which means you can enjoy a few beers while you cheer on your team. They are open to two in the morning every day and take all forms of payment.
You can find Beerbasha at 8A Parliament Ave in Baku.
Pivnaya Apteka
Pivnaya Apeta or in English, the Beer Pharmacy, is a cool and hip bar with lively and colorful décor. With an amazing drinks assortment, you will not be disappointed. They have a great range of beers and some of the best cocktails in the city, including a special range of beertails.
When it comes to food, they put a keen focus on the mighty burger and they are truly delicious. The bar as a whole has a great ambiance to it and is the perfect place to enjoy some drinks and food in a nice setting, especially if you are a beer fan. The bar is open weekdays until two in the morning and until three in the morning on Friday and Saturday.
You can find Pivnaya Apteka at Port Baku Residence 147 Neftçilər Prospekti in Baku.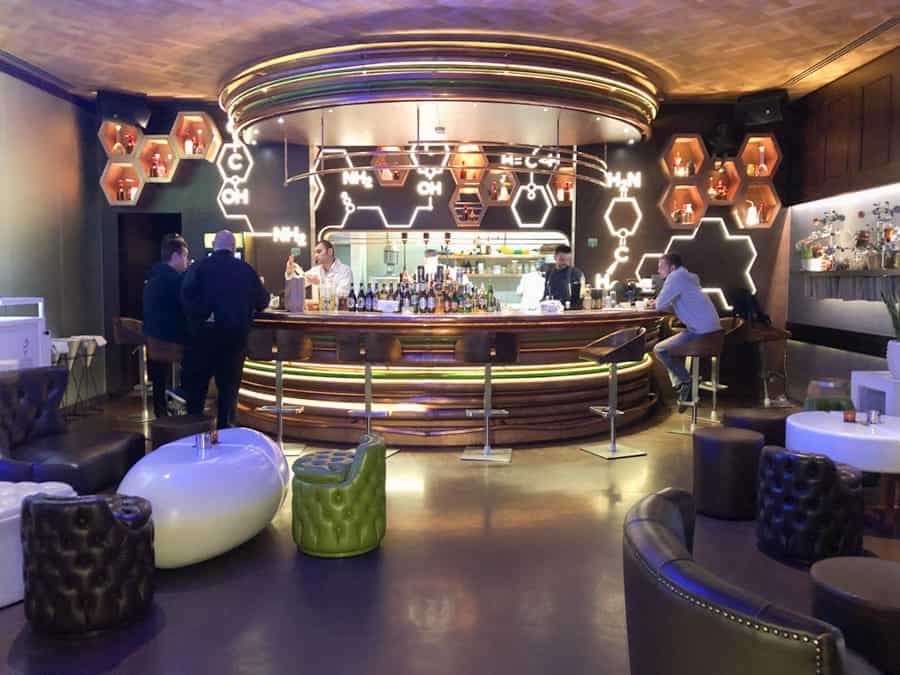 Offside Pub
If you are looking for a bar to watch football in, head to Offside Pub. The large and spacious sports bar has several large screens to watch your favorite teams on. There is a pretty good beer selection with many big German brands on draft. There is also a good range of bar snacks and food available too so you won't get hungry as you watch the game.
Another great plus about this place is that it has a great outdoor seating area where you can enjoy drinks in the sunshine. The bar is open until two in the morning every day and is exceptionally easy to recognize with its green and white façade, giving the imagery of a football pitch.
You can find Offside Pub at Izmir Ave. 5 near the Near Hyatt Regency Hotel in Baku.
Harbour Tap and Grill
The Harbour Tap and Grill is situated near the Port of Baku and keeps a nautical theme throughout the bar with influences coming from New England as well as the south coast of England to create a cozy and warm atmosphere.
They have a great beer selection as well as fantastic food; they focus on Indian cuisine although their extensive menu also has more traditional and European dishes for those not wanting a curry. On weekends, there is often live music to enjoy while downing a beer inside or on their terrace.
They are open until 11pm on weekdays and until one in the morning on Fridays and Saturdays. You can pay with either card of cash.
You can find Harbour Tap and Grill at 153 Neftçilər prospekti in Baku.
Paulaner Baku
Throughout the world, you will hear people speak of the beer halls of Bavaria in Germany. Fortunately, Paulaner has taken its traditional beer hall style and theme and planted it in the middle of Baku. You will be able to enjoy great German beers from pilsners to delicious wheat beers (hefeweizen), served with piles of hearty and filling German food.
The staff will be dressed in traditional Bavarian clothes while carrying around liters of beers served in the traditional Maß glass. As you drink, you will enjoy traditional schlager music, with the most common Oktoberfest songs being played. The bar is open every day until two in the morning.
You can find Paulaner Baku at Alfred Nobel 25 B in Baku.
There are several great places to enjoy beer, wine, and sports in Baku, but these are some of my favorite Baku bars or ones that come highly recommended to me by locals. If you have any other suggestions, please drop them in the comments!
If you are wanting a great way to sample Baku's nightlife, the Baku Pub Crawl is the best way to do it. The three-hour long crawl will take you to five different Baku pubs, bars, and breweries. At each bar, you will be provided with a beer, cocktail, or soft drink… although you can have a couple more if you want! This is a great way to socialize and see the cosmopolitan lifestyle in this modern capital city.
⇒ Click here to see rates and availability for the Baku Pub Crawl
READ ALSO: Best hotels in Baku / What to know before you go to Baku / Awesome Baku tours / Where to Eat in Baku / How to Get to Baku Olympic Stadium / Baku itinerary / How to get from Baku airport to the city center