I knew very little about Dnipro (formerly known as Dnipropetrovsk) before heading there despite trying to actively seek information about the Ukrainian city. One thing I did know, however, was that the city was littered with abandoned buildings (in Russia and some of the CIS countries, they refer to urban exploration and the interest in abandoned buildings as 'zabroshki', or Заброшки).
Once I arrived in Dnipro, I decided to locate a few and explore. One of the more interesting ones I explored was the Red Cross Hospital. Built in 1910 and used throughout the Soviet times, the abandoned Red Cross hospital in Dnipro (больницы Красного Креста Днепропетровск) has a history all its own, so much that the city entered the hospital into its list of registered monuments and refuse to demolish the dilapidated structure.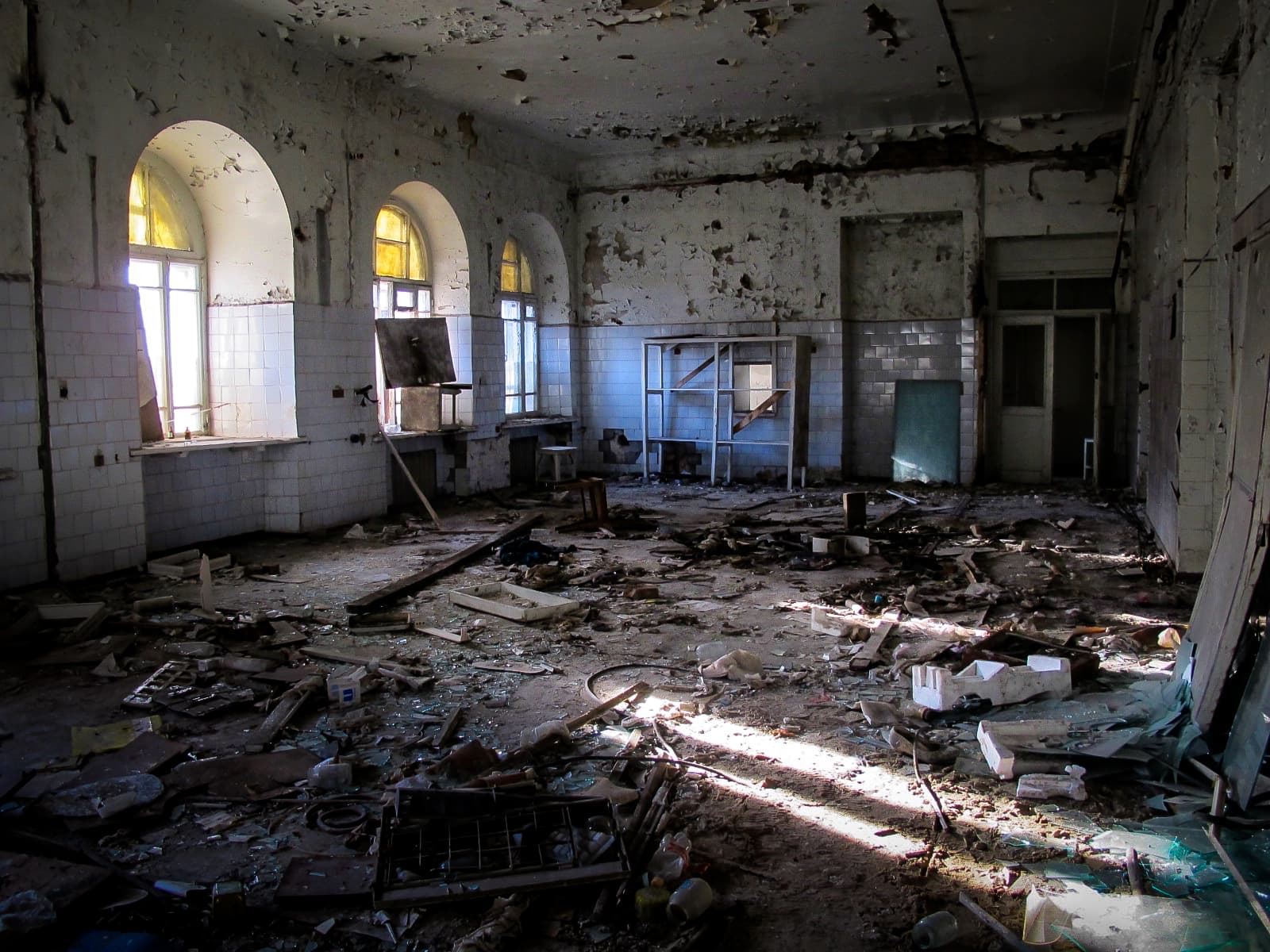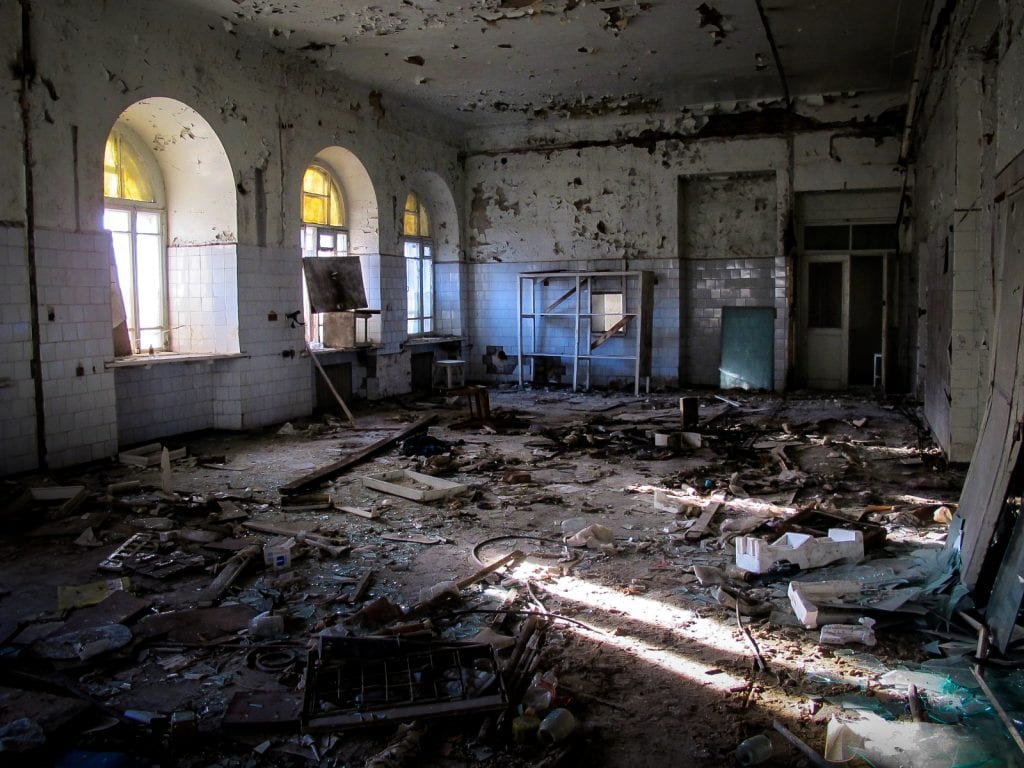 History
The Red Cross Hospital was built in 1910 in Ekaterinoslav (now Dnipro) by local architect George Panafutin. He was renowned for his neoclassical visions and designs but built the hospital with an art nouveau touch. The red brick building, with the Red Cross emblem still present on its facade, was built on Korolenko Street and eventually expanded to take up a large portion of the block which resulted in locals referring to it as the 'Kingdom'. After the building's erection, the dispensary opened on October 1, 1910 and the hospital opened in its entirety on December 30, 1910.
The history of the Red Cross Hospital in Dnipro is an engrossing one, at that. In 1911, the Brotherhood of Christ the Savior in Dnipro appealed to the city to turn part of the hospital into an eye clinic and research facility. The city approved that request and in 1912, part of the hospital transitioned into an area that would eventually become a home for blind children as well as a research center that would play a significant role in World World I.
At the height of WWI, the research center took on the vital task of extracting iodine from seaweed in an effort to aid army soldiers. This project was organized and headed by Professor LV Pisarzhevsky. After serving as an integral part in WWI both as a research facility and army hospital, the military inpatient corridor closed down in 1918 and the hospital continued on as a normal hospital.
Throughout these busy times, a chapel was constructed by P. Golubovskii but building eventually ceased due to lack of funding. The name of the hospital later changed to the 1st city hospital of Dnipro and the infirmary and surgical center slowly converted into becoming one of the Soviet Union's more advanced medical facilities, taking on leading-edge procedures and even specializing in working with cancer patients. A pharmacy was also built on the corner of Kostomarovskaya and Pervozvanovskoy streets.
Time wore on and the hospital began deteriorating over the years with much attribution to the constant passing of trams and trucks in the front of it. The hospital, which survived an estimated of four fires over its operating lifespan, was beginning to crumble.
In the 1990s, the surgical unit was closed despite the therapy and geriatrics divisions still remaining in operation. And somewhere in the mid-2000s, services began rapidly leaving the premises and moving elsewhere in the city or to other parts of Ukraine. In 2008, the city decided to either renovate or condemn the structure(s). They chose to condemn them and leave them to be engulfed by nature.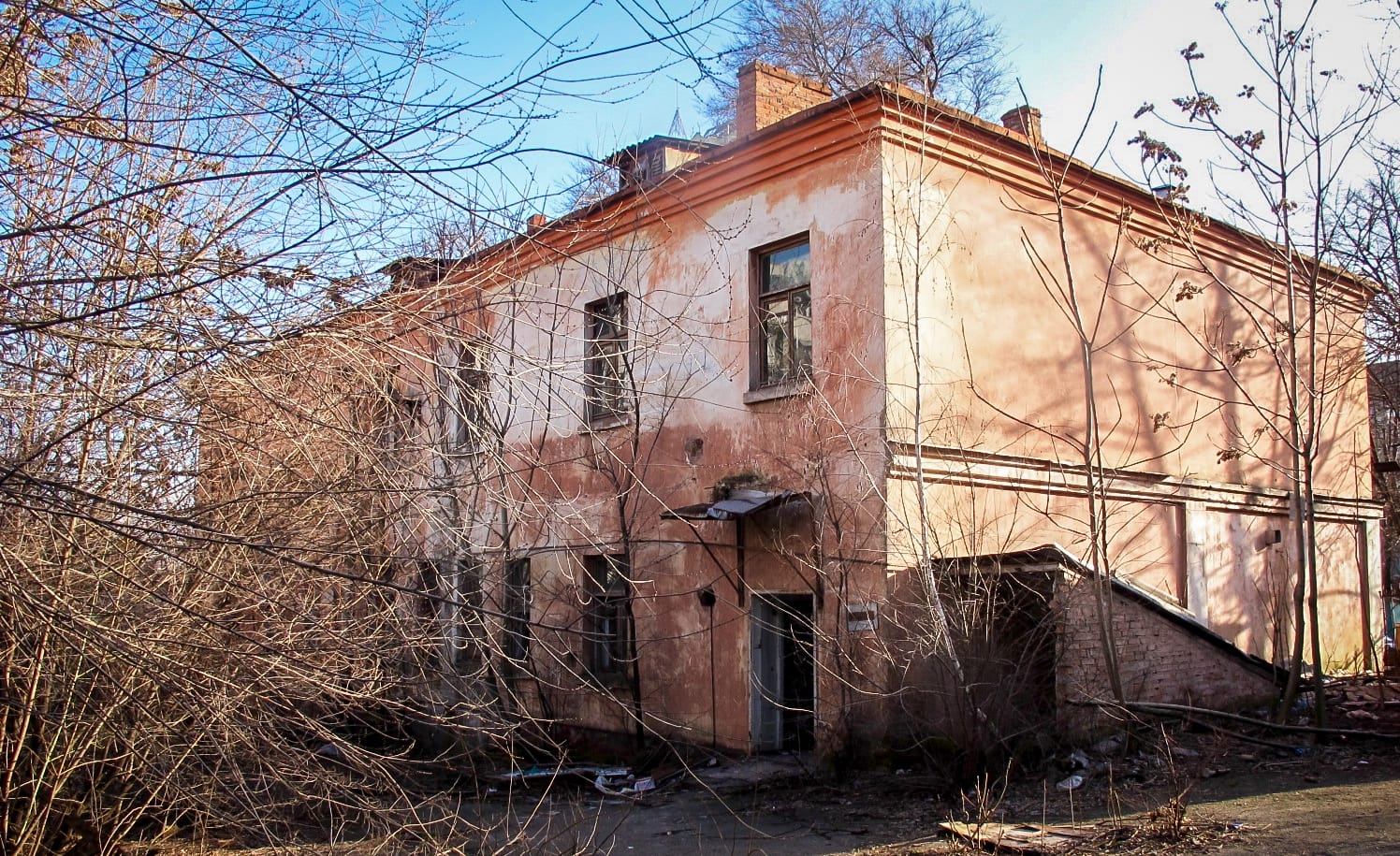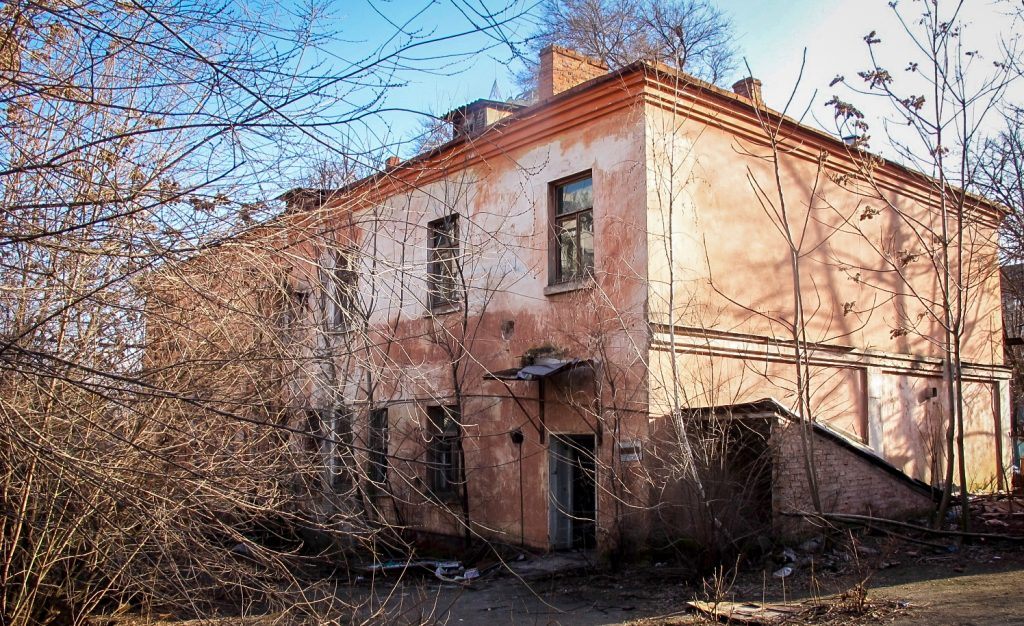 <one of the many buildings on site>
Present Day
Since the abandonment of the Red Cross Hospital in Dnipro, urban explorers, drug addicts, and the homeless have claimed this place as their own. So much that in 2012, the second-story of one of the buildings caught fire and the drug users were cited as the cause. The area has since been off-limits and a steel gate and brick walls enclose the premises.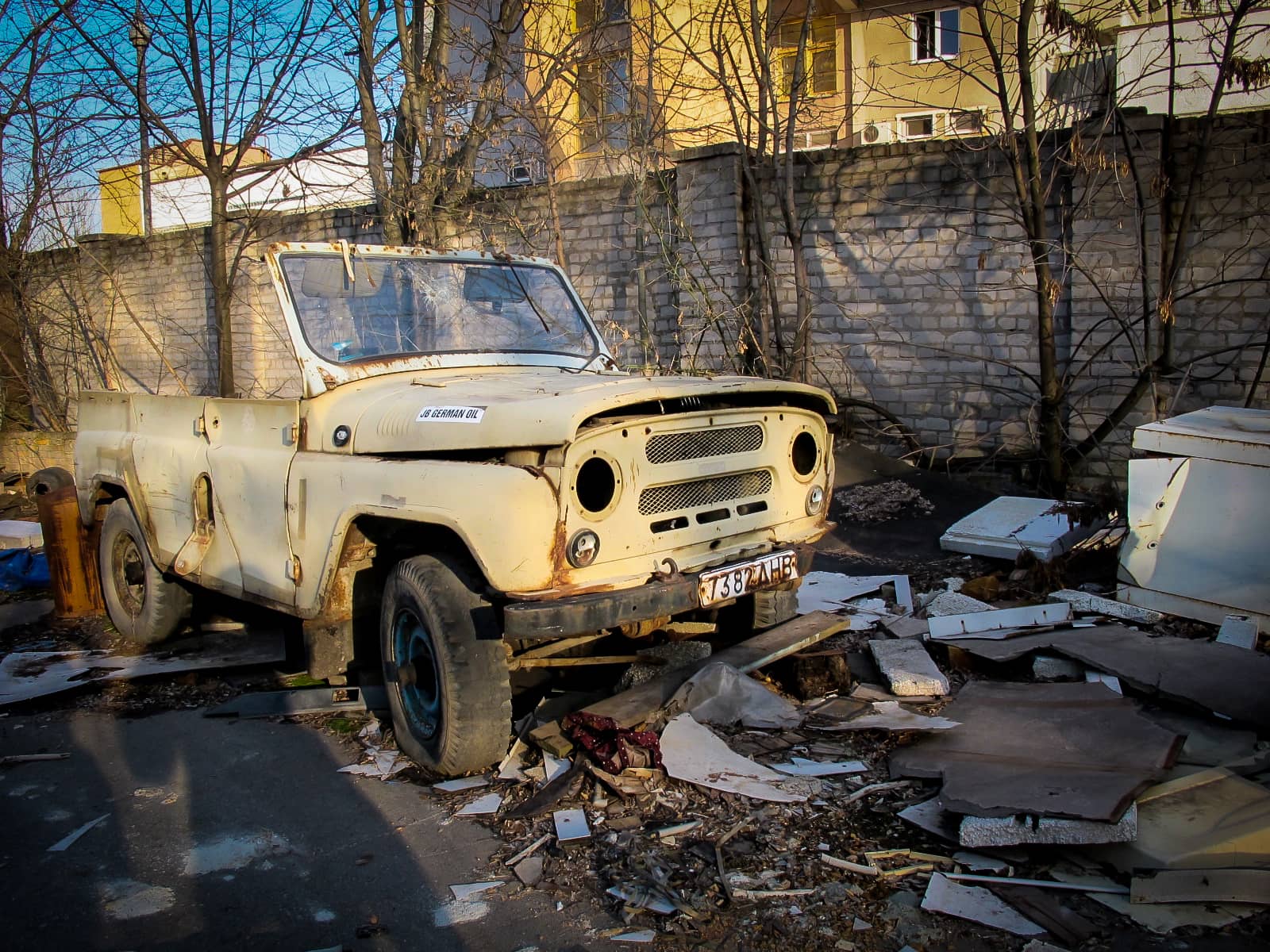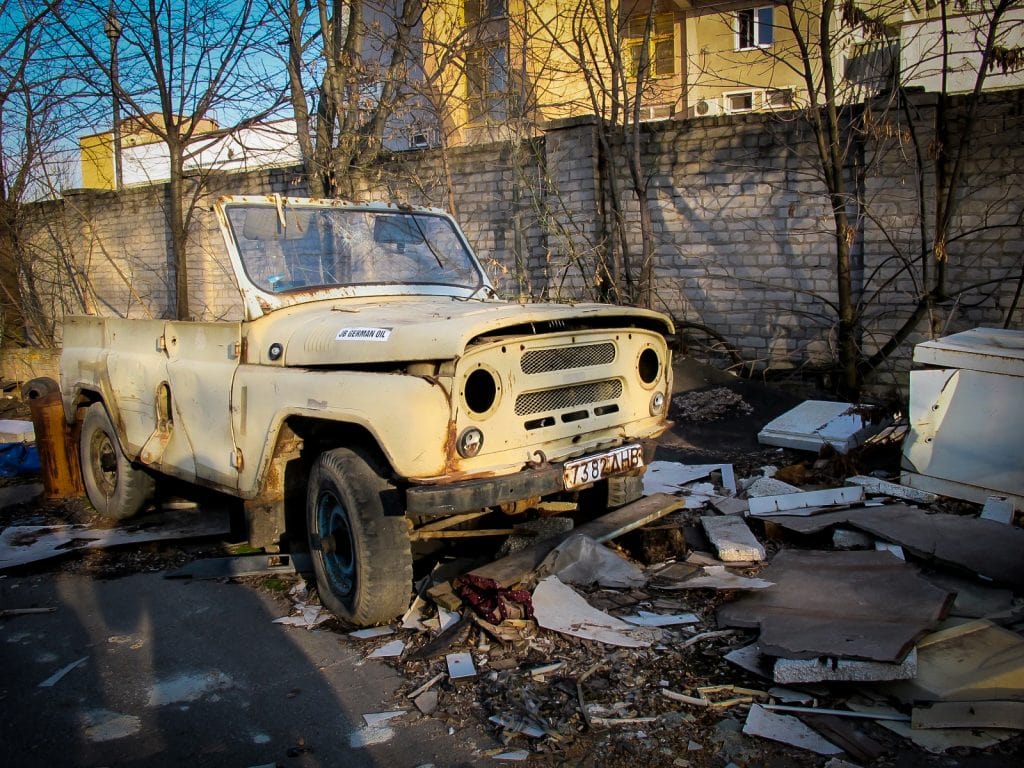 Now, here's the thing. I have a weird stance on visiting off-limit places. I also have a weird stance on urban exploration or Urbex. While I find the stories and photos completely captivating, I have a real issue with people paying bribes to visit these places. And I know it happens. Especially in Ukraine where they are campaigning for a better Ukraine and less corruption every single day. While it takes time to achieve this, I also refuse to be part of the problem. I could have visited Hotel Parus while in Dnipro.
The infamous and abandoned (well, never finished) hotel stands haughtily on the banks of the Dneipr is one example of the Soviet Union's grandiose and extraordinary architectural projects. But, Hotel Parus is guarded heavily these days due to deaths and injuries from those falling inside of it (it used to be open for exploration). There was also speculation that the Dnipropetrovsk Maniacs used this as a base for a while. Can I visit inside and head to the roof to see the splendid views of the city?
Sure. But I'd certainly have to pay to do so. No photo is worth such. It's just not. Particularly when my photos would very well end up online and could potentially cause harm to those who were supposed to be guarding the structure. It is an ethics thing to me and I am not a fan of people bribing others so they can exploit a place online.
The Red Cross Hospital is technically off limits too. On the other hand, it is not exactly guarded and there is no entrance to it (like Hotel Parus). With as many abandoned structures as there are existing in Dnipro, the city simply can't ban or guard them all. Hence why there is a Vkontakte group dedicated to exploring them, or partaking in 'zabroshki'. I even joined forces with one of its founding members to see some of Dnipro's abandoned side.
Exploring the Red Cross Hospital in Dnipro
Going inside the hospital is rather simple, but I would ensure it is not being guarded. I went in broad daylight with a local who knew the place and had explored it on many previous occasions. We squeezed through a gate (she fit right through; I'm the one who had to squeeze through) and entered the buildings on the premises.
The many buildings range from being taller at four stories or smaller having only two. Inside, you will still see needles, syringes (not from drug use, but from the hospital itself), glassware, medications, desks, chairs, and a whole lot more. For the place being in semi-disarray, I was shocked to find so much stuff still left at the scene.
You can see where the most recent fire took place as evidence was clearly left behind from collapsed ceilings to the black ash plaguing certain areas. There are rumors that this place is insanely haunted by crying babies and ghosts of deceased cancer patients (which had an 80% mortality rate). I'll leave that one up to you. The only noise I heard when inside was that of glass breaking from beakers and syringes beneath my boots.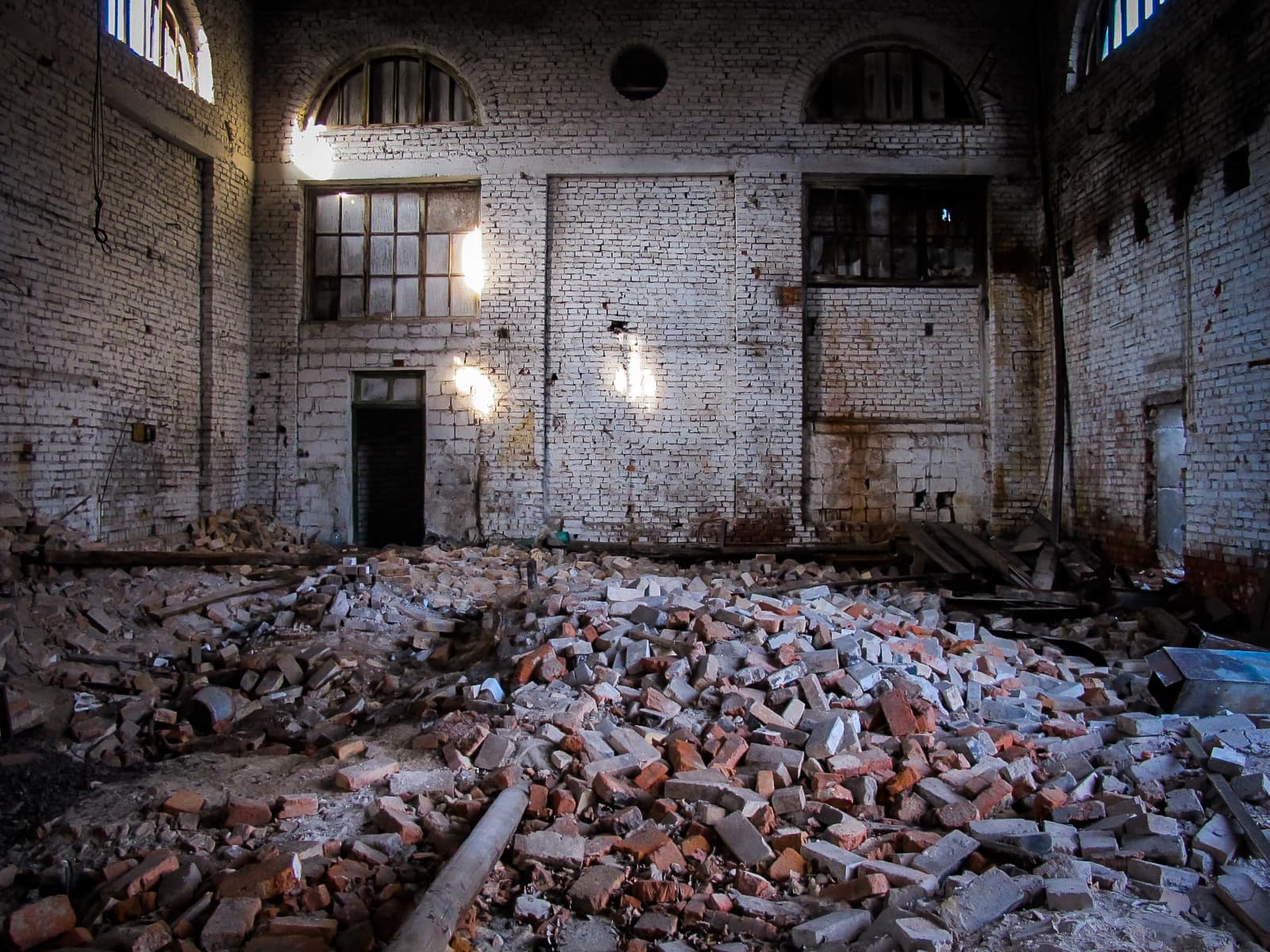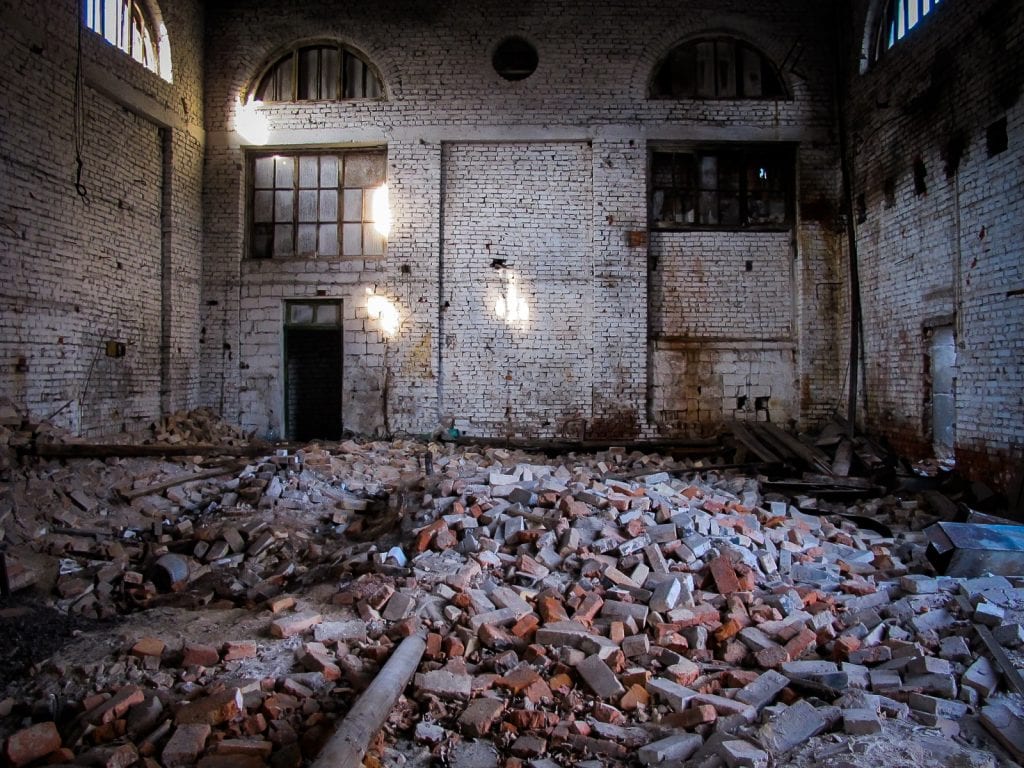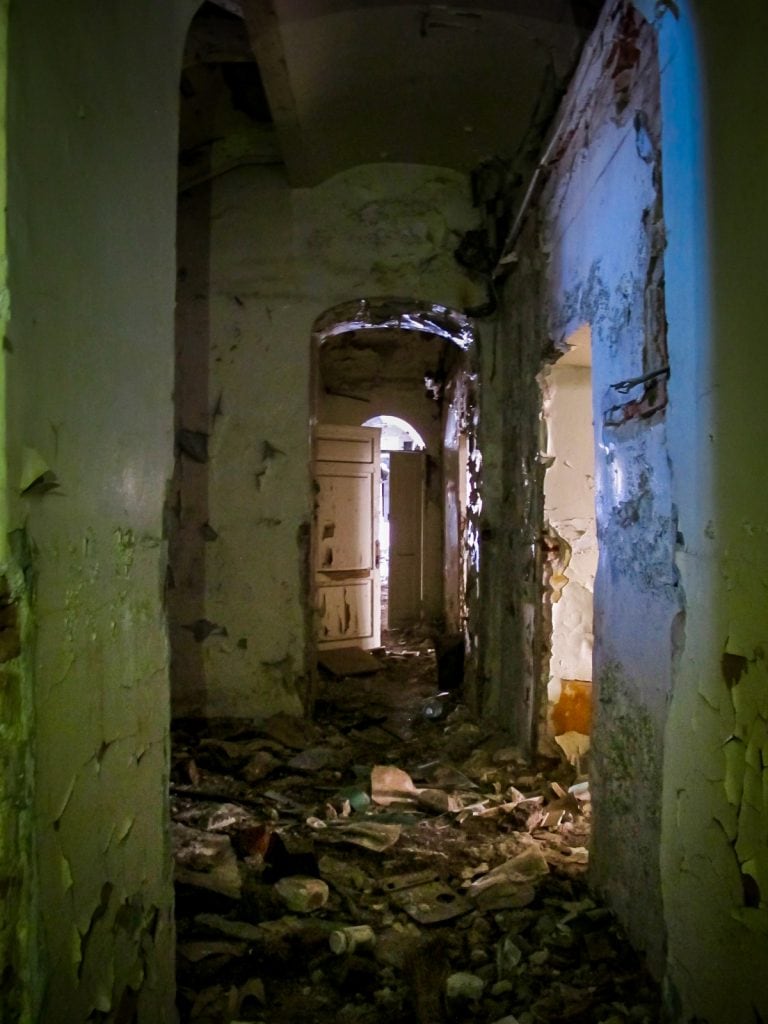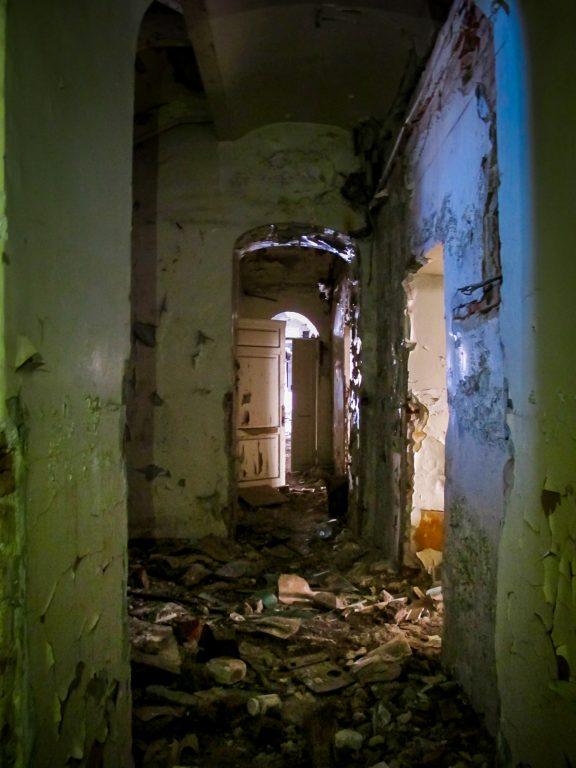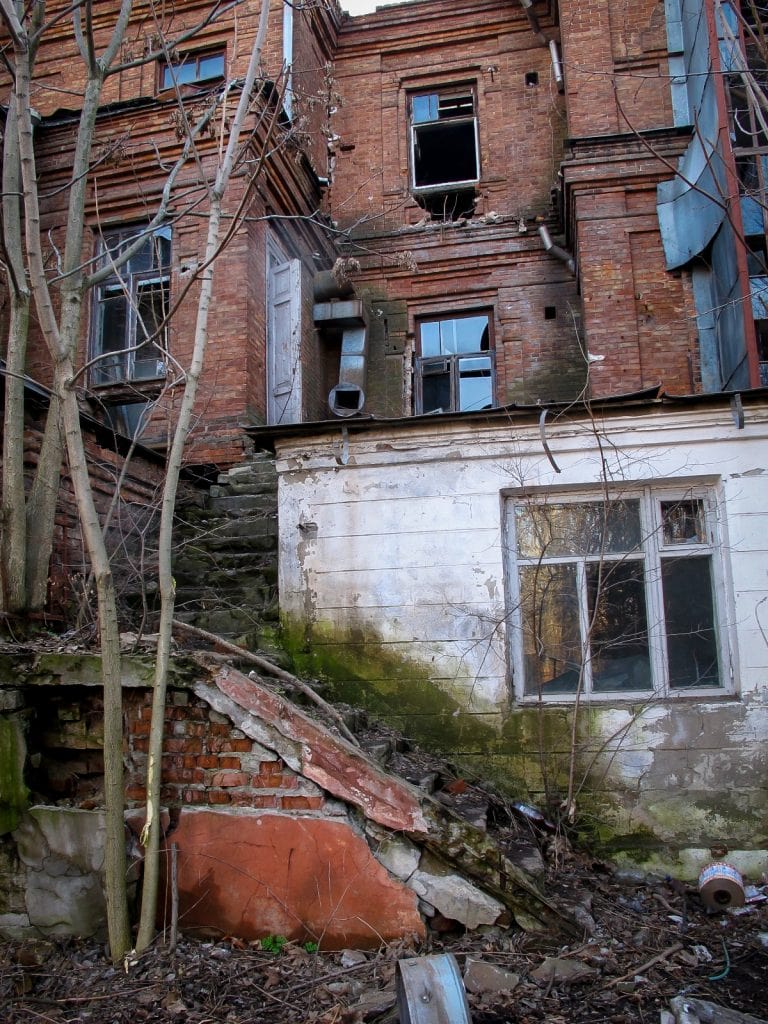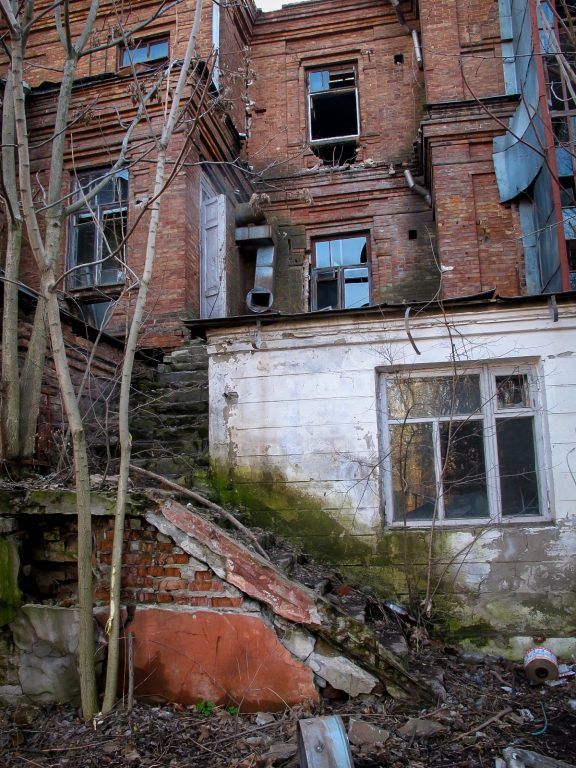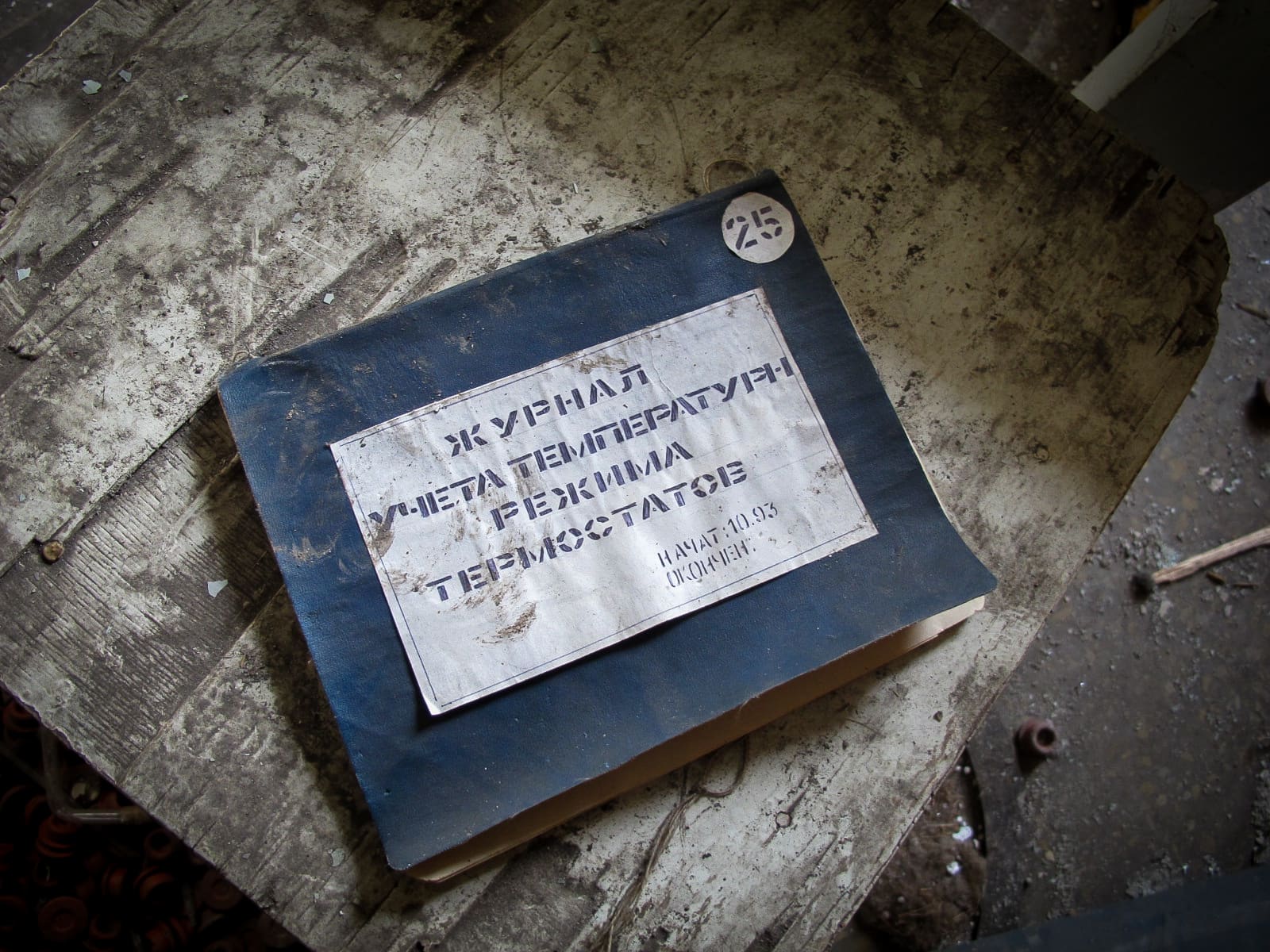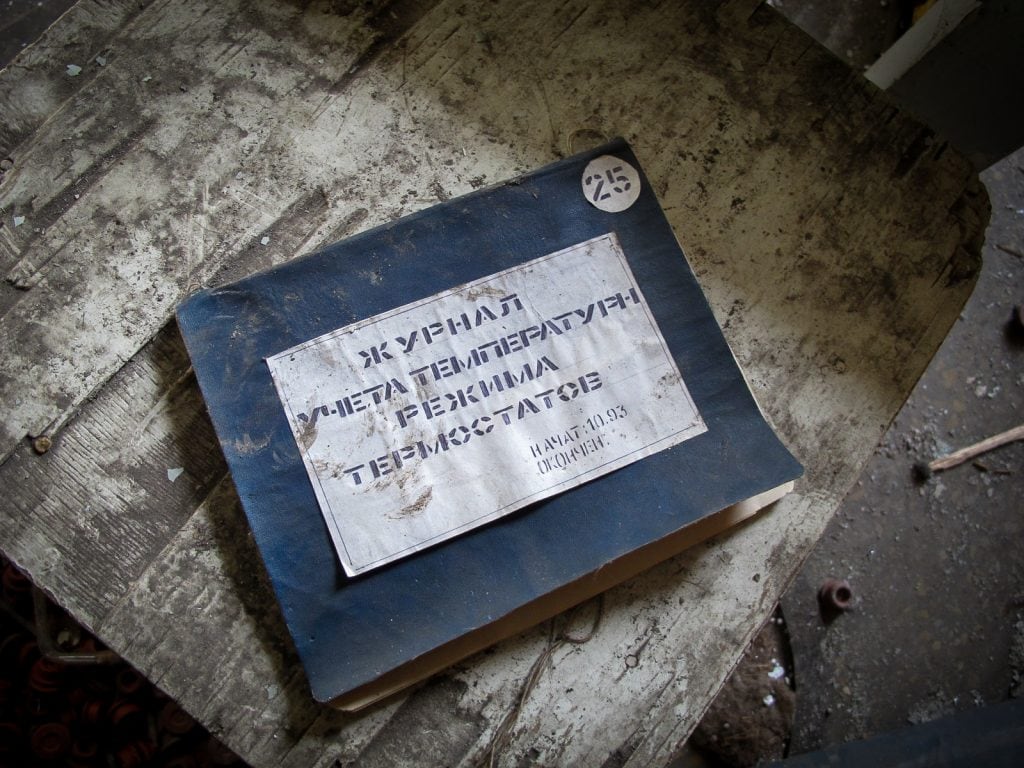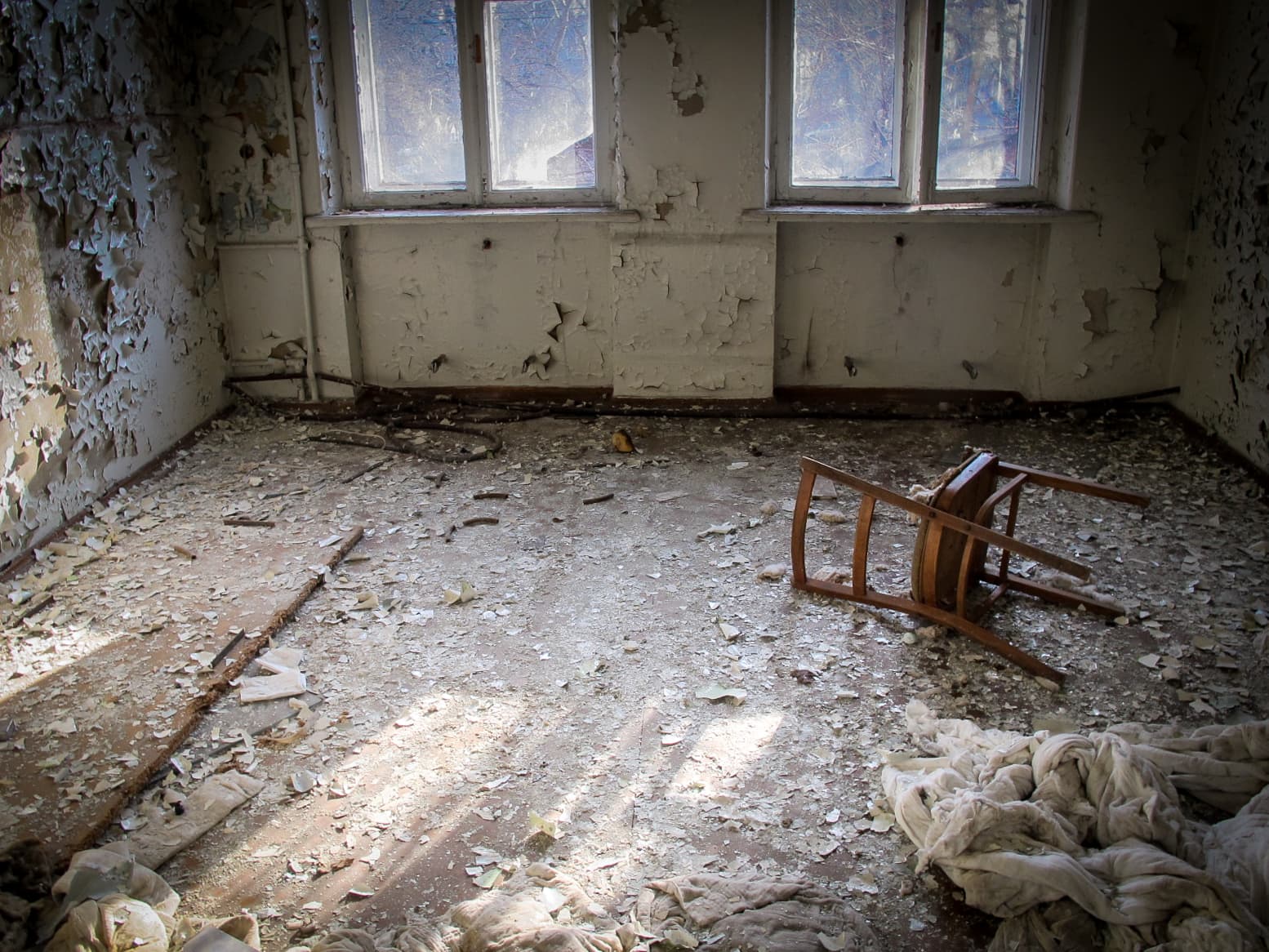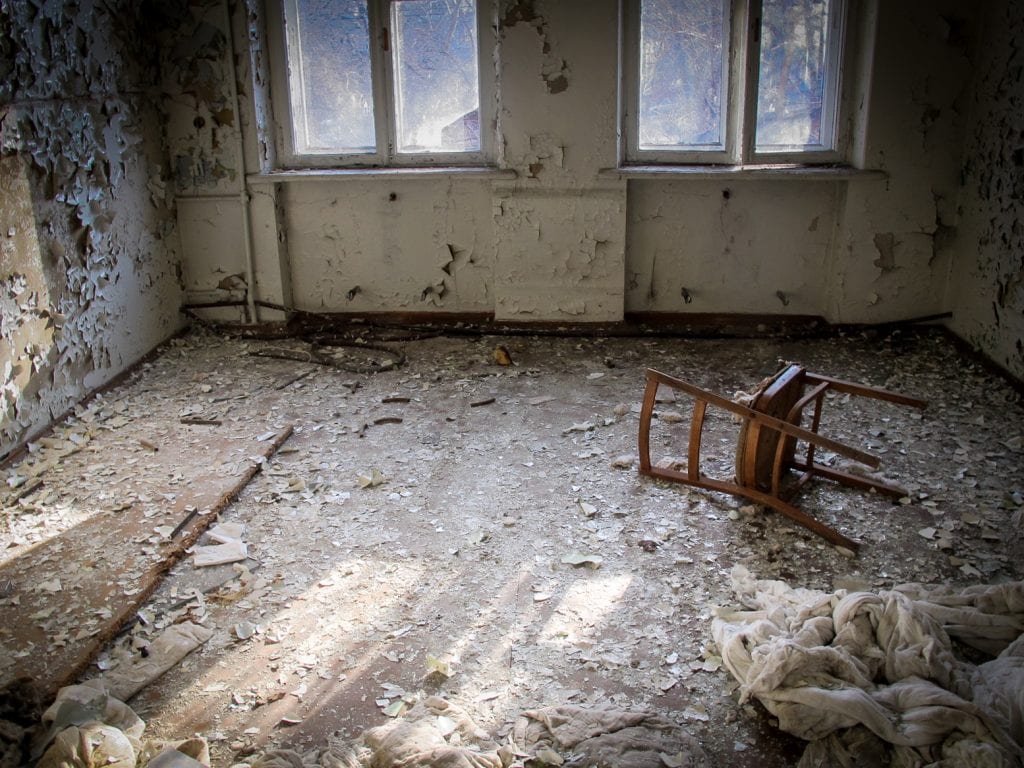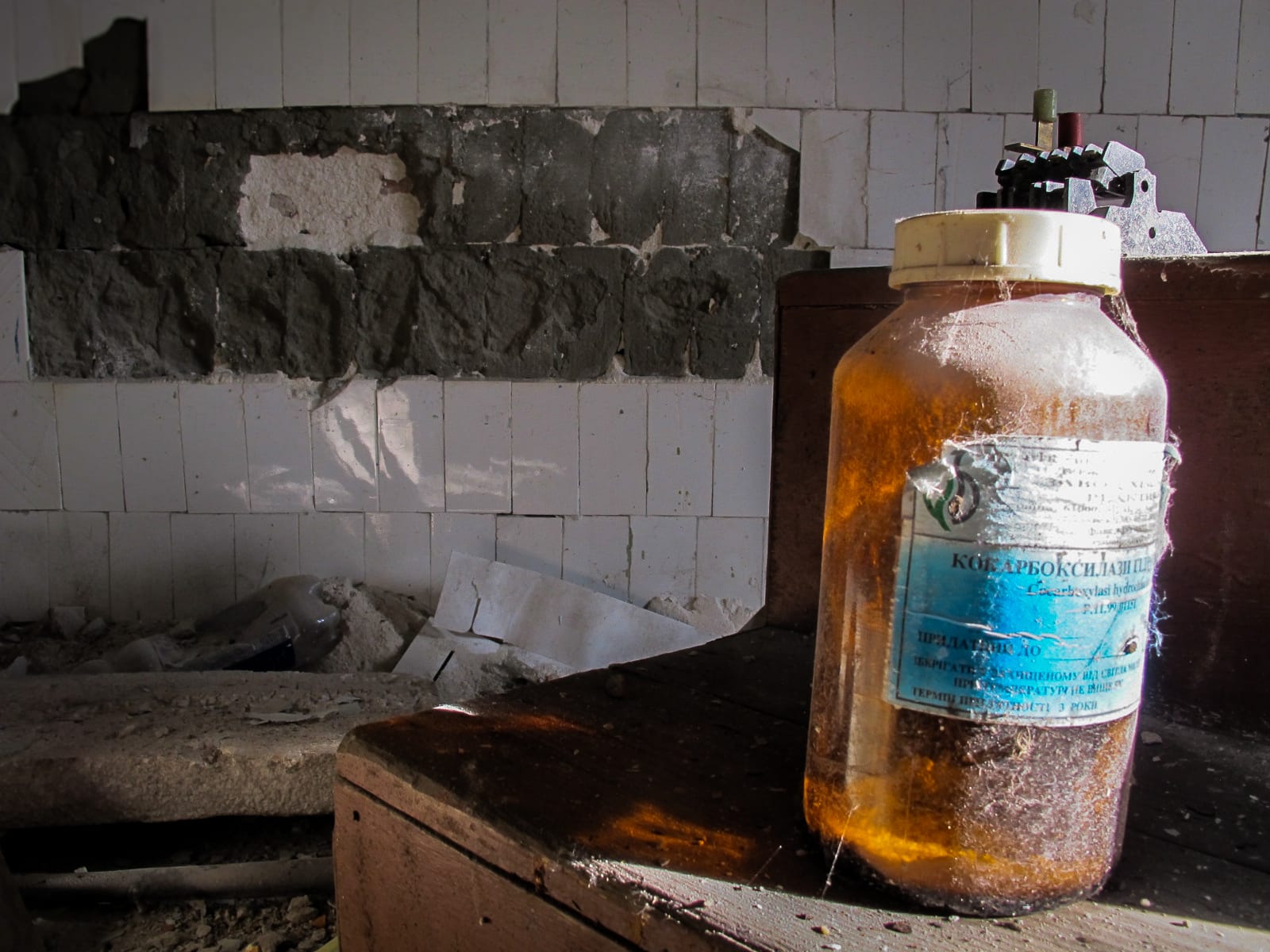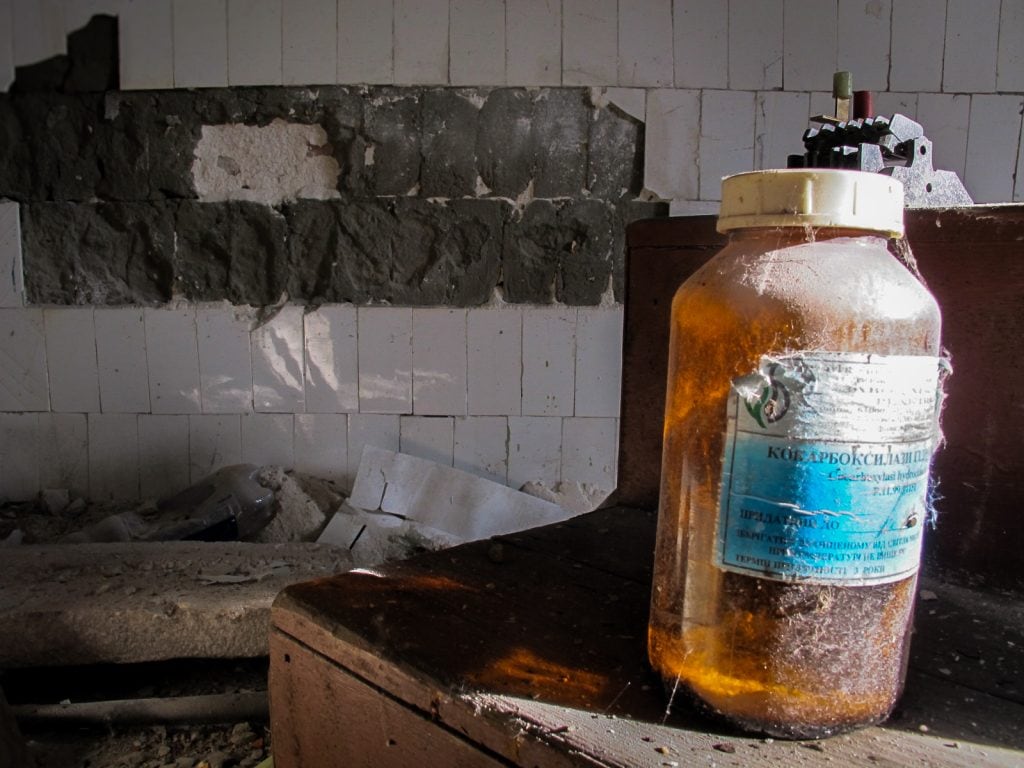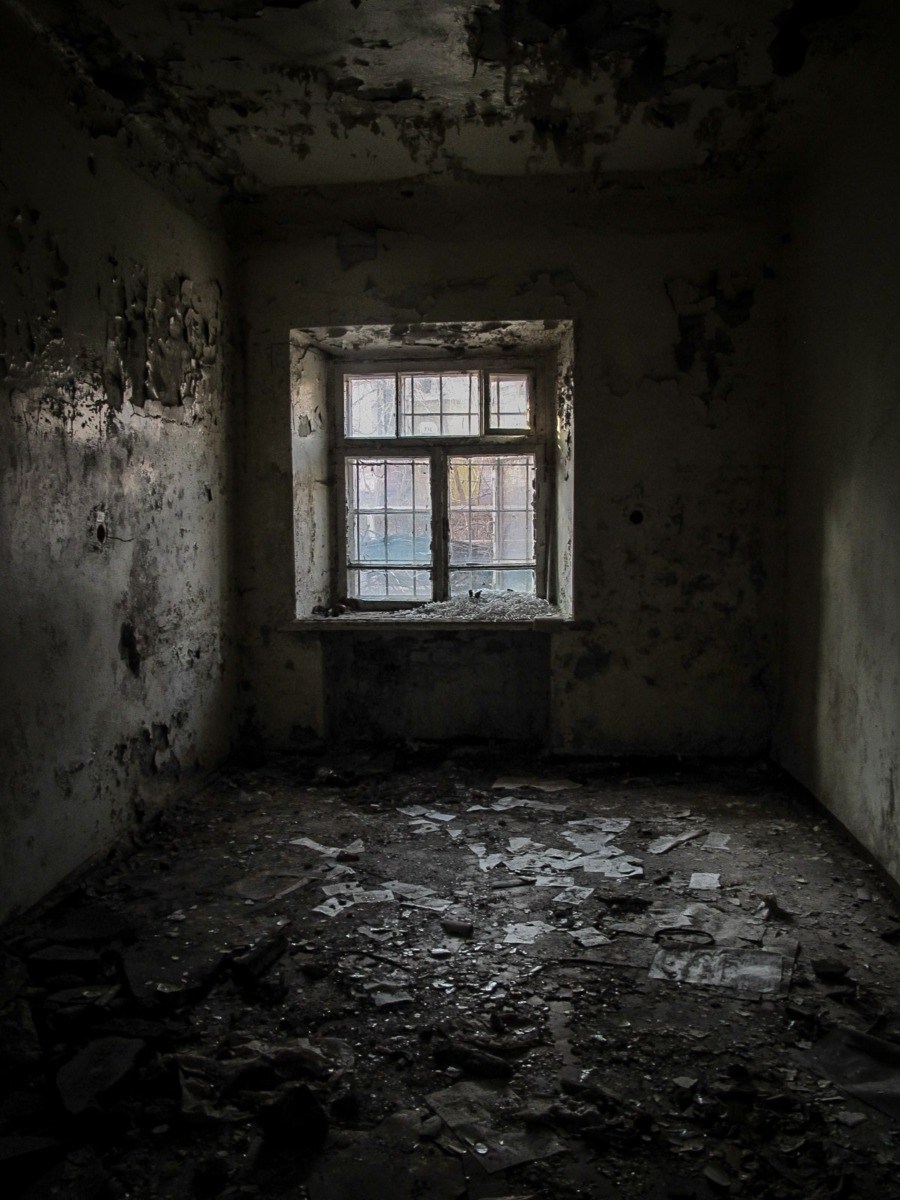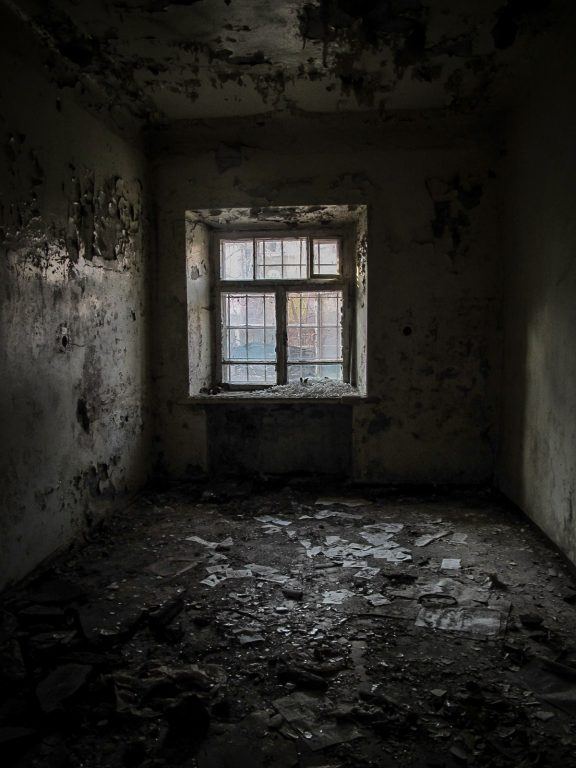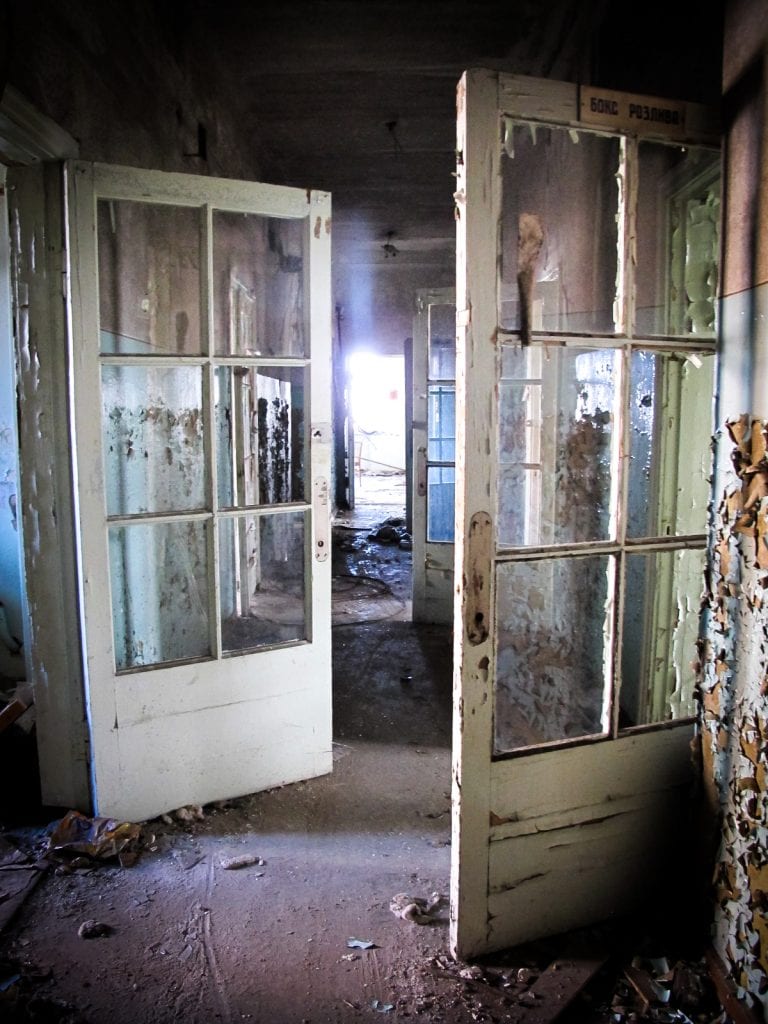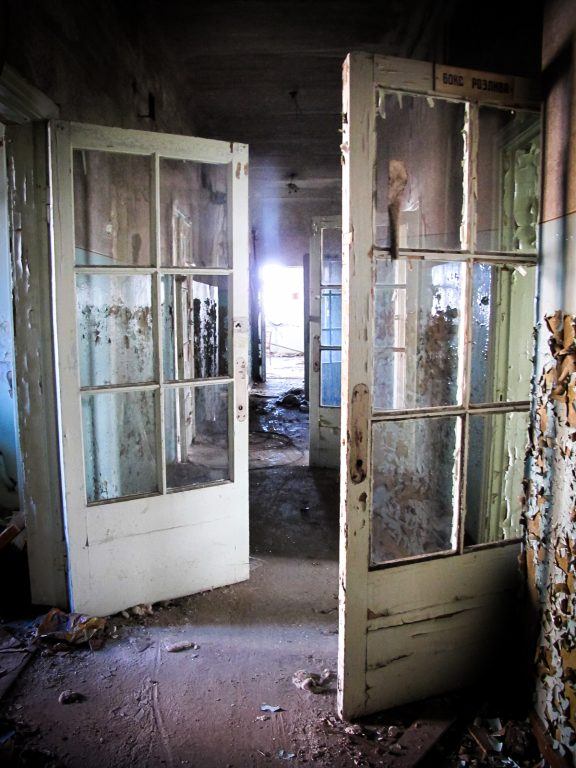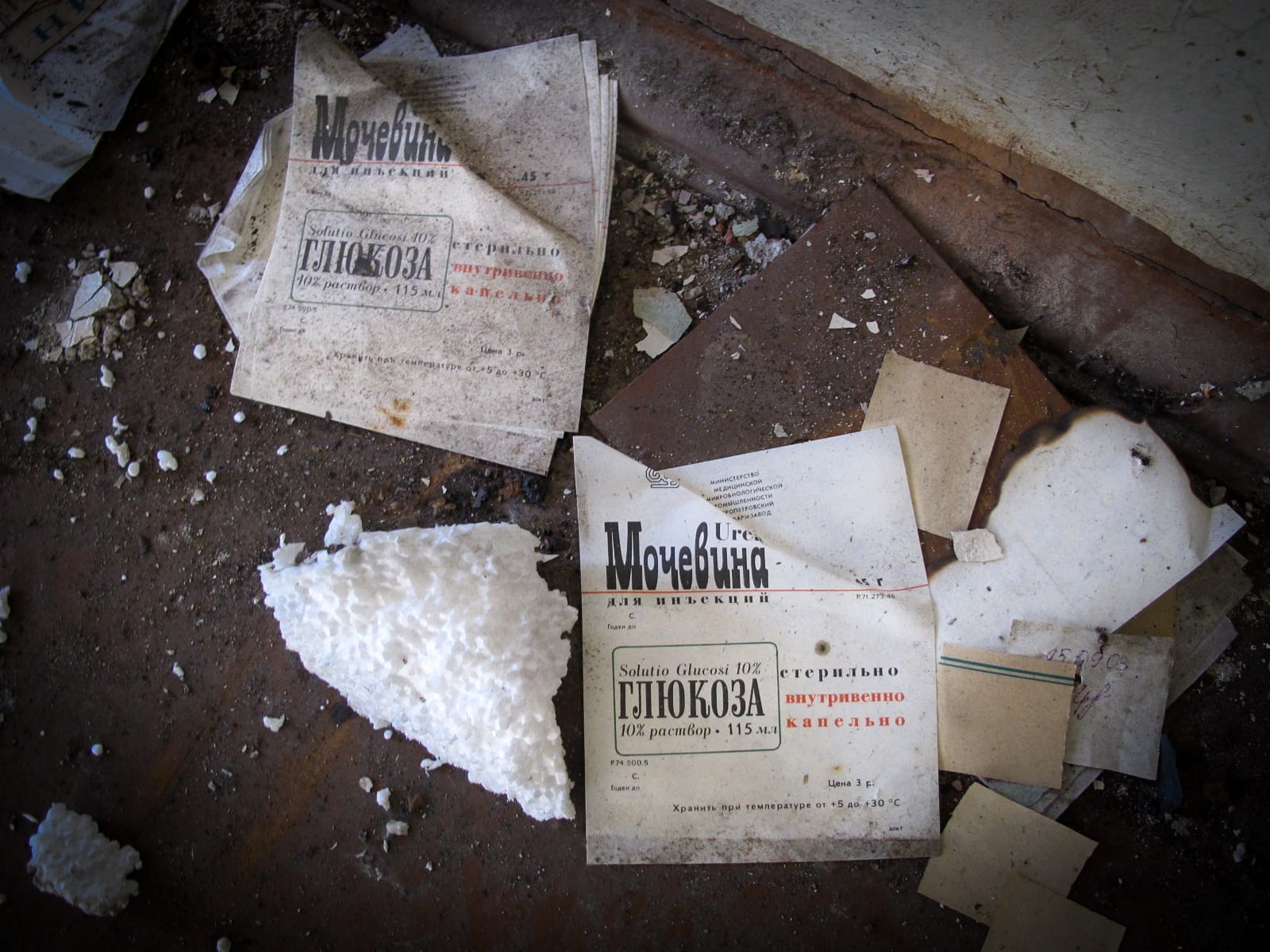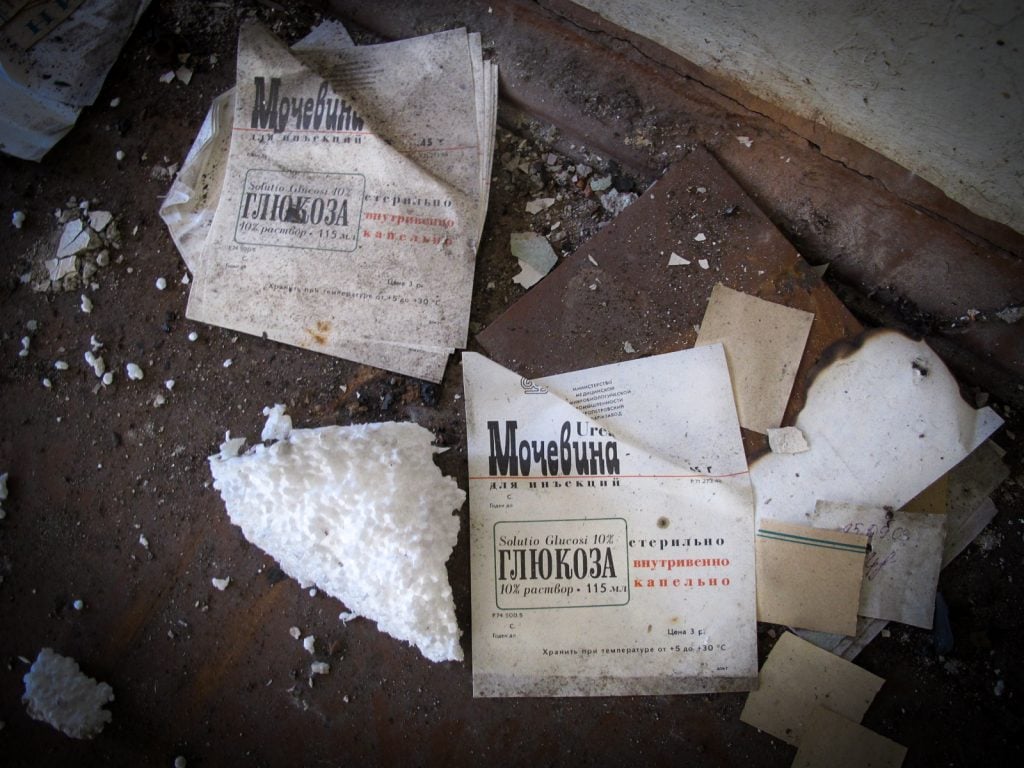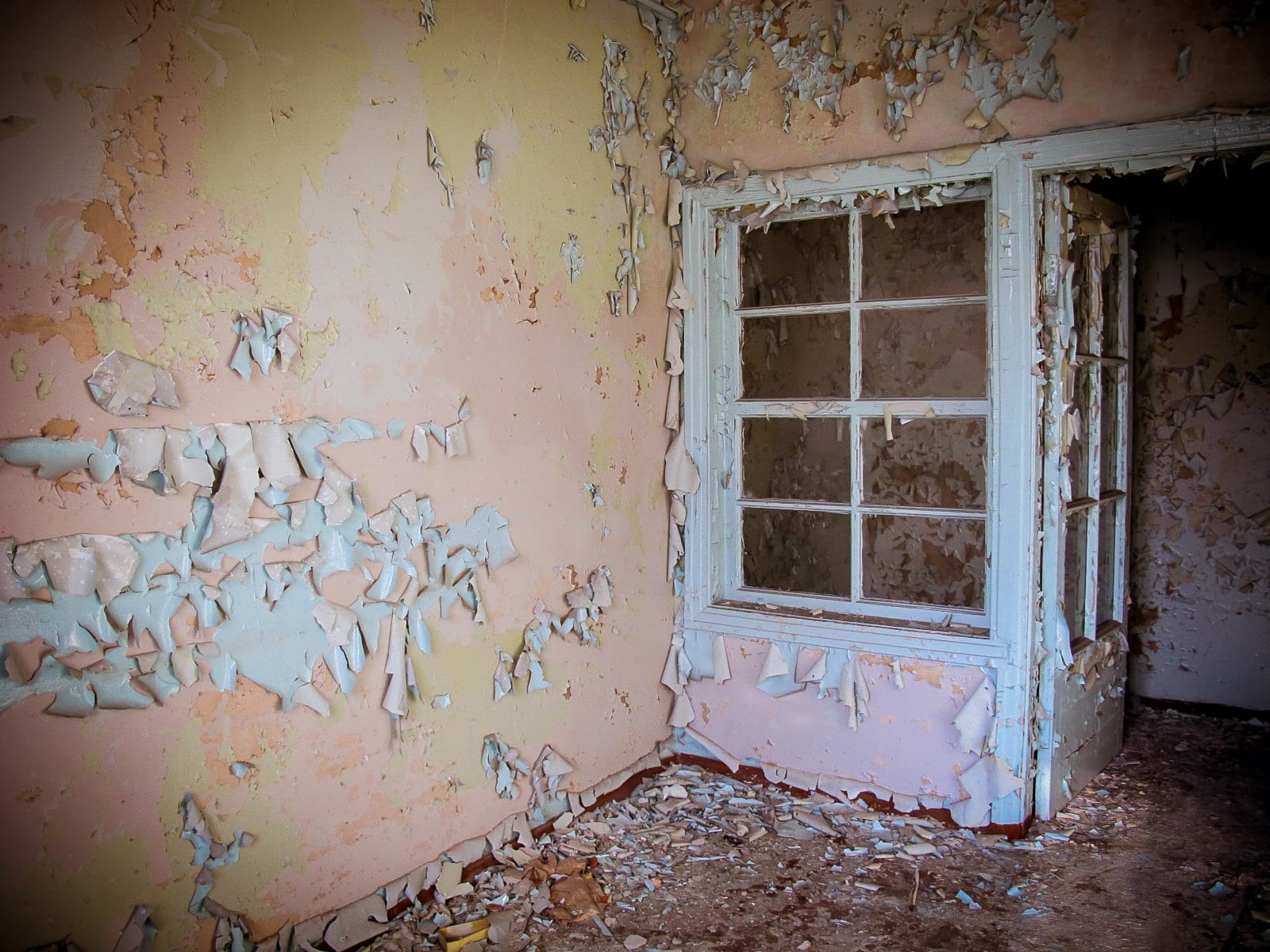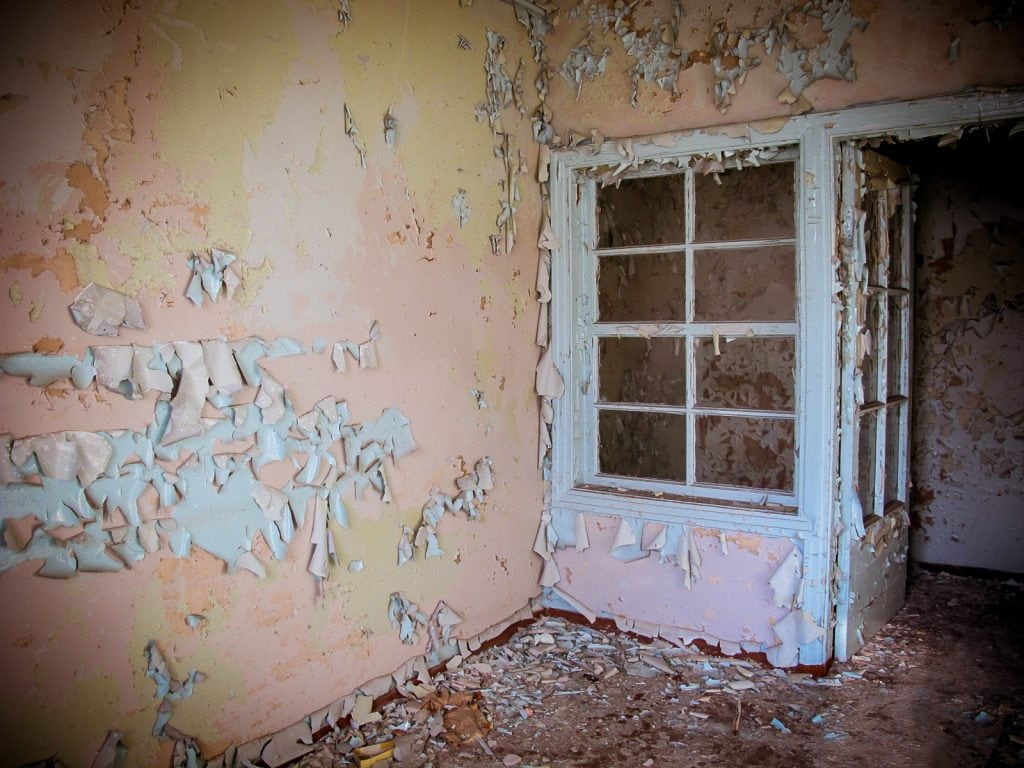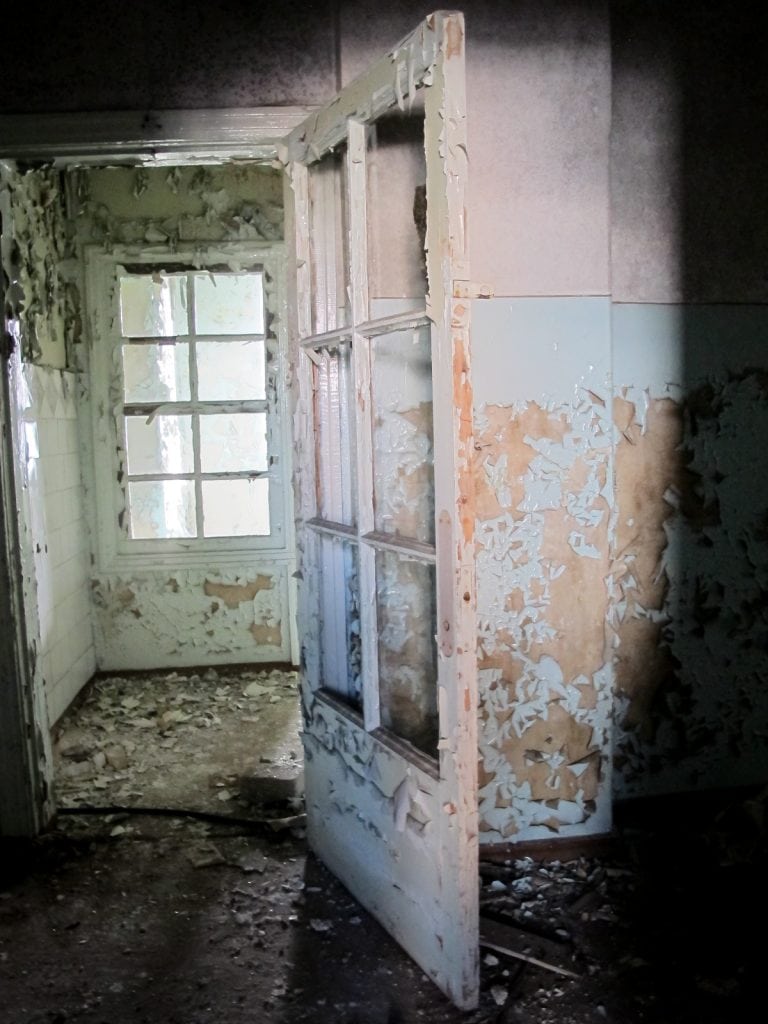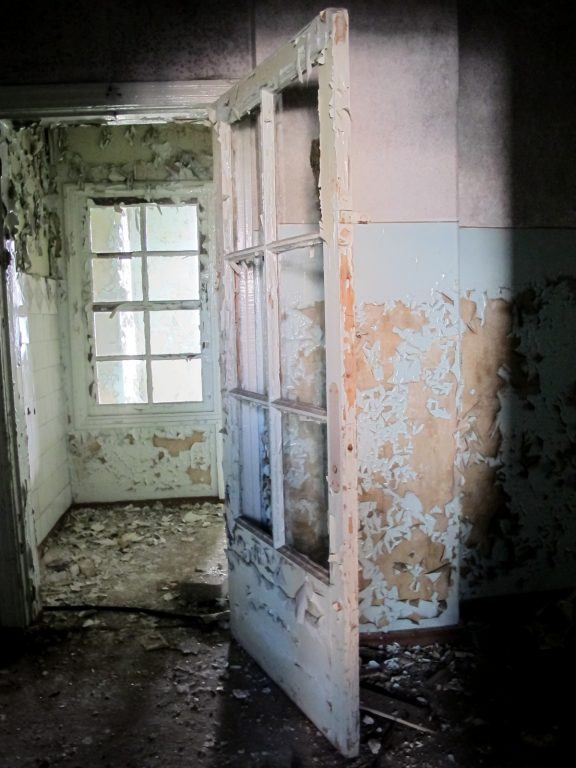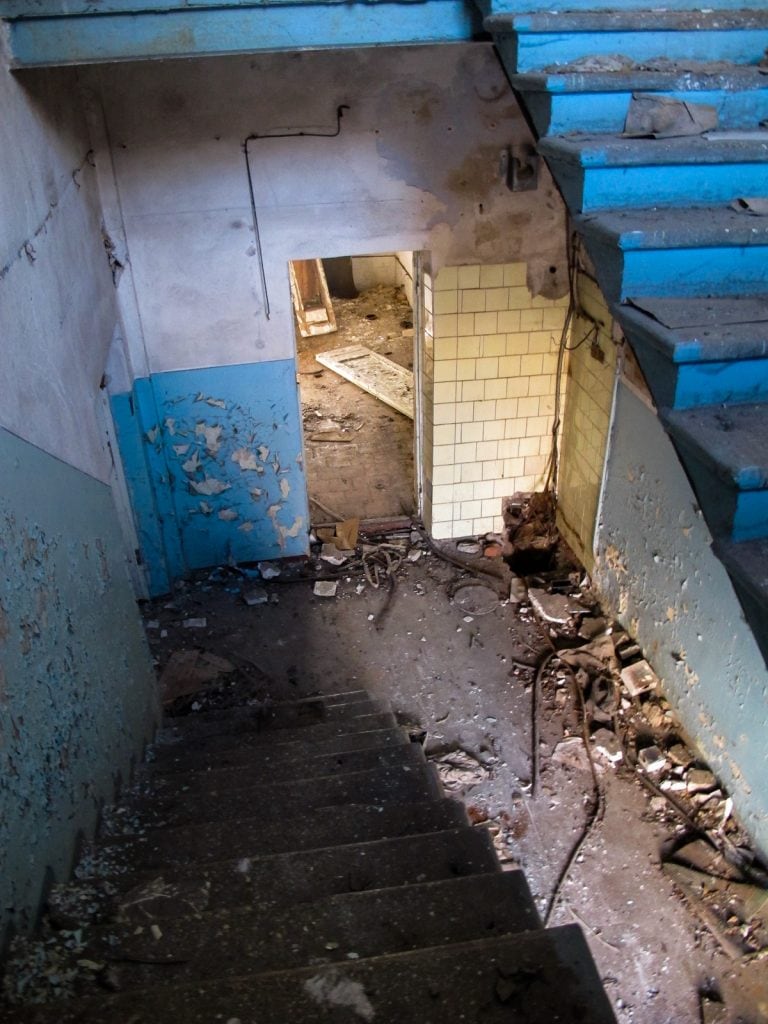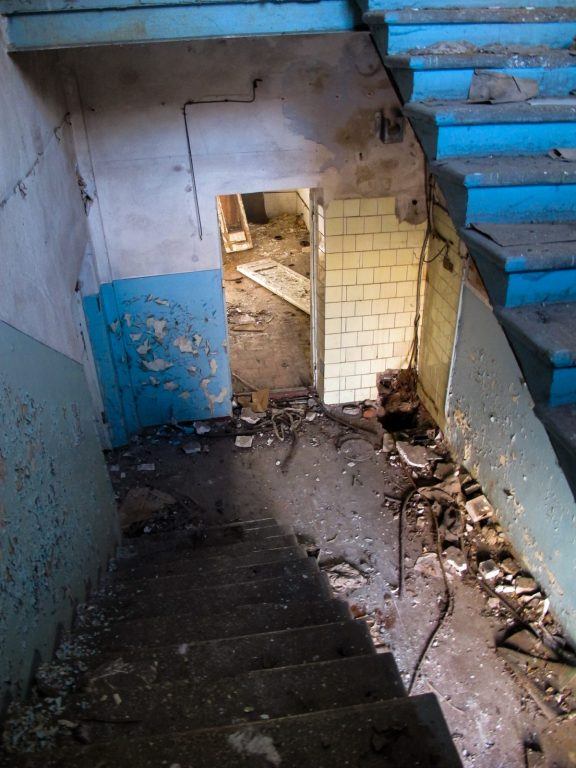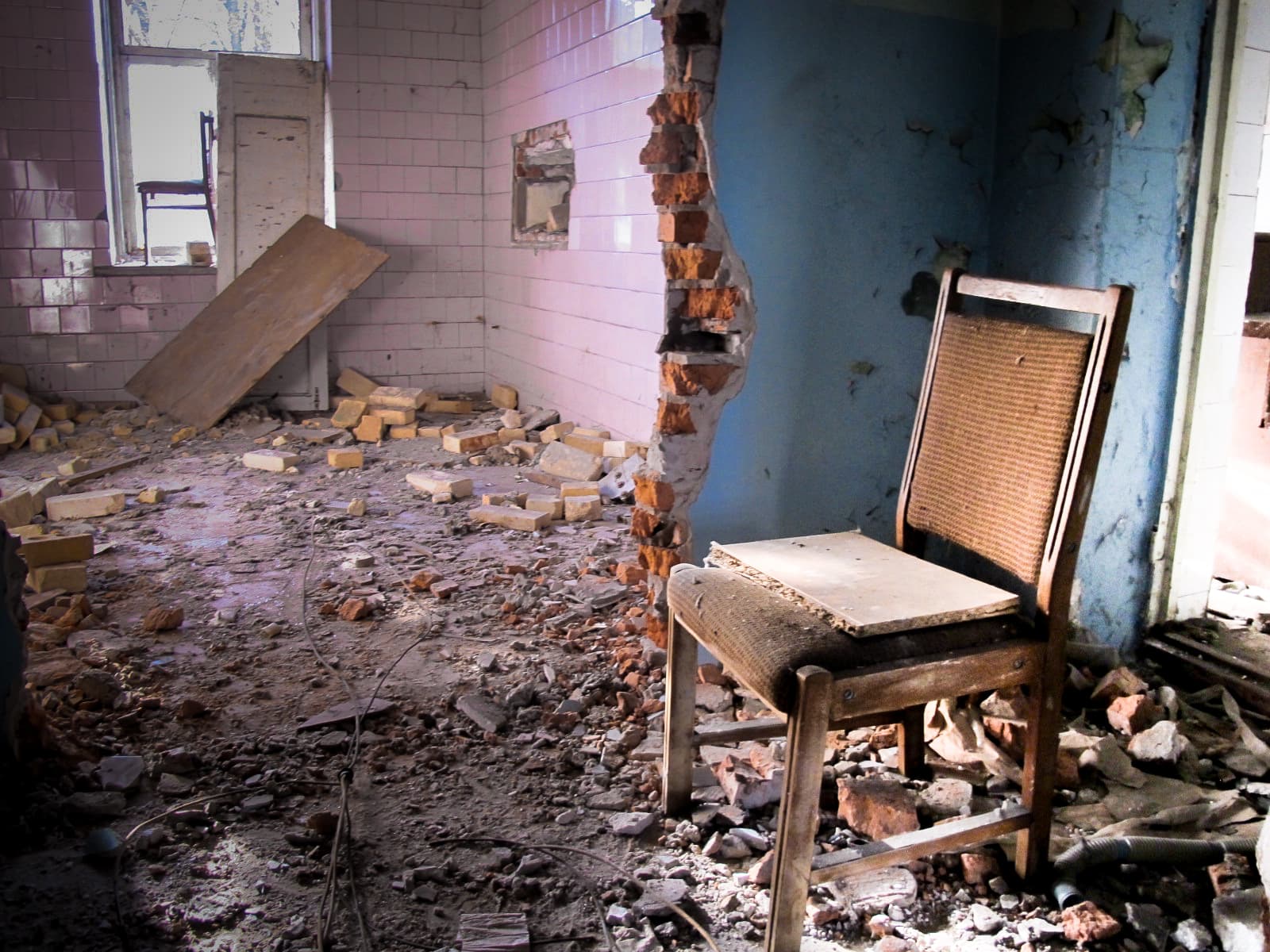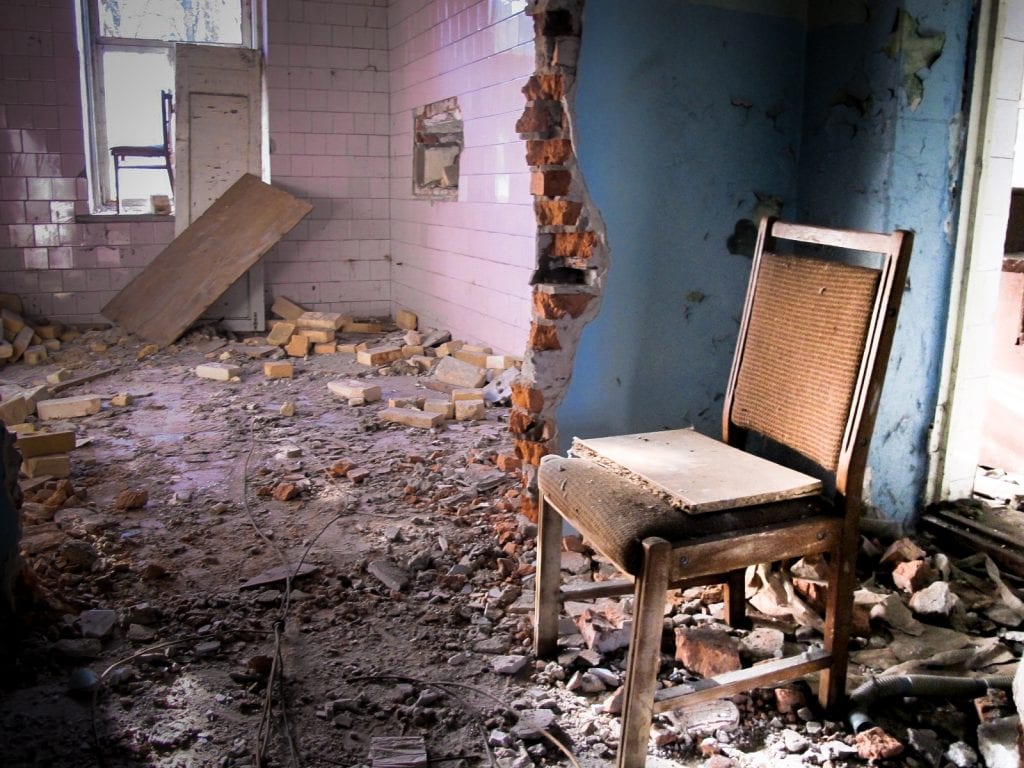 The pharmacy building is still around and in pretty decent shape on the corner. The other buildings are a bit of a mess, as is the land surrounding it. You will also find an underground cellar that is still housing old medications. I was extremely shocked to see stuff in such order. But perhaps not many people go down there or know what is lurking below.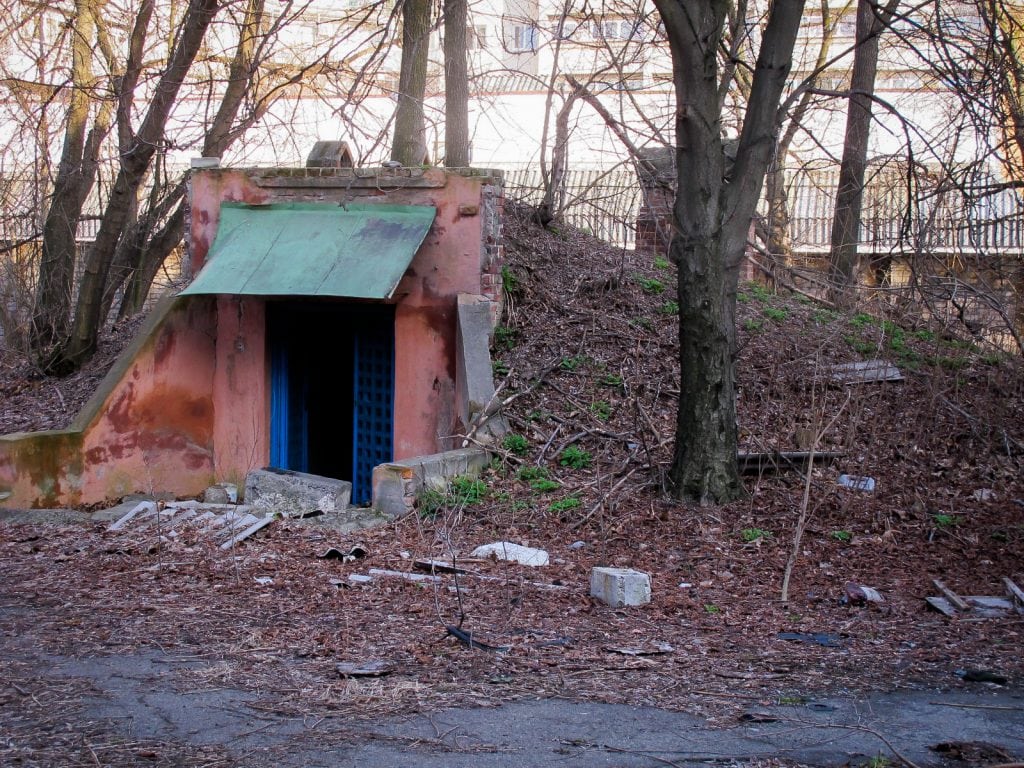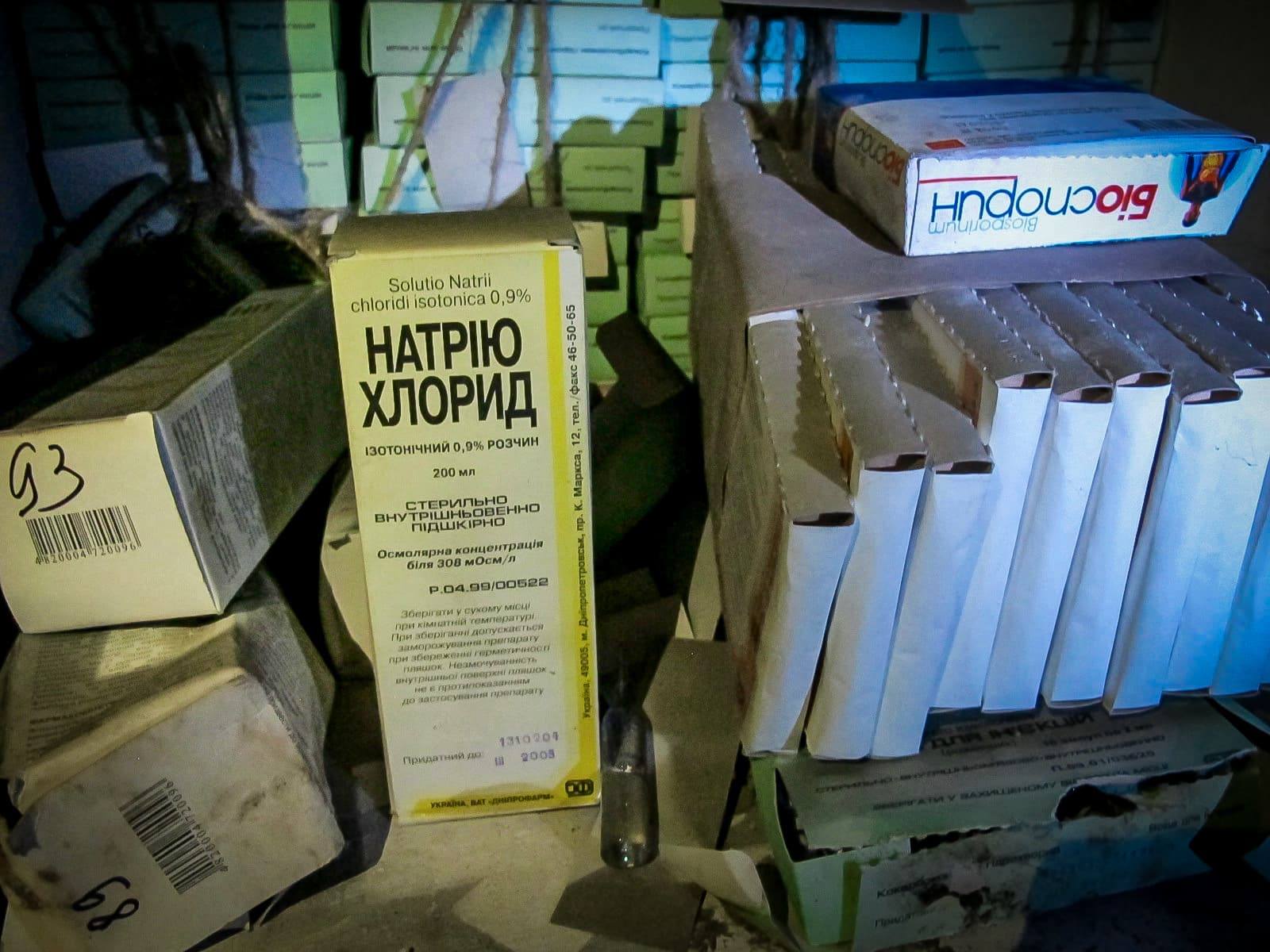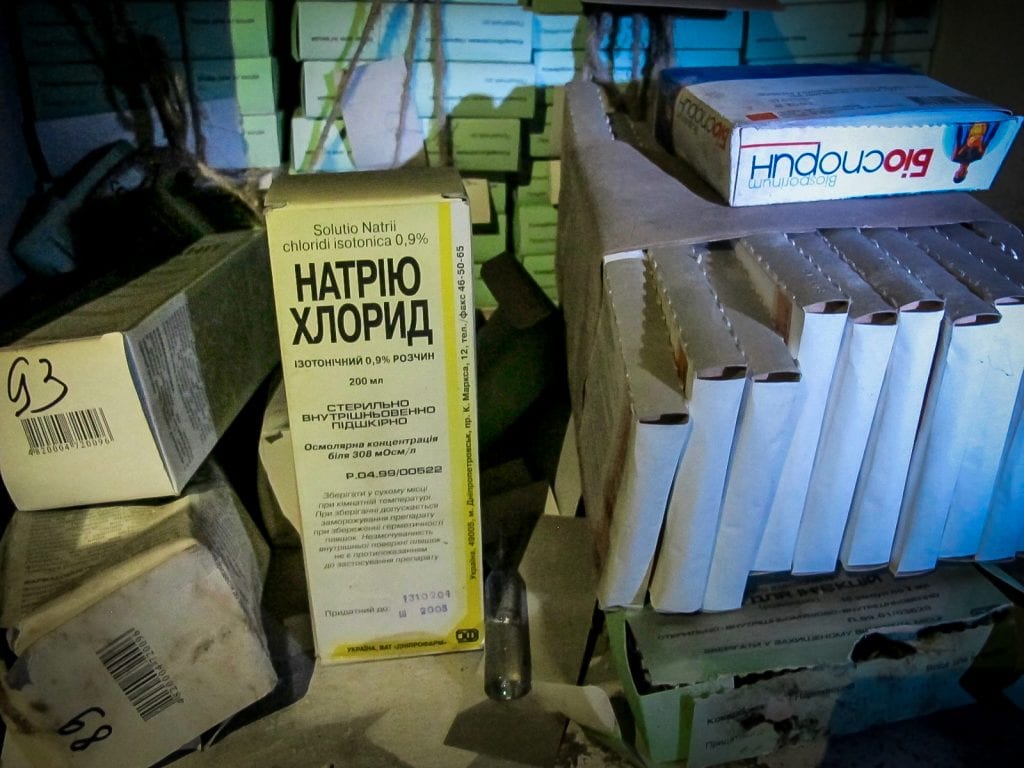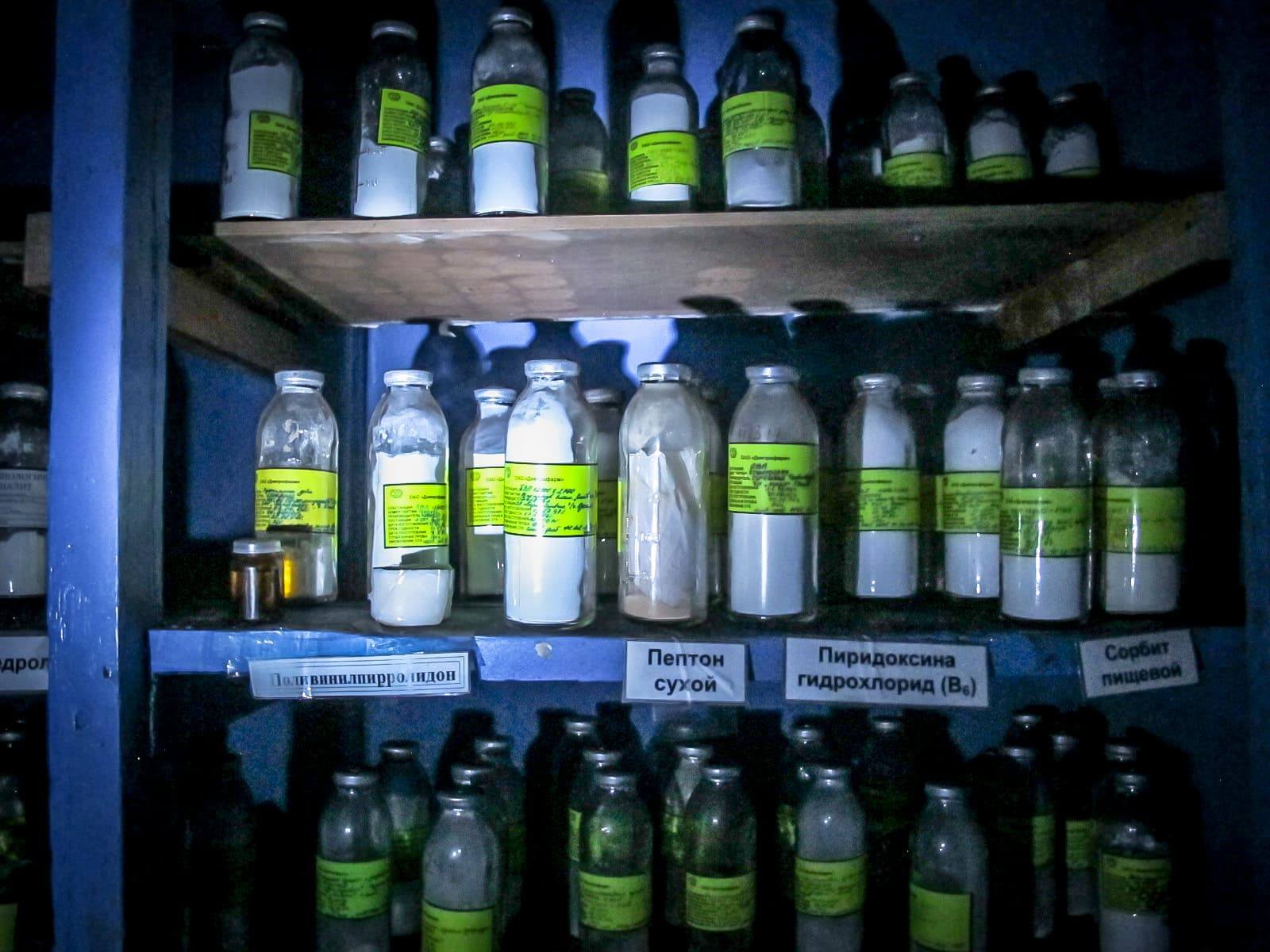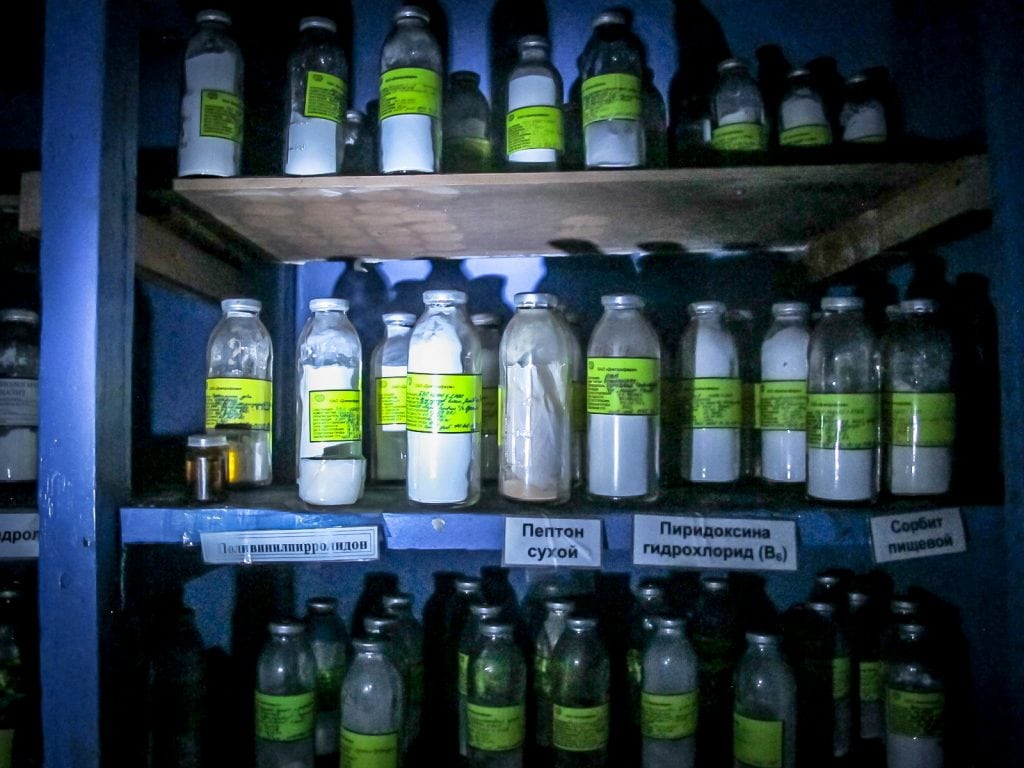 If you're interested in going inside of the Red Cross Hospital in Dnipro or just learning more about it, you can start by joining the Vkontakte group specifically about the hospital. To read more about my impressions from visiting Dnipro, Ukraine, you can click here.