It's that time of year! Time to look back at the year and either smile or hide my face from the crazy things I did throughout it. 2017 was… different. Not bad 'different', just not what I was expecting at all. If you've been a long time reader of my blog, you know that I do my yearly recaps a bit different than other bloggers as I chat about the drinks I had that were my favorite or most memorable.
The drink doesn't have to be tasty, it just has to bring about killer memories or something of the sort. It seems like this was the year of the beer. I don't have any fun drinks like shubat or kumis topping the list like previous years! At the end of the post, I'll talk a bit about what has happened personally, on the blog, and I'll give you a glimpse into what 2018 will bring!
2017 Favorite Drinks
Lofotpils in Henningsvær in the Lofoten Islands, Norway
One of my most recent drinks, this Lofotpils in Henningsvær, Norway in the Lofoten Islands, was undoubtedly one of my top drinks of the year. When I was in Norway, I was sick the majority of the time and I was obviously working, so I wasn't interested in drinking when I was there. But, we had a full day in Henningsvær, a small town that is sprawled across several islands and is said to be one of the finest and most charming villages in all of Norway.
We had the best bacalao for lunch at Henningsvær Bryggehotell and decided that the view was too mesmerizing to not enjoy a drink while there. We ordered a Lofotpils, a craft beer from Lofoten, and enjoyed the view, food, and just basking in the fact that we were sitting in one of the most beautiful spots in the world.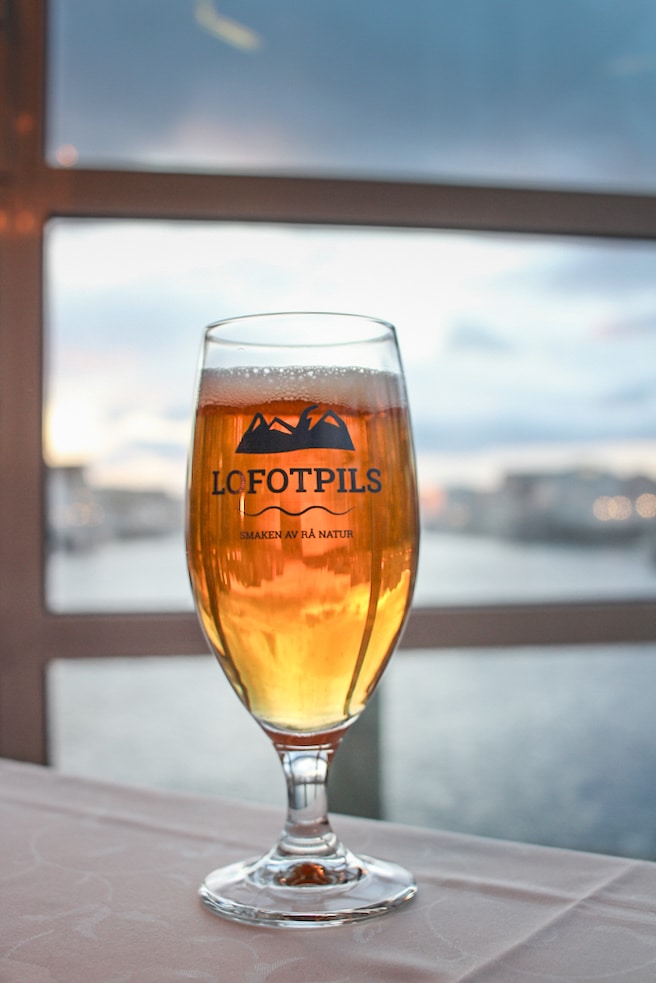 Crushing on Lisbon, Portugal Over Coffee
Have you ever arrived in a city and just knew you were destined to move there someday? That was Lisbon for me. I am still, to this day, head over heels in love with Lisbon. I arrived in the Portuguese capital before my Azores trip and then arrived back there after the Madeira trip.
My partner was with me for some of it, but he flew back to Frankfurt and left me alone in the city to explore for an entire day before I had to head back to London. I immediately hunted down the Copenhagen Coffee Lab and grabbed a tasty flat white. The rest of my day was utterly perfect. As I sipped this coffee, I quickly realized that Lisbon is going to be a city I continuously venture back to and it will hopefully become my 'home away from home'.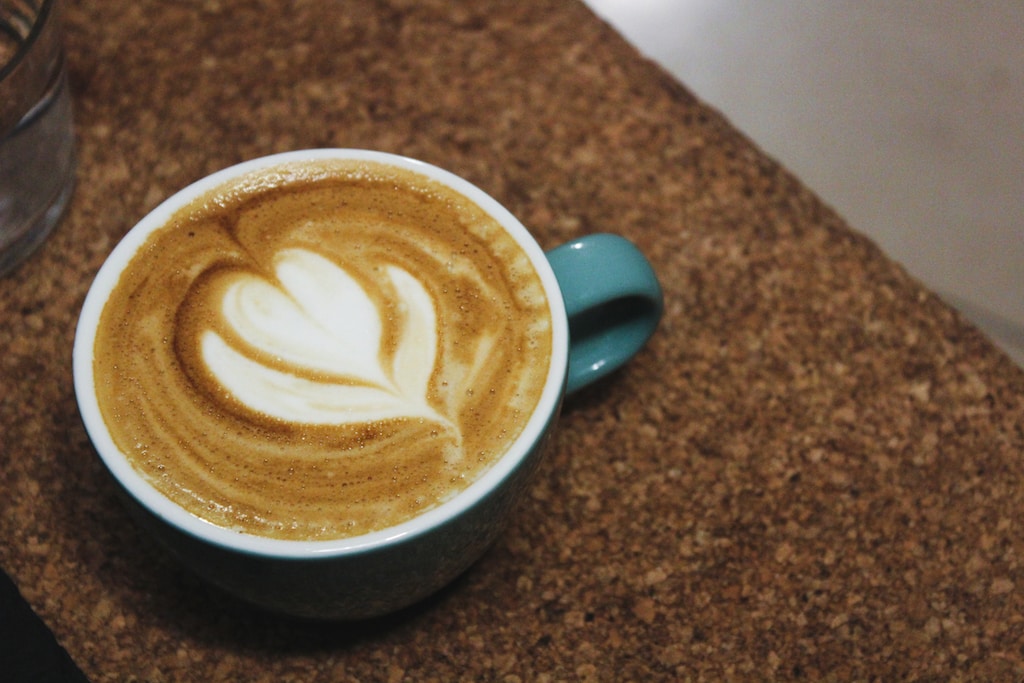 Azorean Beer and Tremoços in Capelas, Sao Miguel, Azores
When we arrived in the Azores, we stayed at the Santa Barbara Lodge in a place called Sao Vicente Ferreira. The town was small and on the north shore of Sao Miguel and to be fair, there wasn't much going on there. It was perfect for us at the time, but we were craving some culture and life, so we walked north a bit to Capelas, another town, and found a seaside bar where we were able to grab our first beer from the Azores.
This beer wasn't anything to write home about, but the fact that I had finally made it to the Azores, a place I had dreamt of visiting my entire life, almost left me in tears. A storm passed over while we had some beers and Azorean-style tremoços and the day was just a blast. Certainly one of my favorite travel memories and beers of the year.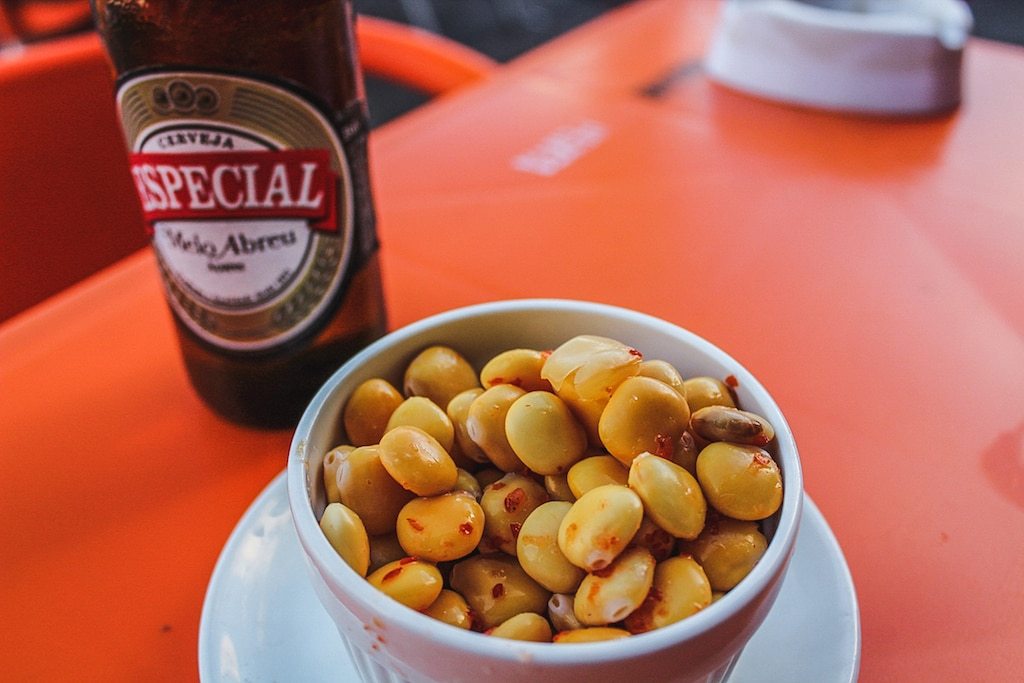 A Late Night Beer and a New Friend in Athens, Greece
Another favorite discovery this year? Athens. I could easily live there, too. I was in the city on an extended layover coming from Sofia and eventually making my way to the Faroe Islands via Copenhagen. I was stoked to finally see Athens and once I arrived in the city, I found a place I could totally get down with. I had some good coffee during the day, but the best moment came late at night.
My partner arrived to meet me in the city and we went to a late night snack place that sold baked potatoes in the old town for a beer as everywhere else had closed. While we were enjoying a beer and chatting with the owners, a slightly overweight dog wandered over and curled up beside my chair. I didn't think much of it, but I did get overly excited because dogs are my soulmates and I started petting him.
Once the terrace cleared out, and the pup was still there, I realized that he was homeless. He was marked by the city and given a collar with a name on it. The staff at the baked potato place said he comes by every night and the neighborhood takes great care of him and the few others that linger about, hence why he is slightly overweight.
Naturally, this information made me cry and I was really gutted to hear that he was a stray. But, he seemed happy. His friends wandered by here and there and he would go and say hello and then wander back over our way and lay back down. At the end of the night, we had to catch our bus back to the airport. We said goodbye to the dog, but he didn't want to leave. Instead, he guided us to our bus, which was about a twenty-minute walk away.
It was the strangest experience- like he knew where we were headed. This area of Athens is a maze and he took us directly there. It was incredible and left me speechless. Animals are amazing creatures and we need to be better to them and use our voices to help and protect them, not harm them. Either way, this night and that beer that led me to my new friend is one of my favorite travel experiences and drinks of the year.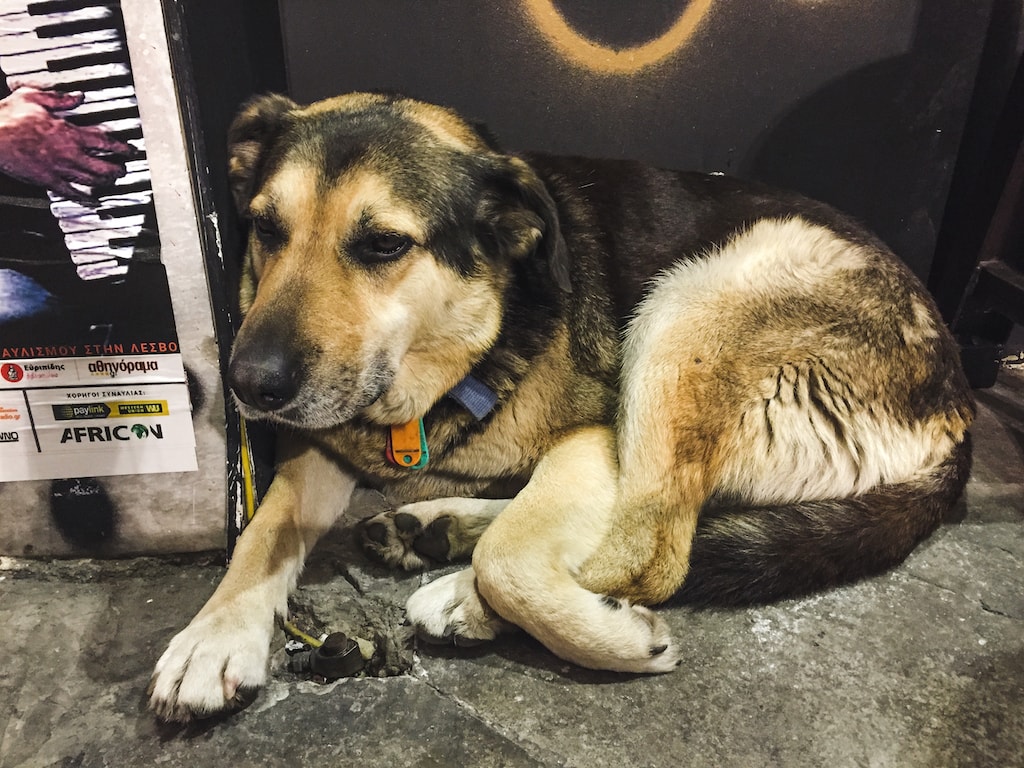 Discovering that Belgrade, Serbia is a Coffee Powerhouse
I first visited Belgrade back in 2014 and fell in love with the city. I had loved Sarajevo, a city I had visited right before Belgrade, and was so certain that no other city could make me fall for it the way Sarajevo did. I was proved wrong from the moment I arrived in Belgrade. I finally got back to the Serbian city this year when living in Timisoara, Romania, and I immediately went on a hunt for coffee and craft beer.
Craft beer was ever-present and good coffee was ubiquitous. I had no idea what to expect when there, but I found so many rad coffee shops that I was just cafe hopping non-stop every single day. It was a blast. However, it was this first coffee I had when I arrived that really set the tone for my trip (and I ended up making multiple more trips to Belgrade throughout my Romania stint). This coffee from D59B was so creamy and palatable that I knew Belgrade was going to be a highlight once again.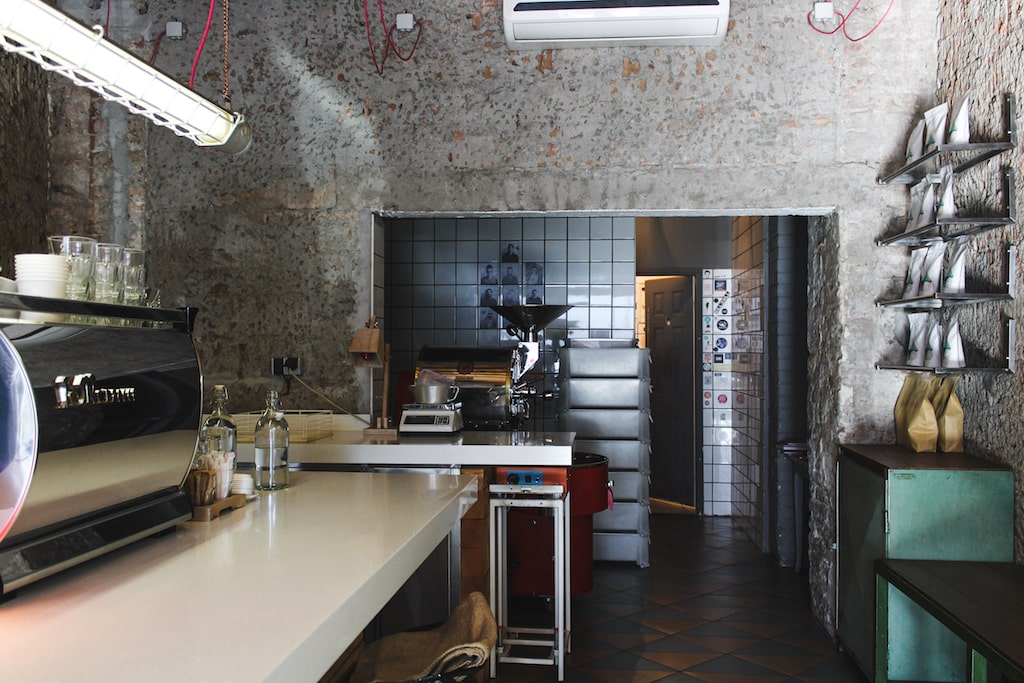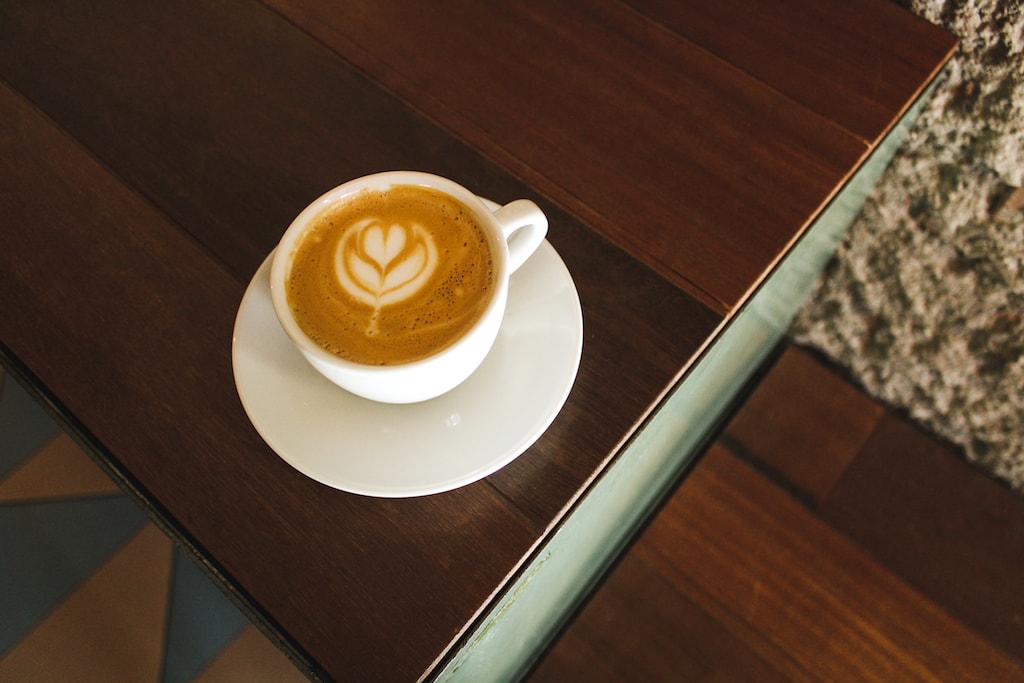 An IPA at Veil Brewing Company in Richmond, Virginia
I rarely blog about Virginia. That is where I'm from the US and the city of Richmond is my hometown. I love my hometown- I don't think many places are as cool as where I grew up. On the other hand, I don't know the city anymore. I never lived there as an adult, so my memories of Richmond aren't great and aren't really even relevant anymore.
I don't return home often (I fly to Pittsburgh instead), but when I do, I love exploring the city as a tourist. As you know, I love craft beer, and Richmond is one of the best craft beer cities in the US. In fact, the city of Richmond is #1 in the US when it comes to the number of craft breweries per capita.
My partner and I visited a few breweries, but I fell in love with Veil Brewing Company in Scott's Addition. The beer was awesome, the vibe was so cool, and the experience was just so Virginian. There was an oyster food truck outside, limited edition beer, and people were smiling and friendly. I was so proud to show my man where I came from and how cool of a city Richmond is.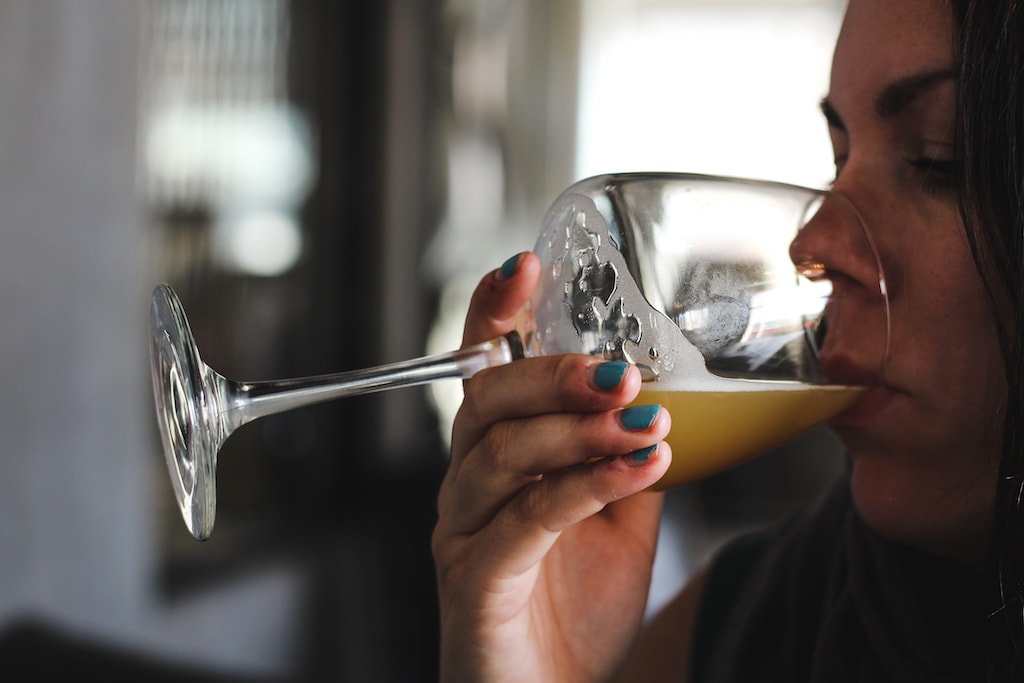 Coral Beer by the Sea in Madeira
I loved Madeira. Madeira may have been my surprise destination of the year. I knew everywhere else would be epic but I thought Madeira would be a pretty island overrun by packaged tourism. We headed straight out to Sao Vicente in the north to the guesthouse we were staying at for the entire duration of the trip.
We planned to just hang out and not see much of the island. This could not have been a better decision- our trip was awesome! We had many drinks there, including a local rum drink, but something about this Coral beer by the sea on our last day is what was most memorable. It wrapped up a holiday to the Azores and to Madeira and the holiday was just out of this world. I will definitely be heading back to Madeira!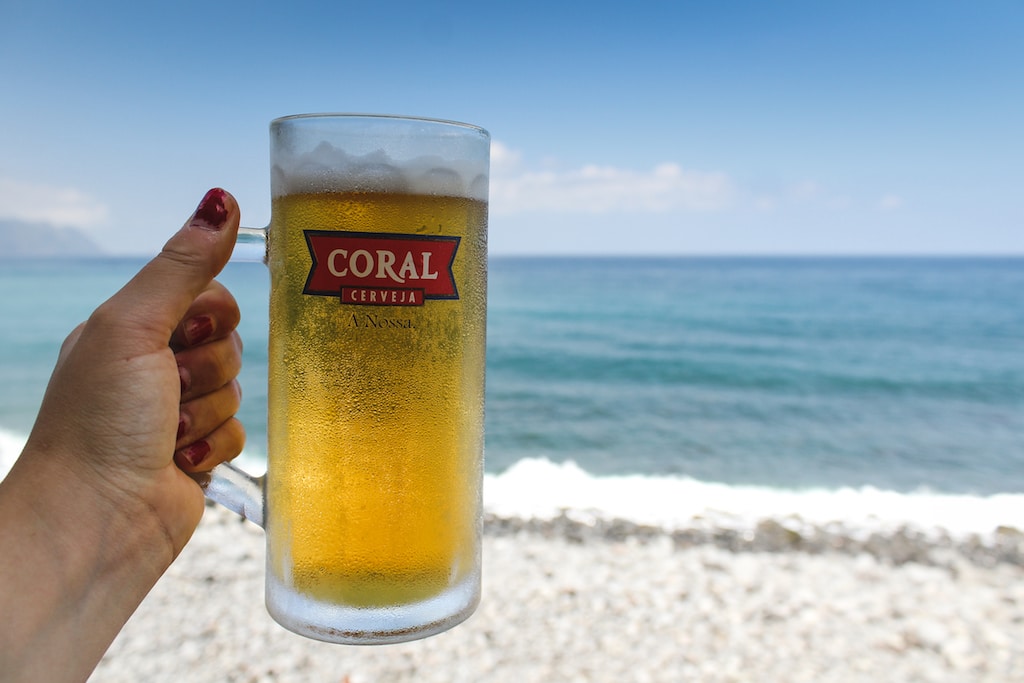 Hot Chocolate in a Lavvu near Tromsø, Norway
Things didn't go quite as expected in Tromsø. Some of our plans ended up canceled and some ended up changed. We had to learn to go with the flow and just deal with things as they came. I was looking forward to our night learning more about Sami culture and seeing reindeer. Turns out, we were also greeted with the Northern Lights and they put on a show the entire night. I must say, the evening was just incredible.
We had a small group and everyone was pretty friendly and seemed to be enjoying their time there. When we went into the lavvu (teepee for North Americans), we were given some delicious Freia hot chocolate and sat around chatting, eating a reindeer stew, and hearing Sami stories, history, and chants. Tours like this can sometimes be commercialized and not always representative of the lifestyle of the people conducting it. I don't know if this was an accurate representation of things, but I can tell you what- I had a blast and I will not forget that night, or that hot chocolate, anytime soon!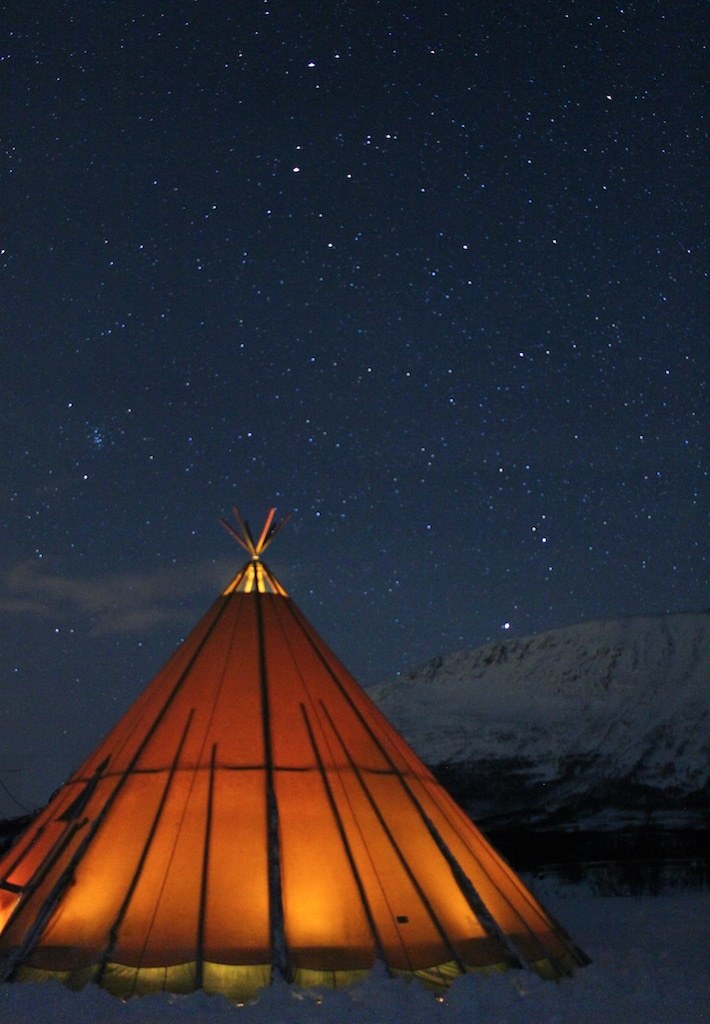 Mikkeller collab beer with Okkara in Torshavn, Faroe Islands
The Azores were not the only place on my list for years and years… the Faroe Islands were also at the top of that list that I never seemed to make a dent in. I was so lucky that I got to go to both this year, but the Faroes happened in March and were definitely one of my year highlights. We rented a car and road tripped around several of the eighteen islands and I think I muttered 'this is the most beautiful place I've ever been' about three-thousand times throughout the duration of this trip.
Every day, once we returned to Torshavn for the night, we would head to our favorite bar in the city, Sirkus Bar, and enjoy a beer. One day, we decided to go the shop to get a few beers to have at our rental house. The only place to purchase alcohol was at a state-run store, so we drove over that way. We discovered a collaboration beer from Okkara and Mikkeller that looked really interesting.
We purchased it, drank it, loved it, and sat mapping out the next day's road trip itinerary. Right after we left the Faroes, Mikkeller opened a bar in Torshavn. I guess I have another reason to go back.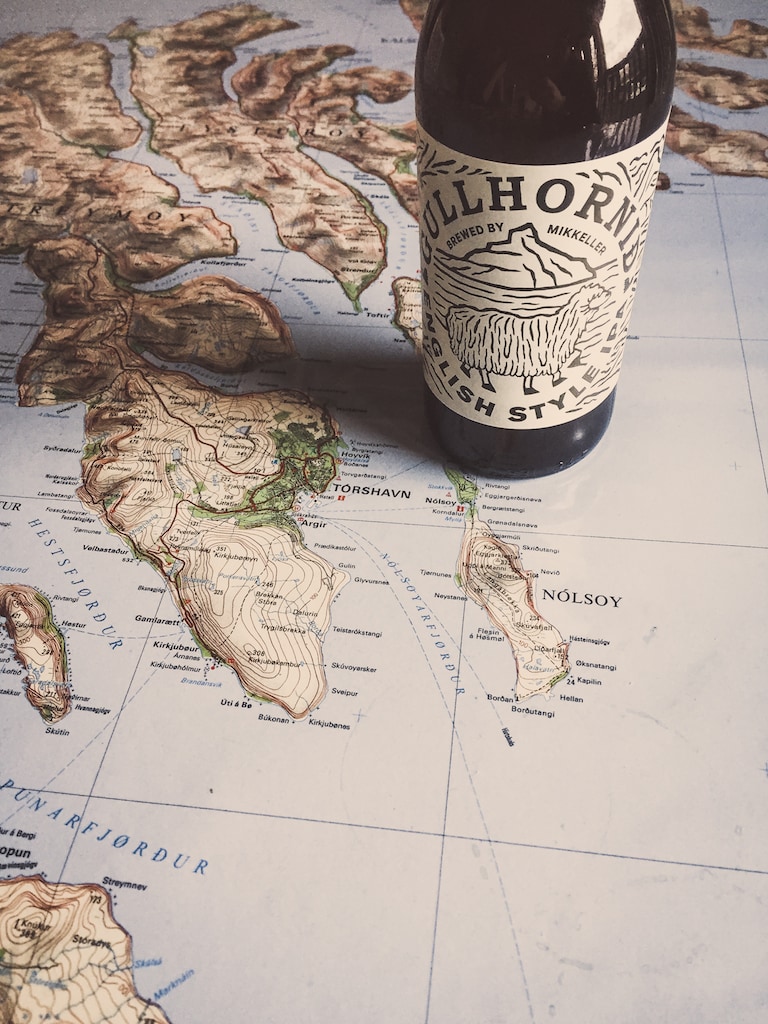 My Last Coffee Date with Friends in Frankfurt
I am constantly having to say goodbye to people here in Frankfurt as I am in and out of Schengen. Before I left in August to head to Bulgaria, which is where I suspected I'd spend my final months of the year, I had one last coffee date with my friends here in Frankfurt. I went a bit early to work and catch up on emails and then my friends arrived. Instead of our usual two-hour stints at the cafe, we stayed until the place closed, hours and hours later.
A major storm rolled in and I dashed across the street to a craft beer bar and met other friends and had an absolute blast. While this day was spent doing nothing significant, it reminded me that I have a great circle of friends here in Frankfurt and that if I don't figure out where to move next and end up staying here, I won't be all that disappointed.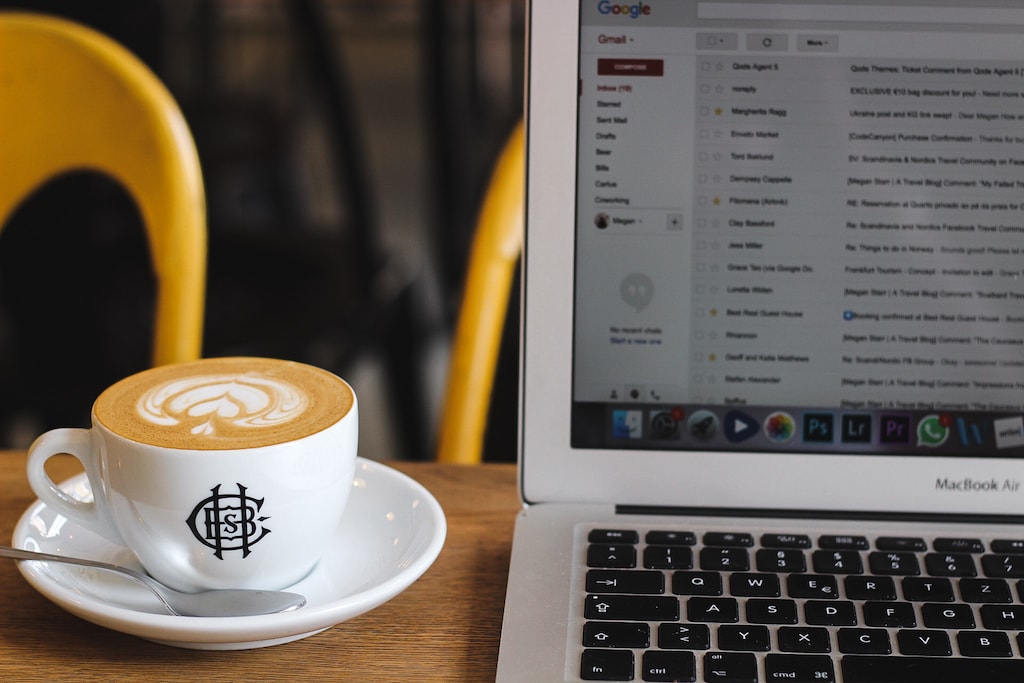 Loving Zagreb at the Craft Beer Festival
If you follow me on Facebook, you will know that I had some issues in Zadar, Croatia when I was living there in April earlier this year. It was such a tragic incident and one I haven't even mustered up the courage to discuss here on my blog (yet). Nevertheless, this issue in Zadar led me to Zagreb for two weeks. During this time, I stayed with some awesome Airbnb hosts outside of the city a bit and just enjoyed every moment there as I really like Zagreb a lot.
While in Zagreb, I scoped out some cool cafes, but I also prepared myself for the craft beer festival the city was hosting while I was there. It was scorching the day the festival happened, but I went anyway. I got to enjoy some great local beers and experience the city's first craft beer festival. This day reminded me that I actually really do love my own company, as weird as that sounds. There was also really good popcorn served there… for free. How could the craft beer festival not be on this list??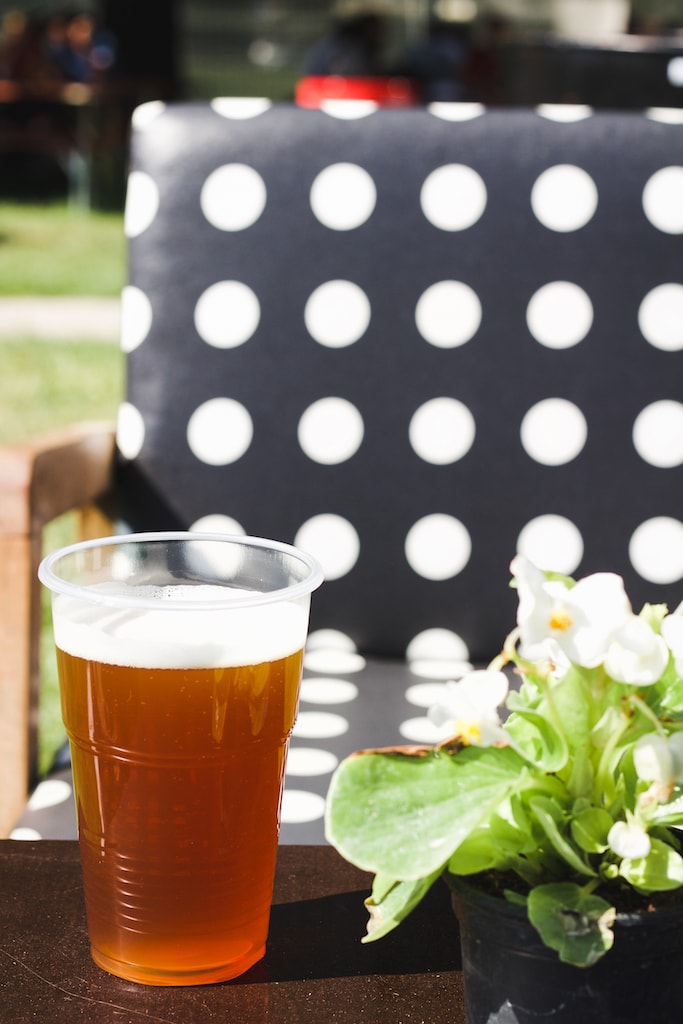 Spanish Music and Beer in Sofia, Bulgaria
I find that nothing is ever predictable with me. When I was living in Sofia from August until October this year, I stuck to the same places and cafes the entire time. I rarely branched out to explore new places. Toward the end of my trip, I decided to walk around the city and have a beer or two at a place outside of my 'zone'. I had seen this place called Beera that was located near one of Sofia's best coffee shops and decided to check it out. I walked in and found that the owner was a British man who loved craft beer and the city of Sofia. I ordered one, kept to myself, and started drinking.
Somewhere into my beer, four Spanish gals walked in and asked if they could play us music. They were dressed up in outfits traditional to their regions in Spain and they all spoke great English while in Sofia for autumn travels with each other. They wanted to spread their culture and meet people and it was just awesome. They shared their music with us while we danced and had a blast drinking tasty Bulgarian beer. They all stuck around for a few drinks and I must say that this is one of the most random, yet best nights of my year.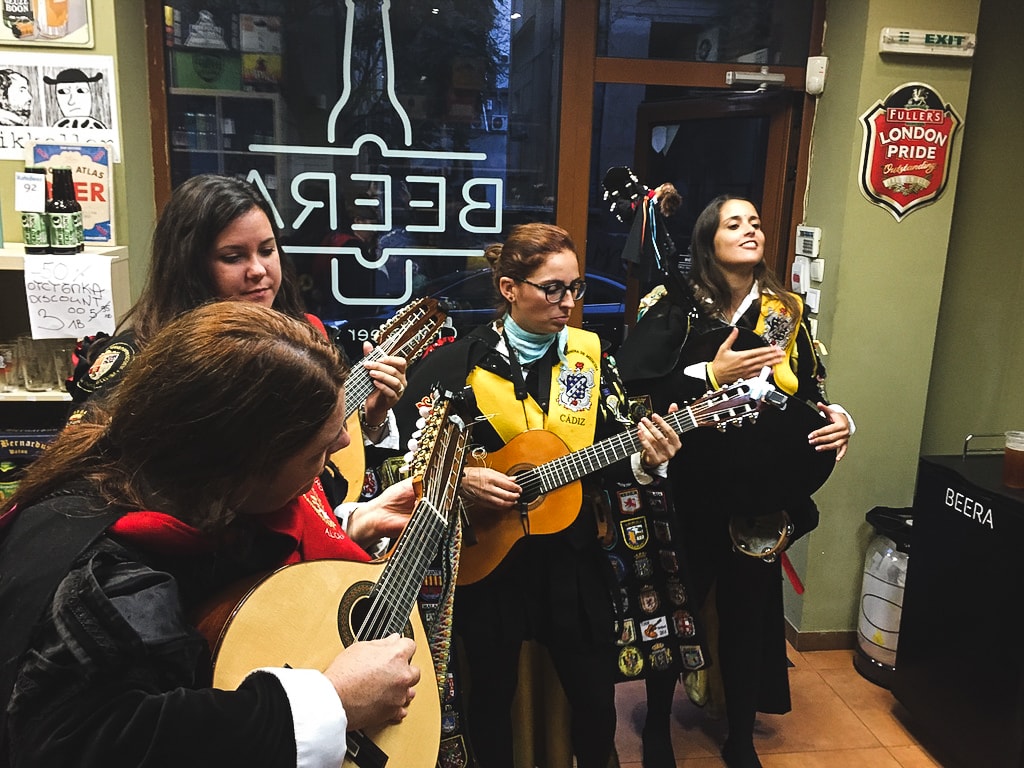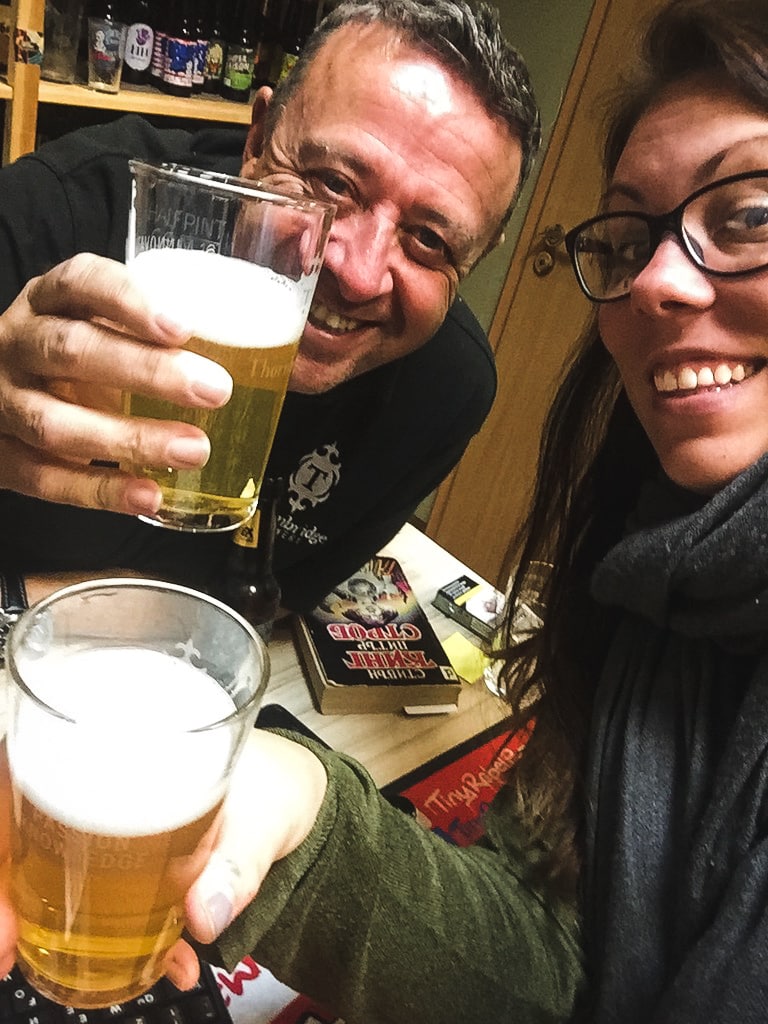 Wow, it has been an eventful year, but perhaps not as exciting as previous years when it came to my drink choices. I like to call 2017 "The Year of the Islands" as I visited the Azores, Madeira, Lofoten Islands (and some other Norwegian ones), and the Faroe Islands. This year can also be referred to as the year where I needed a proper manicure (if you look above at the two photos where you can see my horrible nails).
2017 in a Nutshell
2017 was the year of the unexpected if I am going to really sum things up. I started the year working and traveling about as I was undergoing my first Schengen exile. I traveled to the US to visit my family and see my sister graduate medical school. My other sister got pregnant so I'll be a first-time aunt next year (yayyy). Not saying that any of that is unexpected, but you just never really realize what is going to happen during a year when the calendar changes over to January 1.
The biggest change this year was monetizing my blog. It wasn't in the cards. I really don't know what made me decide that one day in Plovdiv to do it. Sadly, I went in full force and ended up doing things I wasn't comfortable with at first (ie. affiliate posts) that made me rethink things and go in at a slower pace. More on that below.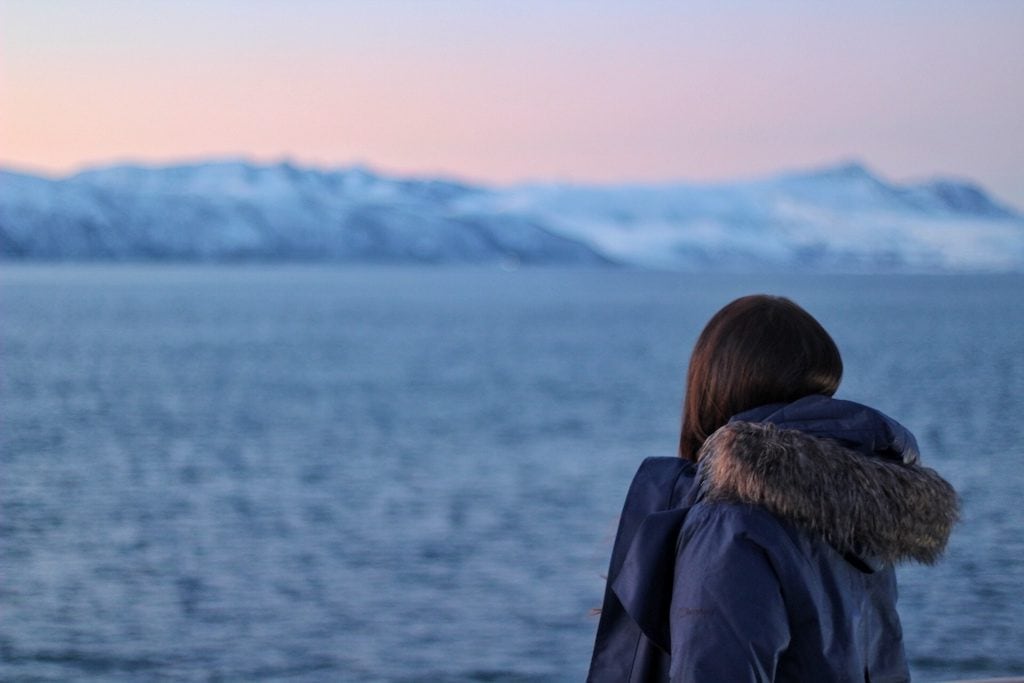 This Blog in 2017
As mentioned above, I monetized this baby all these years later after I had previously run it as a business back in like 2011-2012 or so. When I dove into monetization, I thought I had to go down the same path as everyone else. I was going to put ads on it, despite that being my biggest painpoint with current blogs (I don't mind ads, but FFS, turn down the frequency, bloggers!) I started going full on with affiliate links. It took me less than a week to realize that I was writing more for affiliates than for my audience. It wasn't fun.
I guess taking a note from the 'newer' bloggers and how they tackle things is not the way I want to tackle them. I miss the old days of travel blogging. I miss stories. I miss learning about something when I read a post. Again… I MISS LEARNING ABOUT SOMETHING WHEN I READ A POST. I can name on five fingers the number of bloggers who I actually learn from and as a result, I read every word of their posts. What has travel blogging become? A bunch of guides about Rome riddled with affiliate links. The industry has become so stale.
Unfortunately, I've kind of lost myself in the process, too. I read blogs for stories, yet the bloggers I connect with or am friends with aren't necessarily the storytellers. They are often the ones who write the kinds of posts I shy away from (affiliate and ad heavy). The Facebook groups I am a part of talk so much affiliate marketing that it makes me want to gag. I get that affiliate marketing is crucial for making an income for many, but how can people pump out content solely based on affiliates and still call themselves a travel blogger?
And this, my friends, is going to be my biggest challenge of 2018. How do I make money, still write interesting stuff, and incorporate a little bit of it all so that people come to my site and don't see affiliates and ads first, but rather nice photography and stories? I'll talk a more about that in the 2018 section.
My Favorite Posts of 2017
I wrote quite a bit this year that I enjoyed. But my favorite posts are the following ones:
The Historic Circus Buildings of the Soviet Union
Sandoy, Faroe Islands: The Perfect Day Trip from Torshavn
18 Places to Visit in Ukraine That Are Not Kyiv or Lviv (collab post with other bloggers)
Issyk-ata: A Soviet Sanatorium in Kyrgyzstan
Craft Beer Guide to Frankfurt, Germany
The Best Coffee in Belgrade, Serbia
Slavutych, Ukraine: The City Built for Chernobyl Refugees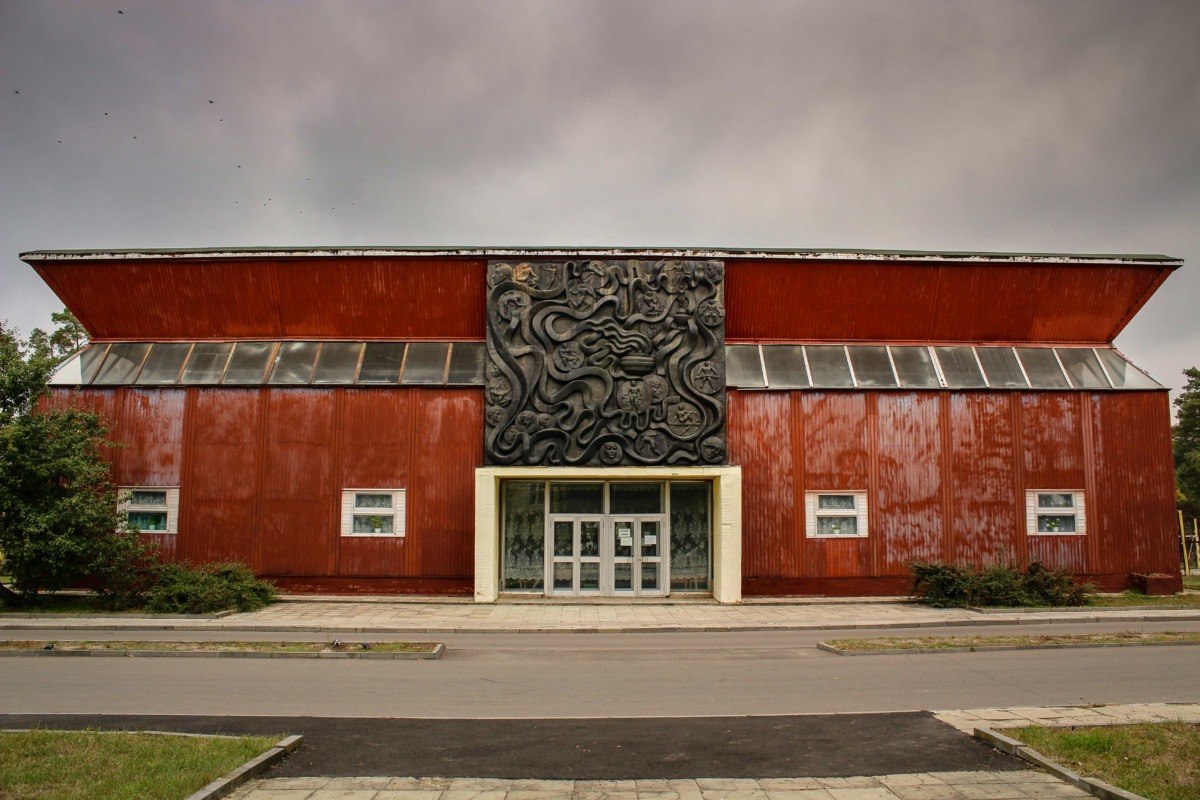 My Favorite Bloggers in 2017
Believe it or not, I actually decided to be social with bloggers this year. I always shunned conferences and networking because my blog wasn't monetized and I never wanted any influence over the way I created content on this site. But this year was different. While I am finding so many boring and cliche blogs in the travel sphere, I have found some great people who have informative and well-run blogs and I have gotten to meet some in real life and I didn't curl up into a ball from it being a social situation.
My favorite bloggers this year were:
Kami from Kami and the Rest of the World: Kami is a long time friend and we actually met in real life in Minsk in 2014. She writes a brilliant blog and her posts are long-form, sooo informative, and provide awesome photography. She is the co-founder of the Facebook Group 'Travel to Eastern Europe, the Balkans, and Former Soviet Countries' that I help admin.
Zofia from The Picktures: Zofia is another longtime friend whom I have yet to meet in person, but I feel like I've known for ages. She takes great photos and has a guinea pig as her blog and translator assistant. She is the only person in the world who has made me think any sort of rodent was cute. She is the other co-founder of the Facebook group mentioned above.
Vanessa from Snow in Tromsø: Vanessa has one of the cleanest and most beautiful blogs out there. She writes about the Nordic countries and does a wonderful job at covering all topics in-depth and in a concise manner (my wrap up post here will be over 6.5k words and most will be rambling, so perhaps I should learn something from her). I used her Tromsø e-book when I was in Tromsø and it was so helpful. We also run a Scandinavia and Nordics Facebook group together.
Silvia from Heart My Backpack: I have known Silvia for years, so when we met in real life this past November, I didn't even realize that it was our first official meeting. Silvia is one of the most laidback and smartest bloggers out there. I haven't found many people who run their blog as a business in a tasteful manner, but she is brilliant at it. If I can create a voice and relatability like her on my blog one day, I will consider my life a success. She also runs the Scandinavia and Nordics Facebook group with me.
Katie (and Geoff!) from Wandertooth: I can't even remember when I first 'met' Katie and Geoff but I think it was around when they ventured to Ukraine. Katie has become a great friend in the blogging world and I always look forward to their perspective and take on destinations. I am slowly putting together a neighborhood guide to Frankfurt for Wandertooth (which is so overdue), so be sure to subscribe to their blog to check it out and read about their travels in 2018. Katie also runs the Scandinavia and Nordics Facebook Group with us!
Nick from Concrete & Kitsch: Nick has been my friend for years and we finally met last year and it was one of my highlights of 2016. He has a wonderful blog that I wish he ran full-time as his posts are so fascinating. He writes a lot about similar places to me (eastern block), so I read his posts with fervor each time I open a newly written one.
Jasilyn from Coffee + Cleveland: Jasilyn is a friend of mine who runs a wonderful blog about her expat life in Ufa, Russia. While she has replanted herself in Cleveland, she still has plenty of stories and recaps to share from her time abroad in Russia. I, personally, hope she moves back to Russia. Then I can visit and she can show me around!!
Sebastian from Between Distances: Sebastian is another friend who lives here in Germany, yet I haven't met him in real life. He writes a lot about alternative travel and tourism in Germany (often with a Soviet or historical focus). While I haven't explored many of the places he mentions on his site, hopefully, he can show me around some of them in 2018!
Nate from Yomadic: Nate has been a long-time friend of mine and I have actually met him and his better half, Phillipa, in real life in Kyiv, Ukraine. Remember I mentioned above that many blogs lack storytelling, compelling photos, and a personality? Well, read his blog and you'll know why he is on this list. My goal for him is for him to write more in 2018 because a post from him seriously makes my month.
Emily from Wander-Lush: Where has Emily been all my (blogging) life? She is an Aussie who is a wonderful writer, fantastic photographer, and she clearly writes to share a story through her words, photos, and visuals. She has extensively written about the Caucasus, one of my favorite regions, and is currently in Hanoi, Vietnam, showing me sides of a city I never knew existed.
Karen from WanderlustingK: I met Karen through a Facebook group this year and we have become good friends through our expat shenanigans and adventures to similar places. She writes such thorough and informative pieces on her site and stands by what she believes in and I really admire that and hope I can take some notes from her in the new year! (And meet her in real life!)
Allison from Eternal Arrival: I first met Allison in Plovdiv and later in London, which means she must have liked me after our first meeting over copious amounts of beer in the Bulgarian city. She has a great blog and she is really a superb writer… probably one of the best out there (I love when she tells stories and shares personal encounters and challenges on her site). I hope I can improve my writing in 2018 and I'll be stalking her site for motivation.
Jess from Jess Travels: Jess and I first connected over our love for eastern Europe and Soviet countries. We finally met in London in November and we met later again a few weeks later as we went to an exhibit at the Tate Modern together (it was Soviet-related- don't think I've become that cultured… yet). She is just as nice in real life as she comes across on her site and I definitely recommend following her adventures (she just returned from Ukraine!)
LC from Birdgehls: LC might be my blogger twin who just so happens to live as far away from me as possible (Australia). She loves Scandinavia/Nordics and off-the-path places like me. She also strives to be environmentally conscious with her travels and everyday life, which I deeply admire and look up to. If only she would move back to Europe so I could meet her…
Emily and Andrew from Along Dusty Roads: Along Dusty Roads is a blog that is basically eye candy for me. They blog a lot about their travels through South America, which is an area of the world that interests me the least despite my travels through a few places on the continent. However, every time I read their blog, I am so captivated by their photos and stories that I want to book a ticket back asap and explore more.
Darmon from The Bohemian Blog: The Bohemian Blog is a long-time favorite for me. I have been reading his blog for years and I love his photography and thoroughly researched stories and details. He writes long-form and everything is so precise and descriptive that I get lost in the words and am transplanted to the place he is talking about. Usually, those places are abandoned, eerie, and derelict. So, yes, his blog and I are a match made in virtual heaven.
Personal Goals for 2018
I don't really have any personal goals for 2018, as odd as that may sound (but just wait as I'm about to list some). I'd love to become better at time management. I'd also love to start giving back a bit more when I travel. I also want to get better and better with being environmentally conscious in my everyday life.
I guess at this point, my biggest goal is to obtain a visa for Germany and have a normal life and home again. I really don't love being on the road half the year away from my dog. He is getting older and I need to be in one place more often so that I can enjoy his final year or years with him (let's hope it's the latter).
I also want to stop drinking for a while and get back into shape. But then I realize that I do my year-end post as a result of best twelve things I drank in the year and acknowledge that that goal is a bit far-fetched as I just don't think I'd exude the same passion about drinking orange juice as I do when I talk about coffee or beer.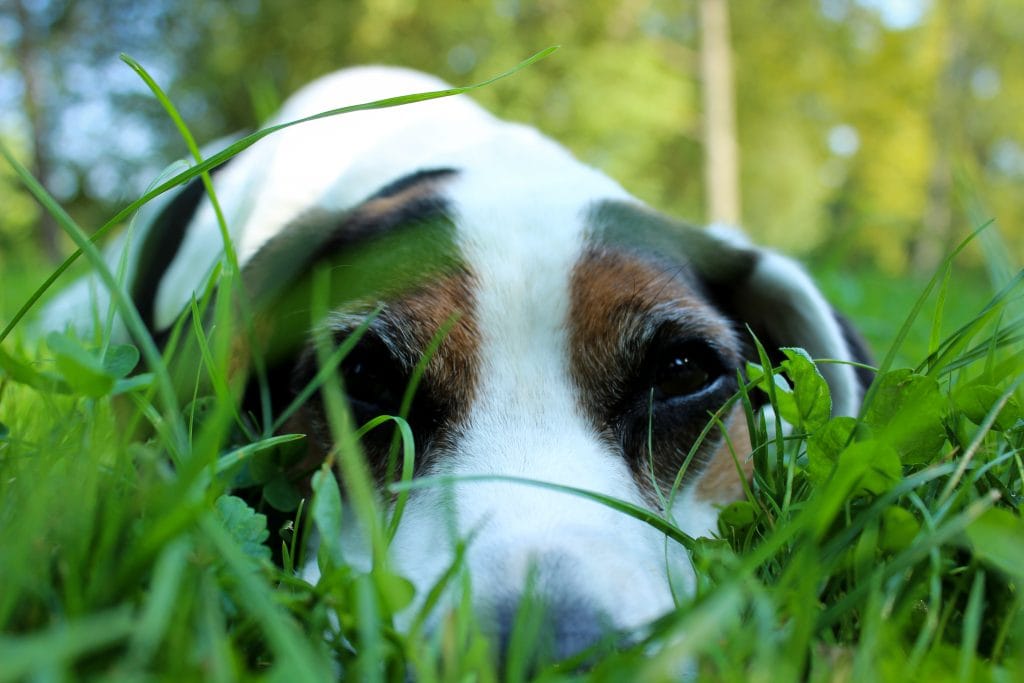 Blog Goals for 2018
I actually have quite a bit planned for this blog. While it will never be a full-time job for me (most likely), I do love spending a lot of time on my site and I have been so successful since monetizing it, which I am completely shocked about. But I guess hard work really does pay off as I've been a slave to my blog for the second half of the year.
Traffic: I would like to increase my traffic, but more by upping my content creation in 2018. I have been very stagnant in recent years with writing as I haven't had my site monetized and I really haven't cared much. I hope to up my traffic in the new year by writing more. I don't have numbers in mind; I just want to see a steady increase. My traffic is currently so seasonal that it will be nice to balance things out.
Audience and Delivery: My main audience comes for my Scandinavia and Nordics content. Does that shock you? It shocks me as I find that most of my northern content is more lackluster than my Eastern stuff. But I would say that 80% of the people that come to my site come for content that is Scandinavia and Nordics-focused. In recent years, I have kind of ignored this fact as I really just loved writing about former-Soviet countries and the east.
However, I am going to balance things out a bit better in 2018. I will be focusing equally on Scandinavia/Nordics, post-Soviet and Eastern Europe, and….. Germany. Surprisingly, I get a lot of Frankfurt traffic to this little ol' blog. There aren't really any (English) Frankfurt travel bloggers out there and because I get so many hits from people looking for Frankfurt information, I decided that 2018 will be the year that I deliver that to them. I will also increase my Germany content, in general. So, if everything goes well, once February begins, I'd love to have one post a week from each area. Fingers crossed that I can make this happen!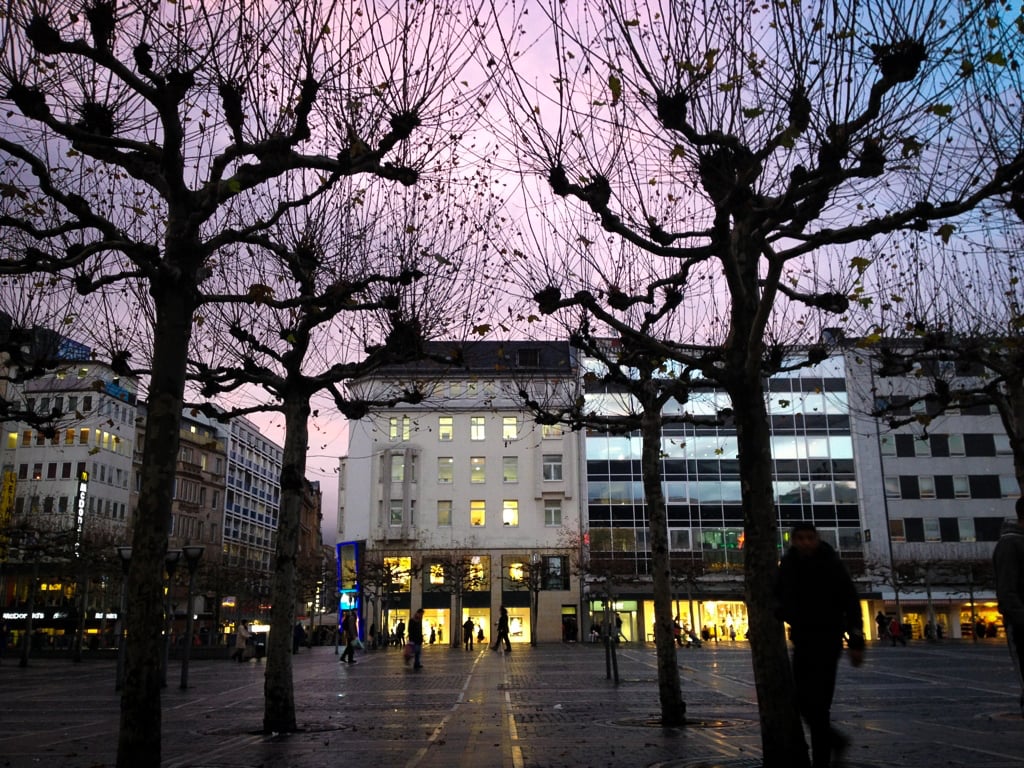 Monetization: This is the tricky part. I really hate ads on blogs. Not because I don't want others making money, but because they do it distastefully. And so much of what is out there is dull, redundant, and boring. There are few bloggers that have ads placed tastefully on their sites and don't compromise user experience in the process.
I am going to evaluate again in late spring whether or not I'll go forth with ads on my site. But please do know that I would never have the frequency placed on high so that it would take away from a positive UX. As for affiliates, I am still working on a 2018 strategy of how I want to make this work. I do make some money now from them, but I don't have a clear strategy on this and I will focus on that in the next few months.
There is no one-way to monetize a blog. I have made money in so many indirect ways through my blog that are completely not aligned with this new 'you have to have ads and affiliates all over your blog!' mentality. I have been paid large amounts to create behind the scenes itineraries for shows on the Travel Channel, to write travel guides for companies, and to give talks about regions and areas I specialize in.
I also work with some companies as a brand ambassador. There is no 'right' or 'wrong' way to make money as long as done ethically, legally, and transparently. At the end of this blogging stuff, I want to have changed travel and the industry in some way, shape, or form. I likely won't do that by saturating my blog with affiliates or ads. It is all about balance and I will work hard in 2018 to find that balance.
Sustainability: I know I've mentioned it several times, but I am going to really focus a lot of sustainable and ethical travel in 2018. The focus is still a work in progress for me, but I want to show people how to travel during the off-season and spread the high-season wealth across other times of the year as this is often more sustainable for a destination and its people in the long run.
I also want to encourage people to think about buying and supporting local. I am so freaking tired of seeing people say 'Oh I really don't want Ukraine to get more tourism as it'll ruin the place'. That sense of entitlement needs to be slapped across the face. While some places need their tourism spread out a bit and balanced out more, if you don't want tourism coming to a place because it will make it less 'off-the-path' for you, stay home.
On the contrary, I am utterly disgusted with seeing people think hitting up Syria as their next destination is the new 'cool'. Remember where your money goes (what these people traveling to Syria won't divulge is that they are led around by the government of the country the entire time as they pay their way in to do this… not exactly an administration I want my money funding at the moment). Think about where your money goes.
If you try to capitalize on a destination so you can write an article for Buzzfeed or BBC and go viral because you were 'soooo cool that you went to Syria', I want to vomit in your face. Think, people. There are better ways to benefit places than fund a regime that has done so much damage to a place. When there becomes an ethical way to travel there, by all means, I will happily promote traveling there to help rebuild the country. But for now, that doesn't exist no matter what the photos are depicting.
Also, can we just stop with Antarctica tourism? We humans destroy everything we touch… can't we just leave one place untainted by our greed? (I am all for research and science down there, however).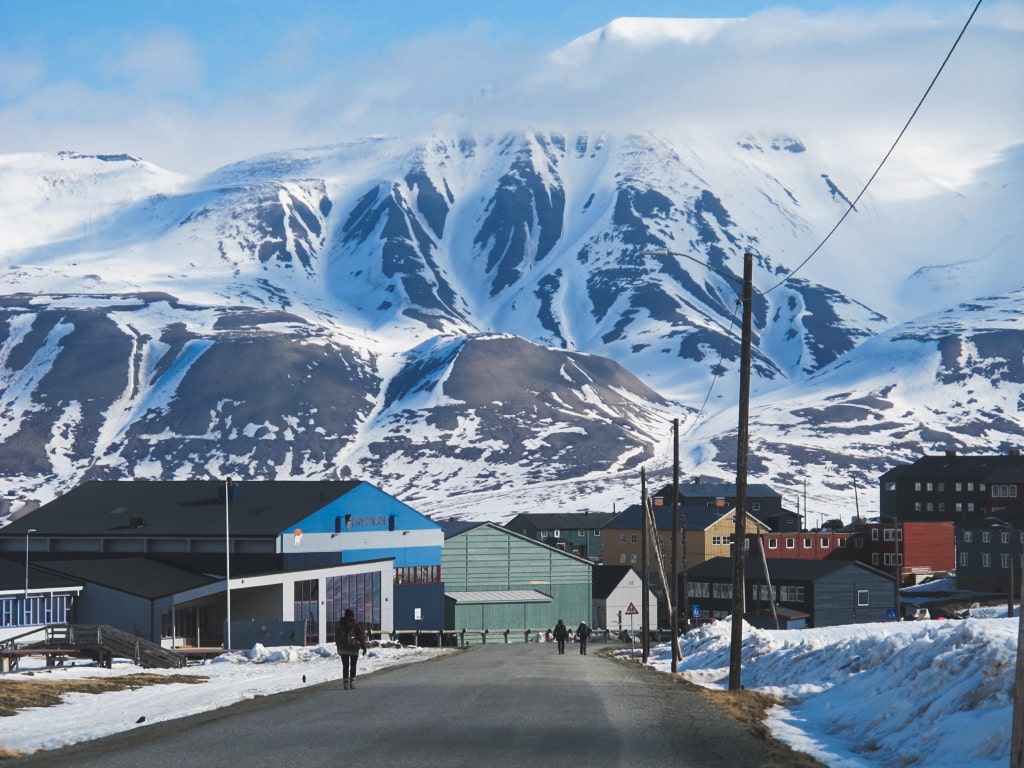 Guest Posts and Blog Collabs: I have taken part in many collaborative posts with other bloggers this year. Most are not to benefit my site from an SEO perspective, but simply because I love talking about destinations I don't typically write about on my site. I also love reaching new audiences with destinations that I do talk about on my site. I find it quite fun.
I am also starting to accept guest posts on my site. If you are interested, don't hesitate to get in touch. I want to keep most of them Scandinavia/Nordics, Eastern Europe and post-Soviet, coffee, and craft beer related. But, shoot me an email or contact me here and I'll be in touch with details!
Resource Center: My goal for this year was to create a resource center by August for my readers and potential readers. I failed so miserably at this. I hope to have this in place by summer next year for easy accessibility and extra destination resources for my readers.
Social Media: We all know I hate Instagram. But I have enjoyed it a bit more this year than last year. I have grown my account quickly and steadily the last few months with Instagram Stories (not even for myself; I do takeovers for others!) While I still hate the feed part of IG, I do love IG Stories and will continue to try to use both well in 2018. But, if someone decided to take away Instagram, I wouldn't be upset.
I am apathetic about the app at best and I use it as a support platform for my blog. As for Facebook- I am really enjoying it. I am old school and like to work from my computer, not my phone, so I find it works well for me as I can sit down and really throw some crazy thoughts out there and just type them up and publish. It is almost like publishing mini-blog posts in a way… which I like. Not really social media per say, but I am still working on ways to gain more Pinterest traffic. I guess people don't love brutalism as much as pictures of New York City at night. Work in progress for sure!
Video: I know video fairly well. I used to do it on my blog in like 2010 and 2011. I am going to spend more time incorporating video into my Facebook account and on my blog. Now I just need about 24 more hours in a day (or to learn time management)…
Photography: I am hoping to increase my photography skills in 2018. I have so much to learn, but I feel like my skills have increased ten-fold over this past year. To be fair, it is easy to take a beautiful photo of Norway underneath the northern lights. It is also easy to take photos of the Faroe Islands and the sea. What I want to be able to convey better is the beauty of brutalism and Soviet relics. As weird as that sounds, not everyone gets it. And most people won't…. but if I can work on my photography to make people feel the stories and importance of these buildings via a photograph, I will feel like I am on my way to really learn the art of it all.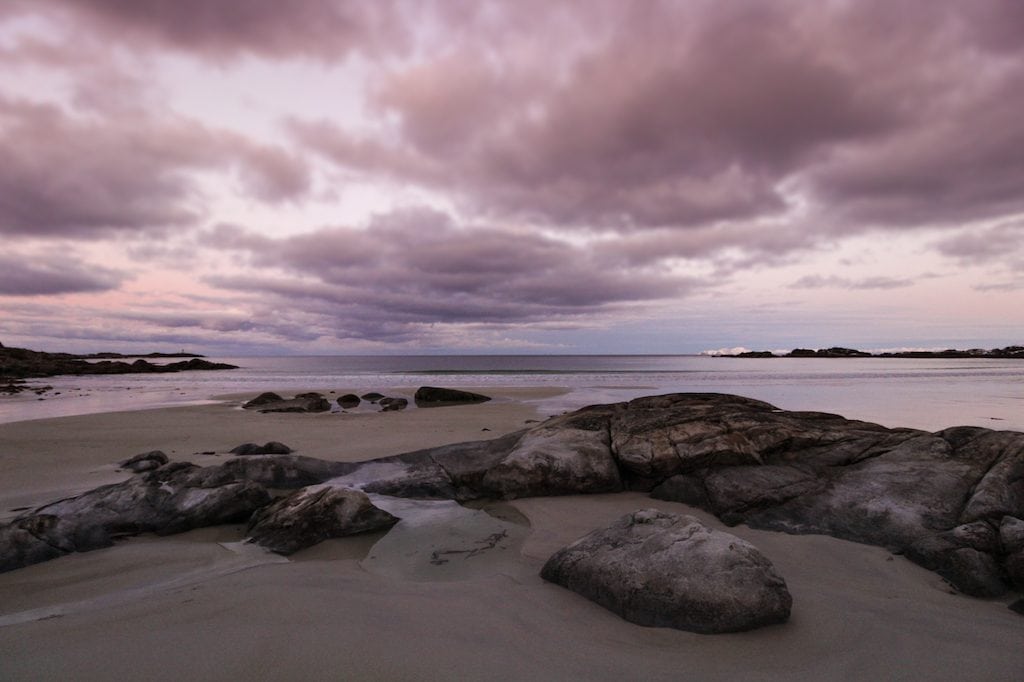 Newsletter: I am going to keep my newsletter coming at you the first day of every month. While in January it will come out on the 2nd, I look forward to writing about my thoughts and upcoming travels in a more personal manner to subscribers and readers. Want to sign up? You can sign up here.
SEO: I actually know SEO. This site gives little indication of that as I haven't had time to optimize everything and some posts are from 2011 when I didn't know a thing about it. But even though I know SEO, I haven't always treated this site to that knowledge, hindering its growth. Remember this past April when I redesigned and decided to just take a month of downtime instead of doing things behind the scenes?
Yep… I actually did that. It is funny now, but do you know how hard it is to bounce back traffic-wise when Google punishes you for being dumb and taking your blog offline? On the other hand, that was a super relaxing month as my death threats from Kazakhs and Georgians were at a historical low. Nevertheless, I need to work on site speed a bit more and optimizing old posts and photos in 2018.
Travel Goals for 2018
I do want to travel less. To be fair, a lot of my travels planned for 2018 are to places I've already been or explored. I love traveling to these places more than new places, anyway. The travel plans I already have planned or booked are: Germany (Hamburg, Berlin), Finland (Helsinki, Lapland, Åland Islands), Lithuania (Vilnius, Kaunus, Elektrenai Abandoned Amusement Park, Grutas Park), Latvia (Daugavpils, Zelteni Base), Estonia (itinerary not sorted yet), UK for a wedding, Greenland, Romania (Dobrogea region), and the United States to meet my new nephew at some point.
I haven't figured out the end of the year yet. Everything above should happen by July if plans go well (most is already booked though). I also want to go back to Morocco, Bulgaria, Norway, and Portugal just for quick jaunts.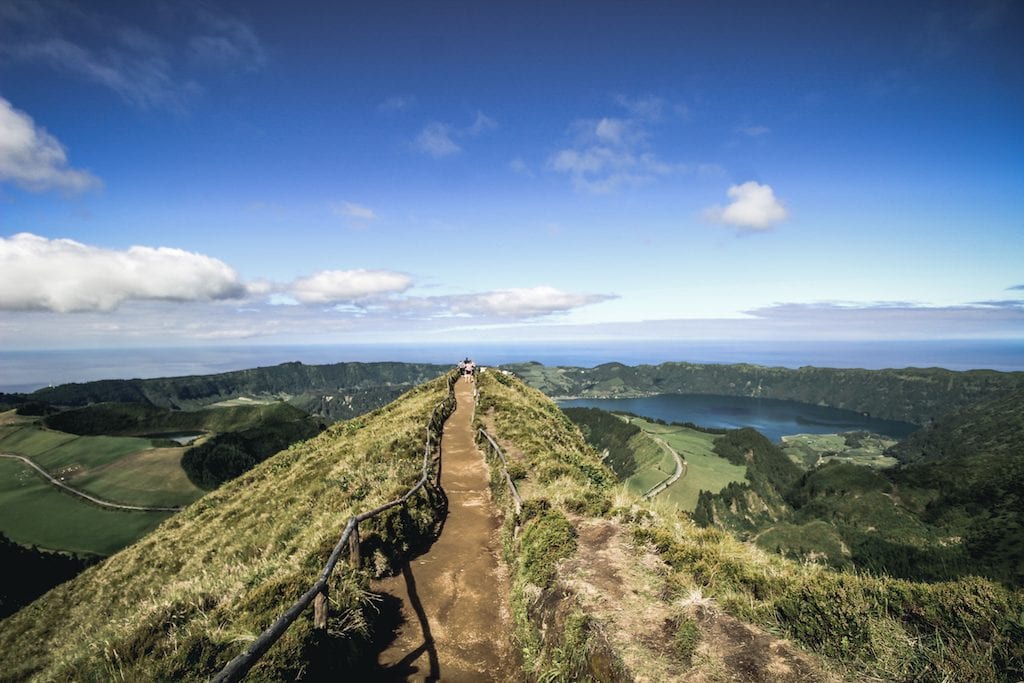 If you've read this far, wow! I wouldn't have if I were you, unless you were counting how many times I used the word 'awesome' (don't let me know what the number is if so). But thanks! And thanks for sticking around in 2017 and I really look forward to connecting in 2018! As always, I appreciate your support, kind emails (or mean ones… depending on who you are), and encouragement. This blog wouldn't exist without you all and I am so grateful for having you here!
BE SURE TO FOLLOW ME ELSEWHERE AROUND THE WEB!
[powr-social-media-icons id=f421521d_1499856820319]