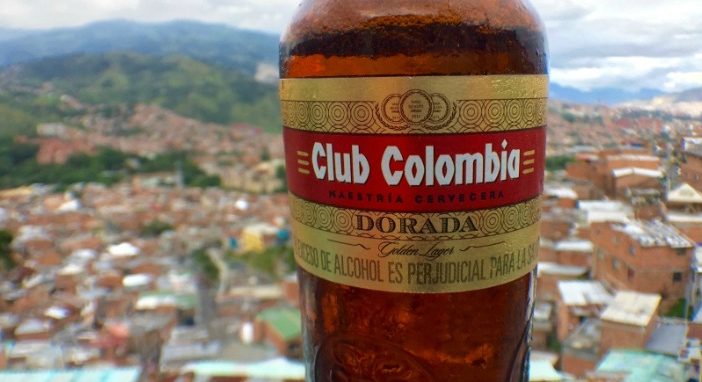 This post may contain affiliate links which means if you purchase something through that link, we will make a small commission at no additional cost to you. Think of it as buying a cup of coffee for us on someone else. Thanks and enjoy!


I'm not going to beat around the bush with this, but I had a really quiet year in terms of travel.  Some of my friends would laugh at the thought of that, but compared to last year and most years, I was more inactive and did a lot of 'chillin' and exploring my local area.  While I'm a firm believer in everyone not being the same, I am also a firm believer that it is important to have hobbies aside from travel and a life built around the many things you love, not just around a solitary thing.
I had a really good year in spite of traveling very little.  I took some German classes, attended three weddings (which were all ones I had to travel for), gained even more weight (meh), acquainted my dog to his new German home, moved apartments, started my own company, yadda yadda.  I traveled to five new countries, which seems like a record low but I'm not really a country counter, and stepped foot in a total of thirteen all together.  And I suspect that will be all for the year unless something drastic and unexpected pops up between now and December 31.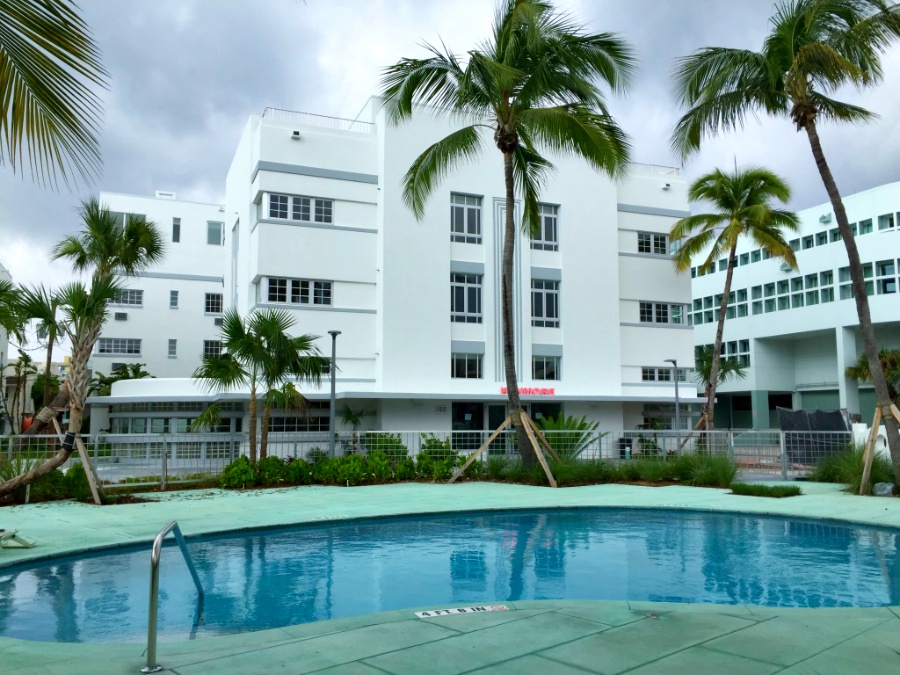 I really hate year recap posts from other bloggers so last year I decided to do things a bit different and recap my favorite drinks.  I was able to have some pretty cool drinks last year as I drank shubat (fermented camel's milk) and other non-alcoholic drinks along the way.  This year was all about the beer and the occasional glass of wine.  I do live in Germany now, after all.  I decided to keep with tradition and do another list of my six favorite drinks of 2015.  Not 12 favorite drinks like last year.  Simply because I can't think of twelve favorites from a pretty low-key year.  And at the end, I will give a little insight into what is next for me.
1- Beer over Kathmandu
I've not really touched upon my trip to Nepal on my blog.  At all.  It is not that I've had nothing to say, but I went there in February and a few months later the city suffered an unimaginable earthquake.  I can't even write about it without bringing tears to my eyes.  While I only really got to see Kathmandu and very little outside of it, it is now probably my favorite place in the world.  And I can't imagine seeing the Himalayas up close would knock it down a spot or two.  I connected with the city instantly and in a way I've never connected with a place, ever.  I have so much to say about my trip there.  But I just can't bring myself to do it.
This beer was at Nirvana Cafe at the Swayambhunath (Monkey) temple in the city.  The Nirvana Cafe is a bit hidden atop this temple and in a ramshackle building, but after stumbling upon it, and discovering that they had wifi, I decided to have a drink there.  My view left me speechless and I ended up sitting there for hours.  Don't mind the smog.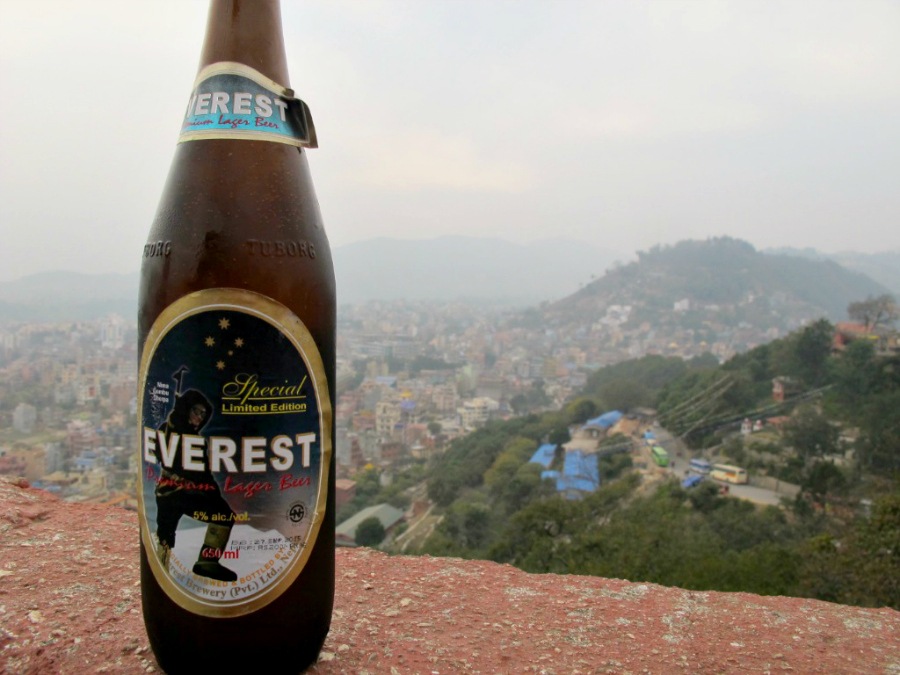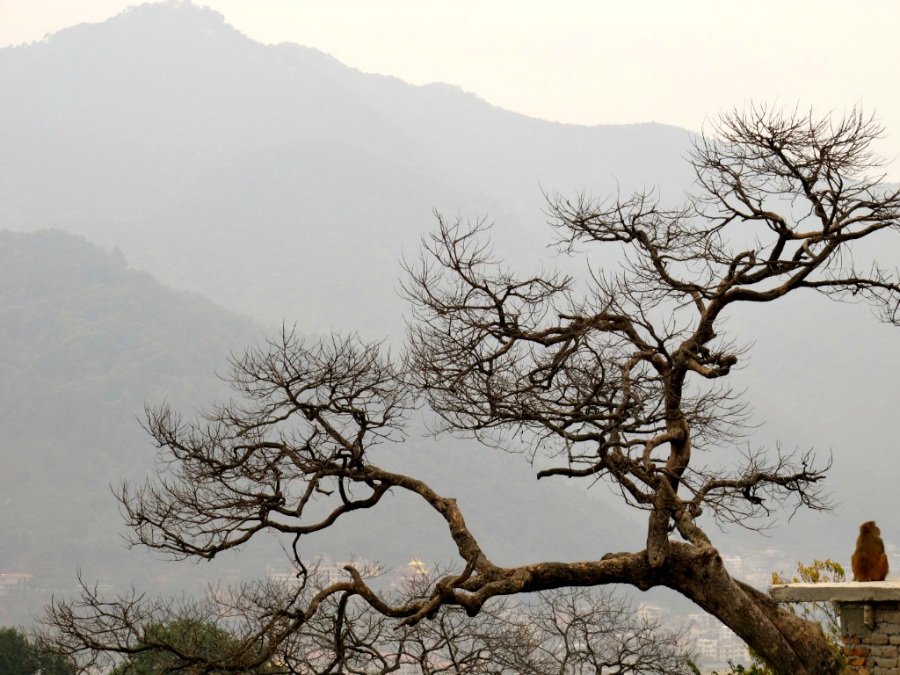 After the earthquake, I saw numerous photos of the Swayambhunath temple complex and it appeared that the Nirvana Cafe was gone from the photos I saw.  But, I did see that someone reviewed the place on Trip Advisor recently so it must be open again or the photo I saw wasn't accurate.  Anyways, thank goodness.  The staff was so amicable and hospitable.  And the views here were simply breathtaking.  Definitely my drink of the year, hence the top spot.
2- Journey beers on the way to Jaipur
I had some huge mishaps when in India of booking a train at the wrong train station, etc.  This resulted in me having to rent a driver to take me from Delhi to Jaipur, which is around a four hour drive.  It ended up being the better option, to be honest.  My driver was super friendly and chatty and I learned so much about Rajasthani life from him.  Along the way, he informed the person I was traveling with and me that in Rajasthan it is not permitted to purchase alcohol legally after a certain time (can not for the life of me remember if it was 7pm or 8pm or something else and can't find online).  He asked if we wanted to stop somewhere to grab some booze as we were in the middle of our trip.  We obliged and stocked up at a local roadside stall and gave him a few to take home with him once we arrived in Jaipur.
We sat in the back of his car and drank Kingfisher and chatted with him for the rest of the trip.  He told me about how he is currently stressing to find a suitor for his 14 year old daughter and was explaining about the caste system, among several other topics.  It made me realize how different my lifestyle and upbringing was from that of a typical Rajasthani female.  Not to say one is right or one is wrong.  But different ways of life is precisely the reason I travel.  And this car ride reminded me of that.
I never got a photo of the beers in the car, but below is a picture of ignorant tourists contributing to animal cruelty in Jaipur instead.  Don't ever be that person.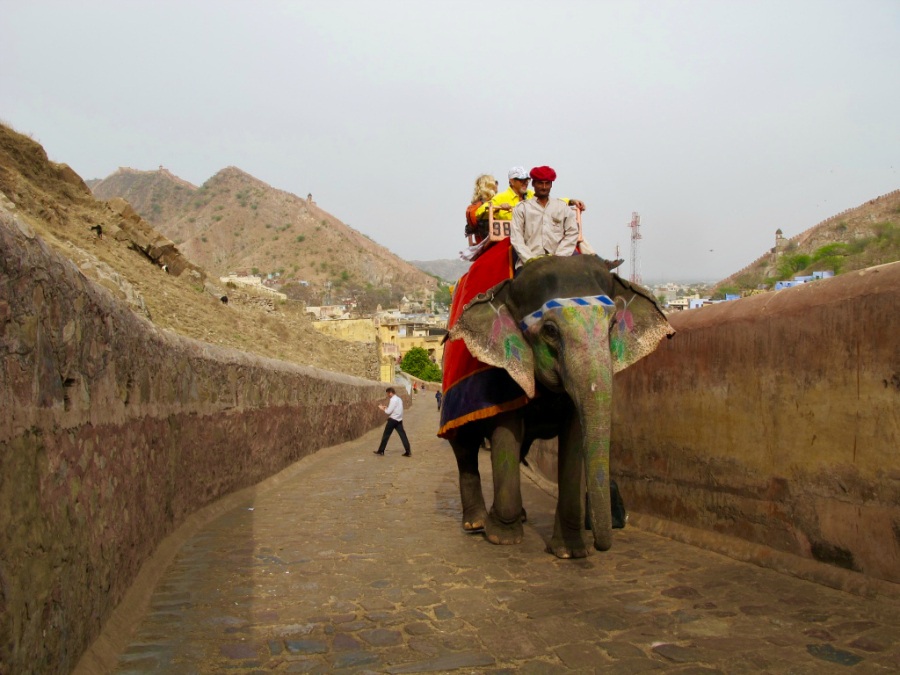 3- Wine over Wurzburg
This past spring I went through a real struggle of not being able to travel.  I seriously took a break from March until July.  While the break was needed, I also had an appetite for something new.  I booked a cheap bus ticket to Wurzburg, a city that is located in Bavaria (technically) in the Franconia region of the state.  It is one hour from Frankfurt and was supposed to be pretty.  I took 10 Euros with me and that was it.
Wurzburg is known for having bad beer and exceptional wine.  I figured I'd spend a couple of Euros on lunch and a couple on one glass of wine despite being there for over eight hours.  After a lot of exploring, I planned to walk up to the fortress.  Except I never made it to the fortress.  Along the way, I bought a 2 Euro carton (yes, these exist) of local wine with the remainder of my money and sat on a bench midway up.  I poured the wine into my water jug and ended up drinking it all.  All 1.5 Liters of it.  And while I don't recall how I ended up back at my bus hours later, sitting over Wurzburg admiring this view was nothing short of incredible.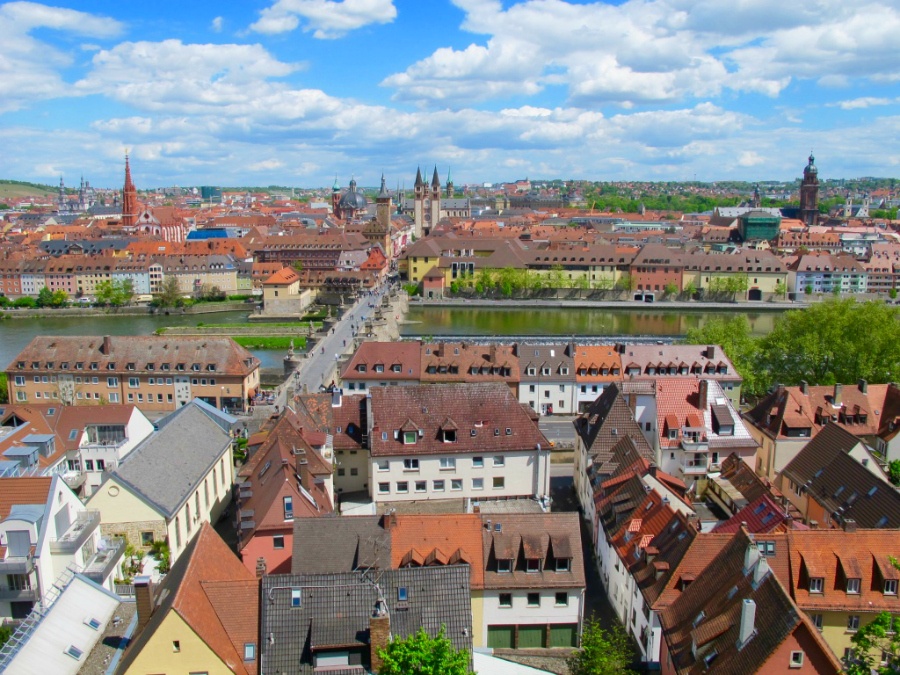 4- Comuna 13 beer overlooking Medellin
Everyone I know from Medellin or Colombia thought it was strange when told that my travel partner and I were heading to Comuna 13.  Comuna 13 is Medellin's roughest and probably, most dangerous, neighborhood.  It is also undoubtably its poorest.  I didn't have any intent to check out slums here and walk around like some privileged westerner.  My intent was to get away from El Poblado and Laurales, see some vital history of the city, and check out the renaissance of one of Medellin's most notorious places.  Comuna 13 is reinventing itself with innovative transformations unparalleled to anywhere else in the world (I will discuss in a post soon), so why not let tourists come in and see what is happening on this side of the mountain?
After being there, I can simply state that it is places like Comuna 13 that make Medellin great.  I have never felt a sense of 'community' like I felt in this part of Medellin.  I never felt unsafe or out of place.  Everyone said hello and offered us a piece of their home.  I got to support local businesses by buying their empanadas, ice cream, and even a beer.  Perhaps that was the best part of it all.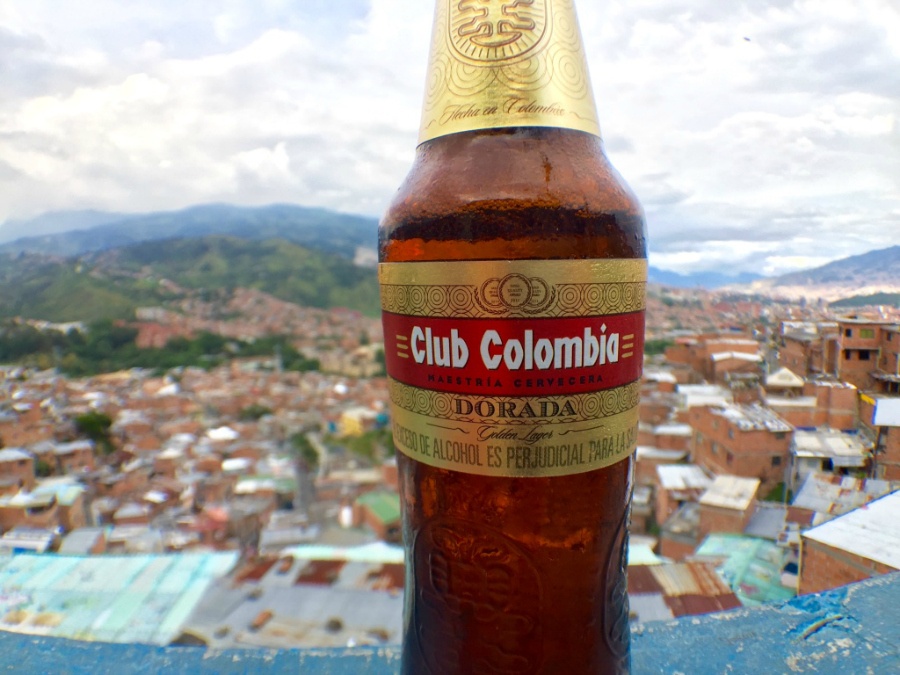 This photo is from overlooking Comuna 13 with a beer in hand.  We bought these from a local shop that was basically closed up, but the owner was still inside and knew what we wanted.  She gave us beers and we additionally offered a small tip for reopening for us.  She refused, smiled, and told us to enjoy our day instead.  And that we did.
5-  Bratislava's Slovak Radio Building beer
Bratislava gets shit on big time by travelers.  People don't even give it the time of day.  I think it is a highly underrated city and I have always had heaps of fun there.
This summer in Europe things were hot.  And by hot, I mean over 40C / 100F and no air conditioning.  Relief was light years away and the only thing I could do was sit in front of a fan with a cold rag across my face.  I had to travel during this time to a wedding in Hungary, so I decided to stop in Bratislava on my way to enjoy the city for a few days during the summer (I had only been there in winter and fall).
I was traveling with someone and we stopped at numerous bars along the way (it was actually that hot) just to sit and drink water and have a beer.  Finally, I wanted to show him one of the world's ugliest buildings, which I don't find so ugly at all.  We arrived at the Slovak Radio Building and found a concert series and outdoor bar had overtaken the premises.  We saw lounge chairs, a swimming pool for kids, and water misters and decided to park it there for hours.  In the evening, the place turned into an outdoor theatre.  The bar served craft beer, which is a more recent phenomenon in Bratislava and looking back on things now, this day was probably my summer highlight.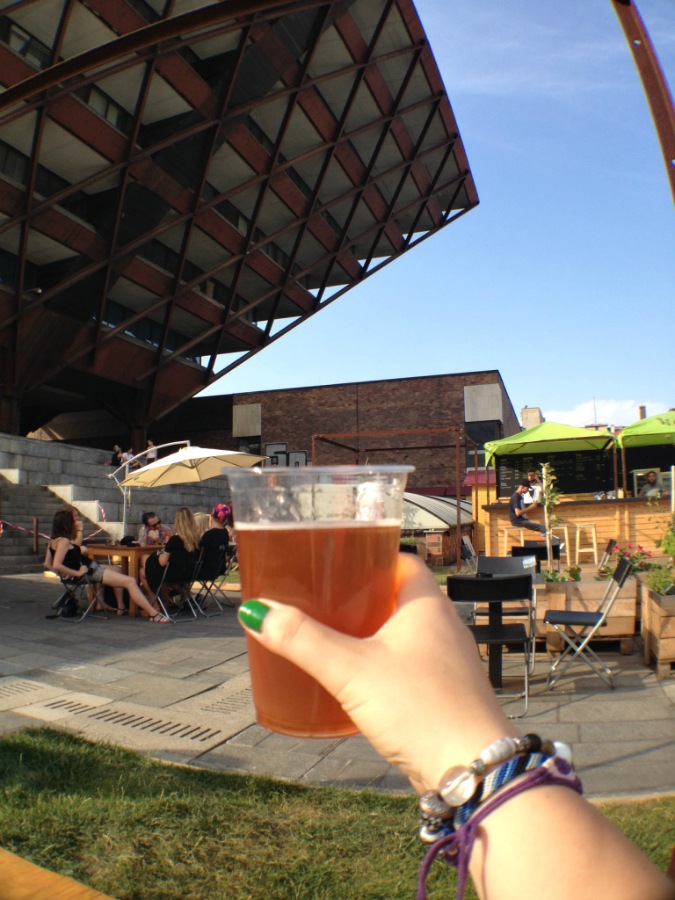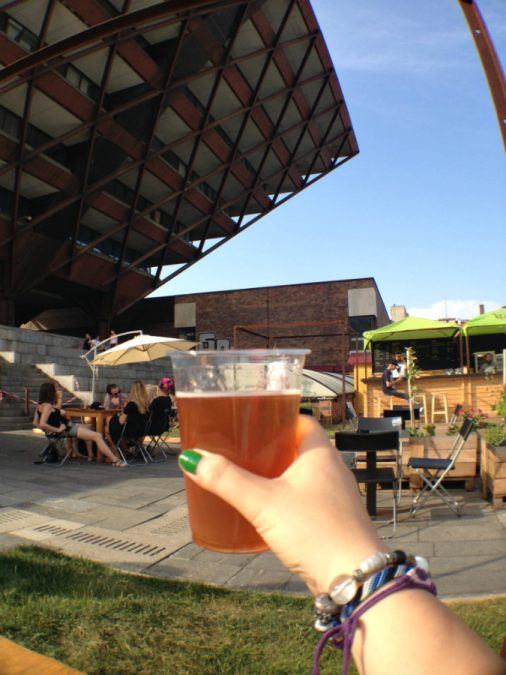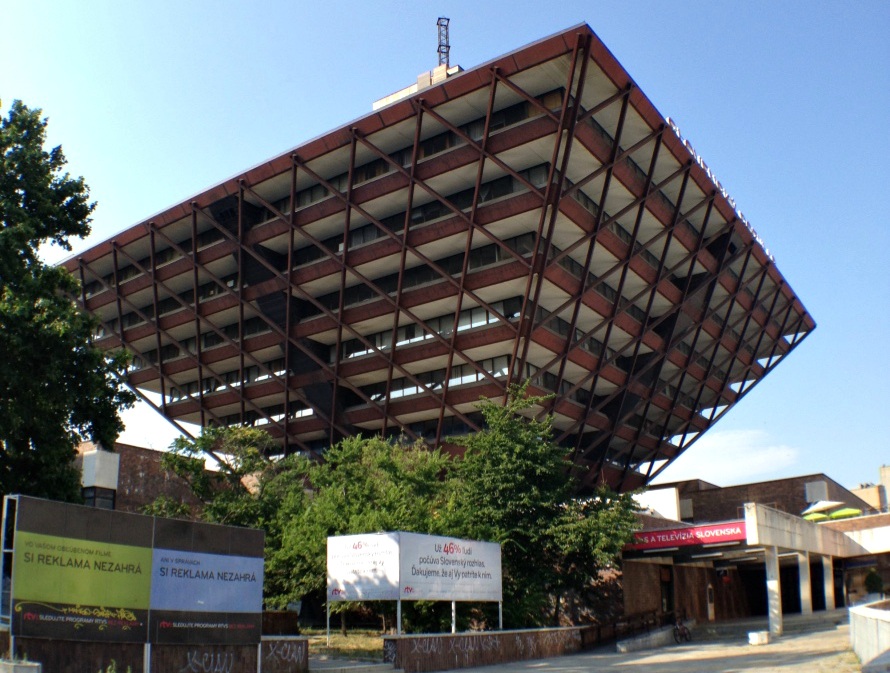 6-  A beer on Lake Ohrid in Tushemisht, Albania
Albania hasn't really been at the forefront of my mind travel-wise.  It probably should have been, but I just never really made an effort to make it down there.  When I was in Ohrid, Macedonia, I decided to walk from Sveti Naum to Tushemisht, Albania.  Sounds like a more daunting task than it actually was.  Once in Albania, I walked around a charming little town nestled on one of the world's most beautiful lakes and a place that undeservingly received little tourism.  After walking around for hours, I found my way to a bar and restaurant along the lake and drank an Albanian beer in admiration of the beauty this region of the world offers.  I had been nature deprived for months here in Frankfurt and there I was, sitting atop some of the planet's most natural and alluring soil.  I felt so grateful in this moment.  The fried Balkan cheese didn't hurt either (not included in photo).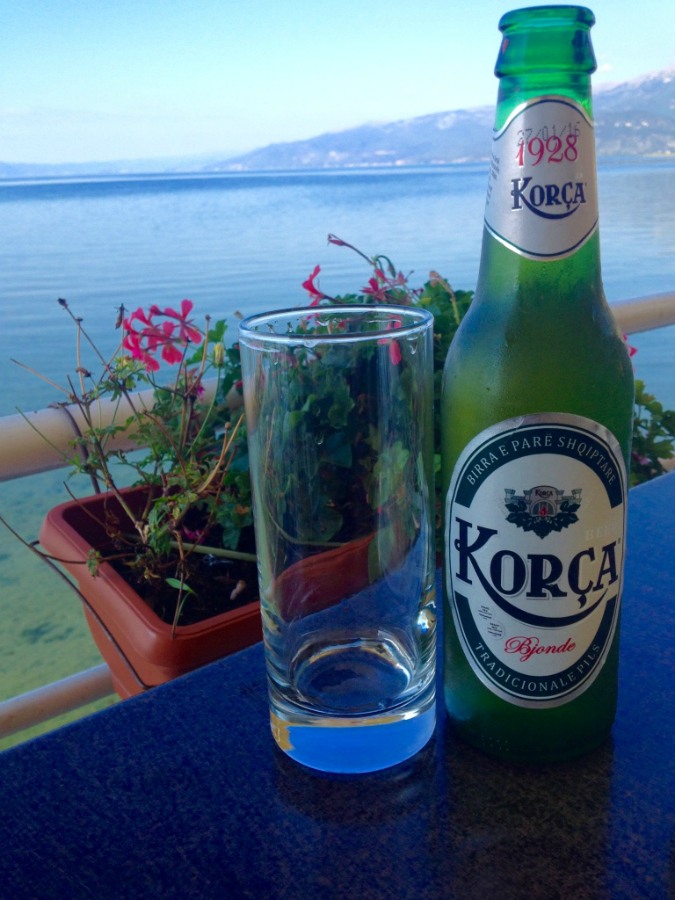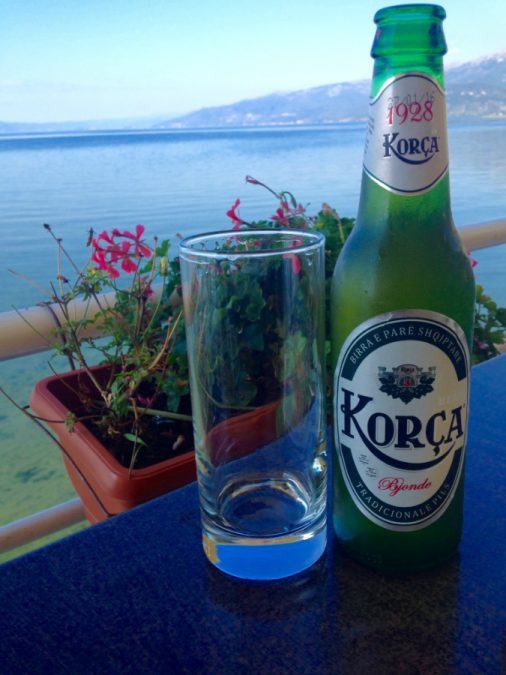 Honorable Mention #1-  This coffee in Oslo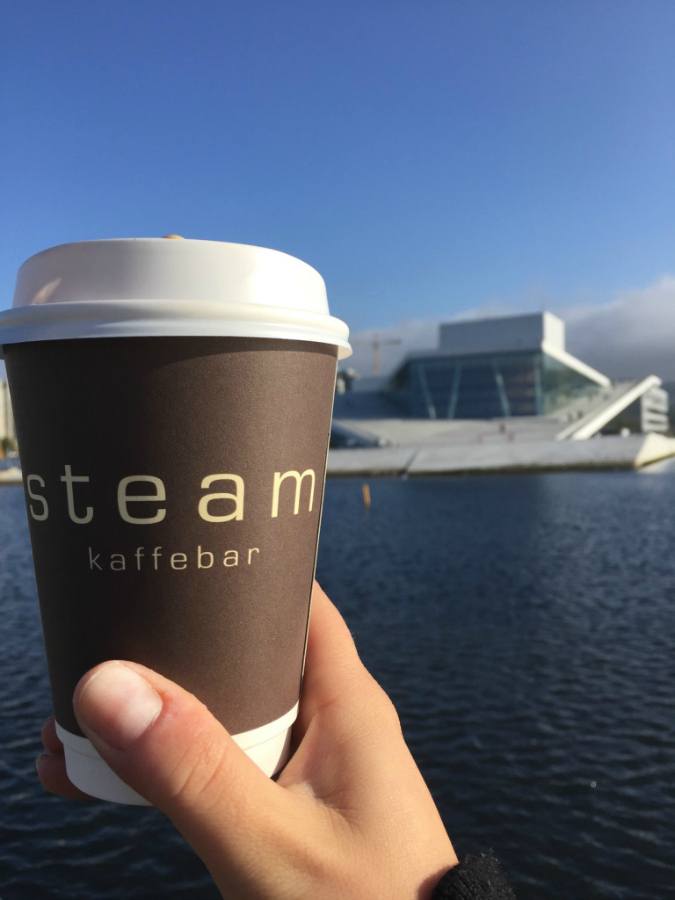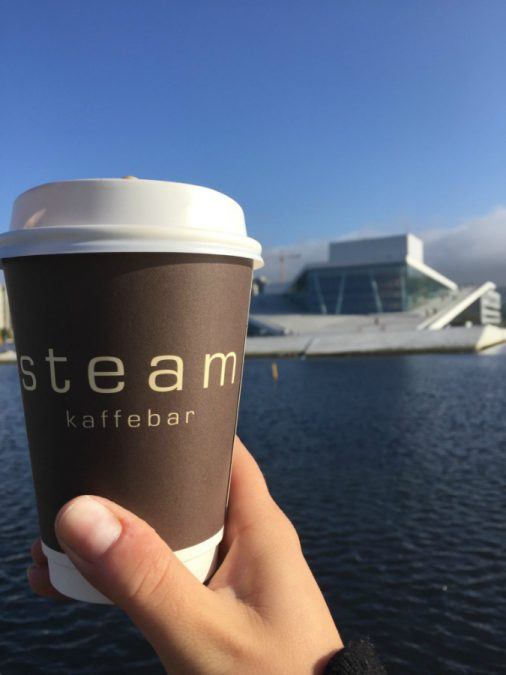 Because I was in Oslo.
Honorable mention #2-  Shake Shack peanut butter milkshake in Dubai
I feel pathetic giving this credit on this list, but let's be honest here- this was my favorite drink of 2015.  Hands down.  Thank you Dubai for providing me with such greatness, only to which I unknowingly will vomit up a few days later in India.
---
I could have added a few more to the list, but these six were truly the ones that came to my mind first.  These are the moments of my year which really had an impact on me.  These are the ones that make me feel lucky and grateful for this chaotic, and sometimes messy, little life of mine.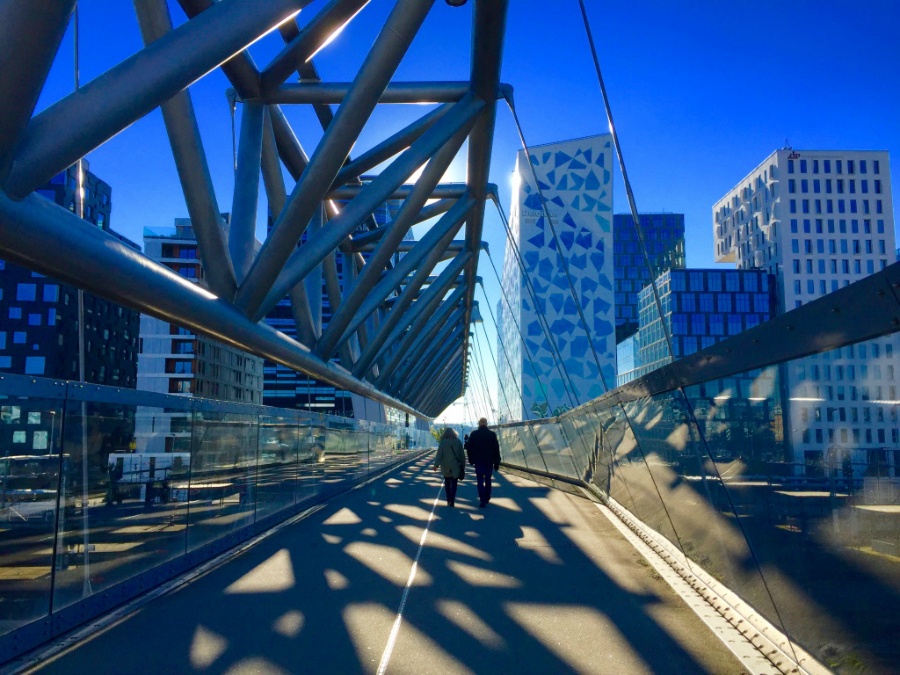 2016 is still a mystery at the moment.  I have some tentative travel plans but nothing is set in stone officially.  I made mention that Africa is high on my list at the moment.  And it still is.  However, one thing that is very conclusive is that Frankfurt and I are not meant to be for the long haul.  I will be spending 2016 and possibly some of 2017 deciding on what is next, but I'm secretly hoping it takes me back across the Atlantic.  I think.  Yes, I am wishy-washy about these things right now as moving a dog at this stage of his life is not the easiest of tasks.  After realizing and coming to terms with this, I will definitely spend much of 2016 playing around on weekend trips in Europe, with the occasional one or two-weeker elsewhere.  So far, Israel, Palestine, and Jordan are looking good for February.  But nothing is booked and won't be for some time, so chances are I'll end up in Belarus.
In 2016, I plan to distance myself from social media a bit.  Funny to mention that as that is more-or-less the field I work in.  But, I want to start using my weekends to enjoy myself and be a little more present and less active on social media.  I'm sure this will last all of three weeks into the New Year until I have a super cute photo of my dog that just has to be uploaded on the spot.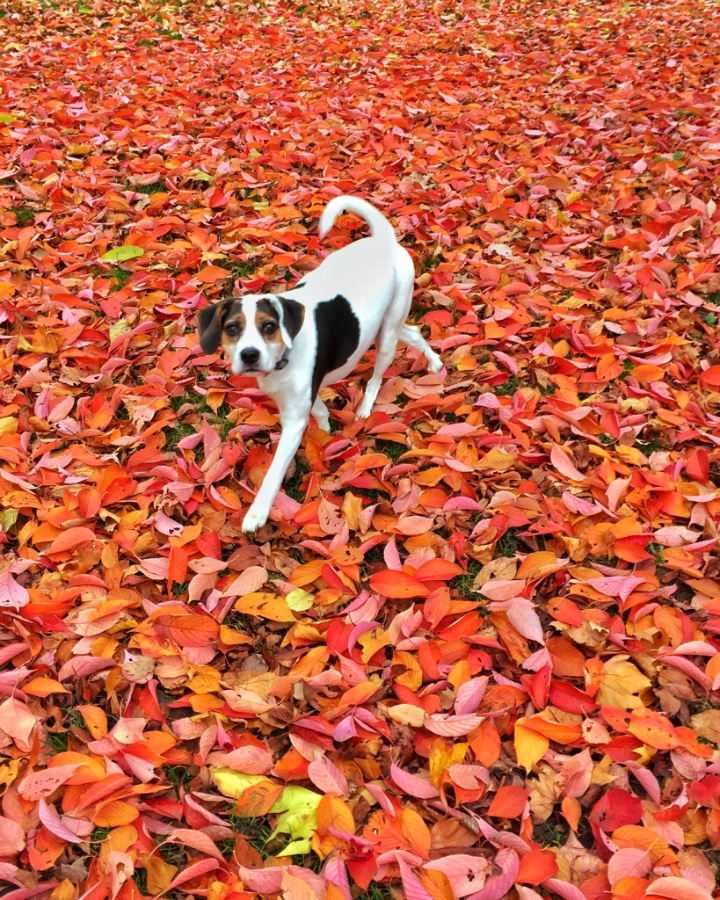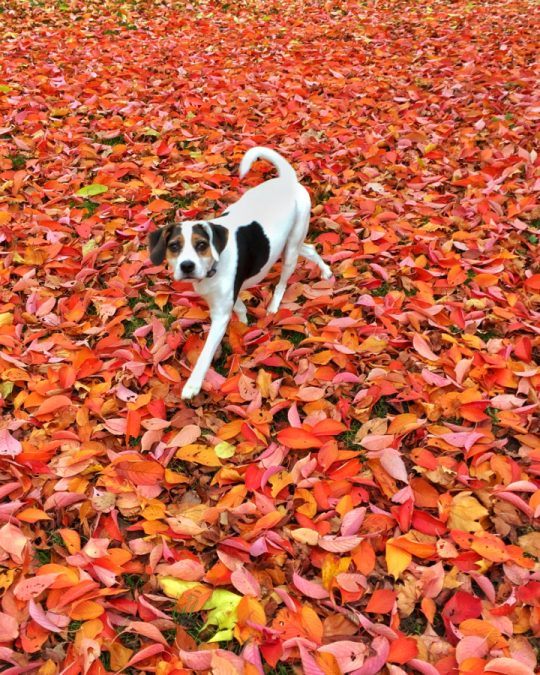 I plan to use the next year to distance myself even farther from this travel blogging community.  This in no way includes those who make an honest income and don't play games on here.  But many bloggers do and it is repulsive.  I have blocked over 200 travel bloggers alone on Instagram for their stupid follow/unfollow games (yes, when done multiple times a week, we notice).  I don't belong to any blogging Facebook groups and read a small handful of blogs.  I don't want to shop in your Amazon store and I sure as hell don't want to read your Buzzfeed rip-off post about your favorite music festivals that you've never even gone to.  I miss stories.  I miss personal accounts of trips.  I miss advice on how to travel somewhere difficult.  I miss your photos.  But mostly, I miss learning about the world, even if just a fact, from a blog post.  I don't miss your "Traveler of the month" column which is just something that comes as a package deal in your sidebar ads, which was a thing in blogging in like 2010.  I don't miss your sponsored hotel review from a luxury spa in Panama when you mainly write about budget travel in Central Europe.  And I don't miss your Instagram photos as a travel blogger that are paid and sponsored for by Nestea or Mastercard.  We all do things different, but over 80% of this online community has become what I always feared and I don't want to be included as part of it.  I will continue to write, probably with poor grammar and the occasional bad spelling (when spellcheck fails me), and offer advice to those heading to places I've been, etc.  But my Instagram will never become a branded account and this blog will never have a sidebar of ads or hidden links.  I don't play a numbers game on Twitter or Instagram and I have actually deleted my blog's Facebook page.  I'll never send out a congratulations message to my follows when I reach 10K followers (gag).  But that is just me.  Others can continue to do what they do because people swoon over it.  Or click on those links.  But please, if you're someone doing that clicking, do know that travel isn't always rainbows, skimpy bikinis sent by companies for free, and sunny skies.  Sorry for those who have allowed this community to dupe you into thinking it is.  I feel semi-ashamed on behalf of them.
My other goals for the new year are to hike more, play with my dog even more, focus on my health, and watch less TV.  I never used to watch much TV but when Amazon comes out with damn TV shows about what life would be had the Nazis won the war, I feel like there is no hope for this goal.  I also plan to get even more into cooking next year.  I cook a lot currently, but want to branch out and learn some new cuisines.  Gosh- this is making me sound all too domesticated.  I'd also like to buy a new camera.  My photography has never been one to brag about, but I have actually used my iPhone camera for most of the year traveling because I have loads of scratches on my lens of my good camera.  Which is outdated as is.  I need to do some research, as well as magically come up with some extra funds, and I will hopefully make this happen at some point in early 2016.  I don't care what anyone says, iPhone photos are not the same quality as ones with a good DSLR.  The proof is on this blog.  Lastly, I have a lot of personal goals with my own company that will be worked hard towards and I am certain will fall into place mid-2016.
And after realizing that I have just written 2700+ words, I probably should mention that my next goal is for 2016 is to stop rambling so much.
Post done.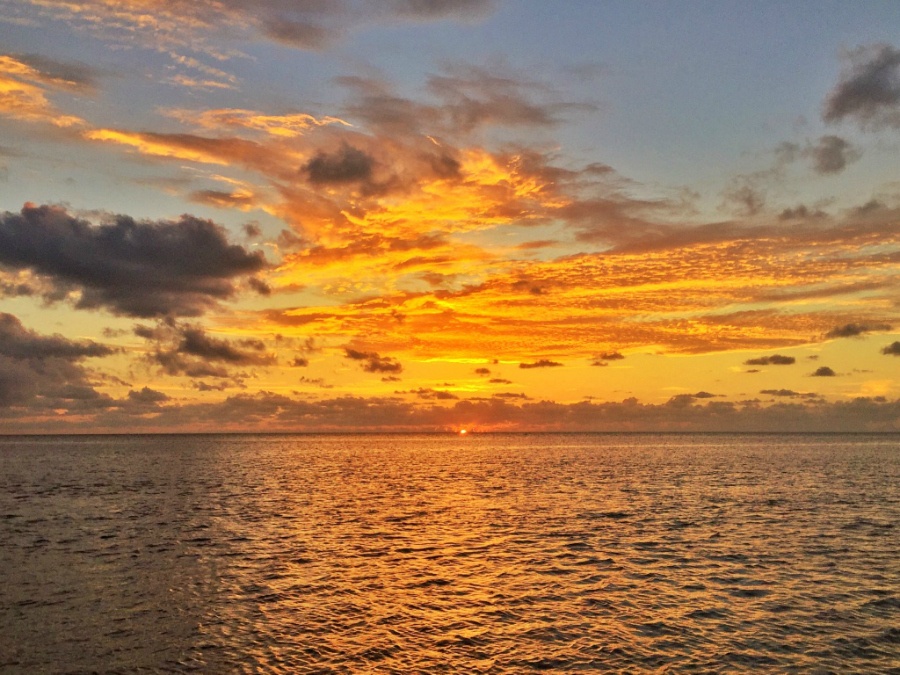 What was your favorite drink of 2015 and what is something you hope to do in the coming year?!