Car owners should always have items in their vehicles, ranging from essentials to comforts.
Even if you live near a mechanic, there are multiple things you should keep in your glove box, trunk, or backseat at all times. Yes, that means packing your ice scraper in the Summer.
Whether you're taking a long road trip, sticking to the bustling city, or live in the country, here are 10 things you should keep in your car all year round.
Never Leave Home Without the Following 10 Car Essentials
Car owners should never leave their homes without documentation, like car insurance. If you're interested in getting the cheapest car insurance possible in Australia, compare with iSelect.
1. Documentation
Your glove box should include various documentation that helps you maintain your car or prevent you from getting in trouble with the cops. Keep your owner's manual, car repair information, insurance claim forms, insurance provider info, license, and registration with you. Make multiple copies and keep them at home, so you have an easy way to replace them.
2. Tire Changing Equipment
Although your tire jack, lug wrench, and spare tire count as 3 things, they need to be grouped together to be helpful. Don't just throw any old wrench in the back of your vehicle. Some tires have special locking lug nuts, which require a lug nut key to remove them and the locked tire. Never leave your home without tire-changing equipment, even if you're going down the block.
3. Tire Pressure Gauge
A tire pressure gauge always comes in handy. Although you could keep your tire pressure gauge in the garage, as you're unlikely to have a pressure emergency, it's more convenient to keep this tool in your trunk. Tire pressure gauges are cheap, small, and infidelity useful. Some tire pressure gauges are so small they can fit in your glove box if you have space.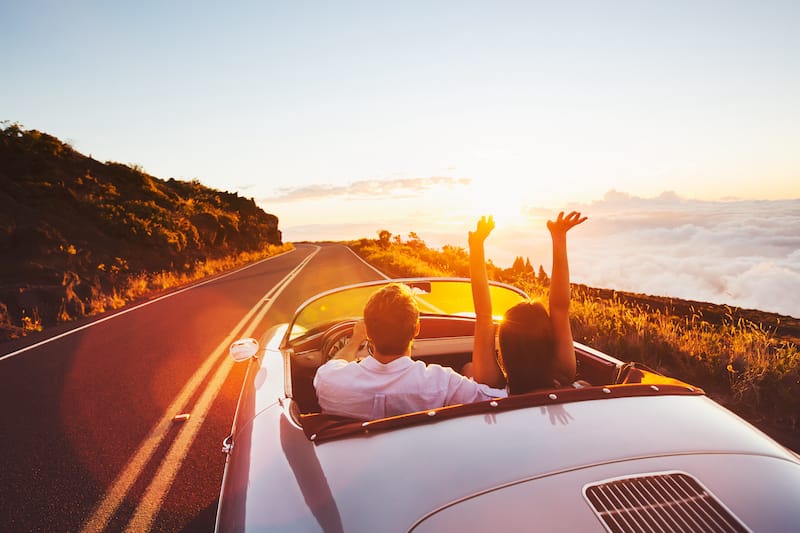 4. Jumper Cables
When your battery dies, you'll either need to call a tow truck or use your own jumper cables to give your car a jump start. For convenience, safety, and cost, keep jumper cables in your trunk to get back on the road. Purchase a jump-starter kit to install other electronics via a plug, HDMI, or USB. Many jump-starter kits let you plug in your phone or tablet for a faster charge.
5. Cleaning Supplies
Although keeping cleaning suppliers in your vehicle won't save your life, it will save you a lot of frustration. Keep ziplock bags, paper towels, reusable shopping bags, tissues, and water bottles around for an easier trip. Put sanitary wipes in the backseat in case you spill food or drinks. If you decide to eat in your car, never keep your garbage inside overnight if you can help it.
6. All-Purpose Repair Supplies
The rumors are true: duct tape and WD-40 can fix everything. Consider how many times you've struggled to loosen a nut on your car or fix an unexpected leak that caused water to form in your vehicle. WD-40 and duct tape provides a quick fix to your problems until you reach a mechanic. Don't wait on those car repairs! If you delay too long, your car could fall apart on the highway.
7. First-Aid Car Kit
Keep a first-aid kit that includes bandages, bandaids, gauze, scissors, ointment, and gloves for personal nicks and scrapes. You should also keep car-specific first-aid items, like a tactical flashlight, reflective triangles, flares, a car handle, and multi-tool for emergencies. In your first-aid kit, add anything you'll think you'd need if you were stranded or too injured to drive.
8. Winter Essentials
If you live in a winter climate, you should keep windshield wiper fluid, an ice scraper, and a warm winter jacket just in case. You never know when a snowstorm will hit during the fall or spring, so keep these items either in your trunk or backseat for quick access in harsh conditions. To protect your car ahead of time, place a tarp over your vehicle before a blizzard hits.
9. Comfortable Interior
Americans spend a total of 18 days in their car, the same with Australians. If you spent 18 days anywhere else, you'd expect your accommodations to be comfortable, and your vehicle shouldn't be different. Install seats, covers, and mats to improve your driving experience, but make sure they're stuffed with foam. Beaded seat covers aren't what we'd call "snug."
10. Semi-Livable Interior
Besides improving the overall design of your vehicle, you should also include items that make your car semi-livable. For example, keep a trash can in your car (preferably in the backseat), so your garbage stays in one place. Consider adding a phone charger, AUX cables, and blankets. If you plan on taking a nap in your car (with the car in park, of course), put in a pillow.