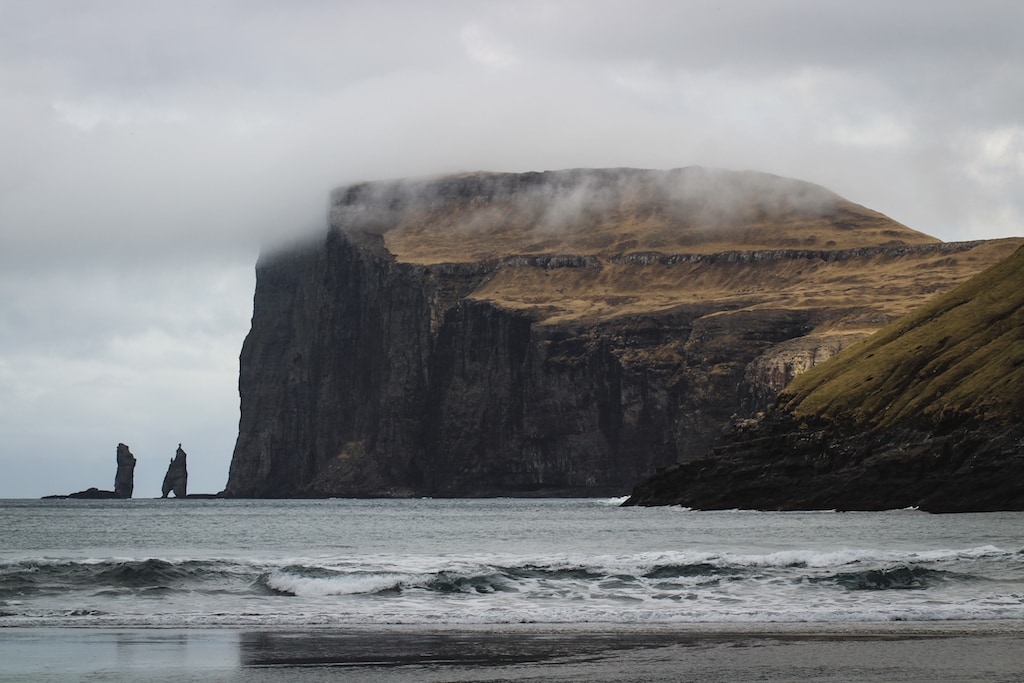 31 Jul

Black Sand Euphoria in Tjørnuvik, Faroe Islands

People that visit the Faroes tend to have a favorite island.  Perhaps that island is Kalsoy because of the Kallur Lighthouse and dramatic precipices that abound the place.  Or maybe their favorite is Mykines, where quizzical puffins roam around soaking up the salty, albeit unspoiled Faroese air.  While all visitors claim a Faroese island as their favorite, very few will probably choose Streymoy as the winner.  I enjoyed my time in Tórshavn, Kirkjubøur, Saksun, and the rest of Streymoy, but there was something about Tjørnuvik that solidified Streymoy as my favorite island in the Faroes.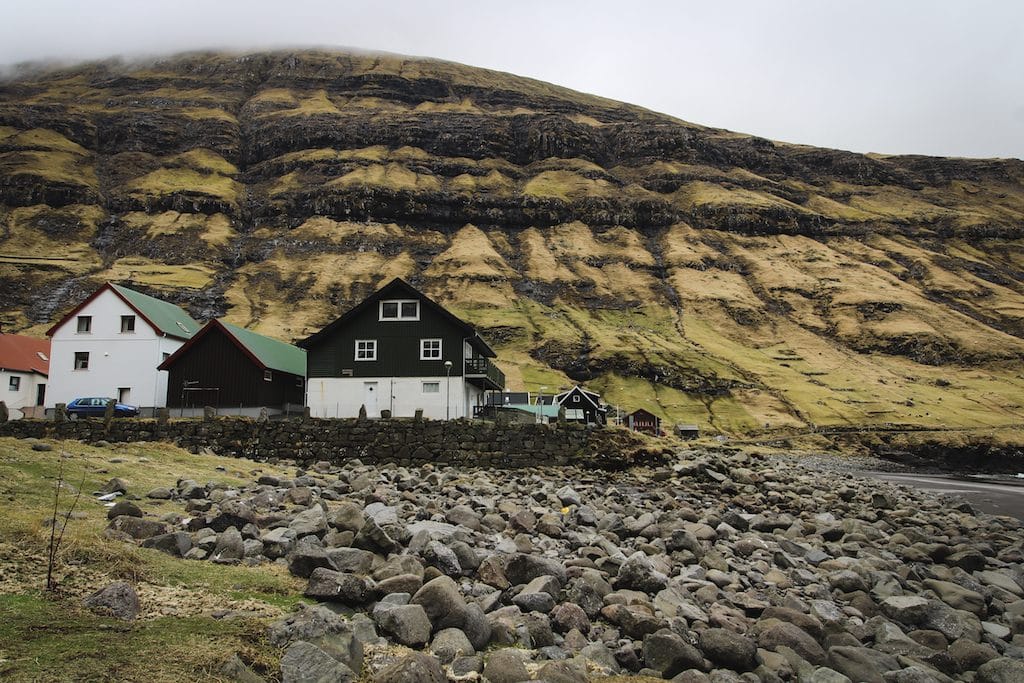 We spent the morning in Saksun.  Saksun is known for its history and the distinctive sod-covered homes that dot the village.  Home to a whopping eight residents, the village is endangered currently as tourists have not exercised sustainability there (my way of nicely saying that tourists are often assholes).  The village, while idyllically situated, lies surrounded by steep mountains and a relatively inaccessible harbor that was blocked by sand after a heavy storm.
Heading to Tjørnuvik
From Saksun, we slowly made our way up the coast to its top and a village called Tjørnuvik.  There is not much happening in Tjørnuvik, but the beaches are black and sandy and the waves are glassy and cater to the occasional surfer.  Quite frankly, I was looking forward to stopping in a beachside town and having lunch, photographing a bit, and just basking in the arresting scenery.
On the route from Saksun to Tjørnuvik, you will pass the highest waterfall in the Faroe Islands, Fossdalur.  Somehow, we arrived in a semi-dry spell that the Faroes was having and it wasn't quite as spectacular as we had hoped… but, in retrospect, it was difficult to even see it from the Streymoy side as it nestles the coastline.  We ended up seeing it from Eysturoy and with our zoom lens, it really was breathtaking.
We carried on to Tjørnuvik, but had to stop for the occasional herd of sheep on the road.  They get a bit nasty in this area, so whatever you do, do not try to get out of the car and attempt to make friends with them.  They will assure you that they are not interested in the meanest way possible.  To be fair, we didn't really disturb them, but they were chillin' in the middle of the road and stubbornly decided to not move for us, resulting in us stopping for a while to admire the scenery instead (win/win for both the sheep and us, I suppose).
Arriving in Tjørnuvik
Once arriving in Tjørnuvik, our breath was taken away.  'Absolutely perfect' was the only thought running through my head.  We drove around the bend and into the cove where the waves broke in rhythmically sublime sets.  From that moment, I knew I had found my Faroese paradise.  The only tourists in the village (we never saw a local, either), we parked the car and grabbed our lunch out of the trunk.  My otherwise uninspiring knekkies and cheese felt like a Michelin-starred experience whilst sitting in one of the most inconceivably beautiful places in the world.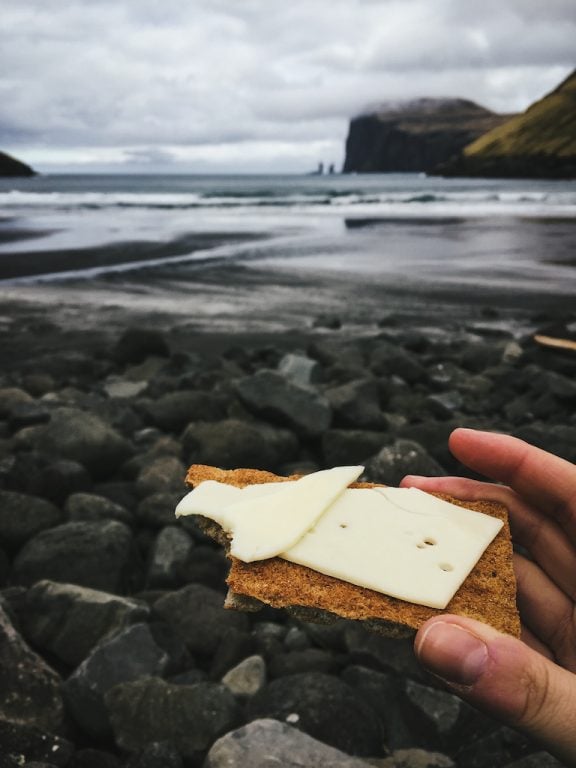 About Tjørnuvik
Tjørnuvik, Streymoy's northernmost village located in Sunda municipality, has a population of around 71 (the last census was in 2006).  The village used to be a natural harbor but after a horrific storm in the 1600s (noticing a pattern here?), the fjord became blocked with sand and became more inaccessible.  The black sand beach there is renowned with surfers interested in surfing the wild Faroe Islands, and once I saw the waves with my own eyes, I totally got it.  Inside of the village sits a church that dates back to 1937.  Aside from the quiet views and the ocean glistening a mint hue of green against the black sand, there is not too much going on in Tjørnuvik.  The sheep may say otherwise.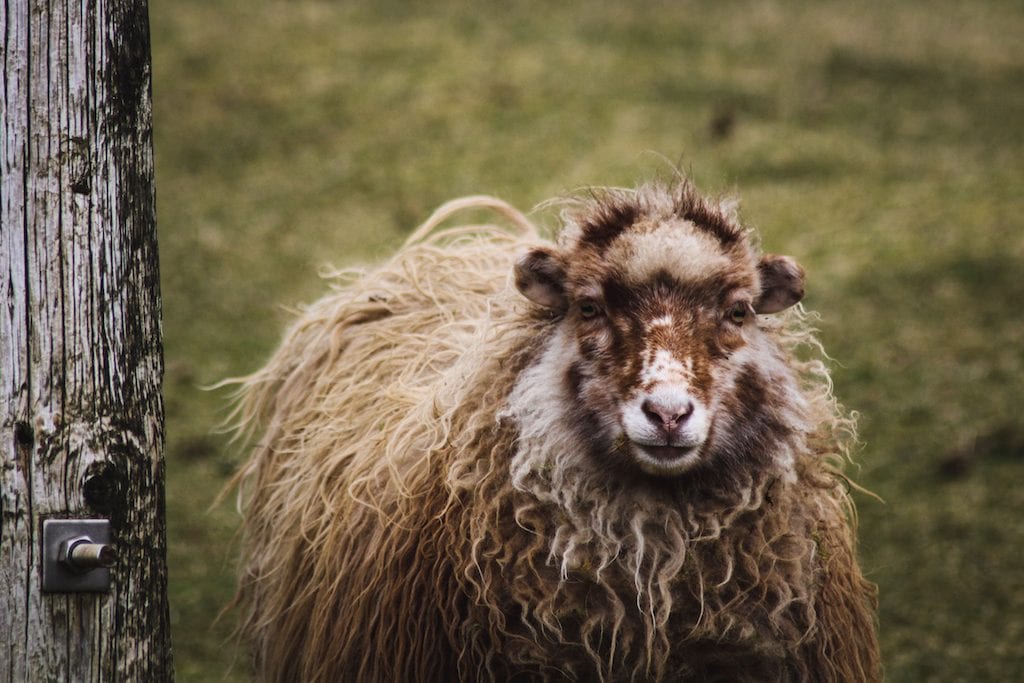 Risin og Kellingin
My favorite thing about Tjørnuvik kind of has nothing to do with the island of Streymoy itself.  From this village, you can catch a stellar view of Eysturoy's Risin and Kellingin.  Risin and Kellingin has a legendary history and translates directly to 'The Giant and the Witch'.  The two sea stacks are situated close by to the village of Eiði on Eysturoy and while you get a killer view of them from that island, I really loved this view the best as it included the black sand beach.  Giant, or Risin, is 71 meters tall and situated a bit farther away from the coast whereas the Witch, or Kellingin, is closer to land and stands 68 meters tall.
Unfortunately, it is predicted by Faroese geologists that Kellingin, the sea stack that is situated closer to Eysturoy, will crumble into the sea within the next few decades at the hands of a nasty storm.  Part of the stack has already perished at the beginning of the 20th century.
Black Sand Beaches and Surfer's Delight in Tjørnuvik, Faroe Islands @visitfaroe
Click To Tweet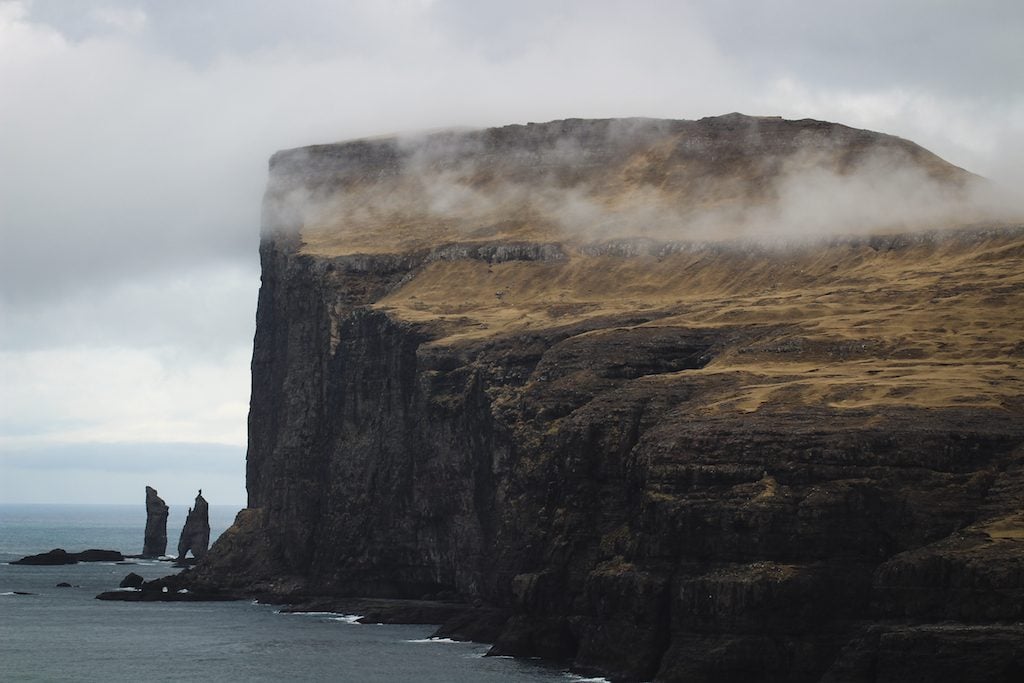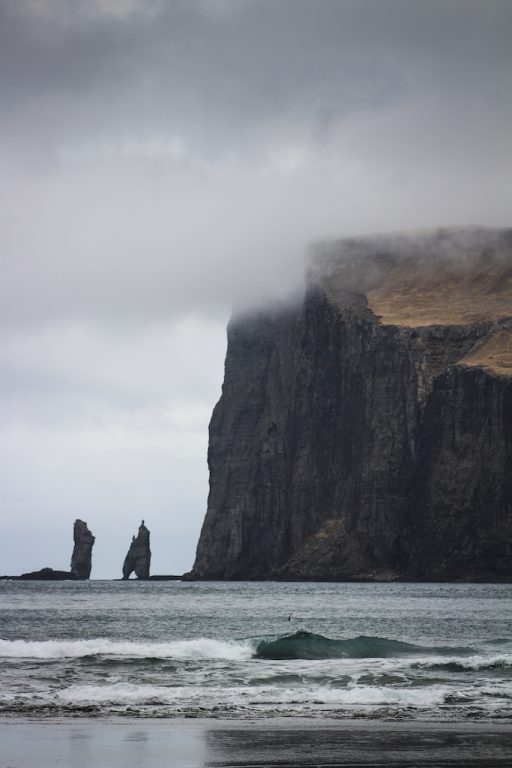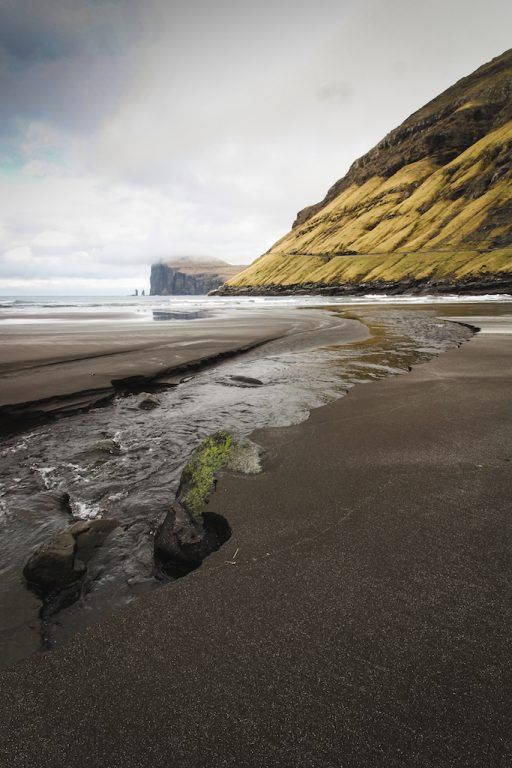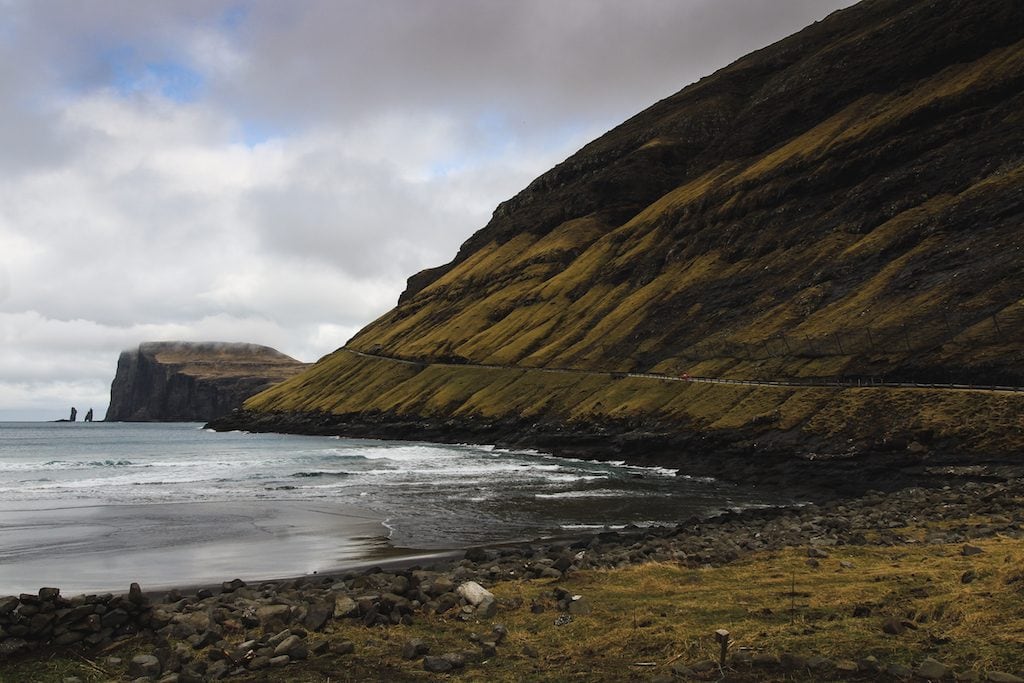 Hiking from Saksun to Tjørnuvik
We drove from Saksun to Tjørnuvik, but as standard in the Faroes, you can definitely hike between the two villages.  The total hike takes around three hours and is medium in difficulty.  The hiking route begins in Saksun at the parking lot below Dúvugarðar (the farmhouse that is hundreds of years old), which is located on the north-eastern side of the gorge in the village.  The hike is well-marked with cairns for the entire six to seven kilometers and offers a great view of Slættaratindur and Gráfelli, the two tallest mountains in the Faroe Islands, along the way.  For extremely detailed information about the hike, please check out Visit Faroe Islands.
We hung out in Tjørnuvik for a bit of our afternoon before setting back toward Tórshavn and our rental apartment.  And even though I've been back in Germany for quite a few months now, I can still feel the wind blowing on that black sand beach while the seagulls circled around looking for their next meal.  It was really nothing short of perfect.
Where to Stay in Tjørnuvik
I actually stayed back in the Faroese capital city of Tórshavn, but it appears that a few Airbnb rental options do exist in Tjørnuvik.  Click here to explore your options further.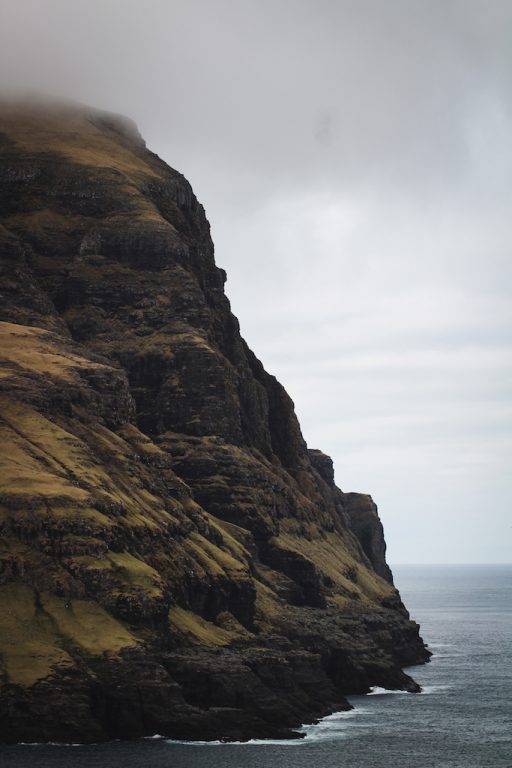 Additional Resources
Surfing in Tjørnuvik Bay from Wanna Surf
Organized Tour Hiking Tjørnuvik to Saksun from Green Gate 
LOOKING FOR MORE TRAVEL INFORMATION OR WANT TO BE PART OF SOMETHING BIGGER? A FEW OTHER BLOGGERS AND I HAVE CREATED A FACEBOOK GROUP FOR SCANDINAVIA AND NORDIC ENTHUSIASTS. CLICK THE PHOTO BELOW TO JOIN!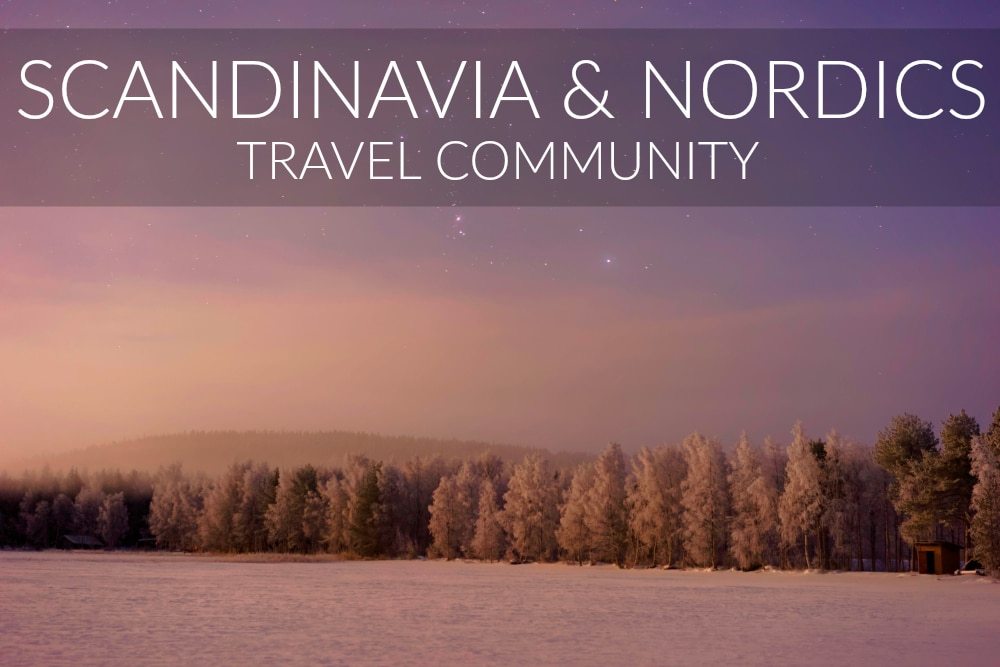 More From Me About the Faroe Islands
Travel from Eidi to Gjogv in the Faroe Islands
Sandoy, Faroe Islands: The Perfect Daytrip from Torshavn
Kirkjubøur: A Taste of Faroese History on Streymoy
PIN IT FOR LATER!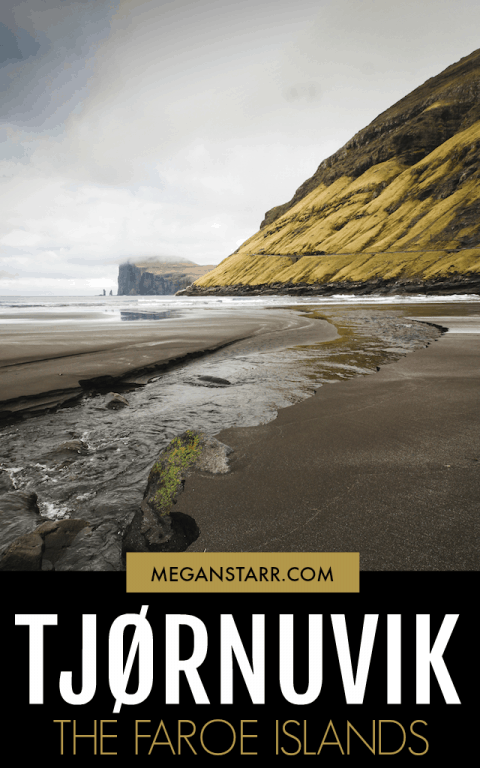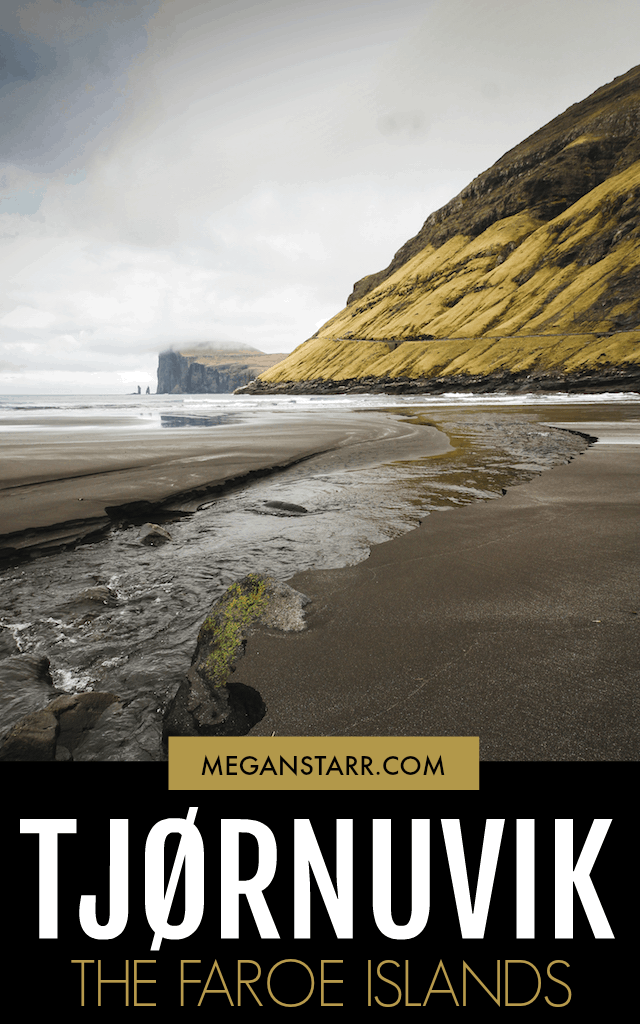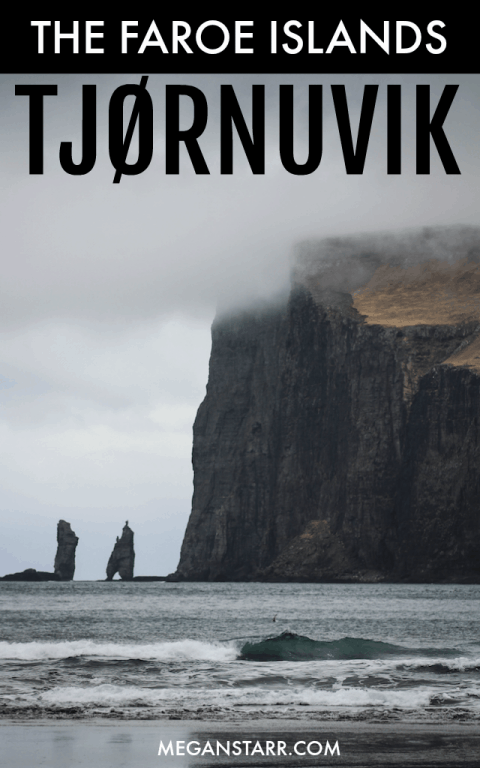 BE SURE TO FOLLOW ME ELSEWHERE AROUND THE WEB!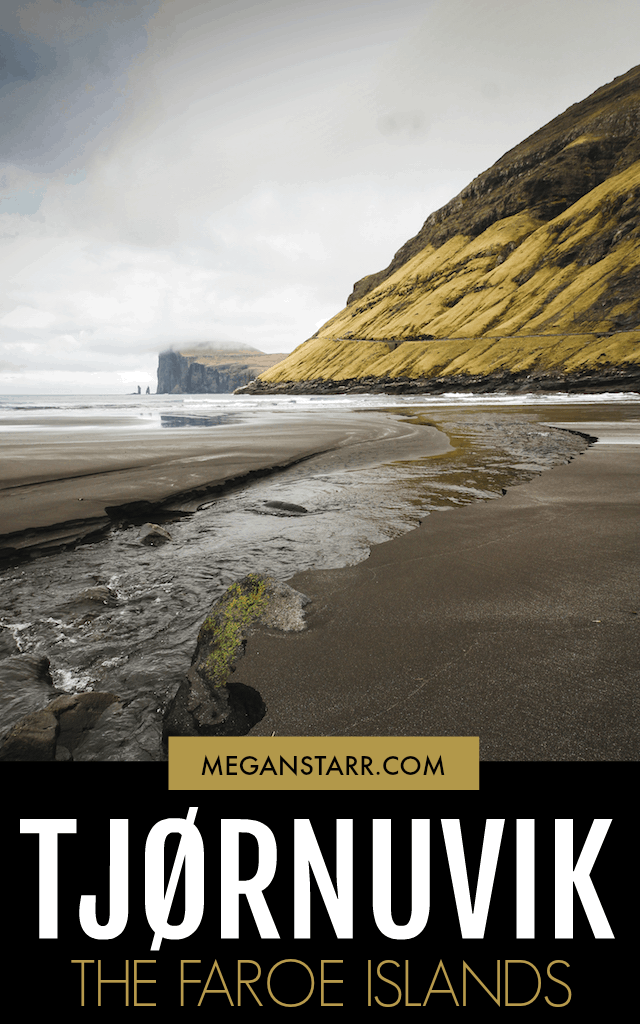 The following two tabs change content below.
Megan is a digital marketing strategist and world traveler based in Frankfurt, Germany but hailing from Richmond, Virginia. She has traveled to over 85 countries and 45 US states and has a special love for the Nordics and Eastern Europe. Her passions are animals, the Pittsburgh Steelers, Ohio State football, craft beer, coffee, and copious amounts of concrete. She is also an advocate for removing dill from all dishes globally.
Latest posts by Megan Starr (see all)